15+ Sims 4 Bathroom CC For The Perfect Washroom
Design the most relaxing bathroom for your sims with this collection of sims 4 bathroom cc!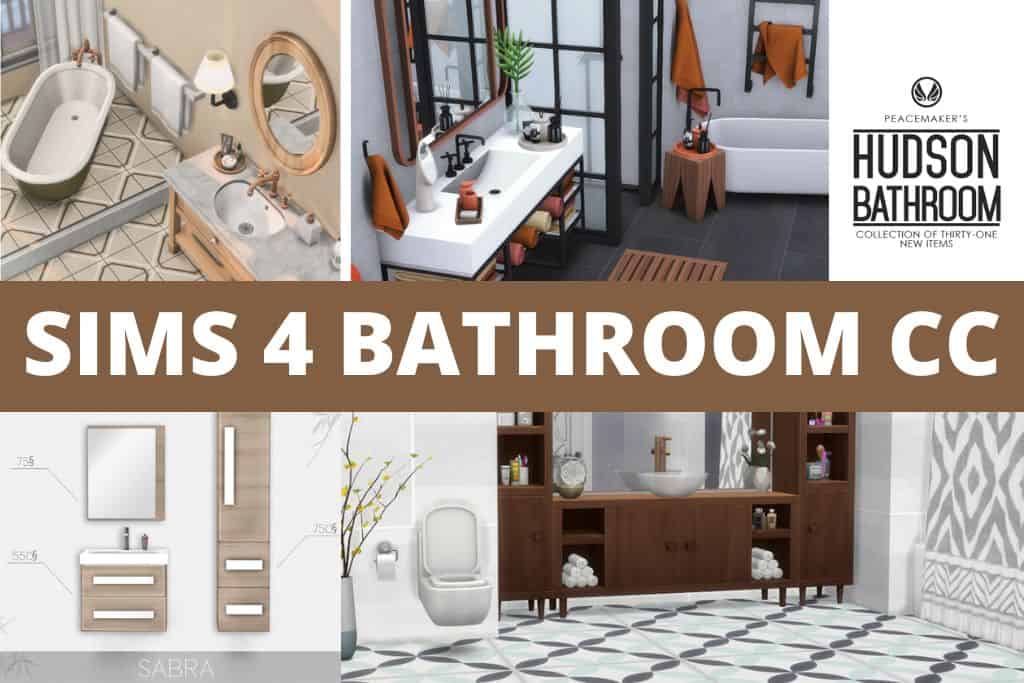 Do you love a well-designed bathroom in your sims 4 game?
I love the create the ideal space and trying out different styles of bathrooms for each new home.
Luckily with the amazing sims 4 bathroom cc available, you can completely customize your sims bathrooms to perfection.
I'm sure you will find some new favorites that will spark your inner interior designer.
And don't forget to check out our other furniture posts linked at the bottom of this article.
Disclaimer: The following mods are neither endorsed nor affiliated with The Sims, Maxis, or Electronic Arts. Any use of mods (custom content or game mods) should be done with caution and with the knowledge that there may be risks.
Best Sims 4 Bathroom CC
From simple bathroom accessories to complete bathroom cc sets, we've compiled a mixed collection of custom content.
1. Serene Sims 4 Bathroom CC by myshunosun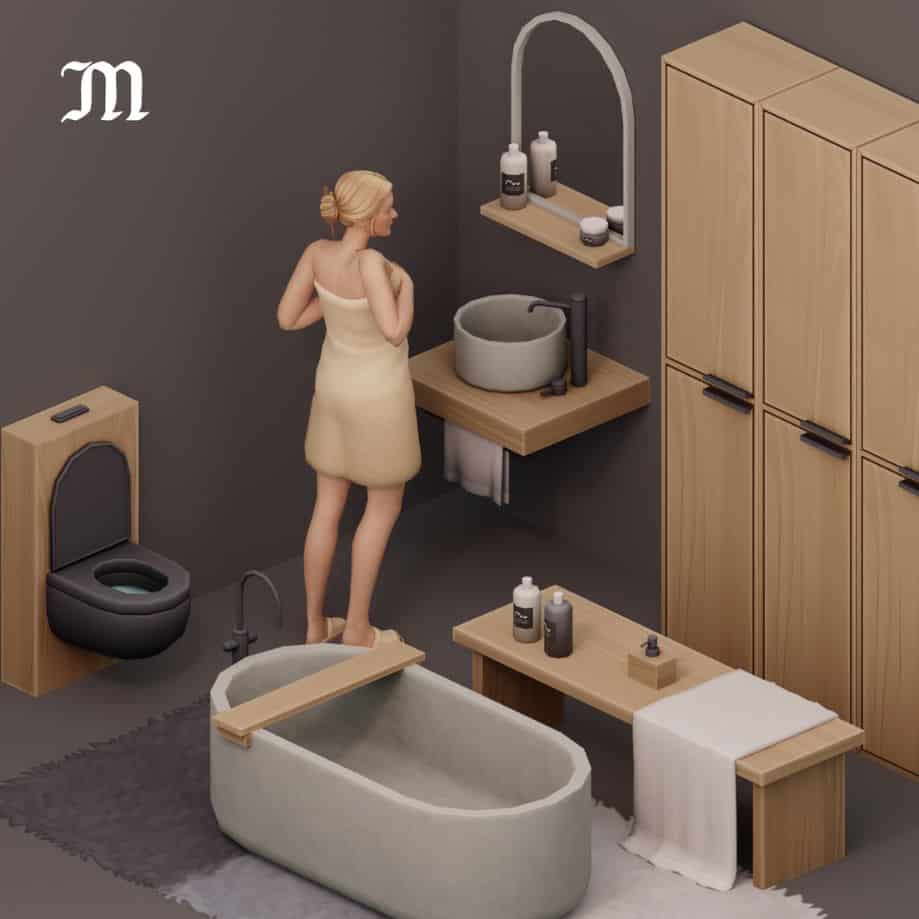 This contemporary bathroom cc gives off modern spa vibes.
The mix of wood and concrete pieces is a nice change to many classic bathroom sets.
This sims 4 bathroom cc set comes with various items, including the concrete bathtub, two toilet options, tall cabinets, benches, and more.

2. Hamptons Sims 4 bathroom Addon by Peacemaker-IC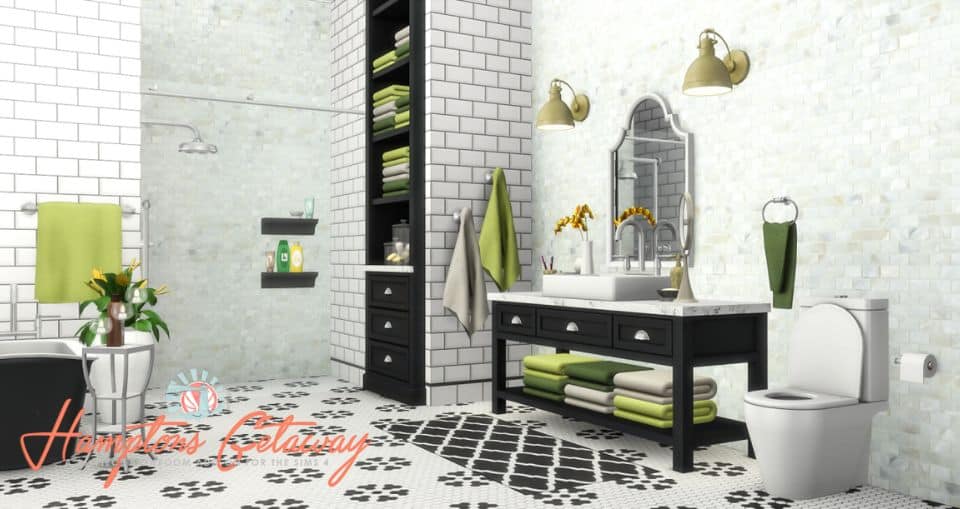 This beautiful bathroom addon comes with 36 pieces to create the perfect room.
You can opt for single or double basins, mirrors, and open-style linen cabinets for all your sims bathroom accessories.
There are 2 sizes of showers and a variety of bathroom accessories, decorations, and clutter.

3. Sims 4 Bathroom Set by Ravasheen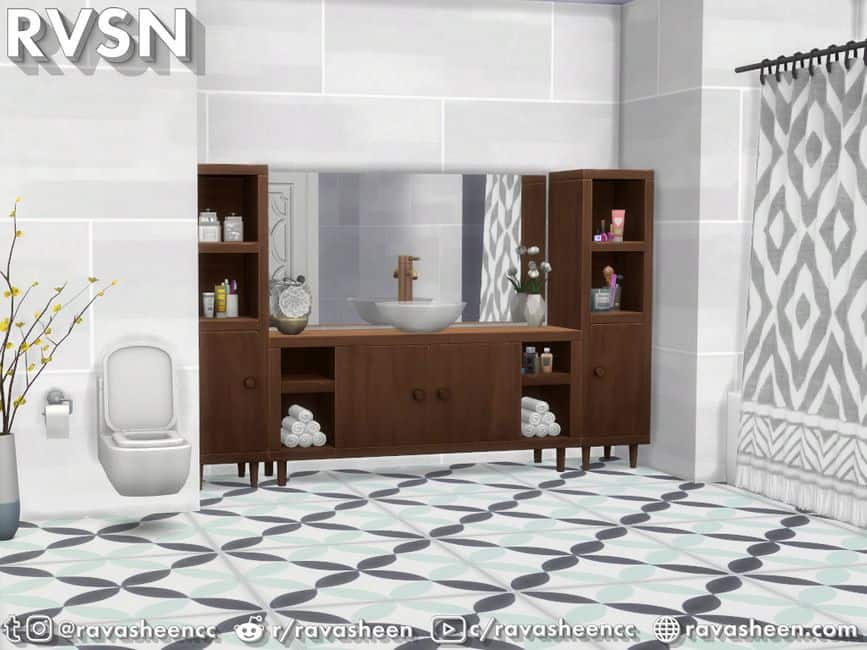 This bathroom cc set mixes ceramics, glass, and wooden pieces into a complete collection.
You can opt for a glass, stone, or square sink.
Plus, you can choose a soaking tub and two shower-tub combinations (curtain or glass paneling) for the bathing options.
There is a mirror and different bathroom cabinets too.

4. Sims 4 Bathroom Accessories by Soloriya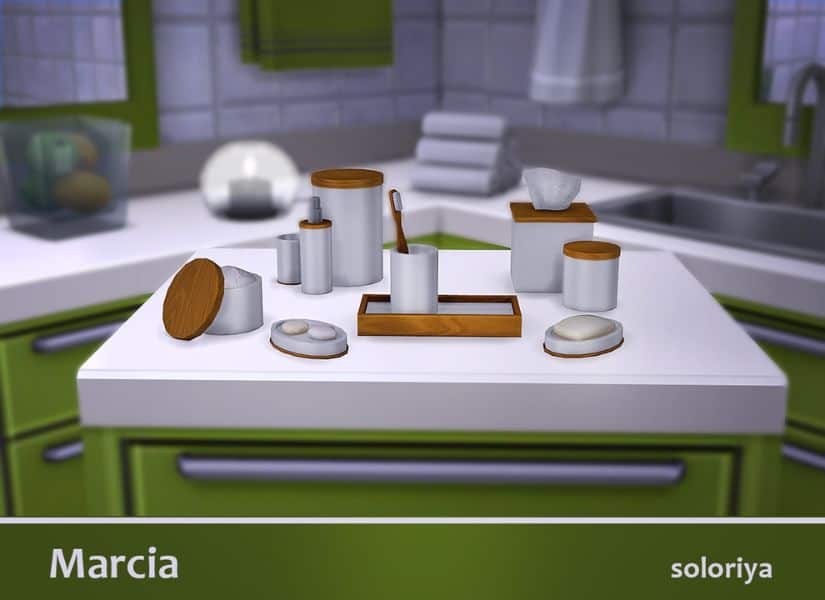 This custom content is a simple set of sims 4 bathroom accessories.
Every sim needs bathroom essentials, from soap, a toothbrush, tissue paper, dispensers, and a few other clutter pieces.
This set is available in 10 color swatches where the ceramic base remains the same, but the wood detailing changes.

5. Sabra Bathroom Set for Sims 4 by Madlen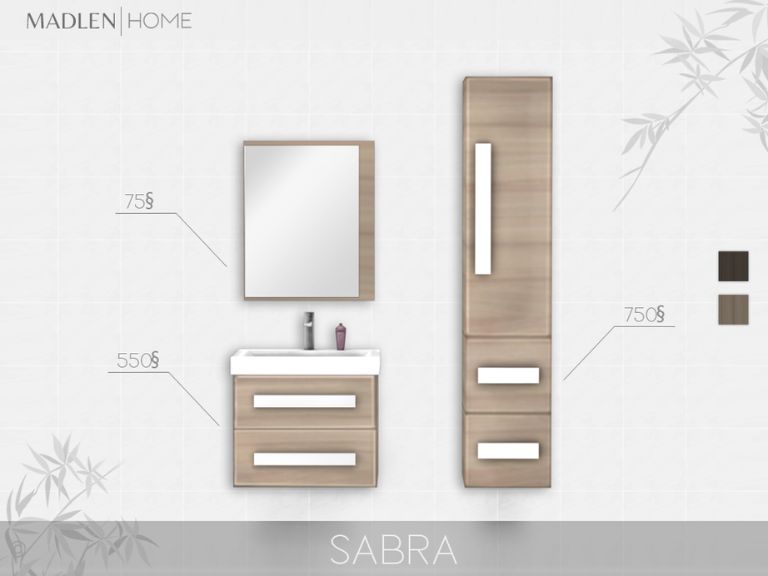 This bathroom cc set is perfect for a small space or the minimalist sim in your game.
There is a wall-mounted vanity and mirror with a separate 3-door side cabinet piece.
This set comes with large, chunky hardware.
You can also pick between two tones of wood swatches for the cabinetry portion.

6. Sims 4 Washroom Set by Sixam CC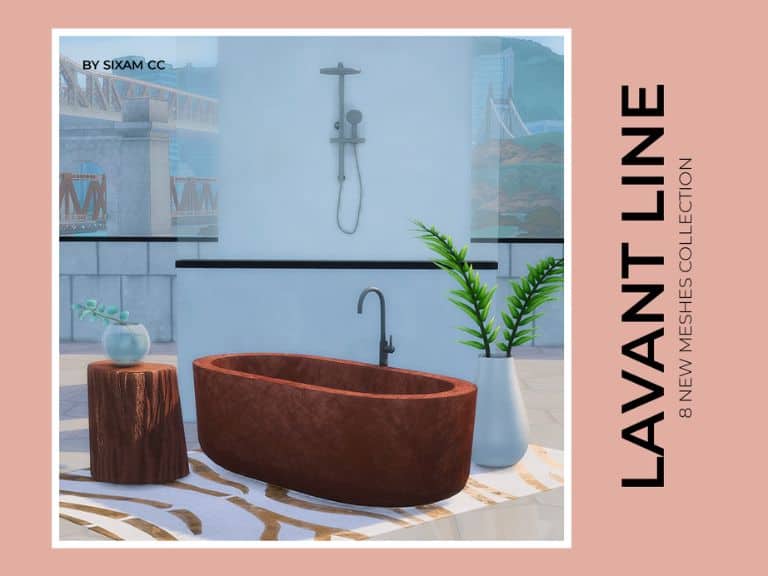 Whether or not you are into taking baths, we can all appreciate this stunning soaking tub.
The tub has a brownstone or brown concrete look to it.
This bathroom set also has a decorative wooden log, a shower head, a glass vase, and a seamless window.

7. Caroline Sims 4 Bathroom Set by Syboulette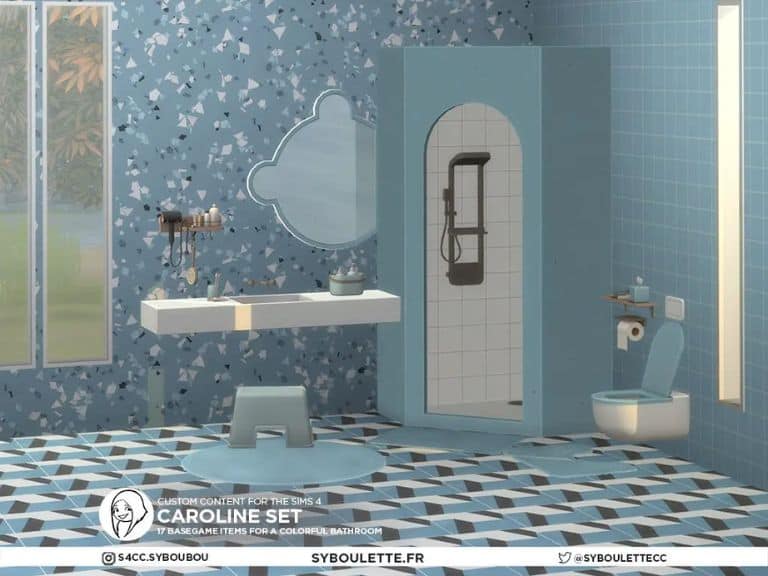 This sims 4 bathroom cc set has everything you need to create a truly colorful room.
There are 17 items in this collection, including a corner shower, two sizes of sinks, rugs, wallpaper, wall tiles, and geometric floor files.
You will also find some accessories and clutter pieces to complete the bathroom.

8. Decorative Sims 4 Bathroom Objects by Soloriya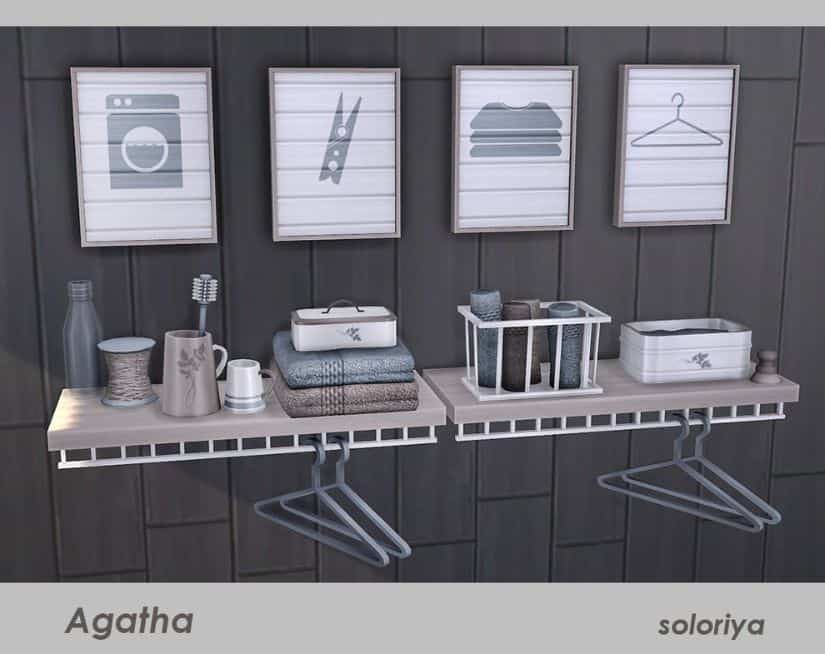 This set of decorative bathroom objects comes with 6 pieces and 1 functional shelf with a couple of hangers.
There are towels, a brush, and some decorative elements, plus you can pick from 6 color variations.

9. Serenity Bathroom CC for Sims 4 by Peacemaker-IC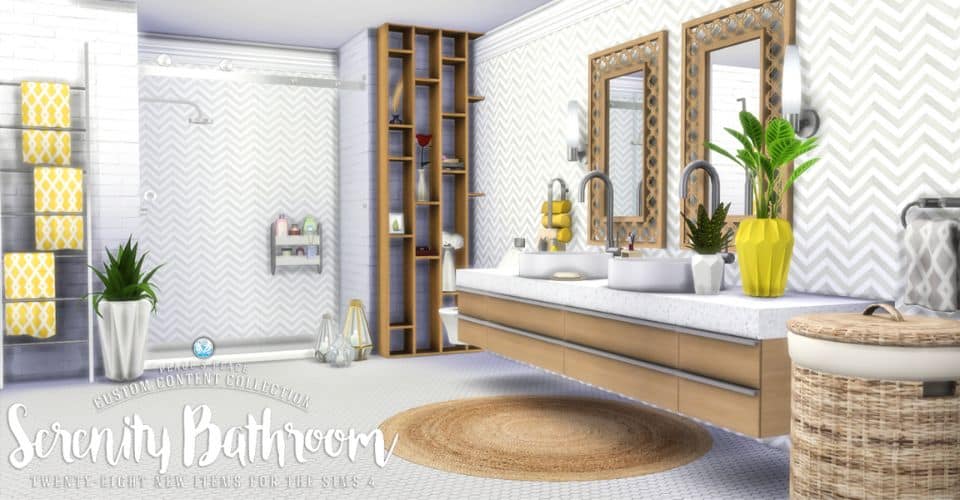 With this bathroom cc set, you can create a light and relaxing room or opt for an entirely darker swatch.
There are over two dozen items to style the bathroom as you like it.
Some pieces include;
Basins
Cabinets
Mirrors
Sculpted bath
Ladder rack
Tissue box
Toilet paper
Lanterns
With its mix of materials and color options, this bathroom set is one of my favorites.

10. Sims 4 Modern Bathroom by Sixam CC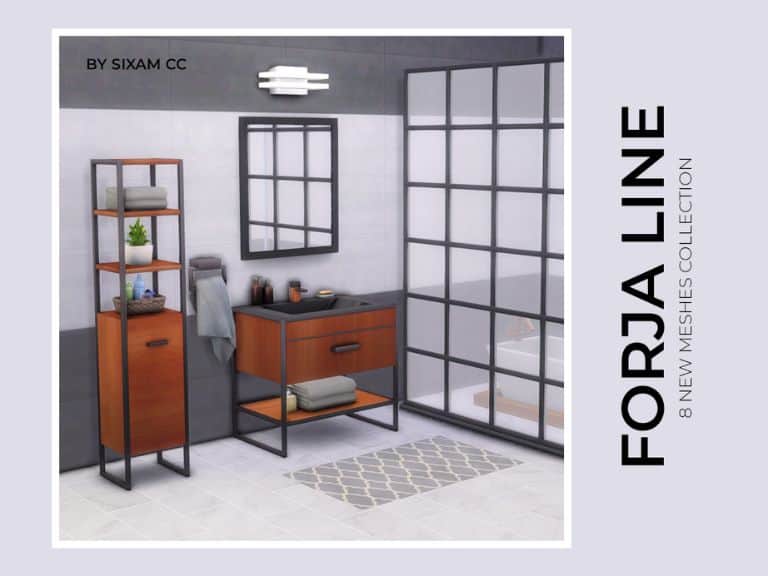 This modern bathroom cc is an excellent choice if you love mixing wood and iron in your furniture pieces.
This bathroom custom content creates a contemporary feel from the sink to the shelving options.
You will also find plenty of space to add your favorite clutter pieces; there are 25 slots.

11. Cottage Sims 4 Bathroom CC by Syboulette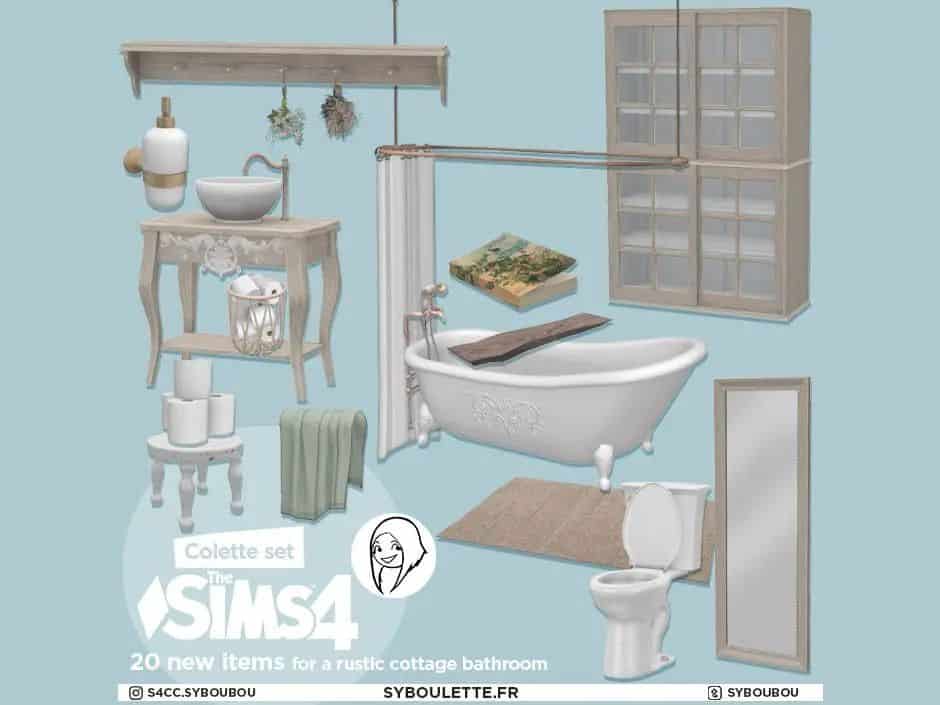 Design a comfortable and relaxing rustic cottage bathroom for your sims with this 20-piece sims 4 washroom cc set.
This set has so many amazing pieces and details, down to the rustic wooden slab over the tub and the messy pile of toilet paper rolls.
The soaking tub has great brass-looking hardware, but I especially love the ceiling-mounted curtain track for the tub.

12. Sims 4 Bathroom Essentials by Madlen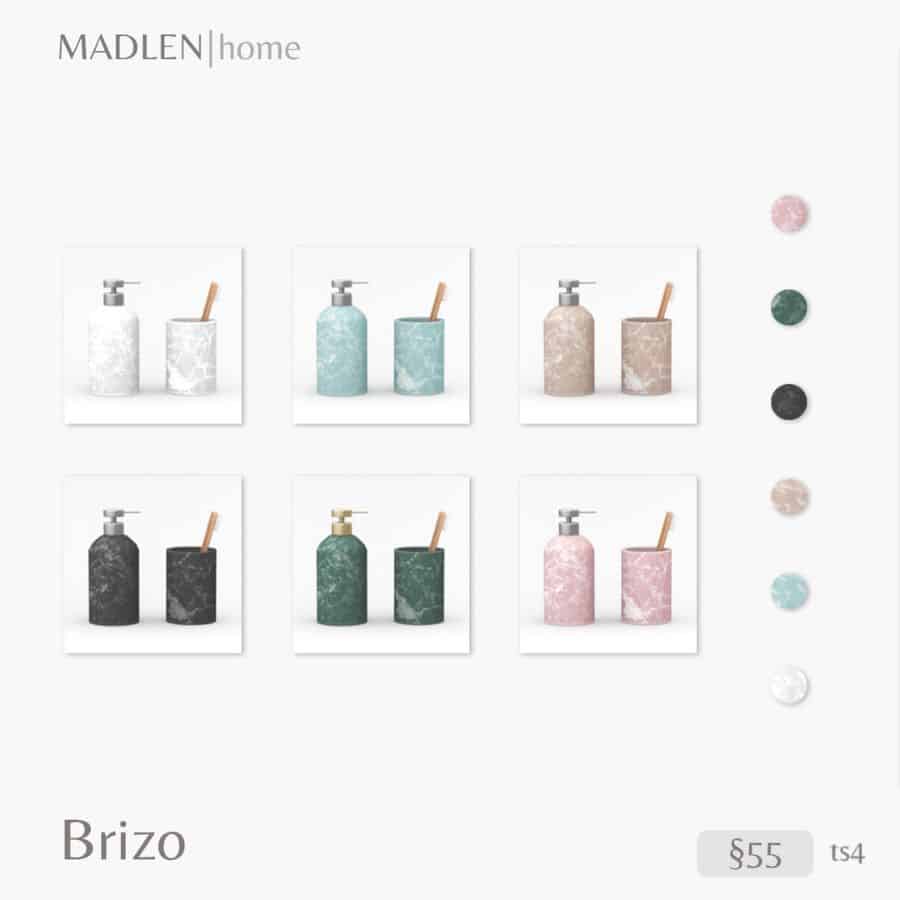 This sims 4 bathroom cc includes just a handy soap dispenser and tumbler.
These bathroom essentials come in 6 marble swatches; the dark green is one favorite.

13. Delphine Bathroom CC for Sims 4 by Syboulette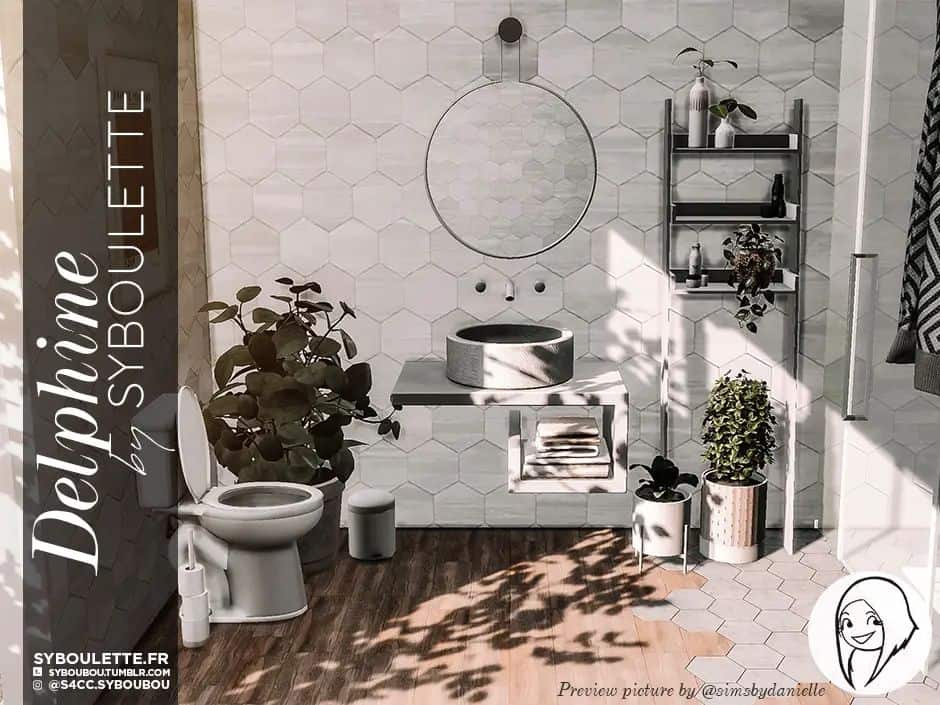 This bathroom cc set by Syboulette is on the modern side and comes with 14 pieces.
I love the large hexagonal tiled wallpaper, but the show's true star is the floor blending of materials.
Wood parquet meets hexagon tiles creating a unique floor for your sims bathroom.

14. Sims 4 Hudson Bathroom Set by Peacemaker-IC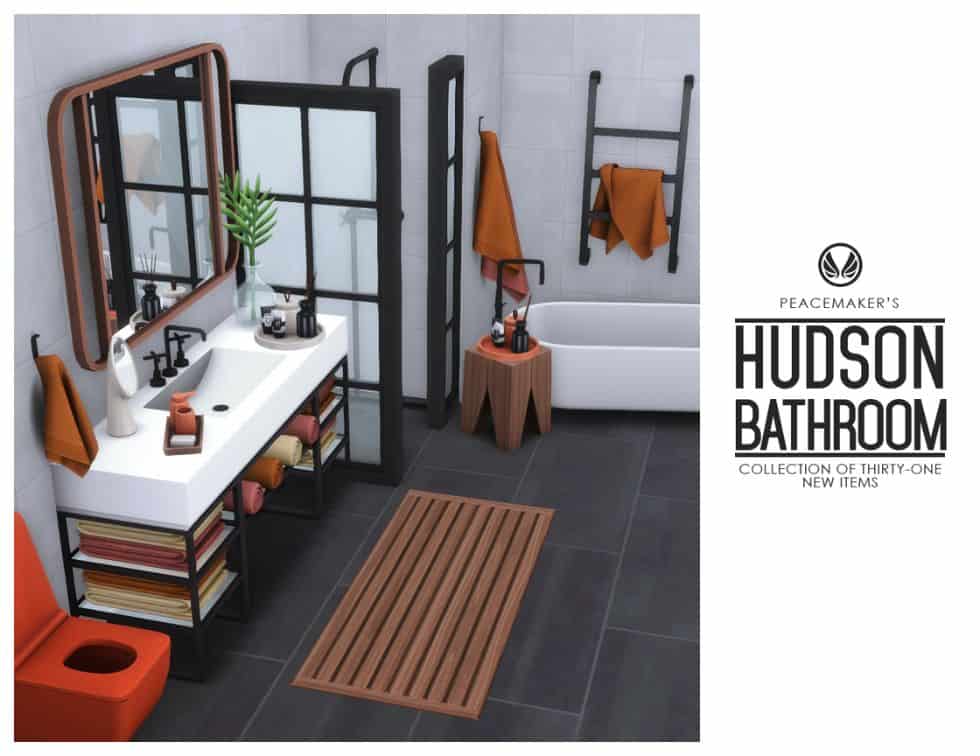 This modern bathroom set has everything you need to style a bathroom for any sims in your household.
With a quick change of swatches, you can go from a light, relaxing spa-like bathroom to a darker, more bachelor-style washroom.
This set has 32 items, including a great mix of metals, ceramics, and wood.

15. Chic Sims 4 Bathroom CC by Charly Pancakes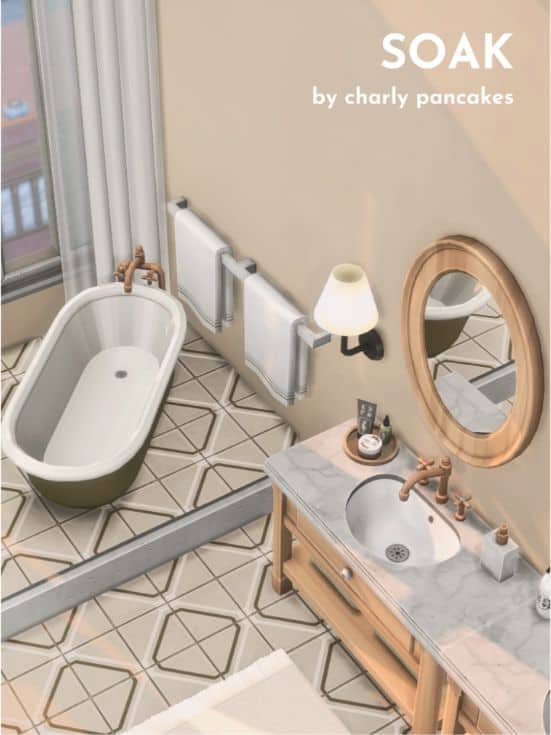 This bathroom set is another one of my favorites; it gives off chic Hampton's or Martha's Vineyard feels.
There are 9 items in this pack, including the soaking bathtub, the round wooden mirror, the sconce, and more.

16. Sims 4 Mozaic Tiles Bathroom CC by Syboulette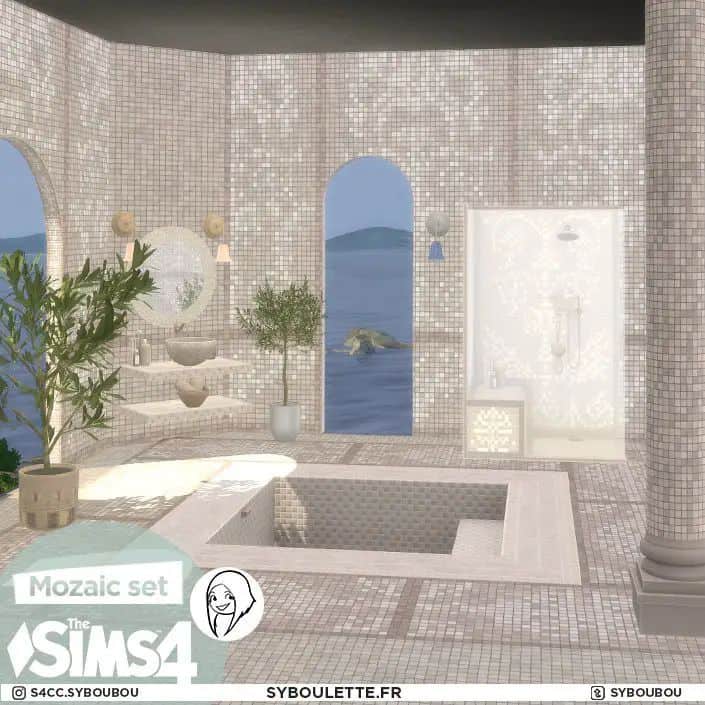 This mosaic-covered bathroom is not only beautiful but unique.
This sims 4 bathroom set seems inspired by Moroccan, especially with the sunken bath and the stunning turquoise swatch of mosaic details.
This collection comes with 24 pieces which include;
Shower
Sink
Shelves
Functional bath
Mosaic wallpaper and tiles
Sims 4 Bathroom CC: Final Thoughts
From Hamptons to rustic cottage vibes, there are sims 4 bathroom cc for almost every style.
You can design your sim's bathroom with more metals and stones or opt for more natural materials like wood.
If you have any questions or suggestions, feel free to leave us a comment below or tag us on Tumblr.
Other Sims 4 Furnishing Lists

And don't forget to share and pin this collection for later!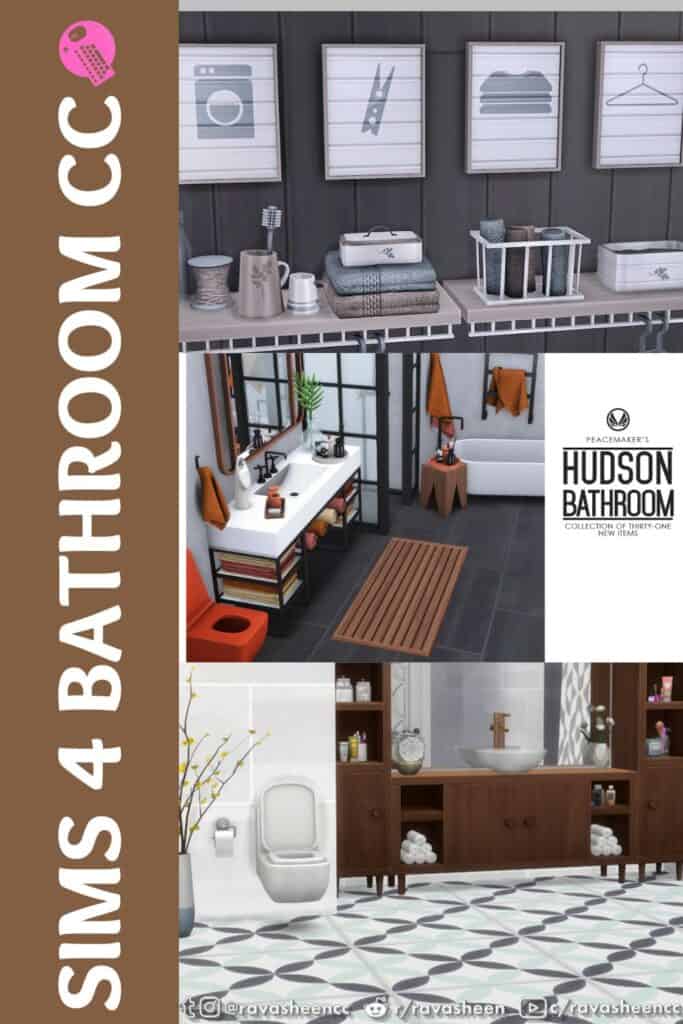 15+ Sims 4 Bathroom CC For The Perfect Washroom