39+ Stylish Sims 4 Furniture CC (2023 Options)
Need a new couch? Find the best sims 4 furniture cc to style your sims household!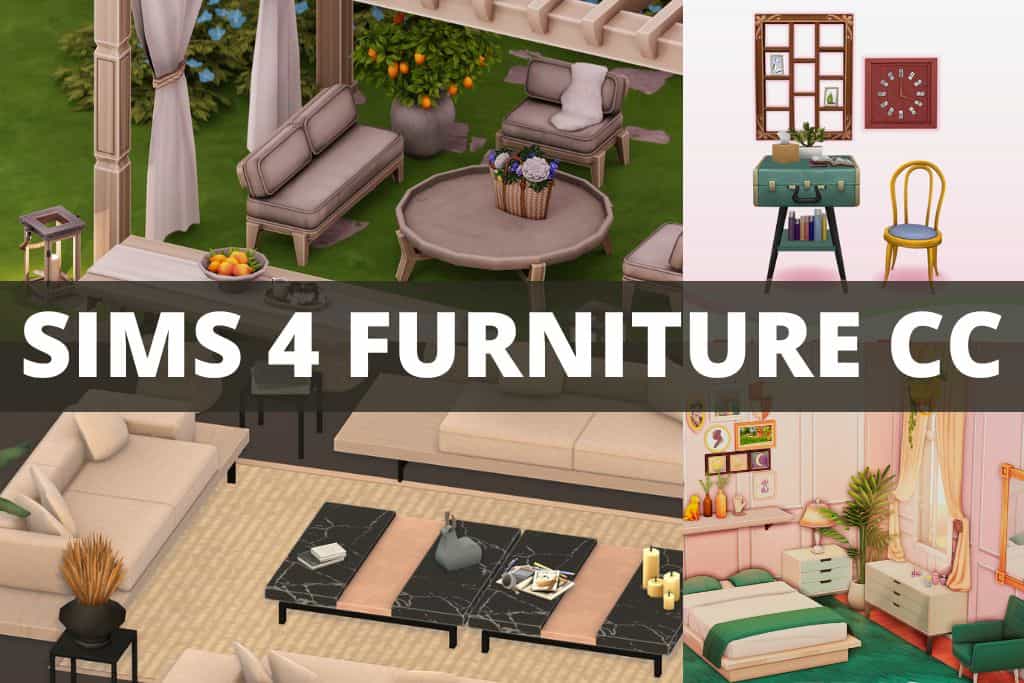 Furniture makes the home, and it's no different when it comes to your sims household.
From contemporary to rustic pieces, there are sims 4 furniture custom content for almost every style.
We've put together a great list of furniture mods, including interesting accessories and clutter.
Oh and if you need more furniture ideas, we have a dedicated posts for these rooms;
Disclaimer: The following mods are neither endorsed nor affiliated with The Sims, Maxis, or Electronic Arts. Any use of mods (custom content or game mods) should be done with caution and with the knowledge that there may be risks.
Best Sims 4 Furniture CC
Below you'll find a mix of different furniture cc styles, including modern, retro, '70s, '80s, rustic and contemporary.
1. Sims 4 Furniture CC by S-imagination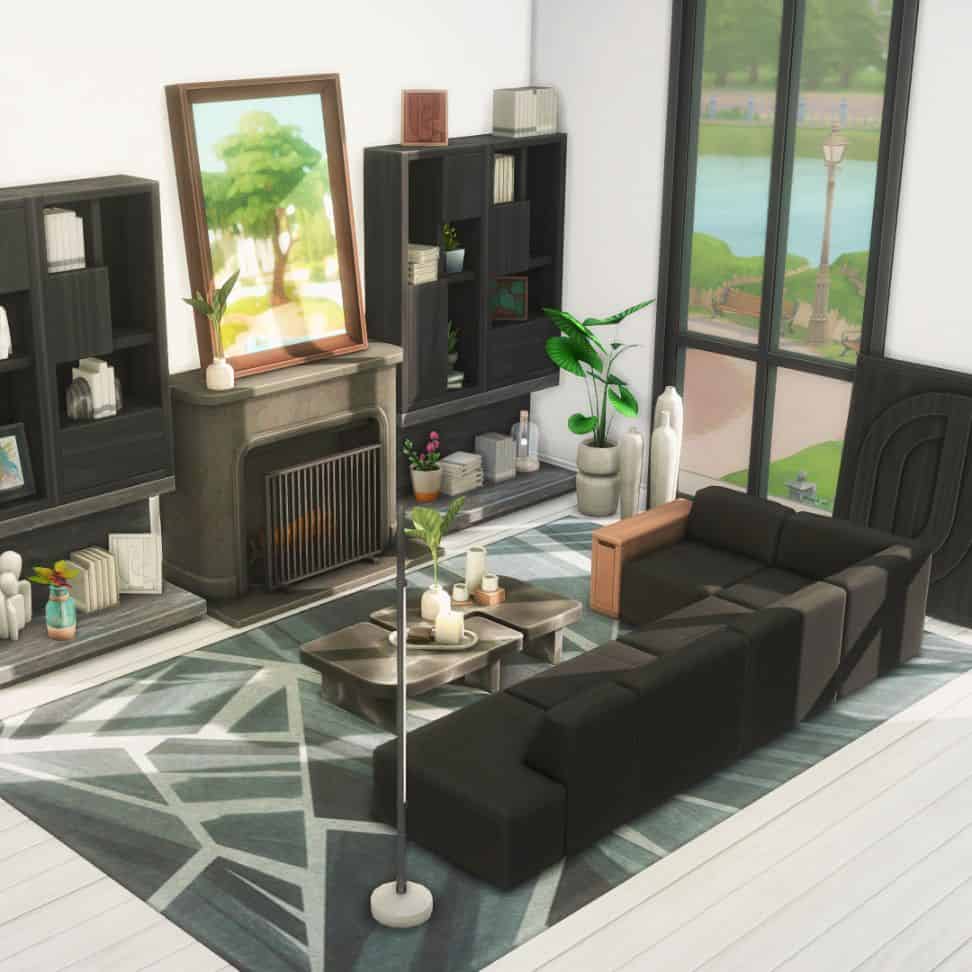 Are you looking to furnish your sims 4 living room with some modern-styled cc?
This pack of cc has 45 items offering a variety of decorative furniture pieces and clutter for your living area.
The most interesting thing about this set is that it offers a modular bookshelf and sectional sofa to fit your room perfectly.

2. Daria Sims 4 Bedroom Set by myshunosun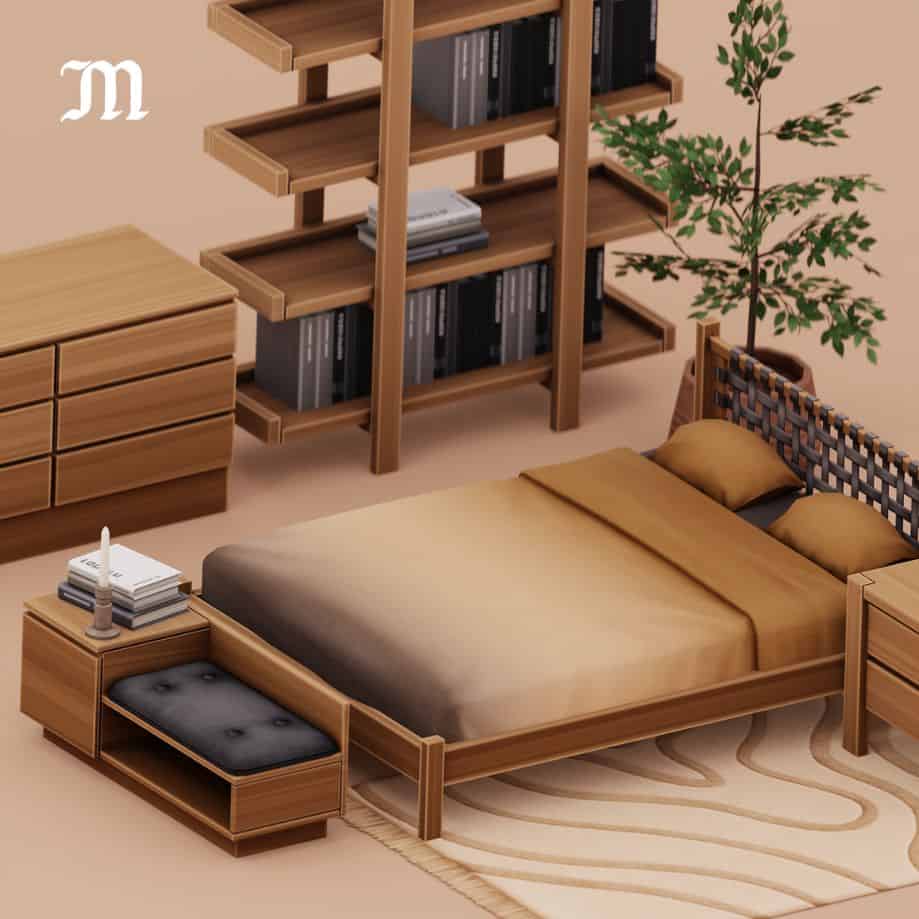 If you love wooden furniture, then you would like this custom content for your sim's bedroom.
You get 11 new items, including a bed, carpet, bedroom bench, and other storage units, to name a few.
These fine pieces of sims 4 furniture cc are all base game compatible.

3. Sims 4 Bathroom Furniture by Charly Pancakes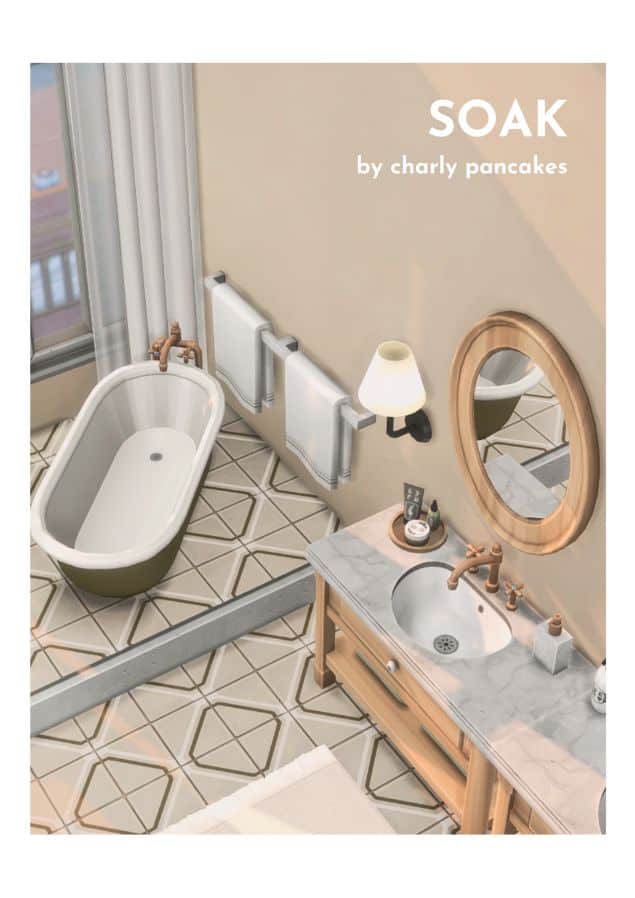 With this beautiful bathroom cc pack, you can have a simple yet elegant place for your sim to bathe and freshen up.
In this bathroom stuff pack, you get this gorgeous clawfoot tub, sink vanity, mirror, those lovely tiles, and more.
This furniture cc has everything you need to make a cozy space for your sim to take a relaxing bath.

4. 70's Sims 4 Furniture CC by greenllamas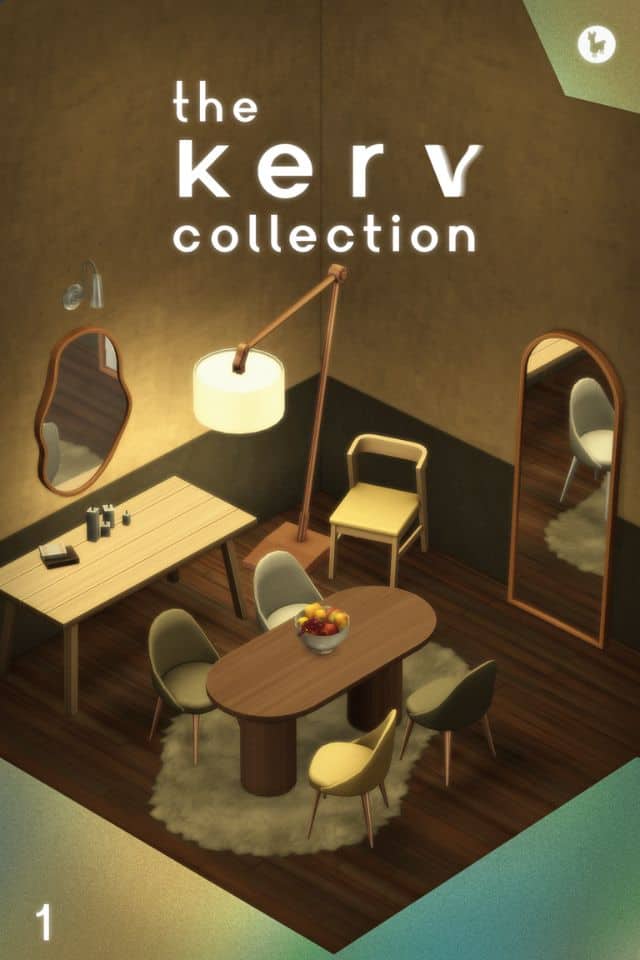 This set of sims 4 furniture cc is a retro-ish way to furnish your dining room.
This collection's wood and rounded finish give off a 70s look and feel.
This furniture would fit nicely when your sims need to eat a meal before heading to the disco.

5. Dreamy Sims 4 Furniture CC Set by Syboulette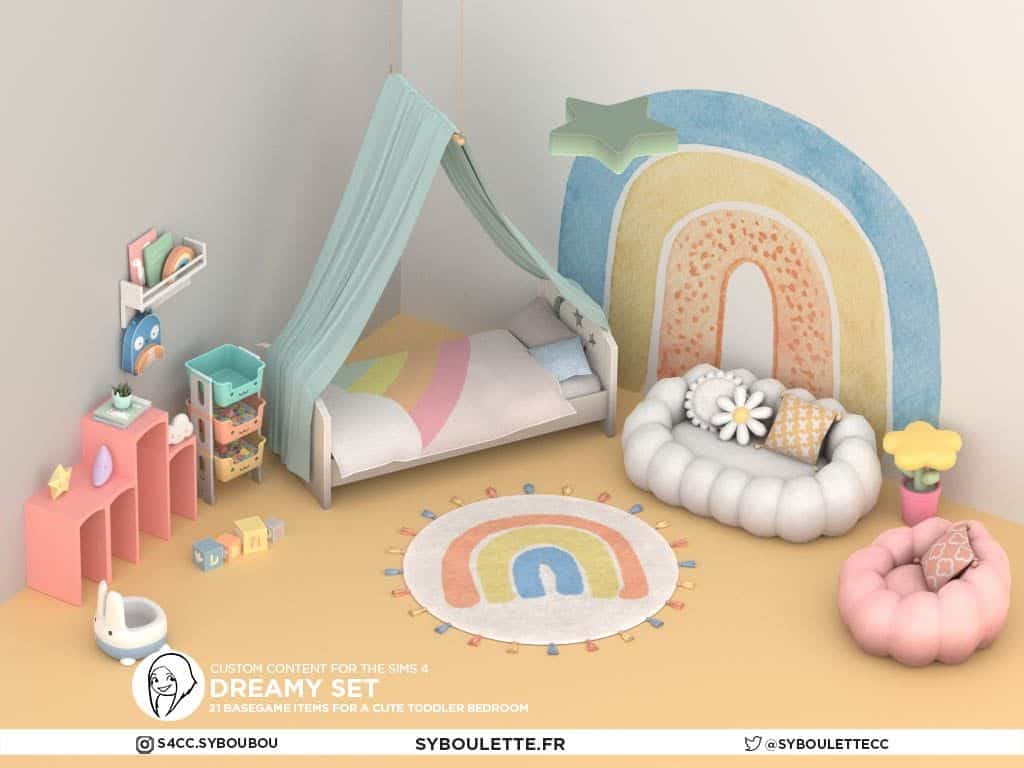 Do you need cute furniture cc for your sims' little one?
If so, then make sure you grab this adorable set of toddler room pieces.
You get 21 colorful and functional base game-compatible items.

6. Sims 4 Romina Furniture Mods by soloriya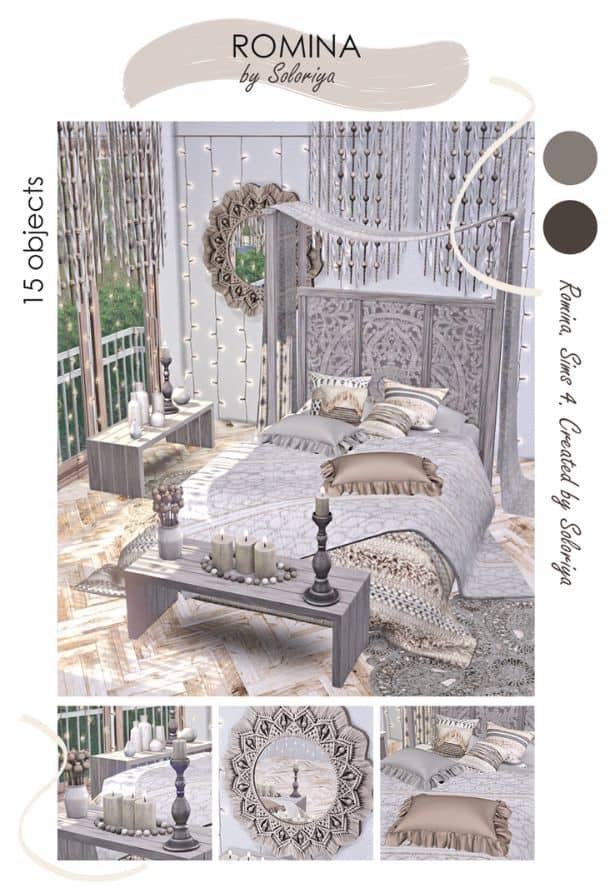 Give a rustic chic feel to your sim's bedroom with this beautiful furniture cc.
You get 15 highly detailed items perfect for creating a romantic and delicate atmosphere.
The candles are functional so that you can light and extinguish them after a romantic date.

7. Sims 4 Tudor Furniture CC Set by Nocturne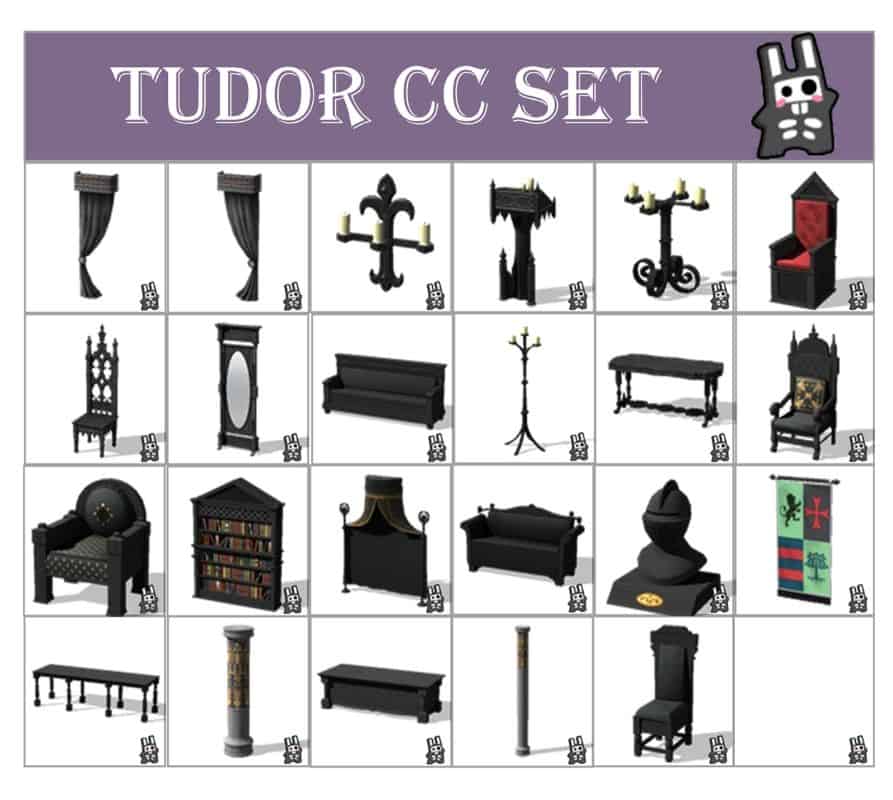 The content included in this set is great for those going for 16th-century or goth-looking decorations.
Whether you own the vampire pack or play with GBC sims 4 vampire cc, this furniture cc is ideal for your vampire's home.

8. Sims 4 Retro Furniture Appliances by Caio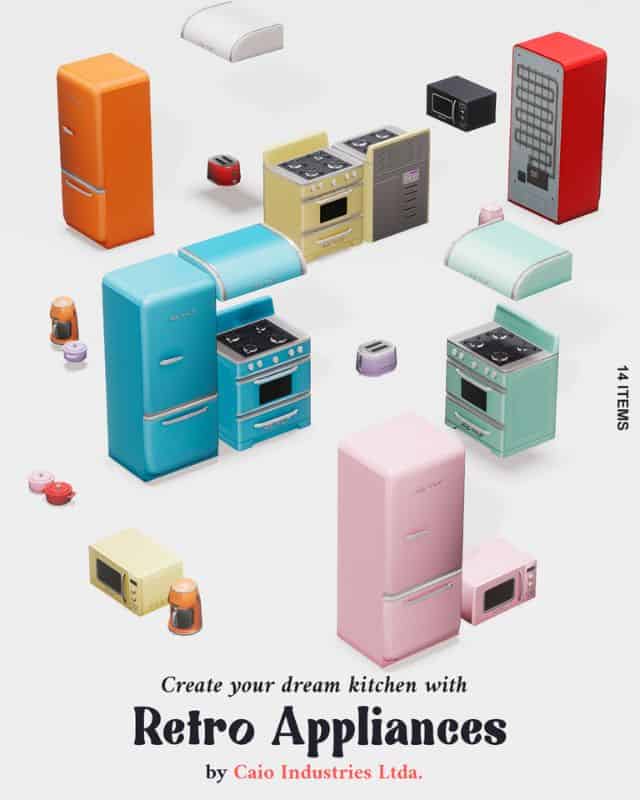 Grab these retro-styled appliances if you want to go for an old-school-looking home.
In this collection, you get 10 pieces of functional kitchen cc, such as the fridge and stove.
Some items, such as the oven's vent hood, are only decorative.
Everything included comes in nine colorful swatches.

9. Sims 4 Lounge Stuff Pack by Littledica x Deligracy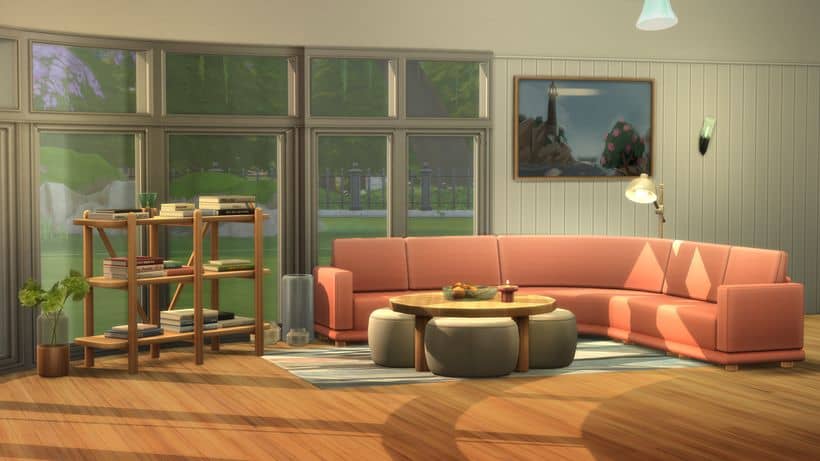 You get some great sims 4 living room furniture with this stuff pack.
Deligracy's real-life home inspired many of these cc pieces.
There are 37 items in this collection available in various colors to match your taste.
You get several decorative items like art, floral arrangements, and candles, to name a few.
Most importantly, you get this gorgeous sims 4 sectional couch, ottomans, and tables.

10. Sims 4 Bathroom Furniture Mod by RAVASHEEN
With this set, you can customize the perfect sims 4 bathroom.
There are glass wall panels available in different colors, and you also get a modern backsplash.
This sims 4 bathroom cc has a fully functional shower door and shower head options too.

11. Master Bedroom Sims 4 Furniture CC by Max 20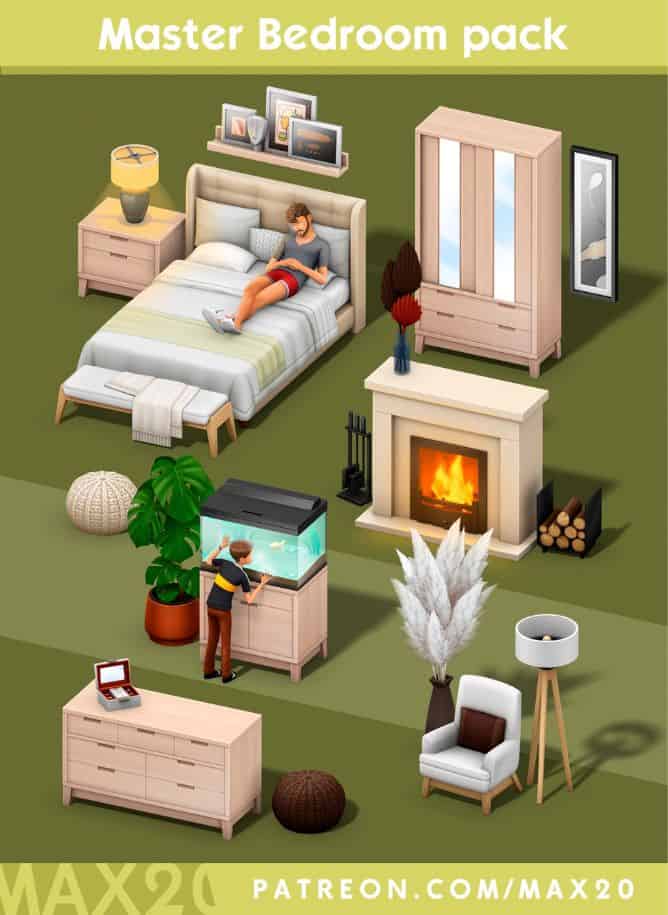 Looking to complement your sims' bedroom decor or snag a lovely matching furniture set?
This pack has got you covered and then some.
You get a variety of 29 furniture pieces, including some attractive decorative items.
If your bedroom is big enough, you can include a cozy fireplace, which could also look good in your living room.

12. Sims 4 Hall Decorative Furniture by Madlen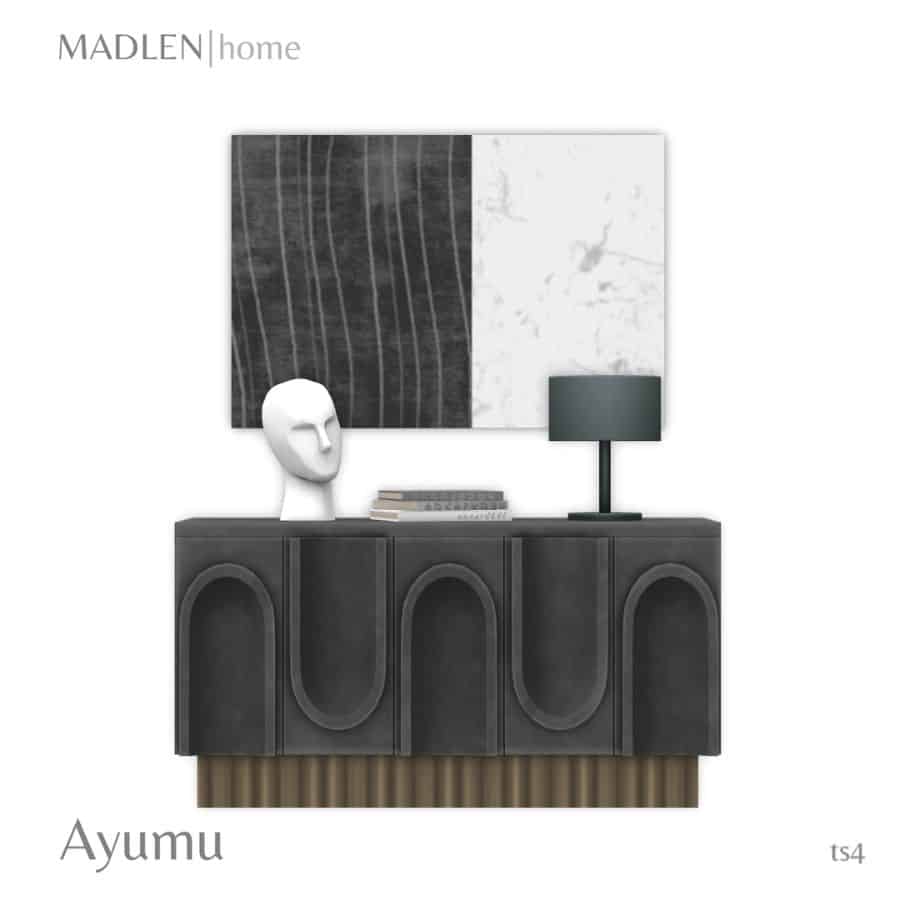 When you decorate a new home, sometimes the hallway gets overlooked.
This sims 4 furniture cc includes some great pieces that will fit nicely in a narrow hallway or any other room.
The cabinet comes in three colors, and you get everything pictured above except the lamp.

13. Sims 4 Kitchen Furniture CC by myshunosun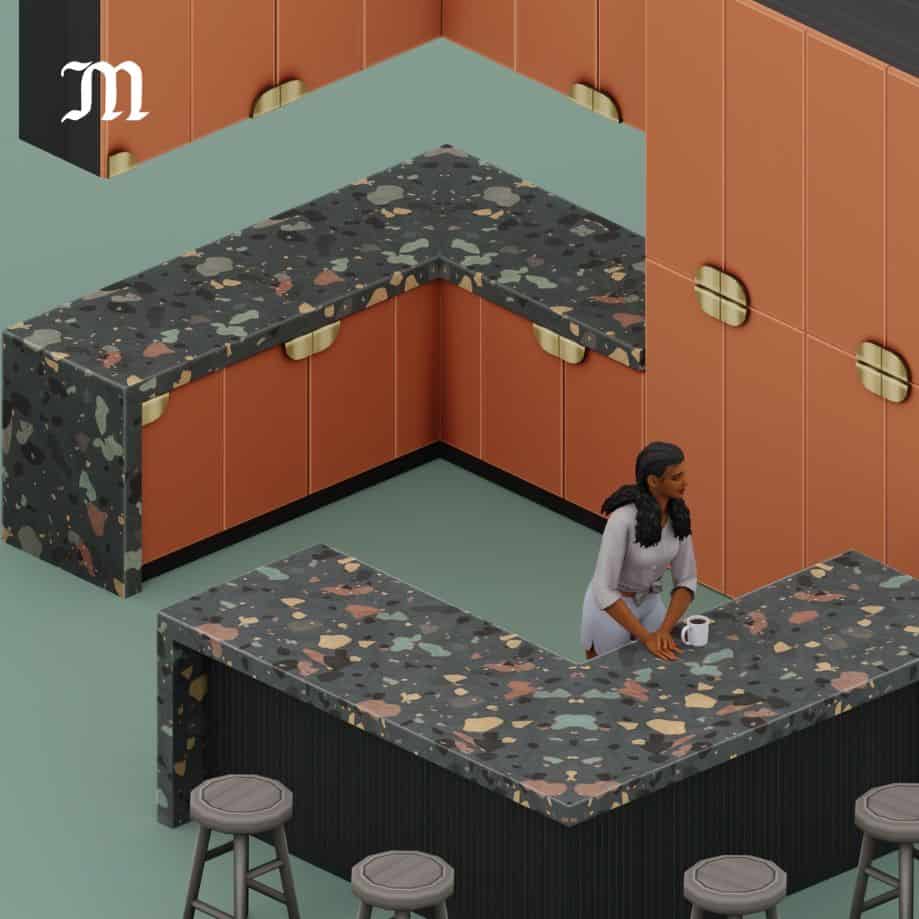 Do you want a modern-looking kitchen?
This set of kitchen cc features cabinets, counters, islands, and stools to make your modular kitchen.
Each item has more than 20 swatches, except for the stools, which have 9.

14. Cap Cod Sims 4 Furniture CC by Charly Pancakes x misssimreno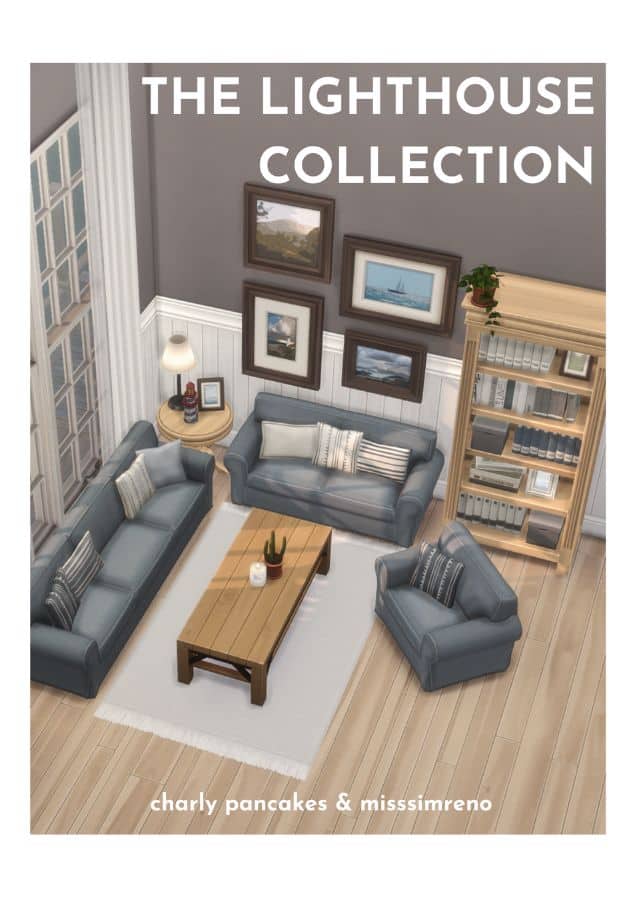 This sims 4 furniture cc collection gives off the perfect Cap Cod vibes.
This pack has 29 items to set up your relaxing seashore living area.
You get three different seating options, a couple of tables, a bookcase, and various little items, such as books and pillows.
If you like the wall paneling and flooring, those are also included in this furniture pack.

15. Thrifted Sims 4 CC Maxis Match Furniture by Nolan-Sims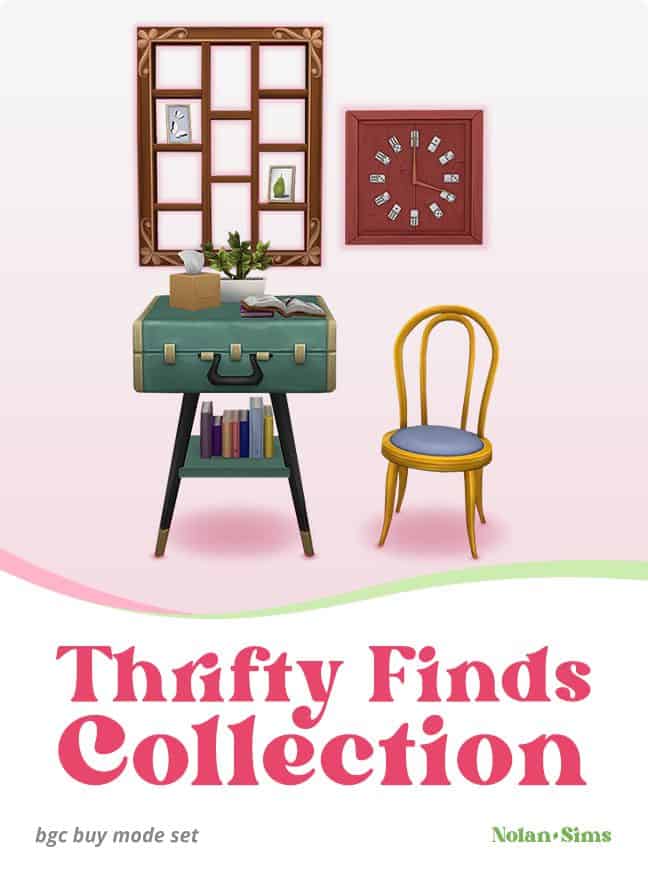 This custom content is perfect for that eco-friendly sim in your household.
Who doesn't love a good DIY project?
These reclaimed objects have been restored into new fun pieces of furniture, including a quirky end table, wall shelf, and more.

16. Tiny Dreams CC Pack by My cup of CC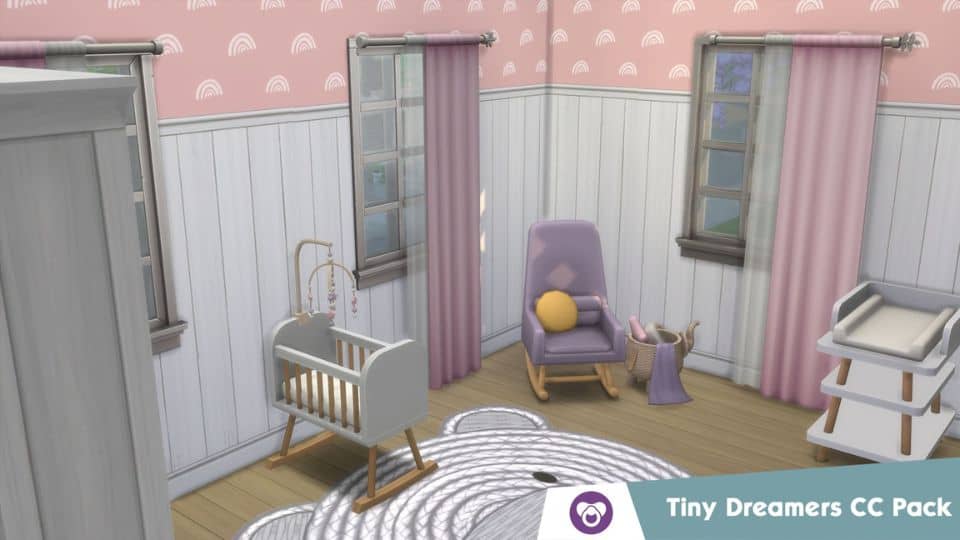 Does your sim have a newborn, and do you want to decorate their nursery?
This pack has everything you need, with different designs for cribs, bedding, and changing tables.
It also includes some cute decorative elements for the tiny tots' room.

17. Sims 4 Cottage Kitchen Furniture by S-imagination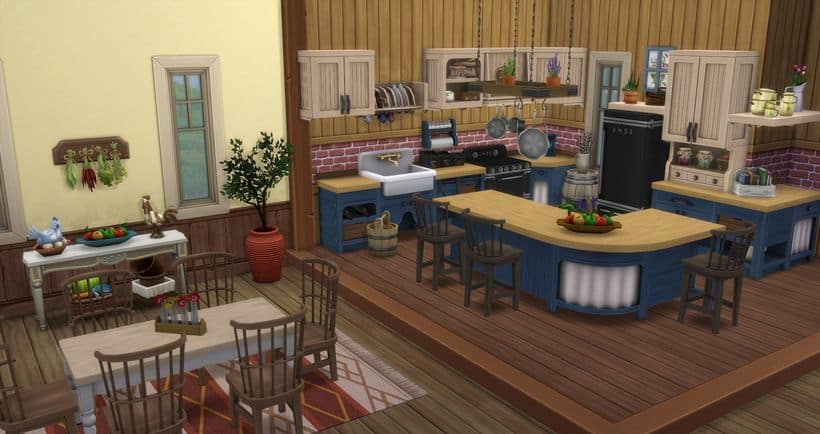 Looking for a more rustic or countryside look for your sims 4 home?
This sims 4 furniture cc is what you need.
There are more than 50 objects to furnish your kitchen and dining area.
You can choose different colors and designs for specific items, such as cabinets and countertops.
All major appliances are made functional, which is a must.

18. Dionis Sims 4 Living Set by Madlen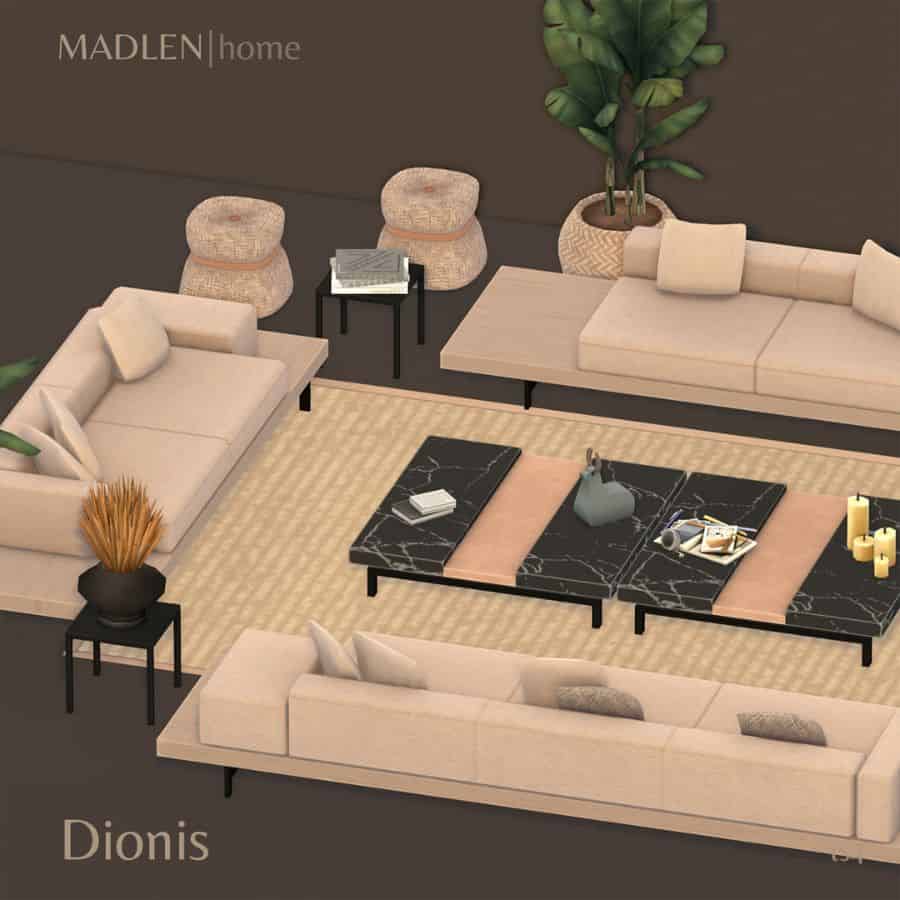 Check out this cc pack if your sim has a large living room area and you like modern furniture.
In this collection, you get contemporary sofas and tables, among other items like a rug and plant.

19. Sims 4 Patio Furniture CC by myshunosun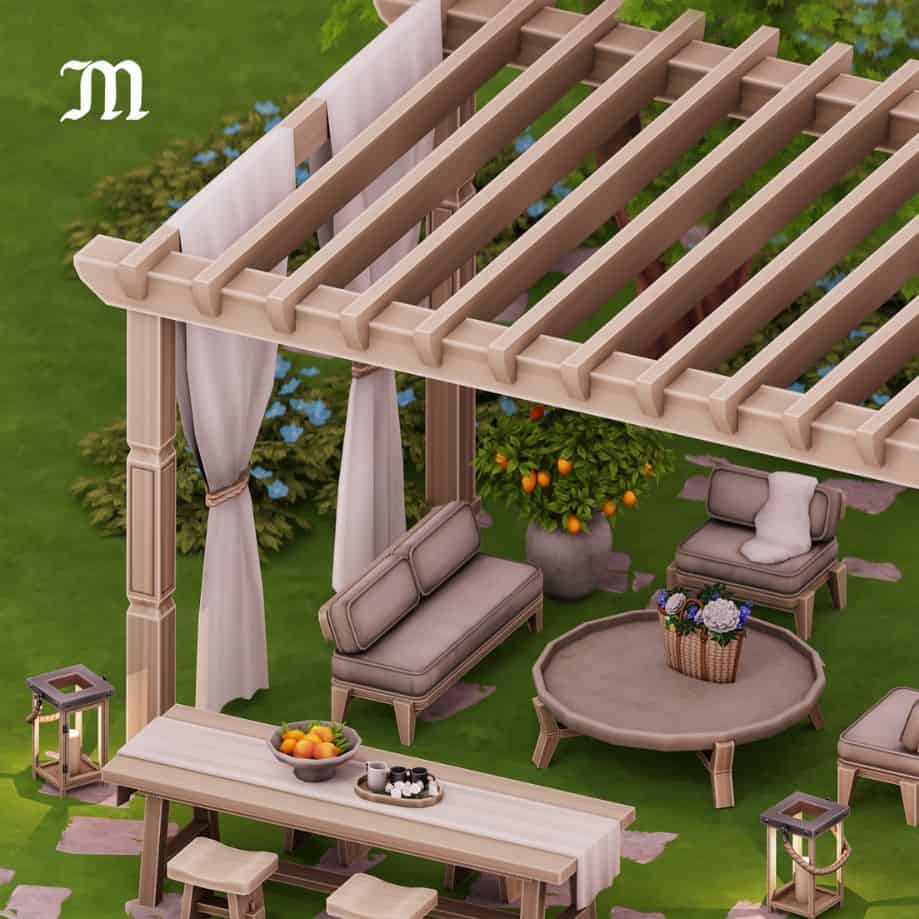 As hectic as our sim's lives are, decorating their outdoor living space is a must.
This custom content has a bunch of outdoor furniture, such as a pergola, some tables, and different seating options.
Once it's nicely set up, your sims can comfortably enjoy the outdoors.

20. Sims 4 Modern Bedroom Set by ung999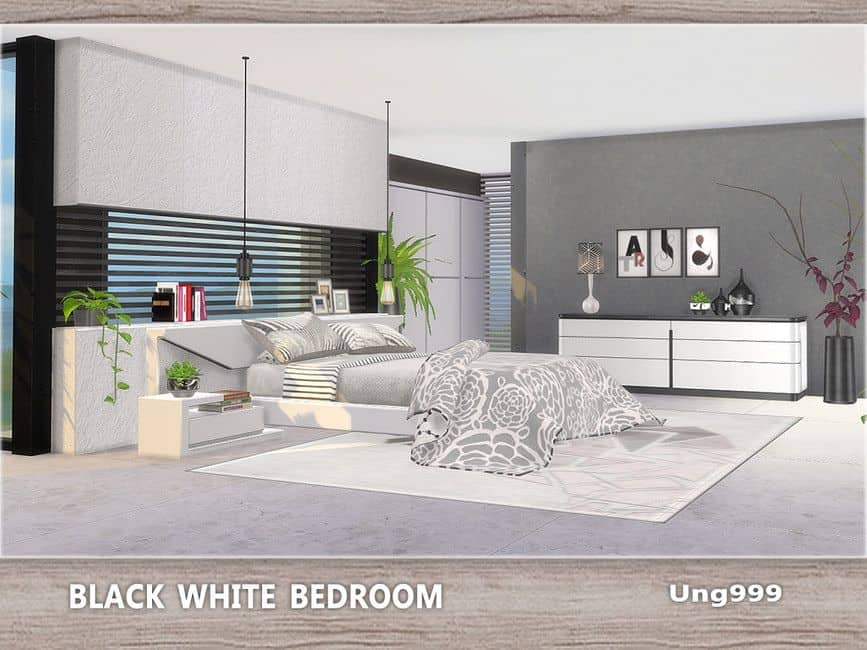 Do you love modern decor?
If you do, you need to try this awesome bedroom custom pack.
You get a sleek and modern-looking bed, side table, and dresser.
My favorite part about this sims 4 furniture cc is the paneling that also acts as a shelf.
There are also other items, such as a rug, pillow, and ceiling lamp.

21. Classic Kitchen Furniture Mods by Max 20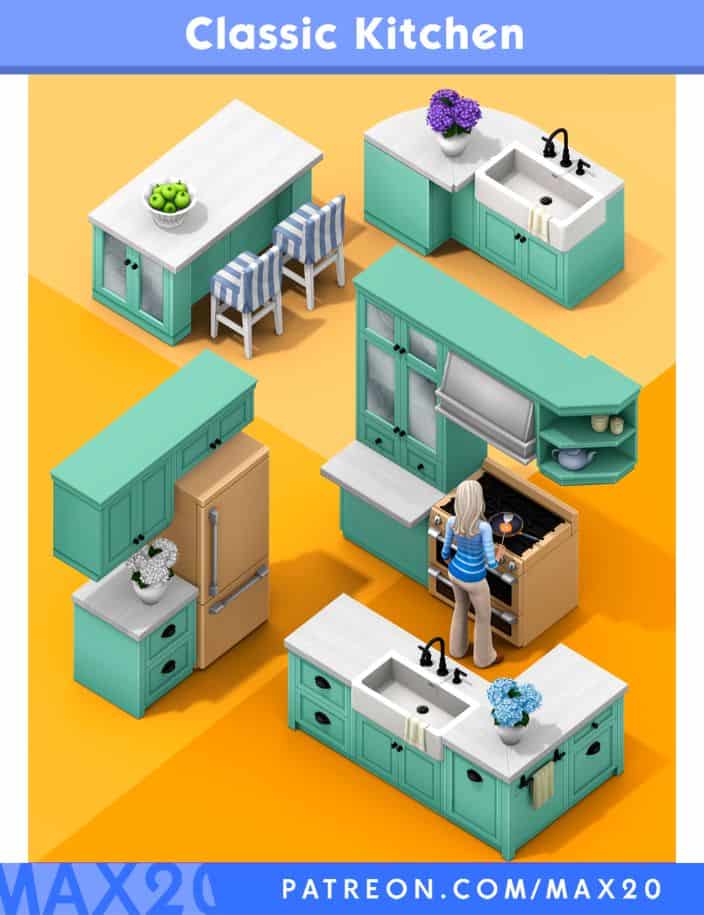 If you are looking for more kitchen cc, this beautiful pack is what you need to create a beautiful kitchen.
There are 19 items, including decorative items, several cabinet options with countertops, and appliances.
All the items come in a variety of pretty color palettes.

22. Sims 4 Laundry Furniture Set by Syboulette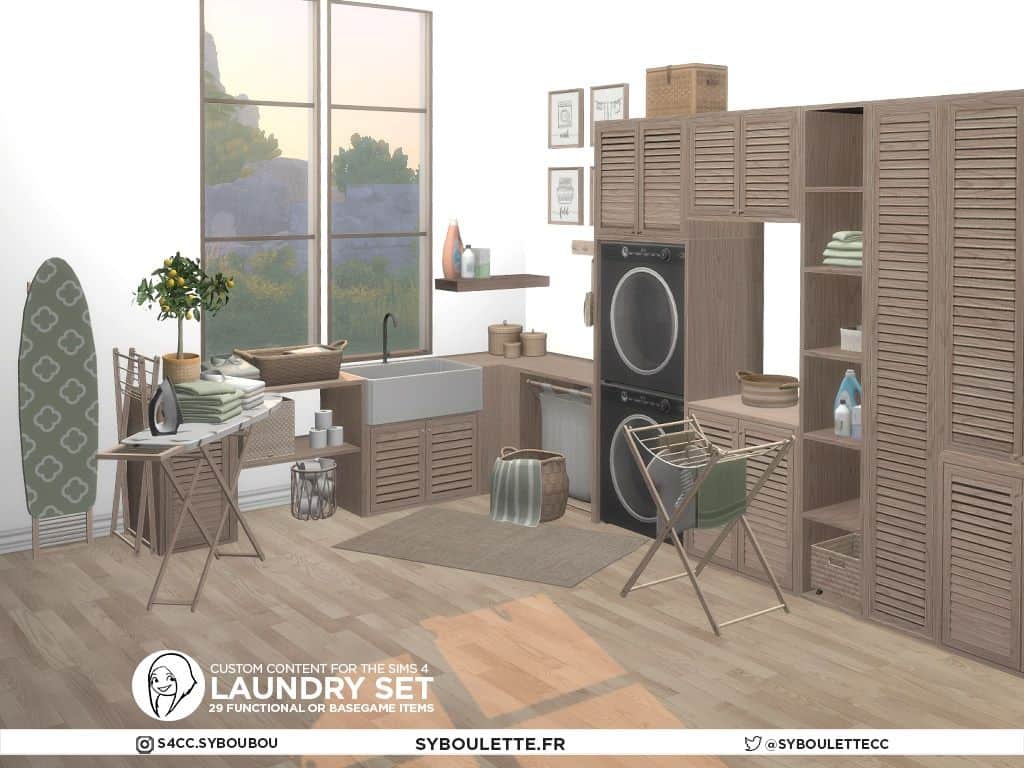 This sims 4 furniture cc has everything you need to create an epic laundry room.
You get 29 new items in either three wood or six solid colors.
This collection is purely decorative if you don't have The Sims 4 Laundry Day Stuff DLC.
If you own it, you can interact with the washer/dryer, the hamper, and the drying rack.

23. Gran Piano Sims 4 Furniture Mod by littledica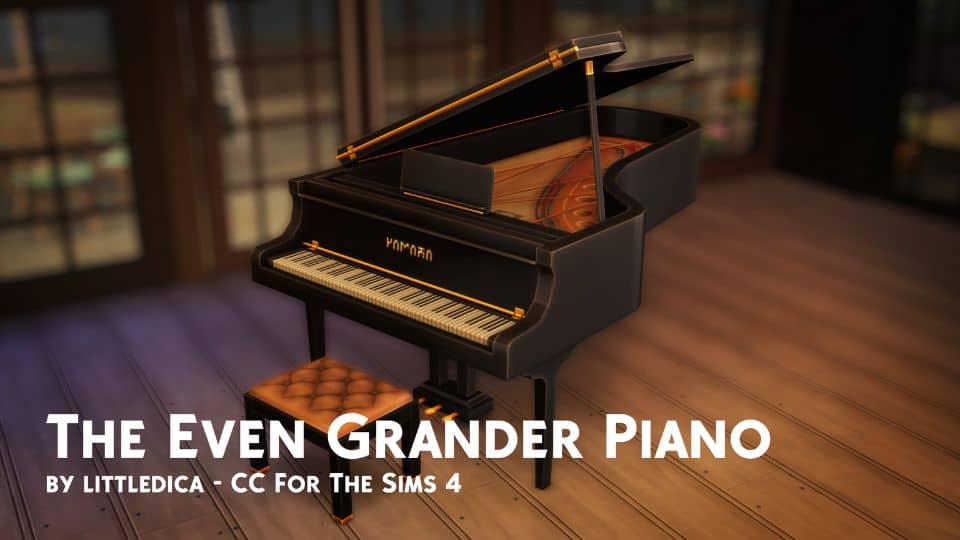 Nothing brings more class and elegance into a home than a gorgeous grand piano.
The piano is fully functional and comes in six color combos for the piano and seat cushion.
You need to make room for it, though, as it's pretty bulky.

24. Sims 4 Toddler Room CC by Lucy Muni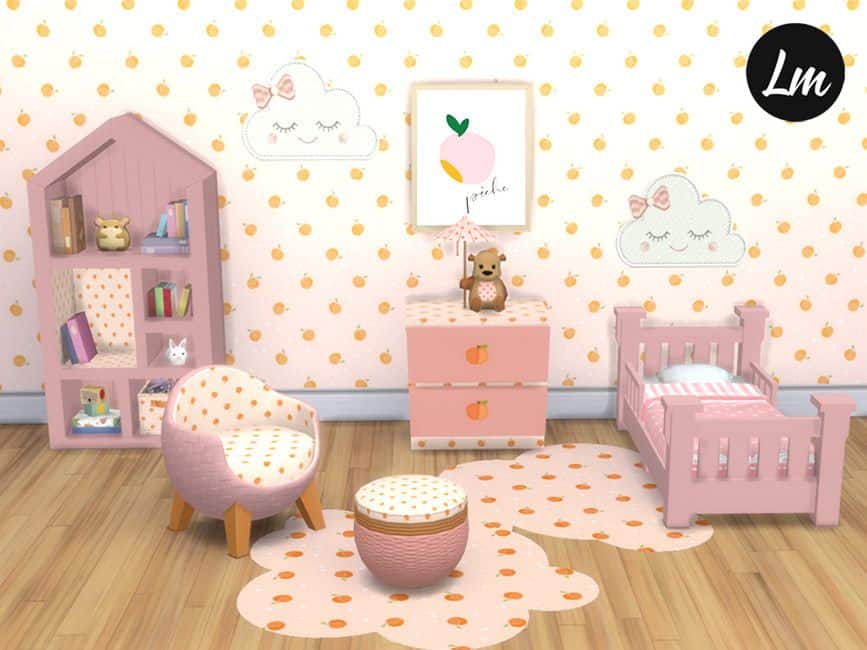 This cute peach-themed bedroom is perfect for your sim toddler's room.
Most of these items, such as the bed, chair, pouf, and storage unit, come in six swatches with peach as the key design element.
You will need The Sims 4: Island Living expansion pack to use the chair and pouf.
That should be fine as long as we can use the rest of this sims 4 furniture cc; everything is peachy.

25. Eleni Sims 4 Dining Room by soloriya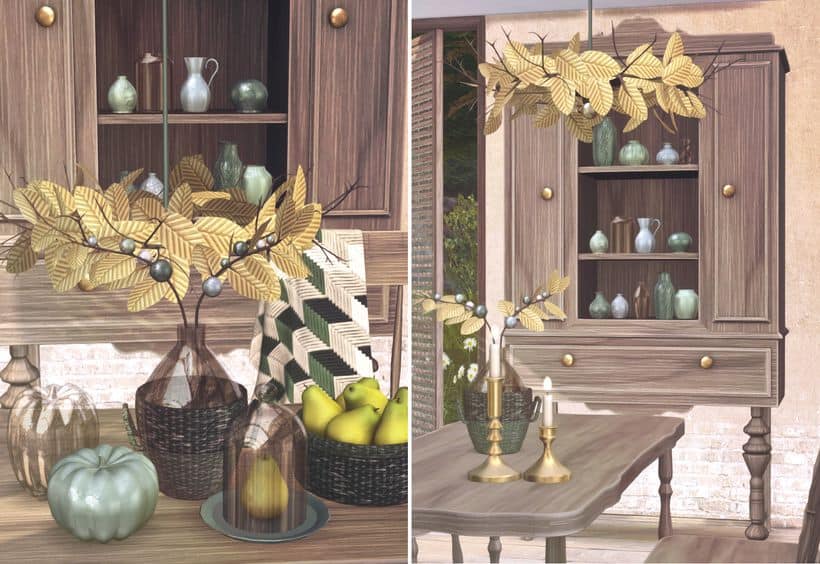 The pumpkin and leaf decorations give this furniture set a cozy fall-time feel.
Along with the old-fashioned dining room furniture, you can't help thinking it would go well in an elderly sim's home.
You can choose between two beautiful wood colors for the furniture, and the candles are fully functional.

26. Sims 4 Office Furniture CC by Surely-Sims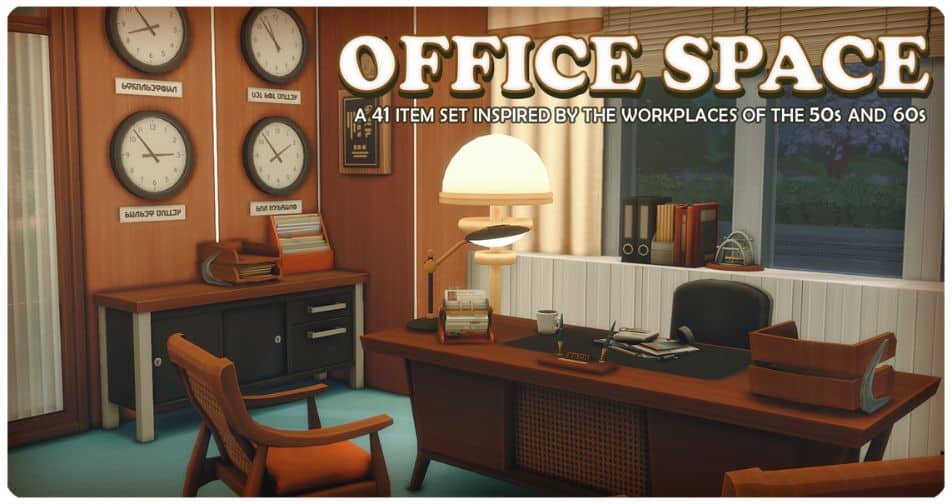 This set of 26 maxis match items is what you need to recreate a typical workspace room in your old-styled home.
I love the old-school mid-century furniture pieces, plus the Rolodex and water cooler.
The only drawback is that you will need The Sims 4: Get to Work expansion pack for some items.

27. Modern Sims 4 Furniture CC by Severinka_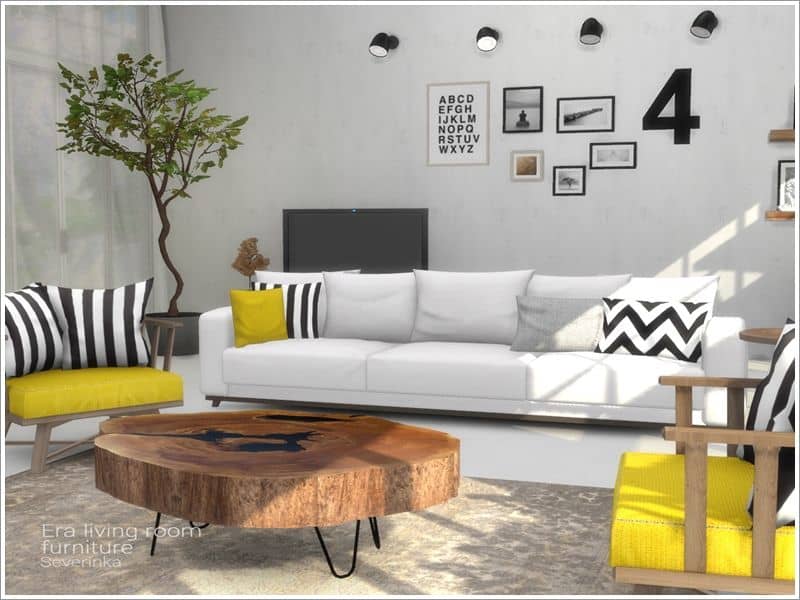 This gorgeous living room is my favorite; I wish I had this furniture in my real-life home.
You get 12 pieces of sims 4 furniture cc in this pack.
This collection offers a few seating options and some natural wood-made furniture.
It's chic and modern, with a rustic touch, and the promo image color combos are perfection.
This furniture would go well in any household.

28. Sims 4 Bedroom Kit by Quirky Introvert CC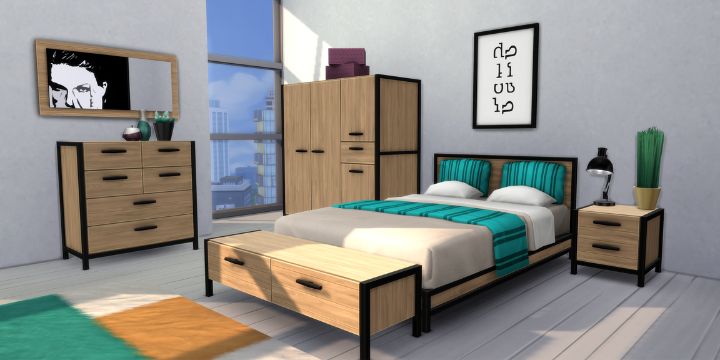 I've been using a lot of items from this cc furniture pack.
The pieces have smooth lines, and I like the available color options.
You get 50 new articles, but only one piece requires The Sims 4 Vintage Glamour Stuff pack, which is the makeup table.
I like the bunk bed; it fits great in my sims kids' bedroom.

29. Sims 4 Furniture Stove Set by Nolan-Sims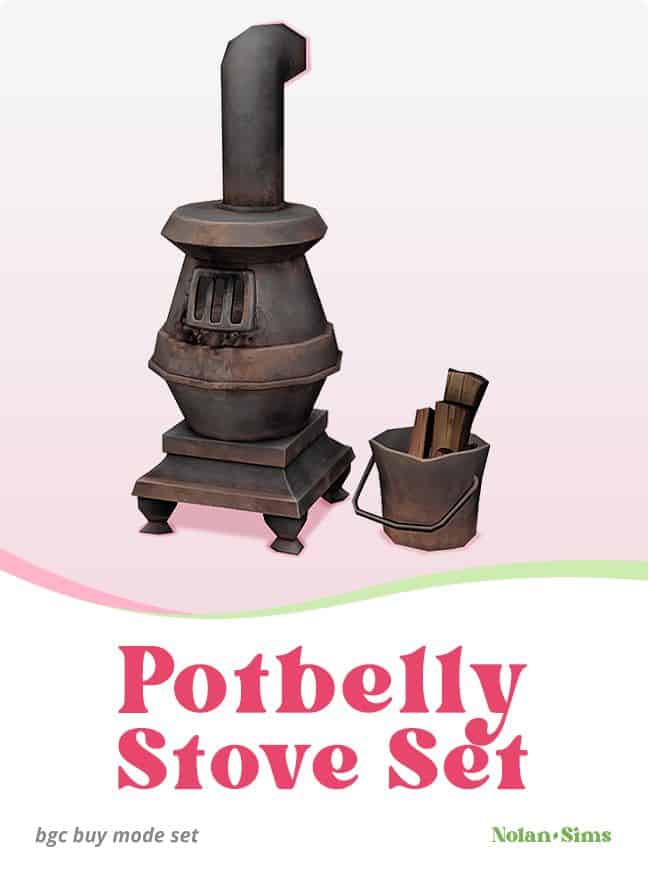 This iron stove set is another beautiful piece of sims 4 furniture cc for your rustic-styled home.
The stove is fully functional, and you'll find it under the fireplace category.
Don't forget to grab your stack of wood and pail too!

30. Dining Room Sims 4 Furniture Mods by myshunosun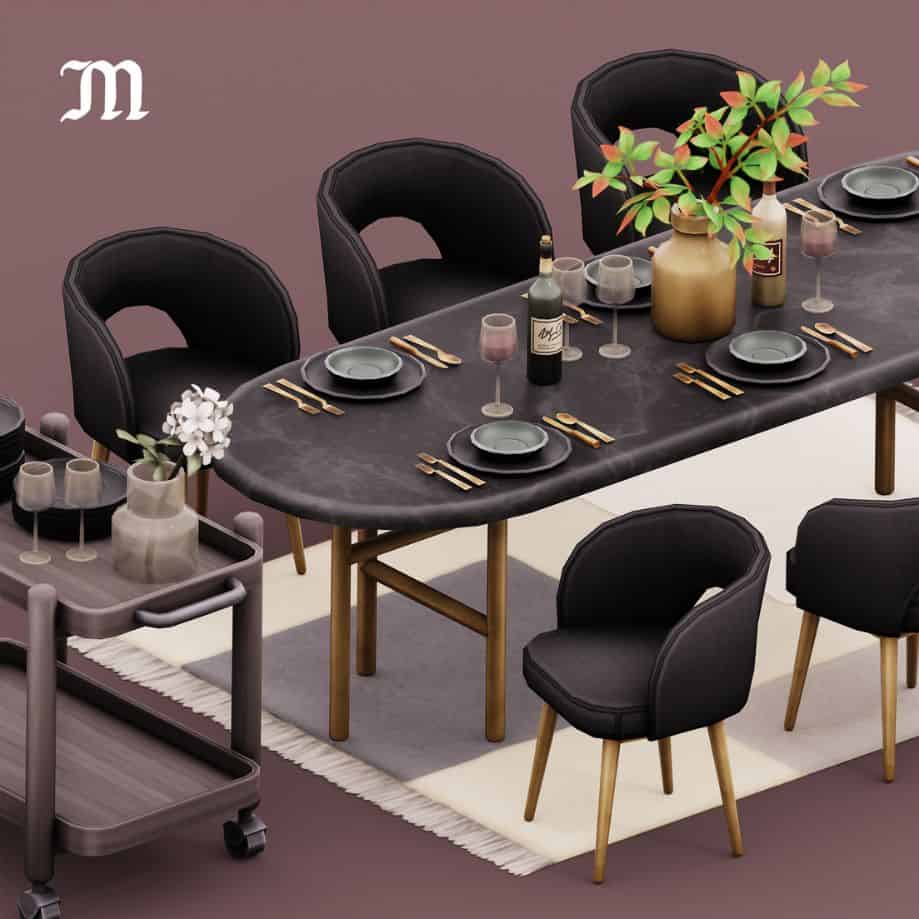 If you want a simple and elegant contemporary dining room, there are plenty of great items to choose from in this collection.
You can choose the perfect tableware colors and accessories to pair with the rounded dining table and chairs.

31. Sims 4 Closet Furniture CC by Charly Pancakes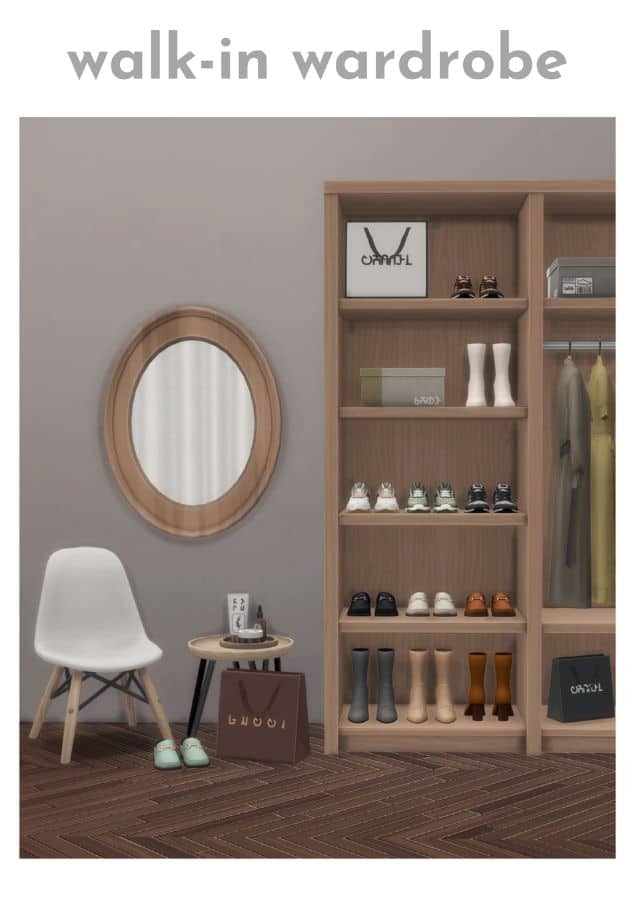 Does your sims' home have a walk-in closet, or do you want a room dedicated to their limitless clothes?
If you answered yes to one of these questions, you should use this set.
You get several wardrobe pieces, a functional shoebox, clothing, and shoes!

32. Sims 4 Natural Bedroom Set by Madlen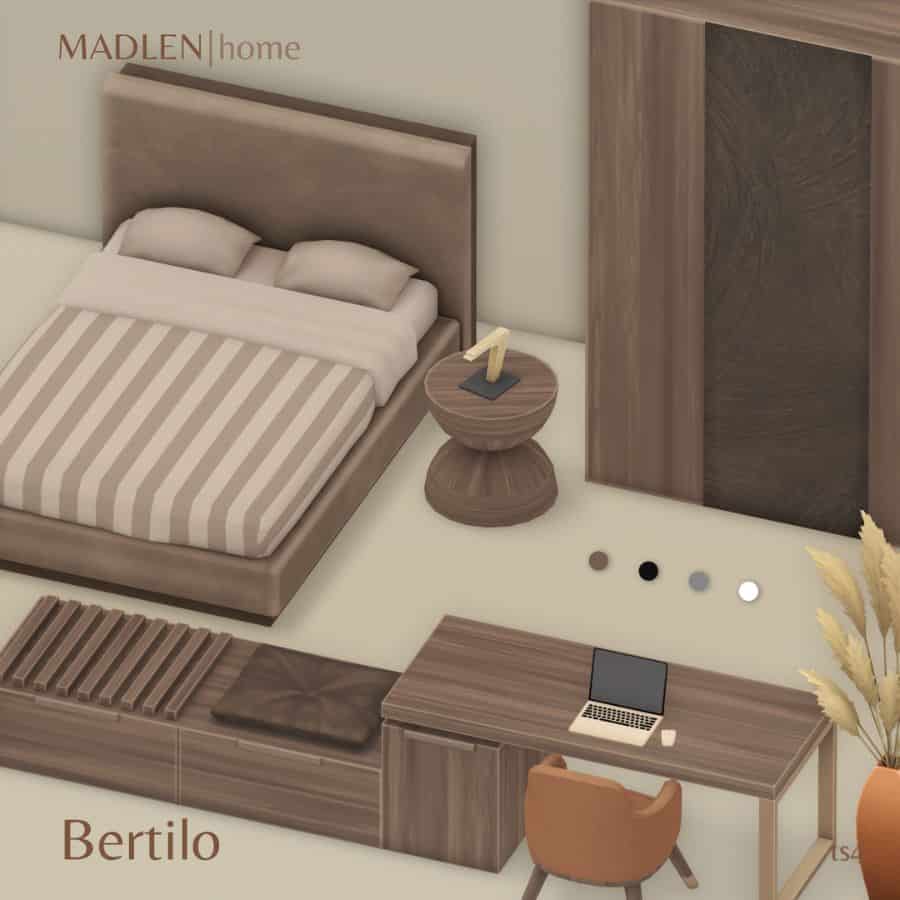 You'll like this trendy bedroom cc if you like brown or monotone colors.
There are six items, including the bed, dresser, and matching work desk.
All furniture pieces are available in black, gray, white, or brown.

33. Millennial Sims 4 Furniture CC by Syboulette
This set is another great piece of sims 4 furniture cc for eco-friendly or low-budget sims.
These DIY furniture pieces look so good and are perfect for a young sims' first home away from home, where simoleons are scarce.
Who doesn't love a coffee table made of wood pallets?

34. Sims 4 Kitchen Furniture Mods by Tuds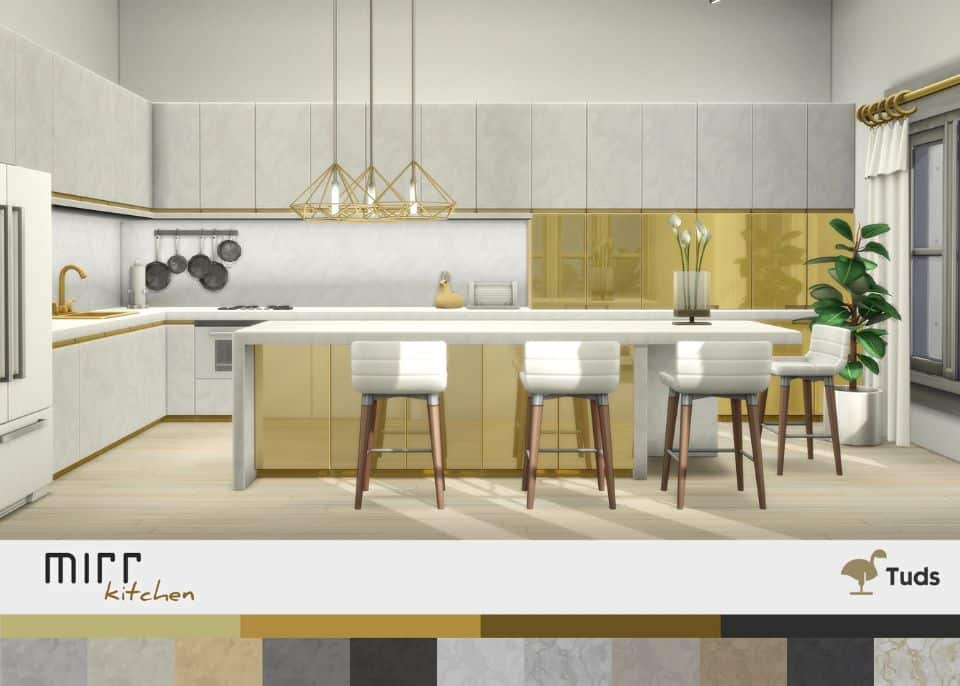 Look no further if you're going for sleek, modern, and fancy for your sims' kitchen.
There's a great selection of 38 items, including sleek-looking cabinets, counters, backsplash, and more.
Some items even have reflective properties, which look awesome.
As high-quality as it may look, this is all base game compatible.

35. Retro Sims 4 Furniture Mods by My cup of CC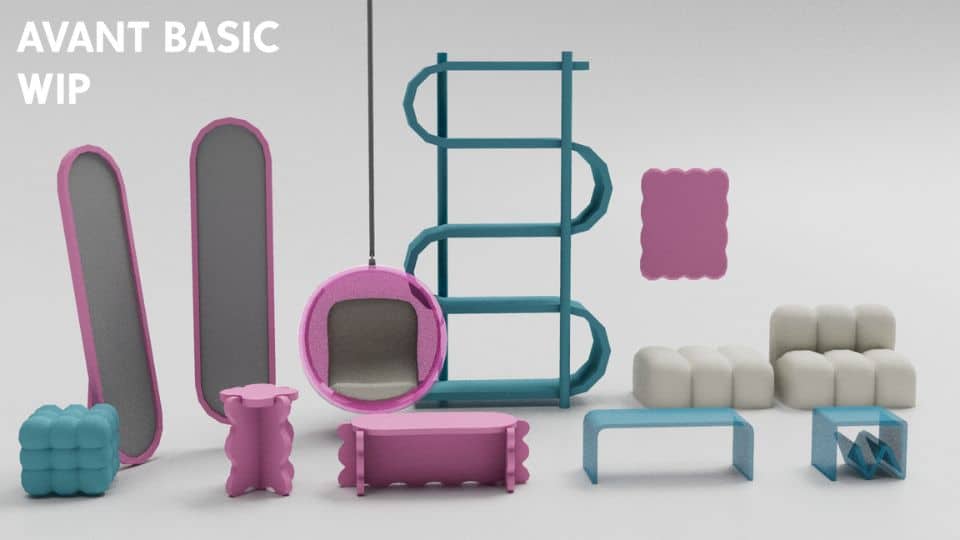 Do you love or search for 80s-inspired furniture?
These sims 4 furniture cc give off that 80s-era feel to them, especially regarding the carpet design.
Although that hanging chair technically comes from the 70s, it still works with the decor.

36. Sims 4 Cozy Dreams Furniture CC by Caio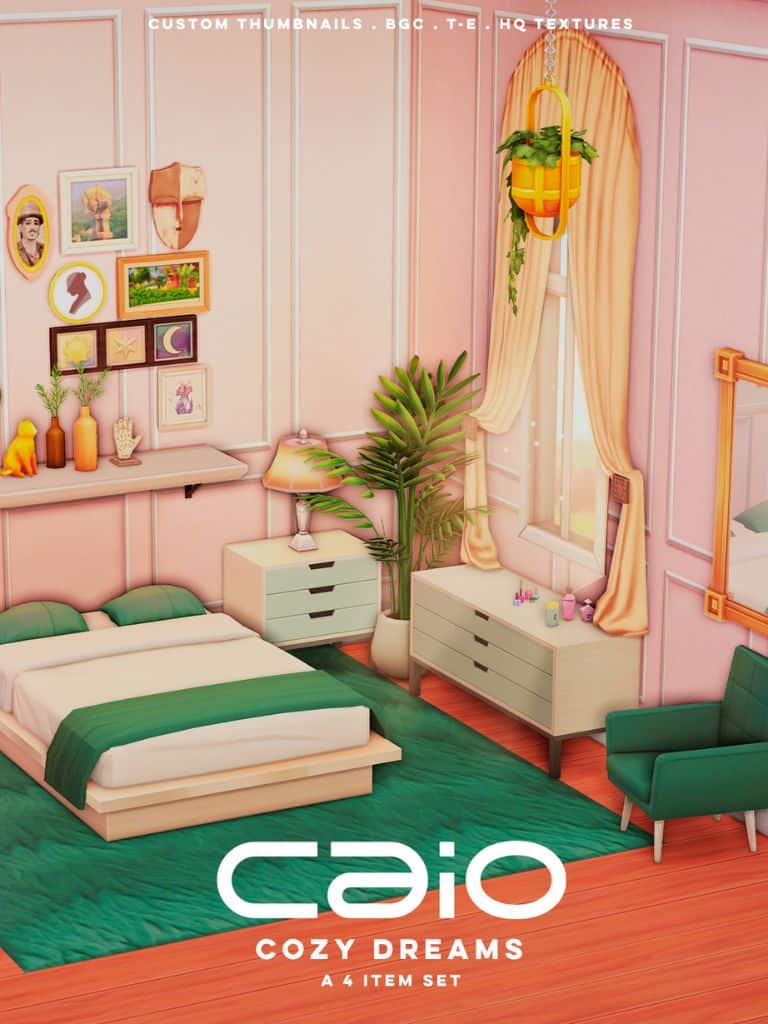 This small collection of four furniture mods might do the trick if you're looking for a simple matching bedroom set.
The double bed, dresser, and nightstand all come in 48 swatches, and the chair has 36.

37. Sims 4 Kerv Furniture CC by greenllamas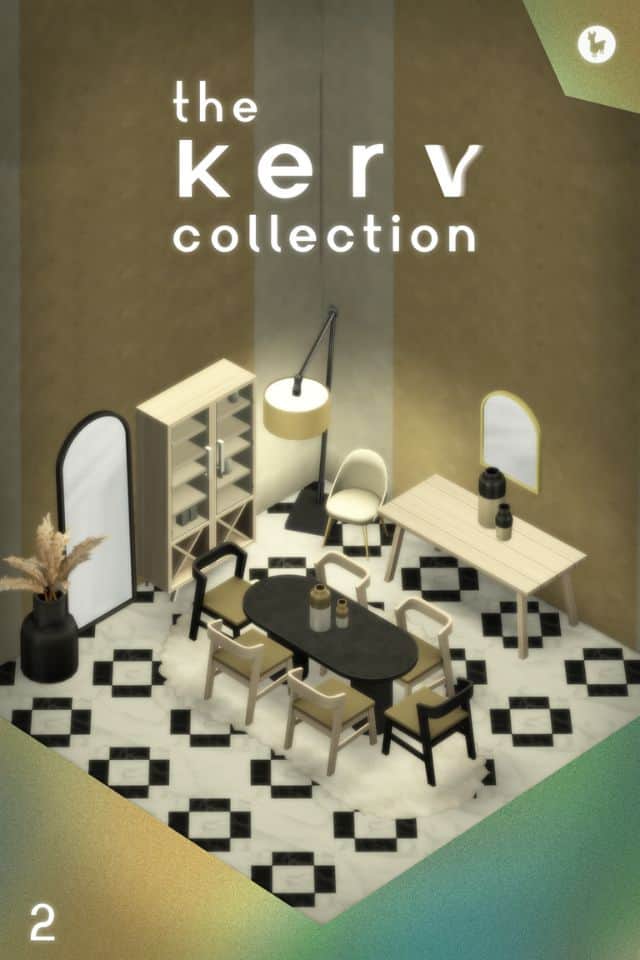 This set completes the one listed in #4, and you get seven more items to style your sims home.
You get a double cabinet, vases, a stoned dining table, and more.

38. Sims 4 Furniture Mini Set by Surely-Sims
This set is a nice little wink to the Fallout game, as the house of tomorrow, but in this case, the bedroom of tomorrow.
If you know the game, then you know we're not talking about a modern design but more of a 70s look.
You get a lovely three-piece set in several swatches that are worth a look if you need furniture from this era.
39. Sims 4 Contemporary Furniture by myshunosun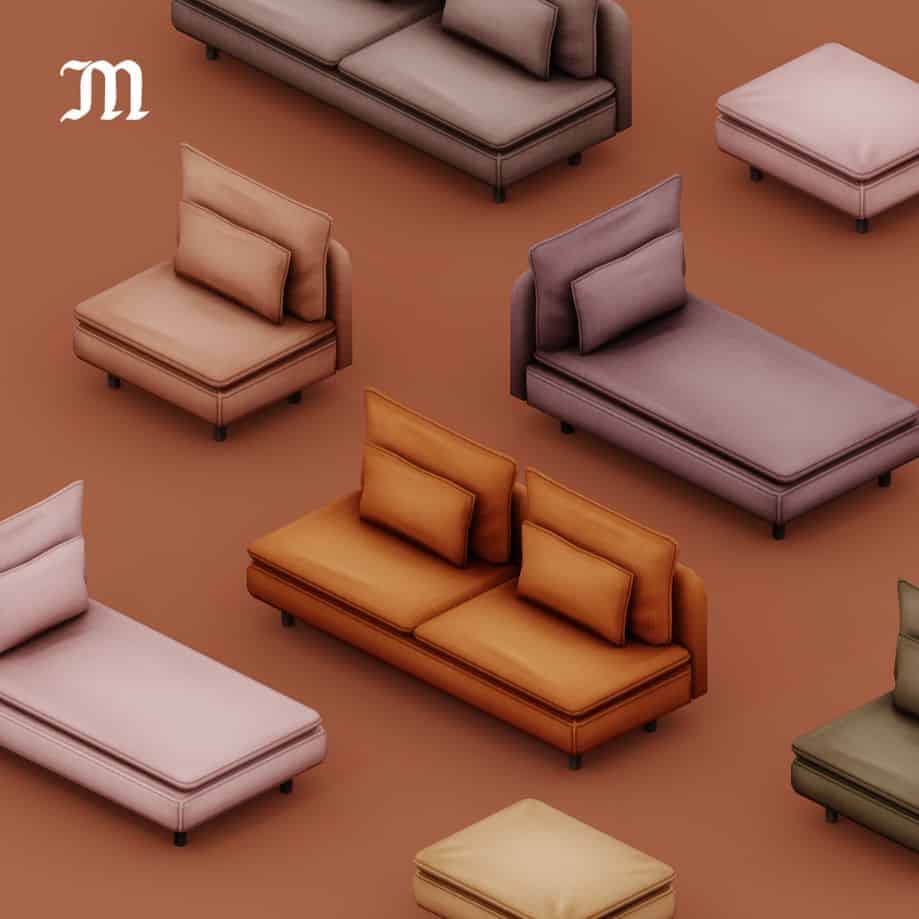 This Ikea-inspired living room furniture is sleek, minimalistic, and stylish.
You can pick from a 3-seat sofa piece, a 2-seat chaise, a comfortable living chair, and a matching ottoman.
Each item of furniture cc comes in 24 swatches.

Sims 4 Furniture Mods: Final Thoughts
I hope you've liked going through this collection of Sims 4 furniture CC and discovered a few new items to finish off your sim's stunning new home.
Whether you prefer a modern or country-living feel, you can customize everything to your liking.
If you have any questions or suggestions, feel free to leave us a comment below or tag us on our Tumblr link.
More Sims 4 Custom Content Lists

And don't forget to share and pin this collection for later!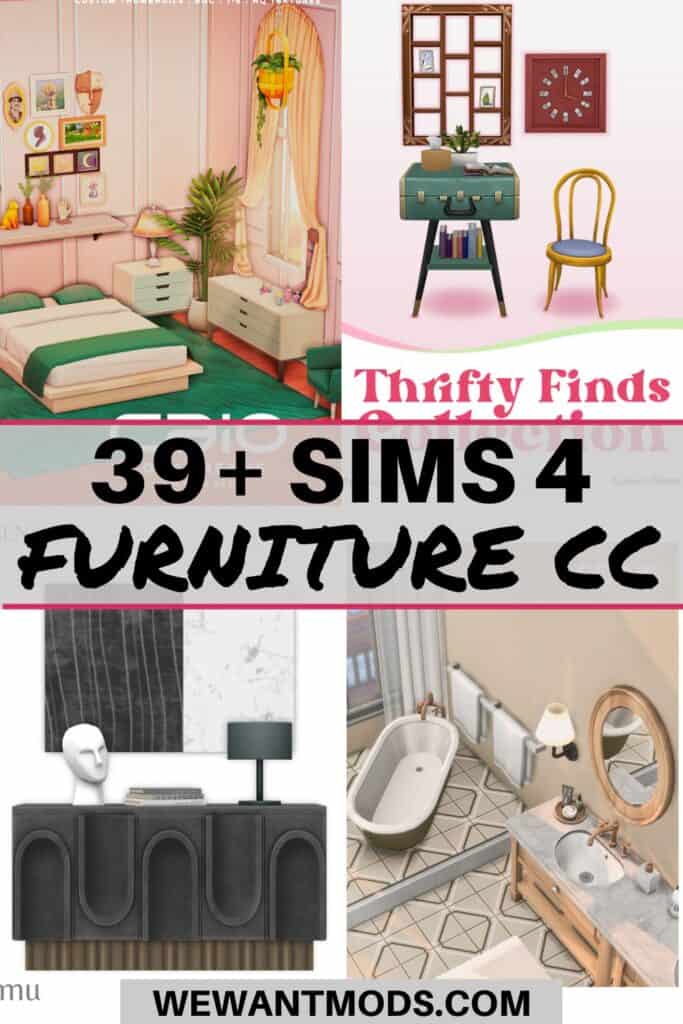 39+ Stylish Sims 4 Furniture CC (2023 Options)