17+ Sims 4 Kitchen CC: Upgrade Your Cooking Game Now
Planning a home renovation for your sims? Build the perfect kitchen with this list of sims 4 kitchen cc!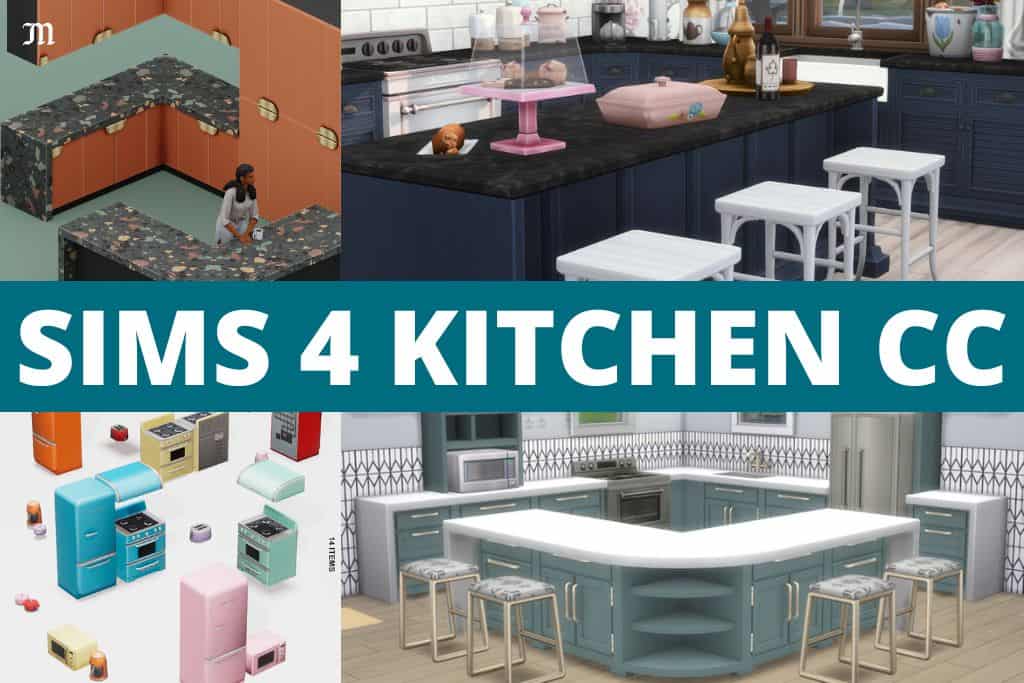 Home is where the heart is, or so they say.
And the kitchen is where our sims spend a decent amount of time eating their meals.
Those basic EA kitchens definitely need a revamp, and this sims 4 kitchen cc will help you create the perfect space.
And when you are done with your sims kitchen, you may want to check out our other furniture posts, linked at the bottom of this list.
Disclaimer: The following mods are neither endorsed nor affiliated with The Sims, Maxis, or Electronic Arts. Any use of mods (custom content or game mods) should be done with caution and with the knowledge that there may be risks.
Best Sims 4 Kitchen CC
From wallpaper to retro-style appliances, we've combined a mixed collection of sims 4 kitchen cc.
You can create a fully modern home or opt for a more natural wooden style.

1. Chalk Sims 4 Kitchen CC by Charly Pancakes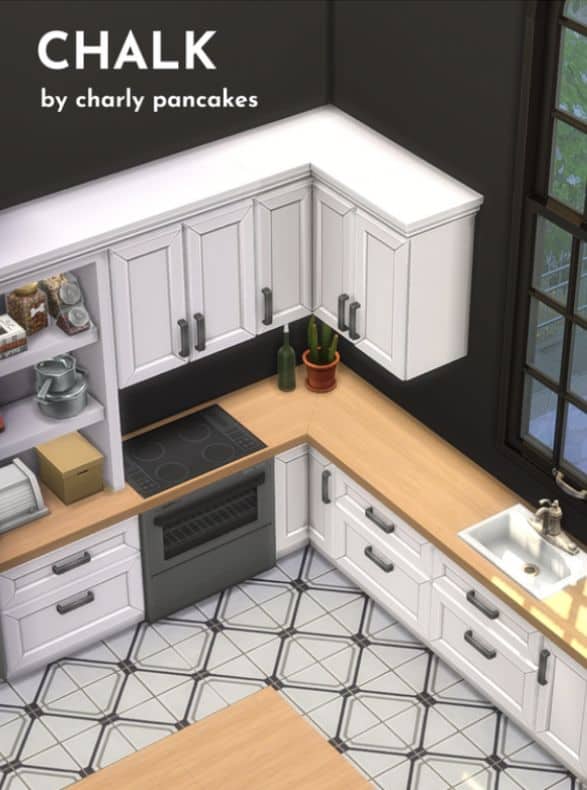 This kitchen set is one of my favorites and gives me farmhouse kitchen vibes, although it could totally work for suburban homes too.
This kitchen cc pack comes with the kitchen counter, cabinets, and island.
You can design it to your preferences, whether you prefer a white kitchen or dark cabinetry with gold hardware.
Plus, you will find 40 swatches for the countertops to complete the perfect kitchen.

2. Herbalist Sims 4 Kitchen CC by myshunosun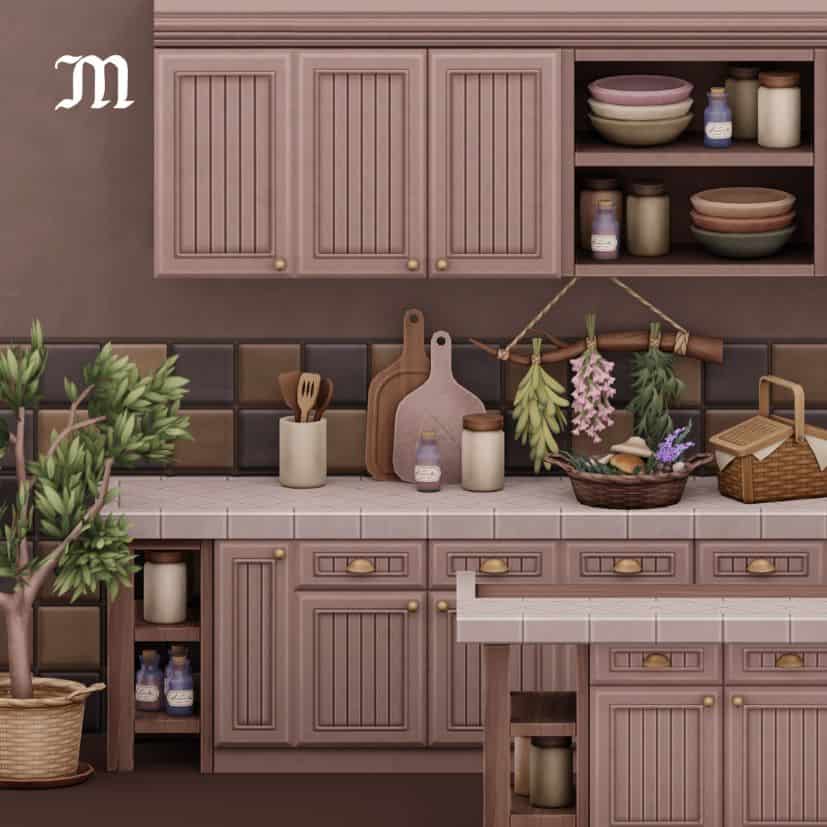 This farmhouse-style kitchen comes with 12 theme-appropriate items.
You will find typical pieces such as the kitchen counter, cabinets, island, and the following pieces;
Plant
kitchen utensils
Cutting boards
Drying herbs
Mushroom basket
Stacked plates and more
All items in this kitchen cc pack are base game compatible.

3. Sims 4 Kitchen Clutter Set by Ravasheen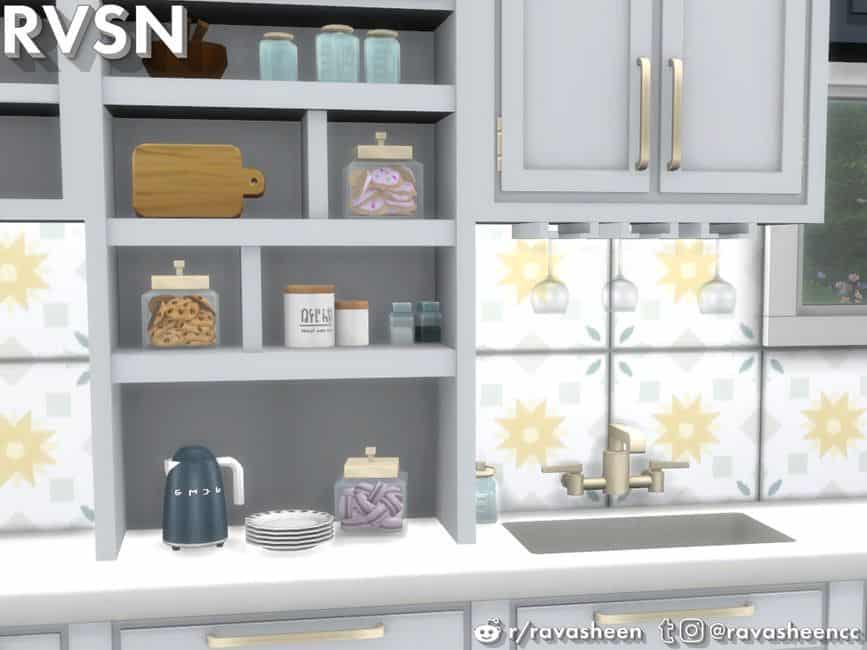 Grab all your favorite maxis match sims 4 kitchen cc clutter pieces in one spot.
You will find mixed kitchen stuff, including plates, cookie and macarons jars, a soap dispenser, flour jars, a tea kettle, and more.
Need a floor runner? There is one of those included too!

4. Essa Kitchen for Sims 4 by Peacemaker-ic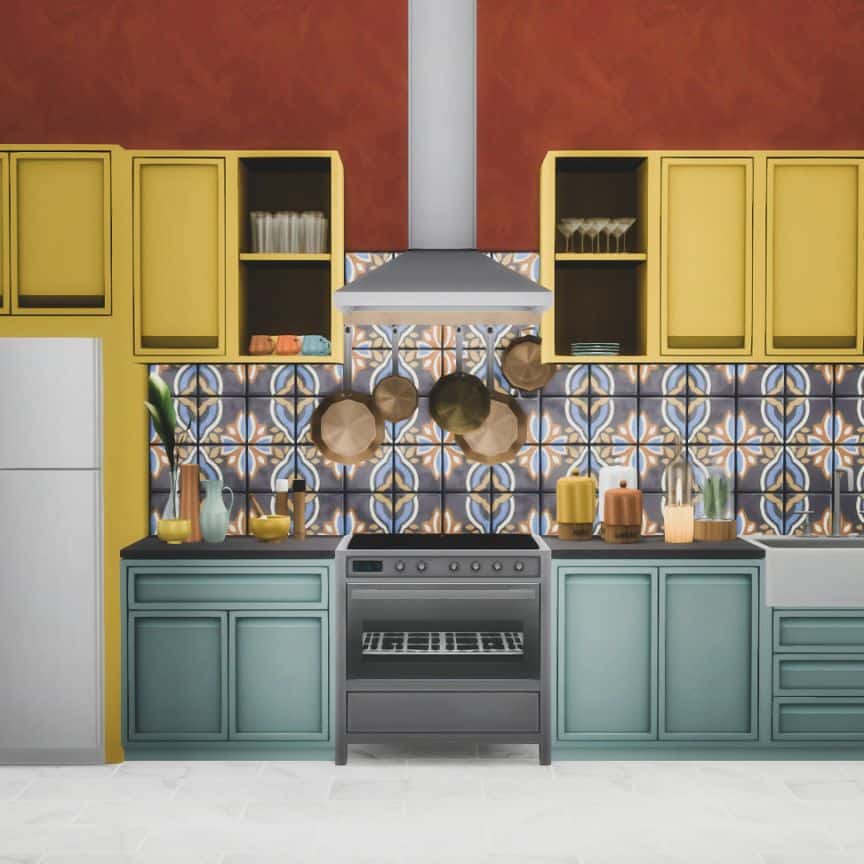 This Essa kitchen has so many possibilities.
You can opt for a vibrant kitchen like the image above or style it in a specific color palette.
There are 14 items total, including open and closed-style cabinets, a modern farmhouse sink, and upholstered barstools.
Before getting started, take a few minutes to read the creator's instructions and notes.

5. Sims 4 Kitchen CC Set by Ravasheen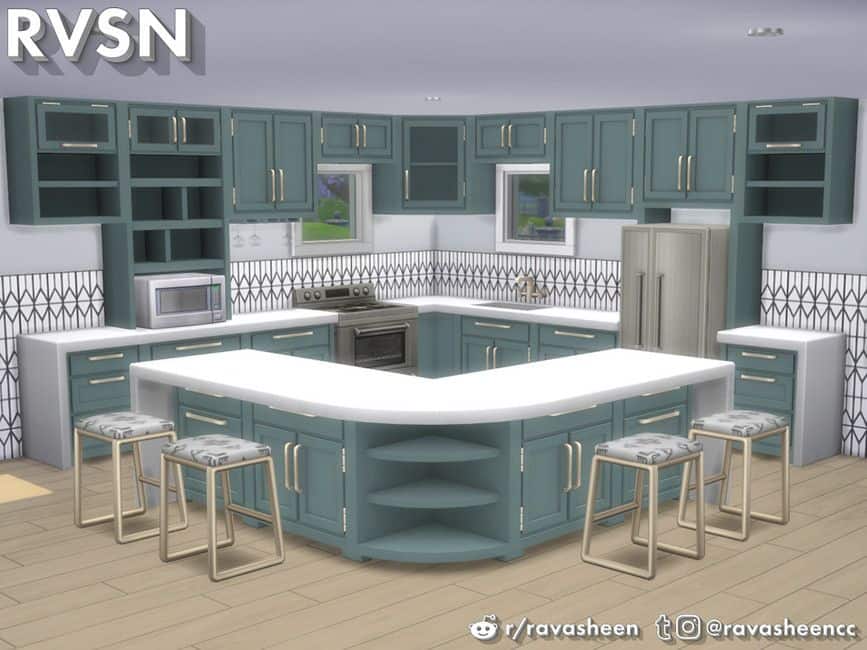 This pack has 8 pieces to customize the perfect kitchen for your sims household.
The set includes bottom base counters, a counter bar, a sink, cabinets, a fridge nook, and stools.
My favorite little detail is the wine racks that hang from beneath the cabinets.

6. Decorative Sims 4 Kitchen CC by Soloriya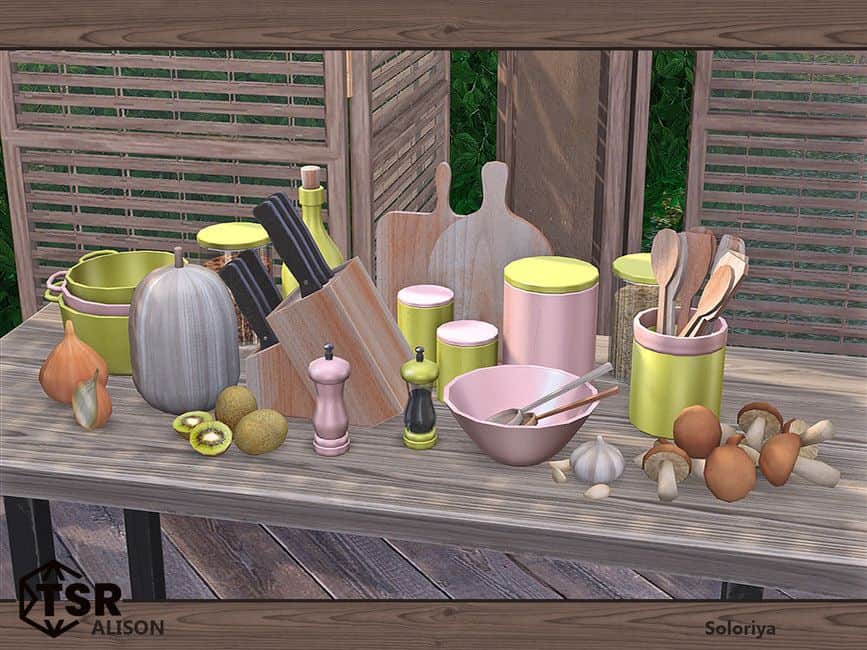 This collection of decorative pieces can be used in your sims kitchen or dining room.
This set has 10 pieces including;
A jar
Knifes
Salt & pepper shakers
Utensils
Cooking pots and more

7. Sims 4 Kitchen Wallpaper by Pluto-Sims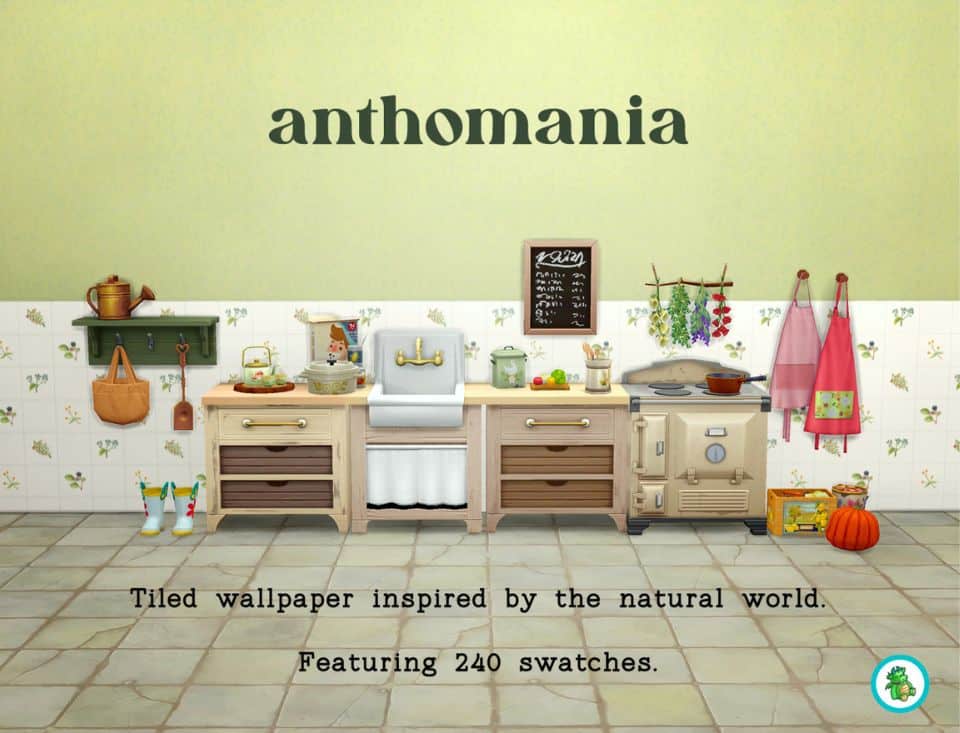 While wallpaper is not for everyone, it can add a delicate touch to a country kitchen or even a fancy upper-class home.
This wallpaper set has 240 swatches across four categories (plants, flying creatures, marine-themed, and mammals).

8. Millennial Sims 4 Kitchen CC by Syboulette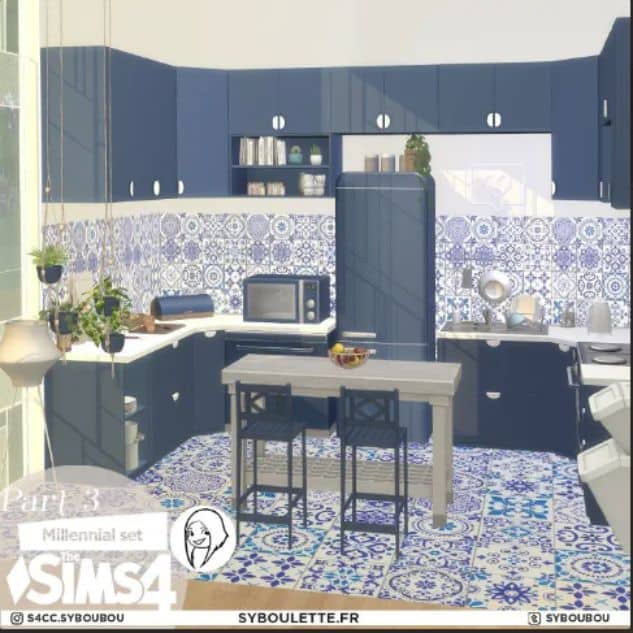 This beautiful kitchen comes with 24 low poly and base game-compatible items.
You can opt for the gorgeous blue swatch above or one of the other 11 color options.
Some of the items are functional, too, such as the island table and the trash bin.

9. Sims 4 Tiled Kitchen Backsplash by Bellassims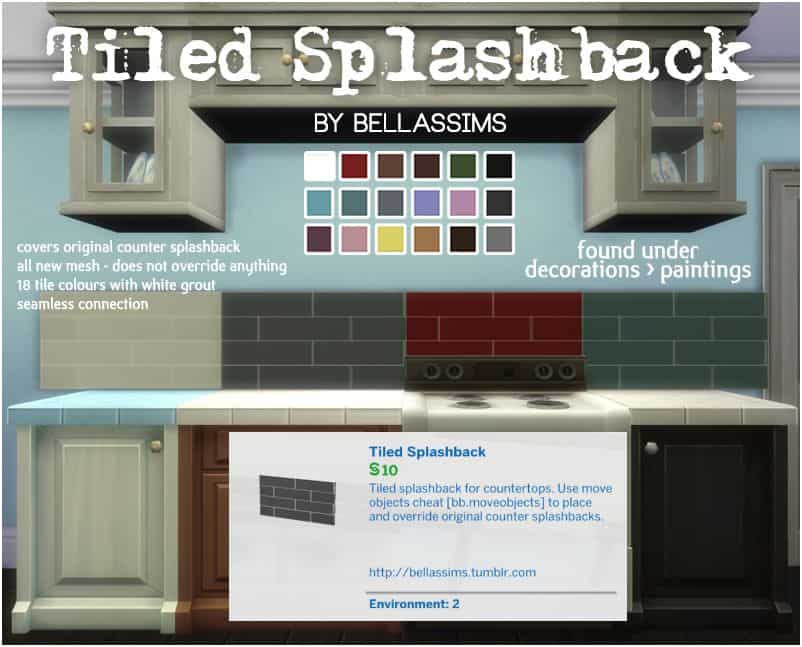 Subway tiles have to be one of the market's most popular types of kitchen backsplashes.
This backsplash can quickly finish a modern kitchen or help balance a mix of styles.
These kitchen tiles are available in 18 swatches.

10. Quintin Sims 4 Kitchen Set by Peacemaker-ic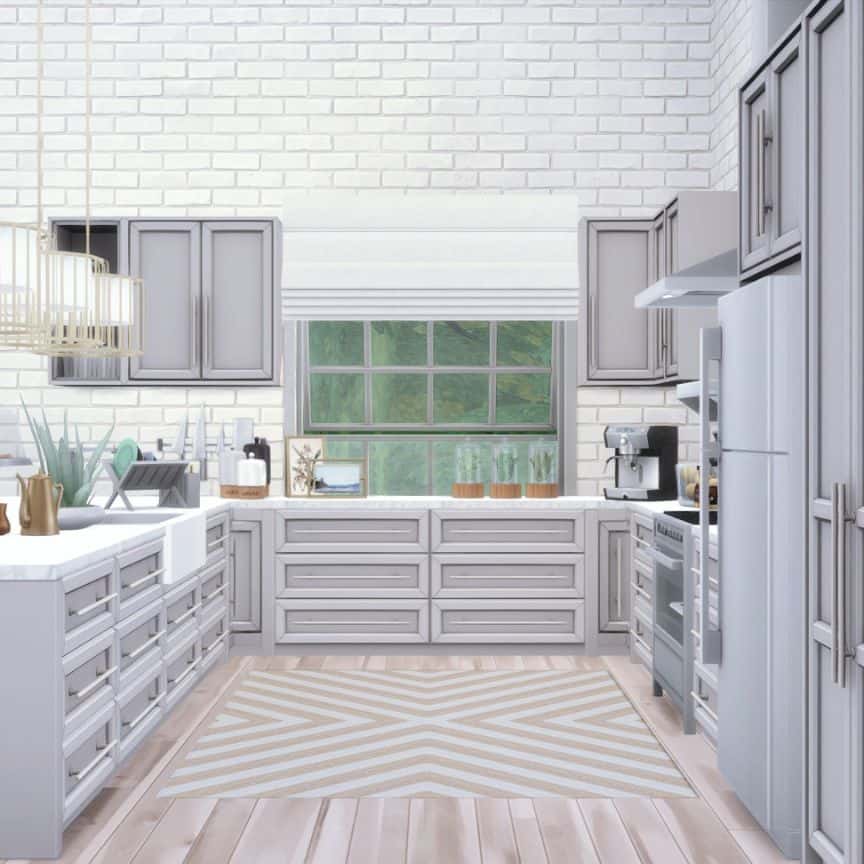 I have difficulty picking my favorite color for this gorgeous kitchen set, but it has to be the light swatch above.
You will find counters, a kitchen island, a barstool, and more.
Depending on the custom content piece, there are between 10 to 32 swatches.

11. Spring Kitchen CC for Sims 4 by Sixam CC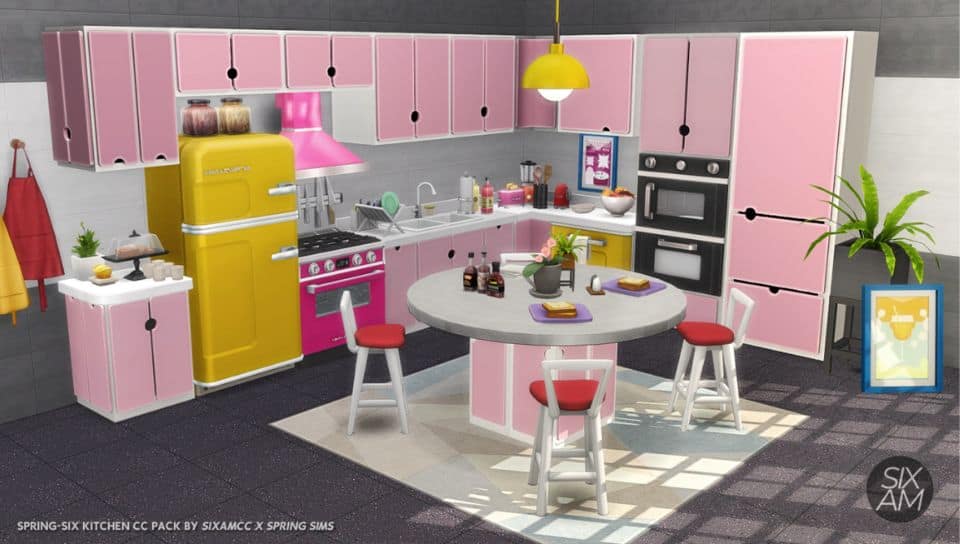 This kitchen set is perfect for anyone who loves bright and colorful rooms in their home.
Inspired by spring, this mid-century modern kitchen is definitely on the unique side.
You will find a variety of swatches for your sim's counters, cabinets, and kitchen island.
You can also enjoy a double sink, lovely appliances, and a few functional appliances.

12. Margaux Sims 4 Kitchen CC Set by Syboulette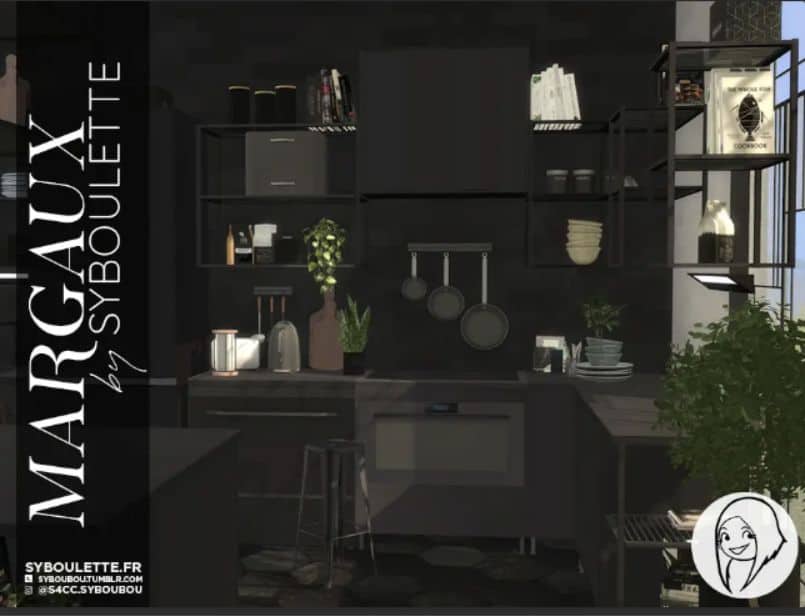 Here we have another 24-piece set of sims 4 kitchen cc with everything from cups to a metal shelving system.
There are 6 color swatches, including black, grey, light beige, and even a fun coral pink.

13. Sleek Sims 4 Kitchen by Ravasheen
This kitchen cc set comes with 16 pieces to create the perfect kitchen and can be styled with many accessories.
The kitchen cabinets and island come in both color and wood swatch options.
Plus, you can opt for that beautiful waterfall-style marble countertop.
The accessories include a trash can, stackable plates, a utensil set, and more kitchenware.

14. Cozy Kitchen CC for Sims 4 by RusticSims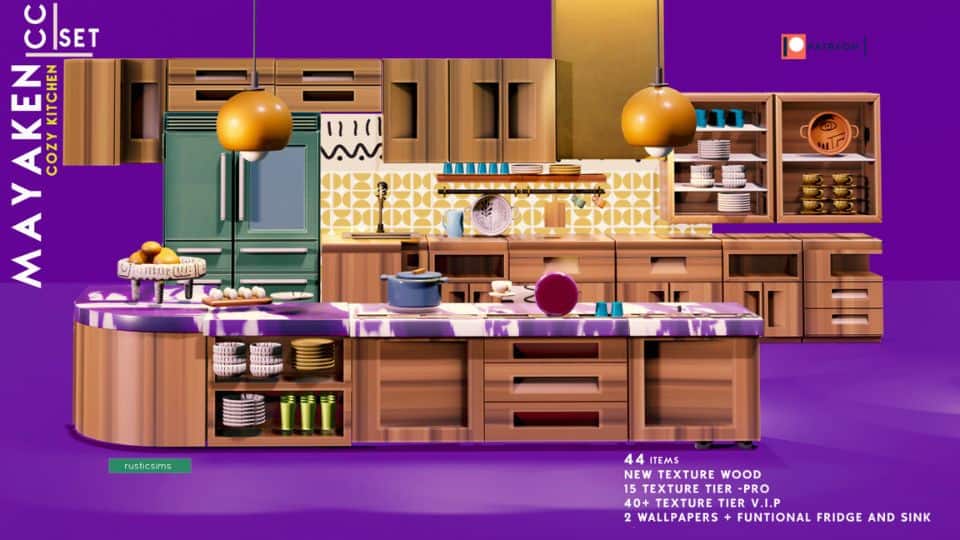 This beautiful and colorful kitchen comes equipped with a functional fridge and sink.
There are 44 items in this sims 4 kitchen cc set, including 2 wallpapers.
I love the hardware-free kitchen cabinets with all their unique nooks for kitchenware.

15. Sims 4 Whilloh Kitchen Set by Peacemaker-ic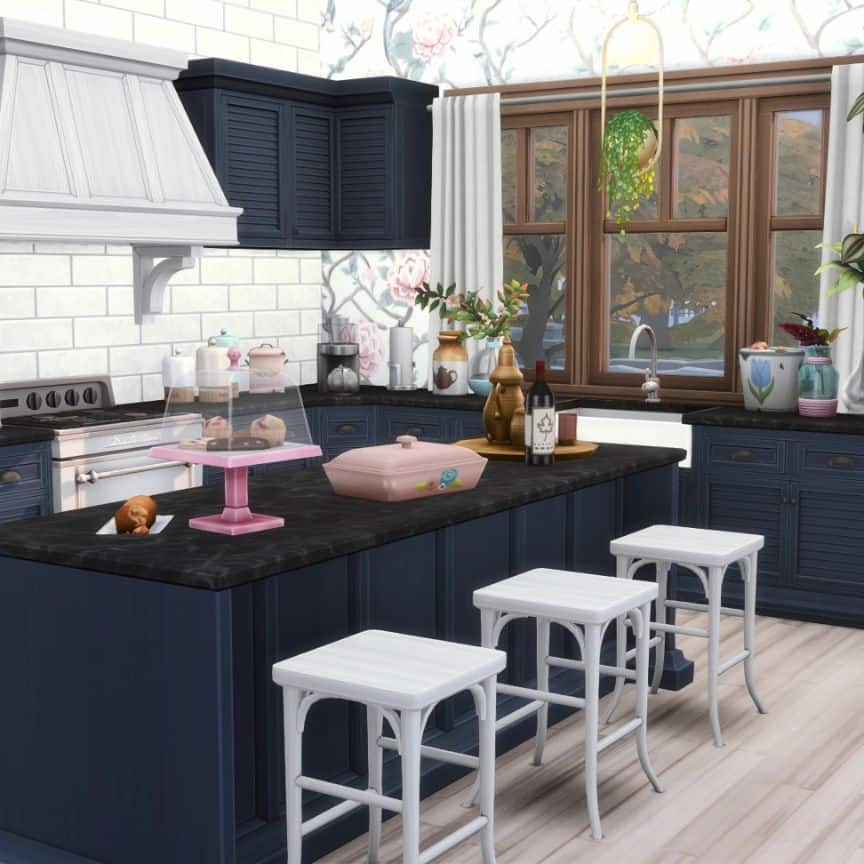 This kitchen set is definitely one of my favorites.
I love the detailing on the cabinetry, the large hood cover, and the farmhouse sink.
When you opt for the dark green swatch, this beautiful kitchen gives off a British Colonial feel as the creator describes.

16. Macaron Sims 4 Kitchen CC by myshunosun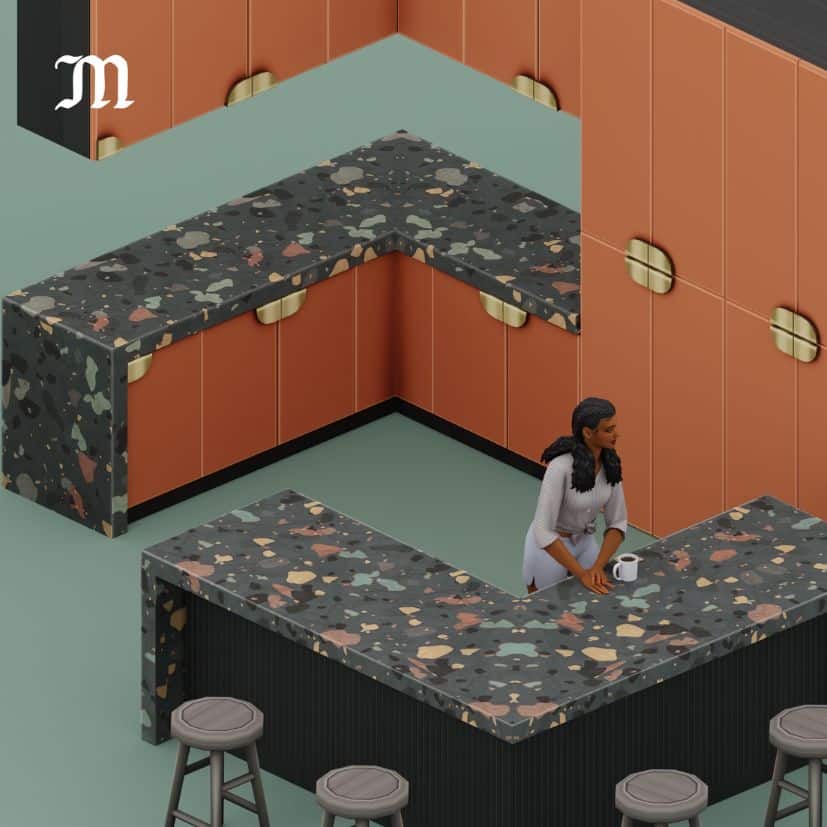 These macaron countertops were all the rage a few years back in the home renovation scene, and they remain a fun and creative option.
You will find counters, cabinets, islands, and a bar stool.
There are vibrant and more neutral swatches, between 22 to 24 colors, and 9 wooden options for the barstool.

17. Sims 4 Retro Appliances by Caio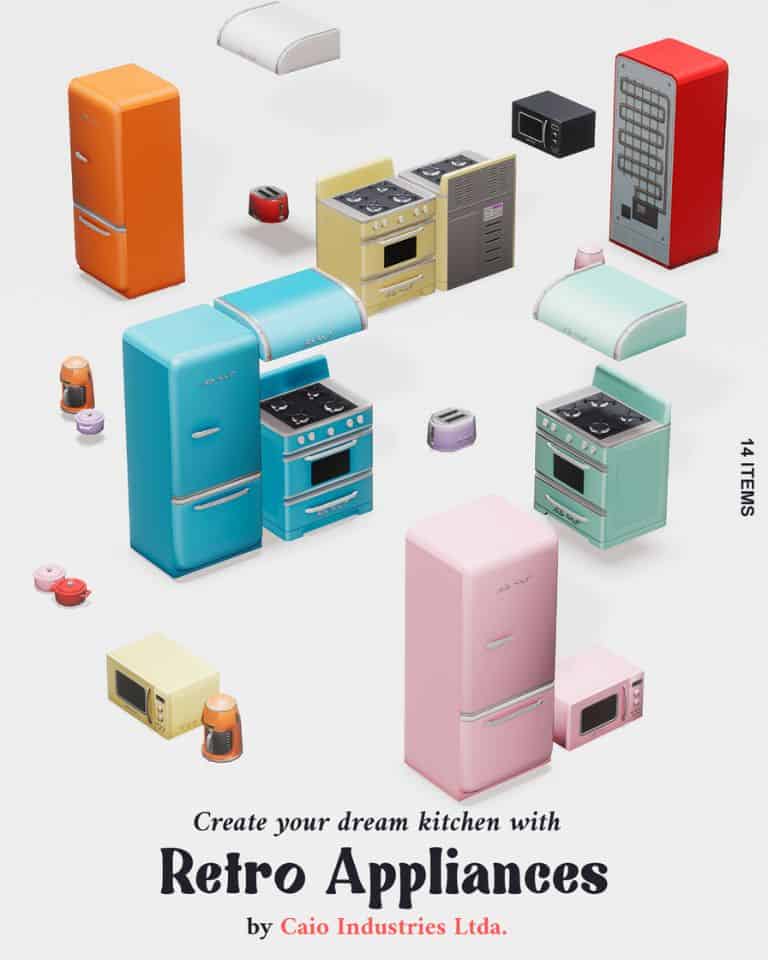 This kitchen cc set is self-explanatory; it's all about retro kitchen appliances.
This set includes;
Fridge
Stove
Hood
Toaster
Microwave
Coffeemaker
Cooking pot
There are 9 color swatches, from the classic white to all those fun, vibrant colors you see in the picture above.

18. Sims 4 Manon Kitchen Set by Syboulette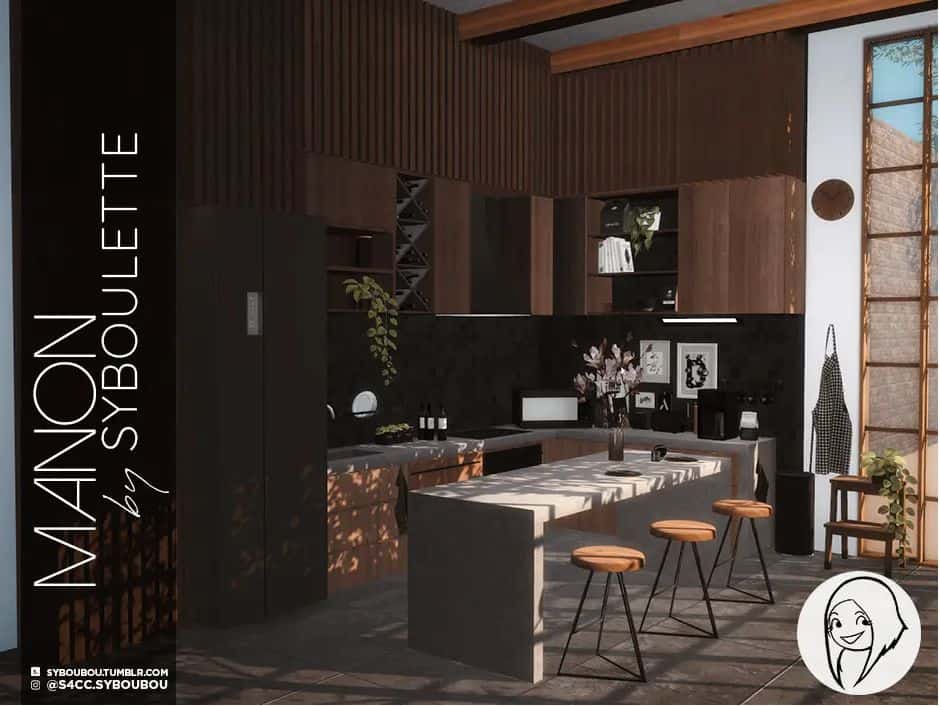 This modern kitchen set comes with 33 pieces of custom content.
You can pick from 6 swatches, including wood, concrete, and marble options.
The cc pieces include a kitchen clock, wine bottles, books, appliances, and more.

19. Outdoor Sims 4 Kitchen by Peacemaker-ic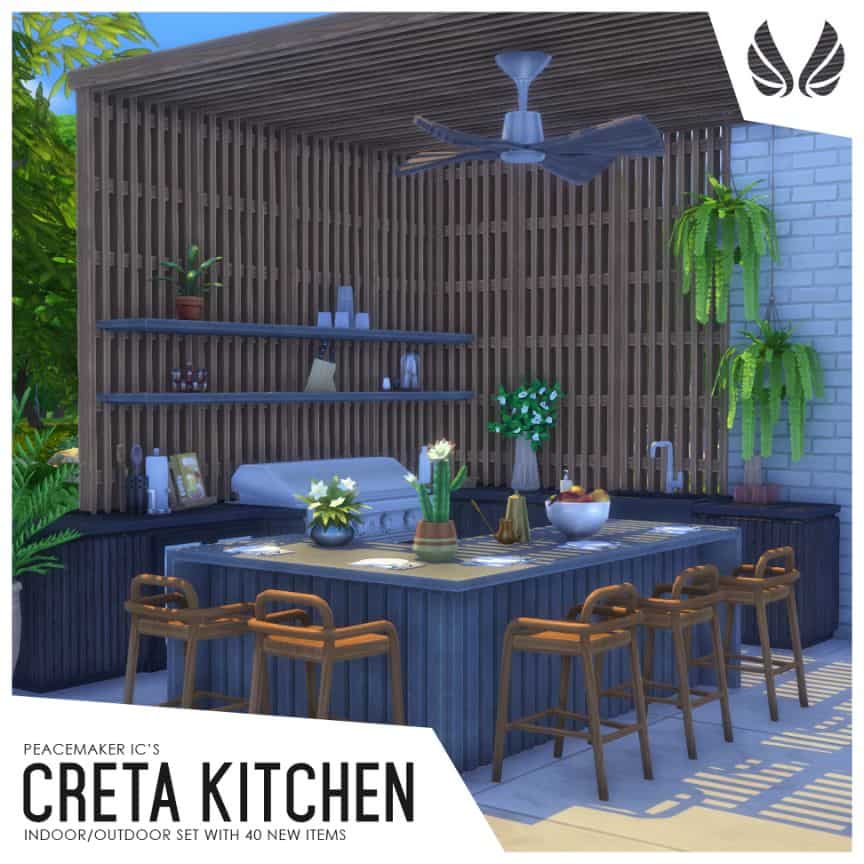 I assume this outdoor kitchen set was inspired by the island of Crete in Greece.
There is also an indoor kitchen you can check out, but the outdoor kitchen caught my eye.
The kitchen keeps a lovely wood theme throughout and comes with summer chairs, a large barbecue, plants, a mini-fridge, and a ceiling fan.
There are some more accessories to go around and help create the perfect outdoor eating space.

Sims 4 Kitchen CC: Final Thoughts
With this collection of sims 4 kitchen cc, you can get started on styling the perfect space for your newest household.
Whether you prefer a retro style or a more modern feel, you can customize your sim's kitchen to perfection.
More Custom Content Lists

And don't forget to pin & save this post for later!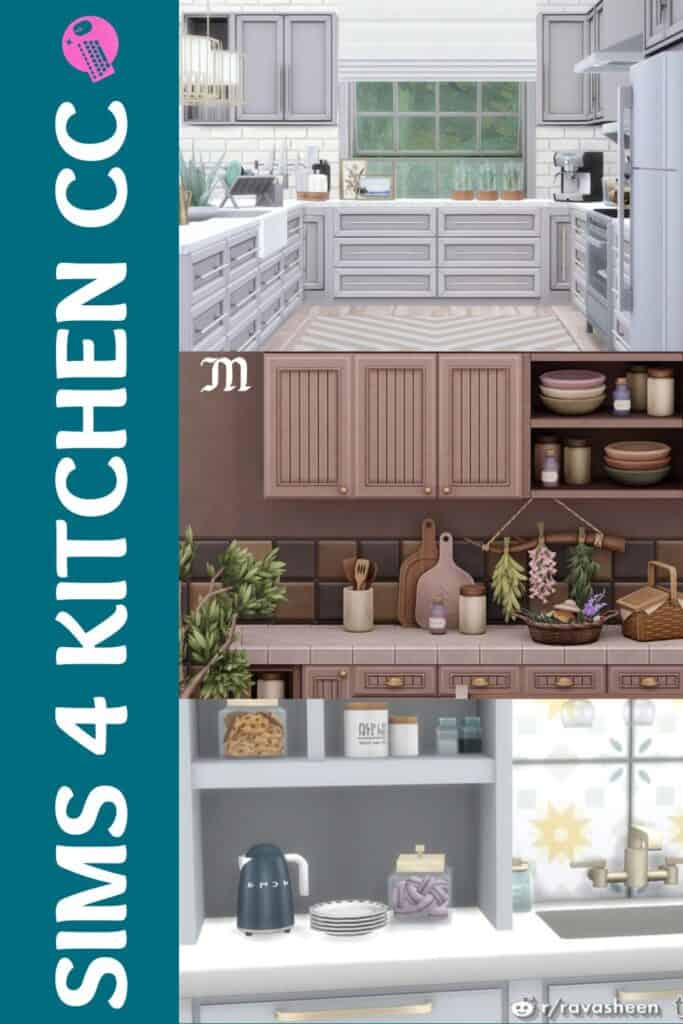 17+ Sims 4 Kitchen CC: Upgrade Your Cooking Game Now