21+ Sims 4 Living Room Ideas for Every Style
Step into comfiness with this collection of sims 4 living room ideas!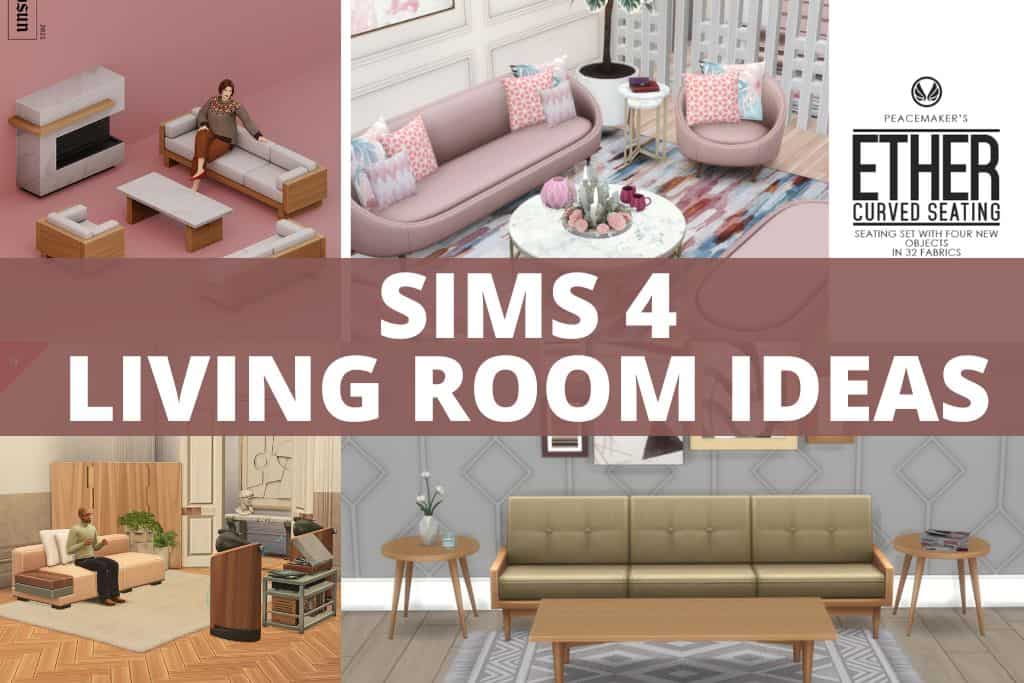 Living rooms are a super important space within any home.
Your sims are no different, so the living area should be inviting and reflect your sim's style.
I've compiled this list of fashionable sims with 4 living room ideas to help you fully customize the space.
From seating options to cute decorative items, these packs have everything to make your sims' home welcoming and stylish.
Need to decorate more rooms? Check out our other furniture lists;
Disclaimer: The following mods are neither endorsed nor affiliated with The Sims, Maxis, or Electronic Arts. Any use of mods (custom content or game mods) should be done with caution and with the knowledge that there may be risks.
Best Sims 4 Living Room CC
This selection of living room furniture includes a good variety of designs, from minimalist pieces to retro-inspired sofas.
1. Sims 4 Living Room Ideas by soloriya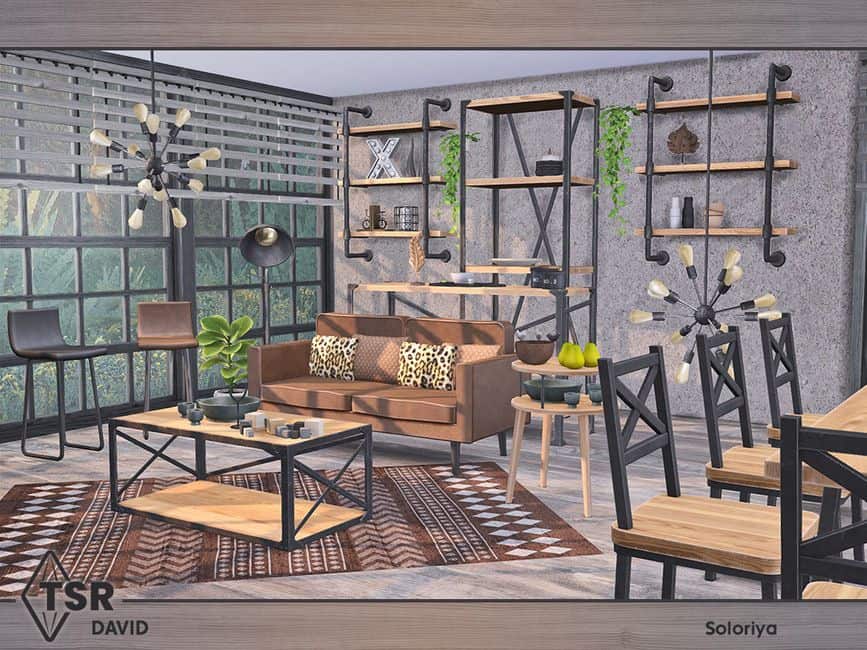 Are you looking to give your sims an industrial style living room?
If you like furniture made of wood and steel, this set of 10 pieces should do the trick.
Each custom content piece comes in two wood grain colors; you can't go wrong either.
This sims 4 living room cc is ideal for a loft or even a country living-style home.

2. Sims 4 Living Room Seating Ideas by Peacemaker-IC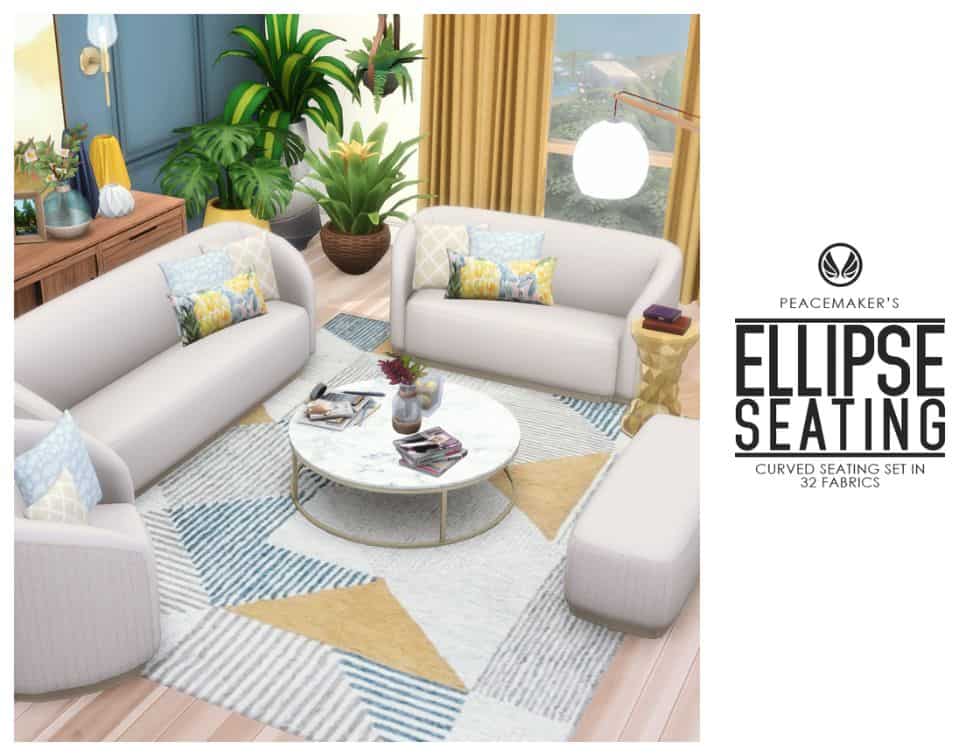 If you like sleek, nicely curved pieces of furniture, you'll like this set of four seating options, which includes:
Armchair
Loveseat
Ottoman
Sofa
There are 32 swatches available, so they'll blend nicely with any decor.
I picture these furniture pieces going really well with retro-style furnishings.
Add some round coffee tables with these curvey seats, and you got yourself a theme.

3. Sims 4 Living Room CC for Tables by Ravasheen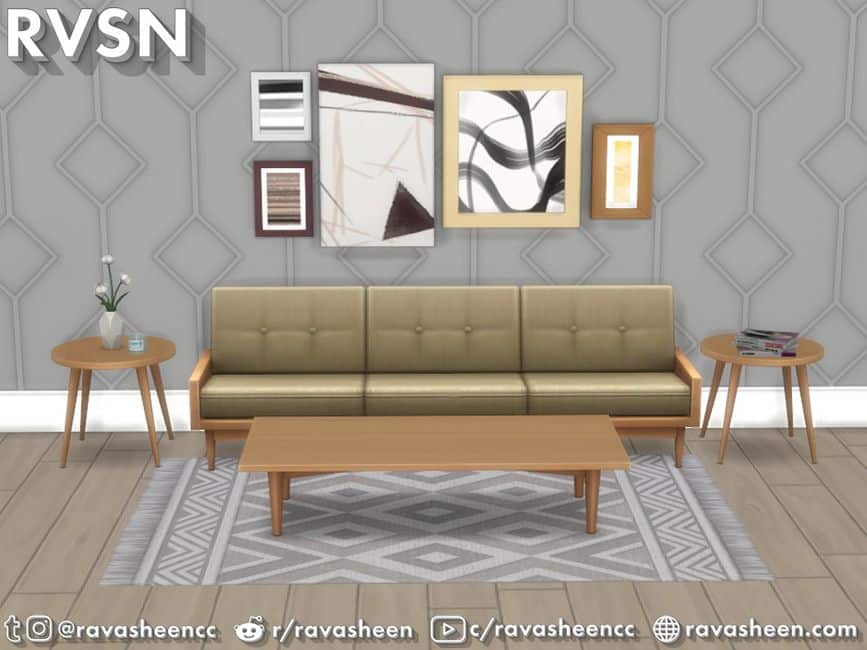 This custom content set is all about coffee tables.
This furniture set includes seven square and round table models for your sims living area.
These are simple living room tables, but sometimes simple is all you need.
The solid wood tables come in four swatches, and the wood-glass tables have six options.
Also, if you liked the previous item in #2, these rounded tables would make a fine addition to your sims' living space.

4. Japandi Sims 4 Living Room CC by Severinka_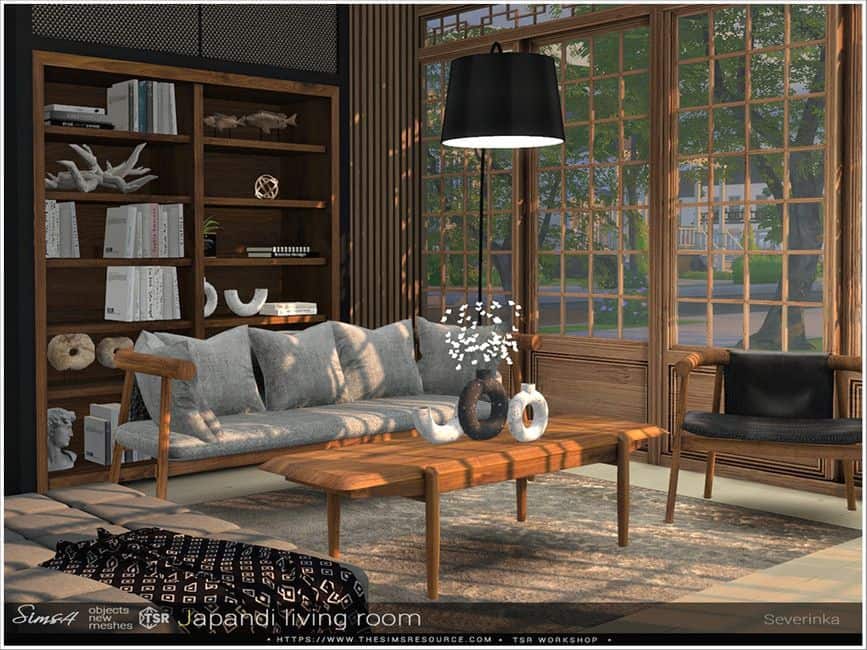 This collection of living room cc is a mix or fusion of Japanese and Scandinavian decorations rolled into one.
There are definitely a few elements that come from each culture, and the result looks fantastic.
You get nine gorgeous furniture pieces, having a few neutral and tan-colored swatches.
This japandi-styled sims 4 living room idea brings elegance and simplicity to any of your sims' homes.

5. Sims 4 Retro Living Room Mods by myshunosun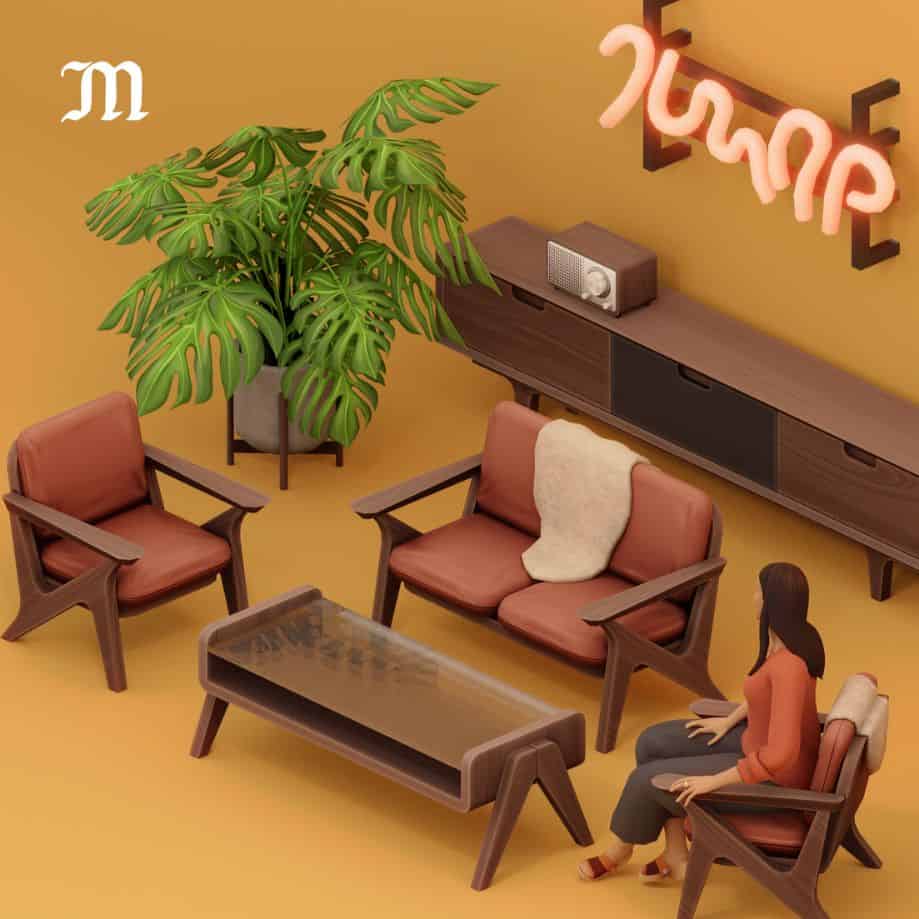 If you like the look and feel of mid-century furniture, these living room cc mods are for you.
This pack includes eight items, which includes:
A couple of single-seat options
Loveseat
Big interior plant
Neon sign
Old-school radio
Coffee table
Sideboard cabinet
Each item has its own swatches, except for the neon sign, which your sims can interactively change it's color in-game.
These furniture pieces make great sims 4 living room ideas for retro-styled homes.

6. Friends-Inspired Sims 4 Living Room CC by Kiolometro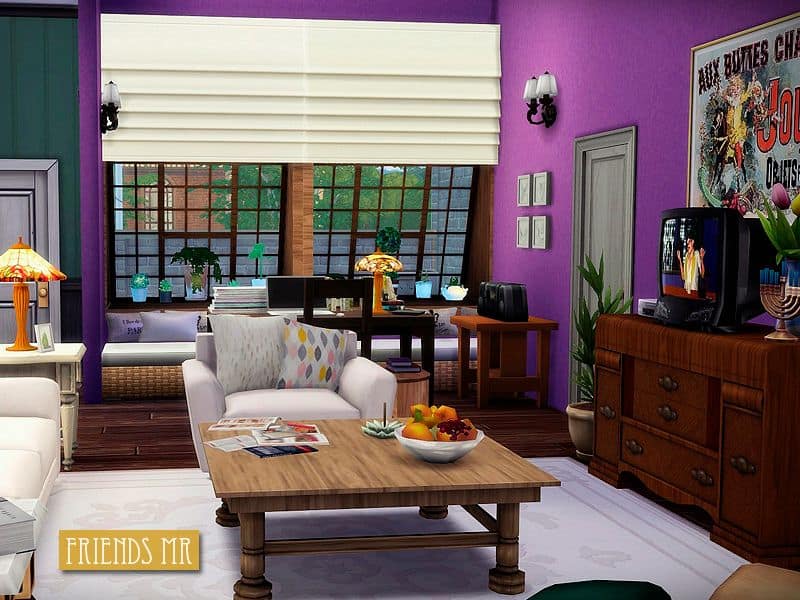 Are you a fan of the Friends tv sitcom?
If so, you can recreate Monica's apartment, in this case, her living room, with this furniture pack.
This collection has 26 pieces of cc, a mix of furniture and clutter items, which are not exclusive to the living area.
Each item has its own swatches, so it doesn't have to look identical to Monica's.
If you love the show, you'll love these cc.

7. SIMKEA Sims 4 Living Room Ideas by Illogical Sims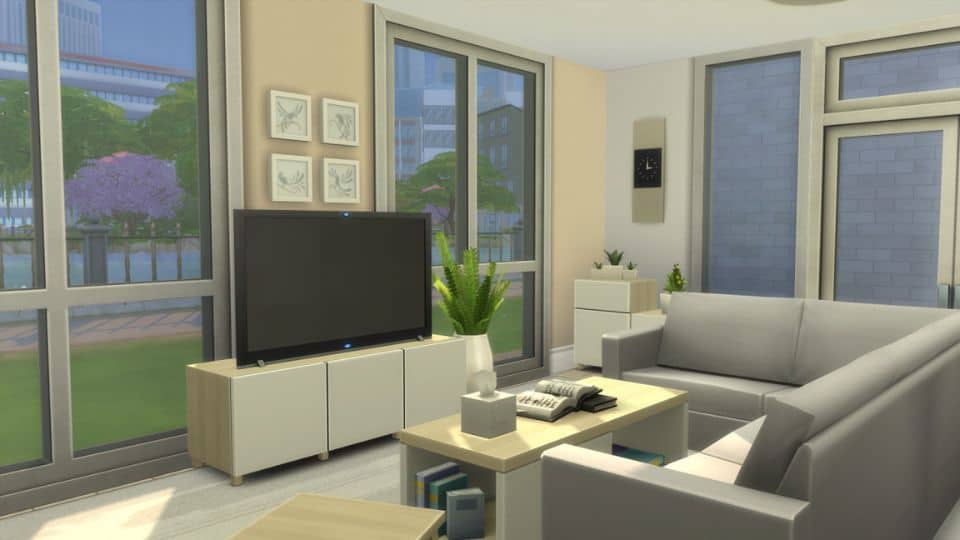 If you are a fan of the famous Swedish furniture company of a similar name, you'll love this SIMKEA furnishings stuff pack.
You definitely get the look and feel of the furniture you'd usually find in the Ikea store chain.
This pack has 45 items for the whole household, including the living room.
You can download the merged file or the zipped separated file, which is then subcategorized to easily find what you're looking for.
Simmers, beware as some assembly is required … Just kidding.

8. Kwatei Collection Sims 4 Living Room CC by Harrie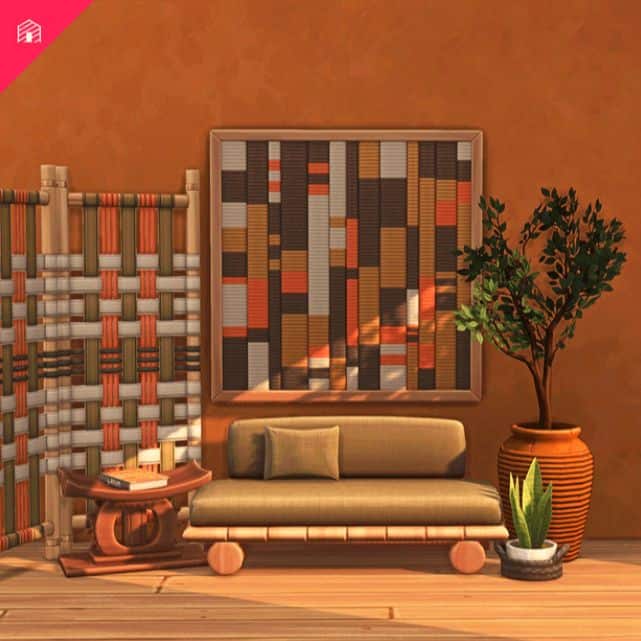 This set is another great find for sims 4 living room ideas.
I love the design of this living room furniture, as they are pretty different than what we usually see.
In this collection, you get gorgeous exotic-looking furniture that includes:
Different options for sofas
A couple of two-seaters
An armchair
A variety of cushions
Wall art
Stool
Room divider
This cc pack would make the perfect living room set for a warm climate like Sulani.

9. Nuri Living Room Sims 4 Ideas by Madlen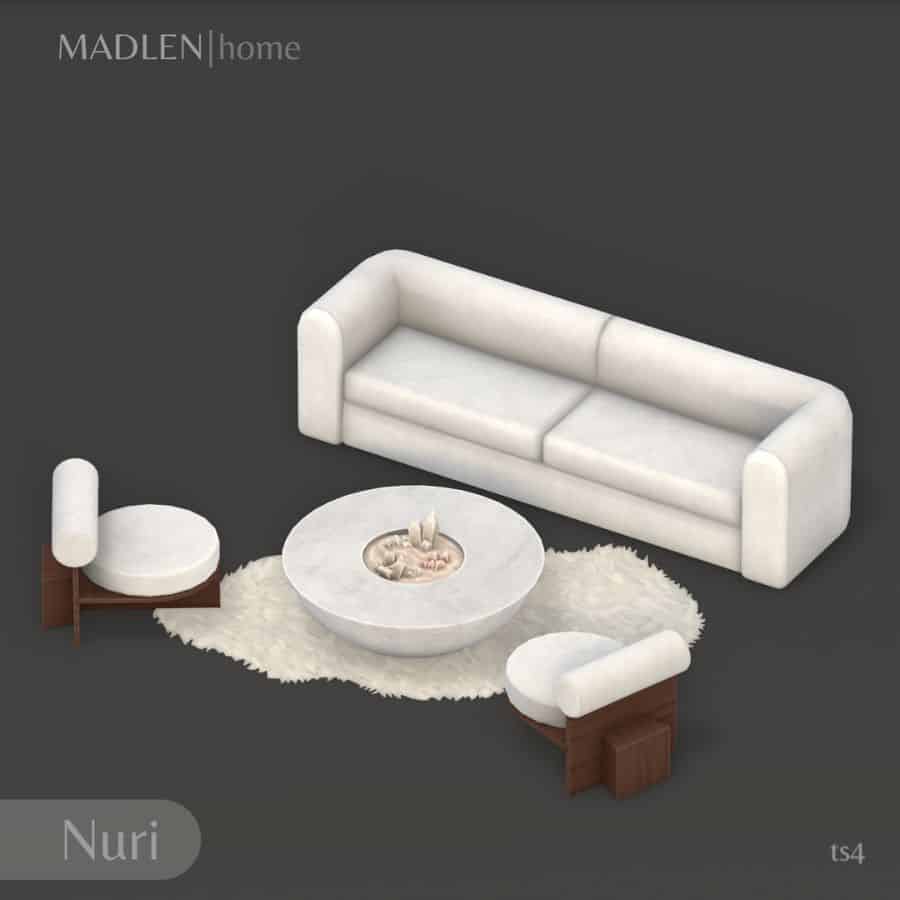 Comfort meets trendy in this luxurious four-piece set.
The included sofa, chairs, and coffee table come in three color swatches: black, white, and beige.
Truth be told, we don't need additional swatches because any other colors would take away the furniture's charm and elegance.
The crystal element in the center of the coffee table brings a certain zen vibe to the decor.
This living room oozes wealth, which makes a great sims 4 living room idea for wealthy and business oriented simmers.

10. Sims 4 Living Room Seating CC by Peacemaker-IC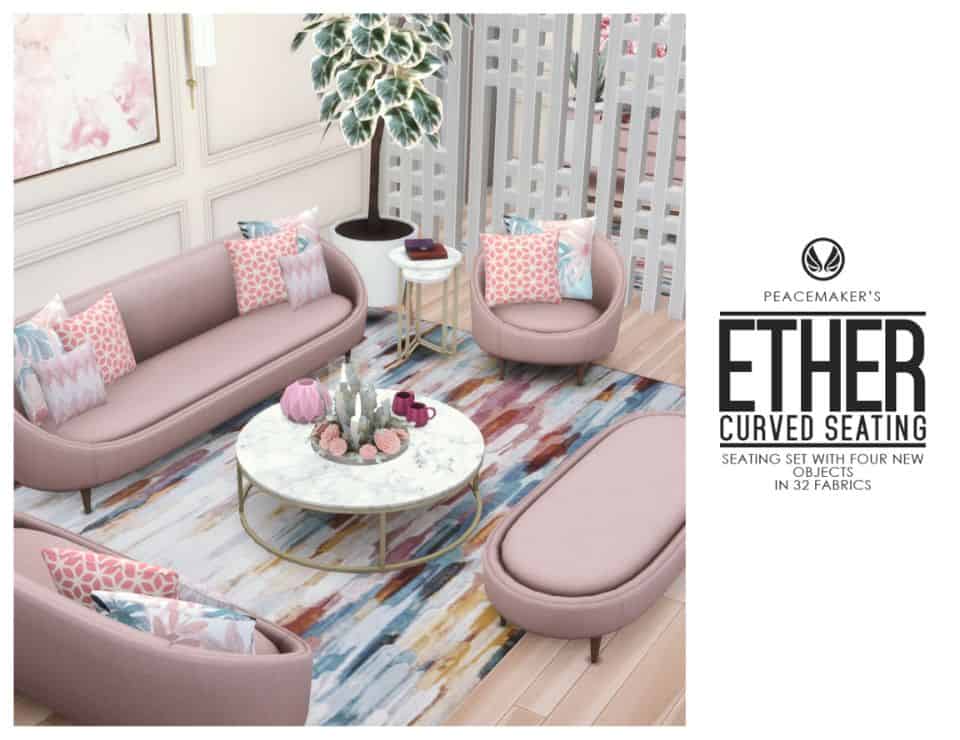 I love the roundness of the seating options included in this sims 4 living room cc pack.
On top of that, they come in 32 color swatches to fit with any color palette you were going for.
This set of four pill-shaped items includes:
A sofa
A loveseat
An armchair
An ottoman
These chairs are a mix of cute, with a retro feel but modern-looking.
And since I'm obsessed with the styled room in the pic above, I hunted down the carpet for you too.

11. Sims 4 Minimalist Living Room Ideas by soloriya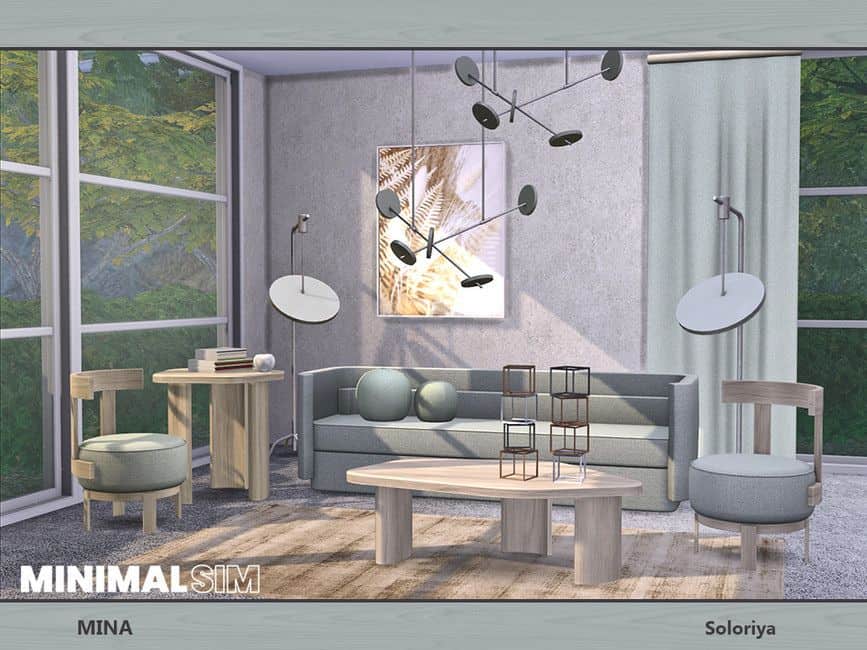 This minimalist furniture set is perfect if your sims home has a small living room.
The creator had compact and contemporary in mind when creating this collection.
In this set of 10 items, you get a few seating options, tables, lighting, and decorations like curtains and pillows.

12. Nora Living Set for Sims 4 by myshunosun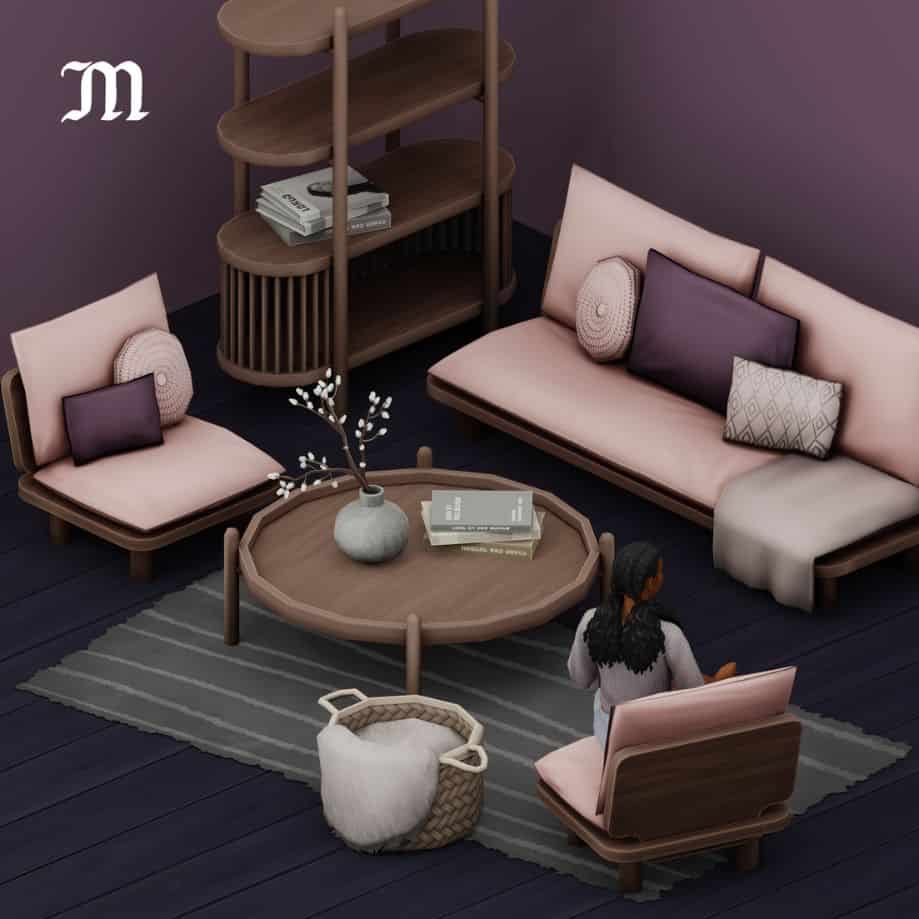 This set is another beautiful collection of japandi-inspired sims 4 living room cc.
It has nine items that bring smooth, modern, sleek, and elegant elements to your sims' home.
The sofa and chairs in this pack come in 26 swatches, while the bookshelf and table come in 8.
The remaining items are decorative objects and other clutter options.
All in all, this maxis match-compatible set would look gorgeous in your sims' family room in all the neutral colors that it comes in.

13. Julie Living Set for Sims 4 Livingrooms by Syboulette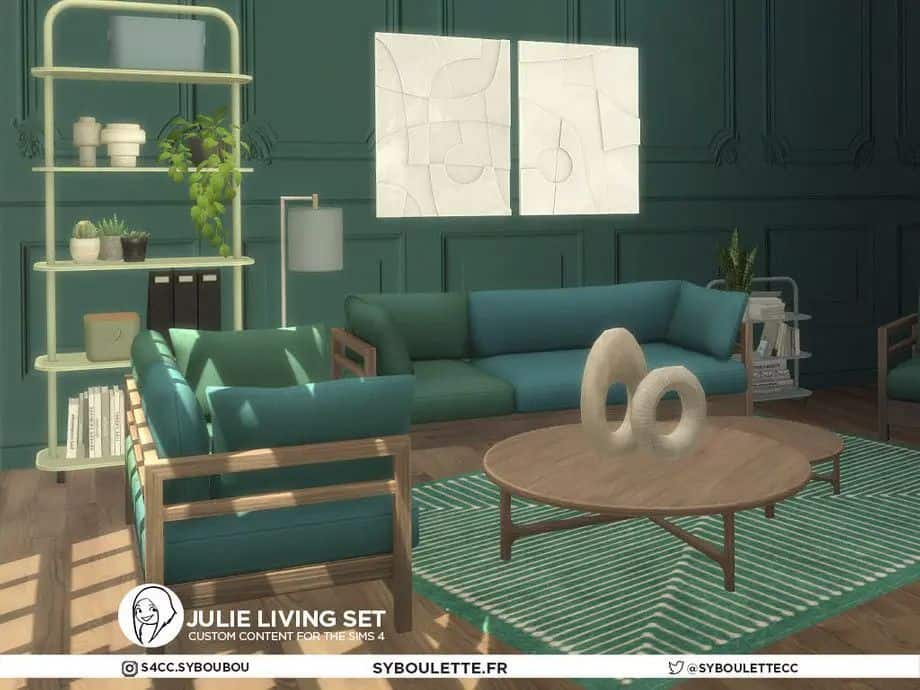 I love the simplicity and elegance this set brings to your sims' household.
This set contains 15 items that include:
The classic three (Loveseat, armchair, and sofa)
A couple of lamps
Big and small coffee tables
Some shelving and storage boxes to put in them
Sculpture and wall arts
Linear-patterned rug
Wall panels with decorative moldings
The set is separated into two parts, so you must grab both if you want all 15 items.

14. Sims 4 Rattan Livingroom Set by Peacemaker-IC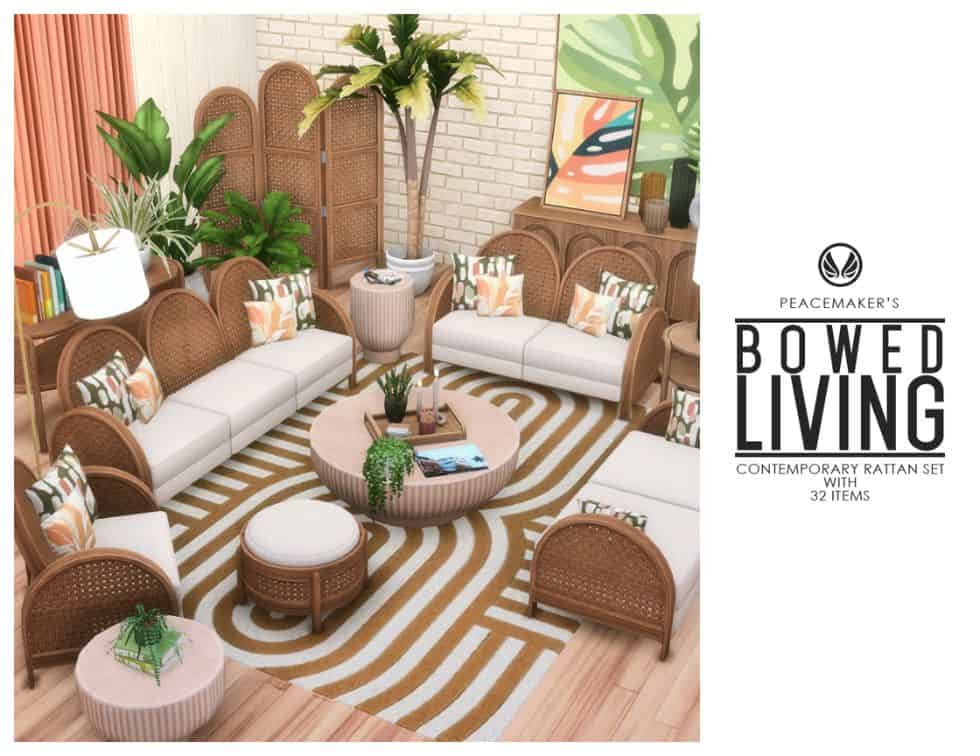 This rattan living room set gives off hot weather or tropical vacation vibes, making it ideal for island living or the hot desert city of Oasis Springs.
This collection has 32 pieces of furniture and decorative items to fill up your sims' sitting room.
With their great variety of color swatches, these living room ccs would fit well in any home decor.
Depending on which colors you pick, it changes the whole flow of the room.

15. Merida Sims 4 Living Room Set by Simenapule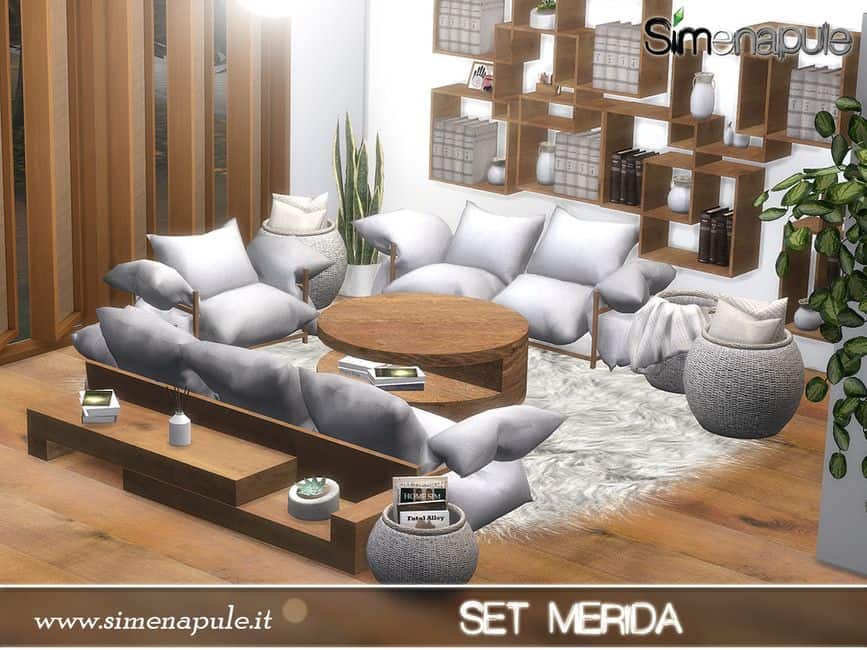 I'm a big fan of this set, especially the square bookshelves on the wall and the comfy-looking seating chairs.
There are 12 items in this collection, including a flooring option.
The creator definitely had comfort in mind when creating the chairs.
With the chair's oversized fluffy cushions, it feels like sitting on a cloud.
Both the round and rectangular coffee table designs are sleek and stylish.
This set and its other decorative items have so much potential for living room ideas, making this collection a must-have.

16. Contemporary Sims 4 Living Room Ideas by Illogical Sims
Are you looking for something stylish and contemporary?
If that's the case, these sims 4 living room cc is what you need.
There are 33 objects in this collection of living room stuff that can be added to your sims 4 game individually or as an all-in-one package.
This pack offers:
Seating
Decorations
Doors
Fireplaces
Functional items (TV, bookcase, and mirror)
Lighting
Tables and TV units
If you'd like the same interior design idea, the creator offers a matching cc set for your sims' bedrooms.

17. Holographic Sims 4 Living Room Idea by NICKNAME_sims4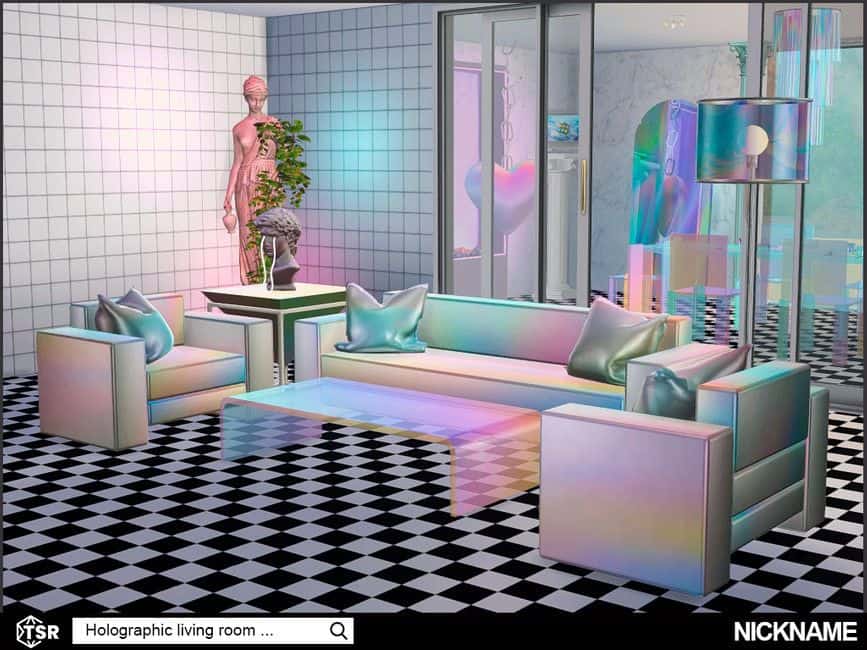 Some sims 4 living room ideas can be a bit blah and repetitive.
What if you want something fun and original?
With this holographic living room set, you can decorate your space with these multicolored and futuristic-looking items.
There are eight living room cc mods, each with differently-patterned multicolored swatches.
So, if you want something out of the ordinary, this set is for you.

18. Octave Collection Sims 4 Living Room CC by Harrie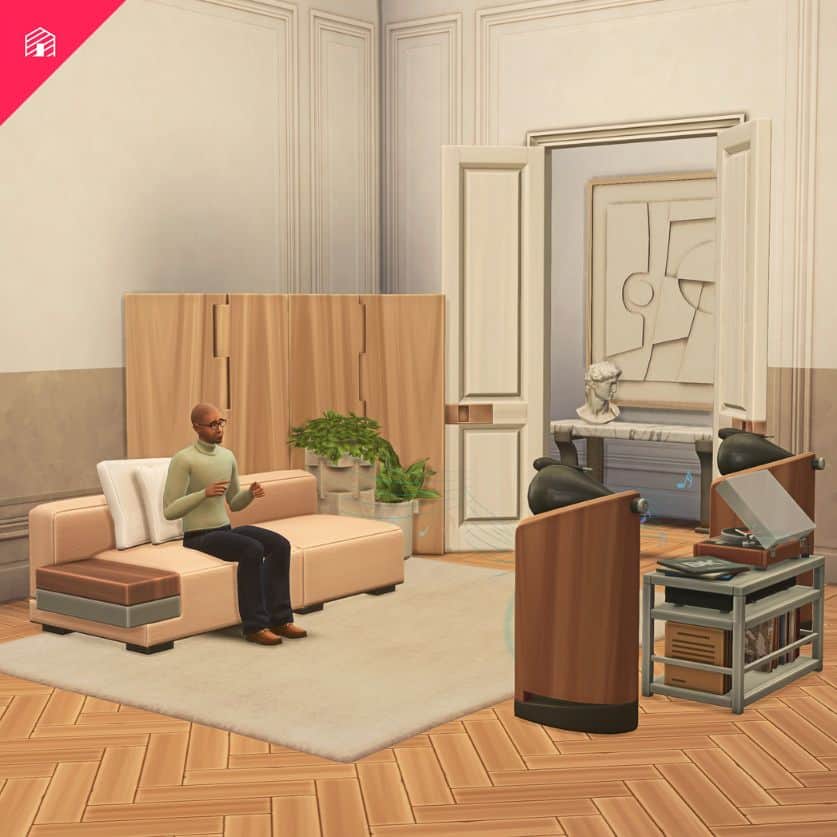 This collection is divided into several parts, and Part 3 is where the creator provides us with sims 4 living room ideas.
Most of the 22 items in this set are different parts for a sectional sofa.
The rest of this set is for room dividers, tables, clutter stuff like vinyl records, and electronics like a record player to play those records.
But the modular sofa is the clear winner of this set.
You can go small and minimalist or big and bulky, but it'll look good nonetheless.

19. Sims 4 Marble and Wood Living Room CC by myshunosun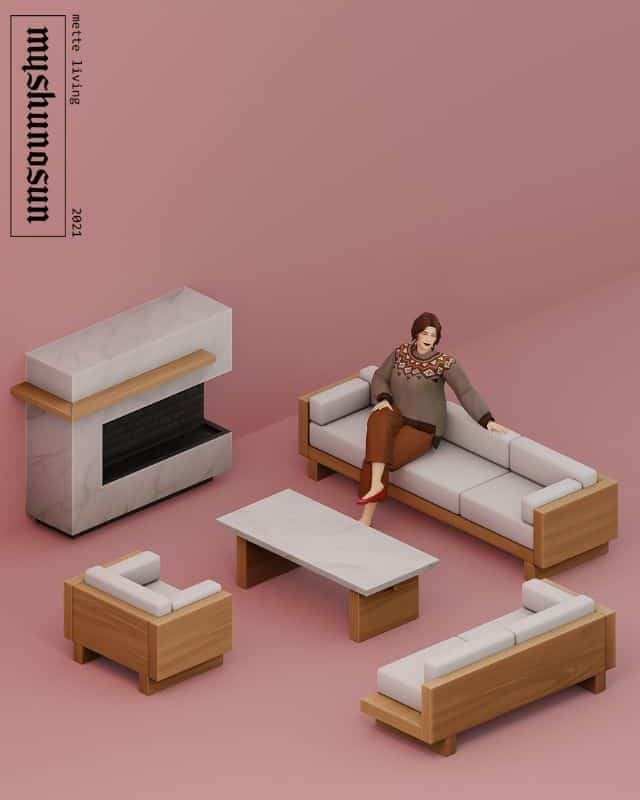 Check out this cc pack if you're searching for more elegant and modern living room ideas.
This set has six pieces of furniture, the five pictured above, plus a second option for the loveseat.
You get 16 swatches for the different seating options.
As for the fireplace and coffee table, there are 10 colors for the wood element, while the rest retain their white marble look.
These sims 4 living room cc would work well in any contemporary home, and the marble brings a touch of luxury to the mix.

20. Modern Sims 4 Livingroom Idea by soloriya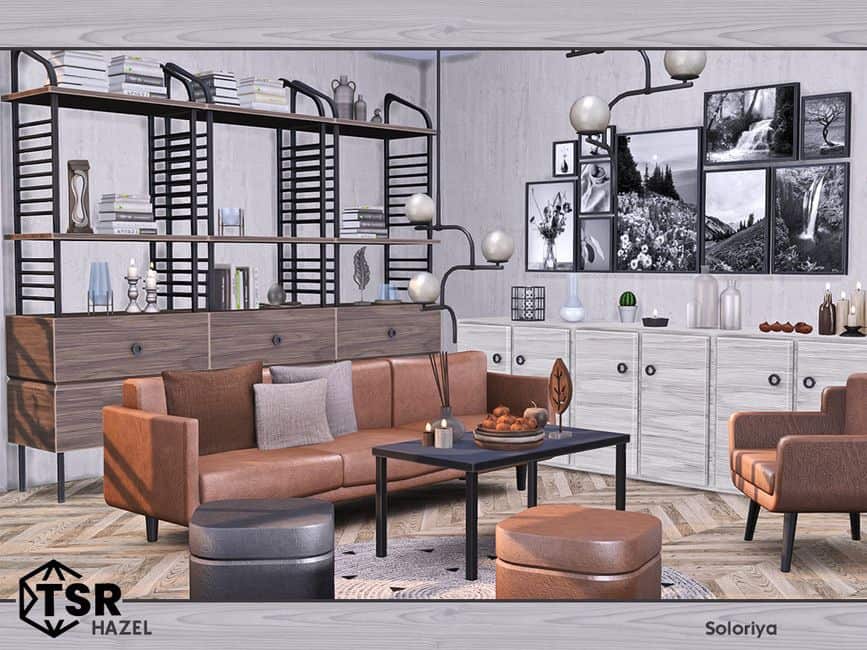 This set of 10 pieces of living room cc is another great grab if you want a modern-style living room.
It brings sleek and stylish to your sims' household with various seating cc, lighting fixtures, art, cabinets, and tables.
Although there are only a few swatches per item, the ones available look fantastic and will go well in many homes.

21. Fusion Sims 4 Living Room Idea by Peacemaker-IC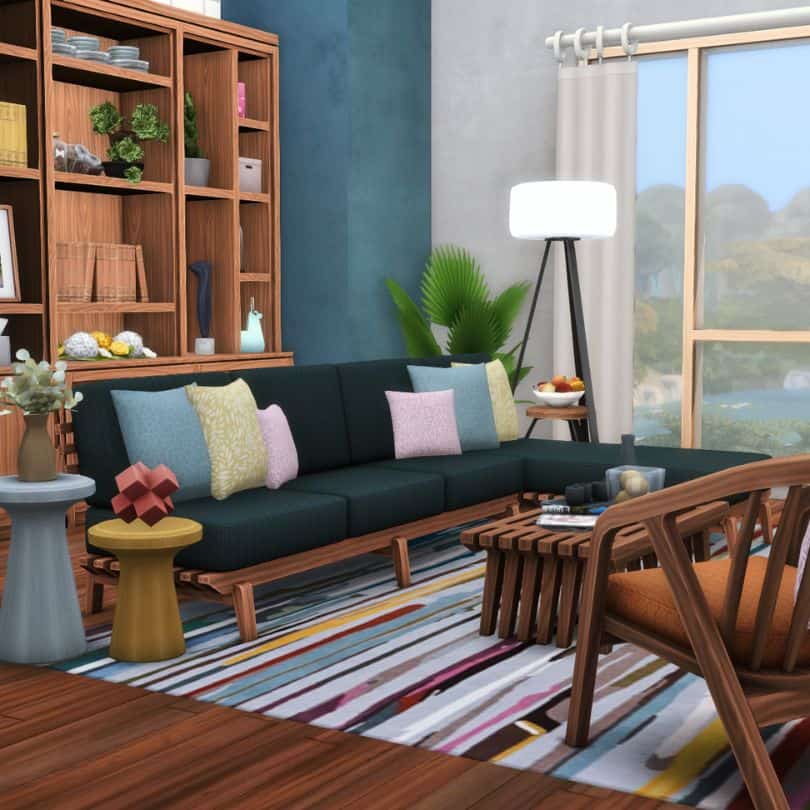 Another sims 4 living room idea is this Japanese-Scandinavian fusion-styled furniture set.
This set goes well with the other japandi cc listed at #4 and #12.
There are 32 beautiful items to place around in your sims' family room.
My favorite part of this collection is the style and design of the table and chairs.
The rest of the sims 4 living room cc is mostly decorative art pieces, plants, and other clutter items.
If you go for this fusion-styled interior design, take notice of these little ccs.
The key to decorating is in the smallest details.

22. Sims 4 Retro Living Room CC by SIXAM CC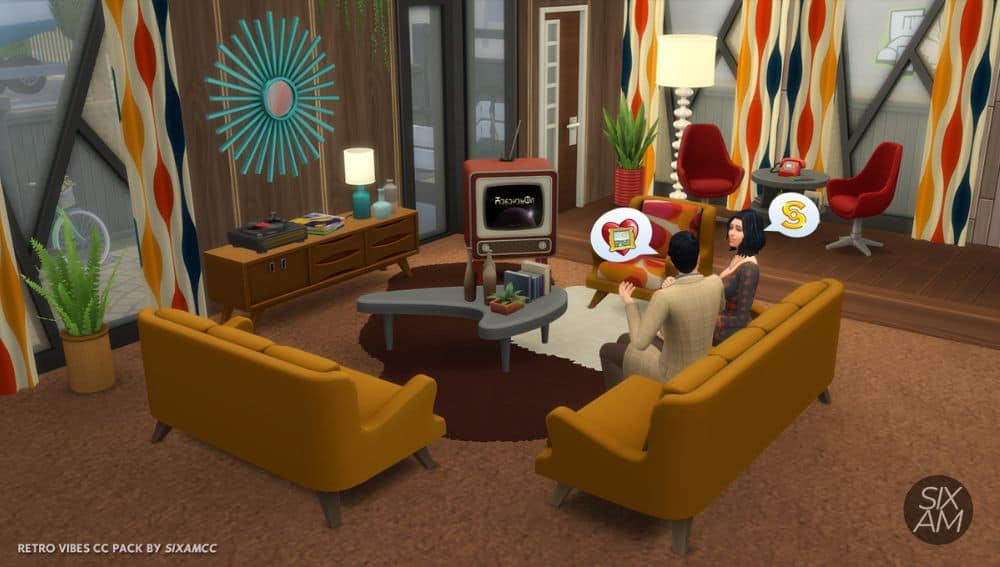 Are you a fan of aged, vintage, retro-looking furniture?
This set is perfect for anybody that wants furniture straight from the 70s.
It does a great job of bringing back the curve-shaped furniture with textured fabric and bold colors of that era.
There are 34 retro-vibed sims 4 living room cc to bring the disco fever back.
It also includes a disco ball, but this item requires The Sims 4: Get Together expansion pack.
Sims 4 Living Room CC: Final Thoughts
Finding the right style for any room can be tricky, as many options exist.
You can choose whether you want your sims to live in a Japanese-Scandinavian fusion-styled home or a contemporary one.
It's all about your sims and what style fits best with their personality traits.
Hopefully, you have found what you've been looking for with this list of sims 4 living room ideas.
If you have any questions or suggestions, feel free to leave us a comment below or tag us on Tumblr.
Other Sims 4 Custom Content Lists

And don't forget to share and pin this collection for later!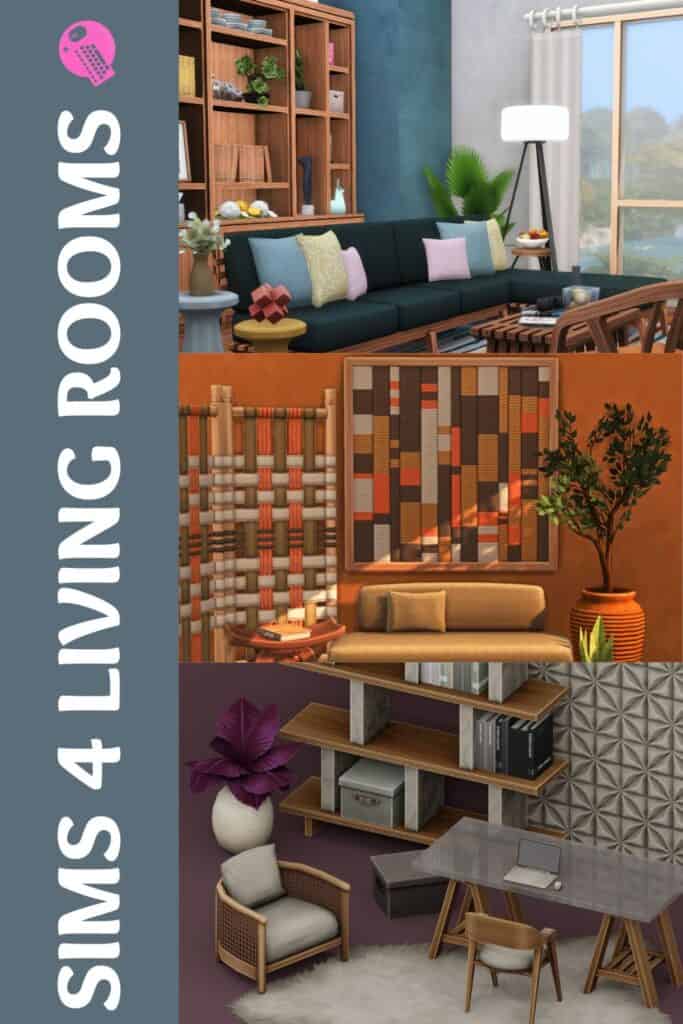 21+ Sims 4 Living Room Ideas for Every Style