35+ Glam Sims 4 Makeup CC
Need some new sets of sims 4 makeup cc to create the perfect look?
We've put together a great collection of makeup pieces for every style.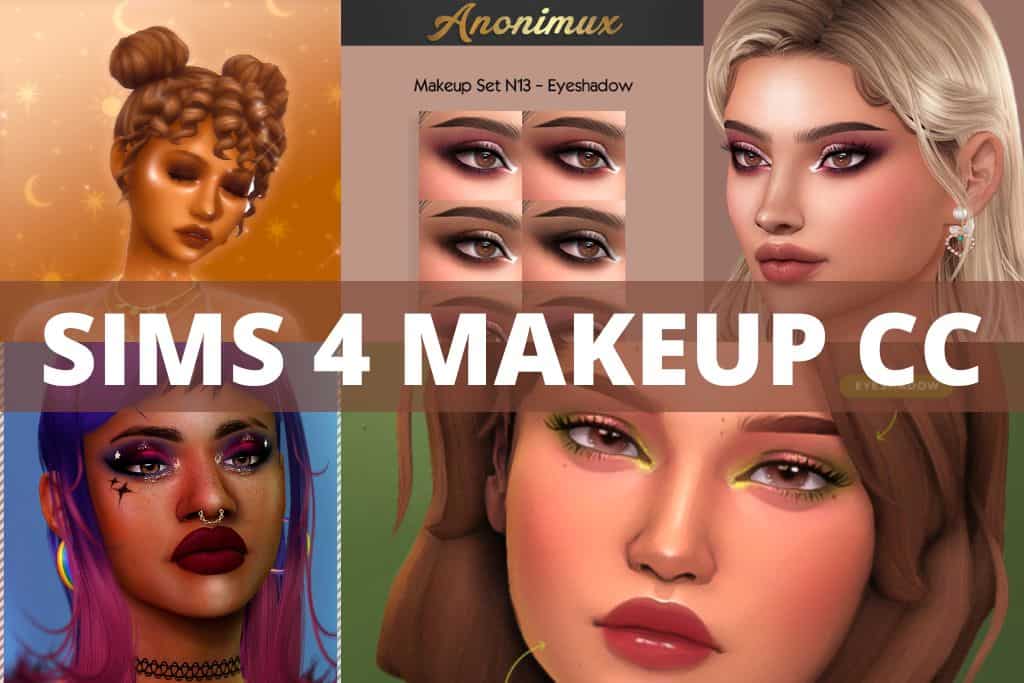 In real life, I like to keep my makeup pretty simple, but that's an entirely different story when it comes to my sims.
Sims 4 makeup cc can add color and character to your sim's daily looks.
Whether your sims are heading for a drink at the bar or a wedding, makeup can turn any event into something special.
From smokey eyeshadow to face glitter and some stunning lip gloss, your makeup looks can be as simple or creative as you like.
Finest Sims 4 Makeup CC
We've compiled a mix of different styles of makeup cc from matte and shiny lipsticks to glittery eyeshadows and more simple makeup options.
1. Smokey Sims 4 Makeup CC by Anonimux Simmer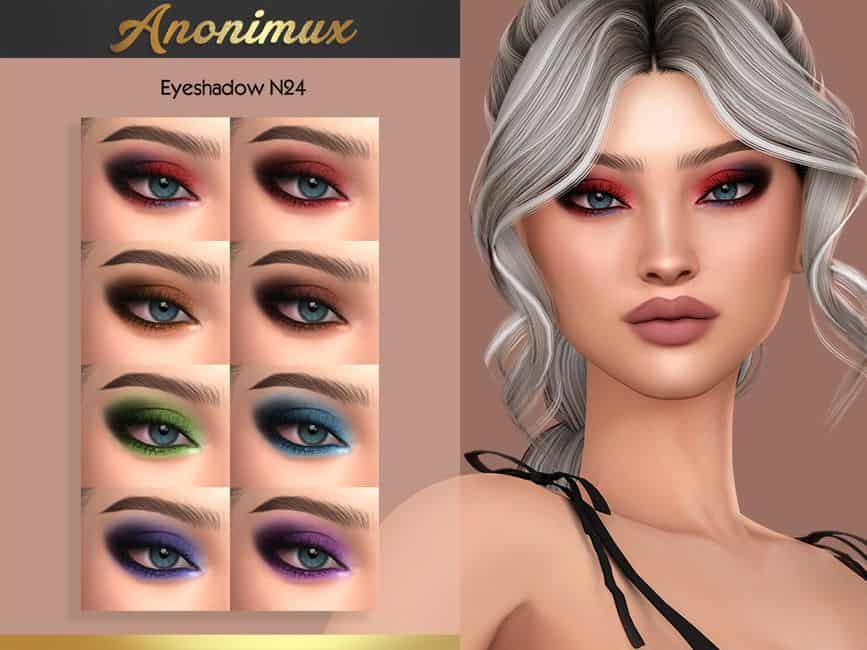 This colorful smokey eyeshadow is one of my new favorite pieces of makeup custom content.
While there are 8 swatches, I especially love the dual-tone red and blue on the sim above and the brownish-gold swatches.

2. Sims 4 Lip Gloss CC by Desimny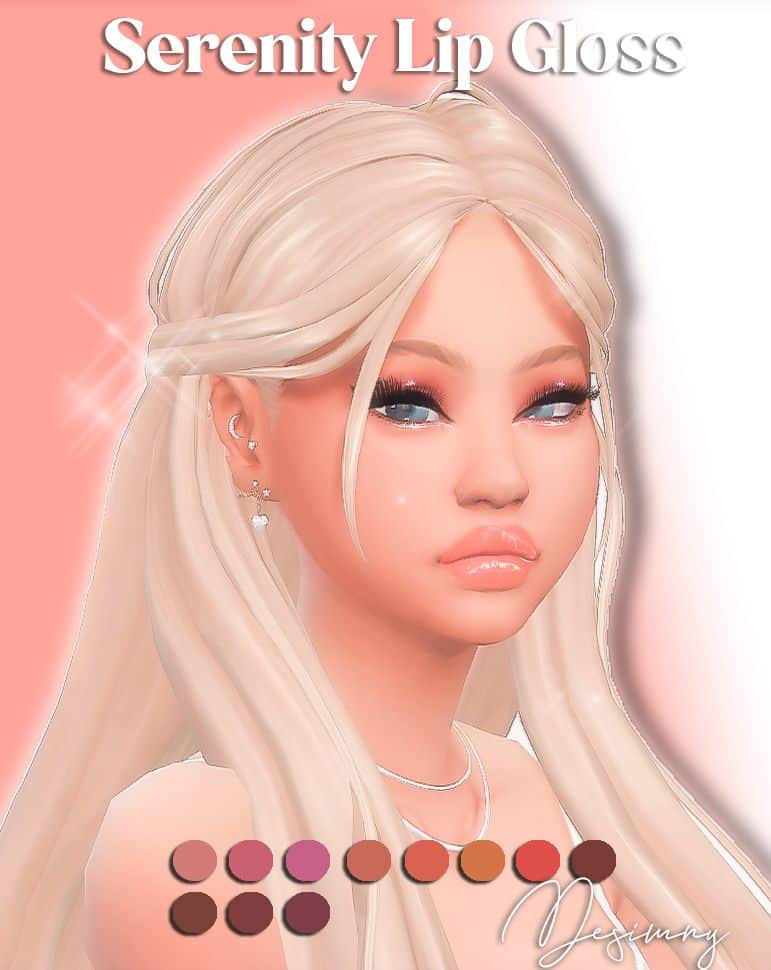 If you are searching for peachy to brown shiny lip glosses, this Desimny makeup cc is for you.
This lip gloss has a lot of great reflective areas and adds a nice pop of shine to your sims lips.
You have 11 gloss swatches to find your favorite color.

3. Prism Sims 4 Makeup CC by TwistedCat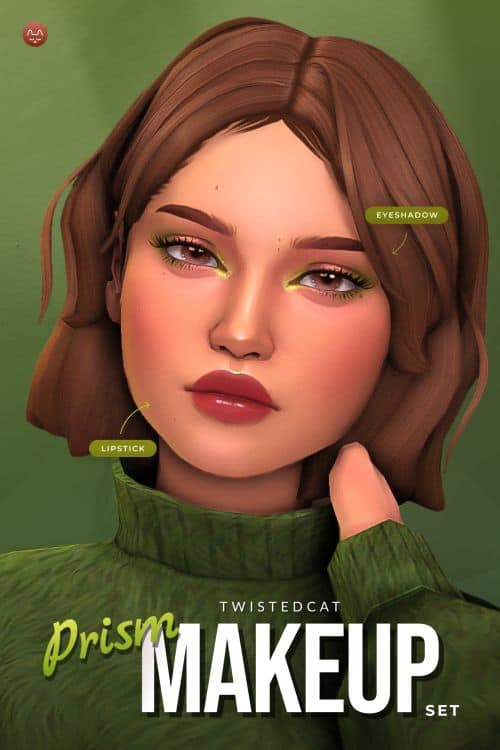 This prism-colored-inspired makeup set provides luscious lip colors and vibrant eyeshadows.
Even with the fun pops of colors, many swatches are great for an everyday makeup look.
The eyeshadow is available in 13 swatches, and the lipsticks in 24 colors.

4. Cinnamon Makeup Sims 4 by crypticsim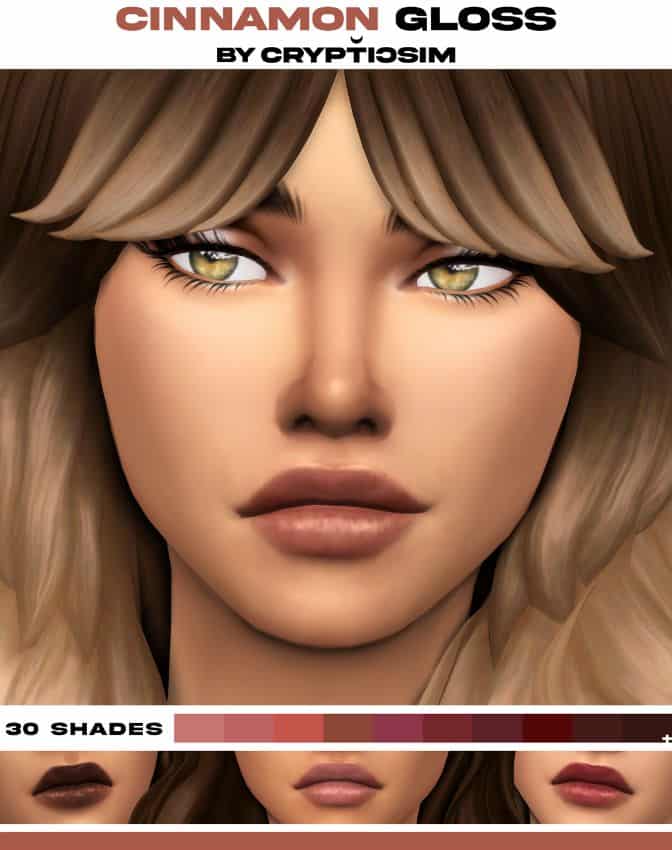 Inspired by Makeup by Mario, this natural-looking lip gloss comes in 30 luscious shades.
This cc makeup has some beautiful rosy-mauve colors to choose from.

5. Candy Sims 4 Makeup CC by Lady Simmer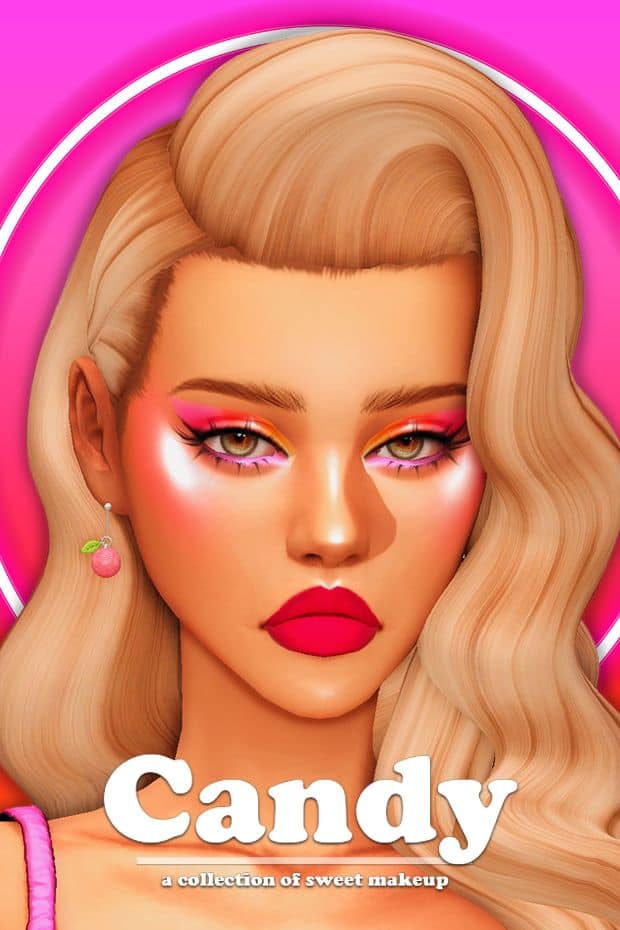 There is absolutely nothing subtle about this Candy makeup cc collection.
Bold colors are the name of the game. From a bold lip to a vibrant blush, your sims will have a striking look to them.
The tri-color eyeshadows are the most vibrant, with a mix of neon colors.
The eyeshadows go from the inner corners of the eyes into a thick cat eye tip and lower lash liner.

6. Sims 4 Makeup Highlight CC by Desimny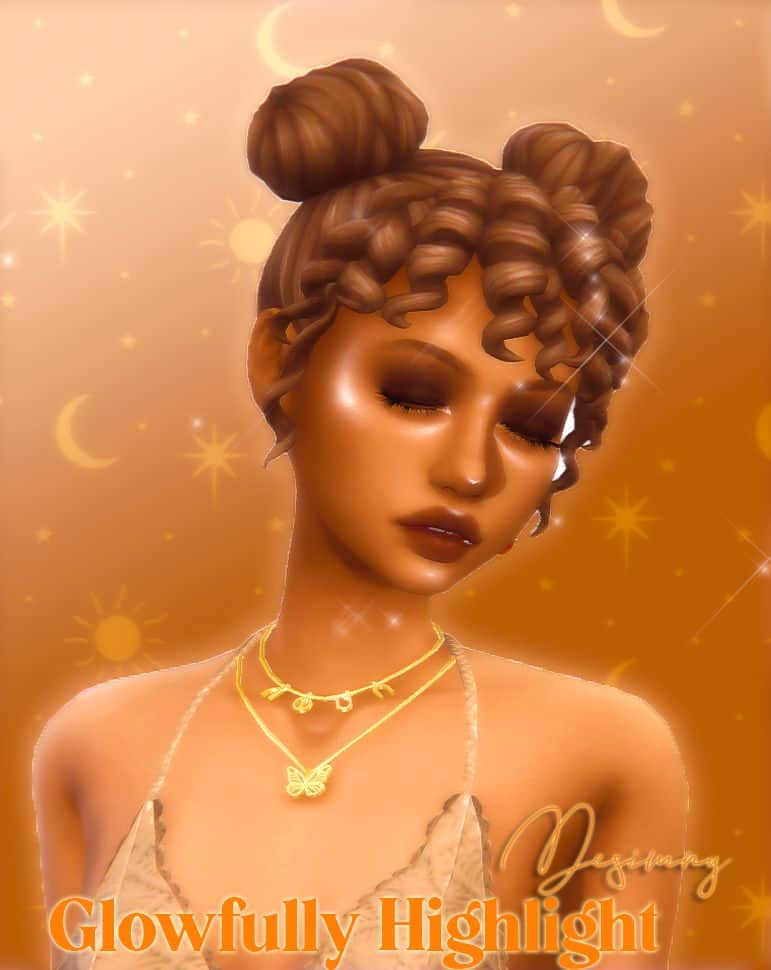 Do your sims a little highlight to brighten up their faces?
This simple makeup cc adds touches of highlight to your sim's inner eyes, the top of the cheekbones, in between the brows, the tip of the nose, and the chin.
Available in 3 swatches, you can pick the best opacity in the skin details category.

7. Sims 4 Cute Blush CC by Suzue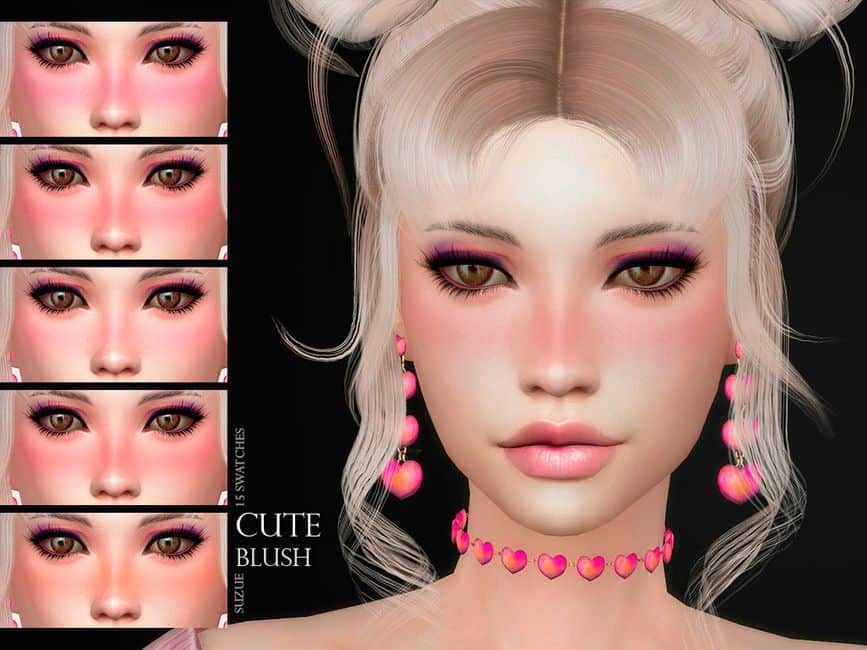 As the name says, this makeup cc provides some cute rosy blush to your sim's upper cheekbones and across the bridge of their nose.
Available in 10 colors, this blush provides a youthful touch of color.

8. Sims 4 Wedding Makeup CC by crypticsim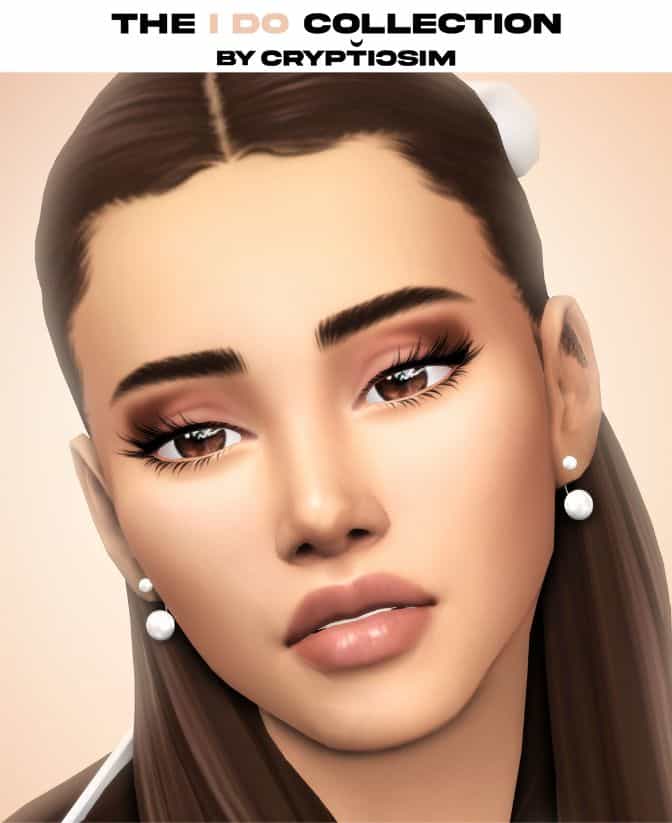 This Ariana Grande wedding day-inspired makeup is beautiful yet not overly done.
Wedding makeup can often be exaggerated for the camera's lenses, but this more natural-looking makeup lets your sims bride shine.

9. Cat Eyeliner Sims 4 Makeup CC by Anonimux Simmer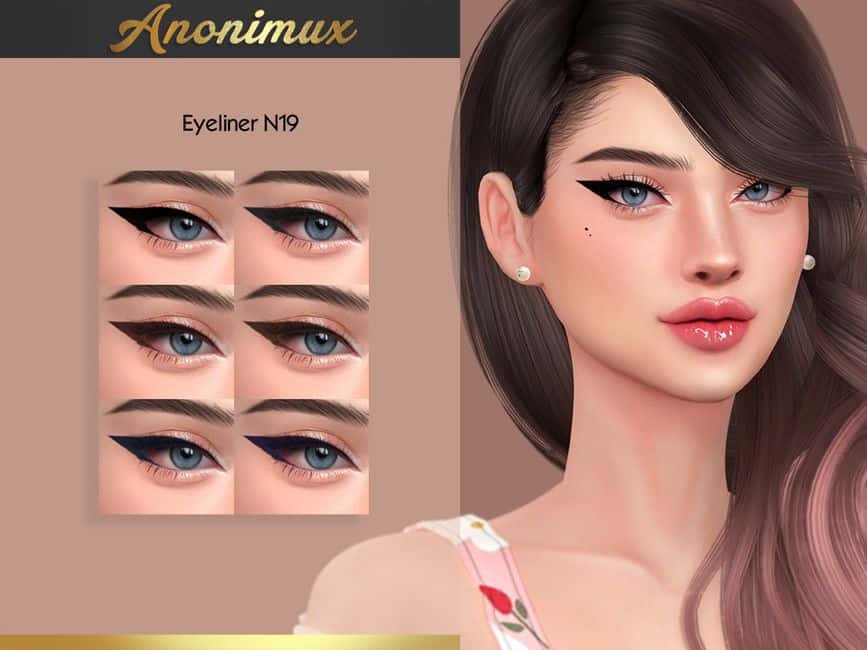 This classic cat eyeliner comes in 6 dark color swatches (in blacks, browns, and navy).
This makeup cc is self-explanatory; it's a beautiful thick eyeliner for everyday wear or special events.

10. Sims 4 Makeup Set by XURBANSIMSX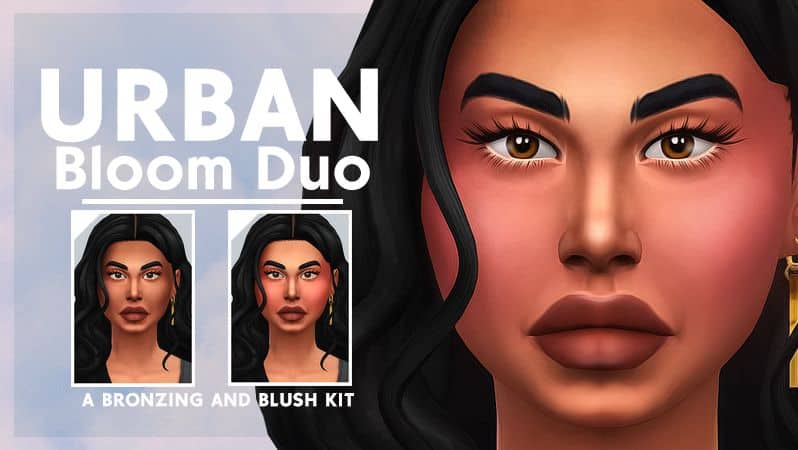 This two pieces makeup set comes with a bronzer and blush kit.
These makeup cc pieces are meant to work together but can be used separately.
The bronzer comes in 4 shades, while the blush has 10 swatches.
You will find the bronzer under Face Paint and Skin Details.

11. Avocado Sims 4 Makeup by Pralinesims
Who would have thought that avocados could lead to an entire makeup cc collection yet here we are.
This collection is all about dewy-looking skin, and that starts with some beautiful face shine available on 3 locations of the face.
The blush, metallic eyeshadow, eyeliner, and lipgloss all have fun and creative names.
You can also snag 60 eye colors too.

12. Sims 4 Doll Makeup Set by Pralinesims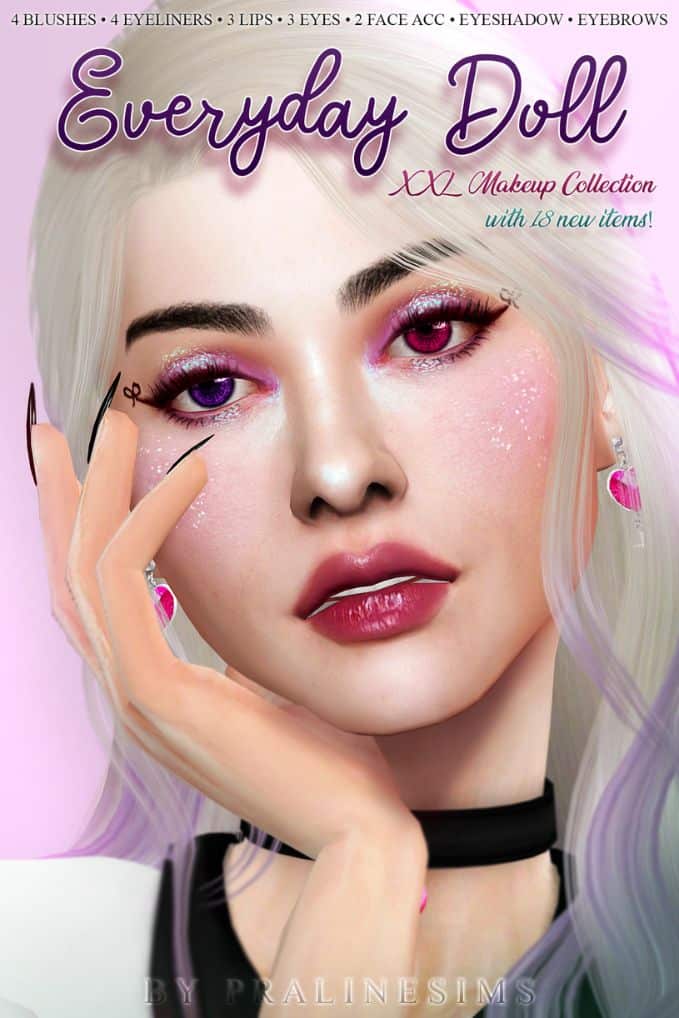 This is another beautiful makeup collection that has a little bit of everything.
You can choose between creamy, gelee, or glossy style lipsticks.
There are various exciting eyeliners, star-shower blushes, and 25 eyeshadow colors.
This set also includes some eyebrows, eye colors, and small face tattoos.

13. Sims 4 Goth Makeup CC by Lady Simmer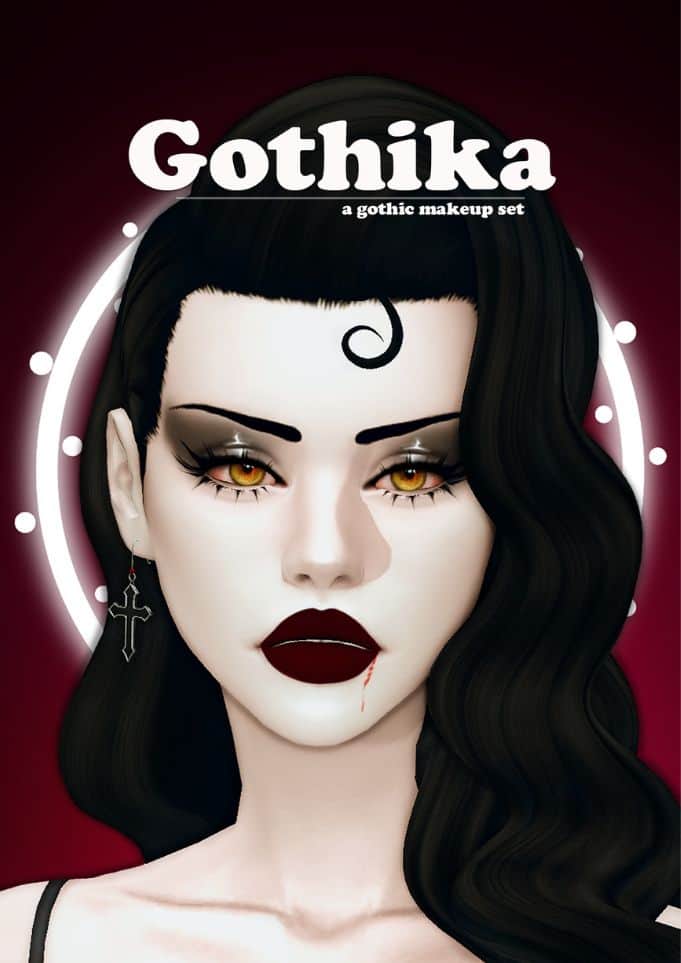 This four-piece gothic makeup cc set includes lip liner, lipstick, and an interesting eyeshadow.
There are 3 swatches for everything except the lip liner, which has 1.
You can also snag the thin eyebrows on the linked page that follows.

14. Sims 4 Lux Makeup by crypticsim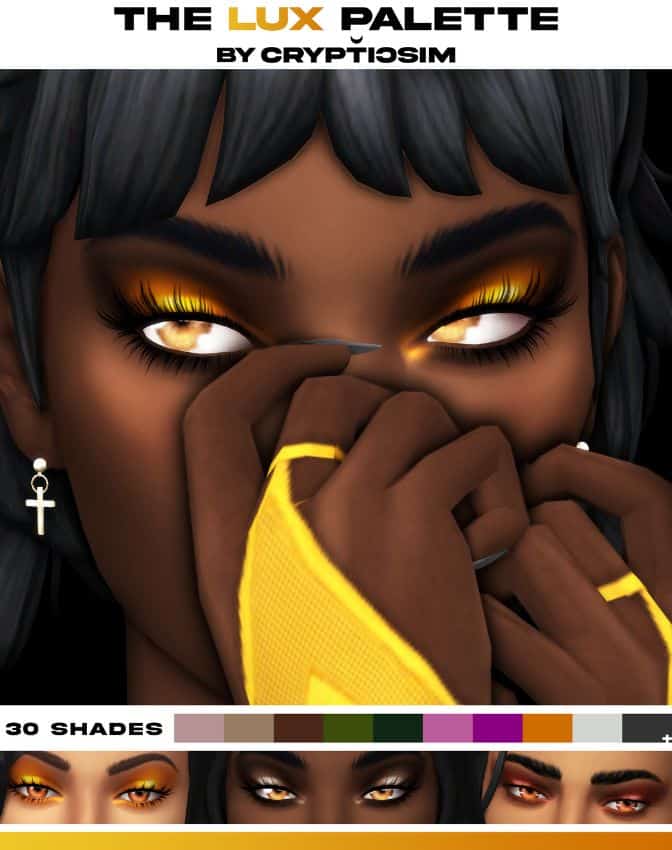 These stunning eyeshadows are captivating and add depth to the eyes.
These eyeshadows cover the eyelids, crease, and brow bone in vibrant mixed swatches.
Available in 30 different color combinations.

15. Softie Custom Content Makeup by Desimny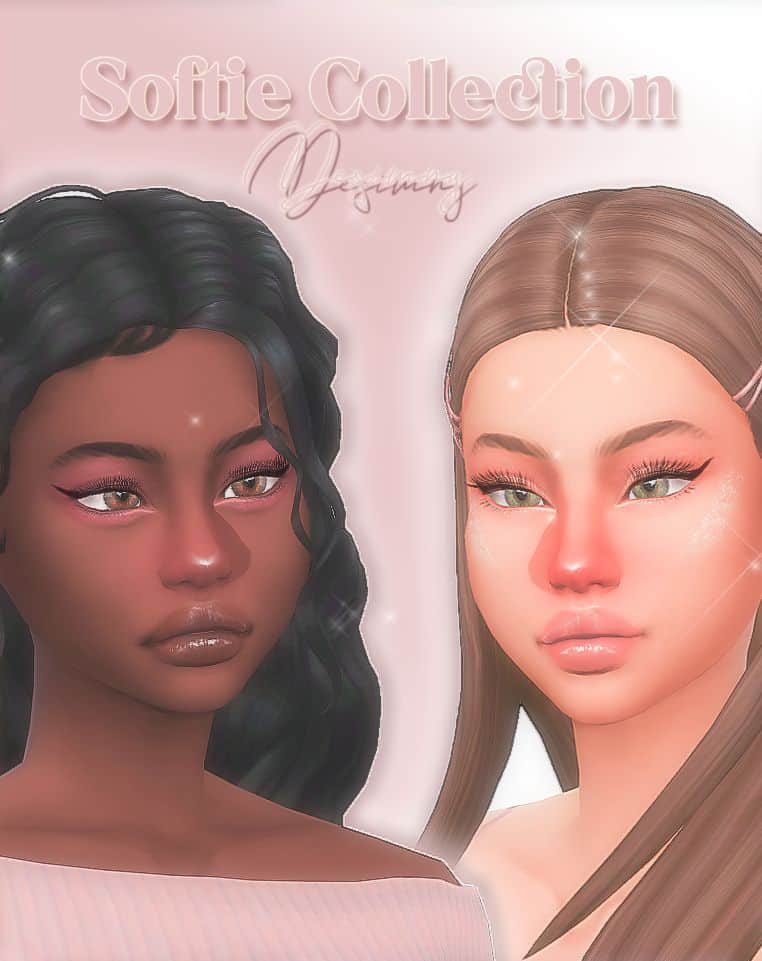 Add a little shine to your sims beautiful faces with this set of makeup cc.
This makeup collection comes with winged eyeliner, glossy lipstick, a face highlighter, rosy blush, and eyeshadow.
And for the cherry on top, you can also grab the crop tops and jean shorts on the linked page.

16. Sims 4 Stalker Makeup by TwistedCat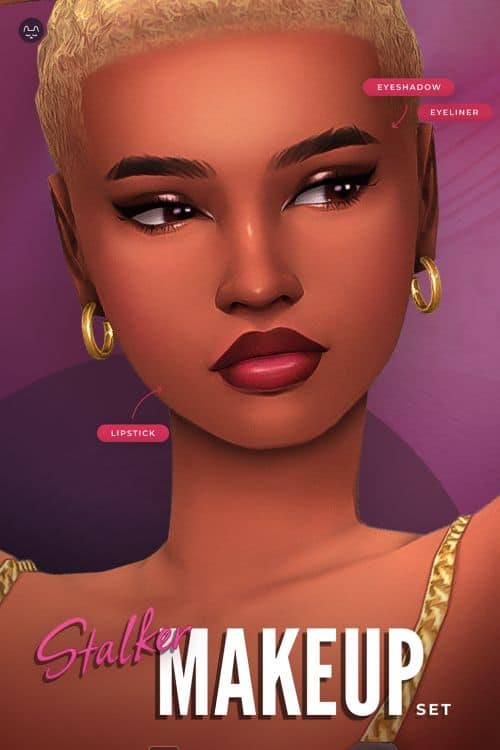 I find this makeup set perfect for my sims night out at the club or a hot date.
The winged reflective eyeshadow and eyeliner, which sweep from the inner eyes outwards, add a sultry look to the eyes.
And a bold lip always screams confidence.
The lipstick comes in 20 swatches, the eyeshadow in 15 colors, and the eyeliner in 10.

17. Baddie Sims Makeup Collection by Pralinesims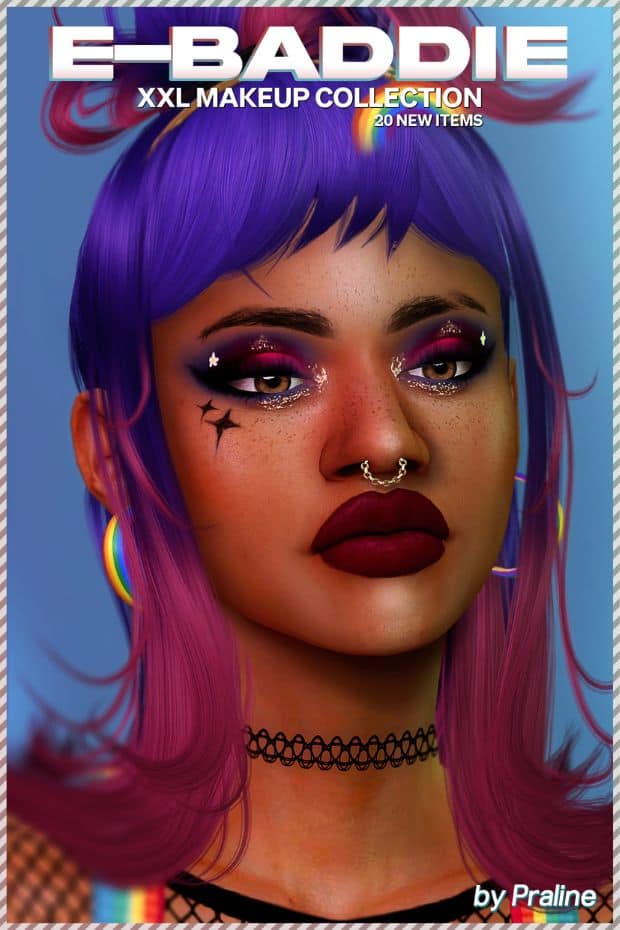 As its name describes, this E-Baddie makeup collection is perfect for creating edgy looks.
The amnesia eyeshadow and scandal creative eyeliner are my favorite makeup cc pieces in the set.
Find your favorite shiny, matte, or lined lipstick, bright and smokey eyeshadows, eyeliners, and blush.
The set also includes face tattoos, eyebags, eyebrows, and eyes.

18. Sims 4 Kids Makeup CC by Onyx Sims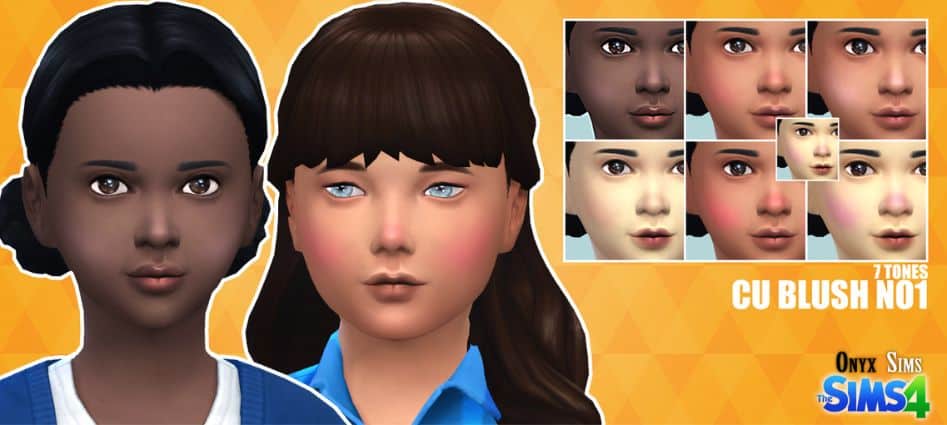 While your sims kids don't need a full face of makeup, they could always do with a touch of blush to add a little color to their cheeks.
This unisex blush is natural looking and comes in 7 different shades.

RELATED POST: 38+ Sims 4 Wedding CC

19. Sims 4 Eyeliner Makeup CC by Desimny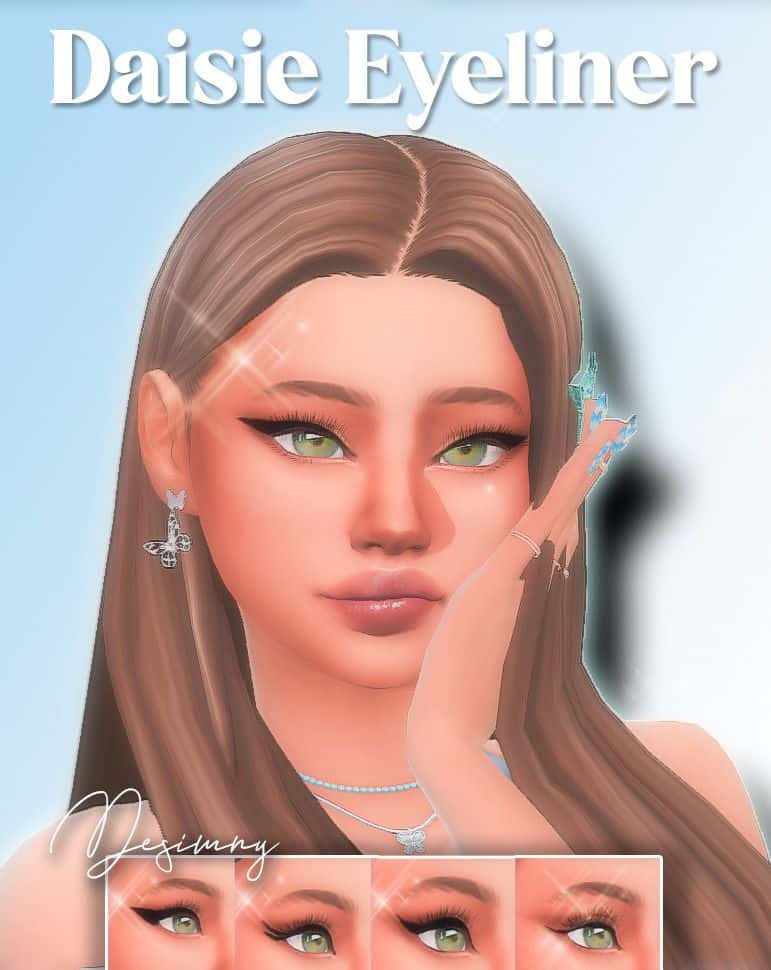 This eyeliner set comes with four different eyeliner designs.
Your sims can sport a thin winged line, double liner, medium or thick cat eye.

20. Sims 4 Eye Makeup Set by Anonimux Simmer
This beautiful eyeshadow palette comes in 8 swatches and covers the inner eyelids with white eyeshadow that crosses over the eyelid.
The rest of the eyelid is covered in a smokey secondary color.

21. Sims 4 Jelly Makeup CC by Kumikya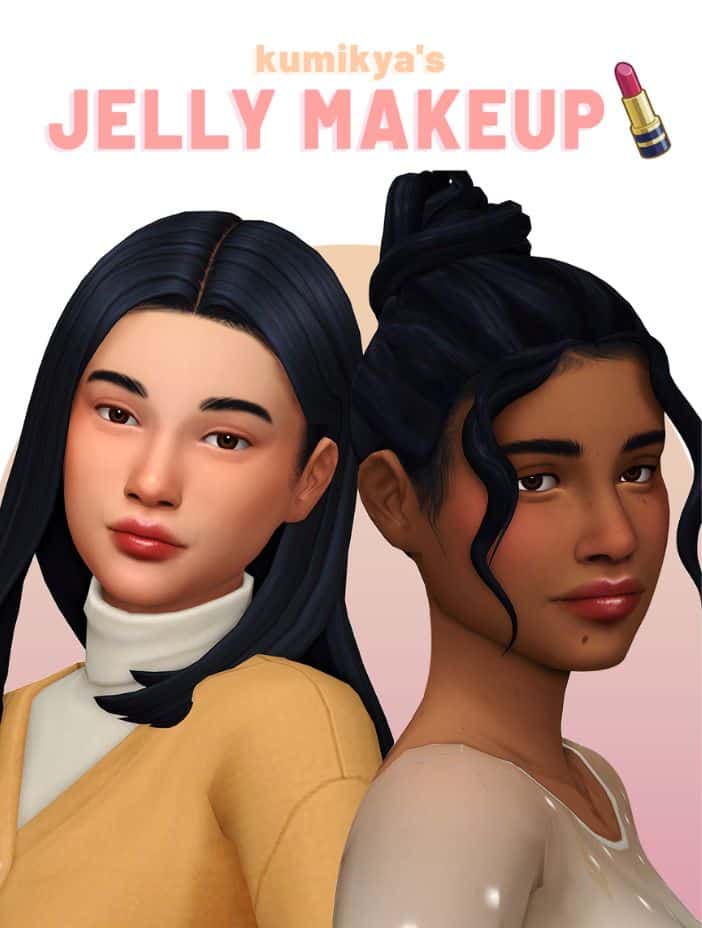 This two-piece makeup set comes with blush and lipstick.
The blush goes more on the upper cheeks towards the outer eyes' edges and the lower portion of the nose.
Which skin stone your sims have will determine which blush swatches work best.
The lipstick has a nice shine to it and comes in 18 swatches.

22. Sims Lip Melt Custom Content by XURBANSIMSX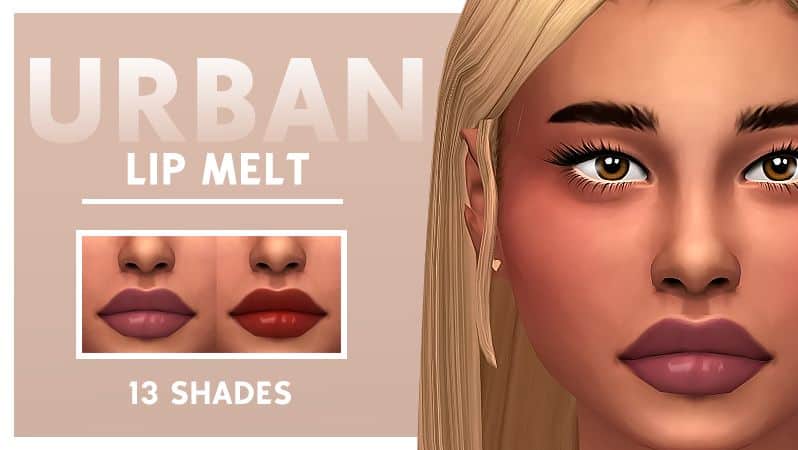 This lipstick cc looks like creamy goodness with a touch of shine.
It comes in 13 shades, but it's also slider compatible.
The lips have a slightly overdrawn look, but at the creator's suggestions, you can create a thicker lipliner effect by adding a second liner found in Face Details.

23. Sims 4 Blush Makeup CC by Bobur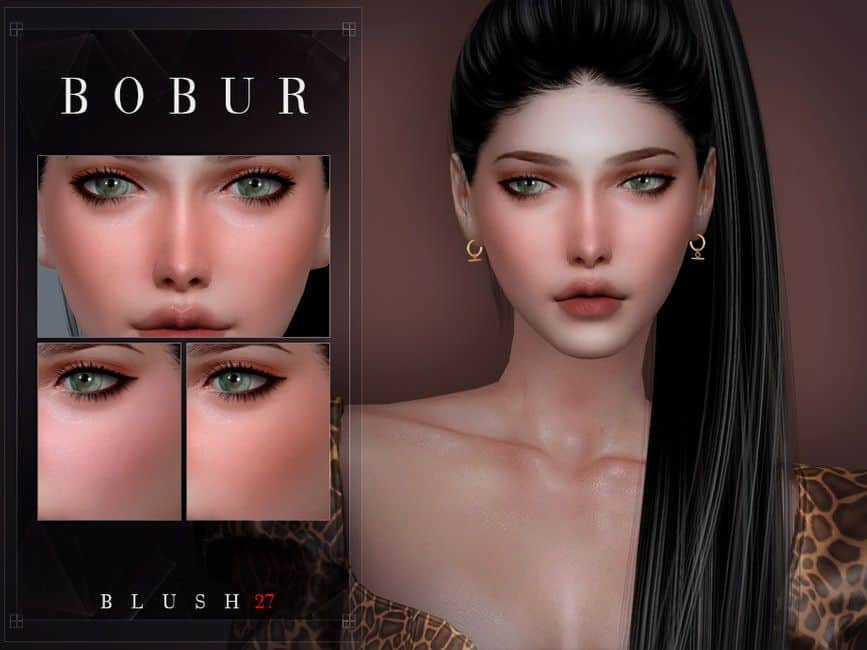 This is a perfect choice if you prefer natural-looking blush for your sims.
Available in 10 different shades, this subtle blush gives your sims cheekbones a lift.

24. Sims 4 Spice Collection by chewybutterfly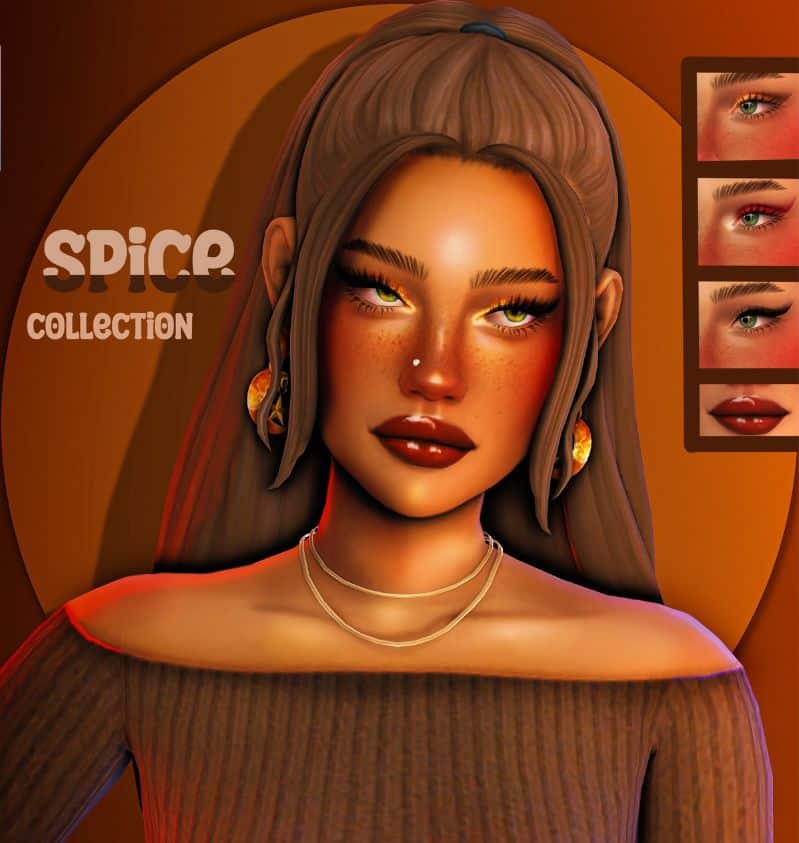 This makeup cc set gets its inspiration from spice tones and comes with four pieces of custom content.
This set has everything from shiny lipgloss to shimmer or matte eyeshadows and smokey eyeliner.

25. Cat Eye Makeup CC by Anominux Simmer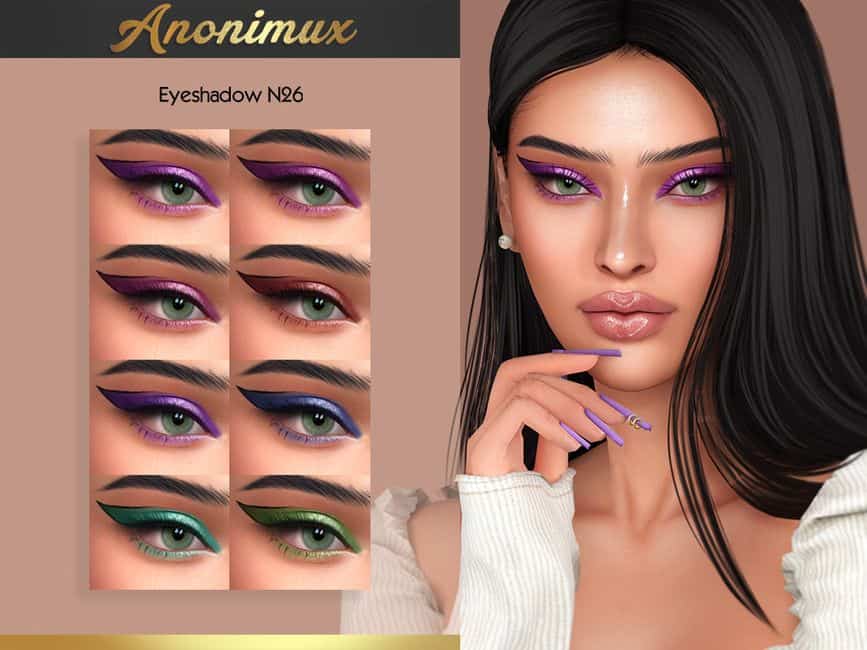 This thick cat eyeliner is a statement piece all on its own.
Available in 8 jewel-tone swatches and is slider compatible.
This eyeliner covers the lower and upper lash lines and has a thin black contour on the outer edge.

26. Sims 4 Makeup Set by Kumikya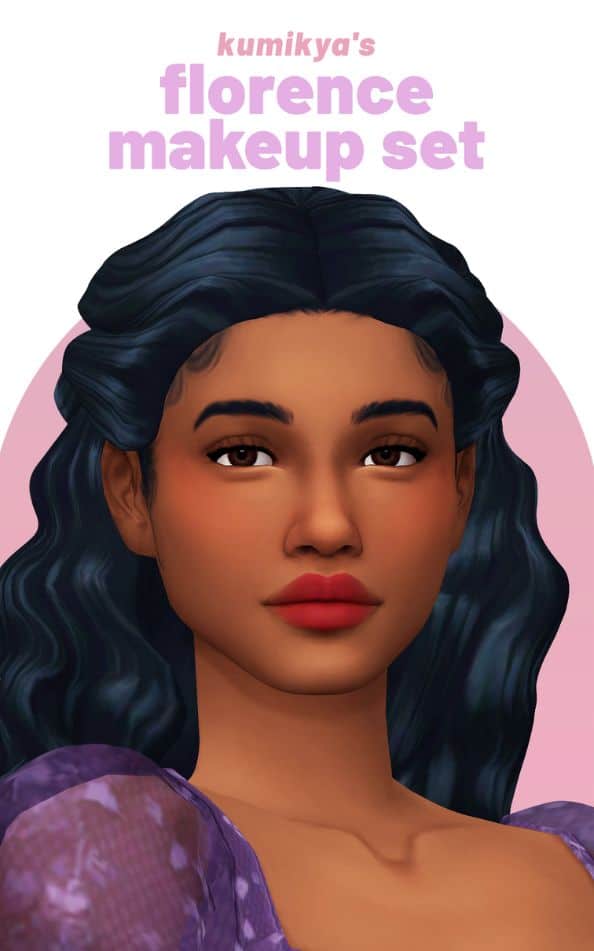 This three-piece makeup set comes with blush, lipstick, and eyeliner.
This blush touches the upper cheeks but also the apple of the cheeks.
Some of the swatches can be quite powerful, so skin tones will be important.
The lipstick comes in 10 matte swatches. The eyelash liner comes in 3 colors.

27. Sims 4 Maxis Match Makeup by TwistedCat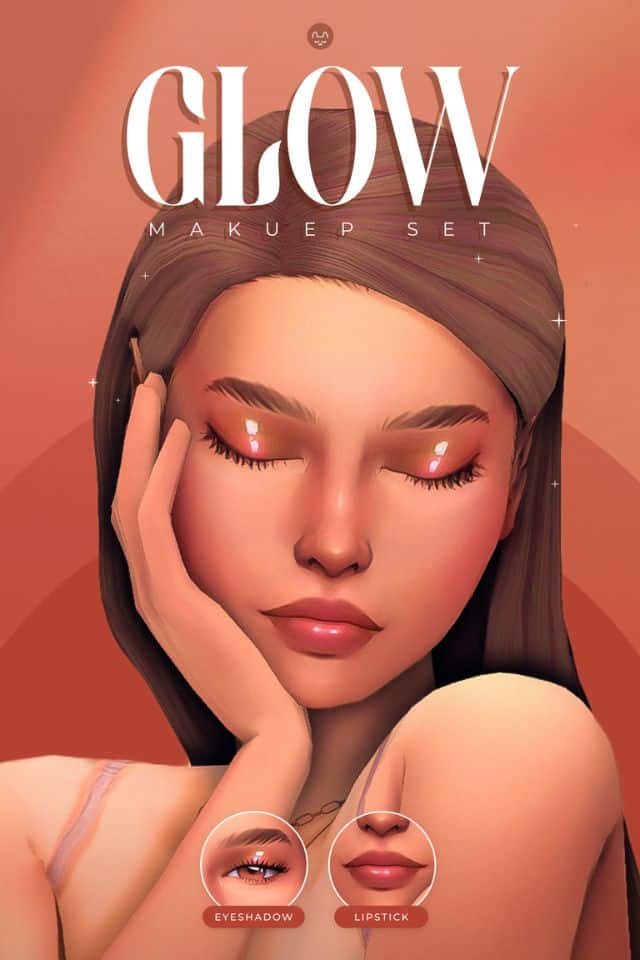 This simple 2-piece makeup cc set includes eyeshadow and glossy lipstick.
The eyeshadow has visible reflective light at the top of the eyelid and looks best on the lighter swatches.
The lipstick is available in 20 colors.

28. Sims 4 Blush Makeup CC by Suzue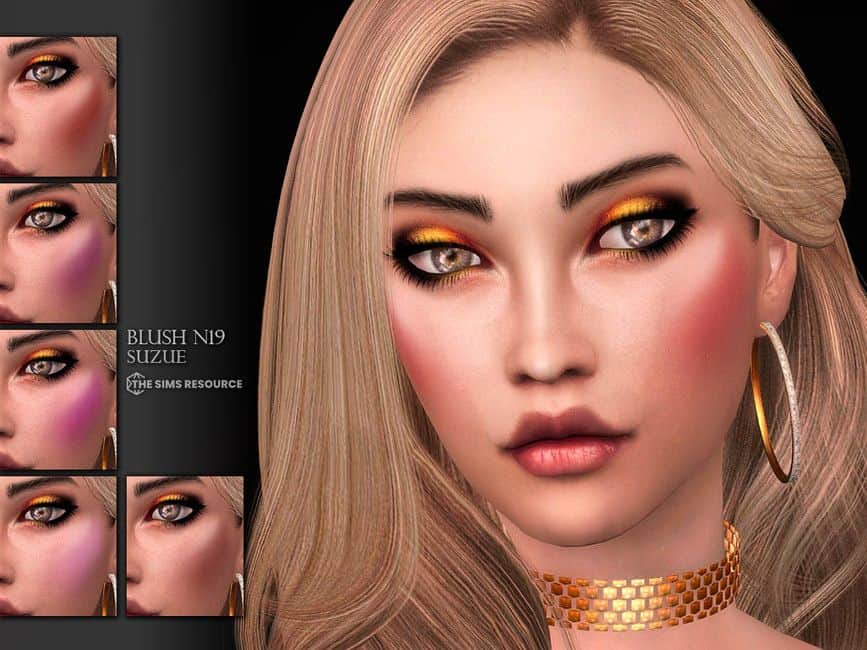 Sometimes you need some striking blush on your cheekbones, and this blush cc is just the thing.
This blush is available in 12 swatches and sweeps upwards, ending just before the outer eye area.

29. Sims 4 Eyeliner Makeup by Miiko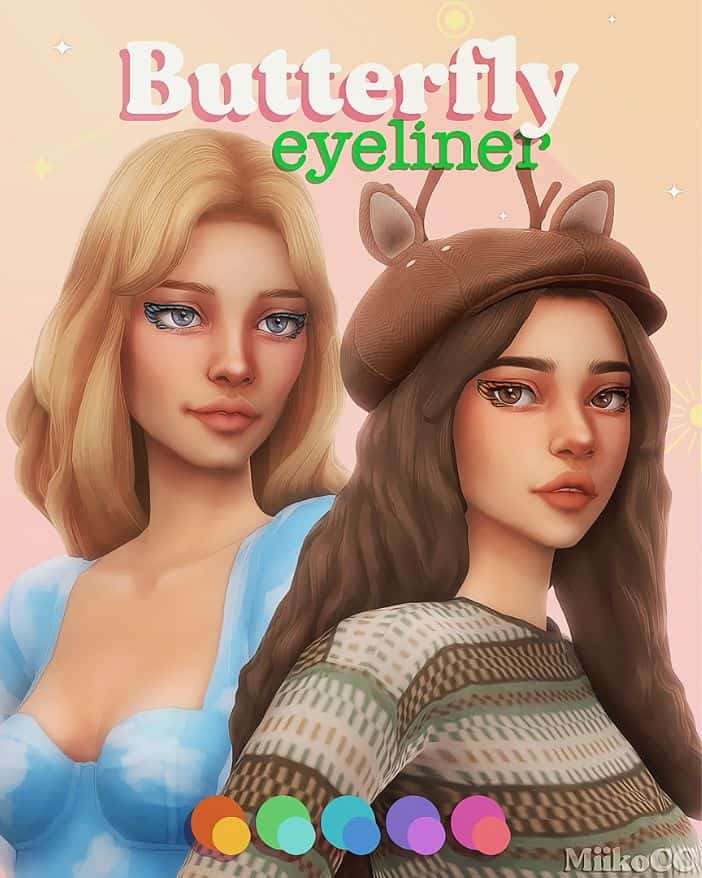 This is just a fun and quirky eyeliner in a butterfly design.
Available in 5 swatches in the eyeliner section, have fun adding this creative liner for a youthful look.

30. Ultraviolet Sims 4 CC Makeup by crypticsim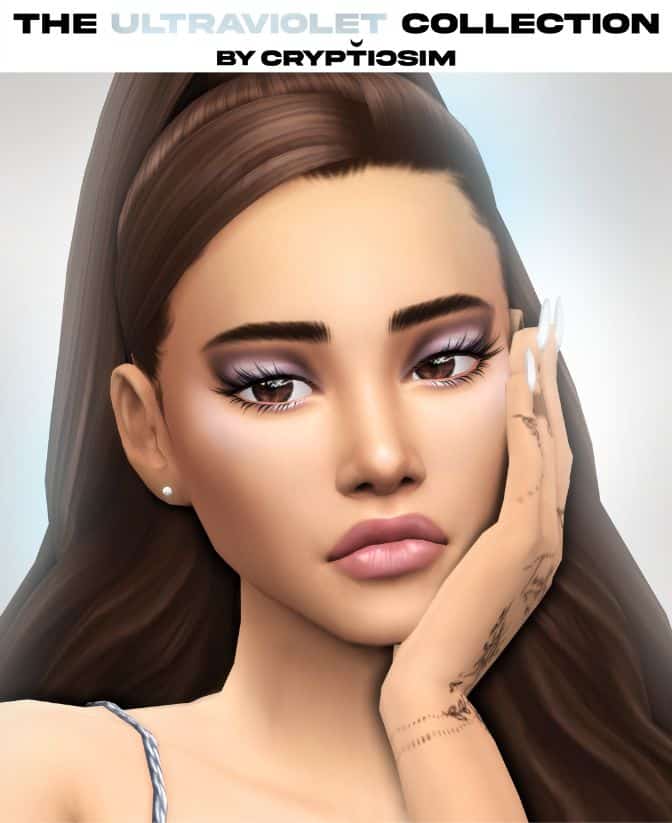 You can never have enough options, and this makeup collection offers beautiful eyeshadows, lipsticks, eyeliner, and highlighter.
From more subtle eyeshadow to full glam, there is something for everyone.
Pick between matte lipstick or shiny lip gloss.

31. Sims 4 Makeup Highlighter by XURBANSIMSX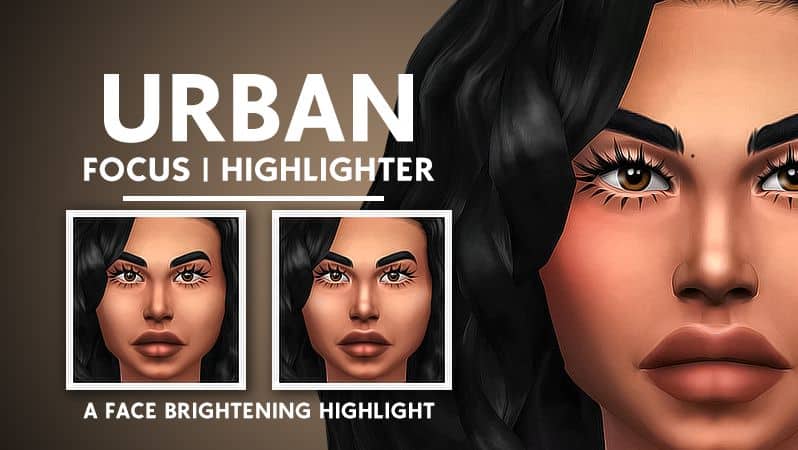 Brighten up your sim's face with this highlighter set. Add shine to the cheeks, nose, eyes, and nose.
Available in 7 base colors, the highlighter is slider compatible.
You can also pair this highlighter with the bronzer and blush in #10 above.

32. Sims 4 Lip Kit CC by XURBANSIMSX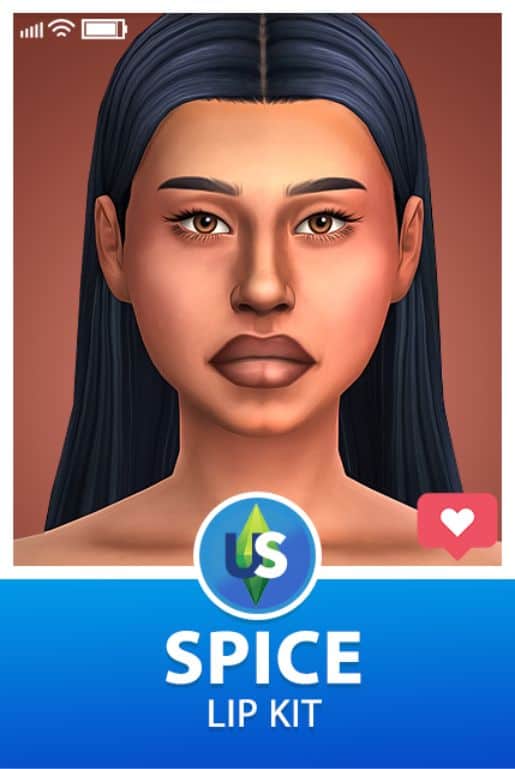 If you grew up in the 90s, you'd remember how everyone and their grandma had the Mac spice lip liner to create the perfect lipstick.
You can create a matte or shiny lipstick look, whichever you prefer.
Be sure to read the information on the cc's page to get the best tips on creating your ideal lipstick color.

33. Sparkly Sims 4 Makeup CC by Anonimux Simmer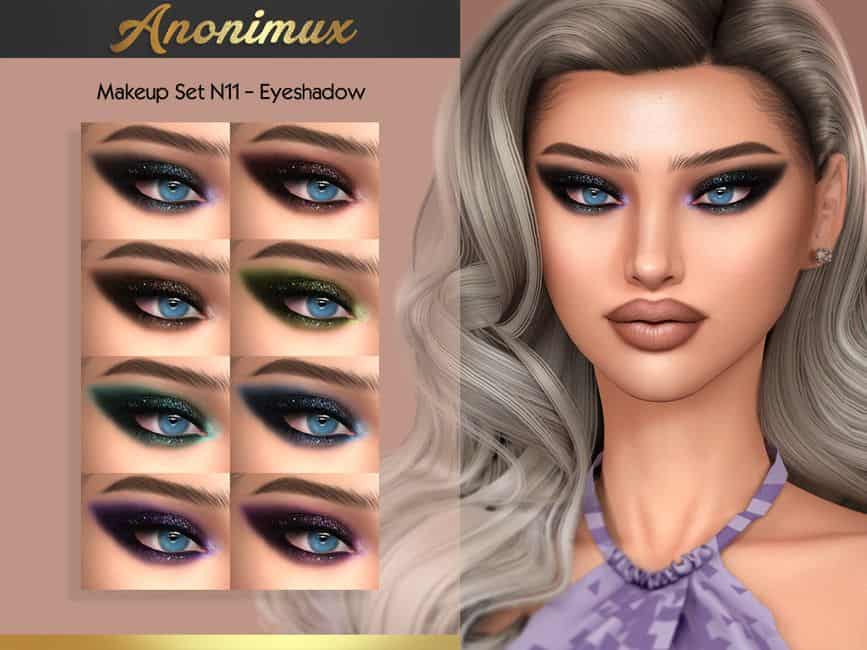 These stunning eyeshadows provide both a sparkly and smokey cat eye.
Available in 8 gorgeous colors, your sims will be ready for the nightclub in no time.

34. Sims 4 Glitter CC by TwistedCat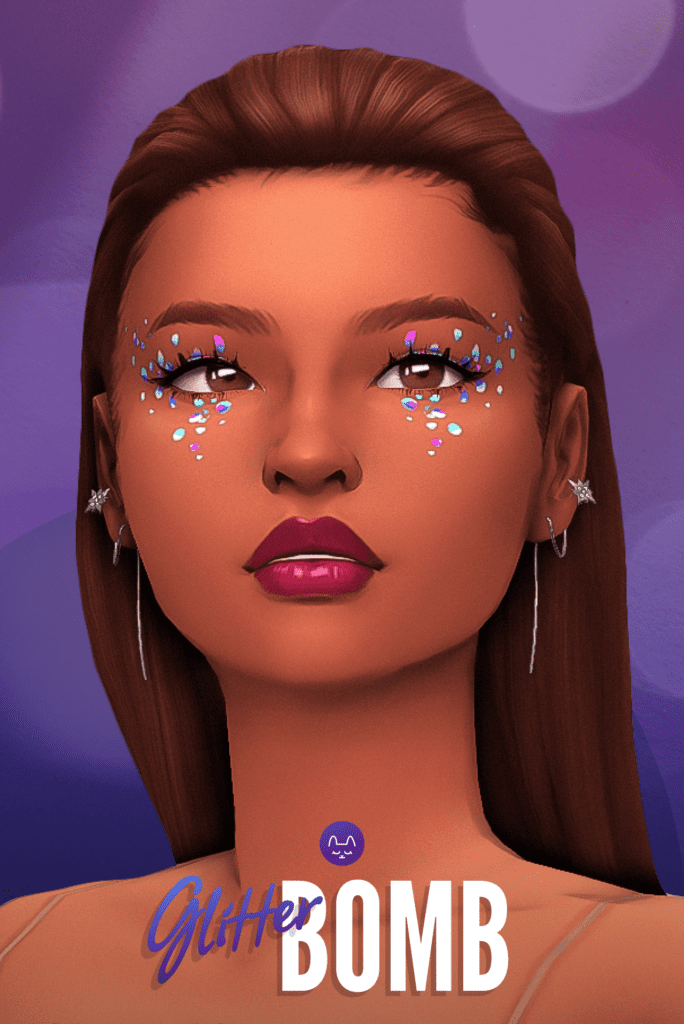 Everyone needs a little glitter in life, so you can't go wrong with this beautiful face glitter.
Available in 3 different versions, each has more glitter than the last.
You can find the glitter in the eyeshadow and blush sections, so it can be paired with a face blush if that's the look you're going for.

35. Spooky Sims 4 CC Makeup by chewybutterfly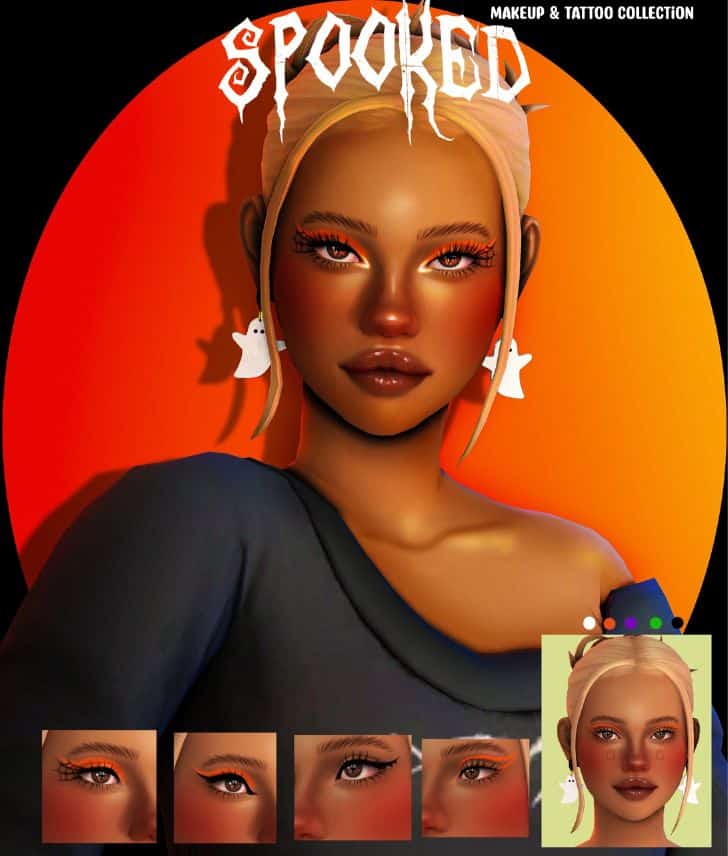 If your sims love celebrating Halloween, they will love this spooked-inspired makeup collection.
This makeup cc focuses on the eyes with 5 different eyeliners, including some beautiful cobweb eyeliner.
There are also a couple of tattoo files up for grabs too.

36. Sims 4 Lipstick CC by Bobur3
If you are into more muted lip colors, these matte lipsticks are just the thing.
Find your sim's new favorite lipstick color from the list of 16 swatches.
Sims 4 Makeup CC Thoughts
Makeup can make a huge statement when styled right.
A smokey eyeshadow or perfectly winged liner can be as sexy as a matte lip.
Try out your new sets of sims 4 makeup cc to add a flawless pop of color to your sims looks.
If you come across any other interesting makeup pieces for us to check out, feel free to send us a link in the comments below or tag us on Tumblr.
Other Sims 4 Related Lists
And don't forget to share and pin this collection for later!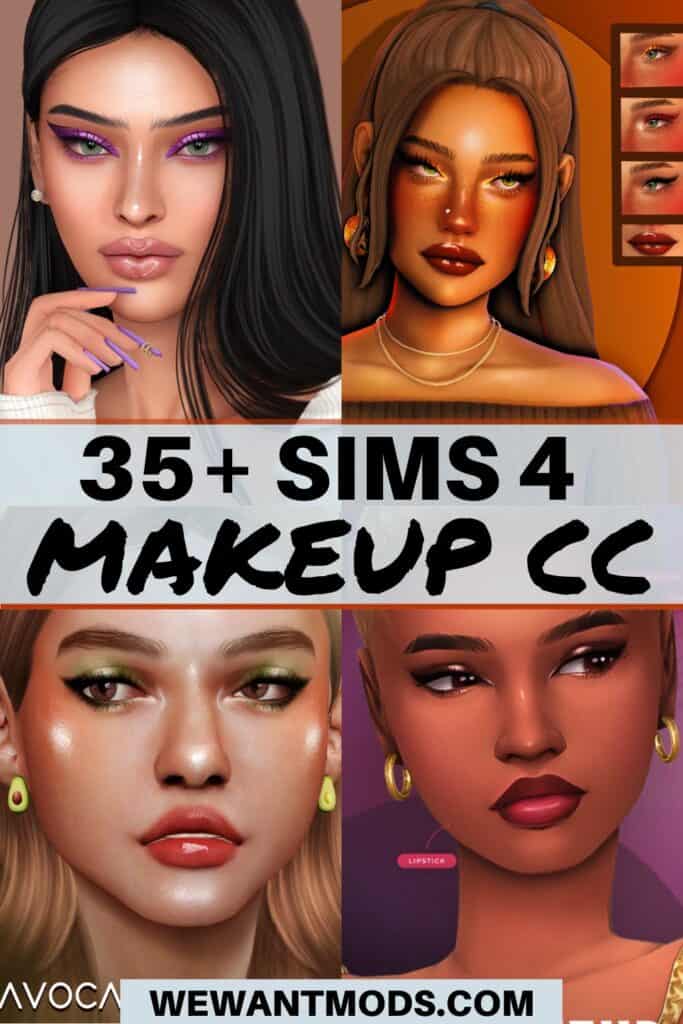 35+ Glam Sims 4 Makeup CC