38+ Beautiful Sims 4 Wedding CC (& Mods)
Are your sims heading to the altar?
Grab the best sims 4 wedding cc to turn your sims dream wedding day into reality!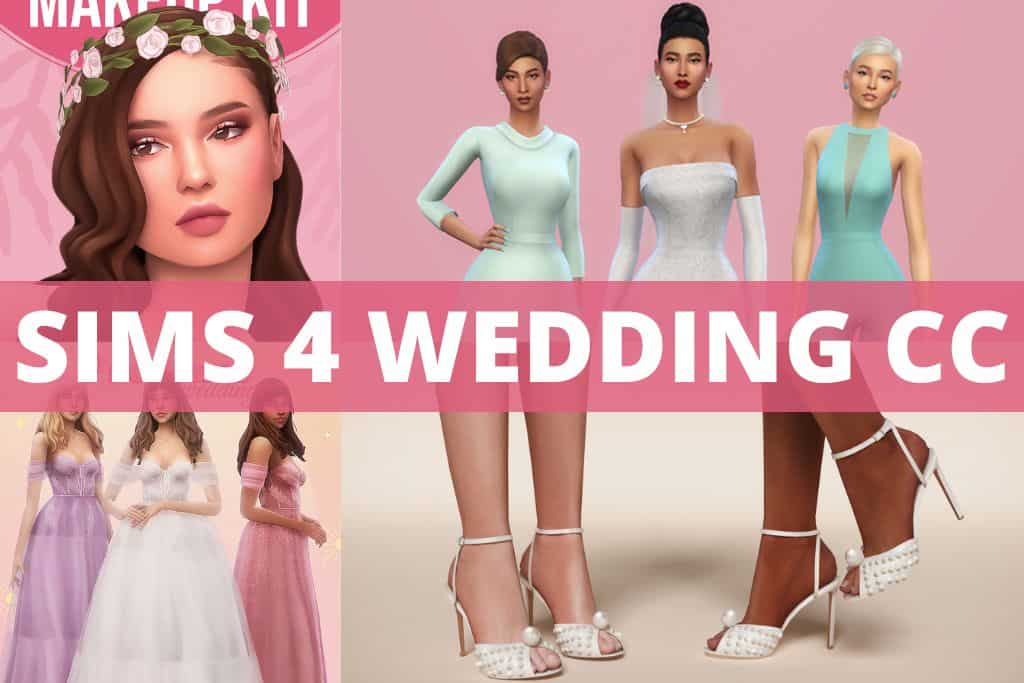 Weddings are always special events, and your sims couples are no exception.
With this collection of sims 4 wedding cc, and mods, you can pick the perfect dress, shoes, and wedding décor to create the most magical and flawless event.
Oh, and for more wedding inspiration, remember to check out our makeup cc and hair cc posts linked at the bottom of this article.
Let's get shopping!
Best Sims 4 Wedding CC
From wedding dresses, men's tuxes, wedding poses, and venues, you'll find a nice mix of sims 4 wedding cc and mods.
1. Elaine Dress Sims 4 Wedding CC by Madlen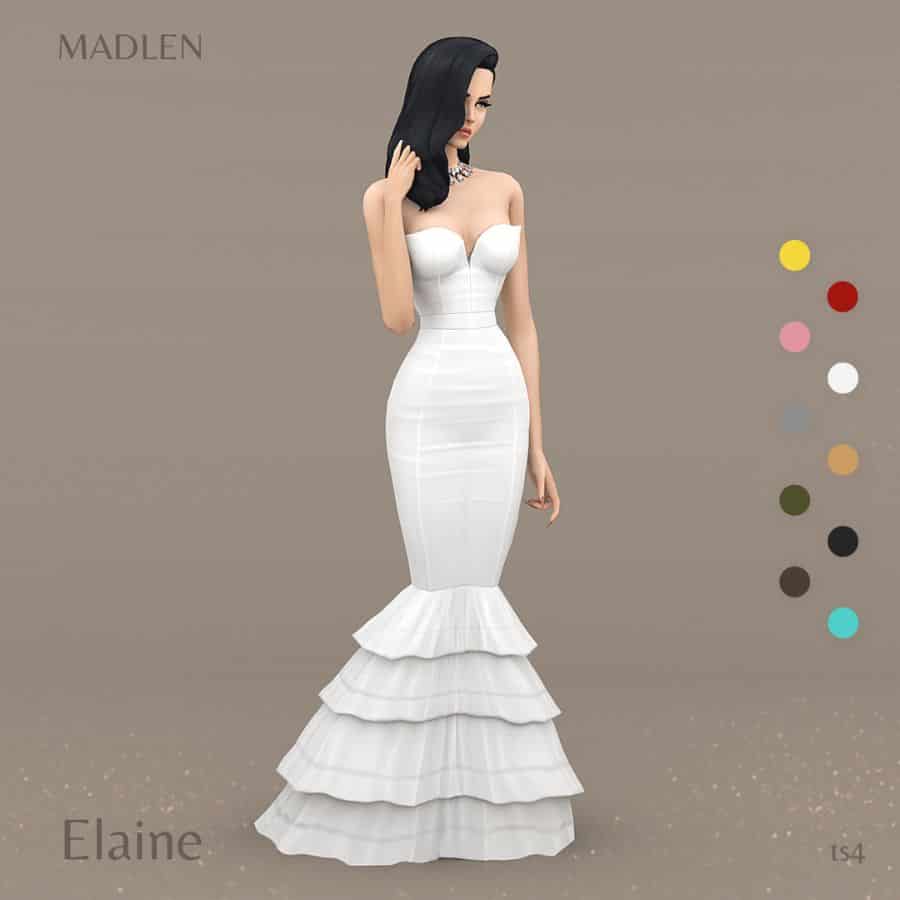 This strapless and figure-hugging wedding dress is beautiful.
With its ruffled mermaid tail, your sim bride will be the talk of the wedding season.
And this stunning piece can also be worn to a black tie event in one of the other color swatches.

2. Birdcage Veil Sims 4 Wedding CC by Kiara Zurk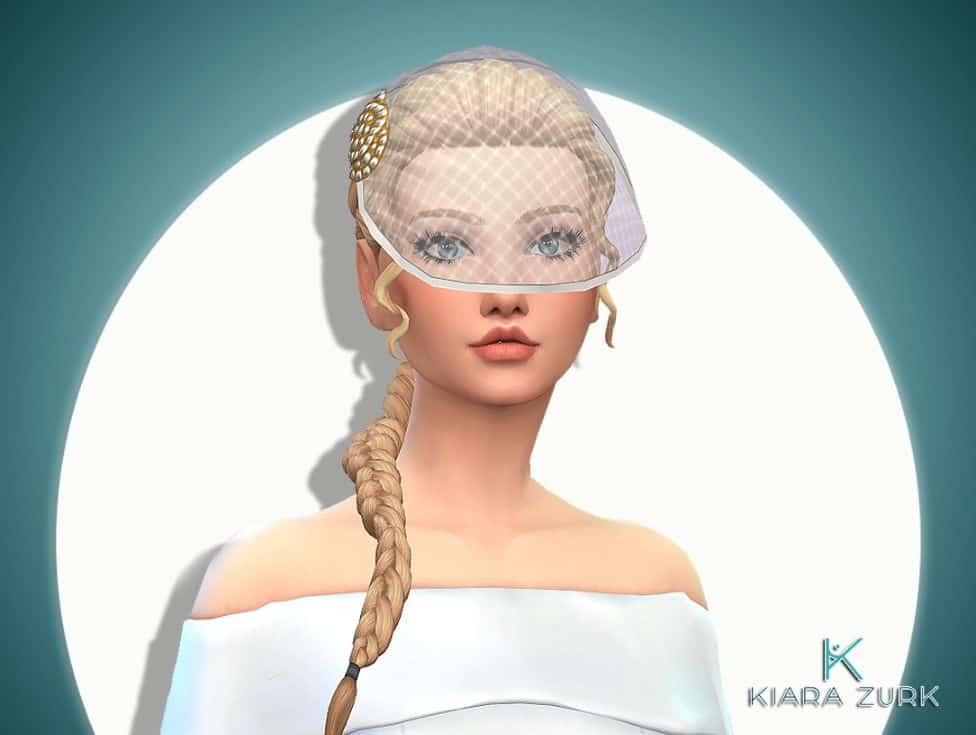 Wedding veils remain an optional bridal accessory on that special day, but birdcage veils always add a special touch of class.
This satin-trimmed veil hits just below the nose and comes in 15 swatches in case your bride is looking for a statement piece.
You'll find this wedding veil in the hats category, and it can also be used with the hat slider linked on the page.

3. Sims 4 Pearl Wedding Shoes CC by Jius-sims
Who doesn't love a strappy pair of peep-toe shoes?
These embellished pearl white satin heels are perfect for your sims wedding day.
These beauties are available for teens and up.

4. Eva Sims 4 Wedding Hair Set by Miiko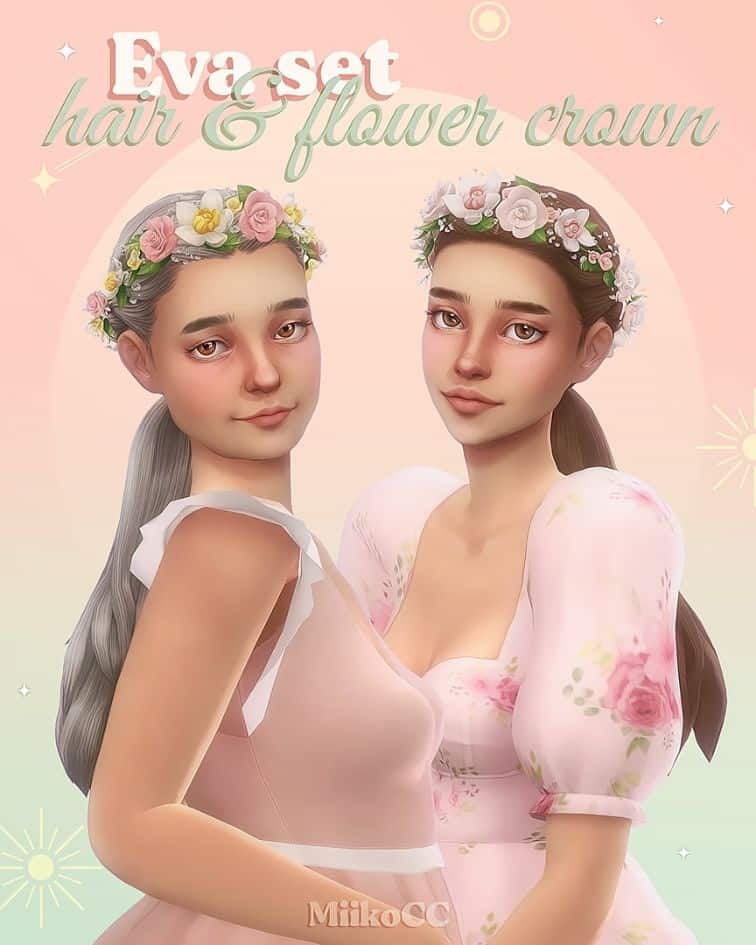 This two-piece sims 4 wedding cc gives your bridesmaids a lovely hairstyle and flower garland.
The hair cc is a parted ponytail with braids down each side, available in 24 swatches.
You can also grab the bonus file, which includes 15 extra colors.
The flower crown comes in 9 beautiful color combos and can be found in the hats section.

5. Sophia Sims 4 Wedding Dress CC by Atelier Lena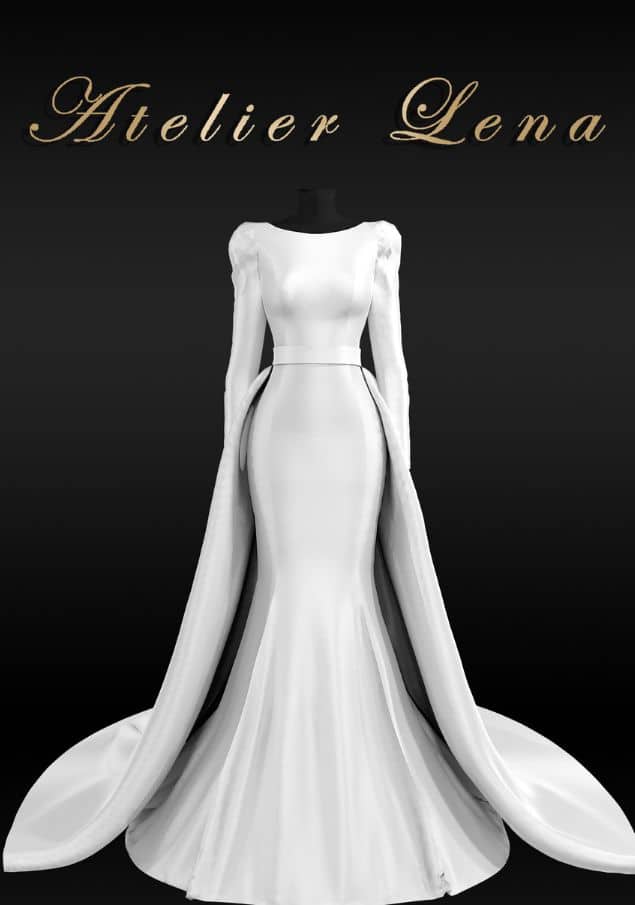 Nothing speaks elegance more than this fit and flare style wedding dress.
This sophisticated dress comes with an attached skirt to add some extra volume.
It's the perfect wedding dress to wear to the ceremony and then remove the skirt to party the night away.
The skirt piece can be found in the tights category.

6. Sims 4 Boho Wedding Set by Syboulette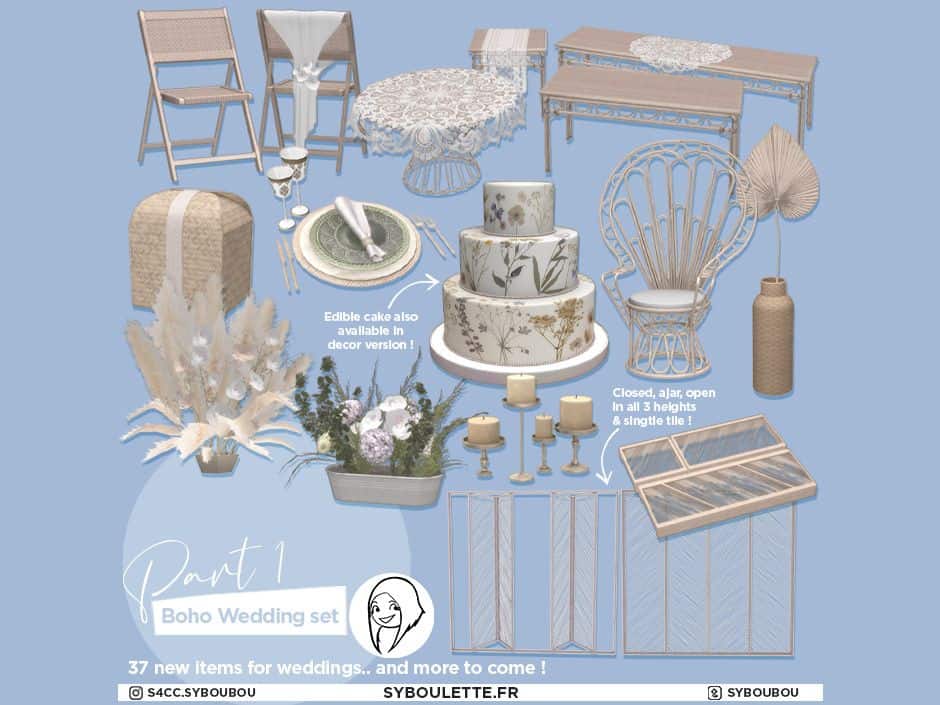 This sims 4 wedding cc set has everything you need for the perfect boho-theme wedding.
Wicker, rattan, and natural colors are the inspiration behind most pieces.
There are 37 base game-compatible pieces in this set, including;
A dining table
Tableware
Dry flower bouquets
Wedding cake
Rattan skylights
The cake box can be functional if you grab the SYB Eats Mod.
The wedding cake can go from decorative to edible too.
You can check out part 2, linked here, if you want even more pieces.
All items in the second part are also BGC, but some can be functional with Wedding Stories or Get Together.

7. Sims 4 Wedding Makeup CC by TwistedCat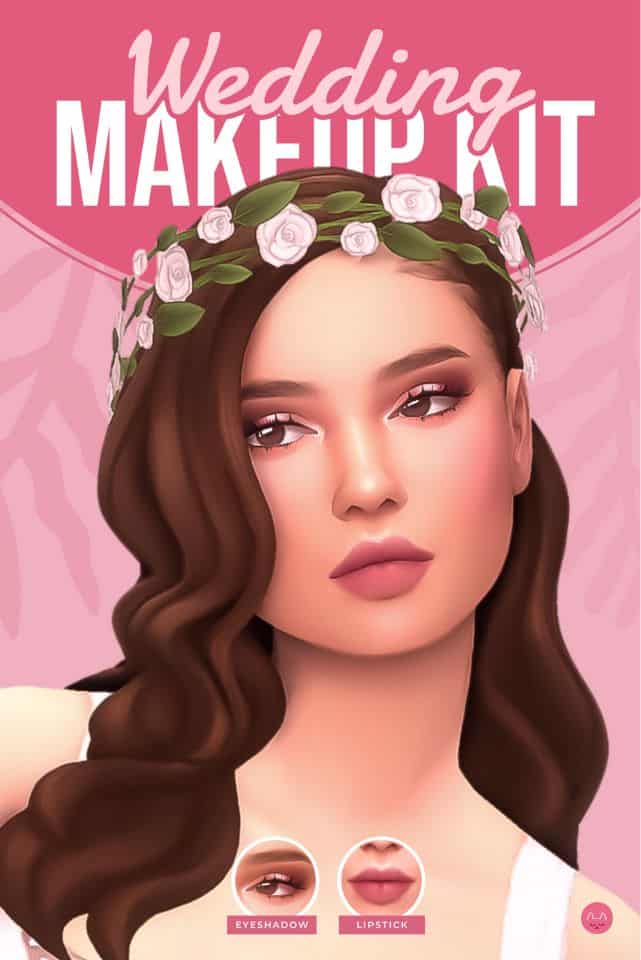 This wedding makeup set is beautiful yet not over the top.
Your sims brides will get matte lipstick and a lightly smokey eyeshadow with a pop of highlighter in the inner eye corners and center eyelids.
The lipstick comes in 18 swatches, while the eyeshadow has 16 color options.
8. Sims 4 Wedding Portraits by Paris Simmer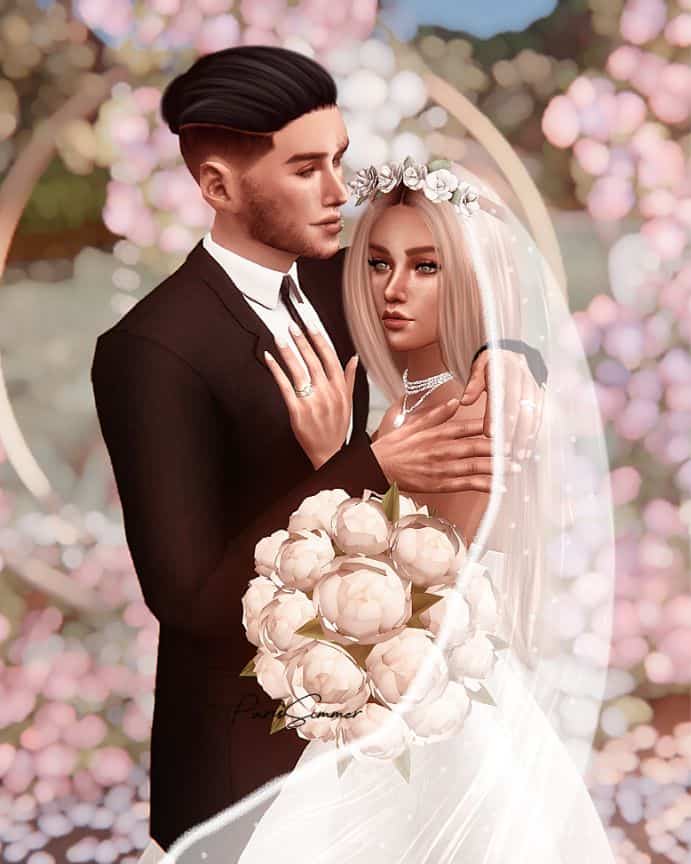 Nothing captures sims 4 weddings more than some beautiful wedding portraits.
In this pose pack, you'll get 6 couple poses perfect for that special day.
And don't forget to grab the lovely wedding bouquet of peony flowers for your bride, also linked on the custom content page.

9. Sims 4 Wedding Set by Ravasheen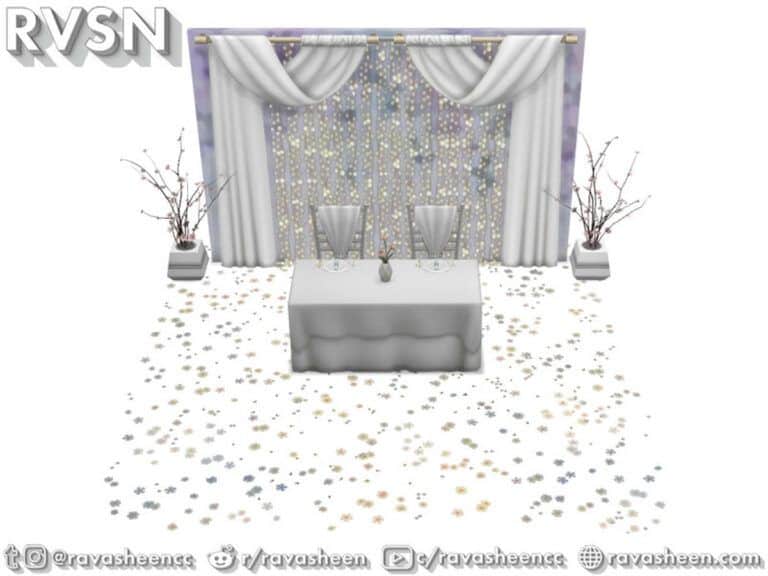 If your sims are more into a modern wedding theme, this is the great set of sims 4 wedding cc for them.
You can decorate the wedding venue with beautiful backdrops, dangling lights (diamond or fairy), and a rug made of flowers.
You'll also find functional wedding placemats and a table runner made of flowers.
10. Sims 4 Wedding Dresses CC by Zeussim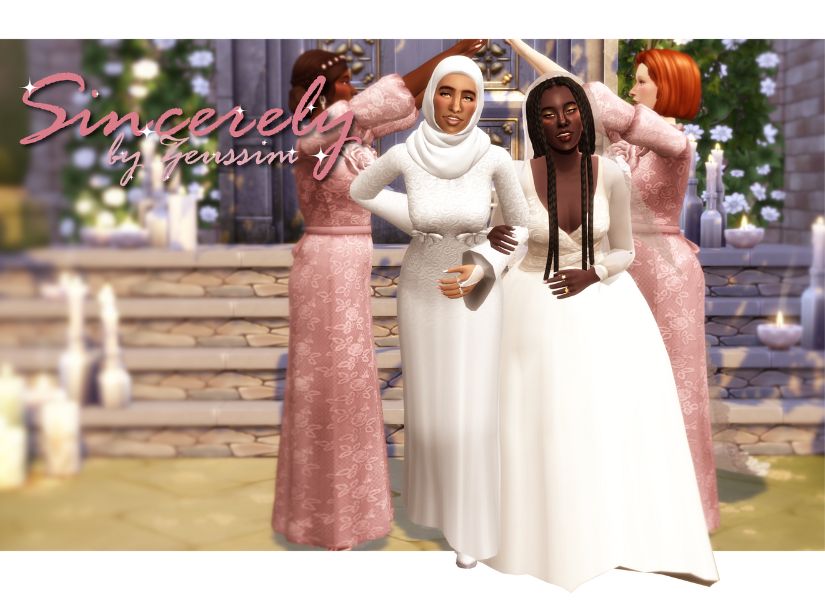 This set of sims 4 wedding cc includes 12 items to style the members of your wedding party.
There is a long-sleeved wedding dress with a plunging V-neck and a more simple, modest wedding dress.
You'll also find more clothing, earrings, nails, a ring, and a veil.

11. Sims 4 Wedding Shoes CC by Atelier Lena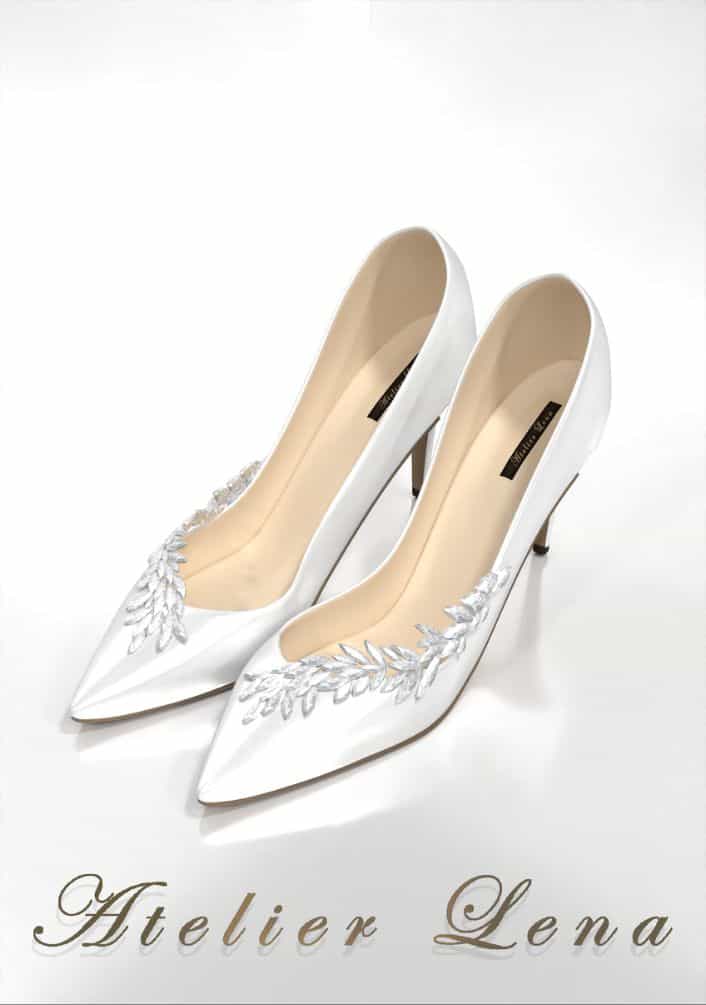 These gorgeous silk wedding shoes give me Manolo Blahnik's vibes with their embellished stones.
There are 24 swatches of heels to find your favorite color.
You can also grab the heel deco and present boxes.

12. Gabriella Sims 4 Wedding CC by KM Creations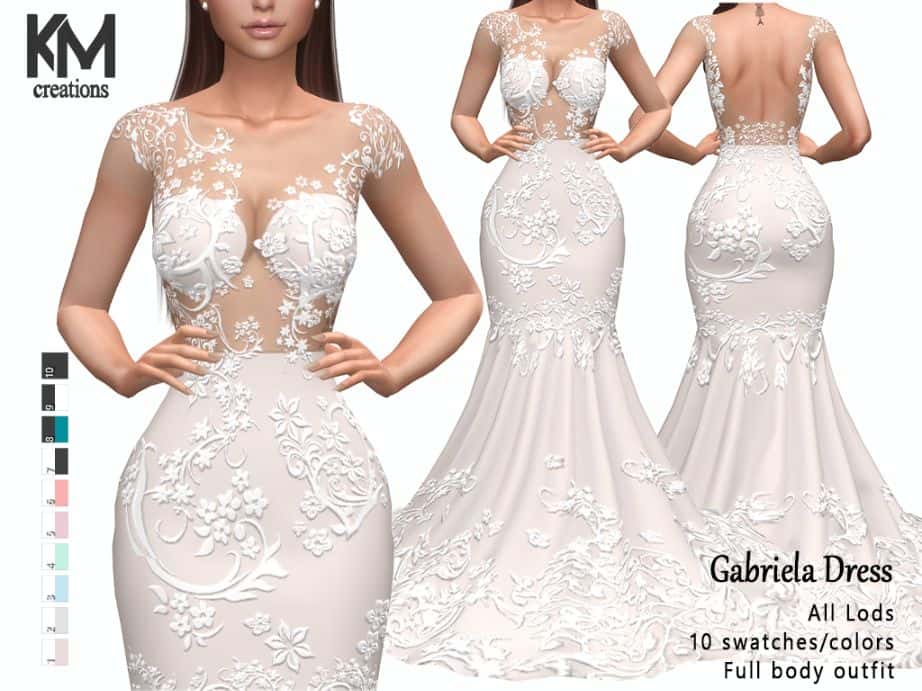 This stunning wedding dress has to be my favorite; it's so beautiful.
While the fit and flare style with the low back is lovely, the gorgeous lace detailing makes the dress magical.
This beauty is available in 10 different color swatches.

13. Pearl necklace Sims 4 Wedding CC by Glitterberry Sims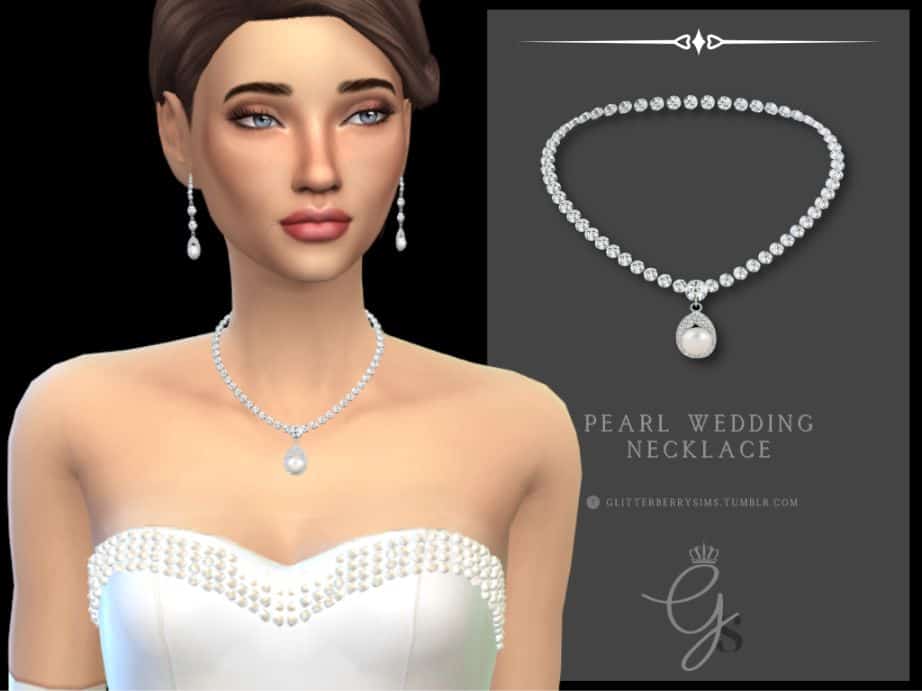 What would compliment the pearl-themed shoes at #3 better than this peal wedding necklace to complete the look?
This necklace is a simple yet classic design; a single pearl in a diamond enclosure and diamond collar.

14. Sims 4 Wedding CC Dresses by Zeussim
This sims 4 wedding cc set includes a classic strapless wedding dress and a fun ombre dress with a sparkly tail.
Both dresses come in 23 swatches, and you can also find some short-medium veils under the hats category, which come in 18 colors.

15. Sims 4 Bridal Party Pose Pack by Lilalmondsim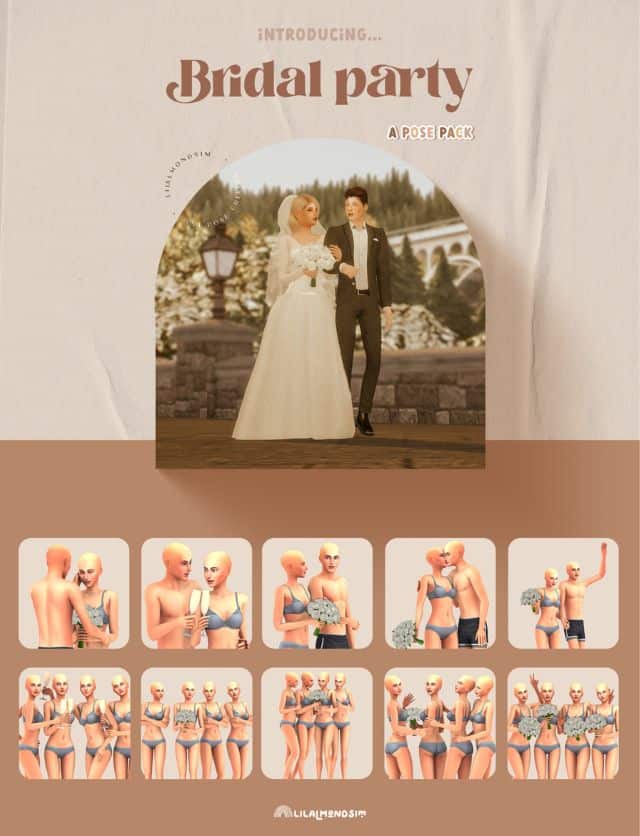 Bridesmaids are an important part of a wedding, so it's no surprise that your sims couple will want to snap pictures of their friends.
In this bridal pose pack, you get 5 couple poses and 5 poses of the bridesmaids and the bride.

16. Sims 4 Rustic Wedding Barn by Mini Simmer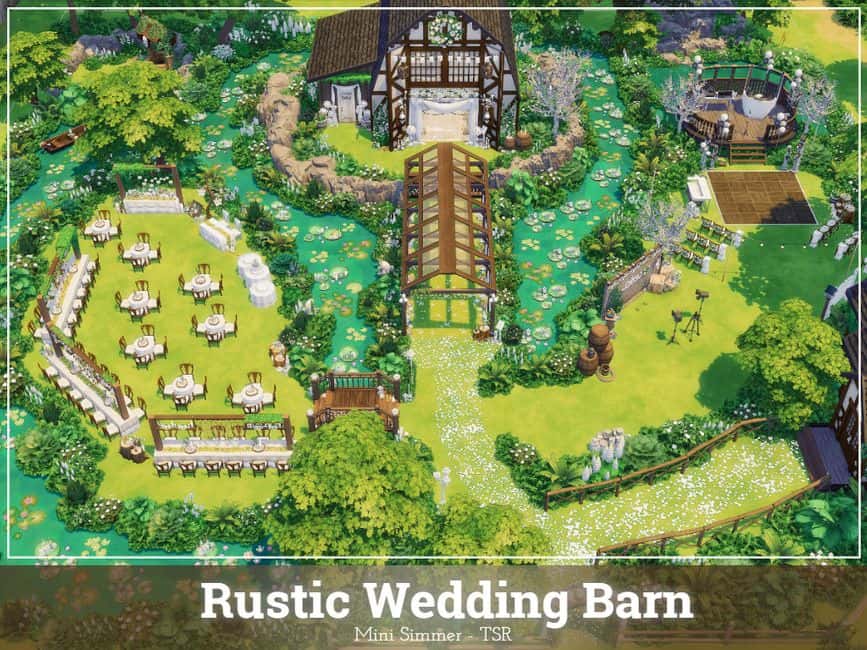 Couples often prefer modern or rustic wedding venues; I love the outdoor rustic romance barn theme.
This rustic wedding venue is fantastic; it's an entire compound.
A lake surrounds the lovely barn, and the outdoor dining area sits on the manicured lawn.
There are many areas for your sims to discover on their wedding day.

17. Sims 4 Wedding CC Tuxedo by Atelier Lena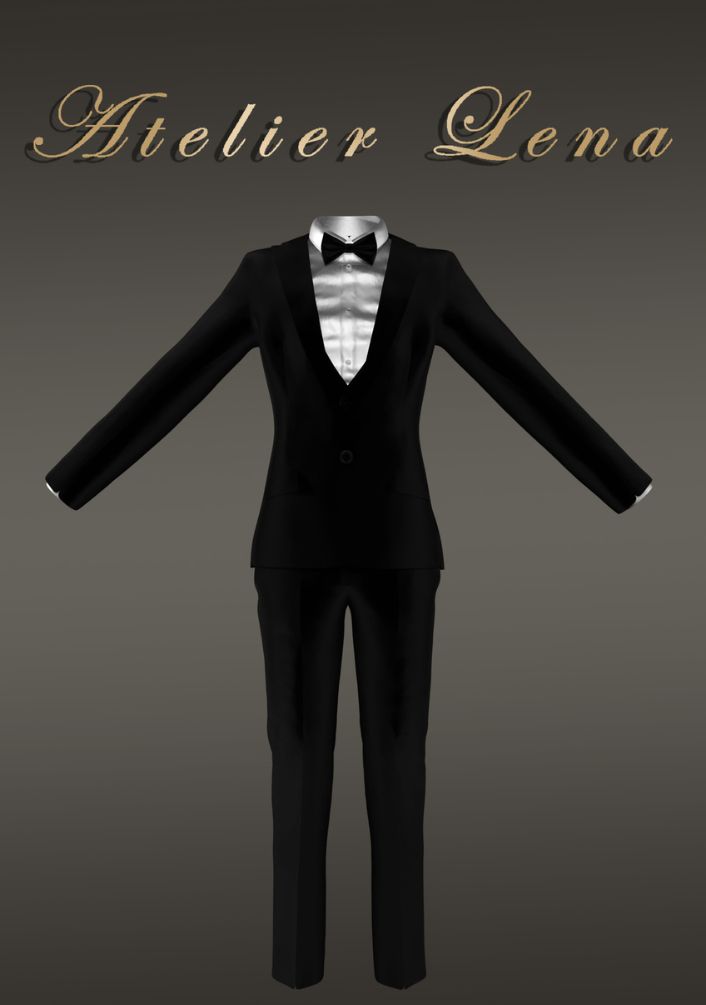 Your male sims deserve to look just as stylish as the bride, and this classic tuxedo will do just the trick.
This tuxedo, with its notch lapel, satin shirt, and bowtie, will make your sims look dapper.

18. Sims 4 Wedding Dress Set by Miiko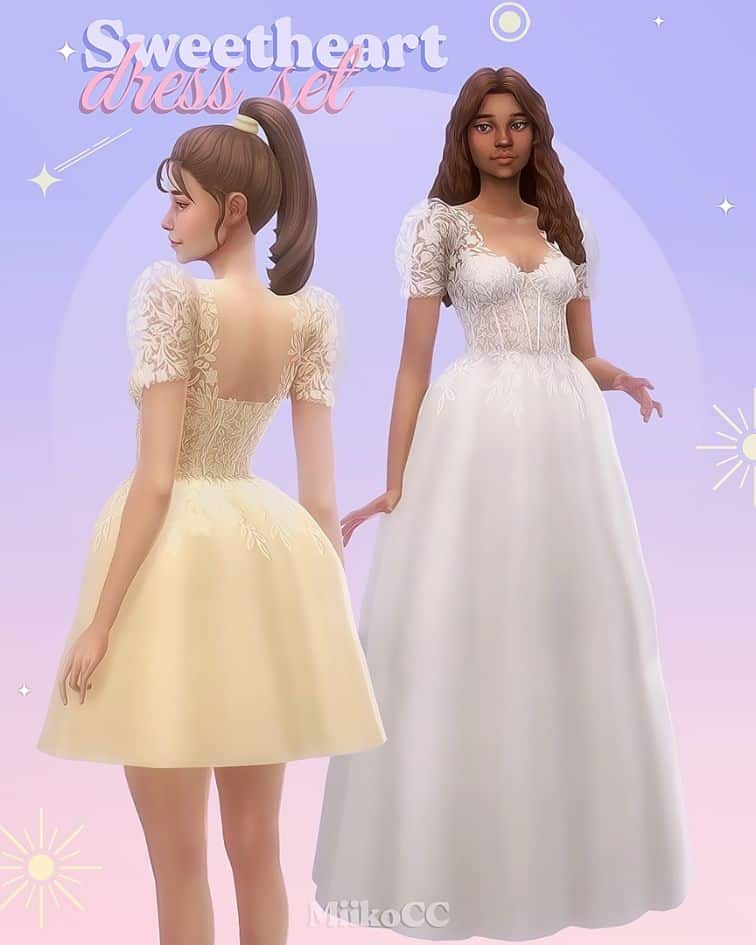 This sims 4 wedding cc set comes with 2 stunning dresses.
You get the full-length wedding dress with short puffed sleeves and a lace top.
The second dress is a shorter version perfect for flower girls or bridesmaids.
Both dresses are available in 15 color swatches.

19. Sims 4 Wedding Hair CC by Enriques4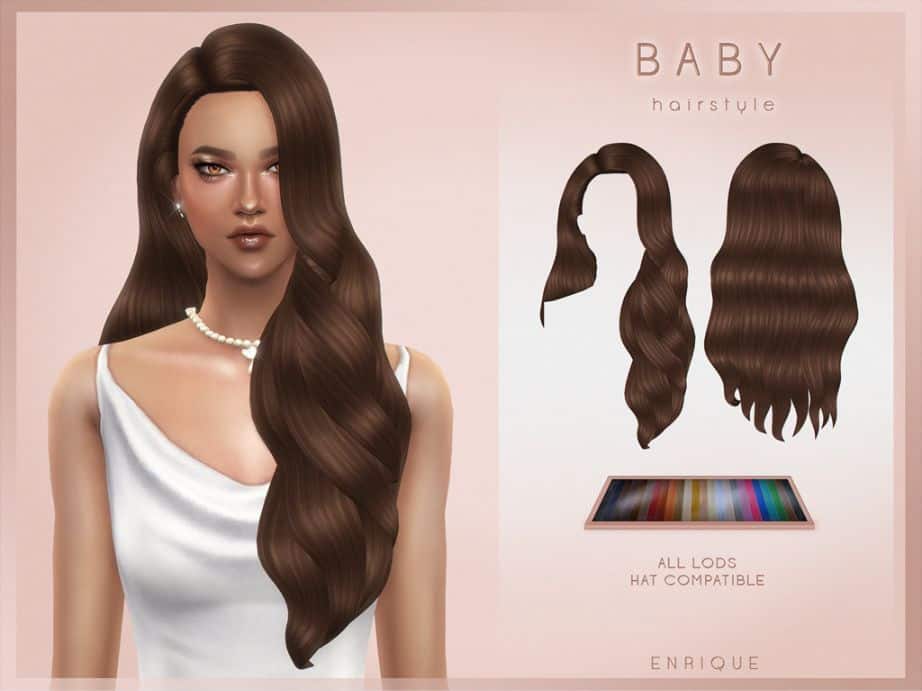 While an updo can be pretty, depending on the wedding dress, flowing locks add a beautiful touch.
Your female sim will have parted hair with gorgeous twisted locks cascading over her shoulder.
This hair cc is available in 24 swatches for teens to elders.

20. Sims 4 Romantic Engagement by Soloriya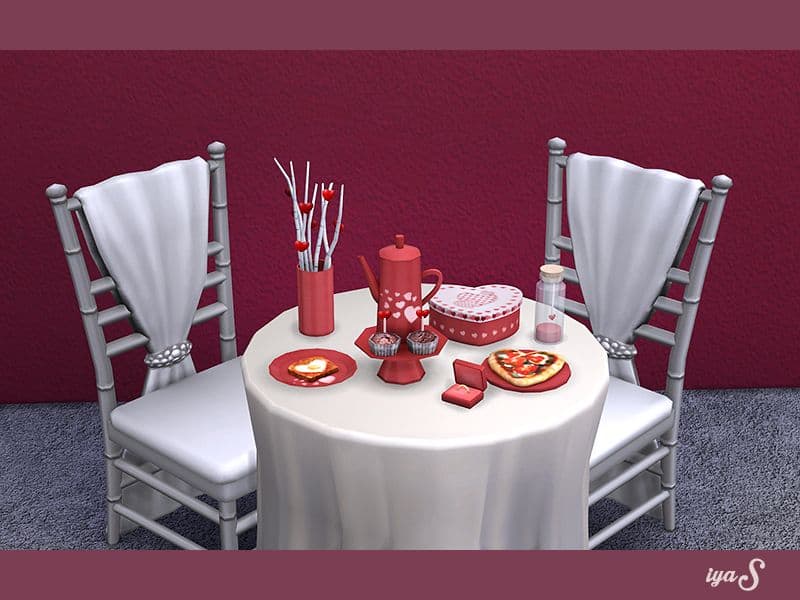 There can be no sims 4 weddings without an engagement.
Have your sim create the proposal with this Will you marry me set.
There are 7 romantic theme items to set the tone on that romantic day;
Heart-shaped egg-in-a-hole toast
Heart-shaped pizza
The engagement ring and more

21. Sims 4 Satin Wedding Dress CC by Jius-sims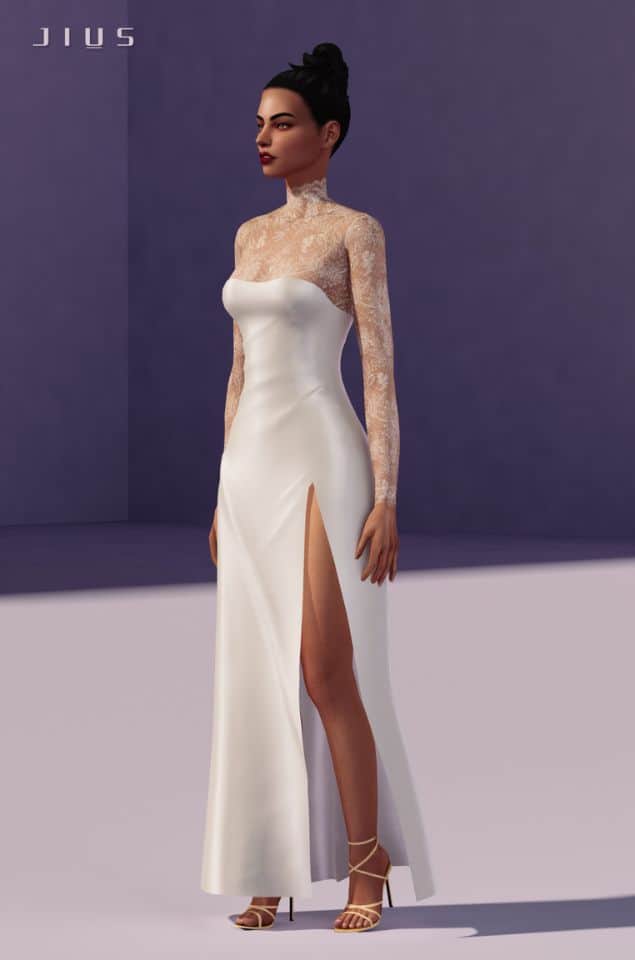 This strapless satin wedding dress comes with a thigh-high slit.
Your sims can wear this dress four different ways.
Your bride can opt for the simple strapless version or with a turtleneck mesh top underneath, available in 3 designs.
22. Sims 4 Wedding Collection by AngelHoliday17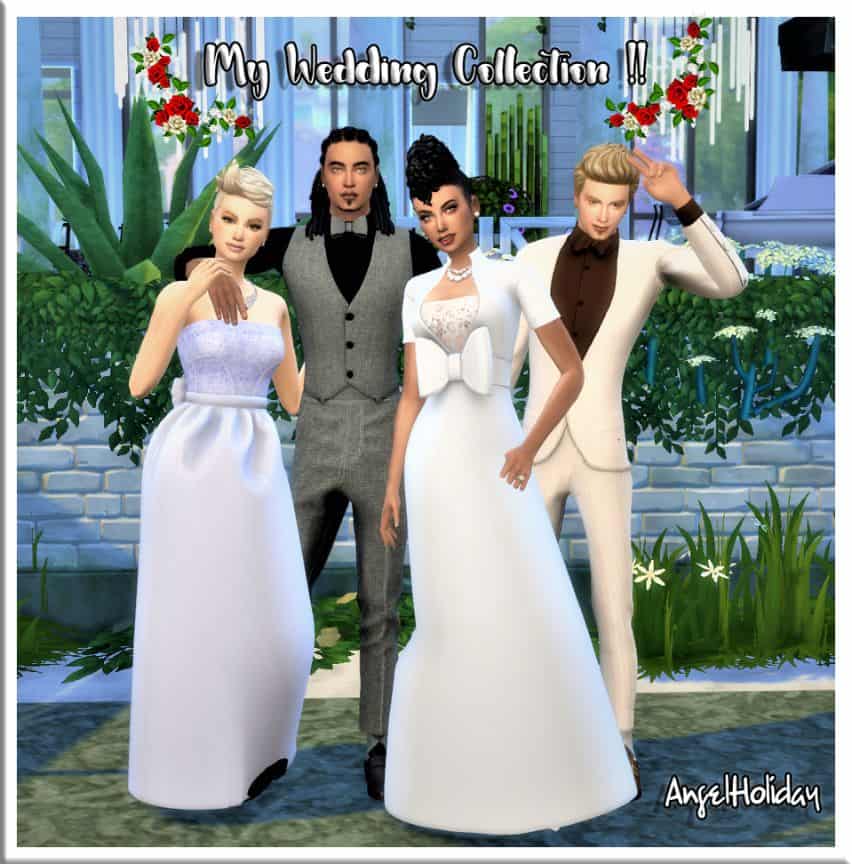 This wedding set has everything you need to dress your bride and groom in formal clothes.
There are two wedding dress options; a strapless and a short-sleeved version.
For your male sims, you can opt for a more casual look; a shirt with a vest and pants or a formal tuxedo.

23. Romantic Sims 4 Wedding CC Pack by Syboulette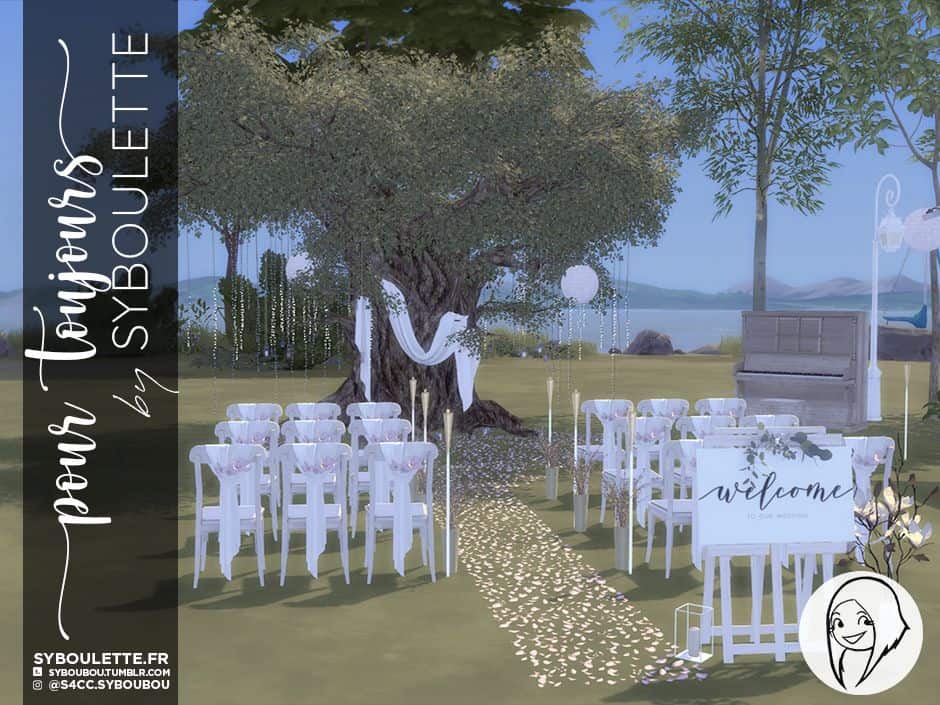 This romantic wedding set includes 27 items that can be used to decorate your sims special day and other events.
What's more, all items are all base game compatible. You'll find a mix of things, including;
Tree of love
Cake toppers
Tables
Folding chairs
An old piano

24. Sims 4 Wedding Portrait Poses by LutessaSims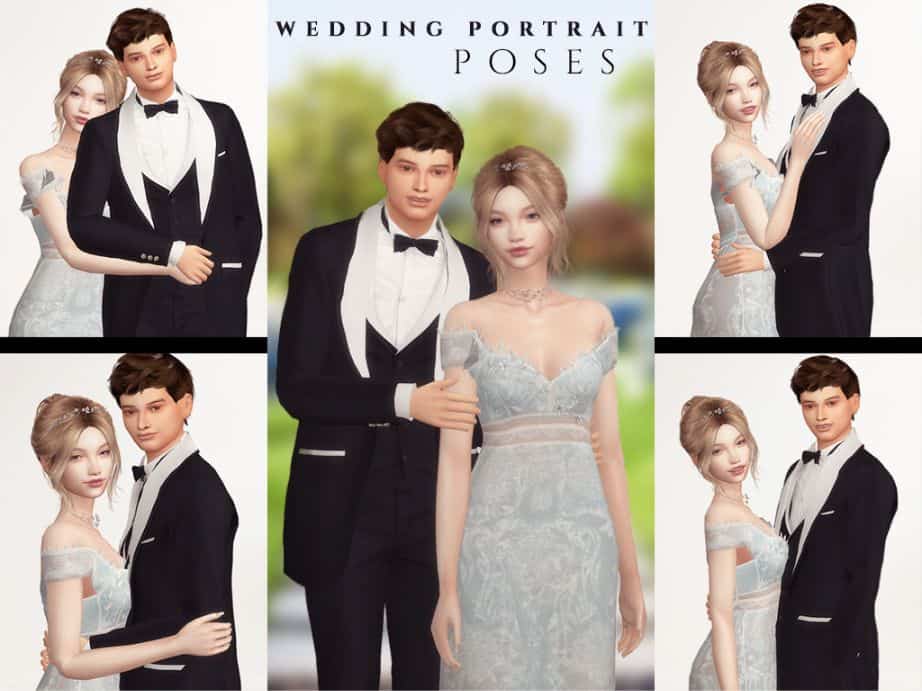 This wedding portrait pose pack comes with 6 different poses for the happy couple.
Show off your couple's amazing outfits in these casually sweet poses.
You can also use these poses for your sims high-school graduation too.

25. Sims 4 Spring Wedding CC by ice-creamforbreakfast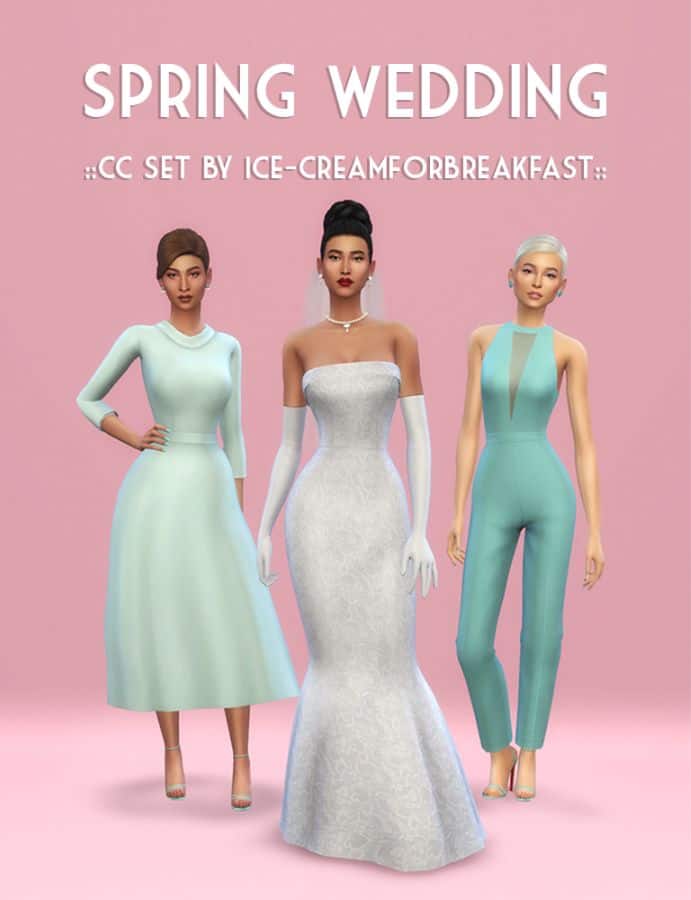 This wedding cc set is all about sophisticated spring wear.
Your bride can opt for the strapless wedding dress with a mermaid tail.
Complete her look with the perfect updo and veil.
Your bridesmaids can be comfortable yet stylish in a spring-ready jumpsuit with 40 swatches and 5 fun patterns.
Not to leave out the bride's mother, the Doris dress is the perfect calf-length dress; it gives me 60s vibes.
26. Sparkly Sims 4 Bridemaid Shoes by Madlen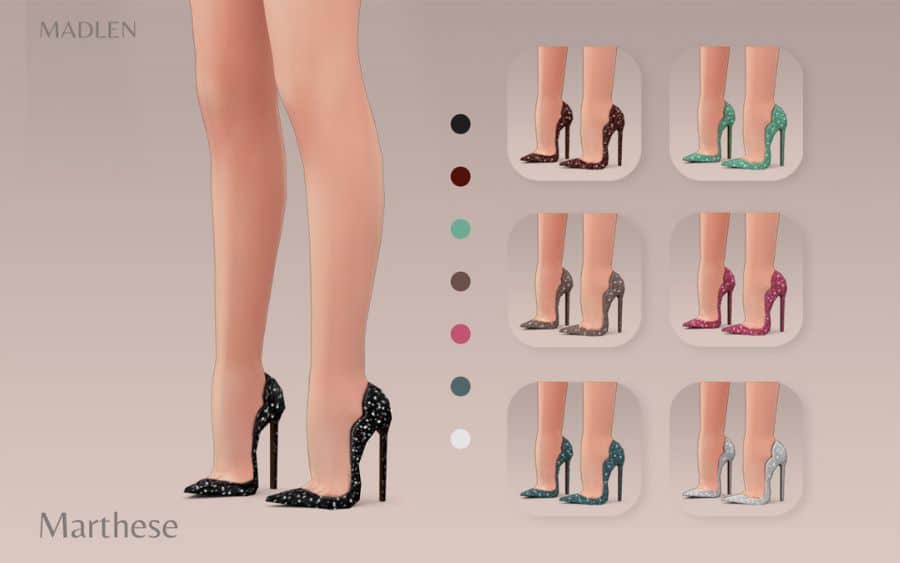 While your sims brides can totally wear these sparkly heels, they are perfect for a bridal party wearing shorter dresses.
These pointed-toe stiletto heels are all covered in shiny embellished stones and come in 7 fabulous colors to match almost every outfit.

27. Sims 4 Wedding CC Dresses by Zeussim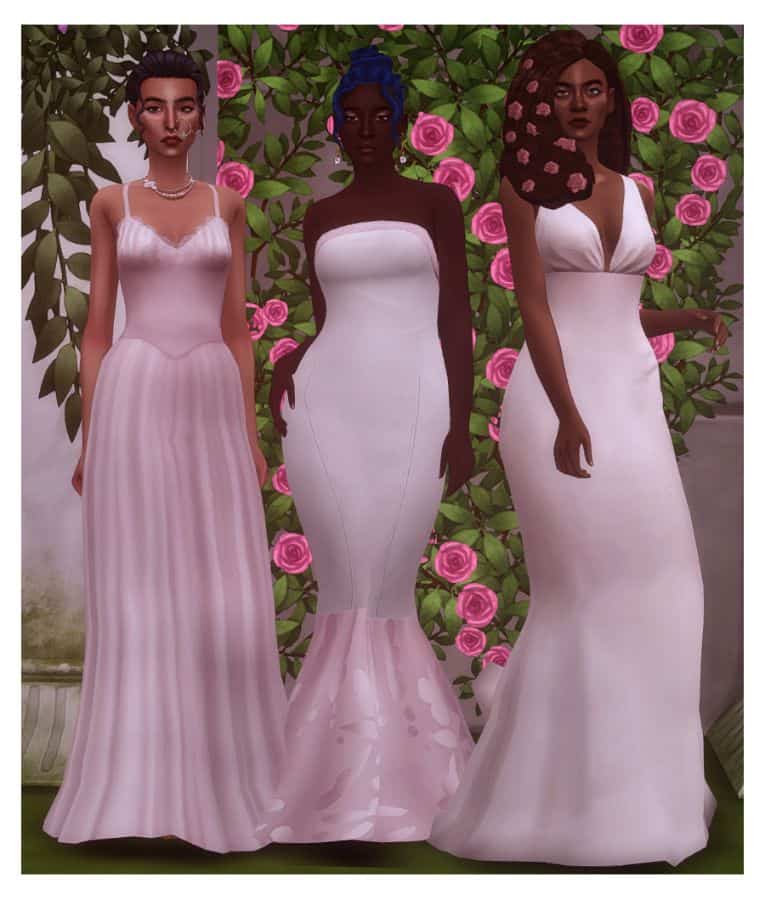 This set of wedding dresses comes in 3 different styles.
Your sim bride can opt for a spaghetti strap dress with a bustier style top and loose bottom.
The second dress is strapless and figure-hugging with a mermaid tail.
The final dress has a deep plunging necklace, one-inch straps, and a medium-tight fit.
All three dresses are available in 8 swatches.

28. Provence Sims 4 Wedding Dress Set by Miiko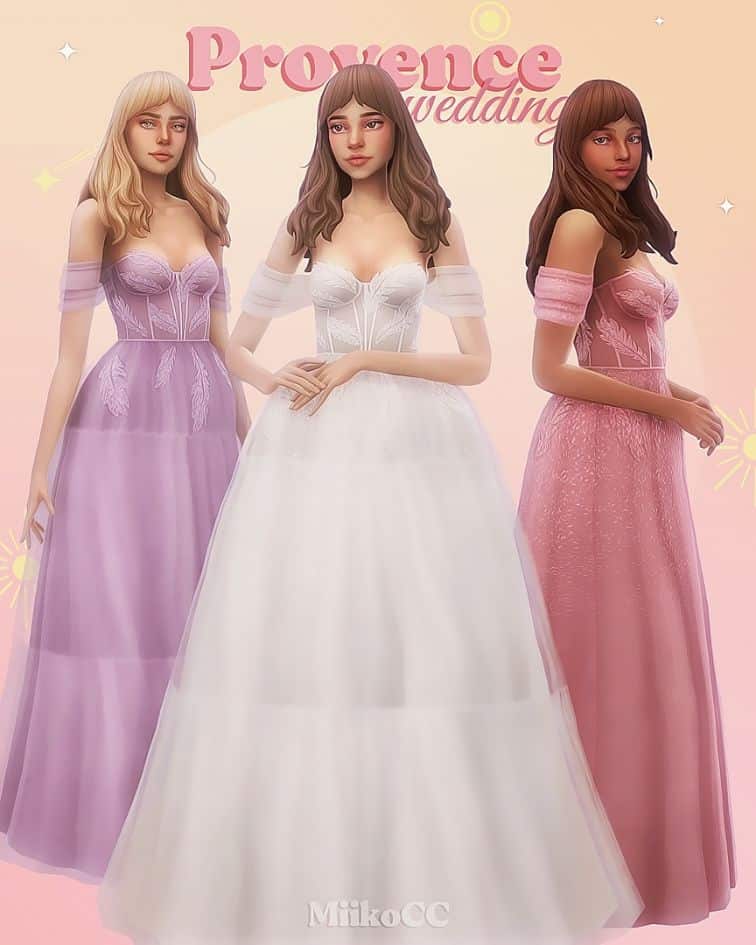 This romantic wedding gown collection comes with 3 delicate off-the-shoulder wedding dresses.
Each gown has the same off-the-shoulder straps and bust area, but the skirt portion of the dresses varies.
The dresses have a different level of crinoline puffiness and lace or sparkly embellishments.
You'll also find a loose hairstyle with angled bangs.

29. Sims 4 Men's Wedding Suit by Darte77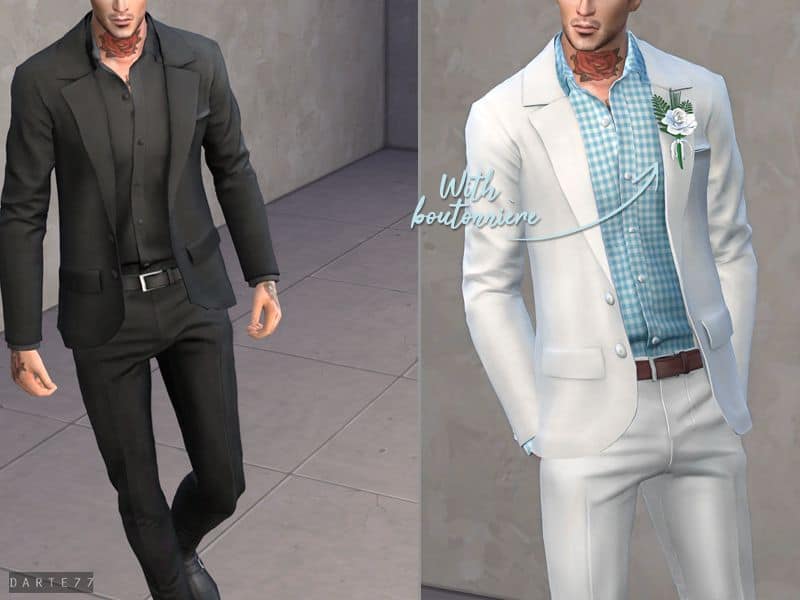 This men's wedding custom content set gives you a couple of suit options for your sim's wedding day.
You'll find an open suit that comes in two versions (with or without a boutonnière).
The open suit option comes in 14 swatches.
Your male sims can also choose a more slim-fit suit jacket and trousers, which comes in 14 and 11 swatches, respectively.

30. Cathedral Veil Sims 4 Wedding CC by Atelier Lena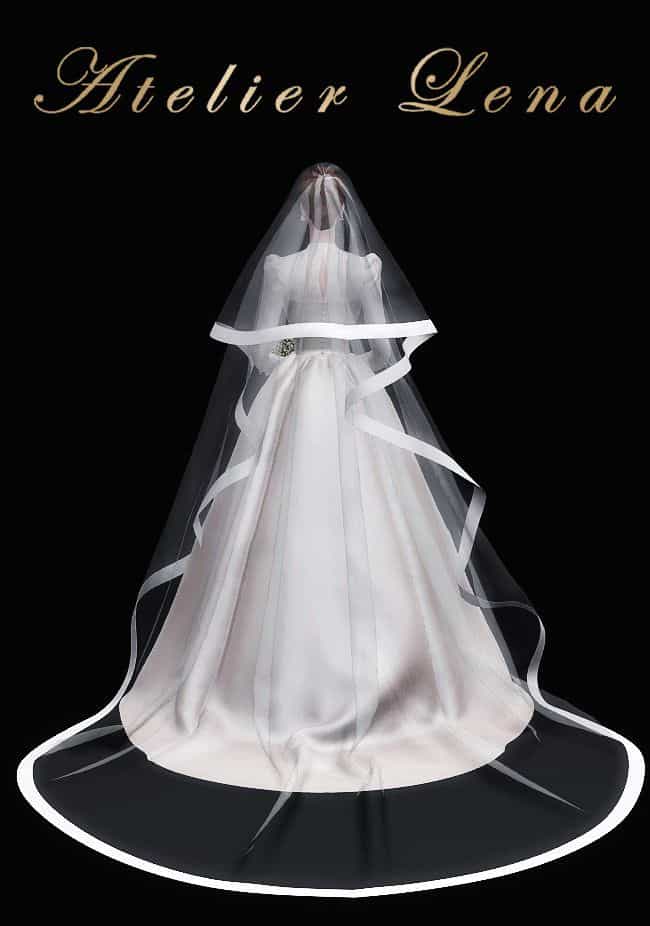 There's nothing like a full-length satin edge cathedral veil to elevate a wedding dress.
This beautiful and elegant cathedral veil perfectly complements the dress listed in #5.

31. Sims 4 Mermaid Wedding Dress by oydis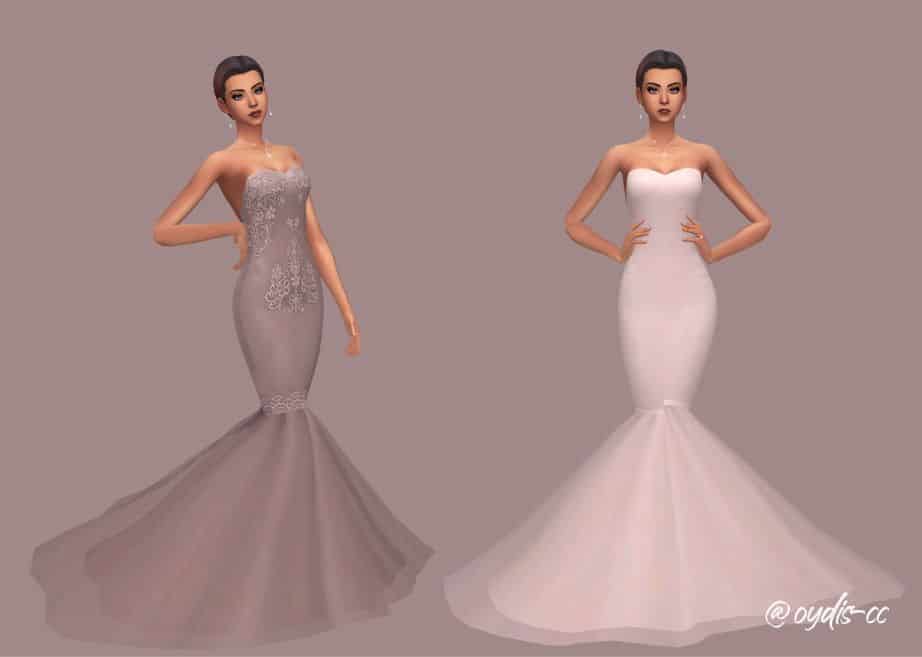 This form-fitting mermaid tail dress can be worn by your sims bride or to a black-tie event.
The dress comes in 21 colors and 4 flavors;
Plain
Lace
Embroidery
Pearls
The embroidery version in the image above has to be my favorite dress flavor.

32. Sims 4 Wedding Veils CC by MelonSloth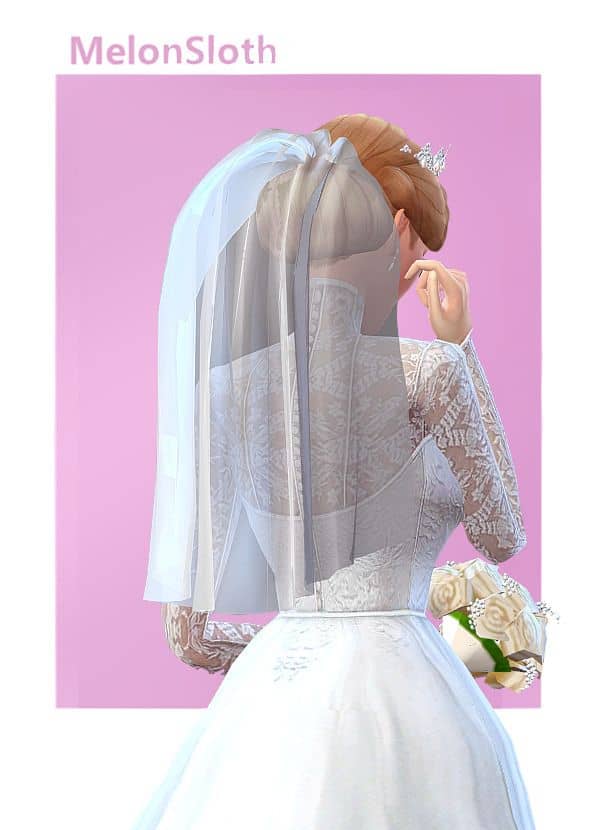 Because you can never have enough options, we've included this set of 3 wedding veils.
You'll find a shoulder-length, waist-length, and cathedral veil.
And remember to download the necessary mesh too.

33. Laced Sims 4 Wedding Dress CC by SLYD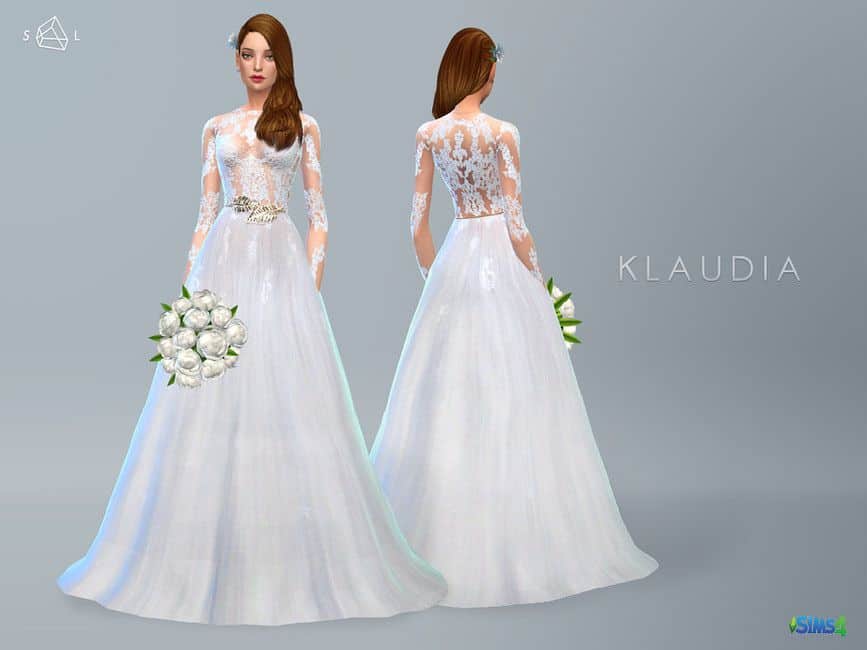 This dress is another one of my favorite custom-content wedding cc pieces.
This stunning dress comes with full-length laced sleeves, a silk medium-volume skirt, and a stylish golden-leaf metal belt.

34. Sims 4 Wedding Buffet by Ravasheen
Weddings and food are synonymous, or at least in my book, they are.
These buffet inserts can be set up on any wedding venue countertop.
You can opt for the single or double insert types and serve your guests between;
Appetizers
Dinner
Meat
Seafood
vegetarian
Dessert and more

35. I Do Sims 4 Wedding Poses by SimmErika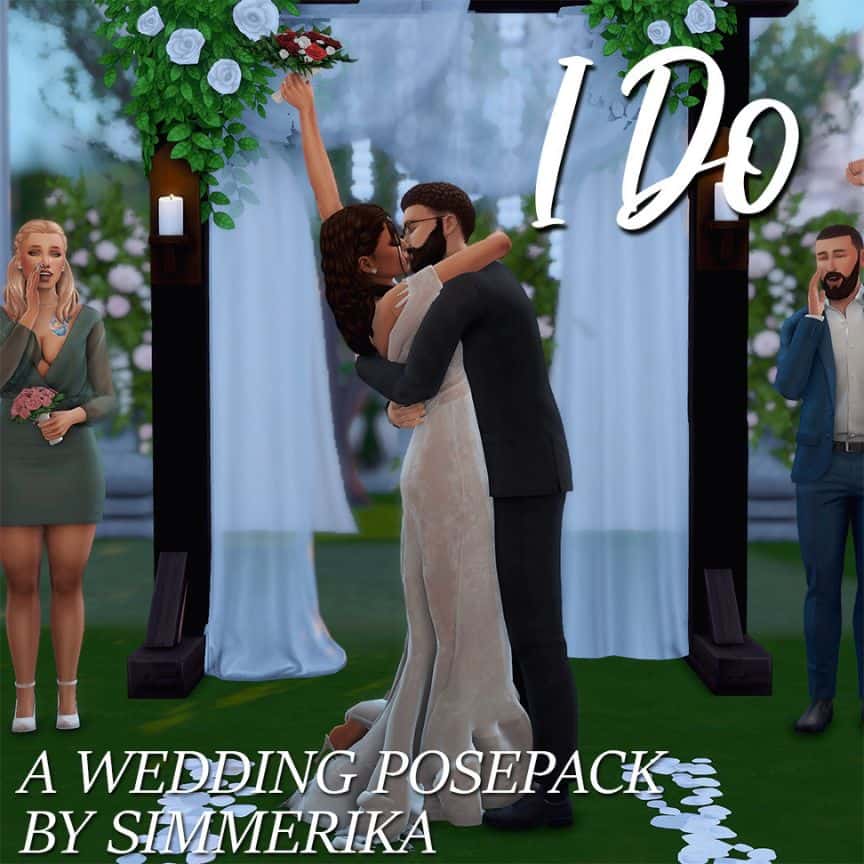 This pack is the ultimate collection of sims 4 wedding poses.
There is a huge collection of available wedding poses, including the ceremony, the happy couple together, the groom, the bride, and more.
There are 103 individual poses, so you will definitely find something interesting.

36. Sleek Sims 4 Wedding Dress by Madlen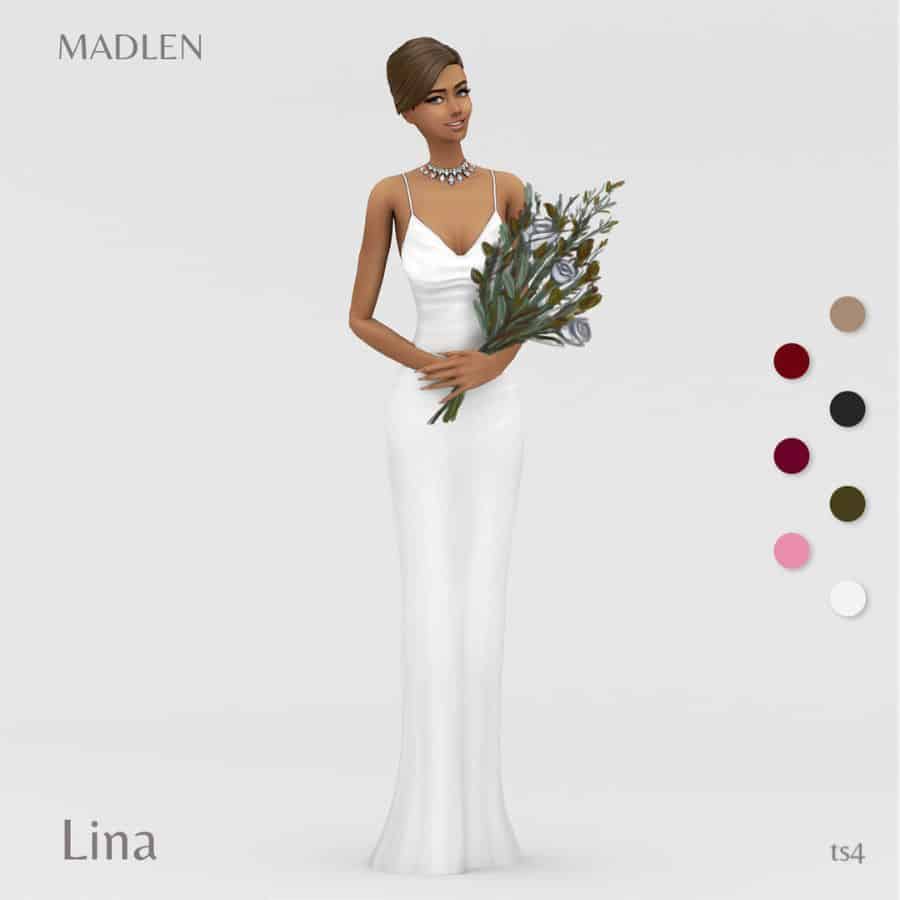 This sleek and elegant wedding dress is ideal for the bride looking to shine but without all the fuss.
This silk-looking dress comes with spaghetti straps, a touch of cleavage, and a loose yet form-fitting skirt.

37. Sims 4 Wedding Arches by Ravasheen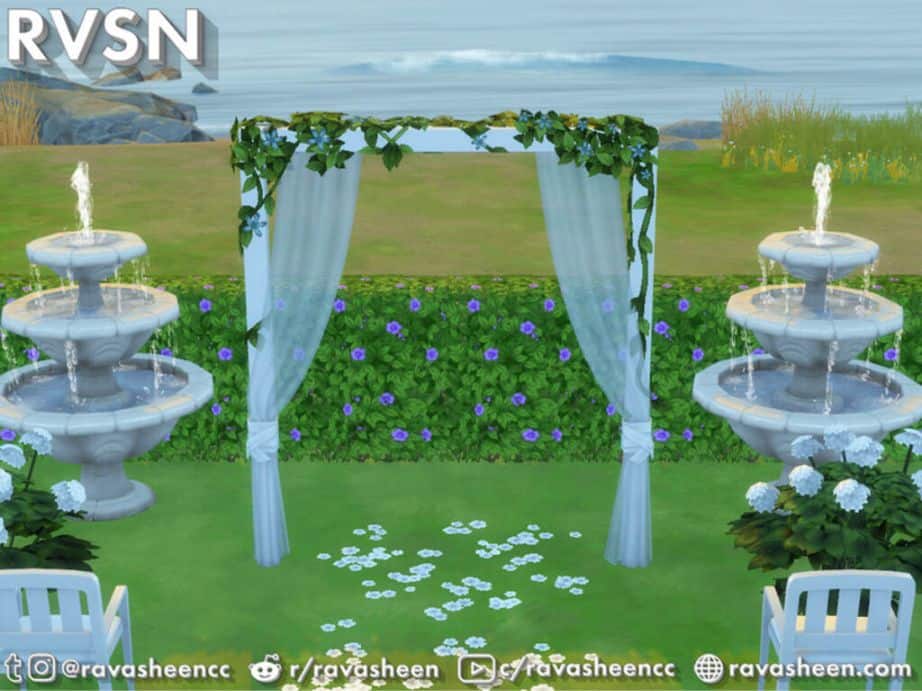 If your sims have an outdoor wedding ceremony, they will need this set of 7 arches.
Browse through the color and design options to build the outdoor ceremony of your dreams.

38. Sims 4 Winter Wonder Wedding CC Set by Zeussim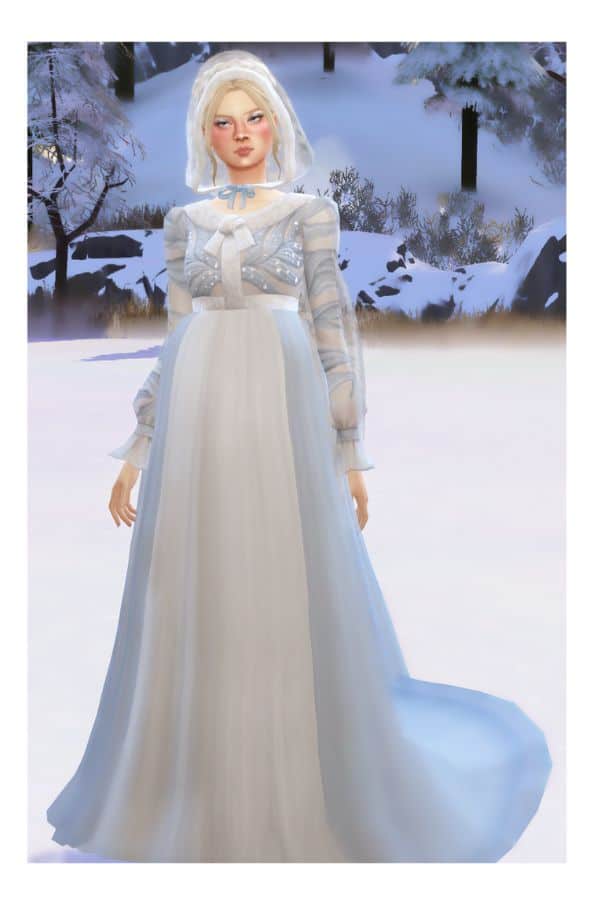 Have your sims opted for a wedding during the winter season?
This four-piece wedding cc set includes a wedding gown, a veil, shoes, and a shoulder stole/shrug.
You'll find the stole in the bracelet category and the veil under hats.

39. Sims 4 Boho Wedding Venue by Syboulette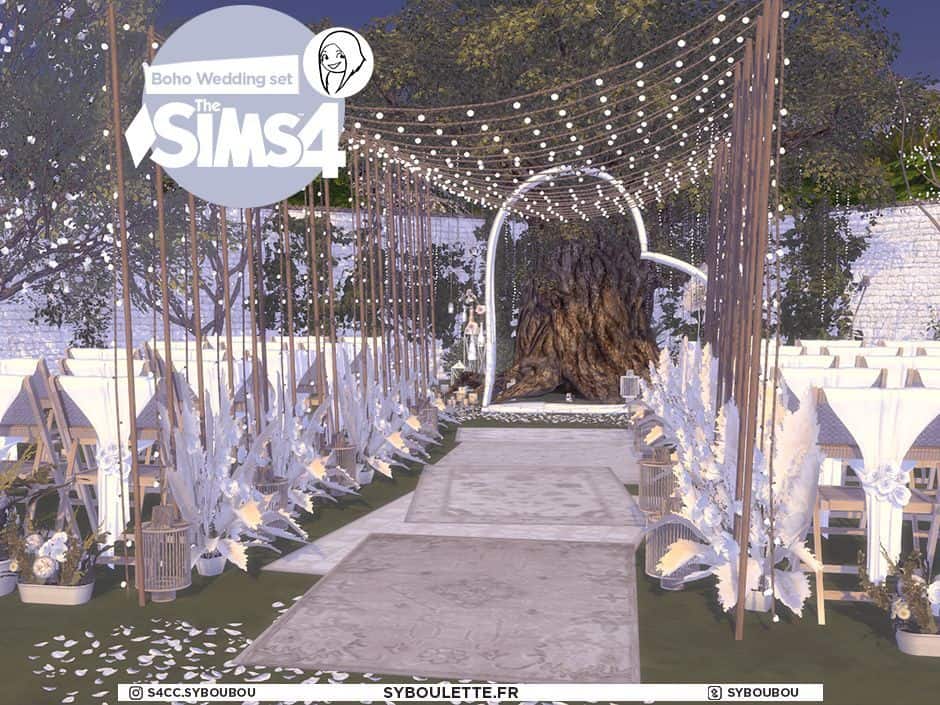 Still, looking for the perfect wedding venue?
Enjoy this stunning boho wedding venue with a functional kitchen, a bridal suite, a dance floor, a ceremony area, and more.
Final Thoughts On Sims 4 Wedding CC
We hope you found some beautiful sims 4 wedding cc to create a magical wedding day.
Custom content and mods really go a long way in adding to the sims 4.
Have your sims try different gowns and suits until they find the perfect fit.
If you have any questions or suggestions, feel free to leave us a comment below or tag us on Tumblr.

More Sim 4 CC Post

And don't forget to share and pin this collection for later!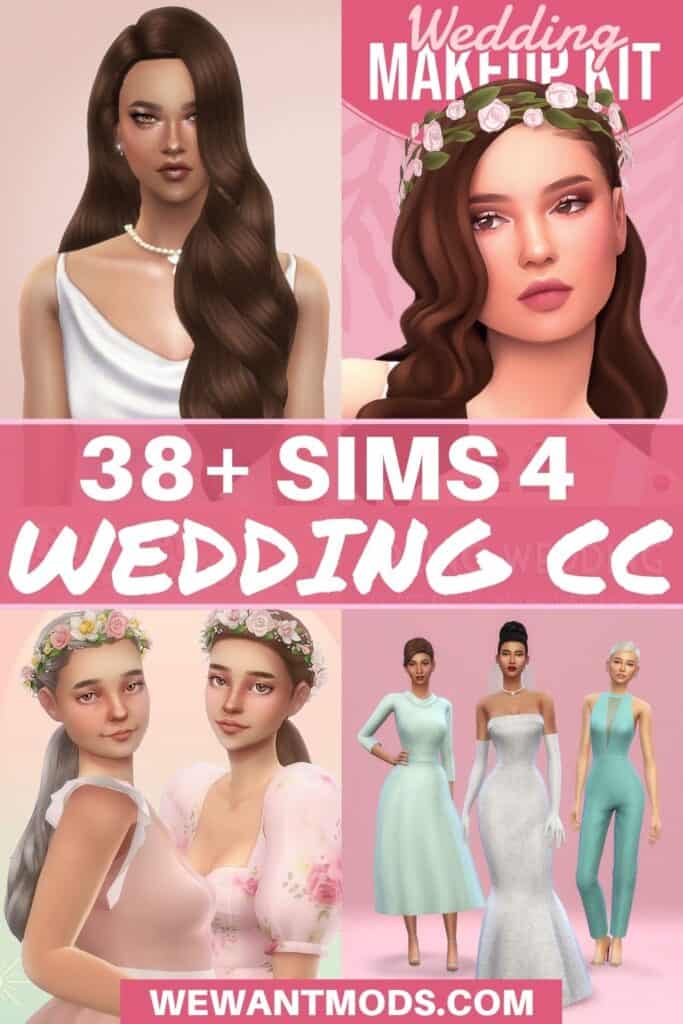 38+ Beautiful Sims 4 Wedding CC (& Mods)