23+ Sims 4 Eyebrows For The Perfect Brows
We've put together a great list of sims 4 eyebrows to brighten up the face and add some great character to your sims.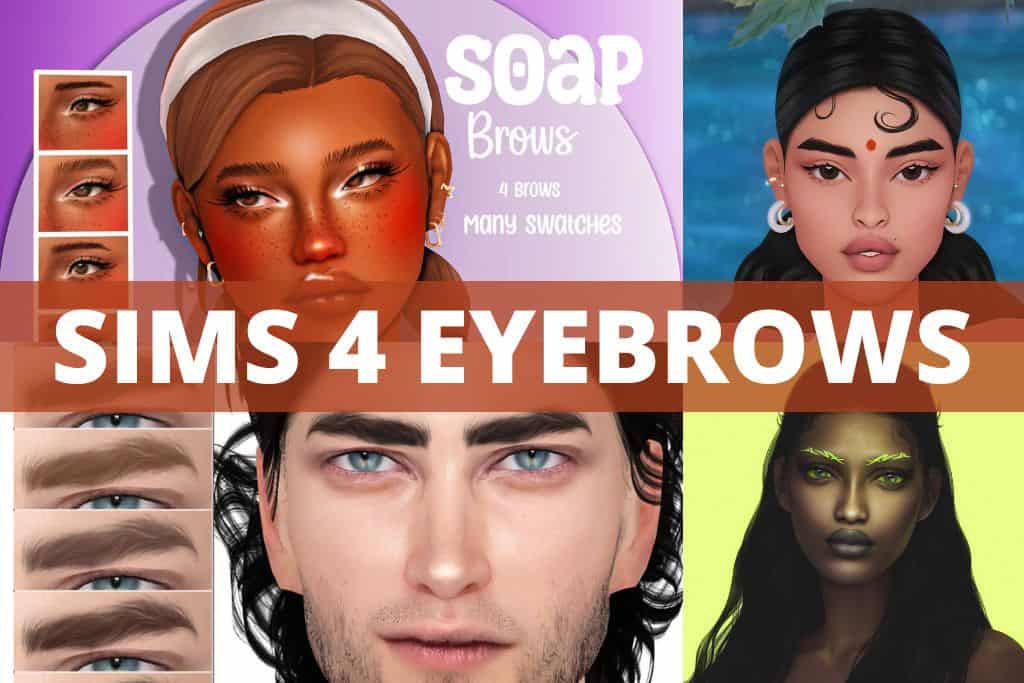 Do your sims need a new arch in their brows?
Yes, that's my painful attempt at eyebrow humor.
But painful humor aside, sims 4 eyebrows can really change up a face.
If your sims go from thick bushy eyebrows to thin arched brows, you can expect them to look significantly different.
That's why we curated a great list of mixed eyebrow mods, from bushy to plucked brows and everything in between.
And since feathered eyebrows are all the rage these days, we've included a few sets of those too!
Oh, and don't forget to check out our other helpful lists of Sims 4 Eyes and Eyelashes linked at the bottom of this post.
Disclaimer: The following mods are neither endorsed nor affiliated with The Sims, Maxis, or Electronic Arts. Any use of mods (custom content or game mods) should be done with caution and with the knowledge that there may be risks.
Favorite Sims 4 Eyebrows
We have compiled a list of some of the best sets of eyebrows we came across that are worth a share.
1. Sims 4 Eyebrows Set by TwistedCat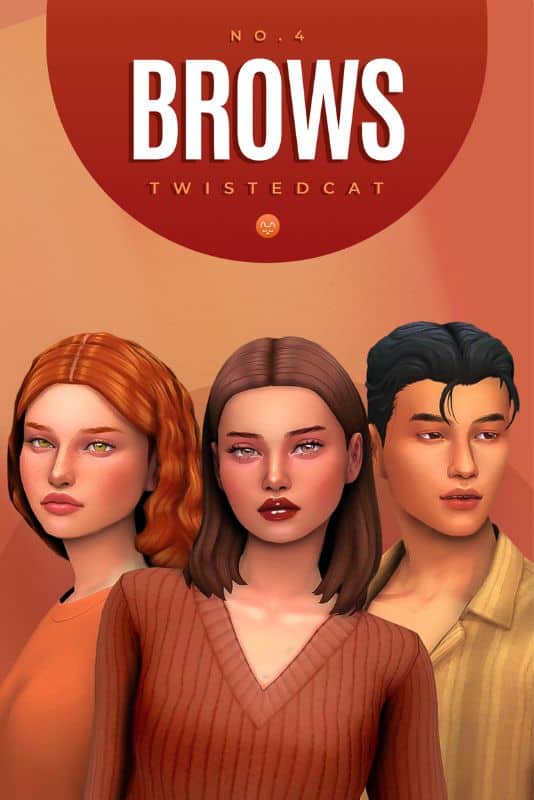 This pack includes three sets of eyebrows, all straight, medium-length, with almost no arch.
Where they vary is how thick the eyebrows are. You get to pick if you want:
soft definition
medium definition
full definition
They are available for all genders and ages and available in 24 colors.

2. Sims 4 Feathered Eyebrows by Seleng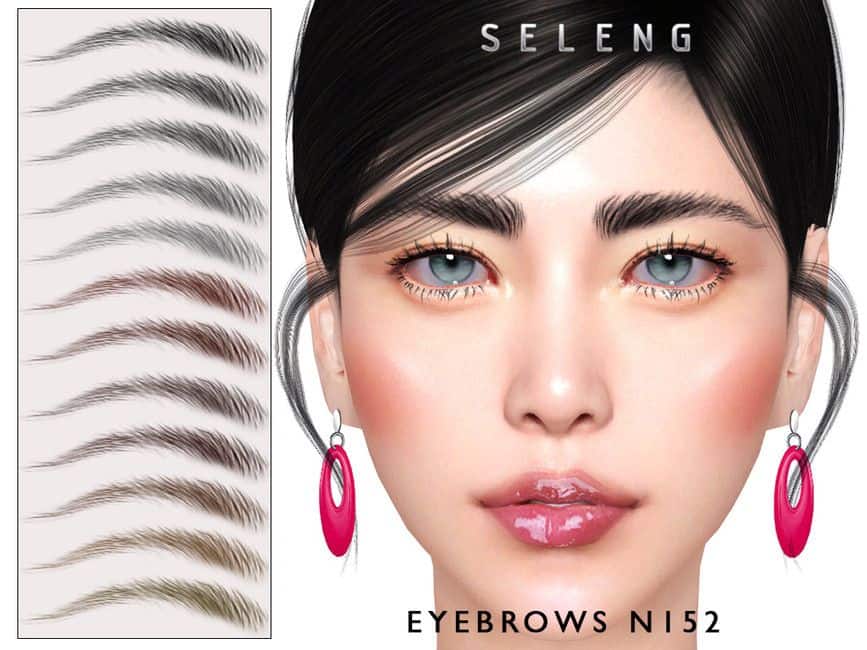 If you like eyebrows that have a feather-ish look to them, then be sure to grab these sims 4 cc eyebrows.
These eyebrows are available in 21 colors, base game, and high-quality compatible.
You can use them for female sims aged teens and up.

3. Sims 4 Eyebrows CC by BAkalia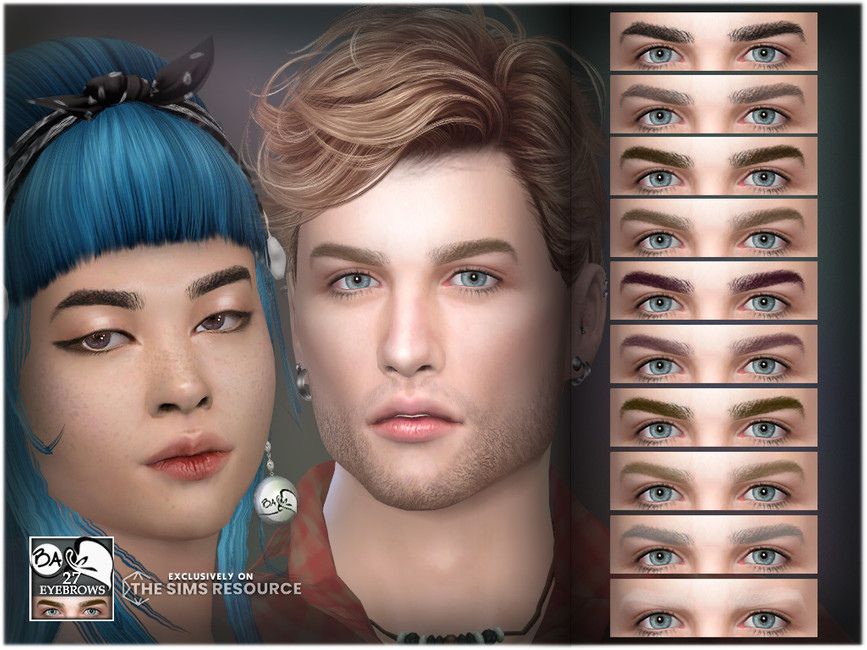 This set of eyebrows provides a thick, medium-arched height with a sharp angle. Available in 10 different colors.
You can apply these eyebrows to both genders, from children to older.
They look better on male sims, but that's just me.
Although they are HQ compatible, through the settings only, they won't work with the HQ mod.

4. Decorative Sims 4 Eyebrows by Sims3melancholic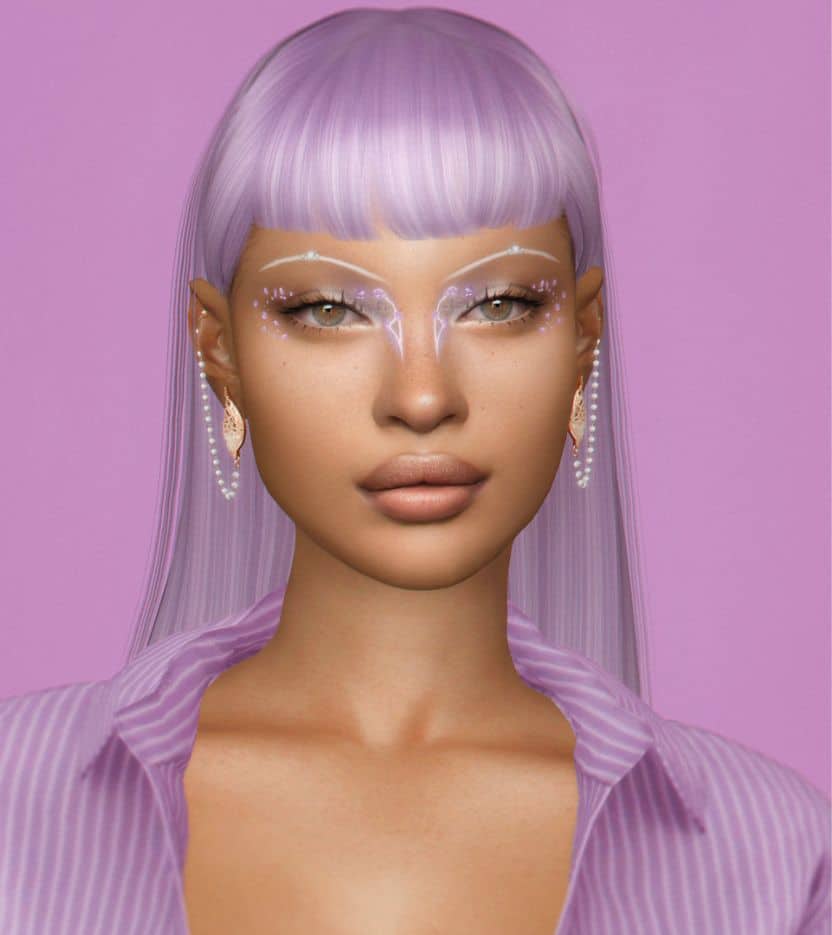 You can choose three different designs in this set of sims 4 eyebrows:
Thin and rounded drawn eyebrows with a decorative diamond on each
Straight, round, and softly-defined eyebrows
Same set as the previous, but with a small slit in them
These eyebrow mods come with at least 50 swatches and are available for all ages and genders.

5. Sims 4 Venus Collection Brows by Peachyfaerie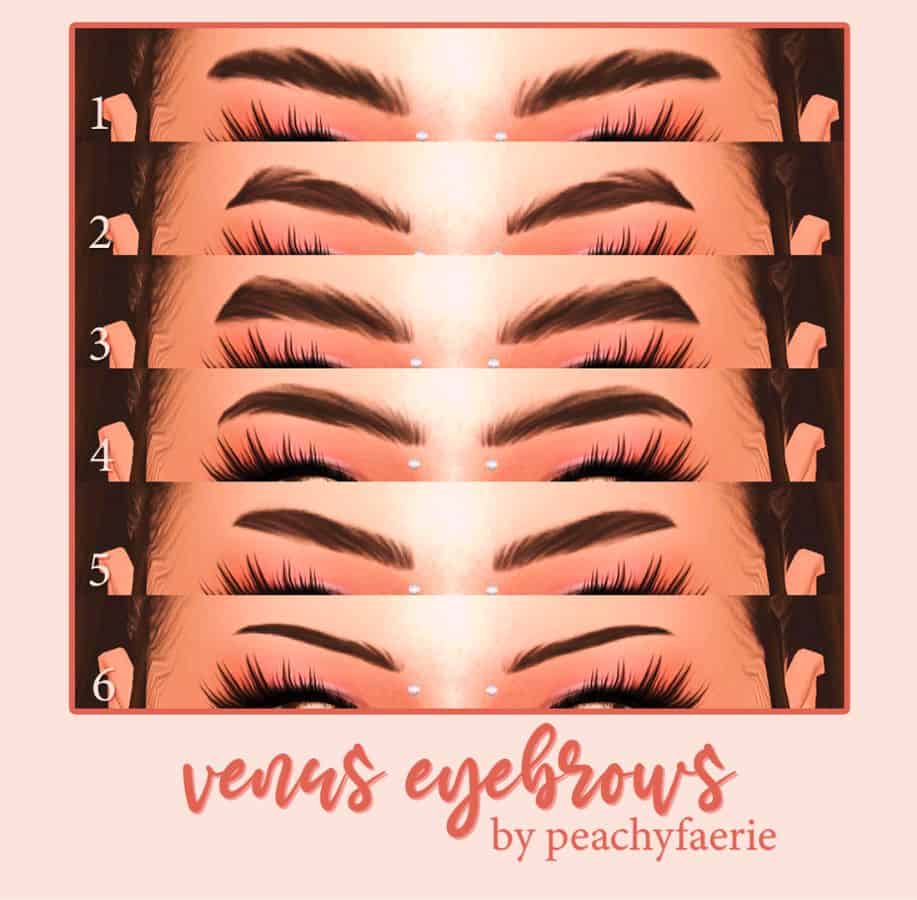 This pack of sims 4 eyebrows offers an array of six straight arches in various thicknesses.
There is a style for everybody and every occasion.
It's overall a great set.
They can be used for all ages and genders and are offered in 24 EA colors.

6. Cartoon Style Eyebrows for Sims 4 by Northern Siberia Winds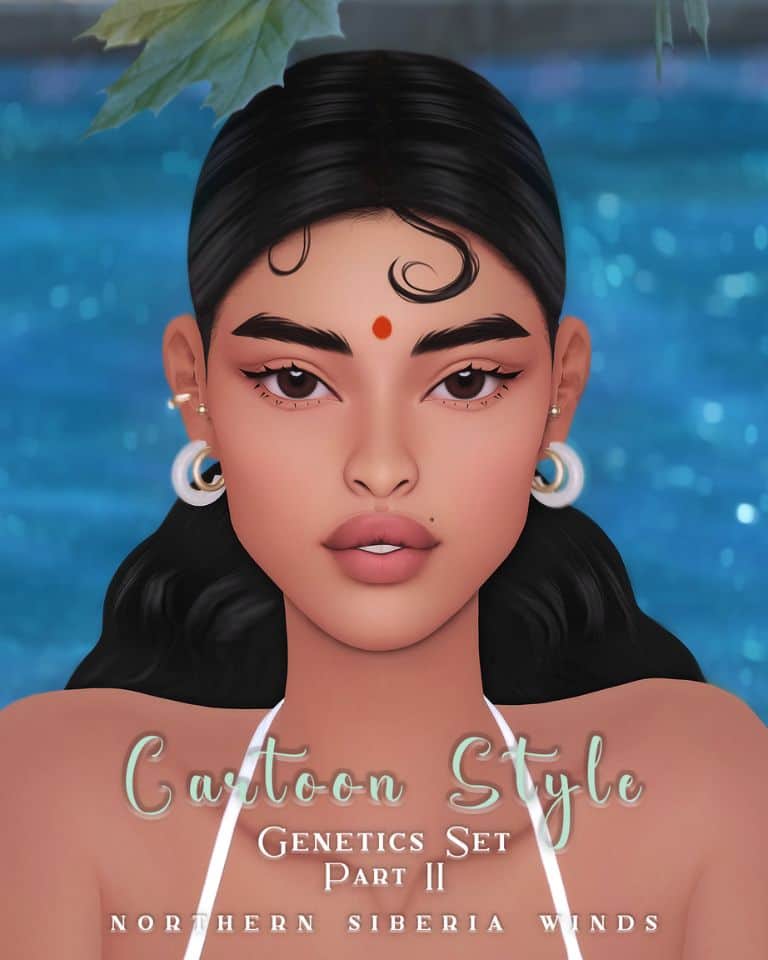 The cartoon-style eyebrows set seems closer to what the base game provides in terms of eyebrows.
There are three sets of straight maxis match-looking eyebrows.
They are available in 25 colors and are made for every sim in your household.
The eyebrows depicted in the above image are definitely giving me Princess Jasmine vibes.

7. Sims 4 Denise-Inspired Eyebrows by Miiko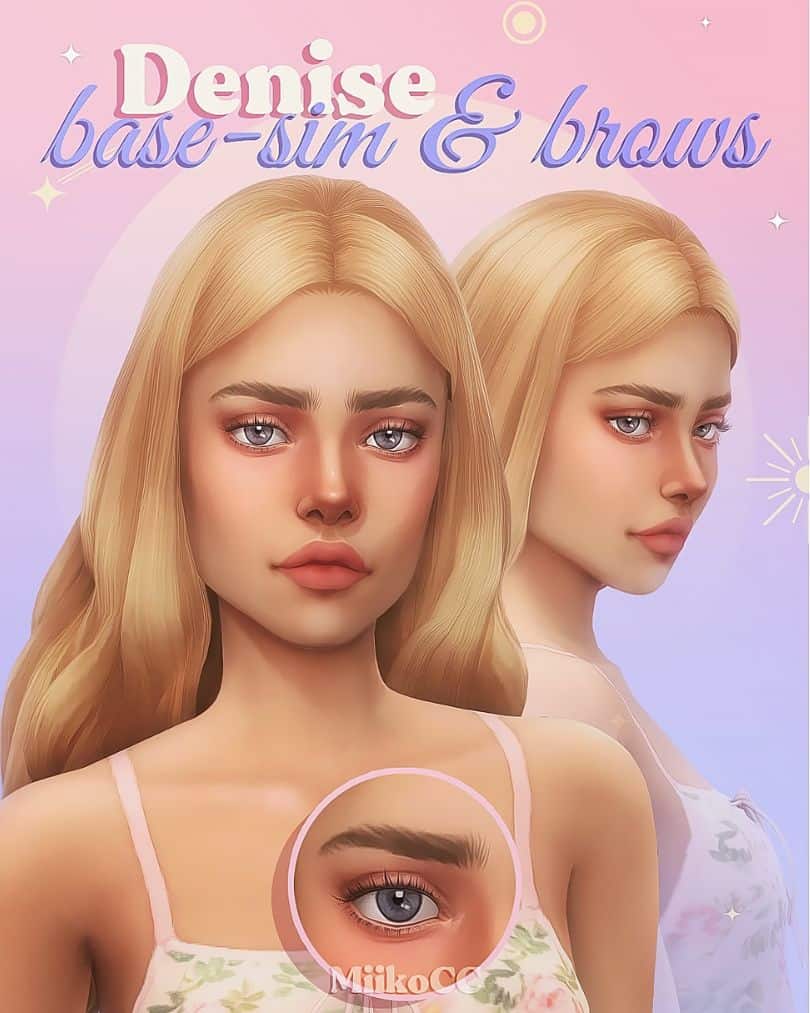 Hollywood actress Denise Richards inspires this set of sims 4 eyebrows.
You can use the provided creator's eyebrow slider with them, located on the cc page linked below.
These eyebrows are available in all hair colors and for every sim.

8. Artsy Sims 4 Eyebrows Set by Obscurus-sims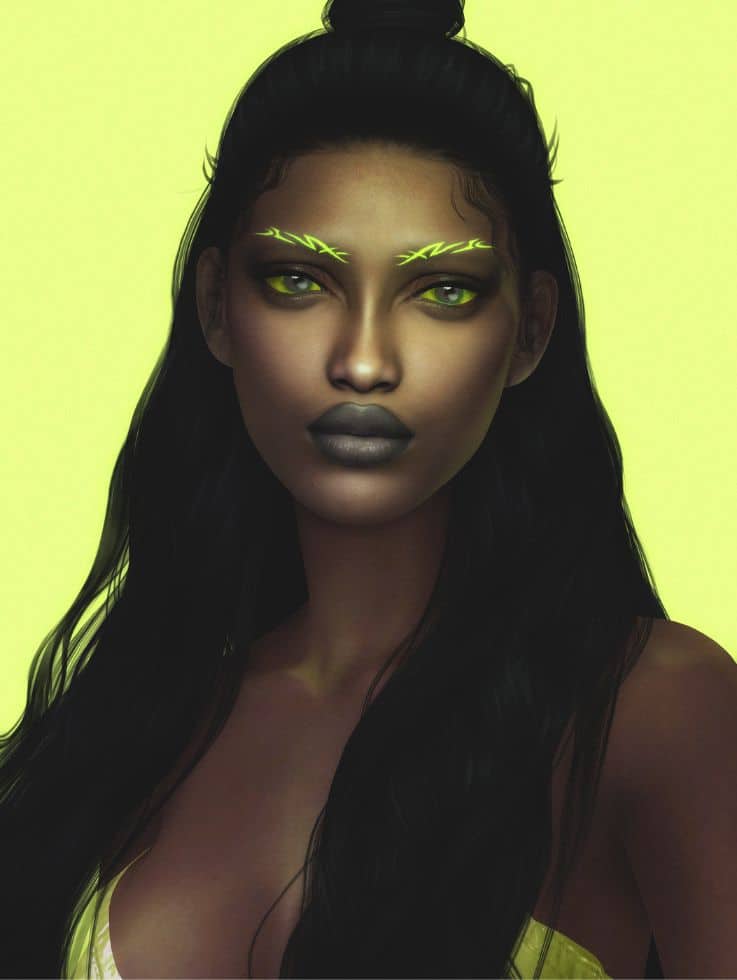 This pack contains four sets of eyebrows for your sims 4 game.
You get a couple of short-length straight sets of eyebrows in different thicknesses.
What I like about this set is that you can have drawn, artsy-looking eyebrows like the one shown above.

9. Sims 4 Natural Brows by Sigreen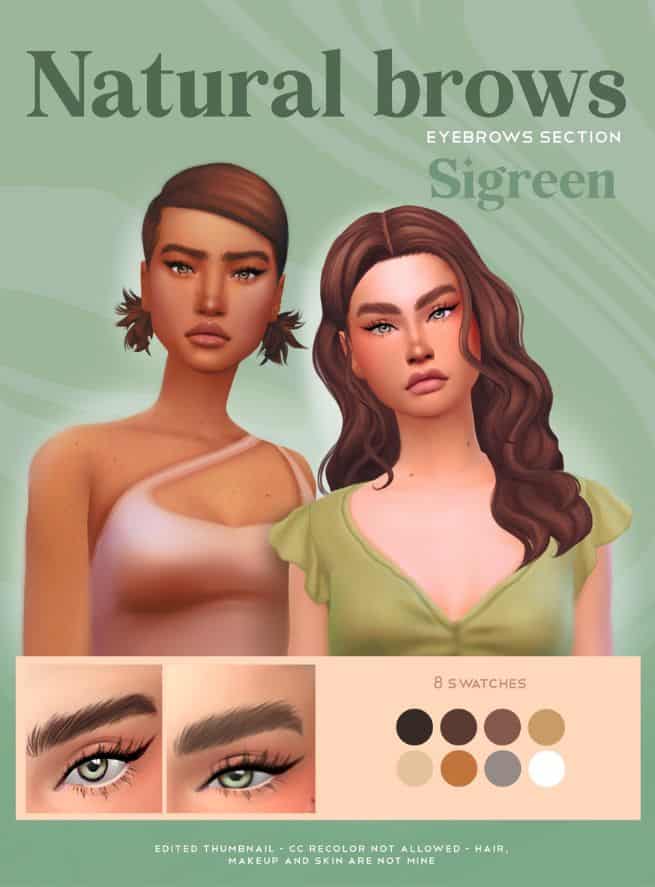 This set has two files available, one for each eyebrow type.
Both are thick and straight eyebrows.
One has a feather-ish look, with little to no arch.
The other one is more full-looking with a medium-angle arch.
These eyebrow mods are an excellent selection for a less plucked look.

10. Sims 4 Eyebrows CC by Pralinesims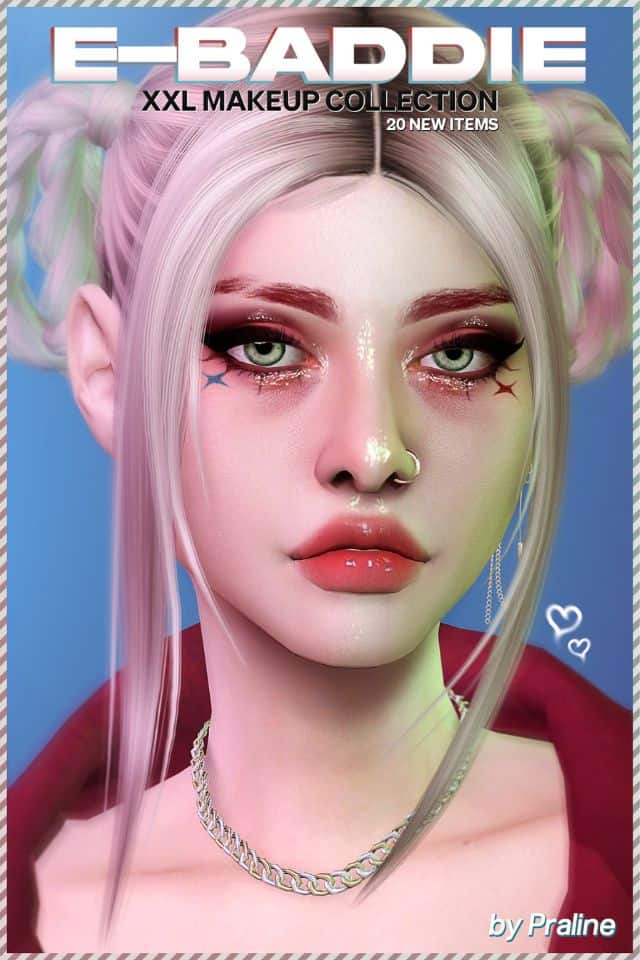 You get one set of pralinesims eyebrows in two variations in this eyebrow custom content.

You get a straight, medium-length, and full set of eyebrows in both cases.
But, in one case, you get a slit or shaved eyebrow, which looks pretty cool.

11. Sims 4 Brows Set by Chewybutterfly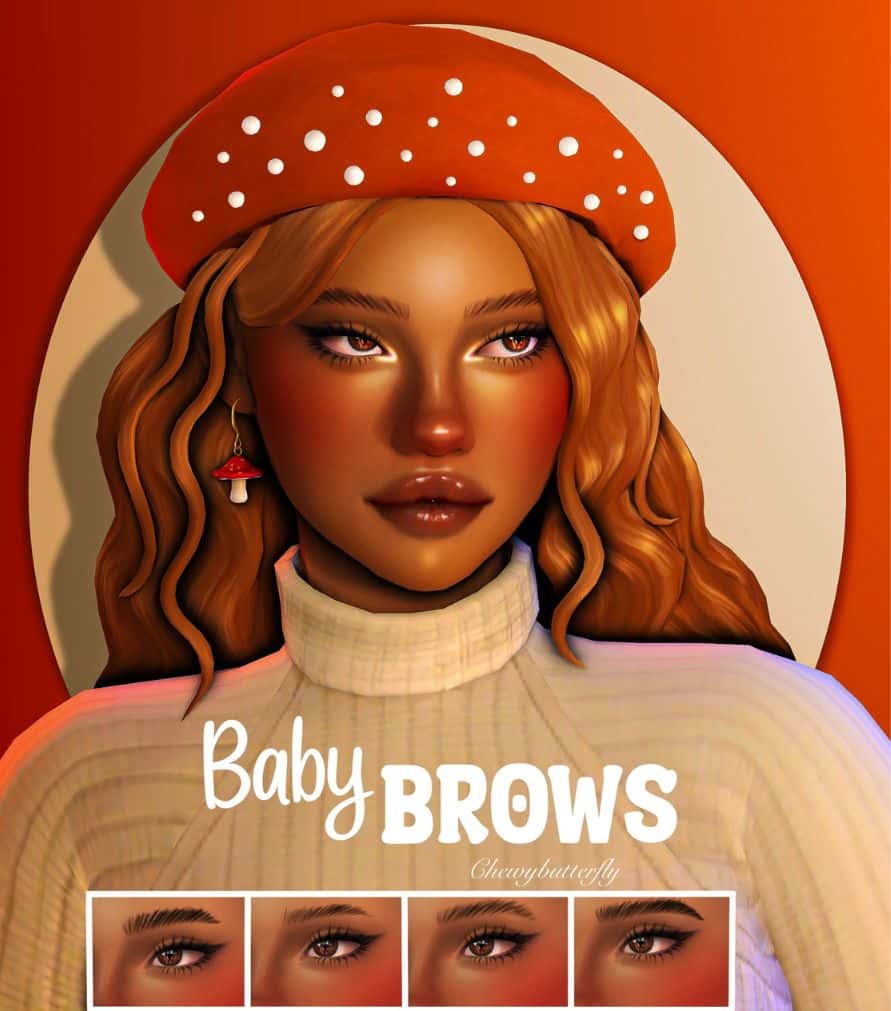 In this sims 4 eyebrows cc, you get a choice of four sets of brows, which are all base game compatible.
They all have that feathered look, varying in thickness, definition, and arch shape.

12. Sims 4 Unisex Eyebrows by BAkalia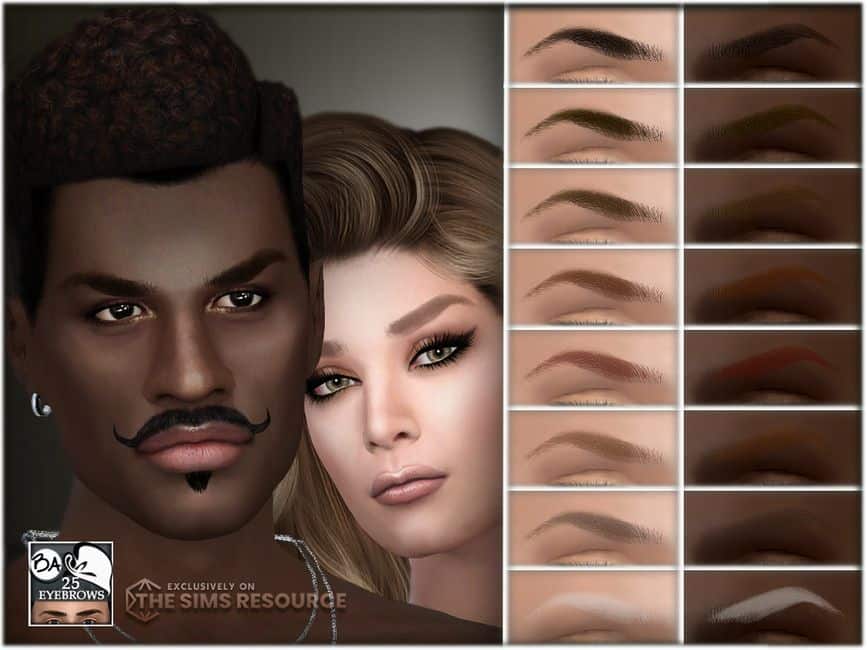 In this pack, you get a great-looking, well-defined eyebrow, available in 8 colors and for both genders.
You get full brows with a hard-angled arch, finishing with a fine tip at the end.
This creator doesn't use the HQ mod, so you'd get high-quality through the game's settings.

13. Eyebrows for Sims 4 by Sims3melancholic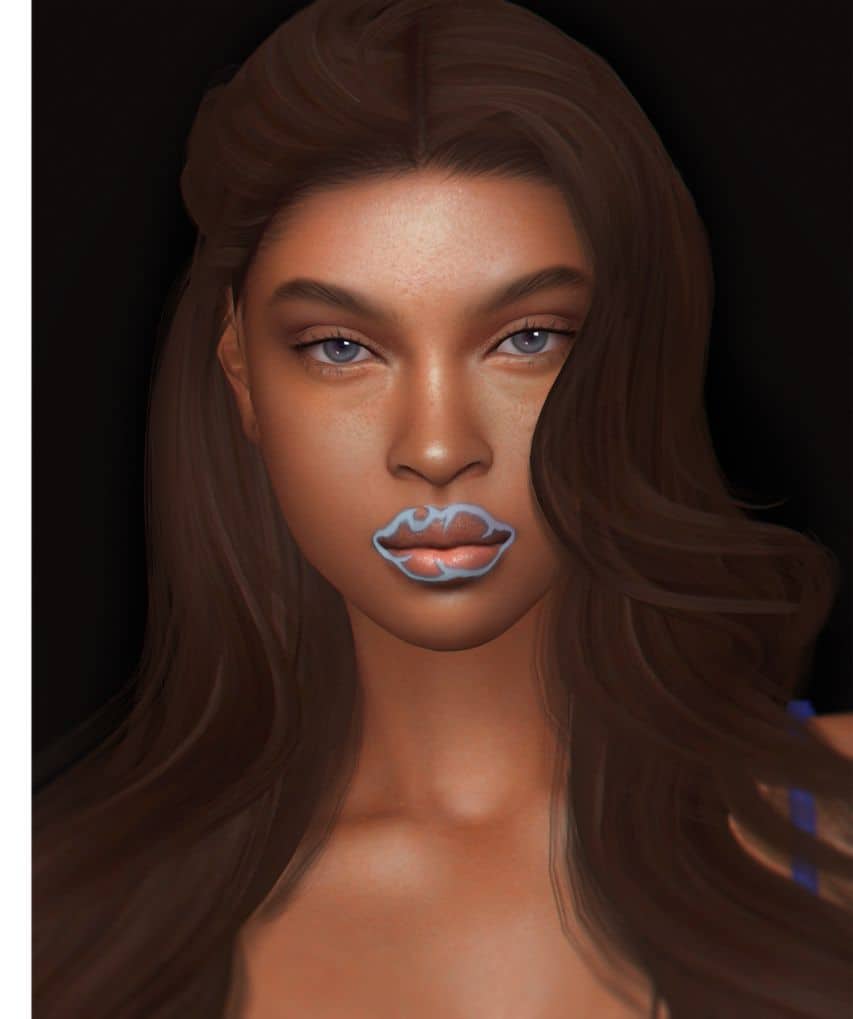 This genetics set includes two pairs of eyebrows, available in 50 swatches and made for every gender and age.
They're a nice pair of softly-defined, thick eyebrows with a soft-angled arch.
They look very natural-looking and looked so good on my sims.

14. Sims 4 Eyebrows Mods by Seleng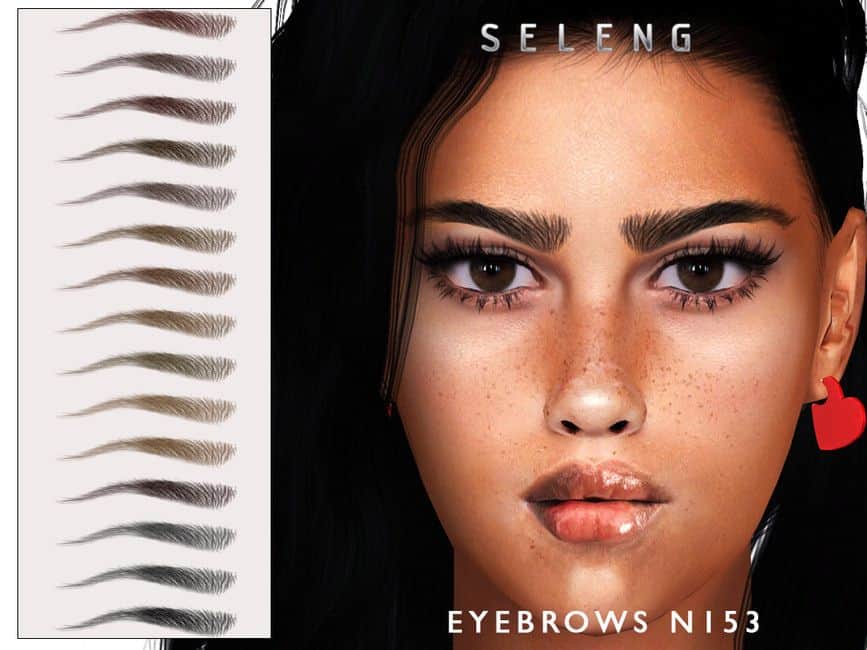 I like how well these eyebrows look with their medium volume and finish with their soft angle and fine tip.
These gorgeous brows are available in 21 colors and can be worn by female sims aged teen to elder.

15. Sims 4 Eyebrows Overhaul by Kijiko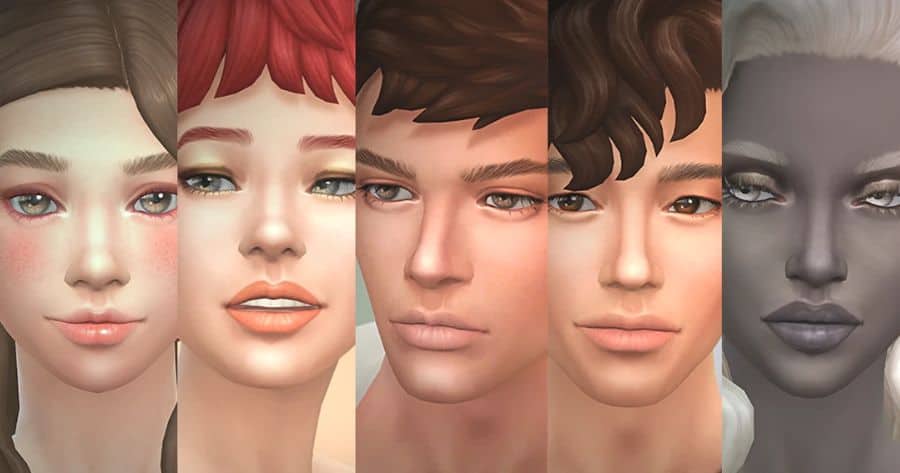 In this set of sims 4 eyebrows, you have four different files depending on which age group you want. So either:
Toddlers
Children
Teen+ Male Sims
Teen+ Female Sims
In each case, you get thick but softly-defined eyebrows.
You get a medium-angled arch for male and female adults, but for your youngest sims, you get more short and round-arched brows.

16. Sims 4 Maxis Match Eyebrows by TwistedCat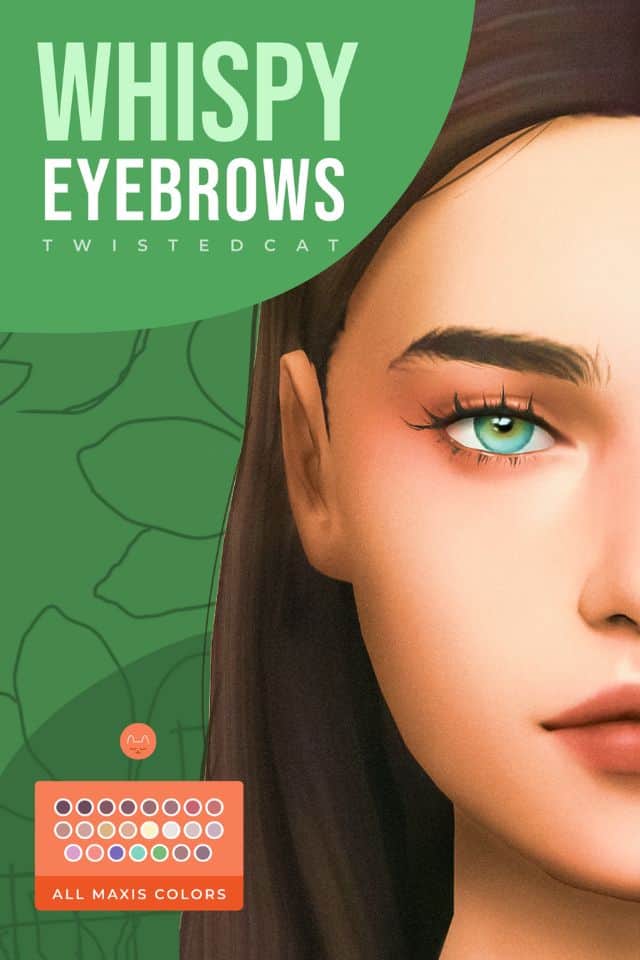 This maxis match set of eyebrows is available in all EA colors and works for all genders and ages.
You will get this nice full, straight-looking set of brows with a slight soft-angled arch at the end.
They have an unplucked look, but they look fabulous and more natural.

17. Thick Sims 4 Eyebrows by MSQSIMS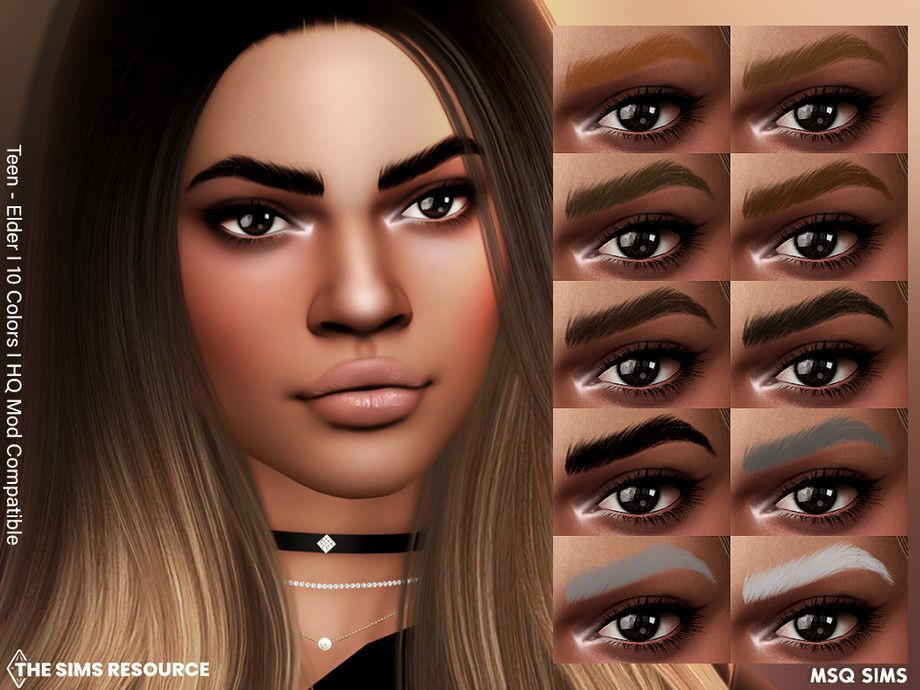 This is another amazing set of eyebrows.
We get a full and thick pair of brows with a medium, soft-angled arch.
They also look like they've been combed upward.
These eyebrows are available in 10 colors but primarily brown.

18. Gria Set of Eyebrows for Sims 4 by Pralinesims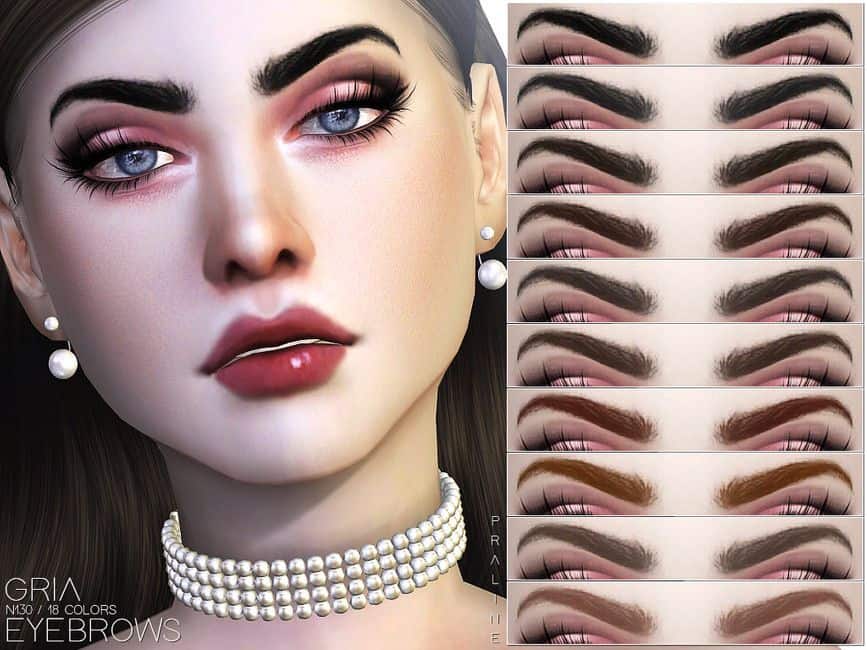 This mod is a beautiful, well-groomed set of sims 4 eyebrows.
They are a thicker version of the creator's Micah Eyebrows.
It starts off with a thick inner corner making its way through a hard-angle arch while finishing with a fine tail.

19. Manly Sims 4 Eyebrows by Seleng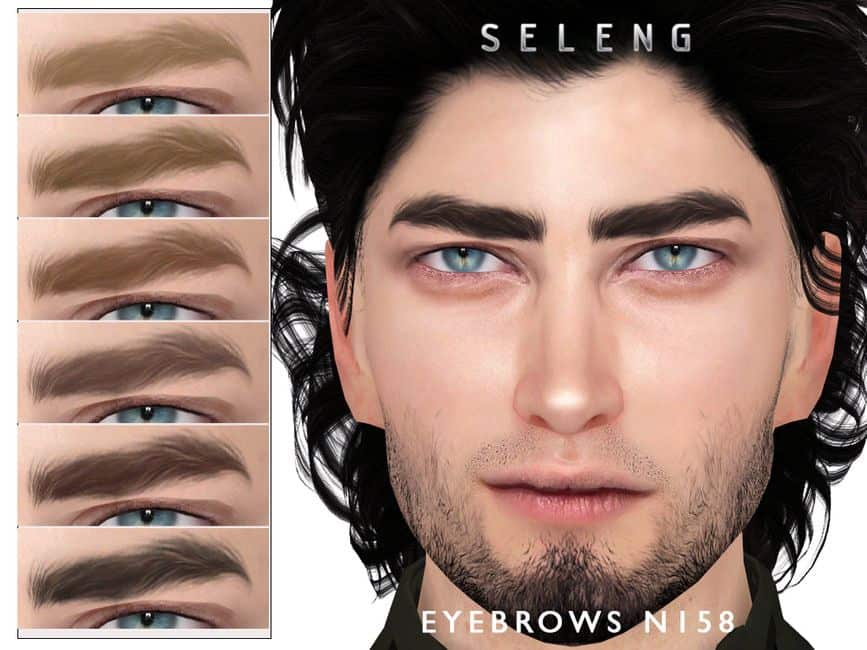 In this cc, you get a thick, straight pair of brows that both male and female sims can wear.
I find they look more like male eyebrows, as they give off an unplucked and manly look.
These eyebrows sure bring out the color of those eyes.

20. Straight Sims 4 Brow Set by Obscurus-sims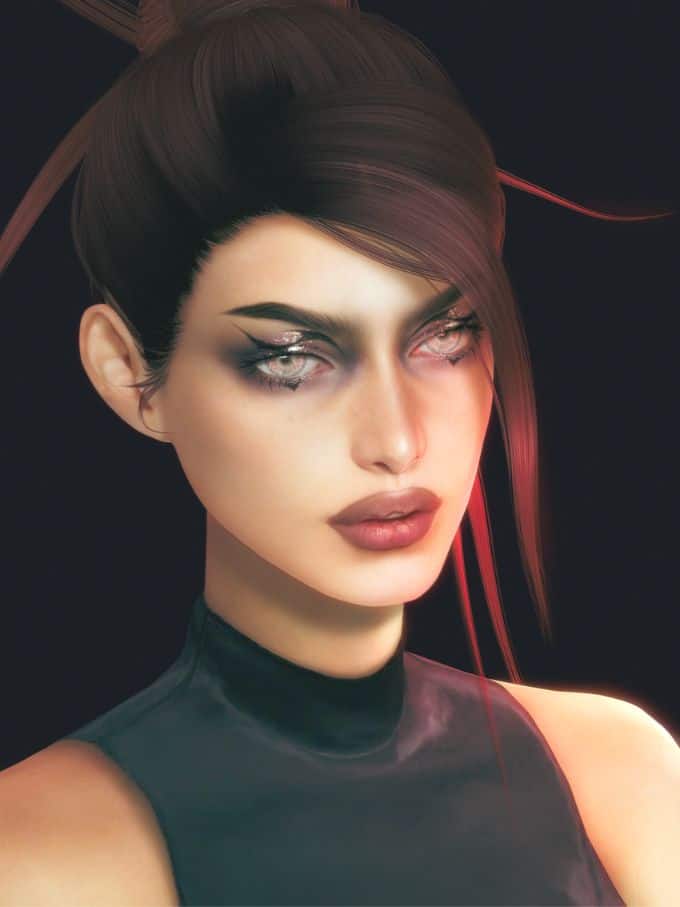 These eyebrows come in two variations, each having a different thickness, but the rest remains the same.
They start with a feathery inner corner and continue straight, ending with no arch nearing the tail.
These sets are available for female sims and have 30 swatches for teens to older.

21. Pride-Themed Sims 4 Eyebrows by BAkalia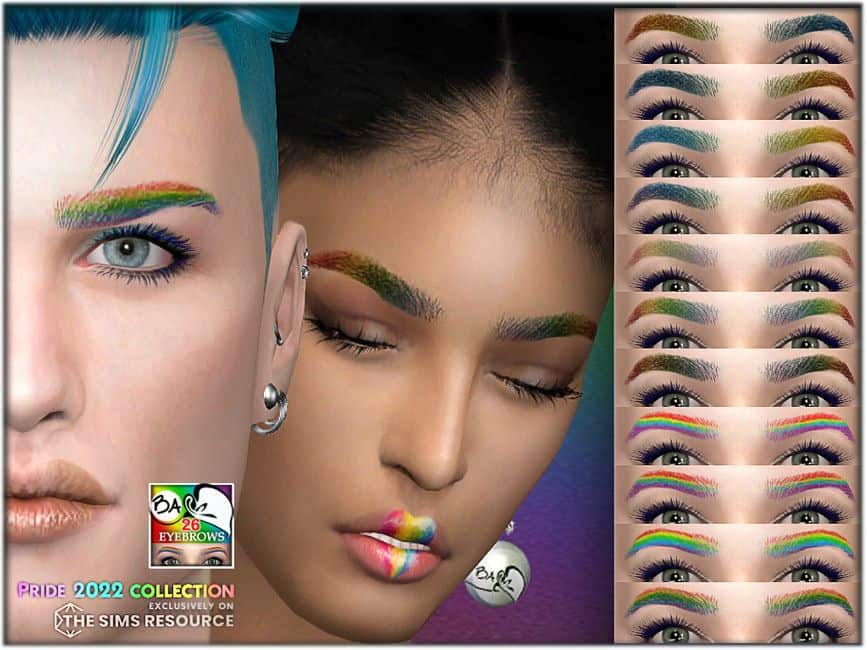 Celebrate pride with these colorful sets of brows that come in 11 rainbow-like swatches.
You can use these sims 4 eyebrows on children to elders.
So, even your grandpa sim can wear these with pride.
Note that these eyebrows will not work with the HQ mod but only with the game's HQ settings.

22. Eyebrows CC for Sims 4 by Sims3melancholic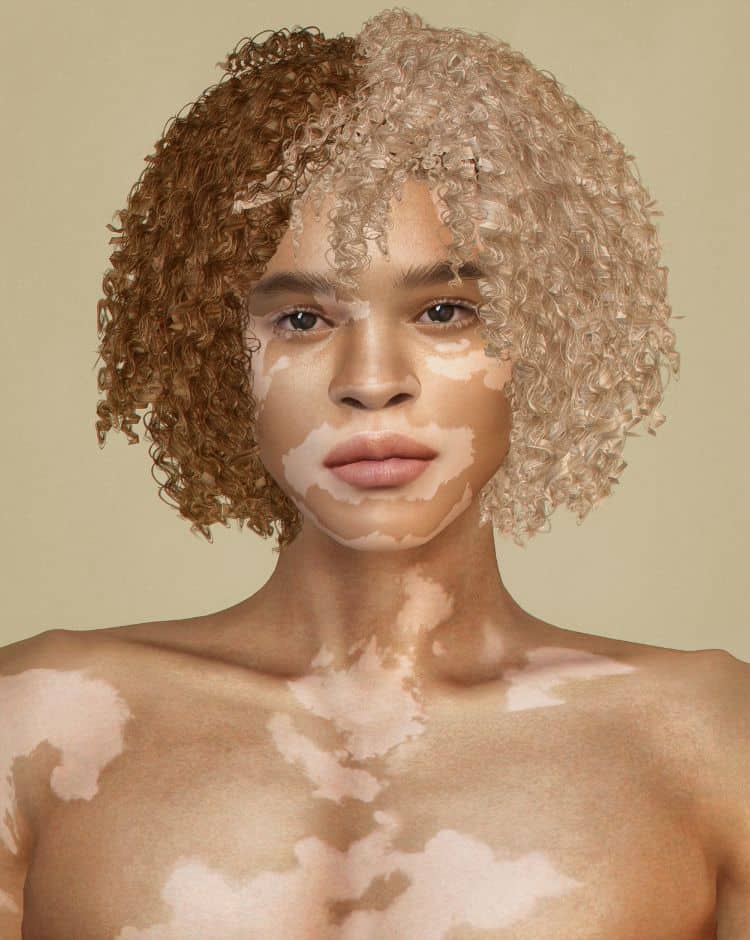 This eyebrows pack contains two sets of brows.
They both have a feather-ish look and a nice soft but thick appearance.
Of the two, one is straight with no arch, while the other has a rounded arch.
They work on every sim in your household, and they have an option of 50 color swatches.

23. Sims 4 Thick Brows Set by Cubersims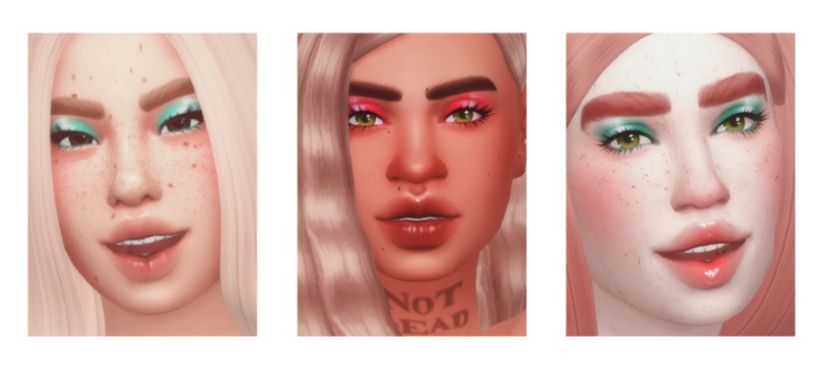 This set is all about thick eyebrows. There are three types to pick from:
Short and straight. No arch
Longer and straight. Slight arch near the tail
Long and straight, but thicker eyebrows. Hard-angled arch at the end
These brows come in 18 colors, available for both genders.

24. Maxis Match Sims 4 Eyebrows by Chewybutterfly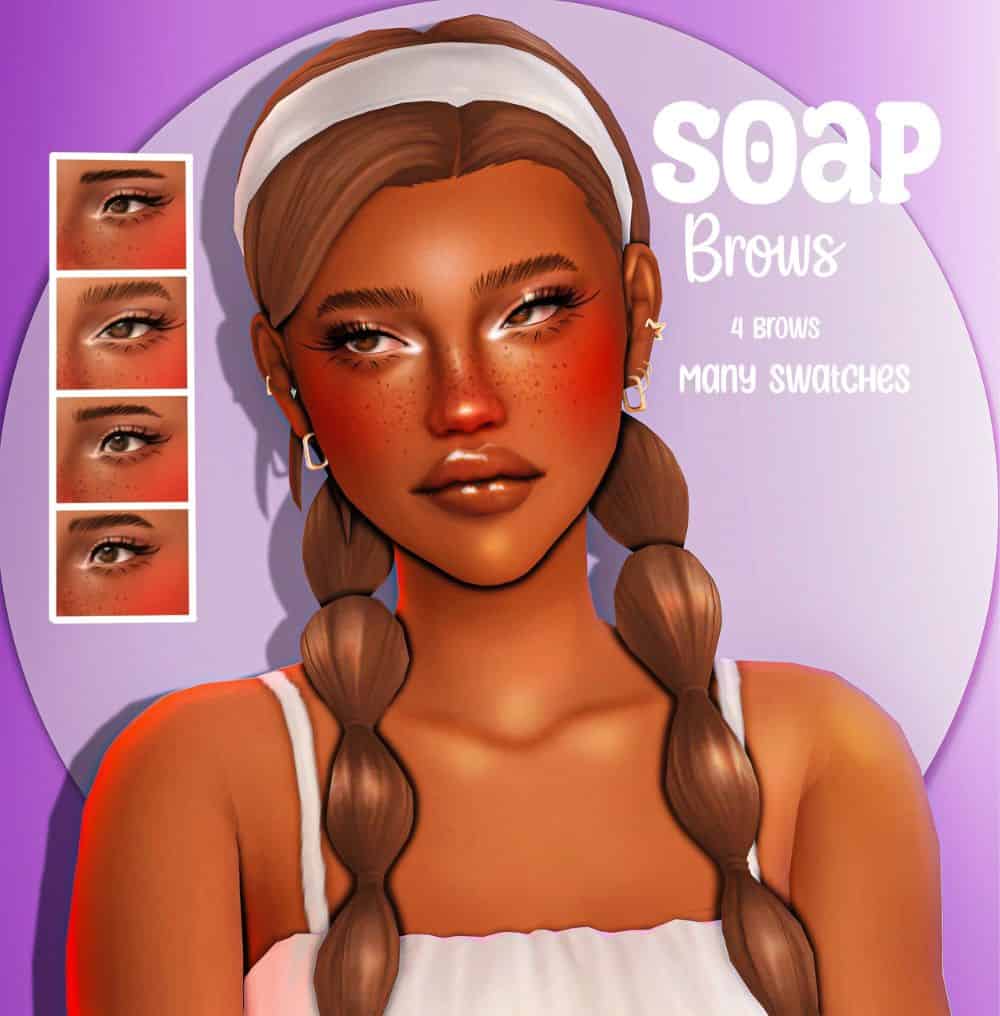 Here, we have a pack of four different-styled eyebrows.
They all have a straight arch with different thicknesses and volumes.
They are available in several swatches and are entirely base game compatible.

Final Thought on Sims 4 Eyebrows
From thin to thick feathery brows, there are various sims 4 eyebrows to pick for the whole family.
Now, your sims can look stylish with their new set of brows.
If you have any questions or cc eyebrow suggestions, feel free to leave us a comment below or tag us on Tumblr.
Other Sims 4 Related Lists
And don't forget to share and pin this collection for later!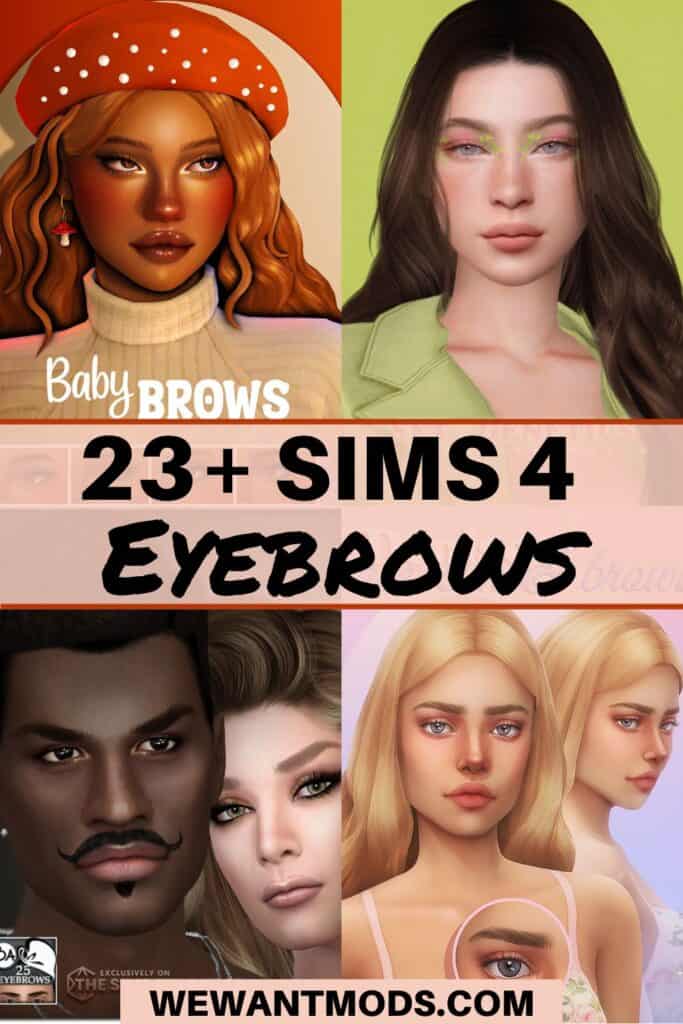 23+ Sims 4 Eyebrows For The Perfect Brows