29+ Fashionable Sims 4 Teen CC
Have your sims take their high school by storm with the latest sims 4 teen cc outfits!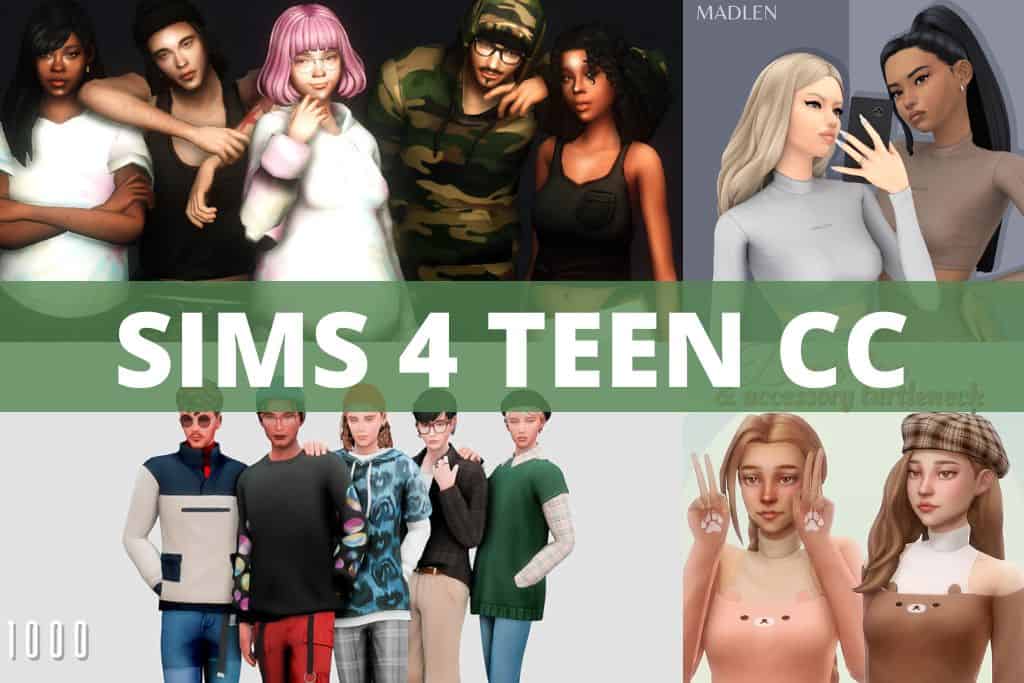 Whether your teenage sims are into casual sweatpants or have a more edgy style, there's a ton of sims 4 teen cc available.
We've compiled a great list of maxis-match teen mods and packs for you to browse through.
And when you're done with this post, you can also check out these cc lists for even more custom content for your teens;
Disclaimer: The following mods are neither endorsed nor affiliated with The Sims, Maxis, or Electronic Arts. Any use of mods (custom content or game mods) should be done with caution and with the knowledge that there may be risks.
Our favorite Sims 4 Teen CC
We've curated some of our favorite teen cc pieces for you.
You'll find a nice number of clothing and accessories to enjoy with your new Sims 4 High School Years Expansion Pack.
But these teen cc are all base game compatible.
Happy browsing.
1. Una Sims 4 Teen CC by Madlen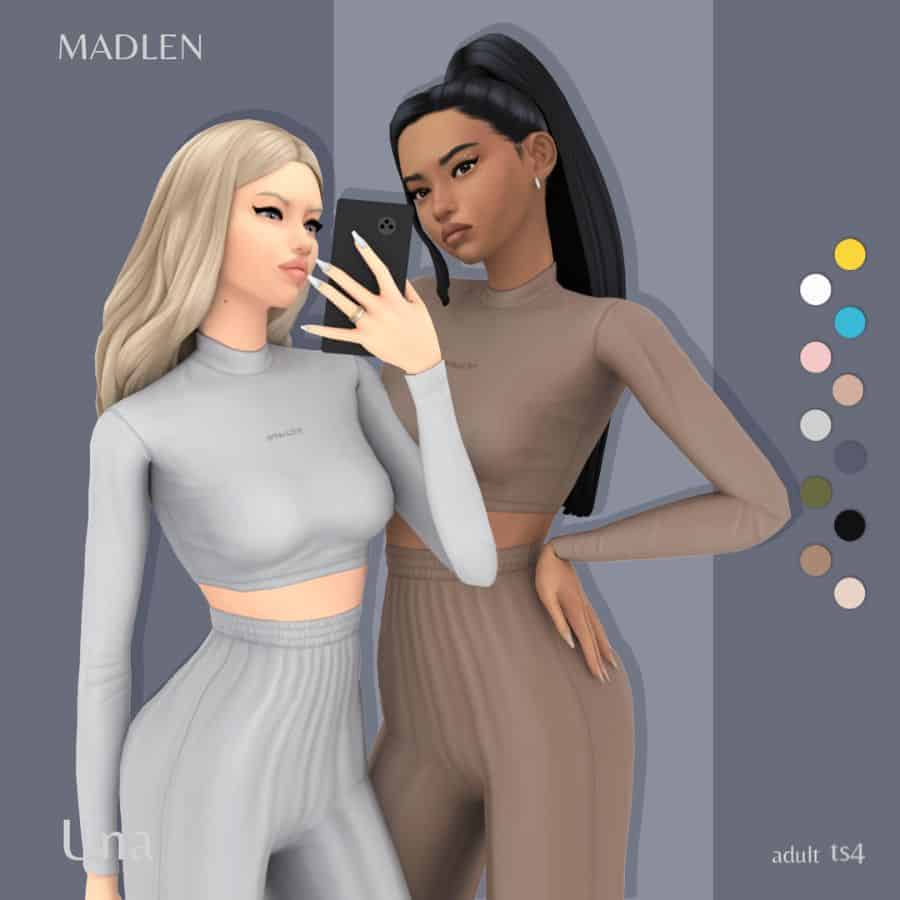 Your teens can hit the gym in this stylish sportswear.
It's a two-piece set that shows off your sims shape; it's form-fitting on the top but comes with wide-legged pants.
It's available in 11 swatches for your active female sims.

2. Comfy Clothes for Sims 4 Teens by nucrests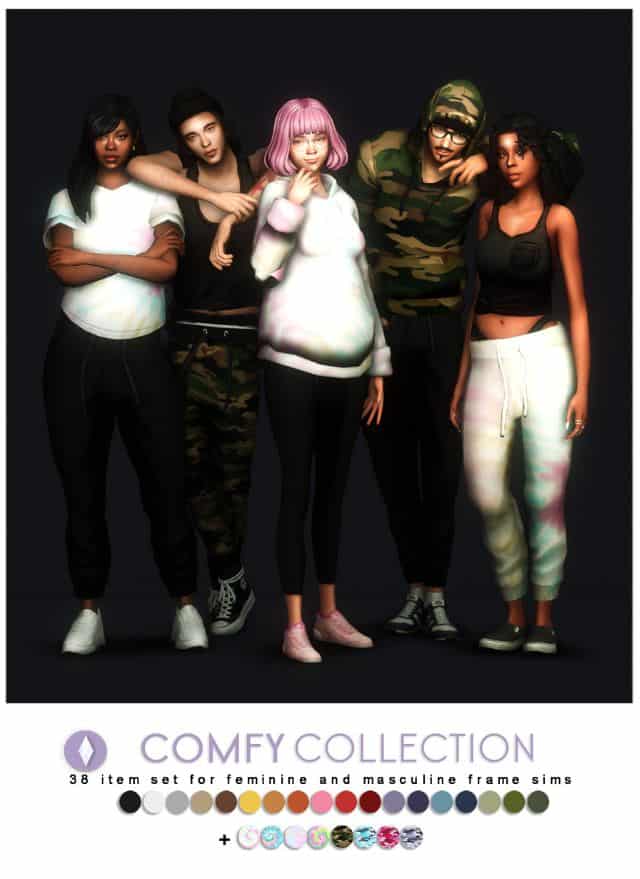 This set is an excellent collection of sims 4 teen cc with tops, bottoms, and overlay accessories for both genders.
This teen mod has 38 items and is a redux collection of the original Ultimate Comfy Collection linked on the download page.
They are all variations of sweats, such as sweatpants, hoodies, and tees, among other items.

3. Sims 4 Teen Fishnets by Solistair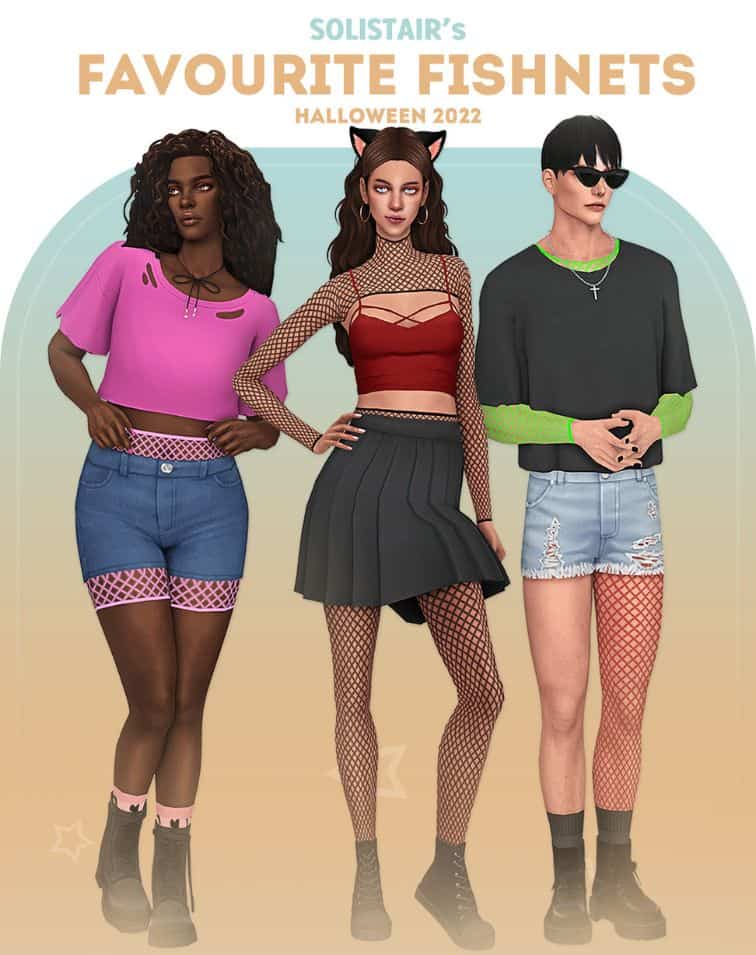 If you are interested in fishnets, look no further because this set has many options to fulfill your needs.
This collection has 12 different fishnet options, 6 tops and 6 bottoms, available in 15 colors.
You can find the tops in the Gloves category, while the bottom is in the Leggings section.

4. AxA ALT Sims 4 Teen CC by aharris00britney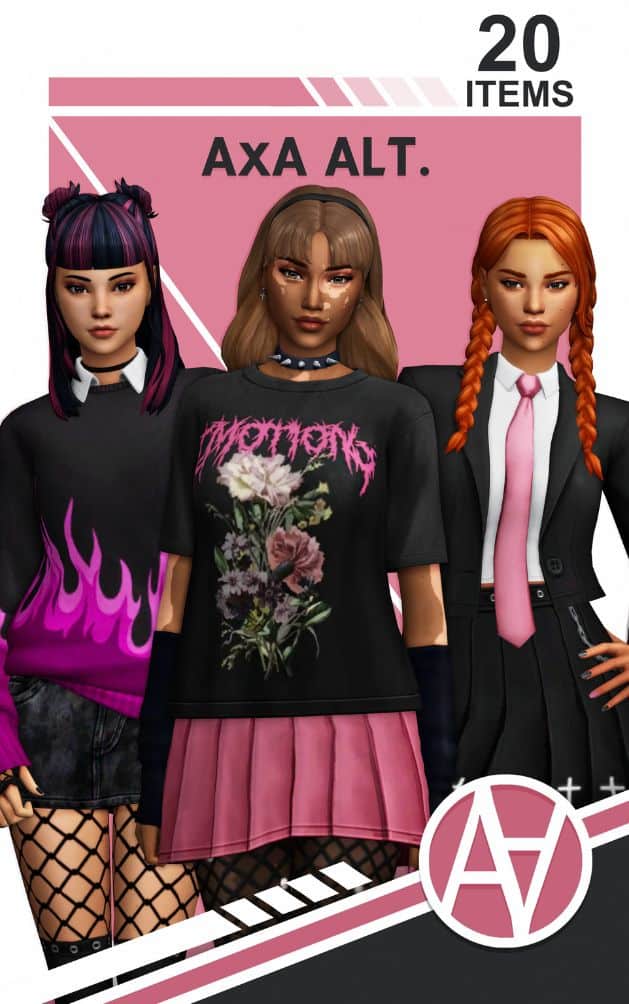 Need some goth, alternative, or emo-style clothes?
If so, then you'd certainly be interested in this teen pack.
This pack includes a few tops and sweaters in various swatches and graphics.
You can also have a sweet-looking blazer and tie accessory available in 30 swatches.
There are also a few skirt options to complete the outfit.
Along with the additional hairs and accessories, this teen mod is the total package!

5. Cute Bear Top Sims 4 Teen CC by Miiko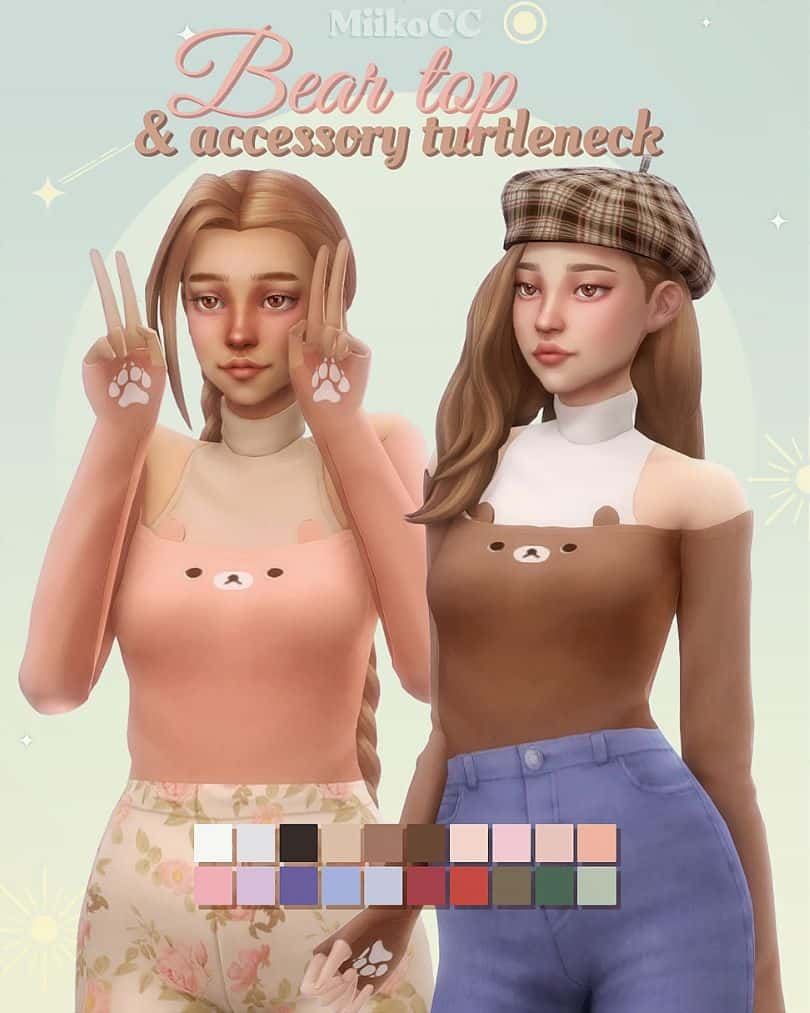 With this cute teen cc, you get an off-shoulder sweater and a separate turtleneck accessory.
The sweater has an adorable bear design at the front, with bear paws at the end of each fingerless sleeve.
Each piece has 20 colors.
You can find the turtleneck accessory under the Gloves category.

6. Uniforms Sims 4 Teen Mods by marsmerizingsims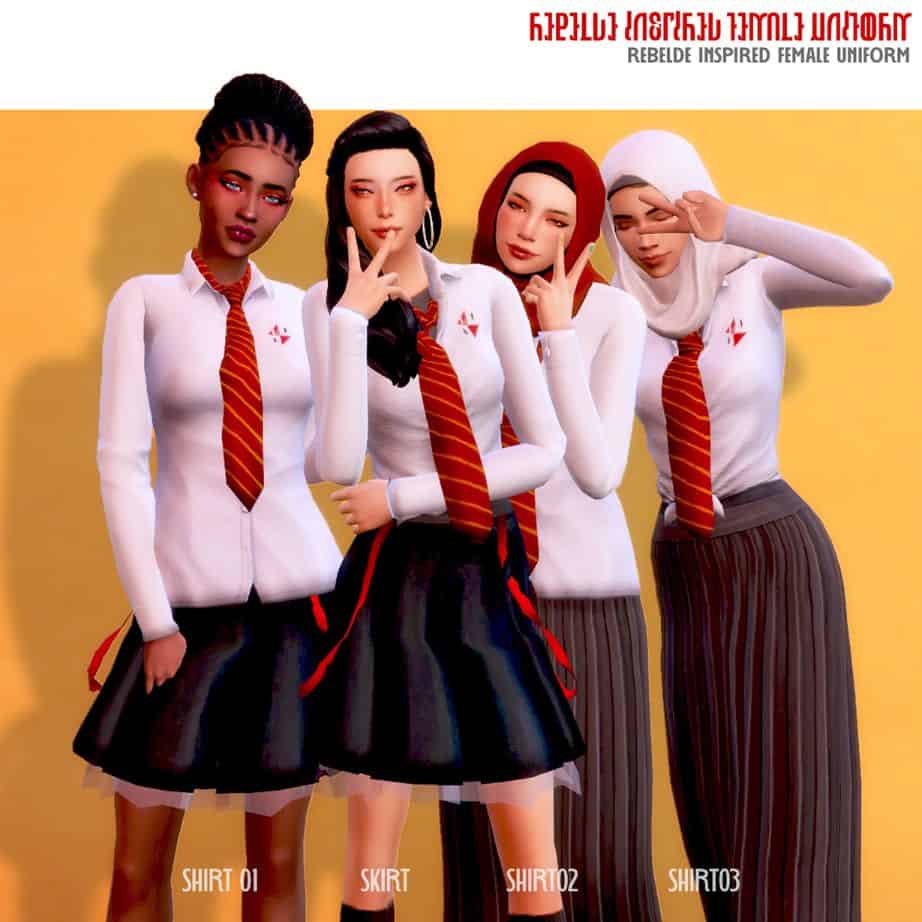 Do you want your teens to wear fashionable uniforms?
Look no further because school is in session.
This pack of teen cc has 3 shirt options for male sims. As for the girls, there are 3 shirt options and a skirt.
Sims-aged teen plus can use this set, available in 4 swatches.
I like the boy's relaxed, unbuttoned shirt and tie; it adds a little attitude.

7. Sims 4 Teen Style Stuff by ImVikai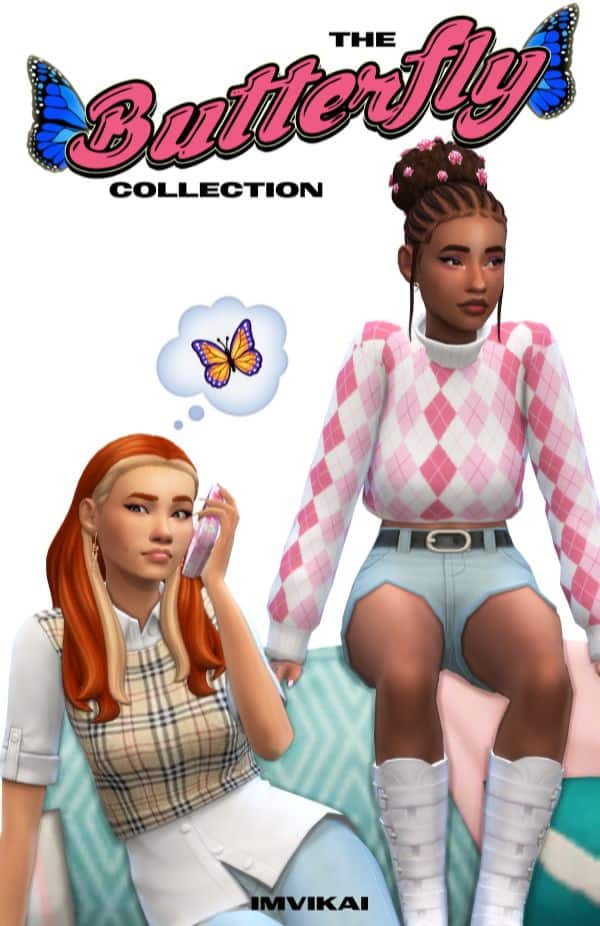 Now, this is a cute little collection of sims 4 teen cc.
You get a few hair cc for your female sims and a few tops and bottoms to diversify the lot.
Depending on the item, there are about 20 colors or patterns for teens and up.

8. Jeans & Tee Sims 4 Teen CC by pickypikachu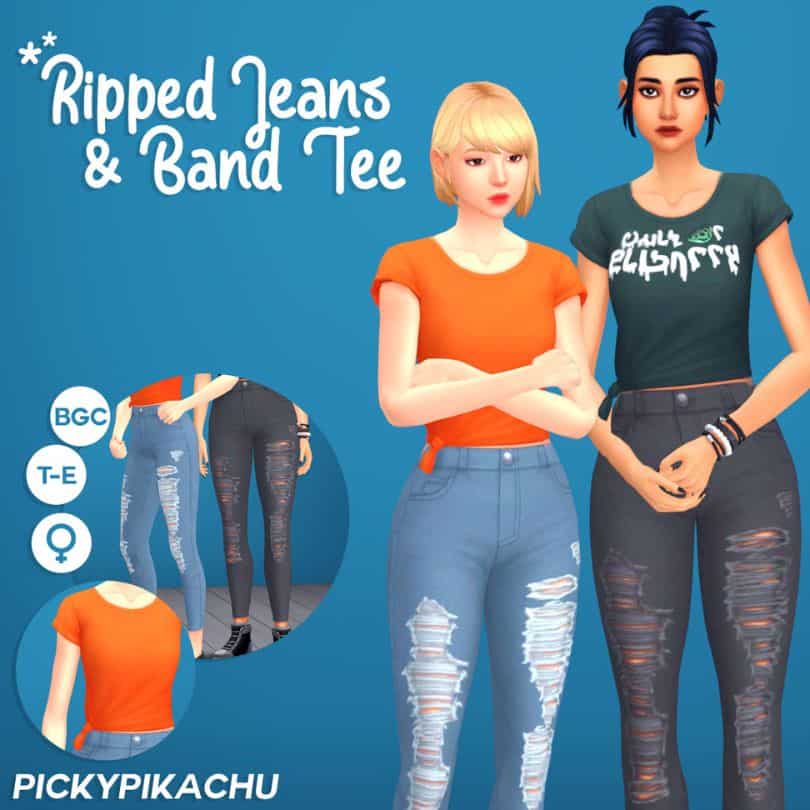 This pack is a great set that includes a u-neck tee for your female sims and a cool ripped jeans piece.
There are 32 swatches of colors and designs for the tee shirts, and you get 12 colors for the pants.
This combo looks great on teen sims but can also be worn by older sims.

9. Werewolves Pack of Sims 4 Teen CC by Solistair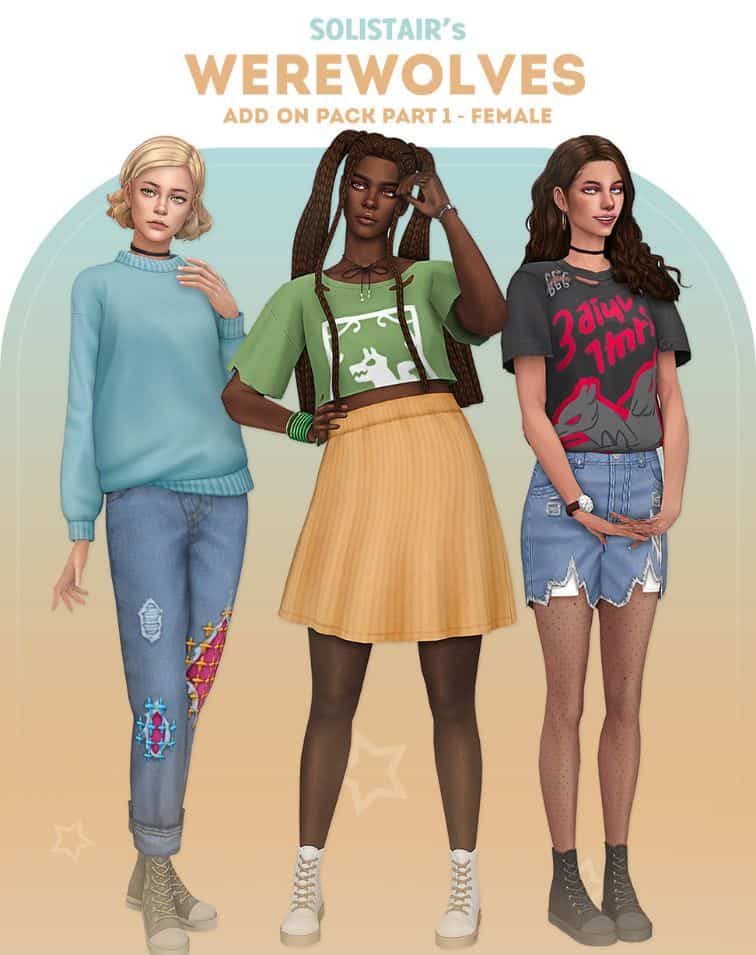 This sims 4 teen cc has a bunch of neat stuff for your female sims.
You get 9 tops, like sweater vests, regular sweaters, and cropped tops, to name a few.
There are also a few bottoms, a shoe, and a cute necklace accessory.
The best part about this pack is that it is entirely base game compatible.
So, you don't need to own the Sims 4: Werewolf expansion pack, as the name might suggest.

10. Breanna Sims 4 Teen Mod by Madlen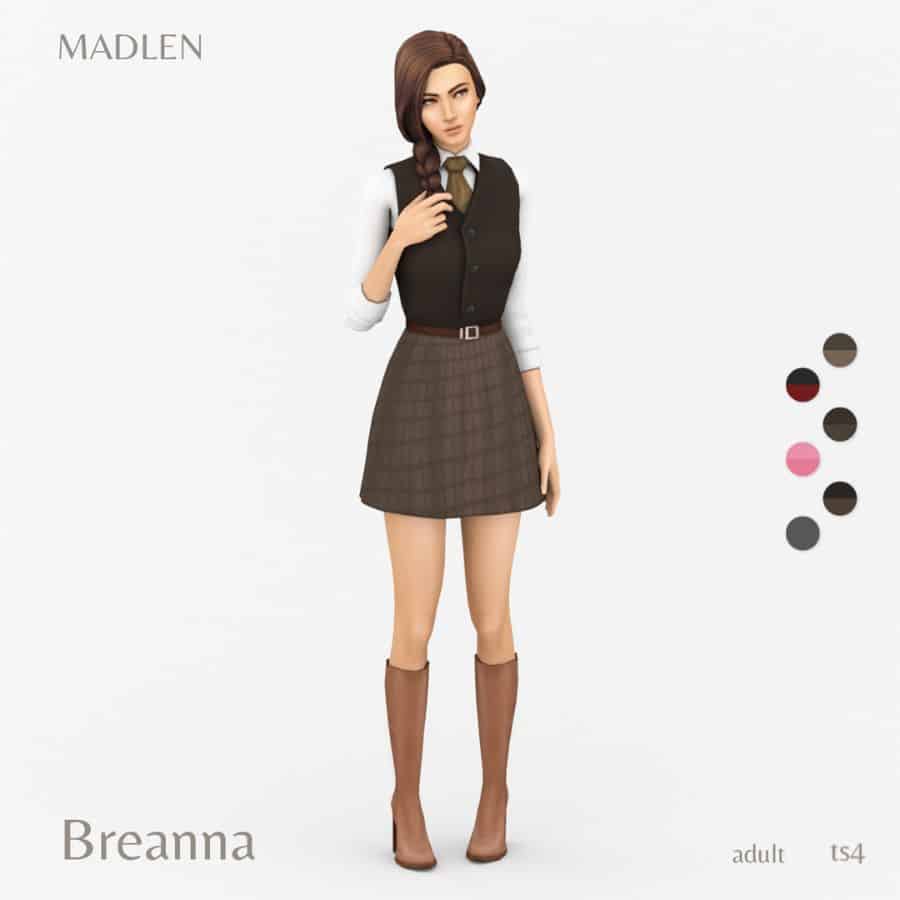 This little outfit for girl sims is ideal if you want a prep-school uniform look.
There are six dual-tone swatches to choose from, determining the outfit's top and skirt color.
The pink dual tone is super girly and gives off an Elle Woods vibe from the Legally Blonde movie.

11. AxA 2022 Collab of Sims 4 Teen CC by aharris00britney x ayoshi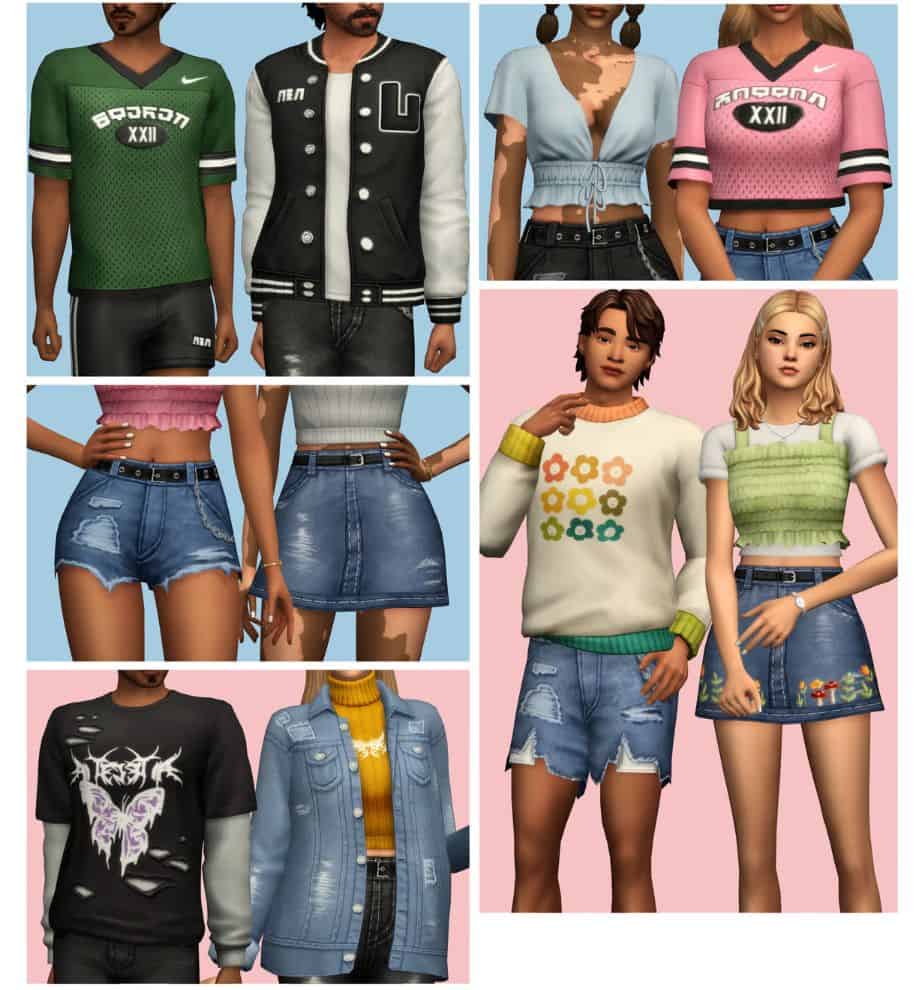 Here is a nice little collaboration pack for your teen sims, with little being an understatement, as this contains more than 50 items.
This set has it all for both genders:
tops – 12 for girls, 10 for boys
bottoms – 8 for girls, 7 for boys
accessories – 6 for girls, 2 for boys, and 1 unisex
hairstyles – 4 each
Do you want clothing options for your sims 4 teens? This set has got them.

12. Sims 4 Teen Denim CC by nucrests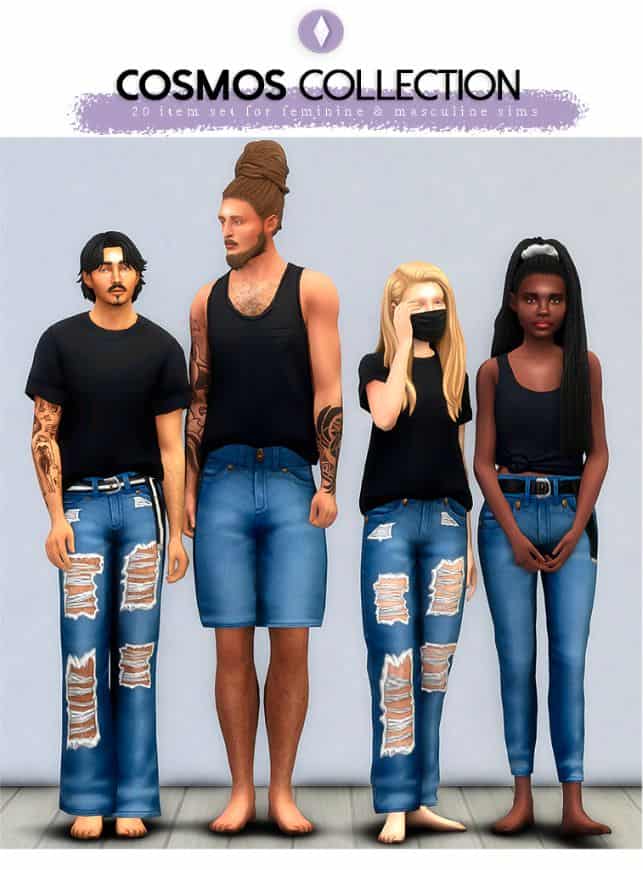 This set is for denim lovers out there. You get different cuts of denim pants based on your preferences.
Your choice of cuts are:
Flare
Loose
Skinny
Straight
Bermuda shorts
For the same cut, you can have full denim pants or the distressed version, which is basically the ripped denim look.

13. Sims 4 Teen CC Sweatshirts by ISAIAH ILLUSTRATES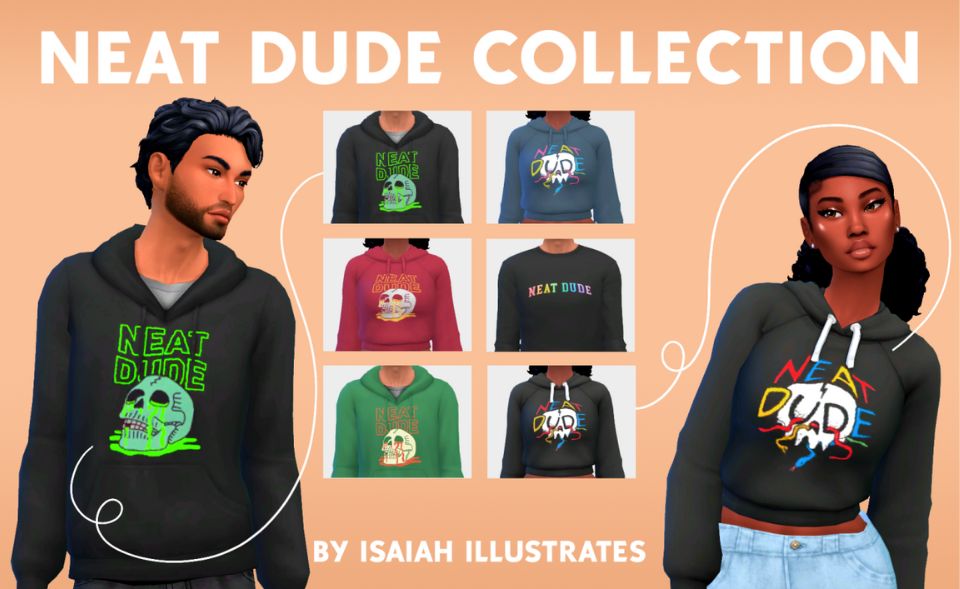 This collection has fun graphic sweatshirts for your male and female sims.
Pick your favorite hoodie, a cropped hoodie, or a crewneck and Neat Dude graphic design.
They're base game compatible and can be used on teens and up.

14. Keeley Sims 4 Teen Clothing by liliili-sims4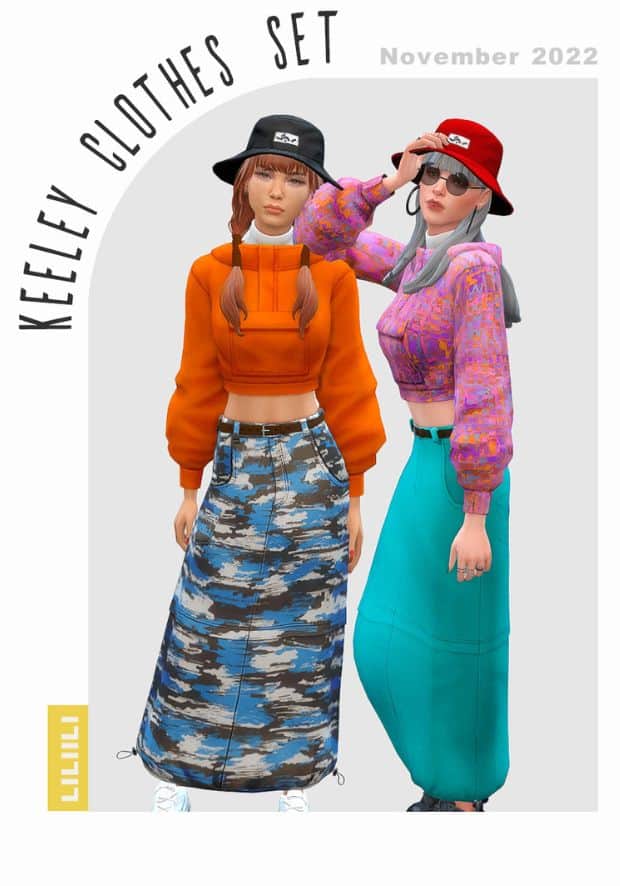 This lovely little set includes a hair cc, cropped sweater, and a long skirt.
The hair is an over-the-shoulder double ponytail hairstyle tied with a ribbon, which looks so cute.
You can download two versions of the hair, each with 40 color swatches.
You get 21 swatches for that pretty cropped sweater and 24 for that lovely long skirt.

15. Sims 4 Cold-Shoulder Sweater for Teens by Daisy Pixels
You got to have this adorable cold shoulder sweater.
This adorable top comes in 30 swatches, including plenty of solids and some fun striped patterns.
The HQ and non-HQ versions are available, so be sure to download the correct file from the download page.

16. Sims 4 Teen CC Komfy Set by aretha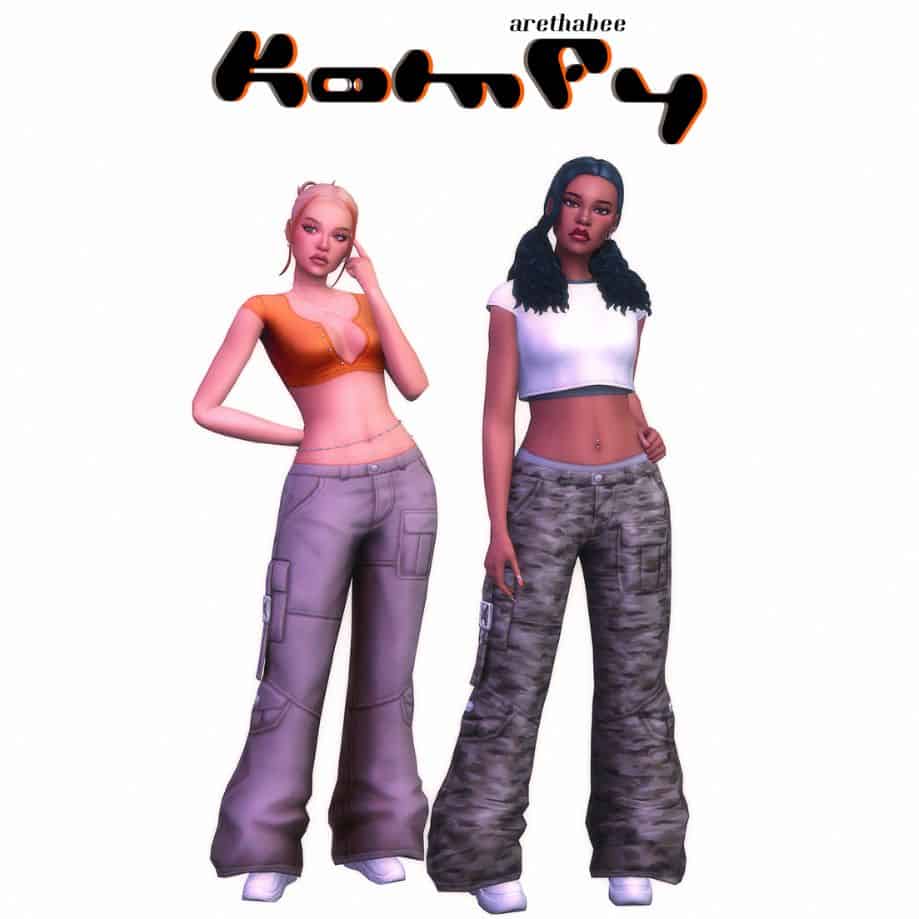 This set of casual and hip clothing has 9 items to your teen's wardrobe.
You get a couple of stylish crop tops, cargo pants, hairstyles, and accessories like star earnings and a waist chain.
Overall, it's a nice collection for teen streetwear.

17. Sims 4 CC Teen Style Stuff by marsmerizingsims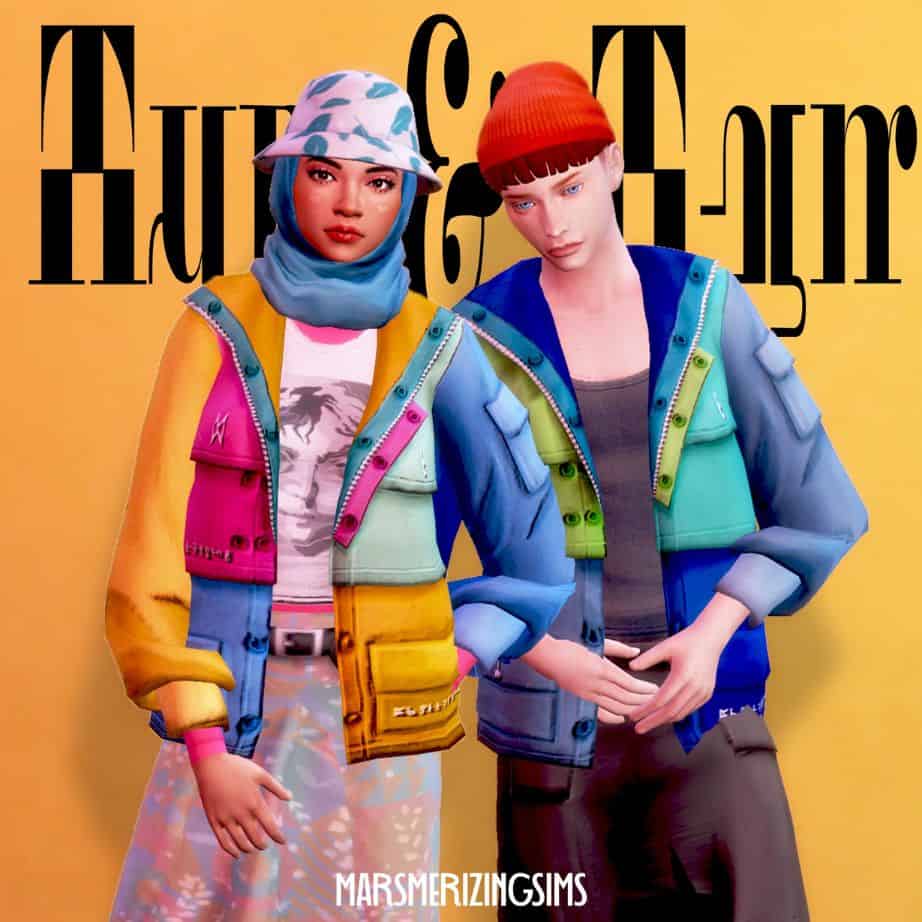 Here you get a nice assortment of stuff for your sims 4 teens.
You get a couple of shirts, a colorful jacket, and a hat for your male teens.
For the girls, you get a jacket, a scarf accessory, and, my personal fave, a faux fur top.

18. Sims 4 Teen Sorority CC by aharris00britney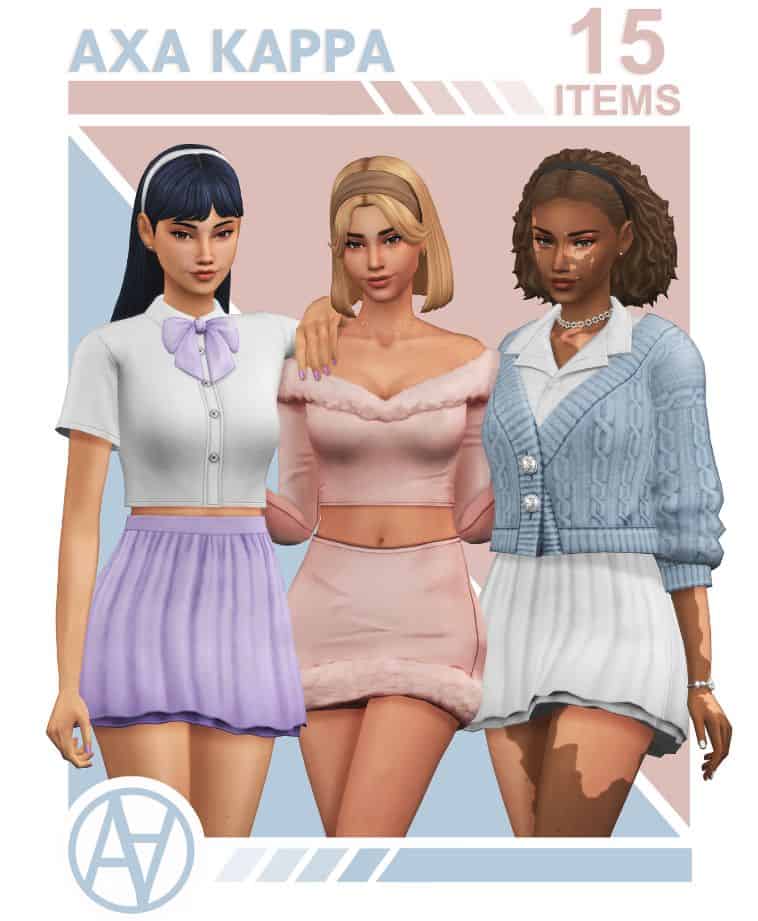 Get the college sorority look with this sims 4 teens cc.
With this set, you get a bunch of tops, skirts, hair, and accessories.
I love that cute little bow accessory top, which will go well with many other custom pieces.

19. Slasher Collection Sims 4 Teen Mods by greenllamas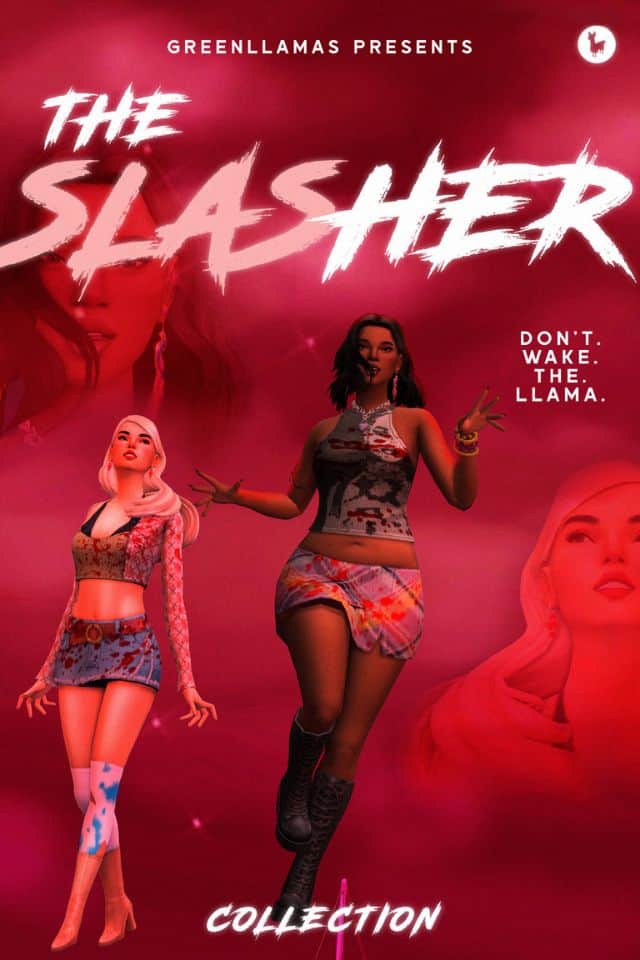 What you get here is another edgy sims 4 teens variety set.
In this collection, you get:
Two hairs – one long over-the-shoulder and one shoulder-length hairstyle
Two tops – one high-neck tank top and one crop halter top with a long-sleeve vest
Two bottoms – one denim skirt and one regular short skirt
Two eyeliners – one diffused liner and one siren liner
They all come with a good number of swatches, which varies by item.

20. Kaisa Sims 4 Teen CC by Madlen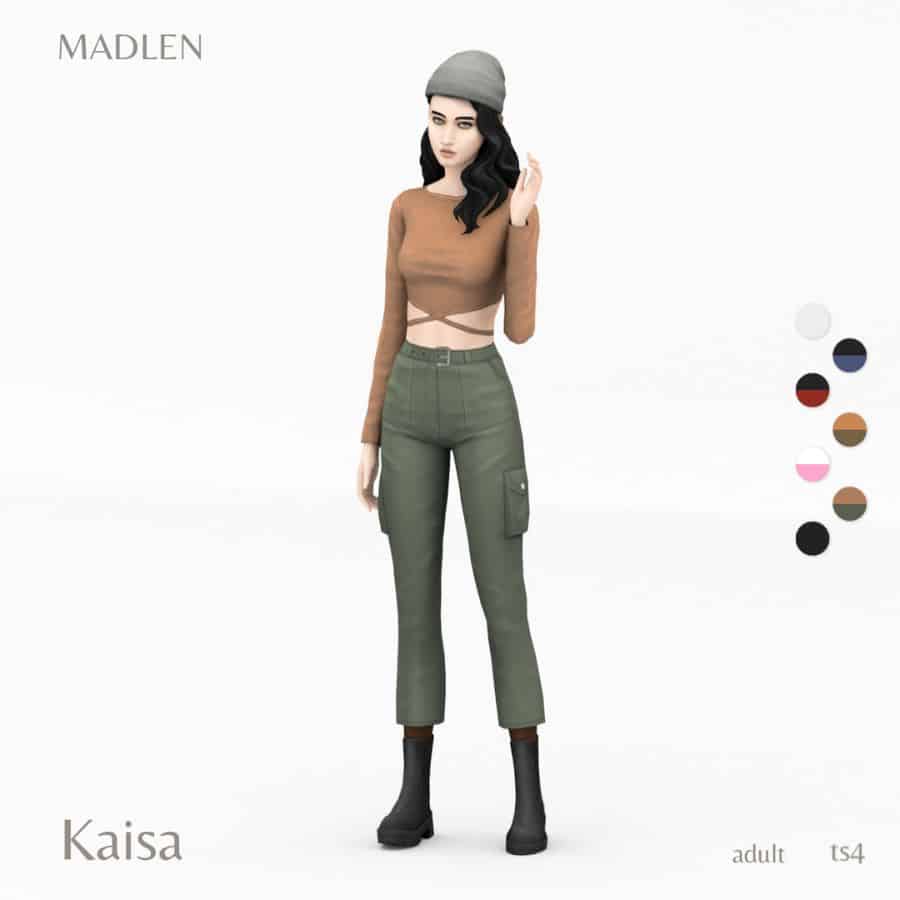 This one-piece outfit set comes with a long-sleeve-cropped top and cargo capris.
You get seven dual-tone swatches that determine the top and bottom colors of the ensemble.
It's hard to pick a favorite because they all look so good.

21. Sims 4 Teen Jeans Set by Solistair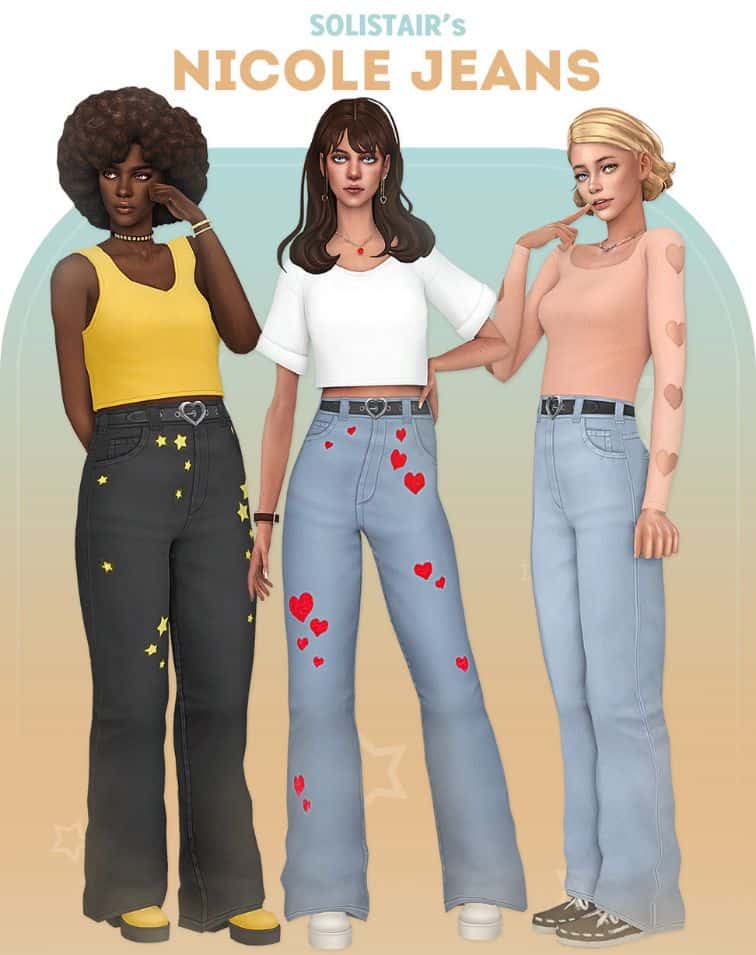 If you're looking for a high-waist, slightly baggy pair of jeans for your sims 4 teens, then you're in luck because this set is for you.
You can choose between 13 colors, which are 9 blues, and 4 monochromes.
There are also 14 additional styles of belted denim pants to choose from: ombre, knee patches, stars, musical notes, or even hearts.

22. Sims 4 Teen Mods by ImVikai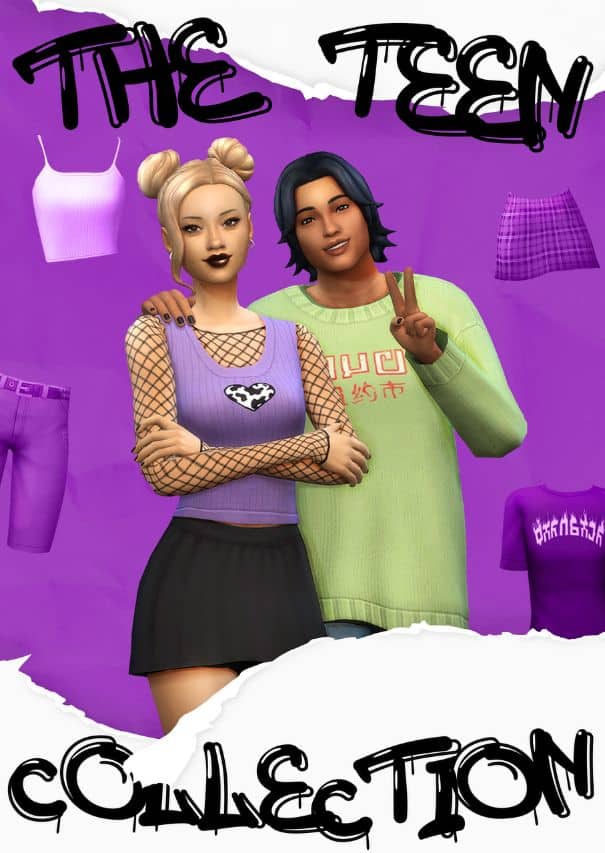 This set has an assortment of great sims 4 teen cc, such as hairstyles, shorts, skirts, sweaters, and tops.
There are 17 cas items in this collection, but they're primarily for girls.
You get a good selection of patterns and graphics for each article of clothing, and the hair comes in 24 swatches.
This set is perfect if you're going for that skater teen look.

23. Puff-Sleeve Crop Top Sims 4 CC by Miiko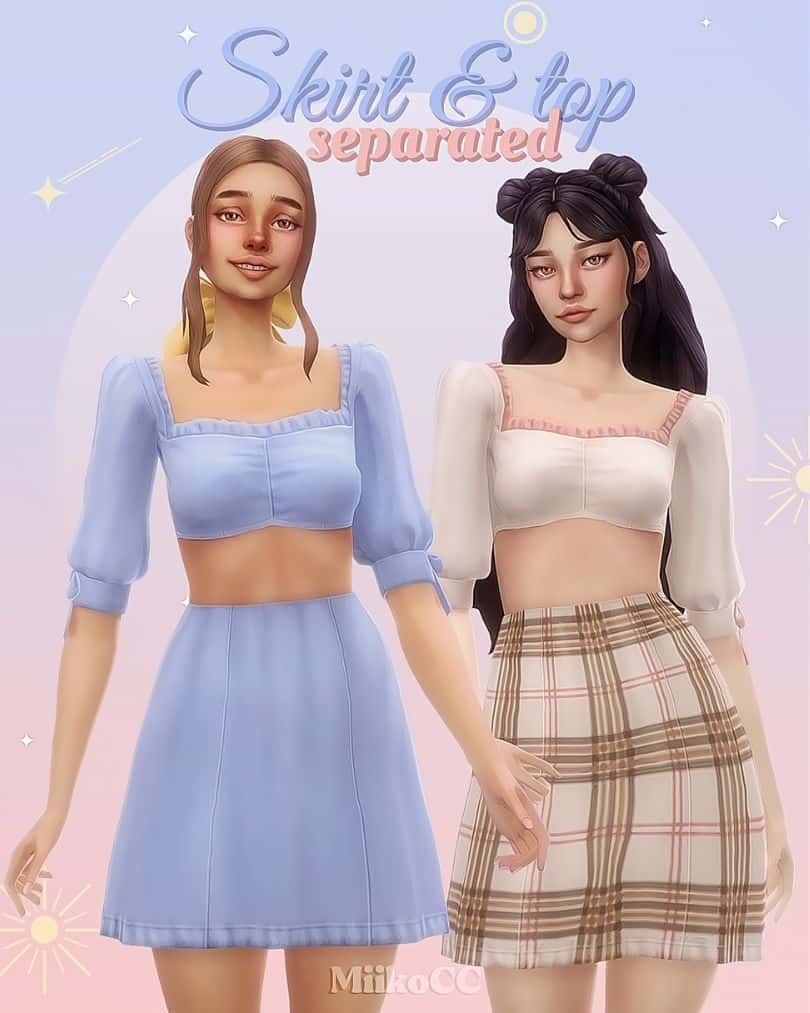 This set is of an adorable skirt and puffy sleeve crop top combo.
They're available in 20 swatches of colors and patterns.
I like mixing and matching the different swatches to find new and cute combinations.

24. Sims 4 Teen Girls Jumper by pickypikachu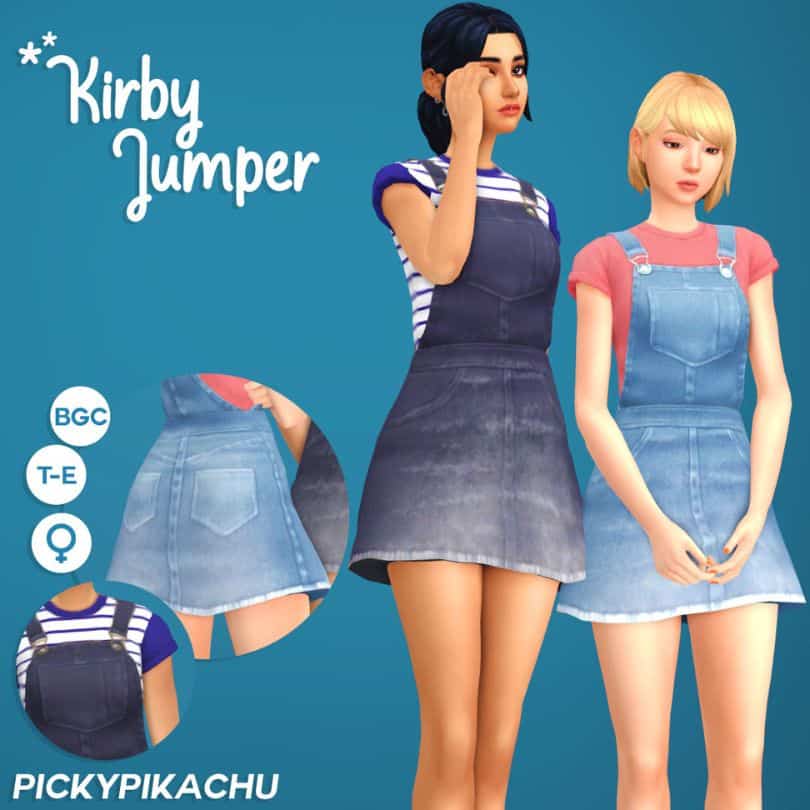 You got to try this lovely denim jumper custom content for your sims 4 teens.
In this pack, you get the jumper with 16 swatches and the shirt accessory with 36 swatches, half of which are stripes.

25. Alternative Sims 4 Custom Content by Kamiiri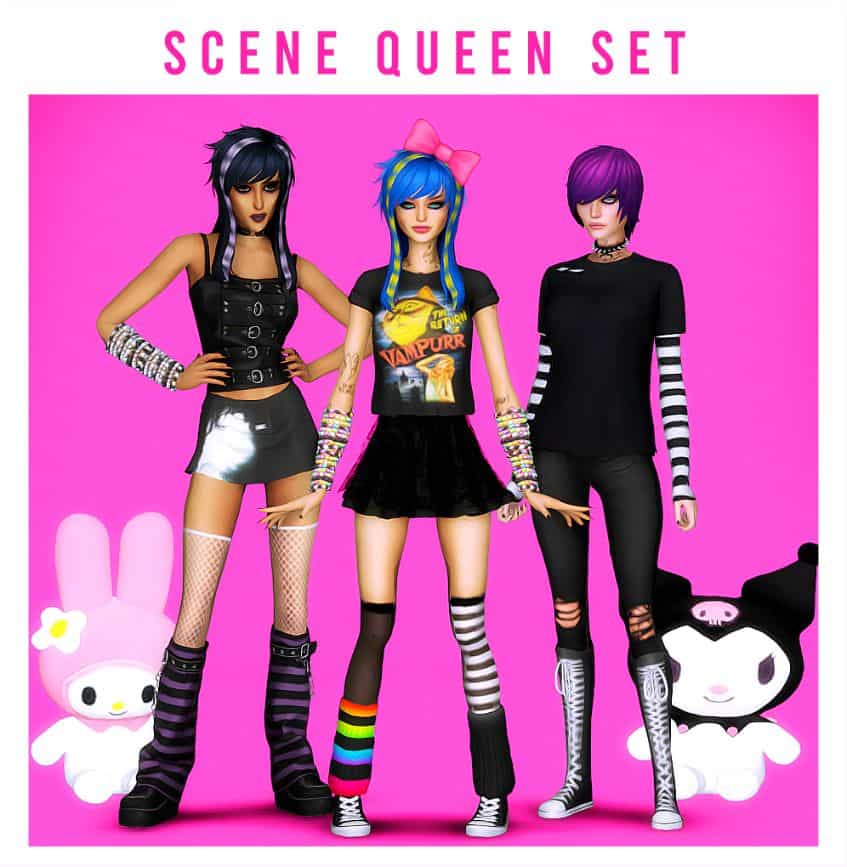 You should check out this pack if you want to give your teen's sims an edgy alternative look.
This collection has a lot of neat stuff.
First off, besides hair, it's all accessories, so we're talking about a bow, bracelets, socks, and eyeshadow.
They're available in many colors depending on the item, so try them out and see what fits your sims 4 teens best.

26. Sims 4 Teen Hairstyle by dogsill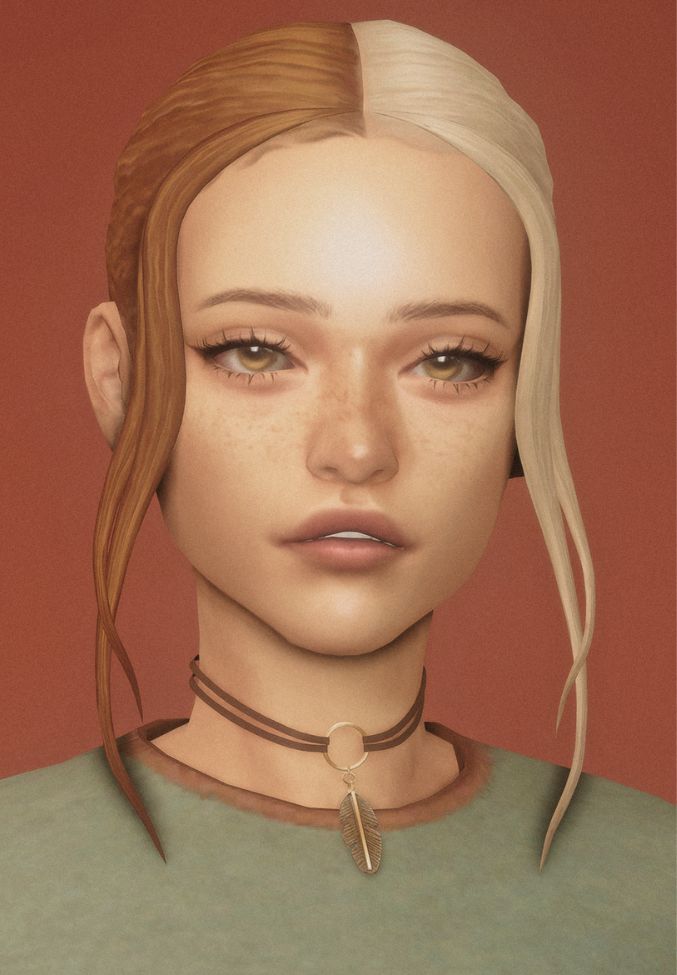 This custom-content hair bun looked very cute on my teen sims.
Having the front hair strands gives it a casual, slightly messy look.
You can also choose the split-dye accessory that you can find under the Hats category.

27. Sienna Collection for Sims 4 Teens by aretha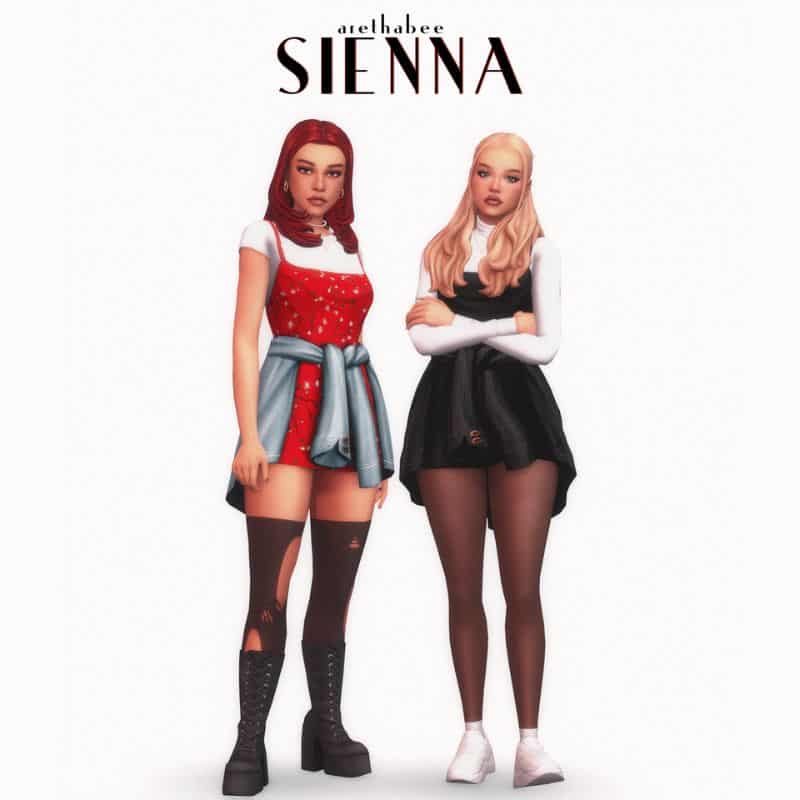 This set is a lovely medley of cc for your sims 4 female teens.
We get a couple of dresses, some nice jewelry options, and a few hairstyles.
There are 8 pieces in all, including a tied jacket accessory which you can find under Bracelets (Left).

28. Sims 4 Teen Collection by liliili-sims4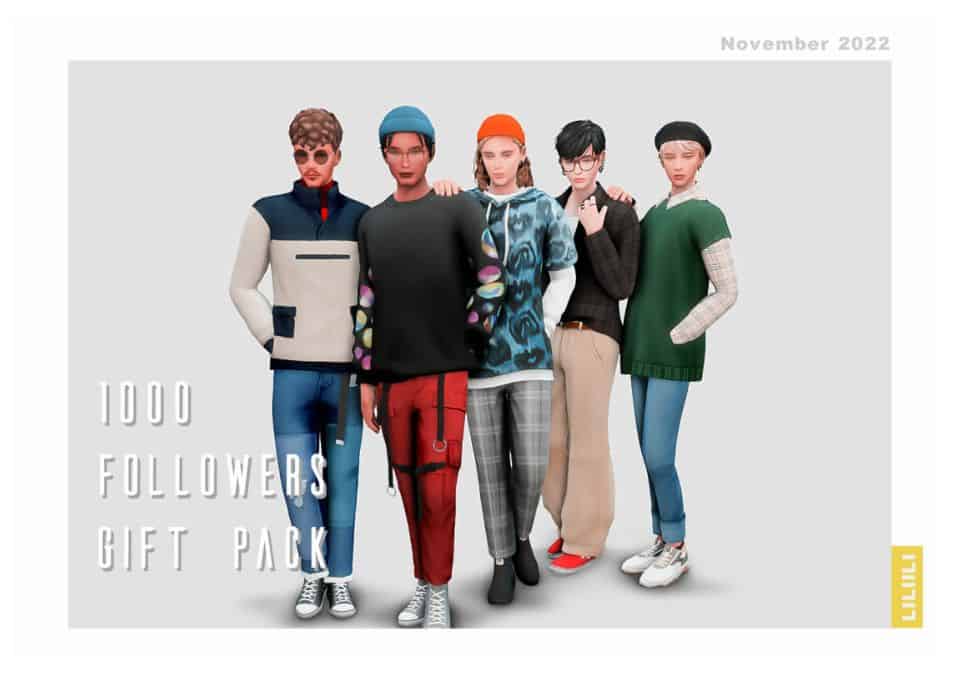 If you're looking for a variety of clothing for your sims 4 male teens, this set has just that.
You get a bunch of colorful tees, some sweats, hoodies, jeans, and other pants.
You can choose from a lot of color options and patterns.
Make sure you grab these for your cc folder.

29. Sims 4 Teen Clothing Thrift Set by ImVikai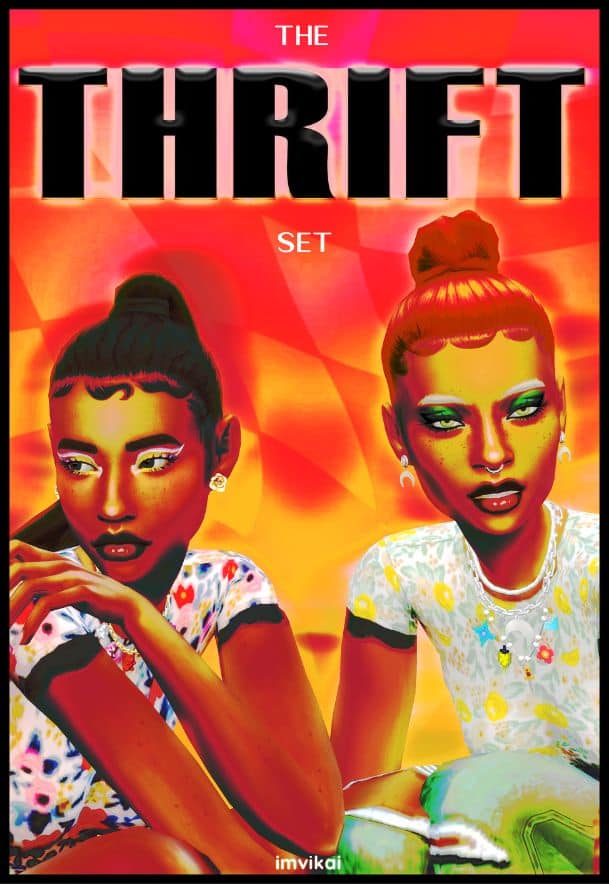 This pack is worth checking out if you want thrift-inspired clothing set for your sims.
The tops have a dated look, and the pants are distressed.
Each item comes with its own set of colors or designs.

You also get three hairstyles, two of which consist of a bun and the other with a ponytail.
One of the buns looks like a regular hair bun, while the other looks like it's made from braided or curled hair.

30. Mean Girls Sims 4 Teen CC by chewybutterfly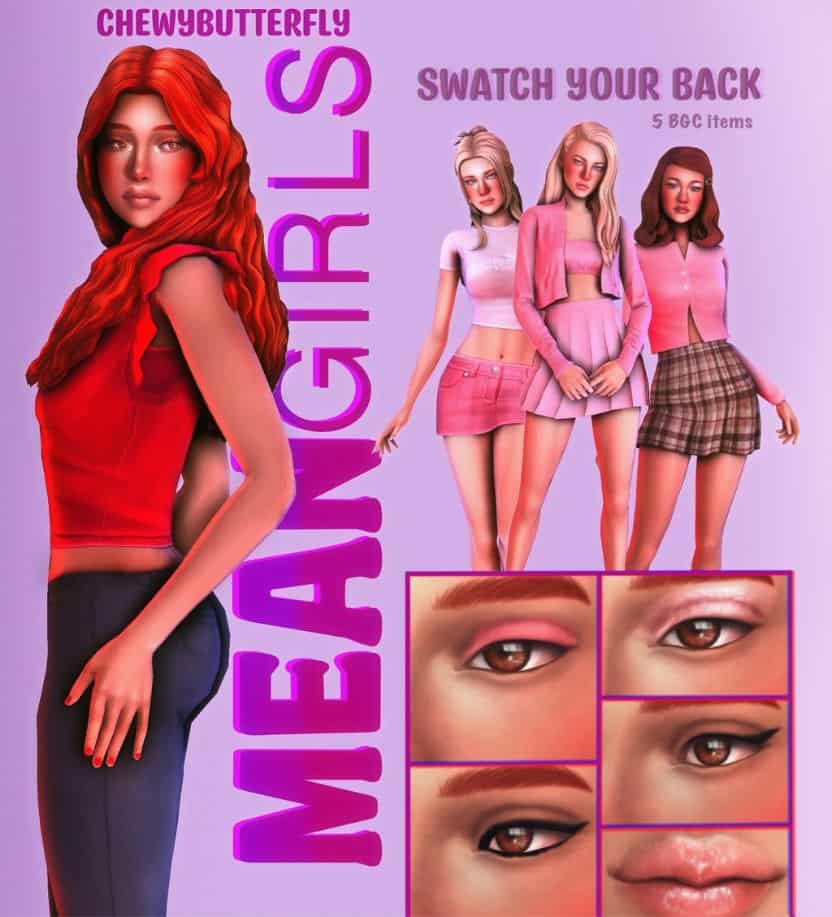 This Mean Girls inspired set of cc consists of various makeup items for your female teens.
In this collection of maxis match cc, we get a couple of eyeliners, eyeshadows, and one lipgloss.
They come in various colors and definitely looks fetch on my teen sims.
Final Thoughts on Sims 4 Teen CC
Sometimes, looking around, you see so much stylish custom content that it makes it hard to list them all.
Hopefully, having gone through this list, you will have found some new items to add to your collection of sims 4 teen cc.
If you have any questions or suggestions, feel free to leave us a comment below or tag us on Tumblr.
Other Sims 4 CC Lists
And remember to share and pin this collection for later!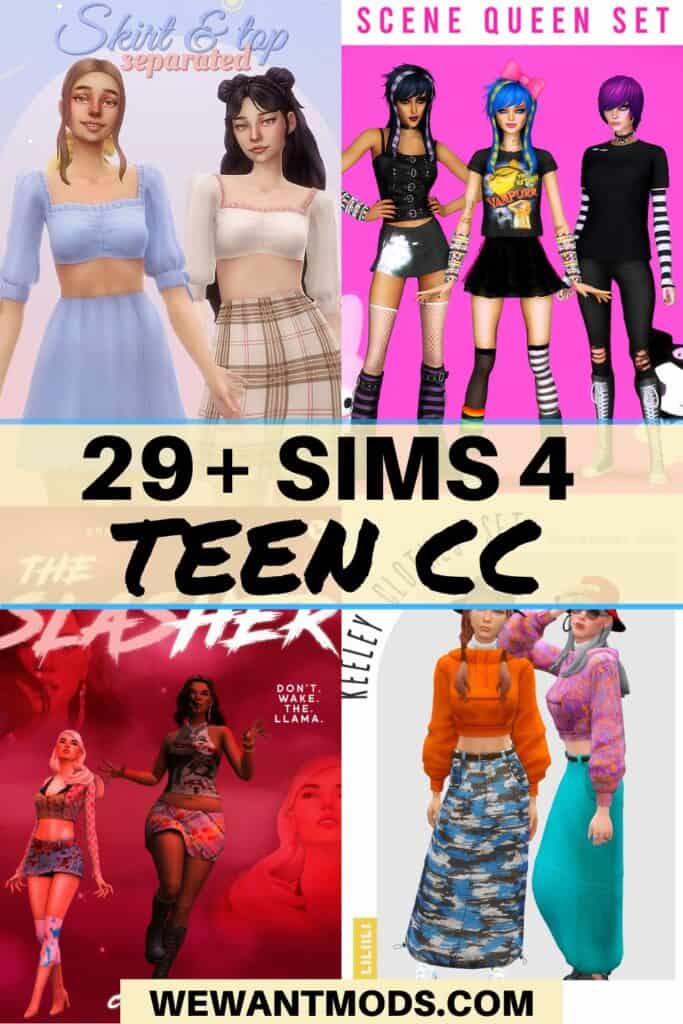 29+ Fashionable Sims 4 Teen CC