21+ Sims 4 Modern Houses: Pick The Perfect Home
Find your newest home inspiration with this collection of sims 4 modern houses.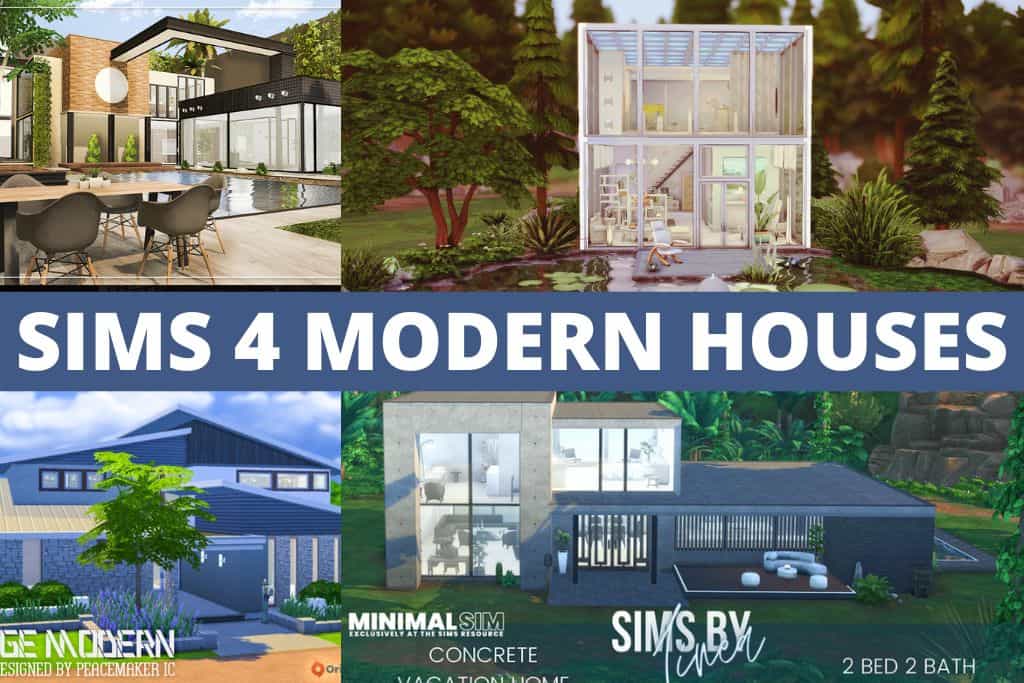 Do you love luxurious contemporary house designs?
You may need a large modern residential home for your growing sims family.
Whether you prefer an open-concept floor plan or a cozy living space, there are sims 4 modern houses for everyone in this collection.
So, if you want to create your modern dream house, let's check out these beautiful homes.
Disclaimer: The following mods are neither endorsed nor affiliated with The Sims, Maxis, or Electronic Arts. Any use of mods (custom content or game mods) should be done with caution and with the knowledge that there may be risks.
Best Sims 4 Modern Houses
From Mediterranean-inspired homes to modern container cottages, we've put together a nice mix of sims 4 modern houses.
1. Hillside Sims 4 Modern House by ProbNutt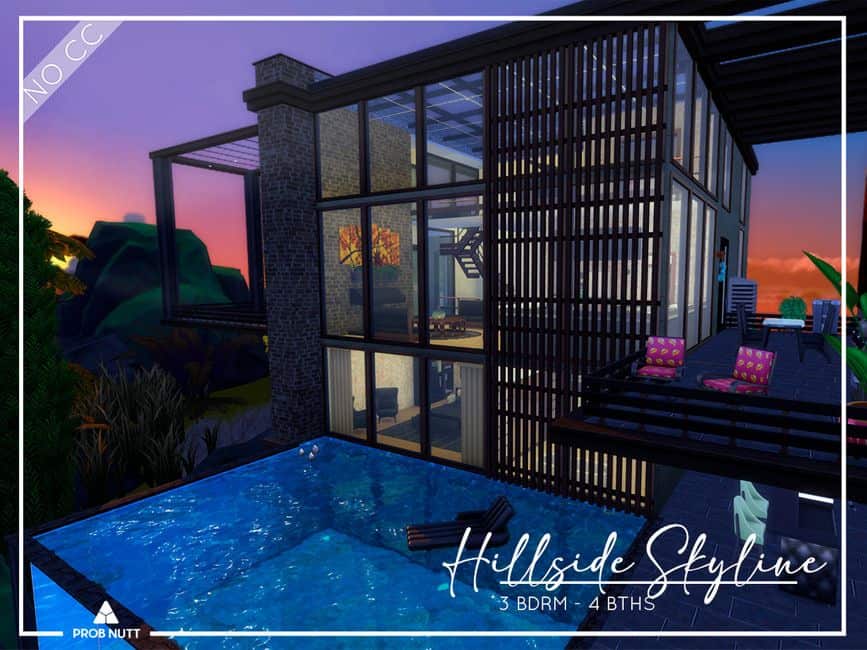 This stunning 3-story hillside home is as modern as houses get.
The exterior mixes glass windows, metal trim, and stone walls.
The landscaping and hillside swimming pool offers everything you need to complement this stacked home.
Inside, your sims family can spread across the 4 bedrooms and 3 bathrooms.
You can also use the 3rd floor as a guest house, or it's the perfect space for a grumpy teen.

2. Modern Sims 4 Tropical House by Pralinesims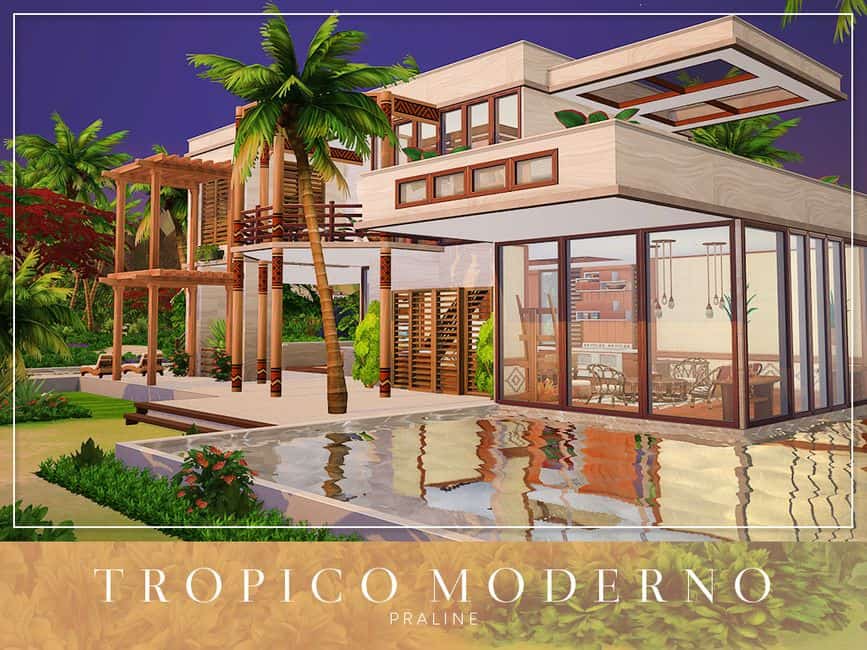 I'm all about my sims living their best lives, and this modern tropical house serves luxurious comfort.
There is so much outdoor space for your sims, from the pool, lounge areas, and upstairs outdoor patio.
The interior is beautifully decorated with rattan pieces and vibrant patterned fabrics.
And while this may be weird, my favorite piece is the gorgeous soaking tub.

3. Residential Sims 4 Modern House by Lhonna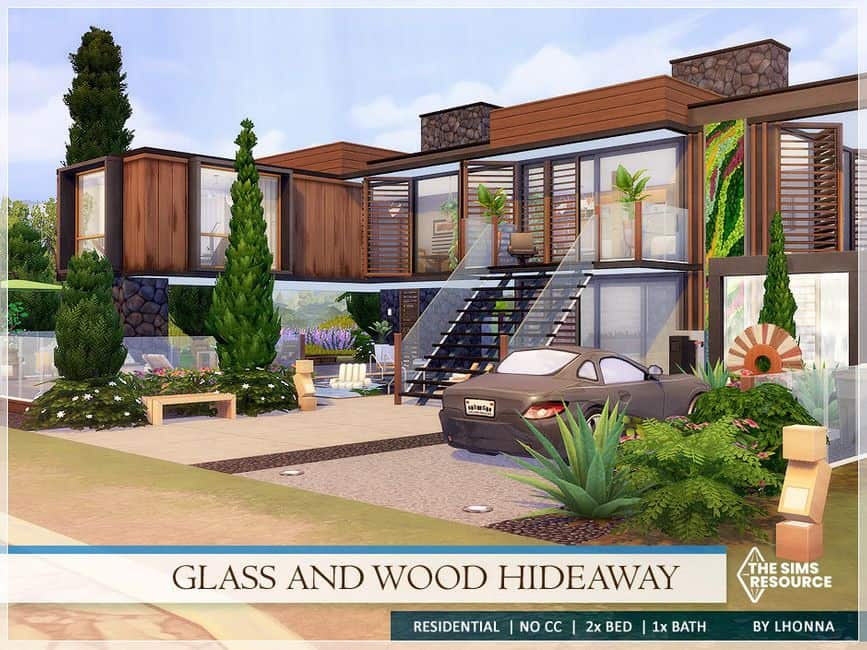 This sims 4 modern house's primary design centers around glass and wood.
With its custom massage room and sauna, this property is ideal for a fancy vacation home or an upscale everyday home for your sims.
There are 2 bedrooms and 2 bathrooms, although the second bathroom is part of the garden and sauna space.

4. Sims 4 Modern Villa by Summerr Plays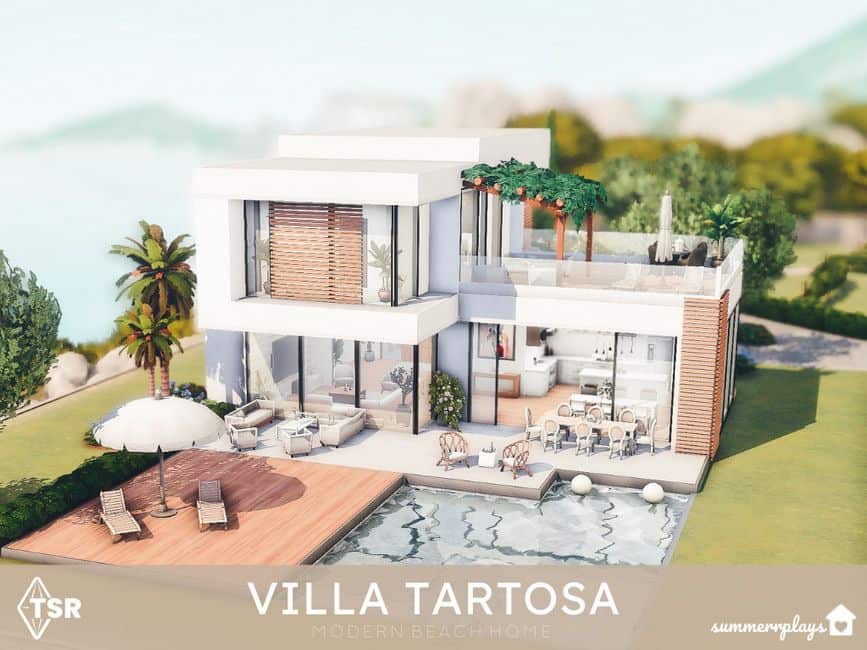 I love a good villa, and this stunning white-washed house definitely feels inspired by the Greek islands of Paros and Mykonos.
Ideal for a couple or young family, this home has one bedroom and bathroom, plus a small powder room.
Your sims can lounge the day away upstairs in the second living room or on their massive balcony overlooking the pool.

5. Modern Sims 4 Family Home by Peacemaker-IC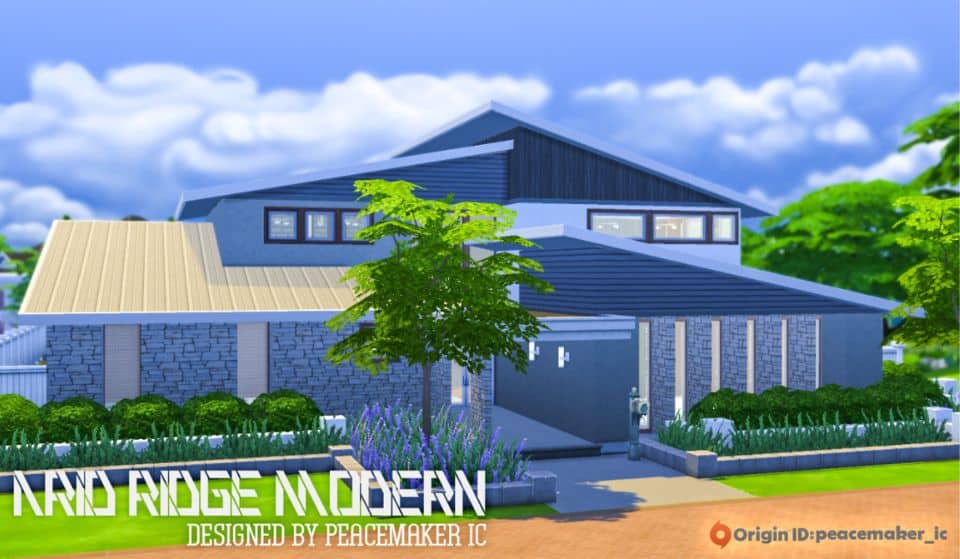 Do your sims need some privacy from their brood of kids?
This modern home has enough space for a primary bedroom on the ground floor and 3 bedrooms upstairs for the kiddos.
Need something to keep the kids occupied, why not try out the home theater and activity room?

6. Modern Mansion for Sims 4 by Sarina_Sims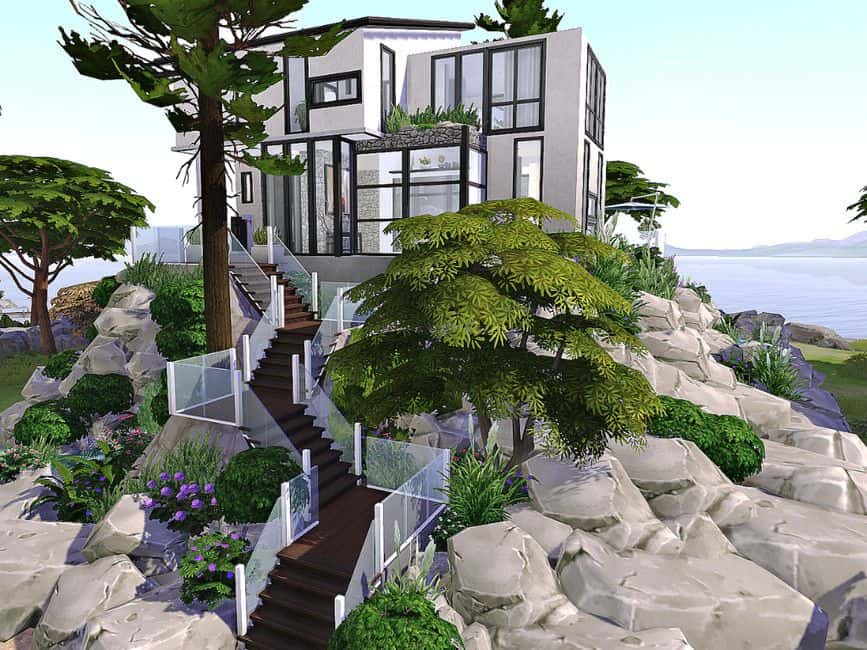 While this modern house technically classifies as a mansion, it could work as an upscale home.
It only has one bedroom and bathroom, so it's ideal for a single sim who loves stunning views or a couple.
The interior is beautifully decorated with a modern touch, including wood and stone pieces.

7. Suburban Sims 4 Modern House by ProbNutt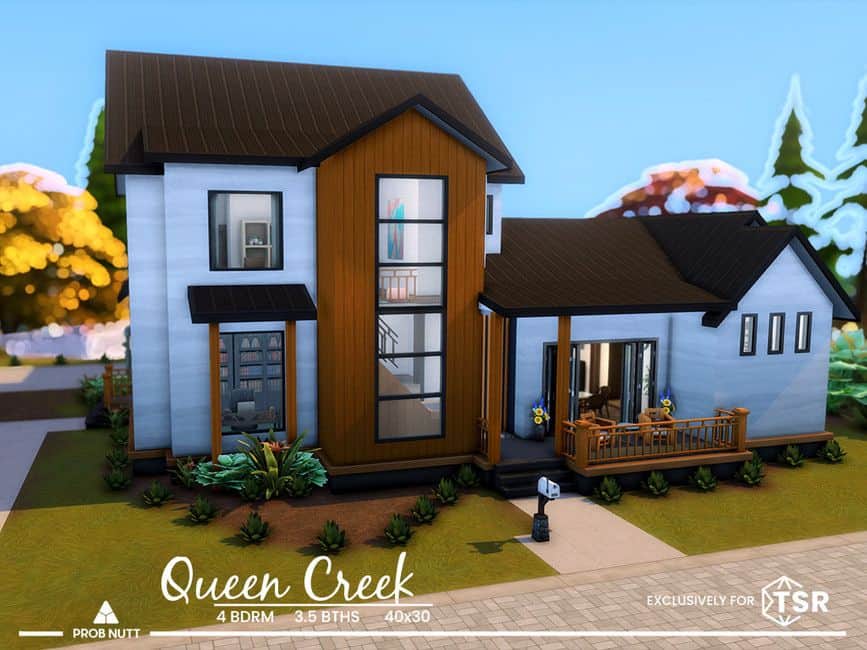 This modern house could fit in certain suburban neighborhoods but can also be ideal for more country living.
Your sims will have plenty of room with the 4 bedrooms and 3.5 baths.
They can also enjoy the lovely pool.
While the interior furniture has a modern style, the house still feels homey.

8. Sims 4 Modern Penthouse by SIMSBYLINEA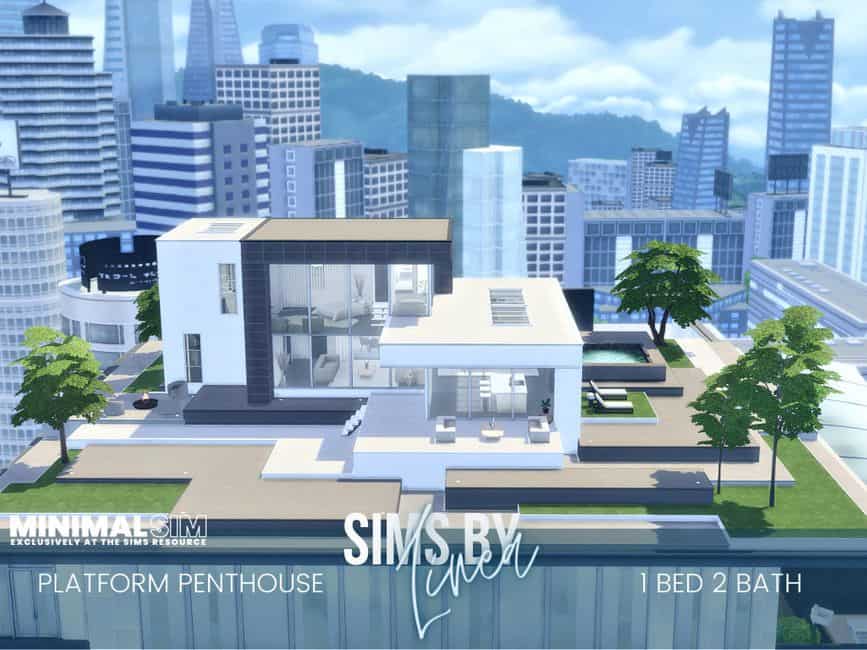 This stunning penthouse is definitely modern, from its rectangular-shaped exterior to its minimalistic modern furniture.
If your sims like a more muted color palette combined with impressive views, this is the home for them.

9. Urban Sims 4 Modern House by Pralinesims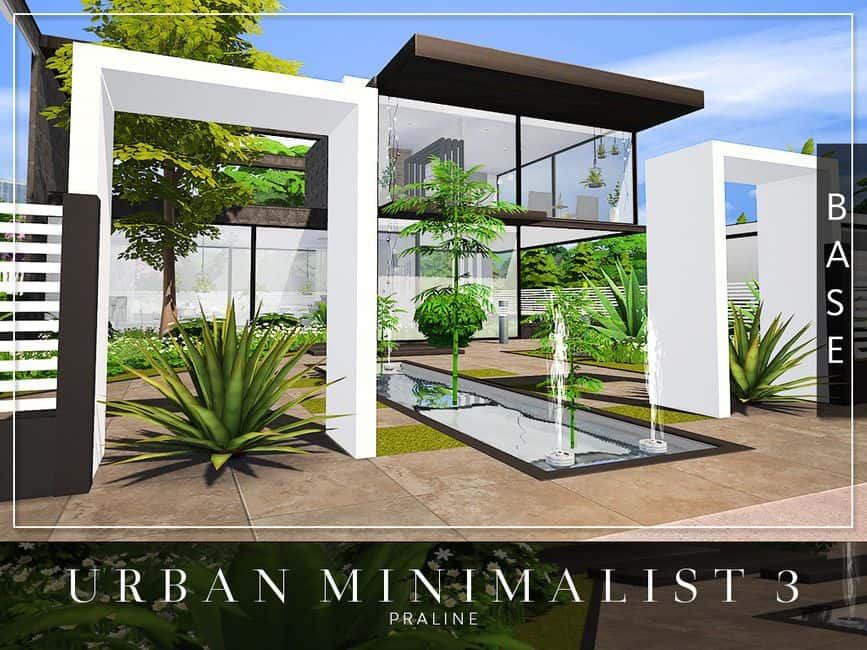 This one-bedroom sims 4 modern house is ideal for the sim bachelor or bachelorette in your game.
The interior keeps things minimal, making it the perfect space for your sims to relax and enjoy their surroundings.
The outdoor greenery against the darker tones of the house brings this modern home to life.

10. Sims 4 Modern House by Summerr Plays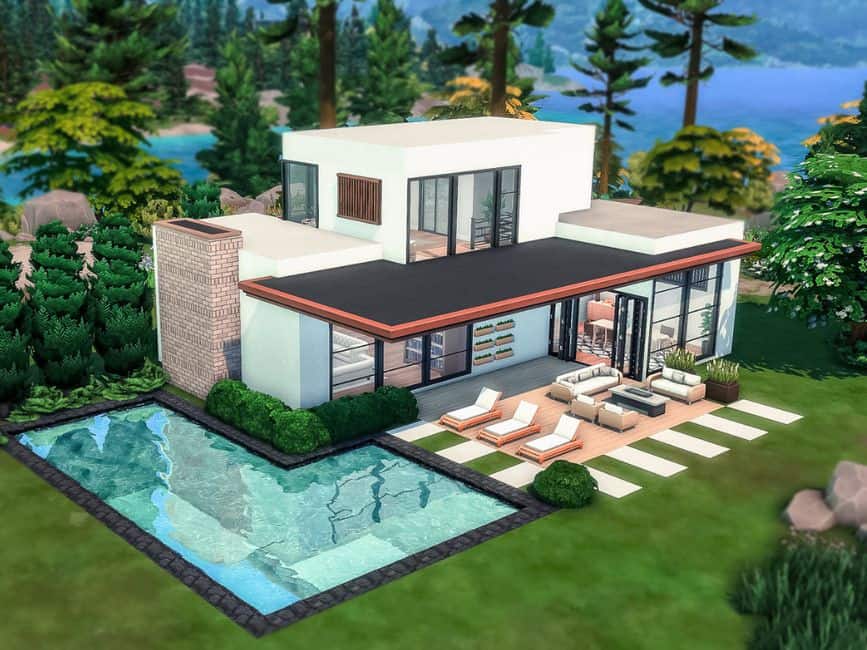 While there are many unique sims 4 modern houses, this property is one of my favorites.
The exterior grounds of the house are ideal for your sims to relax or entertain.
The home's interior is so bright and welcoming; the living is modern yet super cozy.

11. Sims 4 Modern Cottage by Pralinesims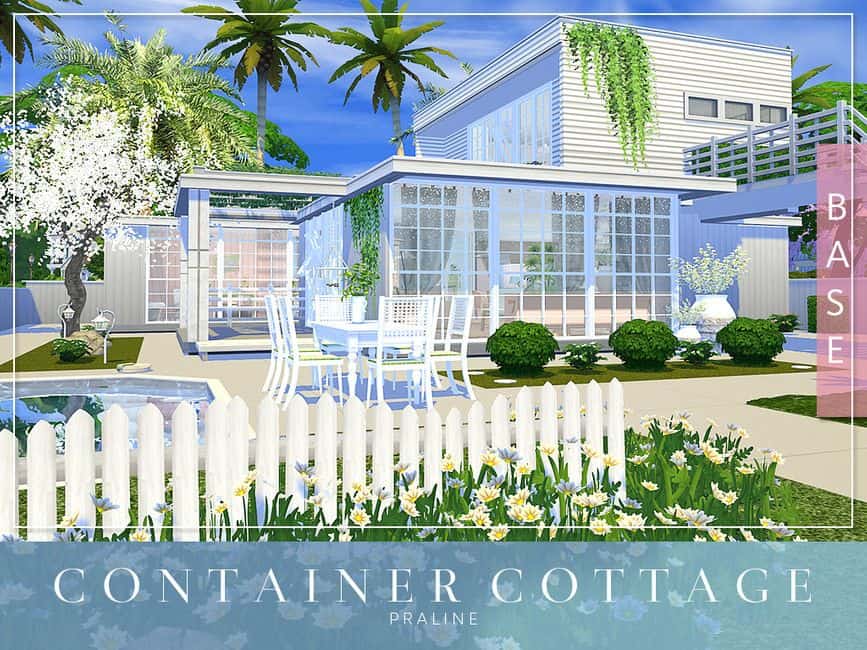 What better way to modernize a home than by incorporating modern materials?
This container cottage does just the thing, and it's bright and contemporary.
Your sims will be the talk of the town once the neighbors peak inside this colorful cottage.

12. Sims 4 Modern Glass House by Miss Ruby Bird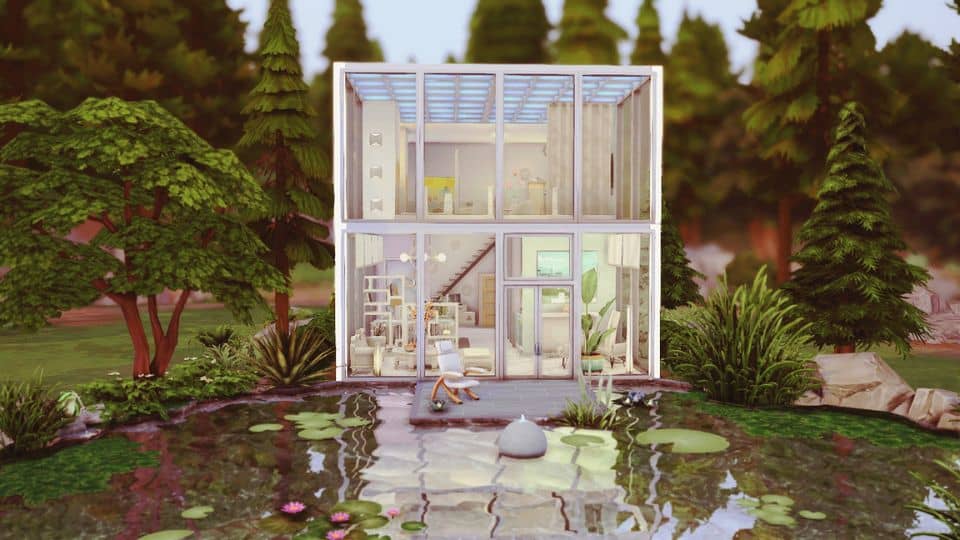 Have your sims pack their bags for a epic honeymoon at Graphite Falls.
This fantastic cube house is as modern as homes get, yet it fits right in with the incredible forest grounds.
This two-story house comes with one bedroom and makes the perfect home away from home.

13. Sims 4 Modern Family Home by qubedesign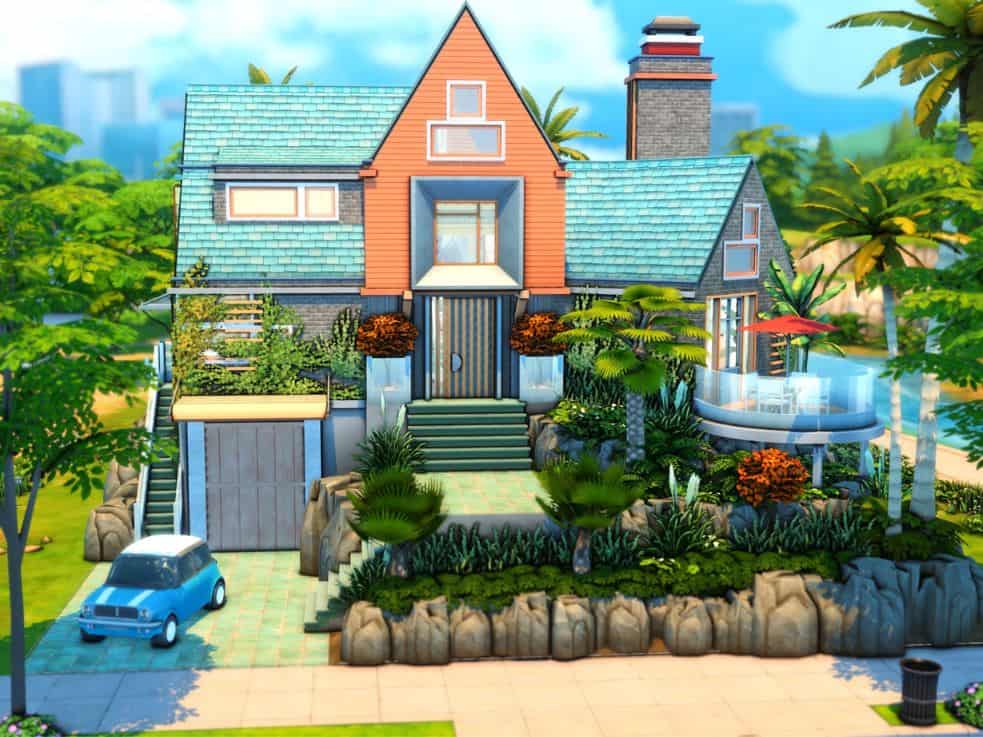 This adorable home is unique; it gives off an old-school vibe but has many modern touches.
This home is ideal for a small family, with 3 bedrooms and 1.5 baths.
Its unique layout makes it like a small compound, with little nooks throughout the grounds.
I especially love the circular balcony on the side of the house.

14. Modern Loft House for Sims 4 by ProbNutt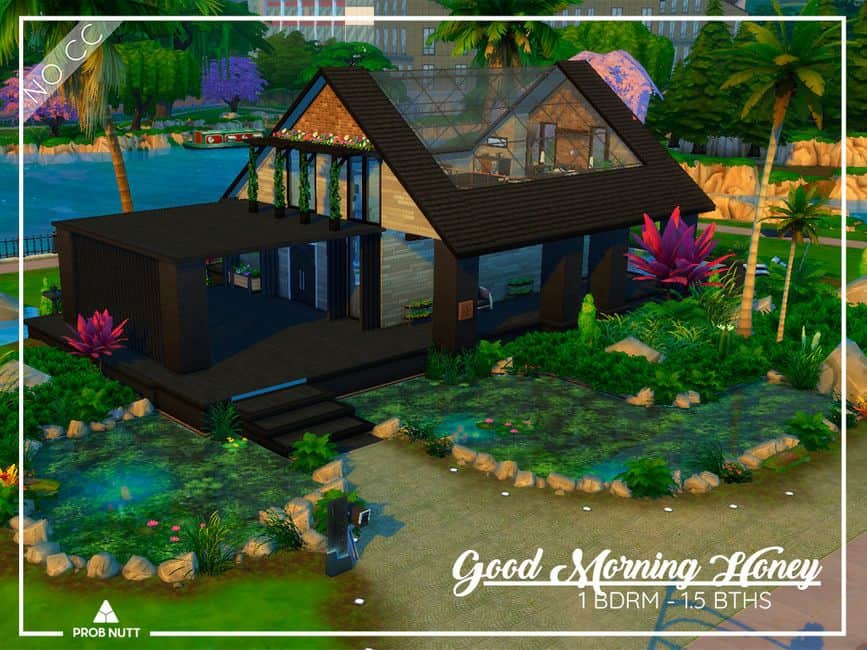 This amazing modern loft-style house has everything your single or coupled sim needs.
While it's two stories, this home only has one bedroom and 1.5 baths.
The interior décor is dark, with industrial-style metal stairs and brick walls.
The outdoor grounds are serene and perfect for a waterside property.

15. Sims 4 Tiny Modern Home by Giuliabuilds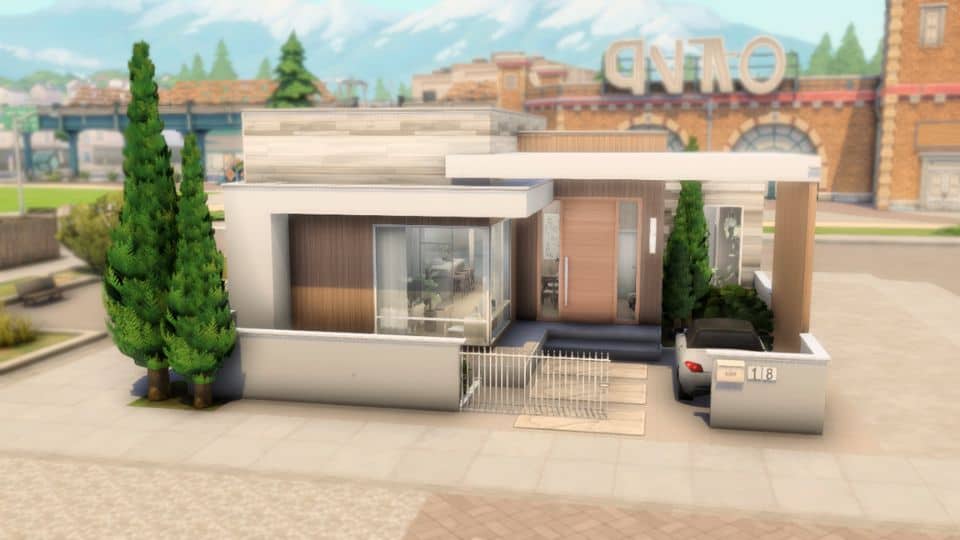 When I found this tiny modern home, I knew I had to include it; it's super cute.
It's a small one bedroom and one bathroom home, with a rectangular shaped exterior.
The interior is designed with black and wooden tone materials and furniture.
It's the perfect little starter home.

16. Desert Minimalist Modern House by Lhonna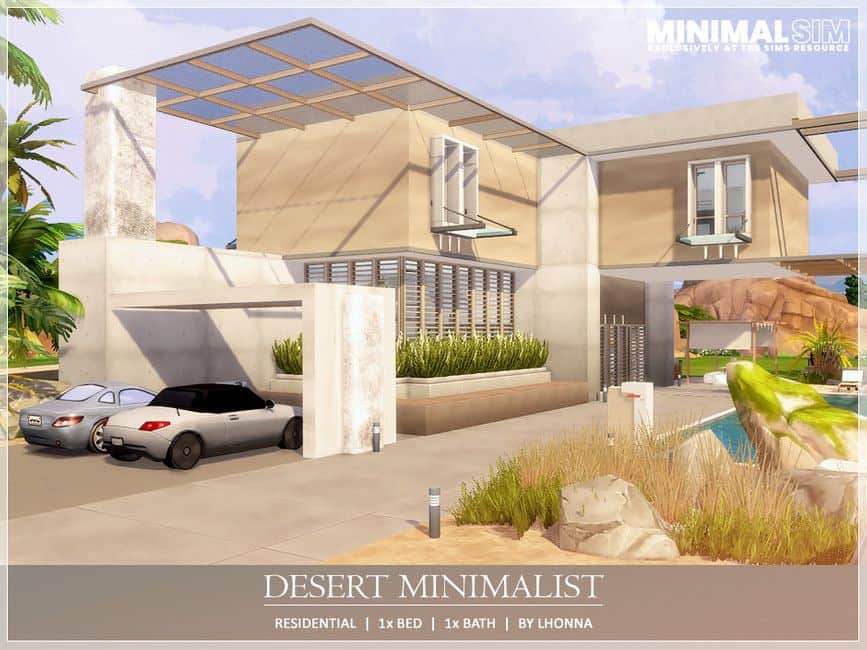 Whether your sims are ready to live in the desert or build their dream home in a more suburban area, this house is made for a minimalist.
There is one bedroom and one bathroom, and the home is super bright.
The minimalistic furniture and accessories are in tones of white, light wood, and gray.

17. Sims 4 Modern Cliff House by Summerr Plays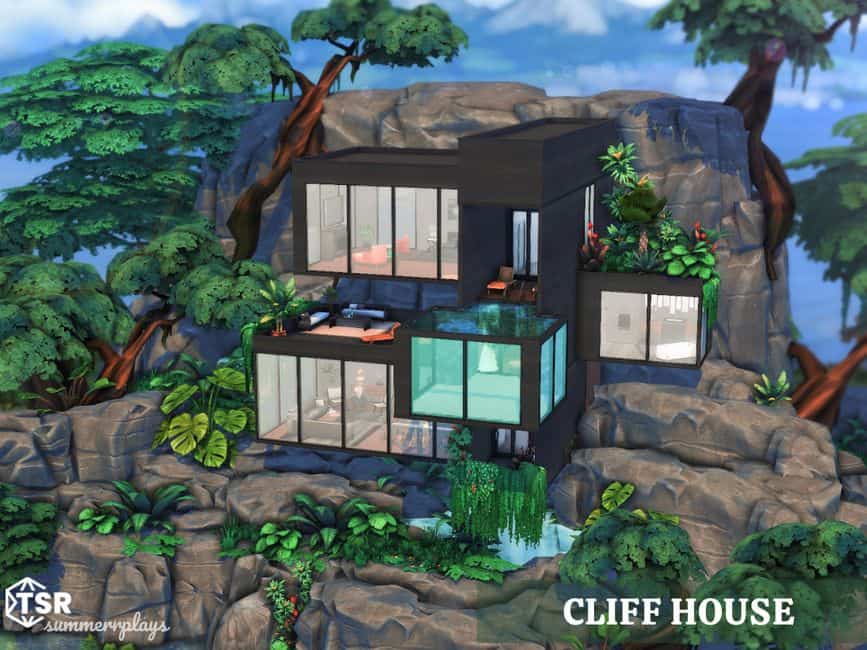 Can you tell I love houses perched on hills and cliffs?
This sims 4 modern house serves up 3 floors of cliffside living.
The main floor is about your sims living space, while the second floor focuses on the fantastic outdoor terrace.
If that isn't enough, your sims can walk from their bedroom on the top floor to the overhanging pool to take in the epic views.

18. Sims 4 Modern Concrete Home by SIMSBYLINEA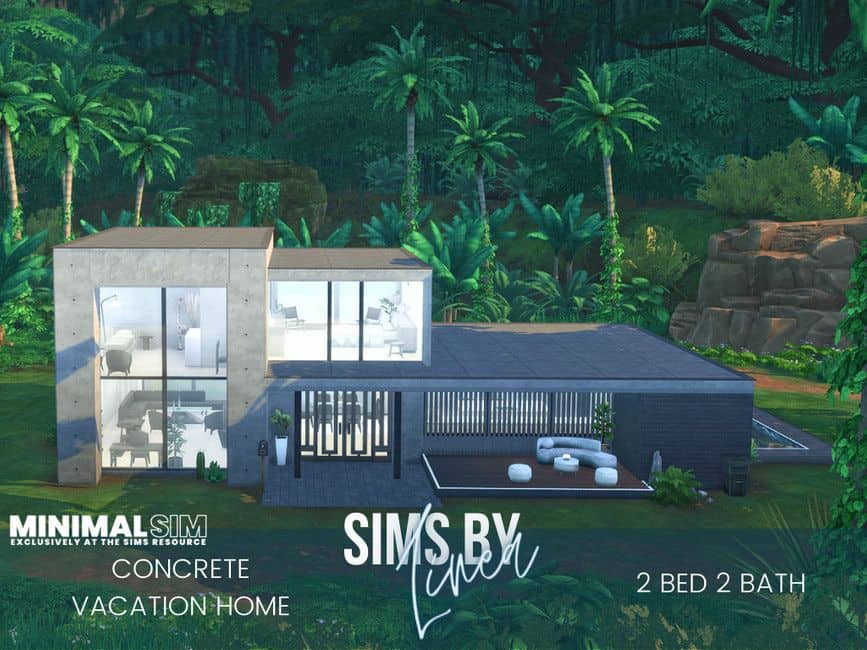 Sims 4 modern houses come in all shapes and sizes, and this concrete home focuses on stacked rectangular layers.
This modern vacation home has two bedrooms, two bathrooms, and a lovely outdoor pool.
The interior is immaculate and minimalistic, down to the hardware-free kitchen cabinets.

19. Sims 4 Residential Modern House by Pralinesims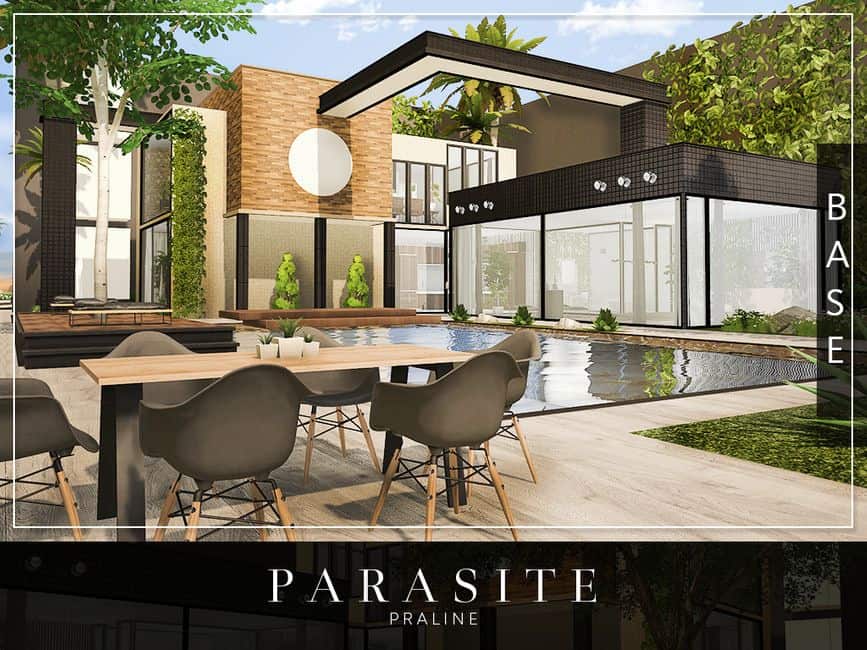 Are you looking for another 2 bedroom and 2 bathroom, modern house, you got it!
The exterior of this home almost feels like a zen spa retreat.
The interior combines attractive modern furniture and accessory pieces, including different styles, patterns, and materials.

20. Modern Barn House for Sims 4 by Lhonna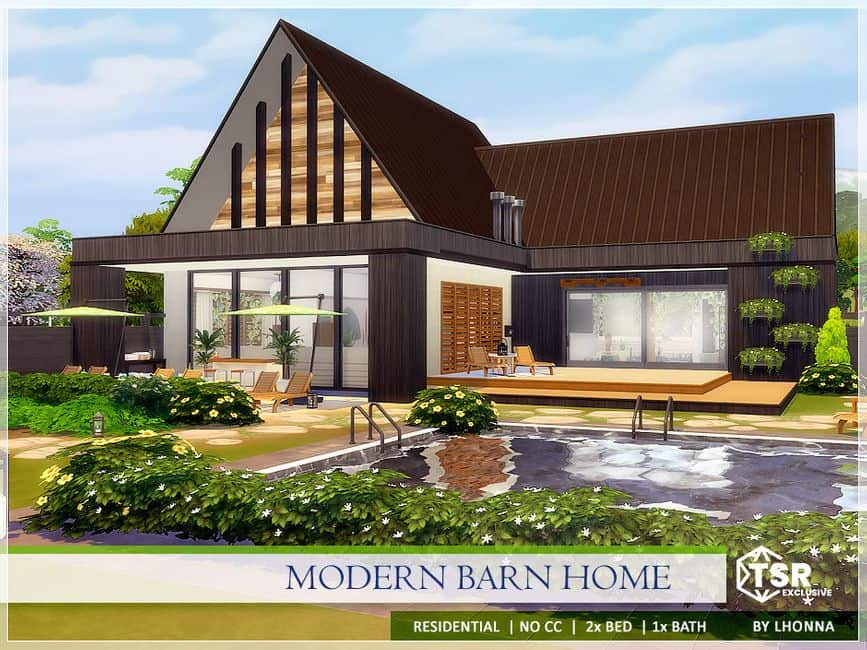 Modern barn houses are one of my favorite style of homes, and it's not different for my country-loving sims.
This gorgeous property sits on a 40×30 lot and has an excellent open concept.
The interior design focuses heavily on wooden pieces, and I love the large sliding barn doors.
The exterior grounds have various seating options and areas for your sims to relax and enjoy.

21. Sims 4 Modern Family Home by Lhonna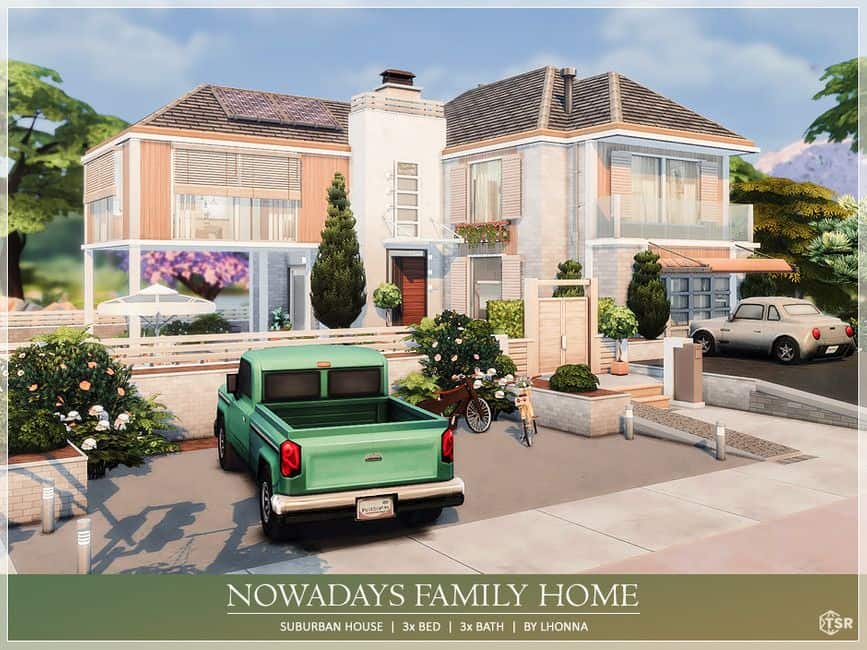 Here we have the perfect contemporary suburban home for your sims family.
With 3 bedrooms and 3 bathrooms, and an office, this home can easily accommodate a family of 5 to 6.
Everything inside is so bright and welcoming; it's a great home to raise a sim family.

22. Sims 4 Seaside Modern Home by ProbNutt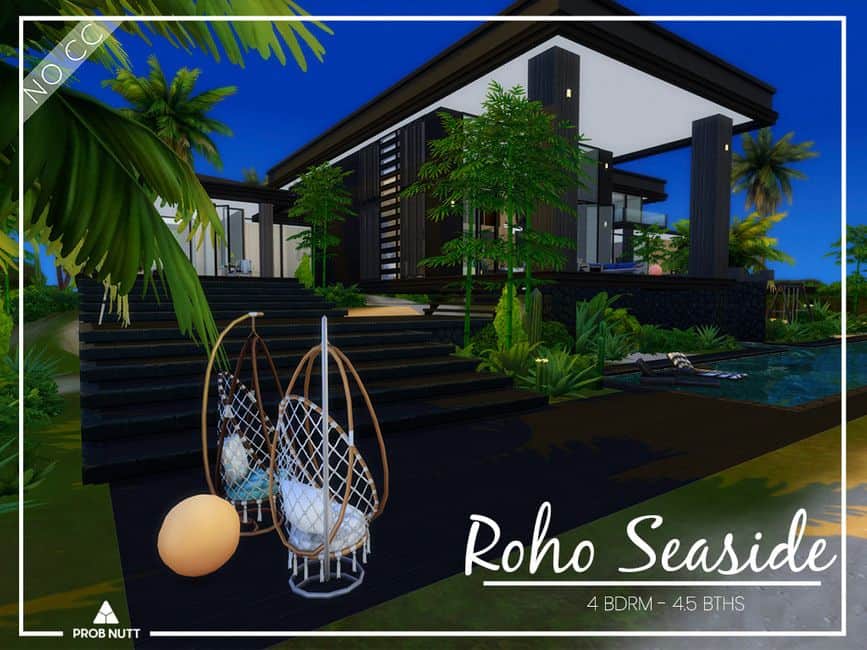 To finish off this collection of sims 4 modern houses is this unique seaside pillar home.
With 4 bedrooms and 4 baths, your sims will have all the space they need.
Surrounded by palm trees and the beach, your sims can enjoy a beautifully modern home while quickly stepping outside into nature.
Sims 4 Modern Houses: Final Thoughts
From barn houses to cliffside mansions, I hope you found a few sims 4 modern houses to use in your newest game.
If you come across any other modern homes you love, send me a quick message below or tag me Tumblr, I'd love to check it out.
And if you need other types of homes, take a look at our related posts linked just below.

Other Sims 4 Gameplay Ideas

And don't forget to share and pin this collection for later!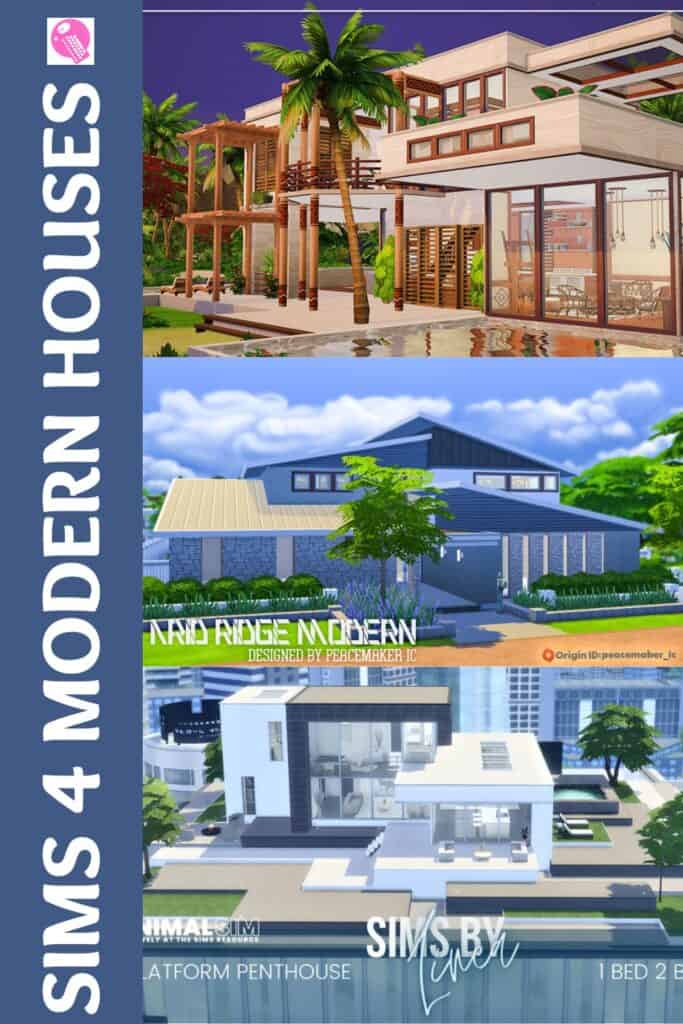 21+ Sims 4 Modern Houses: Pick The Perfect Home