17+ Sims 4 One-Story Houses (Turnkey Homes)
Need a new home? These sims 4 one-story houses have everything you need on one floor.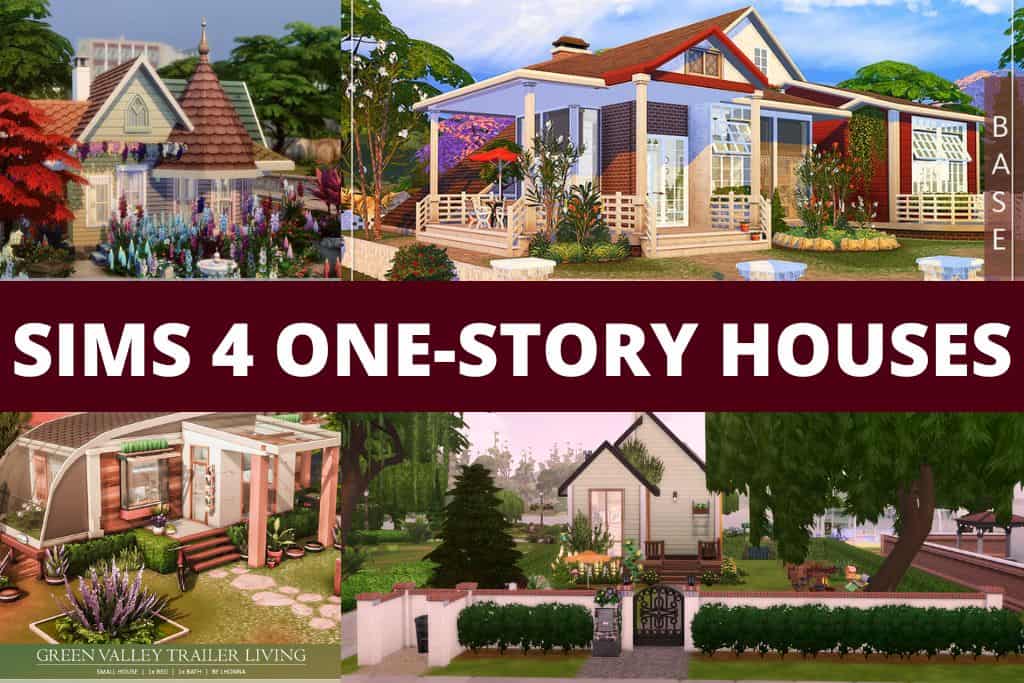 Are your sims ready to switch houses or get a start on life?
There are a ton of unique sims 4 one-story houses available, from tiny cottages to mid-century designs.
Prefer a more modern home? We've found those too!
Let's find your sims some new real estate.
Disclaimer: The following mods are neither endorsed nor affiliated with The Sims, Maxis, or Electronic Arts. Any use of mods (custom content or game mods) should be done with caution and with the knowledge that there may be risks.
Best Sims 4 One-Story Houses
We've put together a mix of homes that can fit in well in various neighborhoods.
Make sure you read the creator's descriptions and requirements before selecting a home.
1. Sims 4 One-Story House by MychQQQ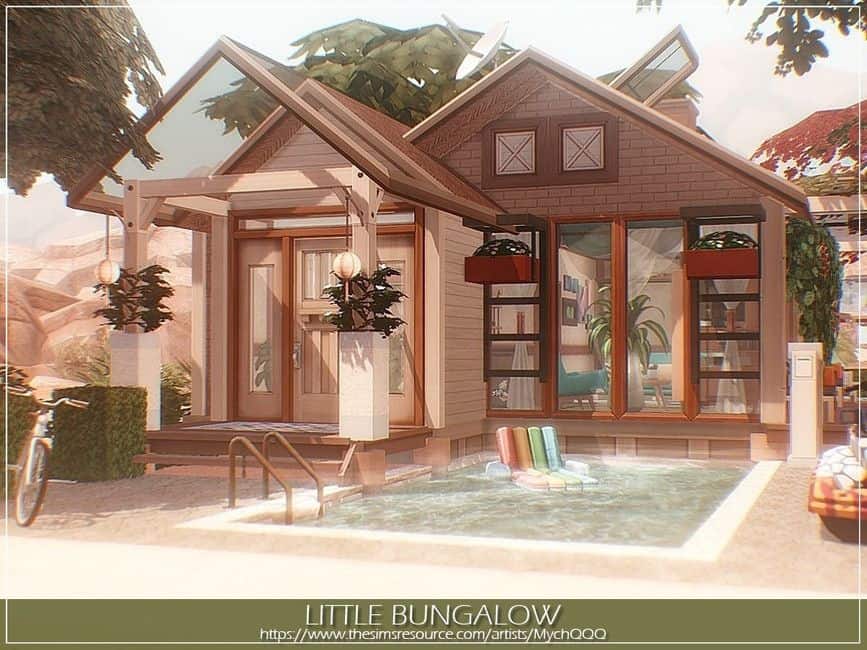 This one-bedroom bungalow is the perfect home for your single sim or happy couple.
I love the architecture with the indoor skylight and outdoor covered patio.
With its inground pool, this one-story home has everything your sims need to settle in comfortably.

2. Base Game One-Story House by Bidomaudo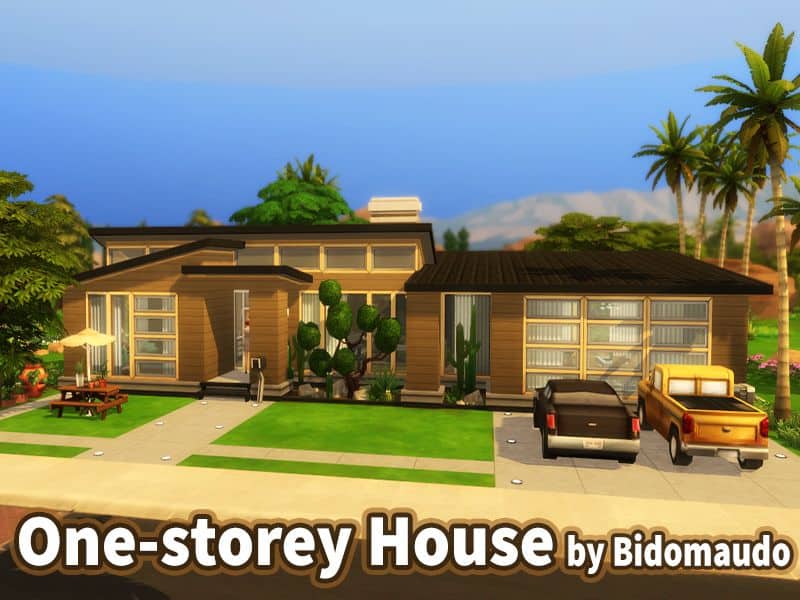 This sims 4 one-story house is ideal for a bigger sims family.
It comes with 3 bedrooms and 3 bathrooms (so convenient).
Plus, with its open concept floorplan, the whole family can easily share the living room, painting studio, and kitchen.
Love the outdoors?
This gorgeous lot comes with a small pond surrounded by greenery.

3. Sims 4 One-Story Cottage by SIMSBYLINEA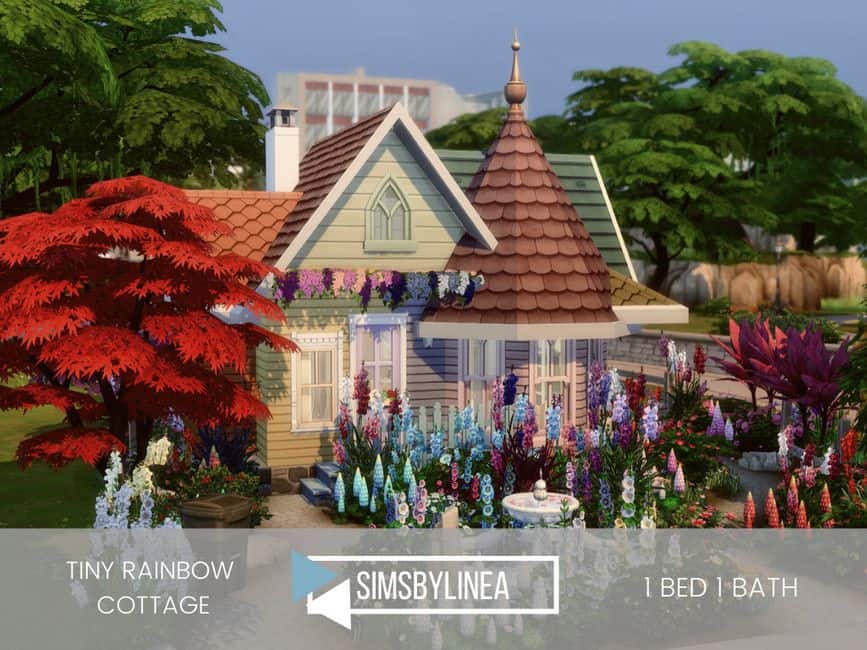 This beautiful tiny cottage has to be one of the most charming houses I've encountered.
Colorful flowers and plants surround the exterior of the cottage.
And the interior is designed equally well; it's the perfect tiny house for a one-person household.
Whether your sims need to work from home or relax reading a book, there is a small nook for everything.

4. One Story House for Sims 4 by Pralinesims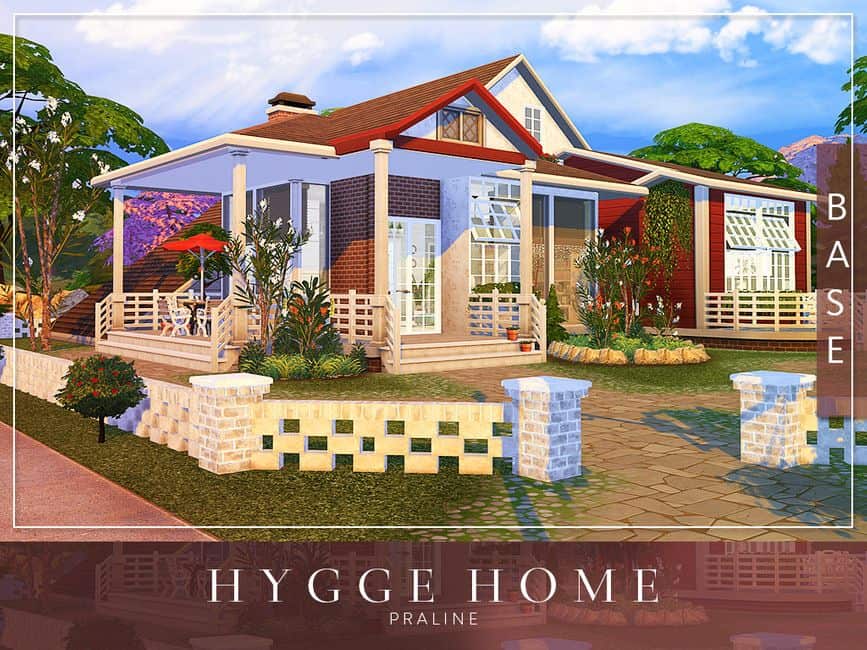 Are you looking for a classic wooden suburban home for your sims family to move into?
The exterior has classic red and white trim, not to mention the white outdoor railings.
This two-bedroom home is beautifully decorated with modern furnishings, and I love the brick island swatch for the kitchen.

5. Modern Sims 4 One-Story Cottage by Rirann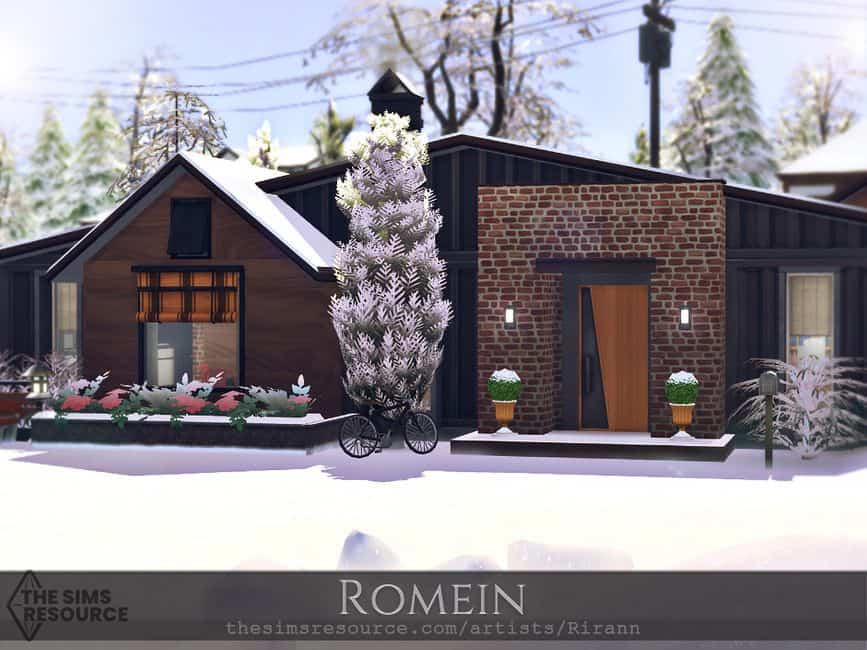 This dark wood and brick cottage blends suburban and modern living into one.
The home's exterior mixes various materials, creating a unique and stylish cottage.
The interior is also a mix of styles, including metals, wood, brick, patterns, and sleek lines.
If you prefer a color palette focused on tones of brown, this is the sims 4 one-story house for you.

6. Wooden Sims 4 Bungalow by Savannahx987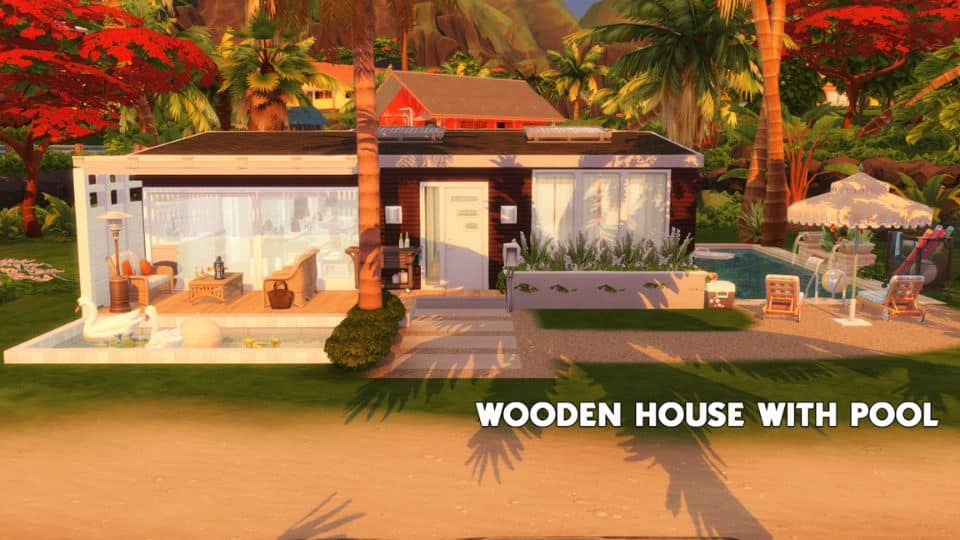 This wooden residential home seems inspired by the rectangular houses in many Hollywood neighborhoods.
This house would fit right in with its large windows, wooden front door, exterior pool, and surrounding greenery.

7. Sims 4 Green Valley Trailer by Lhonna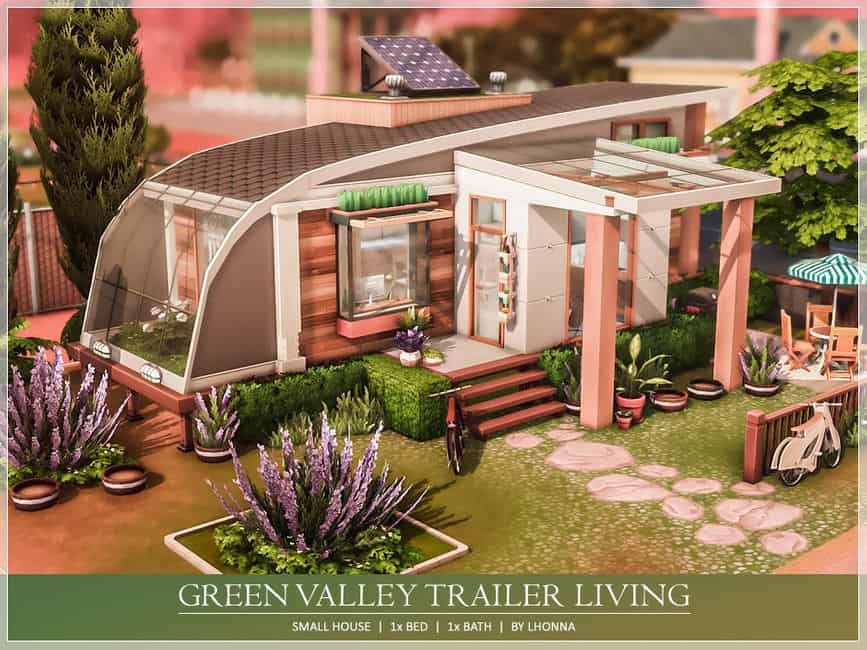 I love this trailer home with what appears to be a build-on-porch section.
The exterior has everything your sim could need to relax and eat dinner.
The interior design gives off a modern feel, but the furniture details also have a mid-century touch.

8. Tiny Sims 4 One-Story House by Dear Llama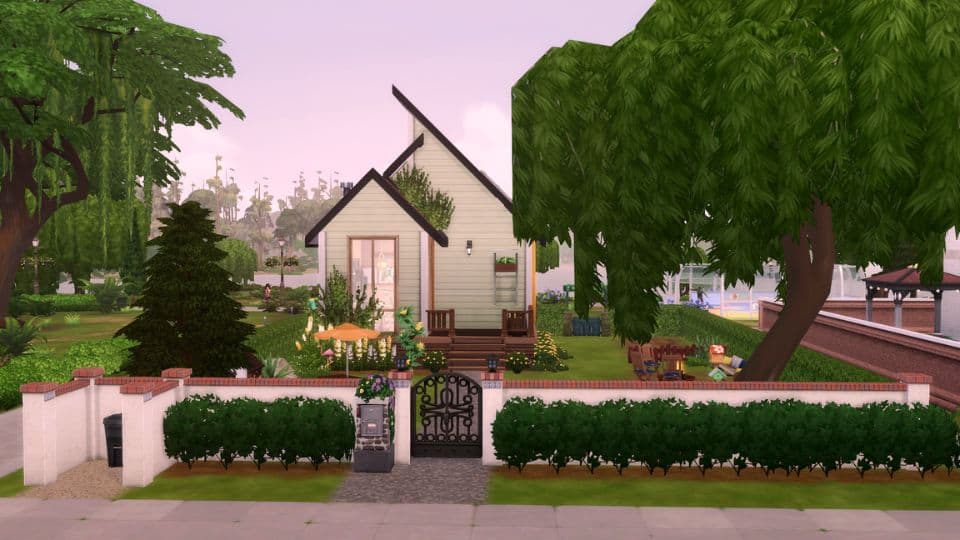 Another picturesque tiny house awaits your sims.
The exterior and landscaping of this sims 4 one-story house is adorable.
The interior floorplan is nicely divided, with the bedroom having a nice private space away from the main living area.

9. Springscape Home for Sims 4 by SIMSBYLINEA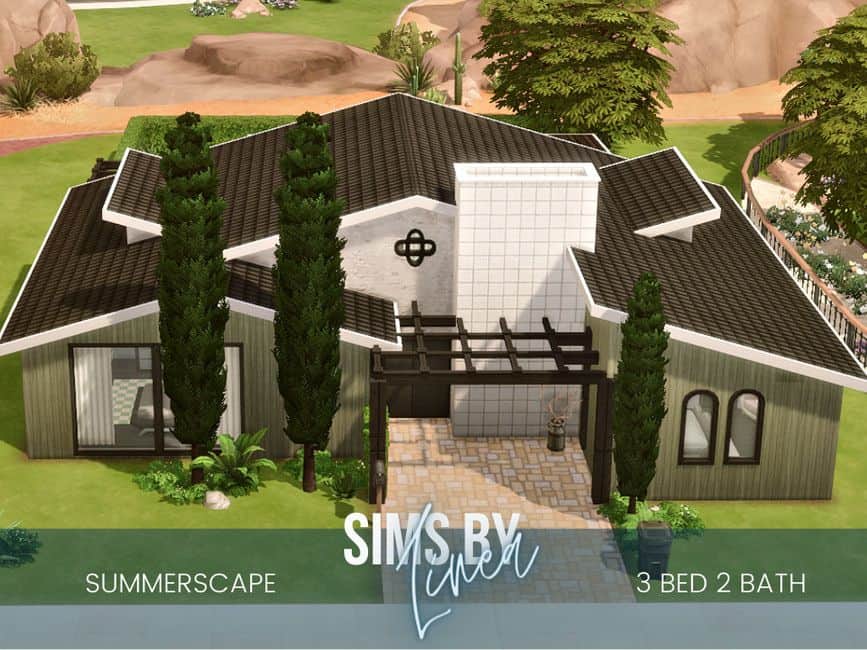 Do you need a larger home for your growing sims family?
This remodeled one-story house offers a contemporary interior with many black-and-white features.
The 3 bedroom house can definitely accommodate your newest family members.
With its sizeable inground pool and patio, your sims family can enjoy the outdoors too!

10. Floating 1-Floor Sims 4 House by Pralinesims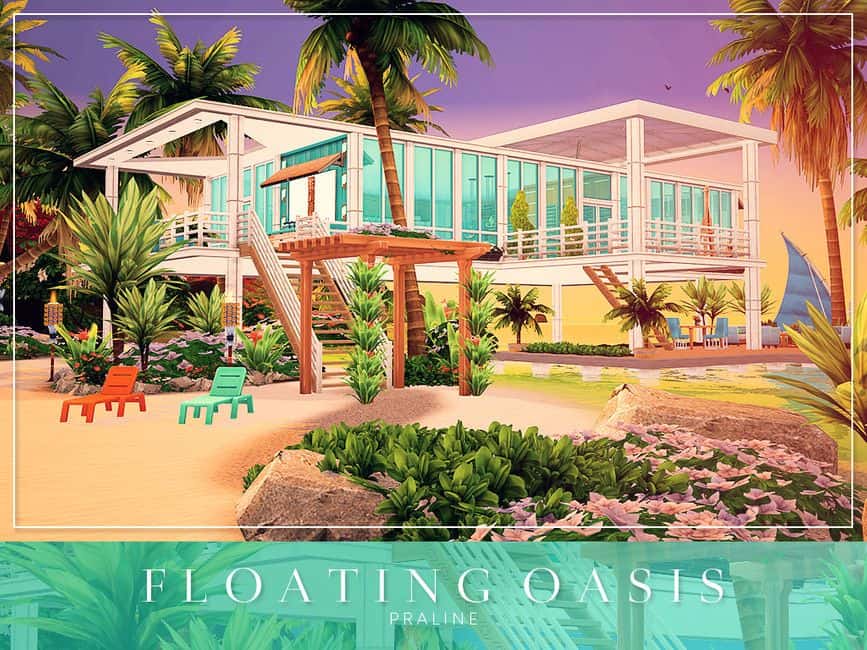 If your sims prefer spending their days in a tropical location, this floating home is ideal for seaside living.
This house serves both island and luxury living in one.
The interior furnishing includes various wooden and rattan pieces mixed with colorful fabrics for the carpets and cushions.

11. Sims 4 Modern One-Layer House by lenabubbles82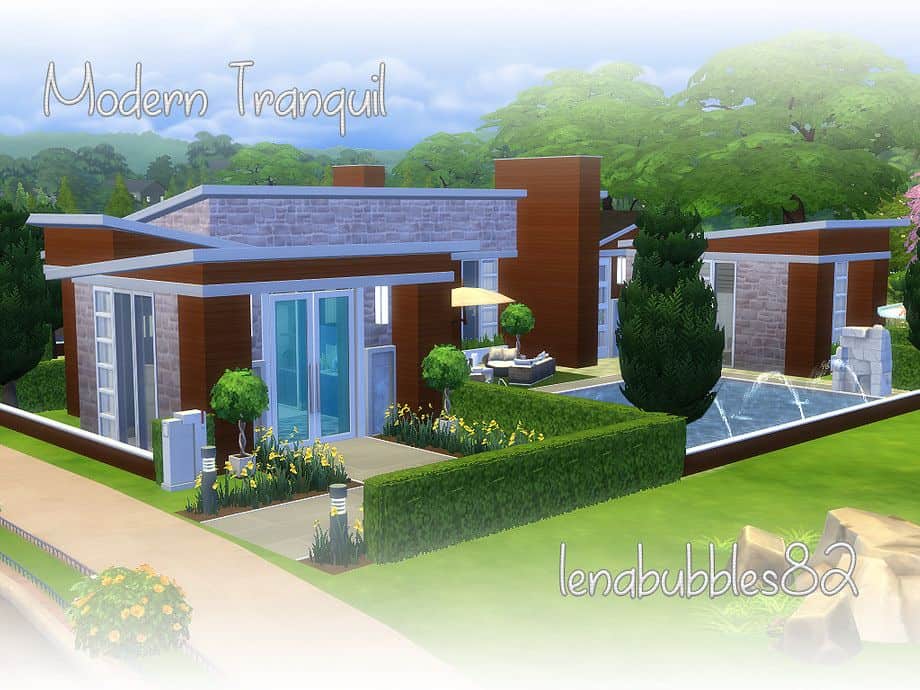 This sims 4 one-story house is all about a modern exterior and interior.
The exterior focuses on brown wood and lighter brick with an attractive architectural design.
The house has a beautiful inground swimming pool and a stylish water fountain at the front.
The inside is every interior designer's dream, with vibrant carpets, wallpaper choices, and touches of painted brick.

12. Sims 4 One-Story-Houses by Ratboysims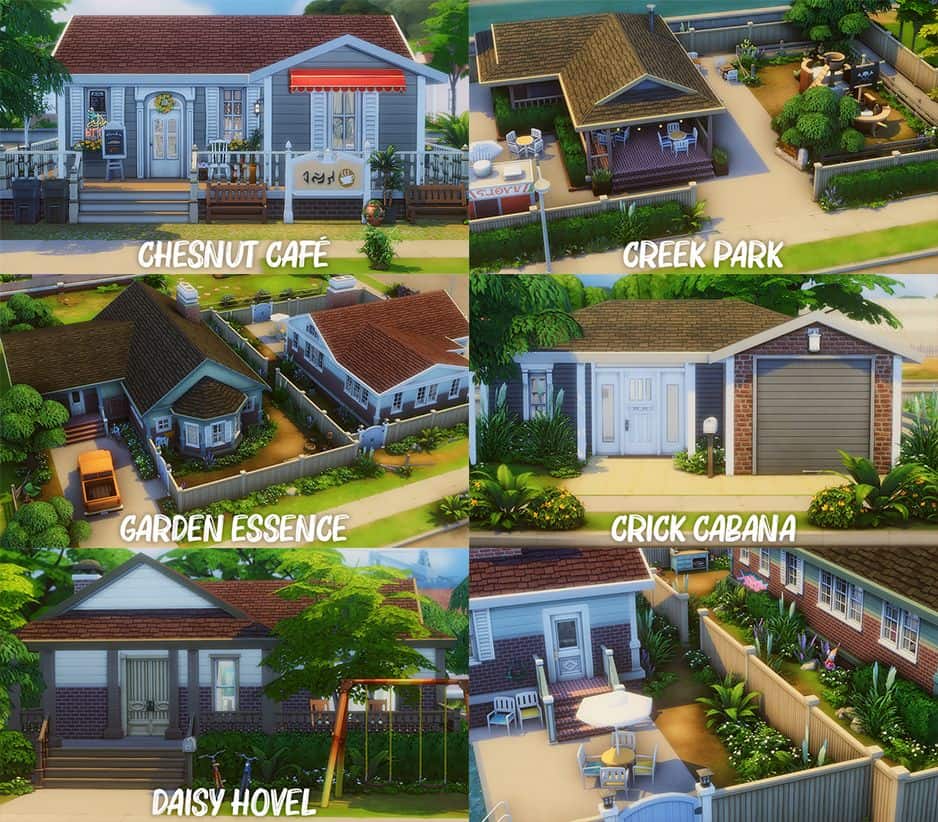 This set of builds puts together the perfect suburban neighborhood.
From the window shutters, picket fences, kids' playsets, and home gardens, your sims can pack their bags and move in.

13. Sims 4 Tiny Home for 8 by Miss Ruby Bird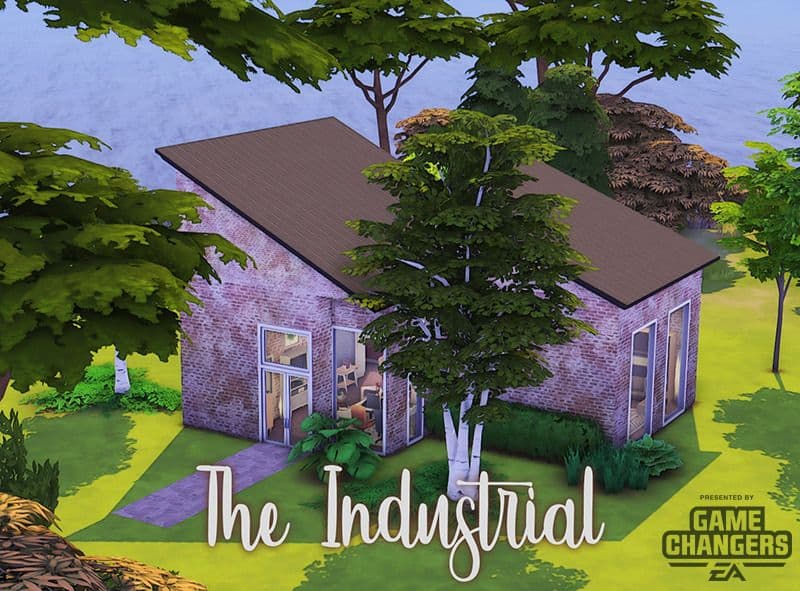 This one-story home was created for 8 sims as a challenge to the creator.
The painted brick exterior and the slanted roof have an industrial design.
The interior has an open concept for the communal spaces.
The bedroom space is designed for murphy beds, so you'll want to be careful with those to avoid any accidental casualties.

14. Trailer Home for Sims 4 by viiavi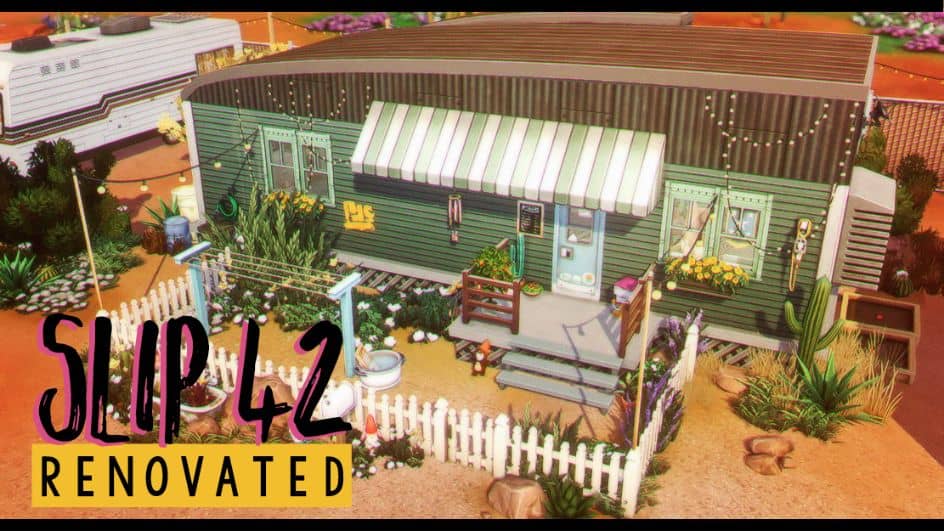 We have another trailer home here, but it's more eclectic, with its furnishing leaning toward the mid-century.
This home has one bedroom and one bathroom, and the exterior has a small front garden with a small white picket fence.

15. Sims 4 One-Story Hut by Lhonna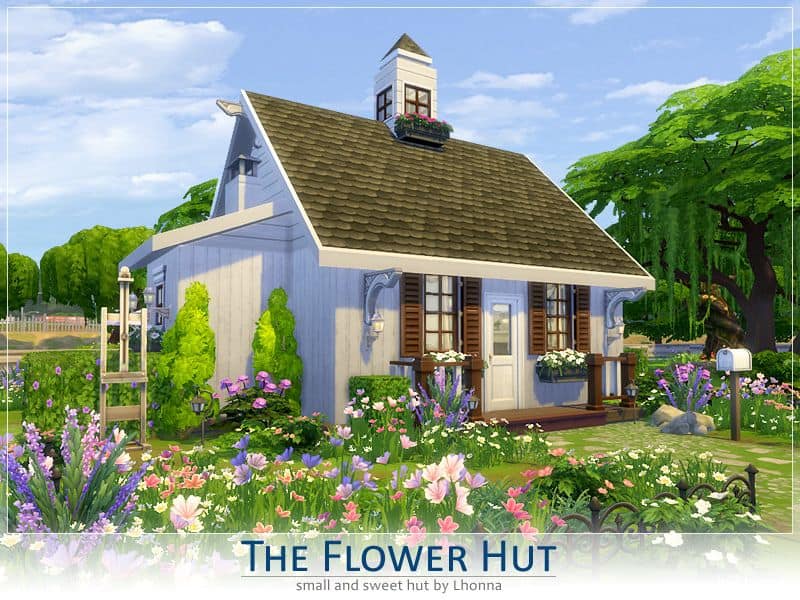 A beautiful garden of flowers surrounds this quaint little hut.
The interior mixes cottage-style and Victorian-era furnishing to create a charming house for your solo sim household.
This open-concept home has everything your sim will need to live comfortably.

16. Large One-Story Family Home by SIMSBYLINEA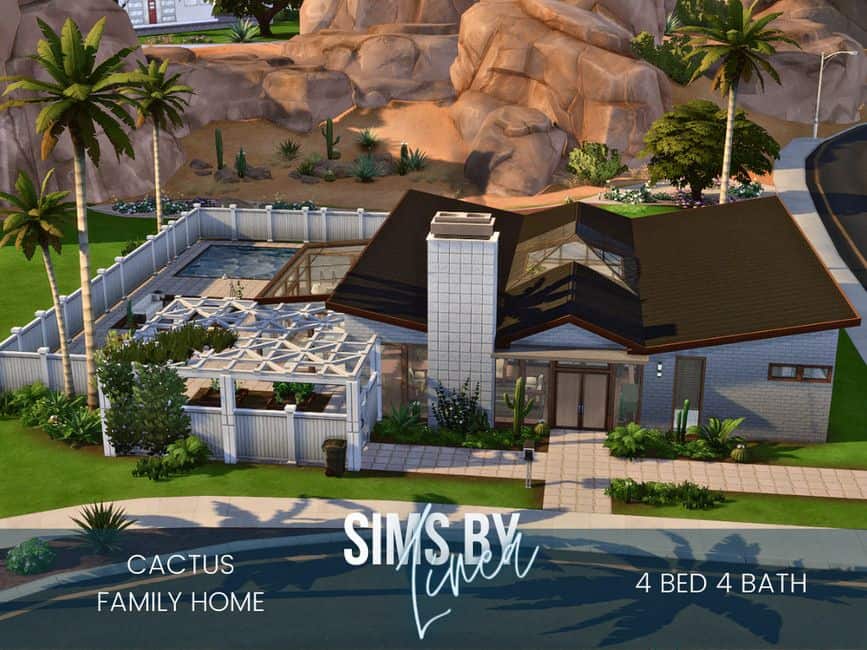 Need a one-storied house for a larger household?
This lovely bungalow comes with 4 bedrooms and an impressive 4 bathrooms too.
The house is designed with a mid-century touch and has a homey feel.
The exterior has a nice seating area, a small garden, and a large swimming pool.

17. Residential Sims 4 One-Story Houses by Savannah987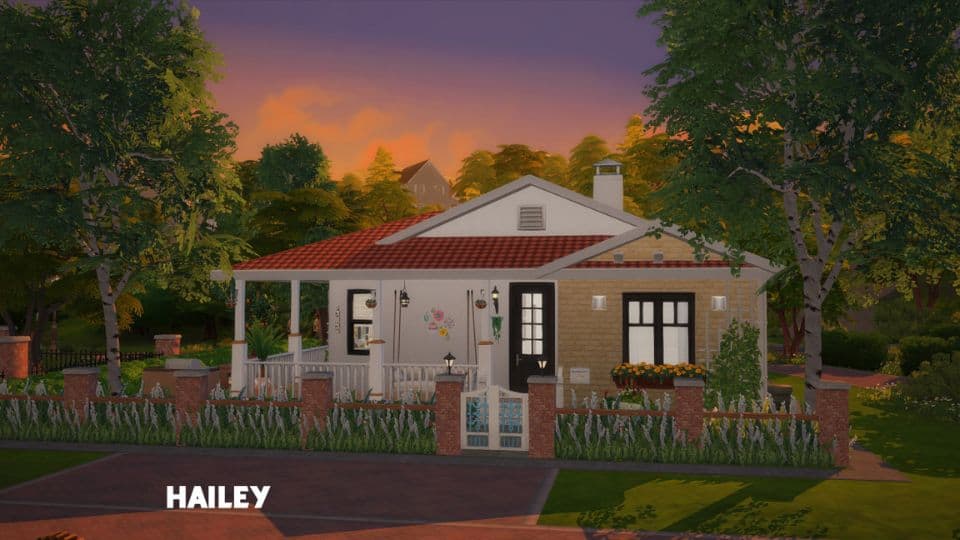 This one-story residential bungalow has 3 bedrooms and two bathrooms.
The layout is well thought out, allowing maximum privacy between the bathrooms and living areas.
Its white pillars and small fence make it the perfect suburban home for your sims.

18. Mid-Century Sims 4 One-Story House by Pralinesims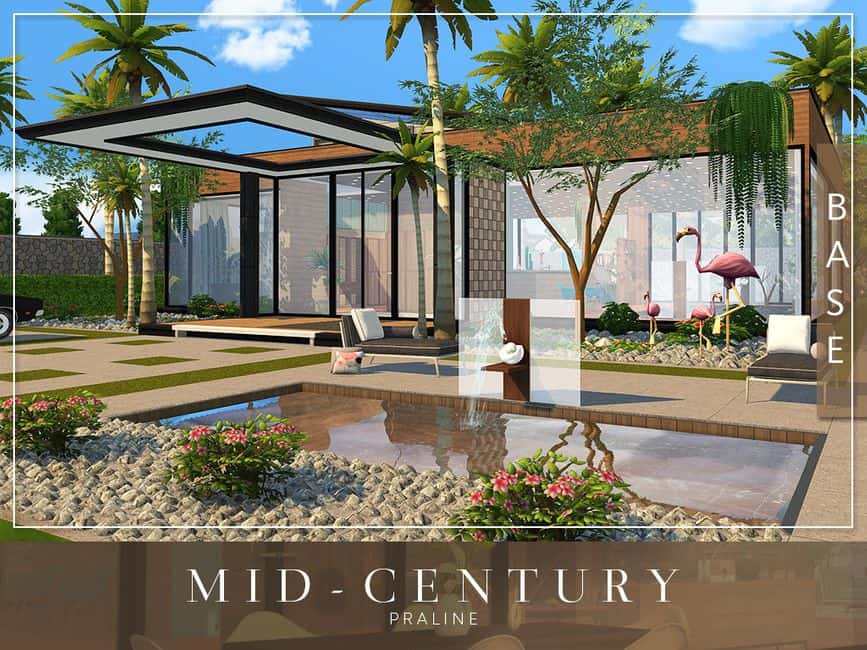 This mid-century modern house focuses on glass windows surrounding the property.
The interior is a mix of darker tones and colorful pieces.
The wood and tiles are brown and dark greys, while the furniture pieces are vibrant.

19. One-Story Home for Sims 4 by JuliaFilms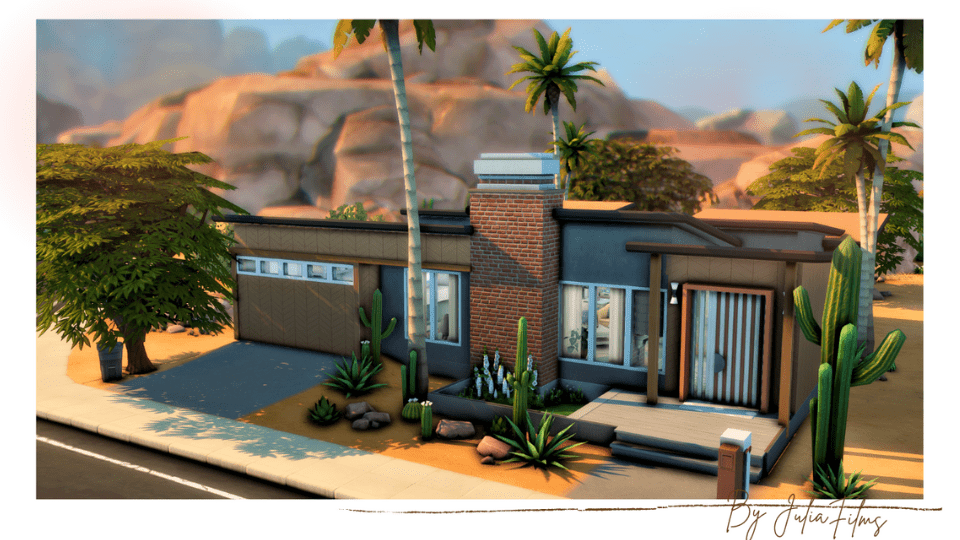 This smaller home gives off 70's vibes with its brick wall down the front.
The exterior has seating options, a fire pit, and monkey bars.
The interior is light, bright, and comfortably furnished.
There are 2 bedrooms and one bath.

Sims 4 One-Story Houses: Final Thoughts
From tiny starter homes to larger bungalows, sims 4 one-story houses come in lots of sizes.
Pick the home that will accommodate your sims family and their lifestyle too!
If you have any questions or suggestions, feel free to leave us a comment below or tag us on Tumblr.
More Sims 4 Gameplay Lists

And don't forget to share and pin this collection for later!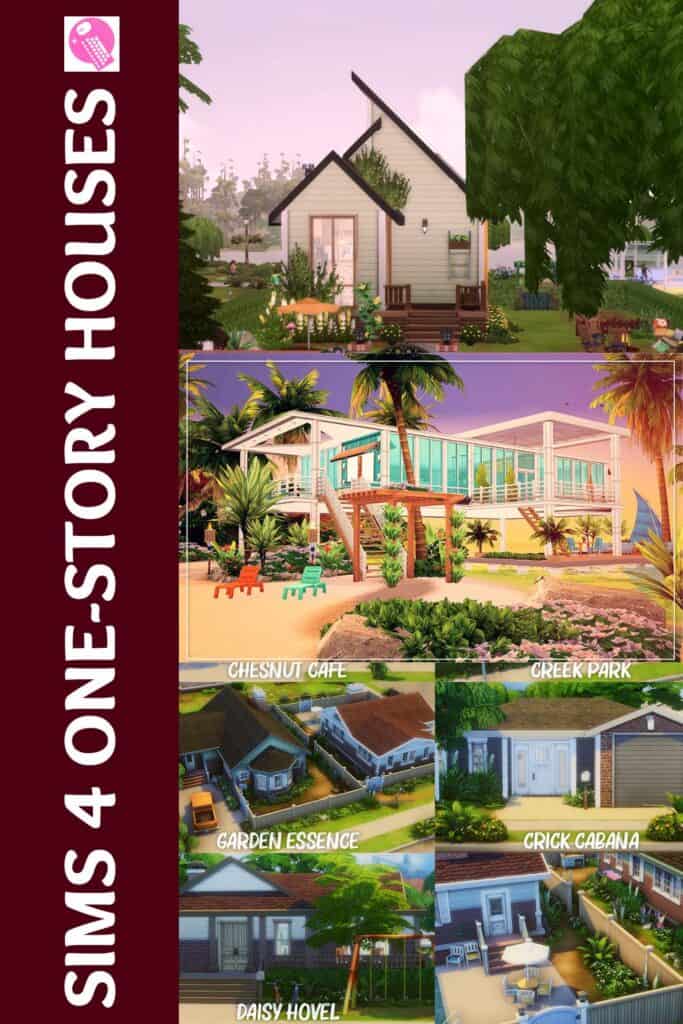 17+ Sims 4 One-Story Houses (Turnkey Homes)