19+ Sims 4 Mansions: For A Deluxe Lifestyle
Let's sims live in style with this collection of sims 4 mansions!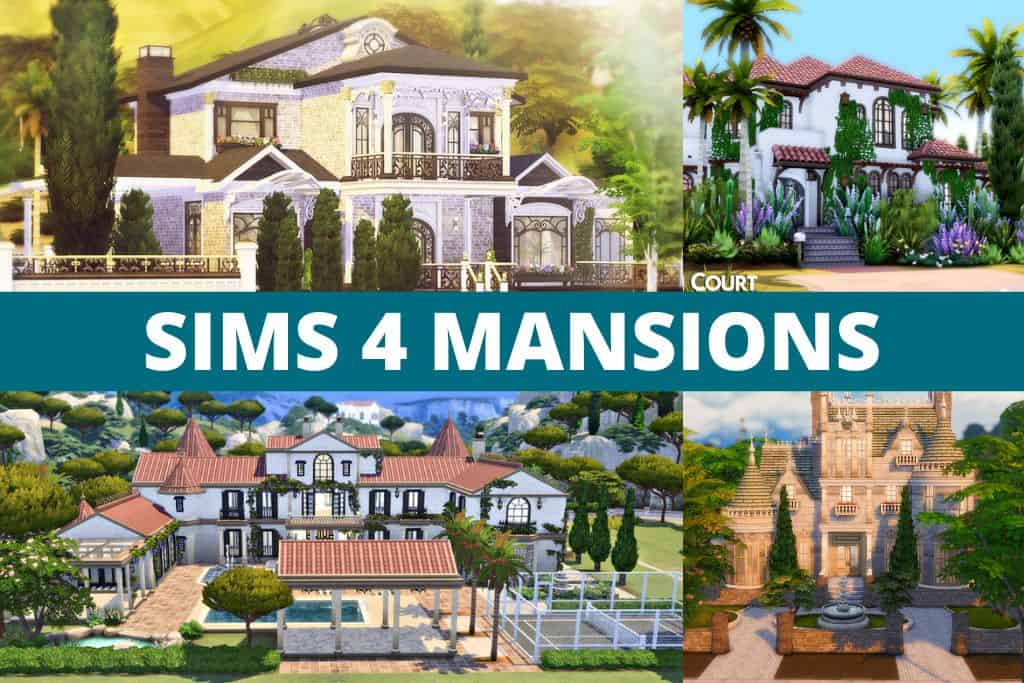 Amazing houses come in so many different sizes and styles.
From adorable cottages to modern homes, each sims family has different needs.
When it comes to sims 4 mansions, there are just as many architectural styles to choose from.
We've put together a mixed collection of some of our favorite mansions for you to browse through.
Oh, and if you need other types of houses, you can check out some of our other posts;
Disclaimer: The following mods are neither endorsed nor affiliated with The Sims, Maxis, or Electronic Arts. Any use of mods (custom content or game mods) should be done with caution and with the knowledge that there may be risks.
Favorite Sims 4 Mansions
From historical architecture to modern-style estates, this list of sims 4 mansions has a bit of everything.
As a reminder, always place the downloaded content into the game's Tray folder.
1. Sims 4 Mansions by Peacemaker-IC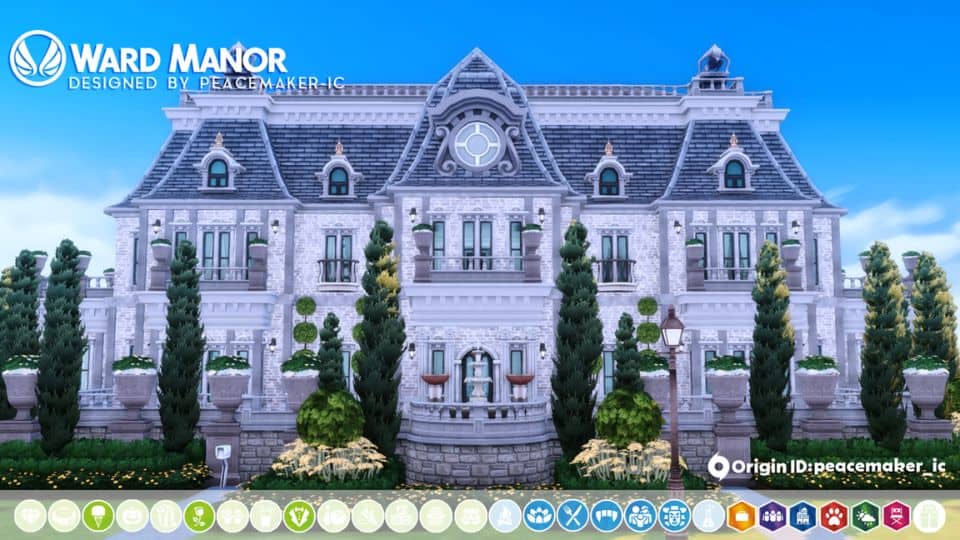 This elegant mansion comes furnished with 5 bedrooms and 6 bathrooms.
The sims 4 manor's white-colored interior design brightens every room, making it clean and chic looking.
It was initially made for The Sims 4: Get Famous Del Sol Valley, but it can fit anywhere with a 50×40 lot size.

2. Arabella Sims 4 Mansion by ProbNutt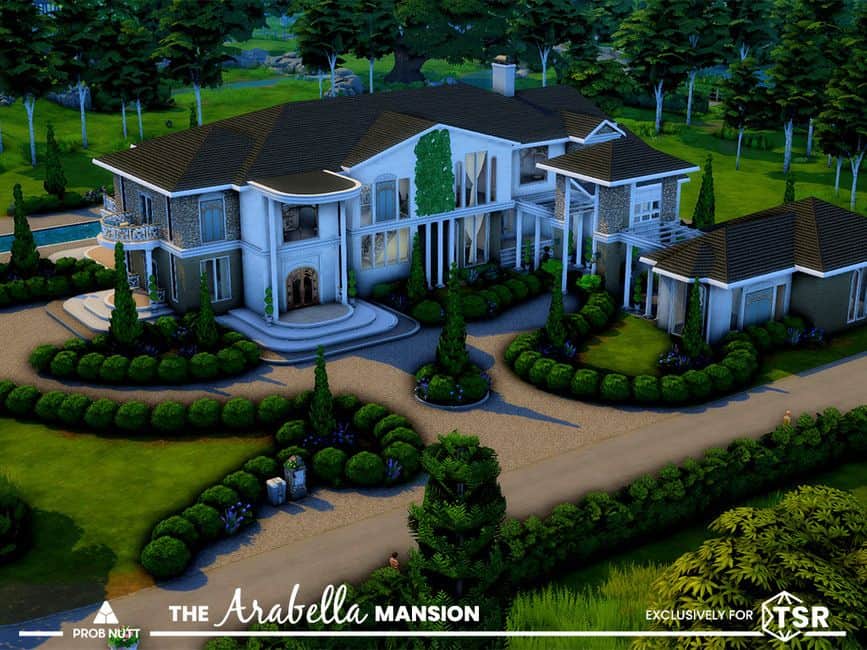 This exquisite home is a 5-bed, 5-bath mansion that is as gorgeous on the inside as on the outside.
The house's landscape has plenty of beautiful shrubs and evergreen trees.
As for the backyard, it has a large swimming pool that's the length of the house.
Ideally, this sims 4 mansion home would go in Windenburg from The Sims 4: Get Together expansion pack.
If you wish to place it elsewhere, make sure your lot size is at least 64×64.

3. Sims 4 Mediterranean Mansion by SIMSBYLINEA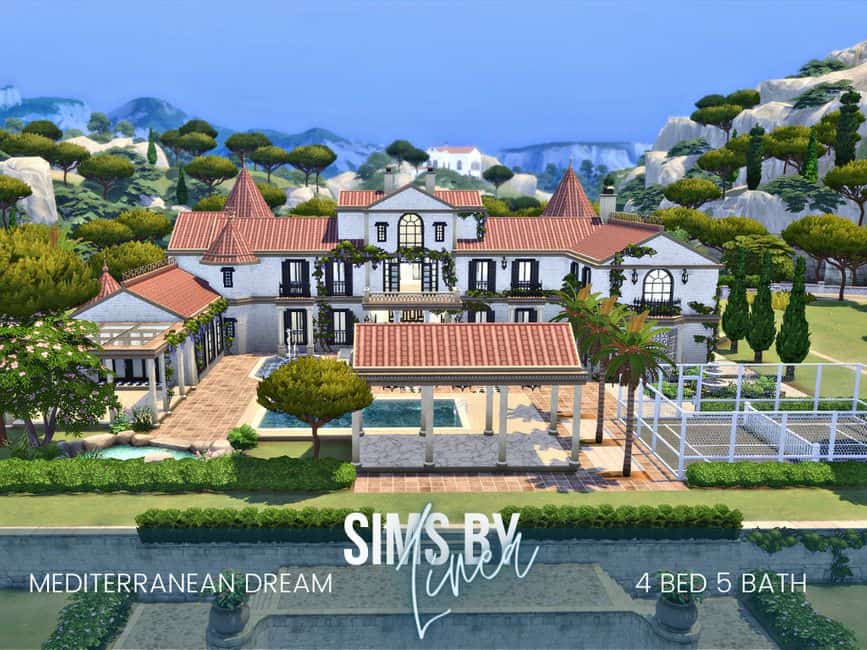 If you want sims 4 mansions with a Mediterranean style, this lovely H-shaped home is worth a look.
This mansion has 4 bedrooms, 5 bathrooms, and 2 garages.
The main living area is on the east wing, while the office and one bedroom are on the west side of the house.
All the other bedrooms are located on the second floor.
As for the exterior, it has a few ponds, fountains, a decent-sized pool, plus a tennis court.

4. Brook Sims 4 Mansion by melapples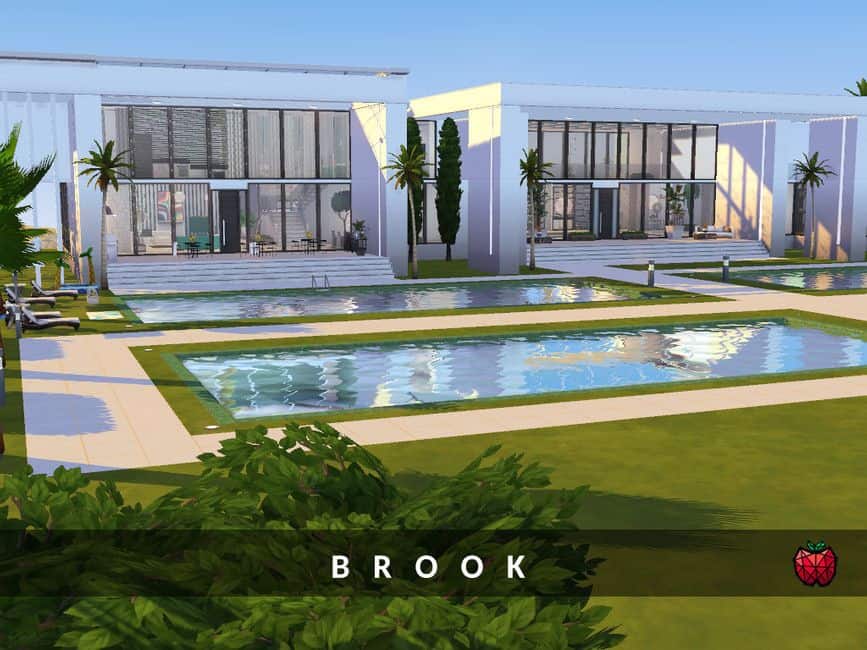 For a more modern-style dream house, grab this 5 bedrooms, 5 baths mansion home.
The house itself is very well-decorated and stylish.
It has a few living rooms, a gym, and an office.
Where this sims 4 mansion stands out is with its exterior design.
There are pools on both levels of the house.
On the second floor are a swimming pool, a grill, a dance floor, and a bar.
This sims 4 mansion home is perfect for a sim family who loves entertaining.

5. Sims 4 Japanese Mansion by Pralinesims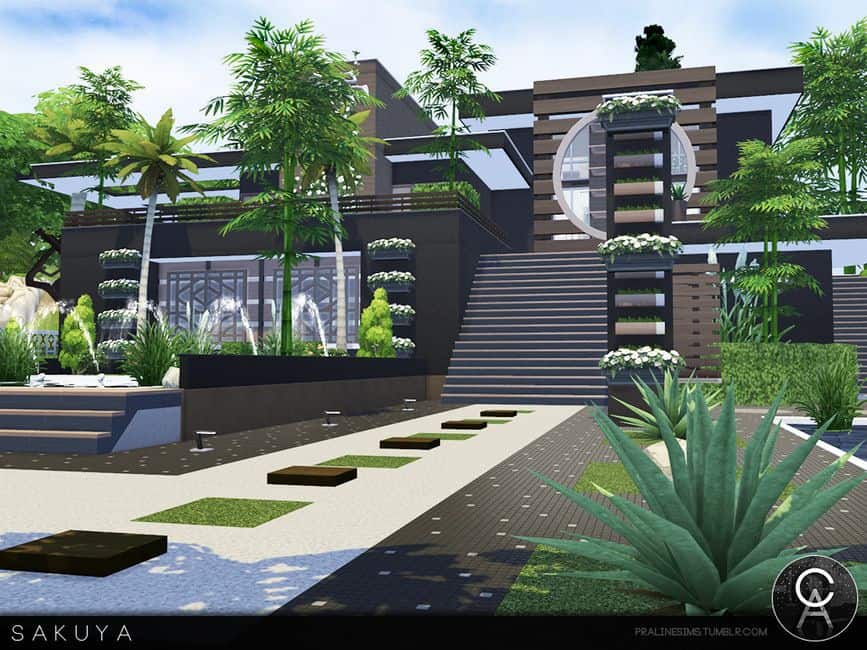 For a modern and zen-looking home, you'll love this Japanese-style mansion.
You'll need a lot of at least 50×50, and it comes fully furnished.
It's a 5-bedroom, 2-bath home with a dark-wood-colored interior design.
The overall feel of this sims 4 mansion is a soothing, relaxing home resembling a luxurious spa.

6. Sims 4 Manor House by Harrie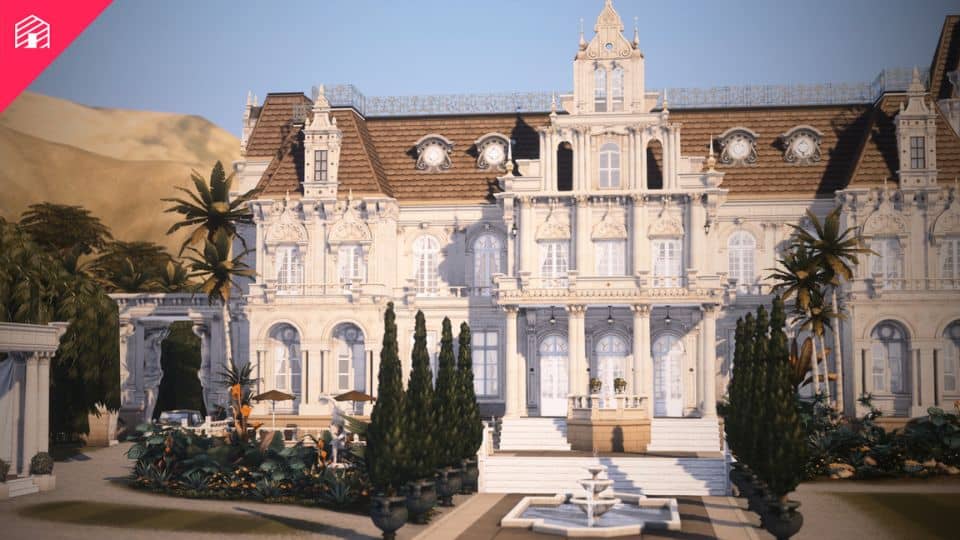 If you enjoy English-styled homes, you'll want your sim household to move into this great house.
This mansion is elegantly decorated, as you would expect from a classic manor house.
There are 3 bedrooms and 5 bathrooms, as well as gorgeous living areas.
You'll need a 64×64 lot to fit in this sims 4 mansion build.

7. Sims 4 Contemporary Mansion by Summerr Plays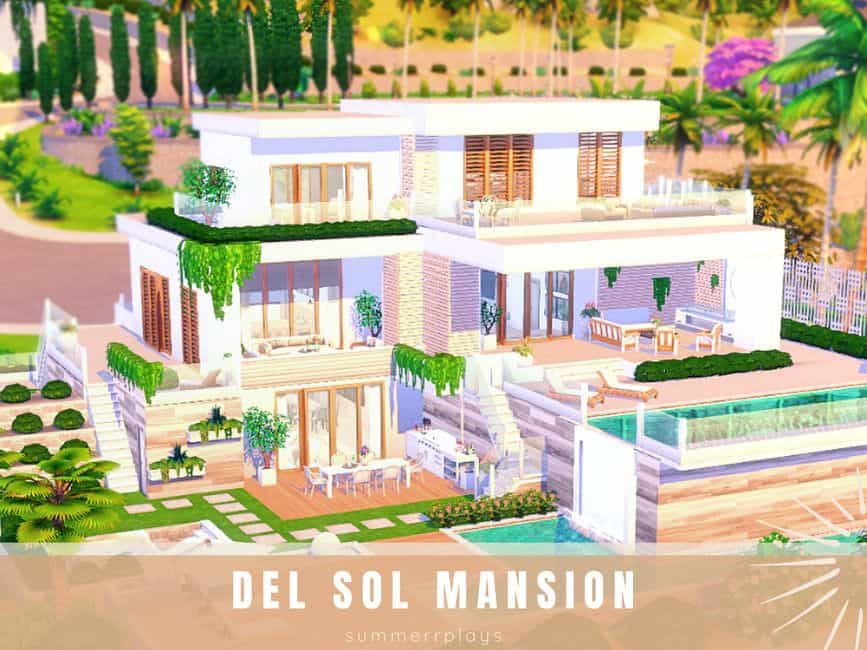 This splendid sims 4 mansion has 3 floors, which include 3 beds and 5 baths.
On the first floor, you get an open-concept living area, movie room, workout room, and spa-like bathroom.
There's also an office that counts as a bedroom.
The second floor has a bedroom and a living area, while the third floor has a kitchen and another bedroom.
Its light-colored interior design makes everything look bright and roomy.
The land requirement for this lot is 50×40.
With its beautiful terrace and grounds, this mansion would look great in a hot and tropical location.

8. Sims 4 Stylish Mansion by ProbNutt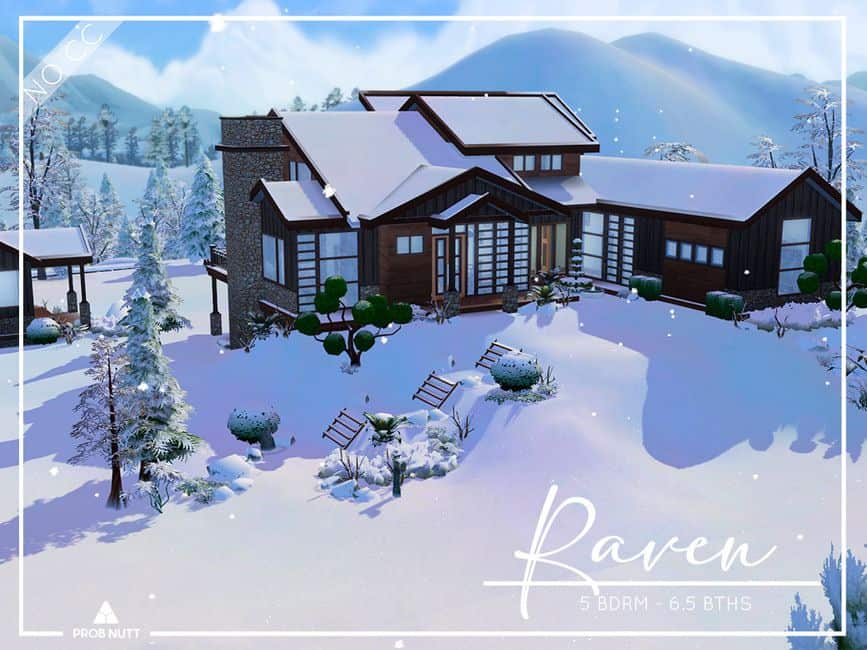 Check out this fully furnished 5-bedroom, 6.5-bath home.
It's an ideal 3-story house for Mt. Komorebi in The Sims 4: Snowy Escape EP.
This large and cozy estate resembles a modern chalet or lodge.
The sims 4 mansion also includes a home gym, office, art room, and much more.
Make sure your lot is at least 50×50 in size.

9. Sims 4 Tudor Mansion by Peacemaker-IC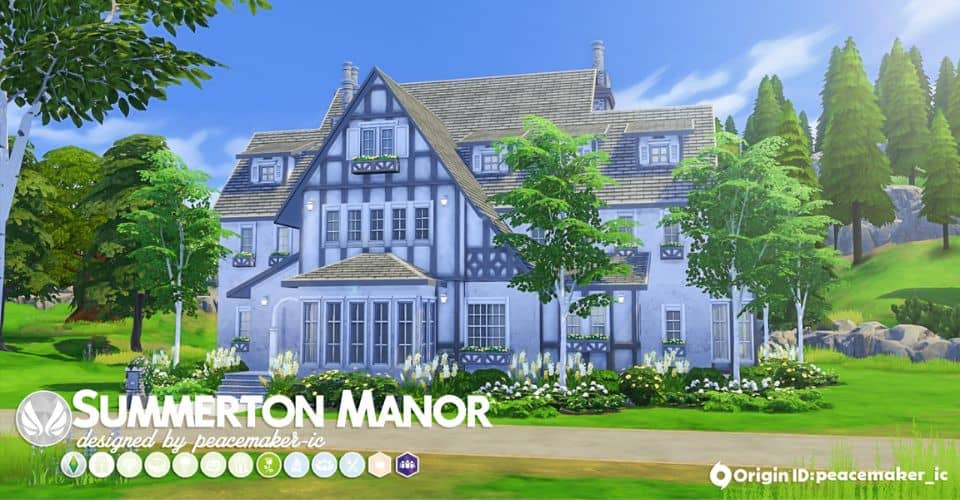 This house's charm comes in part from its English Renaissance Tudor appearance.
This sims 4 manor has 5 bedrooms and 6 bathrooms and fits on a 40×30 lot-sized land.
You get an unfurnished 2-story mansion, with one guest suite and study on the first floor, and the remaining bedrooms are on the top floor.

10. Sims 4 Luxury Mansion by Sarina_Sims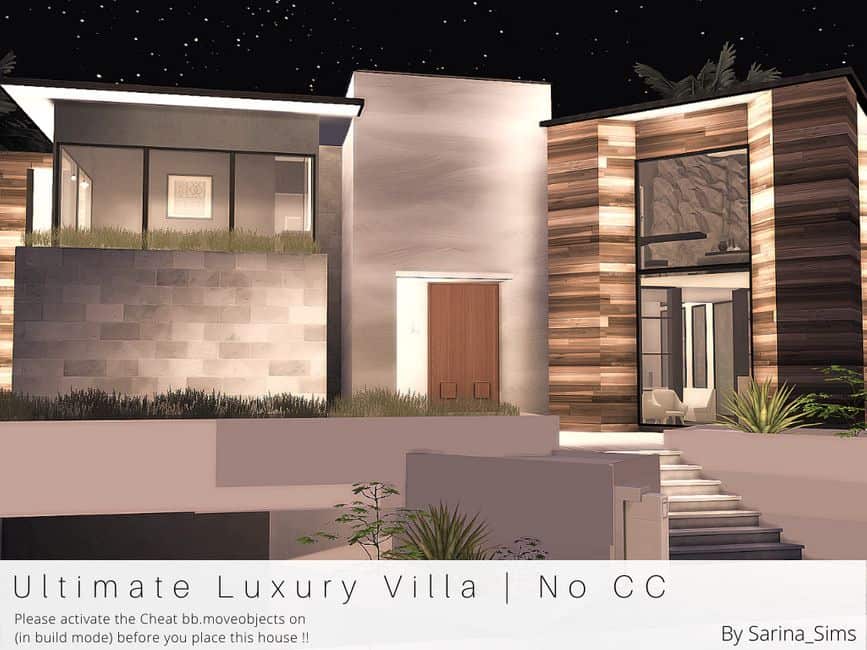 For a luxurious sims 4 mansion, snag this 6 bedrooms and 5 bathrooms; you can't go wrong with this home.
Its trendy dark-toned interior design and stone-textured walls raise the bar on elegance.
Plus, your sims can always relax in their whirlpool, yoga room, or around the gorgeous outdoor sitting area.
You'd need a 50×40 lot to this fit this sims 4 luxury villa.

11. Palm Tree Mansion for Sims 4 by SIMSBYLINEA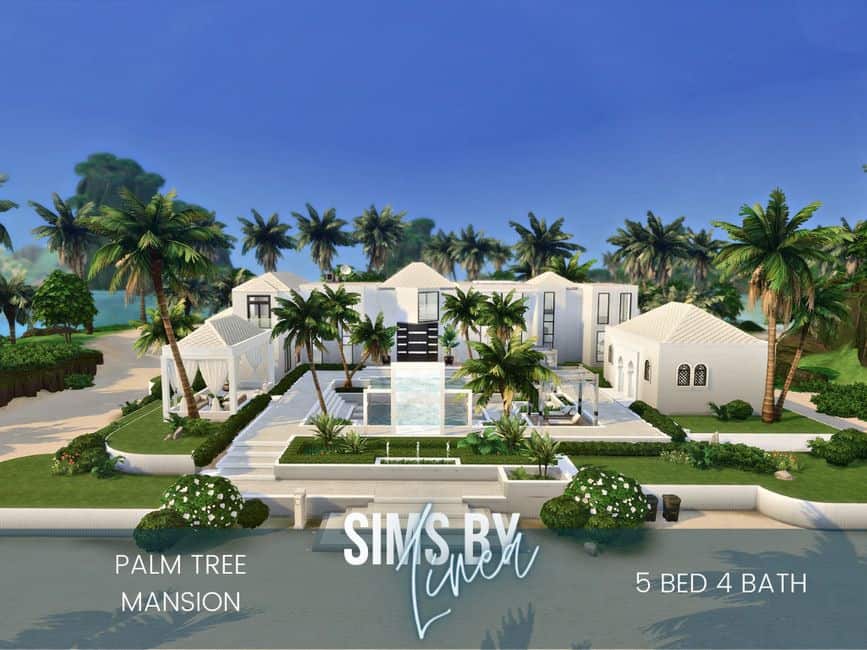 Are you looking for resort-looking sims 4 mansions?
This dream home is what you'd typically expect from a luxurious tropical vacation spot.
The center courtyard space is beyond beautiful, and the sauna and spa area take everything to the next level.
The partially-furnished two-story mansion home comes with 5 bedrooms and 4 baths.
Ideally, it was made to be placed in Sulani from The Sims 4: Island Living, but any 50×50 lot will do.

12. Abbey-Inspired Sims 4 Mansion by VirtualFairytales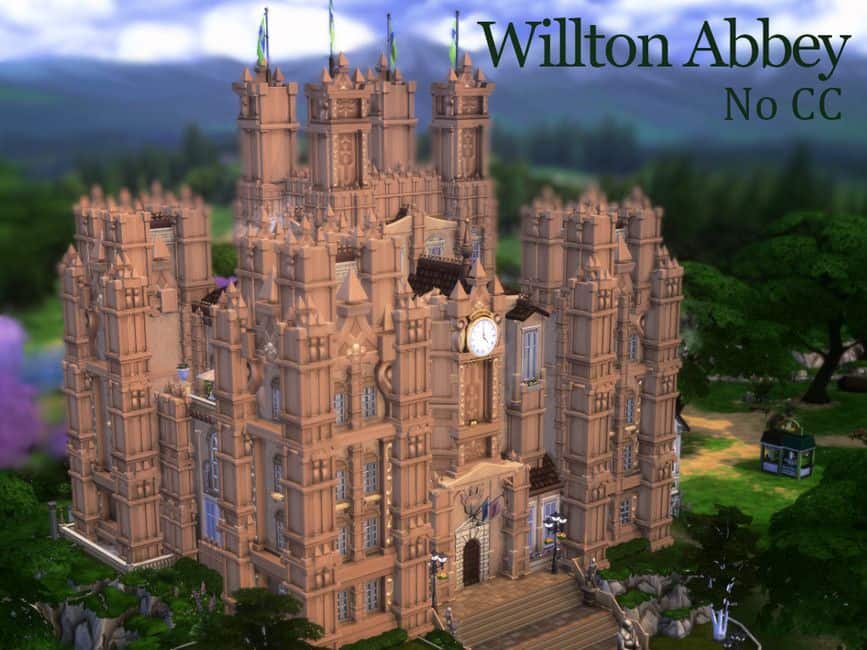 The Downton Abby building from the popular British historical drama inspired this mega-mansion.
It has a significant number of rooms spread across its 4 stories.
There's enough room for an extensive sim family, with 9 bedrooms and 4 bathrooms.
Your sim household will feel like royalty living in this mega mansion.

13. Sims 4 Mediterranean Mansion Home by Rope's Workshop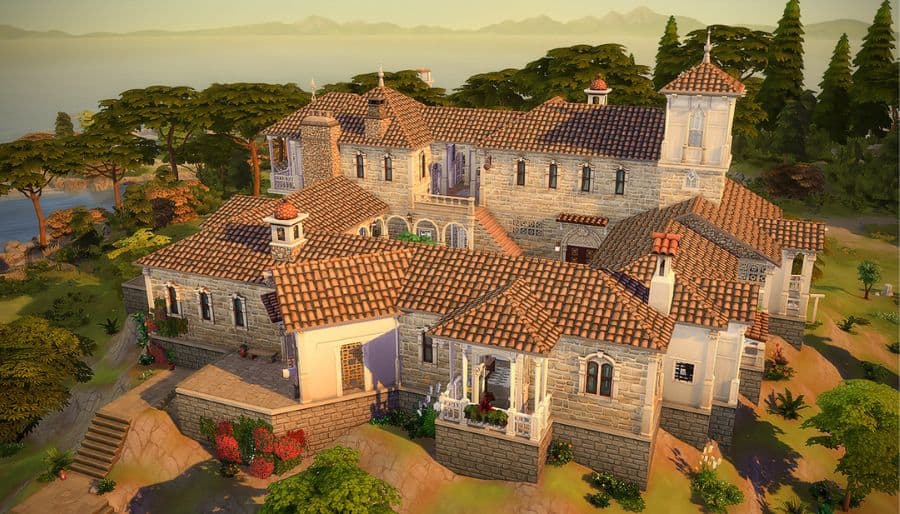 This home is another excellent option for a Mediterranean mansion.
When creating this place, the creator had monasteries in mind, a unique concept for a luxury-worthy home.
There are 5 bedrooms and 4 bathrooms in this gorgeous estate.
You'll need a lot that's 64×64 to build this beauty.

14. Sims 4 Old Mansion by Ineliz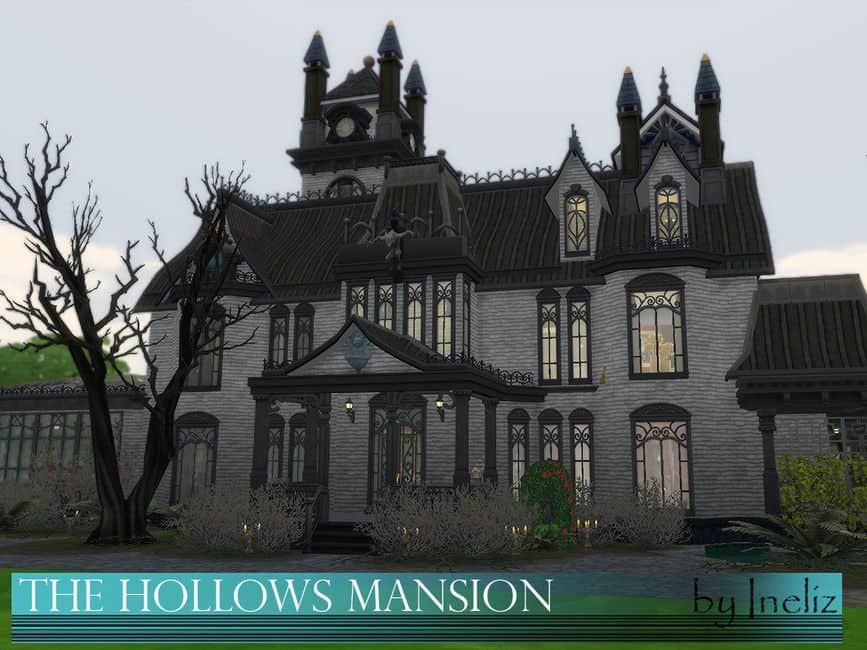 If you're looking for occult-style sims 4 mansions, this Addams Family-inspired home will do the trick.
There are 3 beds and 3 baths in this fully-furnished two-story home.
The overall decoration and design are on point for any occult household.
Make sure you buy an empty lot that's at least 40×30 to get this eerie-looking house.
No custom content has been used in this build; all you need are the required packs.

15. Mount Benchmark Mansion for Sims 4 by ProbNButt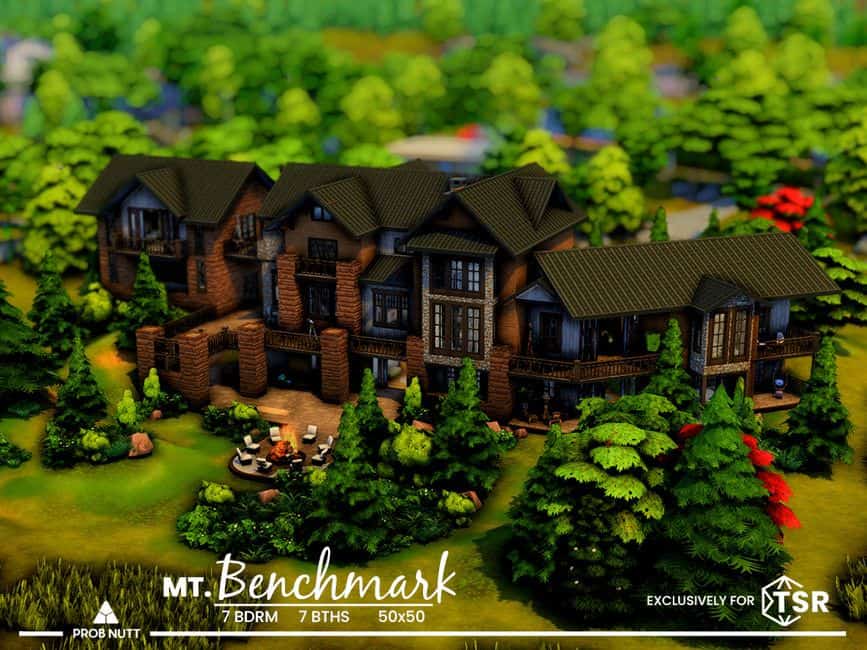 This sims 4 mansion is another great option for a remote home.
The 7-bedroom and 5-bathroom home has 3 stories for your sim family to move around.
You'll love the central fireplace of the main living area, which can be enjoyed in both the living and dining room.
This enormous house would look its best in a foresty and mountainous area, but make sure the lot is at least 50×50.

16. Golden Sims 4 Villa by Pralinesims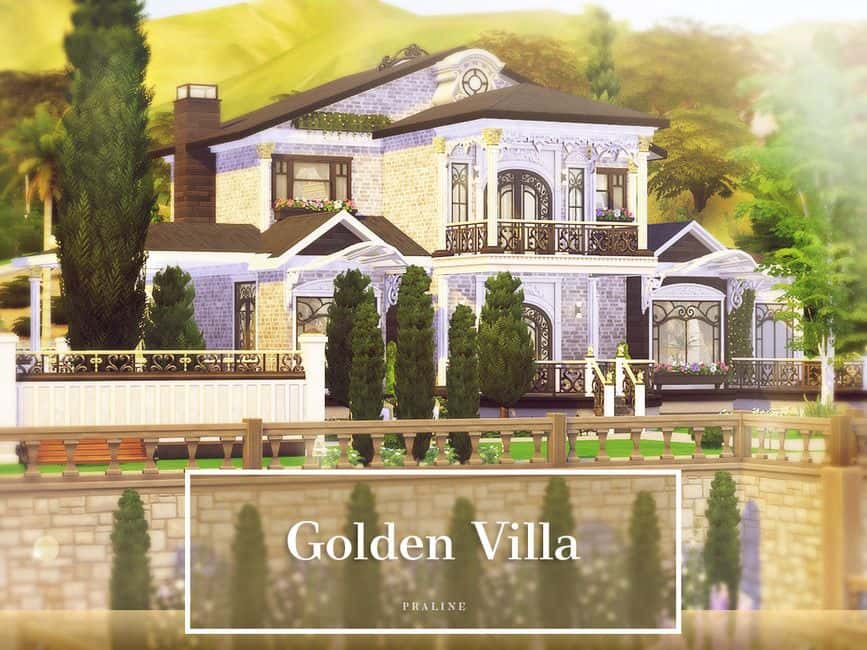 Treat your sim family like royalty with this sims 4 villa.
It's a gorgeous mansion home that is decorated with a variety of marble and golden surfaces.
Although this house only has two bedrooms and 1 bathroom, it makes up with its vast living space and luxurious details.
You'd only need the Get Famous expansion pack to build this villa and its content, which is convenient.
You'll also need a 50×40 lot to place the 2-story mansion.

17. Tosca Estate Sims 4 Mansion by SIMSBYLINEA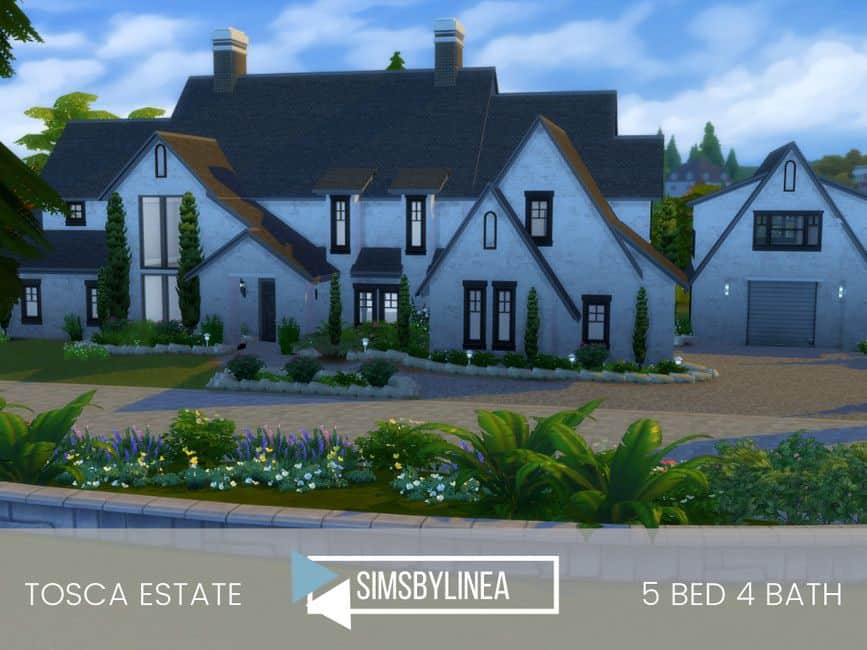 For contemporary-styled sims 4 mansions, check out this modern 5-bed, 4-bath home.
With a lot that's 40×30, you can place this unfurnished 2-story estate and decorate it yourself.
The house's neutral-colored features, like the floors, doors, and walls, make it ideal for modern-style furniture.
Seeing that it's a remodeled farmhouse, it'd look great for The Sims 4: Cottage Living EP.

18. Sims 4 Modern Mansion by Summerr Plays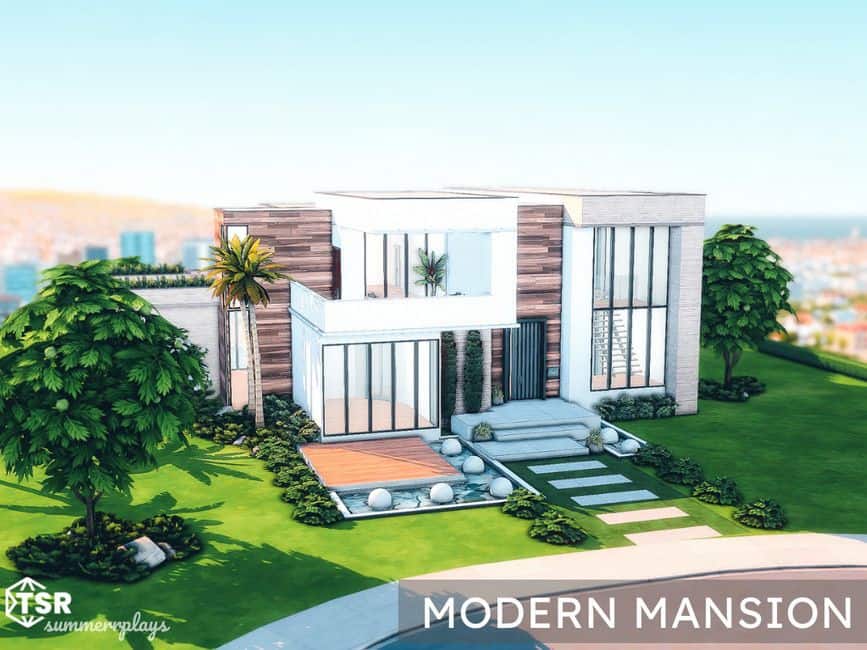 This modern mansion has a unique- backyard.
The house is surrounded by water features, and a swimming pool.
As a complement to the pool are a bunch of terraces and floating decks, which gives the house such a modern touch.
As for the house itself, it's a 2-story home, with 4 beds and 4 baths.
This sims 4 modern mansion will fit on a 50×40 lot and only comes with outdoor furnishings.

19. Sims 4 English Estate by qubedesign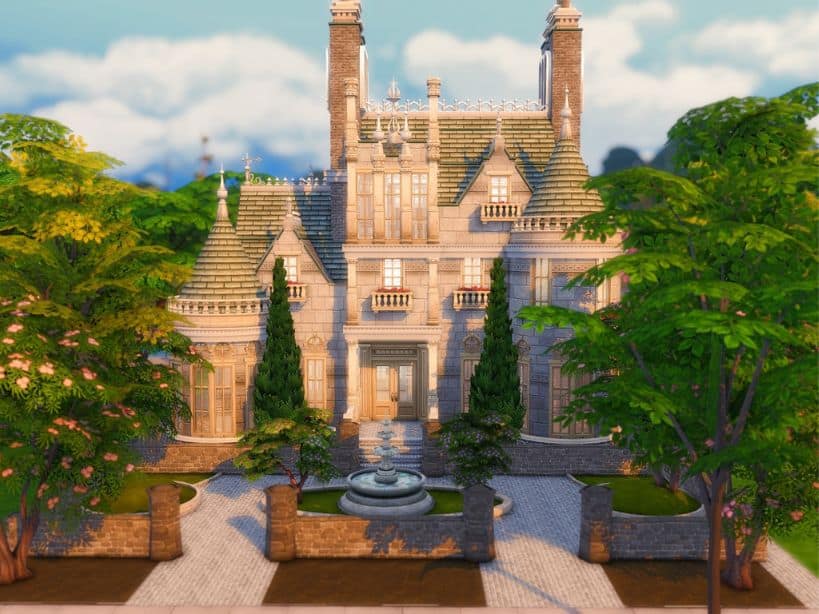 For other sims 4 mansions that have an English style, you can choose this beautiful home.
It's a 4-bedroom, 3.5-bath mansion home that fits into a 20×30-sized land.
This lovely home comes unfurnished, so you'll have fun decorating all 3 floors.
As a bonus, the creator has included his own Sims 4 GShade, found on the mansion's page, using the link below.

20. Sims 4 Spanish Style Mansion by Peacemaker-IC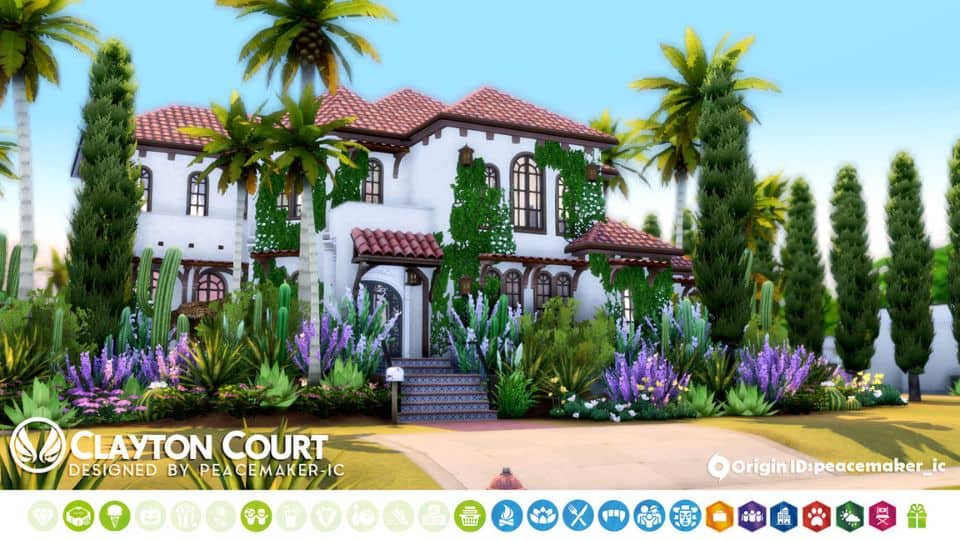 If you want more sim 4 mansions with Mediterranean architecture, you can grab this gorgeous estate.
This eclectic Spanish-style mansion is charming with its rounded archways, windows, and clay-tiled roof.
The 50×40 lot-sized home has 5 bedrooms and 3 baths.
The interior is more casual, giving this sims 4 mansion a homey feel.
Sims 4 Mansions: Final Thoughts
Hopefully, by going through this list of sims 4 mansions, you have found a few possible new homes for your sim family.
Whether it's something contemporary or from a different era, there's no price tag for a place called home.
If you come across any other mansions you would like us to feature, send us a quick message below or tag us on Tumblr.
Other Sims 4 Gameplay Ideas

And don't forget to share and pin this collection for later!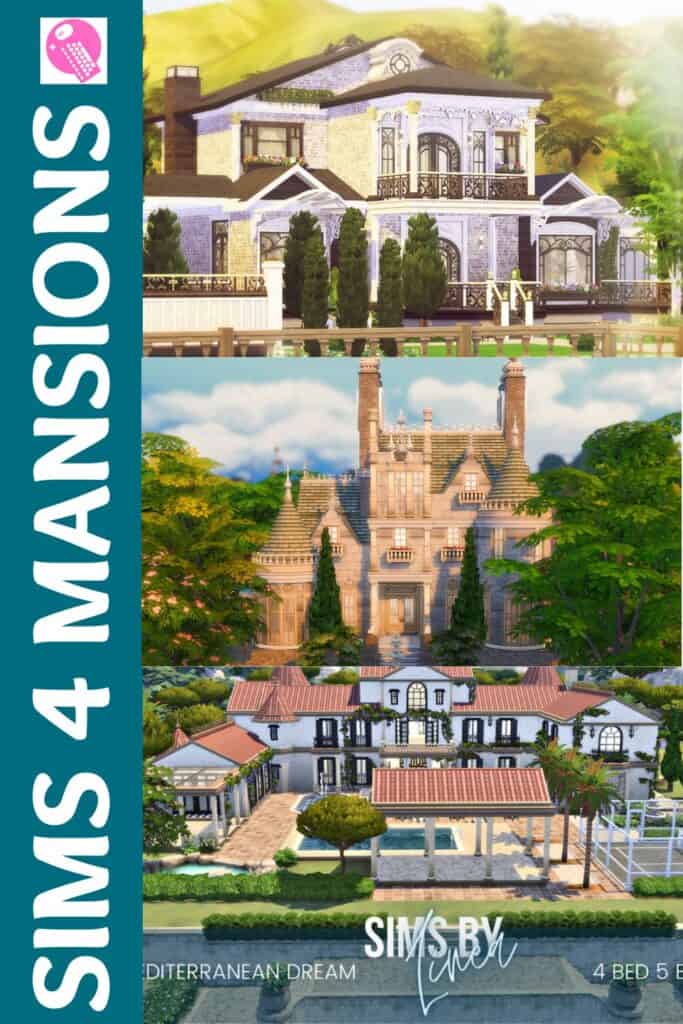 19+ Sims 4 Mansions: For A Deluxe Lifestyle