25+ Sims 4 Pregnancy Poses for Perfect Maternity Pics
Is your sim newly pregnant or quickly approaching her due date?
We've got a great collection of sims 4 pregnancy poses for every step of the journey!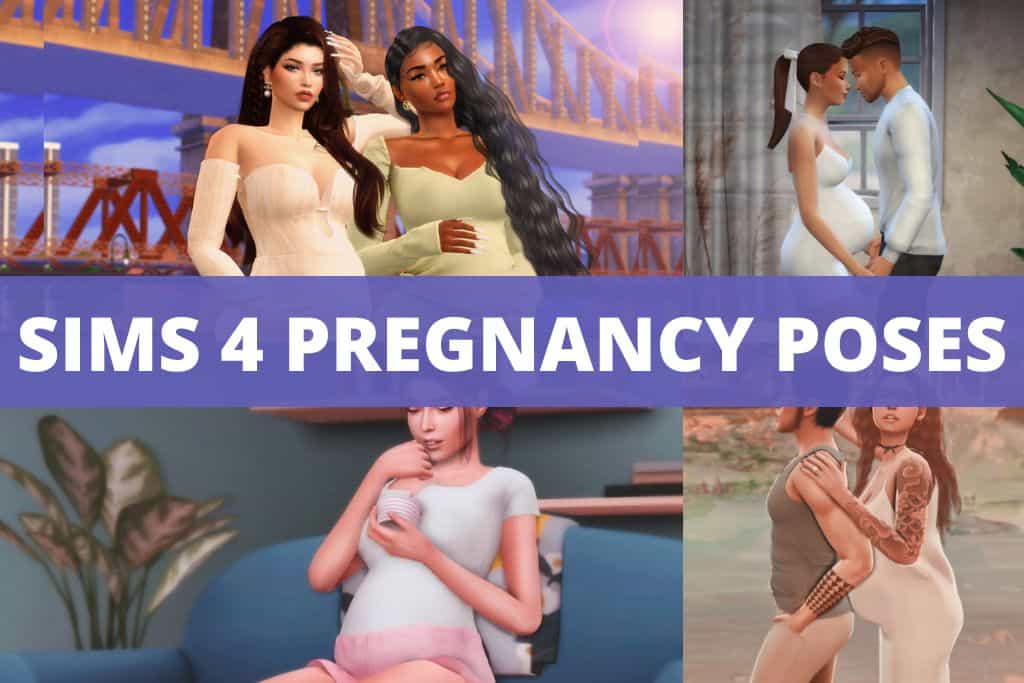 Pregnancy is one of those special events in sims 4, and pose packs make it all come to life when taking memorable pictures of your sims.
From the first trimester to the last, there is a perfect sims 4 pregnancy pose pack for you to enjoy.
We've included a little bit of everything, including solo poses, couple, family poses, and more.
And once you're done here, check out our post on Sims 4 Pregnancy Mods for a more realistic experience.
Disclaimer: The following mods are neither endorsed nor affiliated with The Sims, Maxis, or Electronic Arts. Any use of mods (custom content or game mods) should be done with caution and with the knowledge that there may be risks.
Best Sims 4 Pregnancy Poses
The majority of the pregnancy poses in this collection are in-game poses.
To use these in-game pose packs, you will need to have the following two mods installed:
You can learn more about these two mods in our How to Use Poses article.
1. Sims 4 We're Expecting Pregnancy Poses by Katverse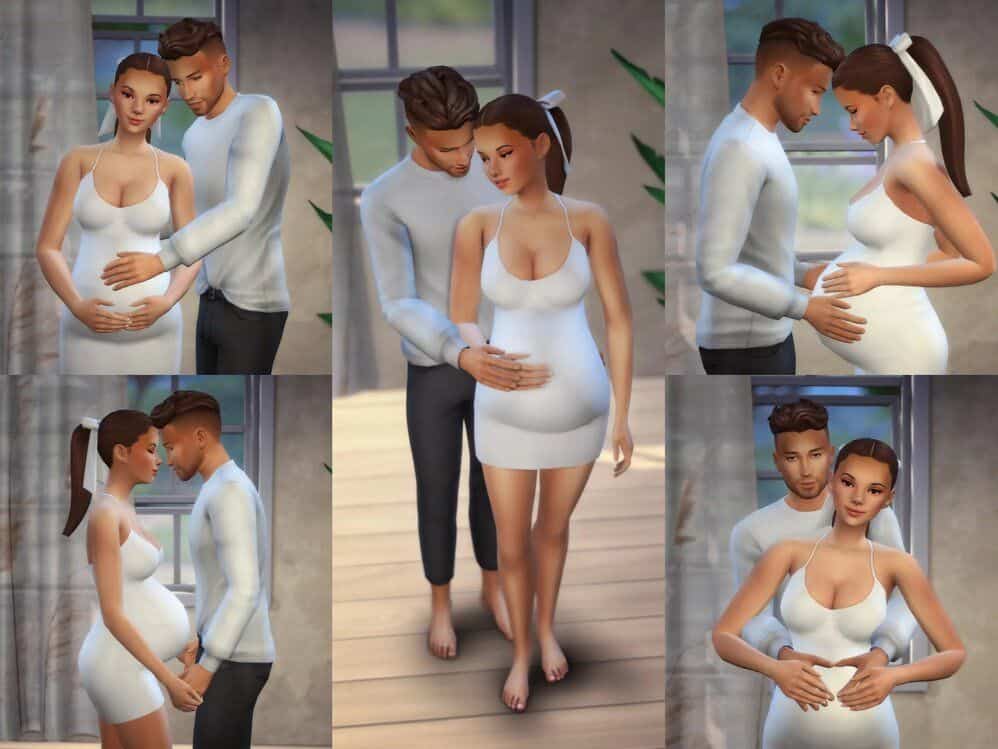 This lovely set of five pregnant couple poses is for a sim in her third trimester.
You get some cute portrait pictures of the future parents with their hands on the belly.
You also get a few nice side shots showing how far along your sim is in her pregnancy.
Overall, these make terrific photos.

2. In Labour Sims 4 Pregnancy Poses by Lilalmondsim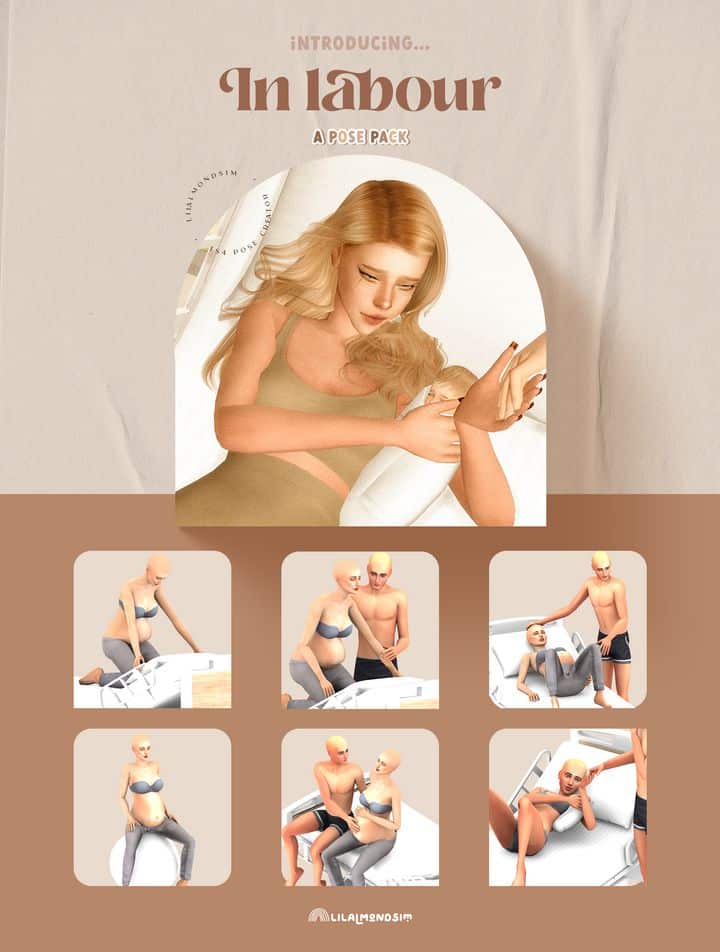 The baby is coming, and you need to capture those special moments in labor.
This set focuses on the different stages of labor, from working through the contractions to the baby being born, minus the delivery part.
For these poses, you will need a few items that you can find on the following linked page:
Hospital Bed, with pillow and blanket (separate file)
Fitness Ball
Swaddle for the newborn
You also need the New Height Body Presets Toddler mod to set your baby to the Level 1 growth stage.

3. Pregnancy Poses for Sims 4 by Ratboysims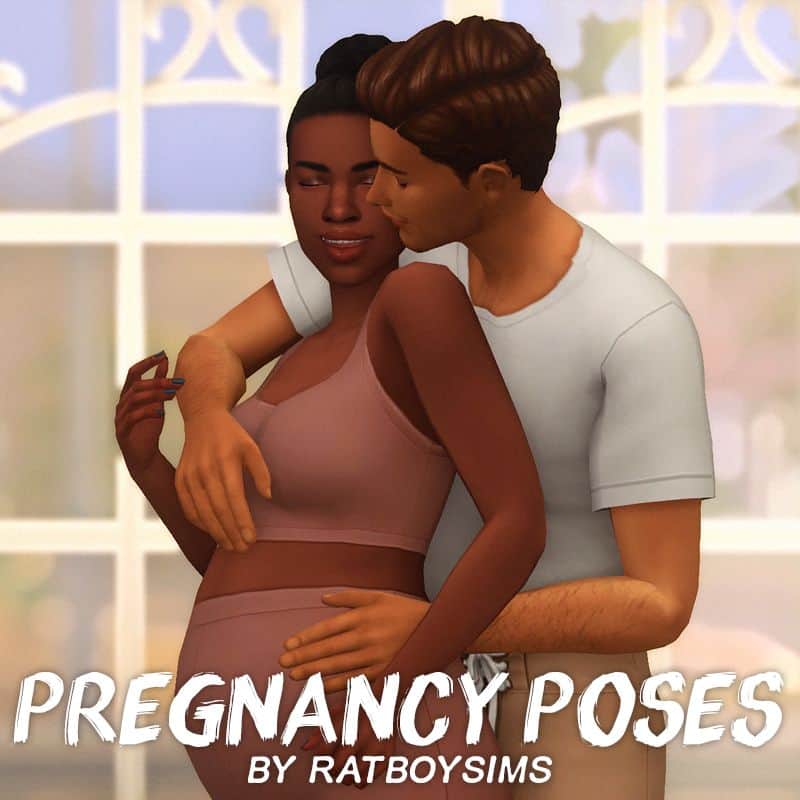 This set of sims 4 pregnancy poses features six ways of showing off your sims baby bump.
You get three poses with the mommy-to-be and three other poses with her baby daddy.
The creator recommends that the partner be slightly taller for alignment purposes.

4. Sims 4 Second Trimester Mood Pregnancy Poses by SubieSims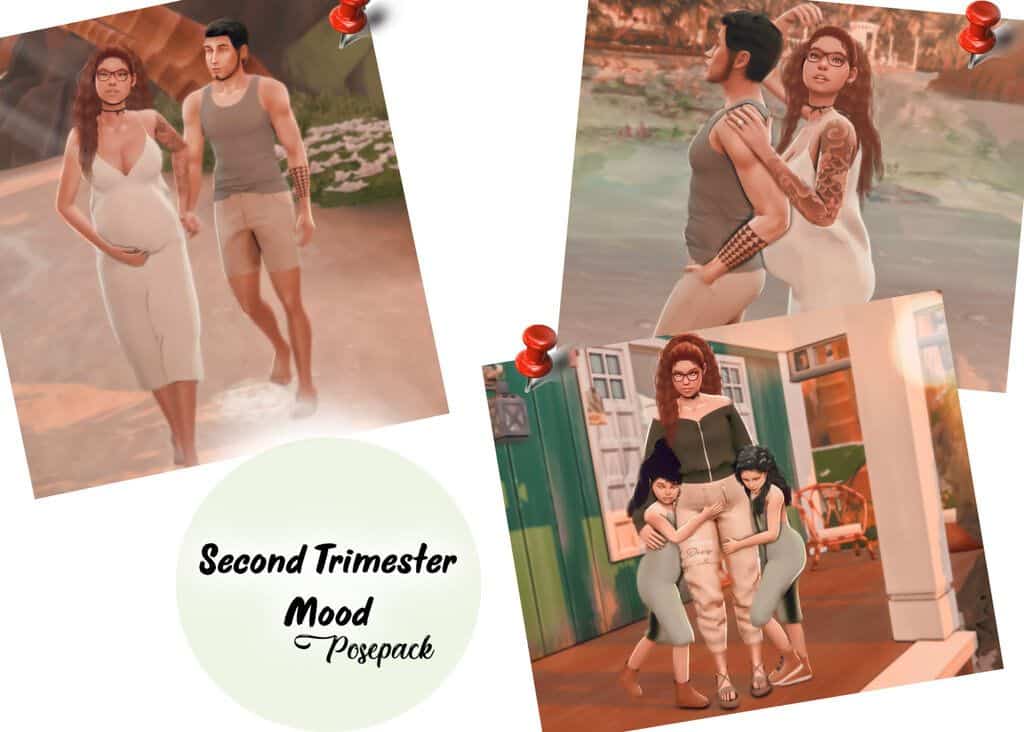 This lovely set of three poses is for a pregnant sim in her second trimester.
You get a nice shot of the pregnant couple taking a stroll, enjoying themselves.
After a while, they stop to take a breather and gaze at the horizon, which makes another beautiful picture.

5. Magical Moments Sims 4 Maternity Poses by Couquett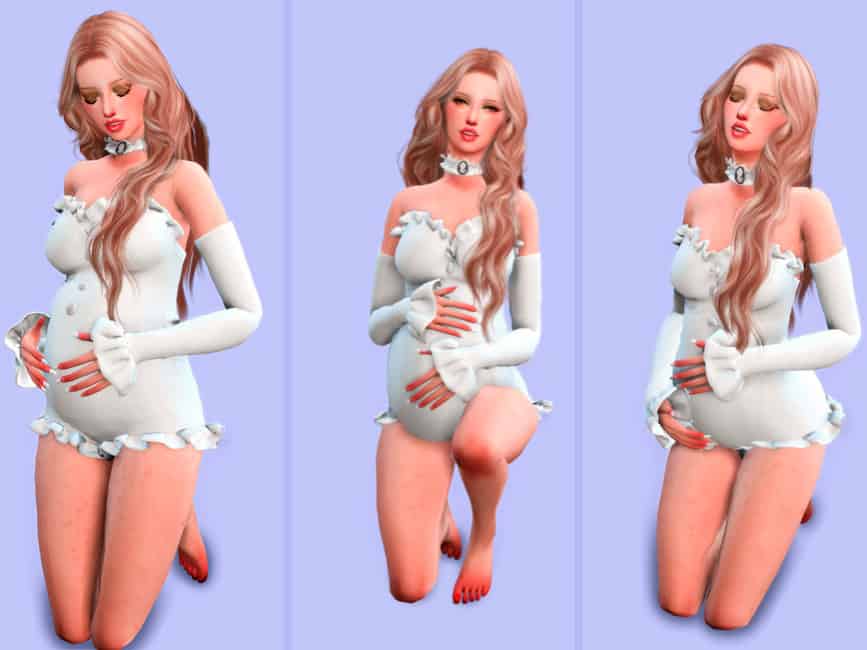 You get several photoshoot-style pictures of the mother-to-be kneeling while caressing her belly and one of her lying down.
Pregnancy shoots are a great way to remember those special nine months, and a sims 4 maternity photo shoot is no different.
Get some fantastic snapshots to frame in your sims home.

6. Sims 4 Pregnancy Announcement Poses by Beto_ae0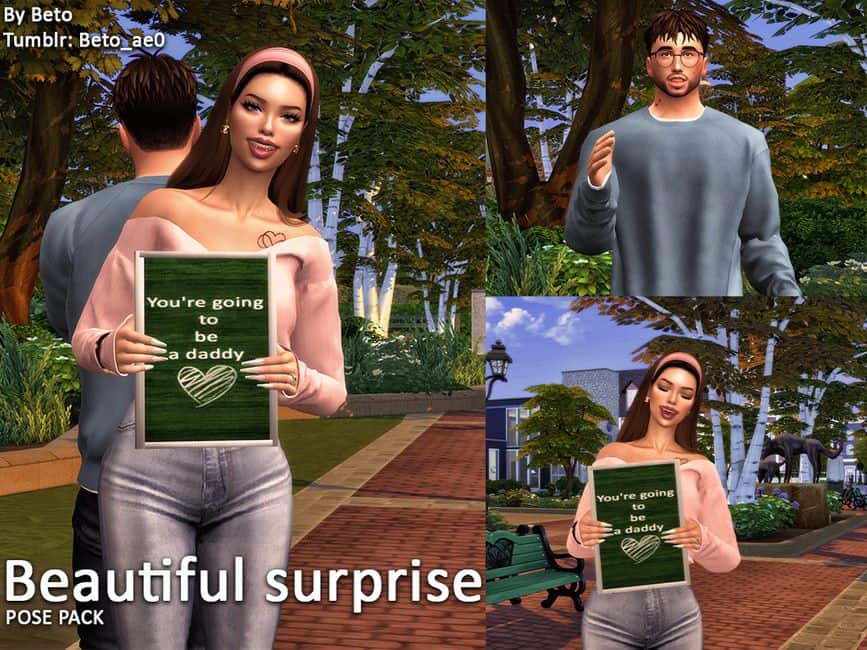 This set is a fun and cute take on a pregnancy announcement.
This pose set of five pictures shares the story of how this daddy got the big news of their newest family member.
We get to see the expression of speechlessness on the guy's face when he reads the news from a sign his partner is holding. Priceless.

7. Us 3 Pregnancy Poses for Sims 4 by Katverse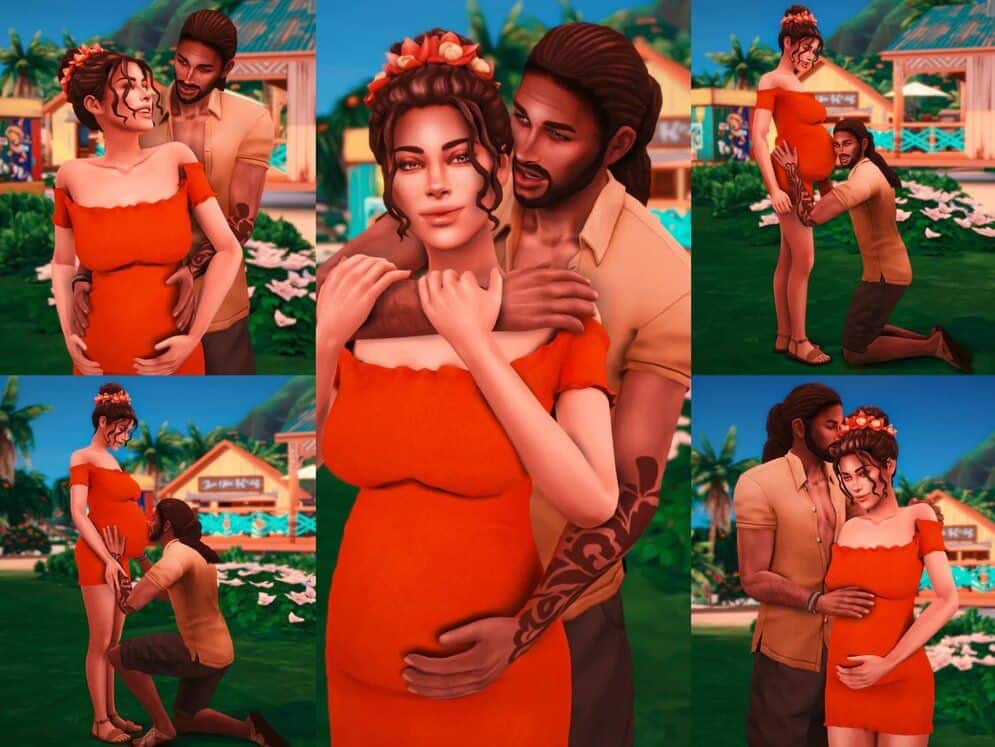 This lovely set of five poses is for a pregnant couple in their third trimester of pregnancy.
You can see the love and affection towards that little bundle of joy oozing from the dad.
These poses make your couple seem so happy and beautiful. It's also so heartwarming.

8. Sims 4 Pregnancy Photo Shoot by StarrySimsie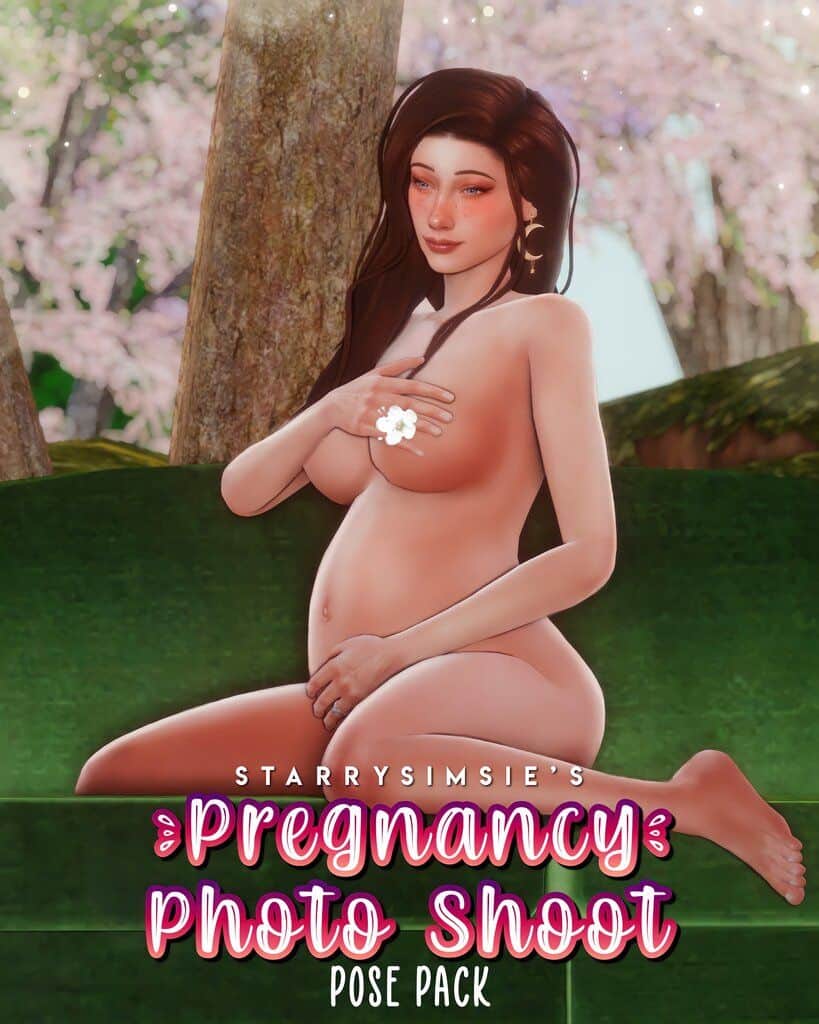 This sims 4 maternity photoshoot is just incredible.
You get seven poses, five of which are of your pregnant sim and two more with her partner.
The pictures you can take with these Sims 4 pregnant poses are remarkable. It makes everything look genuine and natural.
Speaking of nature, if you want to use these censored all-natural photographs, you will need to use a mod that enables nudity, like WhickedWhims.
Without using a mod, your sims will be posing in her underwear which is also a great way to capture these poses.

9. Sims 4 Baby's Kicking Pregnancy Poses by Ratboysims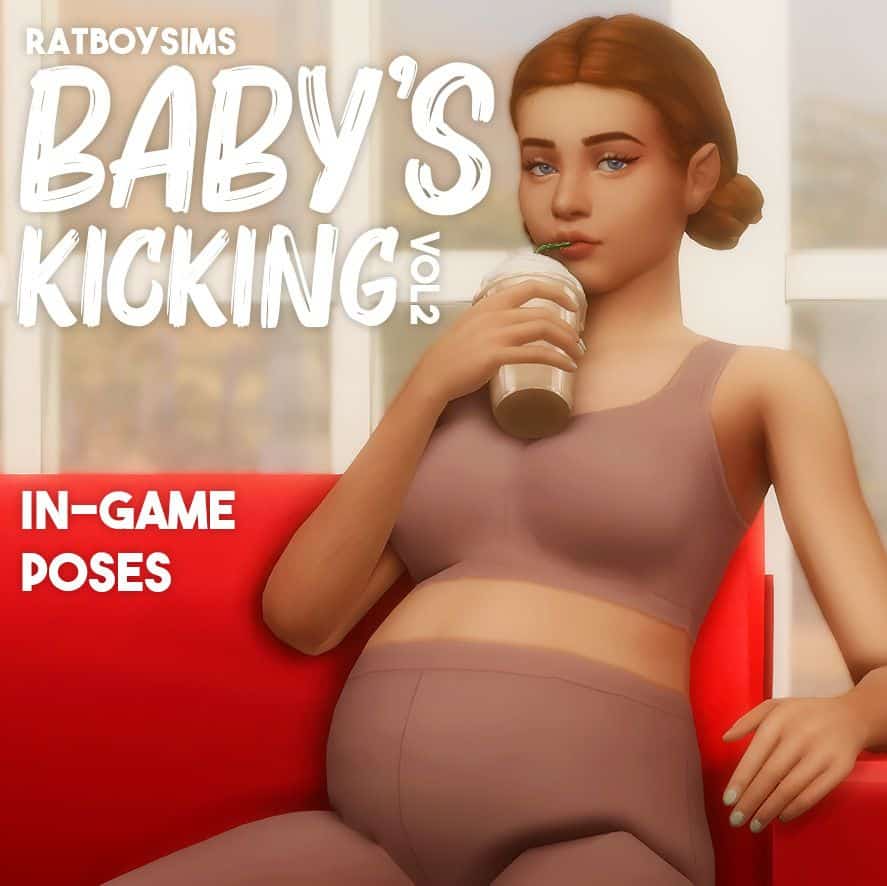 This set of poses features your pregnant sim enjoying her cold beverage.
You will get fun shots of your sim trying to balance her slushy on her belly while lying on the couch.
Here's the kicker, her drink almost falls off because of her baby's kicking.
Those innocent moments make the best pictures, and the baby kicking is one of them.
Don't forget to snag the slush.

10. Sims 4 Little Family Poses by SakuraLeon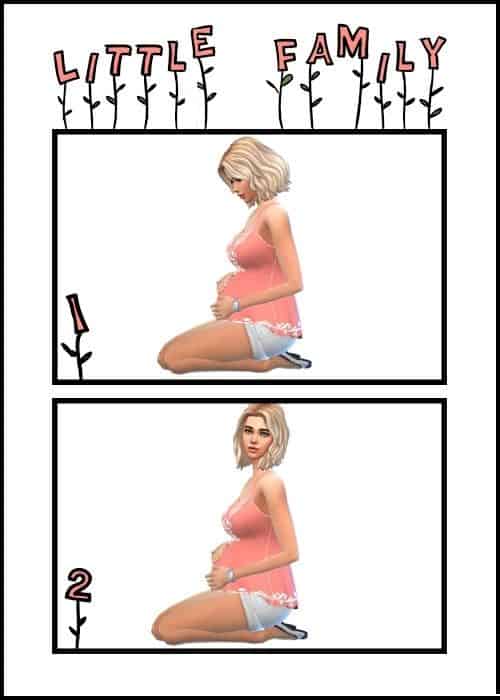 This set contains two poses intended for the gallery, with a pregnant sim in her 3rd trimester.
There aren't many sims 4 pregnancy poses for the gallery, which is why I like this set.
With these gallery poses, you can share the news with the sims 4 community.
As a bonus, this pose pack makes cute pictures too.

11. Sims 4 Pregnant Diva Pose Pack by WisteriaSims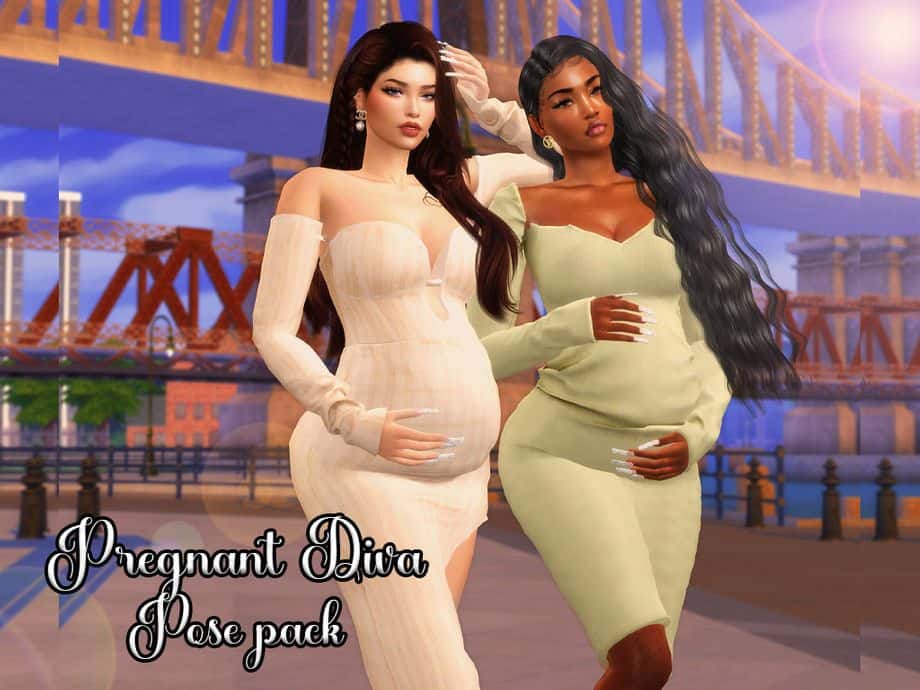 The six poses included in this set bring style and fashion to pregnancy.
With the Pregnancy Diva Pose Pack, you get five pregnant model poses and one pose with two pregnant besties.
These glammed divas are busy enjoying their second trimester.

12. When 2 Becomes 3 Poses by Katverse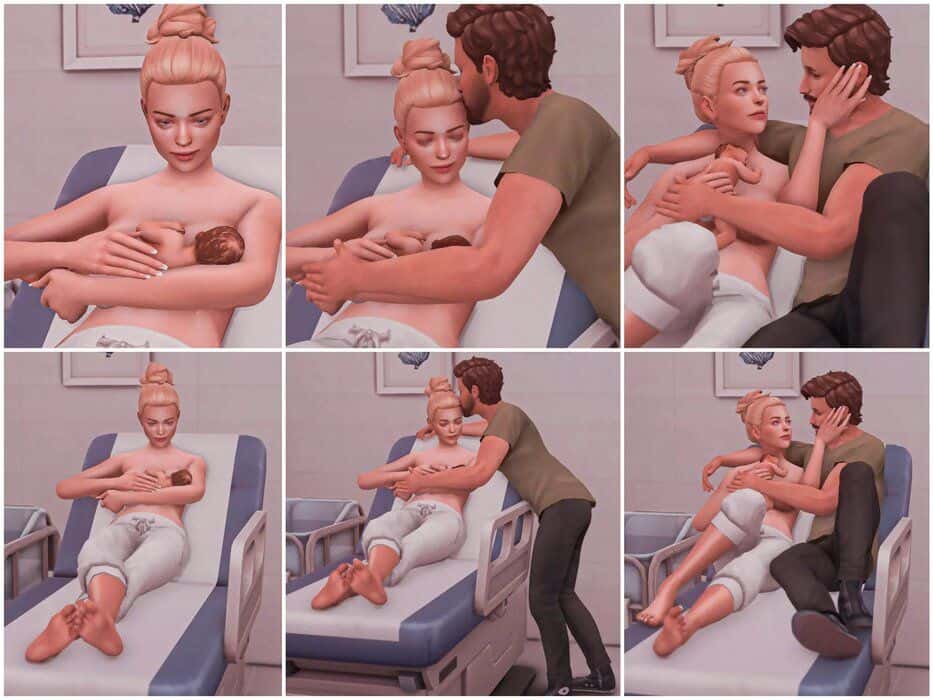 Ahh, this set of post-pregnancy poses comes with 3 options to capture these happy new parents.
After an exhausting delivery, your sims gather together to experience their first moments as a family.
These are just sweet and heartwarming moments caught on camera.
You can feel the love seeping through these shots.
This set of sims 4 pregnancy poses is a must-have for your collection.

13. Sims 4 Sweet Moments Pregnancy Poses by Chewybutterfly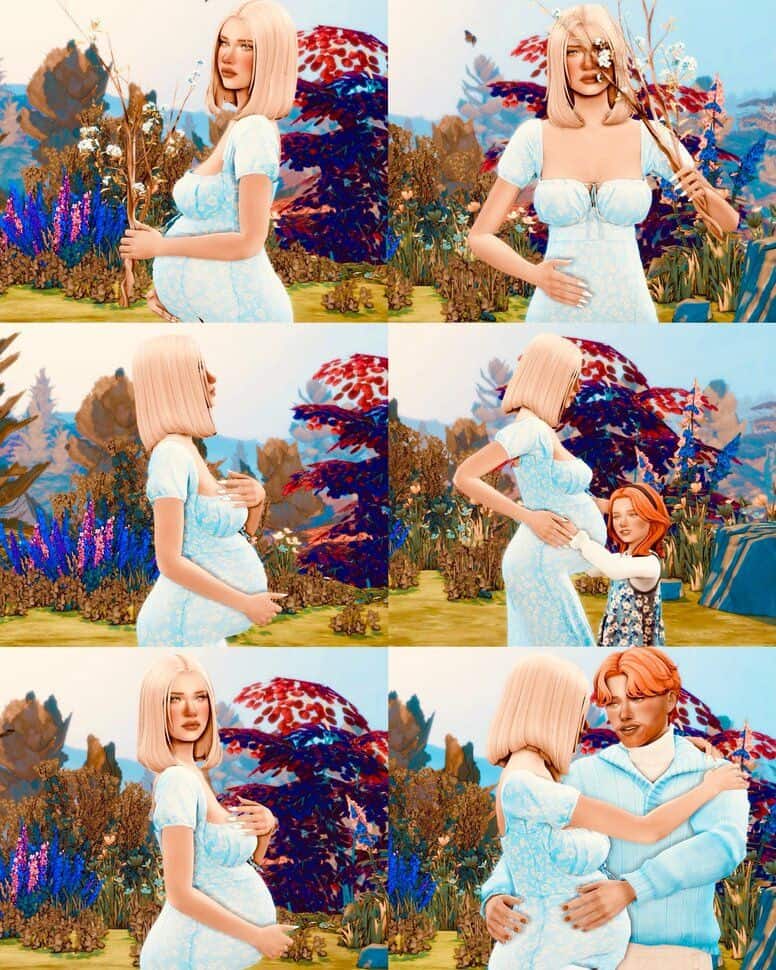 I like this collection of six poses for your pregnant sim and her family.
You get four solo pictures, one shot with a child and another with her partner.
These photos mostly show your sim's side profile, with a nice view of her bun in the oven.
The poses with the flower branch are lovely.
That strikes me as a metaphor for life; a blooming flower represents a new beginning, much like pregnancy.
Make sure you get that flower branch accessory.
You'll find the branch on the mod's page.

14. Cute Pregnancy Pose Pack for Sims 4 by Beto_ae0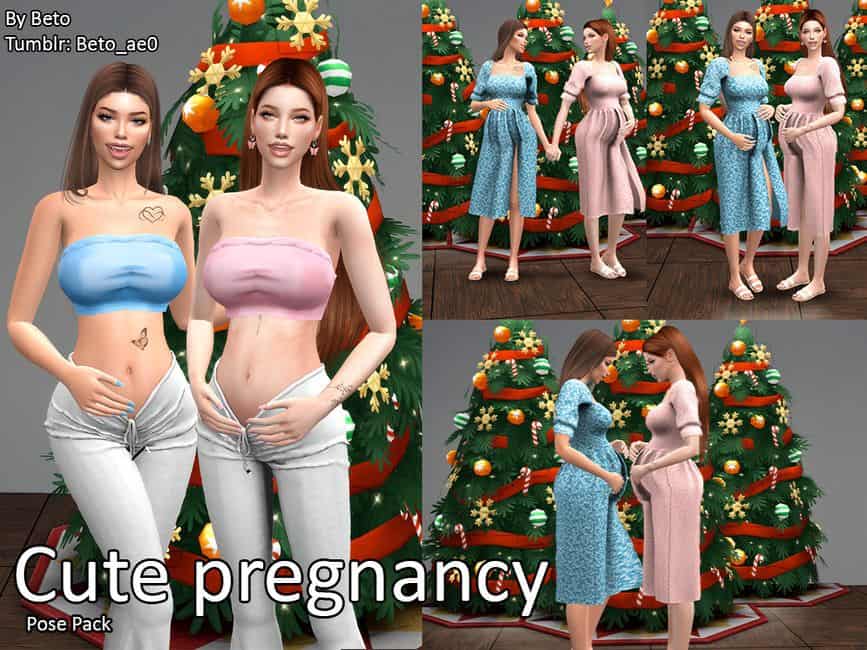 As the name says, this is a cute set of four pregnancy poses for friends being pregnant simultaneously.
Having your sims on the same pregnancy journey and sharing these memorable moments is something to capture in these beautiful screenshots.
These poses can be used for all stages of your sims pregnancies.

15. Sims 4 Pregnancy Test Poses by Atashi77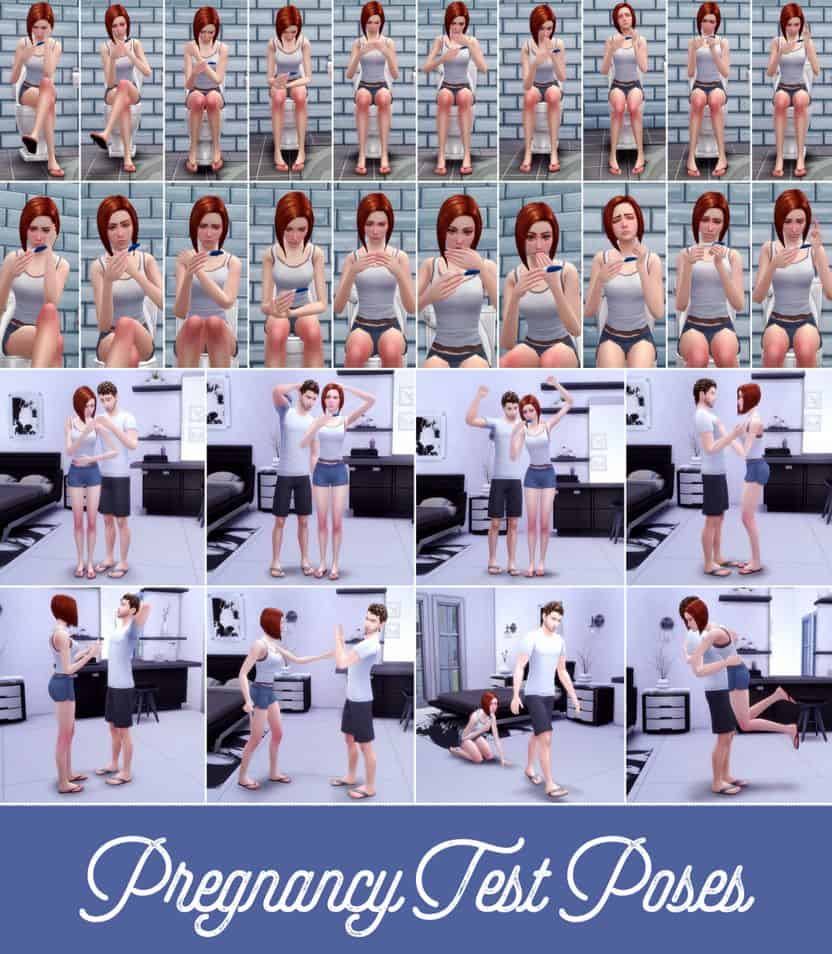 In this pose pack, you get 20 shots focused on the many feelings surrounding pregnancy tests.
You get 12 candid poses of your sim taking the test while sitting on the toilet.
You get to see the confusion, the anticipation, and the reaction. Priceless.
You also get eight poses of the couple waiting and getting the pregnancy test results together.

16. Sims 4 Third Trimester Poses by Katverse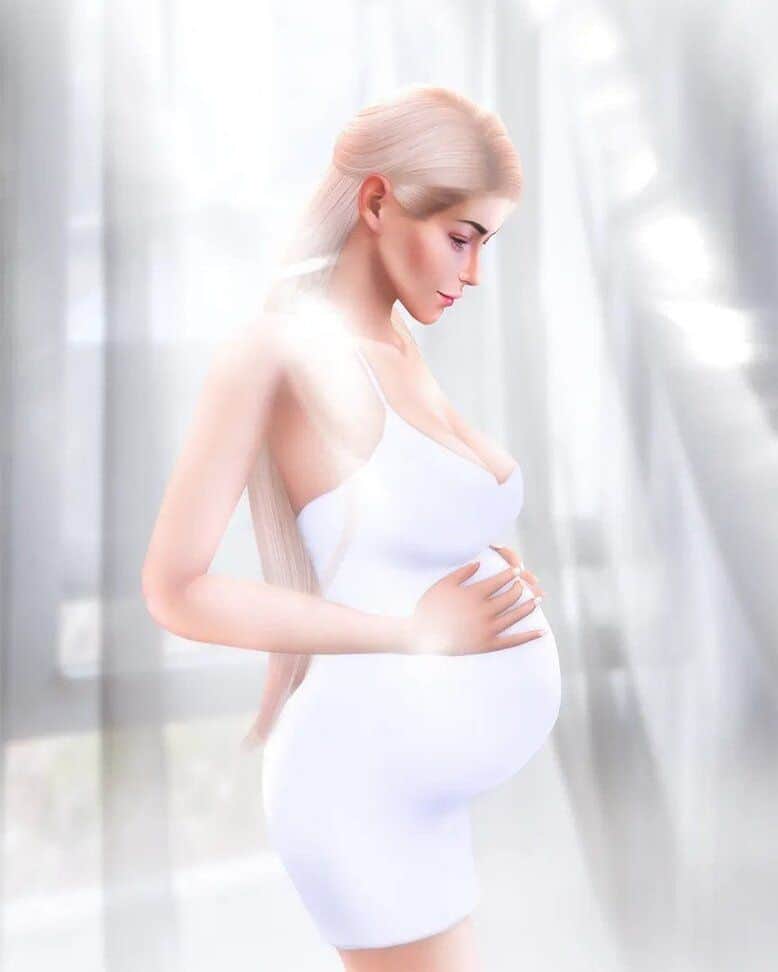 These five striking poses you get in this collection bring out the roundness of the mother's belly in her third trimester.
One photo shows her lower back pain, but that doesn't take away from her unconditional love for her unborn child.
These poses really capture some beautiful angles of your sim approaching her delivery date.

17. Sims 4 About to Pop Pregnancy Poses by MoonShinerSims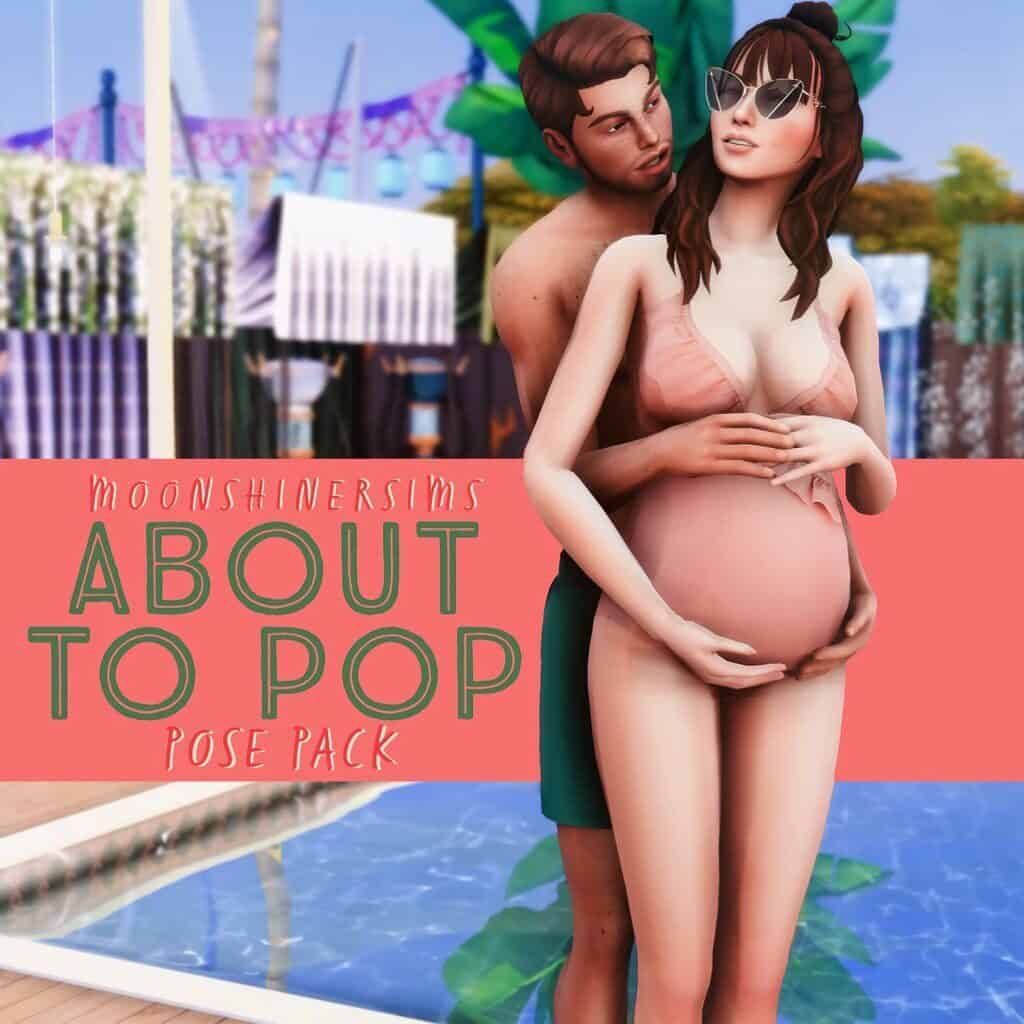 You can use these four poses with a pregnant sim in her third trimester.
This set includes four beautiful images of a mother-to-be nearing her due date because, as the name suggests, she is about to pop.
These poses make your sim look stunning.
I love the pregnant couple pose, in which both sims hold the belly in an intertwined manner.

18. My Belly Grew! Pregnancy Poses for Sims 4 by SubieSims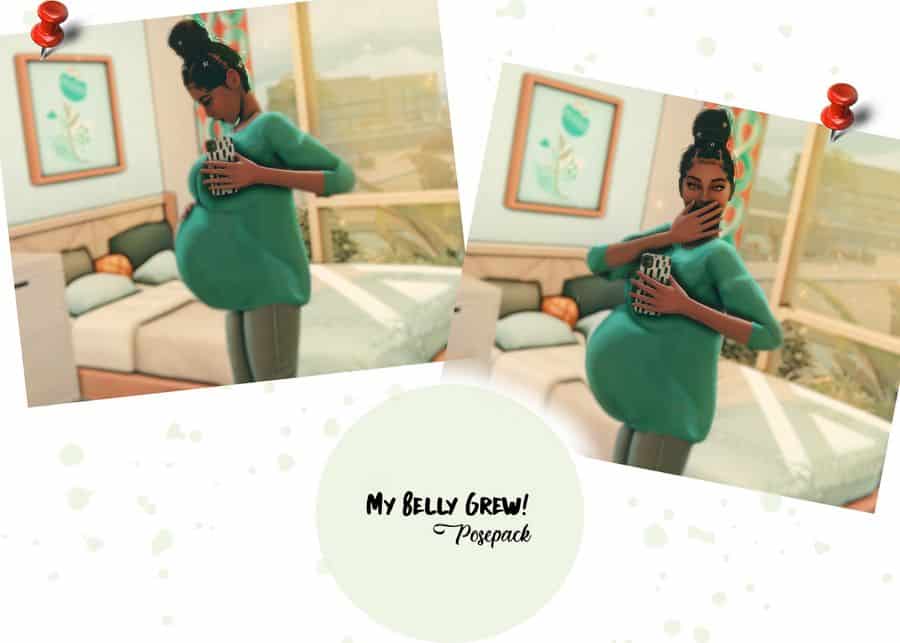 Capture your favorite pregnancy moments in this 2-piece selfie pose pack.
Everything nowadays is captured on our phones, and pregnancy is no exception.
Take the perfect snapshot with your handy iPhone.

19. Sims 4 Friendly Meeting Pregnancy Poses by Lilalmondsim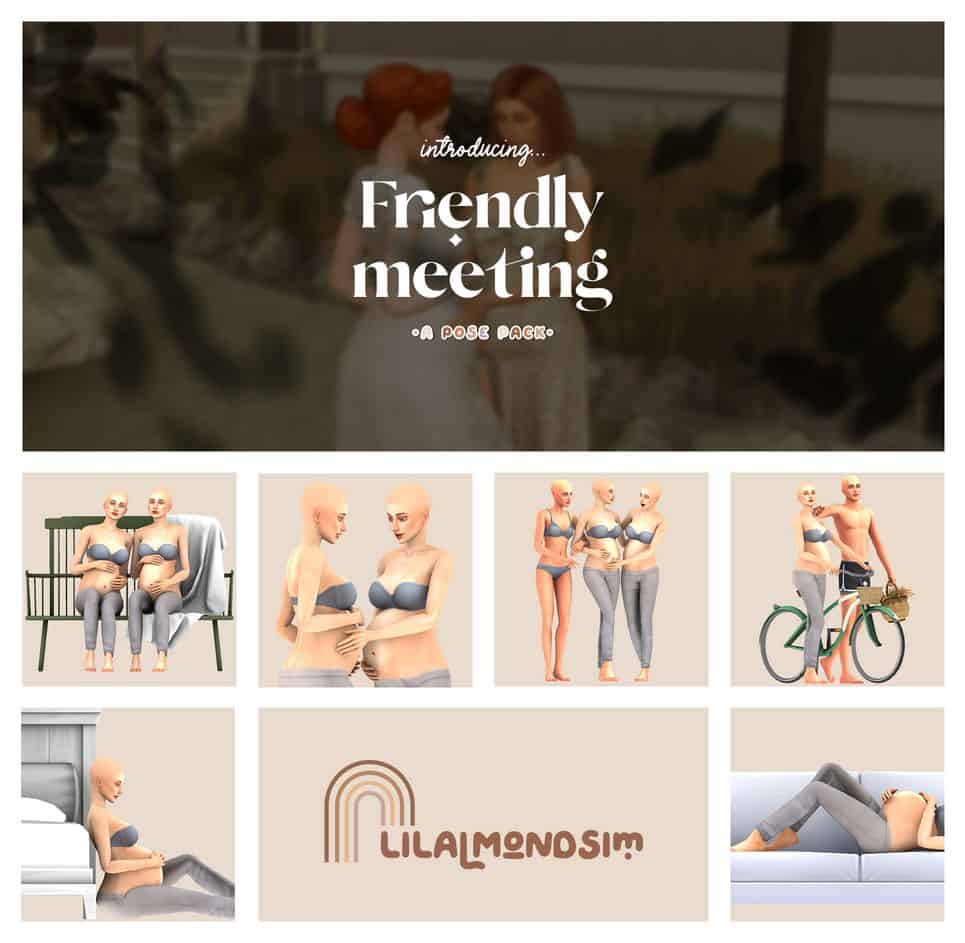 This lovely set of six poses offers various ways of being around others or simply being alone while carrying around a large pregnancy belly.
These poses are fun because they allow you to pose alongside another pregnant sim in some of them.
For the couch and bed poses, it won't be hard getting your hands on those items.
As for the bicycle and bench poses, you can get all the necessary content using the link just below.

20. Sims 4 Pregnancy Progression by Beto_ae0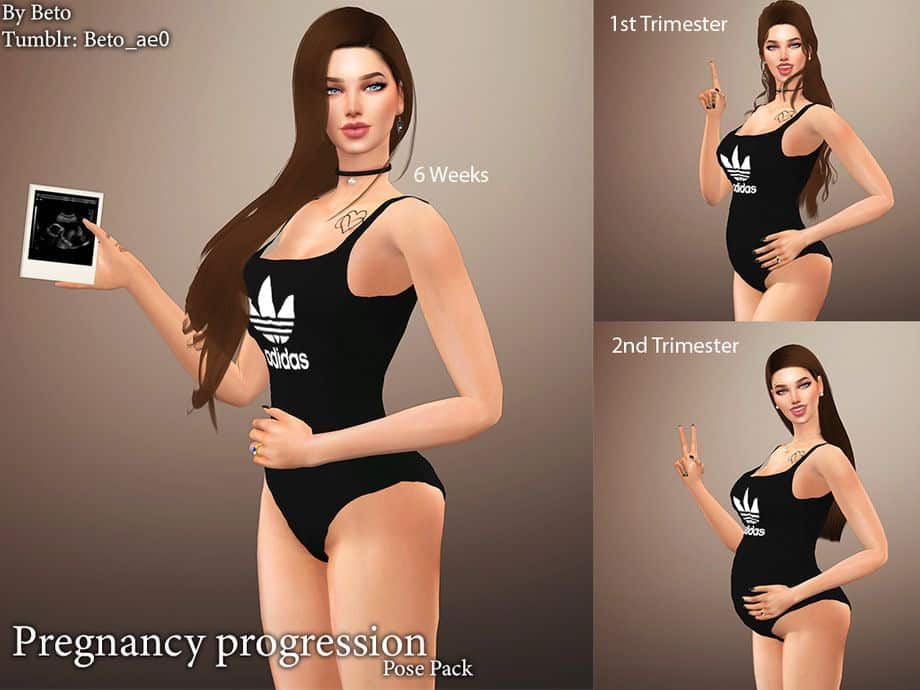 This fun set of poses shows your pregnant sim's pregnancy progression.
From six weeks pregnant to posing with your five-month baby, you get to see the baby bump grow more and more—such an excellent idea for poses.

By the way, to do the 6th-week pose, make sure to nab the ultrasound image from the pose mod's page.

21. Sims 4 Pregnancy Portrait Poses by Joannebernice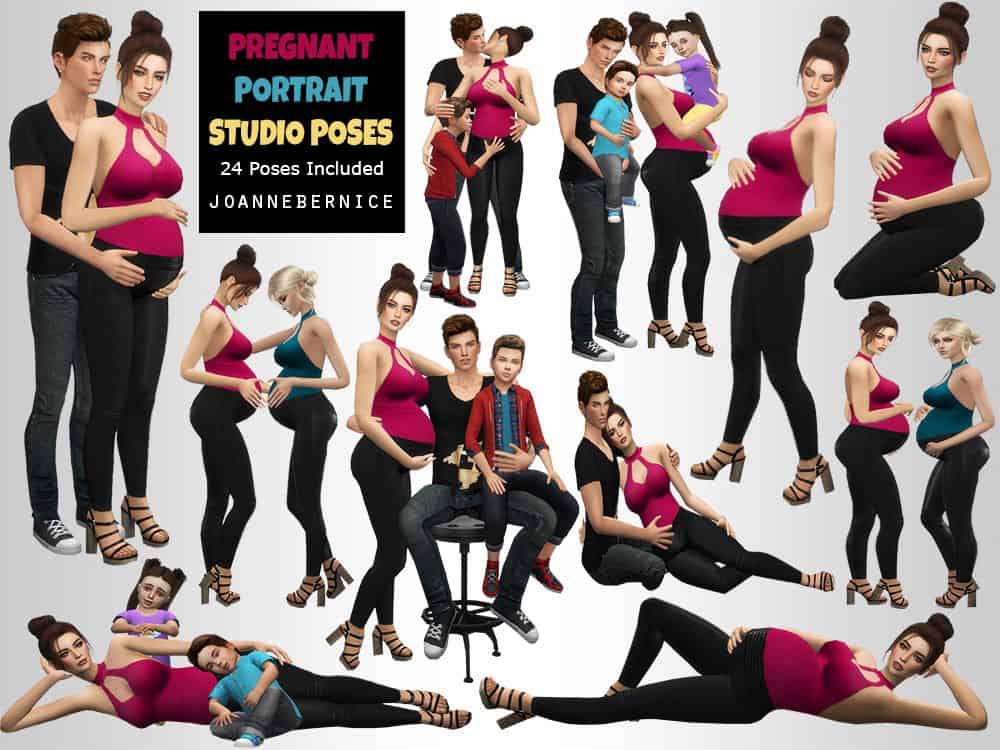 This pack is a must-have for pregnancy poses.
You get a great selection of both pregnancy and studio poses, 24 in total.
The studio-styled portrait poses can have up to 4 people.
There are several combinations available. You have:
Solo poses
Pregnant couple poses
Pregnant friend poses
Family poses of 3 or 4 sims
You can take so many amazing shots with this set alone.
These are some of the best studio-style sims 4 pregnancy poses available.

22. Sims 4 The Other Side of Pregnancy Poses by Katverse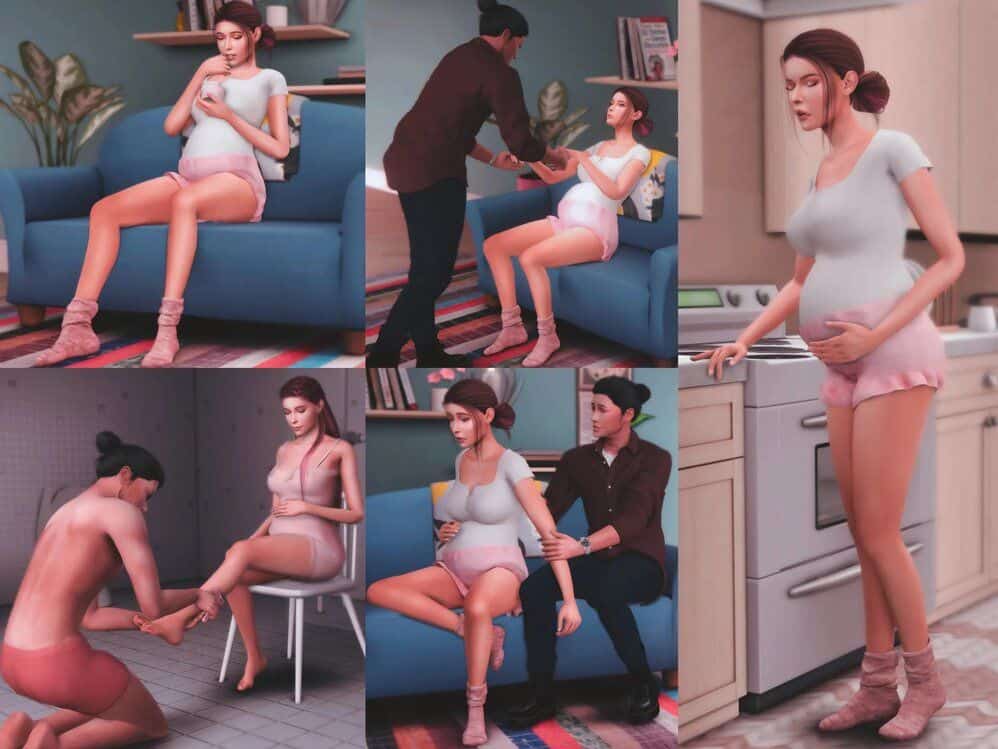 These five different poses depict the "joys" of pregnancy.
It's not always fun and games; there are hardships when it comes to pregnancy.
These pics perfectly display some of the not-so-fun sides of being pregnant:
The contraction pains
The swollen feet
The back aches
Needing a helping hand to get up
Last but not least, the cravings
I would add a pose for constantly needing to pee, but that wouldn't make much of a nice picture.
So, good thing it's not in there. Hihi.

23. Sims 4 Pregnancy Pose Pack by Un1con35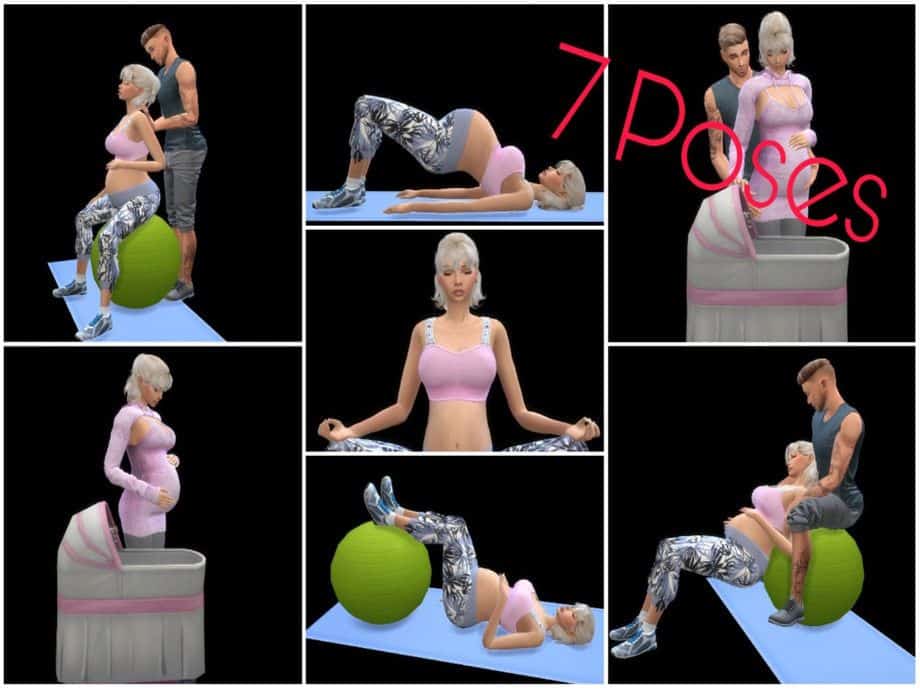 When pregnant, it's great to stay active and get some stretches in.
This set of seven poses features the popular balance ball, perfect for pregnancy yoga and contractions.
Plus, you get a couple of poses with a bassinet.
For exercise, your pregnant sim will either do:
Some meditation
Some stretches
Use her exercise ball
It's cute because you can pose with the sweet boyfriend, being supportive and lending a helping hand.

24. Sims 4 Sweet Wait Pregnancy Poses by WisteriaSims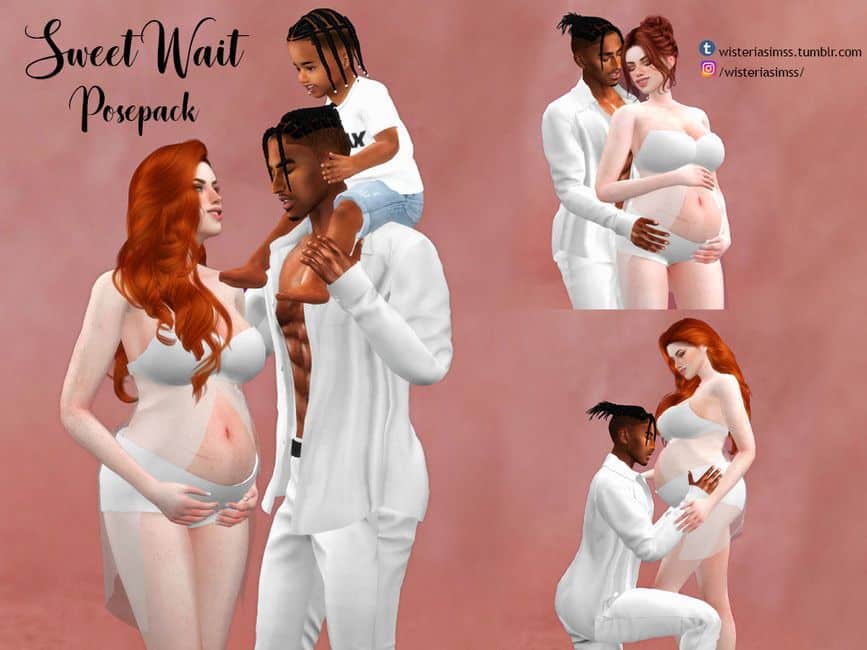 This cute set of six poses is for a pregnant sim in her third trimester.
You get three solo poses holding up a board, two sweet pregnant couple poses, and one pose for a family of three, soon to be four.
Those make great candid-like studio poses. They look so precious.

25. Sims 4 Painful Pregnancy Poses by Calaxy_s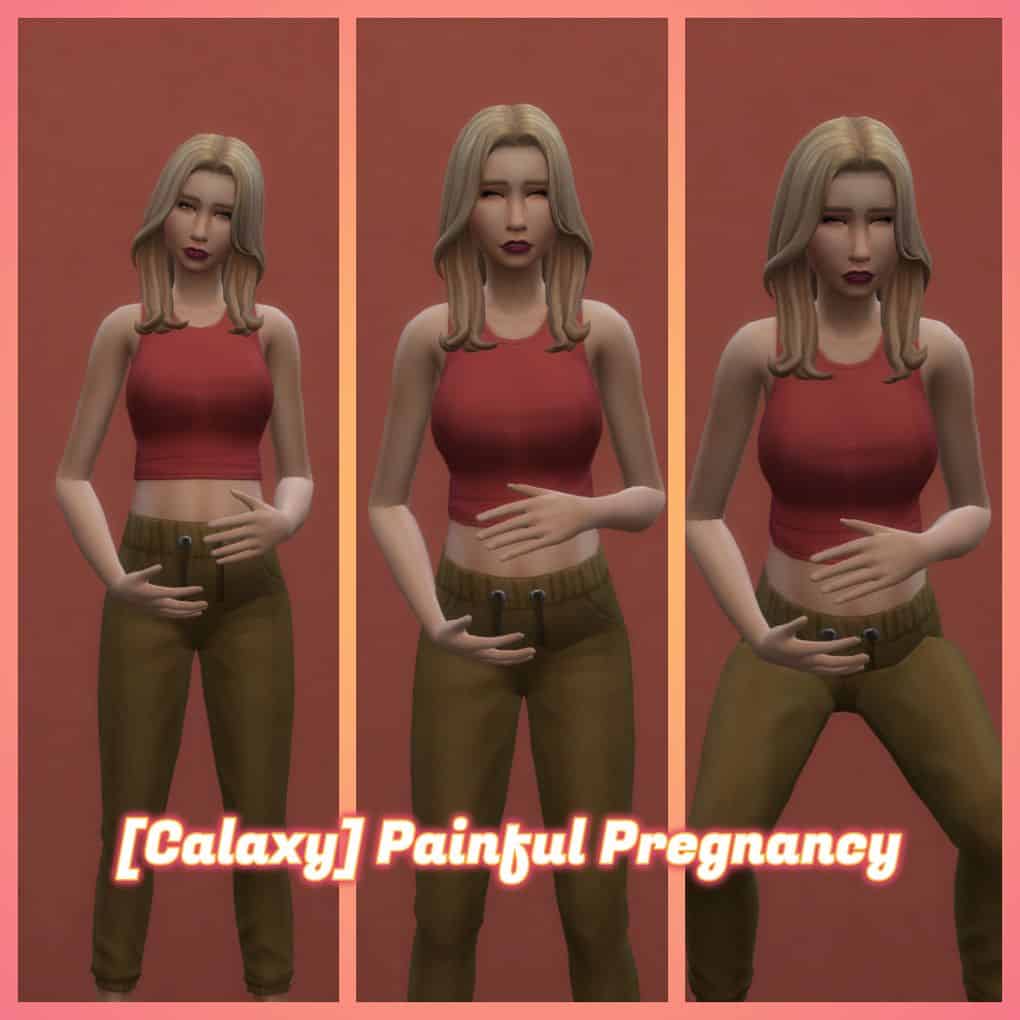 I like how this set illustrates the realistic side of how painful being in the third trimester can be.
These facial expressions in the 3 poses give it all away.
If you're making a Sims 4 pregnancy album, be sure to add these, as they are a big part of the child-bearing adventure.

26. Sims 4 Baby is Coming Pregnancy Poses by Beto_ae0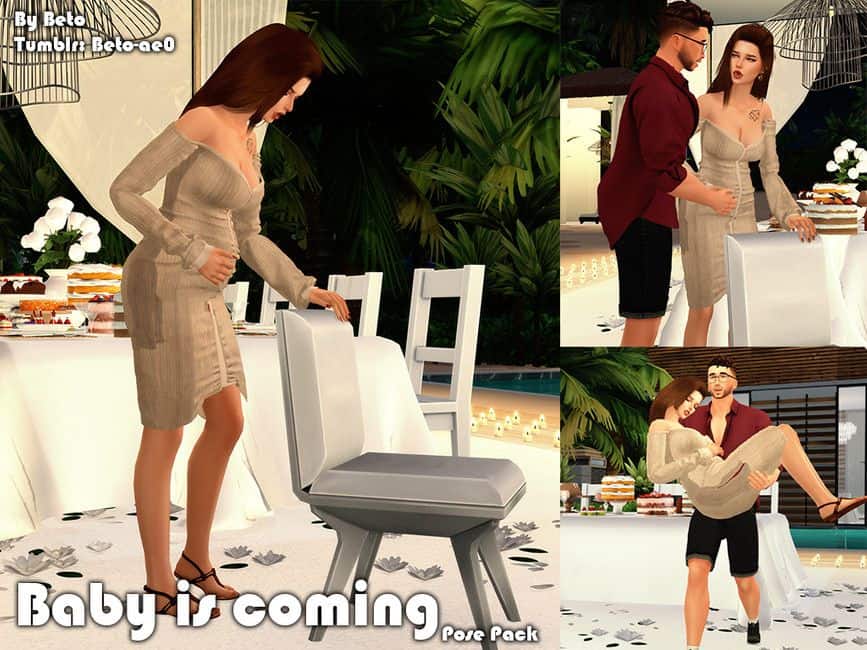 When it's time, it's time to go.
This set of Sims 4 pregnancy poses is about the whole event of when you know the baby is coming.
From the moment you know, getting help, driving to the hospital, and meeting up with the doctor.
This pose pack has it all covered.
Some poses will require a couple of custom content, such as the car and the wheelchair.
Both are available at the following link.
Final Thoughts on Sims 4 Pregnancy Poses
Like in real life, pregnancy in sims 4 can be a great adventure with ups and downs.
These sims 4 pregnancy poses are a great way to capture all those special moments, from the pregnancy test to holding your baby sims.
We hope you found some new pregnancy poses to try out.
Also, if you come across any other pregnancy poses for me to check out, feel free to send us a link in the comments below or tag us on Tumblr.
Other Pose Articles
And don't forget to share & save this post for later!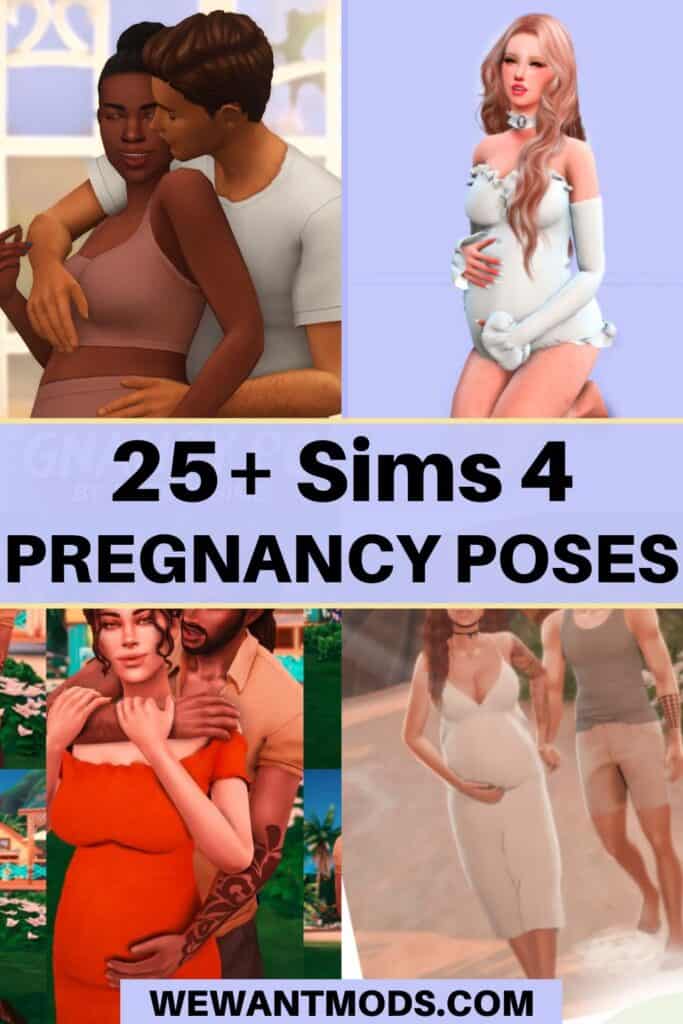 25+ Sims 4 Pregnancy Poses for Perfect Maternity Pics