31 Best Sims 4 Gallery Poses (Free Downloads)
Do you want to show your Sims to the sim community using different styled poses?
You can by using custom gallery pose packs.
We've listed some of the best Sims 4 gallery poses to install and try.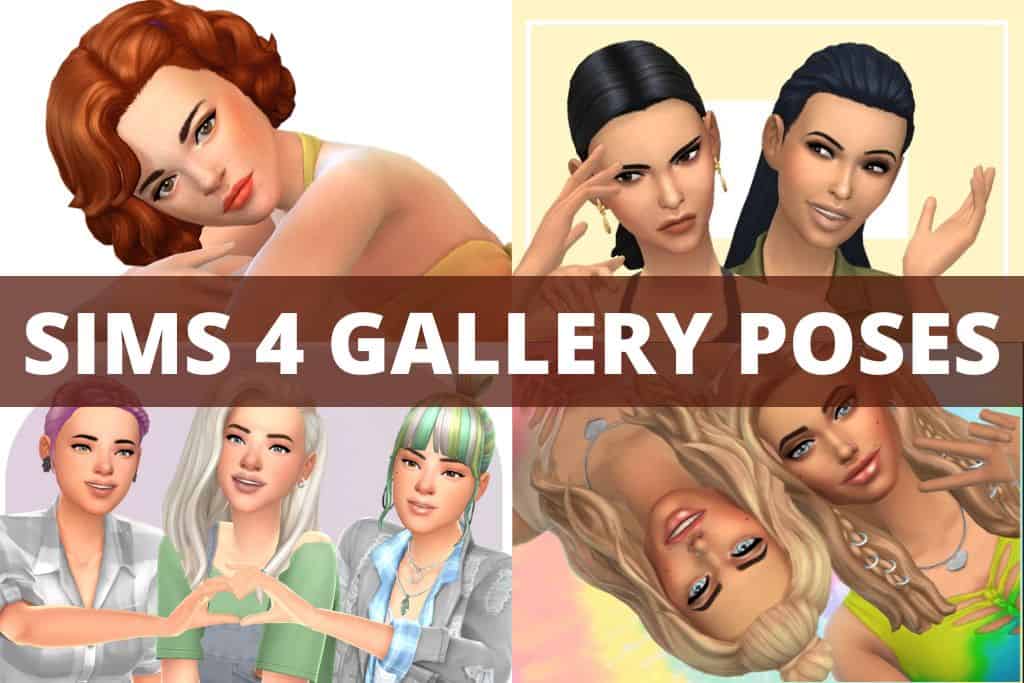 Are you looking to make the perfect snapshots of your sims?
These Sims 4 custom gallery poses are what is missing for any Simmer who wants to show off their sims to the community.
Disclaimer: The following mods are neither endorsed nor affiliated with The Sims, Maxis, or Electronic Arts. Any use of mods (custom content or game mods) should be done with caution and with the knowledge that there may be risks.
How to Install Sims 4 Gallery Poses
Here's a quick recap on how to install gallery poses mods.
Find and download your gallery poses on your computer
Unzip your compressed file (if applicable)
Place the content into your game's mod folder
Restart your game
If you are new to using poses, check out our easy tutorial on How to use poses in Sims 4.
The Best Sims 4 Gallery Poses
Before you get started, you need to know a few things.
There are two types of poses: Primary and Secondary.
Primary poses are for your household. This means that they are for pictures with more than one sim.
Secondary poses are for your individual sims, so they are for snapshots of a single sim.
With that in mind, take note that you can only have one set of poses of each type in your mods folder at a time.
To use different pose packs, you will need to close your game, swap them out, then restart the game.
1. Sweet Little Psycho Sims 4 Gallery Poses by Loulicorn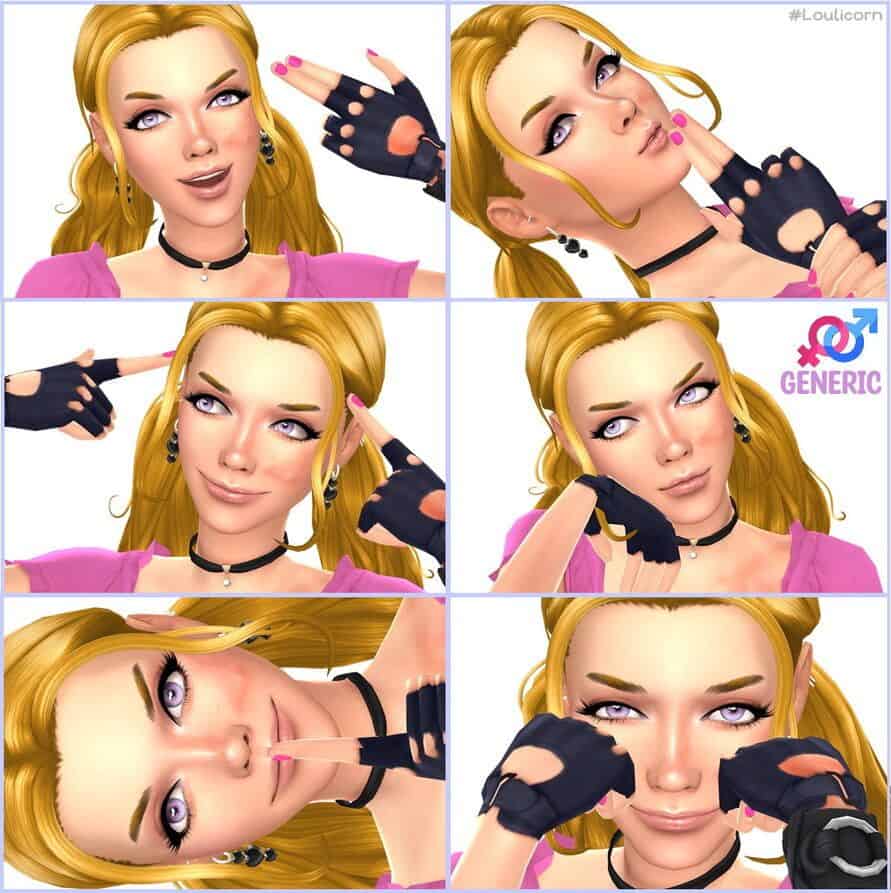 The Sweet Little Psycho set features six poses showing off your sim's wacky and rebellious side.
These poses make for great pictures. They are different from typical poses you'd find in the sim galleries.
It sure brings a fun twist to sims 4 gallery poses.

2. Sims 4 Comfortable Gallery Pose Pack by SimplyAnjuta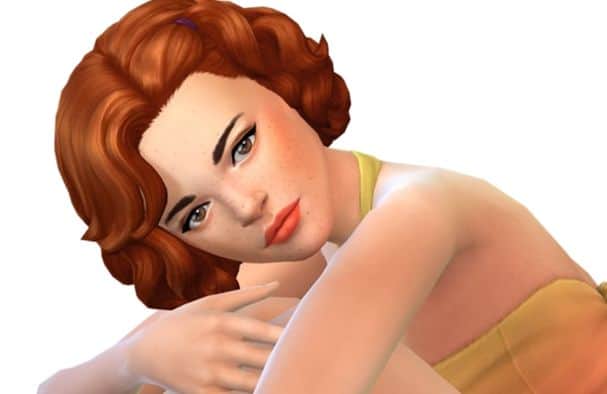 The poses remind me of a casual photoshoot.
These poses are also great for focusing on arm accessories or new facial custom content you want to draw attention towards.

3. Sims 4 Men's MINT Gallery Poses by SakuraLeon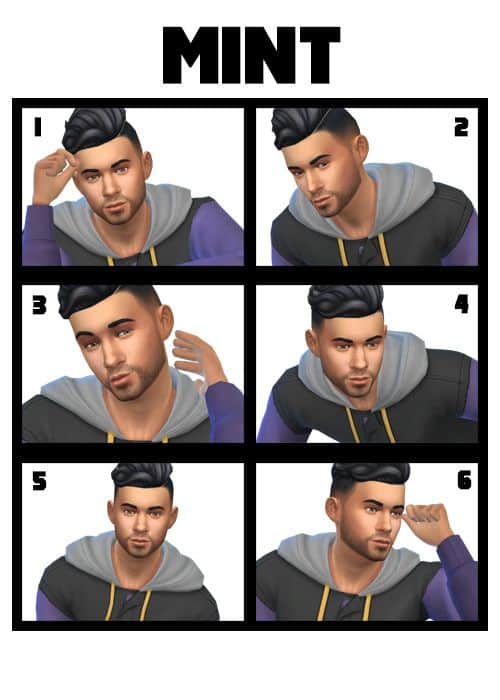 This set of six poses makes terrific photos for your male sims.
The Mint pose pack portrays your sims in classic men's model poses.
They all made great pictures, but I have to say poses number 1 and 5 are my favorites.

4. Sims 4 Side By Side Gallery Pose by Chrystin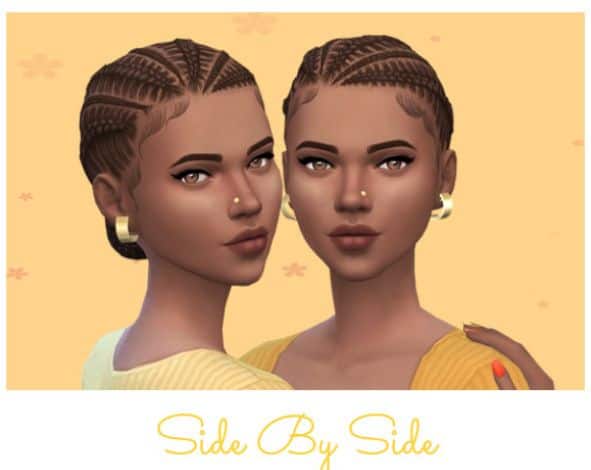 This sister pose is one of my favorites.
The Side by Side set depicts the closeness between siblings, which is always nice to capture in a picture.
If you have sim siblings in your household, then this closeup pose is a must.

5. Siblings Sims 4 Gallery Pose by Loulicorn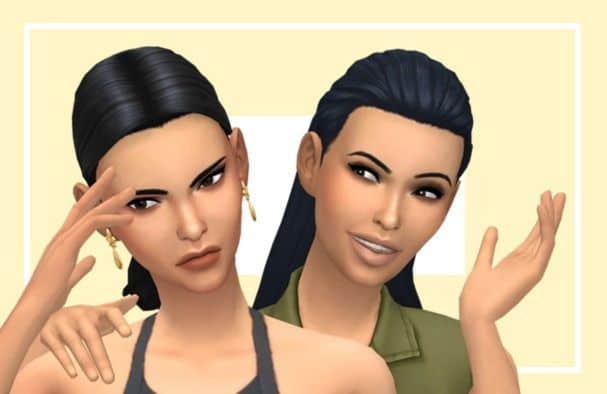 As much as we love our siblings, sometimes they can annoy the life out of us.
This pose called Siblings demonstrates that annoyance down to a T.

6. Sims 4 Yearbook Pose Pack by Katverse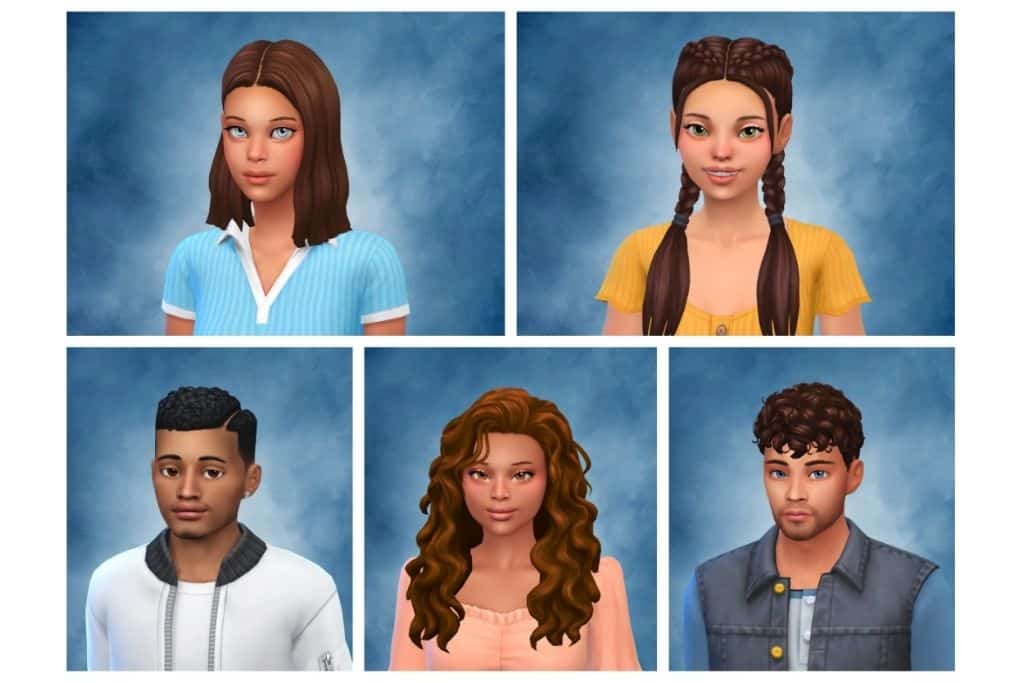 The Yearbook Pose Pack is a fun and original way of presenting your sims to the community.
If you have a household with a group of friends, then you can bring back the school yearbook experience.

7. The Sims 4 Fiancé Gallery Poses by Loulicorn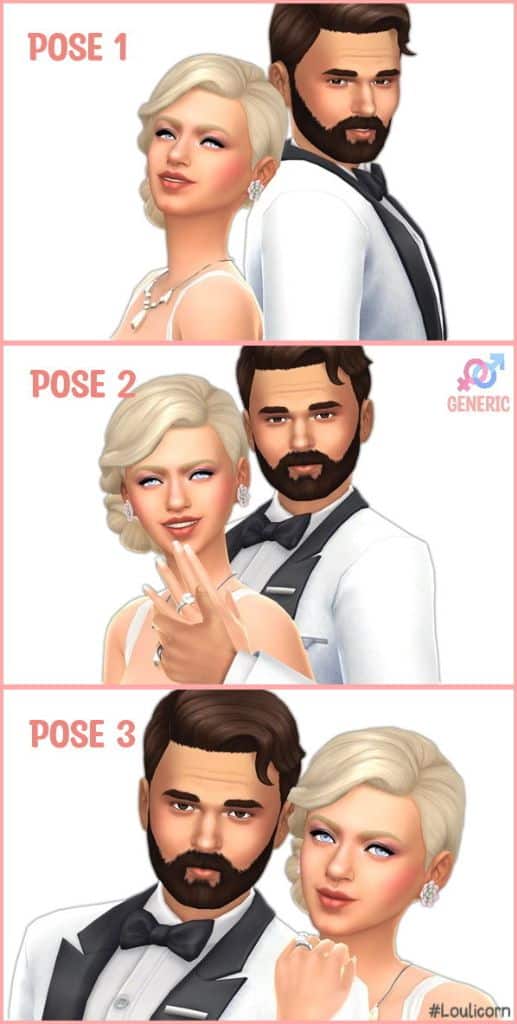 This lovely set of three photo ops for your Sims 4 couple is the perfect way to symbolize their engagement.
The Fiancés pose pack is a romantic way to show off your sims' love for each other.
It's also a great way to show off that ring too. 😉

8. Girls Relax Sims 4 Gallery Poses by SakuraLeon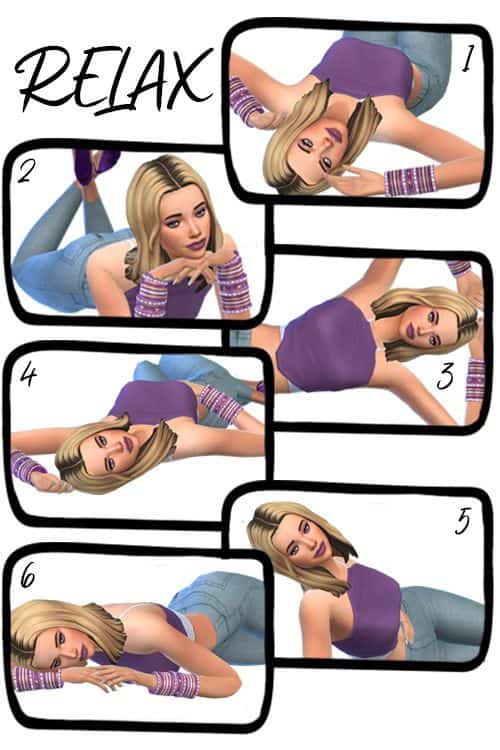 This is another good set of Sims 4 gallery poses.
The Relax pack gives us six different to fashionably lounge around.
I find that these made very pretty pictures of my female sims.
My personal favorites are numbers 2 and 4. I believe that those gallery poses made them stand out from the rest.

9. Sims 4 Wear It Gallery Poses by SimplyAnjuta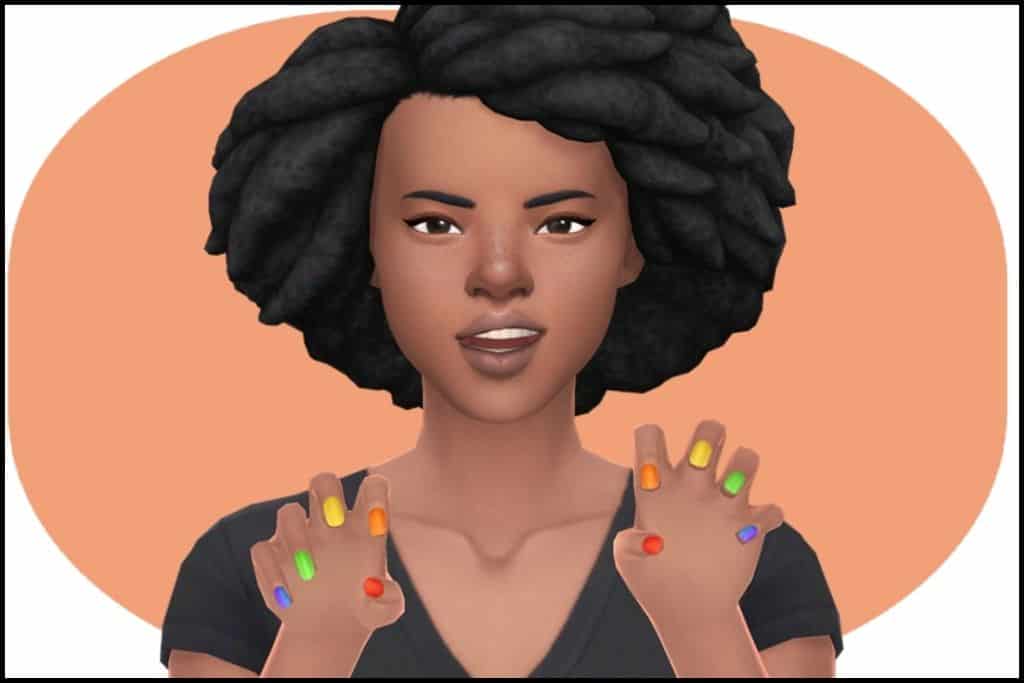 The Wear It collection gives six ways of drawing attention to your sims' nails.
If you've scored a new set of nail cc, then this is a fantastic way of displaying them in your screenshots.

10. Levitation Sims 4 Gallery Poses by Loulicorn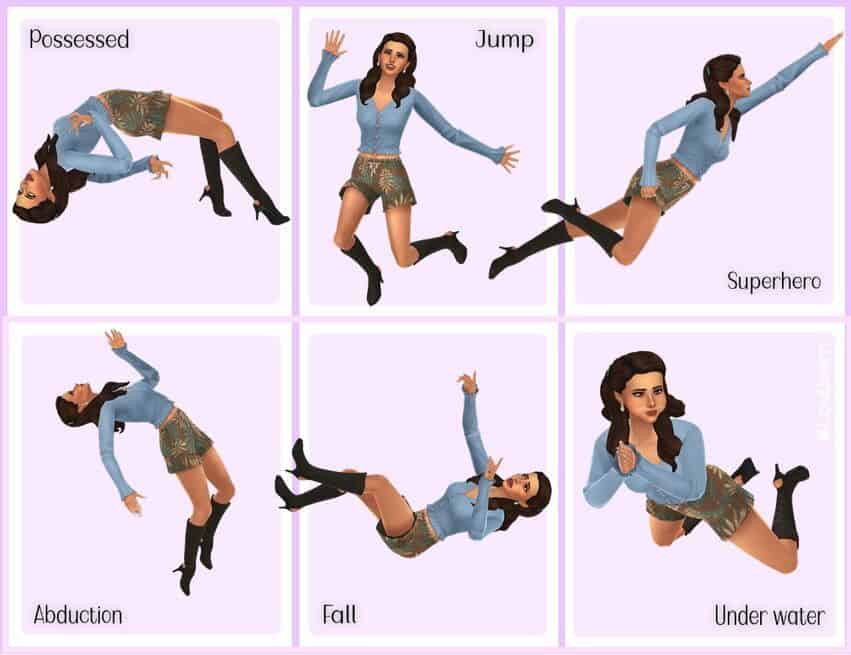 Here's a new and fun way of displaying your sims. With a bunch of mid-air poses.
The Levitation gallery poses illustrate your sims levitating upwards and downwards in six wacky ways.

11. Sims 4 Summer Lovin Gallery Pose by SimplyAnjuta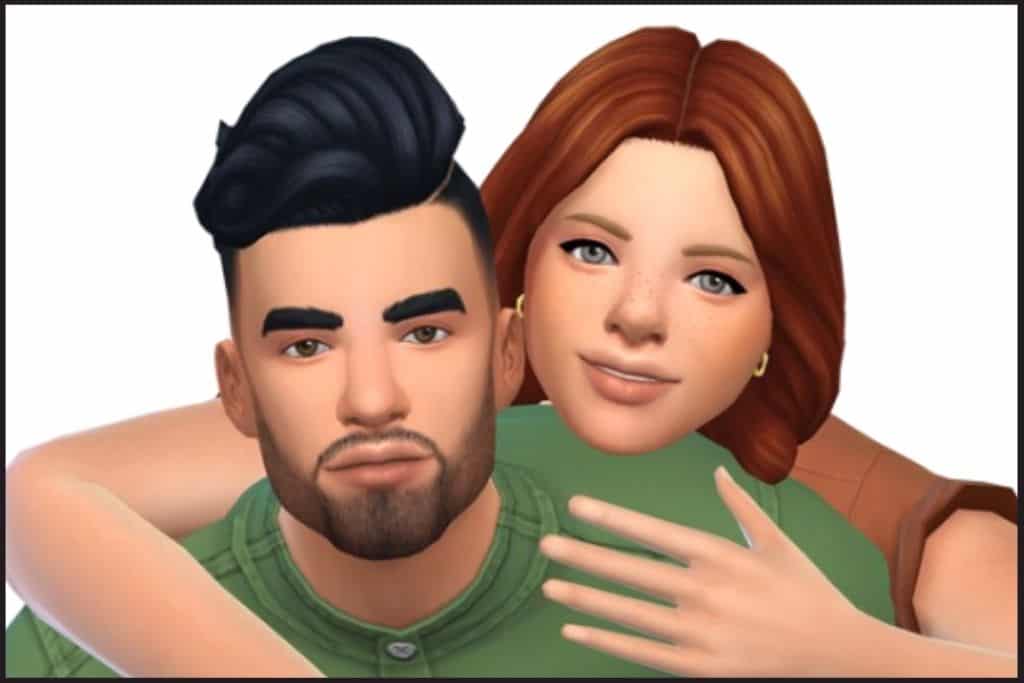 Two sims, one pose. The Summer lovin' set makes a great picture of your sim couple.
In this picture, the girl leans on her man's shoulder, making them look warm and adorable.

12. Sims 4 Gallery Pose Pack 01 by Katverse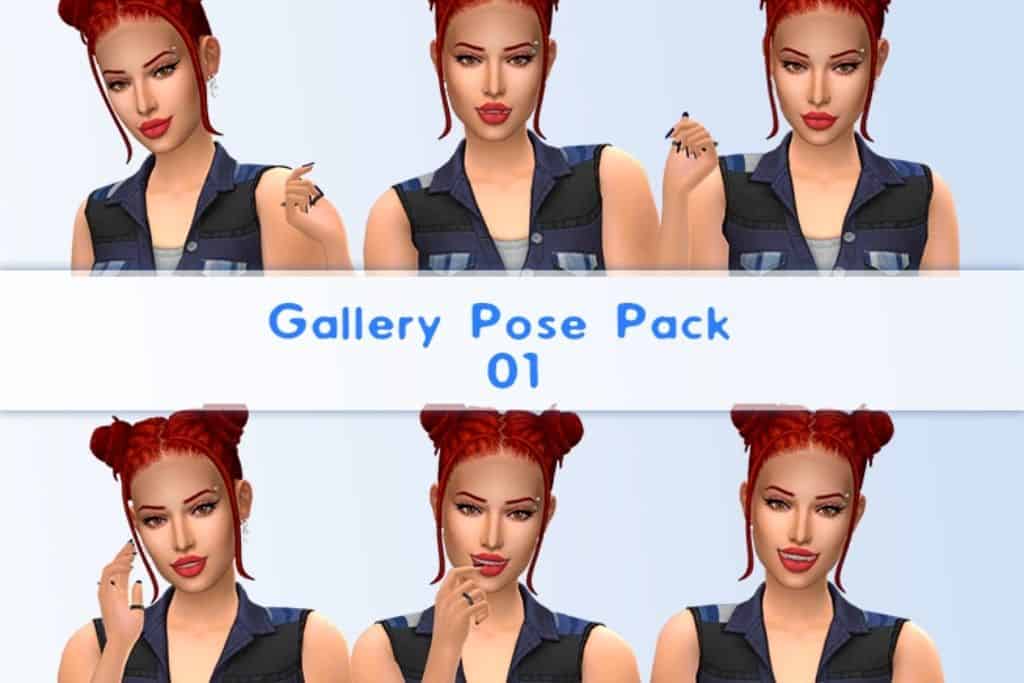 Another cool set for your female sim is the Gallery Pose Pack 01.
This pose pack includes six snapshots to pick from that'll exude confidence, attitude, and a hint of mischief to your pictures.

13. Sims 4 Gallery Poses Family With Teens by Loulicorn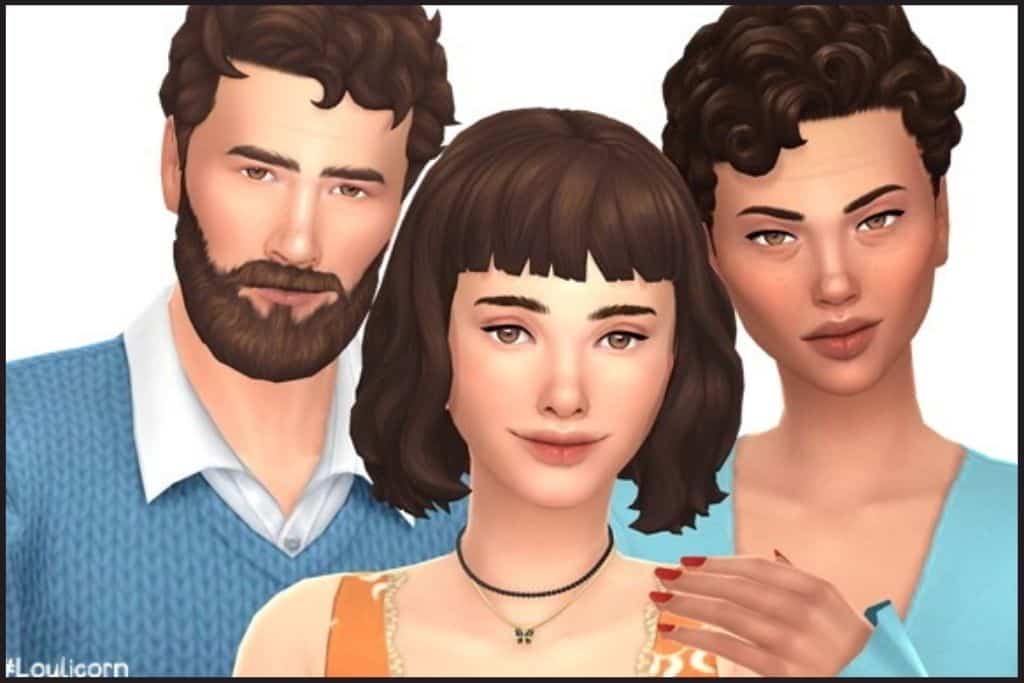 The Family with Teens can be used for a family of 3 or 4, depending on your household.
This would make a great picture displayed in your sim home, which can be done using the Photographic Memory mod.

14. Sims 4 Stance Gallery Poses by SakuraLeon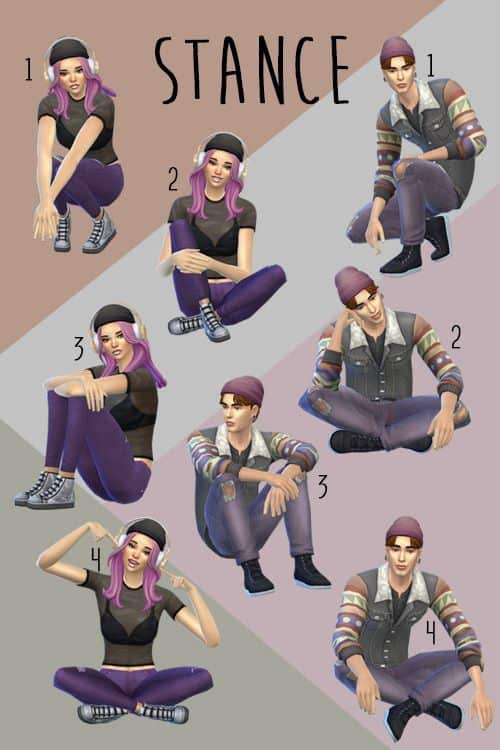 This is a nice set of several sitting poses for your young sims.
The Stance pose pack contains eight poses for either boys or girls, but the creator recommends using them, as shown above.

15. Nailed It Gallery Poses by ErenSparkles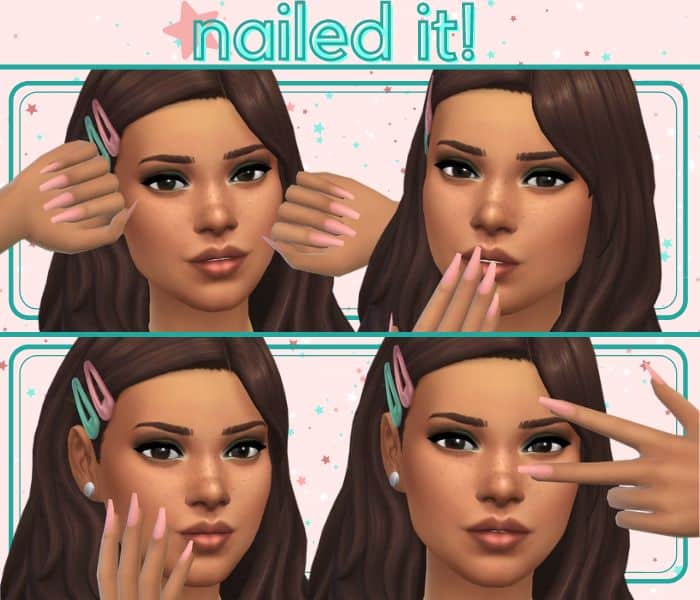 The Nailed It collection is a set of four poses for either male or female sims.
This collection of poses is similar in style to the set listed in #9 above.
These great complimentary pose packs add some variety to your close-up poses.

16. Happy Family Sims 4 Gallery Poses by Loulicorn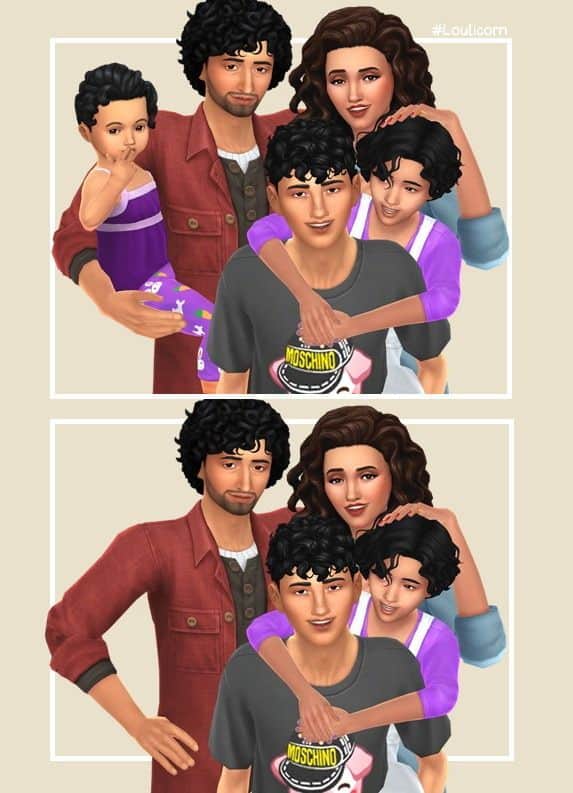 The Happy Family is a cute portrait that works with a family of 4 or 5.
To pull off this pose, your family members need to be in the following order:
Adult Female
Adult Male
Teen
Child
Optional toddler as the 5th member

17. Sims 4 Female Gallery Poses by SimplyAnjuta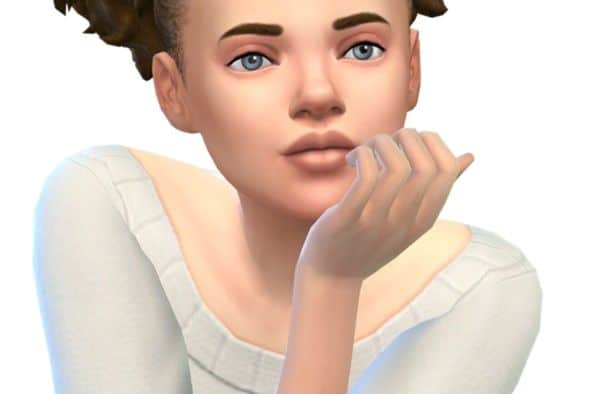 This set of Sims 4 gallery poses shows different closeup pics of your sim posing with their hands.
Hands by SimpleAnjuta offers six poses that depict simplicity at its best.

18. Sims 4 Baddie Poses by Chrystin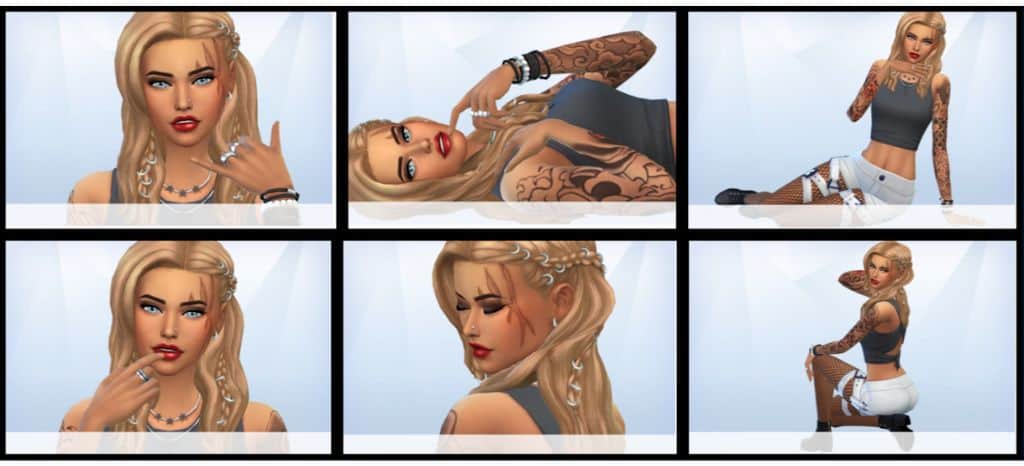 I love the Baddie Poses set. This brings your sims to a new level of beauty and sexiness in these six different ways.
Fun fact. This is the first set of Sims 4 gallery poses for creator Chrystin.
She was off to a good start, I must say. Kudos!

19. Heart 2 Heart Sims 4 Gallery Pose by SimplyAnjuta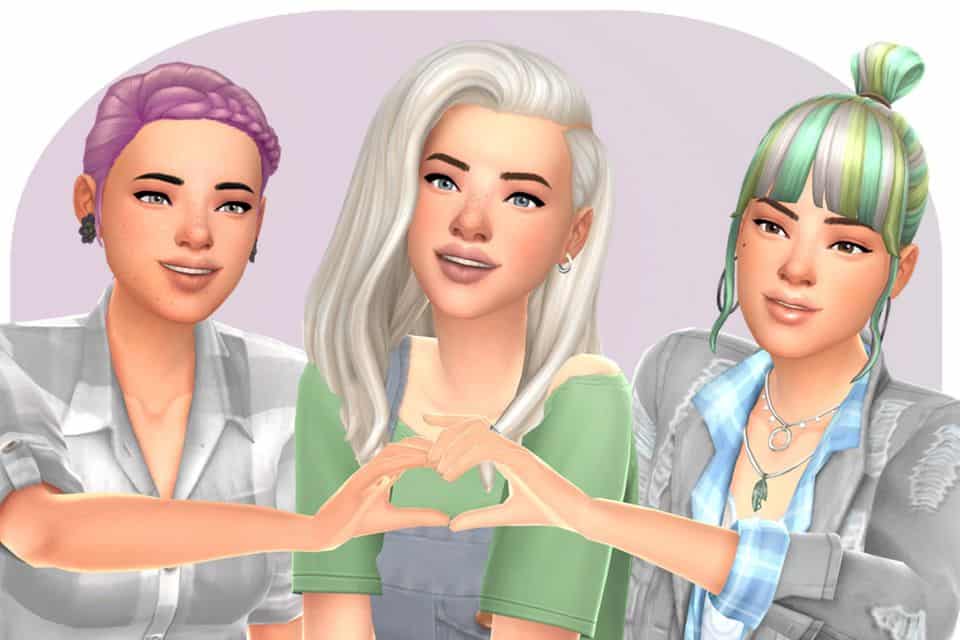 This set is a great way of showing off your sims friendships with the Heart 2 Heart pose.
This closeup pose of friends making a heart with their hands is something many of us have done.
Although originally intended for females, you can mix things up with different combos.

20. Sims 4 Playful Poses by Chrystin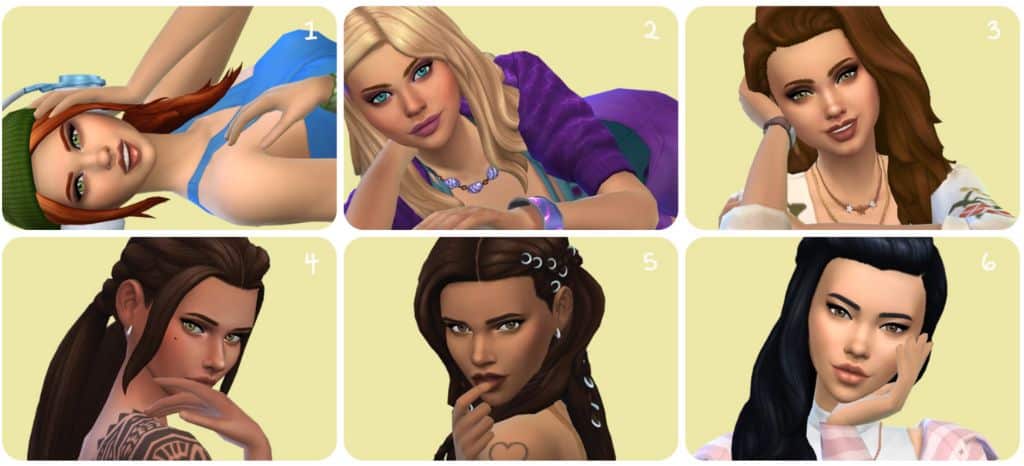 This Playful Poses pack by Chrystin showcases your sims being flirtatious and playful.
In this set of six poses, you get a mix of casual, fun, flirty, and candid shots.

21. Grimaces Sims 4 Gallery Poses by Loulicorn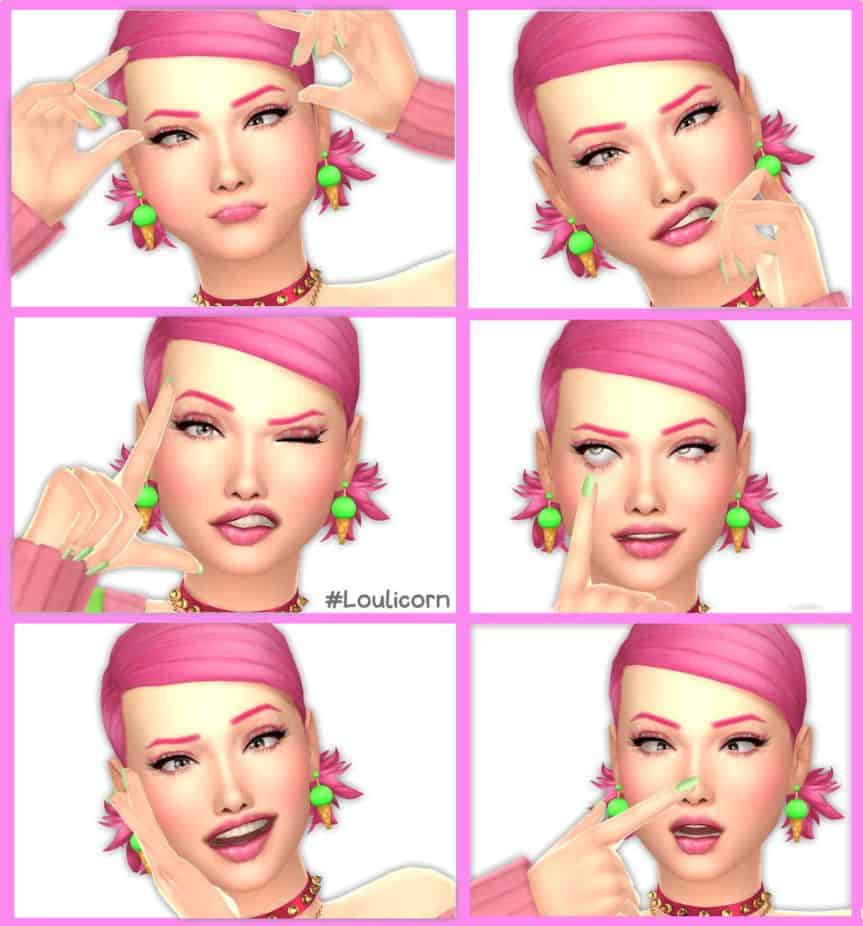 This is a fun set of sims 4 gallery poses. It's called Grimaces which perfectly represents the kind of poses you'll get out of this pose set.
If you want your sims to goof around and be plain silly, this pose pack is for you.

22. Sims 4 Candy Gallery Poses by SakuraLeon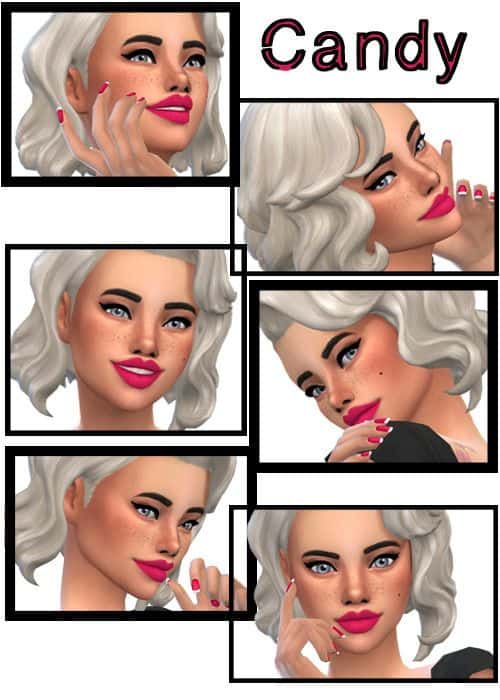 This is a lovely set of six closeup poses for your female sims.
The Candy collection has beautiful shots to make your sims look stunning.
To display correctly, be sure to install the No Mirroring Mod provided on the link below.

23. Sims 4 Portrait Poses by Katverse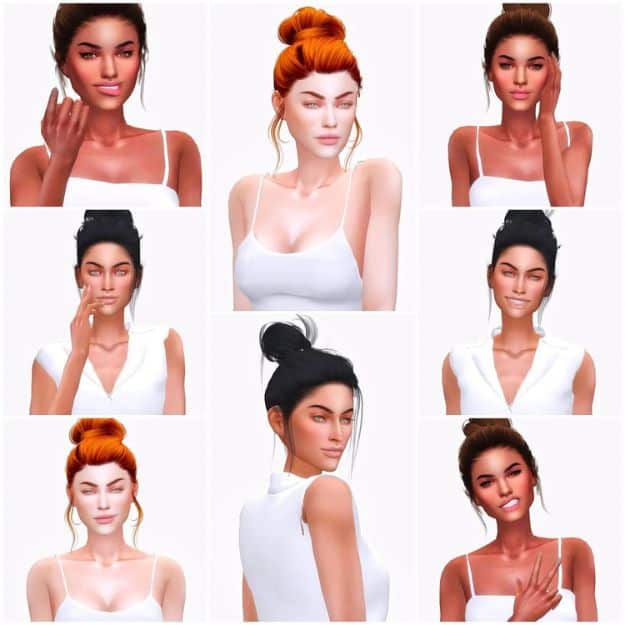 These eight single poses, included in the Portrait Poses pack, are just fabulous.
They make your sim look so pretty and natural, especially with these smiling snapshots.
On top of that, they can also be used as in-game poses.

24. Hanging Out Gallery Pose Pack by SimplyAnjuta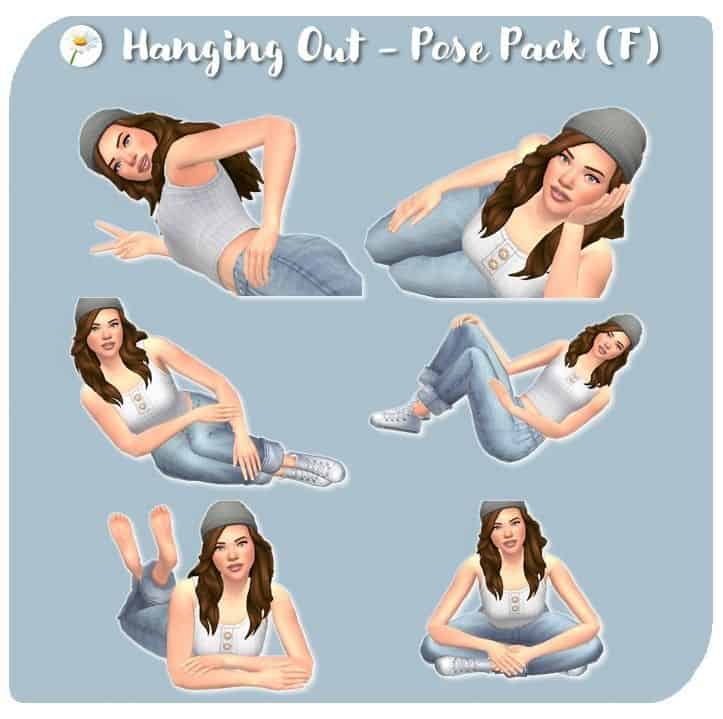 This is a cute set of poses for the TS4 gallery.
The Hanging Out pack includes six poses of your female sims chilling on the floor.
This could make for some nice photos if you upload them to Canva and add a background, such as grass, to lay on top.

25. Bad Guy Sims 4 Gallery Poses by Loulicorn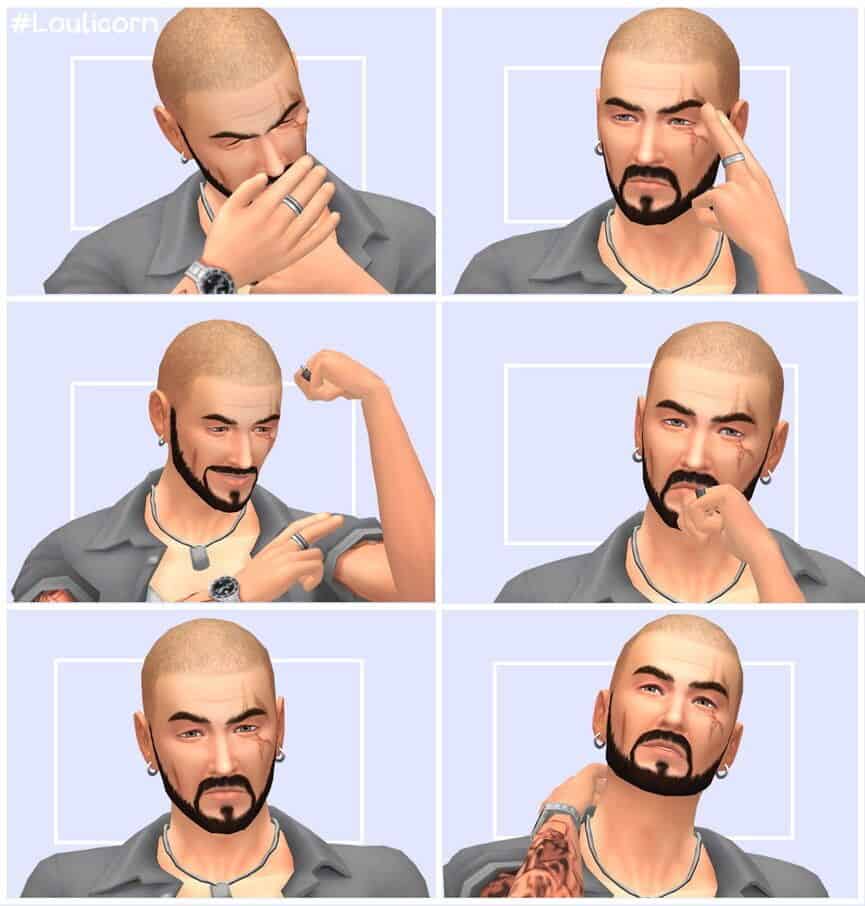 If one of your sims looks like a tough guy, perhaps with a rugged face or a real badass, this set is for you.
The Bad Guy set contains six poses that will give your sims a more dangerous look.
Even if your sims are a big softy, it's fun to see what they would look like as their counterpart.

26. The Sims 4 Sparkle Gallery Poses by ErenSparkles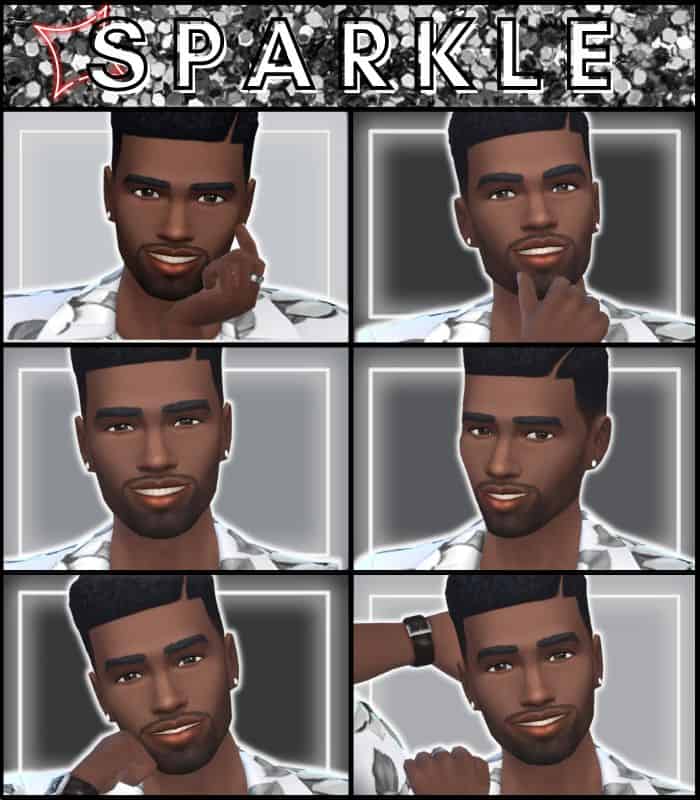 The Sparkle pose pack features six gallery closeup shots that show off your sim's pearly whites.
This is great for closeup poses of your male sims.
The pictures I took, with these smiling poses, made my sim look quite charming.

27. Sims 4 BFF Gallery Pose by Chrystin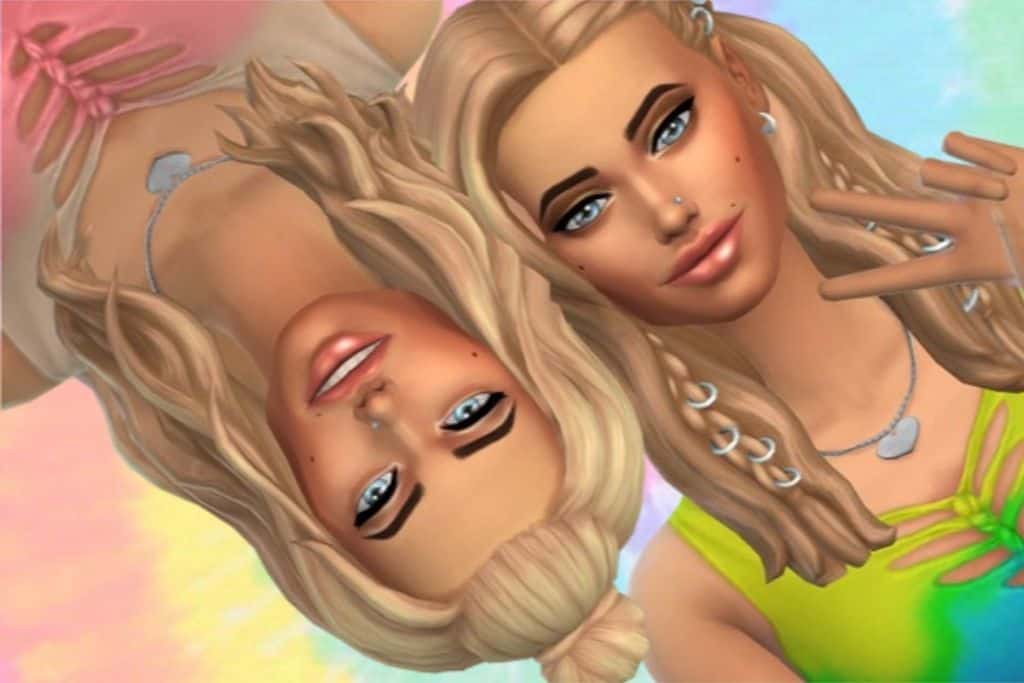 The BFF pose is a superb way of taking a picture of two sim besties or even siblings, which is how I used it.
This pose will turn heads. 😆

28. Bella Sims 4 Gallery Poses by SakuraLeon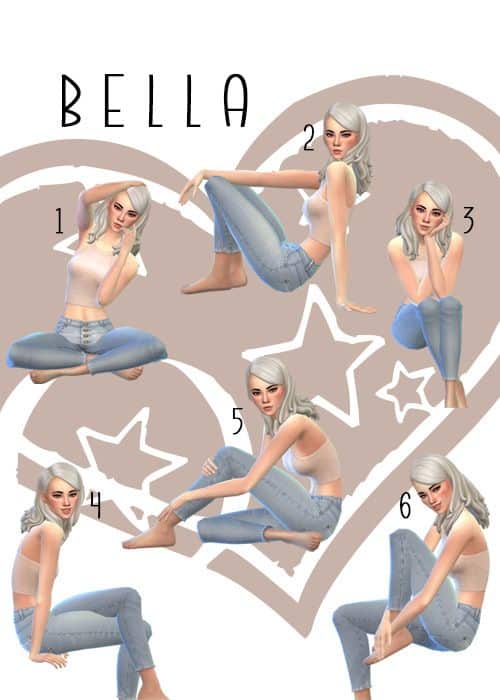 The Bella pose set offers six different ways of posing while sitting.
I adore this set. They made beautiful pictures, making my sims look so natural too.

29. Sweet Couple Gallery Pose by Loulicorn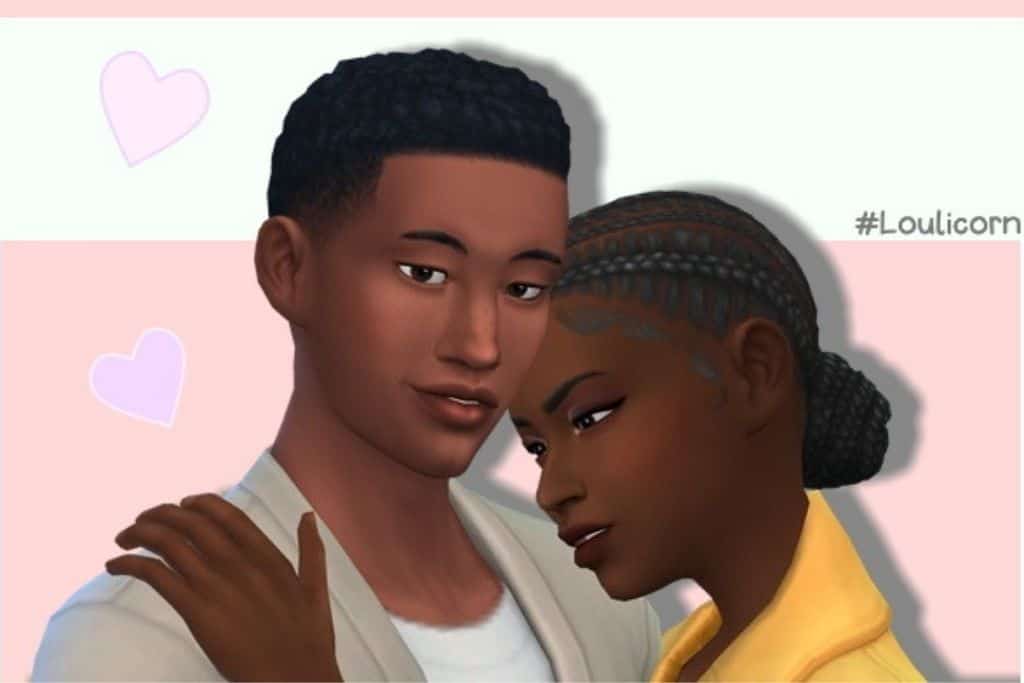 The Sweet Couple pose only includes this one pose.
It displays the loving embrace between two sims.
It's a simple and effective way of showing off your two lovebirds to the sims community.
To pull off this pose, while in CAS, you would need your sims to be in the correct order, male, followed by a female sim.

30. Pride & Prejudice Gallery Pose for Sims 4 by SimplyAnjuta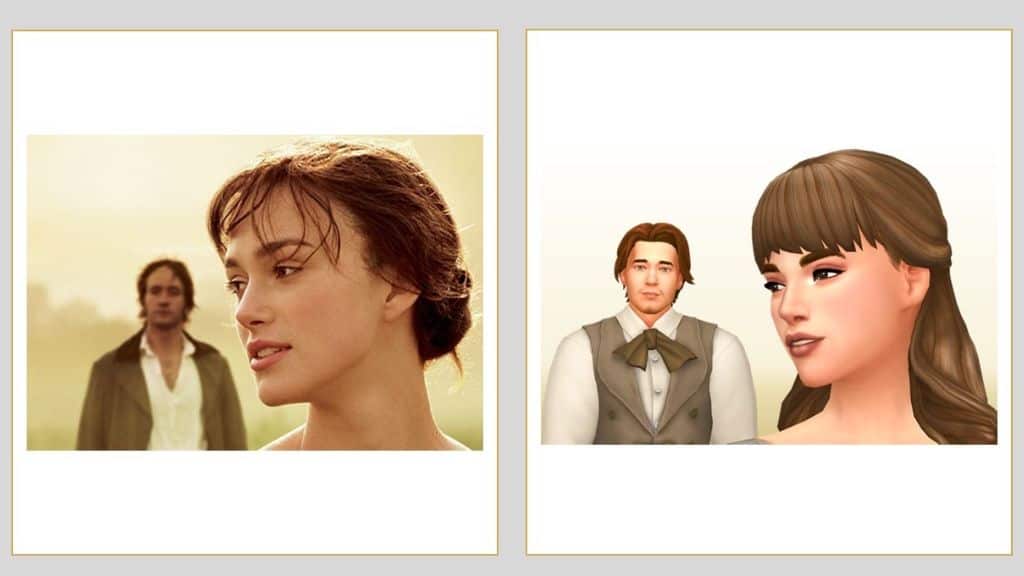 Jenny loves this movie; she plays it constantly on the TV in the background while working on We Want Mods.
It's no surprise that this pose is one of our favorite Sims 4 gallery poses.
This Pride and Prejudice pose perfectly recreates the movie's cover art.
You just need to style your sims like Mr. Darcy and Ms. Bennet to recreate the movie's romantic feel.

31. Sims 4 Portrait Poses Part 2 by Katverse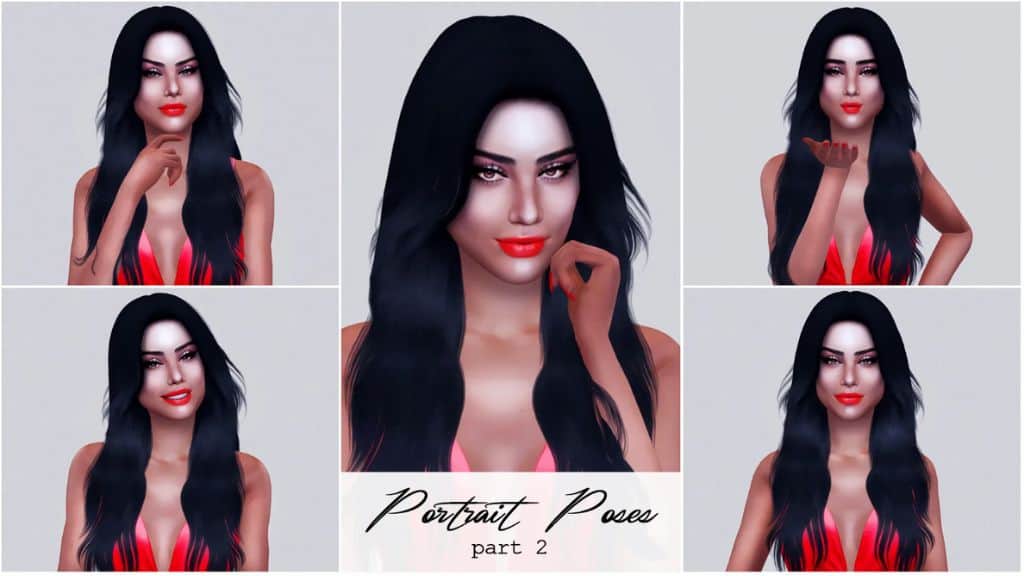 The Portrait Poses Part 2 set contains five poses that portray your sims in a flirty way with a hint of casual mischief.
Final Thoughts on Sims 4 Gallery Poses
Gallery poses are a great way to focus on solo closeups or pictures with your favorite household members.
Also, if you come across any other Gallery poses for me to check out, feel free to send us a link in the comments below or tag us on Tumblr.
Other Mods Articles

31 Best Sims 4 Gallery Poses (Free Downloads)