27+ Heartwarming Sims 4 Family Poses You Should Try
Has anyone fallen in love with their own little sims family and can't wait to take a ton of pictures of them?
We've listed some of the best sims 4 family poses for you to try out.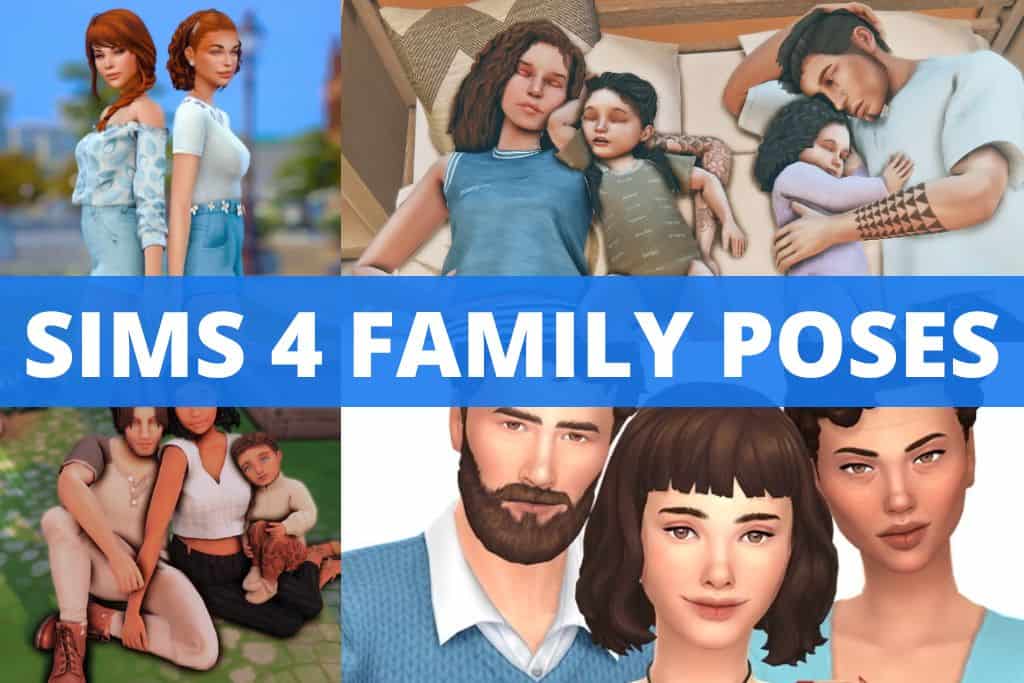 We have compiled this list of some of the best family poses that are sure to add some warmth and love to your gameplay.
If you're looking for some heartwarming family photos for your Sims 4 game, look no further!
These custom poses are ideal for any family-oriented Simmer, whether it's a great night out to the movies or just hugging it out.
There is a Kodak moment for every scenario!
Disclaimer: The following mods are neither endorsed nor affiliated with The Sims, Maxis, or Electronic Arts. Any use of mods (custom content or game mods) should be done with caution and with the knowledge that there may be risks.
The Best Sims 4 Family Poses
The vast majority of the family poses in this collection are in-game poses.
To use these in-game pose packs, you will need to have the following two mods installed:
You can learn more about these two mods in our How to use poses article.
And once you are done selecting your favorite family poses, don't forget to stop by and grab some Sims 4 CAS Poses here too.
1. Close Family Moments Posepack by Subiesims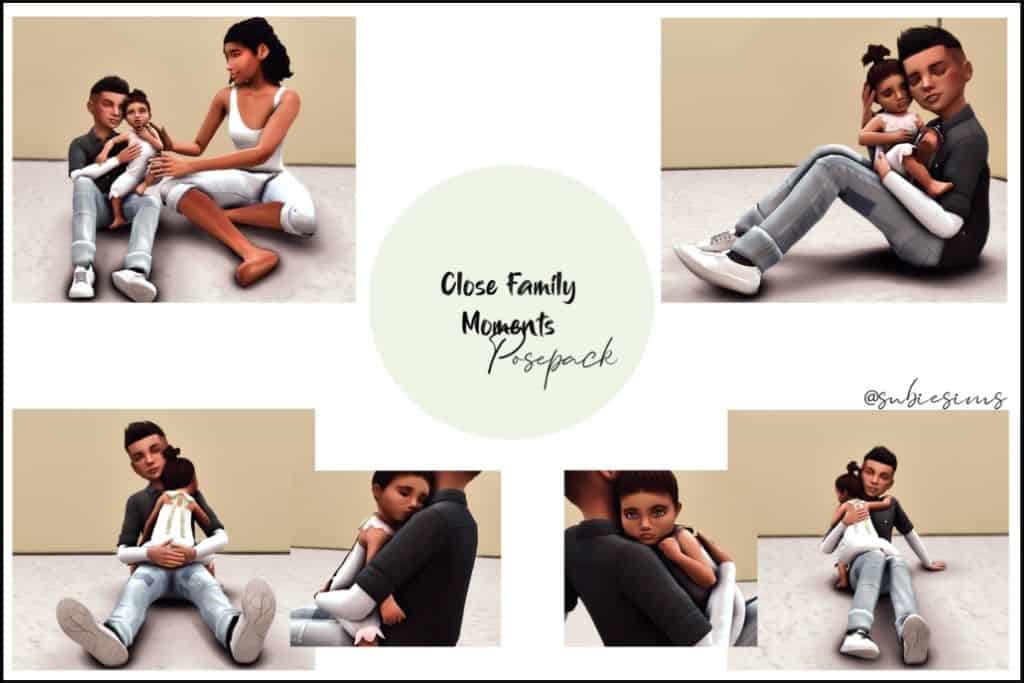 The Close Family Moments Posepack is a cute set showing sibling bonding together that melts the heart.
If your sims family has multiple children, and one of those is a toddler, this is the perfect opportunity to take these adorable screenshots.

2. Sims 4 Family First Posepack by Mel Bennett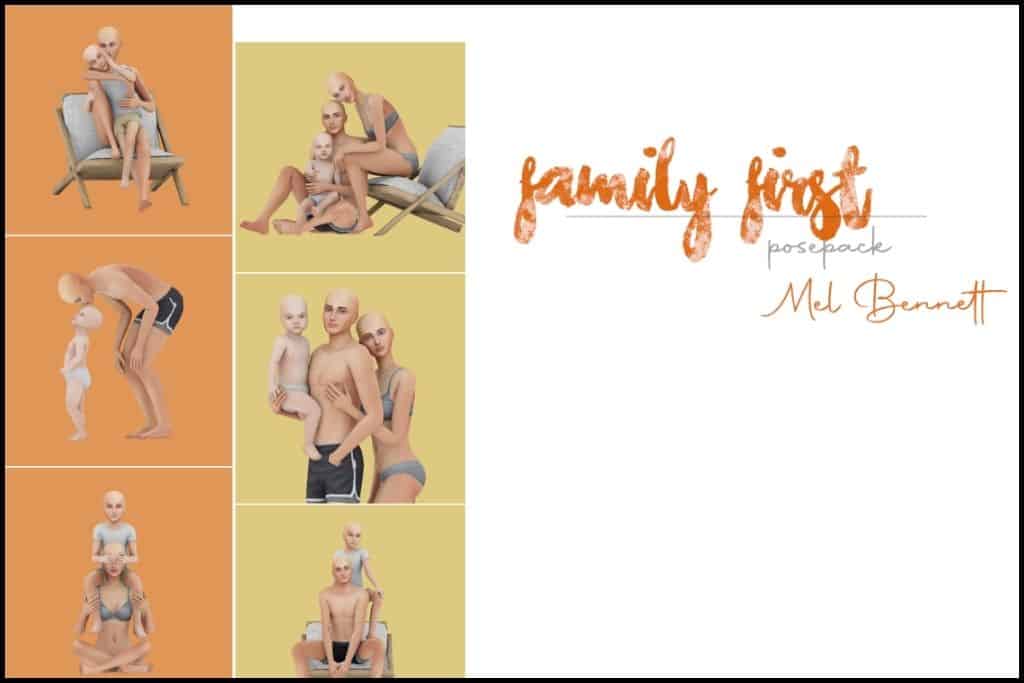 The Family First Posepack has a nice collection of different-style poses for a sim family of 3.
This set is composed of 6 poses. Four poses are a parent and child combo.
The other two options are group poses to show off the entire family.
Some of these poses require a chair.
If you want the exact chair shown in the picture above, you can grab the link from the pose's page right below.

3. Three of Us by Simmerberlin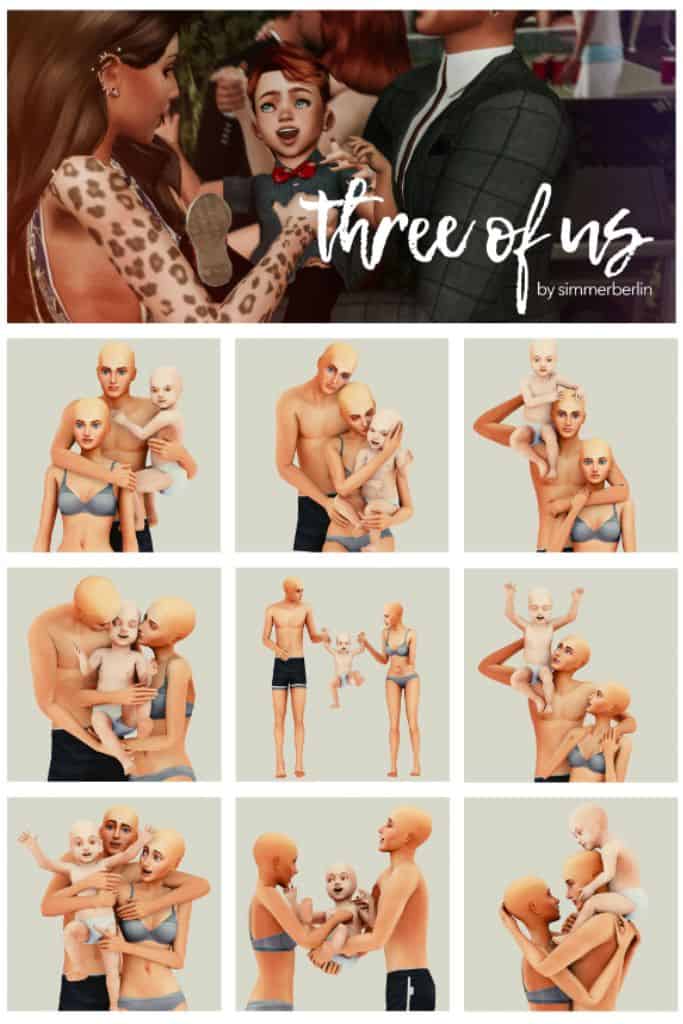 Another cute set for a family of 3 is the Three of Us pose pack.
This set contains 9 poses.
You get a mix of classic family poses and some lovely "in the moment" kind of poses where the child is the star of the pictures.
I just love that sweet loving embrace portrait.
It shows off the heart and soul of the sims family with one click of the camera.

4. Family Portrait – Pose by Rebouks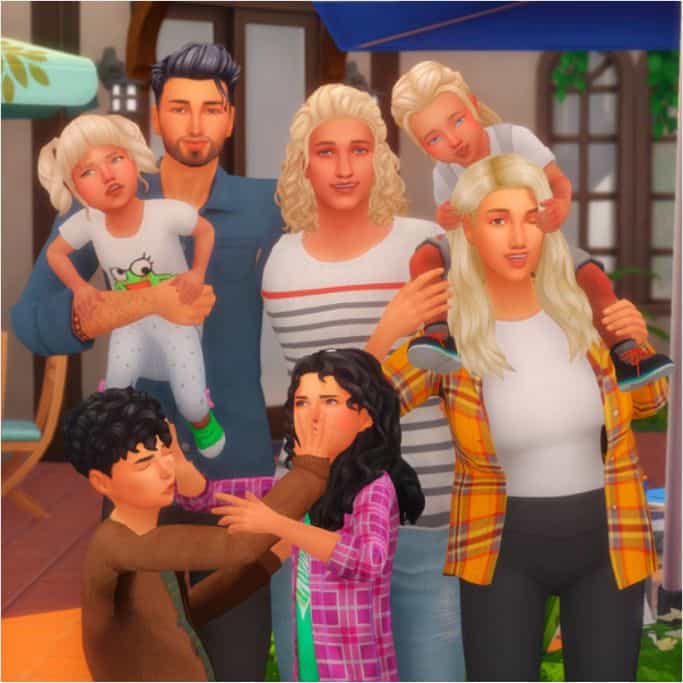 Do you have a large sim family? Let's say of 7!! Not a problem.
The Family Portrait pose brings the whole family in a single frame.
I find that this family pose brings a nice touch of realism where your family is trying to get a nice picture taken, but the kids can't sit still for 2 seconds.

5. In The Moment Family Portrait Posepack by Subiesims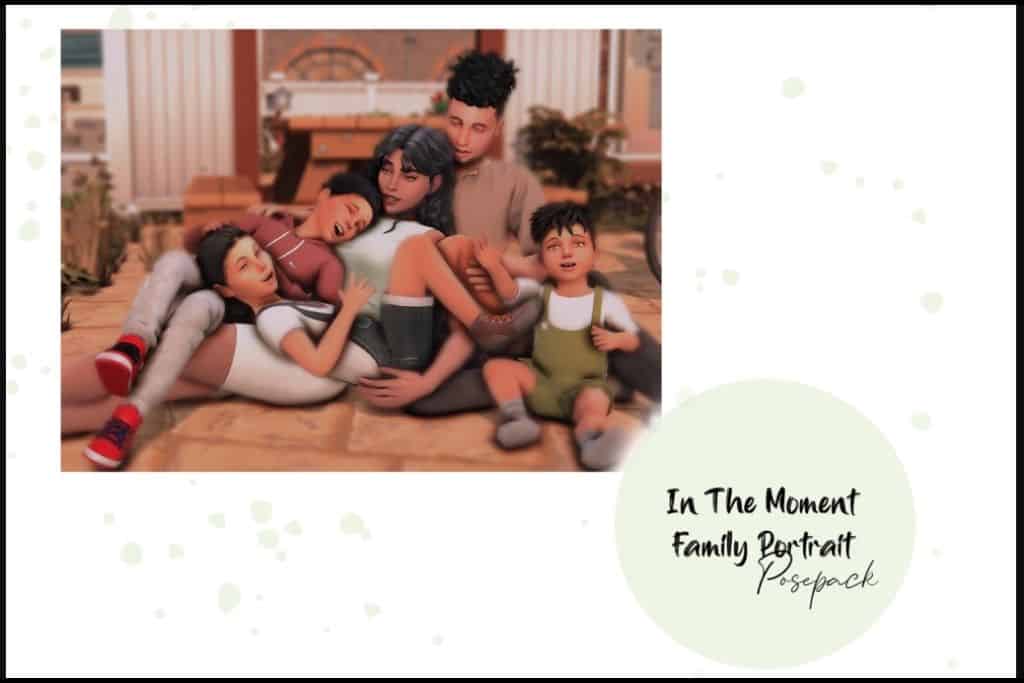 In my opinion, nothing beats a spur-of-the-moment picture, and this candid-style pose accomplishes just that.
The In the Moment Family Portrait Posepack captures a genuine family bonding moment.
It's so pure. You can see the family's closeness to one another.
This is a great pose if you have a family of 5.

6. Happy Family Poses by Loulicorn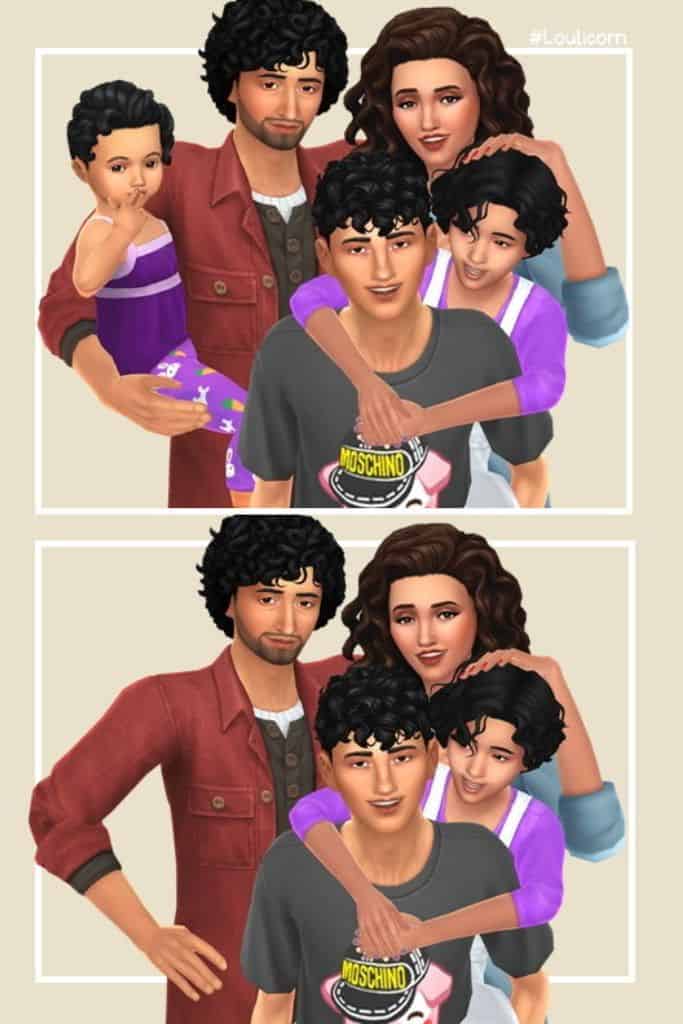 The Happy Family pose differs from most of the other poses in this article.
What makes it different from the rest is that it is a Gallery pose instead of an in-game pose.
To make this pose work, your sim family must be composed of either 4 or 5 family members, depending on the chosen link.
Before accessing the Gallery pose through the CAS screen, the family members should be placed in the following order:
Adult Female
Adult Male
Teen
Child
Optional toddler as the 5th member

7. Shield Posepack by Mel Bennett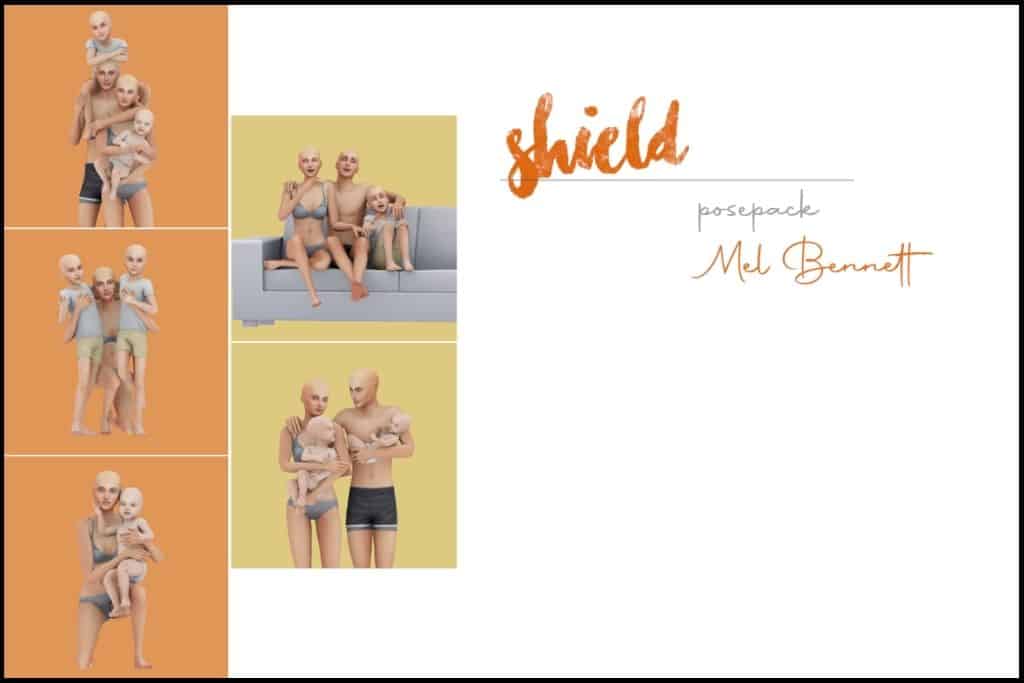 Another loving family pose set is the Shield Posepack.
This set includes one couple pose for a parent and toddler moment, and four other different group poses.
For the seated family pose, a couch is needed.
For the poses with a toddler, you will need to install a mod called Toddler Height Presets.
You'll find the link on the Shield Posepack's mod page.
In poses where a specific height is required, this mod takes care of changing your toddler's growth stage.

8. The 5 of Us Poses by Chewybutterfly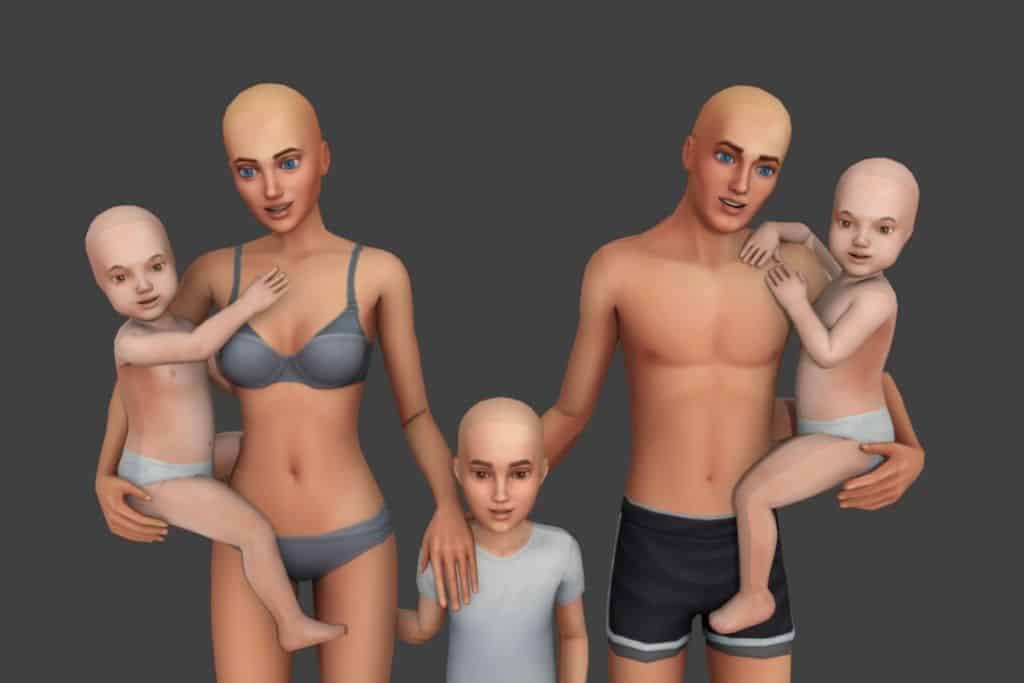 If your sim family includes two adults, two toddlers, and one child, this The 5 of Us Poses set it for you.
There are three poses to choose from, with some minor differences.
I find that these made great family screenshots if you like traditional family portraits.

9. Family Picture by Simmerberlin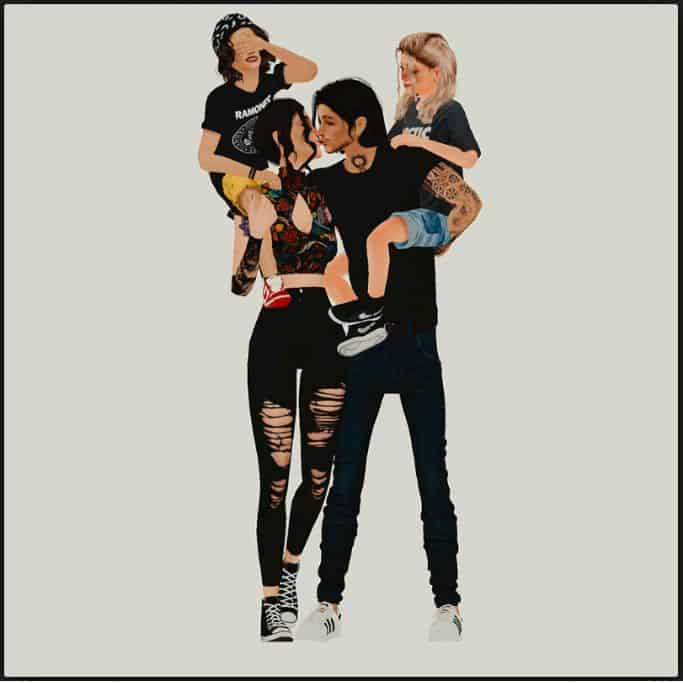 This Family Picture set includes three great poses for a family of 4 that has two kids and two adults.
I like this set because the creator captures the essence of how kids like to behave.
I know I reacted the exact same at that age when my parents kissed.
Eww, gross!!

10. Warmth Poses by Ratboysims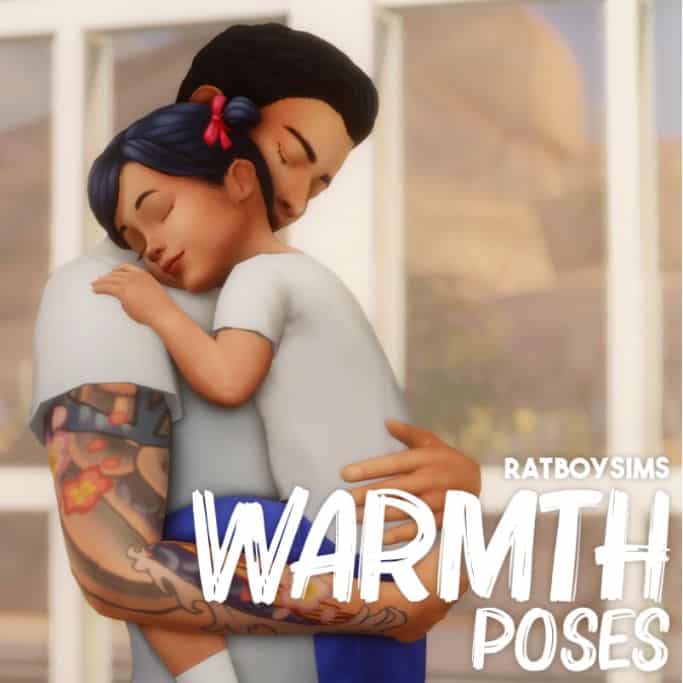 If this pose from Ratboysims' Warmth Poses doesn't melt your heart, I don't know what will.
This set of 3 poses illustrates the love between a father and his child.
This pack is extremely endearing and has an excellent focus on the father/child dynamic.

11. Toddler CoSleep Posepack by Subiesims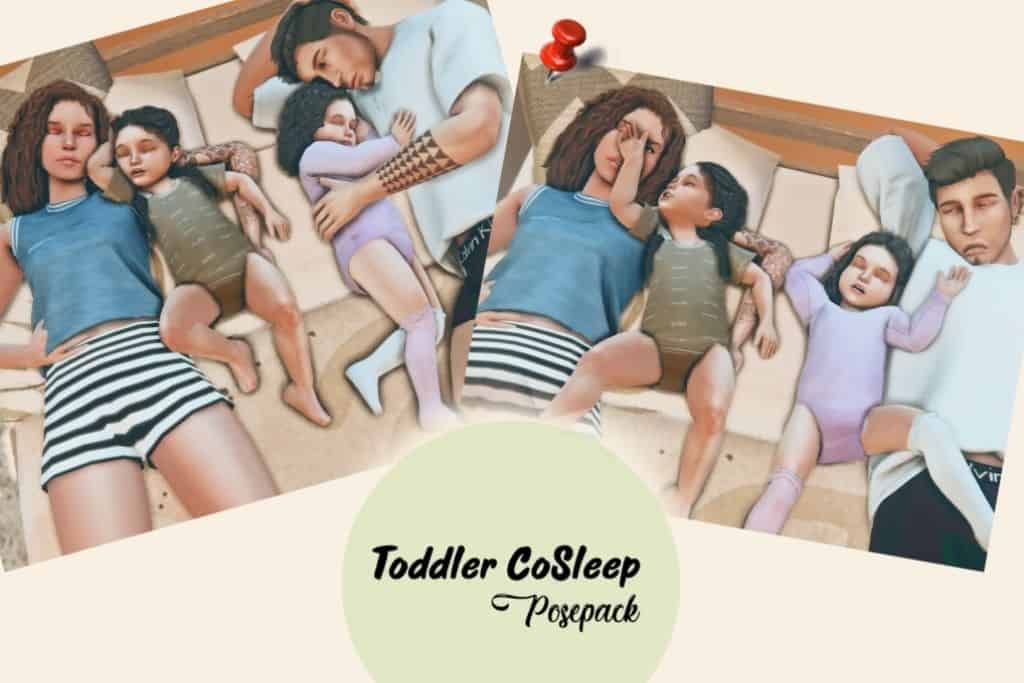 Another set of candid pictures is the Toddler CoSleep Posepack.
If someone were to imagine what cosleeping with kids would look like, it would look exactly like this.
You either get a cute bonding moment or kids tossing and turning, putting a damper on a quality night's sleep.
It could go either way, but in any case, it still makes for great pictures.

12. Baby, We'll Take Care of You by SSIAT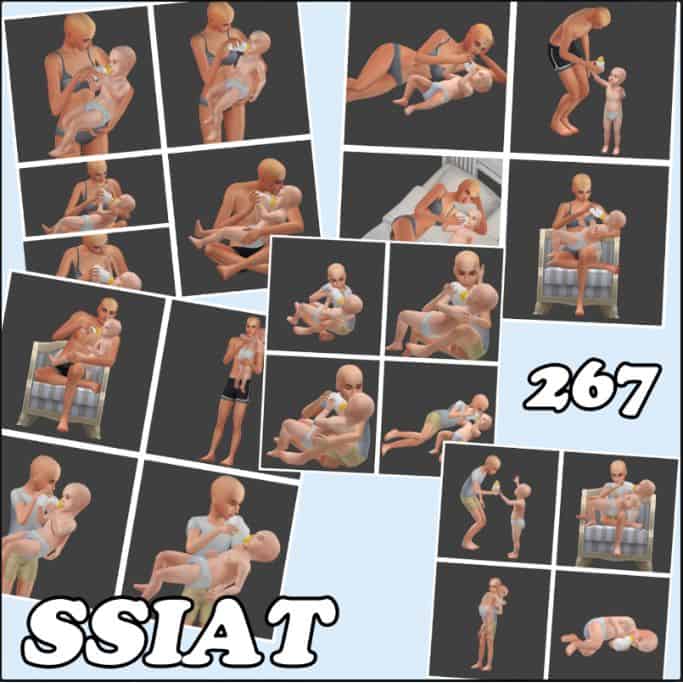 This is another lovely set of Sims 4 family poses.
This pack focuses on caring for a baby, so we get a lot of maternal and paternal care shots.
I really like the "Baby, We'll Take Care of You" pose set because you get a lot of options to choose from, and they're just so adorable.
You will need a chair or a bed for some of the poses.
But, for all these poses, you will need the baby bottle accessory, which can be found at the bottom of the linked page right below.

13. Sisters Pose Pack by Katverse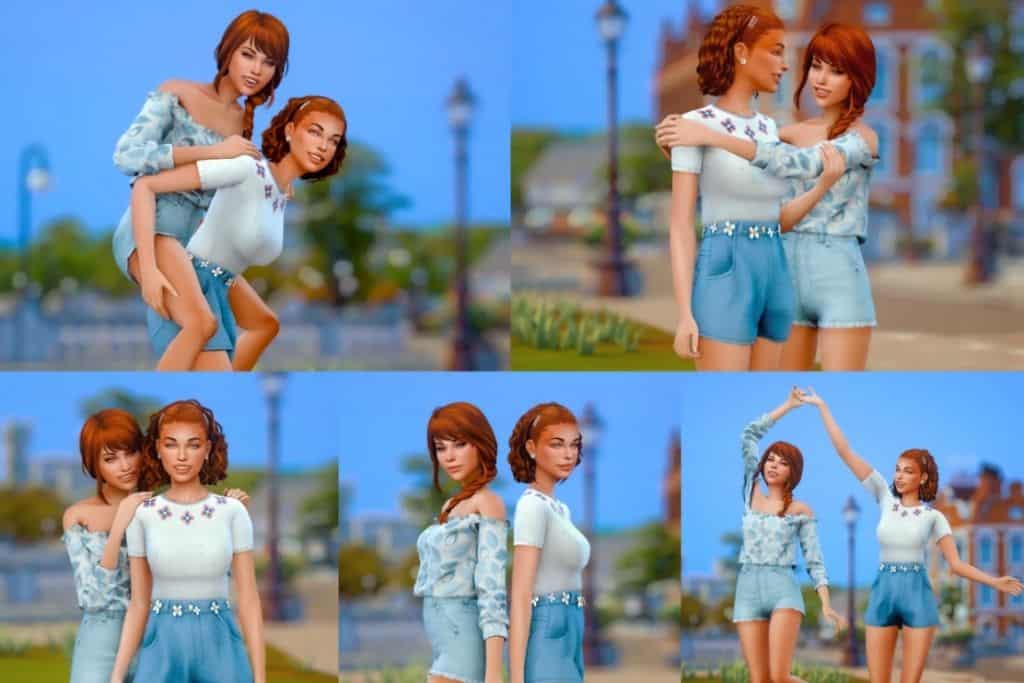 Having a sister in my life is the best thing I could've asked for. That's why I had to snag the Sisters Pose Pack.
With these poses, I captured some wonderful in-game images and showcased the unique closeness between my sim siblings.
This is, without a doubt, one of my favorite Sims 4 family poses.

14. Tree Decorating by StarrySimsie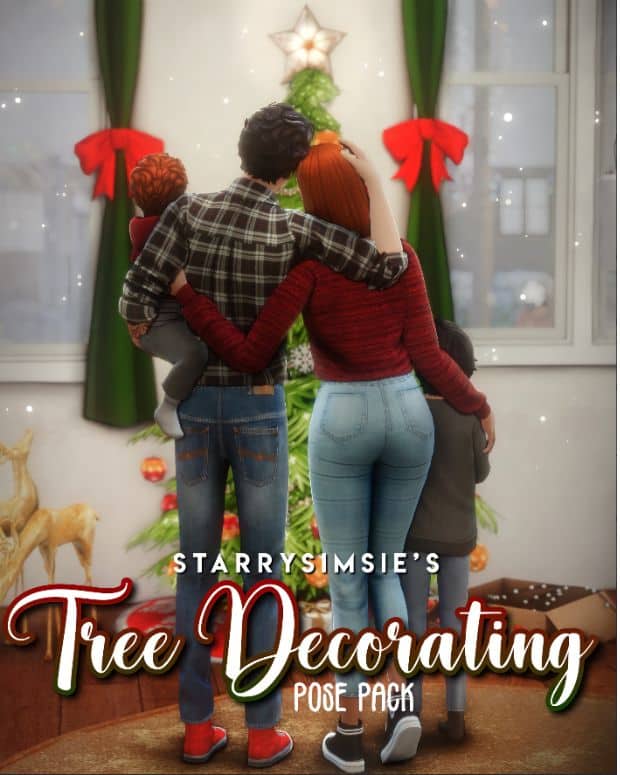 The holiday season is the most magical time of year, especially for a household with children.
It's that time of year when traditions are made, and tree decorating is in full swing.
The Tree Decorating Pose Pack perfectly captures the essence of the holiday spirit.
Recreate key scenes of decorating the tree and capture priceless images!
If you enjoy the holiday season, then be sure to grab this family pose set.

15. Mommy Posepack by Mel Bennett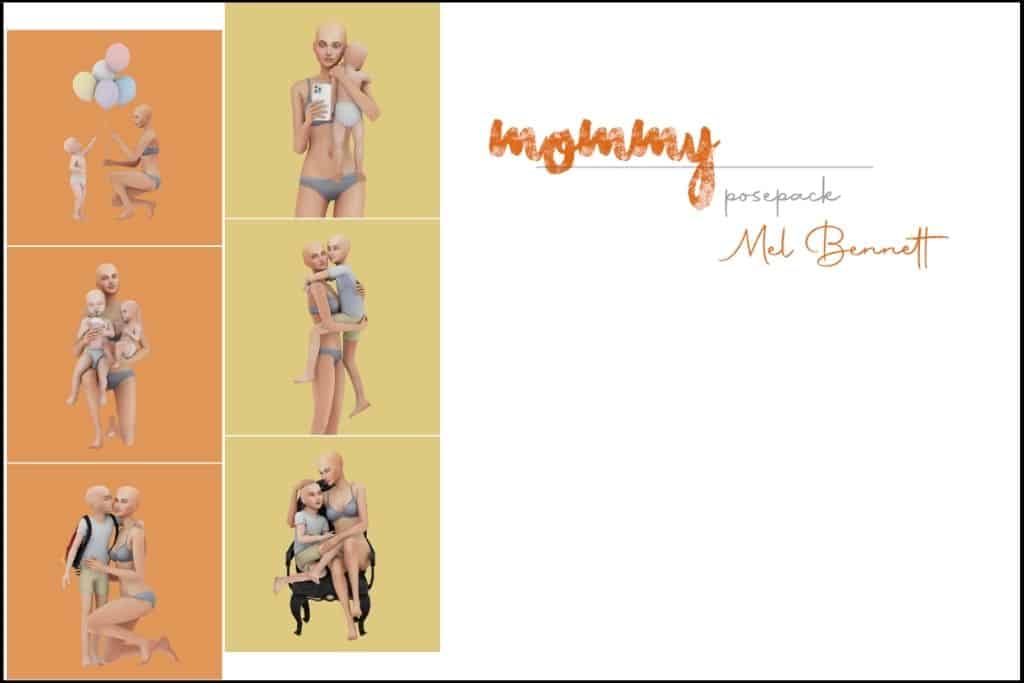 The Mommy Posepack set showcases the priceless interactions between a devoted mother and her children.
It actually seems more meaningful to me when it's used in a game where the sim family consists of a single mom and her children.
You will need additional items for some of these poses, which can be found on the linked page that follows.

16. Random Poses 1 by Chewybutterfly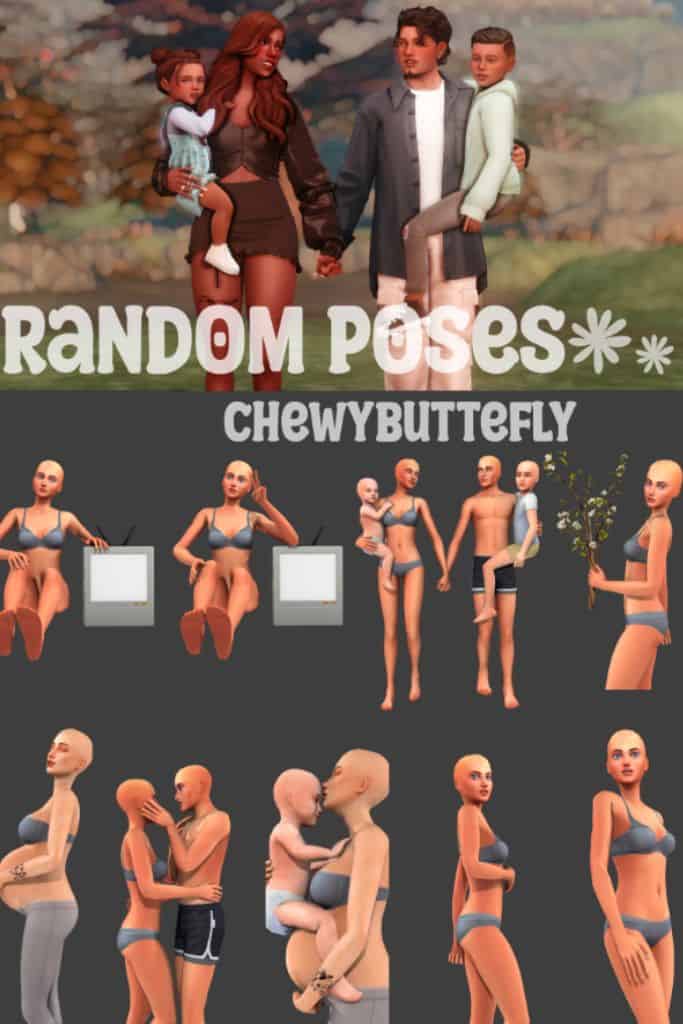 As the name implies, the Random Poses 1 set has a nice variety of different-style poses.
Although it includes single and pregnancy poses, the family pose is the one I like the most in this set.
A perfect pose to use for a stroll in the park. My sim family turned out great using this pose.

17. Rock Me to Sleep Times Two Pose Pack by SamsSims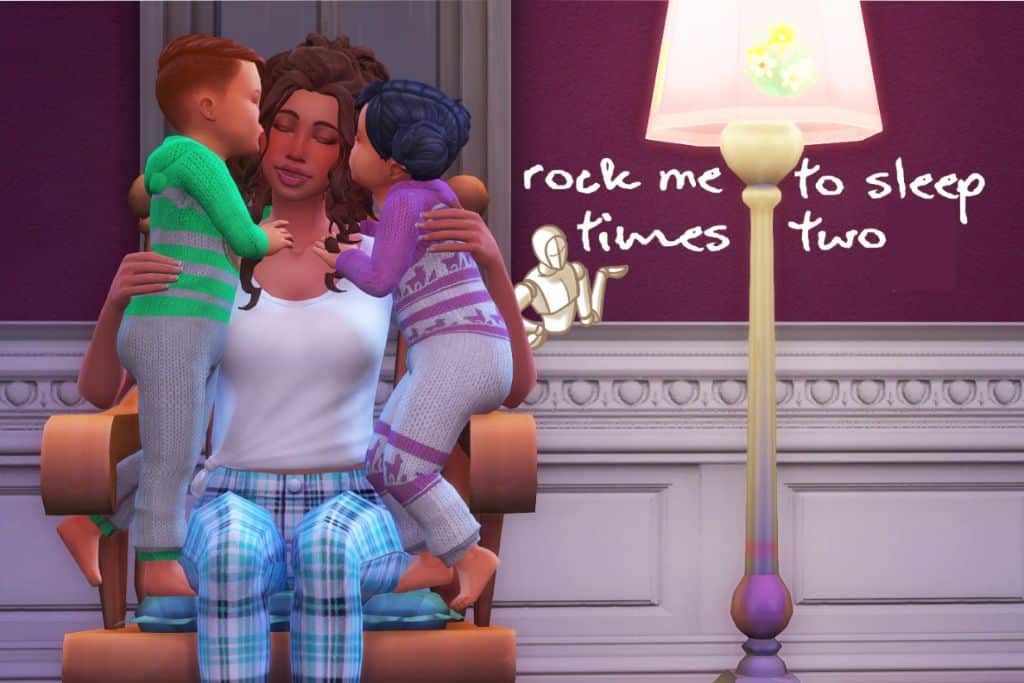 Another sweet set of poses is the Rock Me to Sleep Times Two Pose Pack.
The perfect family bonding time before bed.
They make great pictures; you only need to place a rocking chair, and you're good to go.
This set is made to include two children and a parent.
If your sim family only has one child, then another option exists for you.
The creator's first take on this pose was for a parent with a single child.
If that pose is what you need, grab the Rock Me to Sleep Pose Pack here.
Otherwise, if you want the rock me pose pack for two children, find it using the link below.

18. Sims 4 Family Poses At the Movies by Simmerberlin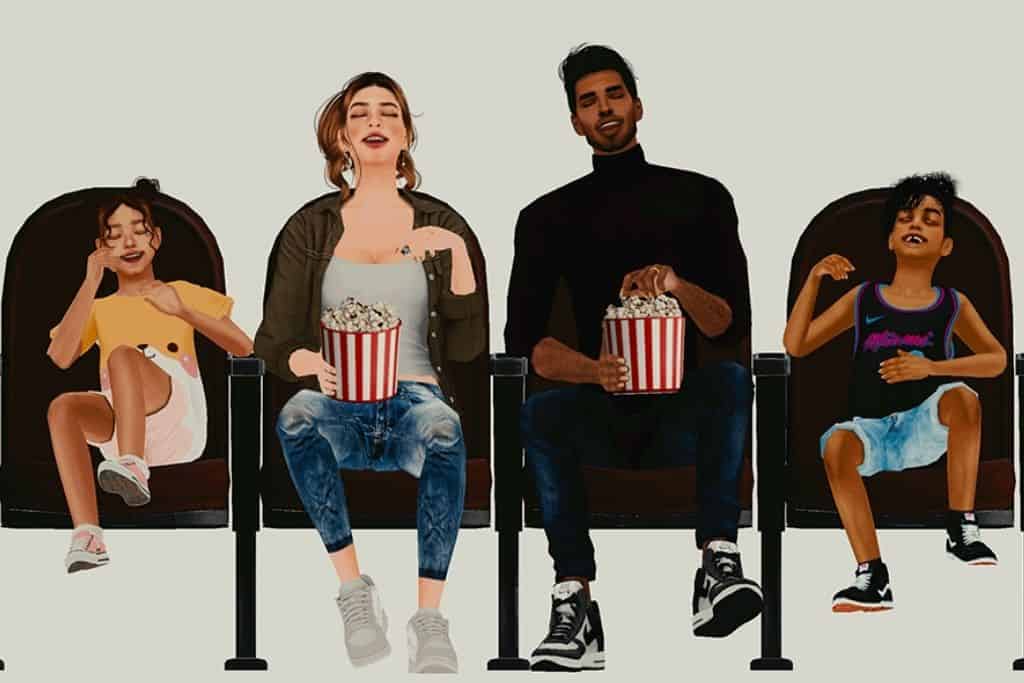 If you want to recreate a night out with the kids, then the At The Movies pose set is perfect.
These poses will generate candid-like pictures of a family enjoying the latest flick at the movie theatre.
Compared to the other family pose packs, this is is very unique, which is why I like it so much.
With the link below, you will also have access to the popcorn accessory and the movie theatre seats.

19. Our Growing Family by Subiesims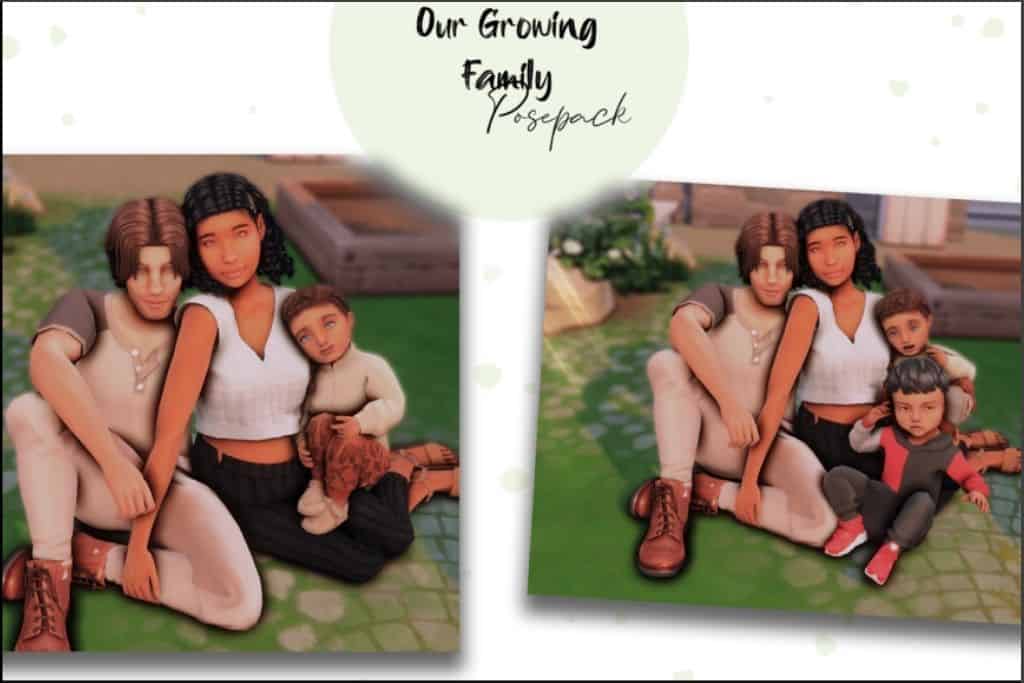 This pose pack was intended to be used with a pregnant female sim, which is why the name was Our Growing Family Posepack, but that's optional.
I chose to use it without a pregnant sim because I find that it made a lovely family picture on its own.
You can place it outdoors for a nice family picnic photo or indoors in front of a cozy fireplace.
Either way, it will make beautiful pictures.

20. Family with Teens Poses by Loulicorn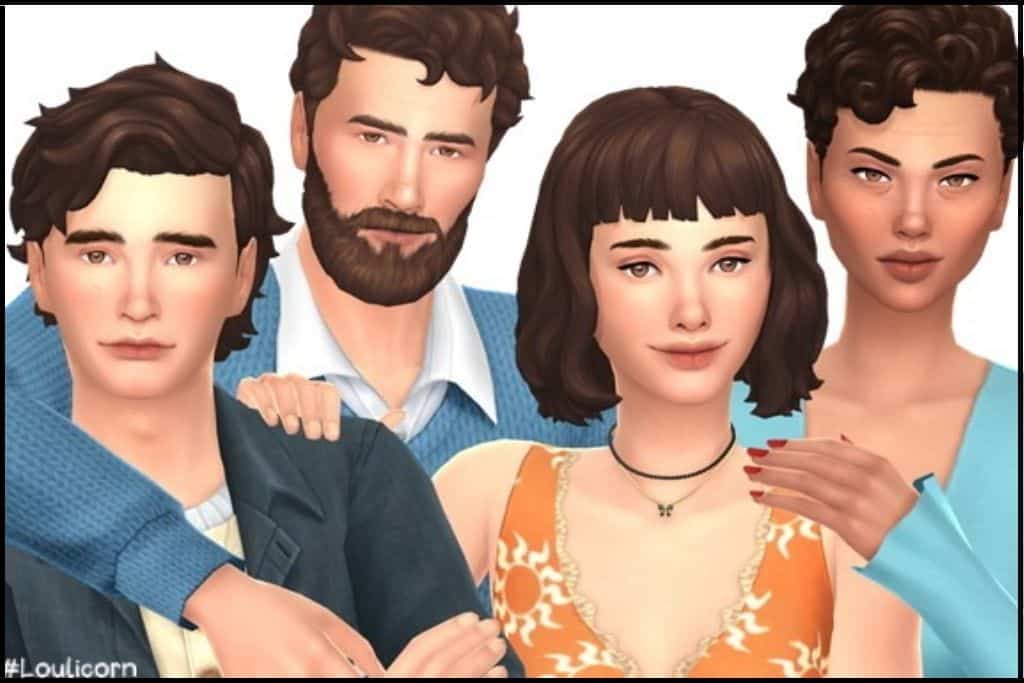 The Family with Teens set is actually made to be used as Gallery poses.
I used these poses with my sim family of 4, with two adults and two female teens.
These made pictures worthy of being put on a fireplace mantle or framed on a wall.
I made some using the Photographic Memory mod, which you can find in our must-have sims 4 mods post.

21. Even the Sound of Breathing Becomes a Lullaby by SSIAT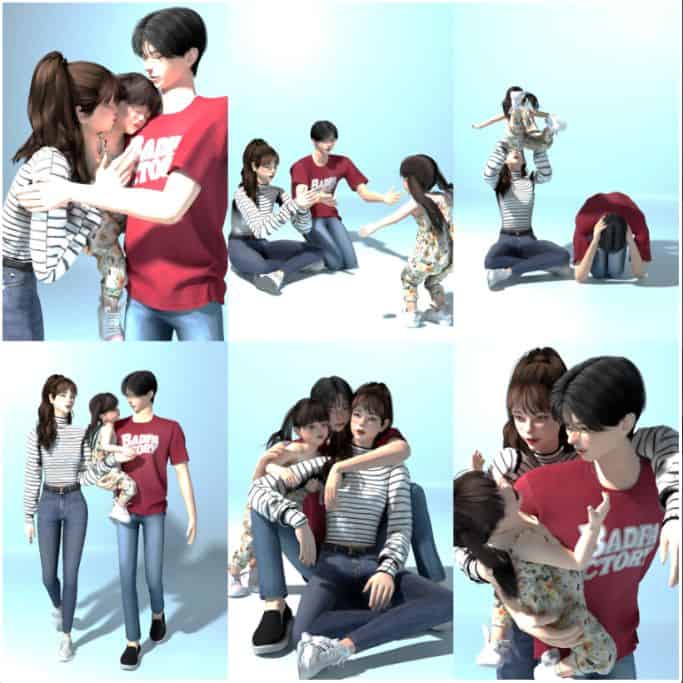 The Even the Sound of Breathing Becomes a Lullaby pose set features six wonderful Sims 4 family poses.
My favorite of the six was the baby's first steps pose, which is why I got this collection in the first place.
I tried the rest of the poses, and they actually made great pictures. So, be sure to give them a try.

22. Parent & Kid Poses by Ratboysims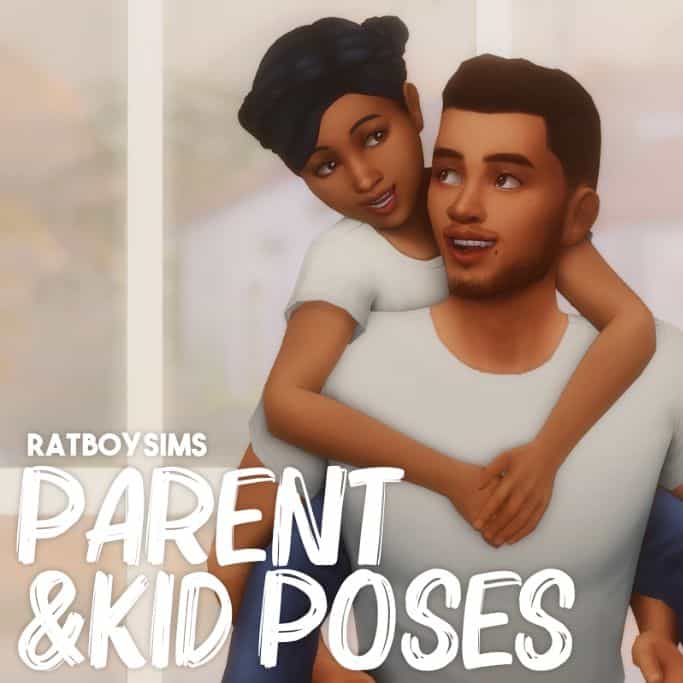 I love this set called Parent & Kid Poses. The pose pack offers five wonderful, warm-hearted dad and daughter poses.
You can obviously use a different combination of sims, like mother and son, but I used it the same way it's pictured.
I see this set as additional poses to the Warmth Poses listed at #10.
They make such adorable pictures. I just love them.

23. Father-Daughter Day Pose Pack by Katverse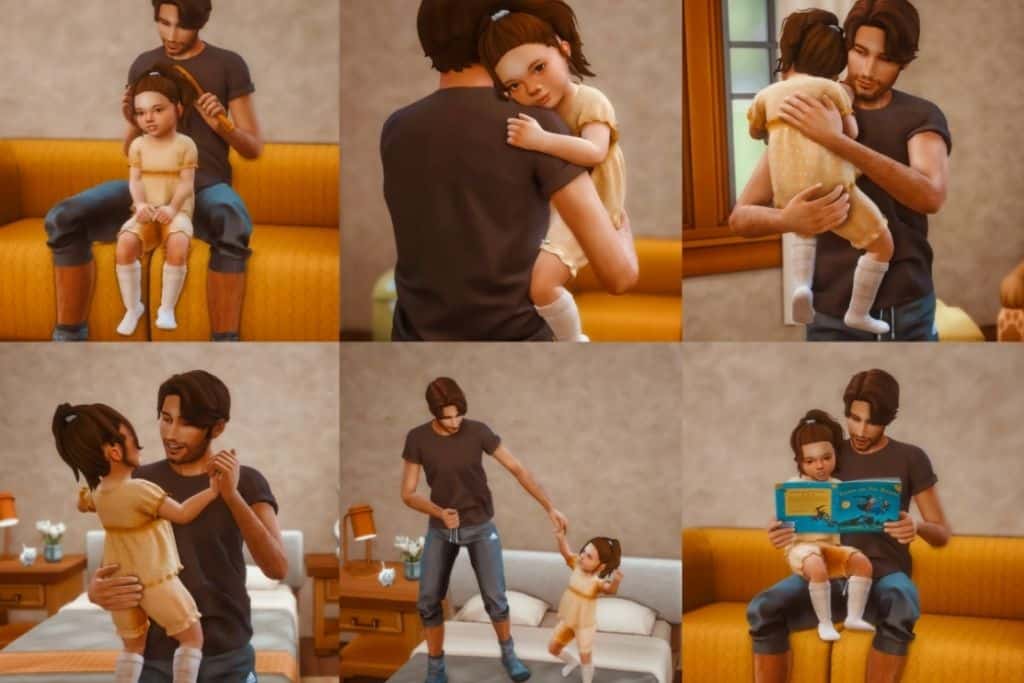 Another great daddy-daughter collection is this set called Father-Daughter Day Pose Pack.
These Sims 4 family poses capture the treasured moments of a dad spending quality time with his daughter.
With the link below, you will also have access to the hairbrush and children's book accessories required depending on the selected pose.

24. Family Time by StarrySimsie X SIMSULANI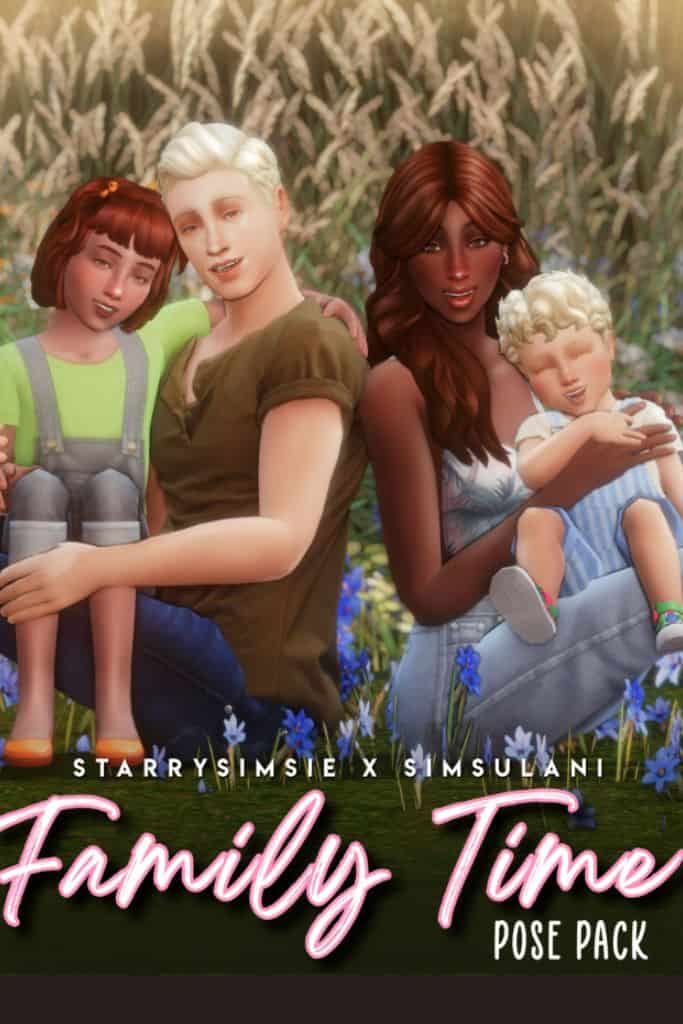 This group of poses consists of both the standard "stare at the camera" photo poses and spontaneous poses.
This Family Time Pose Pack set makes the photos look more realistic, bringing a genuine feel to them.
There are ten different poses to choose from, each one as good as the next.
Although you can use them indoors, I believe that these look better when used outdoors.
I used them in the park, and the results were outstanding.

25. Oh, Sweet Baby Poses by Chewybutterfly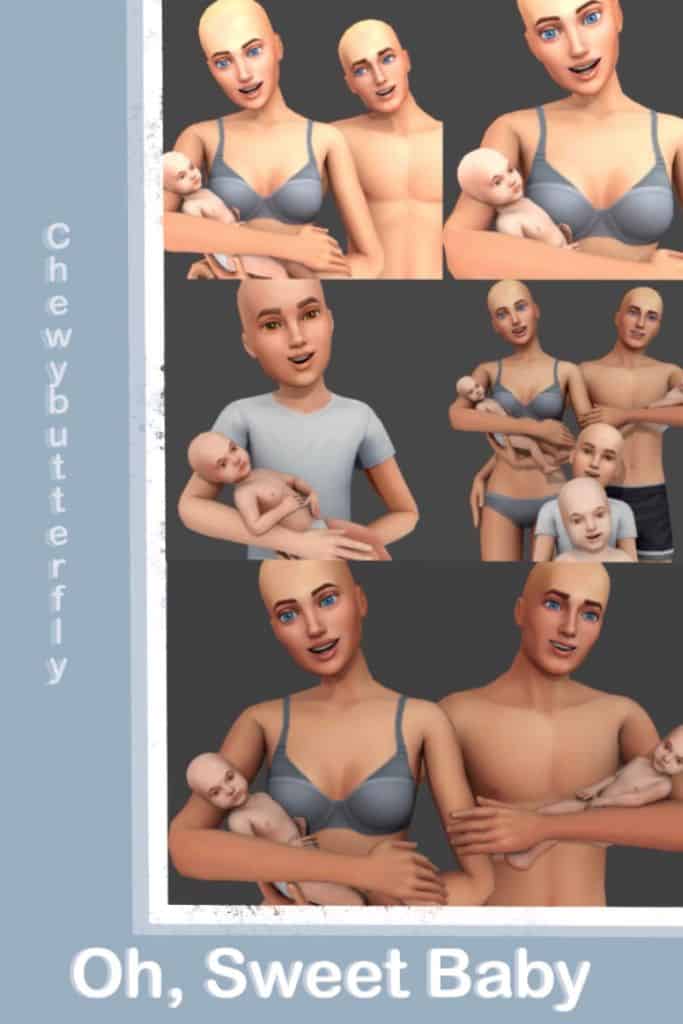 The Oh, Sweet Baby Poses collection contains five adorable poses to introduce the family's newest member.
Since the theme of this set is a newborn baby, you may need to install a mod called Toddler Sliders Mod by Redheadsims.
To be able to use these poses, your sim baby needs to be at its smallest size.
If that's not the case, then that's where that mod comes in handy.
These Sims 4 family poses make for extremely cute pics. Be sure to try them out.

26. About My Family Posepack by Mel Bennett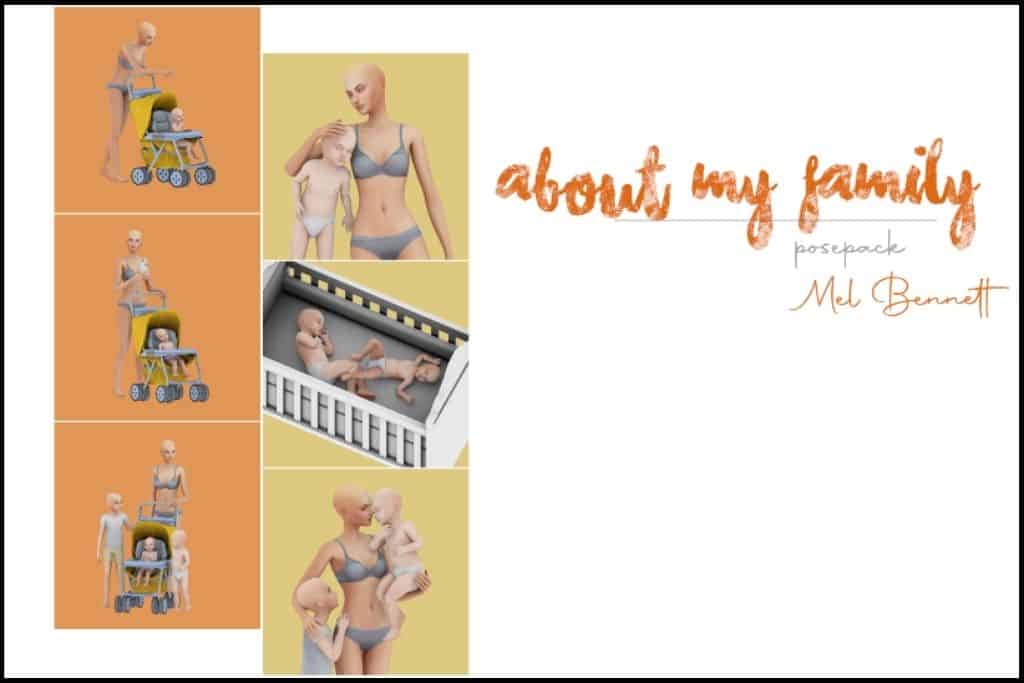 Another excellent set of poses that uses accessories is the About my Family Posepack collection.
This set features a stroller for a nice walk outside with the family.
For these poses, your toddler must be at a certain height.
To fix this, you need to install the Toddler Height Presets mod, which is the same mod required for the pose listed in #7.
A link can be found on the pose pack's mod page.
The stroller and other accessories required for these poses are also included on the linked page just below.

27. You Are The Best by Simmerberlin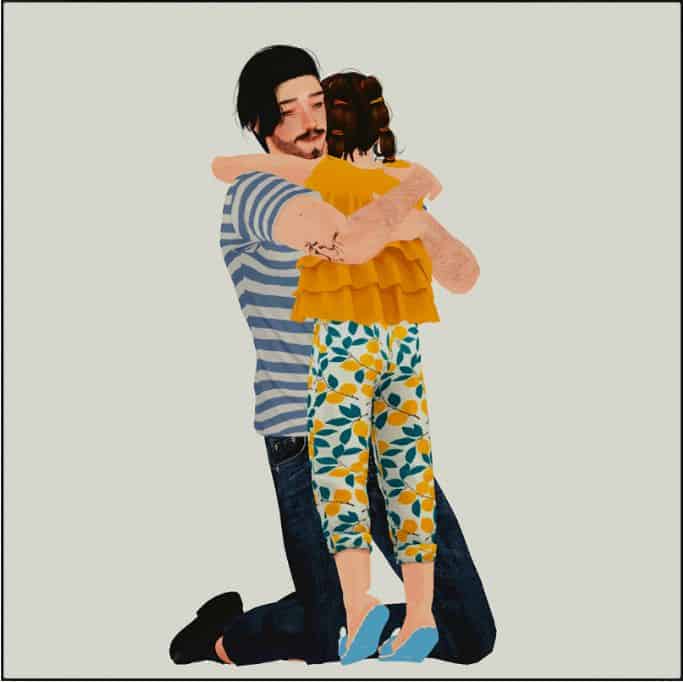 The You are the Best pose pack highlights fun daddy-daughter moments, which makes them so precious to look at.
Once again, you can change up the combo of the sims used.
I just love the daddy-daughter moments.
These are so sweet that I just had to include them among this list of heartwarming Sims 4 family poses.

28. Teenage Growth Posepack by Subiesims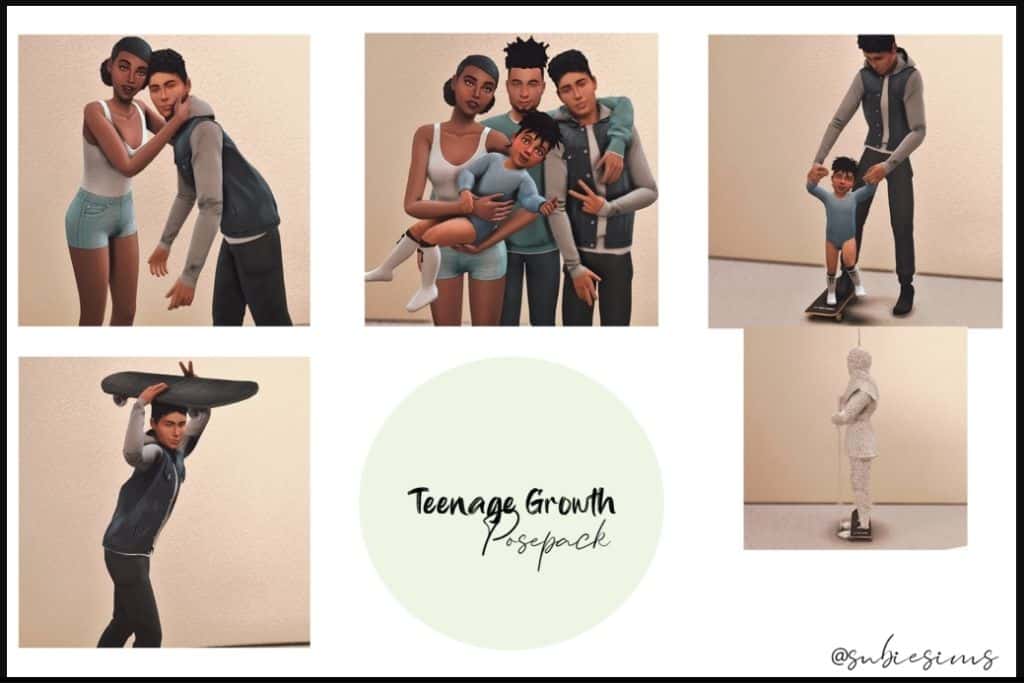 Last but not least, the Teenage Growth Posepack is perfect for that growing household.
Because not all sim families have small toddlers or little children, this collection comes into play as they grow.
This set has a couple of poses where a skateboard accessory is used for that skater-boy teen look, and it's included on the linked page.
Final Thoughts on Sims 4 Family Poses
These Sims 4 family poses are a great way to add some warmth and love to your photos.
They are easy to set up and can be a fun way to capture memories of your favorite sims families.
If you haven't tried them yet, I highly recommend giving them a try.
Also, if you come across any other family poses for me to check out, feel free to send us a link in the comments below or tag us on Tumblr.
Other Mods Articles

Don't forget to pin this post for later!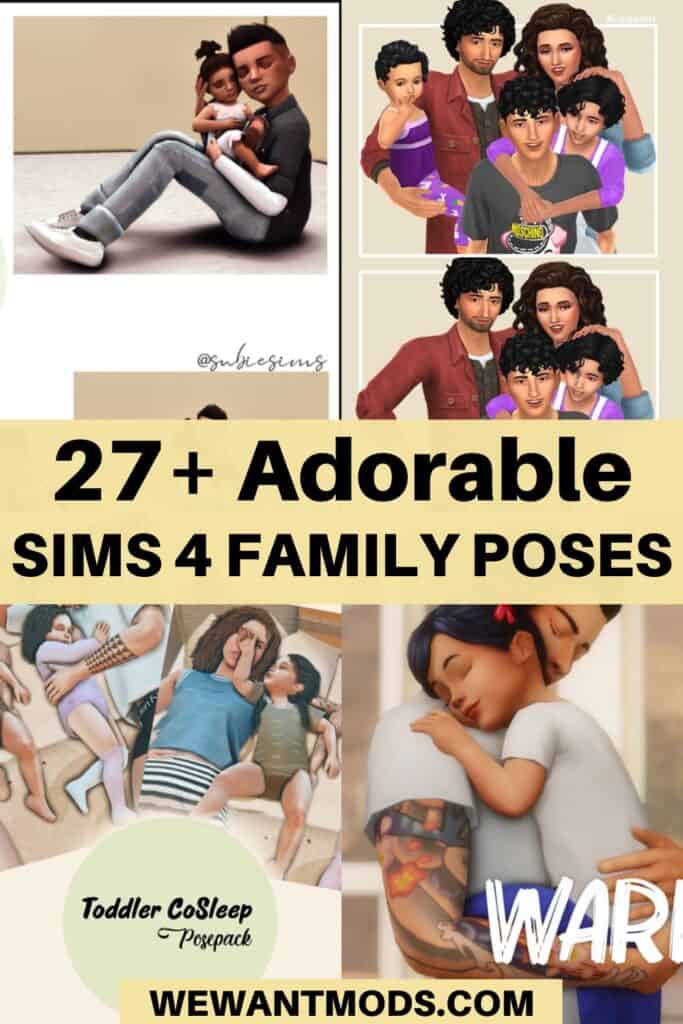 27+ Heartwarming Sims 4 Family Poses You Should Try