Ultimate List of Sims 4 Kids CC (51+ Pieces of CC)
Find the best list of sims 4 kids cc in one convenient spot.
From kids clothing, kids shoes, kids hairstyles, and accessories, we've included it all in this ultimate list of sims 4 kids cc.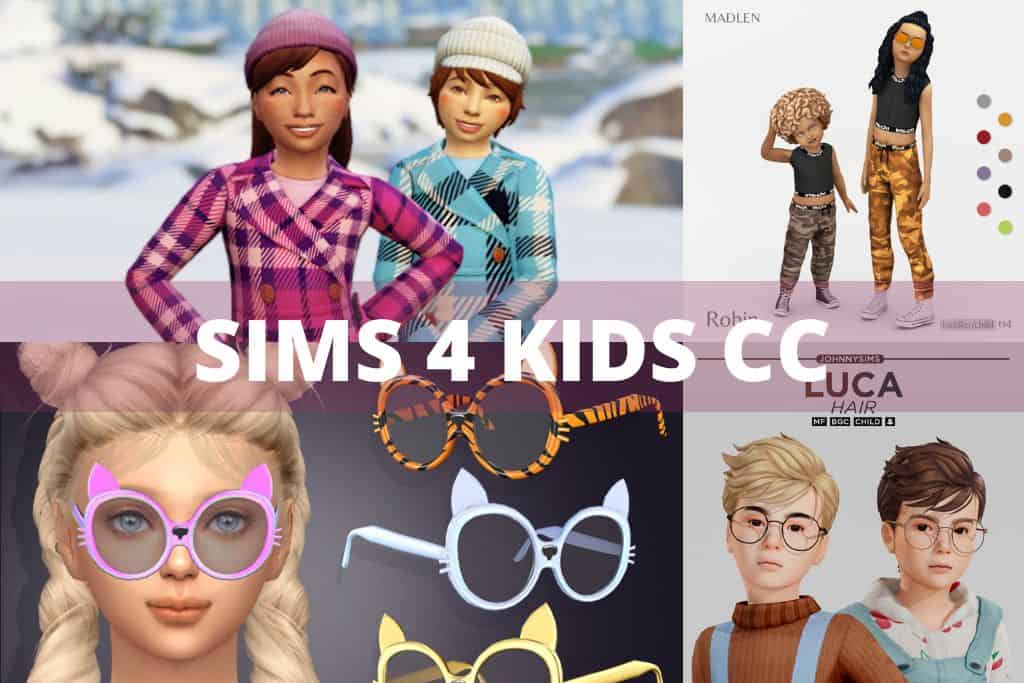 For many of us simmers, kids play a significant role in the world of sims 4.
I love watching my female sims give birth, and my toddler sims grow into children.
But what I love more is finding amazing FREE maxis match custom content for my kids cc folder.
These adorable pieces of custom content will allow you to dress up your sims in the most stylish and adorable outfits.
I curated some of the best sims 4 kids cc; the list goes in order by kids clothes, kids shoes, kids hair, and some fun kids accessories.
Oh, and if you need some infant & toddler custom content, don't forget to check out these posts;
Some of the cc pieces in each list can be used for both toddlers and kids.
Disclaimer: The following mods are neither endorsed nor affiliated with The Sims, Maxis, or Electronic Arts. Any use of mods (custom content or game mods) should be done with caution and with the knowledge that there may be risks.
Sims 4 Kids Clothes CC
Find your new favorite pieces of child clothes below.
In this section, I've included a mix of everything base game compatible; dresses, sportswear, swimwear, and casual kids clothing.

1. Sims 4 Kids CC Camo Outfit by Madlen
I figured I'd start strong with one of my favorite pieces of sims 4 kids cc, this hip camo outfit from Madlen.
While the crop top stays the same, you get 8 camo swatches for the pants.
Pair these with Madlen's converse inspired shoes (linked further down) to complete this casual yet trendy outfit.

2. Sims 4 Kid's Baggy Sweater by Miss Ruby Bird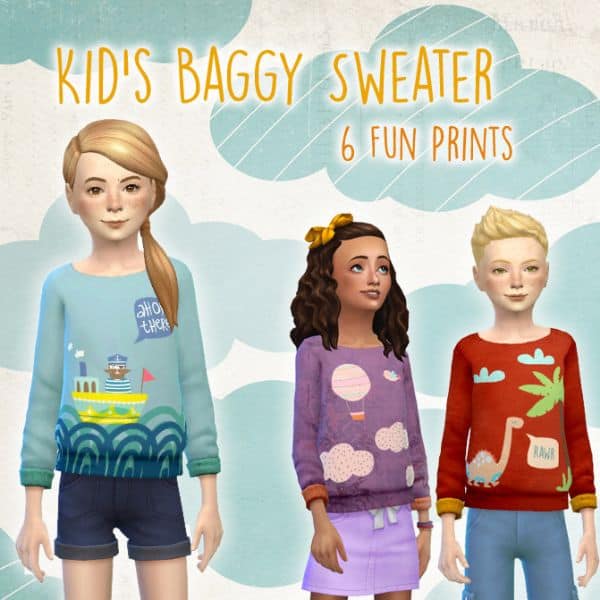 This is an adorable baggy sweater set by Miss Ruby Bird.
You get 6 interesting swatches to choose from, including a fun boat situation, air balloon, dinosaur, and more.

3. Kid's Baggy Sweater CC by Onyx Sims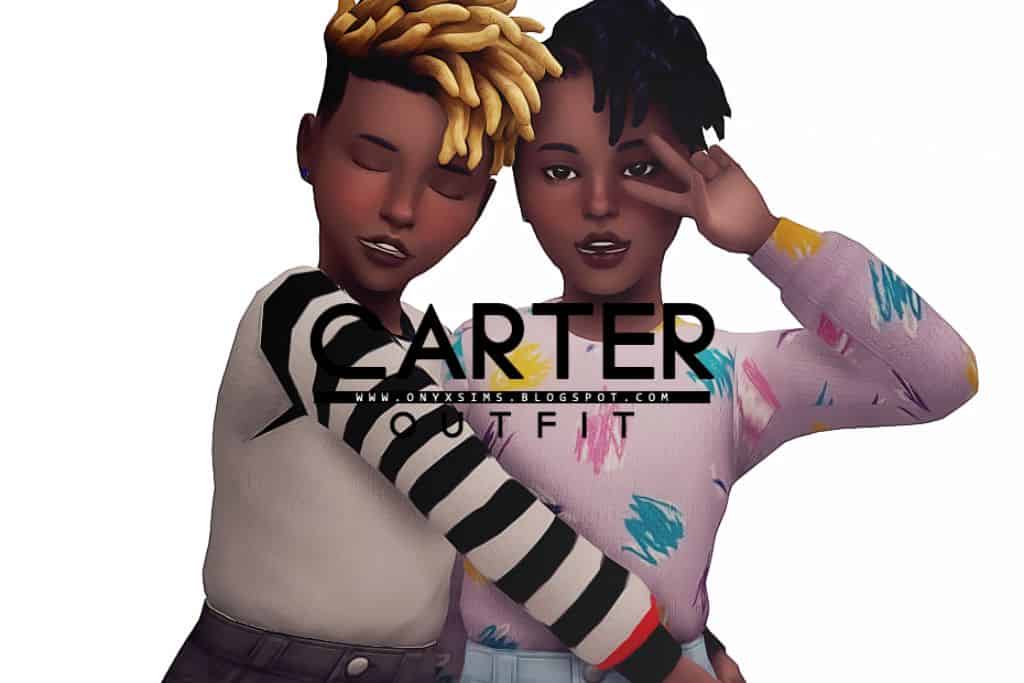 This sweater overlay can be found in the Accessories – Gloves category.
You have 31 different overlay options, many solids, and some more creative options.
You have options like a cheetah pattern, flowers, stars, and even some 80's inspired prints.

4. Sims 4 Callum Hoodie CC by Simiracle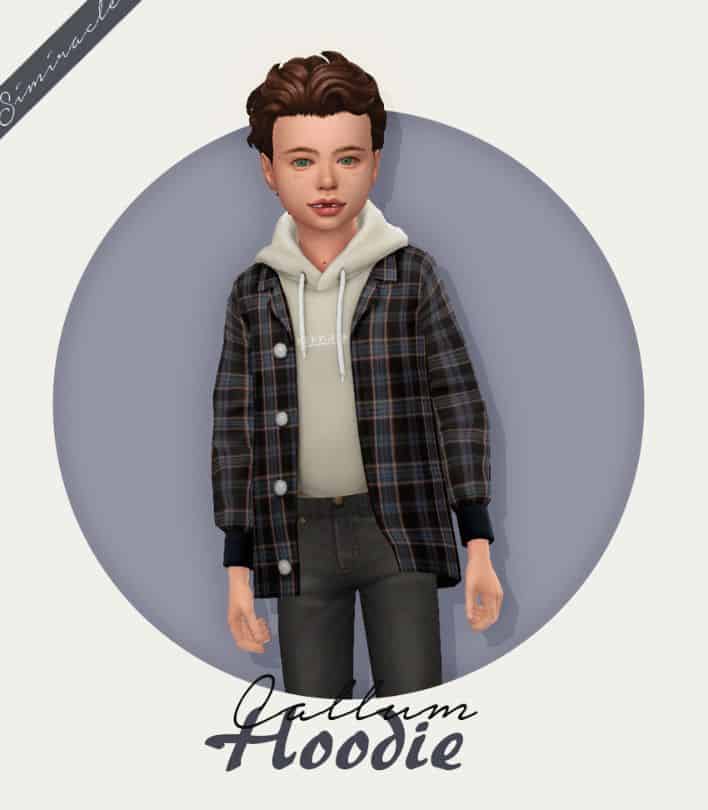 This hoodie with a built-in jacket is a great piece for your sims going to school on a brisk autumn day.
Available in 20 swatches, you can mix and match this piece of kids' clothing into so many different looks.

5. Sims 4 Kids Varsity Sweater CC by Simiracle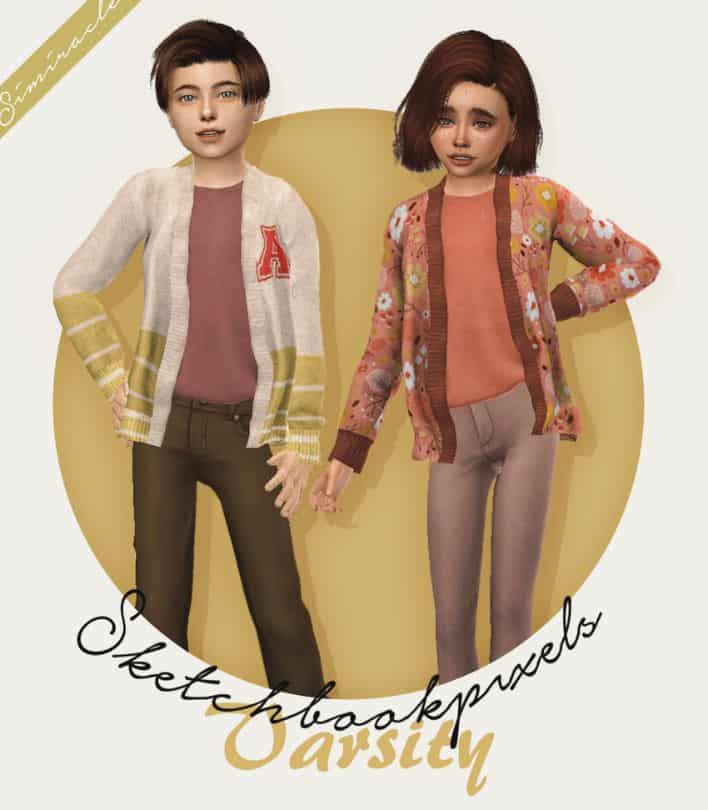 This varsity sweater is a great unisex preppy cardigan.
You get 45 swatches to choose from.
Whether to dress your sims for school or just as an everyday sweater, you can choose a design that works for your gameplay.

6. Children Remy CC Outfit by Clumsyalienn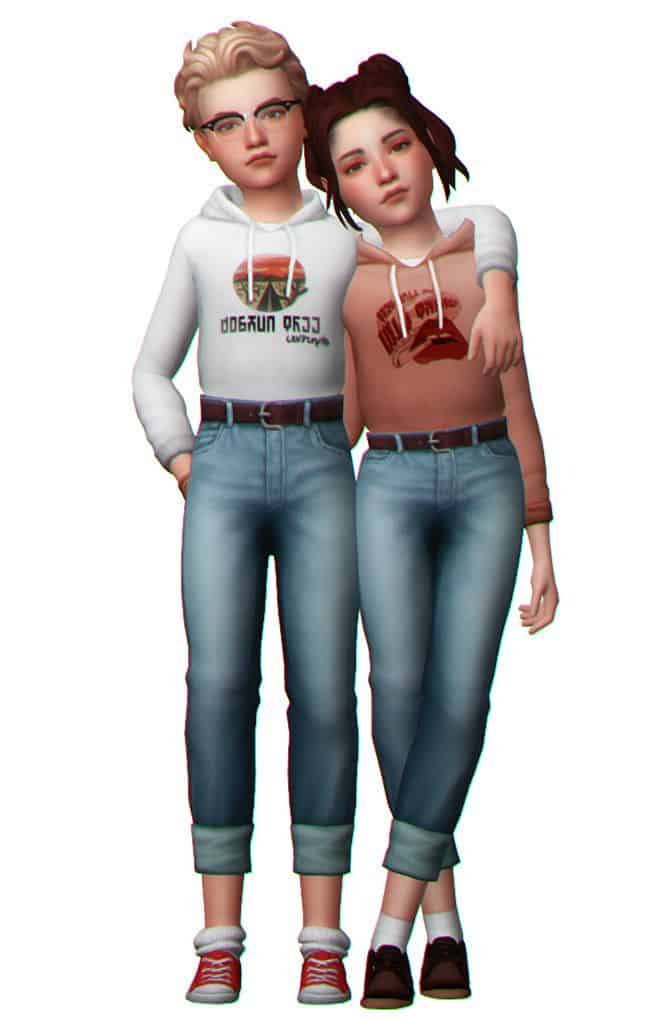 I can always appreciate a complete custom content outfit.
This unisex jeans and sweater combo are perfect for an everyday look.
There are 28 swatches, and while many of them include solid-color sweaters, there are a few decal sweaters designs.
The decals include a sunflower, Super Girl slogan, a large brain, polar bear and dinosaur, and a couple more.
You can find this collection under Full Body – Overalls or Sets.

7. Sims 4 Kids Animal Hoodie CC by Georgiaglm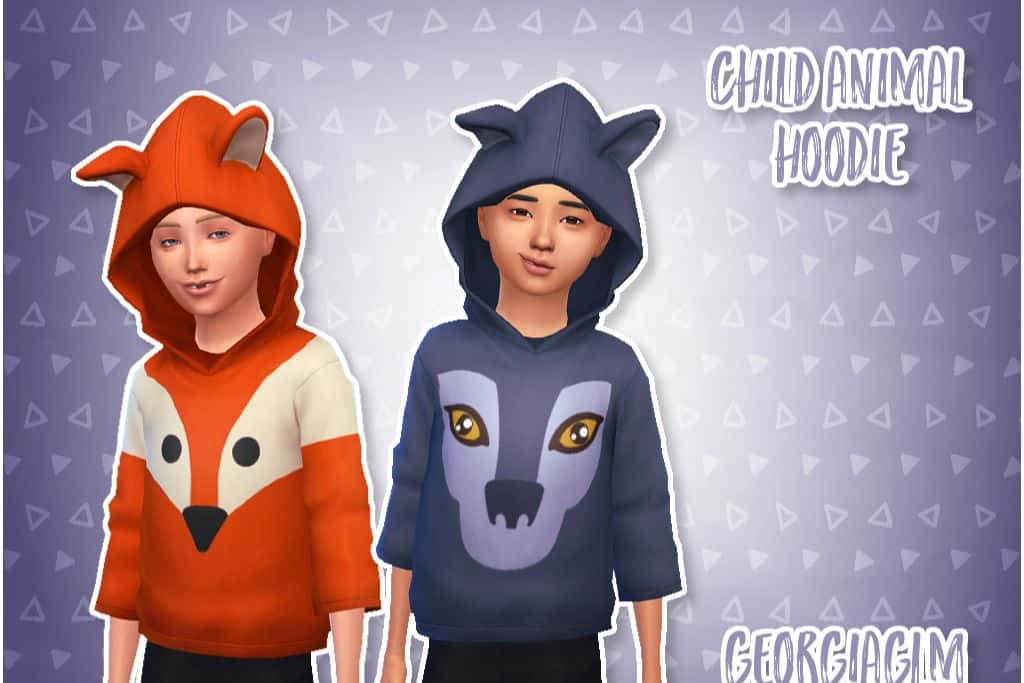 At some point in every kid's life, I think they all enjoy wearing an animal hoodie; I know I did.
This is a super cute sweater with floppy ears on the hood and an animal decal on the front.
You can choose between a fox, wolf, owl, rabbit, or bear. You'll find these in the T-Shirts section.

8. Sims 4 Kids High Waisted Jeans CC by Georgiaglm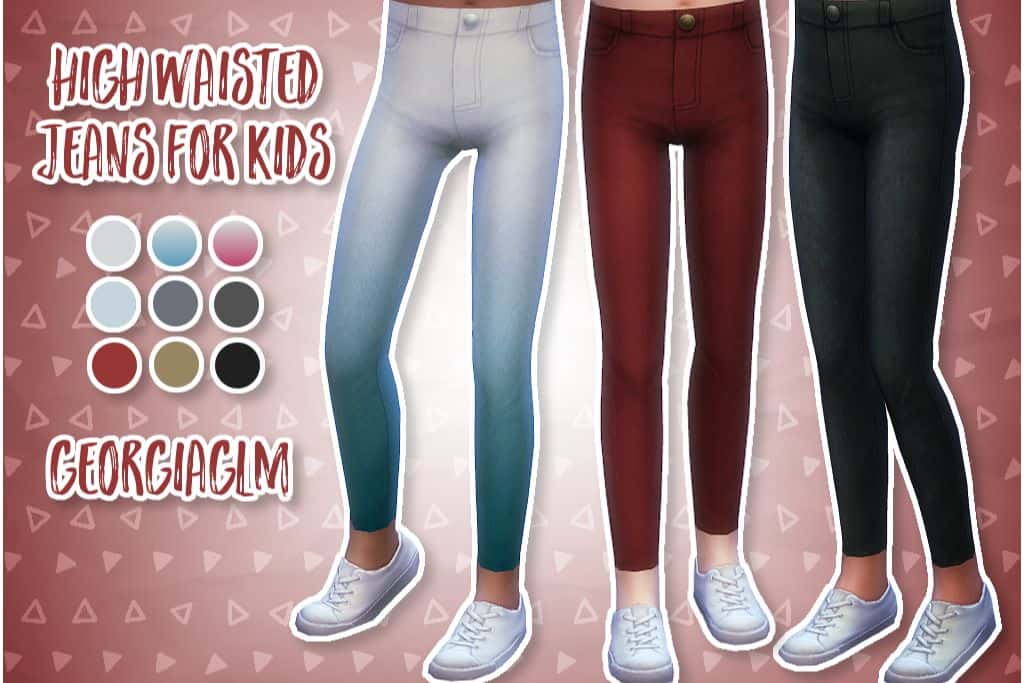 If you don't have the City Living expansion pack, then these kids' high-wasted jeans are the perfect addition to your cc folder.

Available in 9 swatches, you can find these jeans in the tights section.
Use them as pants, or get creative layering them underneath another piece of kids' clothing.

9. Sims 4 P.E. Clothes by MadameRiaSims4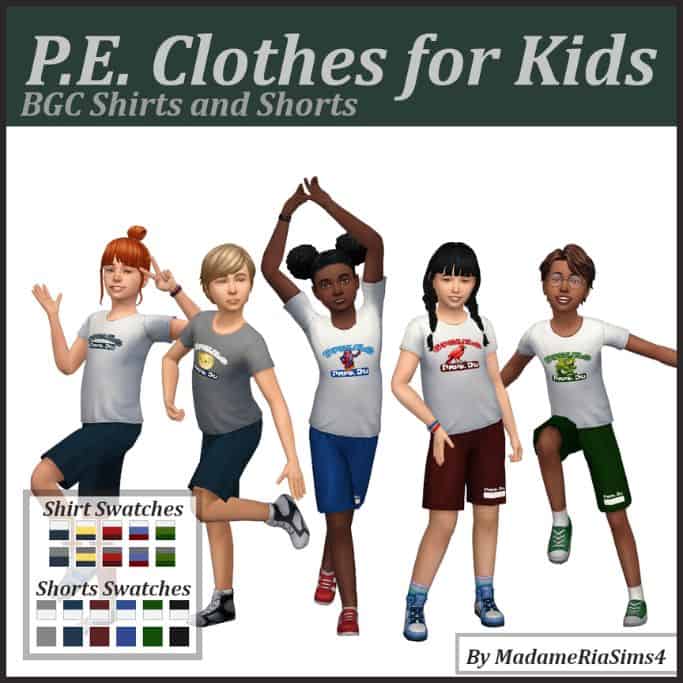 Do you have a group of athletic kids who need new clothing for their P.E. class?
This sporty set comes with t-shirts and shorts.
For the t-shirt, you get the option of mascots or a plainer version without a mascot.

For the shorts, you can choose from 6 colors, each with or without a P.E. label.

10. Sims 4 Child Skirt CC by PowLuna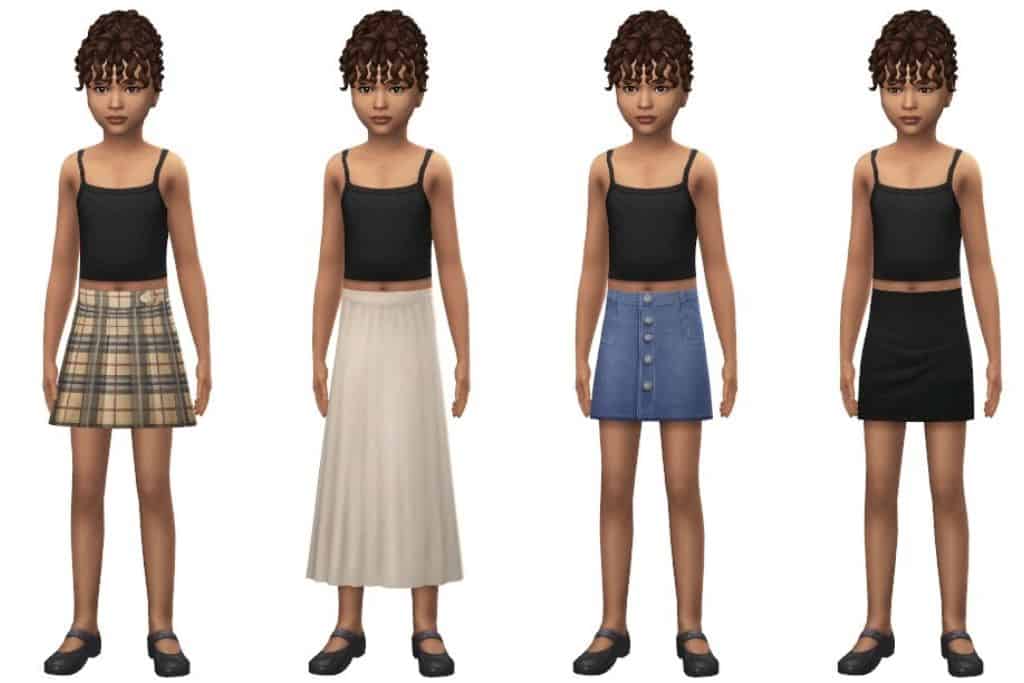 In this kid's custom content female collection, you get a variety of 4 skirts.
The tube and the long pleated skirts come in 21 different swatches.
For the denim skirt, you have 21 swatches to enjoy.
The short plaid pleated skirt above actually comes in two versions (flat and normal); you have 33 swatches for this model.

11. Sims 4 Kids Thalia Dress CC by PowLuna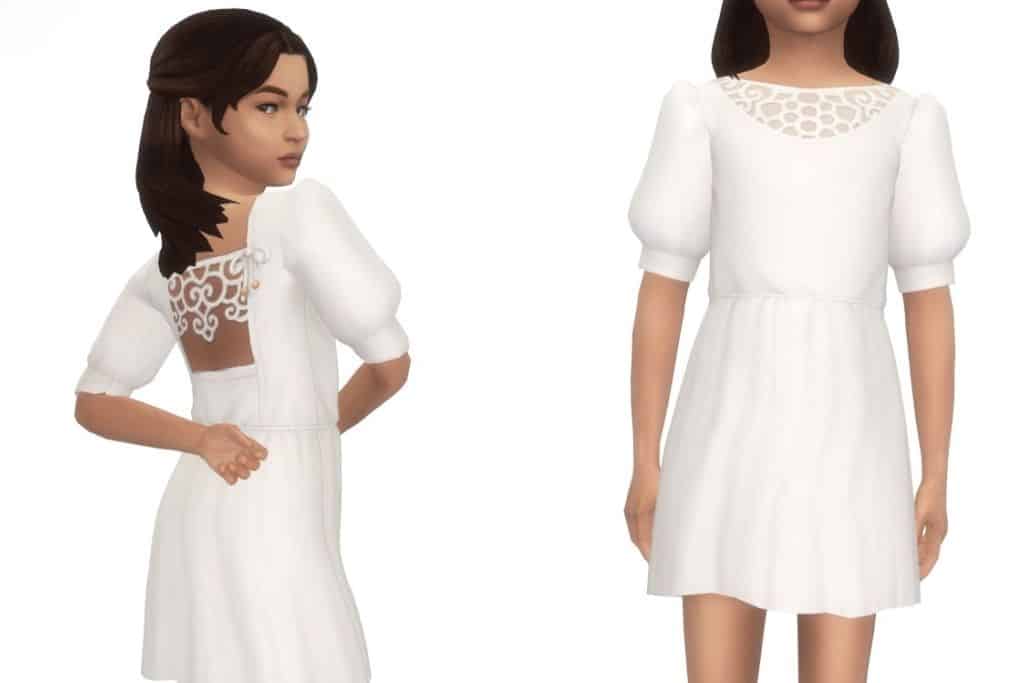 This Thalia dress is quite modest, perfect for the holiday season or a garden party.
I particularly like the lace detailing on the upper back.
Available in 18 different colors, it's hard for me to pick my favorite swatch for this dress.


12. Sims 4 CC Sophie Outfit by PowLuna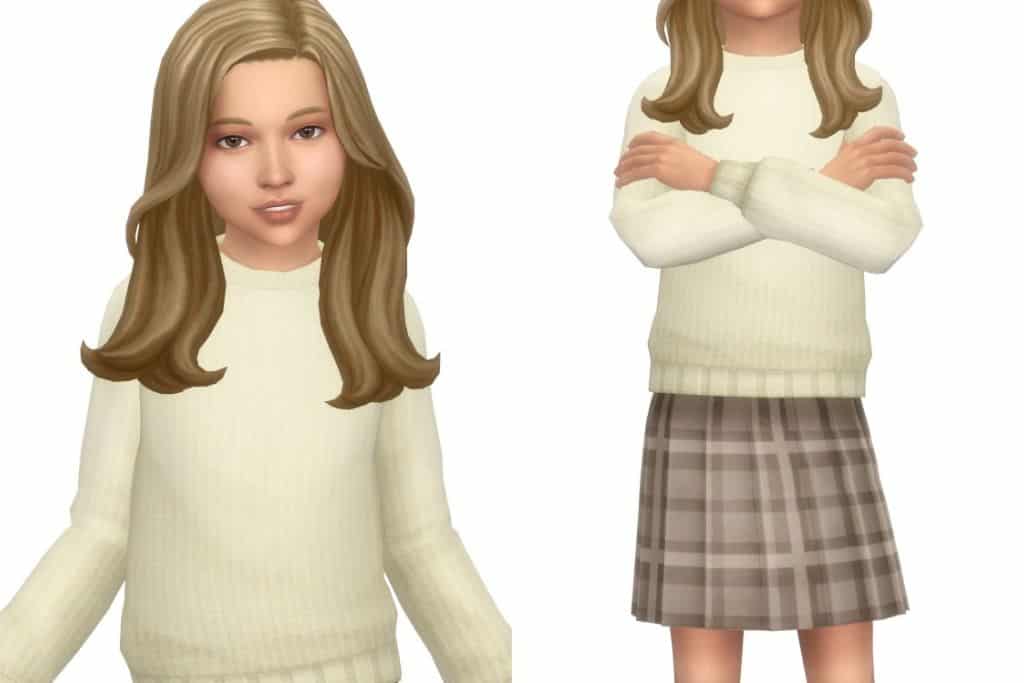 This preppy sweater and pleated skirt combo by Powluna is the perfect outfit for school.
You get 16 color swatches to choose from; some of the skirt swatches are solids, and the others are plaid.
I like the yellow sweater and yellow-black plaid skirt swatch; it reminds me of the classic Cher Clueless outfit but a kid's version.

13. Sims 4 Anika Outfit by Madlen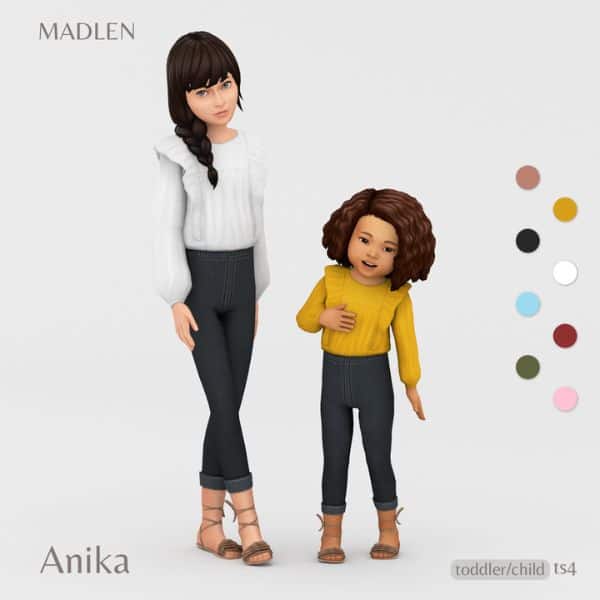 Who doesn't love a pair of cuffed jeans with a ruffled sweater to match?
This Madlen outfit comes in 8 swatches for the sweater.
Combine this with your favorite pair of sandals for the perfect early fall look.

14. Kids Crown Jacket CC by Soolani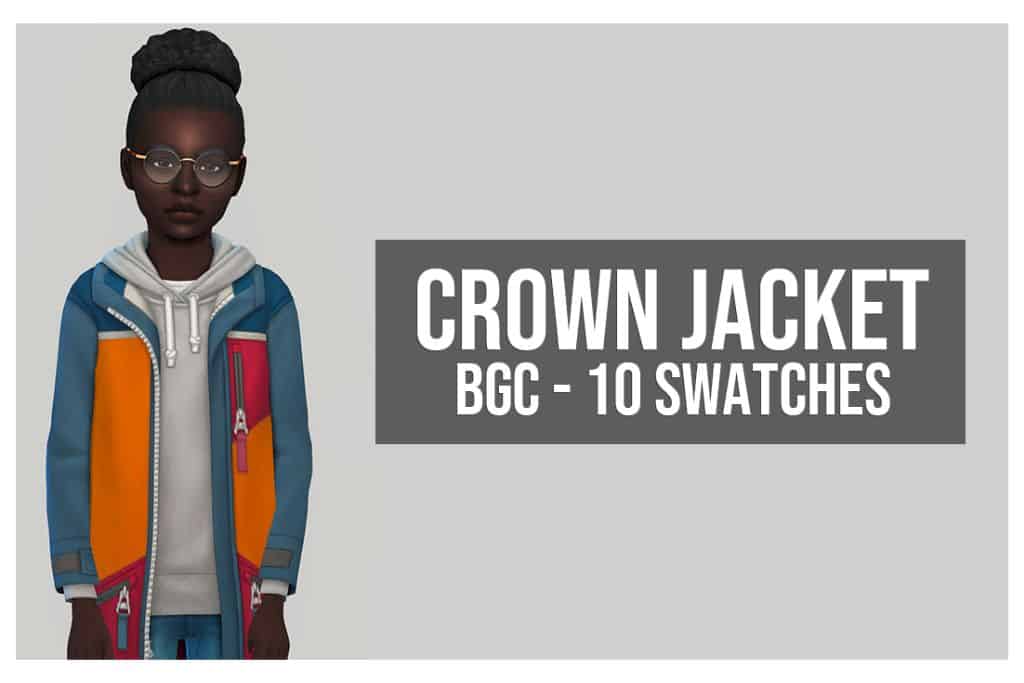 This color block jacket is a casual staple piece for a child's sims wardrobe.
Available in 10 different swatches, I'll be using this jacket during my fall-time outdoor gameplay.

15. Sims 4 Valeria Outfit CC by PowLuna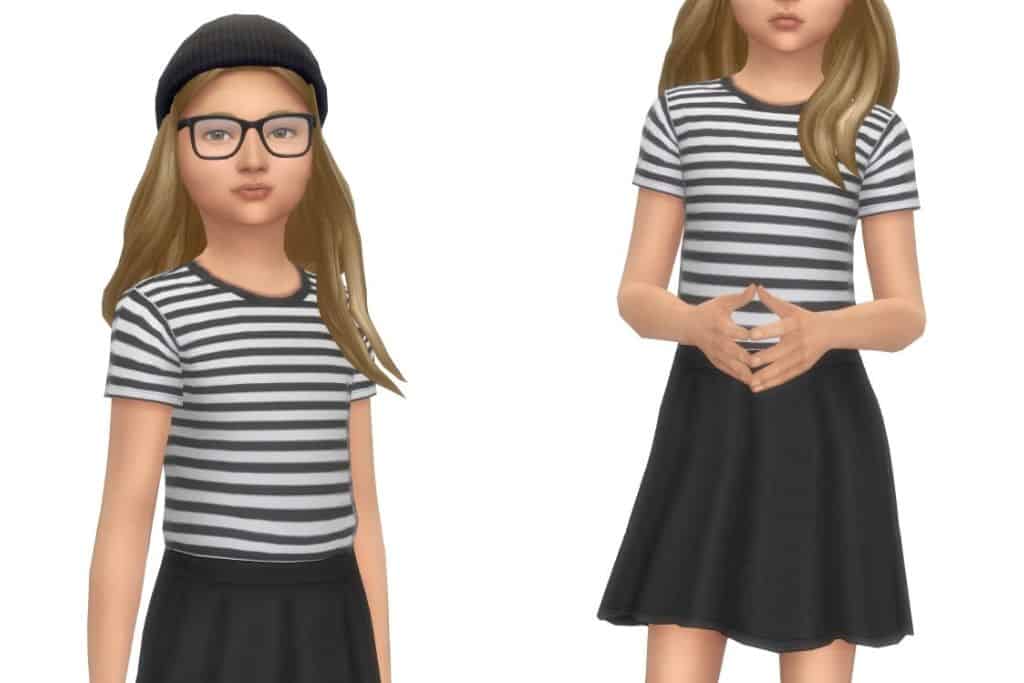 Another great girls' outfit by Powluna.
You get 25 swatches, some with a striped top like in the picture and others in solid options.
There are also some fun top and skirt color combinations; I especially like the light purple top and green skirt set.

16. Sims 4 Kids Moto Jacket CC by My Stuff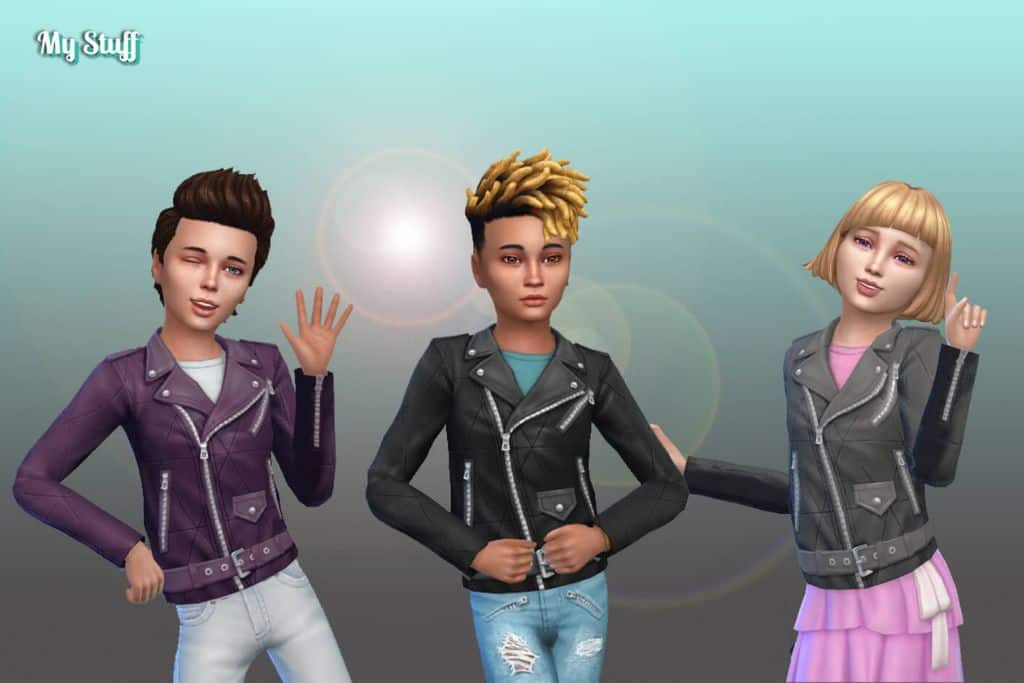 Turn up the edge of any outfit with this Mosch Moto Jackey.
It's a nice fitted leather-style jacket with some great zipper details.
Available in 10 color options.

17. Sims 4 Seasons Kids' Pea Coat Recolor by Miss Ruby Bird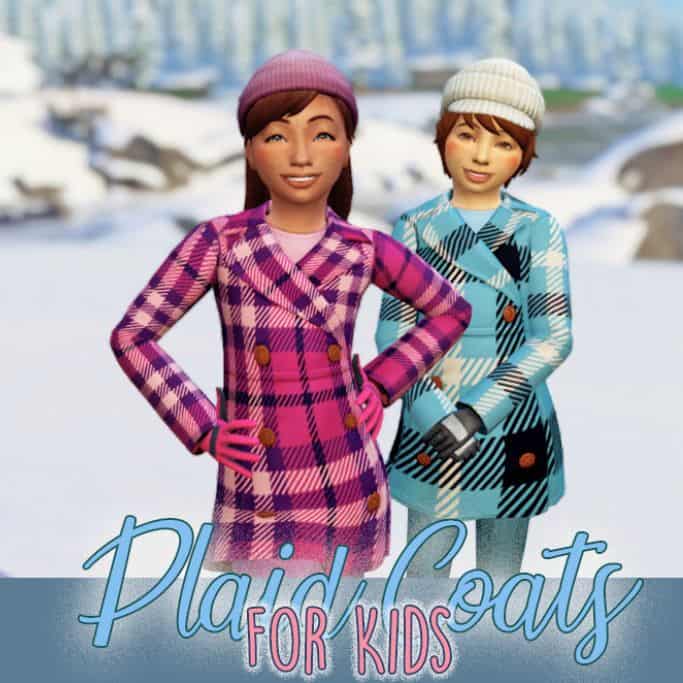 Being a lover of all things plaid, this kid's double-breasted jacket was the fastest addition to my cc folder.
I absolutely love the color swatches available in this coat.
My favorite is the kid's jacket in the red, yellow, and blue combo with white and black details (as seen on the custom content page).

18. Sims 4 Namika CC by PowLuna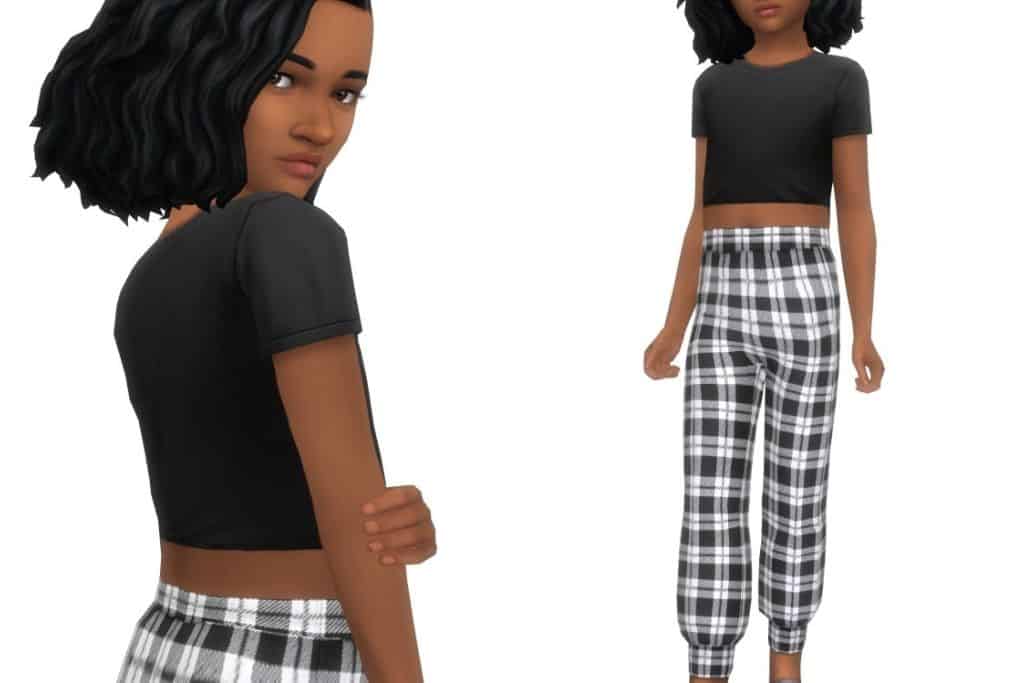 This casual outfit by PowLuna comes in 34 swatches.
You can opt for full solid colors or stick to plaid pants, which come in various fun colors.
This outfit sort of reminds me of pajama bottoms, so it's the perfect set of loungewear.

19. Sims 4 Girls Jeans Collection by PowLuna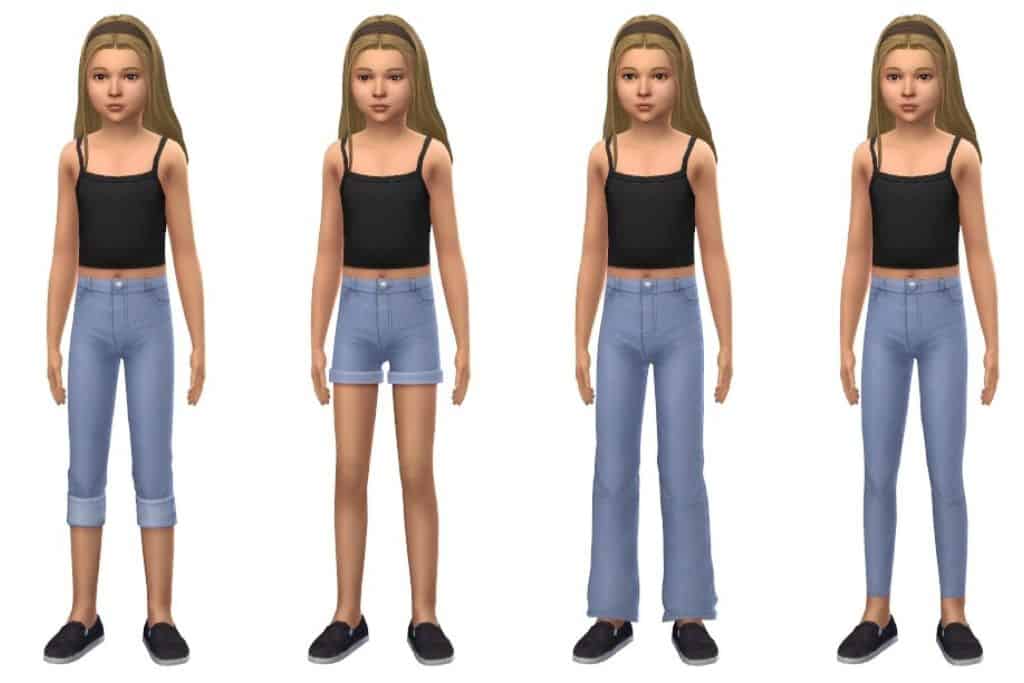 These jeans set is a great staple collection for your female child sims.
You get 4 pieces of custom content jeans, each in their own length.
There is a pair of jean shorts, calf-length jeans, ankle style, and full-length pants.
Each style of jeans comes in 17 different swatches.

20. Sims 4 Berta Kids Jacket CC by Madlen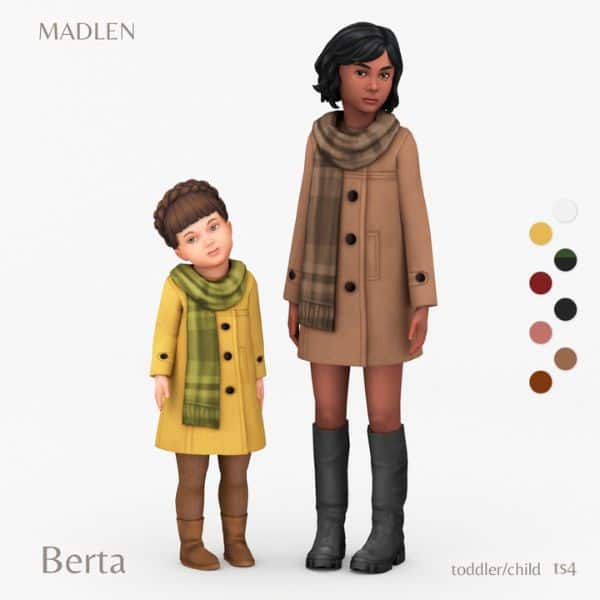 This is a lovely fall coat and scarf custom content by Madlen.
Get into the fall season by styling your sims in this fashionable Berta jacket.
Choose your favorite color combination from the 8 swatches; I really like the pink jacket set.

21. Sims 4 Girls Liana Dress CC by PowLuna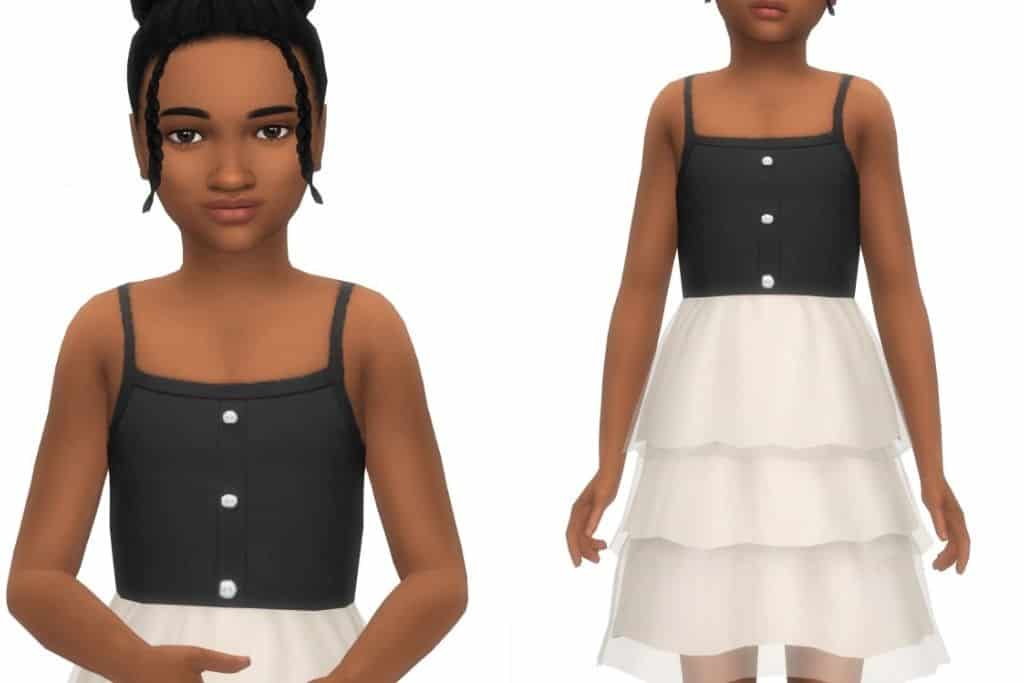 This is another pretty summer dress with a frilly bottom.
The fuchsia top matched with the black bottom is nice, but you still have 24 swatches to find your favorite color combination.

22. Sims 4 Child Button Dress CC by Georgiaglm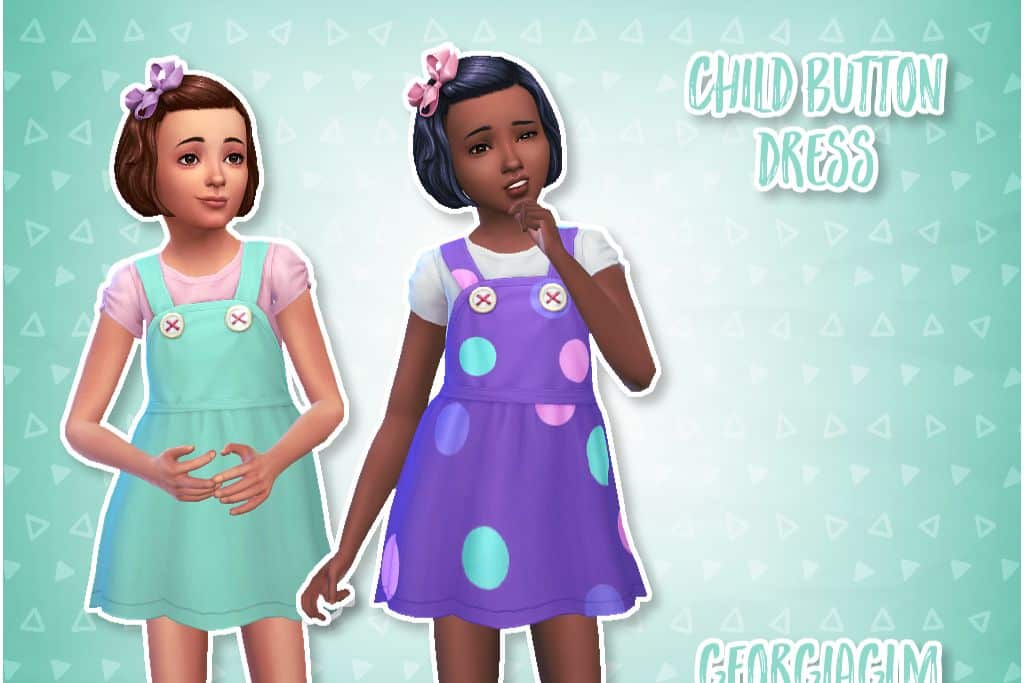 I wish I had this dress growing up; the purple and polka dot version is my favorite out of the 12 swatches of this button dress.
This dress is so freaking cute, especially with the bob bow hairstyle, which I have linked further down in the hair section.

23. Sims 4 Rebel Outfit CC by Clumpsy Alienn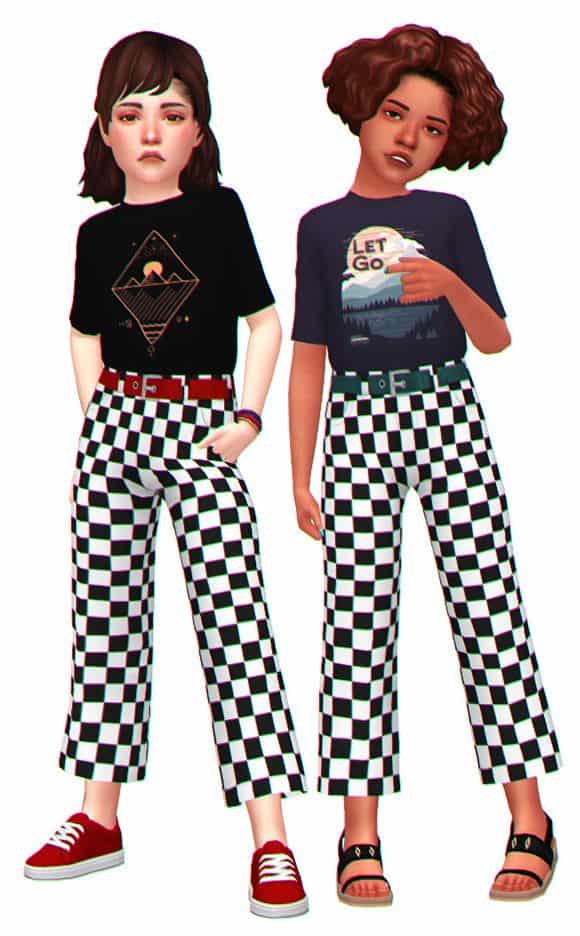 Found in the Full Body – Overalls category, this outfit comes in 8 swatches.
You get 4 outfits with the checkered pants, but the belt and the top change up.
You also have the option of two solid pant options and two swatches with different color pant legs.
My favorite is the light blue pants and tropical decal top, paired with flip-flops; it's perfect for a vacation.

24. Sims 4 Flynn Kids Outfit by Georgiaglm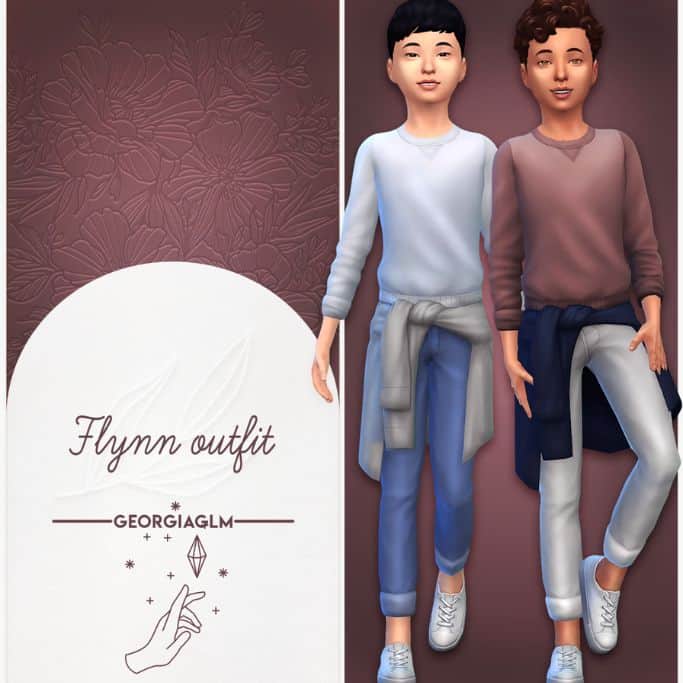 This is one of my favorite pieces for sims 4 kids' clothes.
I find it super convenient when I can grab an entire stylish outfit and just add some shoes to complete the look.

25. Sims 4 Boys Flannel Hoodie CC by My Stuff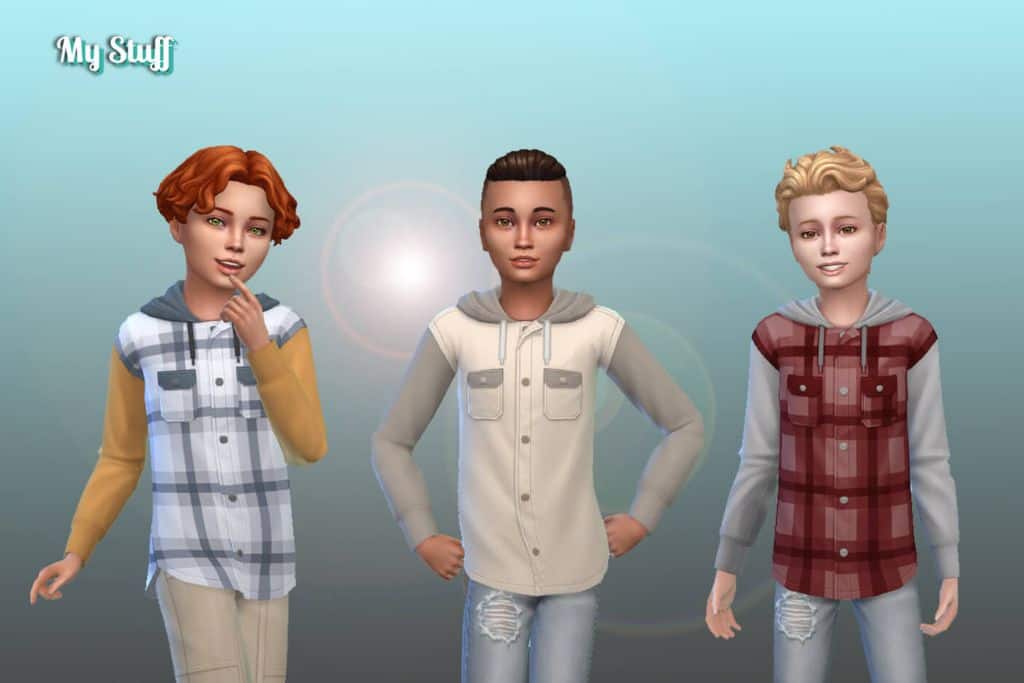 This is a casual flannel hoodie that looks like a vest over a long sleeve shirt.
You can choose from among 20 different swatches.
Pair with your favorite pair of kids cc jeans and sneakers to complete the look.

26. Sims 4 Hazel & Rocky Kids CC by Clumsy Alienn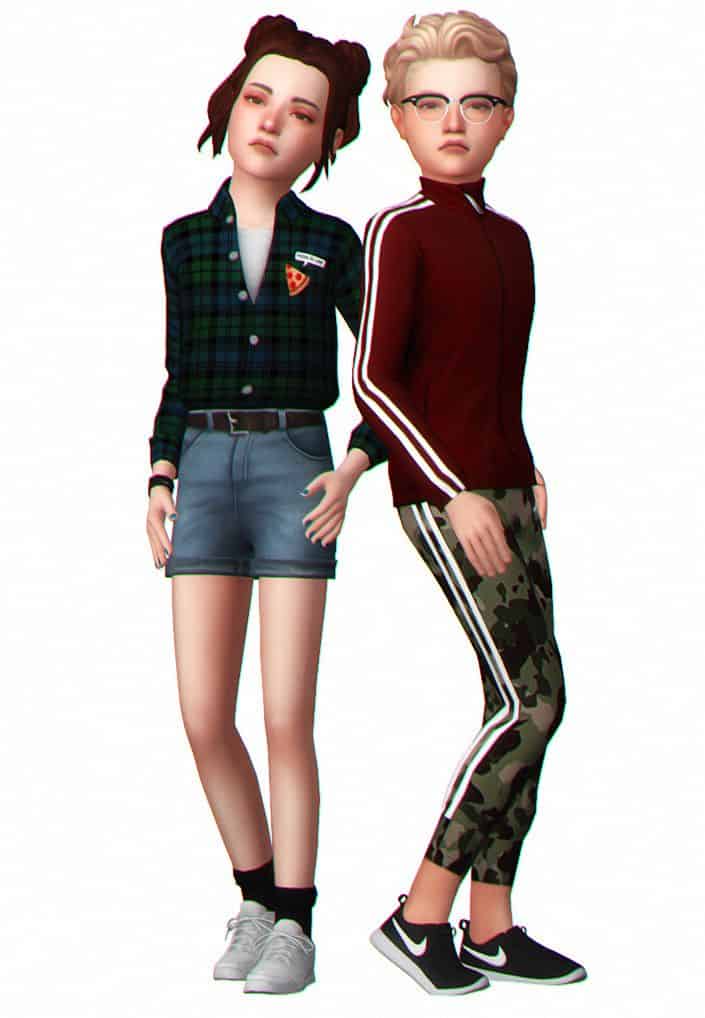 In this set by Clumpsy Alienn we have two unisex outfits.
The Hazel outfit comes in 10 combinations for the t-shirt, overshirt, and jean shorts.
The Adidas-inspired Rocky outfit comes in 8 swatches.
You get 4 options with camo sports pants, different sports zip-ups, and 4 solid-color outfit options.
I love a good set of black Adidas sportswear.

27. Sims 4 Sweatshirt & Joggers CC by Madlen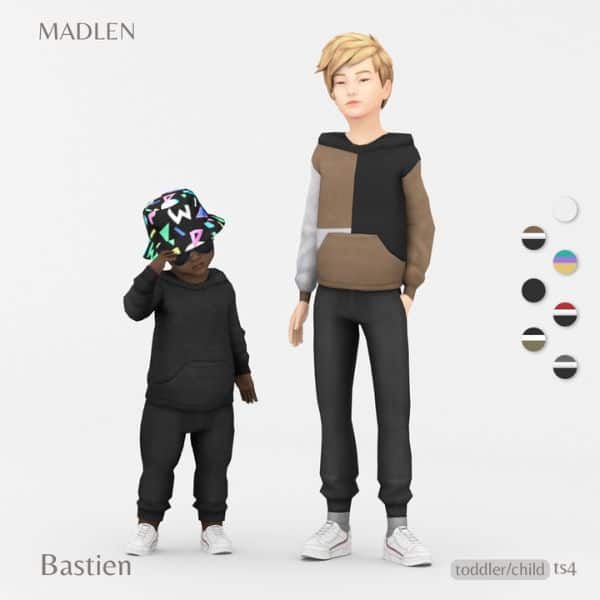 Does your child sims love to run around or lounge on the couch?
Either way, this retro-style color block sweatshirt, and jogging pants is a great outfit to have on file.
There are 5 swatches with the color-block theme and 2 solid color outfits.

28. Kids Daydream & Skinline CC by Clumsy Alienn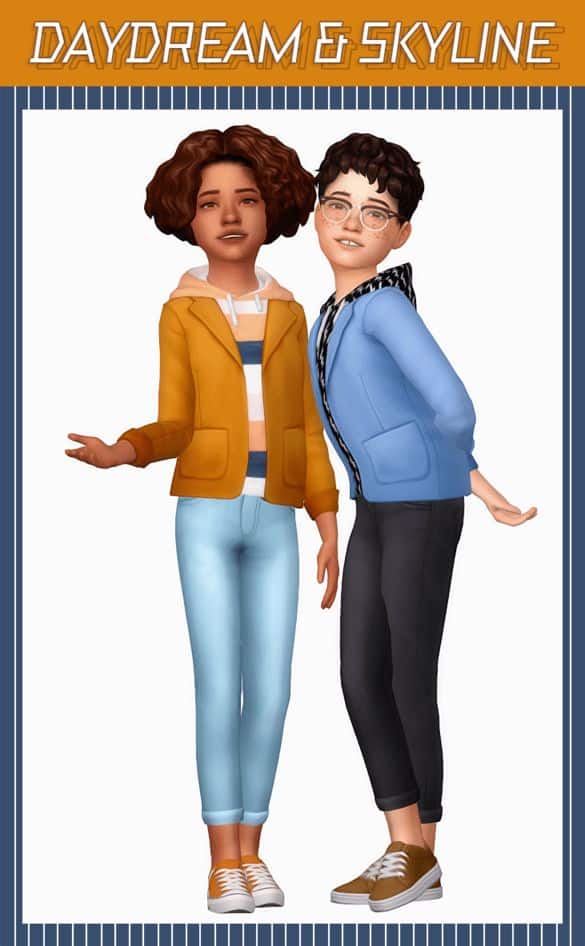 Grab your favorite unisex jeans, blazer, and hoodie in this set.
The Daydream blazer-hoddie cc comes in 18 swatches; you can choose 8 solids and 10 patterns.
The jeans are available in 6 different colors.

29. Sims 4 Nighty Night Kids PJ's CC by Colorful Plumbobs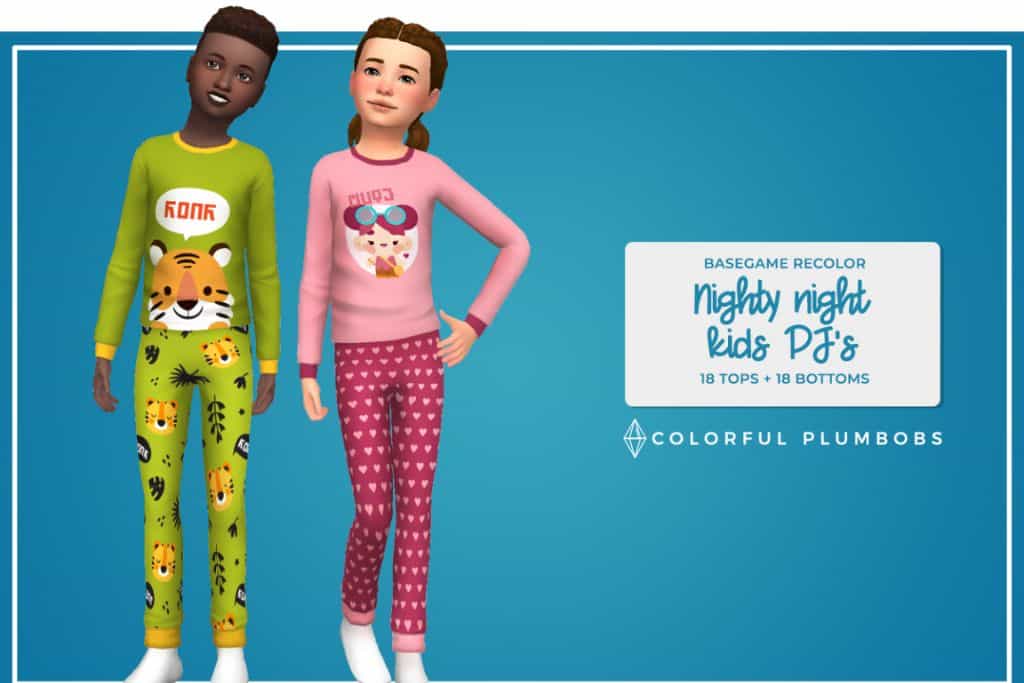 If your kids are heading to bed, they should be dressed for the occasion.
This fantastic set of kids clothes is dedicated to pajamas.
You get 18 top and bottom pajama designs, which have something for everyone.

30. Sims 4 Kids Sole Swimwear by Madlen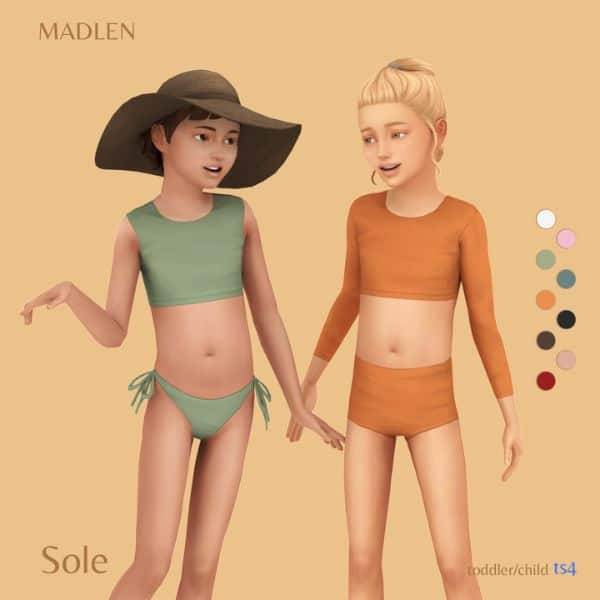 We couldn't make a set of sims 4 kids cc without including some comfortable swimwear.

This cc includes two minimalist swimsuit sets and a wide-brim summer hat to complete the look.

You can choose from among 9 different colors for the bathing suits and 4 swatches for the hat.

31. Sims 4 Arley Child Female Set by Onxy Sims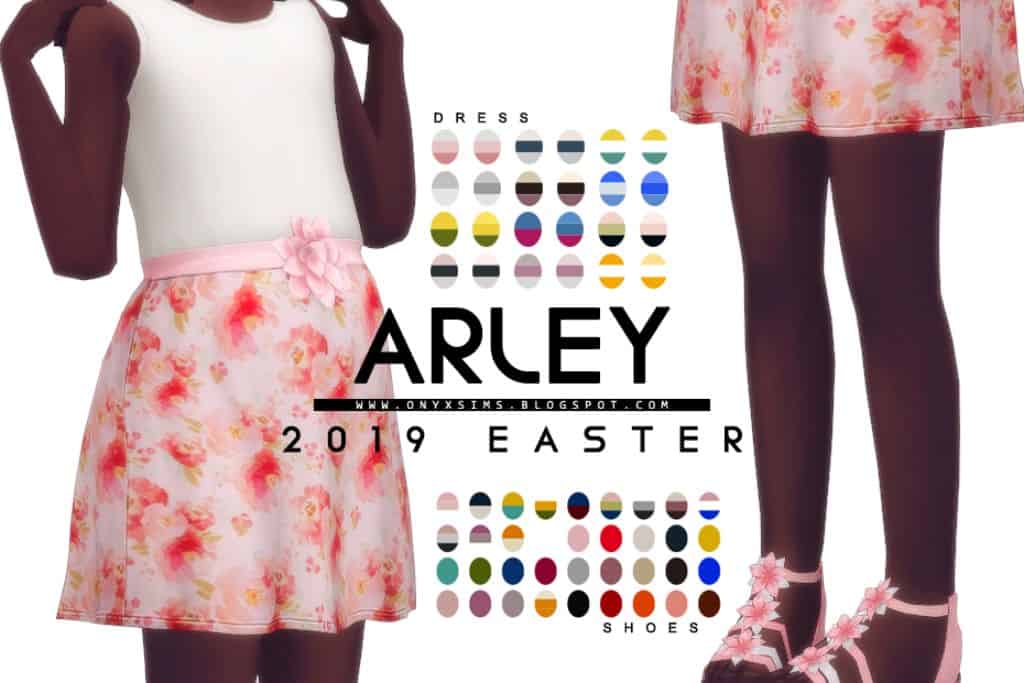 I love this summer floral set by Onyx Sims.
You can snag the whole outfit (dress, shoes, and earrings) or choose which specific pieces you want.
You can find your favorite dress design from among the 24 different choices.
And who doesn't love those adorable sandals with even more options, a whopping 36 swatches?

Sims 4 Kids Shoes CC
Nothing completes an outfit more than a comfy and stylish pair of shoes.
We've compiled a small collection of shoes for your child sims, from sandals to combat boots.
32. Sims 4 Taylor Shoes CC by Madlen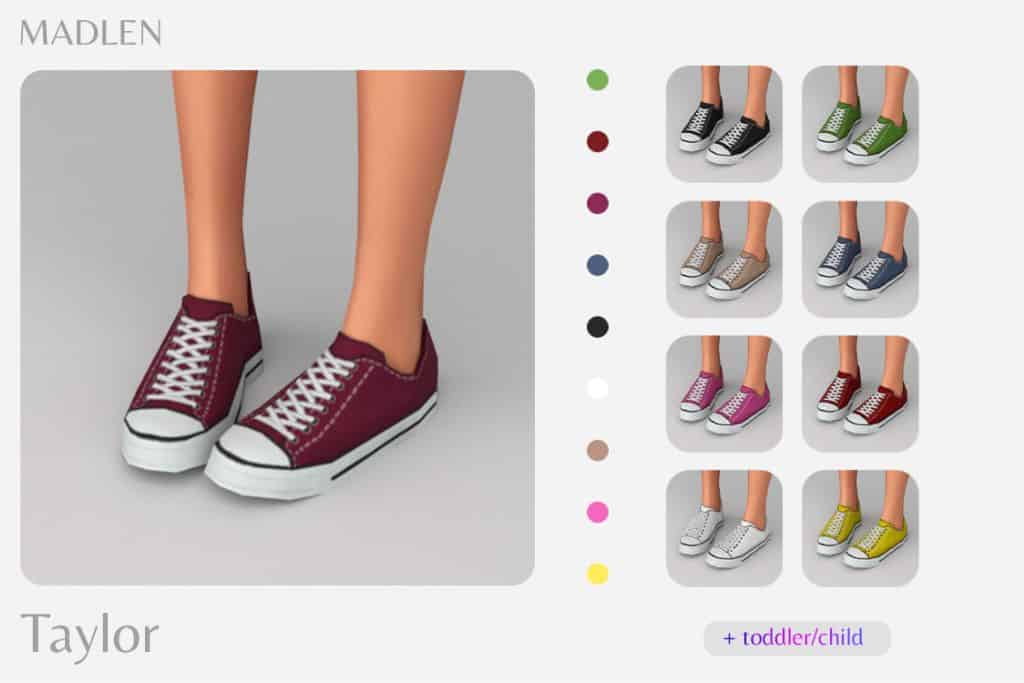 These converse style shoes are the perfect pair of versatile kid's shoes.
You can pair them with jeans, shorts, and even dresses.
There are 8 fun colors to enjoy. If you prefer the ankle-high Logan version, you can grab it here.

33. Sims 4 Kids Miyuki Boots by Madlen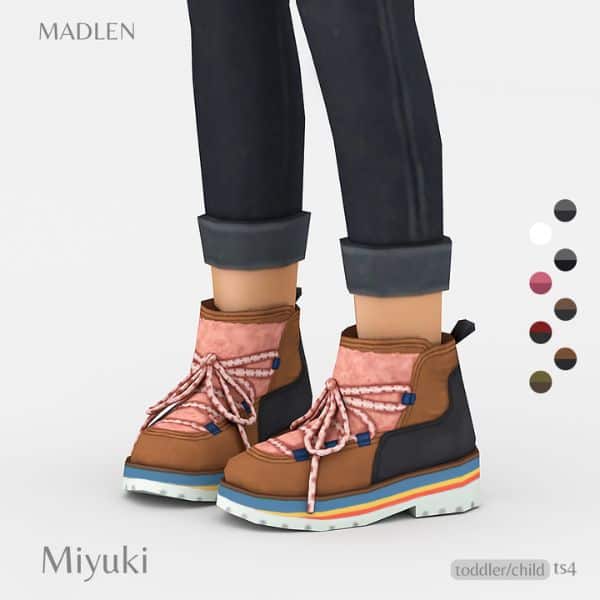 These colorful boots are super cute.
They kind of remind me of my Timberland boots but in a more adorable kids version.

34. Sims 4 Kai Sneakers for Kids by Madlen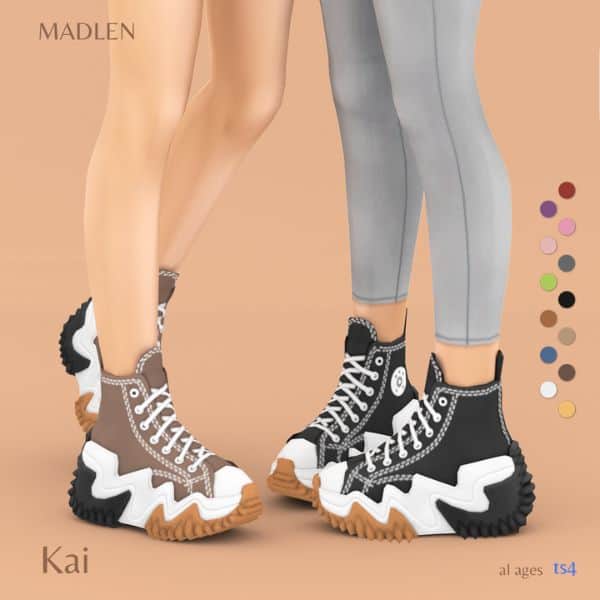 I had to include these high-top shoes by Madlen since there are so unique and interesting.

Madlen describes these shoes as "future forward," and I have to agree.
These modern sneakers definitely give me futuristic space shoe vibes.

35. TS4 Patent Combat CC Boots by Onyx Sims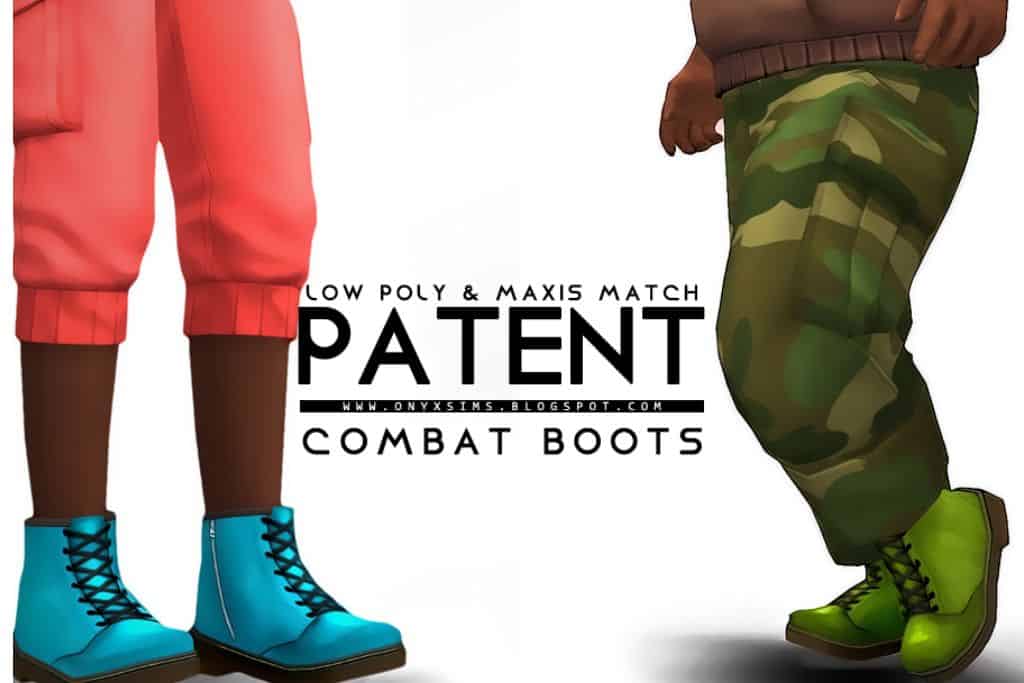 I needed to include these adorable combat boots in this collection.
Combat boots pair so nicely with jeans; they are bound to become a staple in your cc folder.

36. Sims 4 Girls Koni Sandals CC by Madlen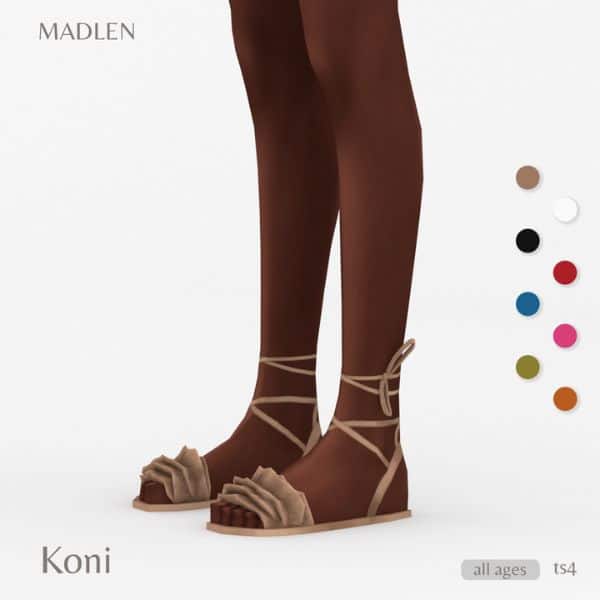 These strappy ankle sandals are an excellent fit for the beautiful dresses found in this group of Sims 4 kids cc.
You can also pair these sandals with jeans, shorts, or ankle-length pants.

37. Sims 4 Vasco Sneakers CC by Madlen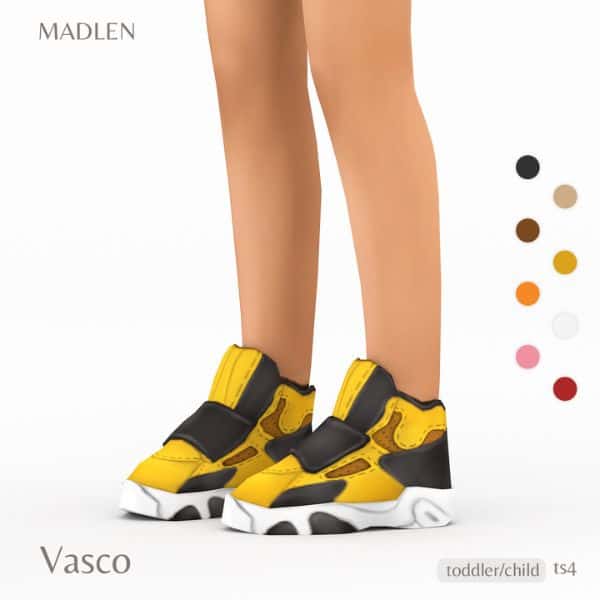 A cute yet trendy pair of sneakers for your sims to run around in.
Available in 8 swatches, I like the vibrant color of the orange swatch.

Sims 4 Kids Hair CC
Hair can make or break any sim creation. It adds such style and character to your sims and brings them to life.
Here are some of our favorite sims 4 kids hair custom content.
38. Sims 4 Kids Luca Hair by JohnnySims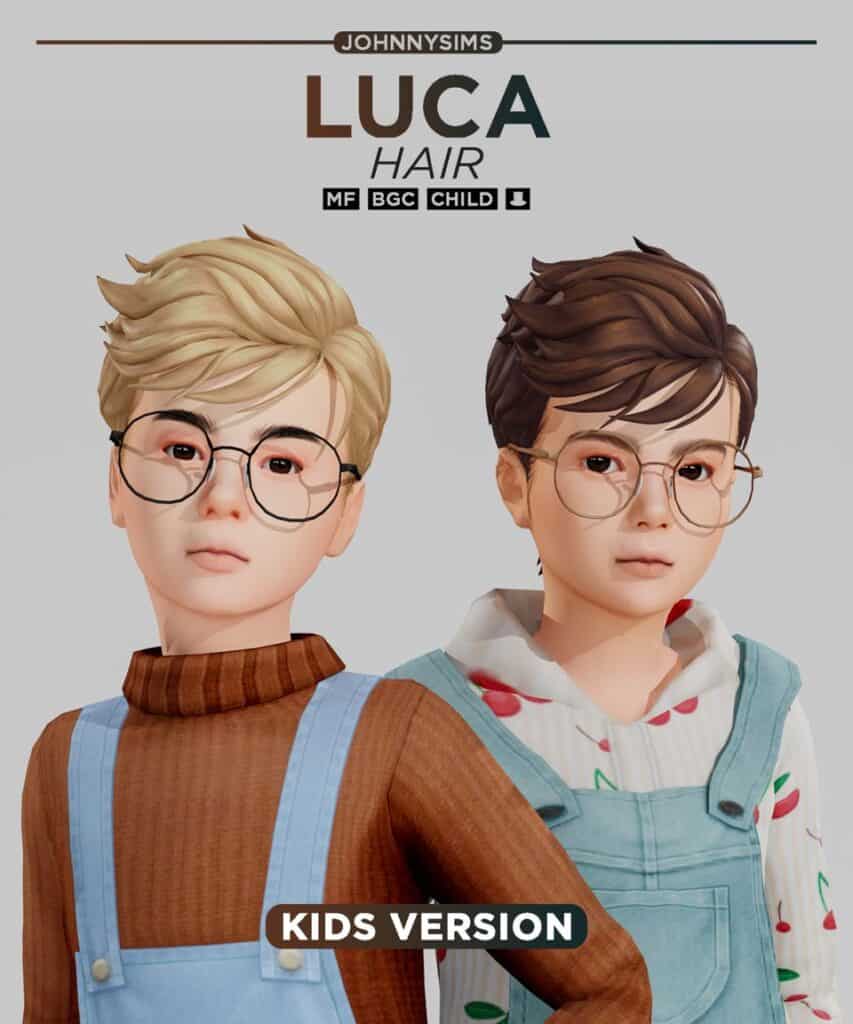 This is a casual yet trendy hairstyle for your male child sims.
It's a hairstyle I think we all saw a lot growing up; the wispy strands across the forehead, a classic hair flip look.

39. Sims 4 Zahara Hair Kids CC by NORDS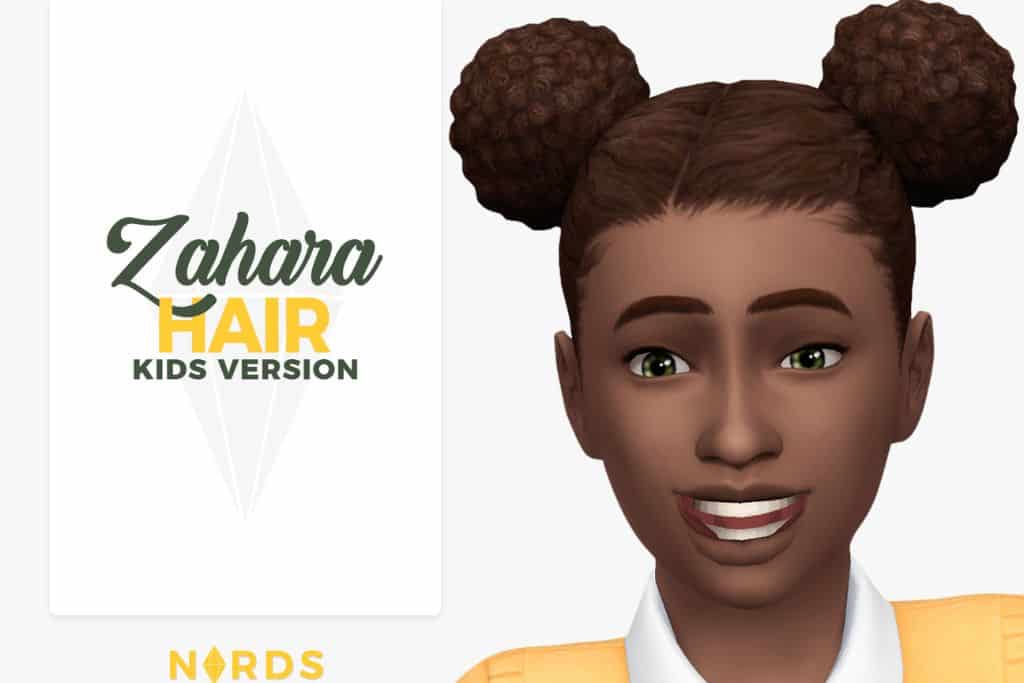 This is one of my favorite pieces of kids' custom content.
The textured pom poms are beautiful, and I love how much detail went into the baby hairs along the hairline.

40. Sims 4 Anto Dae Girl's Hair by Simiracle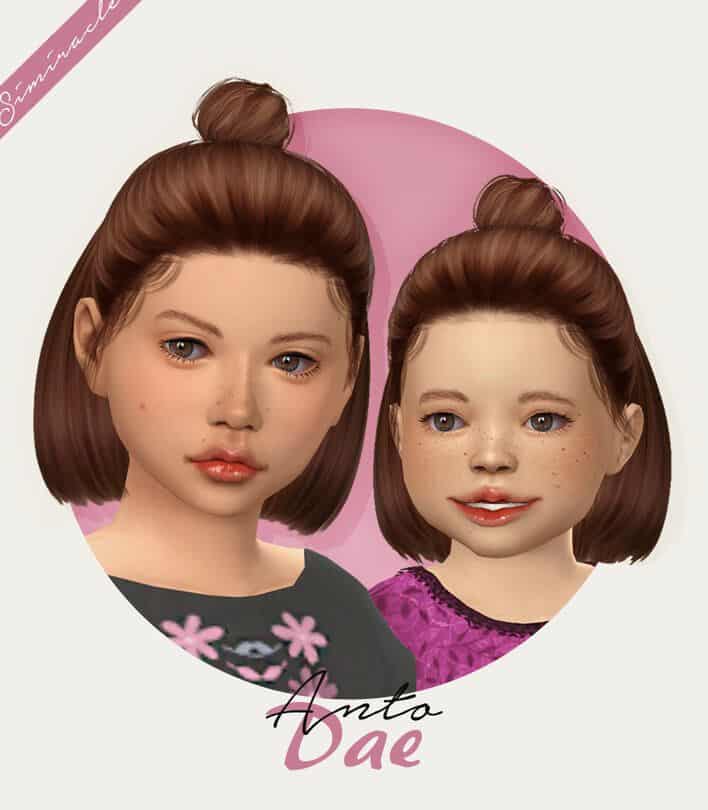 Another popular hairstyle, I did this hairstyle constantly growing up.
It's stylish and keeps your hair out of your eyes while running around.

41. Sims 4 Kids Hair Dump CC by NaevysSims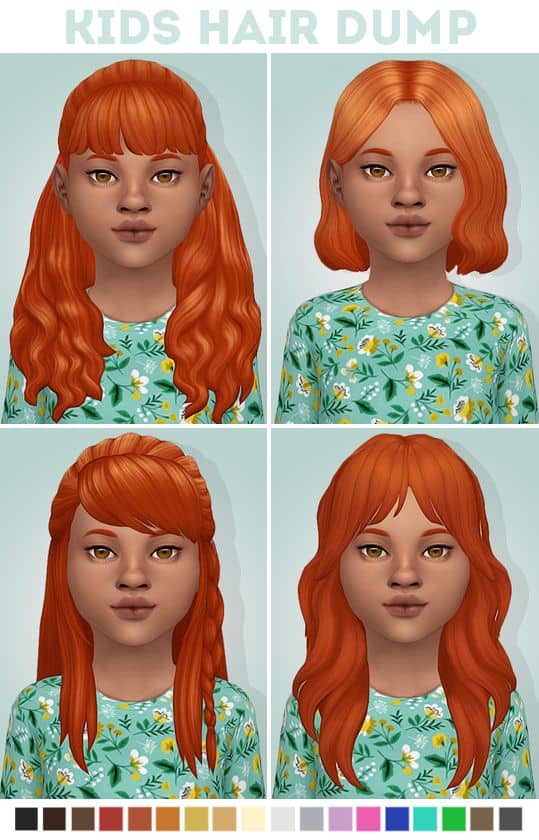 This set of kids hair has 4 beautiful hairstyles.
From a classic bob to a headband braid, these are great staple hairstyles to try out.
You get 18 swatches to mix and match for the perfect look.

42. Sims 4 Long Braided Pulled Back Girls CC by My Stuff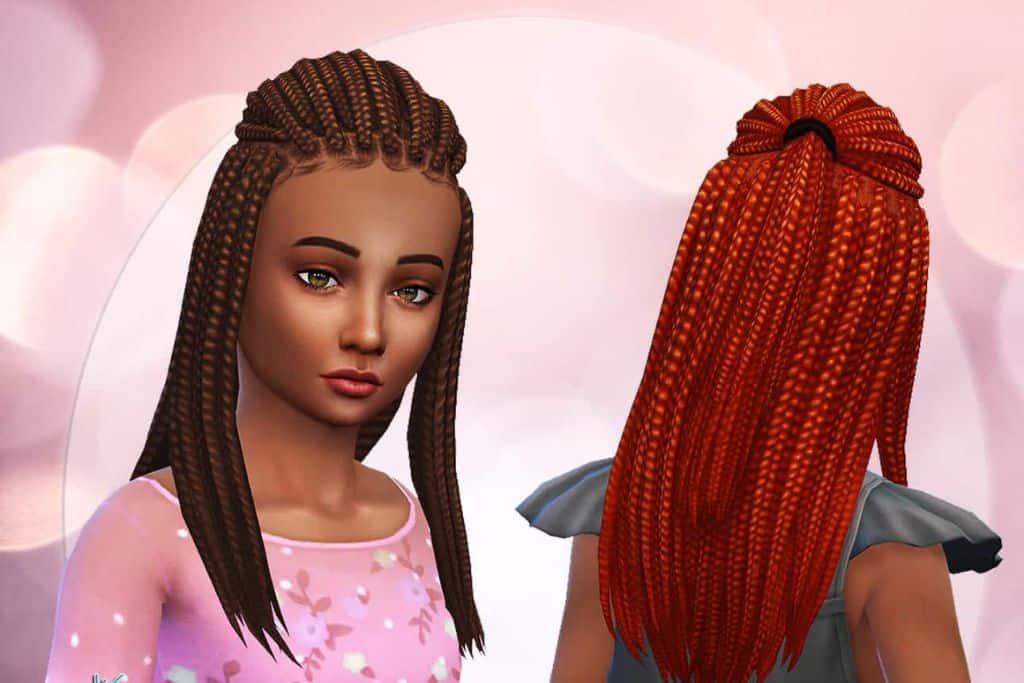 I love the details on this long braided pulled-back hairstyle.
Your girl sims can enjoy these stunning braids in 24 colors.

43. Sims 4 My Wig hair CC by SonyaSimsCC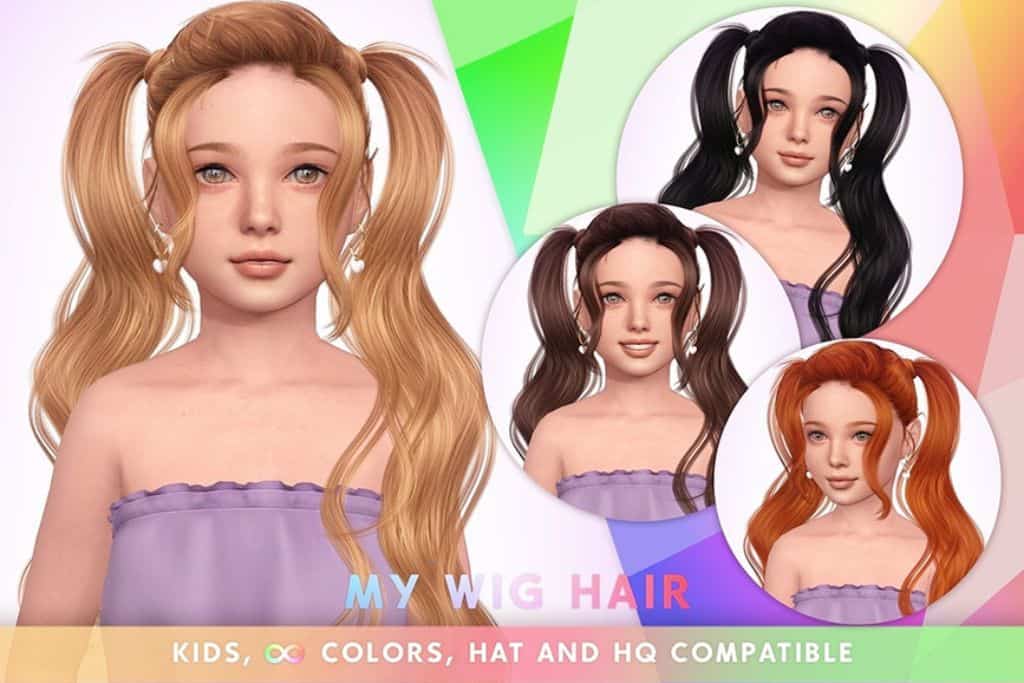 This girl's hairstyle reminds me of a glammed-up version of the standard pigtails.
The two long strands of bangs and the teased-out hair at the top make it a more fashionable hairstyle.

44. Sims 4 Aiden Boys Hair by JohnnySims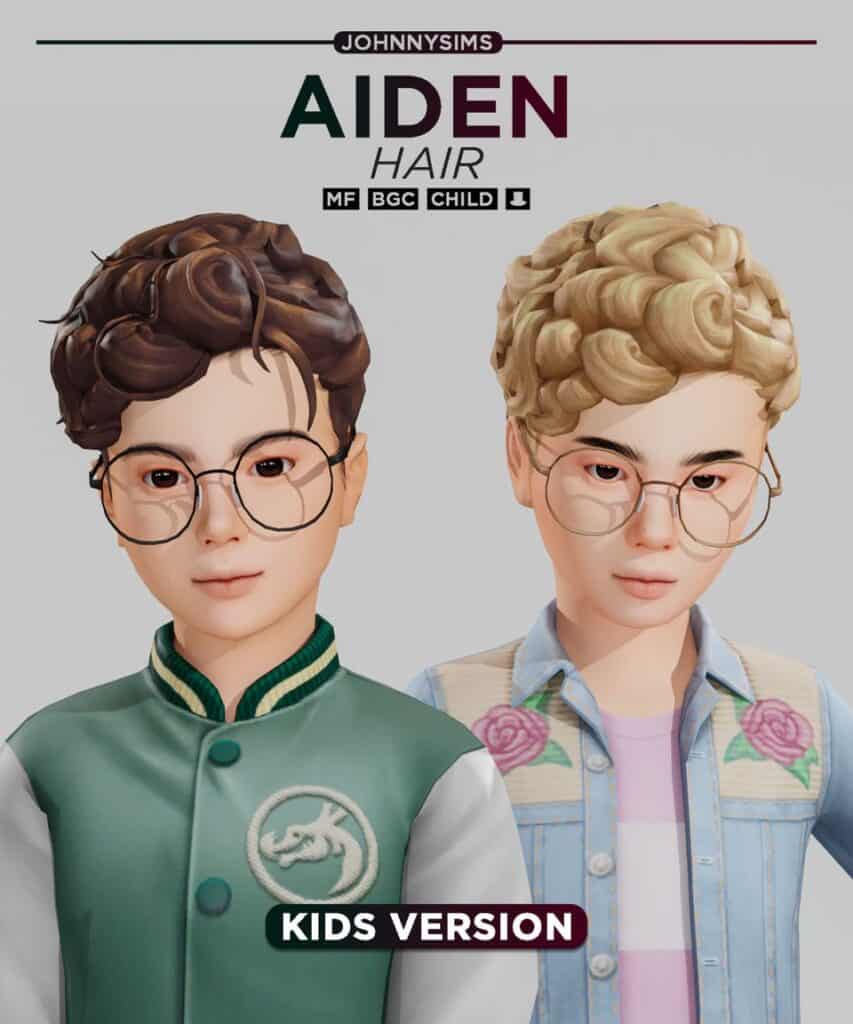 Growing up, my cousin had such curly hair with a rosette right in the front, causing it to create an interesting hairline.
This Aiden hairstyle reminds me so much of his look, which has always been unique and stylish to me.

45. Boys Short Fade CC by My Stuff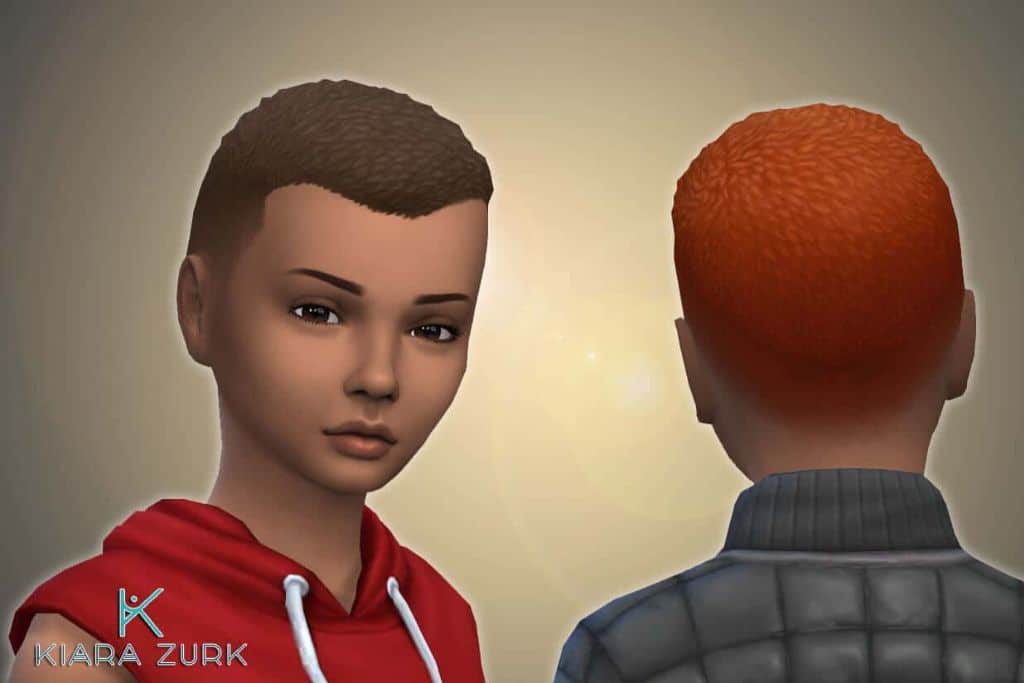 There is nothing edgier than a well-executed short fade.
This boy's hairstyle comes in 24 colors to find that perfect shade to style your kid sims.

46. Sims 4 Child Bob Bow Hair CC by Georgiaglm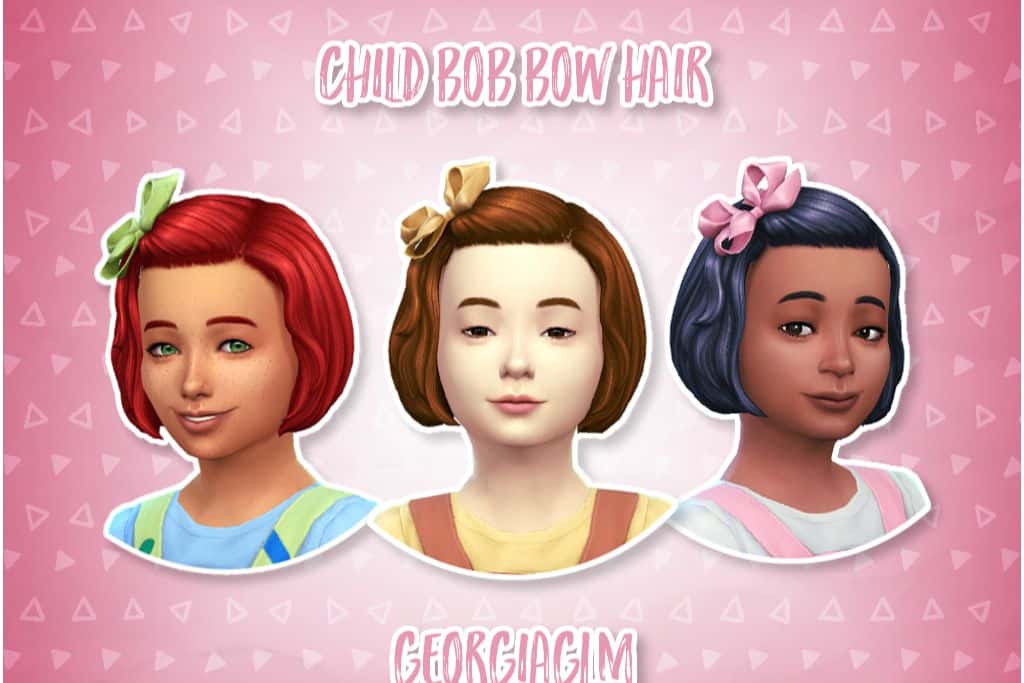 We can't put together a variety of kids' hairstyles without including a girl's hair bob.
This bob is incredibly charming because you get the adorable bow built-in.
Enjoy this hairstyle in 9 colors.

Sims 4 Kids Accessories
This is a mixed category of a few fun pieces to complement your sims 4 children's clothes.
47. Sims 4 Kids Stockings by Colorful Plumbobs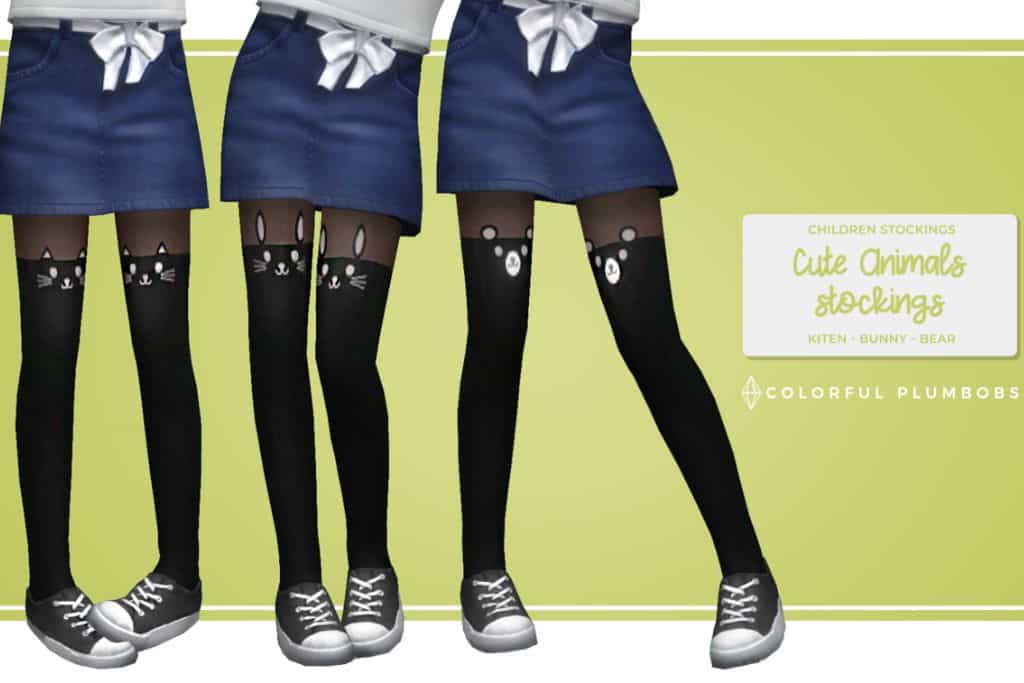 I couldn't resist including these adorable stockings. These will definitely jazz up any outfit with a skirt.
These stockings come in bear, bunny, and kitten versions.

48. Sims 4 Kids Cat Sunglasses CC by Giulietta Sims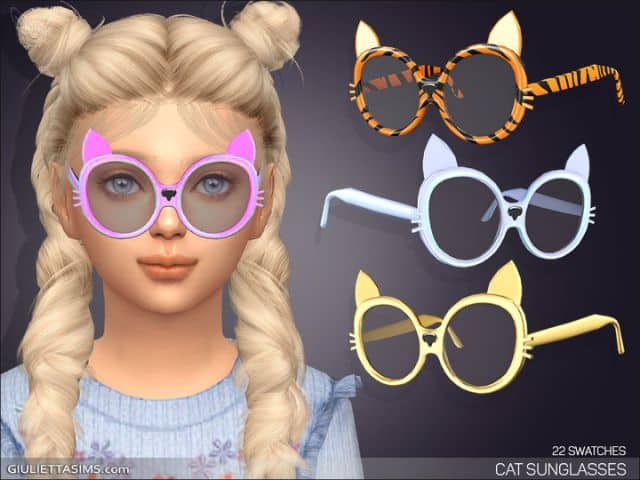 These adorable cat sunglasses are a quirky addition to your sims girls' outfits.
It's never too young to start loving cats; maybe your sim will age into an old cat lady.
You have 22 colors to coordinate with your clothing.

49. Sims 4 Kids Maxis Match Mascara Lashes by Isaiah Illustrates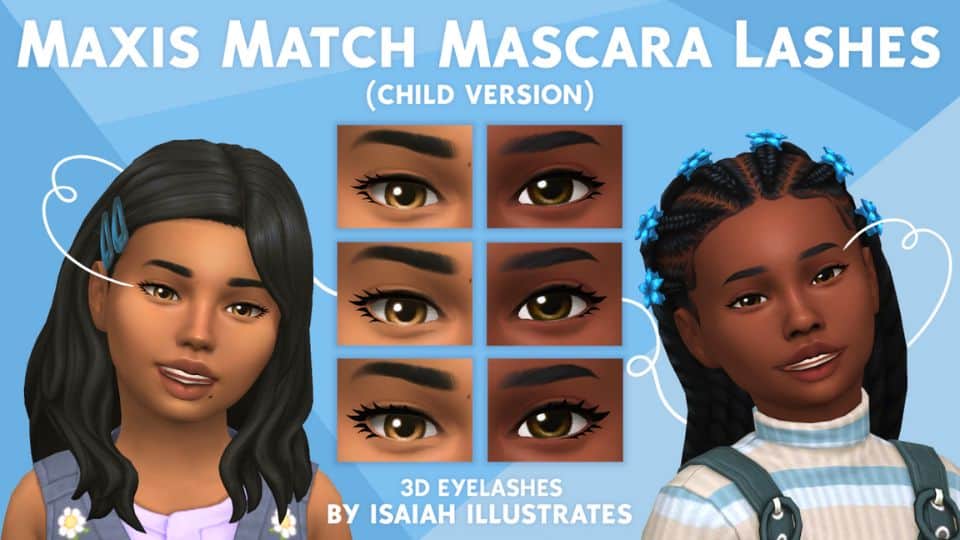 Even kids need some decent eyelashes in the sims 4.
These maxis match mascara eyelashes provide some much-needed lashes compared to the basic EA eyeliner version.

If you haven't grabbed the eyelash remover mod before, you can find it on the eyelashes page below.

50. Sims 4 Unicorn necklace CC by Giulietta Sims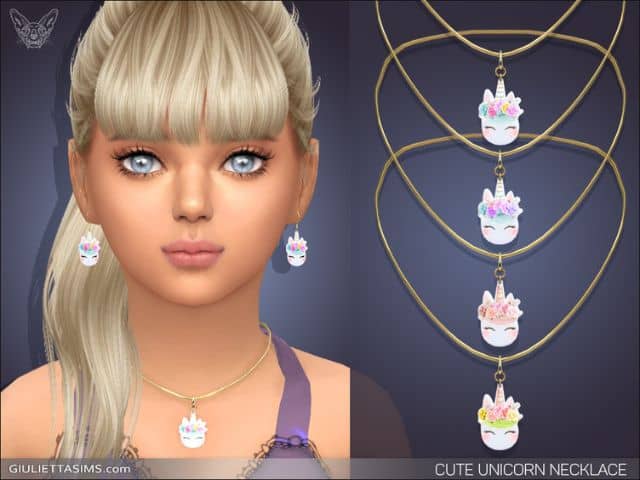 With so many cute dresses linked above, we needed to include this pretty unicorn necklace you can use to complete your sims looks.

51. Sims 4 Horololo Glasses CC by Simiracle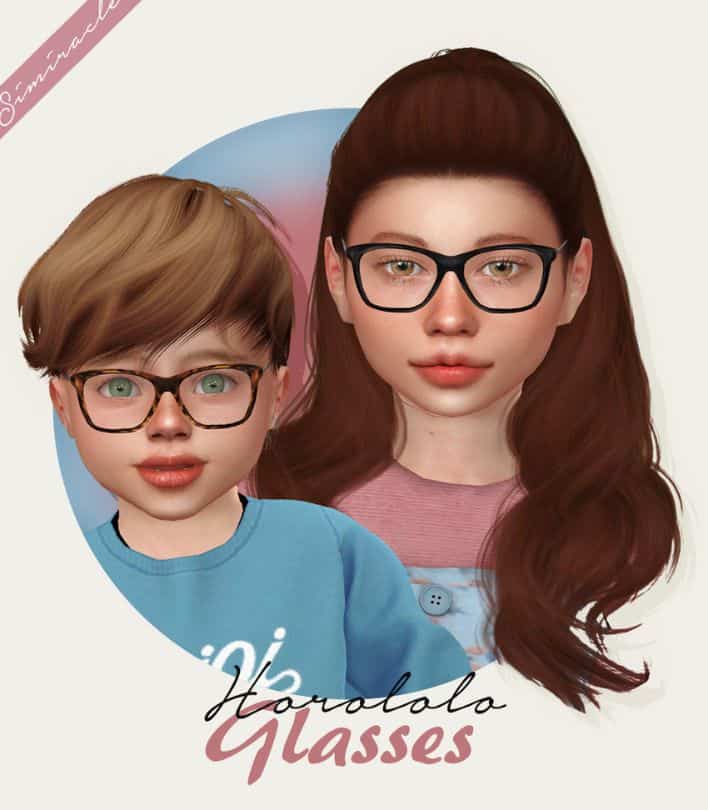 Do your sims need a new pair of eyeglasses?
This stylish pair of glasses comes in 25 swatches and can be used with the Iconics glasses slider linked earlier in number 50.

52. Sims 4 Corgi Backpack by Madlen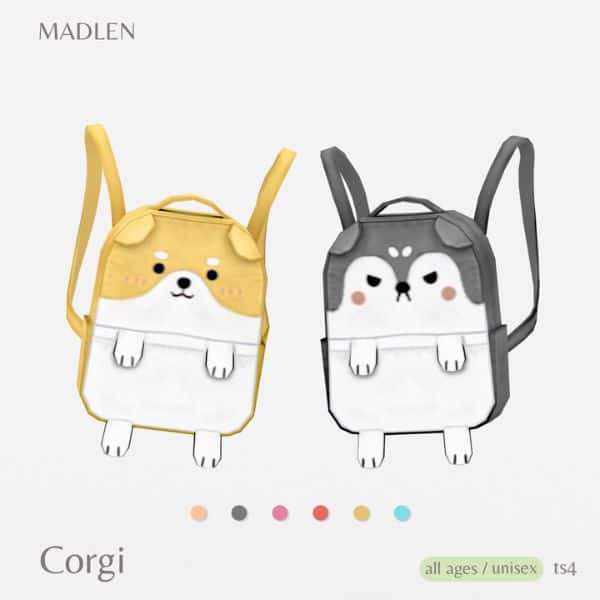 I needed to include this corgi backpack by Madlen.
While this is the cutest little backpack for your child sims, it's not only unisex but also available for all ages.
I'm a kid at heart, so I'll be using this on my adult sims too!
You get 2 styles and 6 swatches and can find them in the wrist category.

Sims 4 Child CC Final Thoughts
I hope you found some fantastic sims 4 kids cc pieces to add to your collection of custom content.
If you come across any other interesting pieces for me to check out, feel free to send us a link in the comments below or tag us on Tumblr.

Other Sims 4 Custom Content Articles

And don't forget to pin this article for later!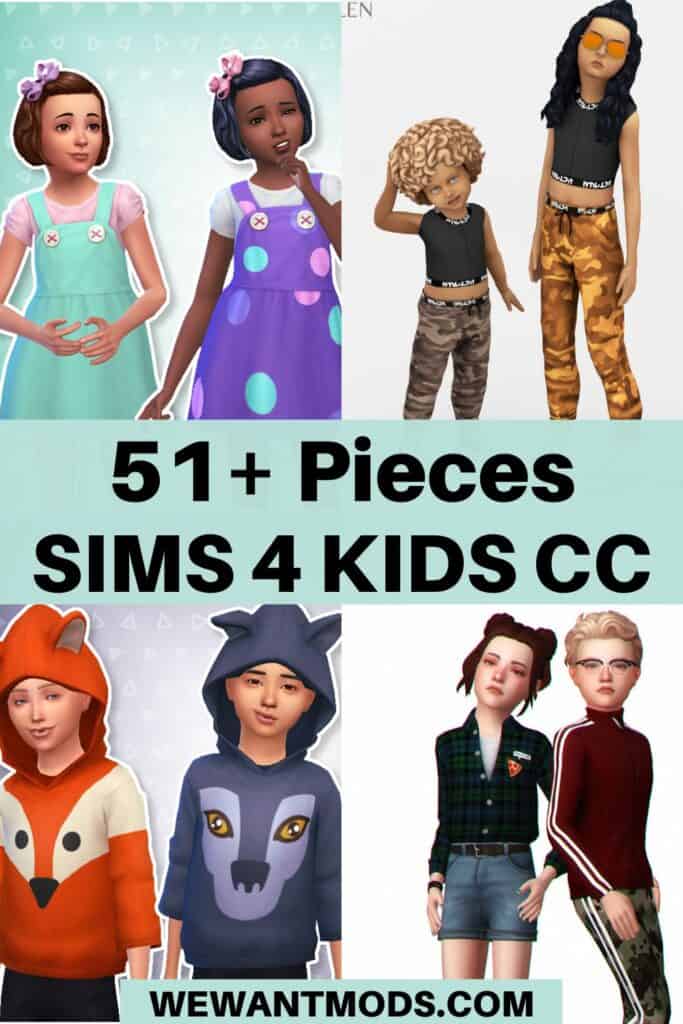 Ultimate List of Sims 4 Kids CC (51+ Pieces of CC)