17 Sims 4 Garage Door CC: Deco, Single & Double Doors
Find the perfect car garage door for your sims' house with these sims 4 garage door cc.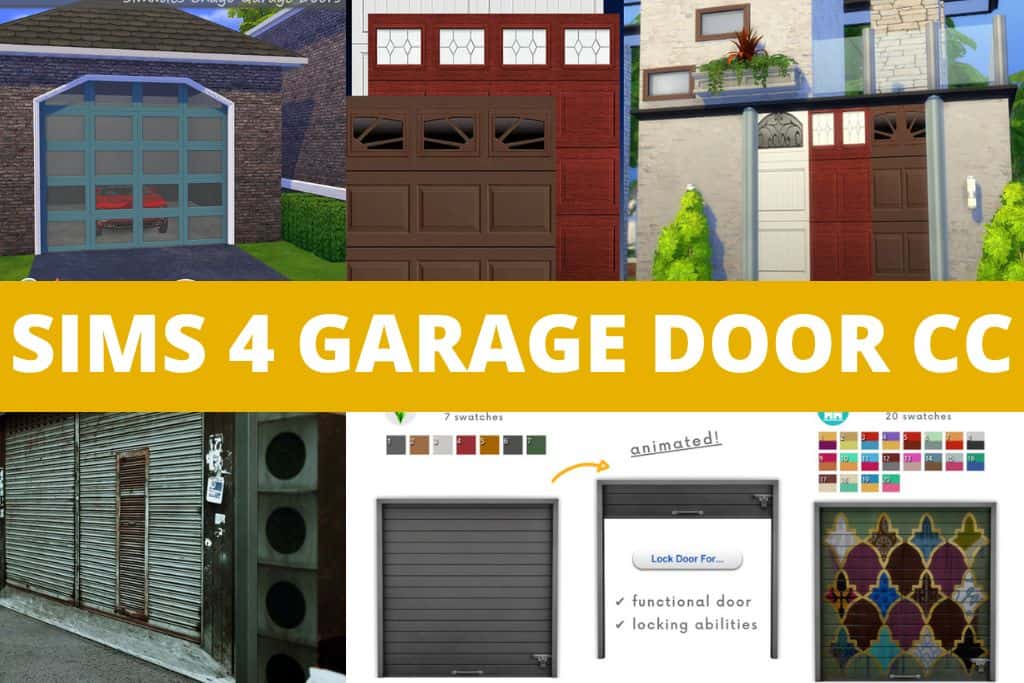 In the real world, garage doors complement any house because they make them appear larger and add value to the property.
In the sims game, adding a car garage will benefit your sims' house's curve appeal.
But, to pull it off, you'll need the help of sims 4 garage door cc to find the right door to match the style of your sims home.
We've put together some different garage doors for you to find the perfect look to compliment your household's newest home.
Disclaimer: The following mods are neither endorsed nor affiliated with The Sims, Maxis, or Electronic Arts. Any use of mods (custom content or game mods) should be done with caution and with the knowledge that there may be risks.
A Mix of Sims 4 Garage Door CC
This list of sims 4 garage doors offers a lot in terms of variety.
Whether you're looking for something modern or more traditional, you're bound to find a garage door that matches your home aesthetic.
1. Ultimate Garage Door Pack by Scodee Yodee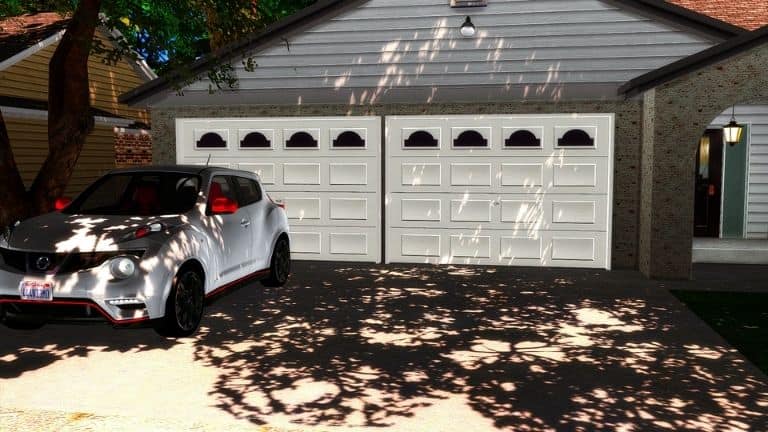 If you want a good selection of garage door cc, this set offers five different designs and eight color options for a total of 40 swatches.
In all the designs, the door itself remains the same, but each model offers different window options, including a windowless version.
This stylish door is well-made and would look good on any traditional and contemporary home.

2. The Open Garage Pack by Solar

Are your sims the type of people to always leave the garage door open?
This set of garage cc offers a good variety of objects often found inside a garage and provides an open garage door item.
If your sims enjoy doing yard work or are simply careless, this item is for you.

3. Modern Garage Door CC by Syboubou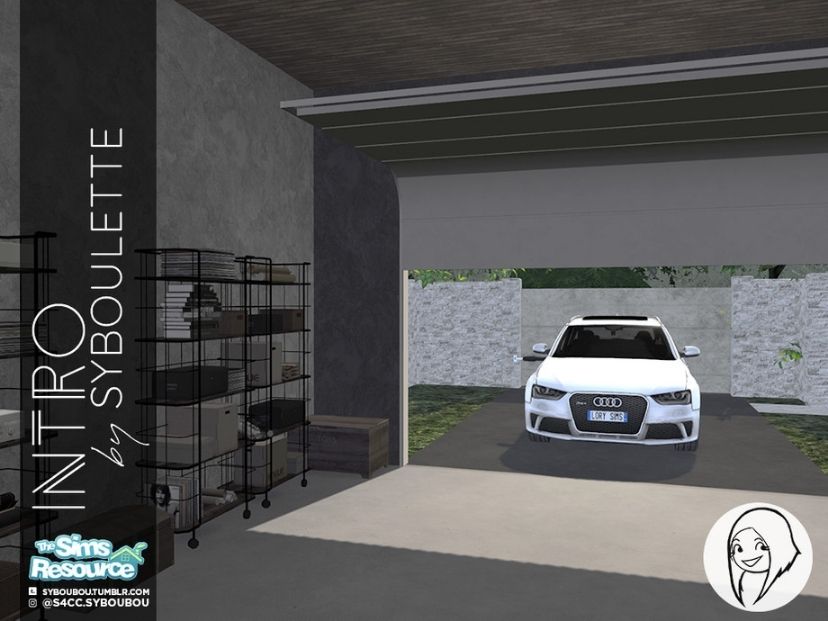 This set offers a collection of modern garage doors and some additional pieces to decorate the exterior of your sim's home.
You get two models of doors, one that's open and the other one is closed. Each of the doors comes in five swatches.
The decorative objects include a functional mailbox, a lantern-style lamp, a house number plate, and an intercom.

4. Garage Door Wall Pattern by Sarahstar_13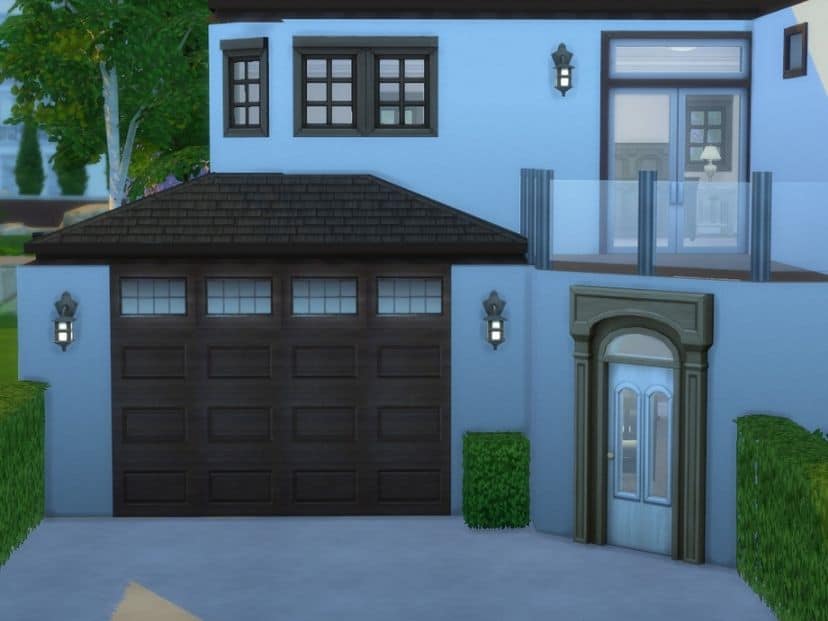 This sims 4 garage door cc is not an item you place on your house; in reality, it's a wall pattern that covers the full height of your wall.
You only get one design and color: a stylish brown wood panel with a squared window at the top with muntins.
So, to create a door on your sims' outdoor wall, you must place four side-by-side panels to make a normal-sized garage door.

5. Decorative Garage Door CC by Angela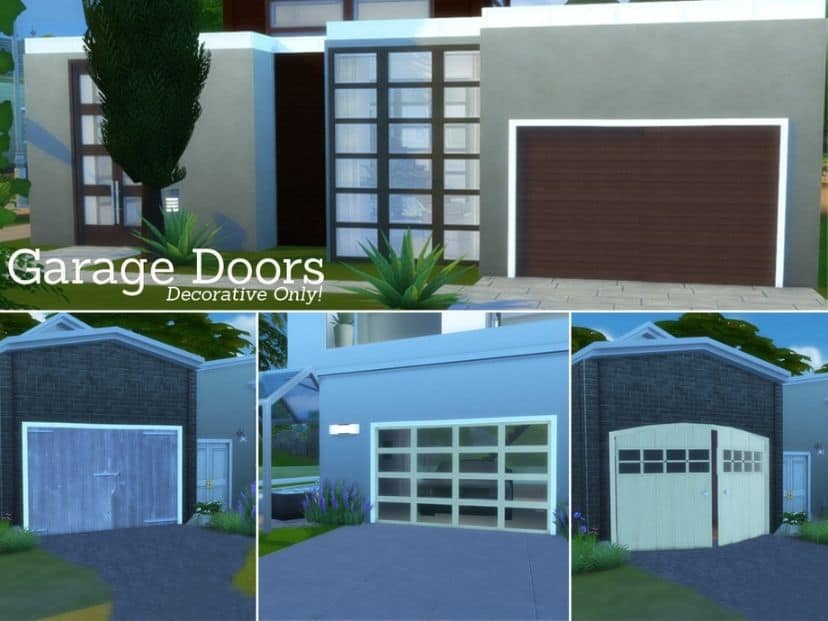 For more options of sims 4 garage door cc, this small collection offers four designs for your sims' car garage.
First, a rounded garage door frame made exclusively for the left and right Vintage Door items.
The straight garage door frame item is made to go with the other three designs, which are:
Old Wooden Door that resembles a barn door
Full Modern Wood Door with a textured look of horizontal wooden strips
Modern Wood Door with Glass, which is made mostly out of glass panels

6. Functional Sims 4 Garage Door by Ravasheen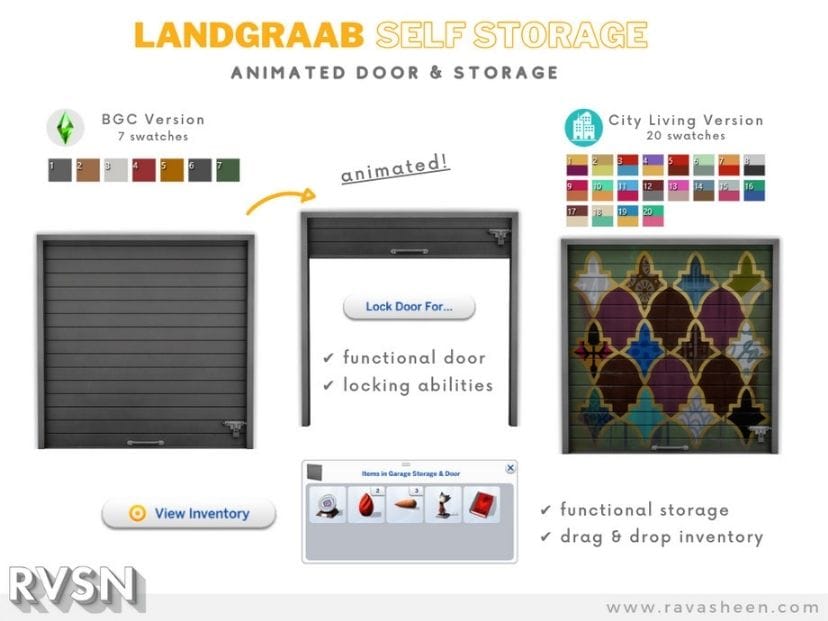 If you're looking for a fully functional rolling door, this garage door cc is one of a kind.
It opens and closes when your sims approach it, and you can also set it as your Front Door.
You can lock it to keep specific sims out, and there's even a No Trespassing option.
Because this cc resembles a storage lock door, this garage door has storage capabilities.
There are two versions of this garage door cc. This first item is base game compatible, while the second requires the City Living EP.
The BGC door comes in seven colors, while the City Living one has 20 cute design swatches.

7. Garage Door Set by Kinder10000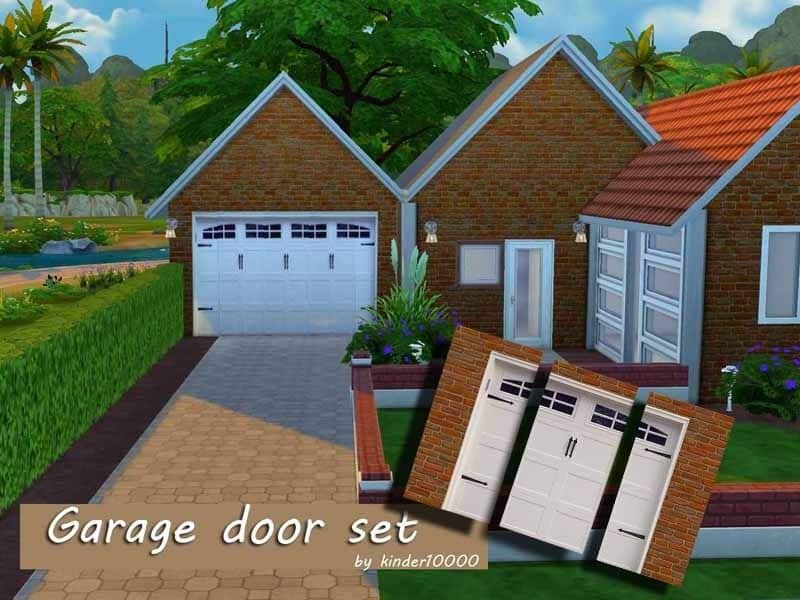 This set is for a three-part garage door for your sims' house.
You get three full-height panels: a left side, a middle section, and a right side.
There's only one swatch, and it's for a white door surrounded by red brick.
To give my sims a standard-sized one-car garage door, I used both extremities and three times the middle section.

8. Sims 4 Garage Patterns by Ineliz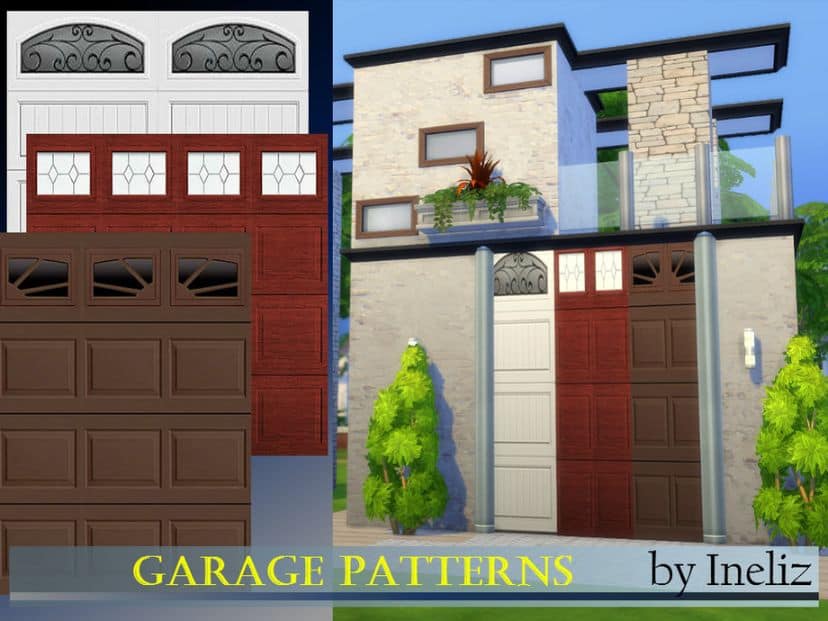 These car garage door patterns offer three designs that look good on various sims' houses.
You have a choice between a white, red, and brown color door. Each color door has its own unique top window design.
You'll find the doors in the Wall Pattern category.

9. Modern Garage Door CC by Sarahstar_13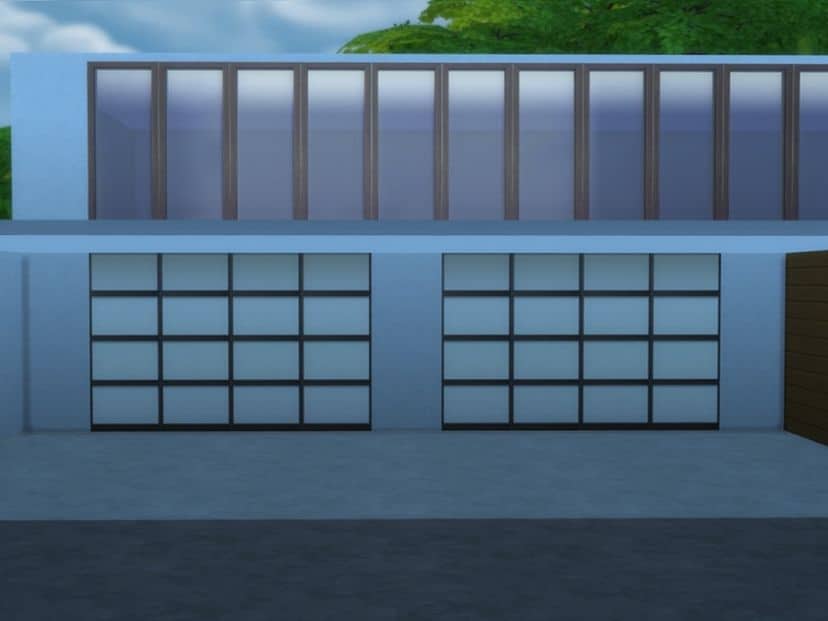 You can get this garage door with divisions resembling frosted glass window panels for a contemporary look.
The door design is found under the Wall Paint category.
Depending on your wall height, you can have a garage panel with four, five, or eight windows high, but four looks best.

10. Nome Garage Door CC for Sims 4 by Mutske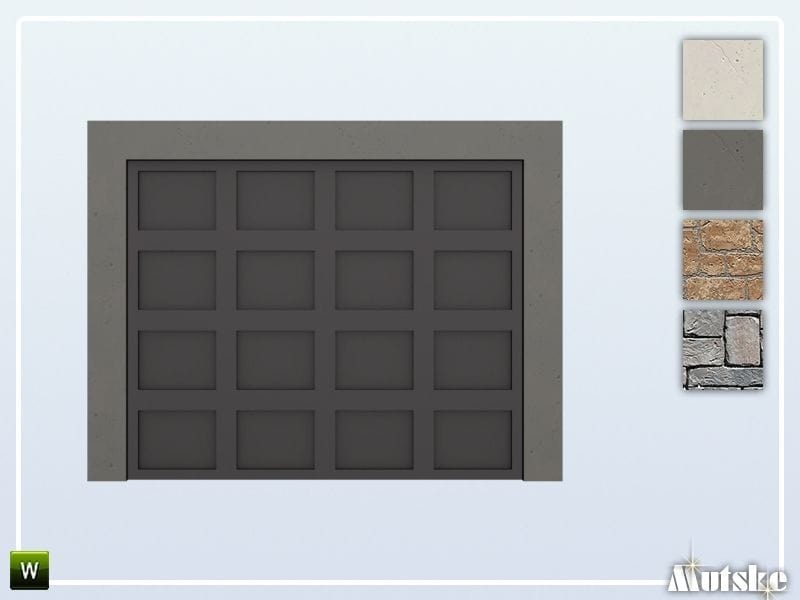 This modern garage door comes only in Gray but with four swatches for its frame.
For the contours, you get a light and dark tone of gray and two stone patterns.
Unlike some previous items, which were painted panels, this garage door cc is an actual object you place on your sim's home.
But curiously enough, you won't find the item under Doors, but actually under the Windows category.

11. Garage Door Recolors by Grouchy Old Sim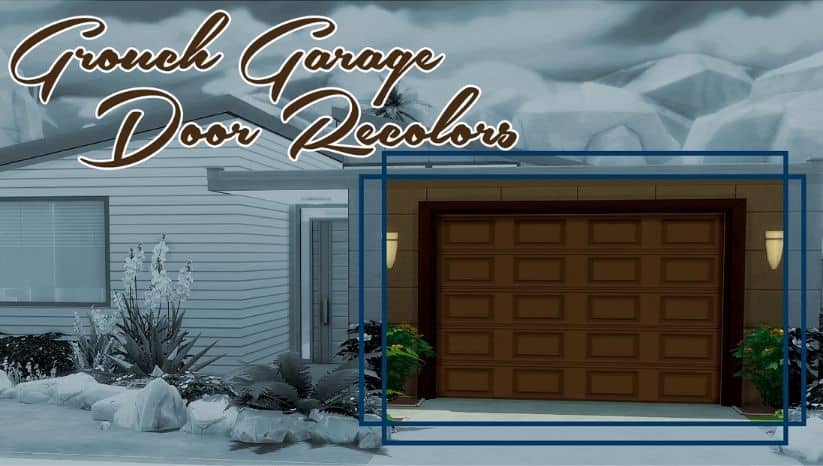 If you want a gorgeous wooden door for your sims' car garage, this set is the one to pick.
The door comes in many swatches, with 12 door colors times the number of frames.
Speaking of frames, you get to pick between three types: a white, a dark, and a matching solid color.
Note that you'll get a contrast trim only for the white and dark borders on the black and white doors.
So, instead of having a white door with a white trim, you'll get a white door with a dark frame.
You'll find the sims 4 garage door under the Decorations category.

12. Simxties Chago Garage Doors by Mincsims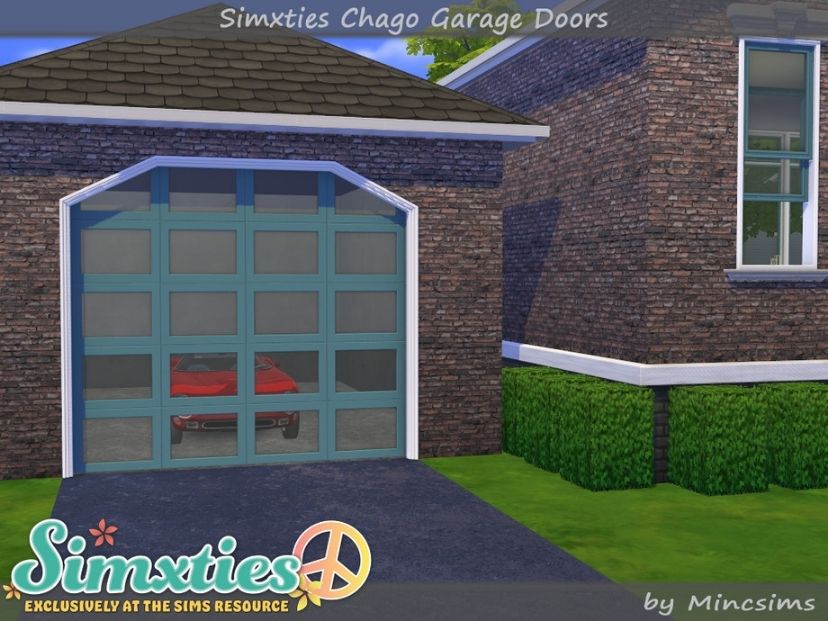 This 1960s garage door set has two designs, each with an open and closed version.
You can pick between a windowed or traditional door with windows at the top.
For all four versions of this cc, there are eight color swatches. This set supports both short and medium wall heights.
So, for medium-sized wall houses, a separate set is included.
You'll find all the open-door versions under Doors, while the closed ones under the Windows category.

13. Sims 4 Garage Door CC Set by Solar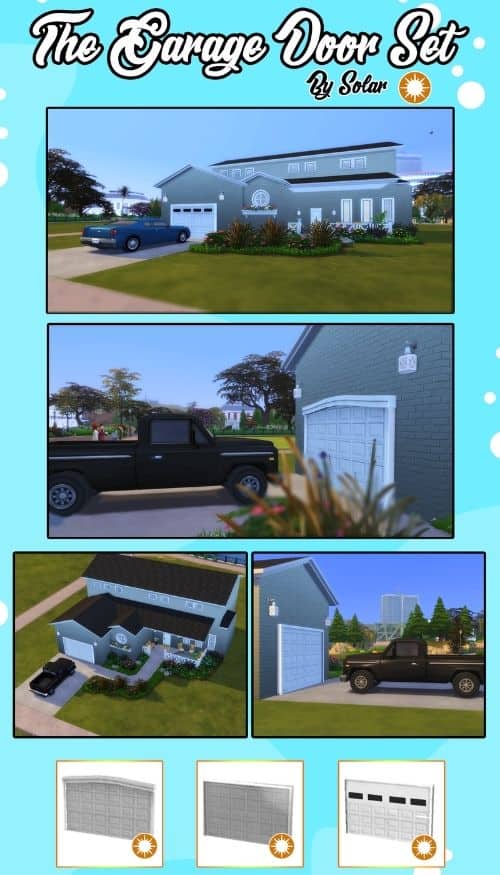 With this set of garage doors, you get three styles of white doors for your sims' home.
Among the three, two have a straight trim, and one with a curved frame.
One version has windows, while the other two are windowless doors.

14. Contemporary Garage Door CC by Syboubou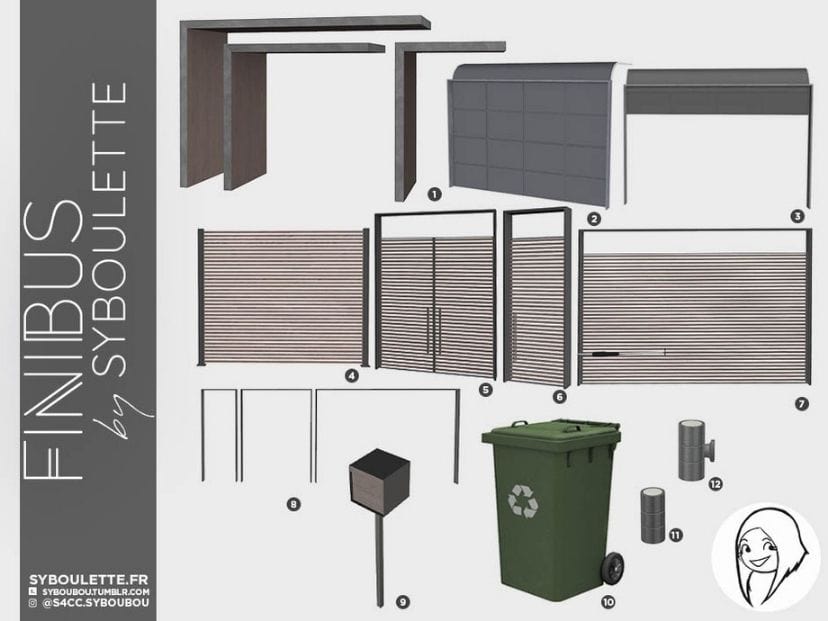 This set is part of two sets offering modern fence and gate items for your sims' house, including two garage door objects.
It's the same garage door, but one item shows it opened while the other is shown closed.
The door has no windows, and it's offered in four swatches: White, Black, and two tones of Gray.
You will also find other items like a floor lamp and a mailbox.

15. Garage Door Wall Paint CC by Sarahstar_13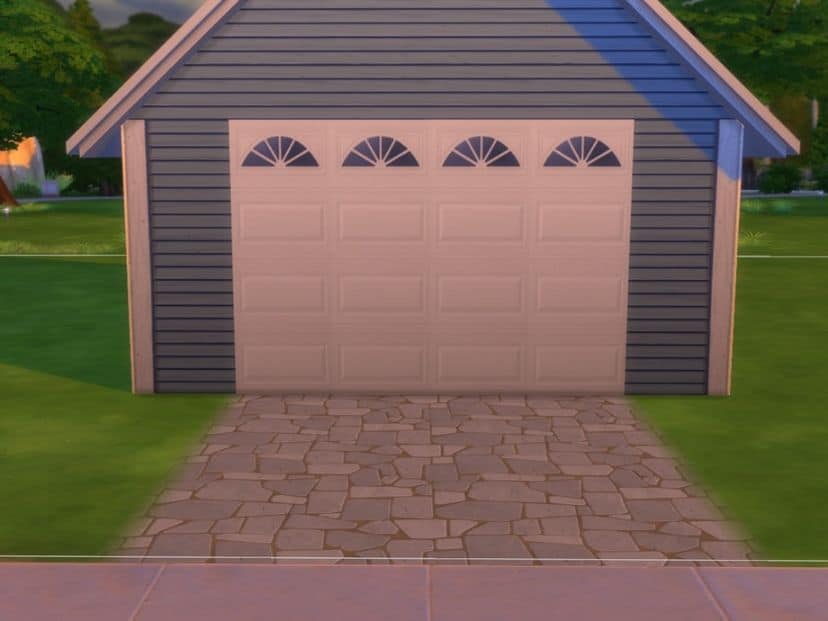 If you want to keep things simple and traditional, why not get this cute garage door?
It only comes in White and features Circle-Top windows.
You can find the door under the Paint section, and you will need four panels to make a standard one-car garage door.

16. Sims 4 Deco Garage Doors by Sims41ife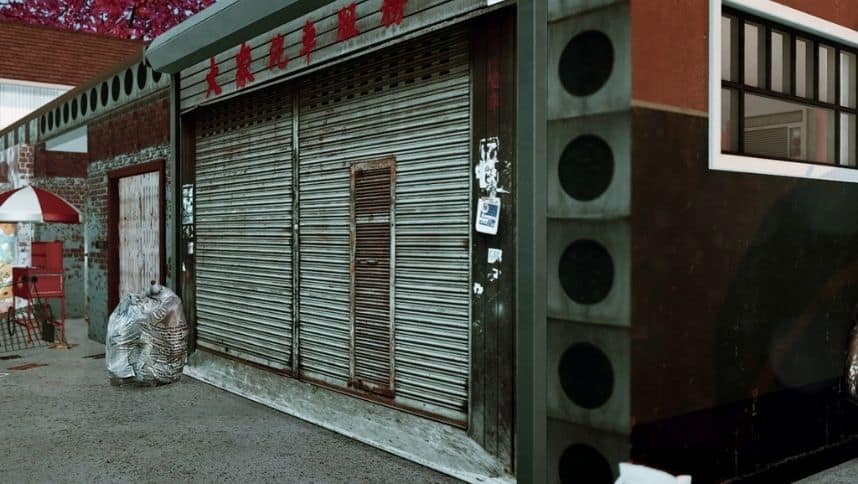 For more industrial-looking garage door cc, this set offers two models.
You can find both models under the Decorations category.
The first door has two swatches, one that looks like an old, discolored wooden door with bars and the other with old, cracked glass panels.
The second door looks like metallic roller shutter doors usually found in front of downtown city stores.
The latter comes in seven swatches.

17. Two-Car Car Garage CC by Scodee Yodee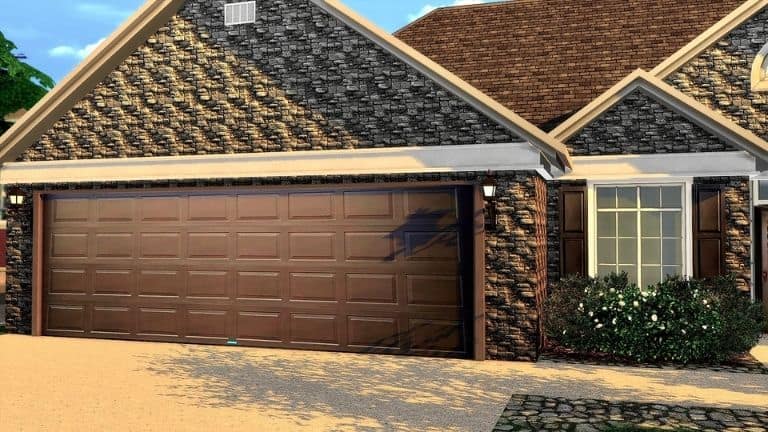 Are you looking for custom content for a two-car garage door?
This stylish, wide car door cc has 32 swatches, some with windows.
To find this sims 4 garage door, look under the Decorations category.
If you have trouble placing it, ensure your house is floor-level because you can't put it over slightly elevated house foundations.
Sims 4 Garage Door CC: Final Thoughts
With these amazing sims 4 garage door cc, the hard part is picking only one for your sim's home.
Whether you want an actual door or a painted one, the choice is yours, but in any case, it's purely decorative.
Ravasheen's animated door is your best bet for a functional item, but it needs to be wider for a car garage door.
If you have any questions or suggestions, feel free to leave us a comment below or tag us on Tumblr.
And don't forget to share and save this pin for later!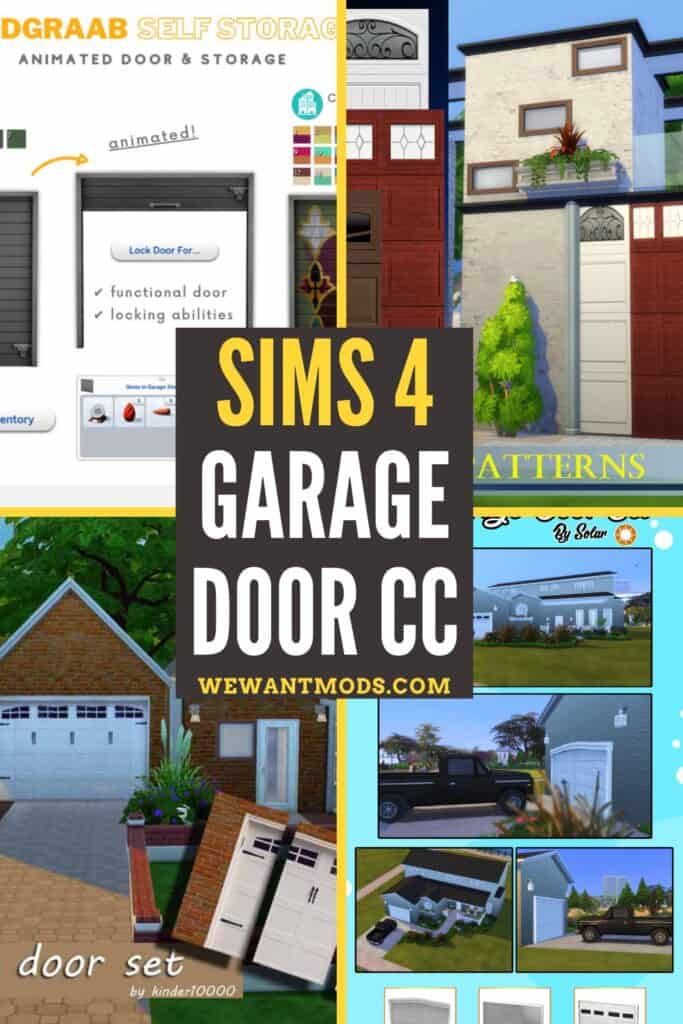 Other Sims 4 Custom Content Lists
17 Sims 4 Garage Door CC: Deco, Single & Double Doors