23+ Sims 4 Bedroom CC: Beds, Mattresses, Dressers
Step into relaxation and comfort with this collection of Sims 4 Bedroom CC finds.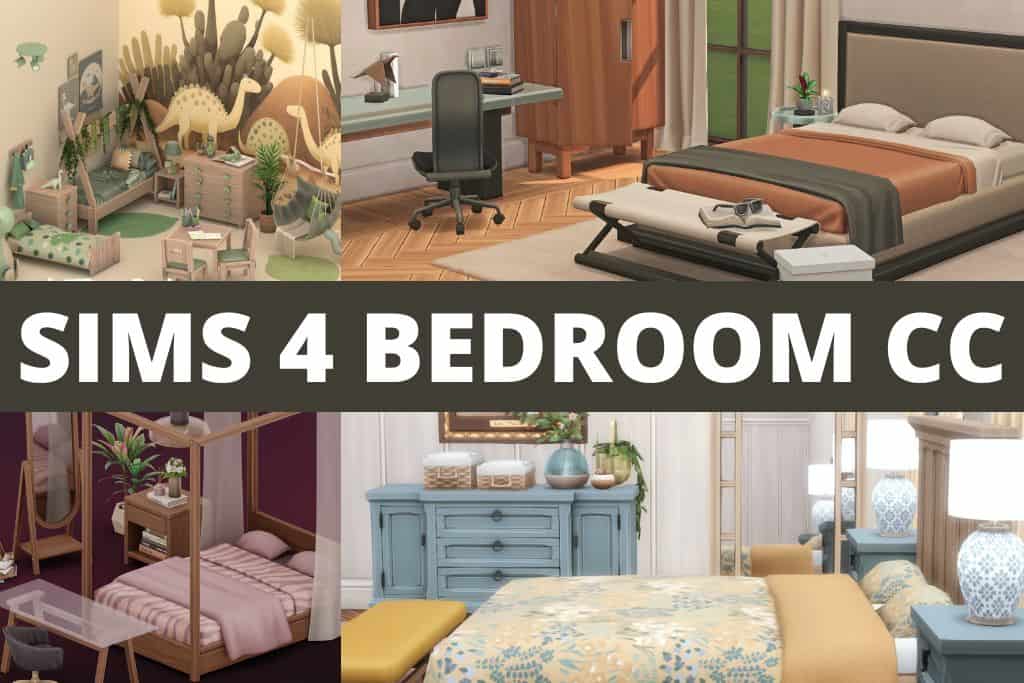 Do you consider your bedroom your personal sanctuary?
When creating homes in the sims 4, I always try to create a space where I can envision my sims enjoying themselves as if they were in the real world.
A space that reflects their personality traits and interests, whether it's a minimalistic-style relaxing bedroom or a vibrant room with pops of color.
While we have some amazing collections below, you will also find more bedroom ideas in our Sims 4 Furniture and Sims 4 Cribs posts.
To complete your sims homes, check out our other posts on kitchens, bathrooms, and living room pieces found at the bottom of this post.
Let the interior designing begin!
Mixed Sims 4 Bedroom CC
Below, we have included bedroom furniture pieces for the entire household; there is a mix of modern, country, coastal, and kid-friendly designs.
1. Keller Bedroom CC Set by Leaf-Motif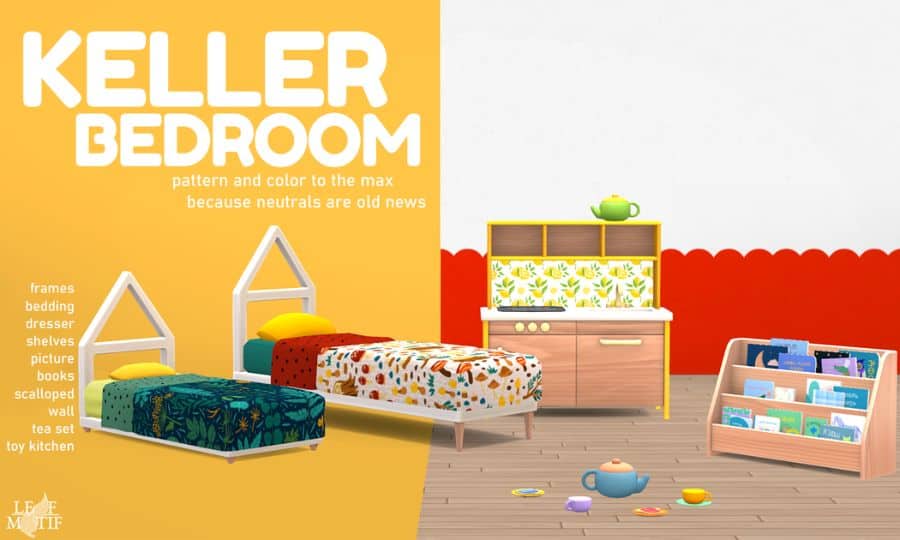 When it comes to kids' bedroom sets, color is the best approach.
There's just something comforting about fun and colorful spaces where kids can play freely.
This bedroom has single bed frames, vibrant patterned bedding, and a dresser.
You can customize and organize your sim's bedroom with scallop edge wall stencils, a bookcase, a wooden shelf, and a play kitchen.

2. Master Bedroom Pack by max 20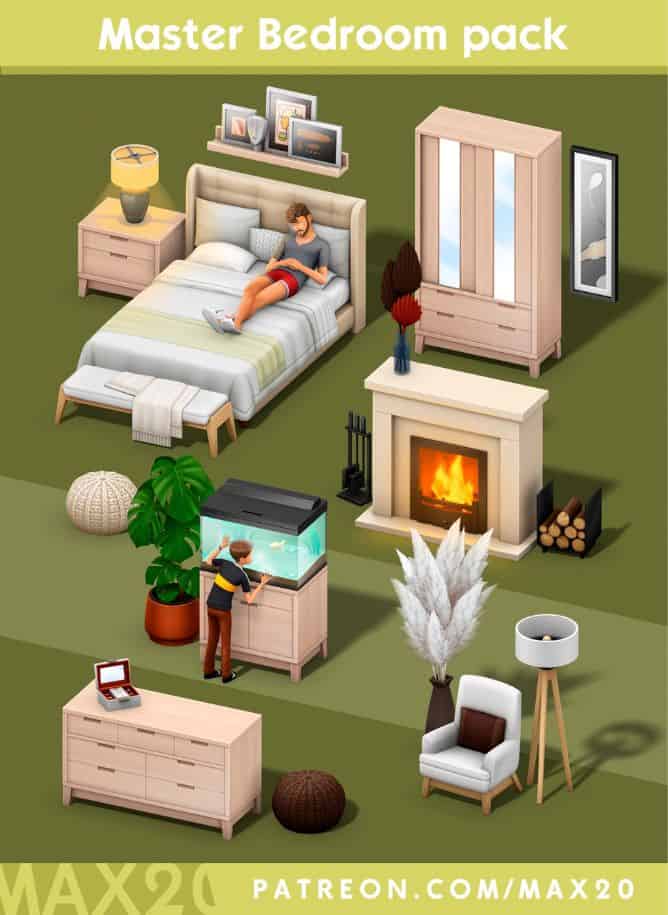 When it comes to this primary bedroom pack, you can't ask for more since it has so many custom content pieces.
The pack has everything from a quilted bed to an aquarium to help decorate the room.
Some more of the furniture and decorative pieces include;
Bedside table and lamp
Dresser and wardrobe
Different length curtains
Fireplace and accessories
Floor lamp
Mirror
Knitted pouf
Ottoman & blanket
Paintings and more

3. Bokhai Bedroom for Sims by Severinka_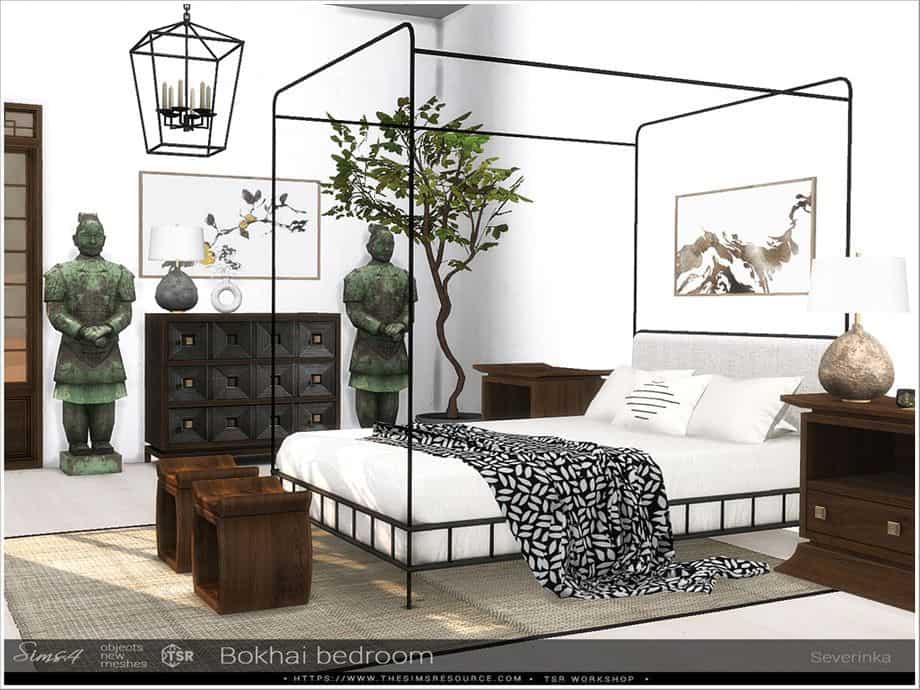 This Bokhai bedroom set focuses on merging modern Scandinavian-style furniture with touches of Chinese culture.
The pack includes 11 pieces;
A large bed
A modern bed canopy
Bedside tables
Lamps
Chair
Dresser
Poster

4. Jules Sims 4 Bedroom CC by Syboubou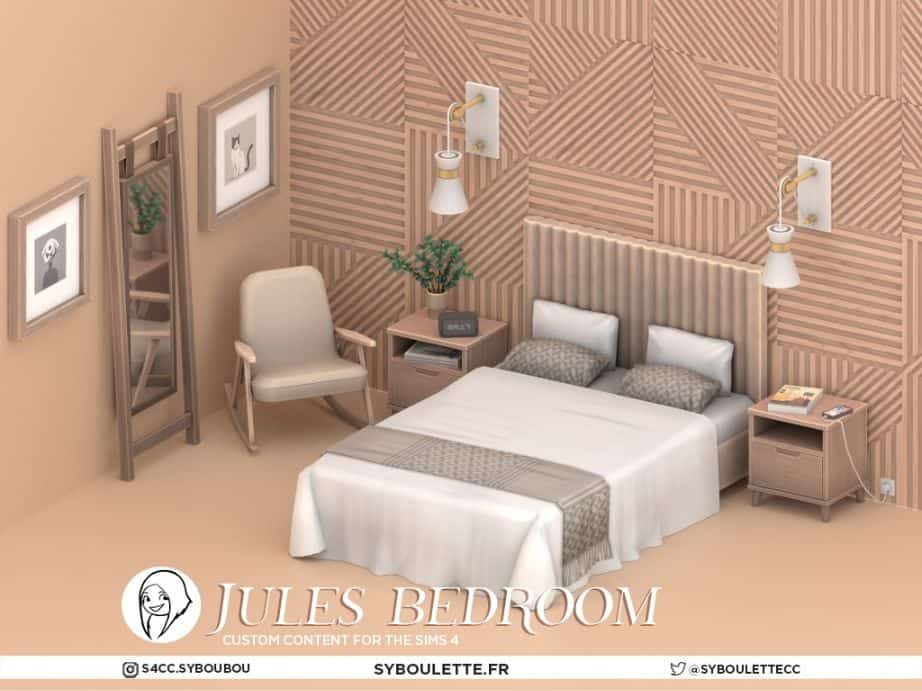 Enjoy Syboubou's journey with handpainted textures with this beautiful Jules bedroom set.
The pack has 15 items, including the textured geometric wallpaper, available in 44 swatches.
Let your sims snuggle into their new double bed while they relax, surrounded by their new bedside table and wall lamp for ambiance.
There is a comfy rocking chair that can be functional with the Nifty Knitting Stuff Pack.
You will also find decor pieces like magazines, a standing mirror, and a vase of plants.

5. Bedroom of Tomorrow Set by Surely-Sims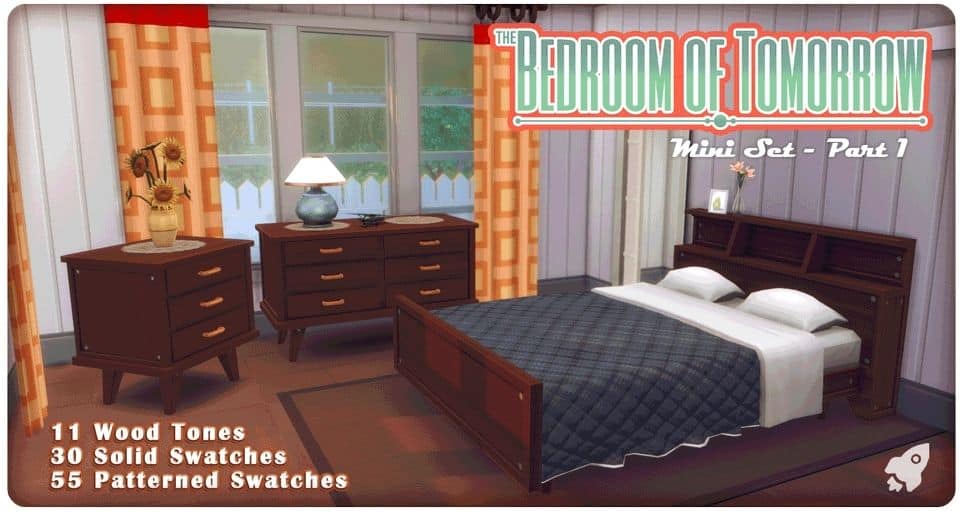 If you are busy playing the Decades Challenge, this pre-atomic war bedroom set is ideal for your decades-long journey.
The set includes a vintage bed, dresser, nightstand, and 11 wood tones and bedding swatches.

6. Bastvik Bedroom CC by Myshunosun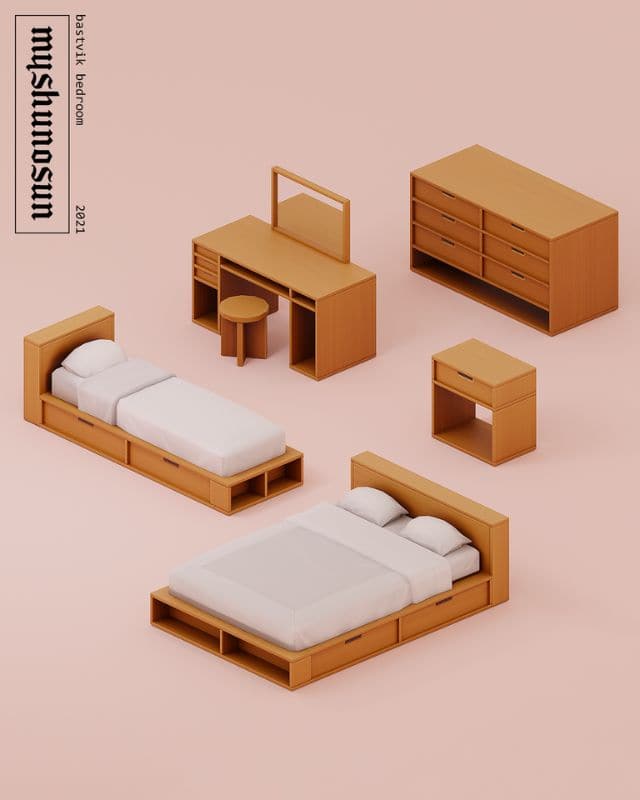 If you like Ikea furniture, this bedroom set should appeal to you.
The bedroom set reminds me of a blend of different Ikea models like the MALM and BRIMNES.
This wooden bedroom comes in 10 maxis match wooden colors and with the following pieces;
A single bed
A double bed
Nightstand
A vanity table & stool
Large dresser
The vanity table is functional, provided you have the Vintage Glamour Stuff Pack.

7. Daydream Bedroom Set by JujuAwesomeBeans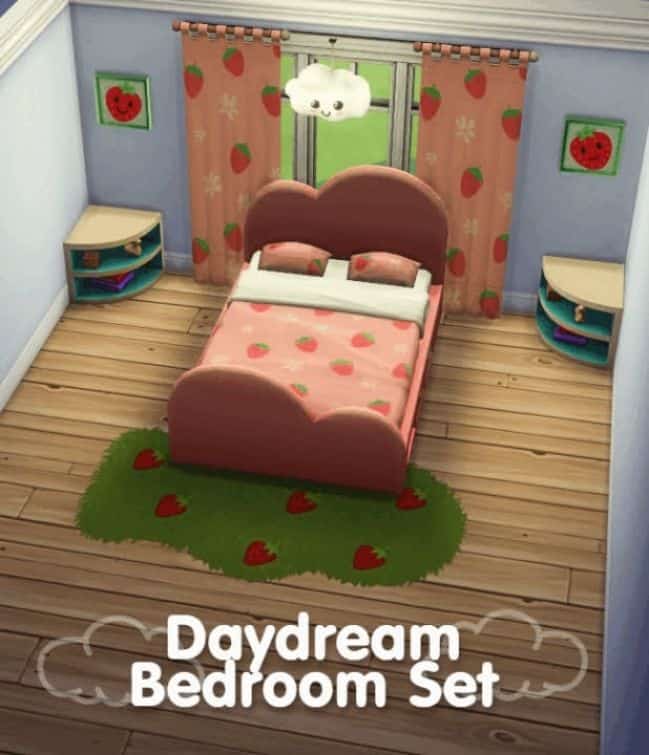 Turn your sim kids' bedroom into a colorful space with this bedroom set of vibrant patterns.
The bed, bedding, curtains, faux fur carpet, and picture frames will all share the same pattern you select.
Choose from fun designs like strawberries, clouds, starry nights, oranges, and more.
You can also grab the adorable cloud lamp linked on the download page.

8. Octave Bedroom Collection by Harrie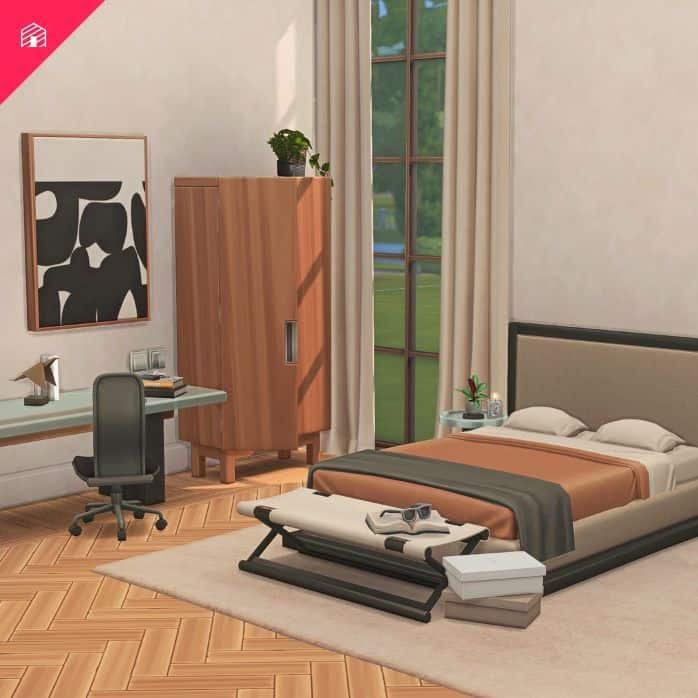 Although we focus on bedroom furniture in this post, this cc pack includes a few pieces for your sim's office.
You can choose between a double or four-poster bed frame when selecting the perfect bed.
You will also find a leather folding bench, a stool, a wardrobe (both open and closed), modern bookshelves, and more.
There's also a radiator that can be functional, provided you have the Season EP.

9. Aurora Bedroom Decor by Severinka_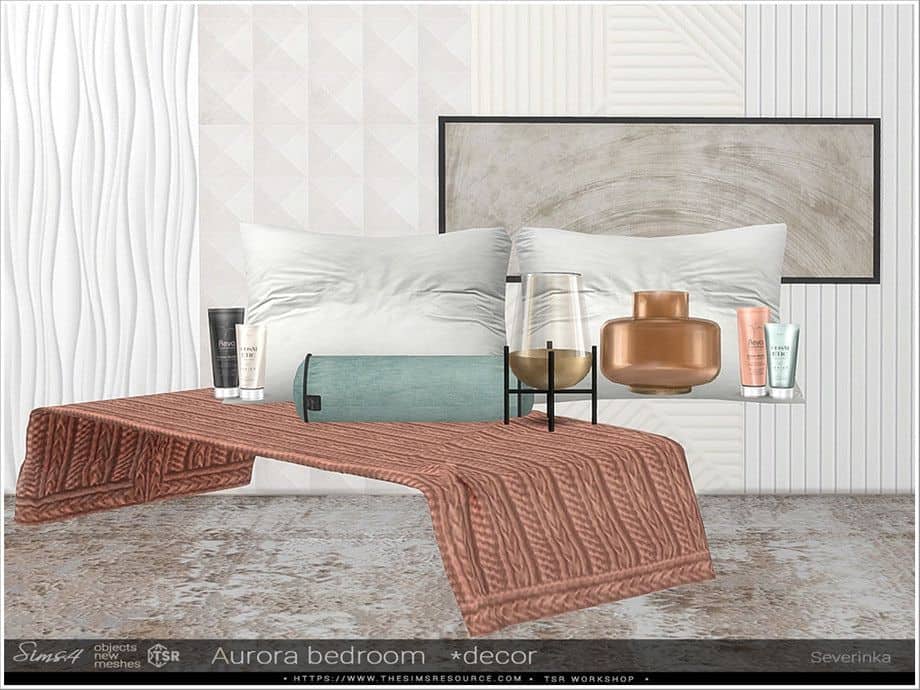 Details play a huge role when creating an esthetic and relaxing bedroom atmosphere.
Grab everything your sims need with this bedroom decor pack, which includes cozy pillows, a decorative neck roll pillow, and a warm blanket.
Add some extra touches to the room with a couple of vases, a stylish rug, cosmetics, and wall decor options.

10. Parakeet Pop Bedroom CC by Syboubou & Cissouryne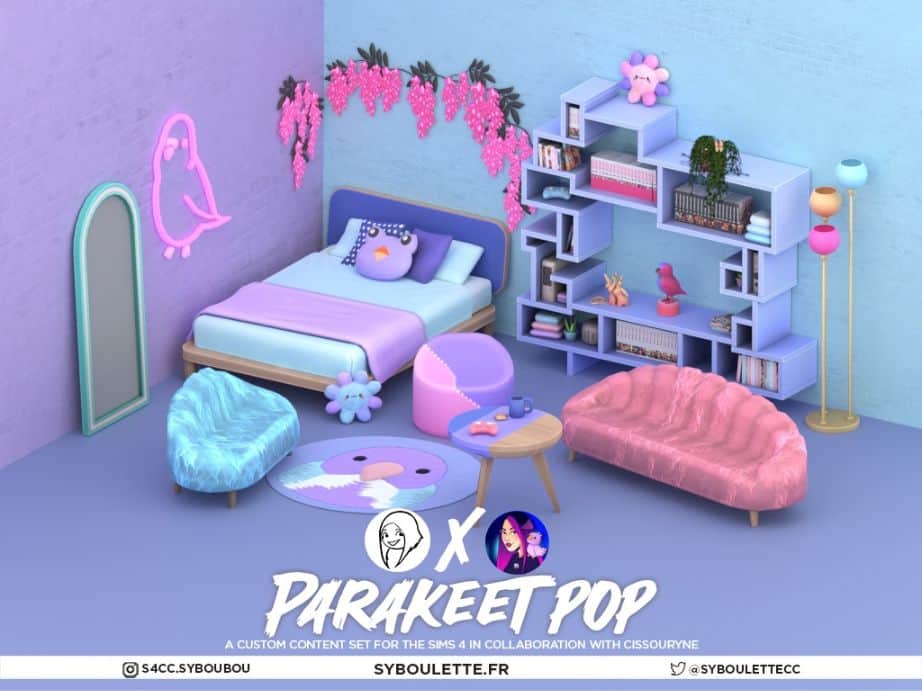 This beautiful and vibrant bedroom custom content set comes from a great collaboration between Syboubou and French streamer Cissournyne.
The set offers beautiful pops of colors in purple, pink, and pastel color tones and plenty of sweet parakeet details.
There are 21 items to put together a beautiful room for your teen sims, including;
An assortment of seating options
A functional double-bed
Amazing bookshelves
Various decor pieces (parakeet rug, plushies, mirror, and more)

11. Hinterlands Sims 4 Bedroom CC by Peacemaker-cc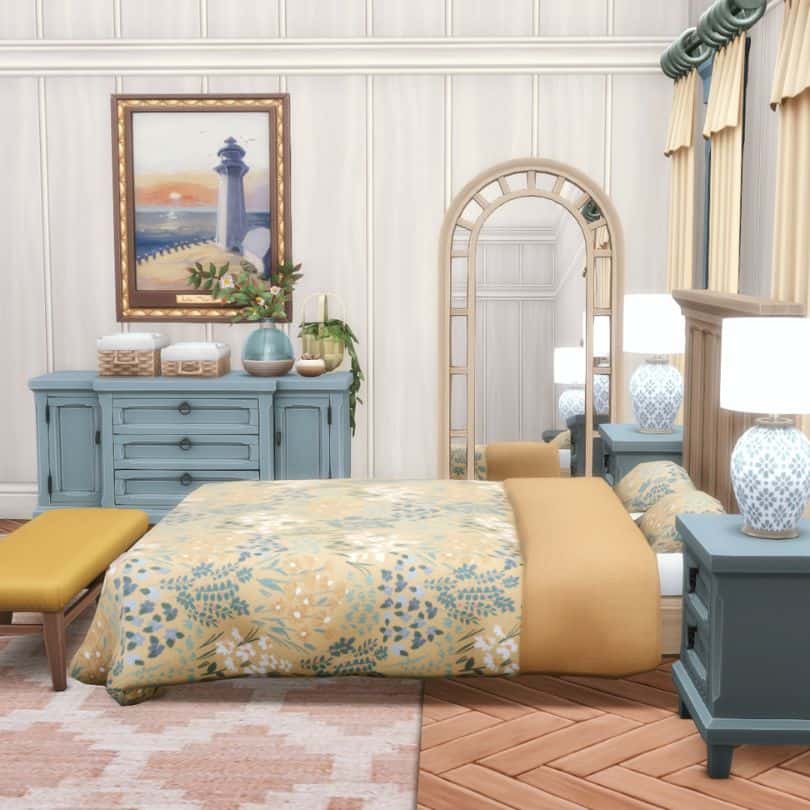 This beautiful country-style bedroom set is one of my favorites because it offers plenty of comforts and gives off country chic vibes.
As with most Peacemaker sets, this pack comes with plenty of items to choose from, including;
Single bedframes
Double bedframes
Bedside table
Luxury bedding
Wardrobe
Dresser and more

12. Vintage Daphne Bedroom Pieces by leaf-Motif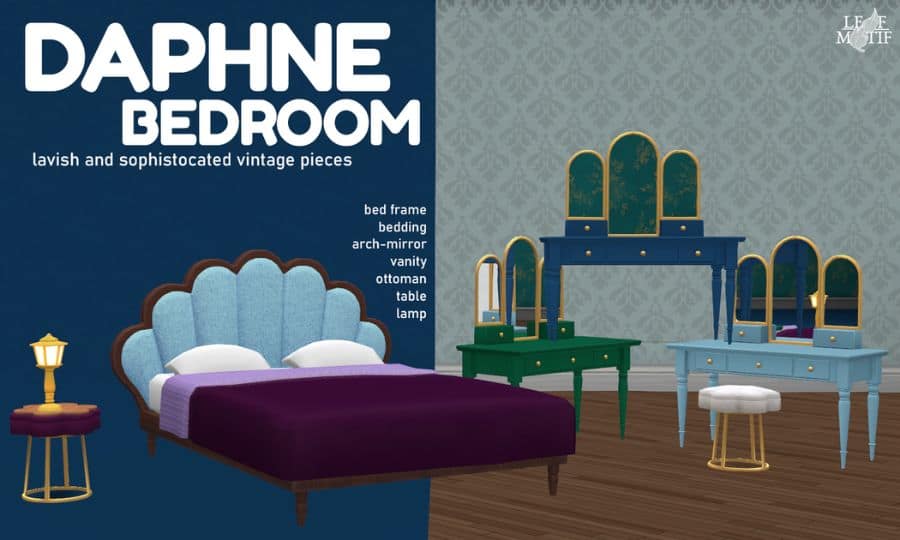 If you enjoy vintage pieces, this bedroom furniture set will be just the thing.
The set includes a beautiful scalloped bed frame, arch-mirror, vanity, velvet-looking bedding, an ottoman, table and lamp.
There are 6 color swatches to enjoy.

13. Sims 4 Bedroom Collection by Grimcookies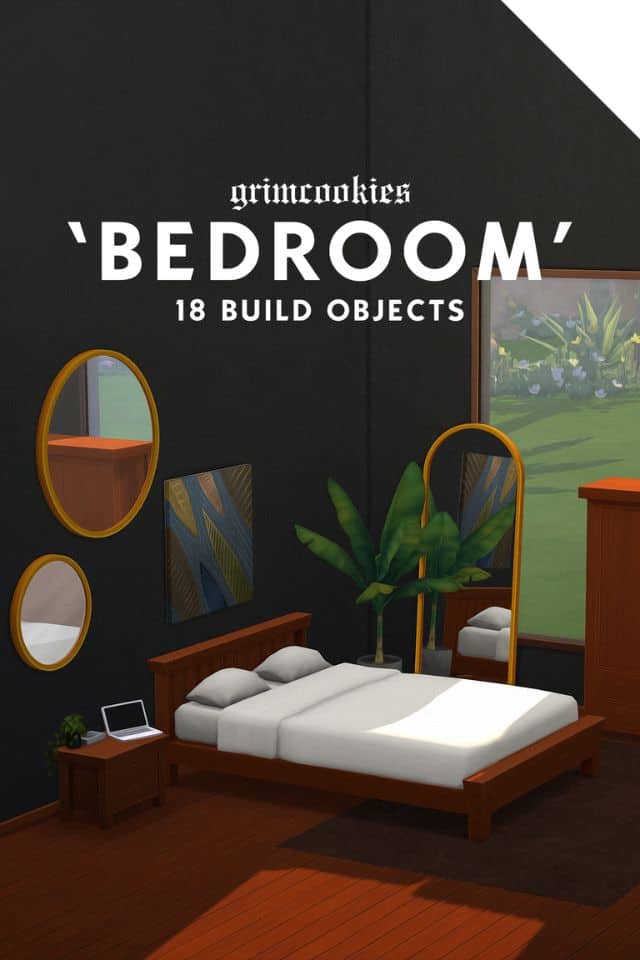 Snap up this large wooden bedroom set with 18 pieces to customize to your sim's preferences.
This set includes a wooden bedframe, bedside table, dresser, wardrobe, and wooden shelves.
Complete your sim's room with an arched standing mirror, walled mirrors, abstract painting, potted plant, carpet, laptop, and decor.

14. Kids Bedroom CC Pack by SIXAM CC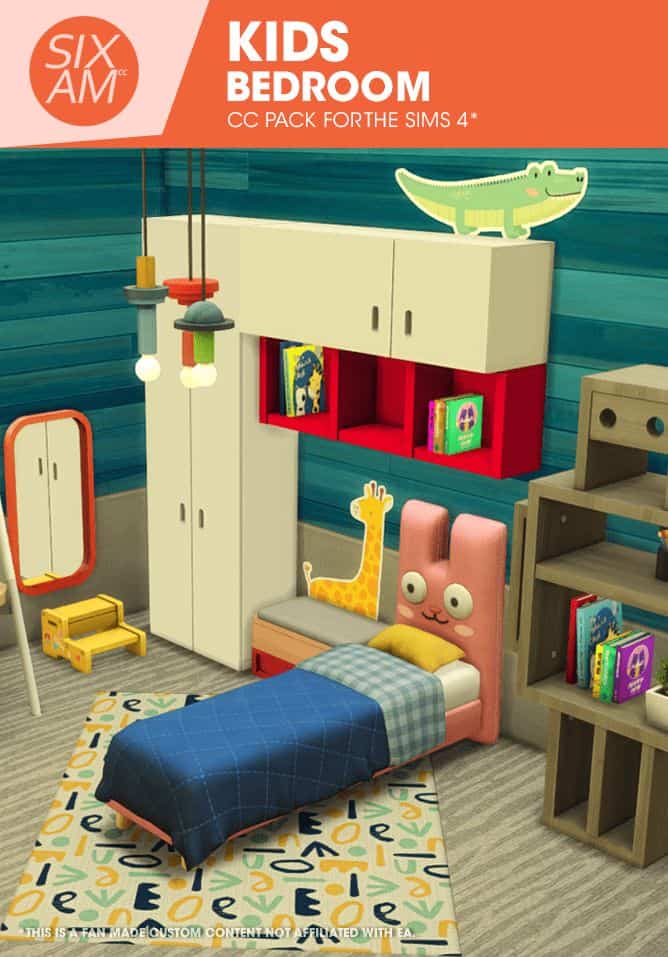 Some of the furniture pieces in this bedroom set remind me of the older Ikea kid's furniture they had while I was growing up.
The freezer bunny bedframe is perfect for any kid and adds the sweetest touch.
There are 46 modern pieces for you to put together and create a magical space for sims kids.

15. Bedroom Distraction Collection by Kiwisim4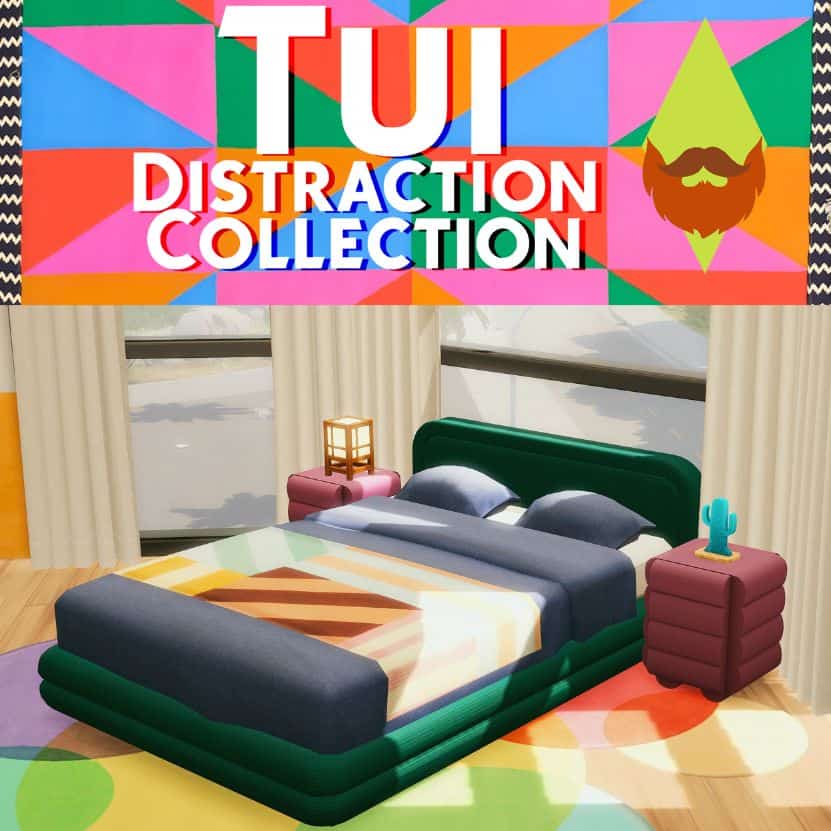 This bedroom furniture set seems both retro and futuristic at the same time.
The pack includes 4 pieces: the rectangular bedframe, the bedding, a side table, and the cacti sculpture, which sits perfectly on the table.
And an abstract carpet, a dresser, and some wall decor to complete the room.

16. Sandrine Bedroom Set by Syboubou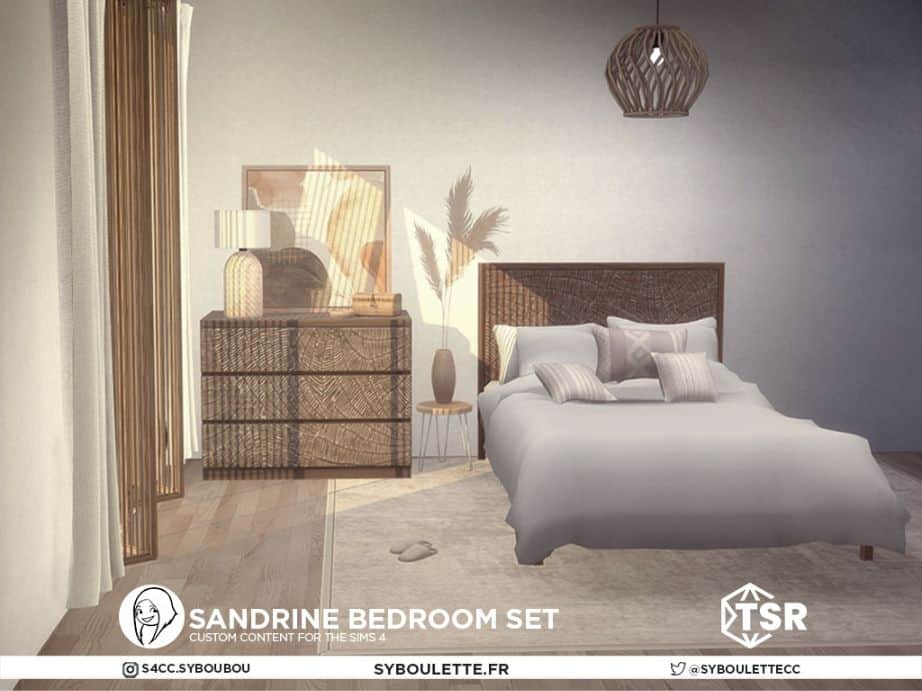 Syboubou describes this bedroom set as a mix of boho esthetic and Japandi (fusion of Japanese and Scandinavian), which I can definitely see with its minimalistic feel.
The bedroom collection is split into two parts, part 1 includes;
Double bed
Bedside table
bed pillows
Ceiling lights
Wall frame
The second part has these objects;
17. Jytte Bedroom Furniture by Severinka_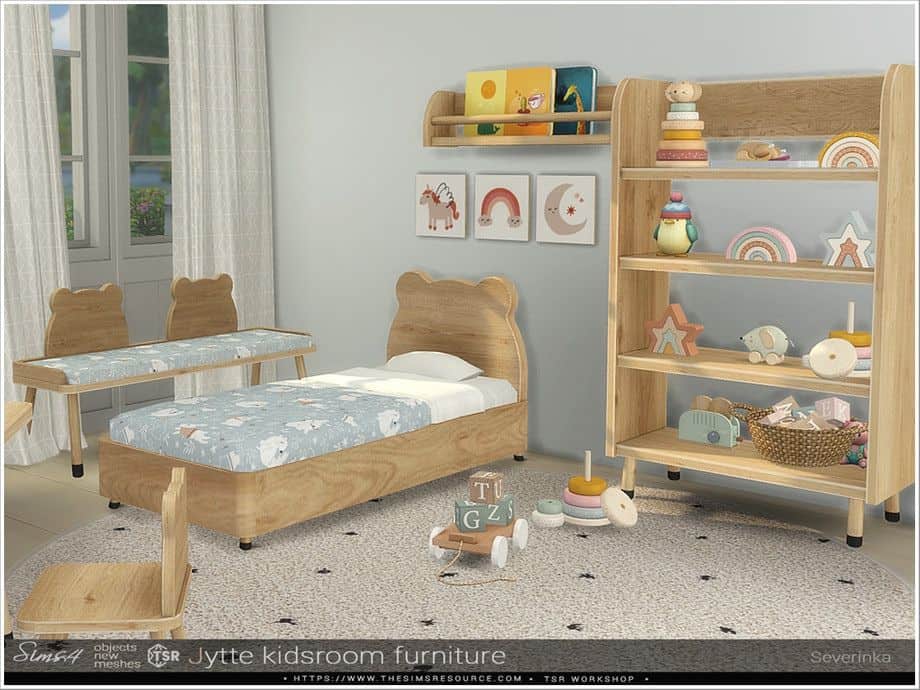 This adorable wooden bear-themed bedroom set has some great pieces for your sim children and toddlers.
You will find beds for both kids and toddlers, an activity table, a loveseat, a dresser, a wardrobe, a shelf, a bookshelf, and some hanging clothes.

18. Tranquil Bedroom Furniture by Myshunosun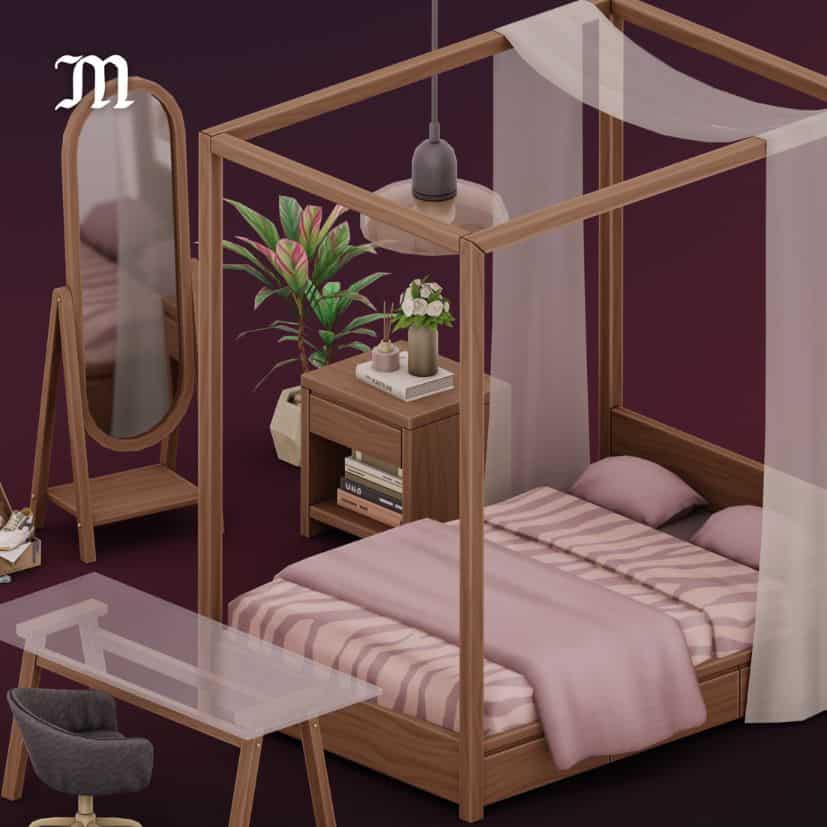 This sims 4 bedroom cc set reminds me of a hotel room typically seen in tropical countries with its wooden four-poster bed frame and hanging fabric.
The pack includes everything else your sims need to relax and get some work done during the evenings (a desk, chair, pendant lights, arch mirror, and an end table).

19. The Coastal Bedroom Collection by Harrie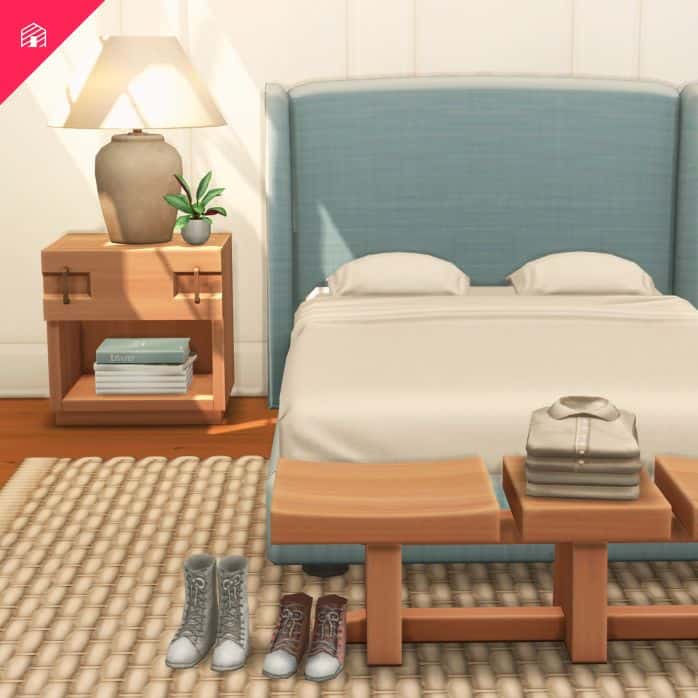 Do your sims have a coastal home they like to visit during their vacations?
This modern, clean coastal bedroom furniture sets the mood for a relaxing vacation.
The pack includes a high wingback bed frame, mattress, bedside table, and dressers.
Add the lovely woven wool rug, full-height mirror, wooden ottoman, lamp, and artwork to complete the space.

20. Inger Sims 4 Bedroom CC Set by Soloriya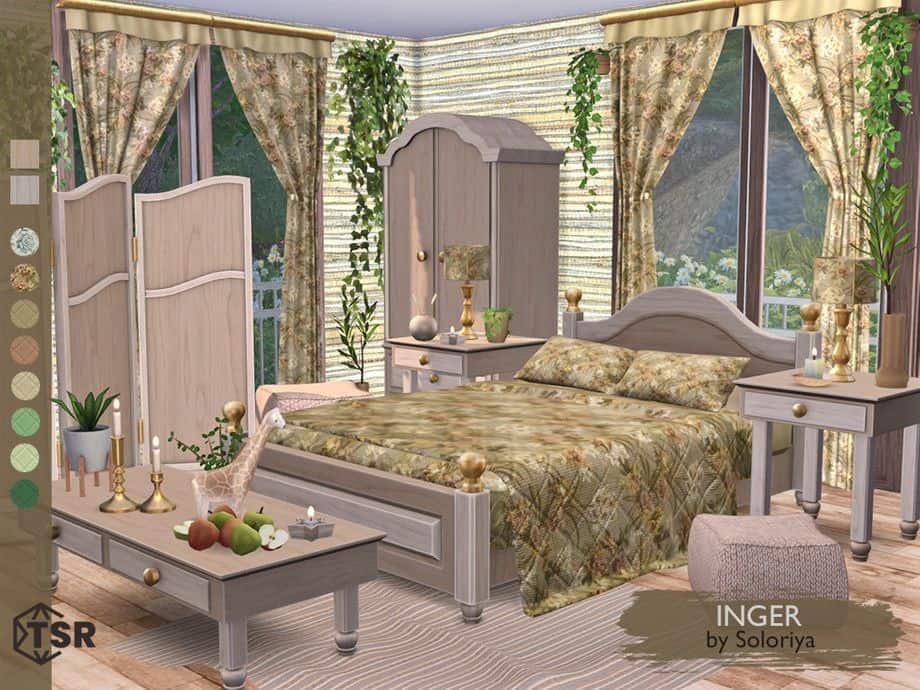 Looking at this bedroom set, I get a blast from the past, and this cc seems perfect for my elder sims home.
If you love coordinating things up in your rooms, then you'll love the matching beddings, curtains, and lampshades.
The pack includes 10 objects;
A double bed
Blanket & pillows
End table
Coffee table
Table lamp
Curtains
Dresser
Wooden divider

21. Stylish Wood Guestroom by SIXAM CC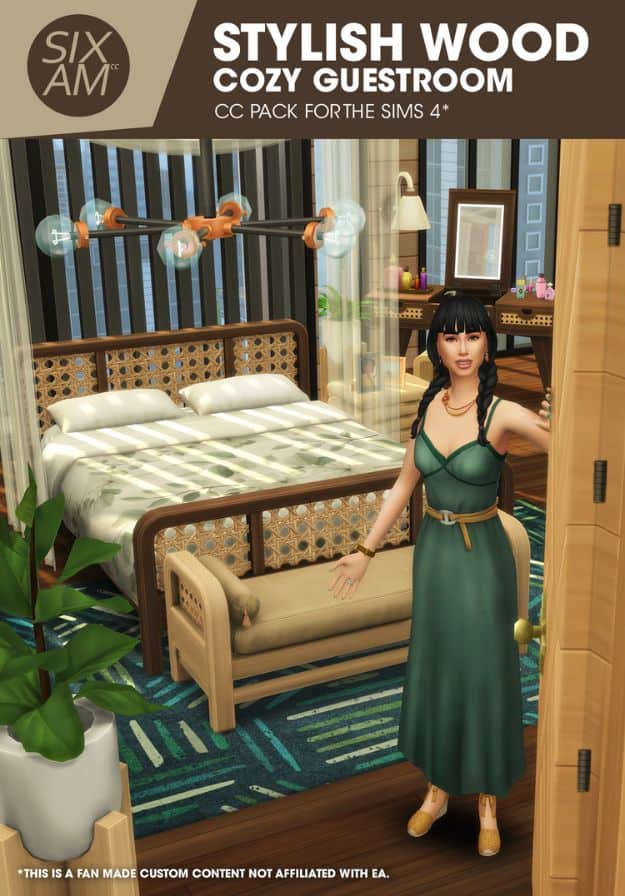 This cozy guestroom custom content pack creates a cozy retreat for your sims overnight guests.
Wood is the main focus of this guestroom, with intricate details on the bedframe's headboard and footboard.
The pack also contains mattresses, canopies, potted plants, a fireplace, photo frames, a decorative rug, a desk, lighting options, and more.

22. Little Dino Kids Bedroom by Syboubou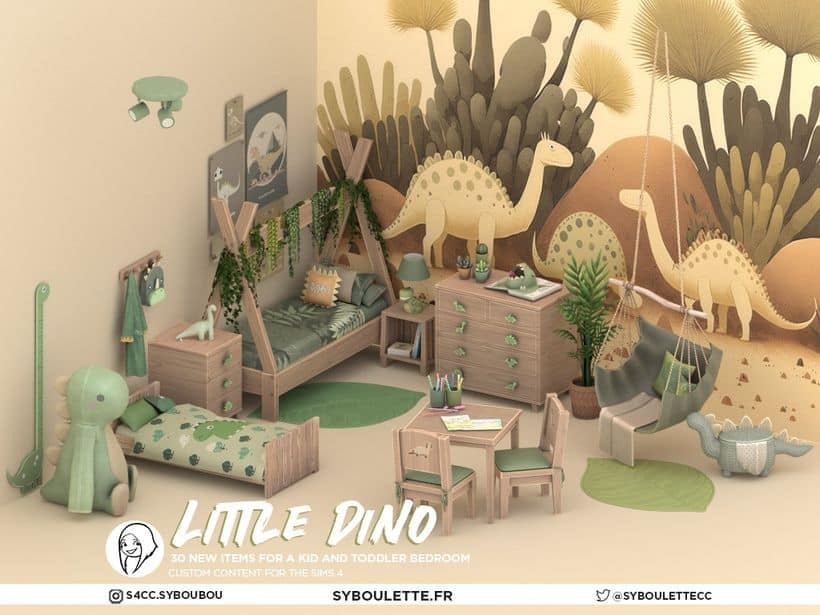 This bedroom set has plenty of unique pieces for your sims kids to create a dinosaur haven.
You can create an elaborate dino room with all the different elements available.
The set has kid and toddler beds, a fun hanging chair, dressers with dinosaur handles, a desk, and a nightstand.
Add special touches to the bedroom with fun wallpaper options, decor pieces, and functional toys.

23. Sims 4 Rory Bedroom CC by leaf-Motif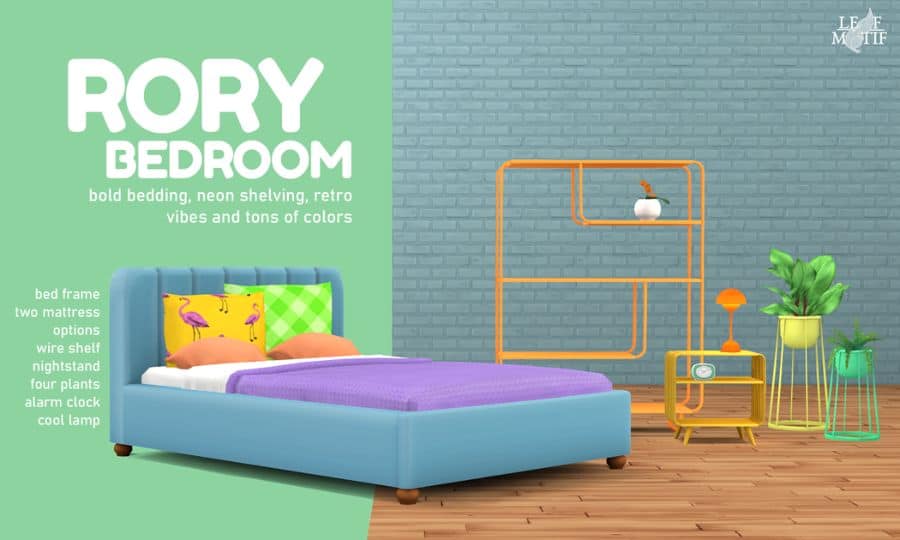 Enjoy these retro-style bedroom furniture pieces, from the bold bedding colors to the neon metal shelving.
The pack includes an upholstered bed frame and a choice of two different mattresses.
The large shelf, nightstand, and planters are all made of wire, keeping the same aesthetic throughout the bedroom.
You can also add a small lamp and alarm clock to complete the room.

24. Annabelle Bedroom Suite by Peacemaker-cc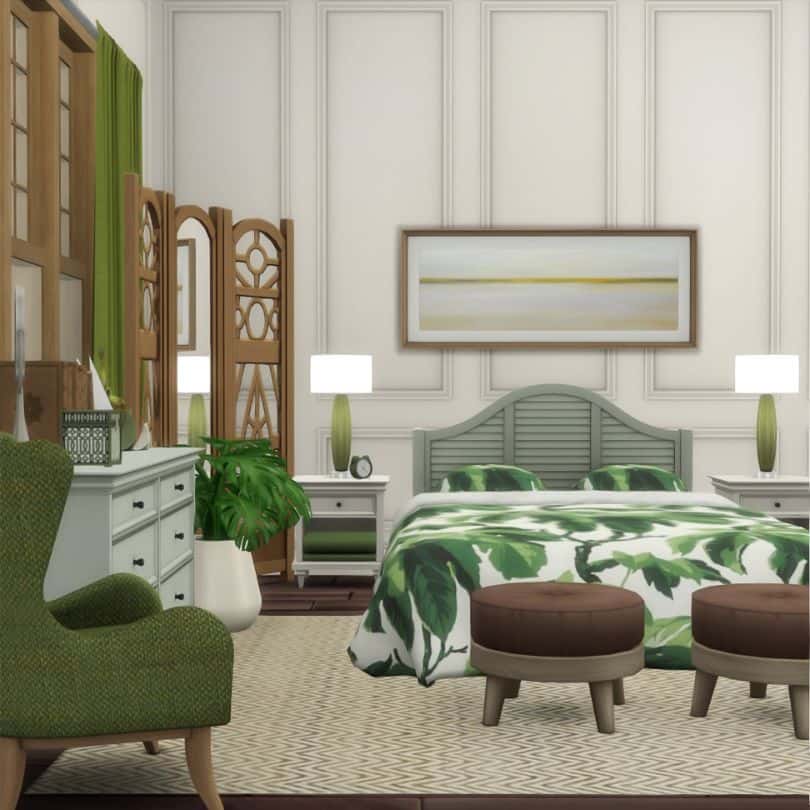 When creating the perfect bedroom, you can always merge different styles to reach the desired look.
This bedroom cc set focuses on blending coastal and country styles, and Peacemaker recommends mixing in pieces from their Hamptons series.
In this smaller set, you have the bedframe (with or without a footboard), a nook side table, a standard side table, tall and low dressers, and a wardrobe.

25. TUI Kids Bedroom Pack by Kiwisim4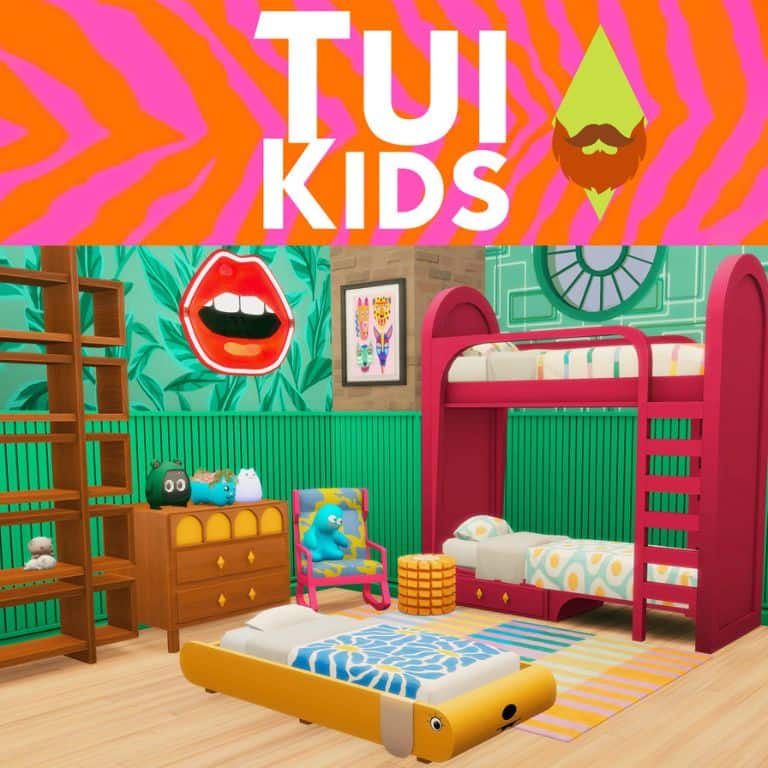 Who doesn't love bunk beds?
This vibrant furniture custom content pack has everything to create an epic bedroom for your kids, toddlers, and infants.
Aside from the fantastic arched bunk bed, you will find a wooden single bed, a toddler Dashhound, and an infant crib.
You can also customize the room with a bright rug, a teddy-shaped television, a monster chair, a rocket lamp, and more fun pieces.
Sims 4 Bedroom CC Recap
With all these amazing sims 4 bedroom cc sets to choose from, you can now create a beautiful and cozy bedroom for each room.
Whether your new family prefers vibrant colors or coastal vibes, there are furniture pieces for every taste.
And have fun mixing and matching furniture styles; you might just create your own new, unique look.
If you have any questions or suggestions, feel free to leave us a comment below or tag us on Tumblr.
And don't forget to share and save this pin for later!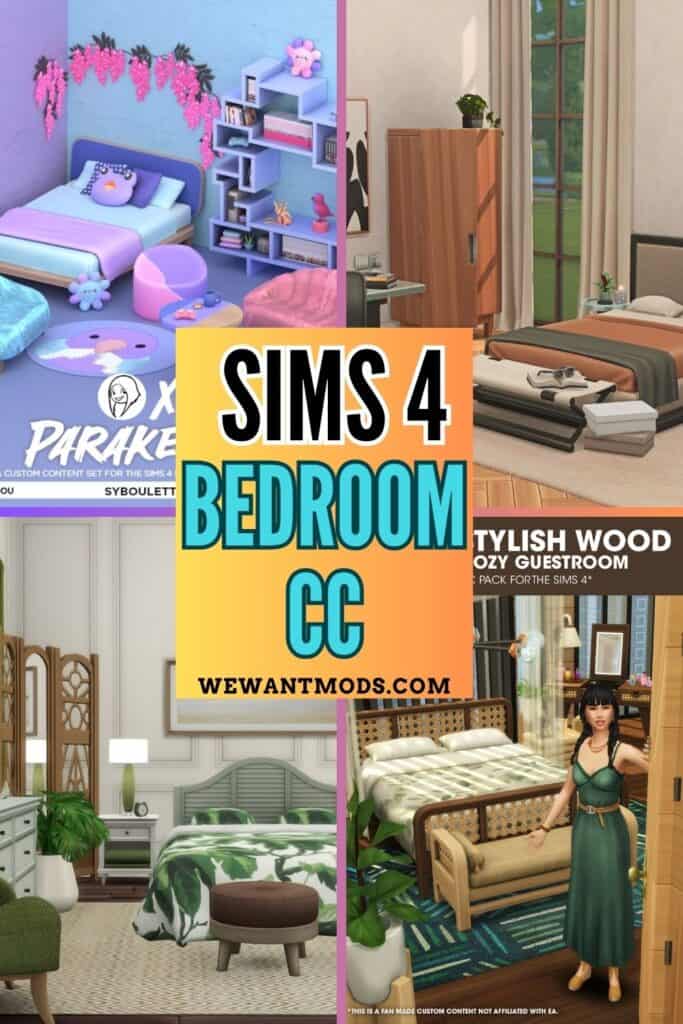 Other Sims 4 Custom Content Lists
23+ Sims 4 Bedroom CC: Beds, Mattresses, Dressers