23+ Sims 4 Wallpaper CC: Transform Any Room
Freshen up any of your sims' rooms with this Sims 4 Wallpaper CC collection.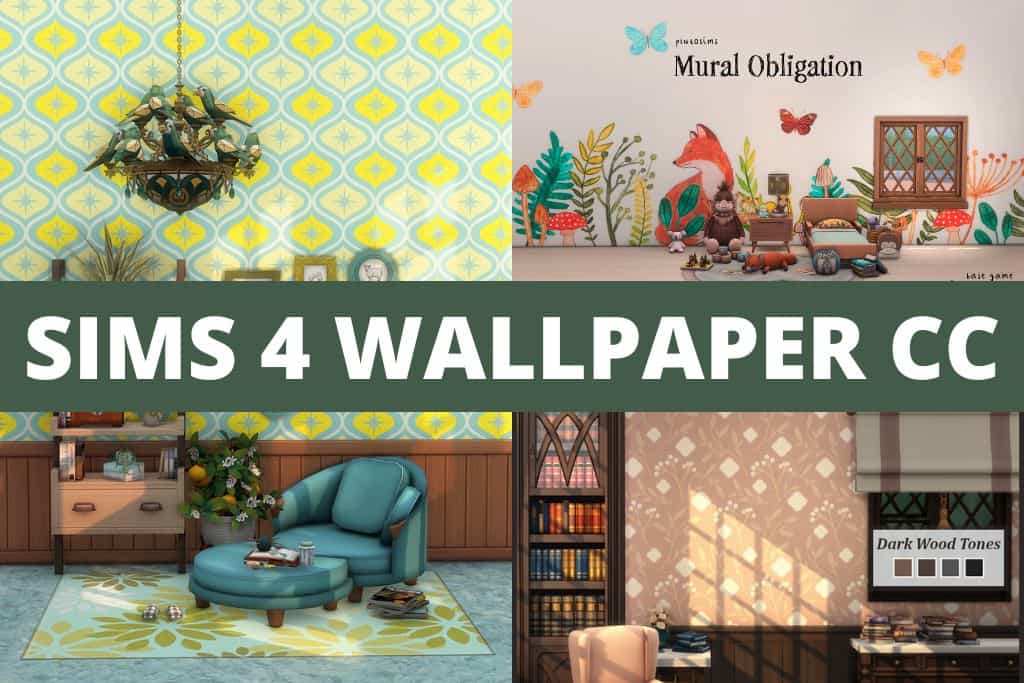 My family was recently thinking of doing home decor renovations, and I realized that wallpaper is one of those easy fixes that can transfer a room.
You can turn a simple room into a rustic affair with the right choice of wallpaper or elevate a kid's room into a whimsical playroom with a simple wall upgrade.
But before I got to work trying my hand at interior design, I realized I needed more wallpaper options for my sims homes, too.
So, I've rounded up a great collection of wallpaper options to upgrade the different rooms in my sims homes, from the kitchen to their bedrooms.
Disclaimer: The following mods are neither endorsed nor affiliated with The Sims, Maxis, or Electronic Arts. Any use of mods (custom content or game mods) should be done with caution and with the knowledge that there may be risks.
Finest Sims 4 Wallpaper CC
Below is a mix of different wallpaper designs for infants to adult rooms.
Turn any room into a new space with floral designs, cute bunnies, or tiled wallpaper options.
1. Plaid Wallpaper CC by MadameRia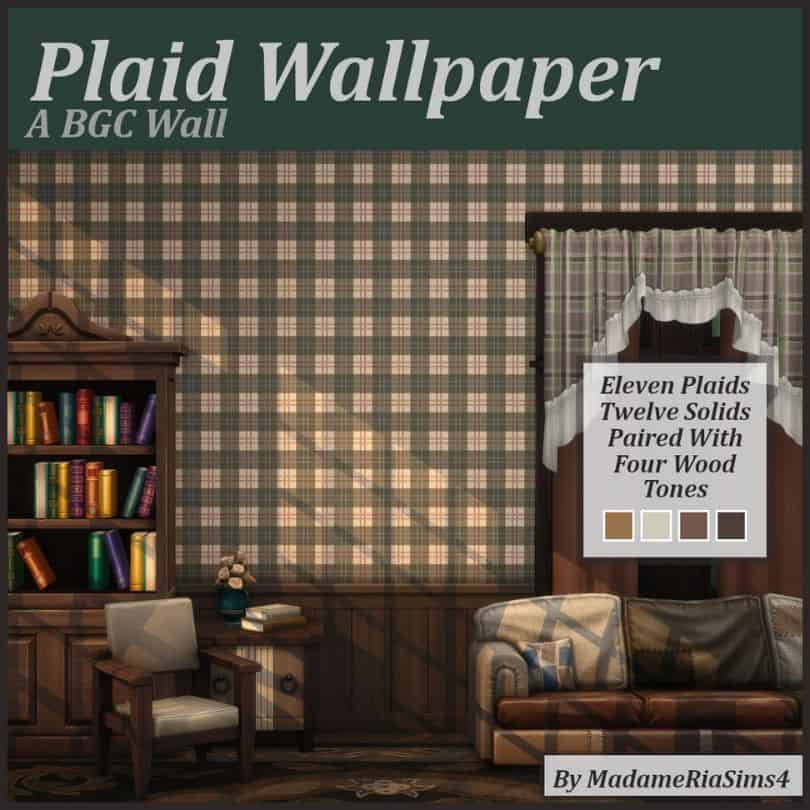 With this set of wallpaper custom content, you can add different plaid swatches throughout your sims home.
The set includes eleven plaid and twelve solid-color wallpaper options, each with 4 different wood tones.
There is a light wood and dark wood file package, each containing 46 swatches.

2. Powder Room Wallpaper Collection by SimPlistic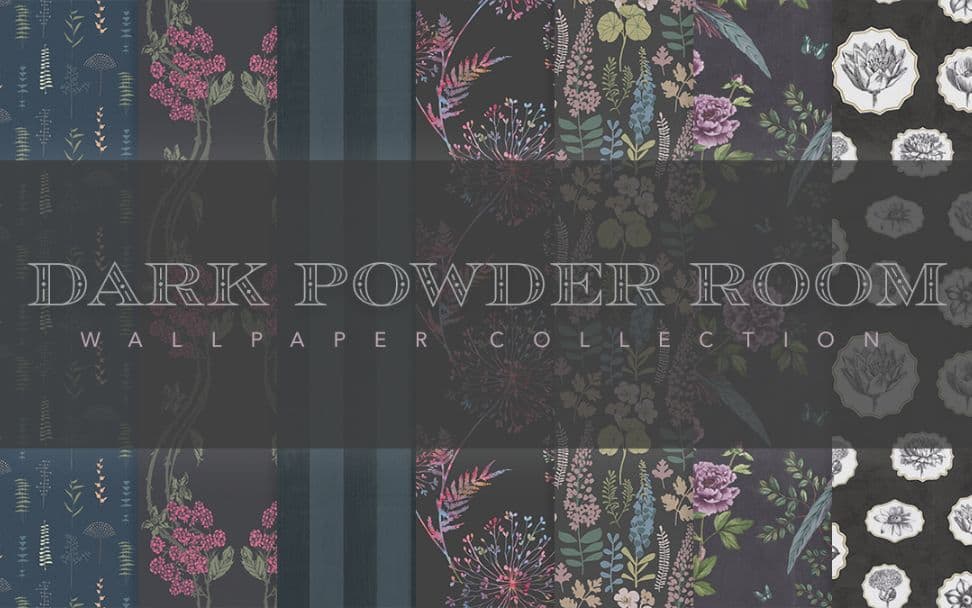 As a young kid, our powder room had dark wallpaper with grapes; darker wallpaper seemed the standard in those days.
This wallpaper set focuses entirely on darker swatches, which are primarily floral.
Given the wallpaper's rich intensity, these swatches pair great with simple decor pieces.
You have 4 options for each wallpaper swatch;
No trim
With a baseboard
A baseboard and crown molding
Baseboard, crown molding, and wainscoting

3. Hand-Painted Murall Wallpaper by Pluto Sims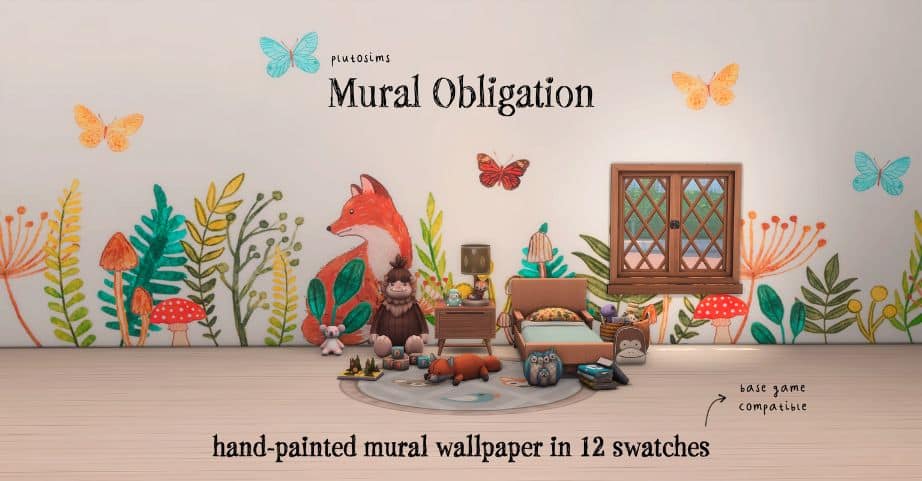 Let your sim's imagination run wild with this collection of whimsical wallpapers.
Your household kids can take a flight on a spaceship, fly through the clouds on hot air balloons, or go on a treasure hunt.
There's also a country-themed swatch, a beautiful fox, a princess, an underwater adventure with whales, and more.

4. Striped Wallpaper for Sims 4 by SimsToMaggie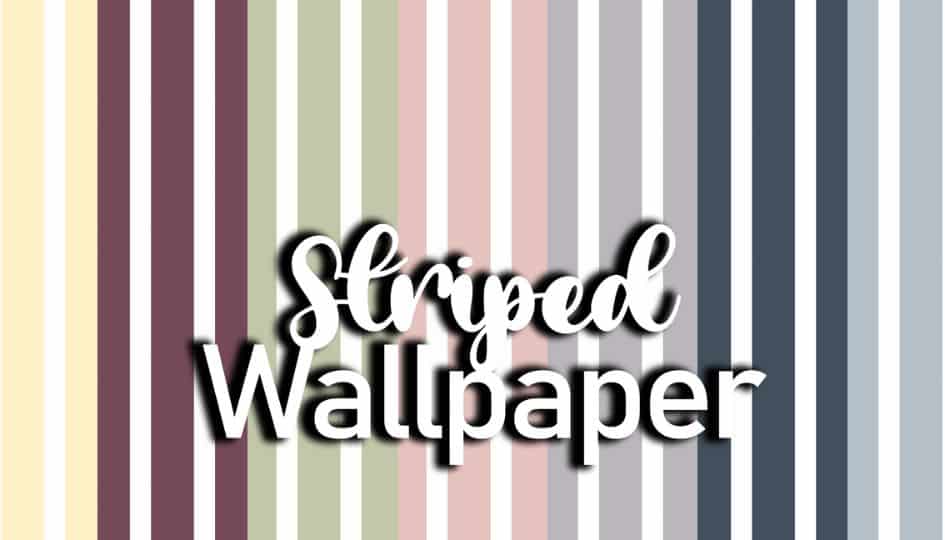 This wallpaper cc set is perfect for rooms needing simple striped wallpaper to bring everything together.
There are 23 color swatches, each available in 3 wall heights.
There are lighter and darker stripes, but each swatch contains lines of white too.

5. Paneled Wallpaper Options by Pluto Sims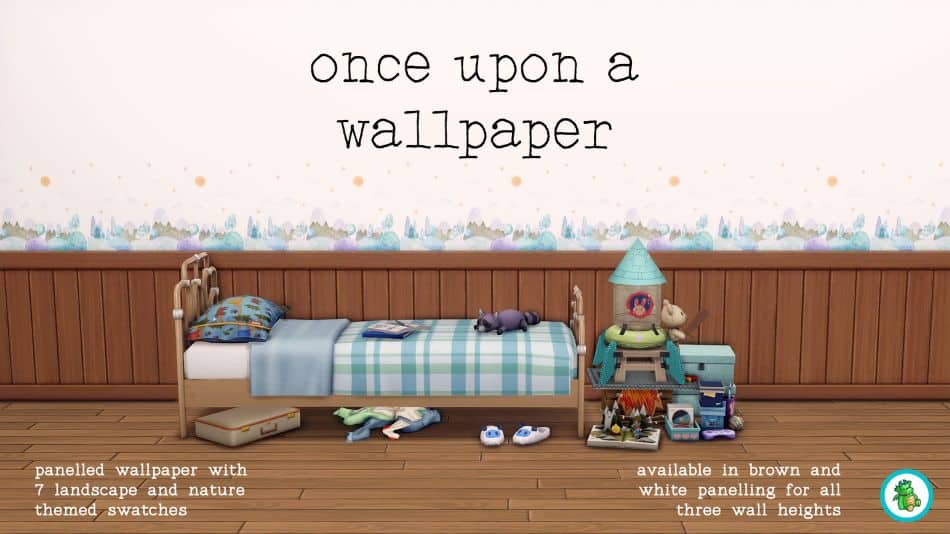 Add some delicate watercolor designs with this set of paneled wallpapers.
These beautiful wallpapers look like hand-painted watercolor designs focused on nature landscapes.
Some of the swatches include flowers, the forest, hot air balloons, and rainbows; each of the 7 designs is available with white or brown paneling.

6. Arthouse Wallpaper Designs by SimPlistic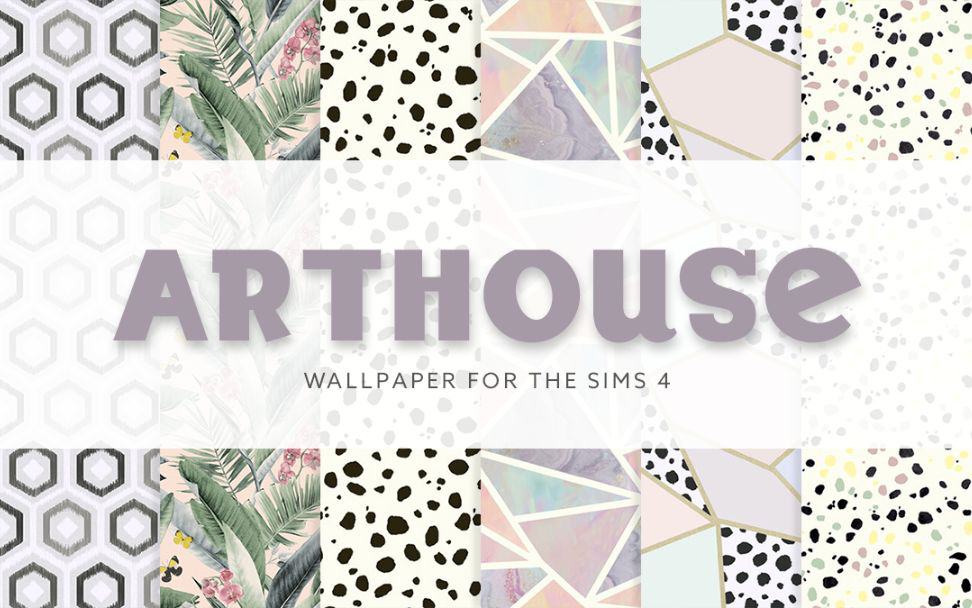 If you prefer abstract and busy wallpaper designs, this set of sims 4 wallpaper cc has you covered.
The 7 wallpaper swatches include a hexagon pattern, triangles, black and multi-colored Terrazzo designs, and tropical print.

7. Fletching Flowers Wallpaper Set by MadameRia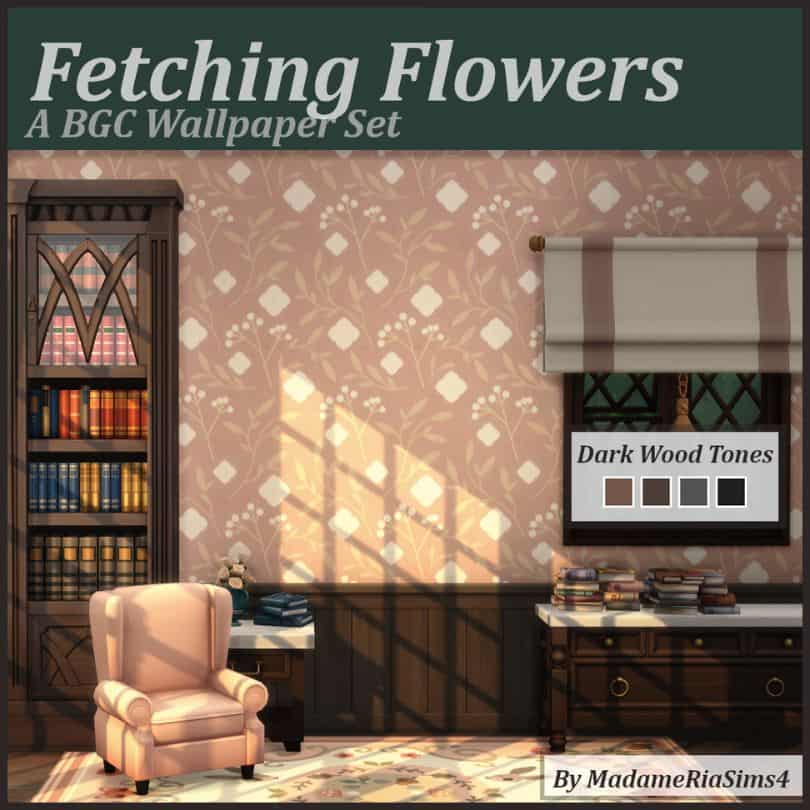 Add floral wall details to your sims cottage homes with this pack of cottagecore-style wallpapers.
The wallpapers come in twelve beautiful colors, each paired with eight different wood tones to create the perfect home.

8. Children's Wallpaper Murals by SimPlistic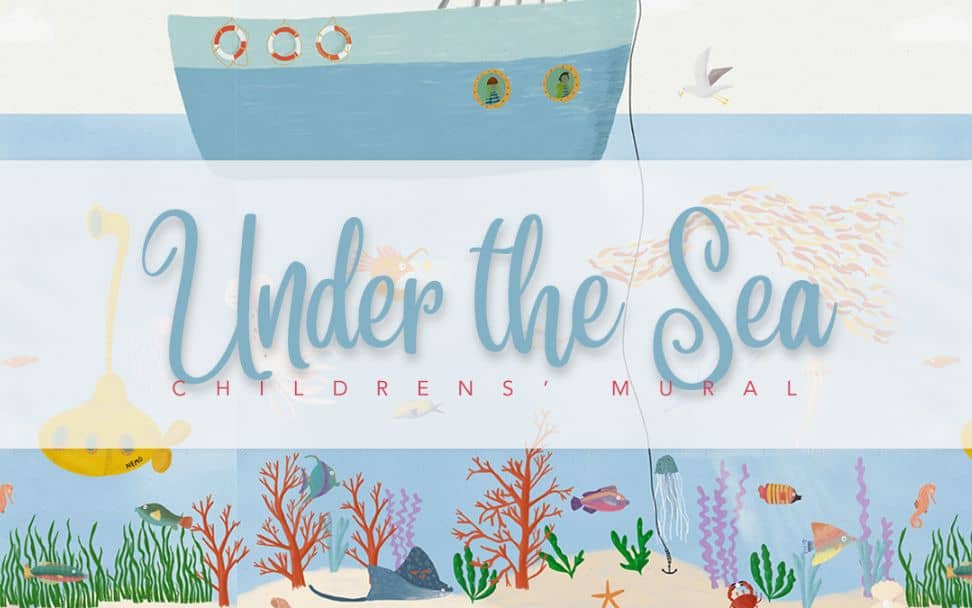 Dive into the sea with this Under The Sea-themed children's mural.
There's plenty of sea life and adventures for your sims to discover, with a school of fish, crabs, starfish, plant life, floating boats, and even a tiny yellow submarine.

9. FAVEO Wallpaper CC Set by Syboubou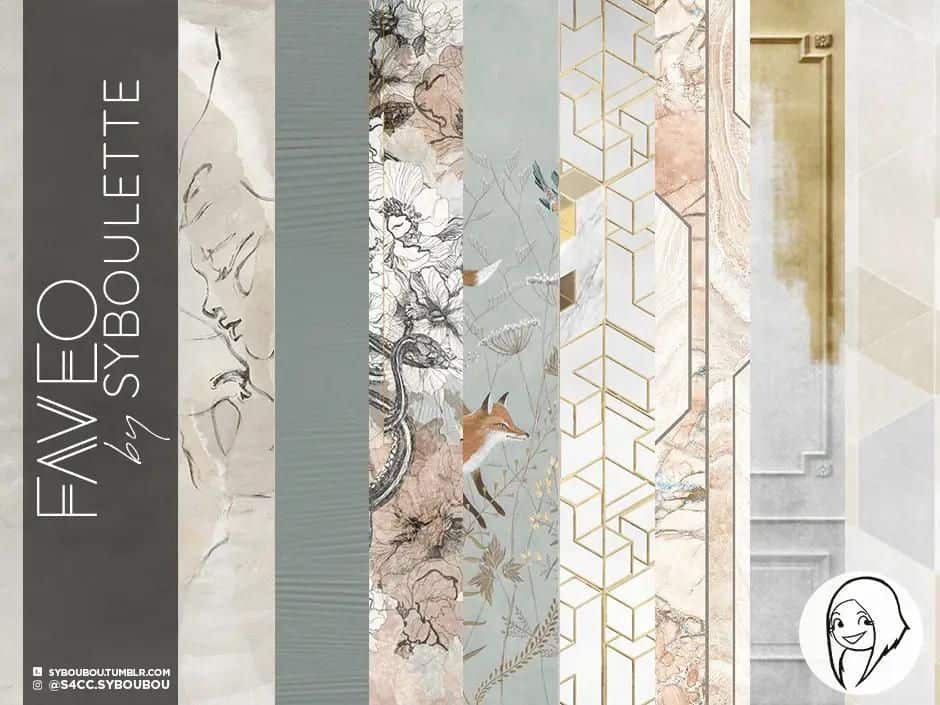 Add modern wallpapers to your sim's home with this collection of seamless wall decals.
The pack includes 8 options, each available in 5 to 10 swatches; the designs include 3D-life geometric patterns, foxes, paint strokes, textured walls, and more.

10. Weather Wallpaper CC by Neelcatsims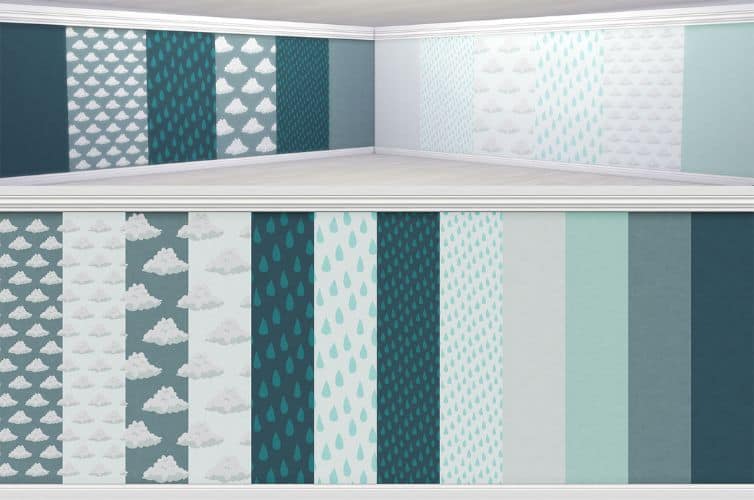 This clouds and rain wallpaper collection is ideal for a kid's room or even a nursery.
The designs focus on different sizes of clouds and raindrops; the color theme is centered around blues, white, and greys.
There are also a few solid color wallpaper options, too.

11. Easter Bunnies Wallpaper by SimPlistic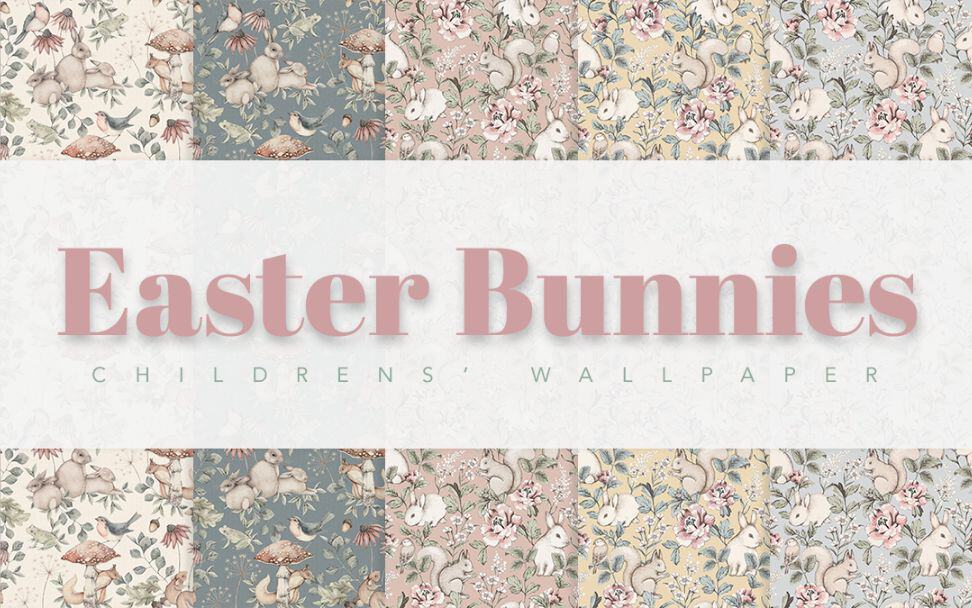 Bunnies, bunnies everywhere; this sweet wallpaper custom content set is all about those adorable garden animals.
Each of the 5 swatches is beautifully crafted and includes rabbits enjoying their day surrounded by flowers, squirrels, birds, mushrooms, and plants.

12. Animals Sims 4 Wallpaper CC by SexyIrish7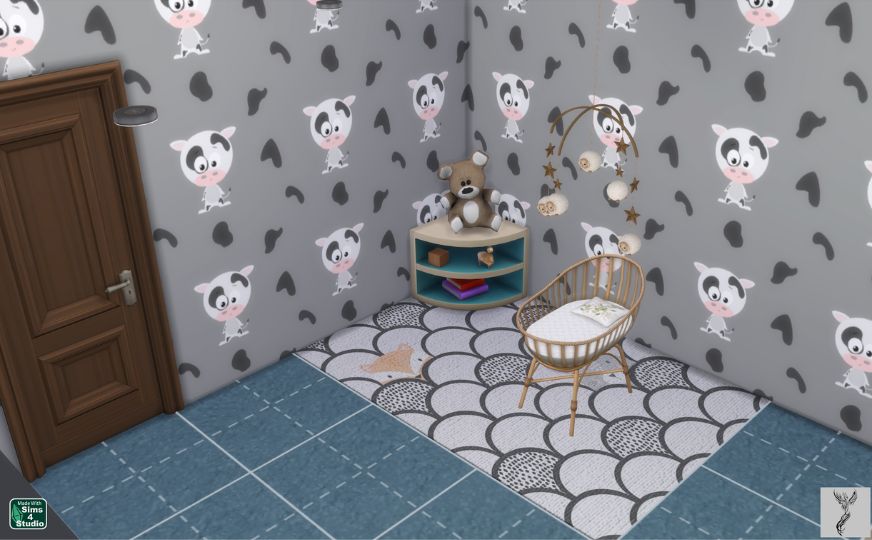 These adorable infant nursery wallpaper designs are some of my new favorites; how can you not love those baby cows with large, cartoony eyes?
And if cows are not your thing, there are 10 swatches to choose from, including monkeys with bananas and even a sweet koala with eucalyptus leaves.

13. Filigreen Wallpaper Custom Content by madameRia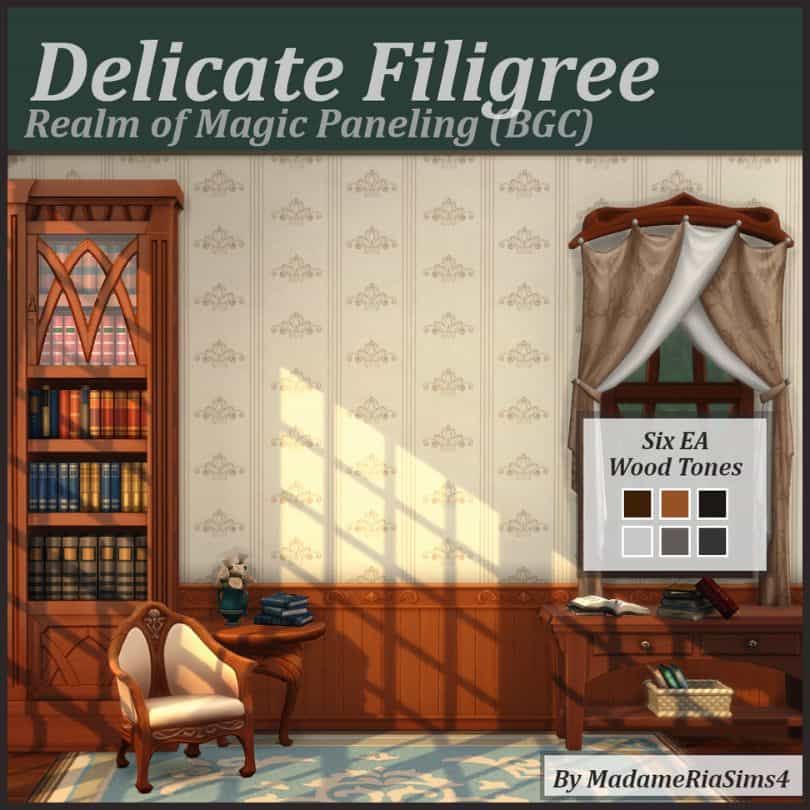 This delicate filigree sims 4 wallpaper set will add a chic touch to your sim's living room or office.
There are 5 file packages on the download page or grab them all in the zip file.
Each file differs with crown molding, wall paneling, wood tones, and more.

14. Sims 4 Butterfly Wallpapers by Sunset's Creations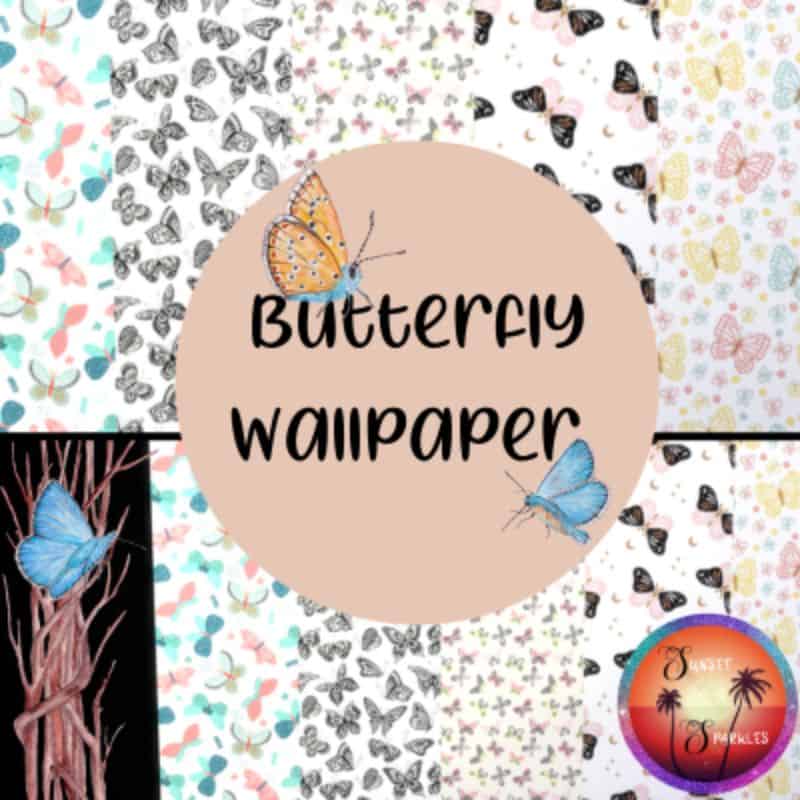 Let your sims fly into a world of stunning butterflies with this vibrant collection of sims 4 wallpaper cc.
The set includes 5 different butterfly swatches; each design is focused on a different size of butterfly, type, and color scheme, perfect for different sims kids' rooms.

15. 70s Wallpaper Designs by Xxmercury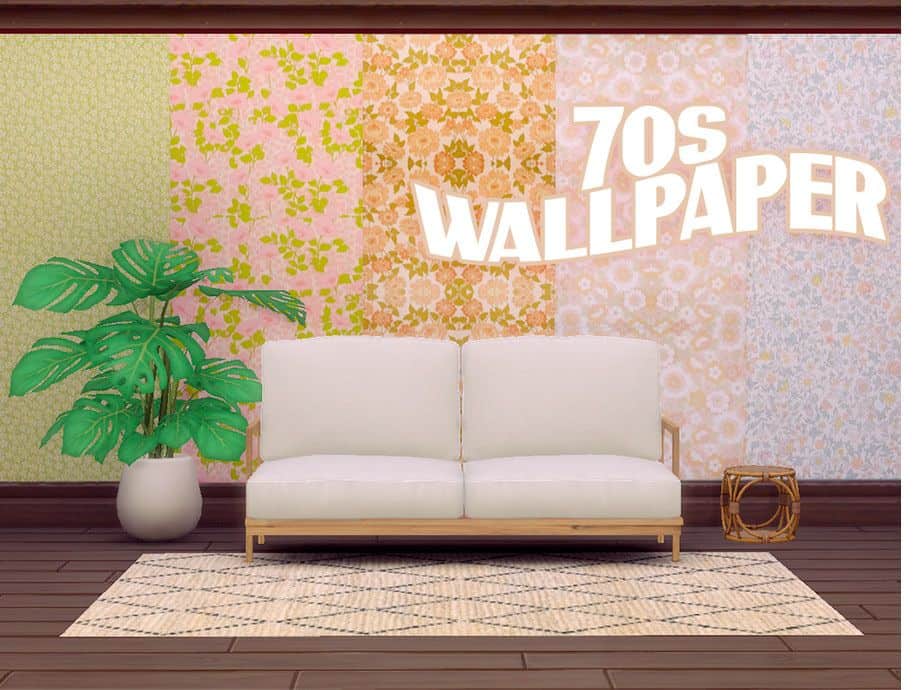 When decorating your sims home with 70s custom content, you want to start with the walls to set the mood.
Set back in time with this set of 7 retro-style groovy wallpaper designs with classic flower patterns in different sizes and colors.

16. Bunnies & Toadstools Kids Murals by SimPlistic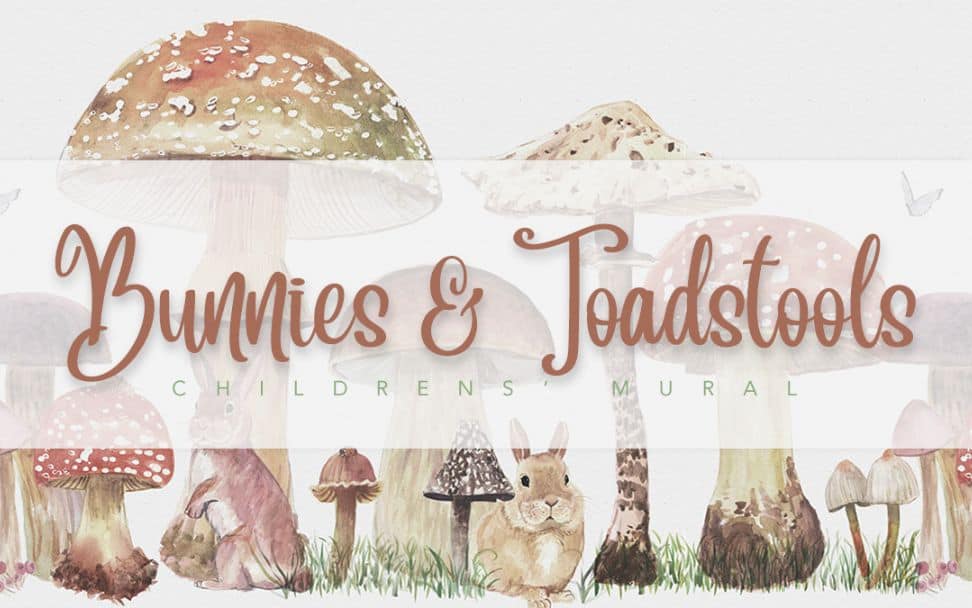 One bunny wallpaper design wasn't enough, especially when I came across this large design of bunnies frolicking among giant toadstools.
This sweet mural will look fantastic in any of your sims children's rooms or nursery and would also be an excellent option for a playroom.

17. Tiled Wallpaper Custom Content by Pluto Sims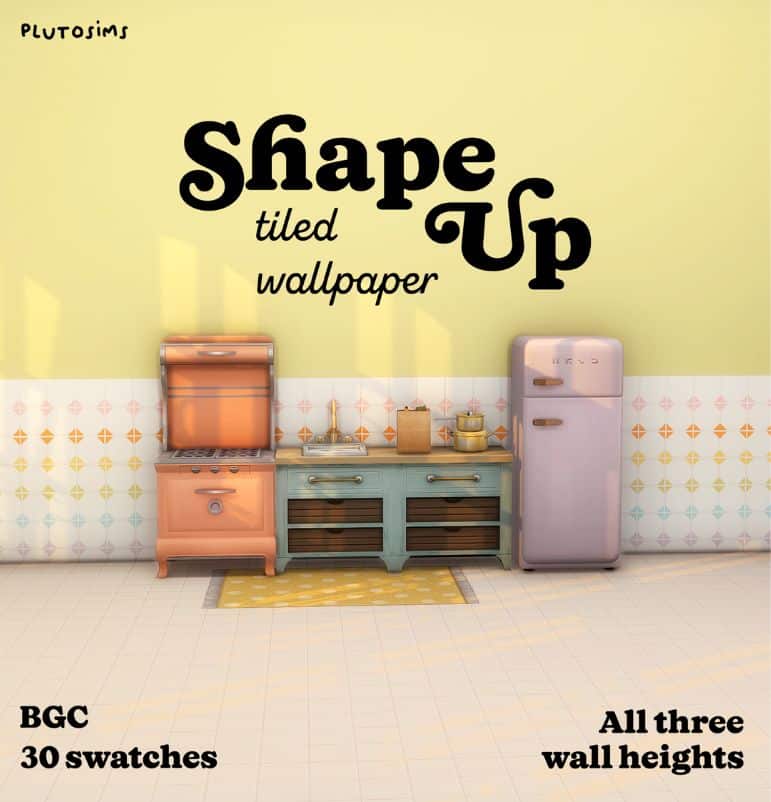 If you are more into tile designs for your walls, these tile wallpapers are just the thing to add some colorful diamond prints to any room.
The wallpaper comes in 30 different swatches, each containing a mix of colors and in all 3 wall heights.

18. South Beach Wallpaper CC by SimPlistic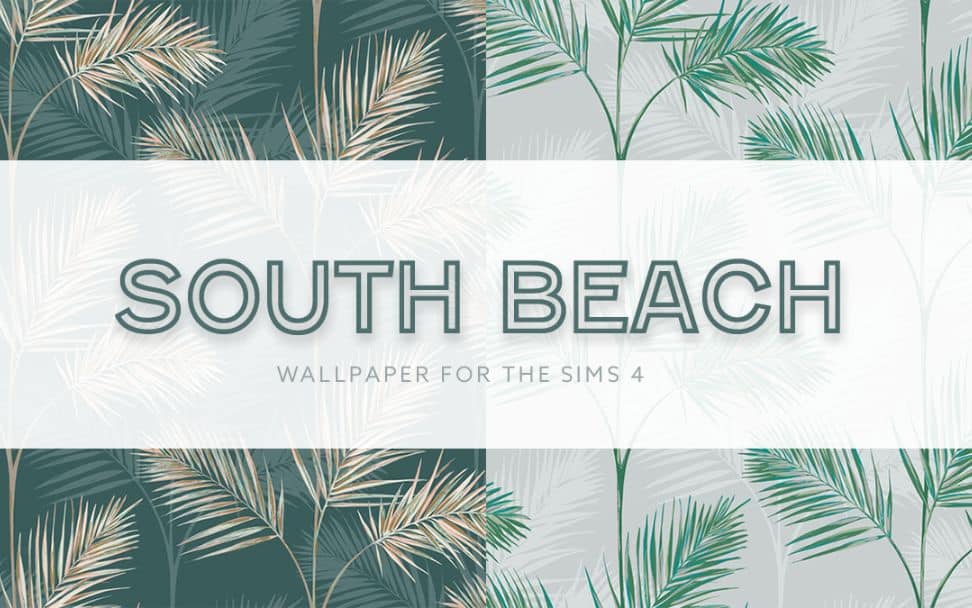 Are your sims decorating their newest tropical vacation home?
This set of sims 4 wallpaper cc contains two swatches of large palm leaves, giving your sims home a tropical feel.
You can decorate their home with a whiter background or go all in with the turquoise wall color and lighter leaves.

19. Anthomania Tiled Wallpaper by Pluto Sims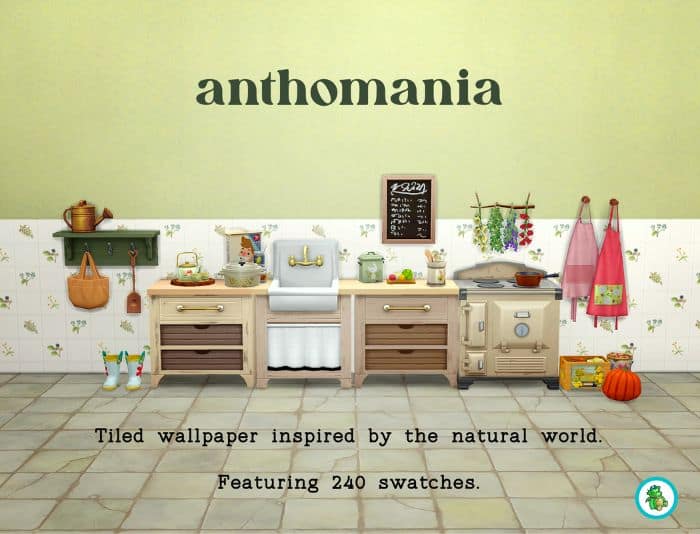 We're back with more tiled wallpapers, and this set focuses on different themes.
The wallpapers center on mixed plants, flying creatures, mammals, and ocean-related objects.
Each tile decor comes in 12 colors, so you can jazz up the kitchen, bathroom, or bedrooms to your heart's delight with any of the 240 swatches.

20. Strawberry Wallpaper Options by SimPlistic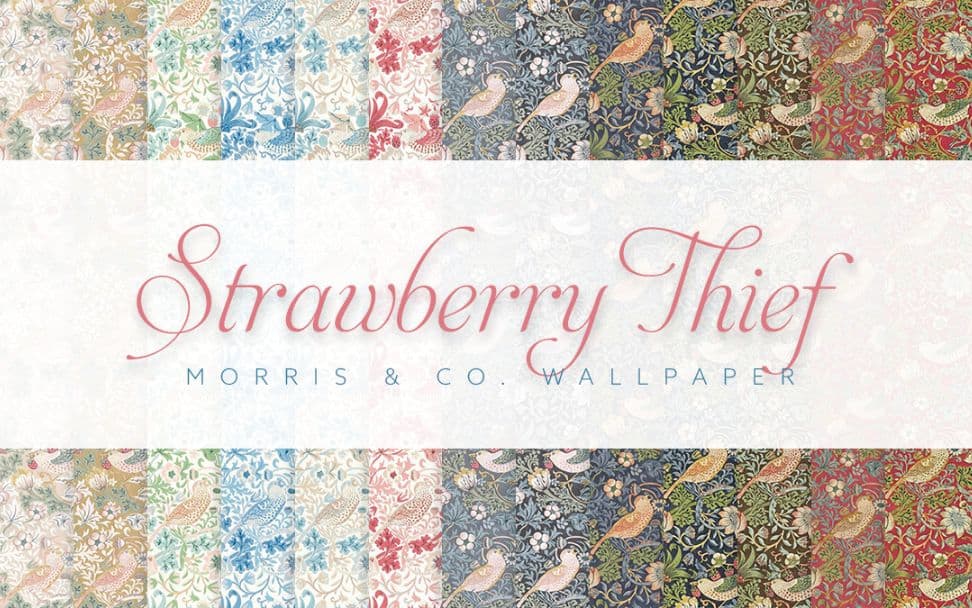 This intricate wallpaper set combines strawberries, birds, flowers, leaves, and branches into an almost paisley design.
Given the busy pattern and colors, these wallpapers will naturally be the room's focal point, making simple furniture and decor pieces a must.

21. BSG Delicate Wallpaper by madameRia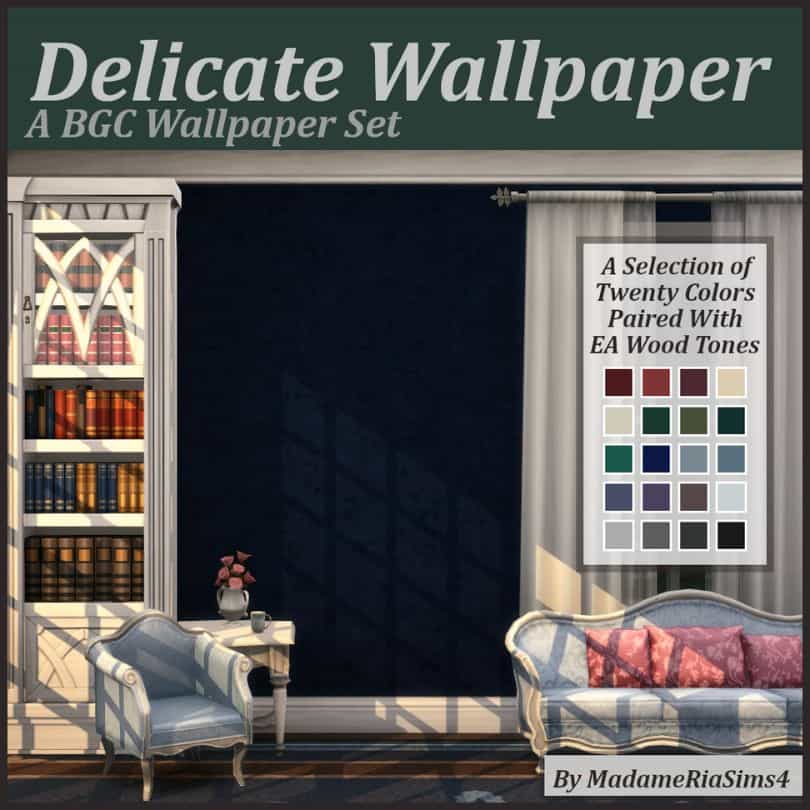 Similar to the filigree wallpapers at #13 above, this set is the plain version of wallpaper swatches.
You get the same amount of packages and swatches for each download file, minus the intricate filigree designs.

22. Oh Deer Nursery Wallpaper by Sims4Luxury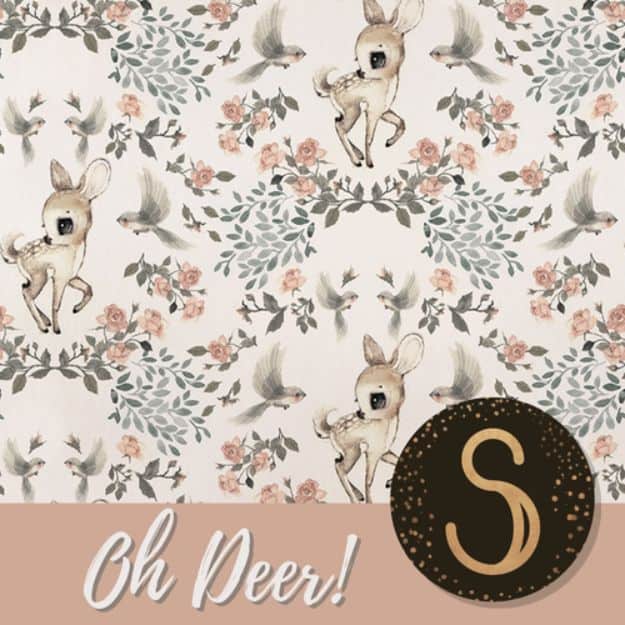 This delicate baby deer and hummingbird wallpaper design is my choice for my household's next nursery.
Although there is only one design for this wallpaper, it does come in 5 matching solid color swatches to use on different walls or in another room.

23. Sims 4 Groovy Wallpaper CC by Pluto Sims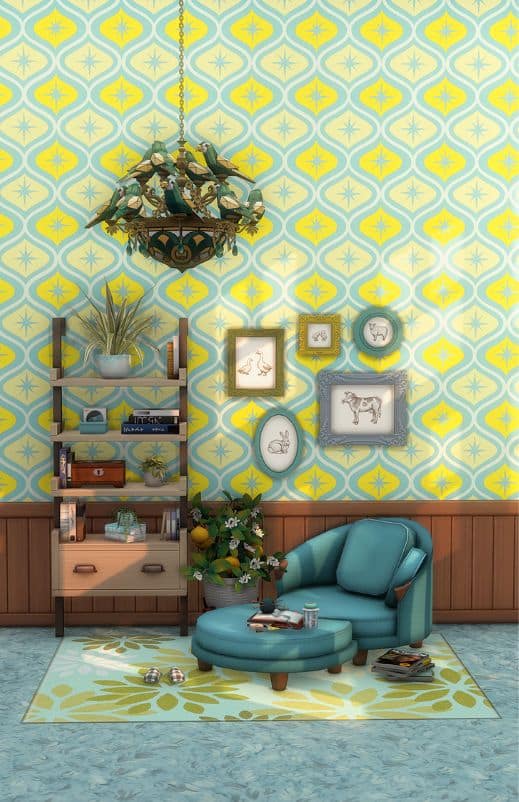 Need some more retro-style wallpaper options? We've got you covered with this set of 16 groovy swatches.
These vintage wallpapers come in various colors, including pink with yellow, orange with yellow, and blue with green.
Each swatch comes with both white and brown paneling options.

24. Abstract Wallpaper for Sims 4 by Syboubou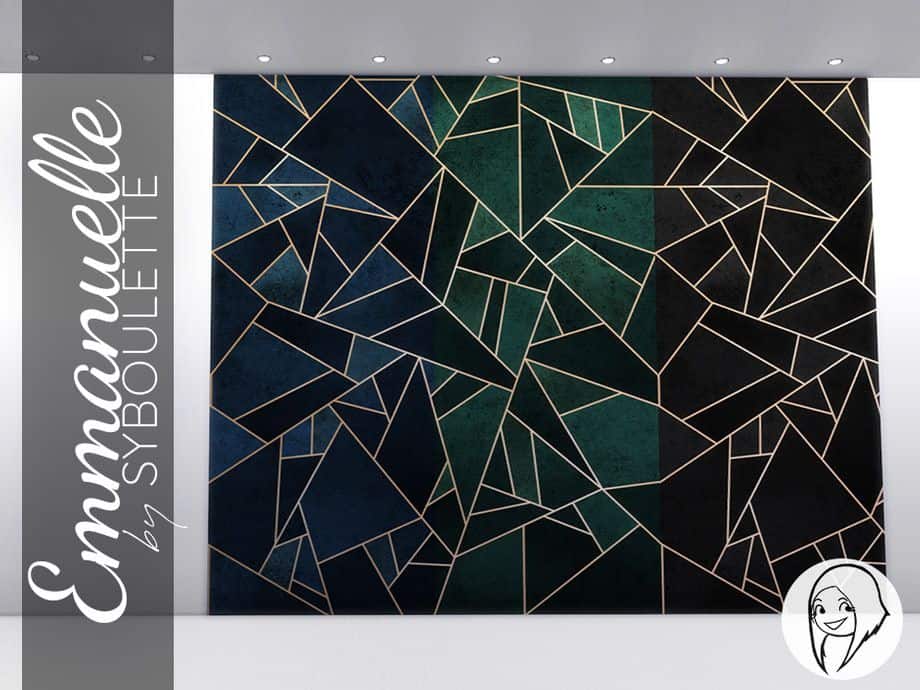 While I've shared this wall decor in another article, but what better place than a dedicated wallpaper post?
These beautiful abstract wallpapers will be the focal point of any room in your sim's modern home; they are truly captivating.
There are 3 bold swatches to try out: dark grey, sea green, and Prussian blue, each blending geometric patterns with metallic strips.

25. Christmas Wallaper CC by Danuta720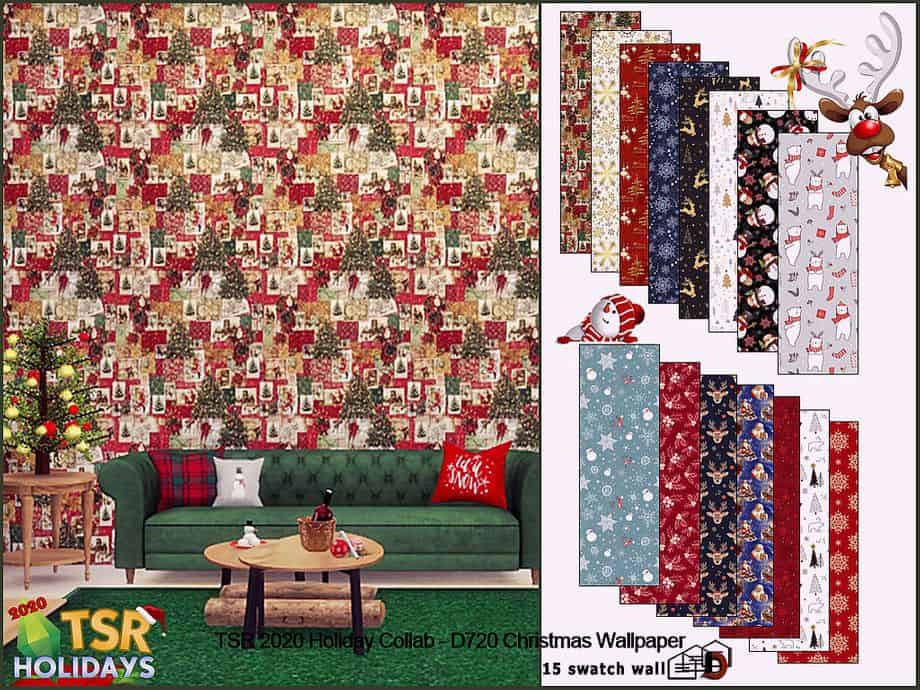 The holidays seem to always be just around the corner, and there is no better time to be holiday wallpaper shopping.
This set of sims 4 wallpaper cc comes with 15 holiday swatches to turn any room into a Christmas delight.
There's a festive wallpaper option for everyone, from large snowflakes and Christmas trees to dancing raindeers.
Sims 4 Wallpaper CC: Final Thoughts
With our collection of sims 4 wallpaper cc, you can turn your sim into the best interior designer on the block.
Transform a simple nursery into an underwater world or a whimsical garden with the proper selection of wallpaper and murals.
Your creativity is the limit; you can opt for simpler wallpaper options or go bold with some unique abstract designs.
If you have any questions or suggestions, feel free to leave us a comment below or tag us on Tumblr.
And don't forget to share and save this pin for later!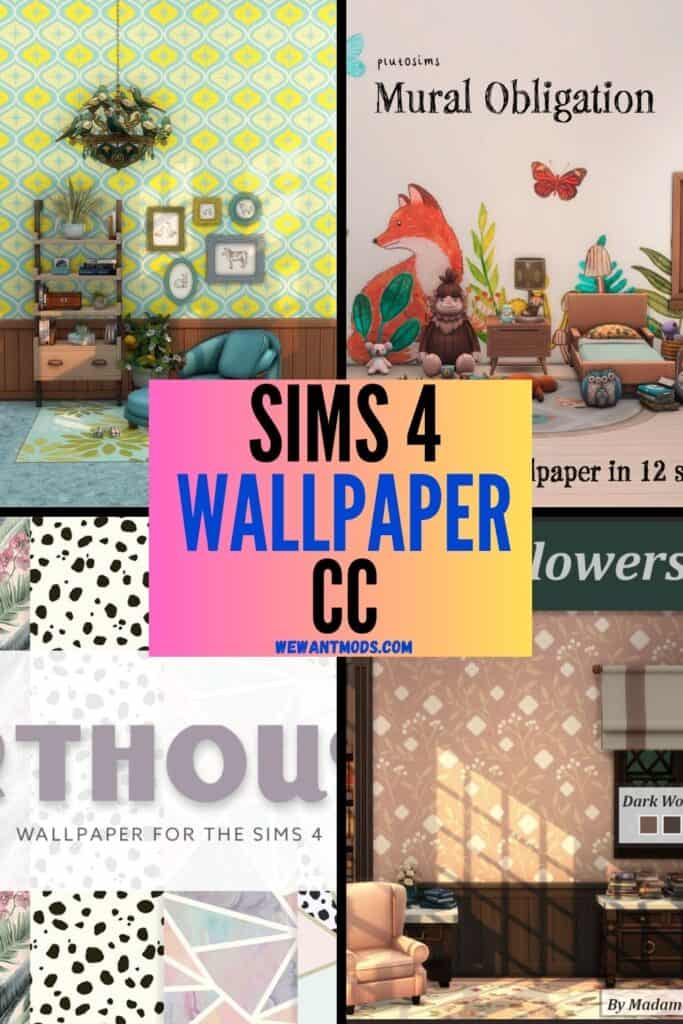 Other Sims 4 Custom Content Lists
23+ Sims 4 Wallpaper CC: Transform Any Room