Sims 4 Functional CC: Supercharge Your Gameplay Now
Are you looking to level up your gameplay?
With this collection of sims 4 functional cc, you can quickly improve your sims experiences.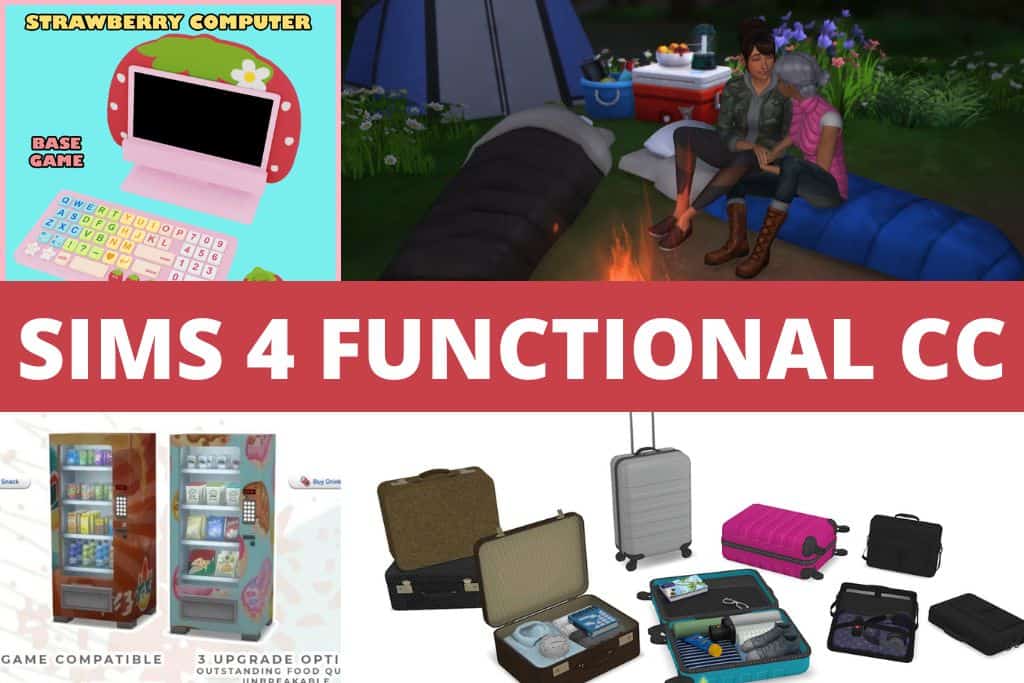 When it comes to sims 4, everything has its rightful place.
And while there are a ton of amazing decorative pieces to go around, functional cc helps bring even more elements of the game to life.
Some excellent functional custom content options exist, from everyday household objects to business-appropriate pieces.
Disclaimer: The following mods are neither endorsed nor affiliated with The Sims, Maxis, or Electronic Arts. Any use of mods (custom content or game mods) should be done with caution and with the knowledge that there may be risks.
Best Sims 4 Functional CC
Below we have included a mix of everyday functional cc to pieces your sims can use to start their latest business enterprise.
1. Grocery Store Functional Displays by Somik & Sererinka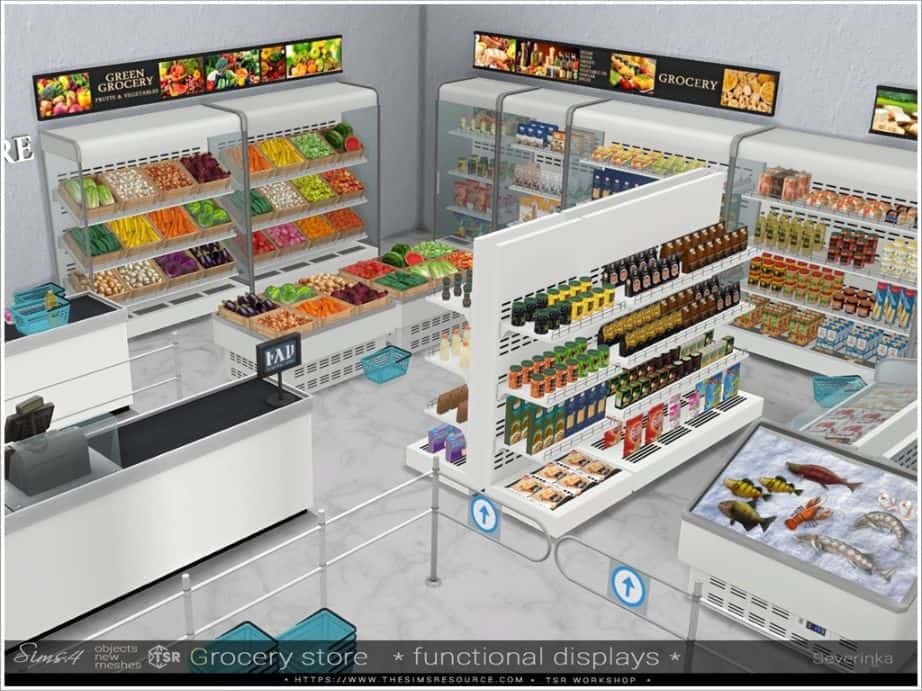 This sims 4 functional cc requires The Sims 4: Get To Work EP.
Set up your sim's new store with this set of functional custom content displays.
This functional cc set includes both refrigerators and shelves.
You can use the island and slated shelves to display fruits and vegetables, and the refrigerators are ideal for showcasing the fish for sale.
Both the vegetables-fruits and fish displays have buying functions.
You can also grab the decor vegetables compatible with the functional showcases on the download page.

2. Functional CC Perfumes by Around the Sims 4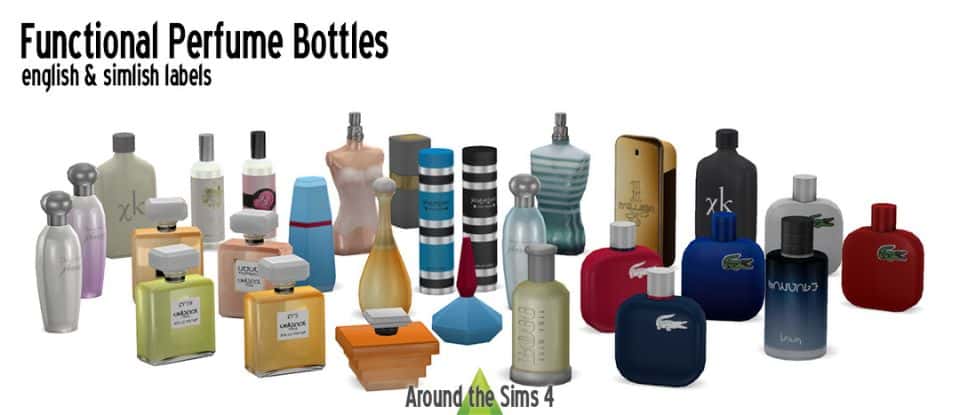 Who doesn't love to smell fresh and fabulous? I know my sims can't do without their favorite fragrances.
And while the decor bottles are cute, you can quickly turn these classic scents into functional objects with the Perfume mod linked on the download page.
There are 16 perfumes to try, including long-time favorites like Rive Gauche, J'adore, and CK.

3. Sims 4 Functional CC Guitar by Channel4sims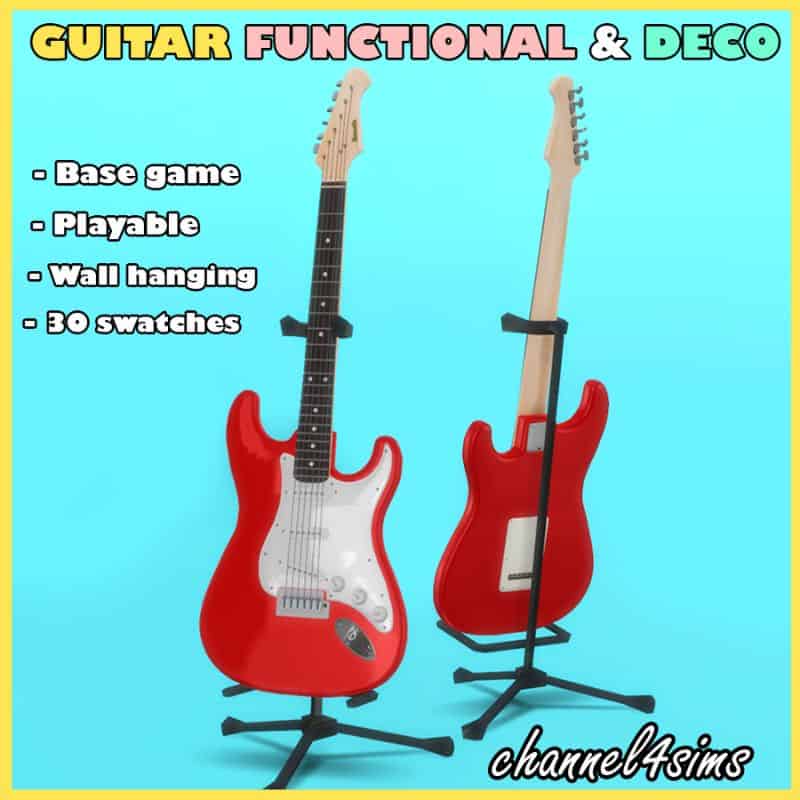 If your sims love to rock out, they want to grab this functional guitar.
This guitar comes in 3 versions, including a deco wall option and two functional versions.
You can opt for either the normal functional version or the functional no-effect version, which has no musical notes effect as your sim plays.

4. Functional Coffee Maker for Sims 4 by SIMcredible!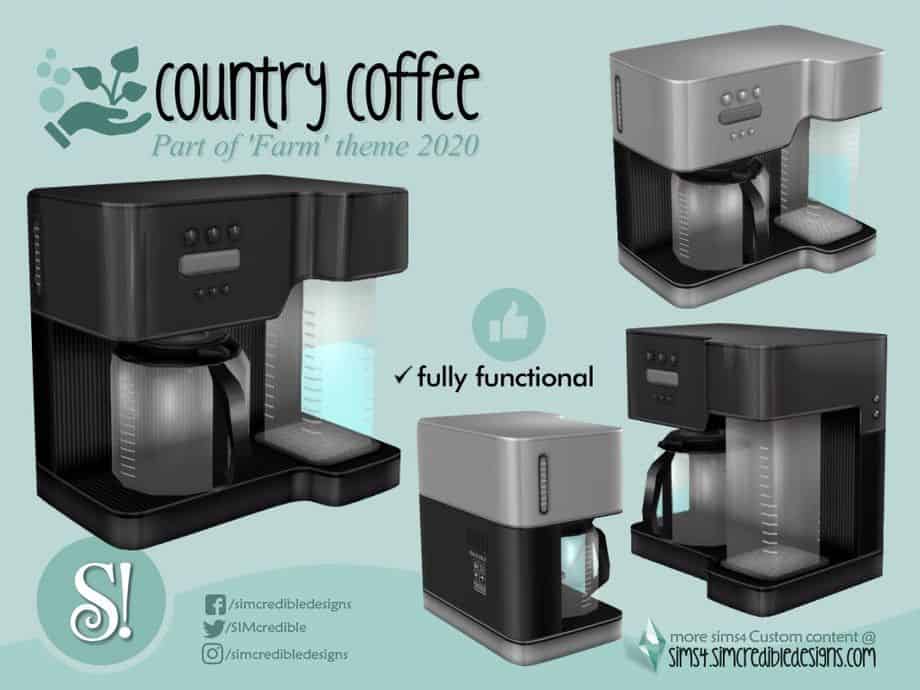 There's nothing like a cup of hot coffee in the morning, and this functional coffee maker is just the model you need.
With its popular style, this coffee maker will fit in with almost every kitchen design, and it comes in 4 color swatches.

5. Sims 4 Functional CC Buffet by Somik & Sererinka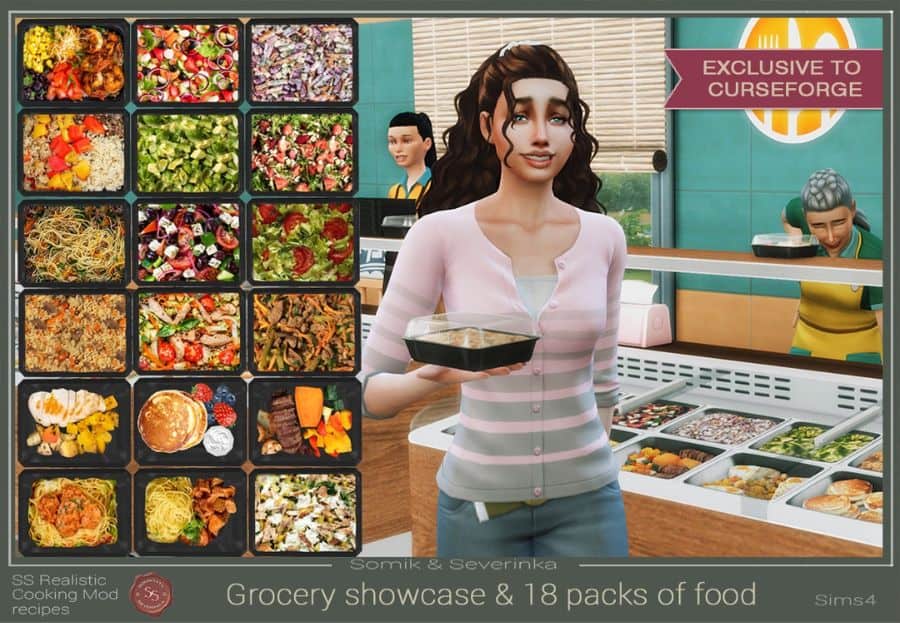 This functional buffet is just the thing for a hungry sim who loves variety.
The buffet showcase has enough room for 18 food packs, including 7 salads and 11 main dishes.
Simply install the showcase on your chosen lot, hire a seller, and let your sims order their favorite takeout meal.

6. Sims 4 Functional Trash Can by EroSims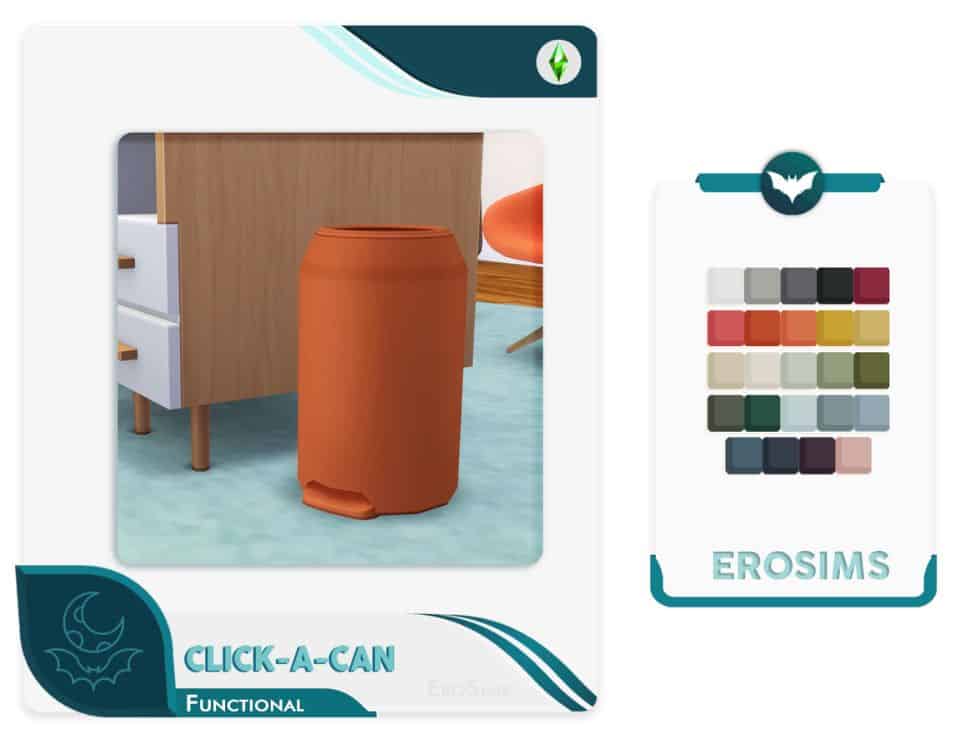 When it comes to trash, everyone needs a practical trash can, and our sims are no exception.
This sims 4 functional cc trash can comes in 24 solid color swatches from Peacemaker's contemporary palette.
This trash will fit in with various kitchen styles with its simple can-like shape.

7. Functional Vending Machines CC by Ravasheen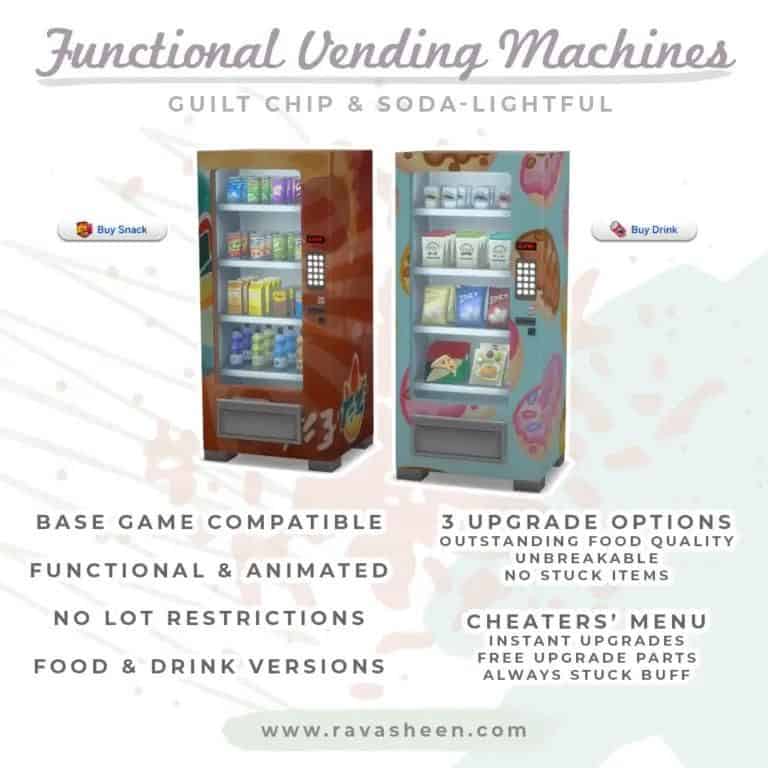 With this two-piece functional vending machine set, your sims don't have to choose between a salty snack or a drink; they can have both.
These vending machines will work as in real life, where a snack or drink occasionally gets stuck, and your sim struggles to get it out.
The machines can also break down, or you can upgrade your functional vending machines to avoid issues.

8. Sims 4 Functional Bathroom Clutter by Cepzid Creation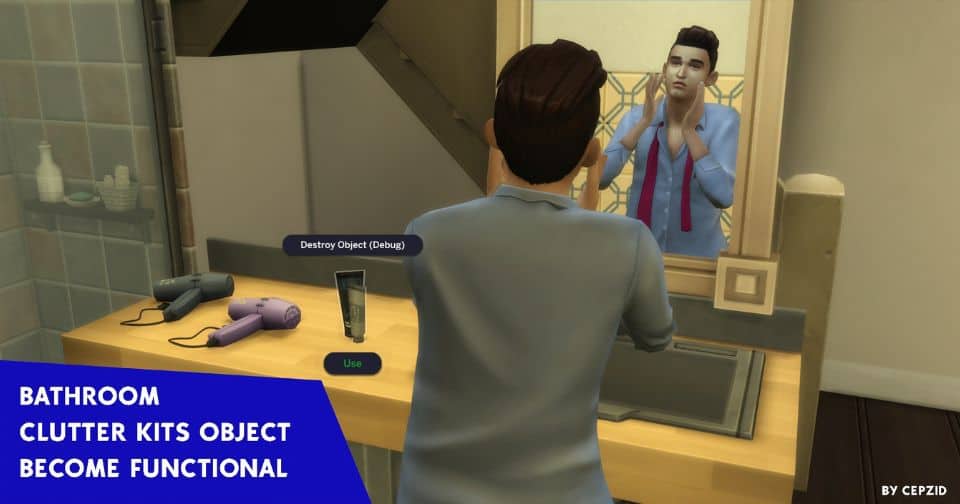 This custom content requires the Sims 4 Bathroom Clutter Kit
If you're playing with the Bathroom Clutter Kit, you can turn your new hair dryer and facial lotion into functional pieces.
The lotion can be used for both adults and kids, but for teens, it will make their annoying acne disappear.
The hair dryer is good for both kids and adult sims.

9. Functional CC Sleeping Bag by Pickypikachu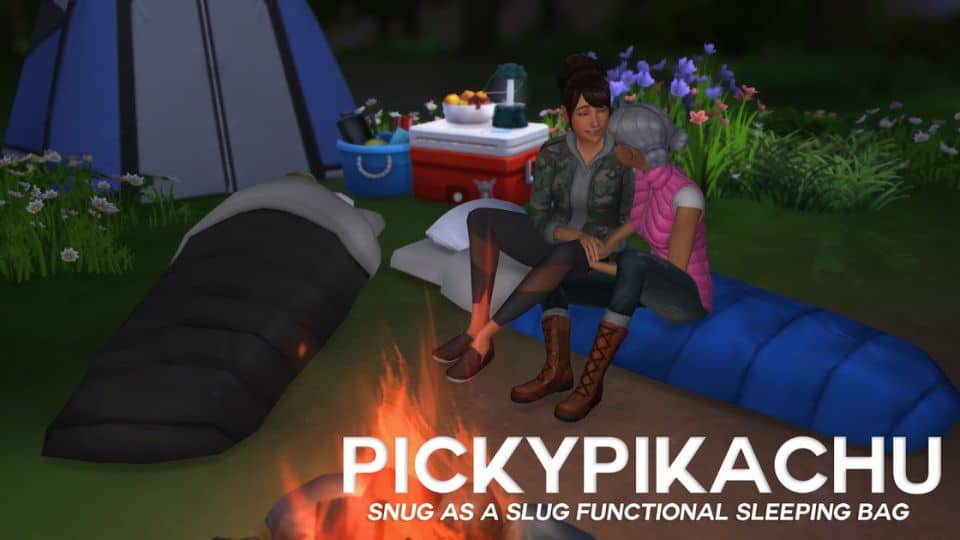 Whether your sims are heading out for an epic camping adventure or planning a weekend sleepover, this functional sleeping bag is a must-have piece.
You will find this comfy sleeping bag in the Comfort section under Beds.
And once placed in their personal inventory, your sims can enjoy their sleeping bag anywhere in the world.

10. Sims 4 Functional CC Skates by ShuSanR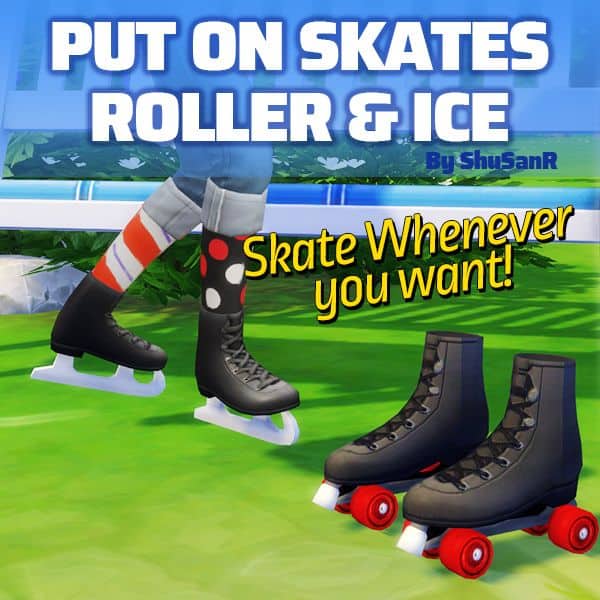 This custom content requires The Sims 4 Seasons EP
Roller skates versus ice skates, what's your pick?
I've always loved roller skates and was hyper-scared of ice skating, but hey, my sims can conquer my fears for me.
Grab a pair of functional roller and ice skating shoes so your sims can enjoy skating during any season of the year.

11. Sims 4 Functional CD Player by Chennel4sims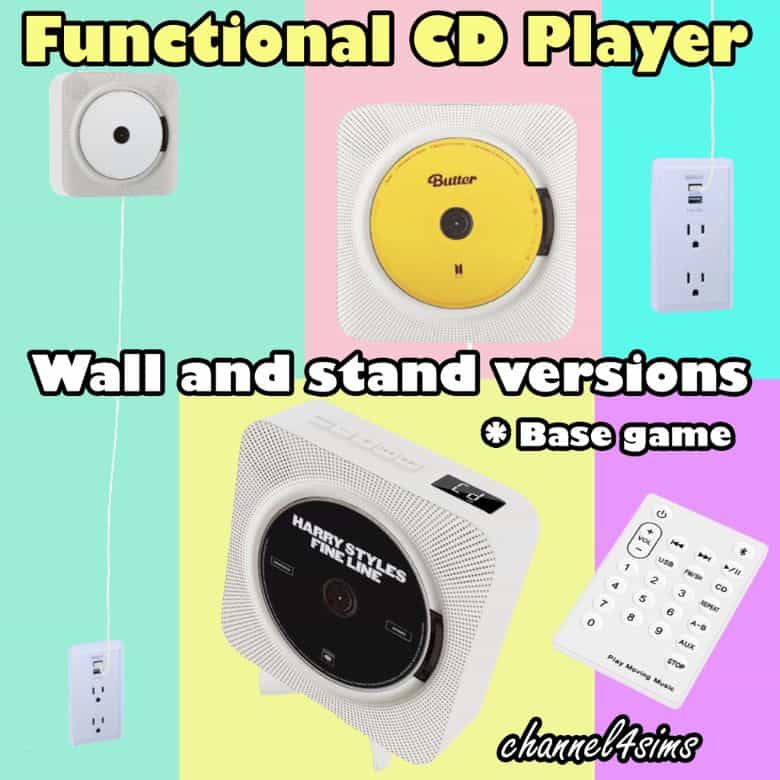 Ahh, the nostalgia!
This functional CD player comes in three versions; wall mounted (with or without wire) and a stand version.
This CD player comes in 40 swatches with different albums and a decorative remote control.

12. Functional Iron Board, Cutting Table & Steamer by Ozzy Sims 4 Mods
This mods set includes a few functional pieces; a cutting table, iron board, and streamer.
While these pieces are great for home use, they are ideal for your sim's new business.
You can also grab wholesale supplies, including fabric, buttons, zippers, and needles.
I've linked a quick video above for a closer look at these functional objects.

13. Sims 4 Functional Baby Carrier by TheSweetSimmer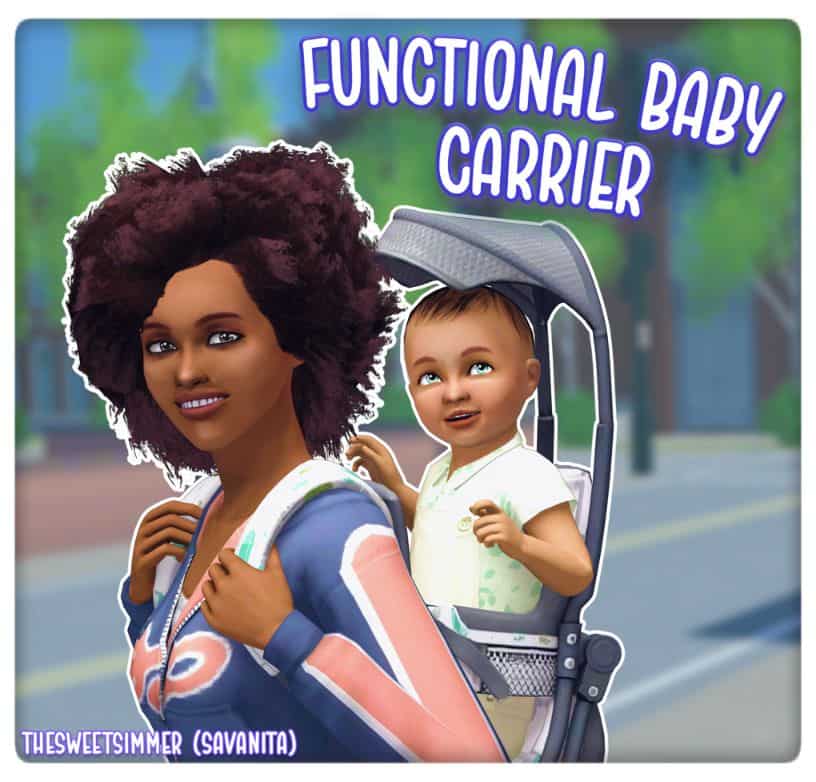 What parents wouldn't appreciate some hands-free time with little ones to care for?
This sims 4 functional cc baby carrier allows sims aged teens and up to carry around a baby or toddler on their backs.
If your sims have a growing family, they can opt for the double carrier.
These baby carriers are perfect for sims with a list of chores to do around the house or errands to run.

14. Functional Fan for Sims 4 by Syboulette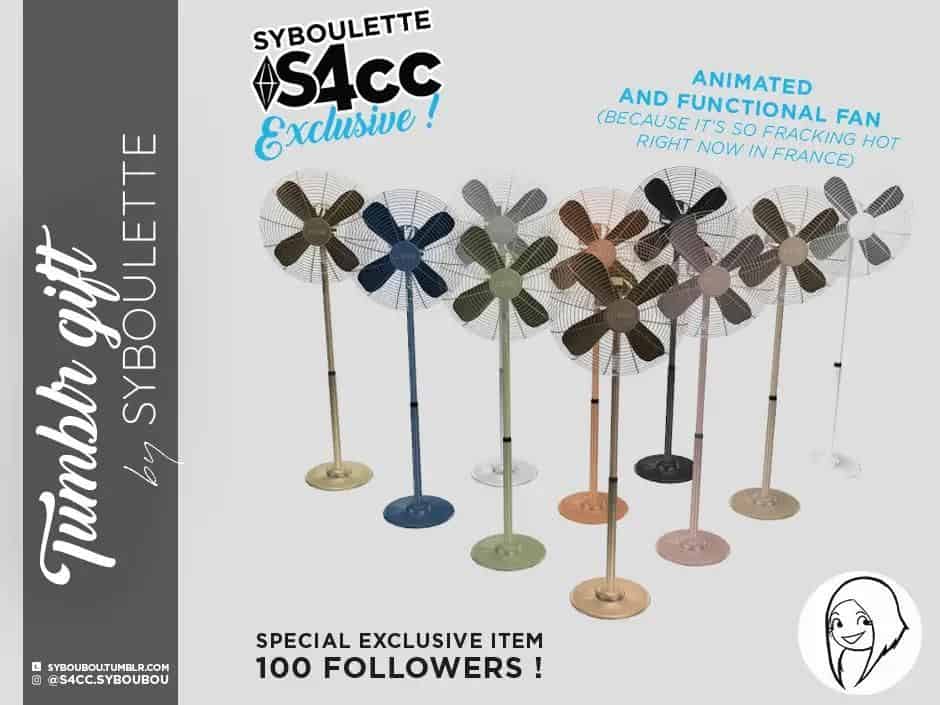 With the hot weather, your sims could all do with a nice functional cooling fan.
Grab this classic animated and functional standing fan which comes in 10 swatches.
It's the perfect piece for your sim's living room and bedrooms during summer.

15. Sims 4 Functional Hopscotch by Cepzid Creation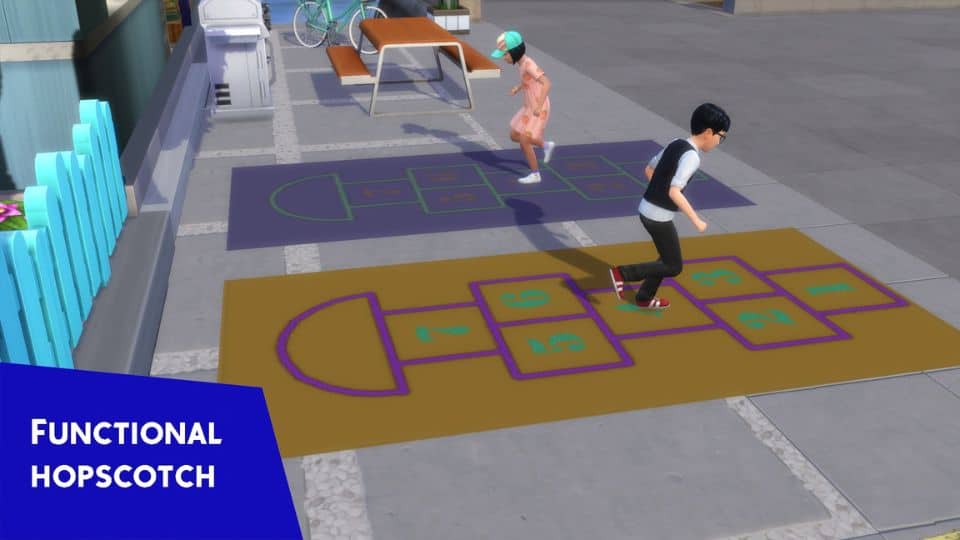 Who doesn't love a good game of hopscotch?
Let your sims kids enjoy some outdoor activities with this functional hopscotch game.
This functional game comes in two packages, both a sim autonomous and no autonomous version.

16. Sims 4 Functional CC Computer by Chennel4sims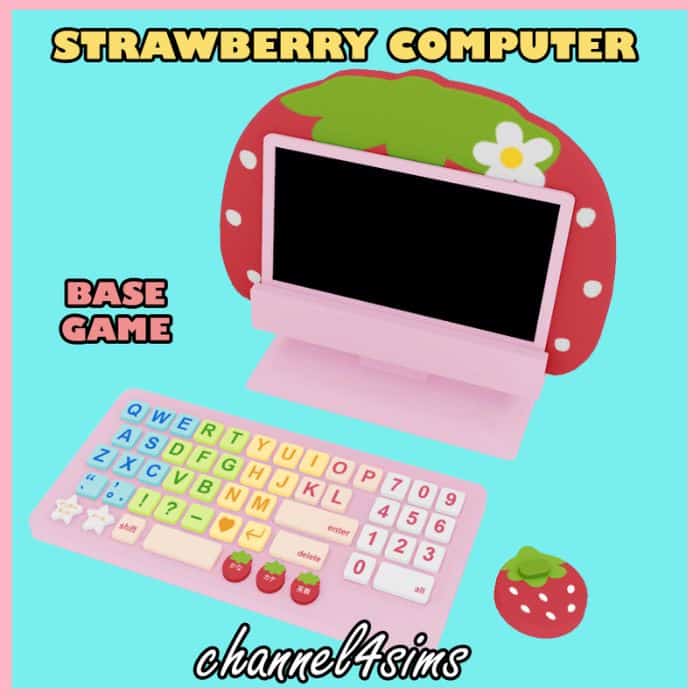 So I'd totally purchase this adorable pink computer with strawberry details for myself, but until that day, my sims can enjoy this version.
Although the light pink is elite, you can still pick from 14 pastel color swatches to find your favorite.

17. Sims 4 Functional Picture Frames by Ravasheen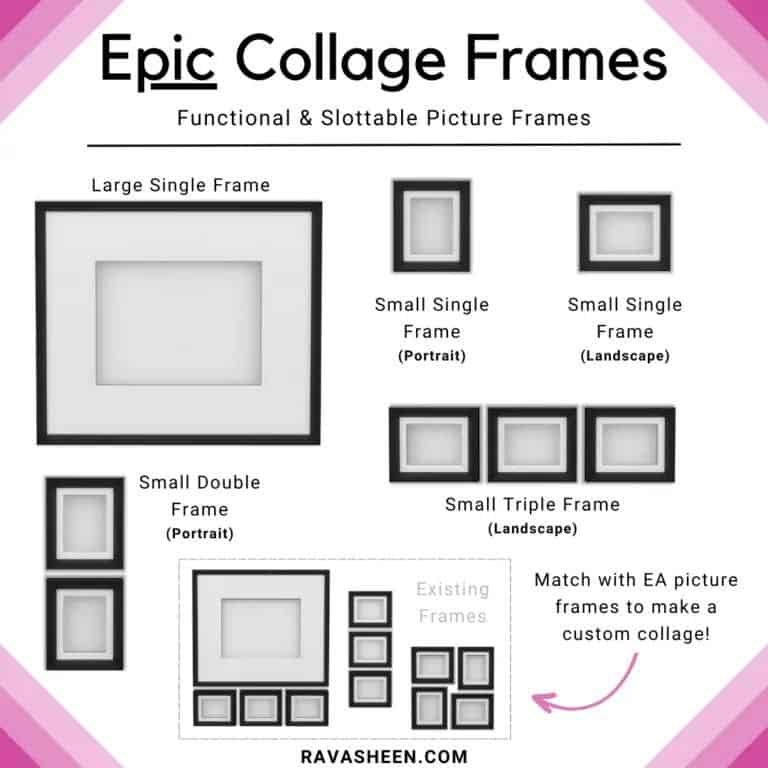 What good are all those fantastic in-game pictures we take if we can't display them proudly on our sim's walls?
Just drag and drop your favorite pics into the frames.
These functional frames include 3 single, double, and triple frame options.
Plus, these frames match the EA picture frames, making a collage even easier.

18. Functional Luggage CC by Around the Sims 4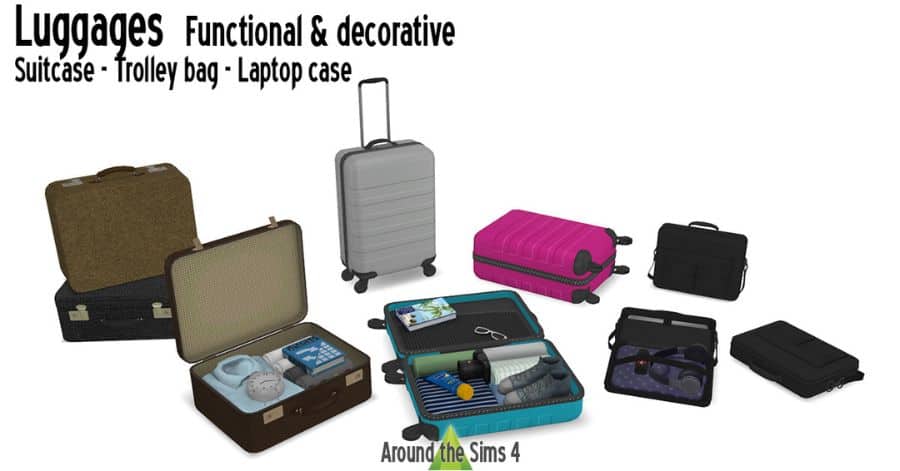 If your sims are heading on a beach vacation to Sulani, they will need some luggage options for all their tropical clothes.
This luggage cc set includes 3 functionals pieces;
A laptop case
A suitcase
A suitcase with wheels
There are also 9 other decorative luggage pieces in this collection.

19. Sims 4 Functional Piggy Bank by Ravasheen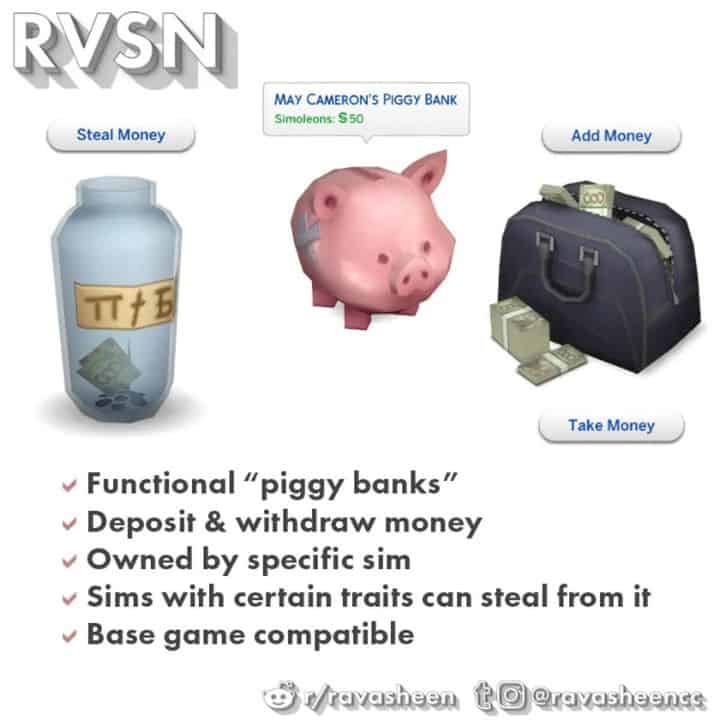 This set of functional piggy banks is perfect for those money-conscious sims looking to save for their next vacation.
Your sims can both deposit and withdraw Simoleans from their piggy banks.
The set includes a classic pink piggy bank, a glass vase, and a small zippered bag.
Sims 4 Functional CC: Final Thoughts
With this set of sims 4 functional cc packs, your sims can enjoy a game of hopscotch, a quick beverage, or set up their new sewing business.
Functional pieces can elevate your sim's daily tasks and adventures, naturally improving your gaming experience.
If you have any questions or suggestions, feel free to leave us a comment below or tag us on Tumblr.
And don't forget to share and save this pin for later!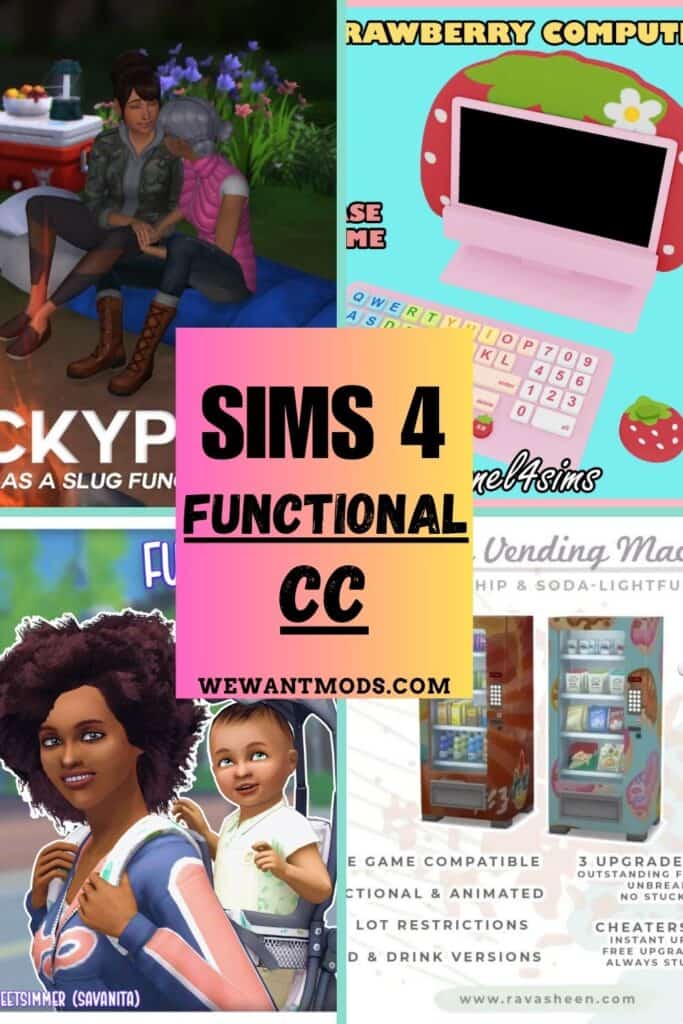 Other Sims 4 Custom Content Lists

Sims 4 Functional CC: Supercharge Your Gameplay Now