19+ Kissable Sims 4 Lip Presets
We've put together a great list of Sims 4 Lip Presets for the plumpest and most luscious lips available.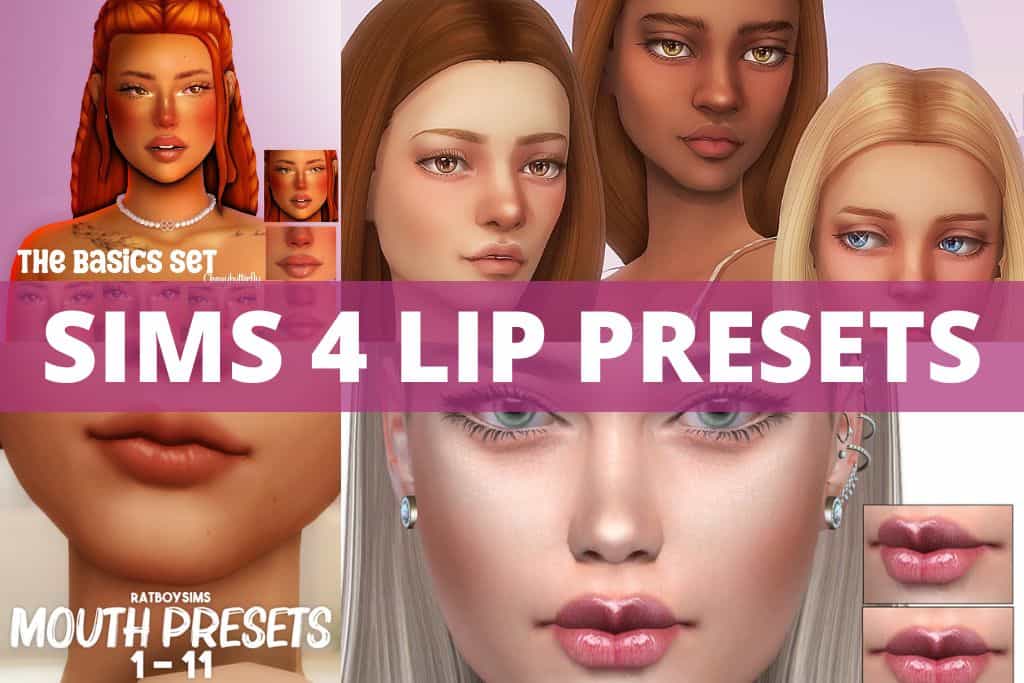 Just as eyes are the windows into the soup, lips are the other main focal point on your sim's face.
As with almost everything sims related, there are fabulous cc creators working hard to put out amazing sims 4 lip presets.
We've combined a variety of lip mods for your male and female sims to have the most kissable lips in the neighborhood.
Disclaimer: The following mods are neither endorsed nor affiliated with The Sims, Maxis, or Electronic Arts. Any use of mods (custom content or game mods) should be done with caution and with the knowledge that there may be risks.
Luscious Sims 4 Lip Presets
You'll find a mix of thin lip mods to fully rounded, heart-shaped lips and even unique asymmetrical lip presets.
1. Plump Sims 4 Lip Preset by Seleng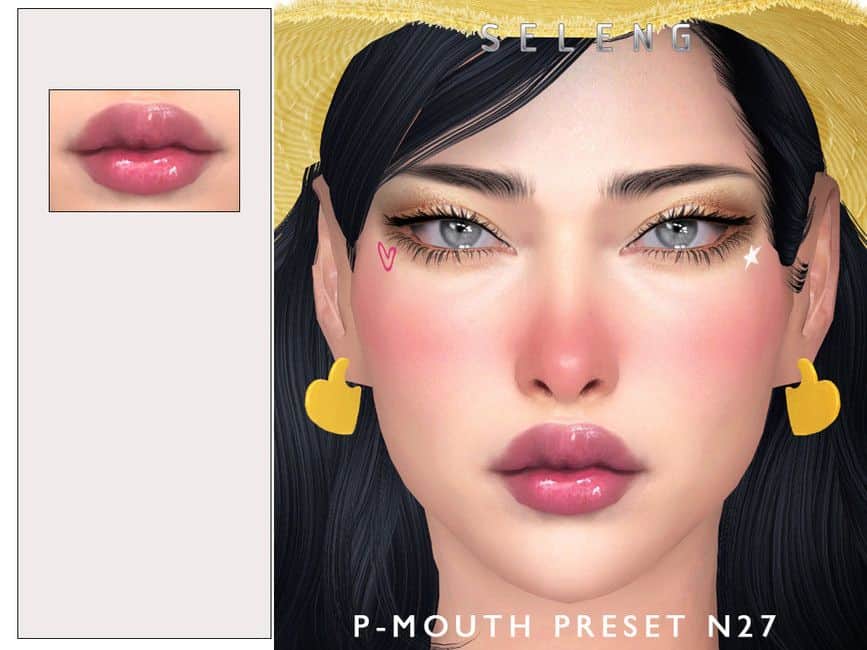 These full-plump lips give off the bee-stung natural lip trend that has made the run on social media.
The lower and upper lips are full, but the upper lip is mostly rounded with almost no cupid's bow.
This female lip preset is available for teens to elders.

2. Soft Sims 4 Lip Presets by northern siberia winds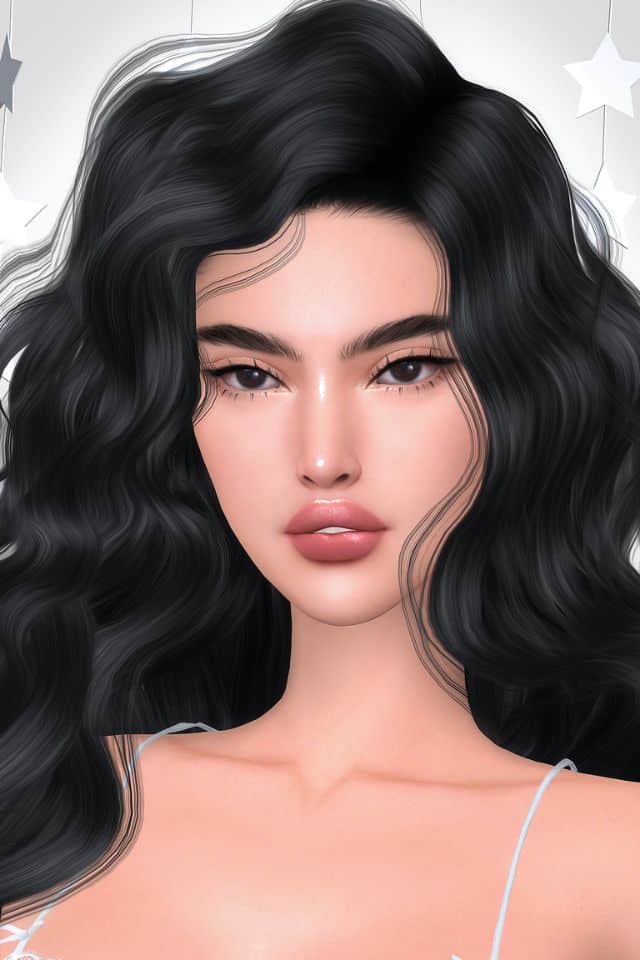 This cc collection includes two preset files, one for female sims (teens and up) and another for kids (boys & girls).
Your female and kid sims will get the same nine soft-looking lip presets.
Each lip preset has a medium to full lip look, with different widths and lip shapes, some with glimpses of teeth peeking through.
You'll also find eyeliner, blush, highlighter, eyelids, and more.

3. Sims 4 Male Lips Presets by obscurus-sims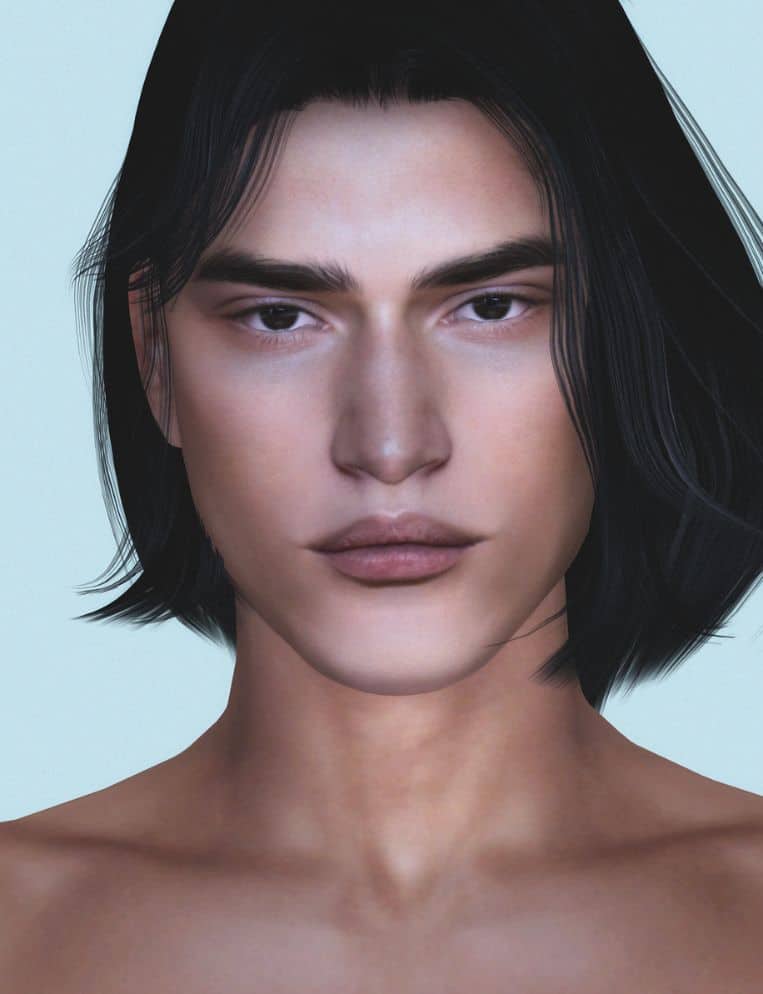 This male cc collection includes a set of 5 male presets for teens and older.
These male lip mods are not overly large; they are on the thinner side and lean more toward heart-shaped lips.
A number in CAS identifies each mouth; my favorite is #18.
The corners of the upper lip extend outwards, giving my sim a suave look.

4. Sims 4 Lip Kit Presets by Miiko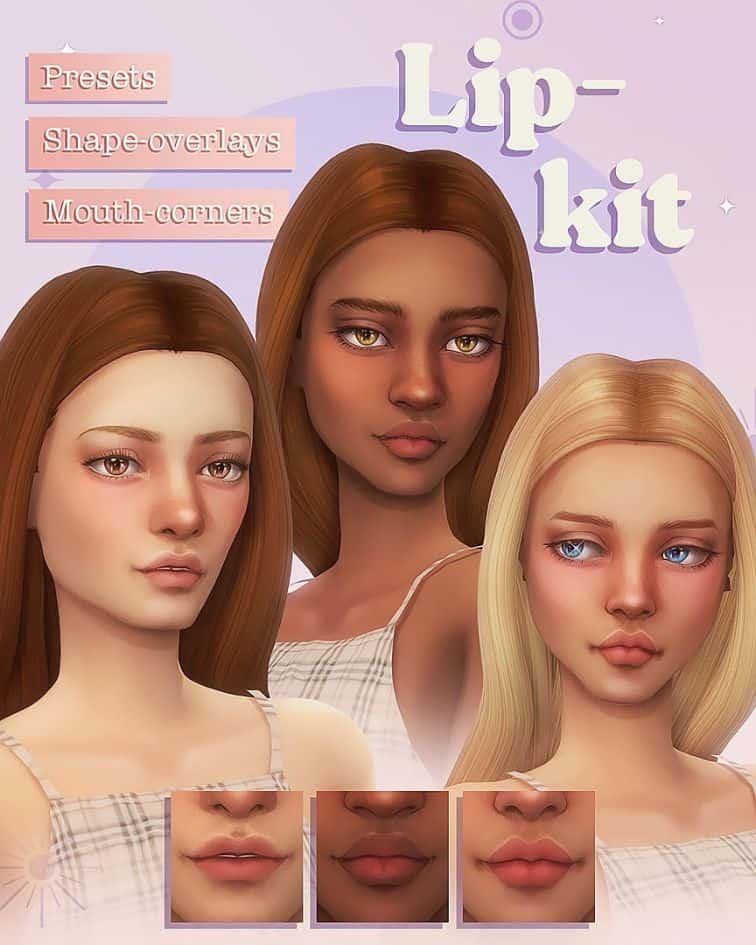 With this lip kit set, you get three lip presets, 6 shape-overlays, and 4 mouth corners to create the perfect pout.
The presets include one full-rounded lip preset and a heart-shaped version.
You also get what I can only describe as actress Anna Paquin's lips; I'm convinced she is the inspiration behind this lip mod.
To get the exact looks in the image above, you must play around with the different lip corners and overlay opacities.

5. Female Sims 4 Lip Preset by Seleng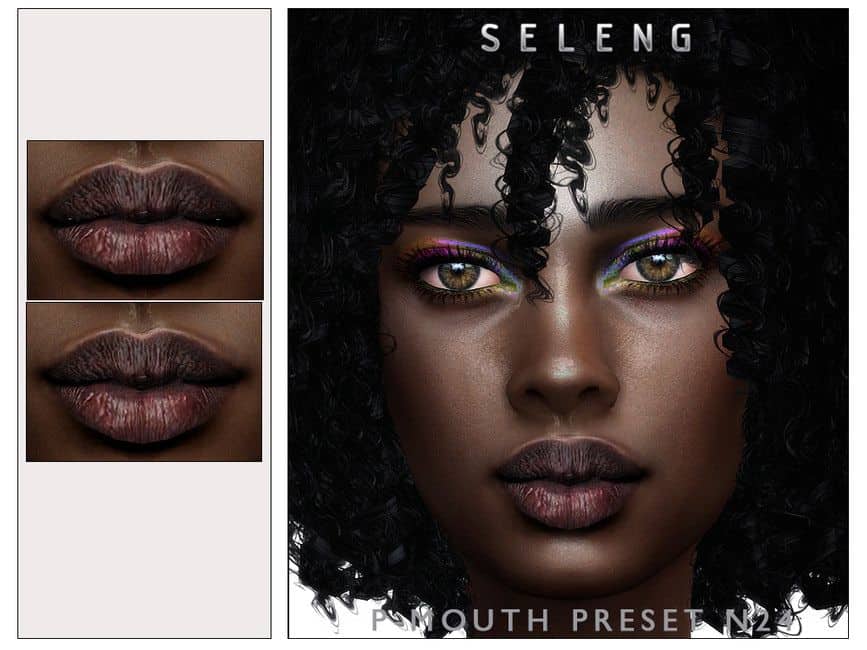 These full luscious lips give your female sims the most sensual lips.
The cupid's bow is well-defined, and the center of the upper lip (lip tubercles) is nice and plump.
Available for female teens to elders.

6. The Basics Lip Preset by Chewybutterfly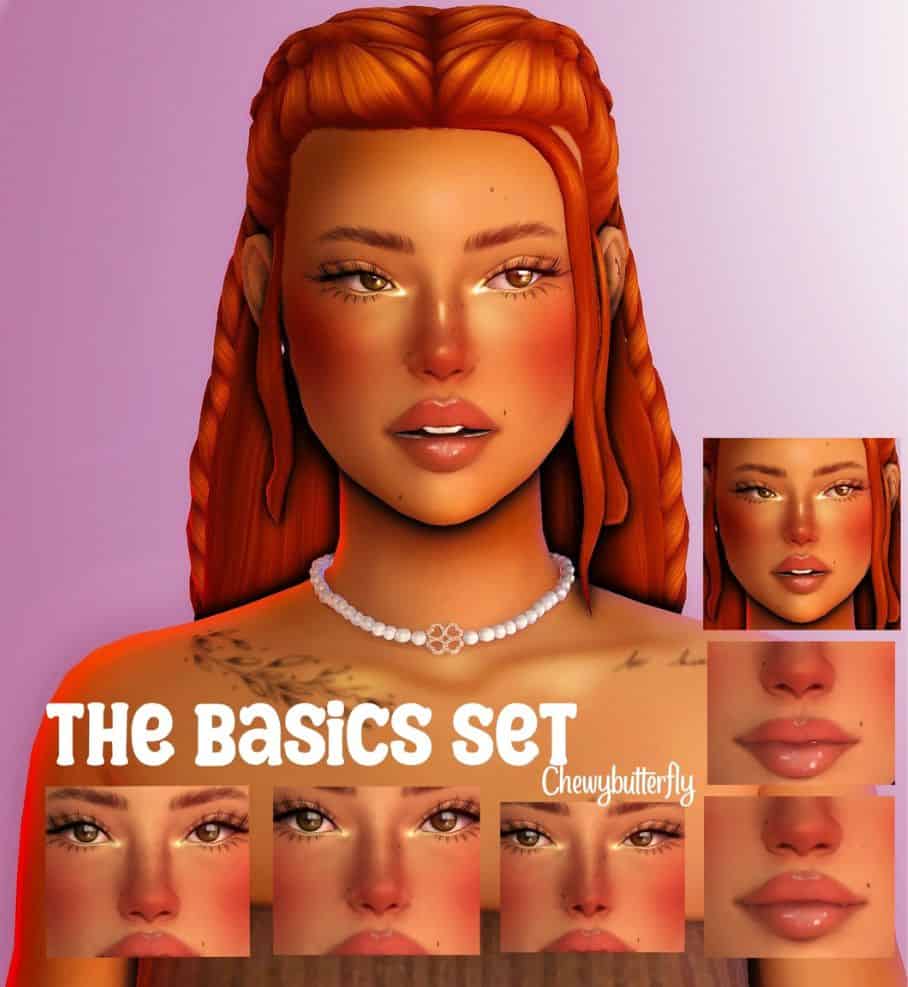 This basics set contains a mix of 2 lip presets, 3 nose presets, and 1 set of face and body beauty marks.
For the lip presets, you get two medium-sized lips, one with a fully rounded upper lip and the second with a more square look.

7. Plump Sims 4 Lip Preset by Seleng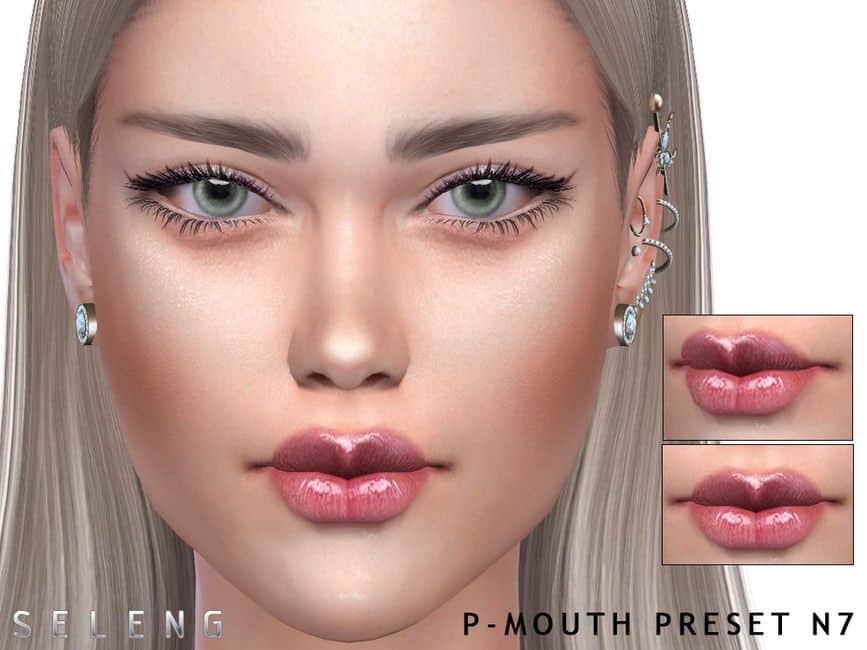 Lush is the name of the game when it comes to this sims 4 lip preset.
Here you get a full, slightly pouty mouth with a heavier upper lip.
The upper lip has an overdrawn contour which shows up more when glossy lipstick is applied.

8. Sims 4 Male Lip Preset by Seleng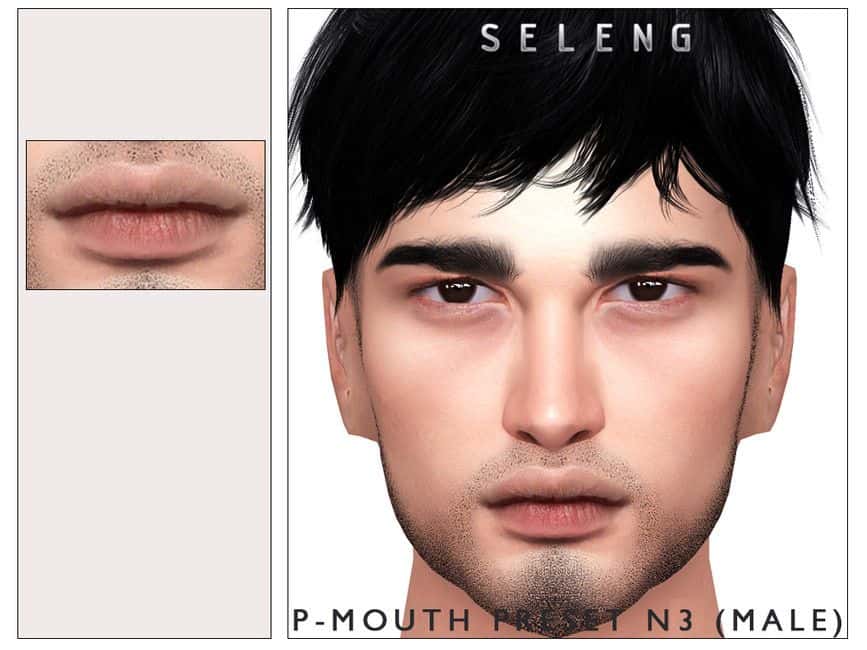 This male lip preset is available for your teen sims and up.
Your male sims will get a medium size mouth with a soft pouty upper lip.

9. Mouth Corner Sims 4 Lip Preset by Arenetta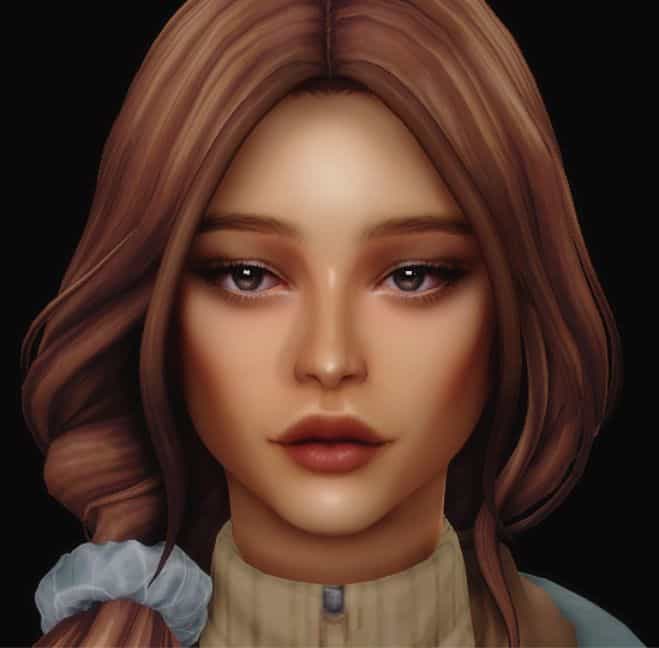 These medium size lips with extended lip corners give off this sultry pouty look.
Available for teens to elders, this lip mod is for your females sims only.

10. Thin Sims 4 Lip Preset by LutessaSims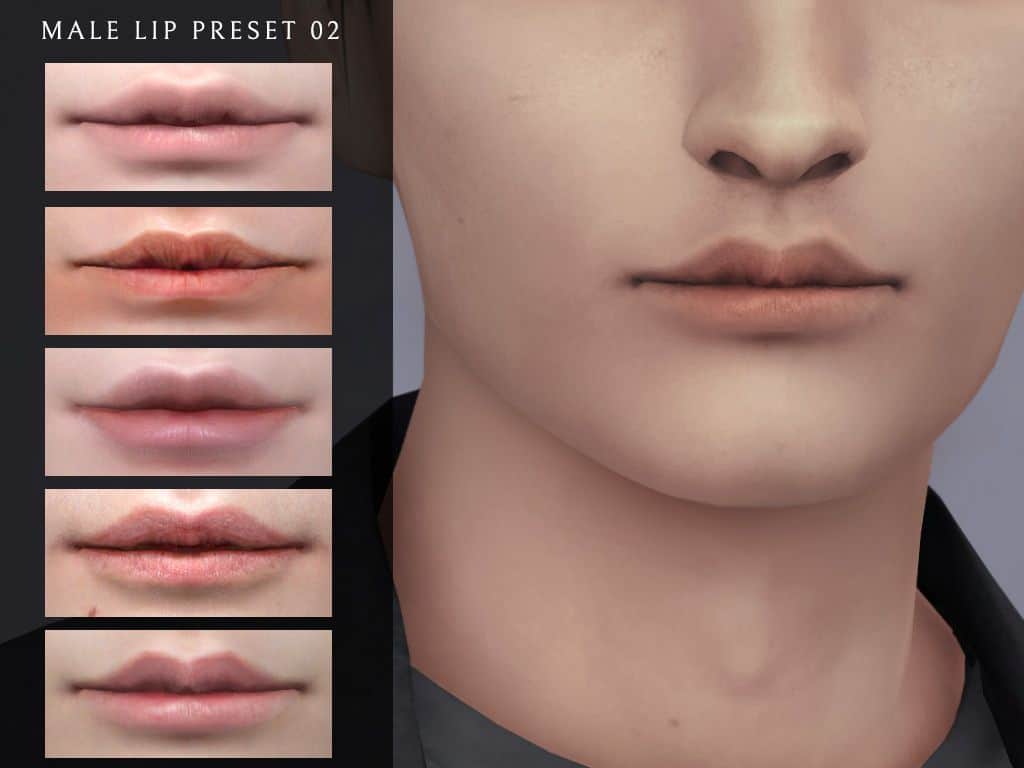 This male-only lip preset gives your sims a thin heart-shaped mouth with extended lip corners.
This lip mod tends to look best on a male sim with smaller features.

11. Sims 4 Preset Set by northern siberia winds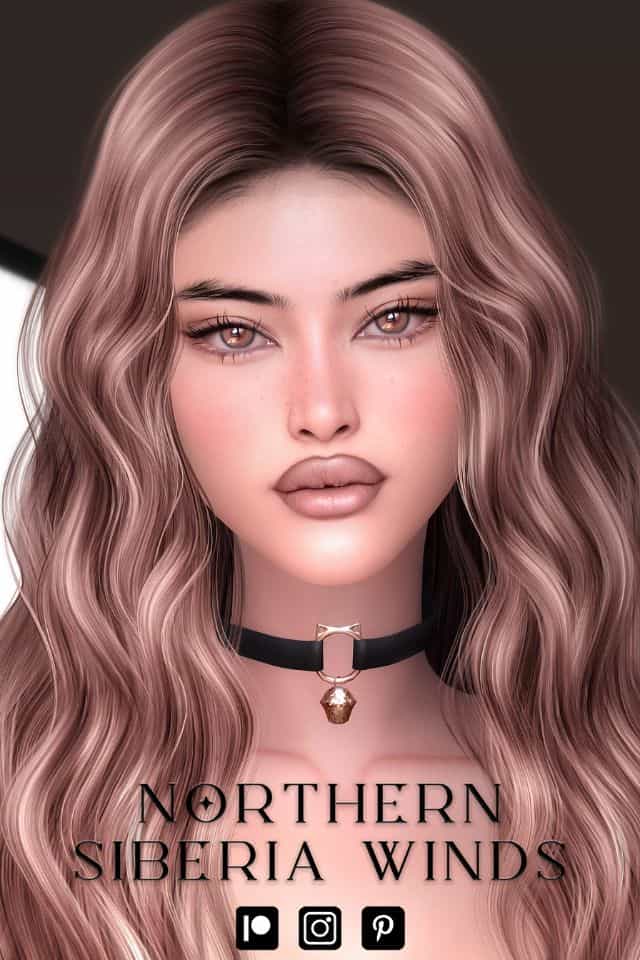 This collection mixes lip presets, eyes, lips, and makeup cc.
There are 3 female lip presets to choose from, all three being full sultry lips.
You get a heart-shaped upper lip version, two-rounded upper lip presets, but one of those shows a touch of teeth.

12. Sims 4 Lip Presets by Ratboysims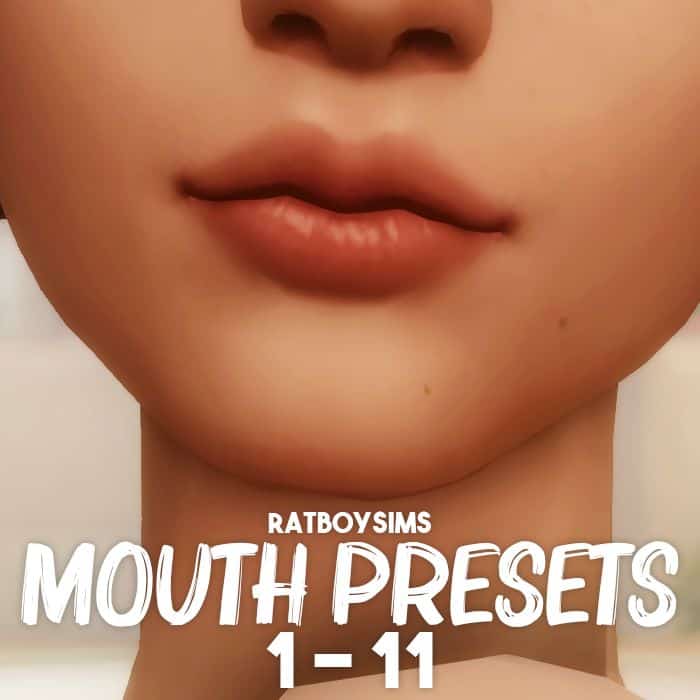 This set of sims 4 lip presets contains lip mods for your male and female sims.
There is 11 mouth presets in total; 4 of them are available for males, and 10 work for females.
Asides for one of the male presets, the rest work for young adults to elders.
You get a mixture of different lip shapes; heart-shaped, heavy upper lip, heavy lower lip, rounded lips, pouty, and a couple with a tooth gap.

13. Sims 4 Lip Preset N2 by coffeemoon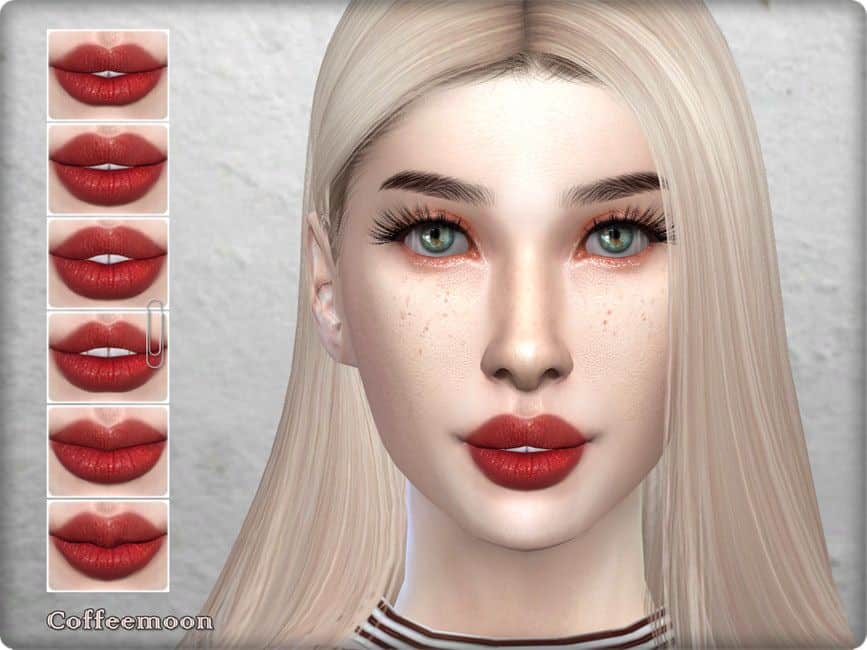 This lip mod is part of a 6-piece lip preset pack; however, you must get each file separately.
In the linked page below, you will actually get the 4th lip on the left side of the image above.
These heart-shaped lips have a more pointed upper lip and a nice plumb lower bottom lip too.
Available for toddlers to elders.

14. Sims 4 Women's Lip Presets by obscurus-sims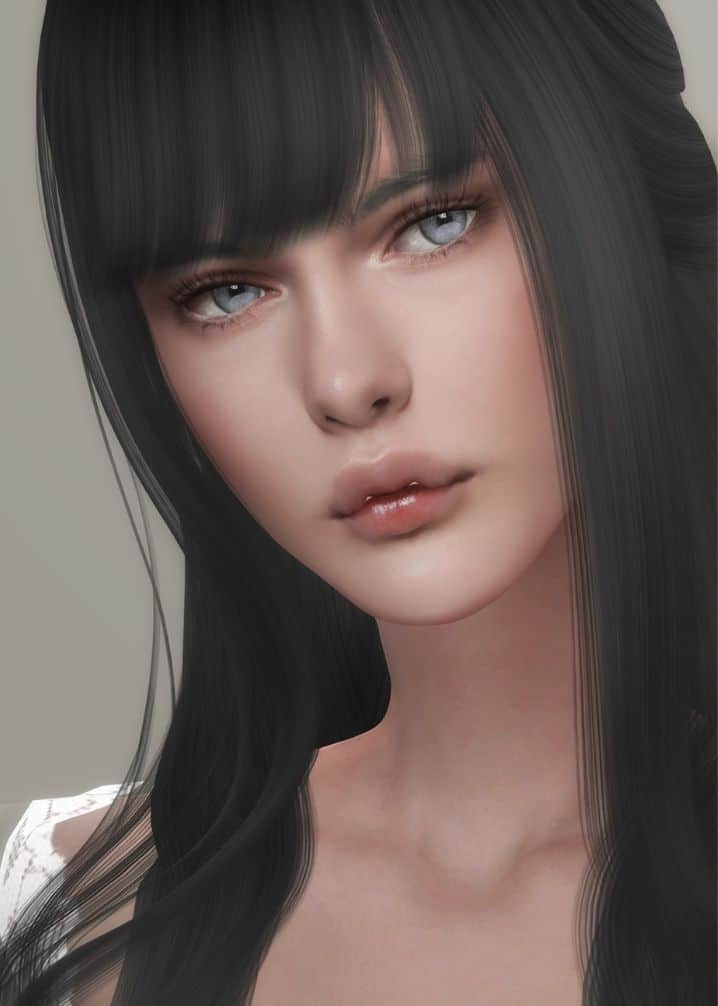 This set of lip presets contains 7 different pieces of custom content.
You get wide thinner lips, plump upper lips, heart-shaped lips, and lip-heavy versions.
There is a little something for everyone.

15. Sims 4 Pouty Slip-Sliper by Miiko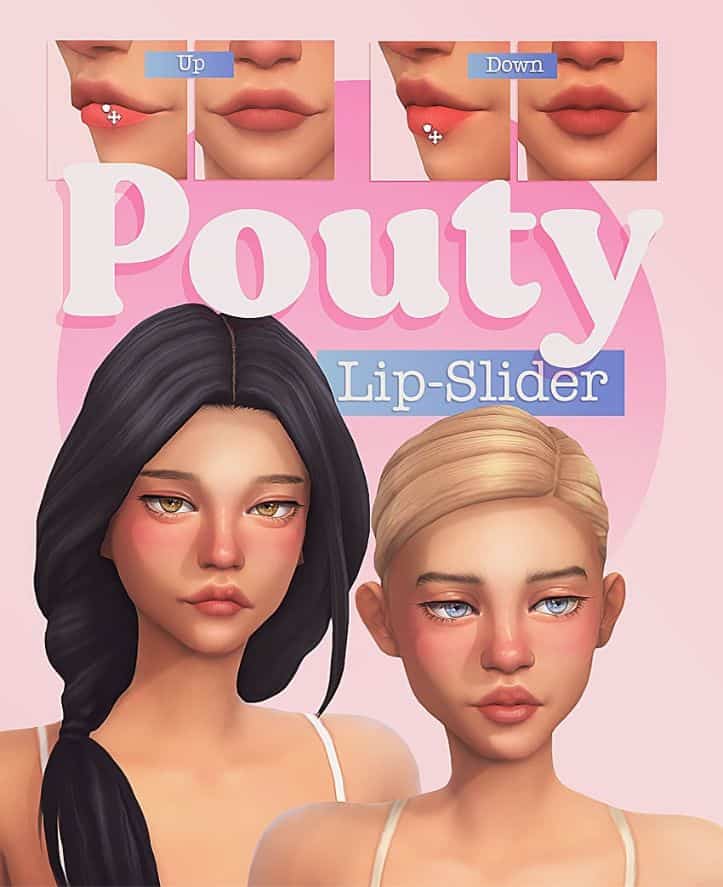 Lip sliders can be a convenient tool; so I decided to include this handy version.
This slider focuses on giving your sims the perfect pouty lips.
Pull the bottom lip up and down to create a sims-worthy pout.

16. Sims 4 Butterfly Lips by KiittySimin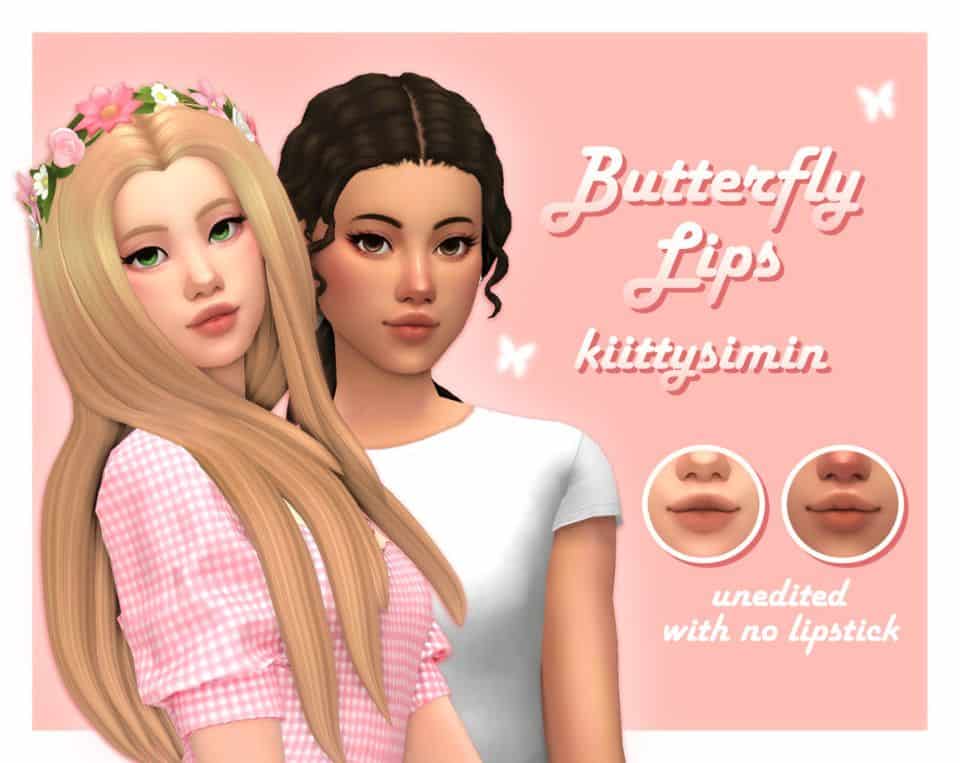 This one-piece female lip preset is medium in size and has small visible lip corners.
The upper lip is slightly larger than the lower lip and is fully rounded towards the center.

17. All-Ages Sims 4 Lip Presets by Redhead Sims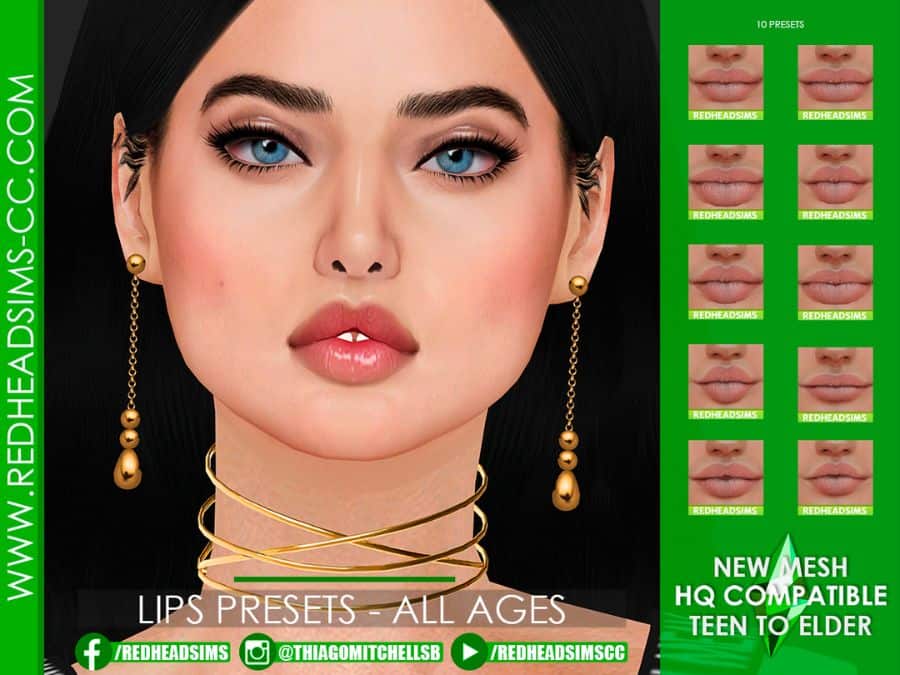 This collection of sims 4 lips mainly focuses on a more fuller, larger mouth preset look.
Quite a few mods have wide and heavy bottom lips, while others are pouty or show a touch of teeth.
All lip presets are available to male and female sims of all ages.

18. Sims 4 Asian Lip Presets by northern siberia winds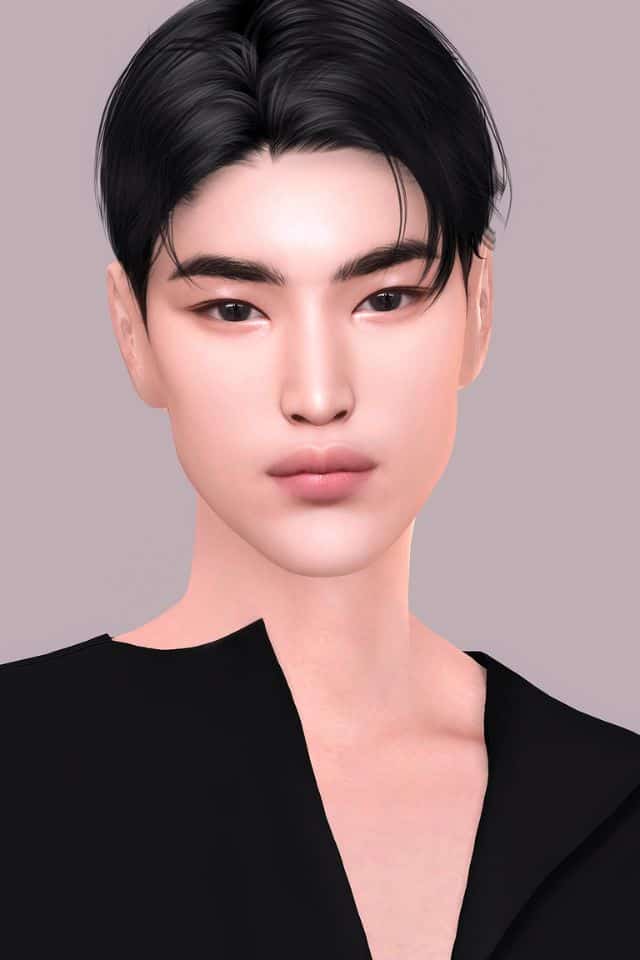 This male Asian-inspired collection comes with 8 lip presets, eyeliner, skin overlays, and more.
The lips are smaller in width, mostly rounded or heart-shaped, and with visible lip corners.

19. Sims 4 Asymmetrical Lips by Vibrantpixels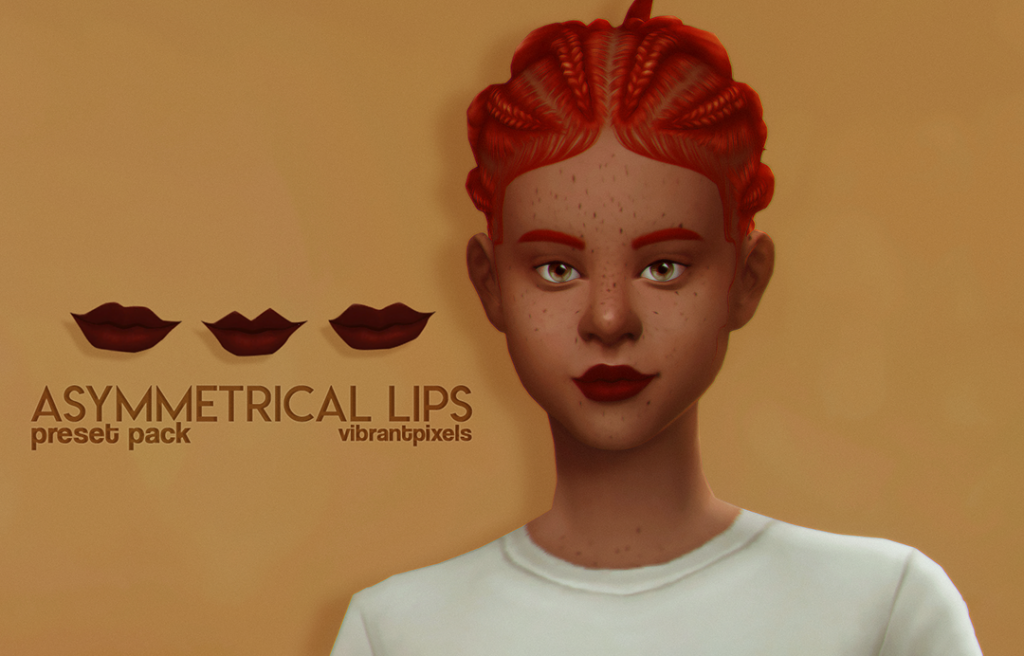 This set of mouth presets provides unique asymmetrical lips for your male and female sims, ages toddler and up.
As you can see from the image above, all three lip mods have uneven top and bottom lips giving your sims a distinctive look.

20. Sims 4 Lip Presets by Crashbox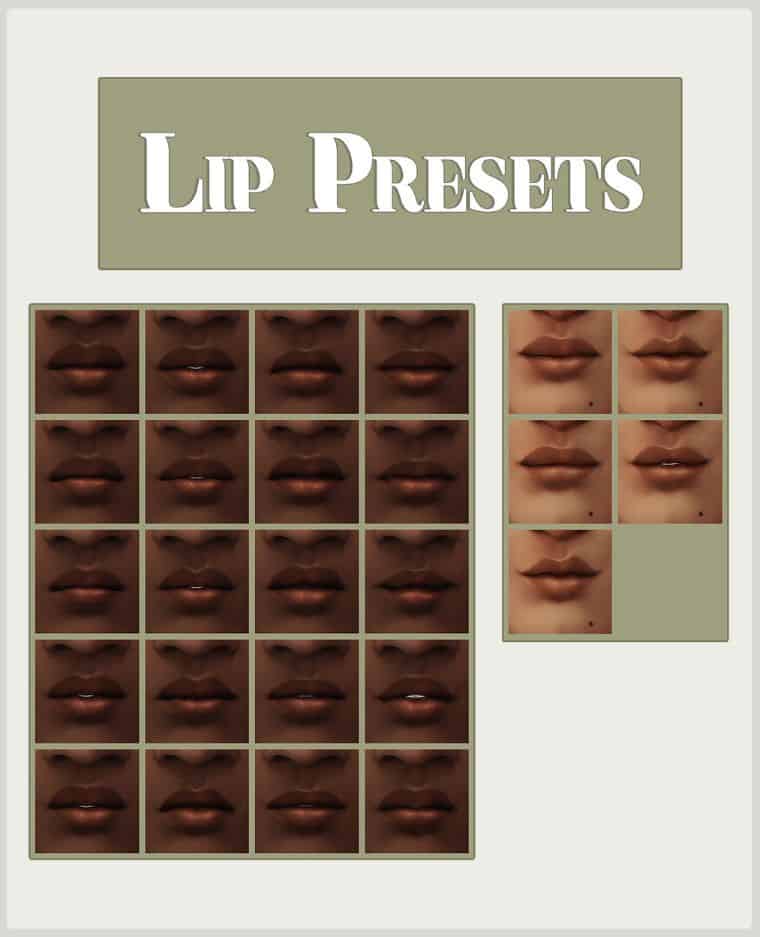 If you prefer getting only one file with various mixed lip presets, this is the collection for you.
This set of lip mods is available for all ages and genders.
These presets include 5 asymmetrical lips and 20 other lip mods for everything else in between.
Sims 4 Lip Presets: Final Thoughts
We hope you found a sims 4 lip presets in the list that caught your attention.
Your sims' looks can be greatly enhanced through lip mods.
A person's mouth is one of the main focal points on the face.
Discover which lip presets offer your sims the best look by trying a variety of styles.
If you have any questions or suggestions, feel free to leave us a comment below or tag us on Tumblr.
Other Sims 4 Presets

And don't forget to pin & save this post for later!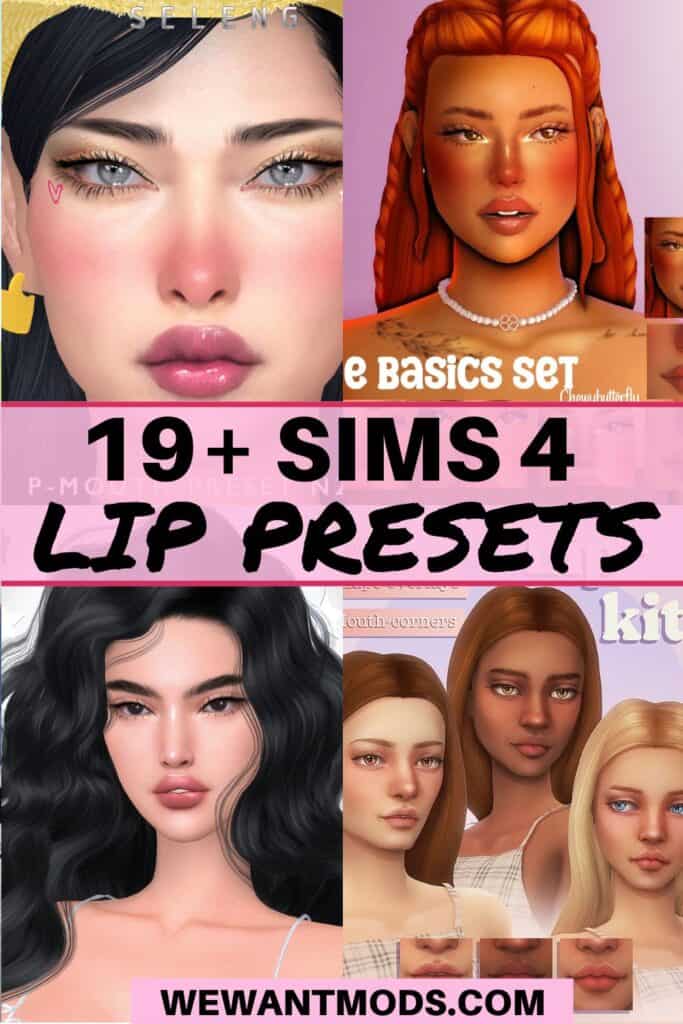 19+ Kissable Sims 4 Lip Presets