19+ Dazzling Sims 4 Eye Presets
Instantly transform your sims' entire face with the help of this collection of Sims 4 Eye Presets!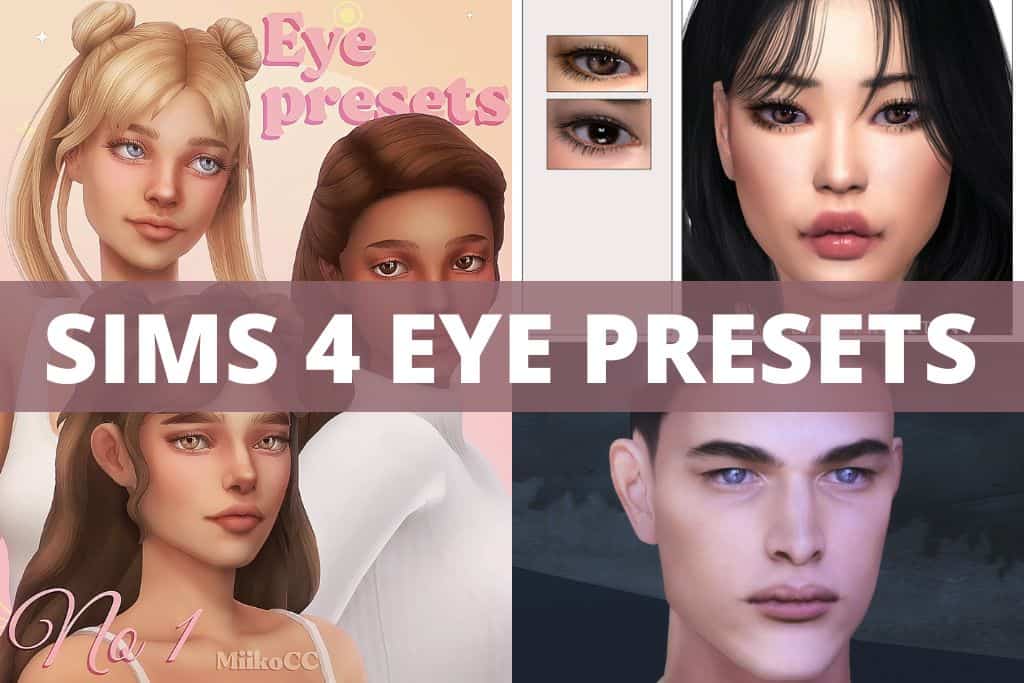 As I've mentioned in other posts, eyes are the windows to the soul, so it's no surprise how much a change in eyes can impact your sim's final look!
I love a good eye preset, and we are so lucky to have so many amazing creators in the sims community.
You'll find a variety of sims 4 eye presets below, including different eye shapes and sizes.
And don't forget to check our other lists of presets linked at the bottom of this post.
Plus, if you need some custom content to change eye colors or style your sim's eyes, we have the following posts;
Disclaimer: The following mods are neither endorsed nor affiliated with The Sims, Maxis, or Electronic Arts. Any use of mods (custom content or game mods) should be done with caution and with the knowledge that there may be risks.
Best Sims 4 Eye Presets
There is a variety of different eye shapes, and iris sizes included in this list of Sims 4 eye presets.
1. Sims 4 Eye Presets by NoNvme Studios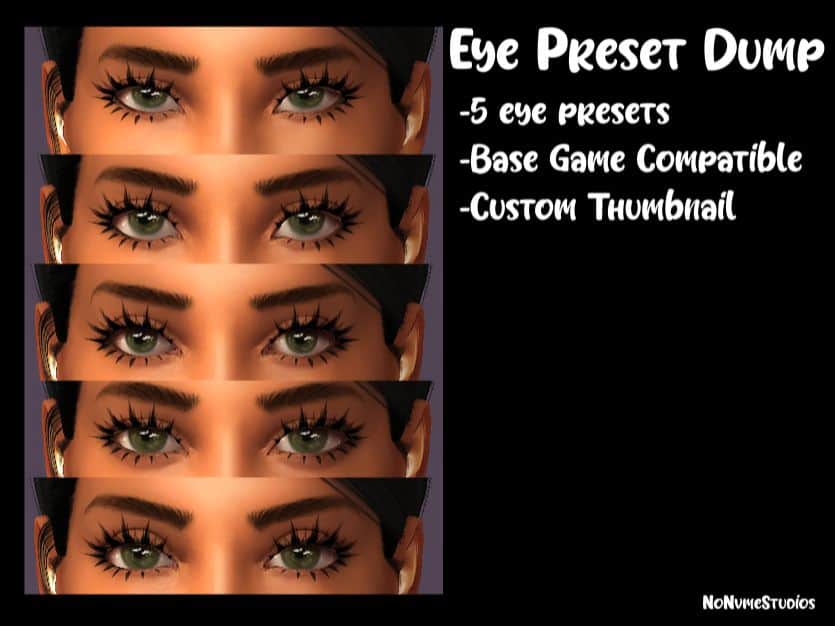 In this set of sims 4 eye presets, you'll find 5 options available for your female sims.
From small to downturned eyes, each preset has its unique shape, eye size, and upper eyelid style.
There's nothing left to do but try them out to pick your favorite eye preset.

2. Fox Soul Sims 4 Eye Presets by northern siberia winds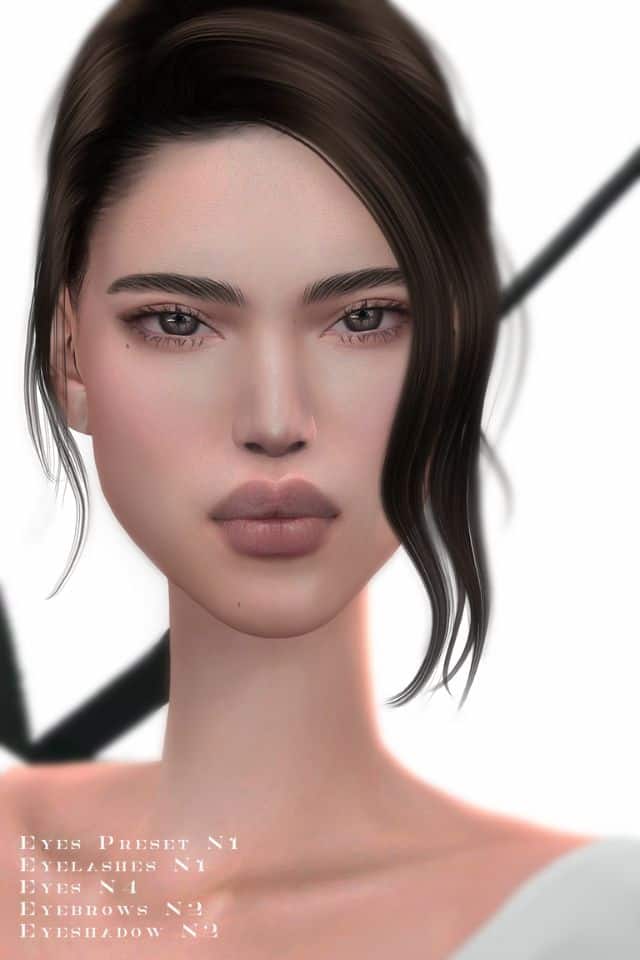 I love an excellent collection, and this set comes with 6 eye presets, eyelids, eyelashes, eyebrows, eyes, and eyeshadow.
Basically, this set has everything you need to create the perfect eyes.
The six eye presets lean more towards narrow, almond-shaped eyes.

3. Sims 4 Maxis Match Eye Preset by Soap Lagoon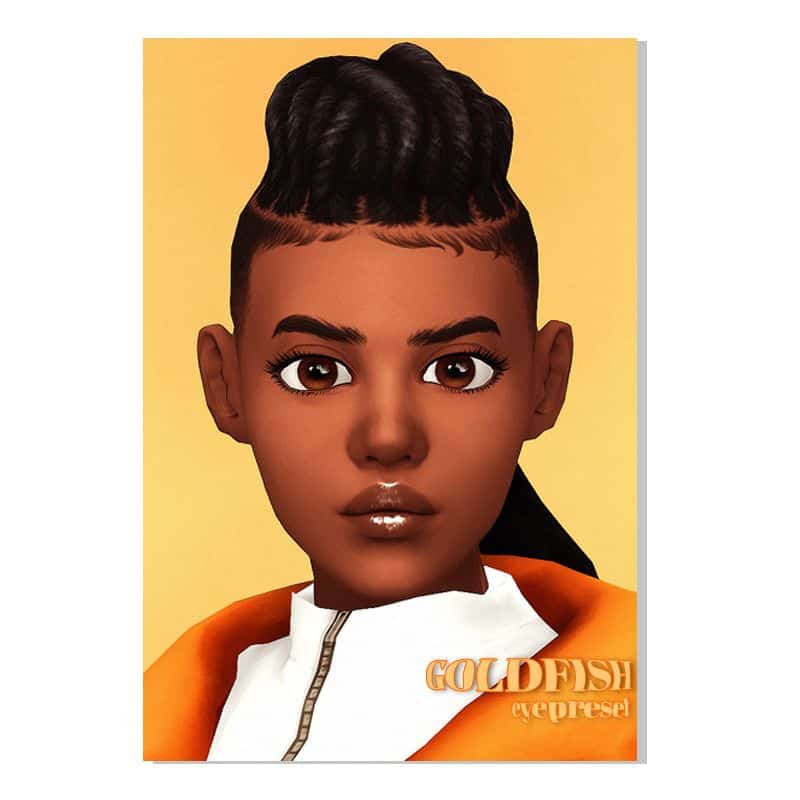 This sims 4 eye preset gives your male and female sims huge round eyes.
Your sims eyes will definitely be their face's focal point.
While not anime eyes, they lean more toward that style, and I've made some pretty cute sims using this preset.

4. Male Sims 4 Eye Presets by obscurus-sims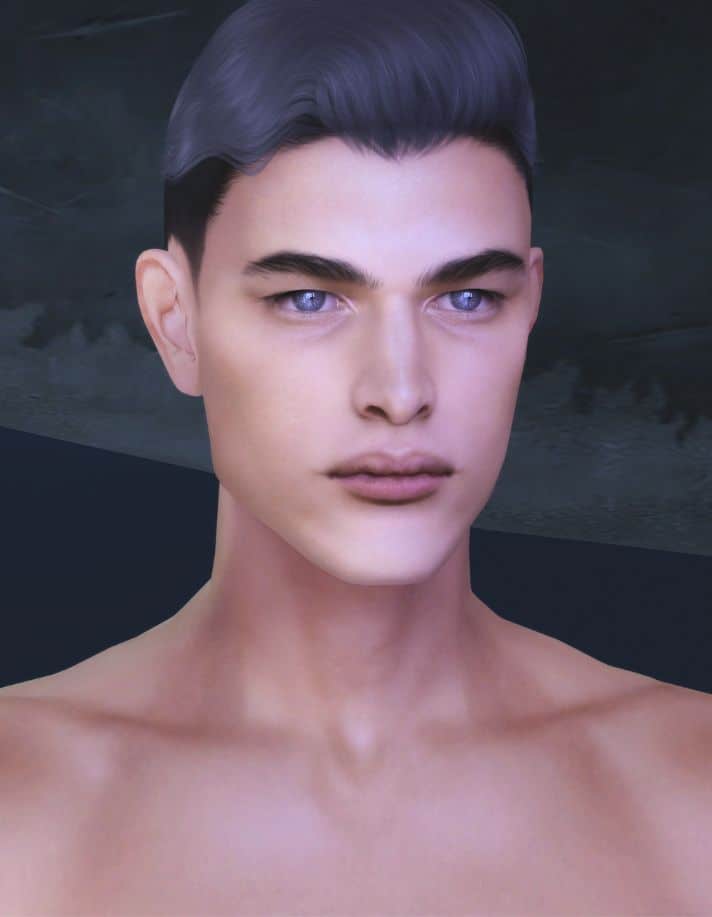 Your male sims deserve their own collection of amazing presets and cc, and this set is just the thing.
You'll find two eye presets, eyebrows, a variety of other presets, and skin overlays.
For the eye presets, the first is a monolid preset, and the second almond-shaped eyes.

5. Sims 4 Eye Preset Collection by Miiko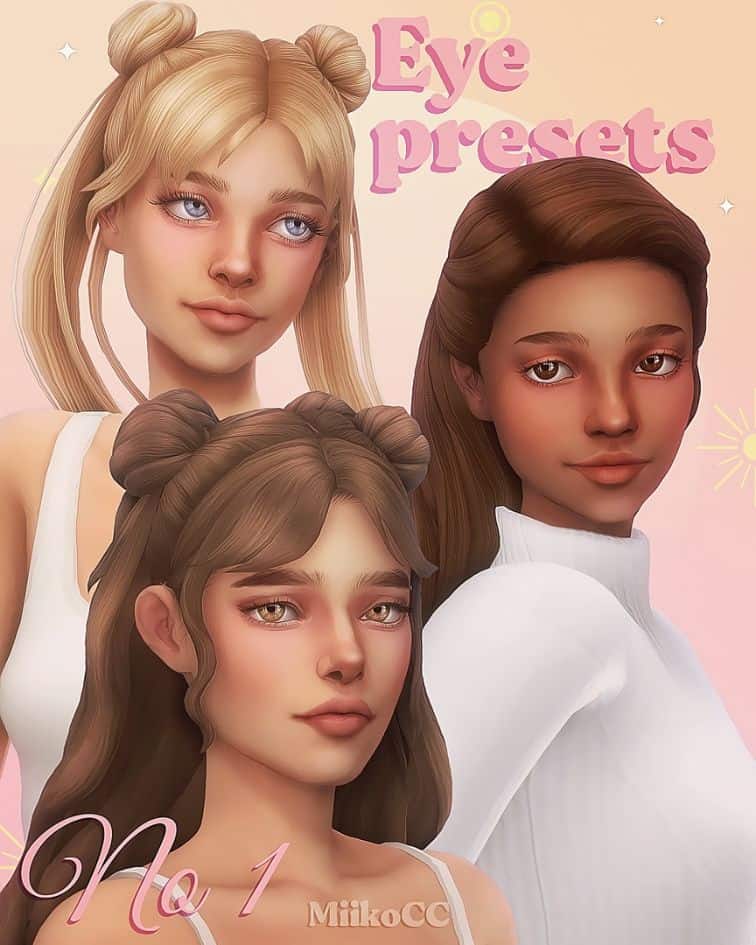 This multi-pack comes with five sims 4 eye presets, which are available for all ages and genders.
These presets are on the larger sizes and include some upturned and downturned style eye-shapes.

6. Sims 4 Asian Eye Preset by Squea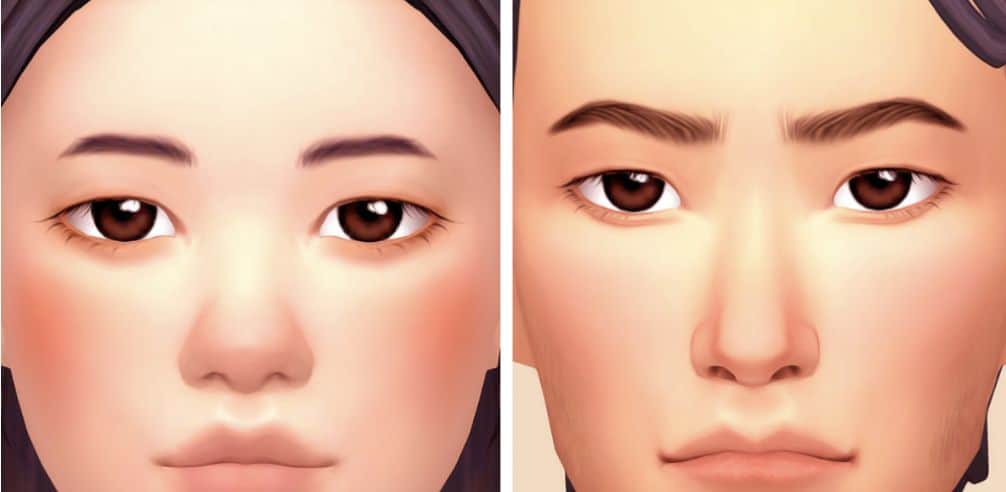 This Asian eye preset give monolids (no visible upper eyelid), although there is a slight crease above the eye.
The eyes themselves are medium size with larger irises.
This eye preset works for male and female teens and up.

7. Sims 4 Female Eye Preset by Valuka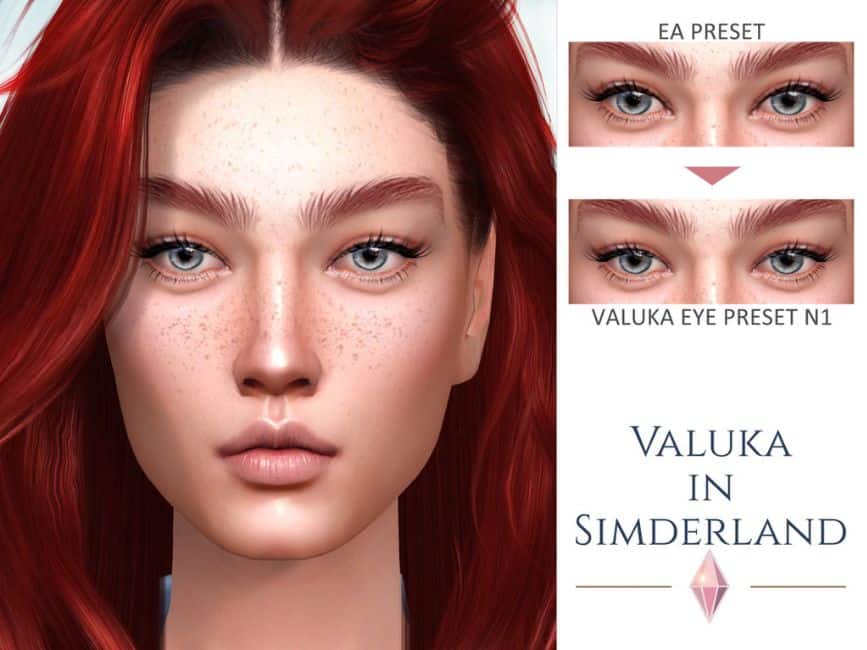 Sometimes you need to make minor adjustments to your sim, and this sims 4 eye preset offers just that thing.
This female eye preset offers subtle but noticeable changes; your sims will get more natural eyelids and smaller pupils.

8. Female Eye Presets for Sims 4 by NoNvme Studios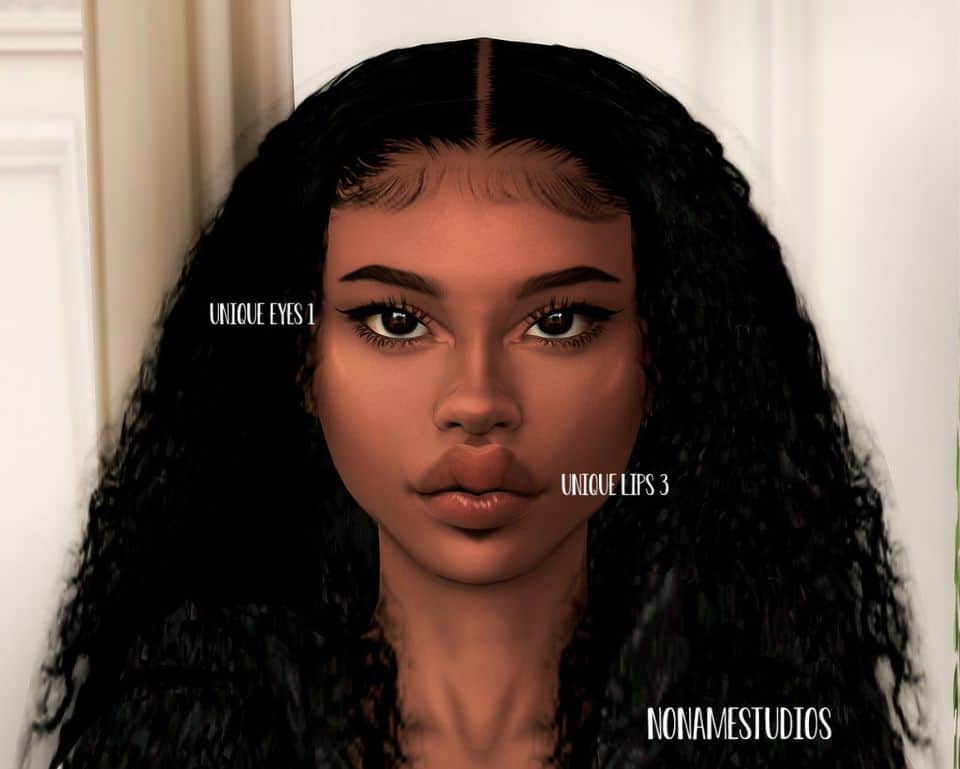 This is the perfect female pack if you're looking for new eye presets with beautiful lip options.
For both the eyes and lips, you will get 3 different presets.
The eyes contain two almond-shaped eyes and one upturned eye preset.
The unique eye preset #3 also has smaller irises than the other options.

9. Sims 4 Hermie Eyes Preset by sokea-cc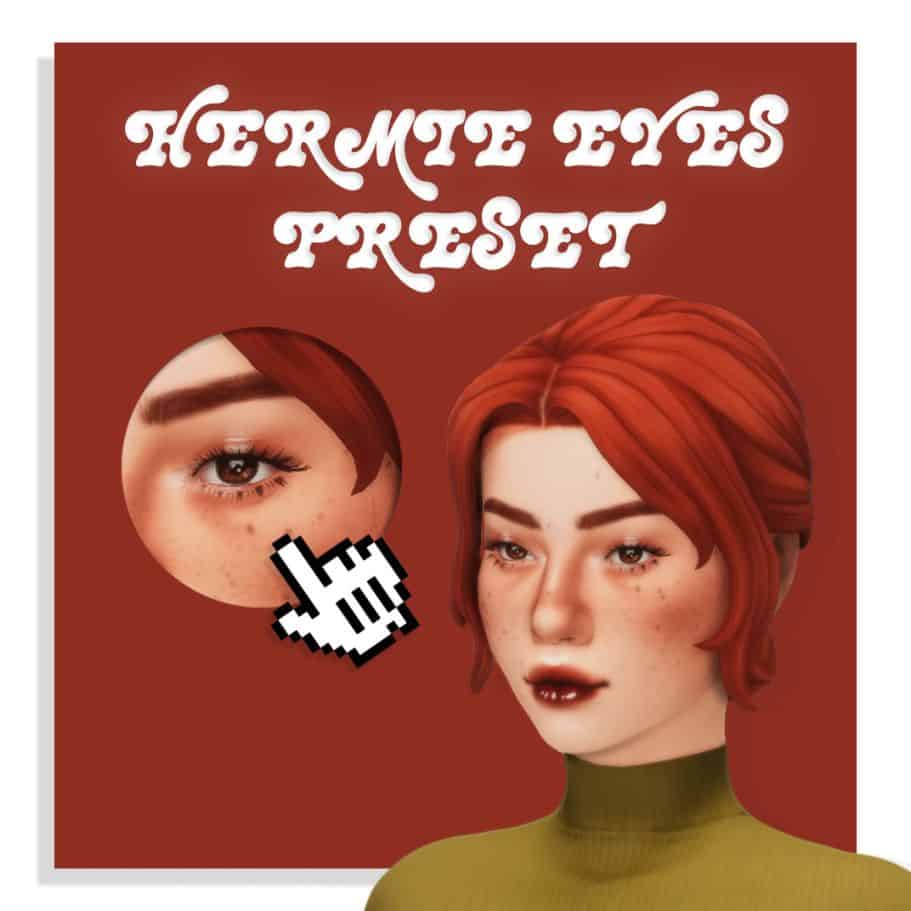 With this eye preset, your female sims will have medium-sized upturned eyes.
My favorite part is my sims get an almost black eyeliner look on their lower and upper lash lines.

10. Visions Sims 4 Eye Presets by evoxyr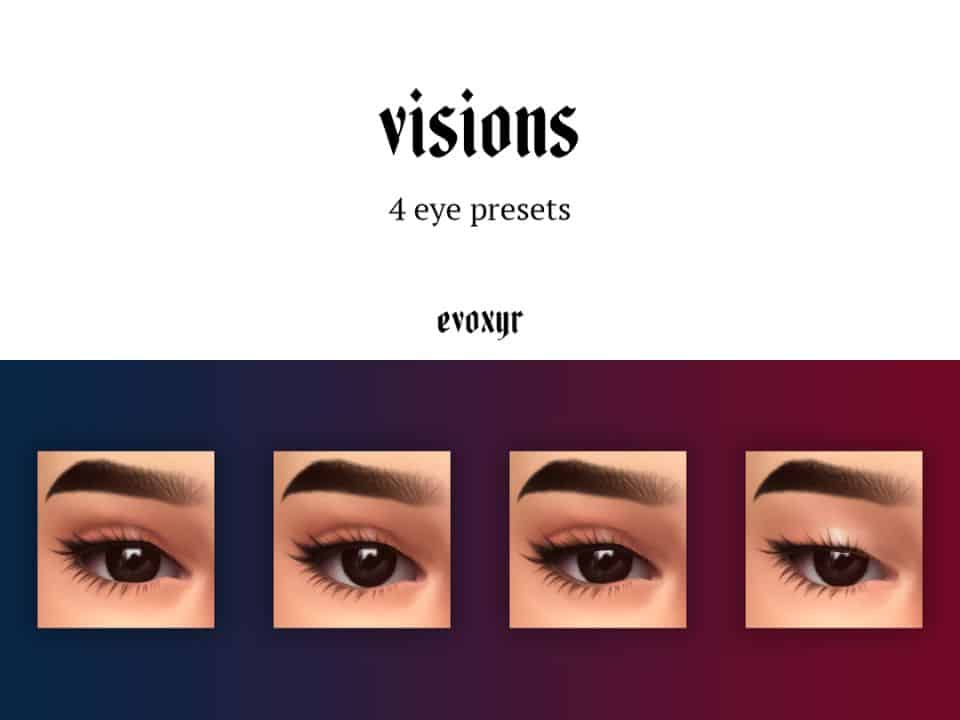 In this sims 4 eyes presets collection, you get four presets for female sims of all ages (except toddlers).
The first 3 eye presets are all quite similar in their narrow size and shape, their main differences being the angle of the eyes.
The fourth preset is again similar in shape but with monolids.

11. N5 Sims 4 CAS Eye Preset by Seleng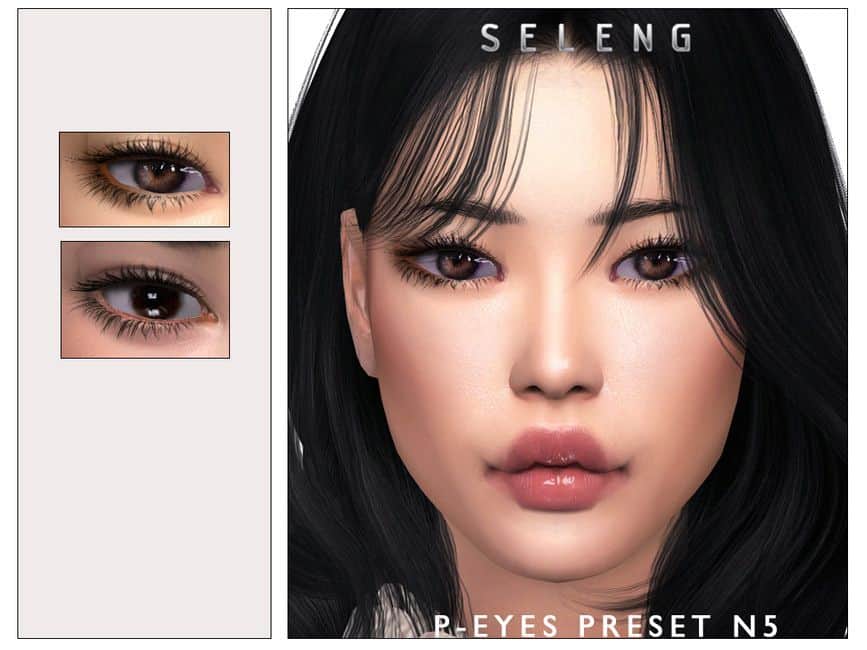 This N5 eye preset is actually part of a set; there are four files available on Seleng's TSR page, all with the same cover image.
You will need to get the different files to check out the differences.
The N5 eye preset will give your sims medium-sized upturned eyes with smaller irises.

12. Sims 4 Non Default Eye Preset by PlayersWonderland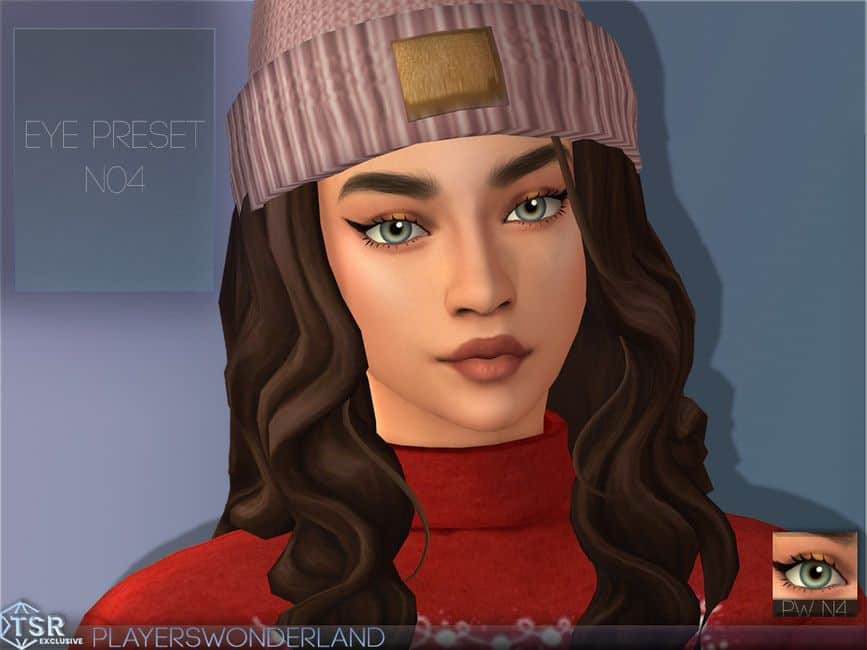 Give your sims beautiful large and round eyes with this unisex sims 4 eye preset.
Available for all ages, these eyes have large round irises proportionate to the eye size.

13. Women's Sims 4 Eyes Preset by NoNvme Studios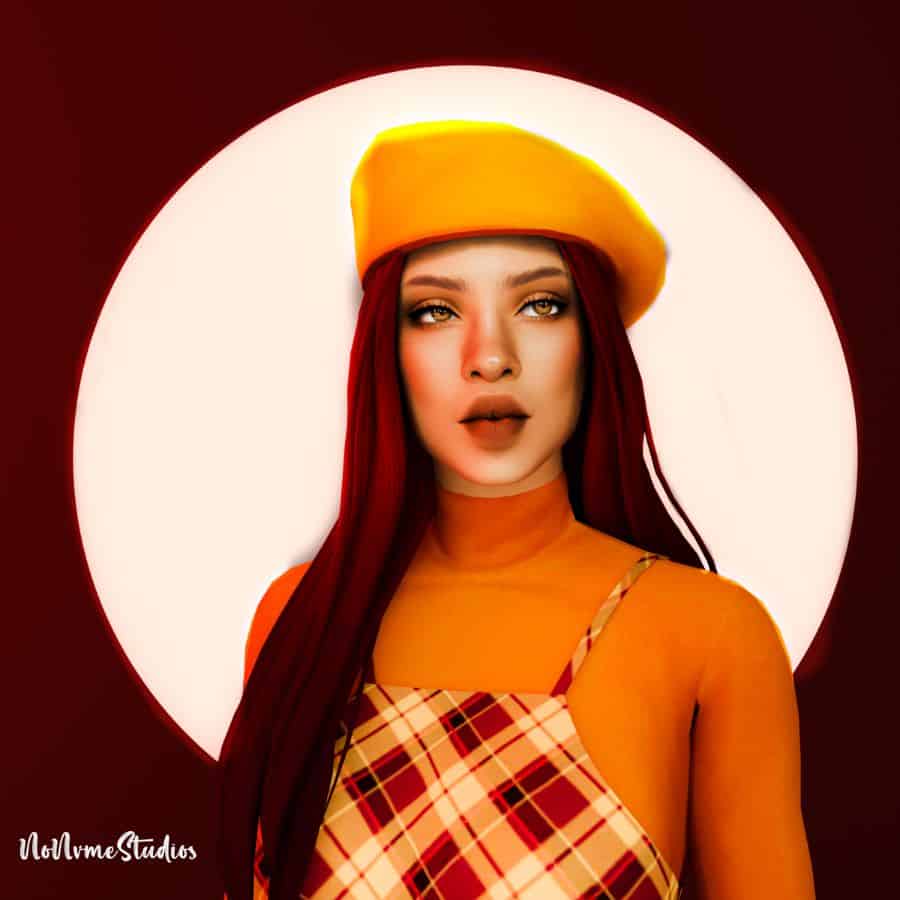 Here we have another sims 4 eye preset and lip preset pair.
You get one round eye preset for both your male and female sims.
These eyes are unique; they have very round upper eyelids and then dip into a downward shape.
Plus, they come with sizeable irises.

14. Sims 4 N2 Eye Preset by Valuka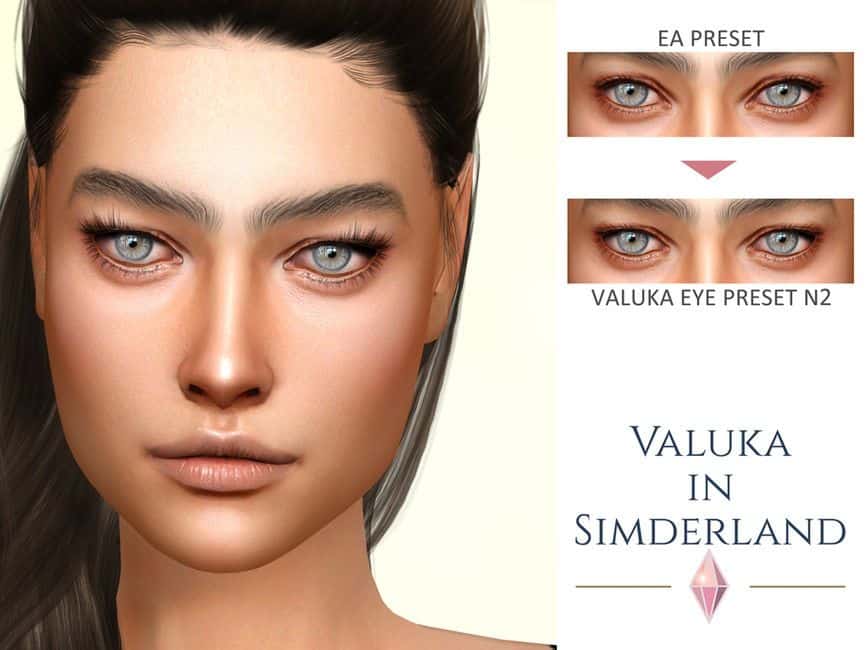 This sims 4 eye preset is very similar to the other female preset listed at #7, also by Valuka.
When comparing the two eye mods, you'll notice that the upper eyelids on N2 preset above are more droopy, creating hooded eyes.
Basically, your sim's upper eyelids will be a little less visible.

15. Female Sims 4 Eye Presets by halgatisha & obscurus-sims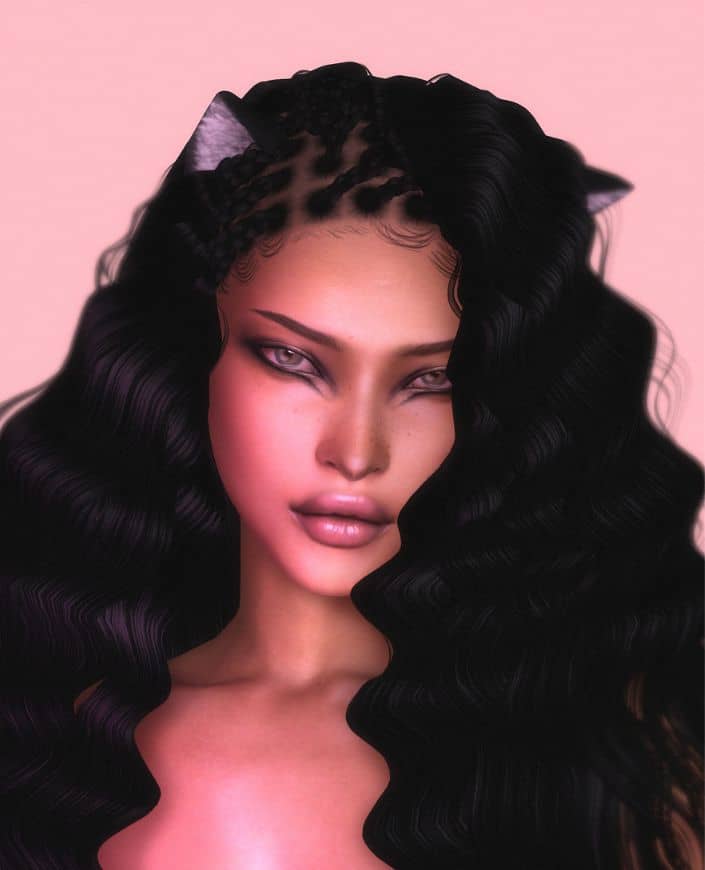 While this collaboration contains 3 great eye presets, you'll also find a set of lip and nose presets, lipstick, nose blush, eyeshadow, and eyeliners.
All these pieces are available for female sims, mainly for teens and up (some for kids too).
The tree eye presets are all small-medium sizes eyes in an upturned type of eye shape.

16. Sims 4 Preset for Eyes by MMSIMS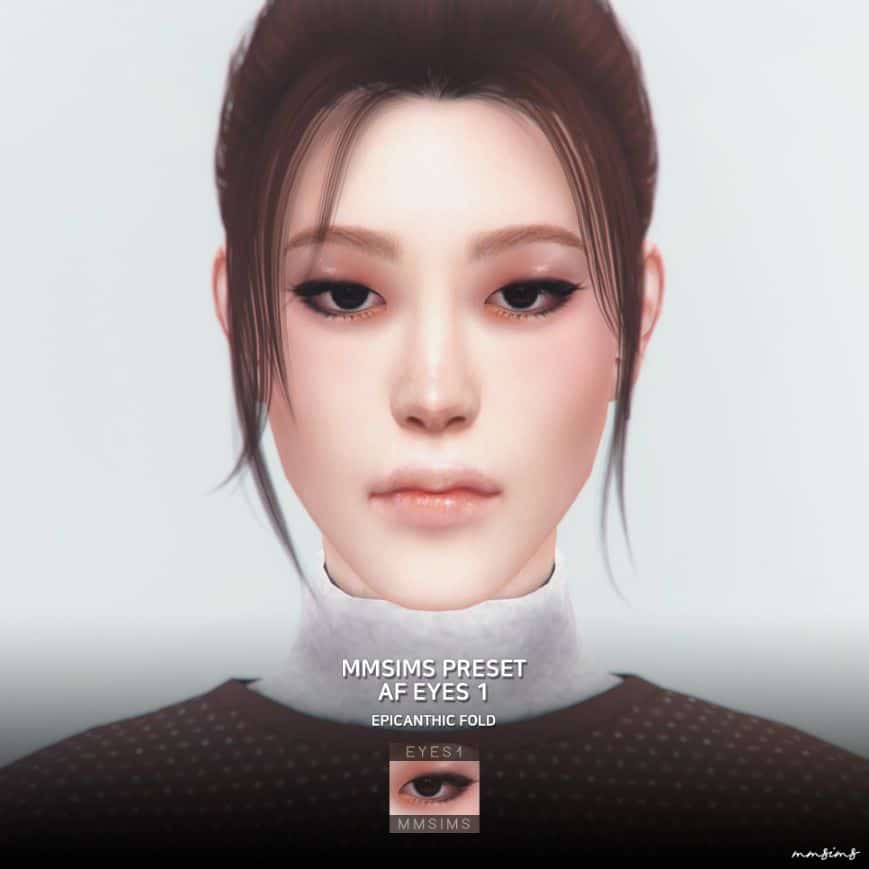 This unique sims 4 eye preset has an epicanthal fold.
Essentially a fold from the upper eyelid will cover your sims inner eye corner.
This specific eye trait is most common in individuals of Asian descent.

17. Sims 4 Eye Presets CC by PlayersWonderland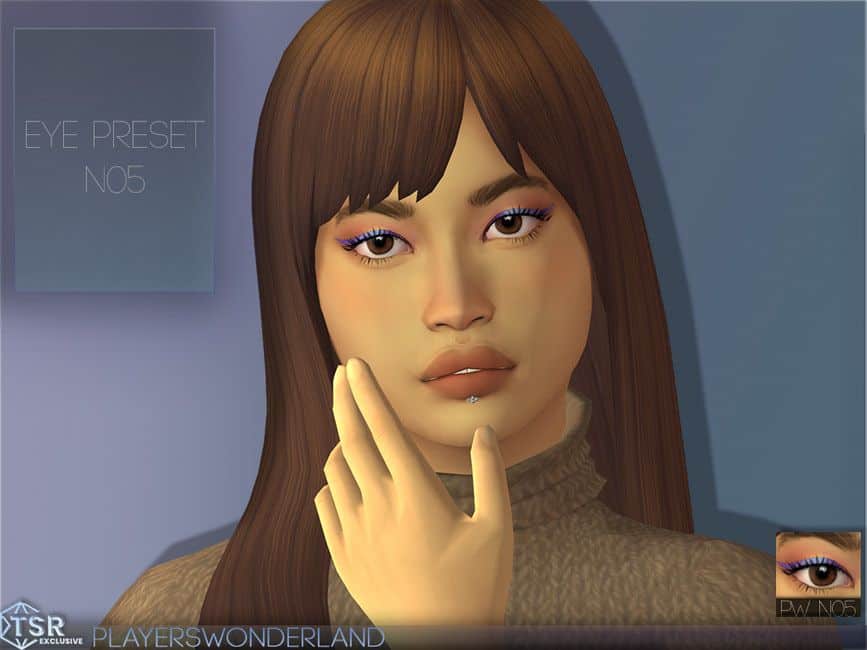 This sims 4 eye preset is similar to the preset listed at #12.
The main difference here is that your sims will have slightly smaller eyes, with the outer tips being a more pointed almond shape.

18. Sims 4 Female Eye Presets by NoNvme Studios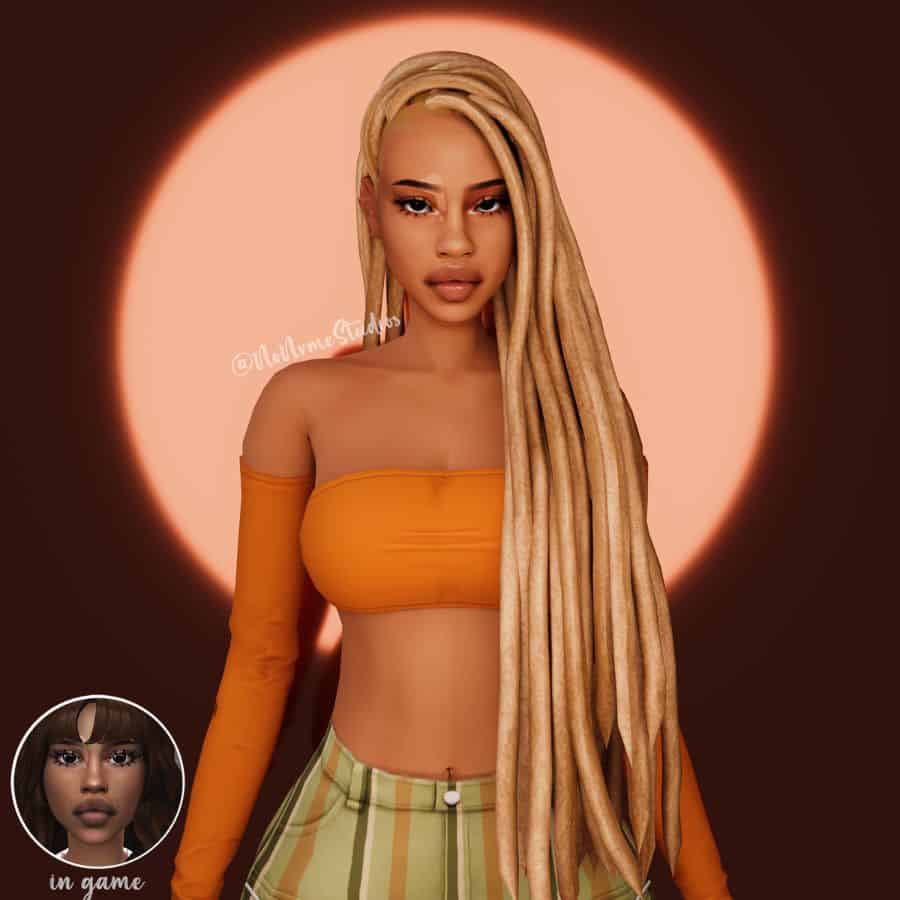 In this 2 piece set, you get a female nose and eye preset, available for teens to elders.
The eye preset will give your sims large beautiful upturned eyes.
Both presets are enabled for your sim humans, vampires, and aliens.

19. Sims 4 Male Eye Preset by MMSIMS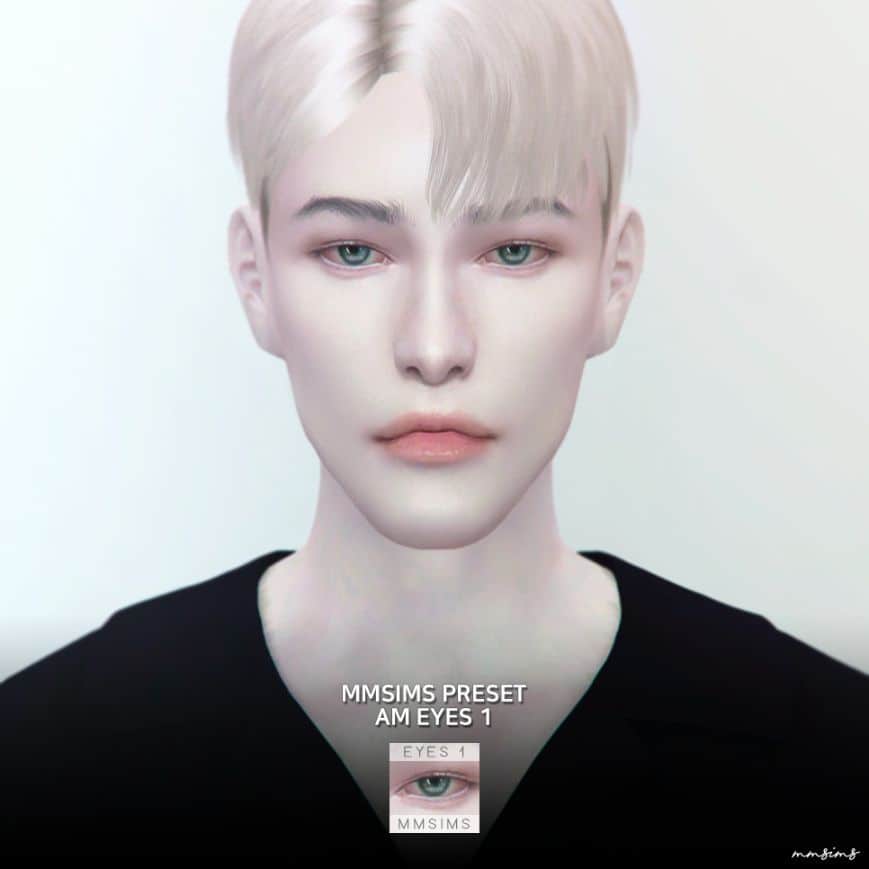 Your male sims were not forgotten with this male-only eye preset.
These eyes will be on the smaller side and have an almost almond-shaped look.
The irises are proportional to the eyes, so they are more on the smaller side.

20. Sims 4 Almond Eye Preset by PlayersWonderland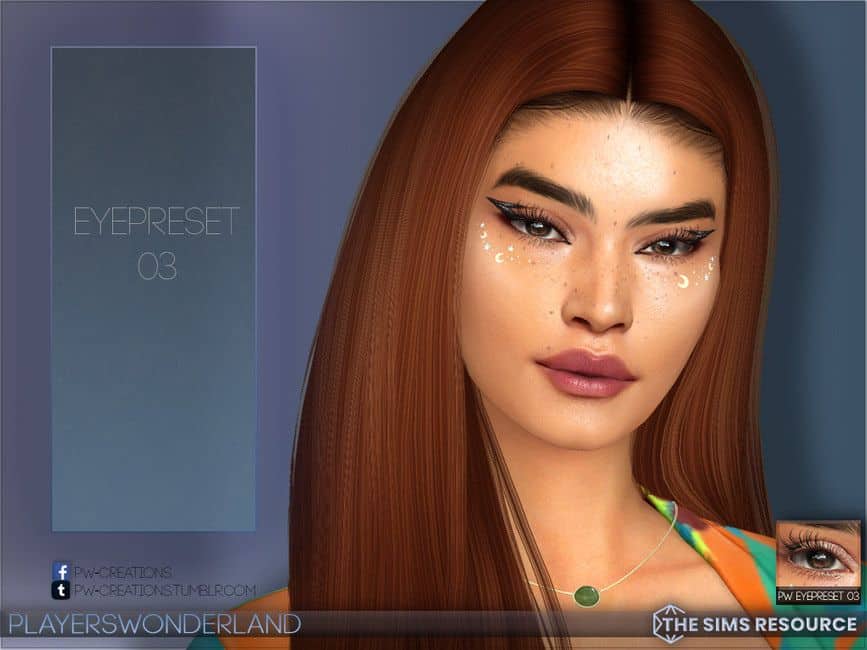 These eyes are quite large and rounded with sizeable irises.
Although they seem smaller and more narrow in the image above, for me, all my sims ended up having rather big downturned-style eyes.

21. Set of Sims 4 Eye Presets by obscurus-sims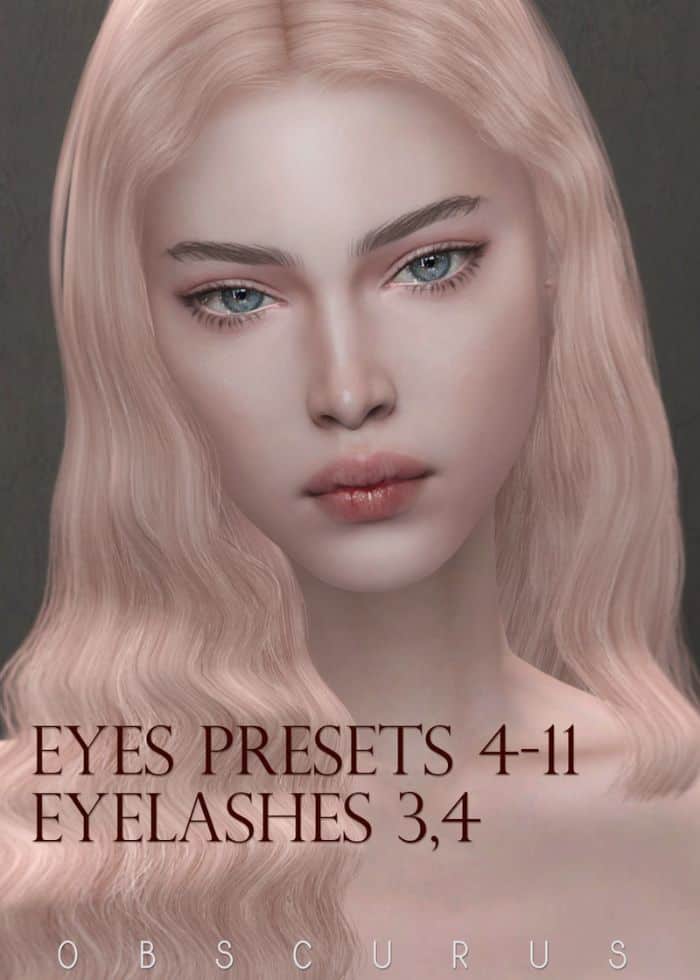 With this set of eye presets and eyelashes, you get eight sims 4 eye presets for your female sims.
There are a variety of different eye or preset styles, including thinner eyes, upturned eyes, hooded eyes, and more.
There are also 2 eyelashes cc for sims of all genders and ages.
Sims 4 Eye Presets: Final Thoughts
We hope that one of the sims 4 eye presets on the list caught your eye.
Your sims looks can be significantly enhanced through eye mods.
Try out a few different sims 4 eye presets until you find the perfect fit.
If you have any questions or suggestions, feel free to leave us a comment below or tag us on Tumblr.
More Sims 4 Presets Posts

And don't forget to share and pin this collection for later!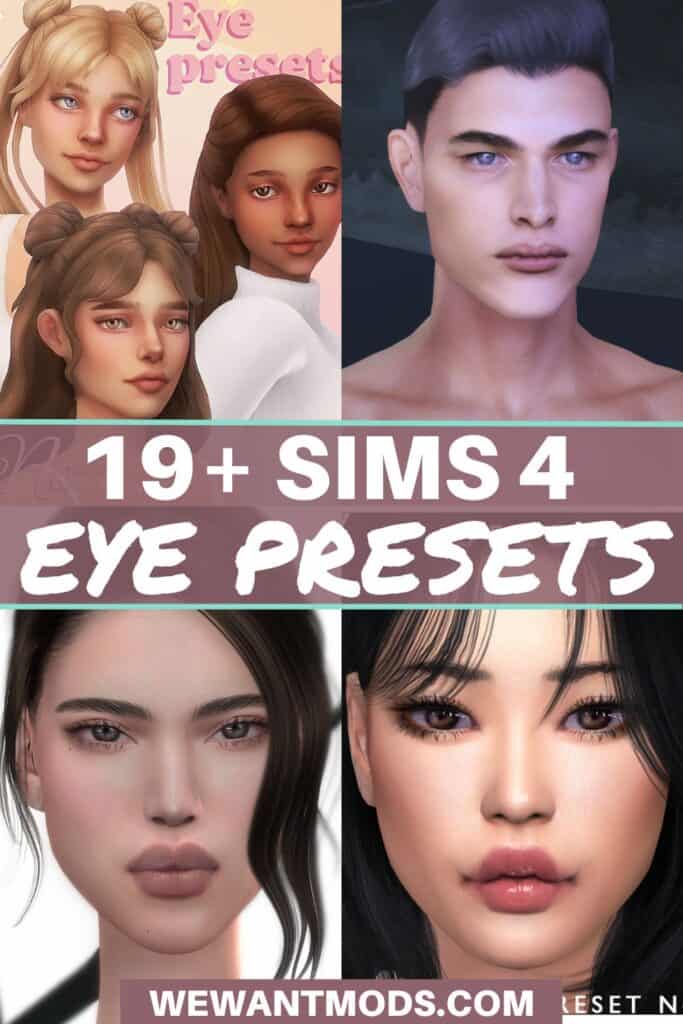 19+ Dazzling Sims 4 Eye Presets