29+ Sims 4 Mermaid CC (Tails, Scales & More)
Turn your sims into beautiful creatives of the sea with this collection of sims 4 mermaid cc.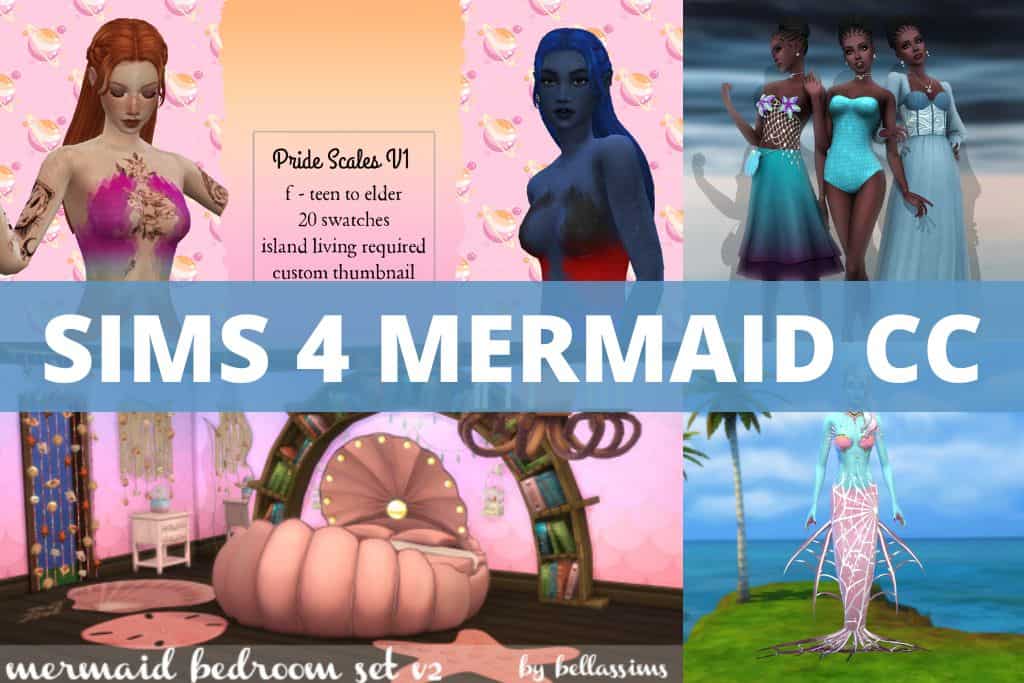 Whether you are into occult gameplay, we can all appreciate a mermaid to some degree.
While Island Living didn't necessarily deliver everything I had hoped, we still got the chance to discover mermaids.
We did our best to put together as many base game compatible sims 4 mermaid cc pieces.
Some items, like the mermaid tails, will require The Sims 4 Island Living Expansion Pack.
But not to worry, there is plenty of BGC custom content to enjoy.
Disclaimer: The following mods are neither endorsed nor affiliated with The Sims, Maxis, or Electronic Arts. Any use of mods (custom content or game mods) should be done with caution and with the knowledge that there may be risks.
Best Sims 4 Mermaid CC
Below you will find a mix of mermaid tails, ears, gills, clothing, and even Ariel-inspired pieces.
1. Sims 4 Mermaid CC Ears by Zaneida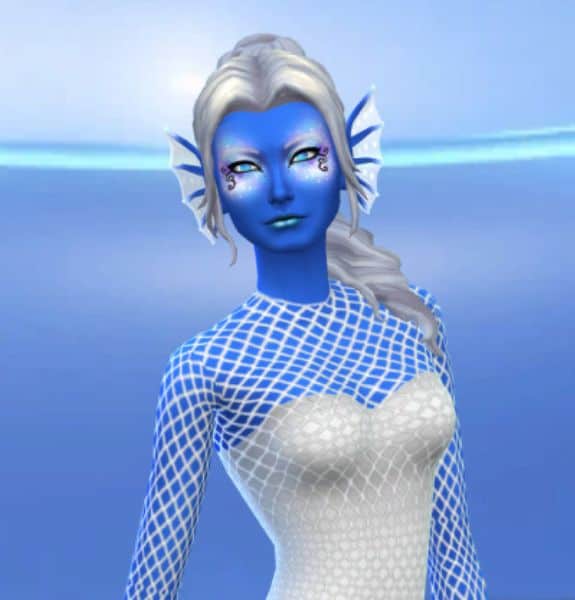 These mermaid's ears are perfect for a more mythological-looking mermaid sim.
Your mermaid will have gill-like ears that have beautiful luminous ends to them.
You'll find these mermaid ears in the skin details category.

2. Sims 4 Mermaid Tails by DanSimsFantasy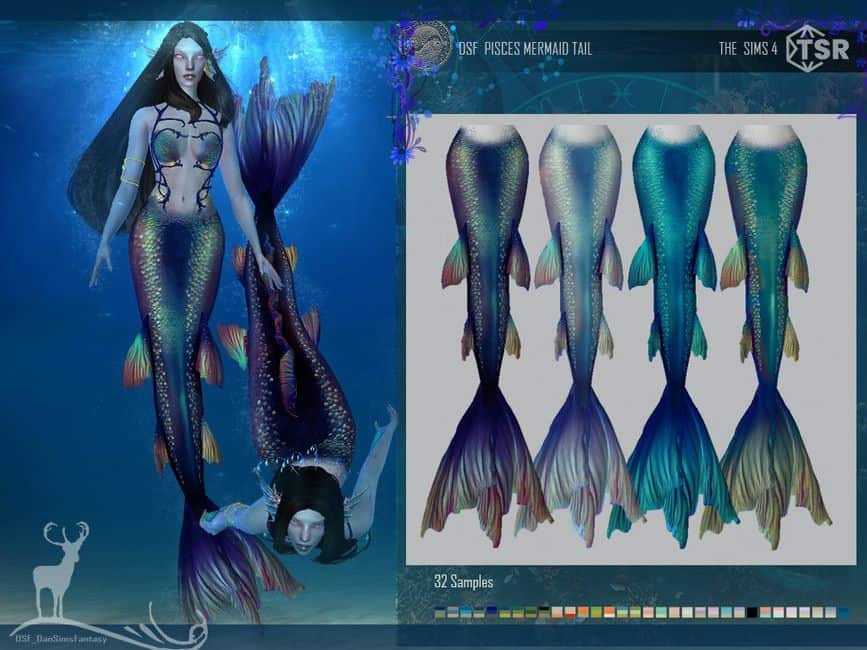 These mermaid tails are beautiful with their reflective scales and flowy fins.
There are 32 amazing swatches, including lighter pastel options and darker jewel tones.
There's even a fun goldfish swatch with a white tail and large orange patches.

3. Sims 4 Mermaid CC Hair Recolor by Atashi77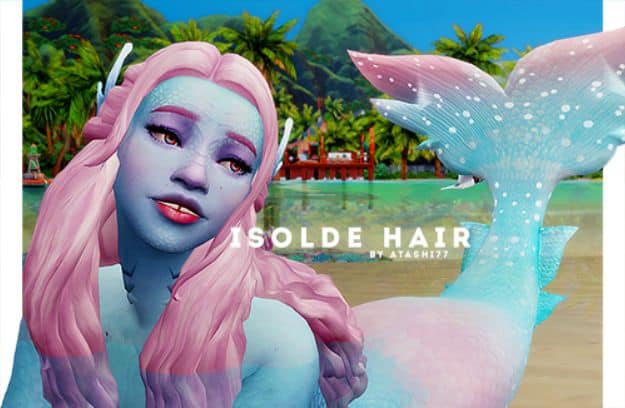 This casual hair cc recolor comes in 75 fun and vibrant swatches from WildlyMiniatureSandwich.
It's an easy breezy medium, length hairstyle with long bangs and partially pulled back.
You will also need to grab the mesh linked on the download page.

4. Sims 4 Mermaid Scales CC by NekoChan-Simmer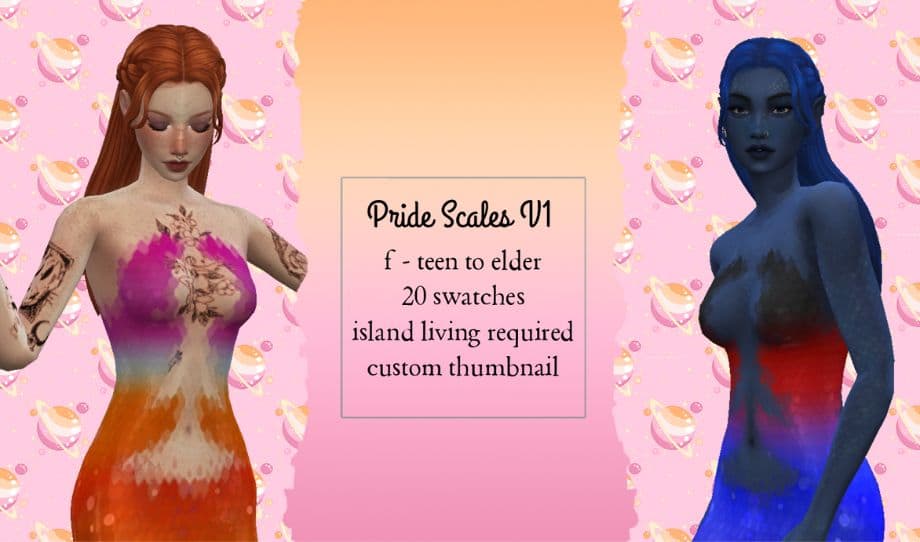 This sims 4 mermaid cc is all about the upper body scales.
Your female mermaid will have beautiful scales covering her bust, which look like hand prints.
You can check out this version here if you prefer a more asymmetrical design.
Both versions are available in 20 swatches for teens to elders.

5. Sims 4 Mermaid CC Lipstick by RemusSirion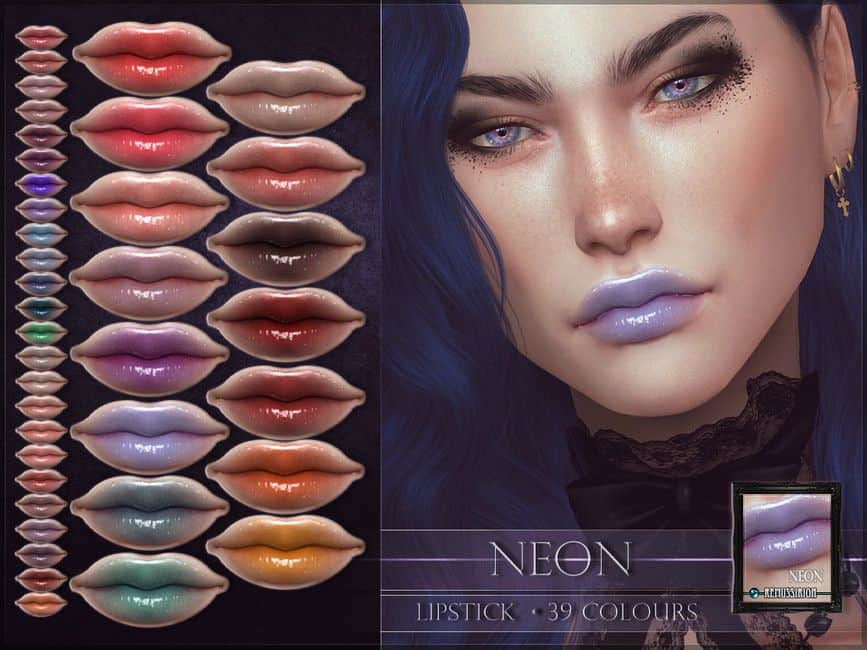 When I found this lipstick, I knew it was the perfect sims 4 mermaid cc with its wet jelly-like look.
The lipstick gives off a great shine, but I especially like the illusion of a thick coating.
There are 39 exciting color swatches to create the perfect mermaid look.

6. Sims 4 Mermaid CC Pack by oydis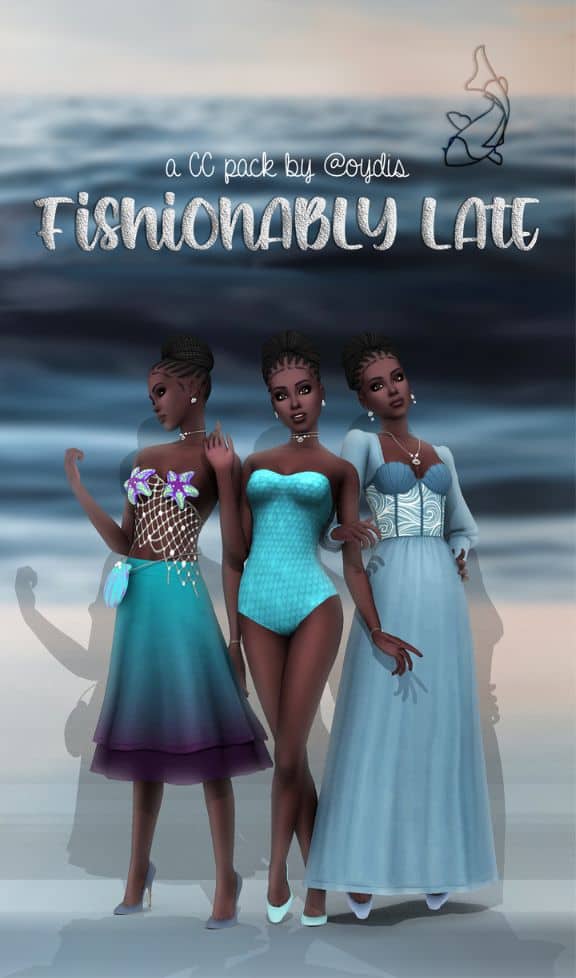 When it comes to sims 4 mermaid cc, this clothing and accessories pack is top of my list.
The clothing pieces are just so beautifully thought out, from the fish scale body suit to the netted top with seashells or starfish cups.
Does your mermaid have dinner plans?
If so, why not opt for the beautiful dress with semi-sheer sleeves and a seashell-shaped bodice?
You'll also find a flowy skirt, a shell-inspired pouch, earrings, necklaces, and bracelets.
And don't get me started on the gorgeous swatches.

7. Sims 4 Mermaid Top by DanSimsFantasy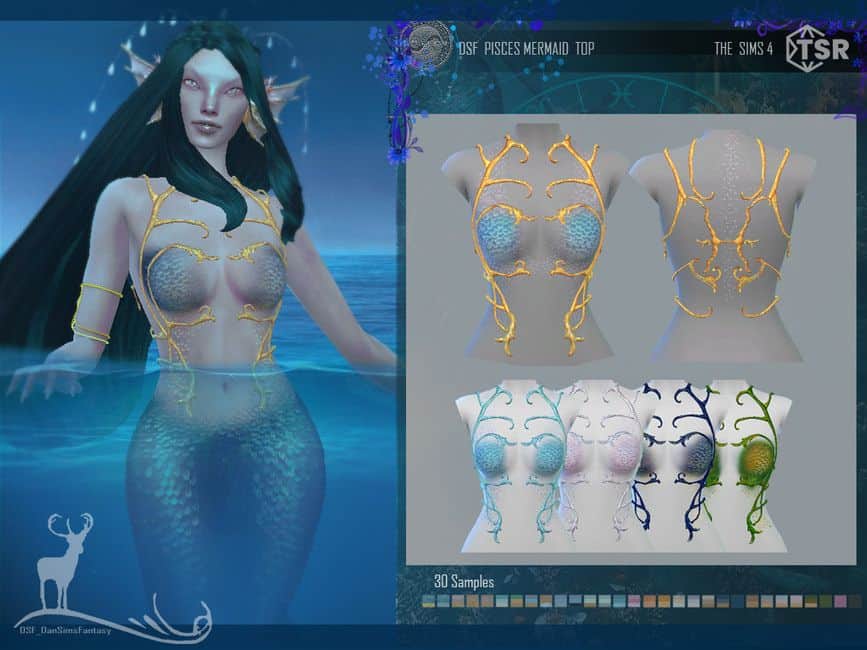 You may recognize the top from the picture at #2 above, and it's of my favorite pieces of mermaid cc.
This top has scales covering the main portion of the bust, and then the gold strands seem almost like growing vines.
You'll also notice some small luminescent scales up and down the sides of the bust and down the center of the back.
There are 30 swatches to pair with your favorite mermaid tails.

8. Webbed Sims 4 Mermaid Tail CC by Zaneida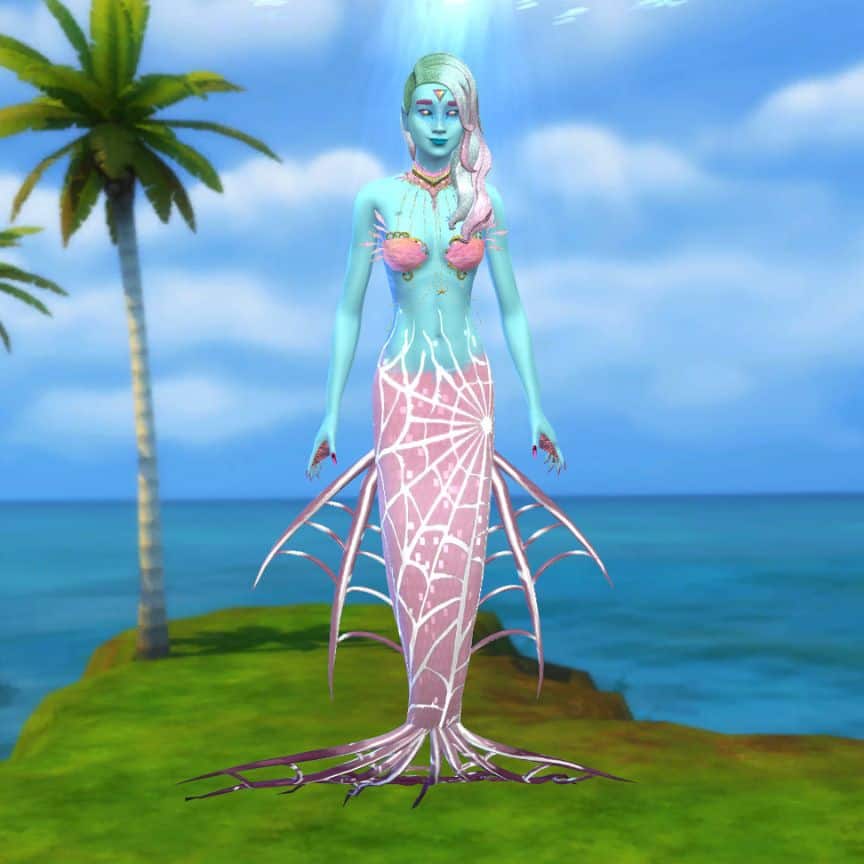 Not all mermaid tails look alike, and this webbed version is more on the unique side.
The tail flares out twice with the webbing and has relatively large-scale markings.
This mermaid cc is available for both male and female sims and comes in 22 swatches.

9. Bikini Set for Sims 4 Mermaids by Bellassims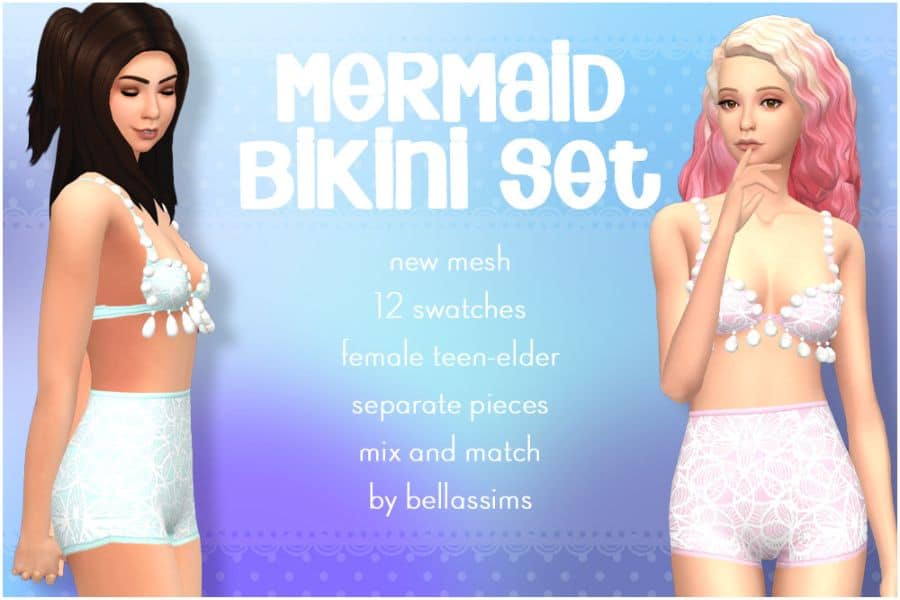 Are your sims ready to hit the beach?
This mermaid-inspired bikini set is super cute with its detailed top.
The bikini top has straps of dangling pearls, and the bottom is a cute pair of bikini shorts which detailed patterns.
There are 12 swatches, and you can mix and match the pieces too.

10. Sims 4 Mermaid Stuff by JujuAwesomeBeans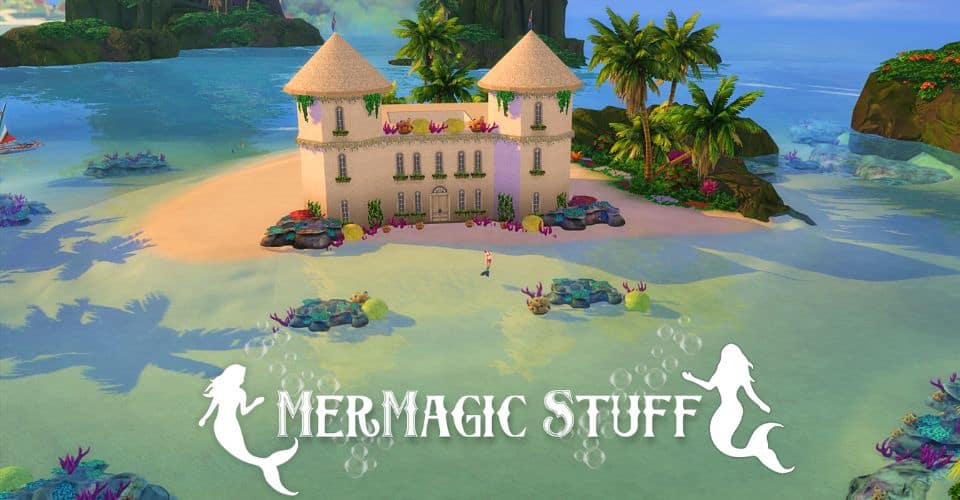 Who doesn't want a pack of 55 mermaid cc items?
Everything is base game compatible except for 4 items.
This mermaid stuff pack has everything from casual mermaid clothing to a pearly toilet bowl.
Two of my favorite pieces included the gorgeous bed and the blue abalone lamp.

11. Sims 4 Mermaid Poses by Cazmari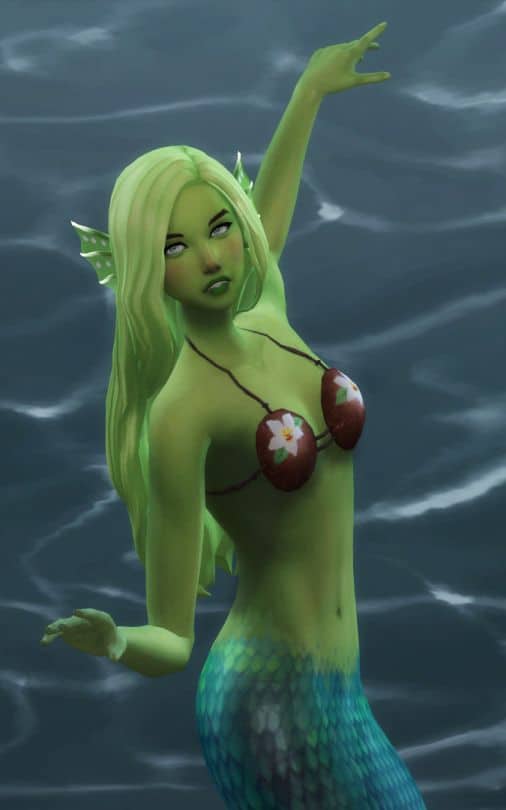 What's the point of creating amazing sims 4 mermaid cc if you don't snap some incredible screenshots of your mermaids?
This pose pack comes with 20 poses for your mermaids and merman.

12. Siren Tails For Sims 4 by Sims House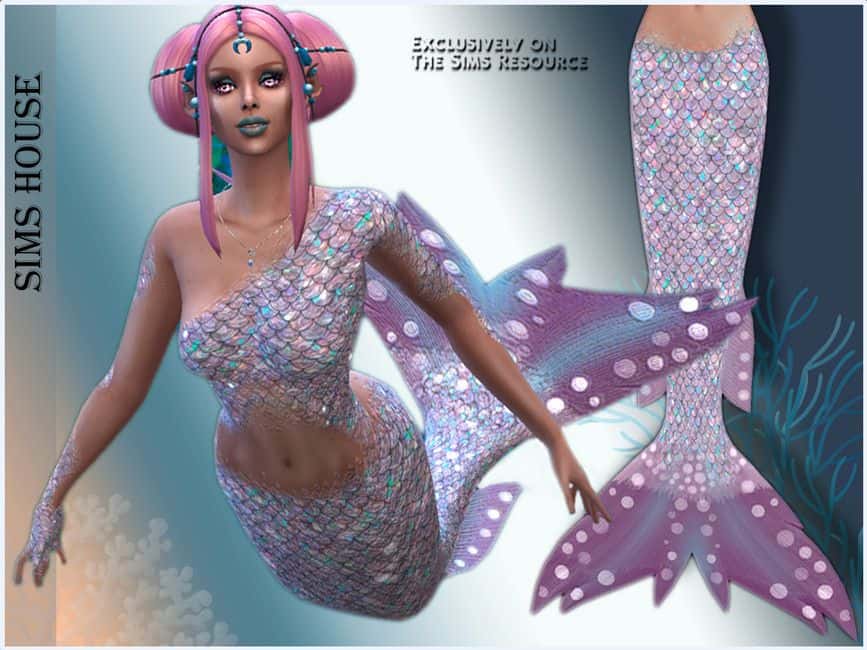 This mermaid tail cc is a more classic style.
You'll find many intricate mermaid scales that cover the tail, each with shimmery colors.
There are 8 beautiful color options, and you can also grab the matching top here.

13. Sims 4 Mermaid CC Set by Mooneonnature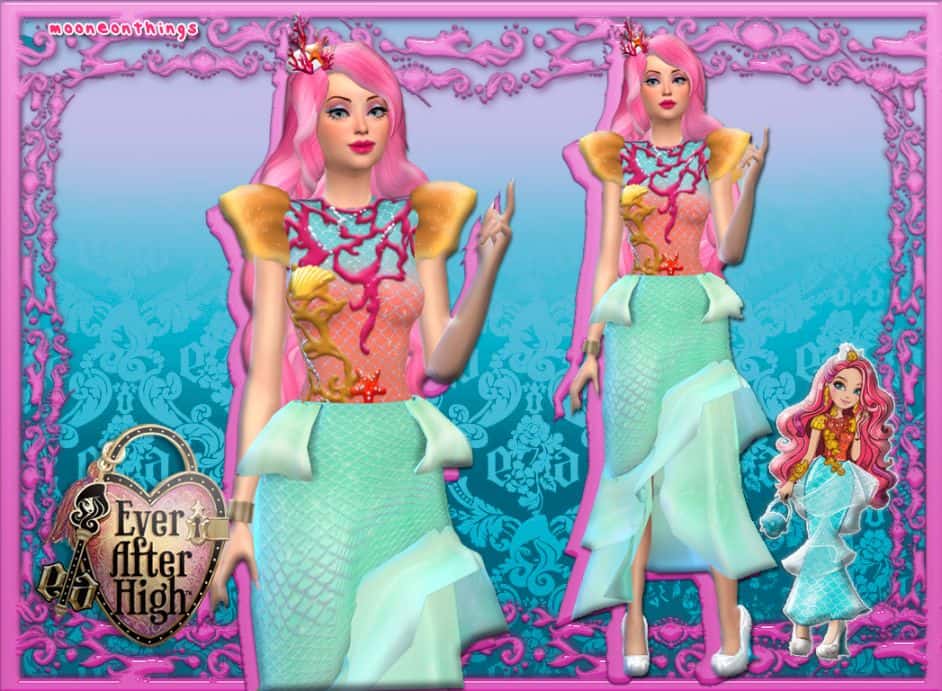 You can't go wrong with this fun sims 4 mermaid custom content set.
From the headpiece to the puff-sleeved dress, it looks like the ocean has become a part of your mermaid sim.
You'll also find some hair cc and an interesting pair of mermaid tail high-heels.

14. Sims 4 Mermaid CC Overlay by Simulation Cowboy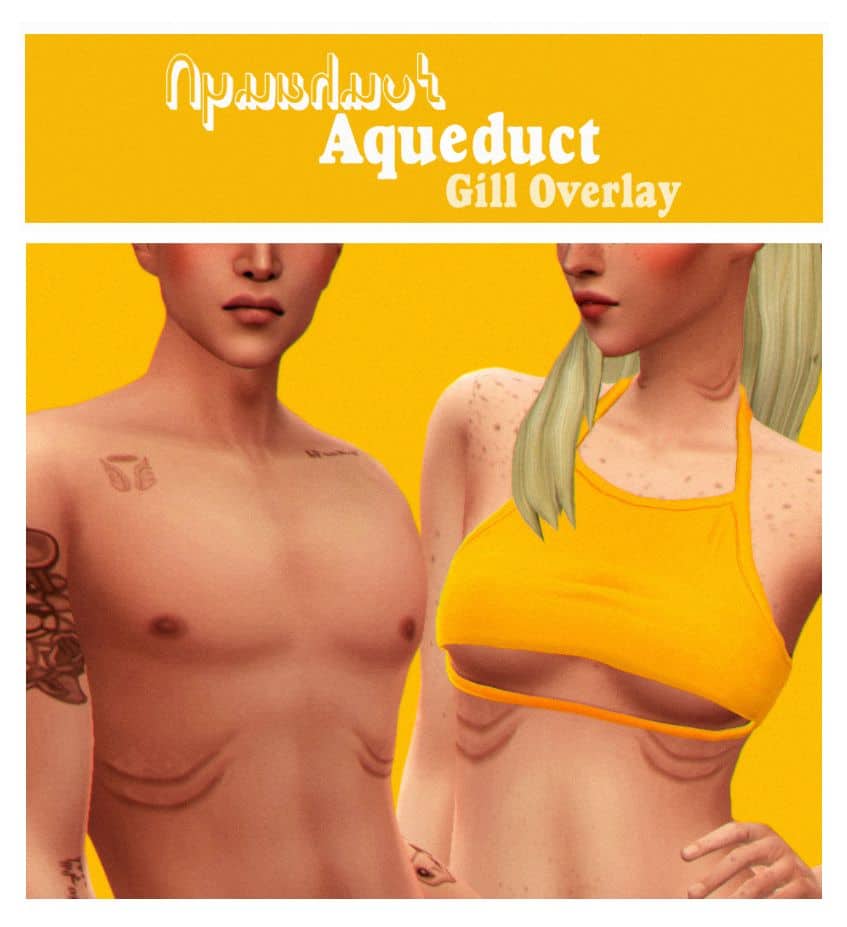 If we're going for a more realistic approach to mermaids, you'll want to grab this aqueduct gill overlay.
There are 3 swatches to choose from, and the gills are located on the neck and lungs.

15. Sims 4 Mermaid Eyes by EvilQuinzel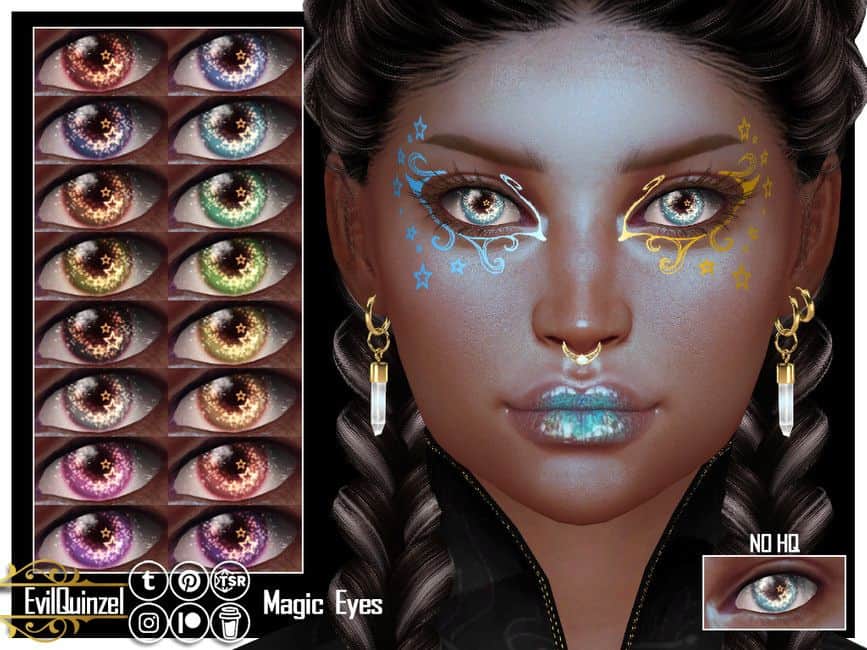 While not technically just for mermaids, these magic eyes are the perfect addition to any mermaid sim.
These eyes look like universes from the sky and have visible stars to finish the look.
There are 16 beautiful swatches; these eyes are available for all species and genders from teens and up.

16. Fantasy Sims 4 Mermaid Skin by EvilQuinzel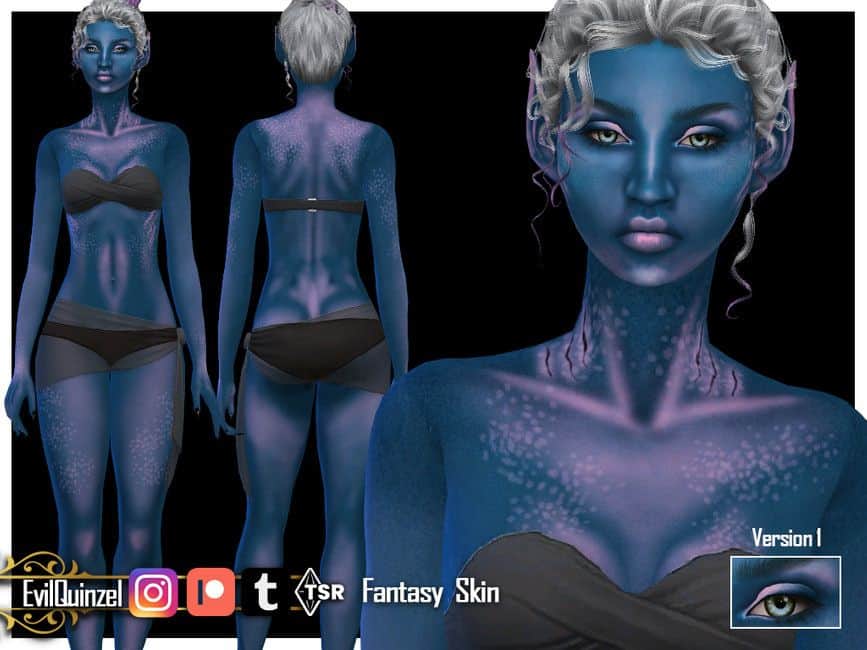 So while this skin would be perfect for a Mystique-inspired sim (minus the gills), it's also perfect for a mermaid.
This skin cc will add the final touches to your sea siren, from the gills to the scattering of scales.

17. Sims 4 Down Under Set by SpinningPlumbobs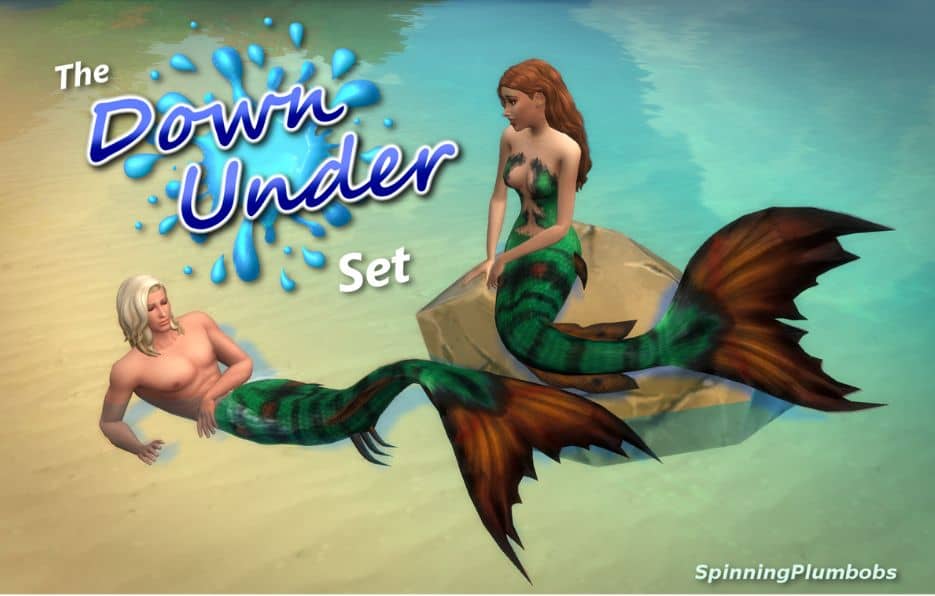 This mermaid cc set has two mermaid tail options and a scaled matching top.
The tails come with interesting torsal fins too.
The mermaid tails work for both your male and female sims.

18. Snake Sims 4 Mermaid CC Tail by Zaneida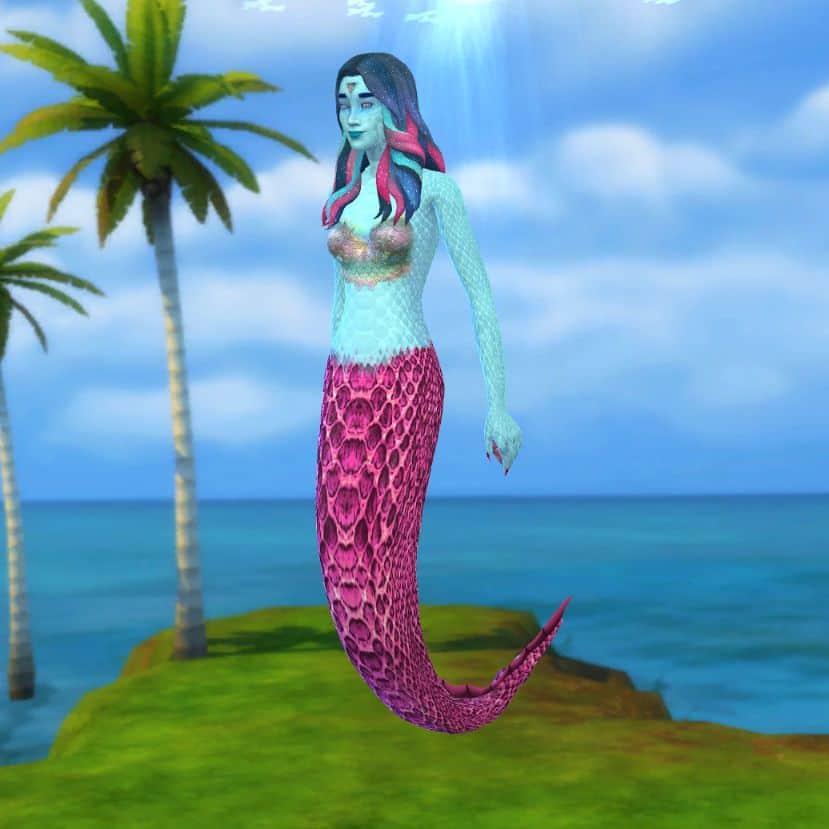 Here we have another unique mermaid tail but this time with snakeskin instead of the standard fish scales.
The tail also has a thick tail spine down the back.
You'll find this mermaid tail in 12 different swatches for both your male and female sims.

19. Large Sims 4 Siren Ears by TEKRI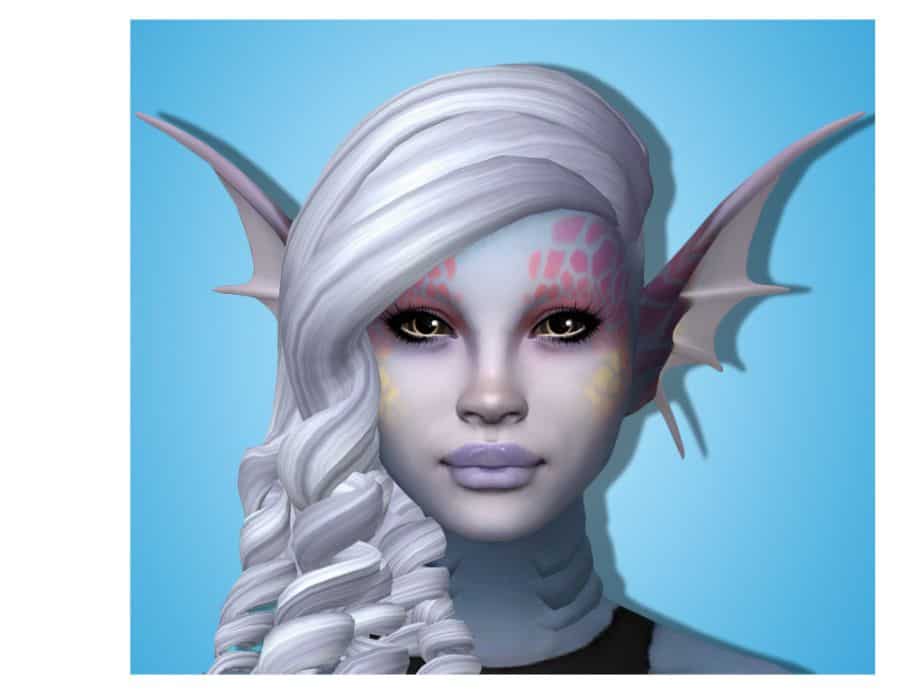 Are you more into creating evil sirens?
These ears will help you create the siren of your dreams with these large and spiny ears.
You can also opt for additional piercings to add to the ears.
Available for all ages and genders.
The creator also recommends using one of the preset ear mods listed on the download page to reduce the size of your sim's human ears.

20. Sims 4 Mermaid Fish Scales by weepingsimmer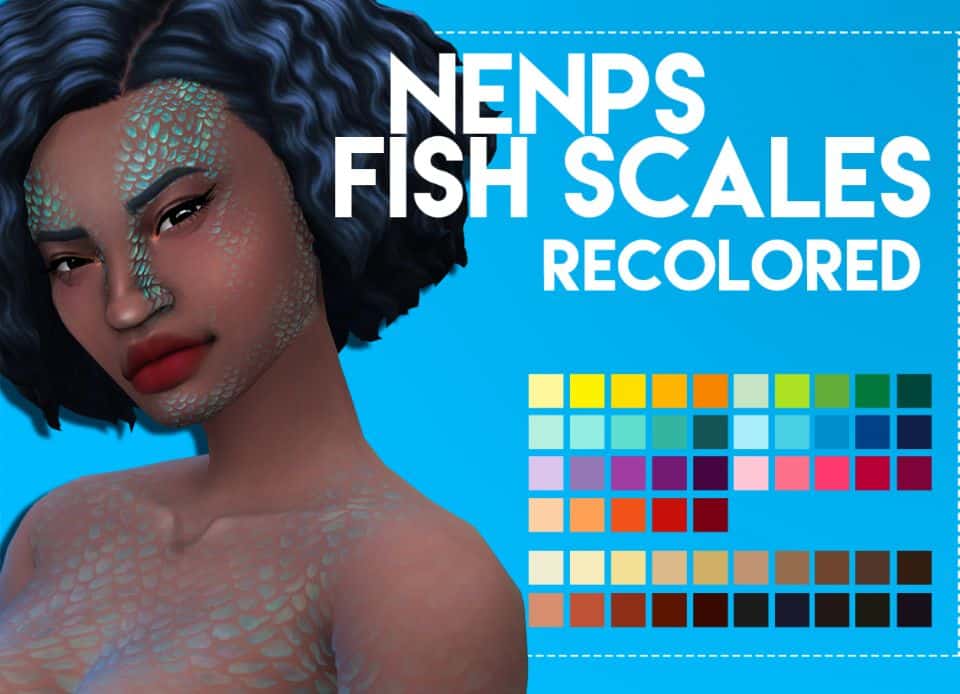 When it comes to fish scales, you can always use more colors, and this recolor comes with 56 swatches (the rainbow swatch is not shown above).
Check out the information provided on the download page; there are multiple packages.
These mermaid scales are available for all ages and genders.

21. Pride Sims 4 Mermaid Tail by NekoChan-Simmer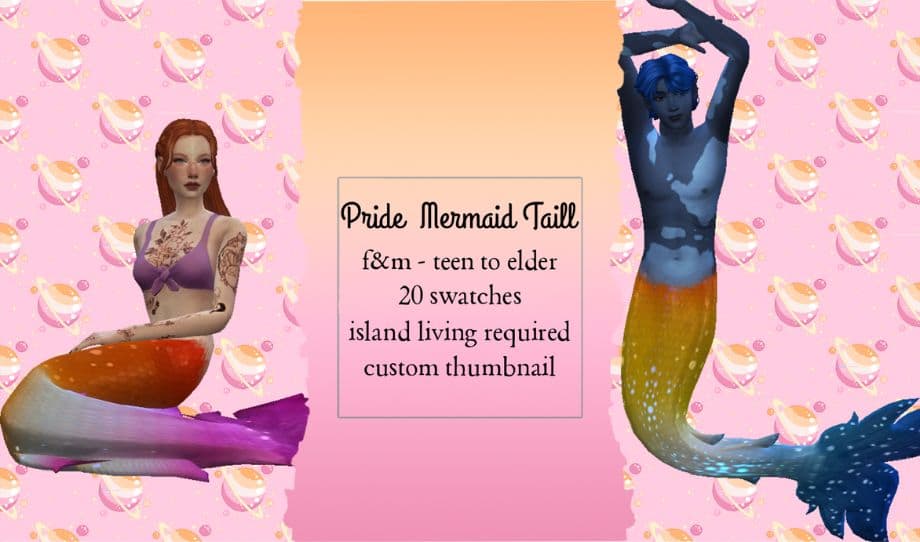 These pride maxis match mermaid tails will go great with the mermaid scale tops listed at #4.
Available for both frames, teens to elders, these tails come in 20 swatches.

22. Sims 4 Mermaid Head flippers by Zaneida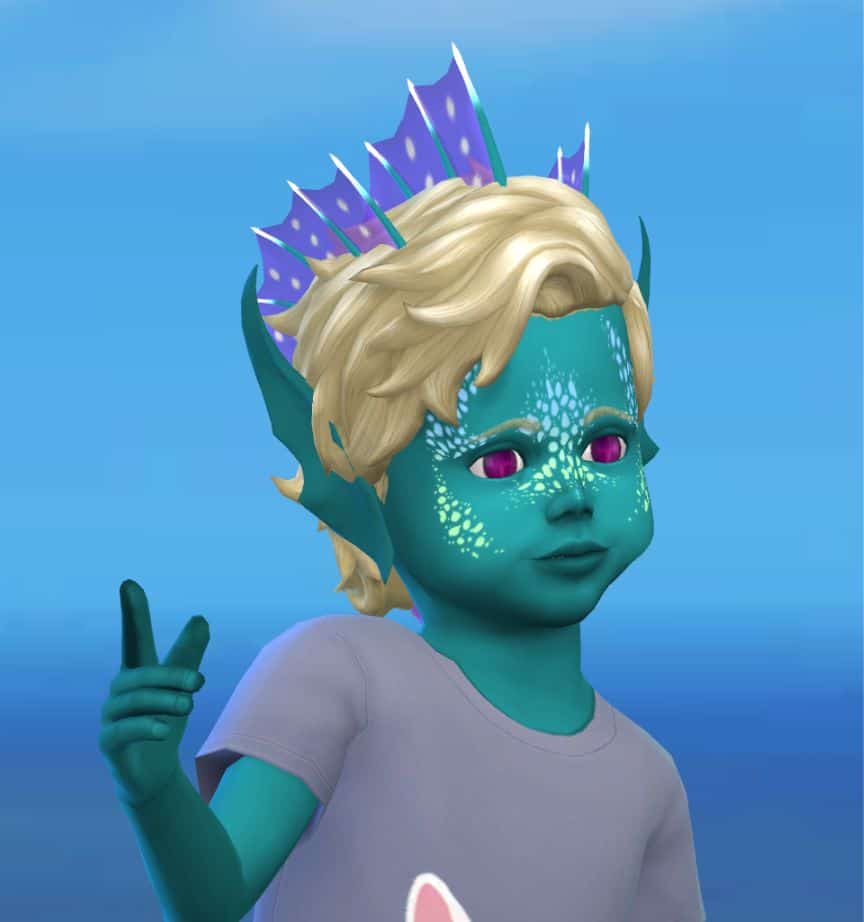 These head flippers are made for your mermaid sim toddlers and kids.
The flippers reassemble a crown that would be perfect for a royal mermaid family.
The flippers also have luminous ends and can be found in the skin detail category.

23. Sims 4 Mermaid Bedroom CC by Bellassims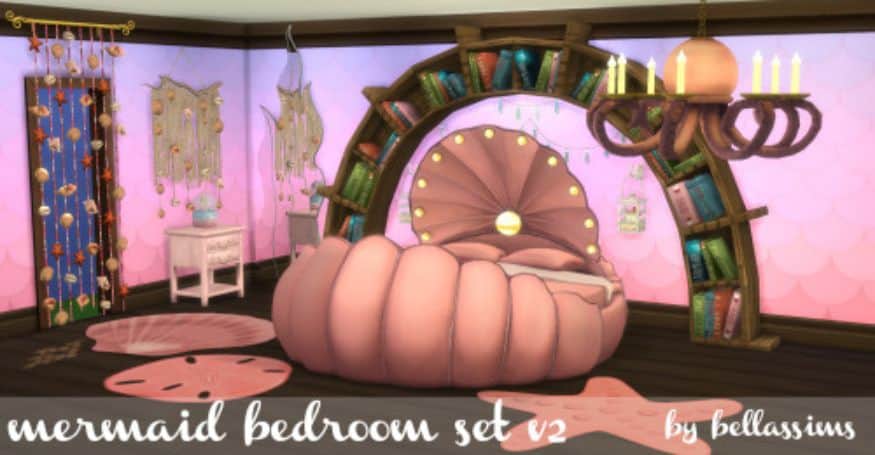 All mermaids deserve a comfortable bed, and this ocean-inspired bedroom set has just the thing.
From the stunning oyster and pearl bed to the octopus chandelier, this bedroom cc set is the perfect room for any mermaid.

24. Sims 4 Little Mermaid CC by Simple Simmer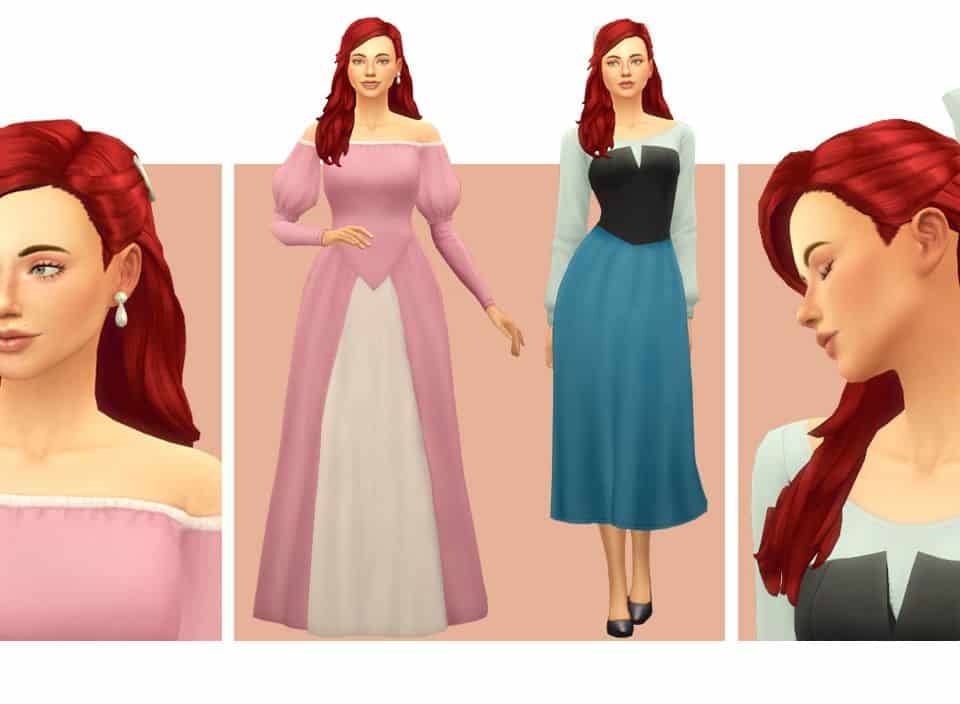 This beautiful collection of Little Mermaid-inspired custom content brings Ariel to the Sims 4.
You get the dresses Ariel wears during her time with Prince Eric and some more modern clothing options like leggings and crop tops.
You'll also find ariel hair cc, super cute fork earrings, and more.

25. Sims 4 Mermaid Blush by EvilQuinzel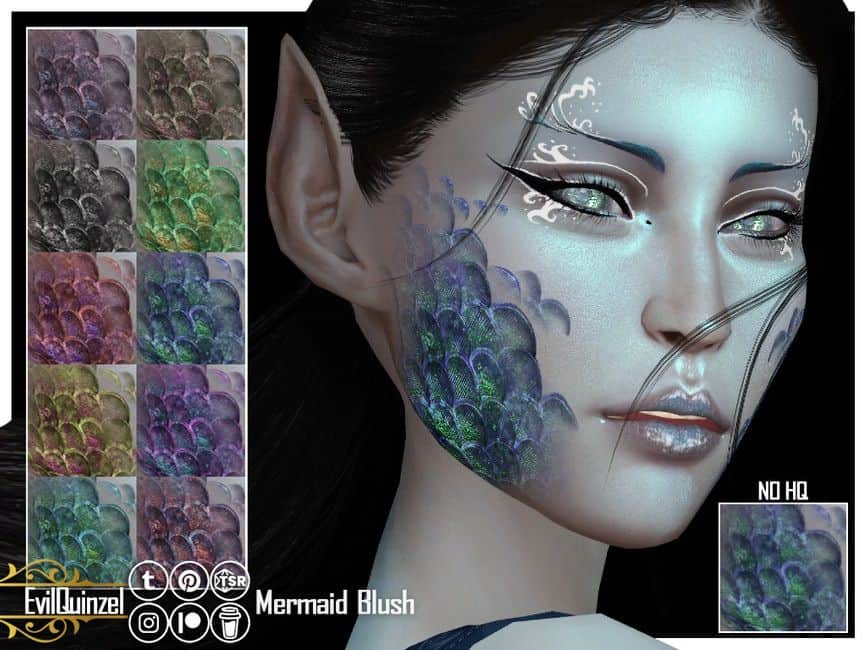 I would never have considered face scales a blush, but it makes total sense.
This mermaid blush will give your sirens stunning scales on their cheeks.
This blush is available in 10 colors; for your mermaids, merman, and all other species.

26. Mermaid Poses For Sims 4 by Cazmari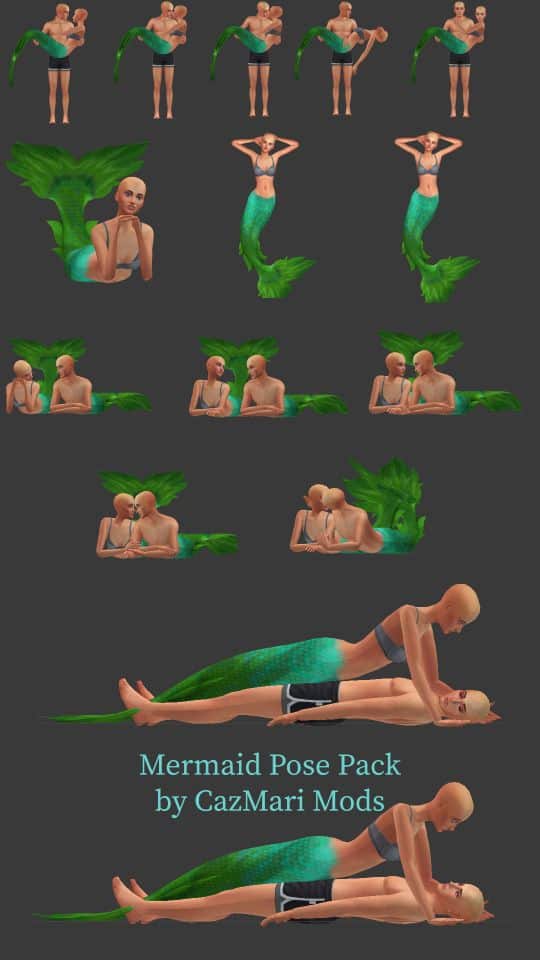 Here we have another mermaid poses pack with 16 poses.
With this pose pack, your mermaids can have some fun couple pics.
And each pose is also gender-neutral.
Tip: Your mermaids need to be swimming before teleporting them.

27. Mermaid Eyes CC for Sims 4 by RobertoPLobo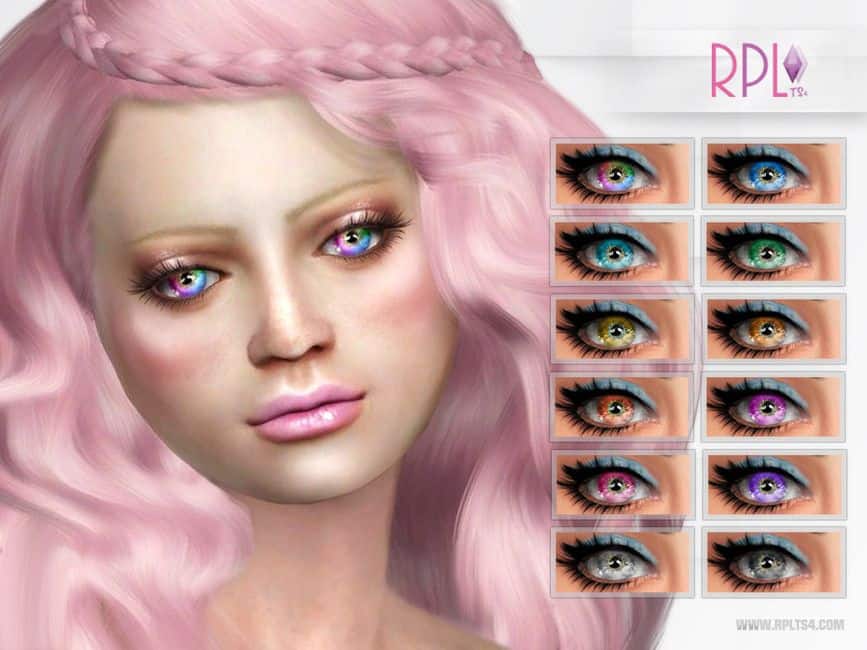 These colorful eye options were a great addition to your sims 4 mermaid cc folder.
While I like the solo colors, my favorite is the rainbow swatch.
These cc eyes are available in 12 colors for all genders, ages, and species.

28. Sims 4 Mermaid Hair by Feral Poodles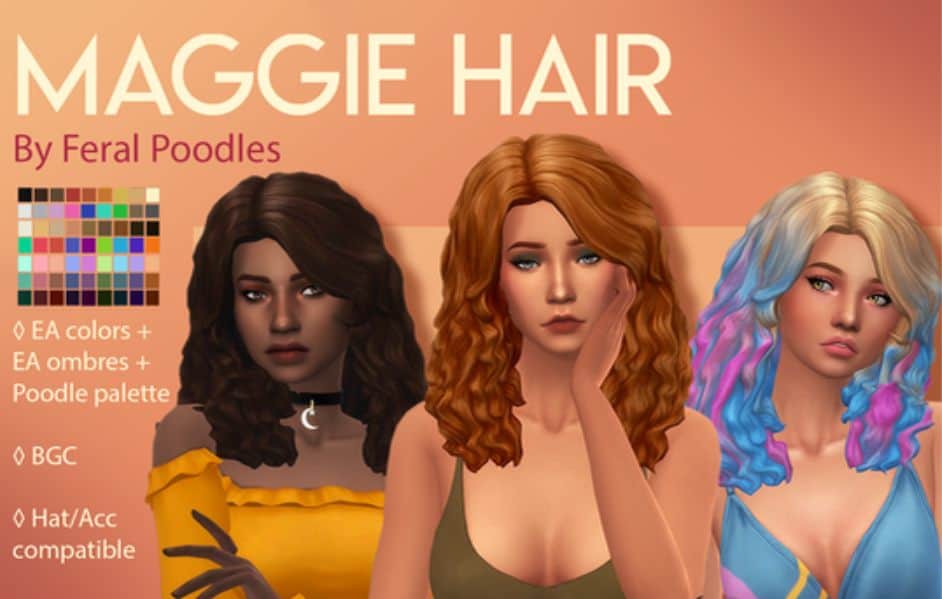 This wavy-curly hair cc seems made for mermaids with its flowing locks.
I find the ombre swatches the best for my mermaids, but there are 81 swatches to choose from.
Available for female frames from teens to elders.

29. Mermaid Ear & Gills For Sims 4 by Pyxis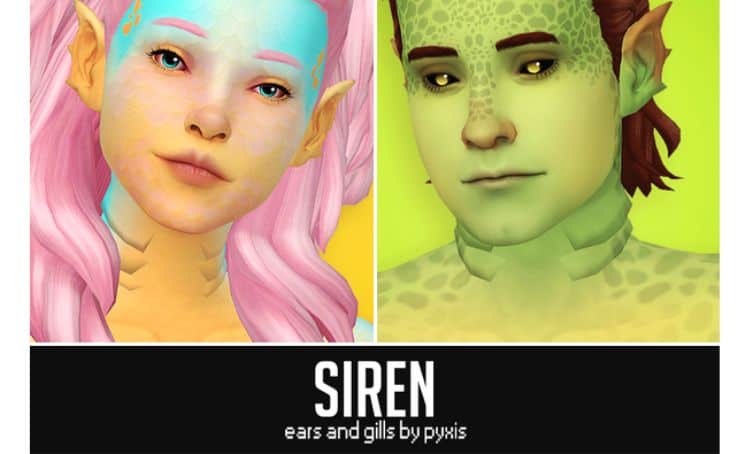 This set of sims 4 mermaid cc comes with both ears and gills.
The ears are available for all ages and genders, but the gills are limited to teens and up.
You'll find the gills under the necklace and ring categories and the ears under piercings and bracelets.

30. Sims 4 Mermaid CAS Set by SpinningPlumbobs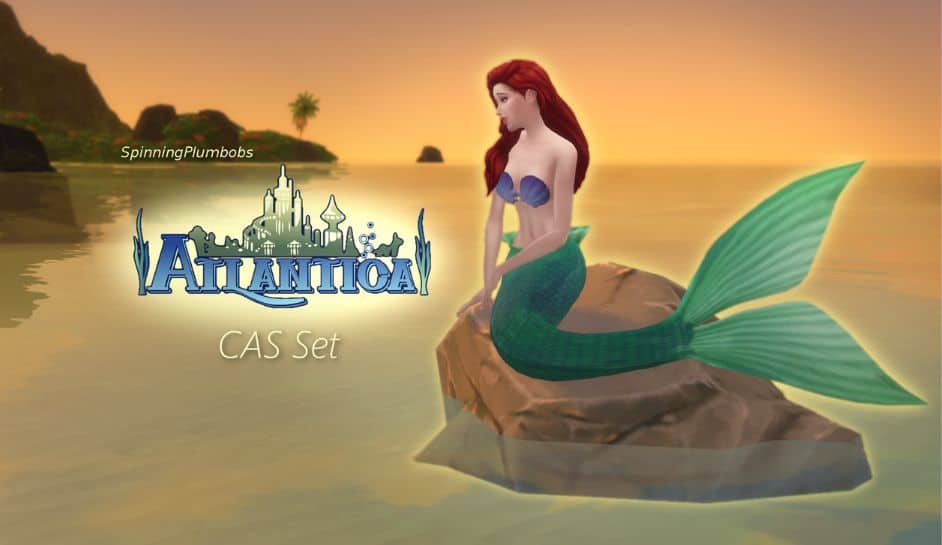 Since you can always go right with extra Little Mermaid-inspired content, this CAS set is excellent.
You get mermaid tails, a shell bra, and an impressive Ursela-style octopus tail.

Sims 4 Mermaid CC: Final Thoughts
From webbed mermaid tails to wicky siren ears, there are many creative sims 4 mermaid cc pieces to style your sims with.
Whether you envision a gentler mermaid or a dark and mysterious siren, you can get as creative as possible.
If you have any questions or suggestions, feel free to leave us a comment below or tag us on Tumblr.
More Custom Content Collections

And don't forget to pin & save this post for later!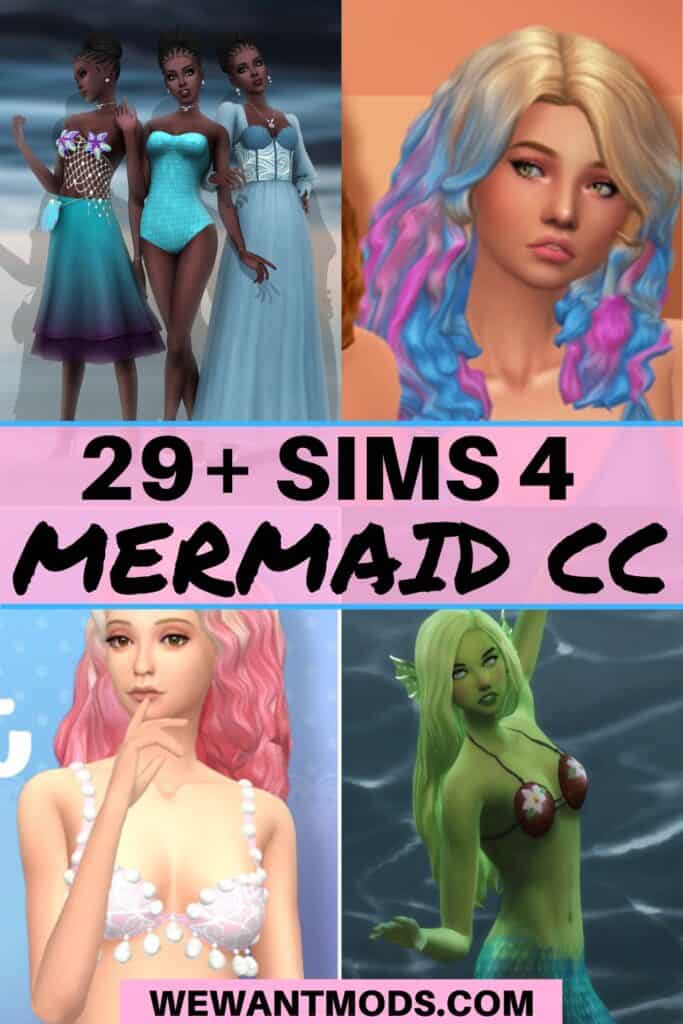 29+ Sims 4 Mermaid CC (Tails, Scales & More)