35+ Sims 4 Cottagecore CC: A Rustic World Awaits (November 2023)
Step into the countryside with this collection of sims 4 cottagecore cc.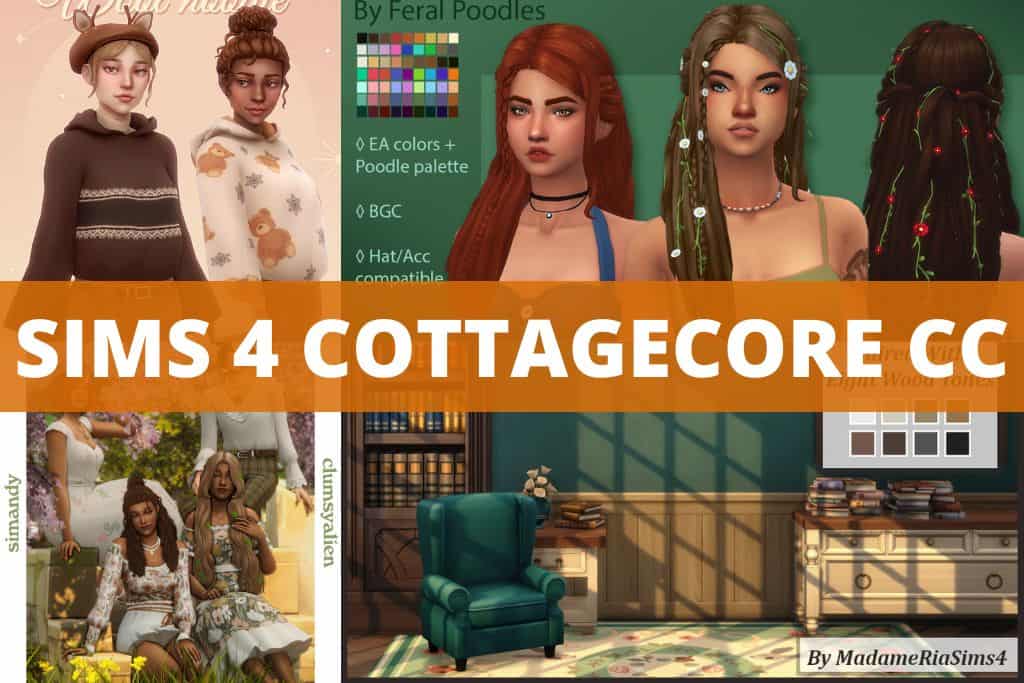 Coutry life is not for everyone, but it's certainly a nice addition to our gameplay.
Whether you are using the Cottage Living expansion pack or want to get the same aesthetics, these cottagecore cc pieces have got you covered.
And the best part is, everything except for one piece is base game compatible.
Disclaimer: The following mods are neither endorsed nor affiliated with The Sims, Maxis, or Electronic Arts. Any use of mods (custom content or game mods) should be done with caution and with the knowledge that there may be risks.
Best Sims 4 Cottagecore CC
Below you will find a mix of cottagecore clothing, accessories, clutter, and more for the perfect country lifestyle.
1. Vintage Sims 4 Cottagecore CC by Miiko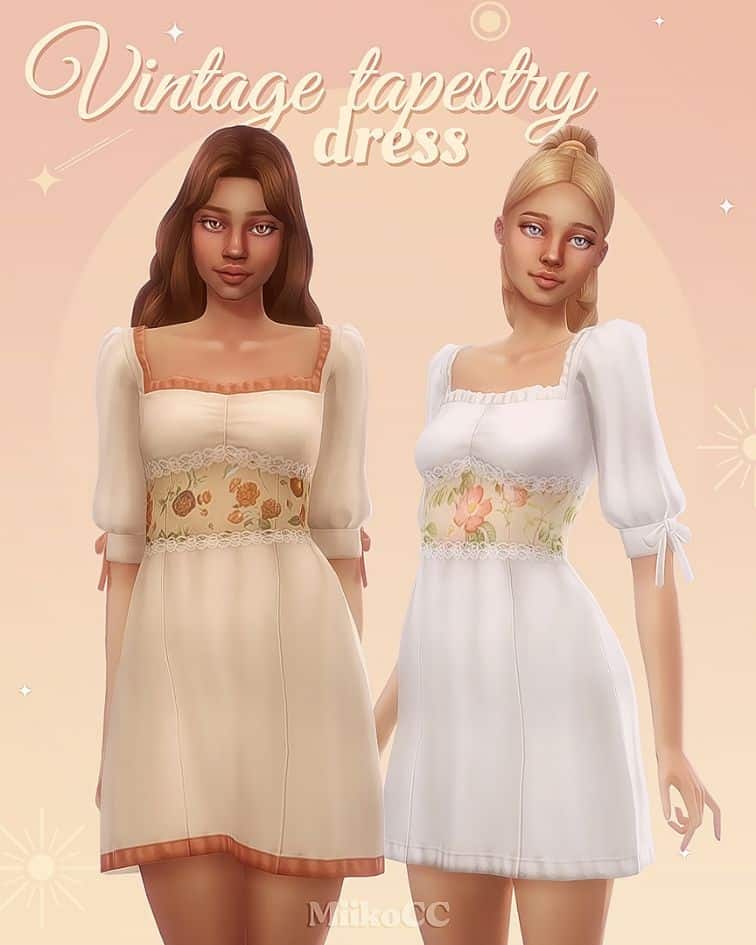 What would your female sim wear if they were living a modern rural lifestyle?
This vintage tapestry dress must be somewhere at the top of your list.
It's a short empire dress with puffy sleeves.
But its true charm is the section of woven tapestry right under the bust.
This adorable dress comes in 20 swatches, including some without the tapestry.

2. Sims 4 Cottagecore Clutter CC by Lustrousims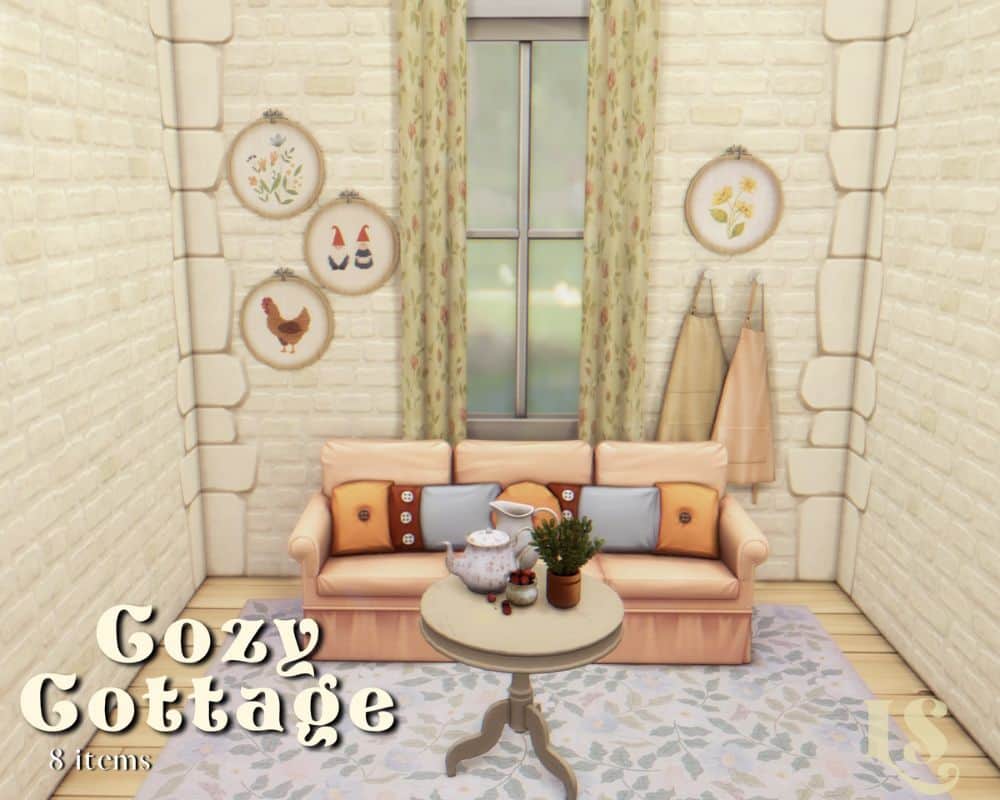 If you're looking for lovely clutter pieces for your sims' home, this stuff pack sure comes in handy.
These custom content pieces are a must-have for anyone wanting to bring a cozy feel to their little homes.
This 8-piece pack includes:
Cute little round accent table for the living area
Hanging aprons as a wall decoration for your cottage kitchen
Some rustic stitch wall arts
A lovely vintage teapot
A classic water jug
Some cherries in a small little pot
A rug with a great selection of patterns
Some curtains in different swatches to blend in with the rest

3. Sims 4 Cottagecore CC Collab by Simandy x Clumsyalien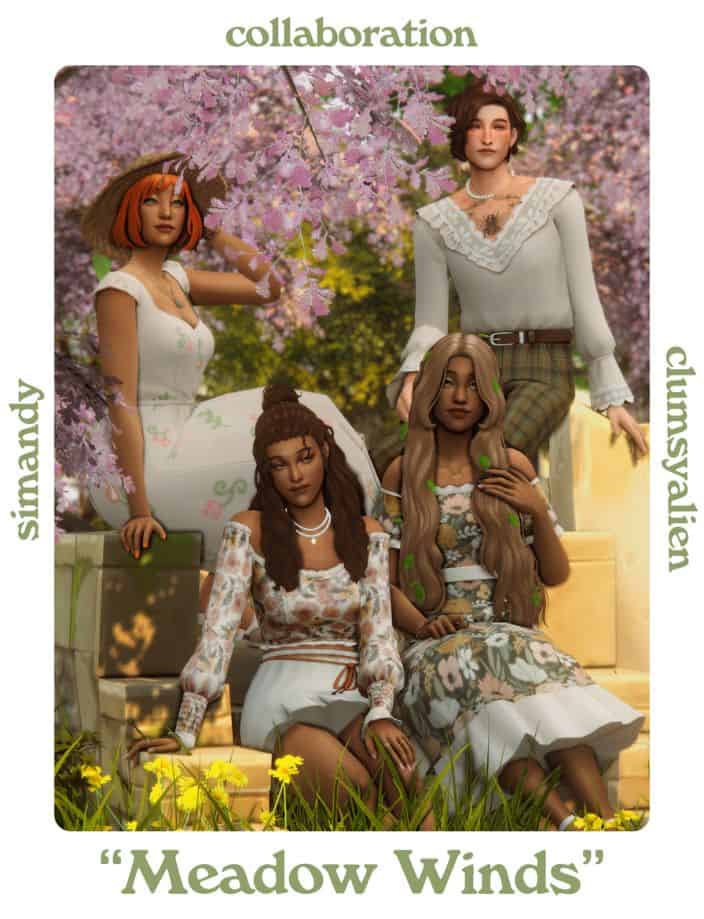 Another great find is this sims 4 cottagecore cc set, which has a lot to offer in terms of clothing items, hair, and accessories for your cottagecore sims.
This cc collaboration is brought to you by two great creators, which is why there are two links at the bottom.
They each bring their own elements, which make up this amazing cottage living cc collection.
Most of the content is for your cottage life sims women, but clumsyalien also provides options for your male sims.


4. Cottagecore Sims 4 Hair by Feral Poodles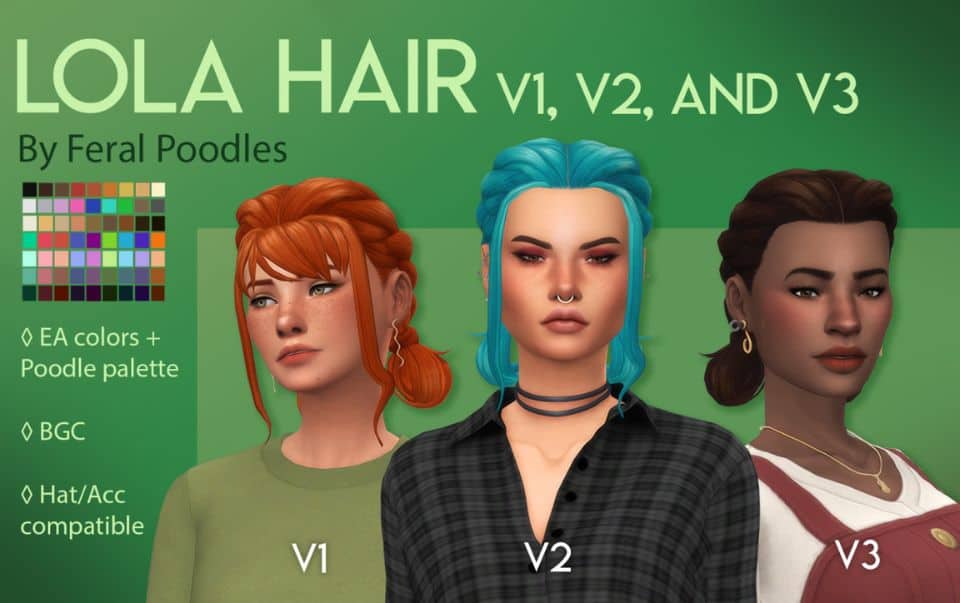 This pack has three versions of hair, depending on your preference, but in our case, version 3 is the way to go.
For sims 4 cottage core hair cc, the 3rd option would fit best for that rural lifestyle, all braided and functional for the hard-working sim.
It has many color swatches, including 18 EA default colors and 45 non-default.
All hairstyles were made for a female-framed sim, and they can be used for ages teens and up.

5. Sims 4 Cottage Core Dress by Sandrini Feierabend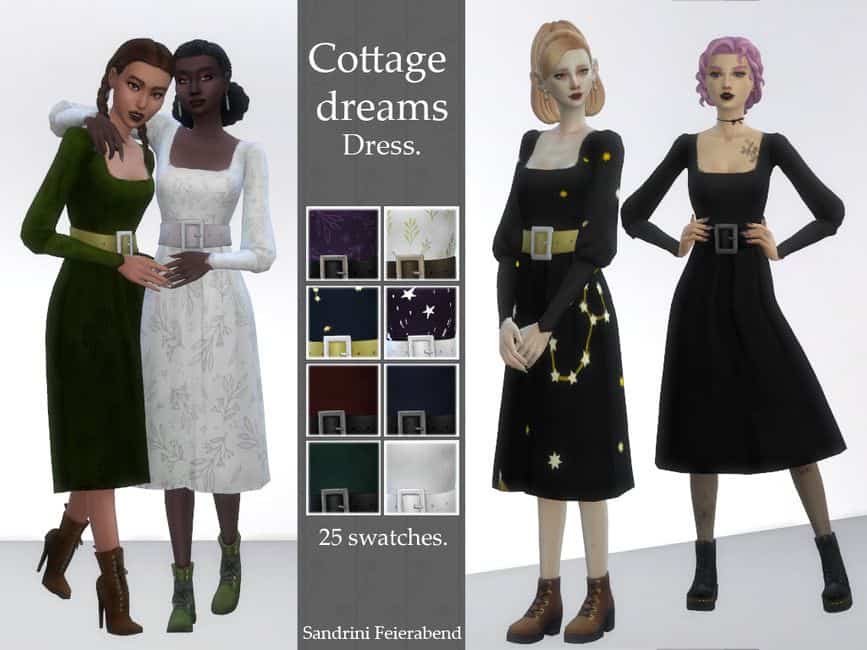 This dress makes a great clothing option as a sims 4 cottagecore cc.
With their long sleeve and belt, it definitely looks very cottage-ish, depending on the chosen swatch.
There are 25 swatch options for this sims 4 cottage dress, but they are mostly dark-toned.
This is why the best swatches to pick are the white ones, whether it's the solid white or the patterned ones.
In any case, any light-colored dress is perfect for cottage living.

6. Sims 4 Cottagecore Clothing CC by Solistair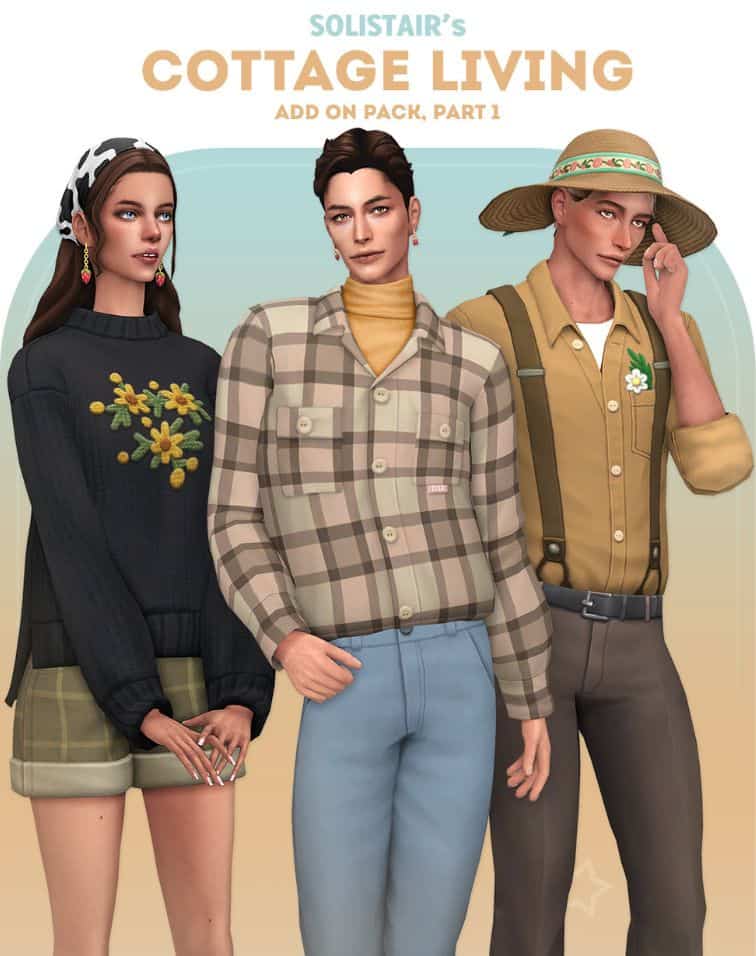 If you want to complement your sims 4 cottagecore outfit with suitable accessories, this cottagecore cc has them.
It offers an array of great items for both genders.
You can get a nice turtleneck, some suspenders, and tucked shirt for the men.
As for your sims cottage women, you get accessories like a cute head scarf, sunhats, and a pretty set of strawberry earrings.
Each of these fine-looking sims 4 cottagecore cc comes with its own choice of colors or patterns.

7. Sims 4 Cottage CC Decoration by MadameRia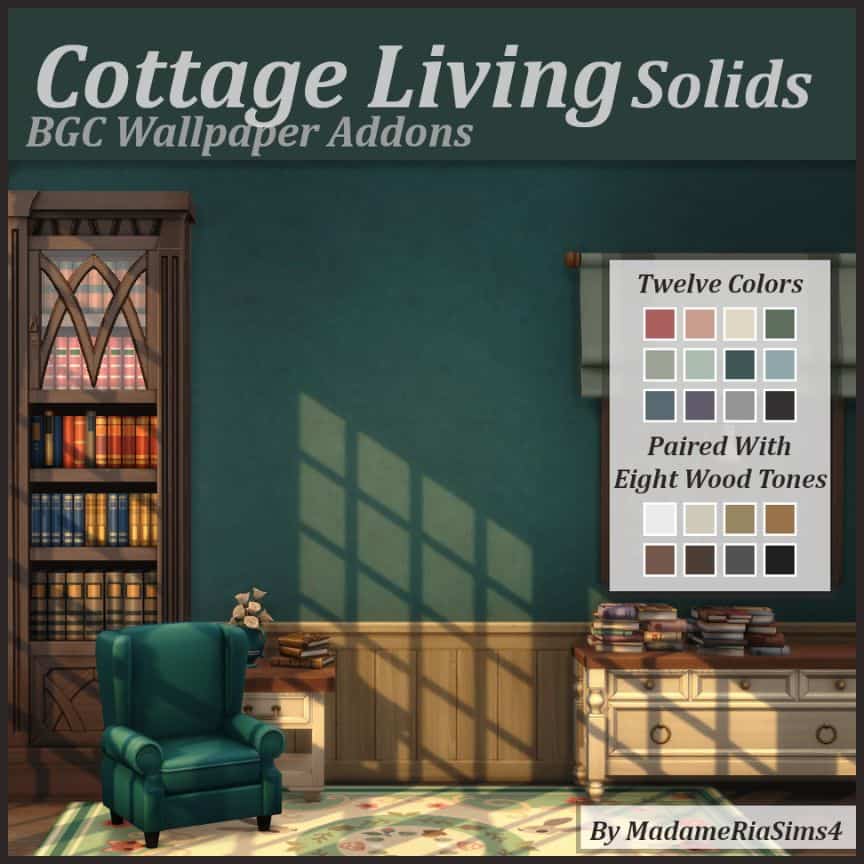 If you don't know how to color your cottage house, this cc pack will help with your cottagecore aesthetics.
The pastel color palette and optional wooden panels make this sims 4 cottagecore cc a good choice for interior decoration.
You can choose among five combinations:
12 wallpaper colors with light-colored wood paneling
Same colors but with dark-colored wood paneling
12 neutral wallpaper colors with light-colored wood paneling
Same neutral colors but with dark-colored wood paneling
24 colors but without the paneling
Now all you need to decide is if you prefer a lighter or darker cottage feel to your home.

8. Cottagecore Sims 4 Clothes by Miiko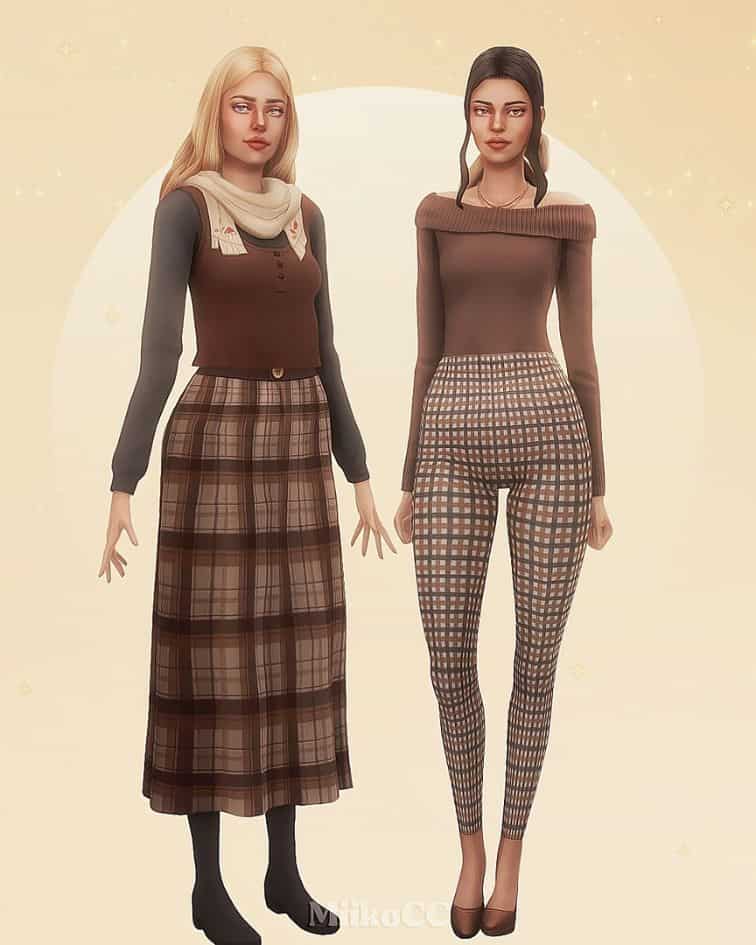 All these pretty cottage-core clothes pieces are must-haves to add to your wardrobe collection.
Create the best cottagecore outfits with a fashionable top and scarf and pair them with that vintage-looking skirt.
You also get a lovely off-shoulder sweater and plaid tights among these cottage core mods for a busy sim on the go.

9. Sims 4 Cottagecore Shoes by Jius-sims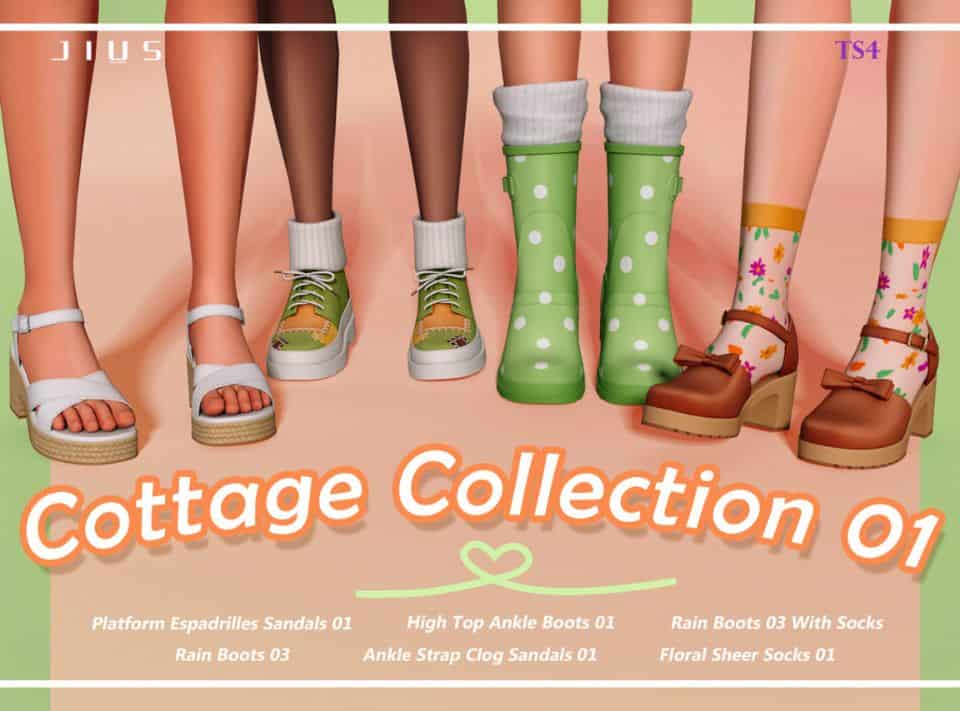 You must have cute shoes to go well with your cottagecore dresses and everyday clothes, and this collection offers just that.
There are four shoes to choose from:
Platform Espadrilles Sandals
Ankle Strap Clog sandals
High Top Ankle Boots
Rain Boots (with or without socks)
The set also includes a cute pair of floral socks.
Each type of shoe has various swatches, and they would look good with any of your sims 4 cottage core outfits.
We also have a whole post dedicated to shoes linked at the bottom of this post.

10. Cottage Core Sims 4 Hair by Nolan-Sims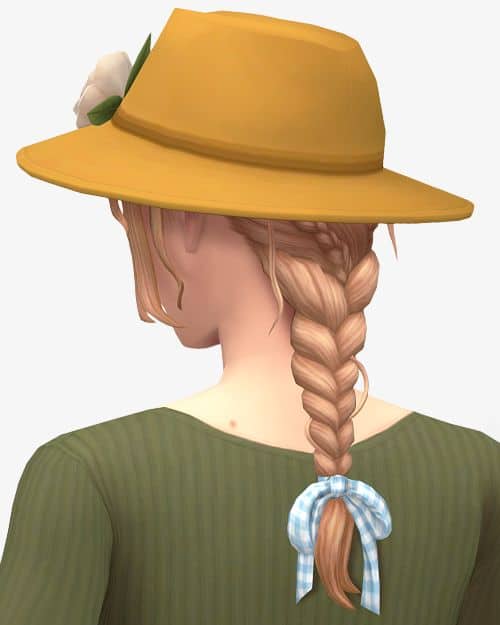 Braids are a classic hairstyle for the countryside, making this cc a must for your sims 4 cottage-living female sims.
You can choose among four options:
With bangs and strands
With bangs but no strands
No bangs with strands
With neither bangs nor strands
The creator has also included a cute bow overlay that will make your sim look so adorable.

11. Overall Sims 4 Cottage Dress CC by MadameRia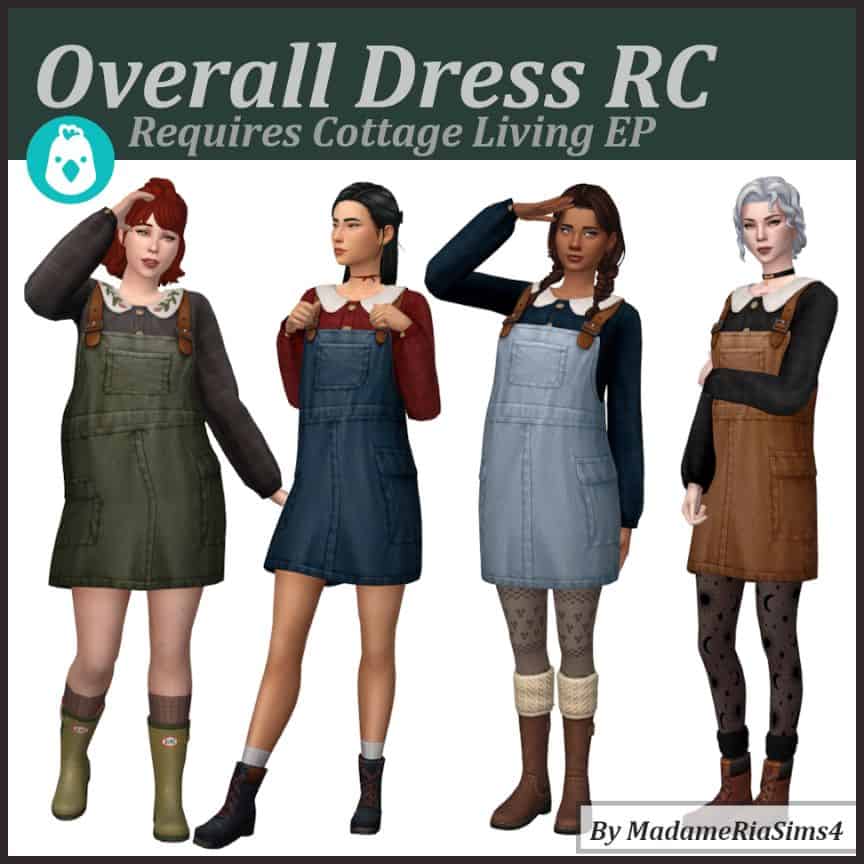 This cottagecore cc will require The Sims 4: Cottage Living expansion pack to be installed in your game.
Your sims cannot live in the countryside and not have overalls.
This sims 4 cottage core recolor adds a variety of colors to Cottage Living's overall dress.
You get 30 swatches which include solid color options and plaid swatches.
You can find these cottage clothes cc under the Short Dress category.

12. Sims 4 Cottagecore Pack by Solistair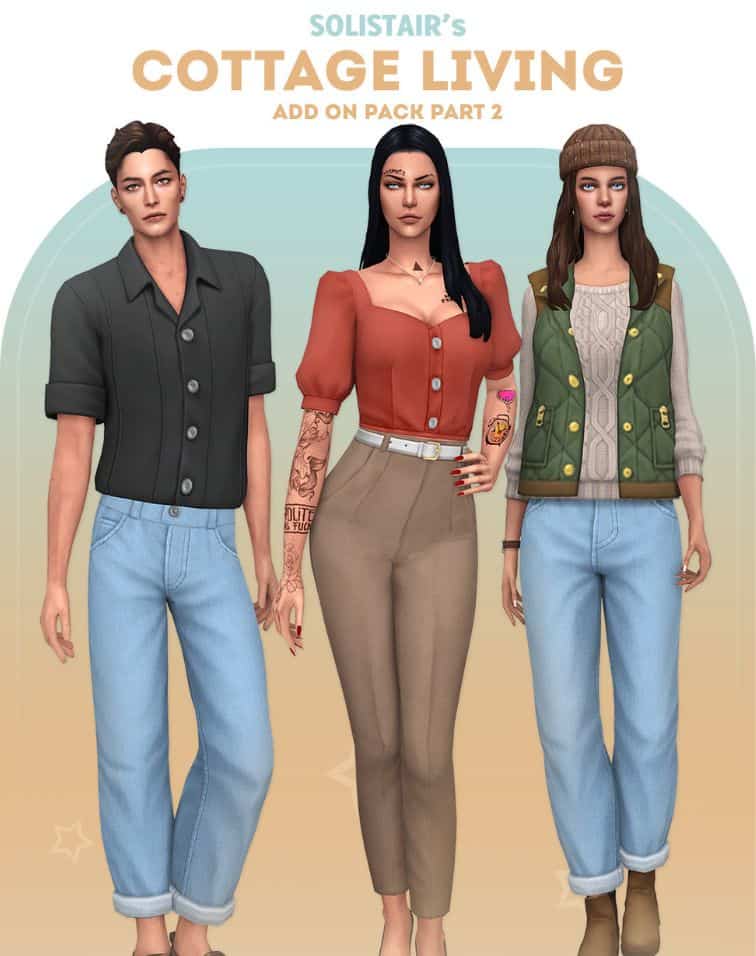 Following the set listed at #6, this sims 4 cottagecore cc set fashionably completes the collection.
These are great if you're going for a more modern-style cottagecore lifestyle.
This set offers a couple of denim options for both genders, a few tops, vest options, and a cute beanie hat.
My favorite piece from this cottage cc collection is that gorgeous cropped top with puffy sleeves.

13. Sims 4 Cottagecore House by simnematographygj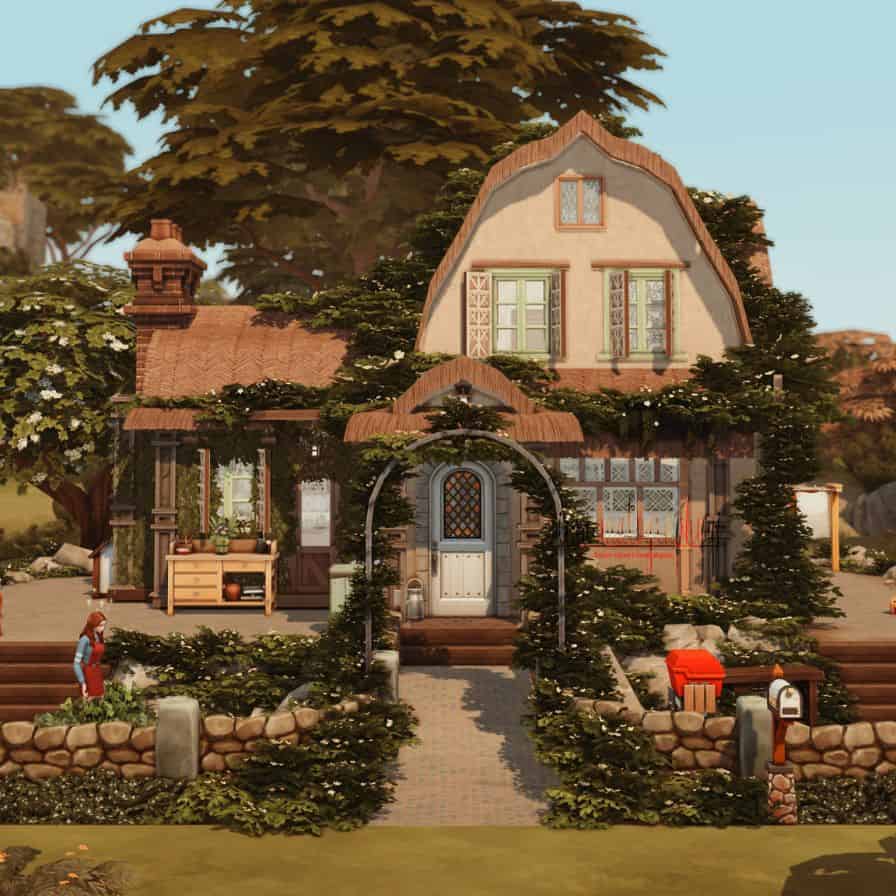 If you need help finding the right house for your sims' rural lifestyle, this cottage core mod may be your real estate housing solution.
This lovely cottage house would be ideal for your sims household to live in; it's a cozy 1 bed and 1 bath house that comes prebuilt with a lovely garden.
Once you download and unzip the content, you need to move the files directly into the Tray folder in your The Sims 4 folder.
Make sure you have enabled cheats, then type in bb.moveobjects on before adding the house to your empty lot.

14. Rusalka Dress Sims 4 Cottage CC by Sandrini Feierabend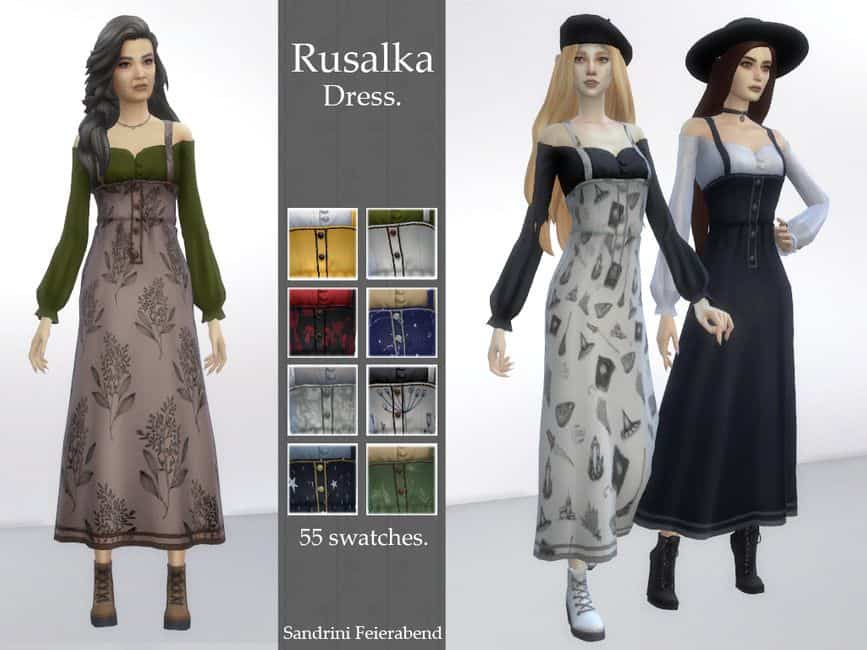 If this cottagecore dress cc is not perfect for the rustic lifestyle, I don't know what is.
The long cottage dress and the off-shoulder long-sleeve top combo look great on so many levels.
This cottage outfit comes in 55 amazing swatches, each looking as good as the next.
The solid colors and floral designs work best with the sims 4 cottage core style we're going for.

15. Sims 4 Cottage Core Clothes by Miiko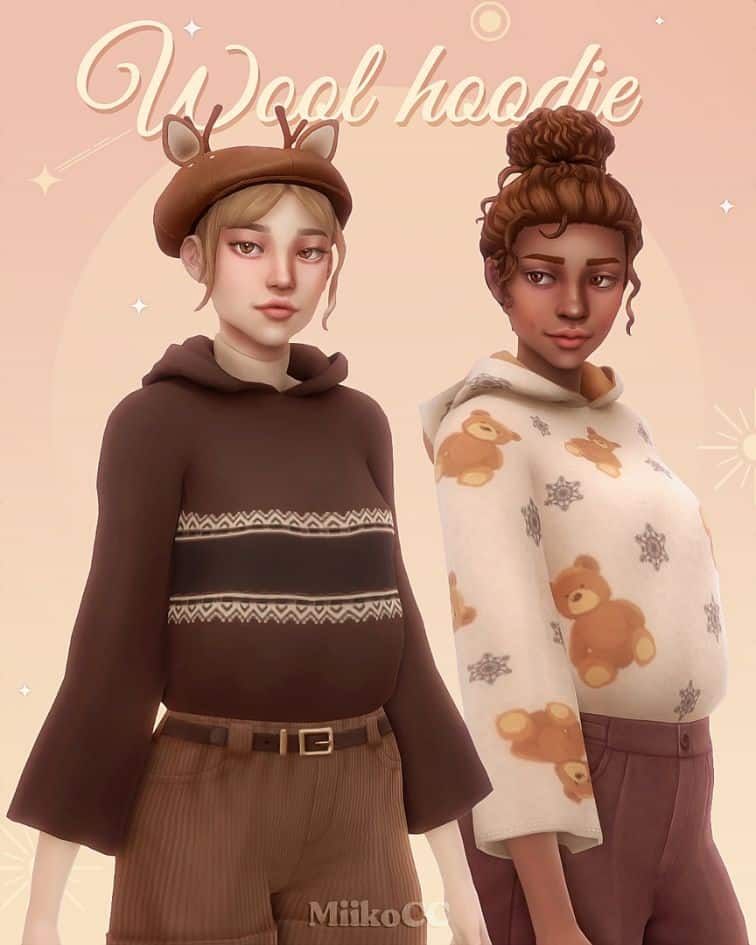 It might get chilly in the countryside, so why not get a warm and cozy wool maxis match hoodie for your sims?
This nice piece of sims 4 cottagecore cc has 19 swatches to pick from and would go well with long pants or a long skirt.

16. Cottagecore Furniture for Sims 4 by MadameRia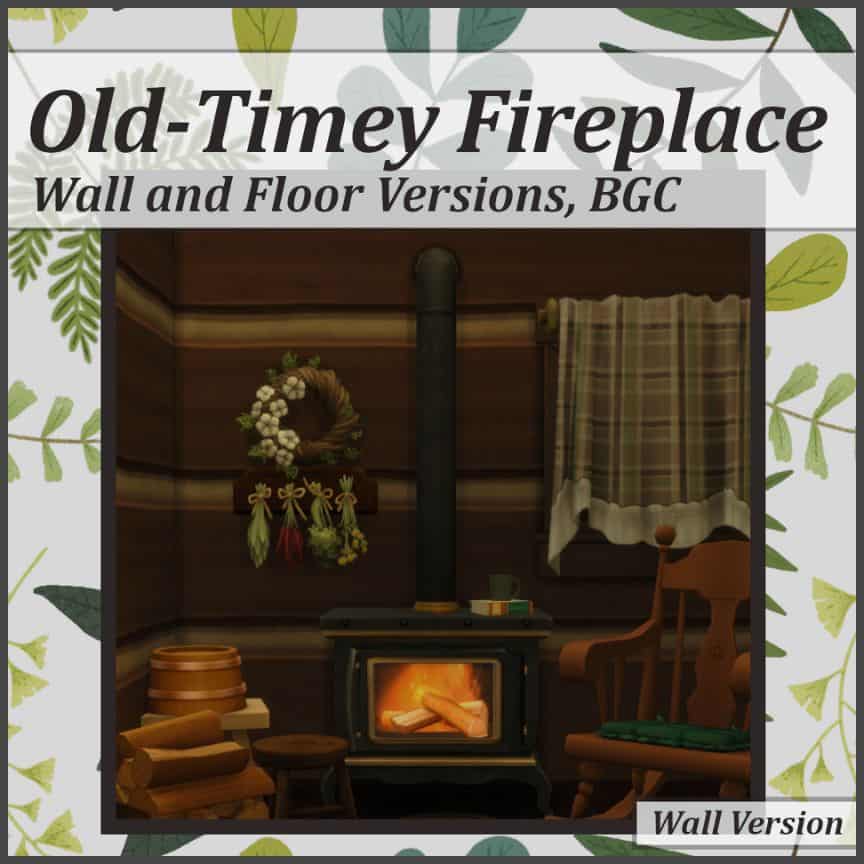 During the fall and winter seasons, your sims gotta stay warm, and when we're thinking rustic, we're thinking cast iron wood stove.
Classic black is the only color that it comes in, but there are three types of fireplaces:
Wall-mounted, locked to the wall with its chimney
Floor, which can be used anywhere as the chimney goes straight up
No chimney, which is basically the same as the floor one minus the chimney

17. Sims 4 Cottagecore CC Cardigan by Solistair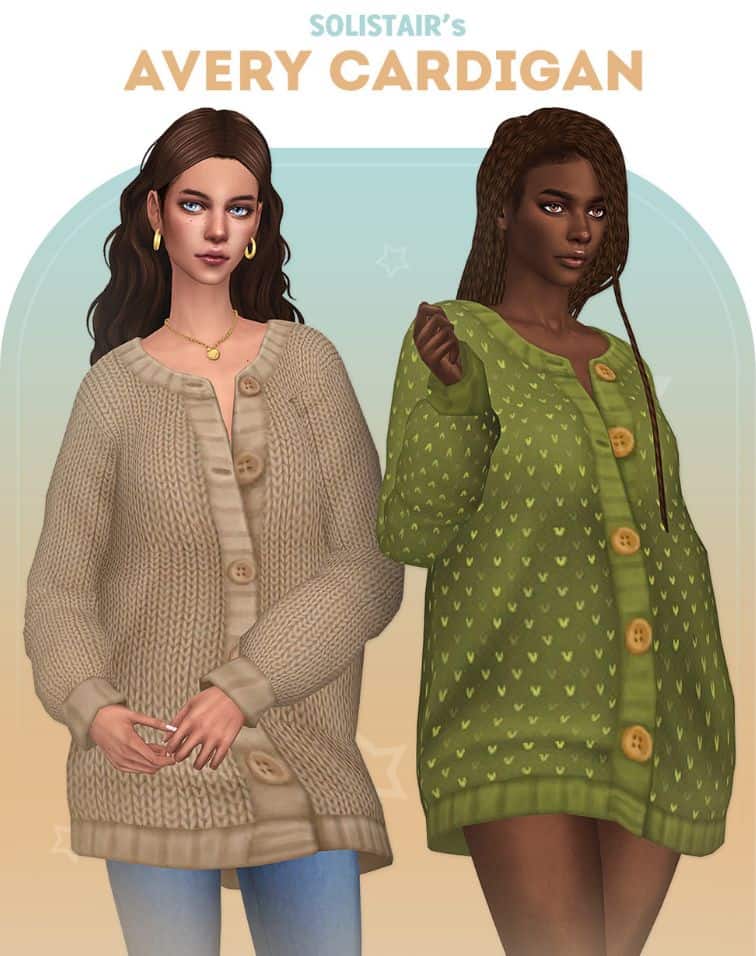 Another great item for colder days of rural living is this warm and oversized cardigan.
You get to pick between two kitted patterns, each having the same 11 swatches, for 22 options total.
This sims 4 cottagecore cc is perfect for lounging around the home or hitting the garden (don't forget to add some pants for that).
Pair it up with a cute little hat, and your sim will be ready to tackle the fall season in style.

18. Aurora Sims 4 Cottagecore CC Set by Serenity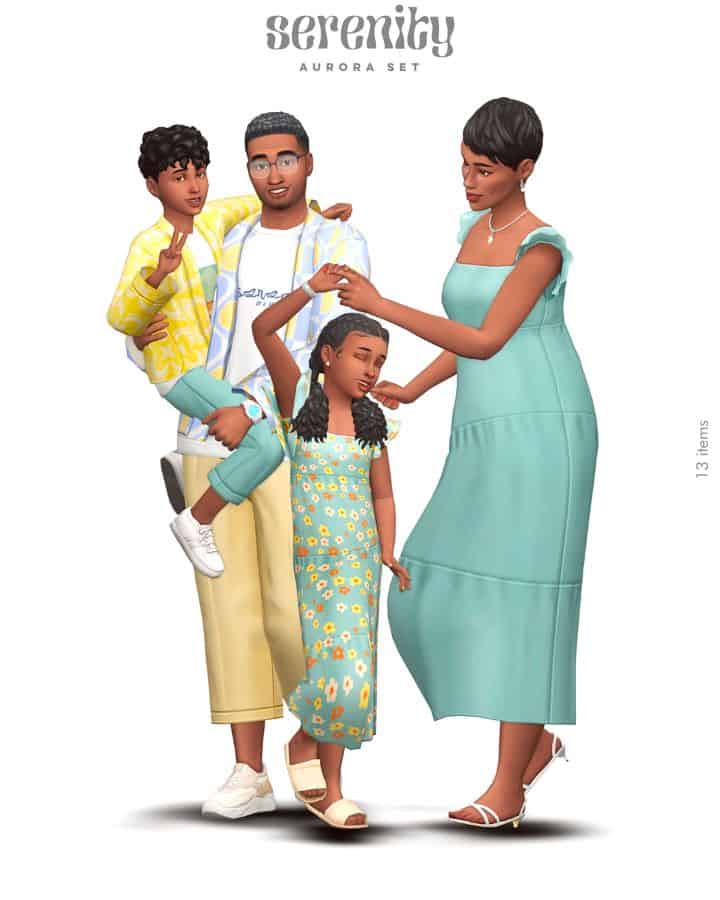 This sims 4 cottacore cc collection is for the whole family.
There are 13 items in all, which includes tops, bottoms, dresses, and hairstyles for both genders.
There are 25 solid colors and 9 cute patterned swatches.
So you can match your whole family's outfits for the perfect snapshot or mix it up at your leisure. Have fun with it.

19. Sims 4 Cottage Garden Stuff by Kerrigan House Designs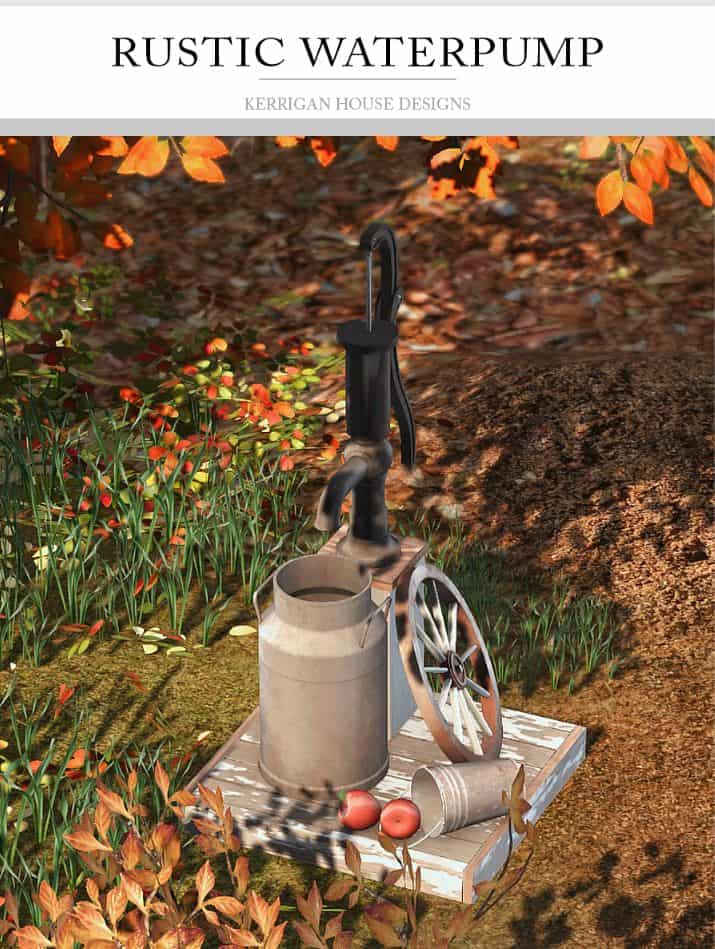 This water pump makes a great outdoor cottage core decoration for your sims' household.
This old rustic water pump is purely decorative, as you can't interact with it.
Nonetheless, it looks great and works with the cottage core aesthetics you're going for.
It's very well-detailed, and it's base game compatible too.

20. Winter Gobling Sims 4 Cottage Clothing by Miiko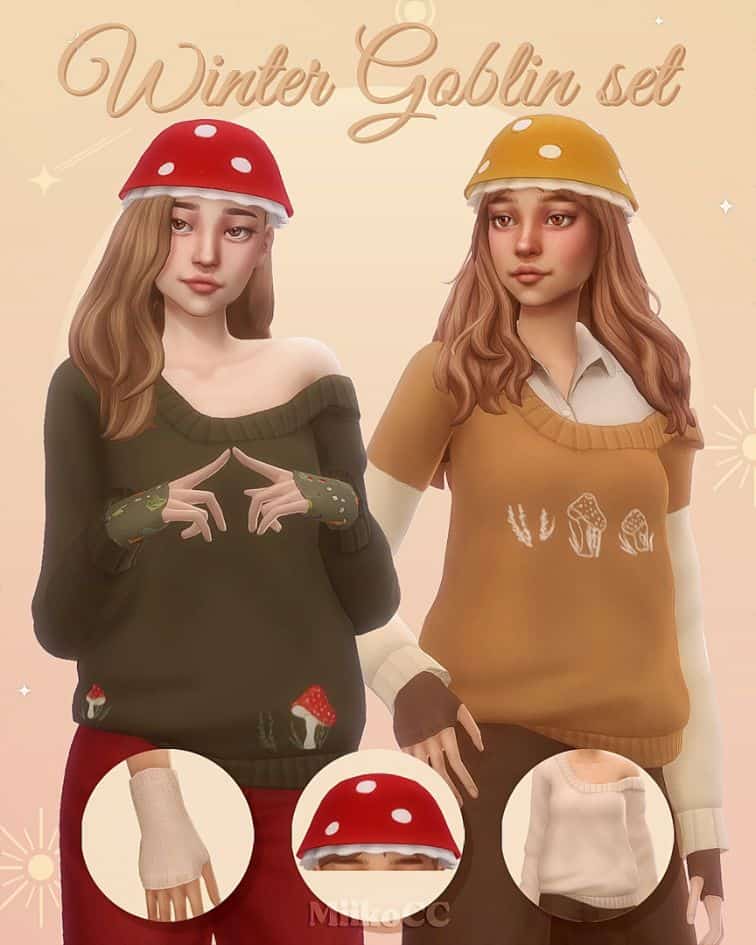 This sims 4 cottagecore cc set includes three pieces of clothing, which are:
A pair of fingerless gloves
A loose sweater
Mushroom hat
The glove come in 19 swatches, the sweater has 22, and the hat has only 4.
I love the swatches that come with the sweater; there are some fun motifs and great staples colors too.
Although the hat may look silly to some, I find it super cute.

21. Sims 4 Cottagecore CC for Hair by Feral Poodles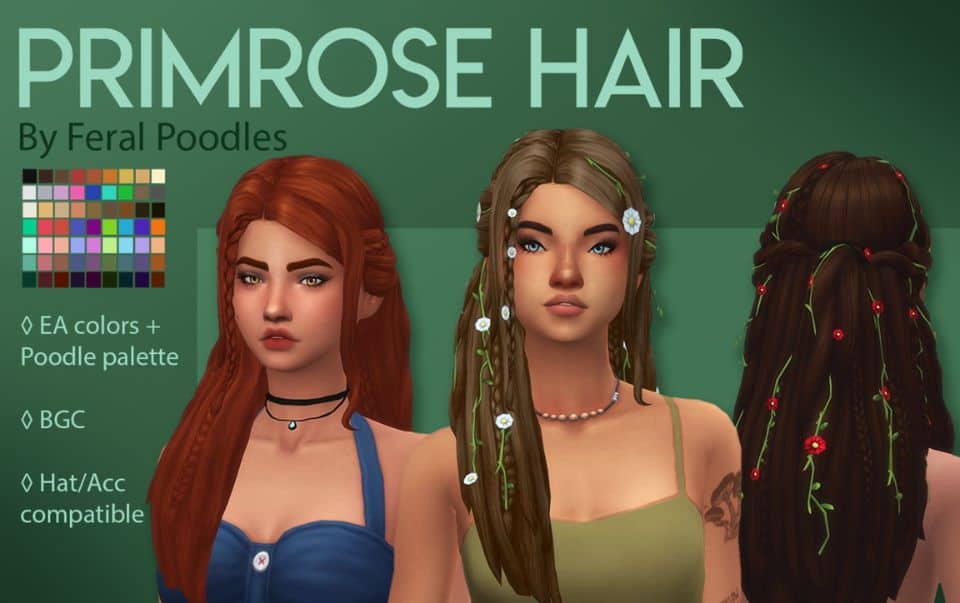 I had previously found that this hairstyle looked good as a sims 4 witch cc, but it looks even better as a cottage core cc.
On its own, the hair looks amazing with all its 63 swatches, but it wins me over with the flower accessory.
The flower cc can be found under the Hat category, and you can pick among 10 different colored flowers.
How else would a sim girl decorate her hair if not with these beauties?
In a rural world where fields of flowers would usually surround sims, it's only natural.

22. Woodland Dress Cottagecore CC by Trillyke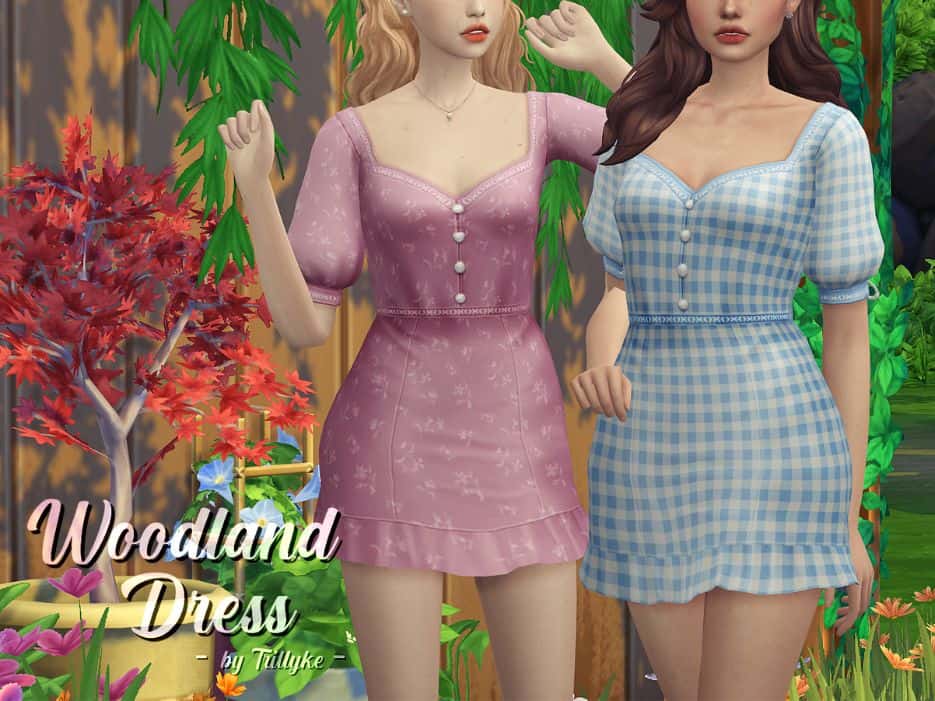 I adore this cottagecore dress cc; it's short, it's cute, it's sexy, and it's great for those hot summer days.
It comes in 10 colors and 15 patterns.
The solid colors look good, but it's the patterned dresses I fell in love with (check out the strawberry swatch).
This sims 4 cottagecore cc is ideal for the female teenagers or young adults in your sims' household.

23. Sims 4 Cottage Core Clothing by Solistair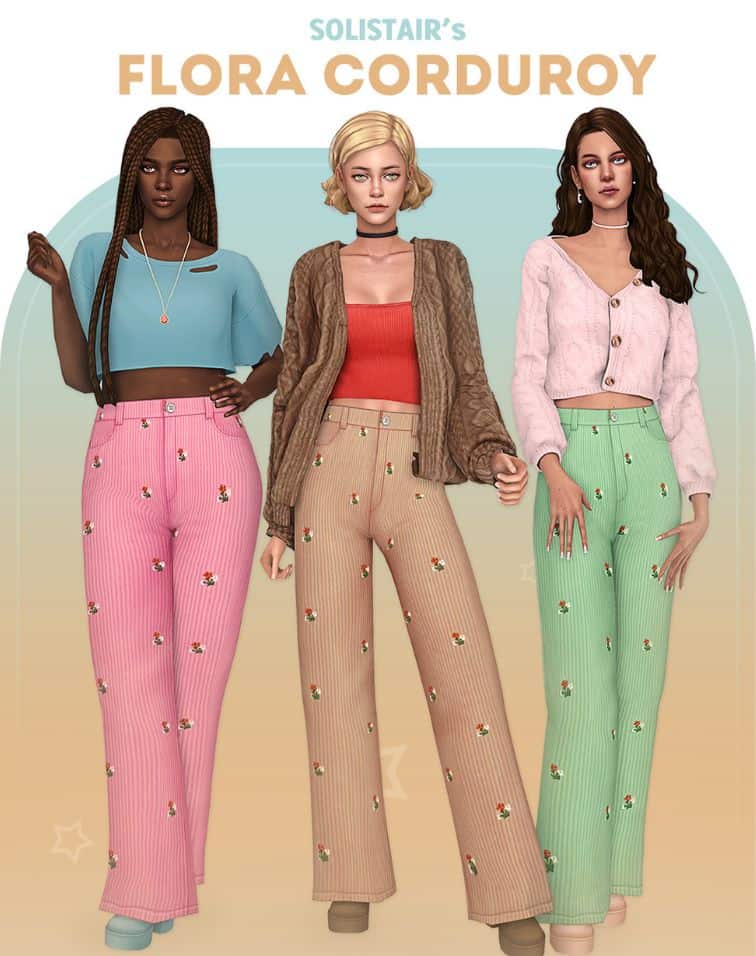 For your trendy cottagecore fashionable collection, this pair of pants should be a part of it.
These corduroy-styled pants decorated with tiny flowers bring cuteness and fashion to the table.
You get 11 beautiful pastel colors that go well with any styled top.
If corduroy is old enough to have made a comeback, that's good enough for me.

24. Sims 4 Cottagecore Decoration CC by MadameRia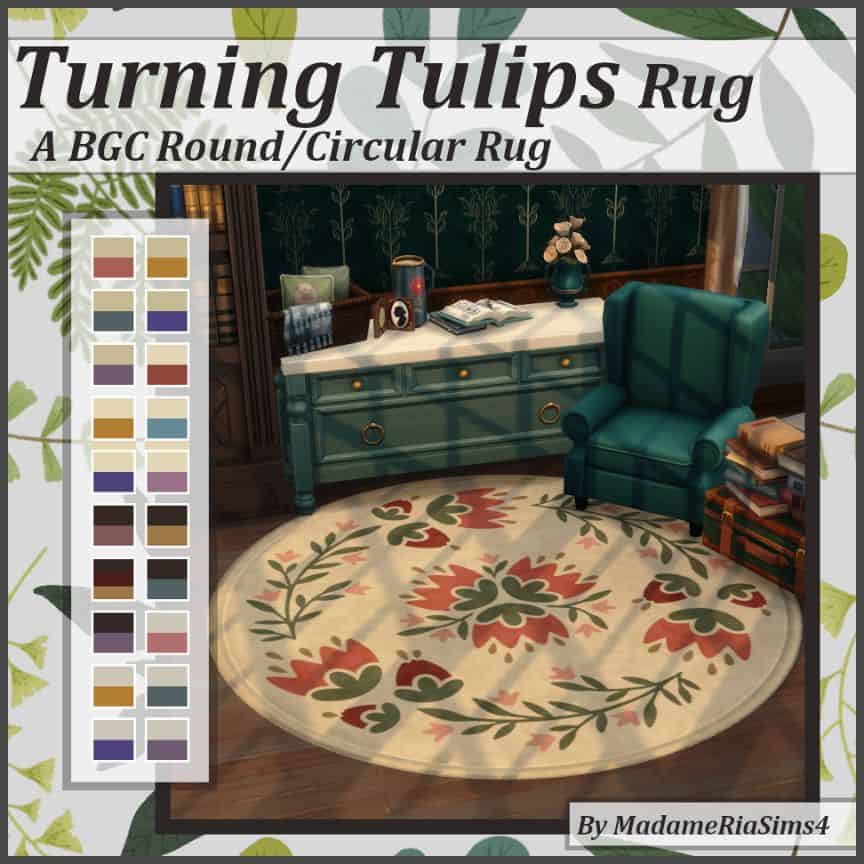 With its flowery pattern, this round rug would fit quite nicely in your sims 4 cottage core home.
The tulip-decorated rug is made available in 20 swatches and is as rustic as rustic can be.
It's the perfect addition to any room of your countryside home, so be sure to check it out.

25. Juliet Dress Cottage Core CC by Sandrini Feierabend Sims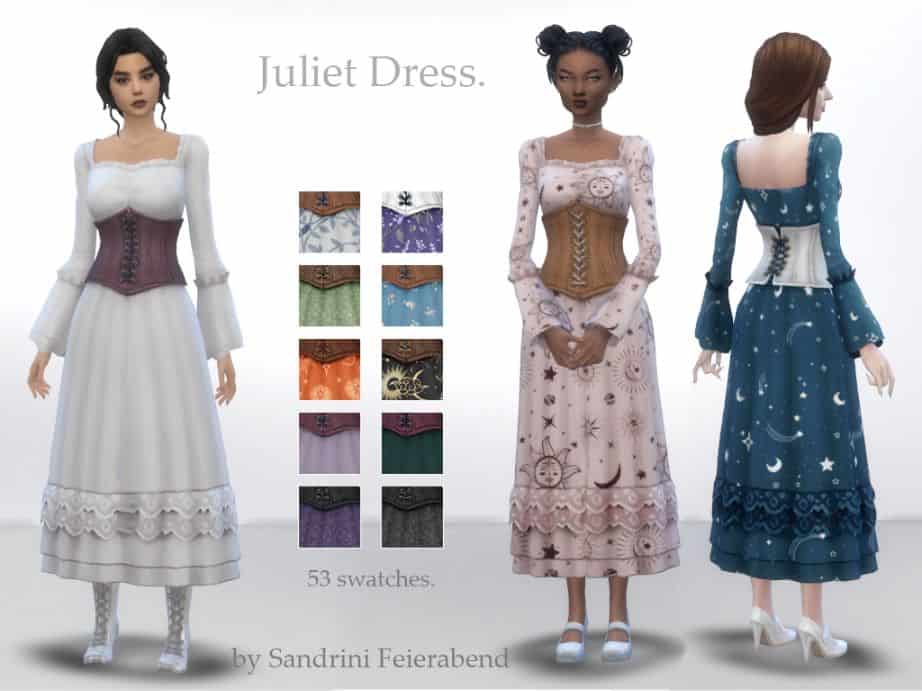 This sims 4 cottagecore cc is another great find for your female sims because you can't have too many dresses.
This dress is more old-fashioned with its corset and lace trimming.
It has a great selection of 53 swatches with different dress and corset color combos.
Among the swatches, you have a great array of plain-colored dresses, but there are also floral and celestial-patterned dresses.
As much as I like them, the floral-designed ones are my go-to dresses for the cottage-core lifestyle.

26. Garden Stories Set by Myshunosun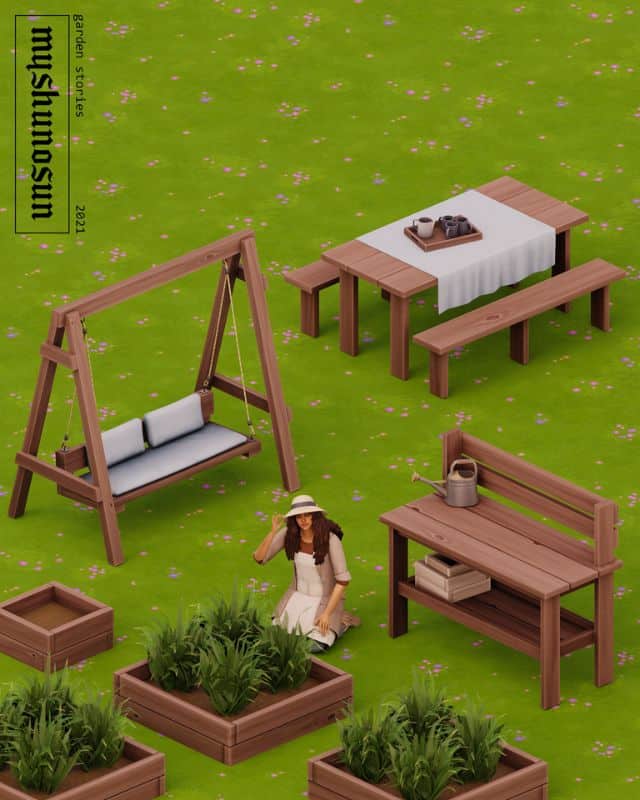 Add variety to your sims garden boxes and outdoor wooden pieces with this garden stories set.
The pack includes:
A bench
A comfy bench
Two picnic tables
Even a decor tray
Both small and large garden boxes.
If you have the Season EP, you can use the functional flower-arranging table.

27. Sims 4 Meadow Dress by Demondare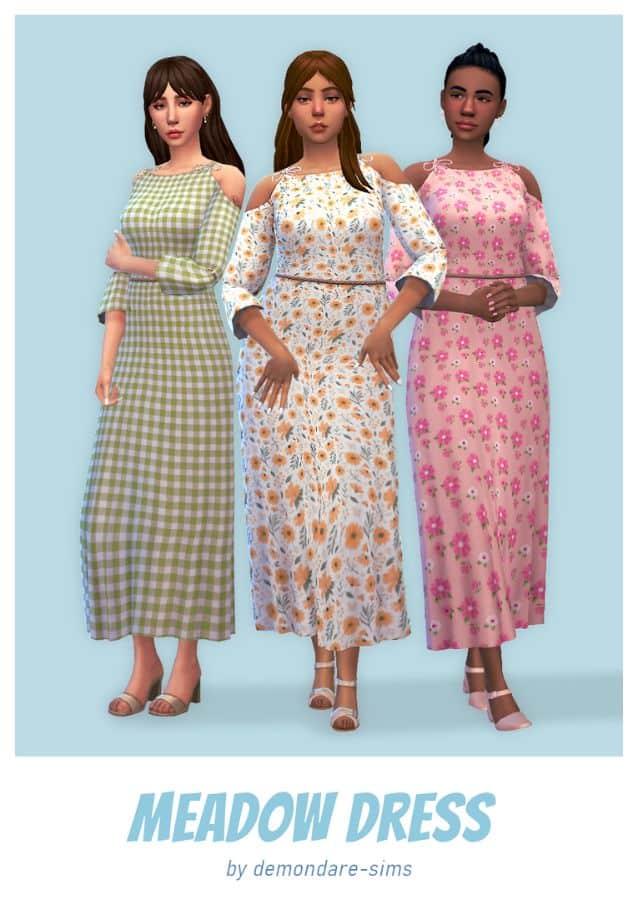 When I think of the countryside, loose, flowy dresses often come to mind, and this ankle-length dress fits my vision.
This semi-off-the-shoulder dress comes with three-quarter-length sleeves and is perfect for a casual everyday dress.
The dress comes in 22 swatches, including the checkered pattern above and sweet floral designs.

28. Bluebells Mini Clothing Set by Nolan-Sims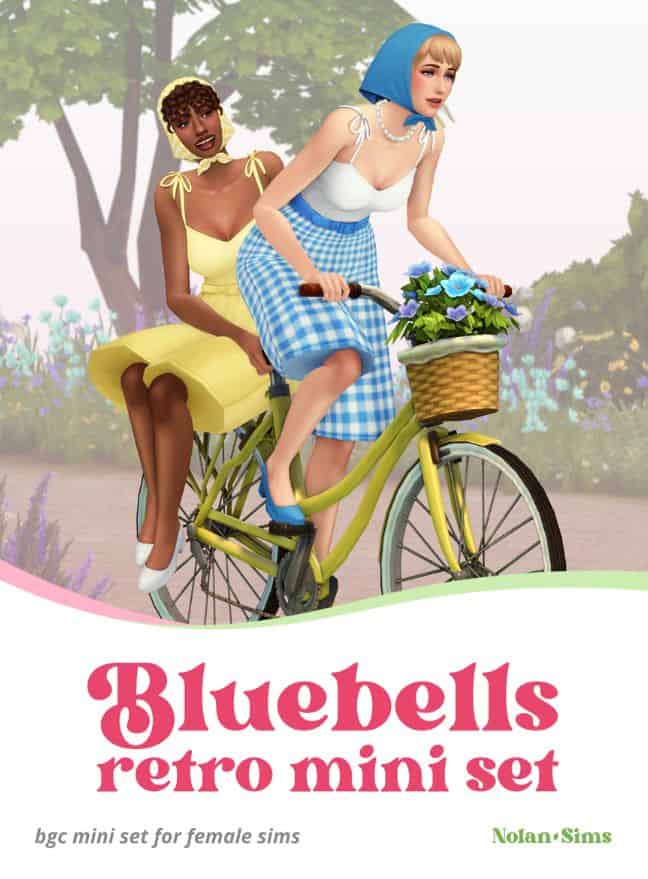 While this mini set is technically retro-inspired, the headscarves, top, and capri pants outfit work great for cottage living.
The headscarf comes in two versions (straight and curly textured banks), and there are also two pairs of pumps (standalone or override).
I particularly like the flared three-quarter length capris, belt, and string-tied top.
The outfit comes in 39 swatches, including solids and other patterns like checkered, plaid, strawberry, flowers, leaves, and an egg design.

29. Men's Daniel Top by Kumikya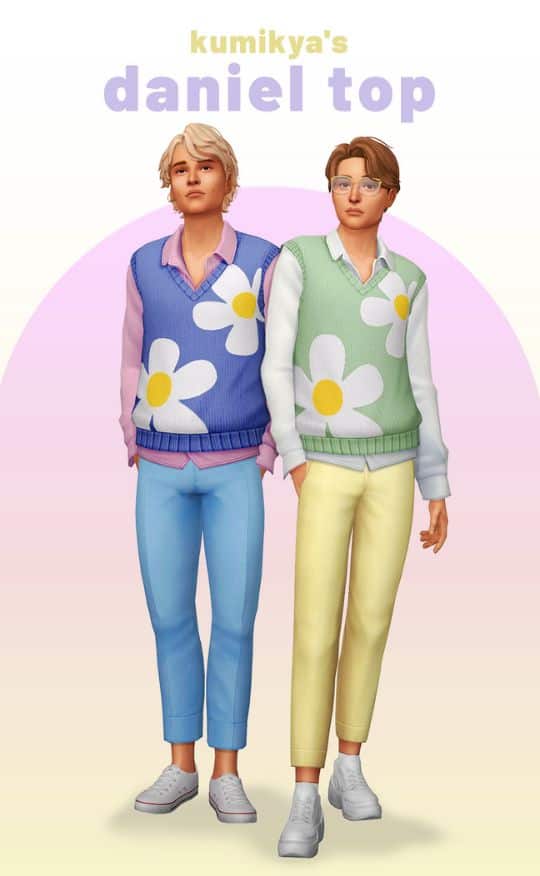 If your male sims are into flower patterns, they'll love this spring-ready shirt and flower vest.
The vest comes with a white shirt underneath, but you can also use the shirt overlay to change up the color beneath.
Both the top and shirt overlay are available in 16 swatches.

30. Cottagecore Living CC Pack by Peachyfaerie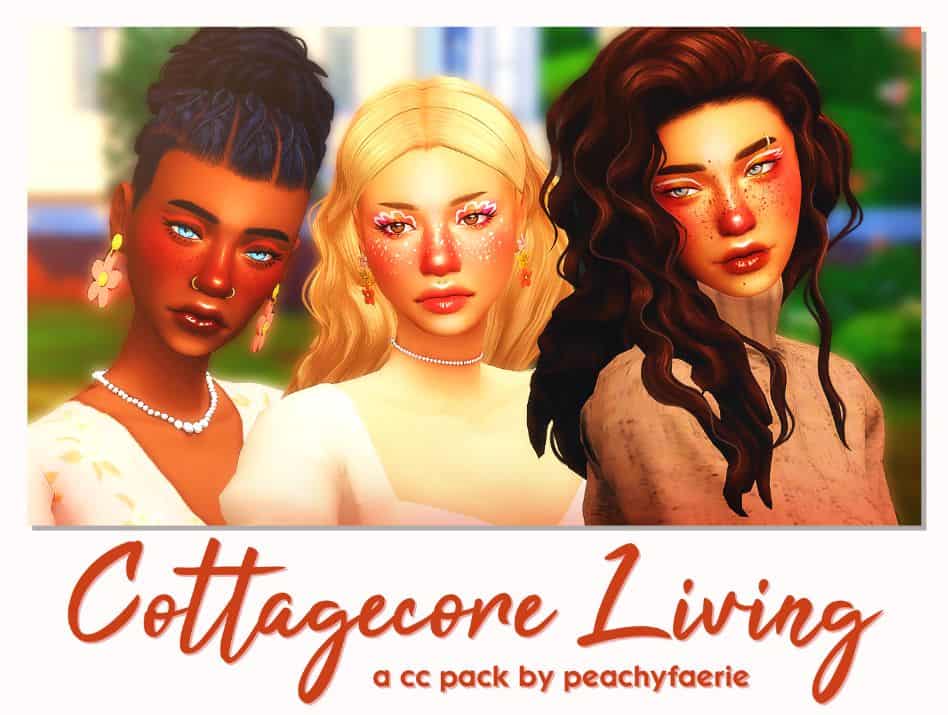 This custom content pack is inspired by the cottage living aesthetic and has many great pieces.
The pack includes the following pieces;
Eyebrows
Eyeliners
Freckles
Blushes
Eyeshadows
Lipgloss
Faceshine
Highlighter
The Maisie blush is my favorite; it just looks like your sim has been out in the warm sun all day long.

31. Cottage Shoe Collection 02 by Jius-Sims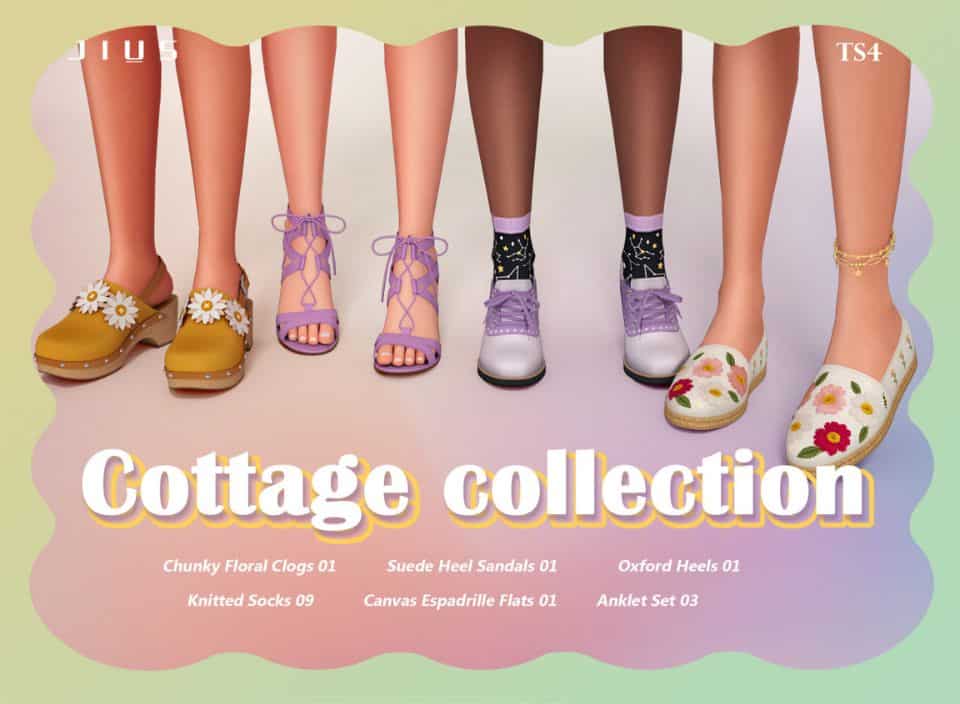 I was so excited when I saw that Jius-sims came out with a second part of the cottage collection.
This pack includes 4 new shoe designs perfect for everyday wear and some dressier events in the countryside;
Floral clogs
Floral canvas espadrille flats
Suede heeled sandals
Laced Oxford heels
The set also includes a pair of socks and an anklet set.

32. Cottage Living Add-Ons by Nucreats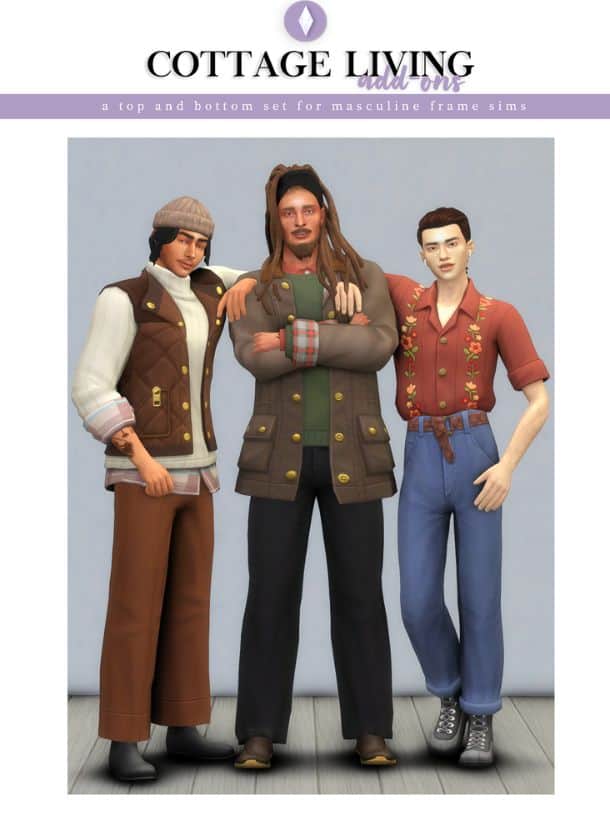 This pack of add-ons has some great pieces for the masculine frame sims in your gameplay.
The set includes 6 tops and 6 bottoms;
A turtleneck & vest
A jacket & sweater
Sweater vest (tucked and untucked)
Tucked shirts
Boyfriend jeans (4X)
Pleated pant options

33. Cottage Fashion Collection by Sheabuttyr X Serenity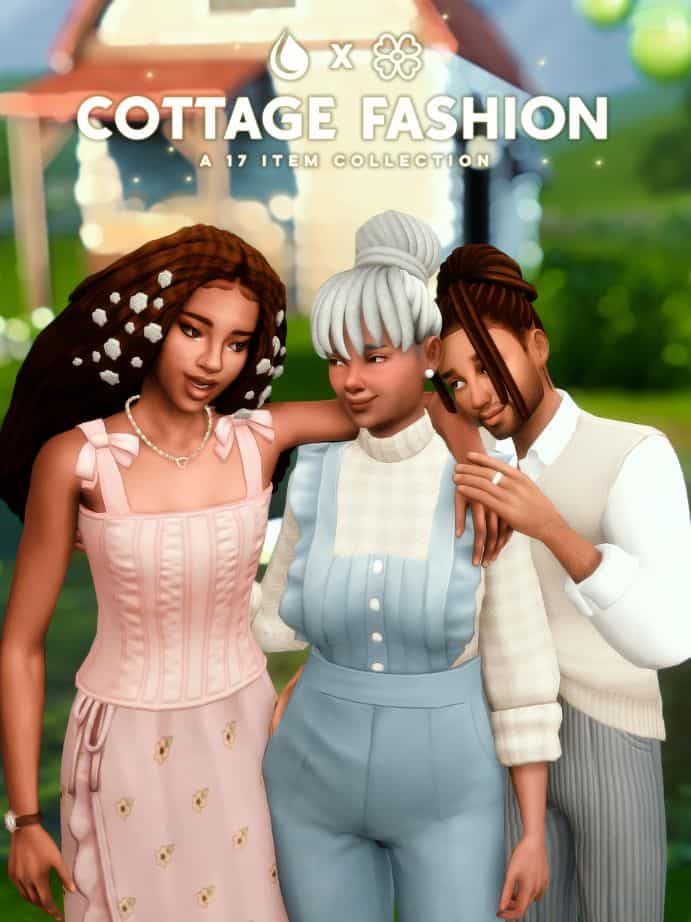 This beautiful cottage fashion collection comes together in two parts, with a collaboration of Sheabuttyr and Serenity.
Sheabuttyr's part focuses on hairstyles for your male and female sims. There are 7 hairs and 3 accessories.
There are locs, tresses, braids, a headband overlay, a bandana overlay, and beautiful flowers for the Tessa tresses hairstyle.
Serenity's part is also about cottage fashion, including a summer dress, a tied bow corset top, ruffle overalls, a flowy skirt, and thick sole shoes.
There's also a sweater vest and cuffed pants for your male sims.

34. Sims 4 Cottage Living Add-Ons by Akalukery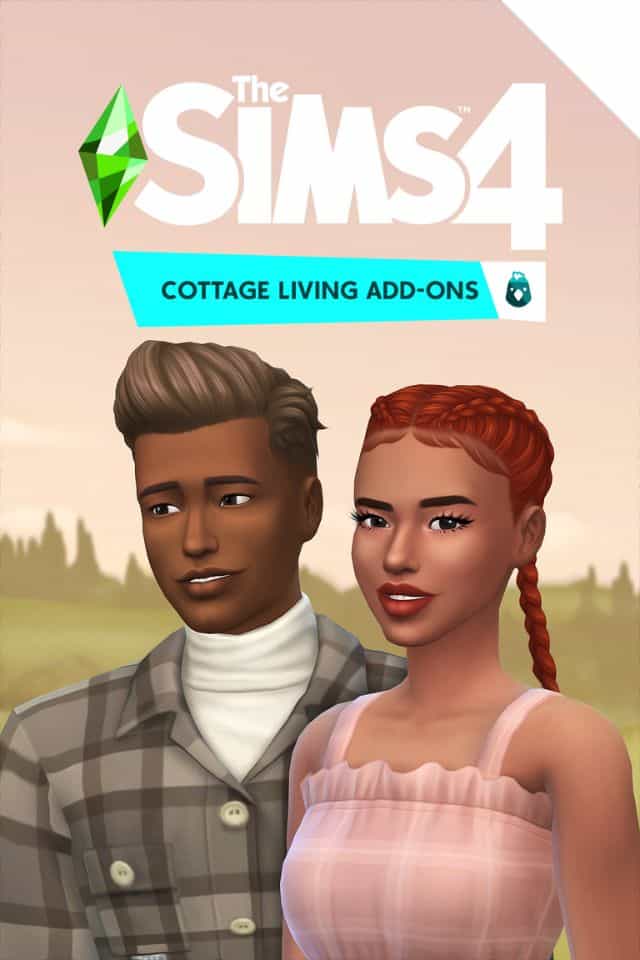 For more sims 4 cottagecore cc clothing pieces, we have this excellent pack for both your male and female sims.
There's a mix of pants, shirts, dresses of different lengths and styles, and casual skirts and tops.
You can also try one of the two female hairstyles; braided hair is my favorite, perfect for busy sims.

35. Summer Garden CC Pack by Joyceisfox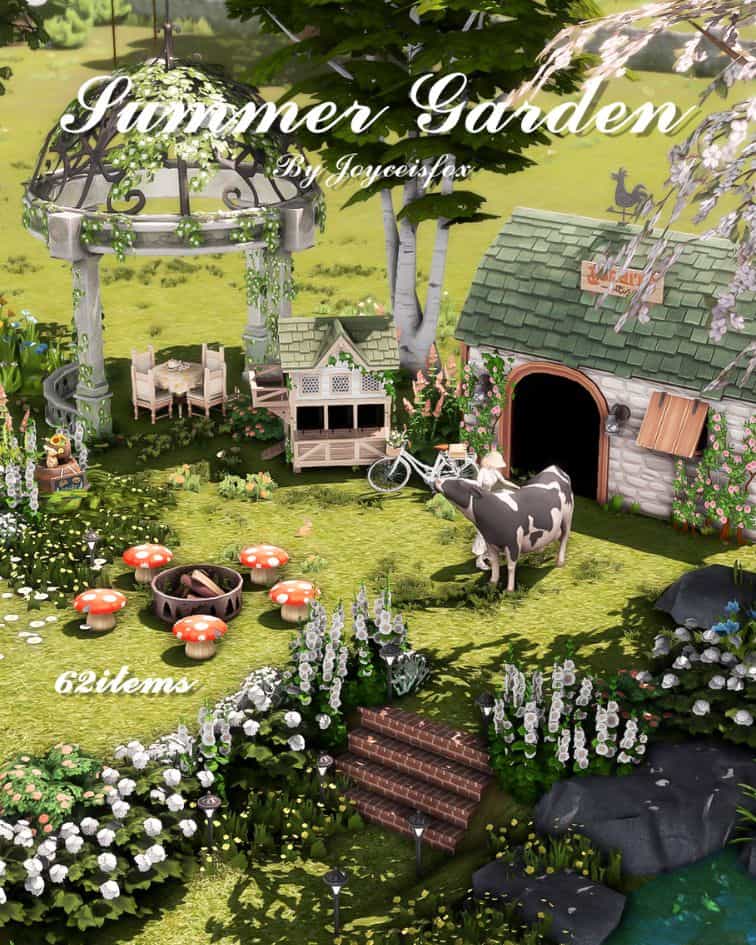 This fantastic summer garden pack comes with 63 custom content pieces to create the perfect home and garden for your sims.
Some objects require different EP packs, but others are base game-compatible.
You will find interior furniture and decorative objects like paintings, lamps, curtains, and more.
Add a chicken coop, a small bar, and even a gazebo to your sims gardens.

36. Sims 4 Wildflowers CC Pack by Aretha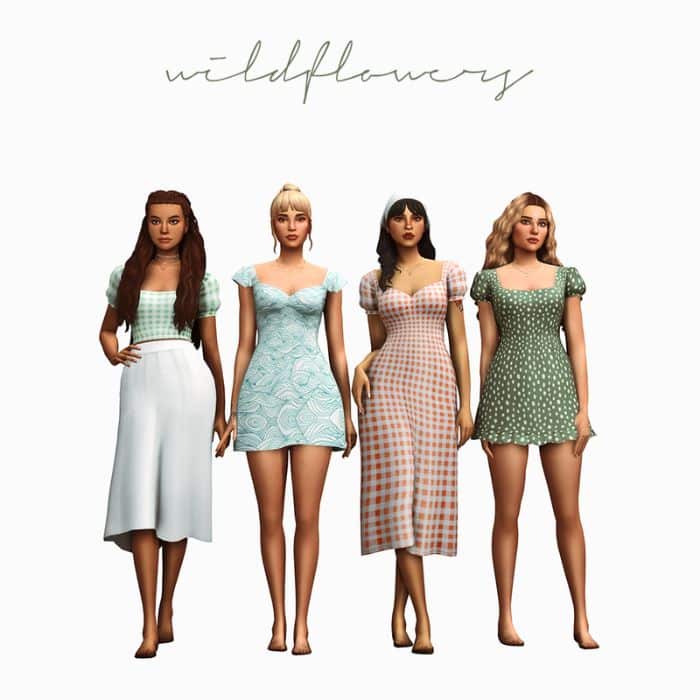 This custom content clothing pack comes with 6 pieces for your female sims.
There are 3 different dress designs, and one has some great string details on the back.
Your sims can also style the adorable puff-sleeved crop top and A-line mid-length skirt, which will pair great with the mid-calf boots.
Sims 4 Cottagecore CC: Final Thoughts
From cute mushroom hats, flowy dresses, and rustic water pumps, there are so many sims 4 cottagecore cc pieces to try out.
If you come across any more cottagecore custom content you'd like for us to feature, let us know in the comment section below or tag us on Tumblr.
And please share and pin this collection for later!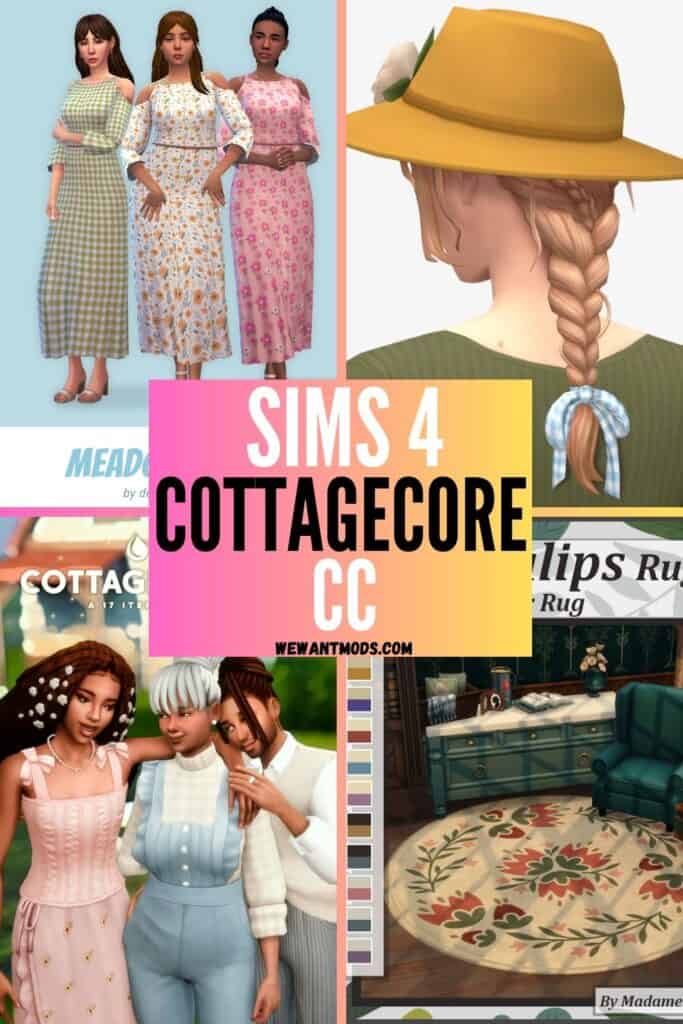 Other Sims 4 Custom Content Lists
35+ Sims 4 Cottagecore CC: A Rustic World Awaits (November 2023)