21+ Sims 4 Crop Tops: Unlock the Cutest Tops Now
Display a little extra skin with this collection of sims 4 crop tops.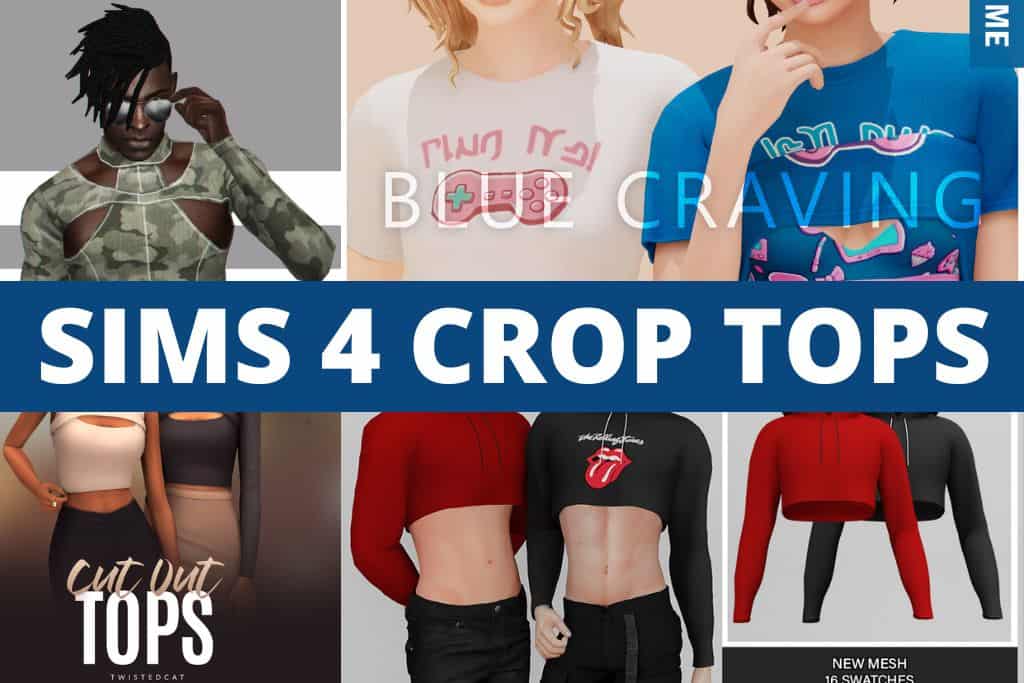 When it comes to custom content clothing, crop tops are some of my favorite pieces.
You can pick a crop top that's the outfit's focal point or opt for something more casual to let your sims skirt, shorts or pants take center stage.
And since we love crop tops, we rounded up a mix set of short-sleeve, long-sleeve, casual, sexy, and even netted crop tops too.
Now let's go cc shopping.
Disclaimer: The following mods are neither endorsed nor affiliated with The Sims, Maxis, or Electronic Arts. Any use of mods (custom content or game mods) should be done with caution and with the knowledge that there may be risks.
Trendy Sims 4 Crop Tops
Below, we've included some casual and dressy crop tops for your sims and some male crop top options.
1. Crop Top & Skirt Set by Blue Craving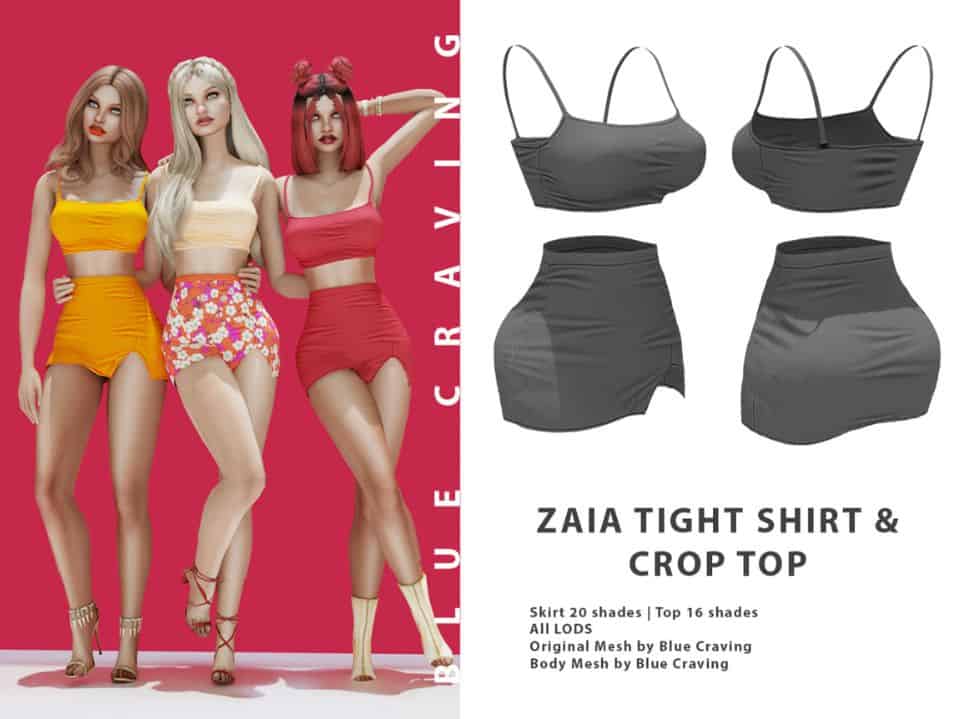 This two-piece custom content set includes a spaghetti strap spandex-like crop top and matching skintight shirt.
The crop top comes in 16 shades, while the shirt has 20 swatches to try out.

2. Floral Sims 4 Crop Tops by Black Lily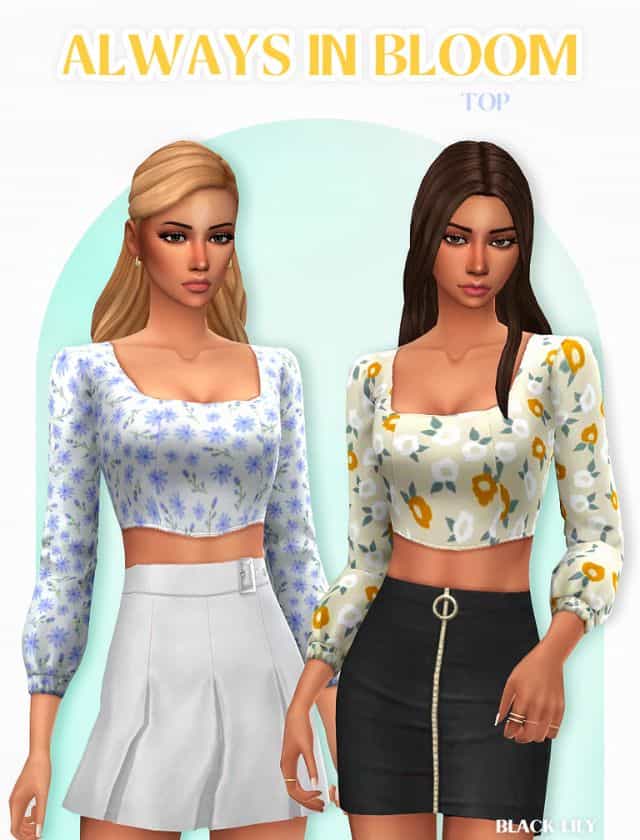 This long-sleeve crop top looks super cute with skirts and skinny jeans, and these floral tops easily add some charm to any outfit.
These crop tops come in 22 swatches, each with a different color and flower size.

3. Sims 4 Accessory Crop Top by Trillyke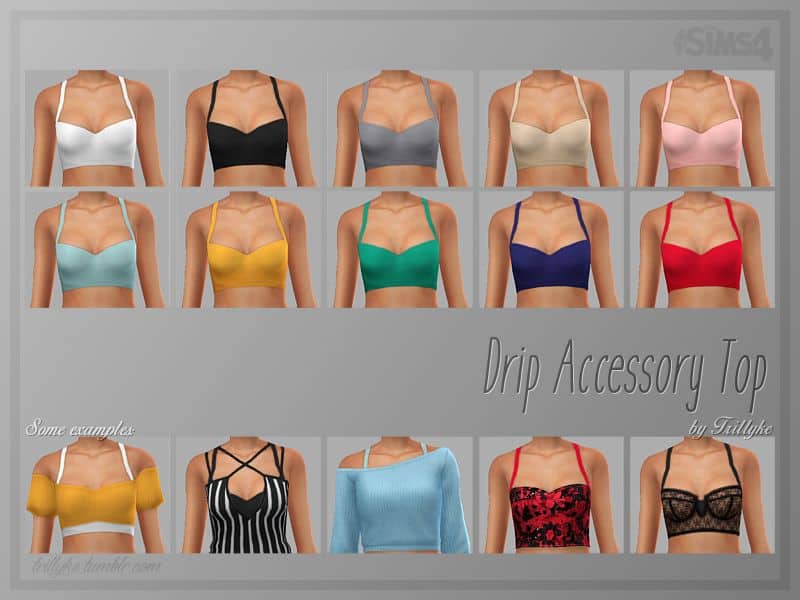 Our sims can all do with extra accessory pieces; this crop top is no exception.
Pair your new accessory crop top under dresses or shirts; this design comes in 10 solid color swatches.
You will find this crop top under the Gloves section.

4. Crop Top & Skirt Set by JujuAwesomeBeans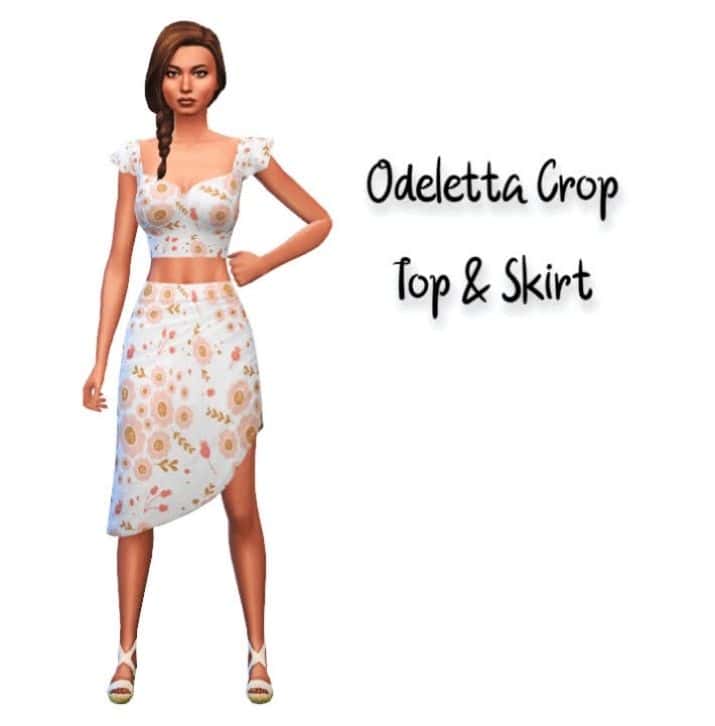 This small custom content set comes with two pieces: a capped-sleeve cotton crop top and a matching asymmetrical skirt.
This set is perfect for spring and summer and comes in 14 patterns, including flowers, hearts, and polka dot options.

5. Sims 4 Sweater Crop Top by Laupipi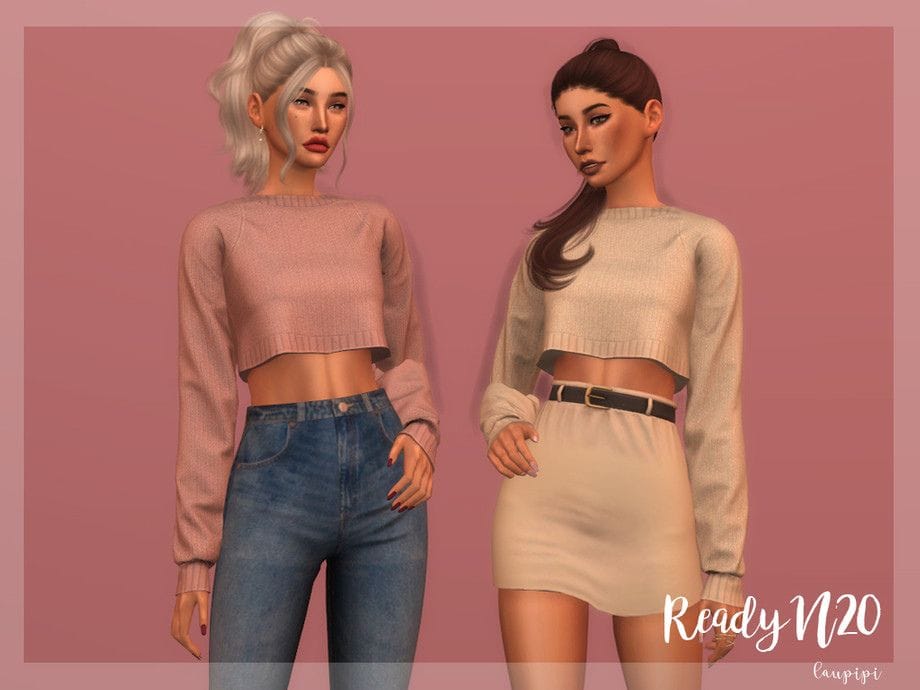 What's better at the start of Autumn than a cozy cropped sweater?
These cropped sweaters come in a beautiful autumn color palette, which includes 14 swatches.
You can wear this sweater casually with jeans, a dress, or a skirt.

6. Hooded Crop Top for Males by Beto_ae0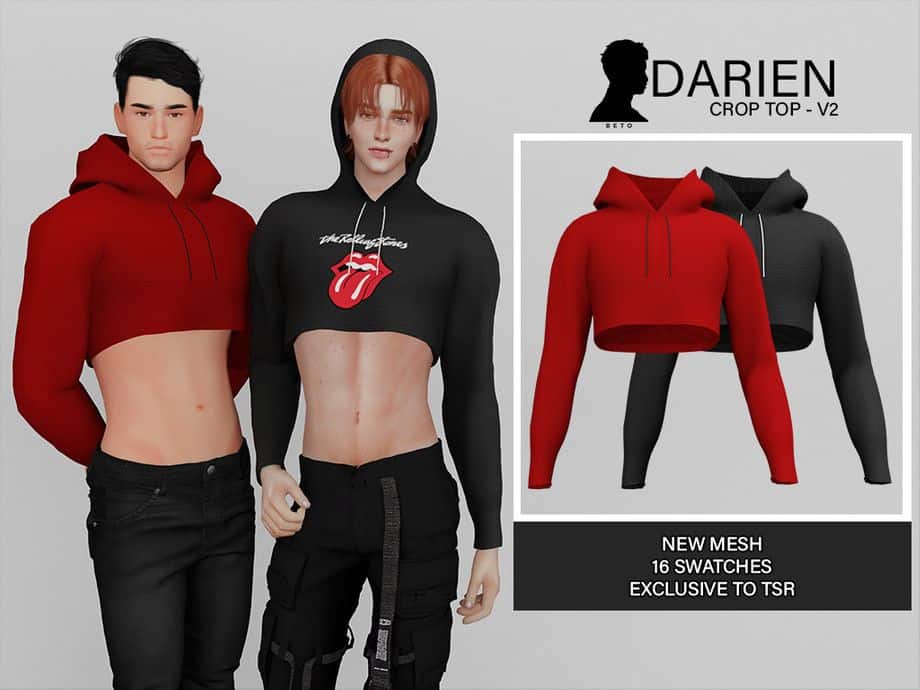 These sims 4 crop tops are perfect for your male sims who enjoy showing off their abs.
This crop top is a sweater with a hood and comes in 16 different swatches.
The swatches include multiple solid colors, a few Star Wars options, two bands, and one anime character.

7. Sims 4 Casual Crop Top Set by Miiko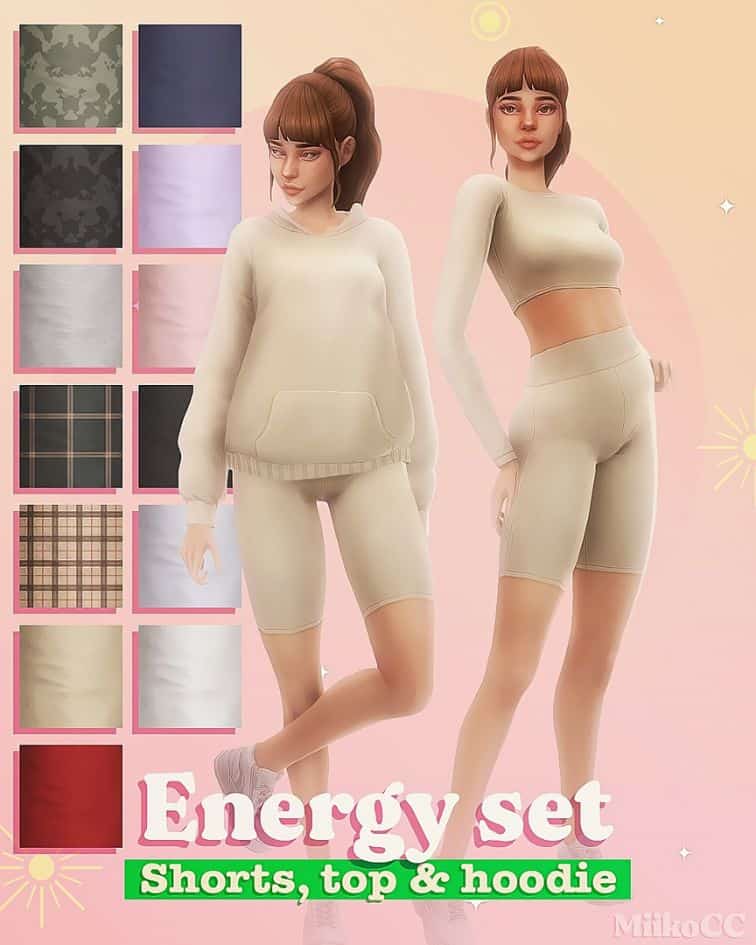 Do your sims love loungewear or sportswear?
This energy set can work for an active sim on the go or for those who prefer just hanging around the house.
The pack includes a cropped long-sleeve top, thigh-length biker shorts, and a comfy oversized hoodie.
Each custom content piece comes in 13 swatches, including a mix of solid and pattern options.

8. T-Shirt Crop Tops for Sims 4 by Saliwa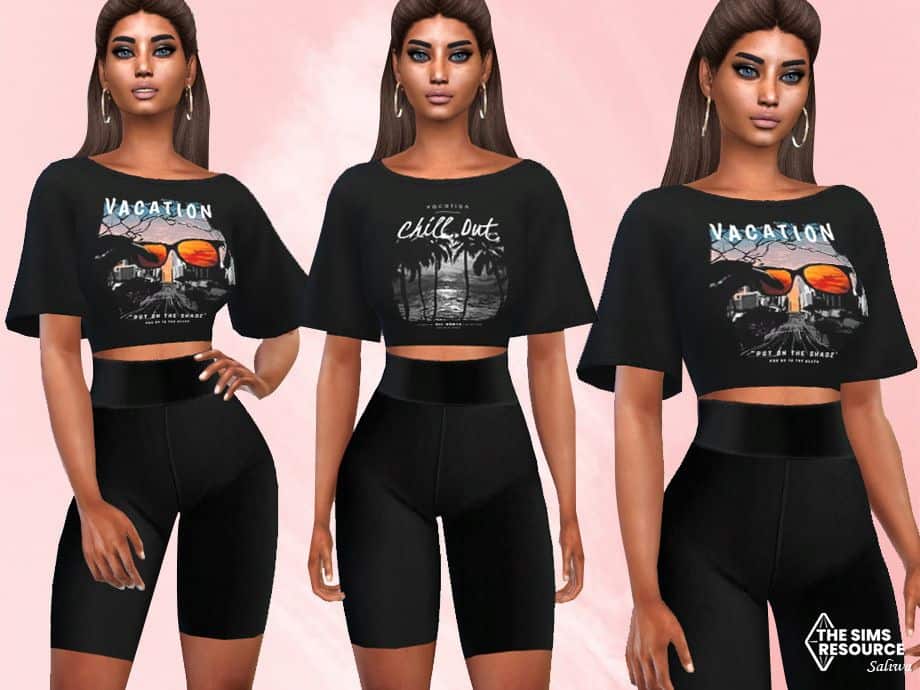 Since I am a massive fan of black-on-black clothing looks, these sims 4 crop tops are some of my favorites.
These crop tops have nice flowy sleeves and pair great with sports shorts, leggings, or jeans.
There are two swatches for these tops: the Chill Out and Vacation options.

9. Sims 4 Tee Shirt Crop Tops by Blue Craving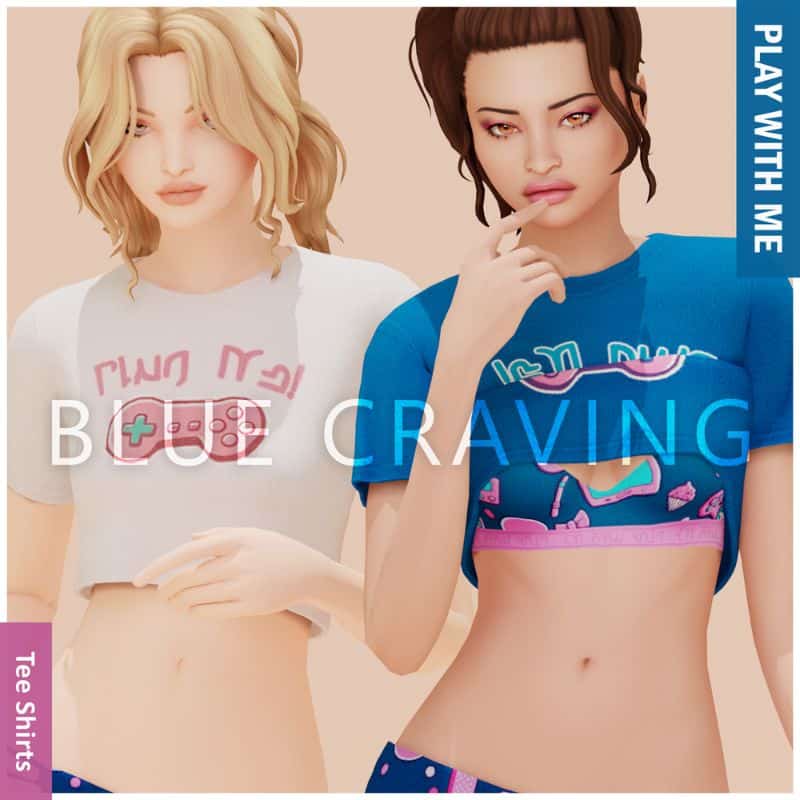 Need some more tee shirt options for your sims closet?
This set of sims 4 crop tops offers two cropped tee shirt styles.
The first style is a classic cropped tee, while the second design is shorter, displaying the bralette underneath.
Both crop tops come in 20 shades.

10. Off-Shoulder Crop Top by Black Lily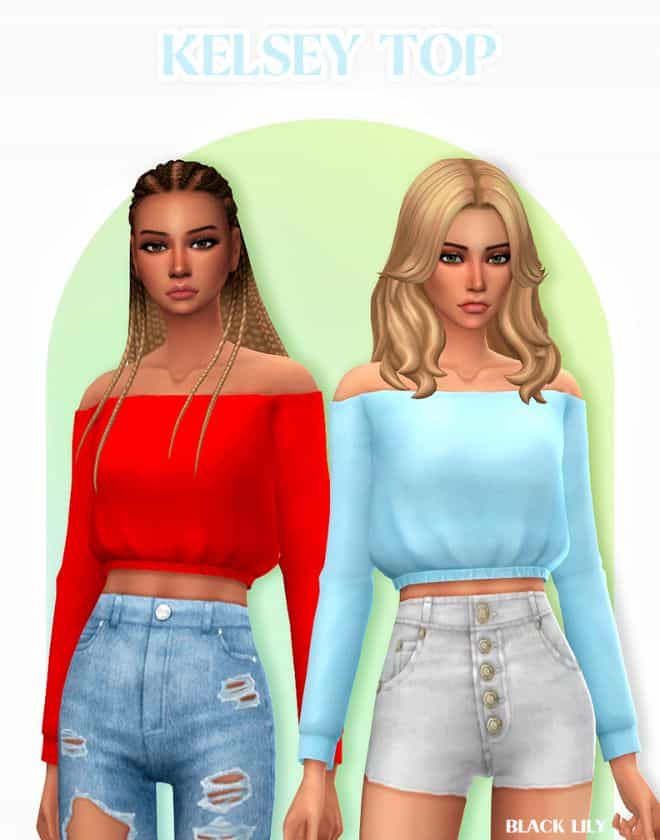 This long-sleeved, off-the-shoulder crop top is perfect for the spring and fall seasons when the weather is between hot and cold.
There are 18 solid color swatches, making quick work of matching the top with your favorite shorts or jeans.

11. Sims 4 Corset Crop Tops by LuxySims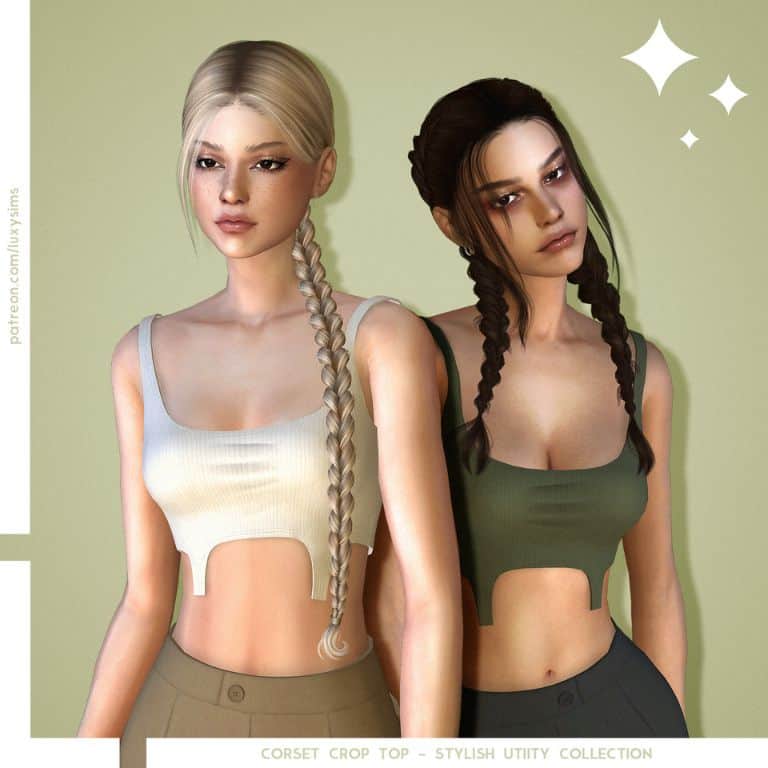 This corset-style sims 4 crop top is casual and sexy and will look amazing with a sleek pair of pants or sporty shorts.
The top comes in 12 swatches, including staple colors (black, white, grey) and some spring colors, like browns, taupe, and beige.

12. Sims 4 Cropped Ruffle Top by Casteru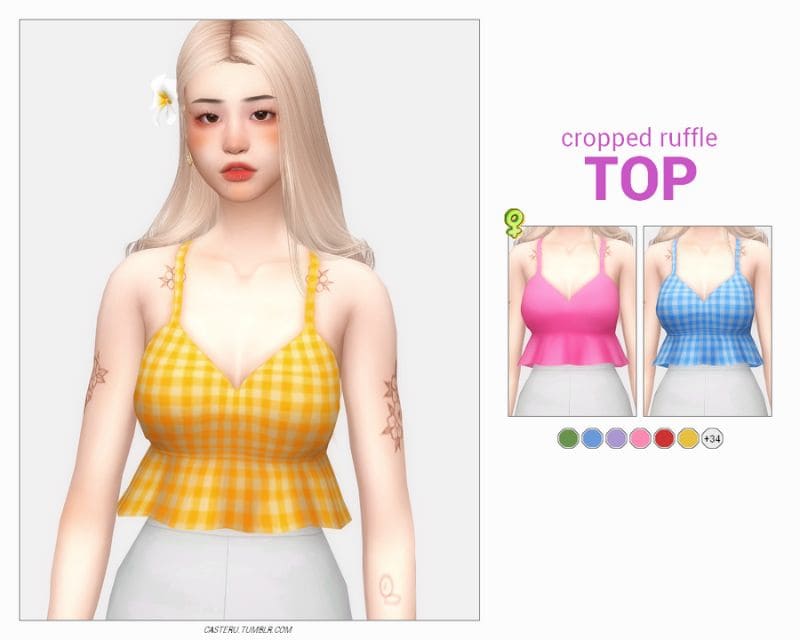 Pair your favorite summer skirt with this sweet, cropped ruffle top.
The top has a fitted bust and flares with a classic peplum waist.
This adorable strappy crop top comes in 40 swatches, including 20 solids and 20 plaid color options.

13. Cut Out Crop Tops CC by TwistedCat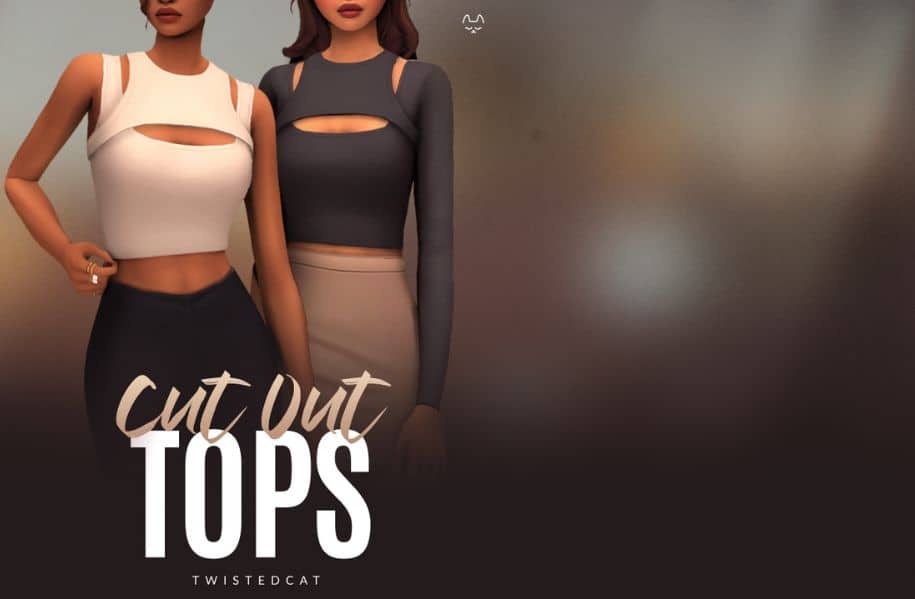 These sims 4 crop tops are sleek and casual at once and remind me of Skims clothing pieces.
The crop tops come in both a long-sleeve and short-sleeve version, and both have 19 colors, including classic basics and brighter color swatches.

14. Lace Sims 4 Crop Tops by Miiko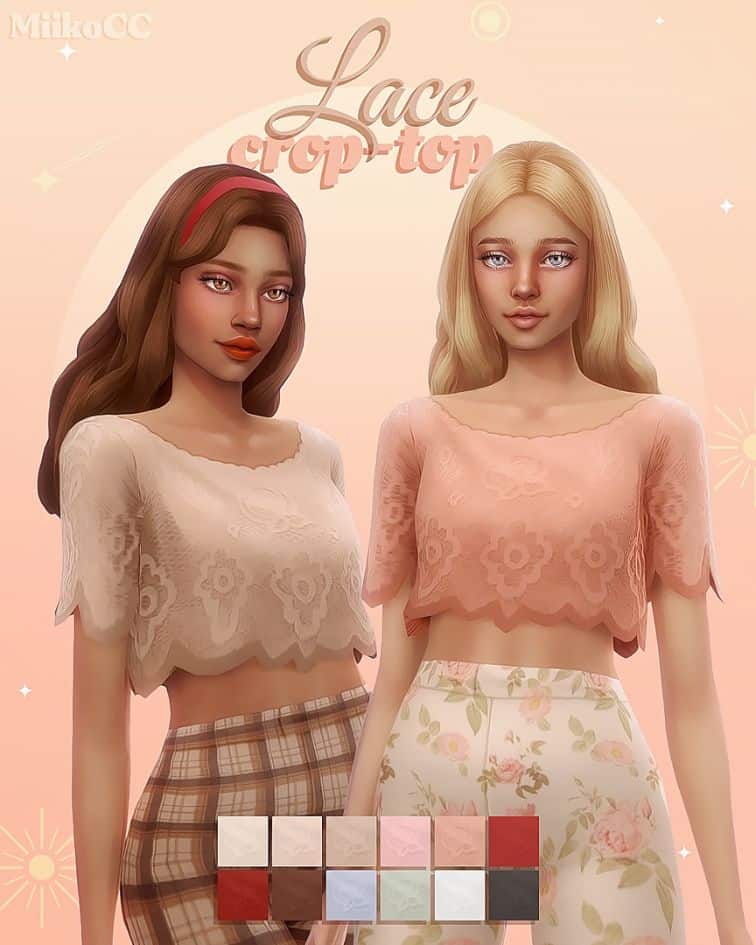 Add a touch of lace to your sims outfits with these beautiful sims 4 crop tops.
These lace crop tops are perfect for the summer season, and aside from the pretty lace, the wavy trim at the base of the top adds another lovely detail.
The top comes in 12 swatches, as seen above, with plenty of classic lace colors and deeper color options.

15. Crop Top Sweater for Sims 4 by Black Lily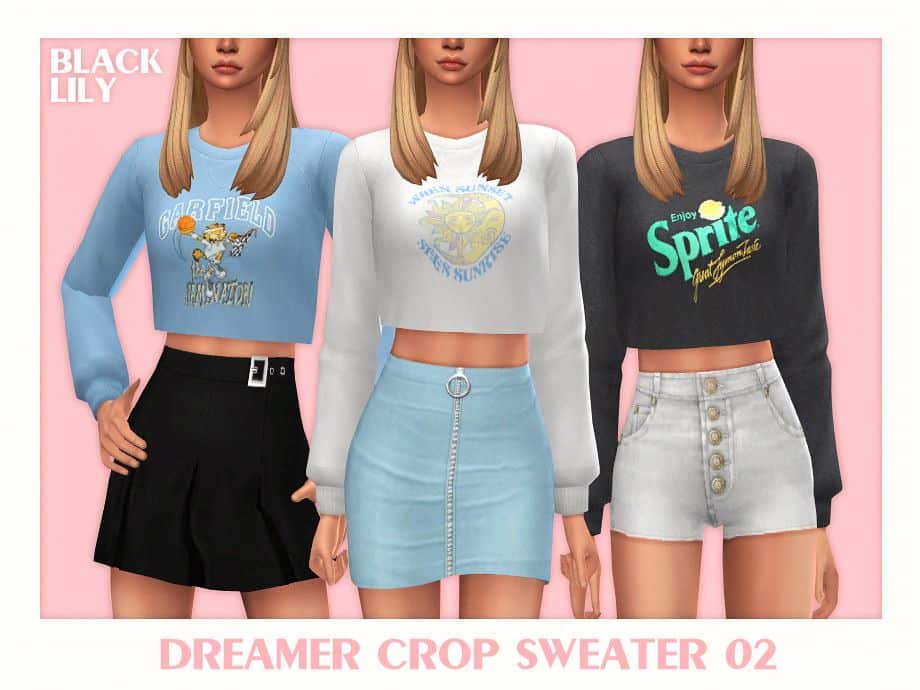 These long-sleeve tee shirts are another great casual crop top option for everyday wear.
The crop top comes in 3 swatches: the Sprite, Garfield, and Sunset.
Pair these tees with your sims favorite jeans skirts or shorts for a casual summer look.

16. Sporty Accessory Crop Top by DarkNightTt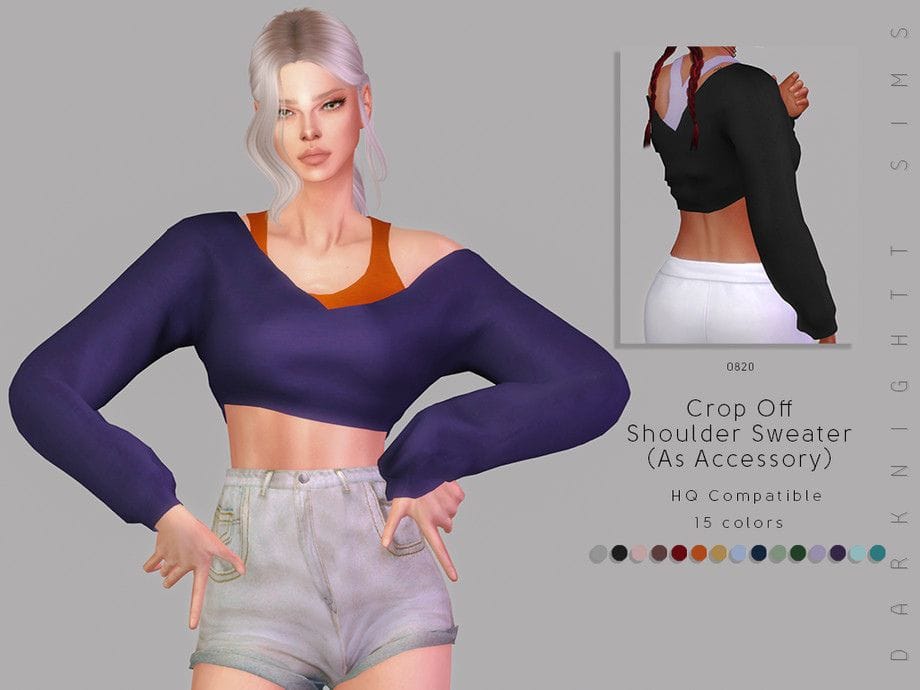 Have a sporty sim?
This accessory off-the-shoulder cropped sweater is the perfect addition to any active sims wardrobe.
Pair this long-sleeved crop sweater on top of your favorite tank top, and it comes in 15 solid swatches.

17. Male Cut-Out Crop Top by Wistful Castle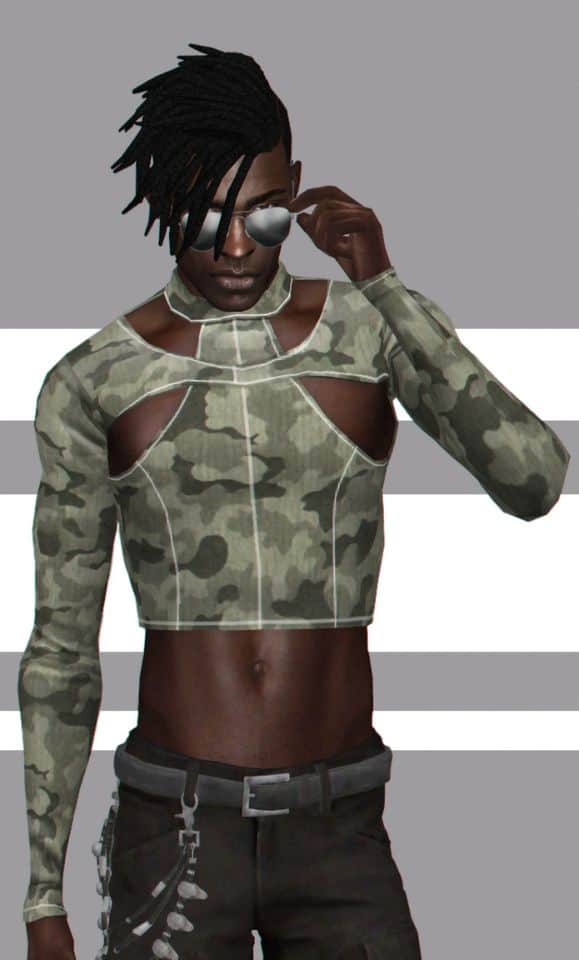 This sims 4 male crop top is a great stylish option for the modern male sims in your household.
The long-sleeve crop top has plenty of cut-outs and will go great with baggy jeans or leather pants.
The crop top comes in 15 solids except for the camo, and each swatch has white stitching.

18. Sims 4 Basics Crop Tops by Saliwa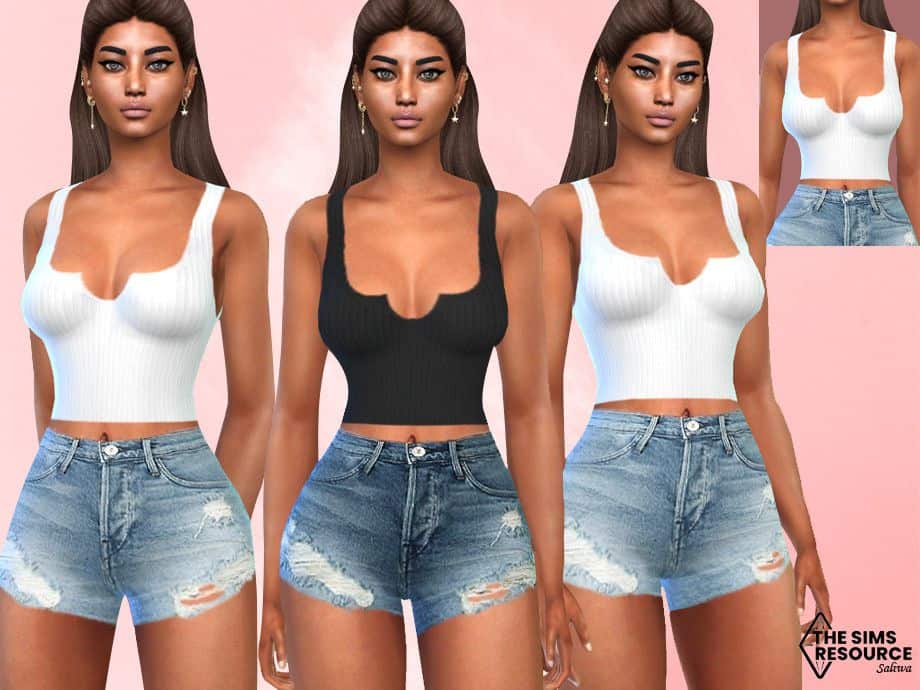 Since everyone can do with classic white and black staples, I was happy to find this set of skintight, sexy crop tops.
These crop tops will accentuate your sims bust, showing cleavage, and look great with skirts, jean shorts, sportswear, or pants.

19. Cropped T-Shirt Crop Tops by Black Lily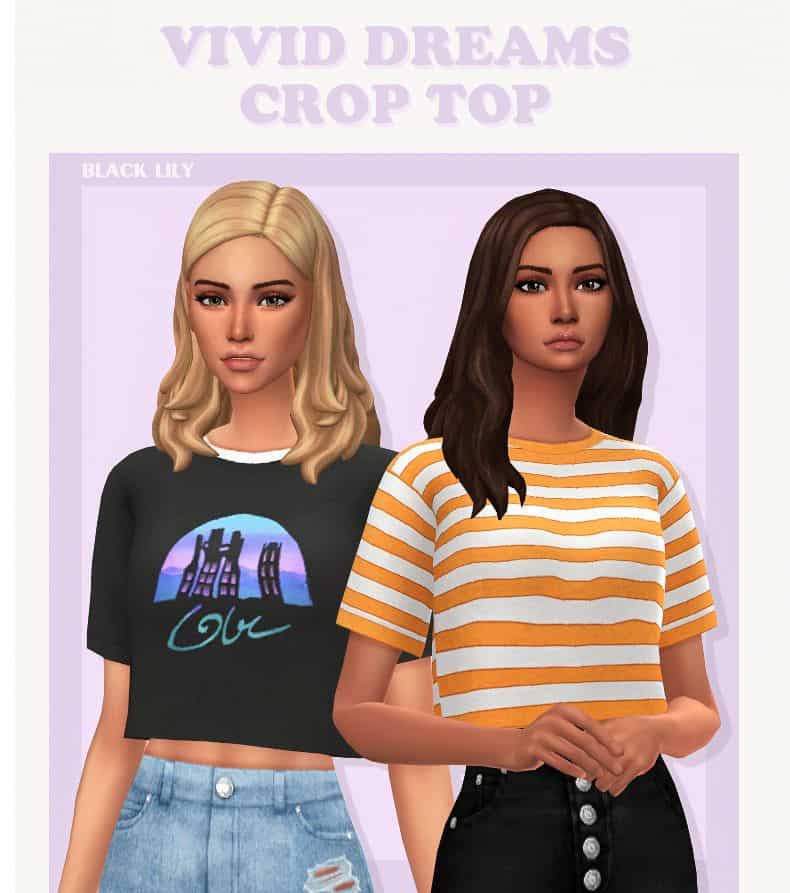 These short-sleeve tee-shirt crop tops come in 22 swatches, ideal for everyday casual wear.
The options include solid colors, striped tees, and a few graphics to change things up based on your sims mood that day.

20. Male Mesh Crop Top by Plumbobs n Fries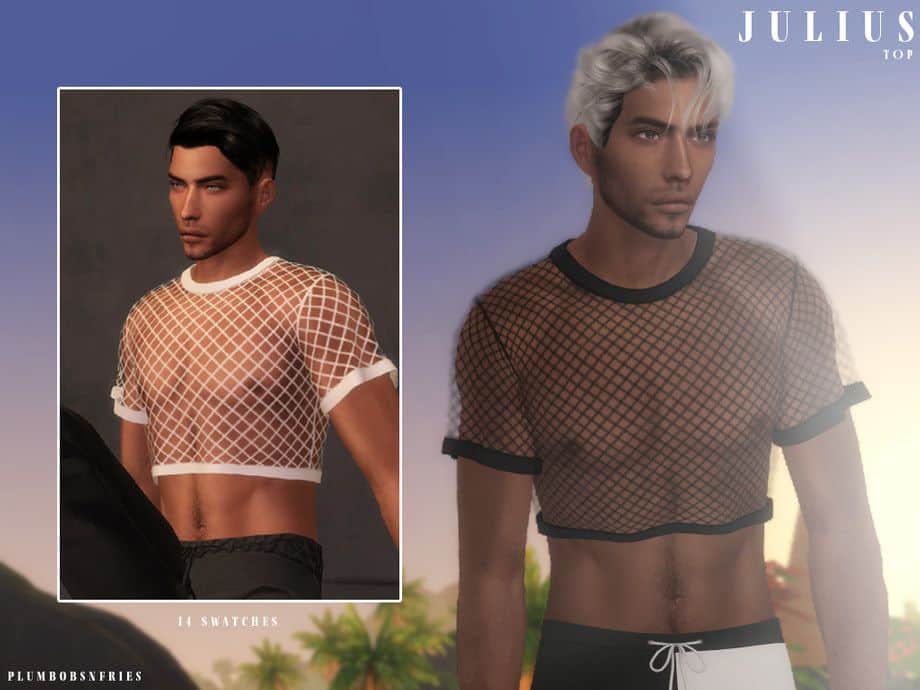 If your male sims are ready to hit the bar or club, they love these netted crop tops.
These crop tops come in 14 swatches, which include netting of different sizes and color options.

21. Lace Off-Shoulder Crop Top by MysteriousOo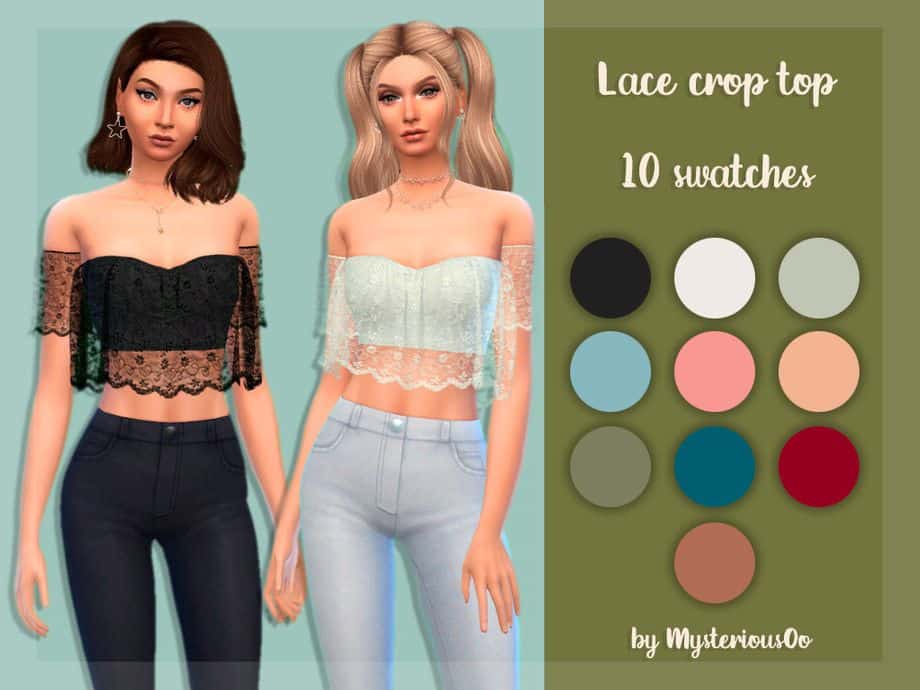 If you like off-the-shoulder style tops, you will love the mash-up with lace.
With the lace component, these crop tops can be dressy or casual and look great with a skirt or pants.
There are 10 solid swatches to try out.

22. Night Out Crop Tops by Black Lily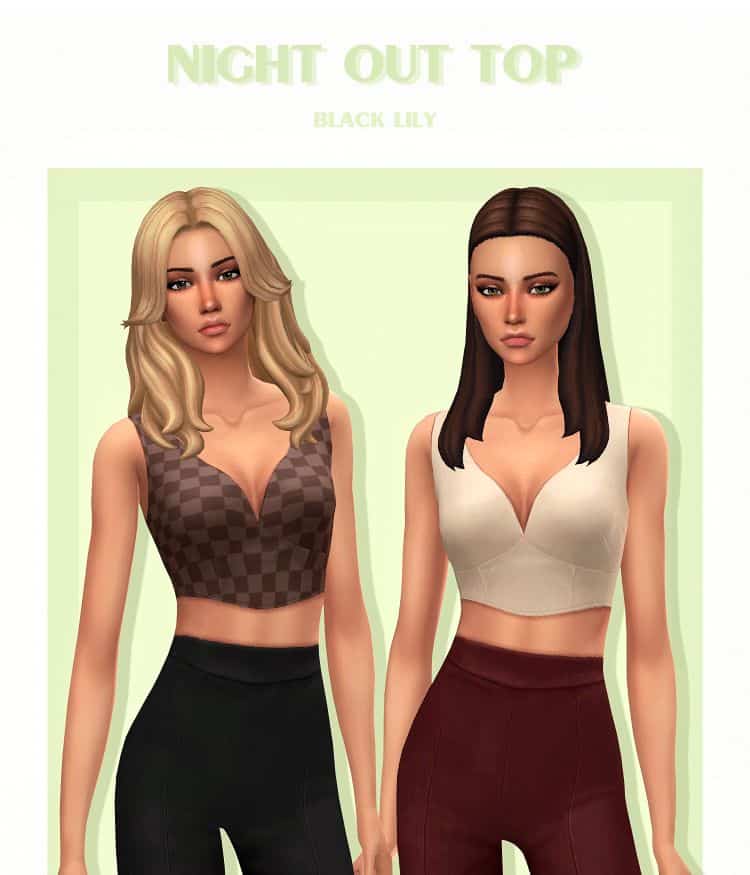 These Sims 4 crop tops are perfect for a girl's night out or party.
The tops have a structured bust and crop mid-waist, plus they come in 14 swatches, including 10 solids and 4 checkered swatches.

23. Sims 4 Men's Crop Top by Amythesailor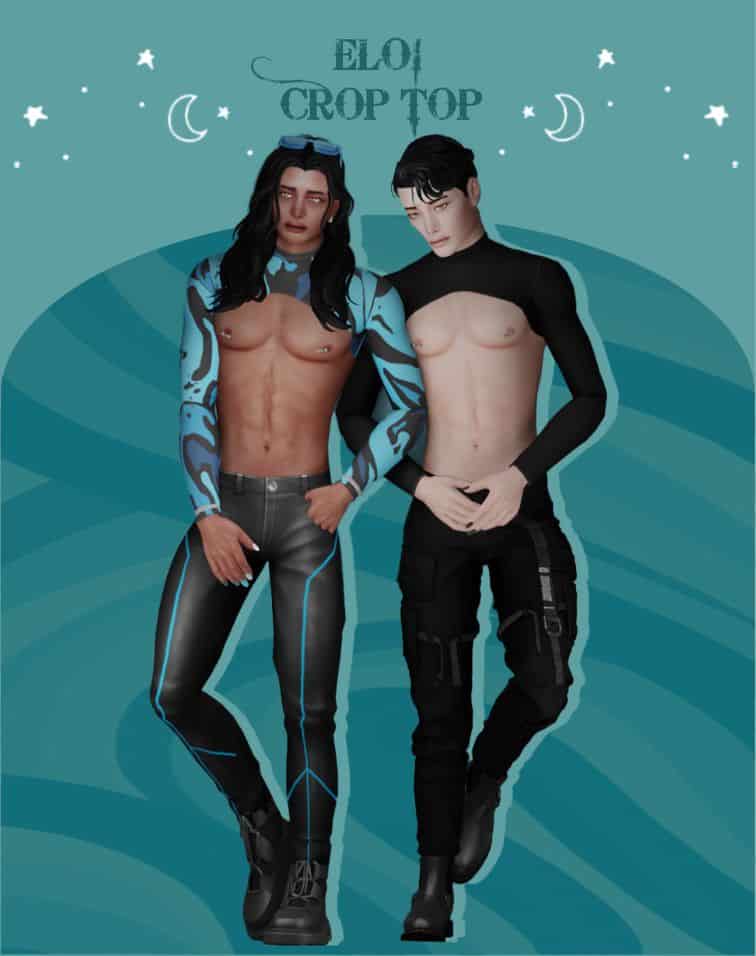 This men's sims 4 crop top has a large cut-out, leaving your sims chests fully exposed while their upper chests and arms remain covered.
Given the style of this crop top, it will look best styled with leather or baggy pants.
These crop tops come in 16 solid color swatches and 9 triple-color patterns.
Sims 4 Crop Tops: Final Thoughts
With this collection of sims 4 crop tops, we hope you found some new favorites to add to your mods folder.
Try out a few crop top cc options to find the perfect fit for each sim in your household.
If you have any questions or suggestions, feel free to leave us a comment below or tag us on Tumblr.
And don't forget to share and save this pin for later!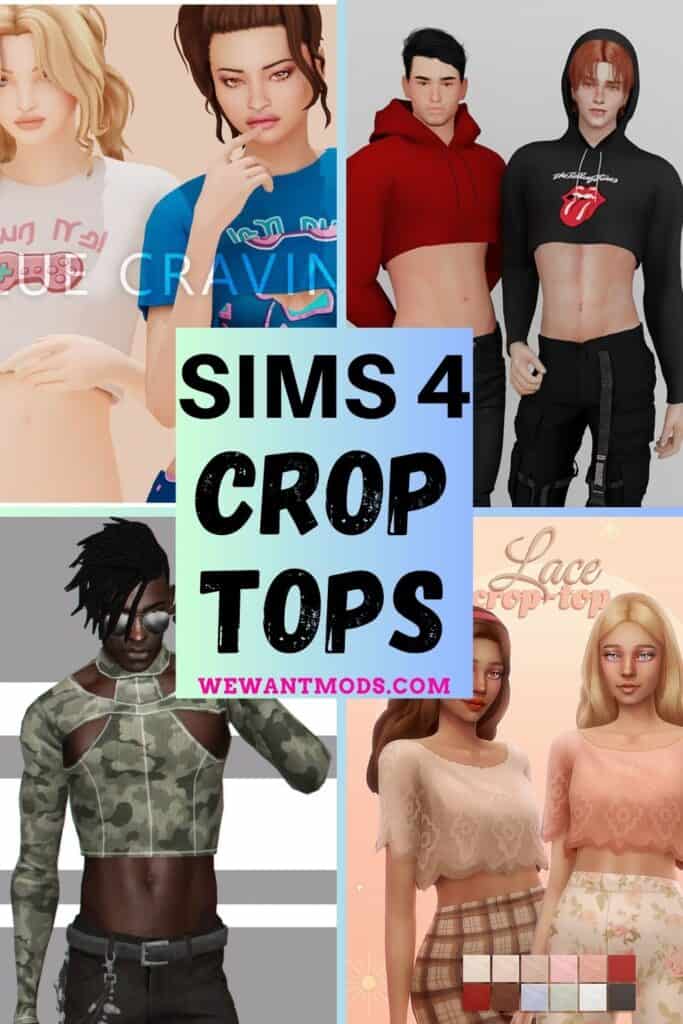 More Sims 4 CC Lists
21+ Sims 4 Crop Tops: Unlock the Cutest Tops Now