35+ Terrific Sims 4 Vampire CC (2023 List)
From 19th-century vamps to modern-day slayers, we've got the best sims 4 vampire cc for you!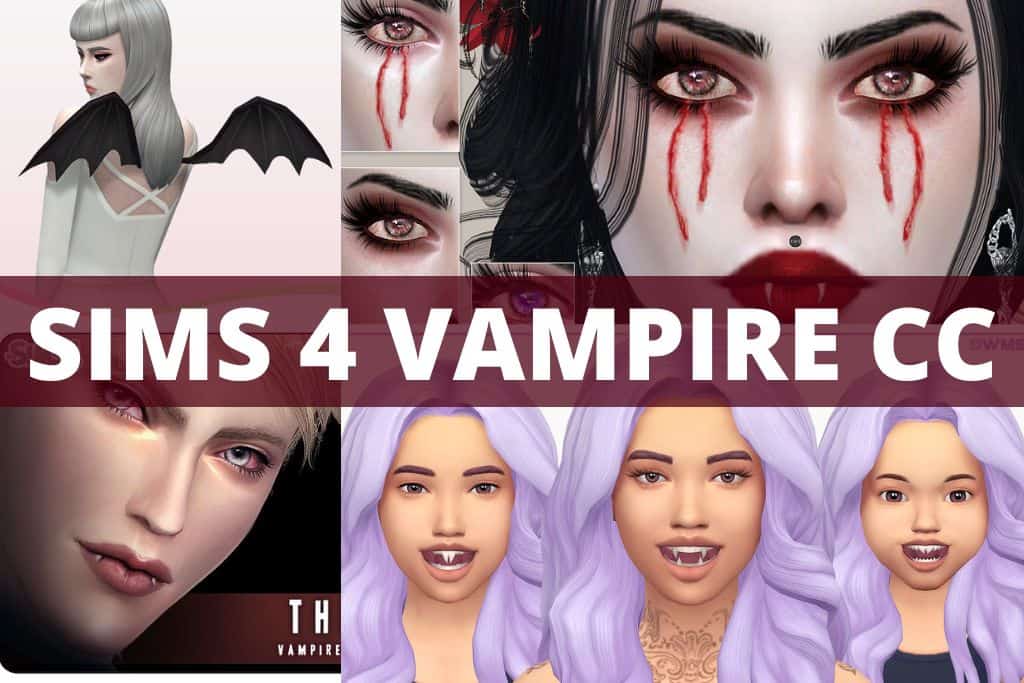 I love a good vampire story, whether it's a TV show, movie, or in the sims.
From the original Dracula to the Vampire Diaries, many different types of vampires exist.
We've put together a great list of sims 4 vampire cc for you to go through to put together your new favorite vamps.
But are you more into sparkly-type vampire skin (à la Twilight)?
If so, when you're done here, check out #14 in our Sims 4 CC Skins post for just the right touch of sparkle.
Disclaimer: The following mods are neither endorsed nor affiliated with The Sims, Maxis, or Electronic Arts. Any use of mods (custom content or game mods) should be done with caution and with the knowledge that there may be risks.
Best Sims 4 Vampire CC
I've rounded up this list of sims 4 vampire cc that include everything from eyes, hair, fangs, outfits, and more.
Hopefully, you will find something to add to your collection of vampire cc.
1. Sims 4 Vampire Eyes CC by Kitty.Meow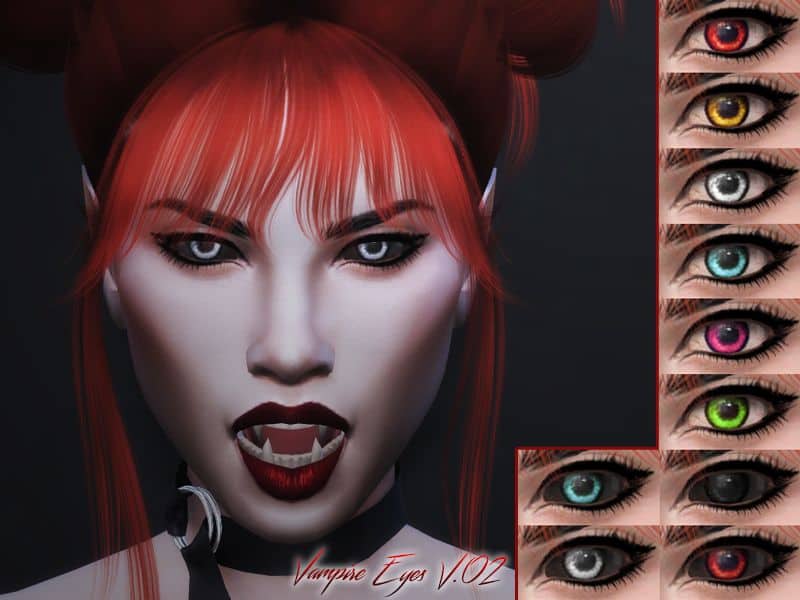 Care to give your sims 4 vampires eerie-looking eyes?
With this custom content set, you can choose ten colorful eye colors.
I especially like the ones with black eyeballs as opposed to the white ones.
It makes the eyes look more supernatural.

2. Sims 4 Vampire Eyeliner CC by bloodmooncc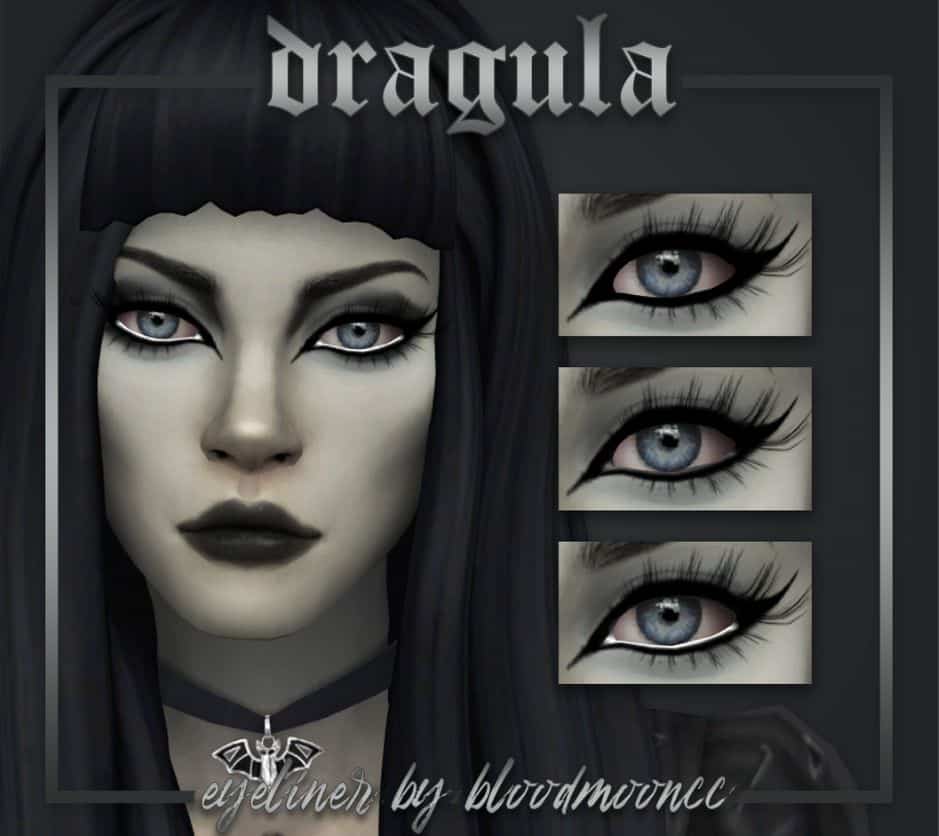 If you're going for a female vampire, you must try this eyeliner cc.
With this mod, you get a winged eyeliner, which works great for a gothic look, which is perfect for vampire sims.
You can choose among four swatches of blacks for the waterline, which includes two variations of whites, a gray and a black.

3. Sims 4 Vampire Lips CC by Screaming Mustard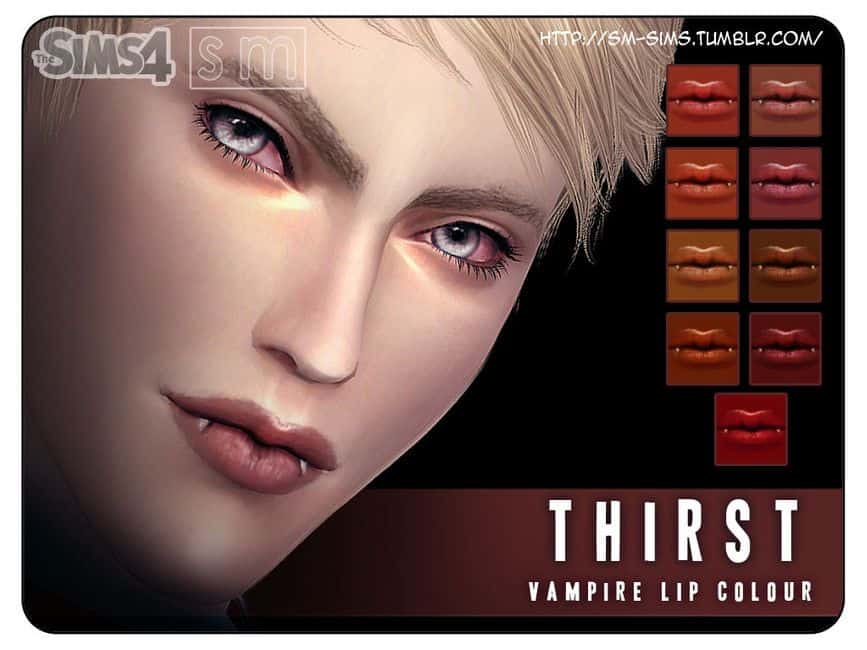 Get vampire lips and fangs built into one convenient piece of custom content.
With this sims 4 vampire cc, you can pick nine lip colors with integrated fangs.
This mod can be used on either gender for sims aged teens and up.

4. Sims 4 Vampire CC Female Outfit by DanSimsFantasy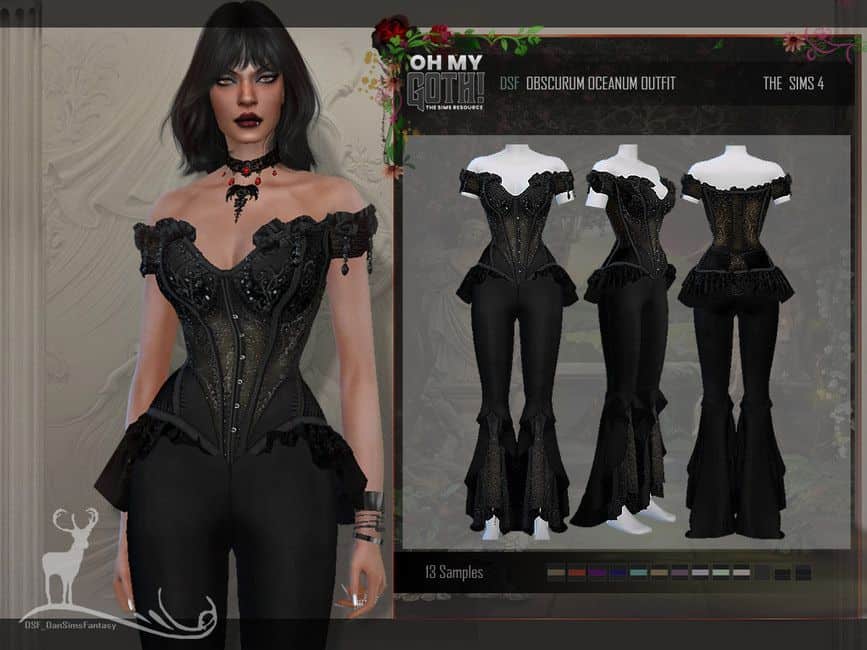 What's the point of having a sim vampire without a proper vampire outfit?
This black set of sims 4 vampire clothes is offered in 13 accent colors for your female vampire.
This gorgeous outfit consists of a corset, beautifully embellished, and a pair of pants.

5. Sims 4 Vampire Wings by Nolan-Sims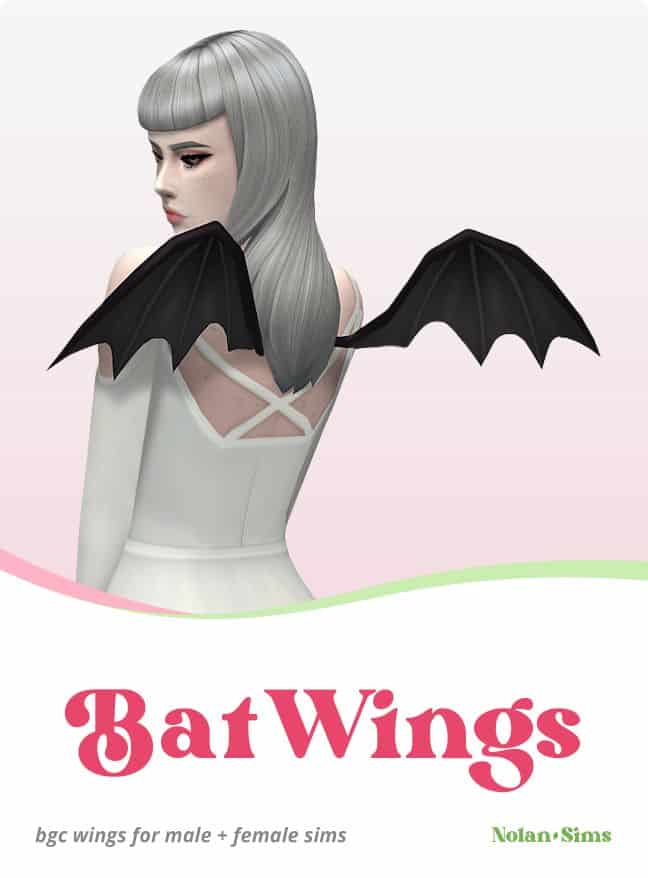 Since many fictive vampires can turn into bats, why not add cute little wings to your vampire's attire?
These maxis match vampire wings, are made for both genders, and come in 15 swatches.

6. Sims 4 Vampire Jewelry CC by NataliS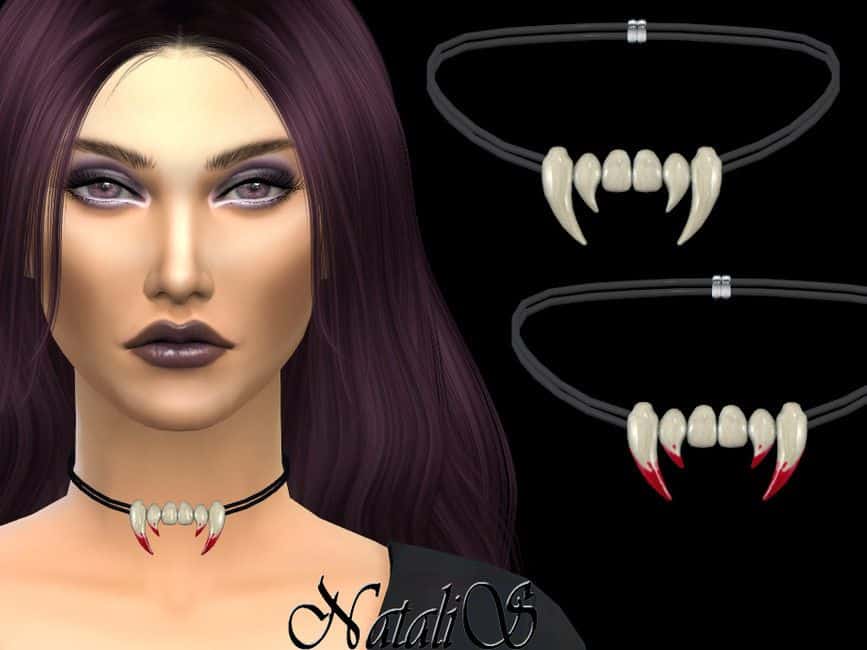 Are you looking for some vampire-inspired jewelry?
If so, you should try out this sims 4 vampire fangs choker.
You can choose between a bloodied or clean set of fangs to put around their necks.
It's a good option if you don't want to put actual fangs on your sims but still want a vampirish look.

7. Veiny Eyeshadow Sims 4 Vampire CC by EvilQuinzel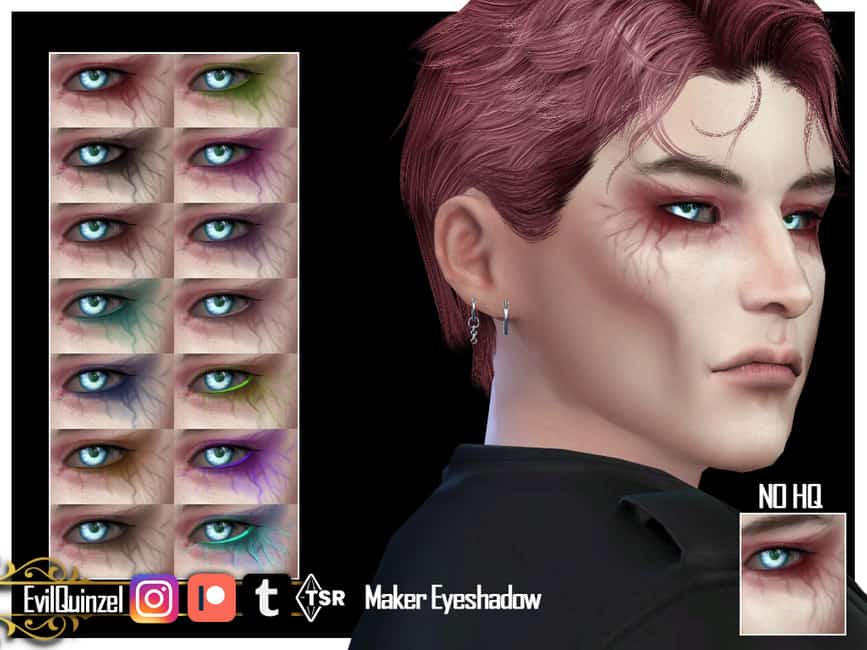 This sims 4 vampire cc will have your sims looking like the Salvatore brothers with this shadow veiny-eyed look.
I've always preferred this vampire look when their blood lust has reached its peak, and they are ready to pounce.
Available for males and females of all species aged teens and up.
You'll find 14 color options for this vampire cc in the eyeshadow category.

8. Sims 4 Vampire Makeup by FashionRoyaltySims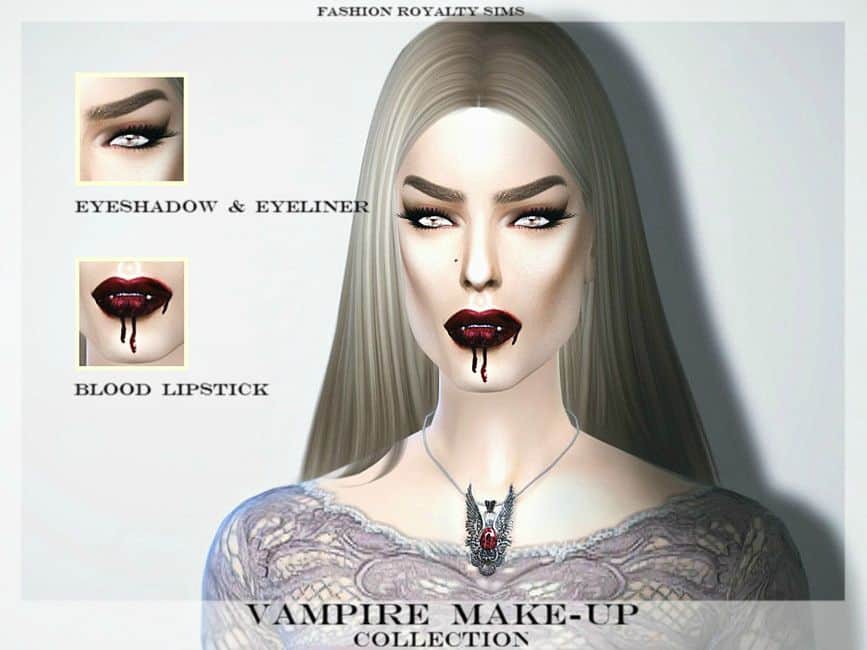 This sims 4 vampire cc collection is pretty wicked.
You get this great-looking makeup set of eyeshadow and eyeliner for female vampires.
My favorite piece of this makeup cc set is, of course, the blood-dripping lipstick.
This lipstick makes it look like your sim has recently feasted.

9. Sims 4 Vampire Dress CC by elfdor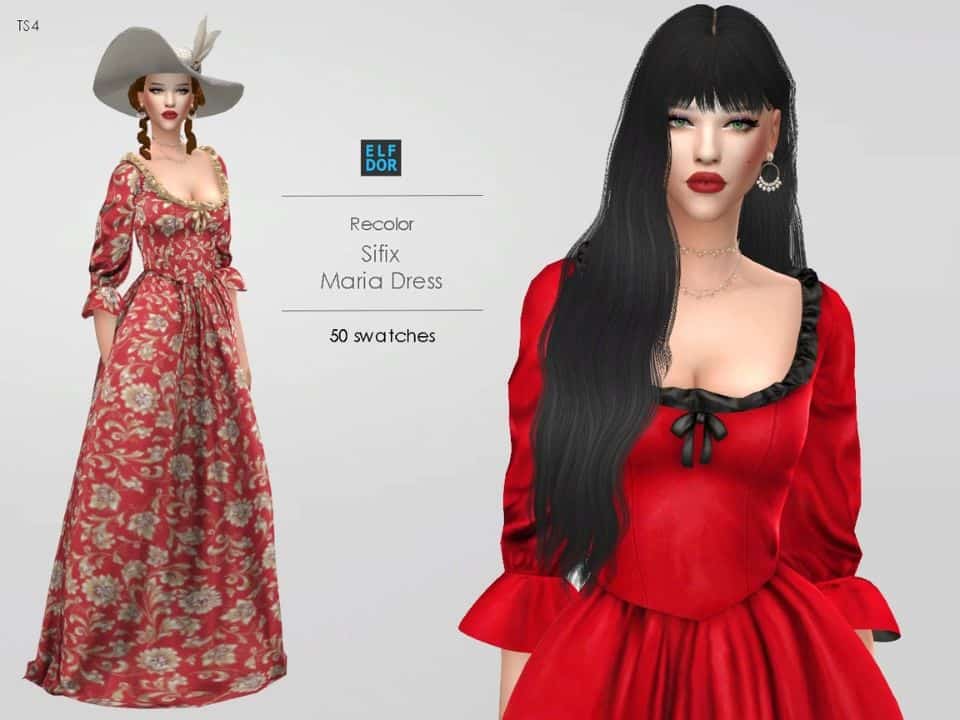 Looking for a lovely dress for your female vampire or your male vampire's love interest?
This exquisite victorian dress would fit the Dracula era perfectly.
You can choose from 50 swatches with different designs or colors.
And who doesn't love a vibrant red swatch to match the color of blood?

10. Sims 4 Vampire CC for Eyes by Kitty.Meow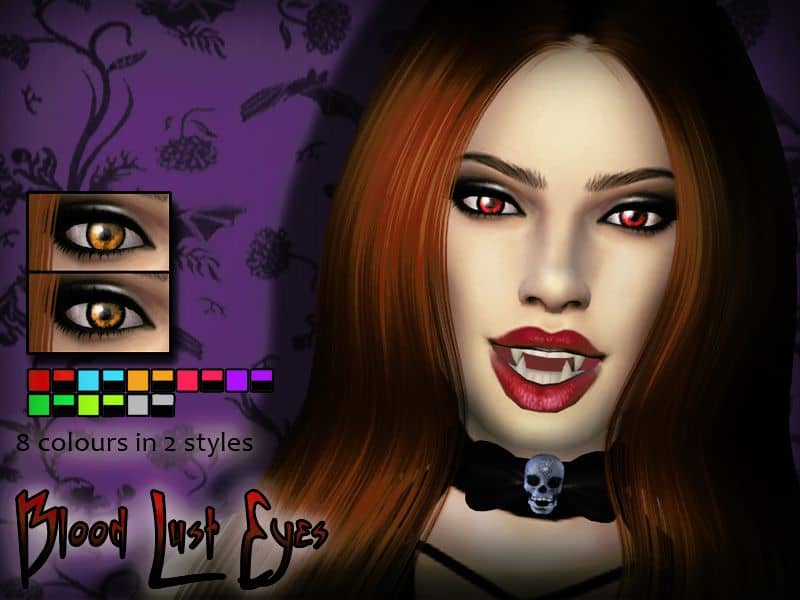 These beautiful eyes come in eight colors and two different styles.
The differences between both eye types are subtle but visible in the picture above.
The eye color fills the cornea in one version, while a bolder black rim surrounds the other.

11. Sims 4 Vampire Skin by RemusSirion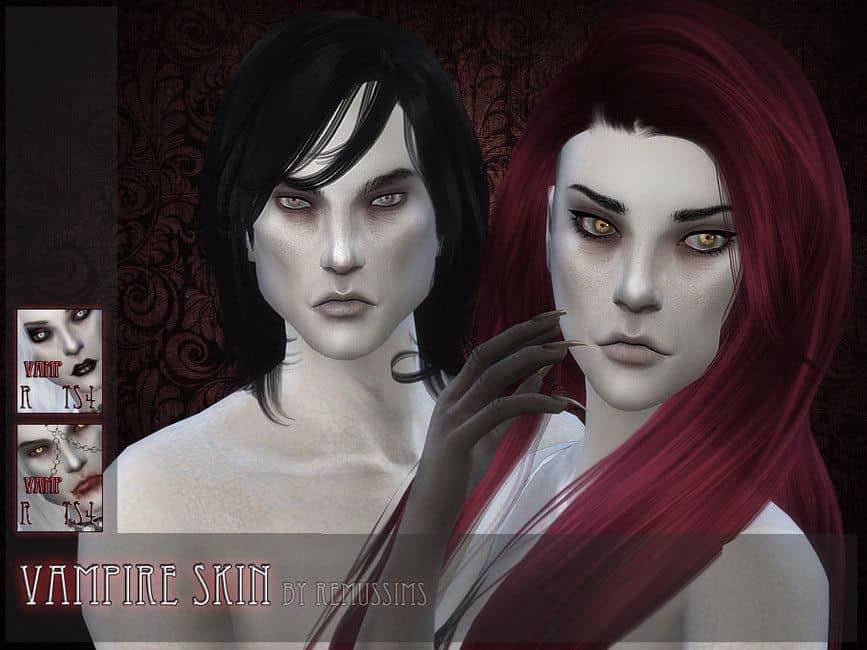 What's a vampire without its pale skin?
This vampire mod does a great job of giving your sim that undead look.
You can use it for both genders and choose between a light or a more grayish skin color.
Although optional, you can opt for darker-colored extremities for your sims 4 vampires.
For your male sims, there are also 2 variations of abdominal muscles.

12. Sims 4 Vampire Claws by RemusSirion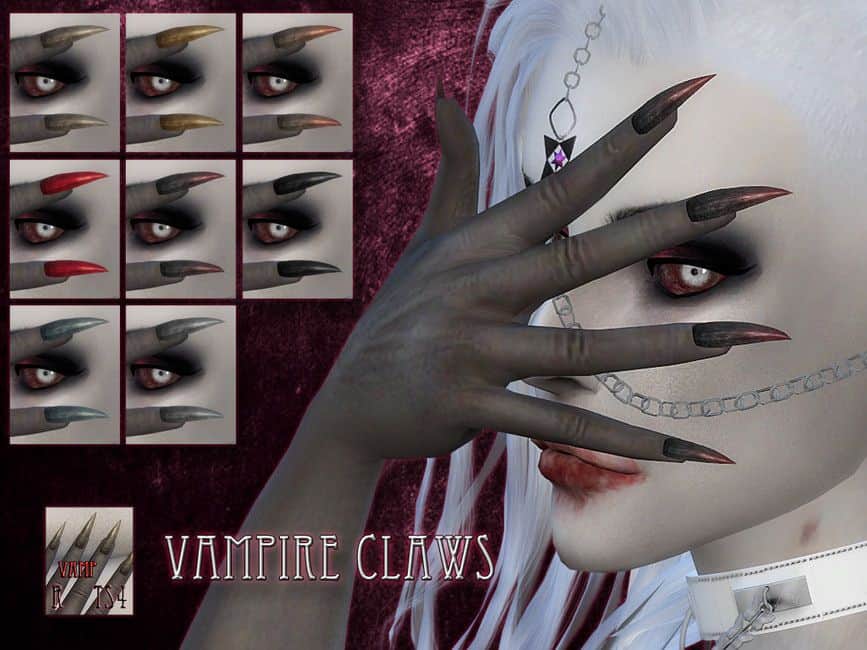 Depending on the style of vampire you want, claws can add such a great monstrous effect.
Make sure you grab the required mesh linked in the description tab on this vampire cc's page.
This set is a recolor of the previously mentioned nail cc to make them look like claws.

13. Sims 4 Vampire CC Dress by DanSimsFantasy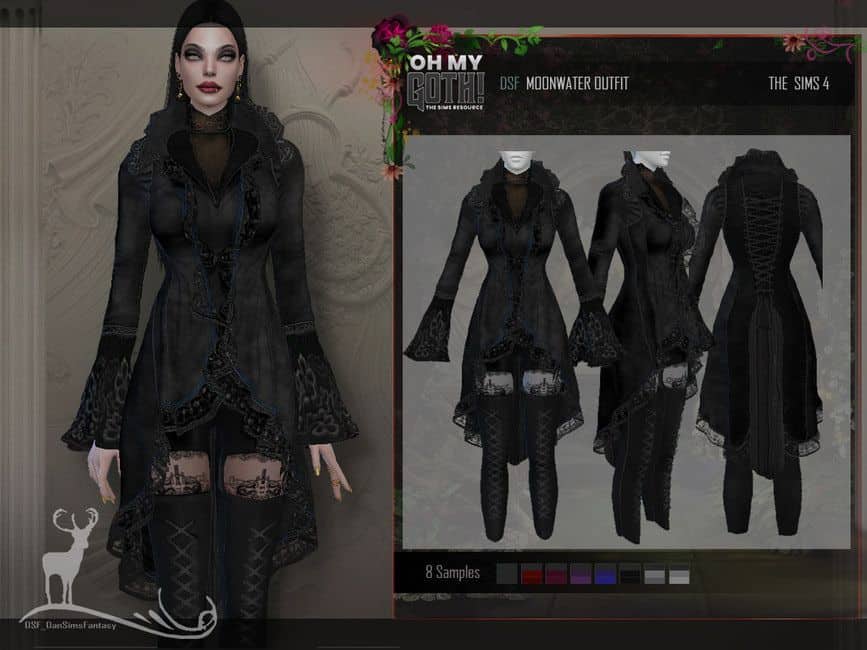 This sims 4 vampire cc is another great option if you want more gothic-looking outfits for your female vampires.
This whole outfit consists of a velvety-laced long coat available in eight colors.
As for the rest, you get a beautifully decorated black top and braided pants.

14. Sims 4 Vampire CC Pack by Pralinesims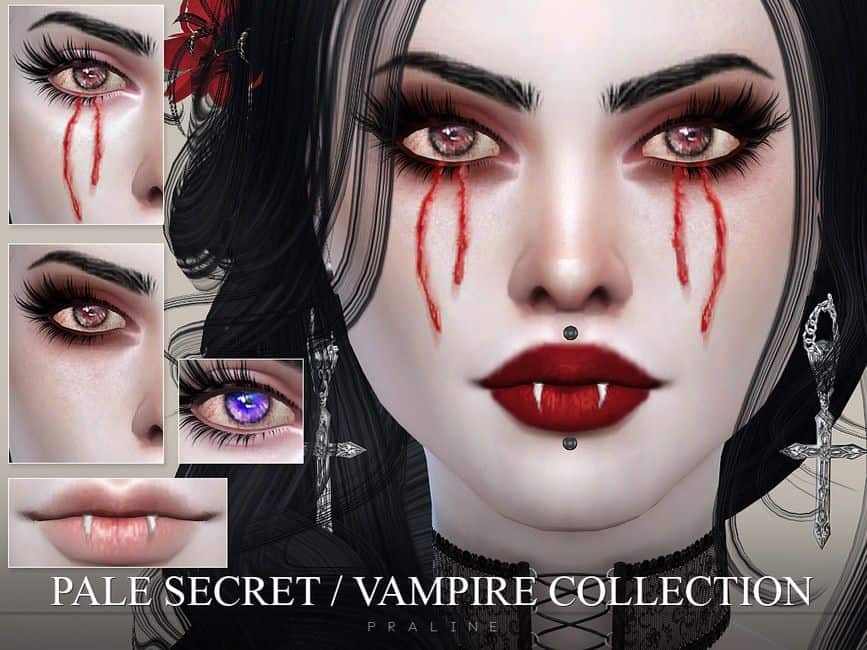 This sims 4 vampire custom content collection includes all the necessary items to complete your vampire look.
In this set, you get the following cc:
A pair of vampire teeth
Colorful and reflective eyes
Various shades of eyeshadow
Awesome-looking bloody tears.
Each piece of vampire cc comes in an array of colors.

15. Sims 4 Demon CC by Kleos Sims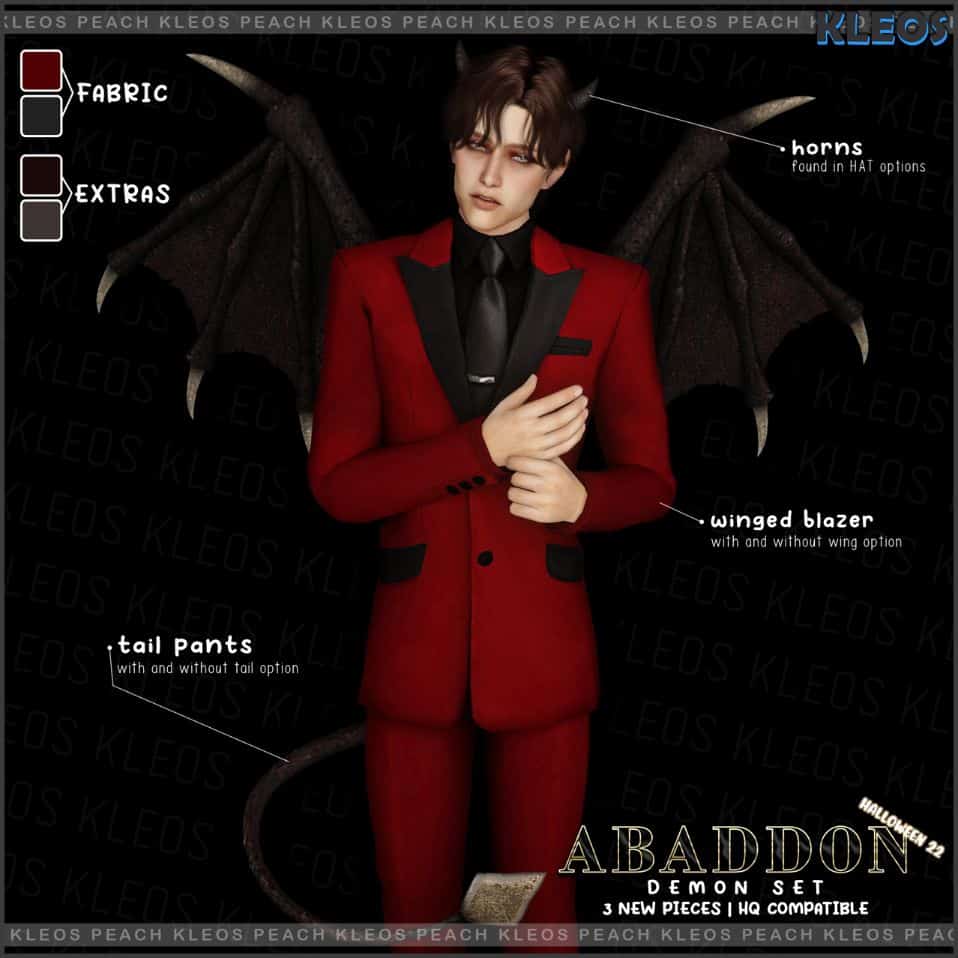 If you want a more demon-looking sims 4 vampire, you have to check out this set of demon custom content.
Using this collection, you can add a demon tail, horns, and an amazing pair of vampire wings.
There's only one catch; aside from the horns, the tail and wings come with the suit.
You can use the blazer with or without wings; the same goes for the pants with the tail.

16. Sims 4 Vampire Bite CC by Pipco.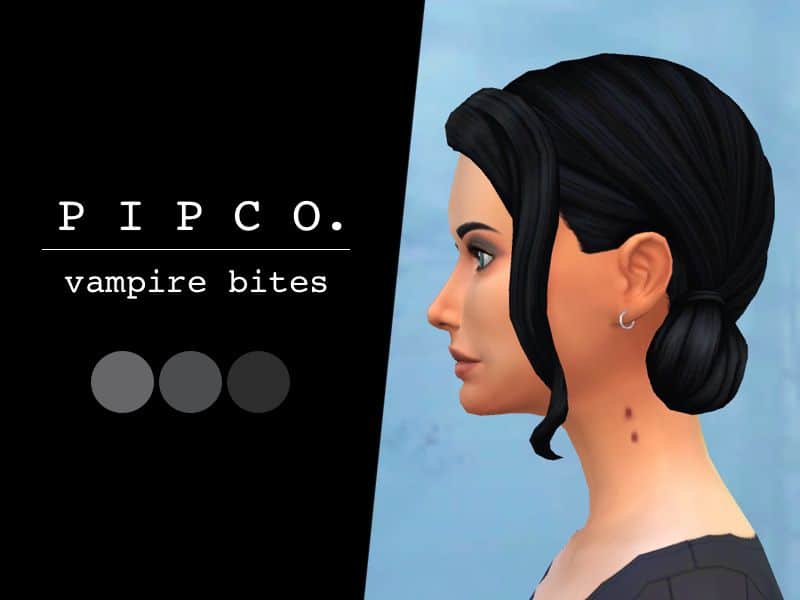 When playing with vampires, it's only a matter of time before someone gets bit.
This base game-compatible vampire mod allows you to "wear" a vampire bite mark on either the neck or wrists.
You can find this sims 4 vampire cc under the Skin Details category.

17. Twilight Outfit Sims 4 Vampire CC by Bellassims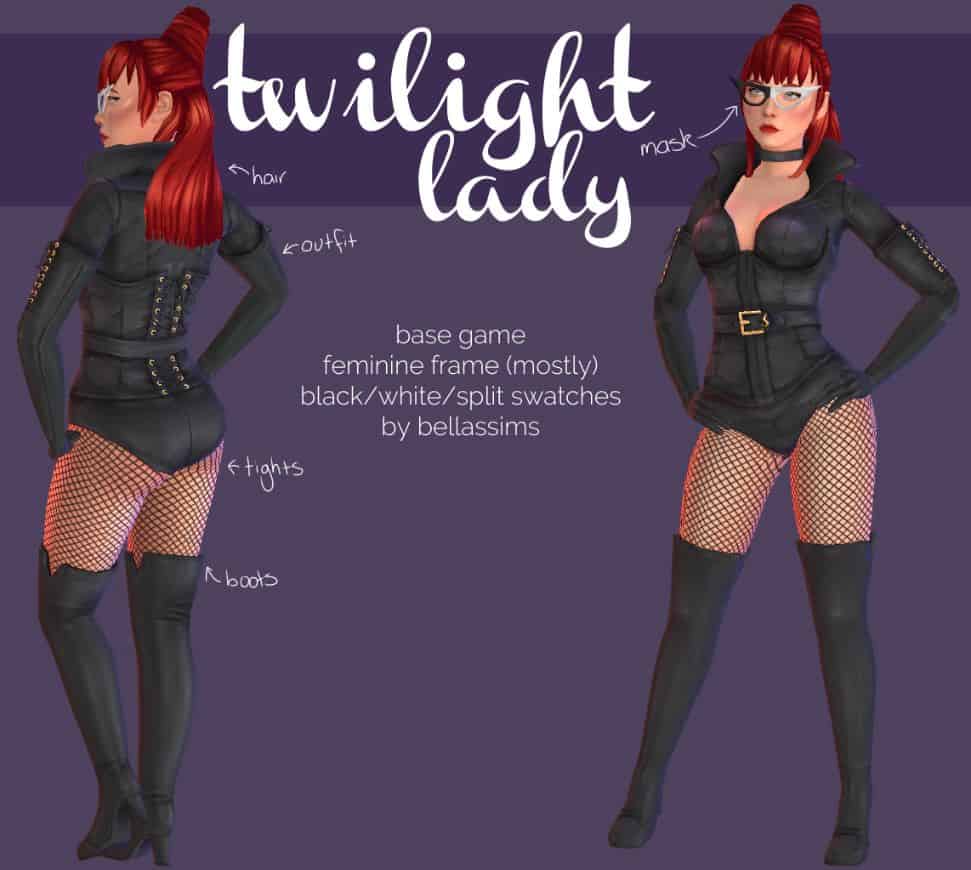 And since not all vampires stopped roaming the streets after the 19th century, this modern outfit is perfect for your vampire vixen.
It's giving me vampire-hero vibes or a modern vampire slayer.
And yes, vampires can be heroes in my mind!
Plus, you get everything you need in one package;
A mask
Hair
The outfit
Tights
Boots
This vampire cc is available for females aged teens and up.

18. Sims 4 Vampire Hair by Wistful Castle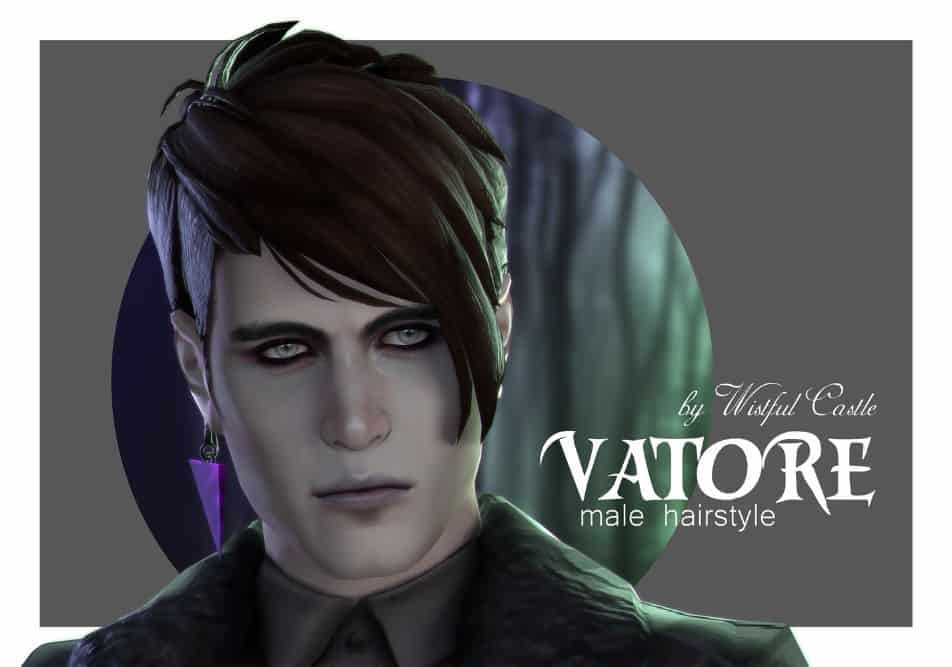 Who said that male vampires could only have long hair?
Give your male vampire this short side-swept hairstyle.
From this sims 4 vampire hair cc, you can choose between 32 color swatches, including highlights.
I find the black color fits better for the role, just like the above picture, but that's just me.

19. Vampire Face CC by remaron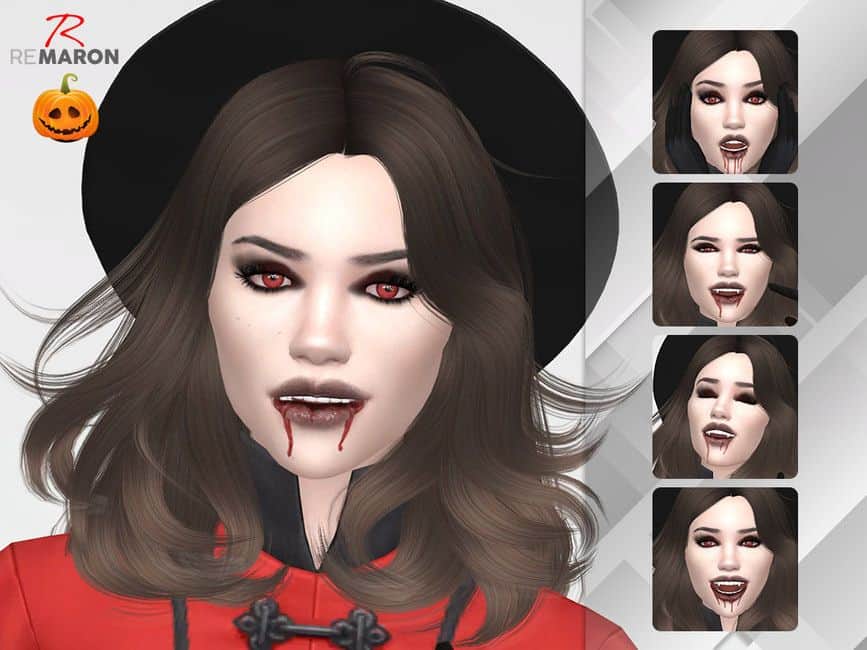 Has your vampire recently drank a pint of rejuvenating blood?
This sims 4 vampire makeup cc has five styles of blood dripping from its mouth.
This custom content also gives your vamps sim pale skin and red eyes.
It can be accessed from the Face Paint category under Makeup and only works for female vamps.

20. Bloody Sims 4 Vampire CC by Pralinesims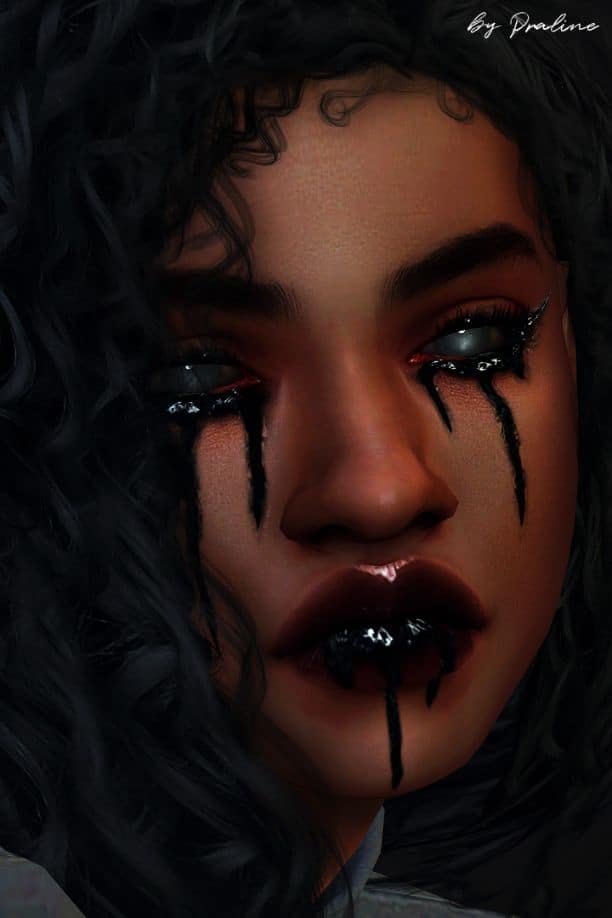 This set is a terrific collection of bloody scary custom content, perfect for vampire stuff.
With eight styles to choose from, you can add bloody tears and lips to your vampires in three color options.
You can add bloody eyeliner, although you can select different non-red colors.
The freaky monochrome eye colors in this set are a nice touch.
You also get an optional eyepatch that comes in various designs.

21. Sims 4 Victorian Dress by Cooper322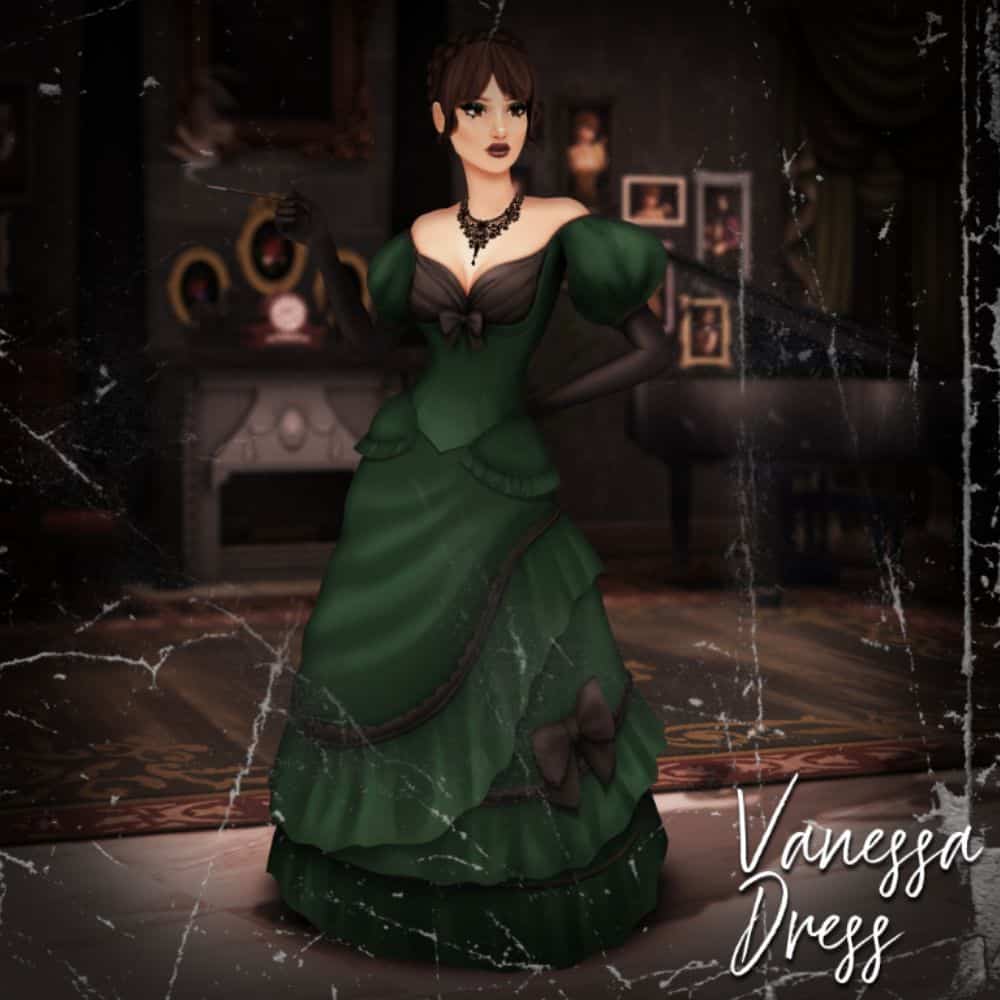 Another great Victorian dress option for your female sims, maybe for a potential victim of your sim bloodsucker.
It's such a beautiful dress nonetheless, and it's made available in 12 colors.
The creator does a great job recreating dresses from this era.

22. Sims 4 Vampire Wings CC by Feral Poodles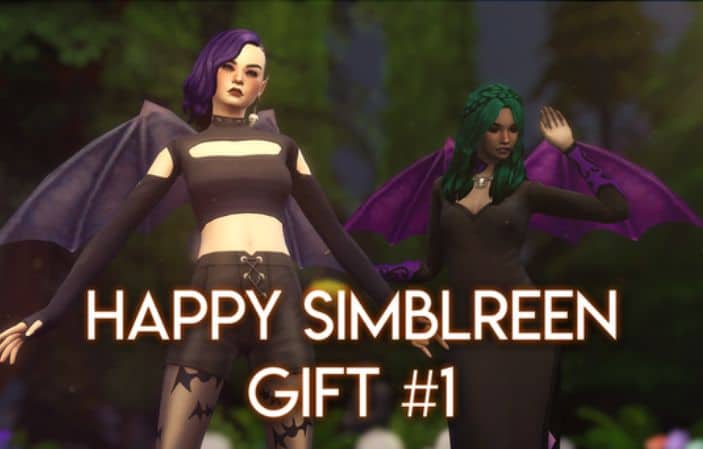 Do you need more bat wings options for your creatures of the night?
This set offers two versions of its wing, one that moves along with your sims and the other that remains still.
I prefer the one that moves; it looks more natural, or in this case, supernatural.
You got eight color options, and they work for either gender.

23. Vampire Poses Mod by SamsSims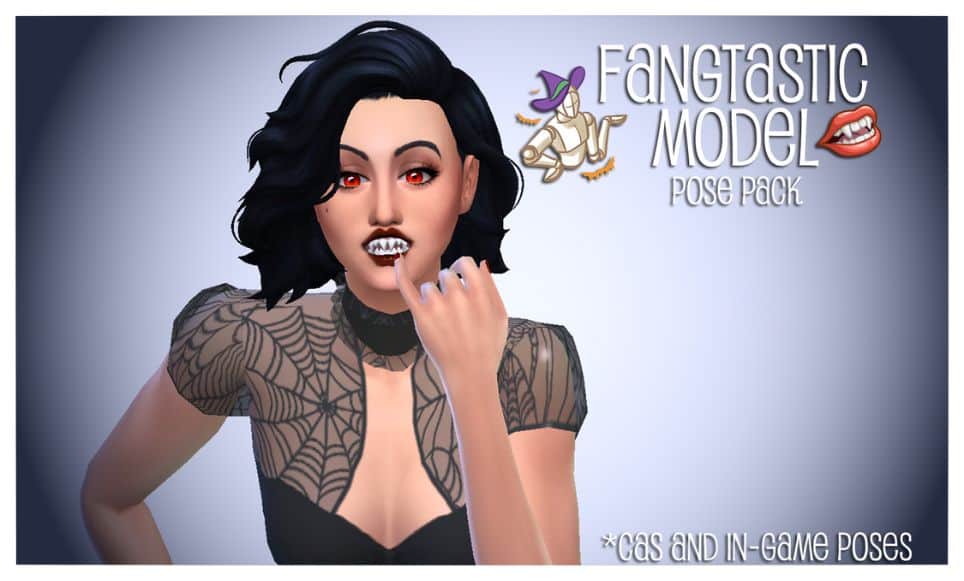 Creating the perfect vampire sim is all fun, but why not have even more fun using cool poses?
In this set, you get ten poses of your sims 4 vampire showing off their sharp pearly whites.
My favorite pose is the one with the vampire picking the plasma out of its teeth, as seen above.
If you want to know more about using poses in sims 4, check out our article on How to use poses in sims 4.
To use these vampire poses in CAS, you must select the Active trait.

24. Sims 4 Vampire Clothes by Wistful Castle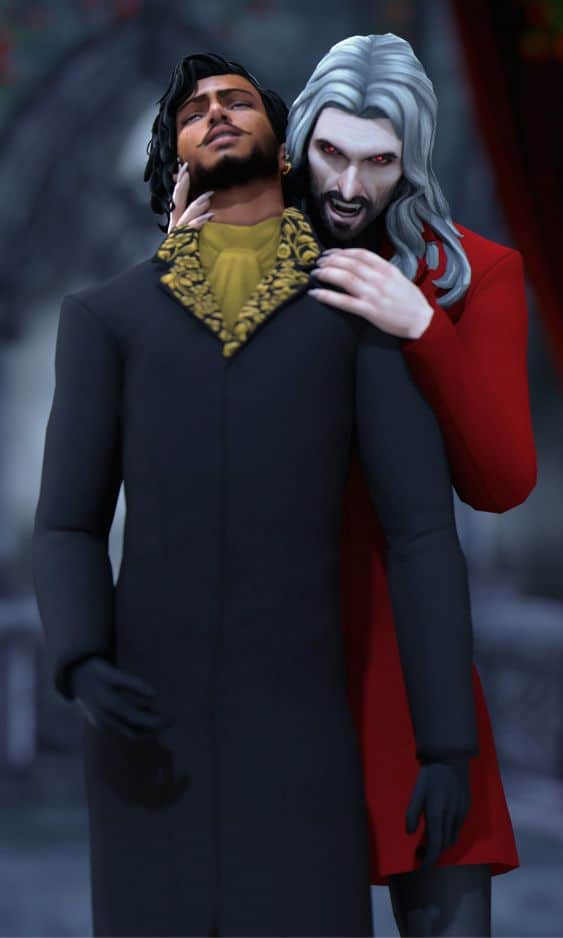 This vampire clothes pack is another of my favorites.
Your sim vampire will look dashing.
You get a feathered top hat, available in 26 swatches, and the multi-buckled tall boots come in 12 of them.
The best piece of these vampire clothes cc is the epic outfit with excellent embroidered detailing.
It has a great selection of swatches and gives your male vampire sim a rich and classy look.

25. Sims 4 Vampire Hair by Lady Simmer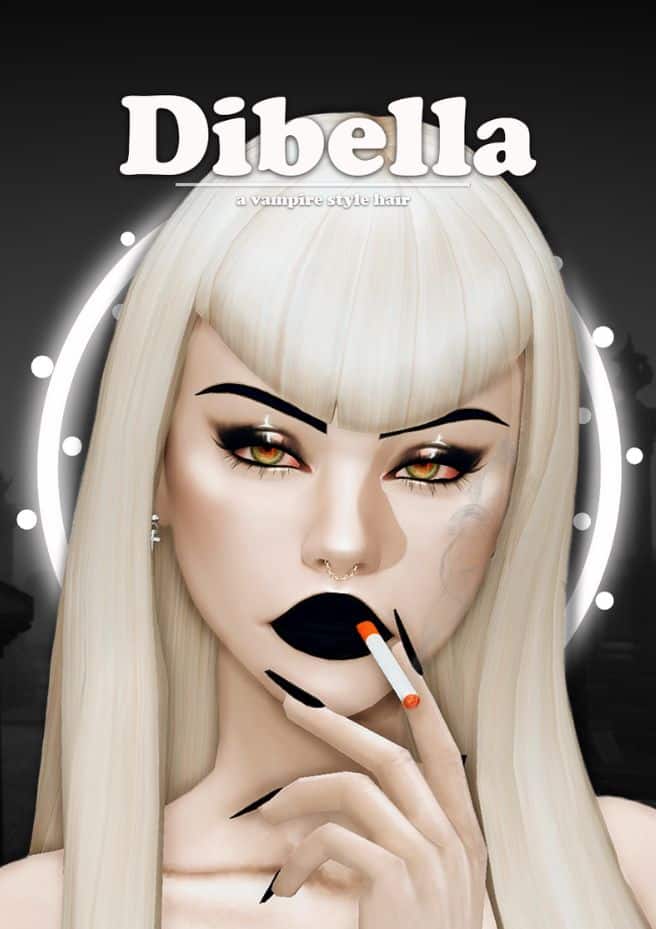 This vampire hairstyle for your female sims is a fine choice for any sims, vampire or not.
This mid-back length straight hair is a great look, especially with those rounded bangs.
If you want a modern-looking she-vamp, this hair will do the job.
Plus, you can choose among EA's 24 default colors.

26. Sims 4 Vampire Teeth by WildlyMiniatureSandwich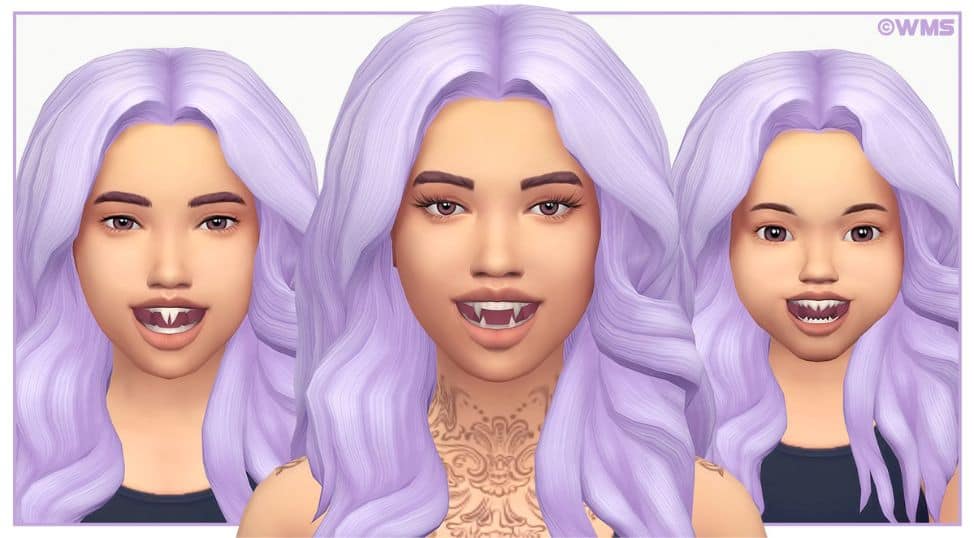 Note: This cc requires The Sims 4: Vampires game pack to use.
This custom content offers four sets of vampire teeth for all age groups.
I find that sims 4 vampire cc was lacking for children and toddlers.
Luckily, this one provides nice teeth options.
These fangs can also be used for alien sims.

27. Vampire Jewelry for Sims 4 by shandir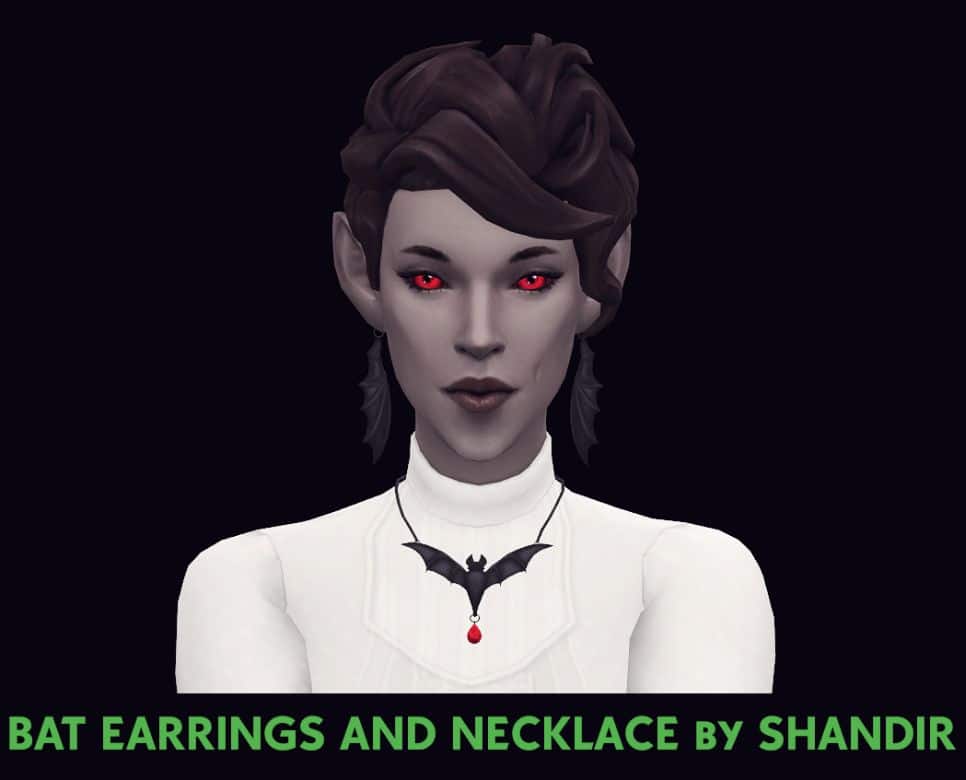 Are you lacking accessories to complete your outfit?
Why not add a lovely bat necklace to a nice Victorian dress?
This set also includes batwing earrings, which male and female vamps can wear.

28. Kuran Hair Sims 4 Vampire CC by VivianDang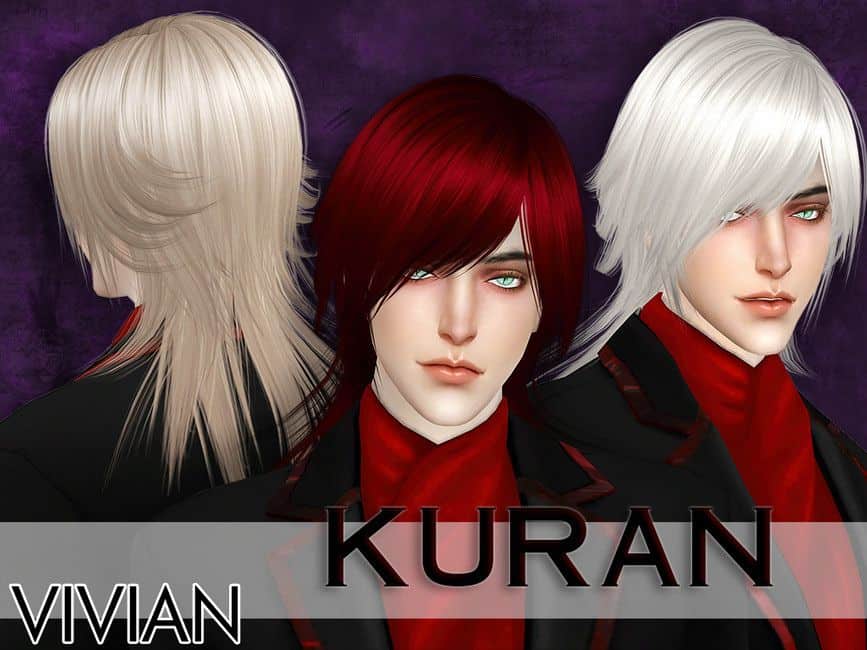 I love this hairstyle; it looks terrific on male sims.
I used the white version of this hair cc and a red outfit for my male vampire.
It gave me a Dante vibe from early editions of the Devil May Cry video game franchise.

29. Sims 4 Vampire Eyes CC by Pralinesims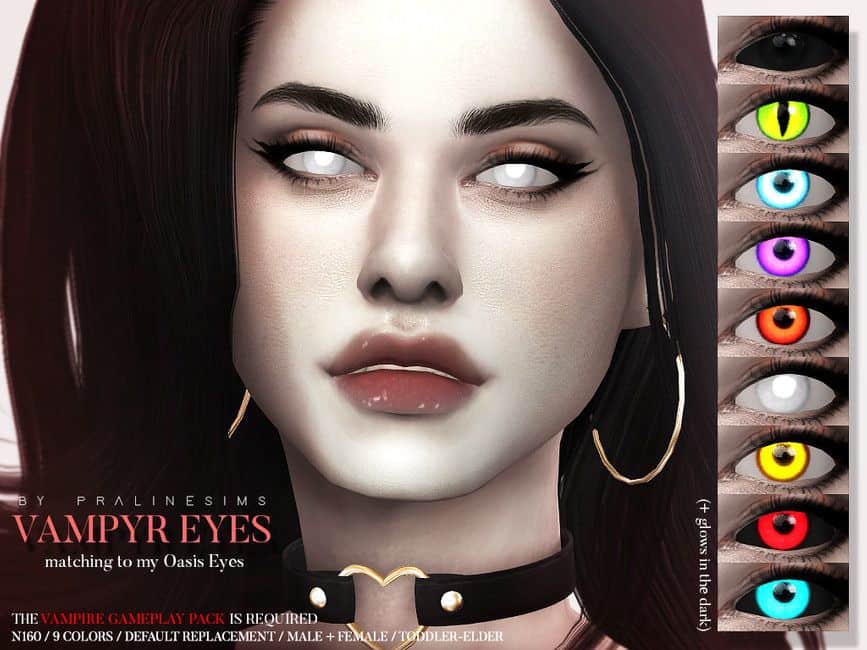 Do you want your bloodsucker to have colorful bright eyes?
If so, then you should get this sims 4 vampire eyes cc.
These eyes come in nine glowing color variations, except for one all-black color.
This vampire cc can be used by everybody, regardless of gender and age.

30. Male Outfit as Sims 4 Vampire CC by Helsoseira
Note: You will need the Sims 4: Get to Work game pack to use this custom content.
People either tend to love or hate velvet.
A well-tailored velvety suit looks great for vampire outfits.
This suit consists of six color swatches for the suit vest to go with the black velvet jacket and pants.
Sadly, the cool vampire coffin is not included, but I have one linked further down.

31. Sims 4 Vampire Face Paint by remaron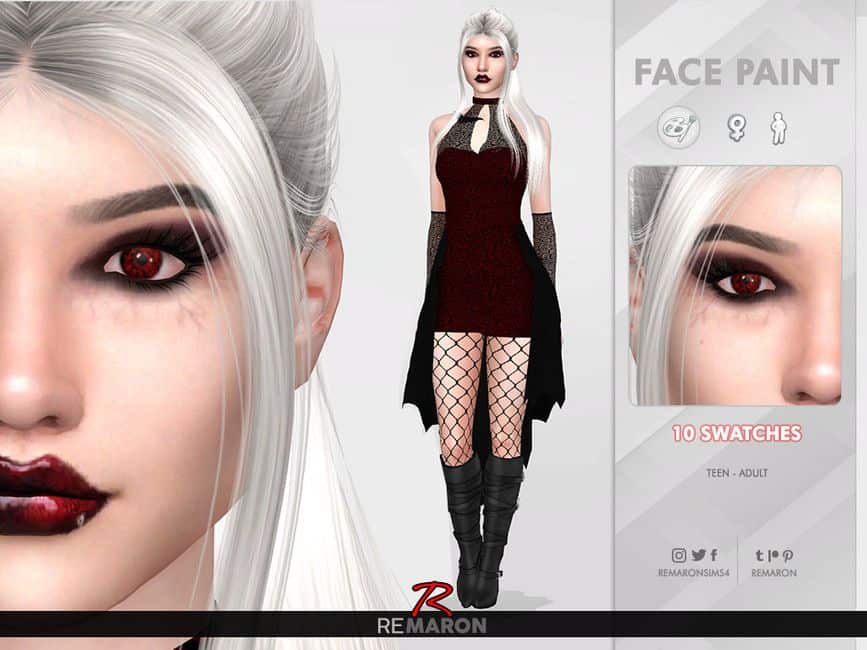 This cc pack is a great all-in-one option for skin tone, eyes, and makeup.
Your sims will get a pale white face with deep red eyes and small reddish veins under their eyes.
You can choose among 9 different swatches that change the eyeshadow color.
The remaining swatch will not affect your sim's skin tone.
You can find this cc under Face Paint in the Makeup category.

32. Dry Lips Sims 4 Vampire CC by Pralinesims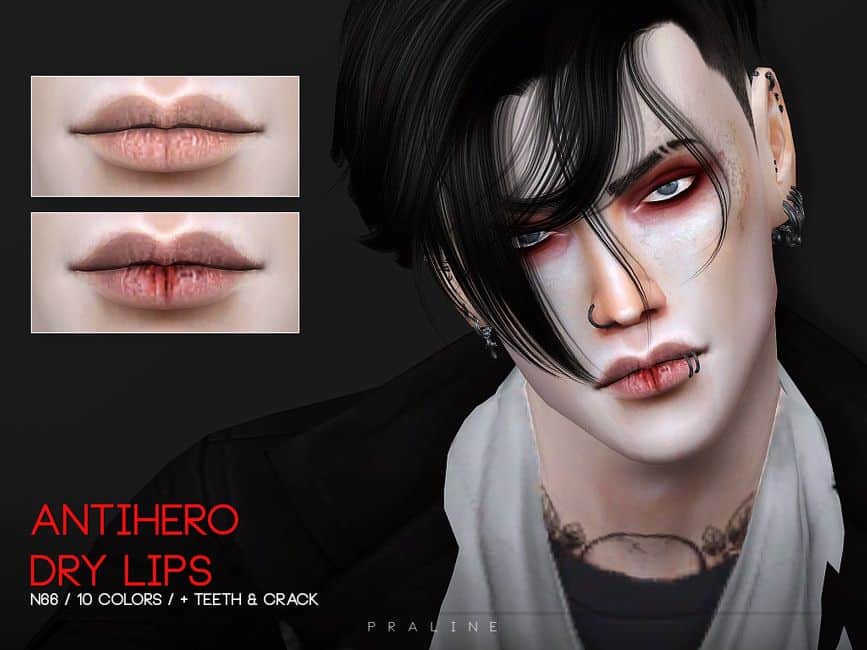 Are your vampires a little dehydrated and thirsty?
This sims 4 lips cc will give your sim the appearance of having dry lips.
Select one of the ten colors available for the two versions of dry lips.
Both versions are of chapped lips, but one adds a bloody cracked-lip look to them.
You can find it under Lipstick in the Makeup category.

33. Sims 4 Spider Earrings by Bellassims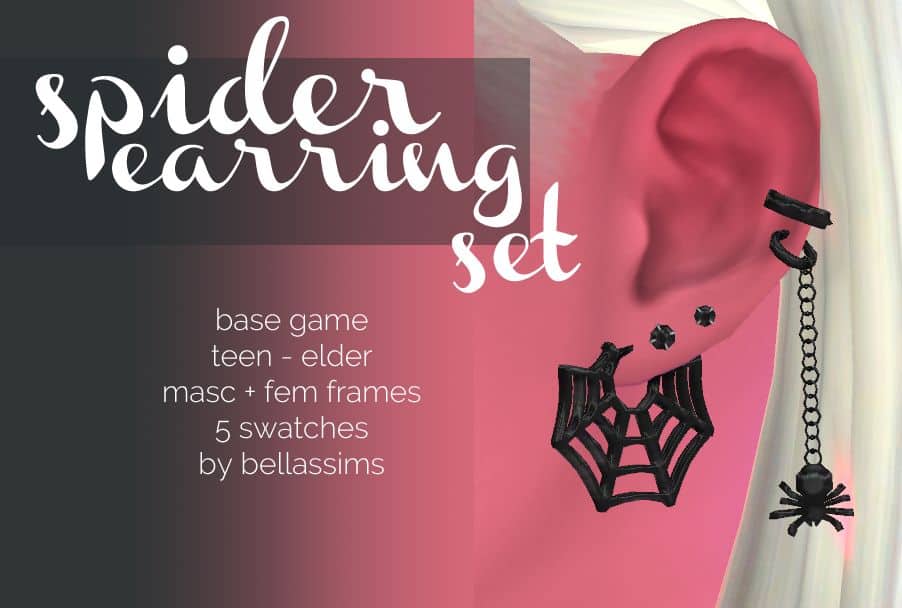 Who said that vampires couldn't look cute?
With this spider earring set, now your sims can be modern and adorable.
You get matching earrings on both ears, except for the dangling spider, which only appears on your sim's left ear.
Besides the spider, you get a spiked helix ring with two small upper lobe earrings and that cool spiderweb on the lobe.
There are five colors, but my favorite has to be the black set.
Although, the purple set of earrings is my second favorite swatch.
You'll also find some witch and Halloween cc options on the same page.

34. Sims 4 Vampire Dress CC by DanSimsFantasy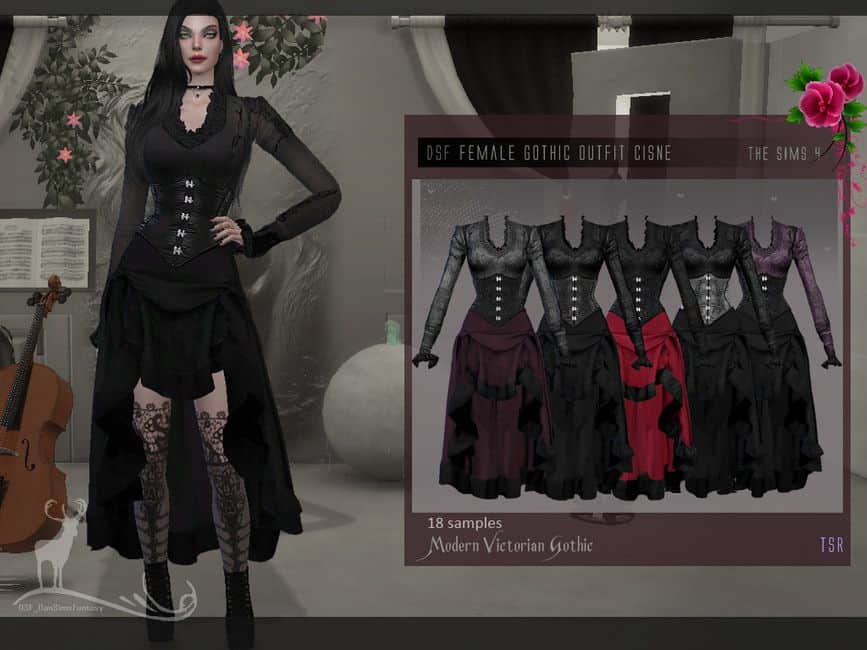 This vampire outfit is similar to the Victorian dress listed in #14 but with a modern twist.
This mod is a fantastic-looking vampire shirt with a corset and a steampunk skirt which is longer at the back but short on the front.
I love the different color combinations offered among its 18 swatches.

35. Sims 4 Vampire Teeth CC by wyattssims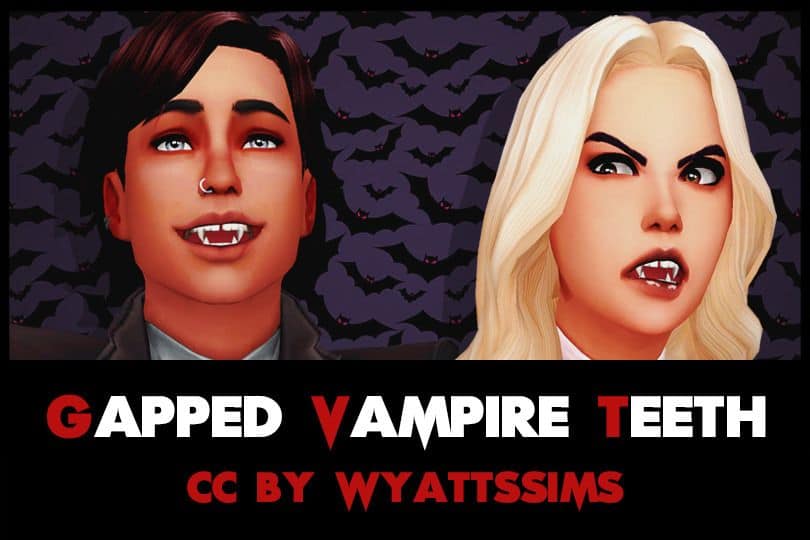 I was so happy to have found this cc; the gapped vampire teeth are a nice unique touch to any vampire sim.
You can use this cc on any sims aged teen and up.
You can find it under the Teeth category.
36. Sims 4 Vampire Coffin CC by myshunosun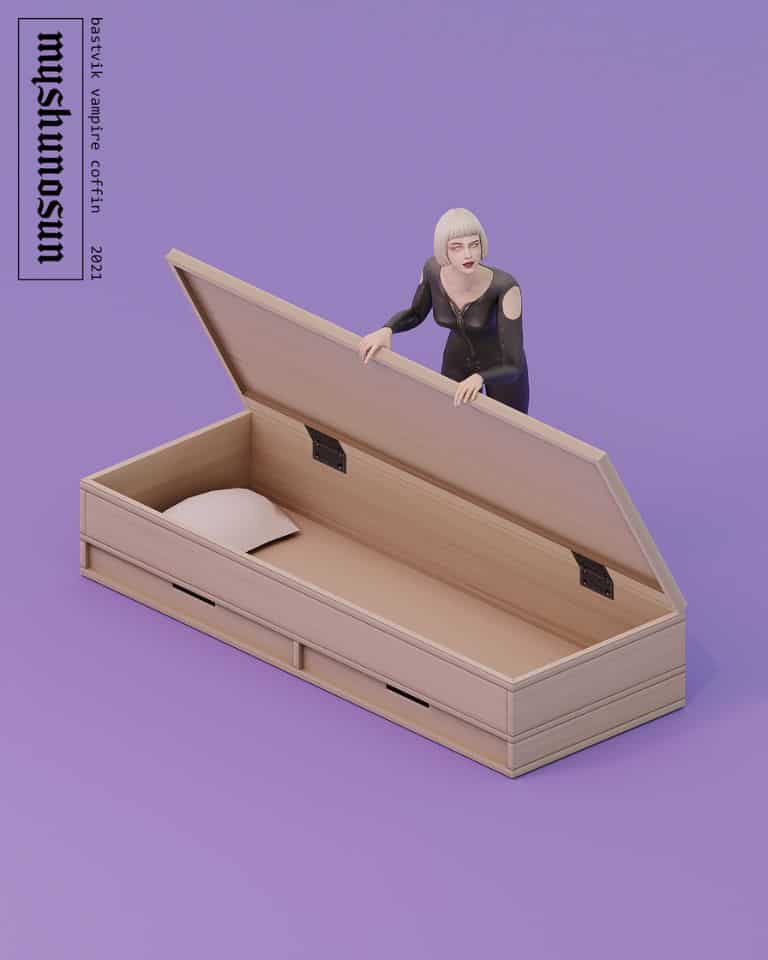 Sleek is the name of the game when it comes to this modern contemporary vampire coffin.
Boy, that sounds odd to write, contemporary coffins 😉 .
Nothing spooky here, just a standard coffin with smooth lines.
Pick your favorite swatch from the 10 available options.
Final Thoughts on Sims 4 Vampire CC
I hope you've enjoyed this collection of sims 4 vampire cc and found a few new pieces to complete your sim's vampiric look.
You've got everything required to make them appear monstrous and scary or groomed and elegant for a more subtle look.
Creating your own sims 4 vampire is a fun experience; with so many packs available, I enjoyed making my own.
If you have any questions or suggestions, feel free to leave us a comment below or tag us on Tumblr.
Other Sims 4 Occult Lists
And remember to share and pin this collection for later!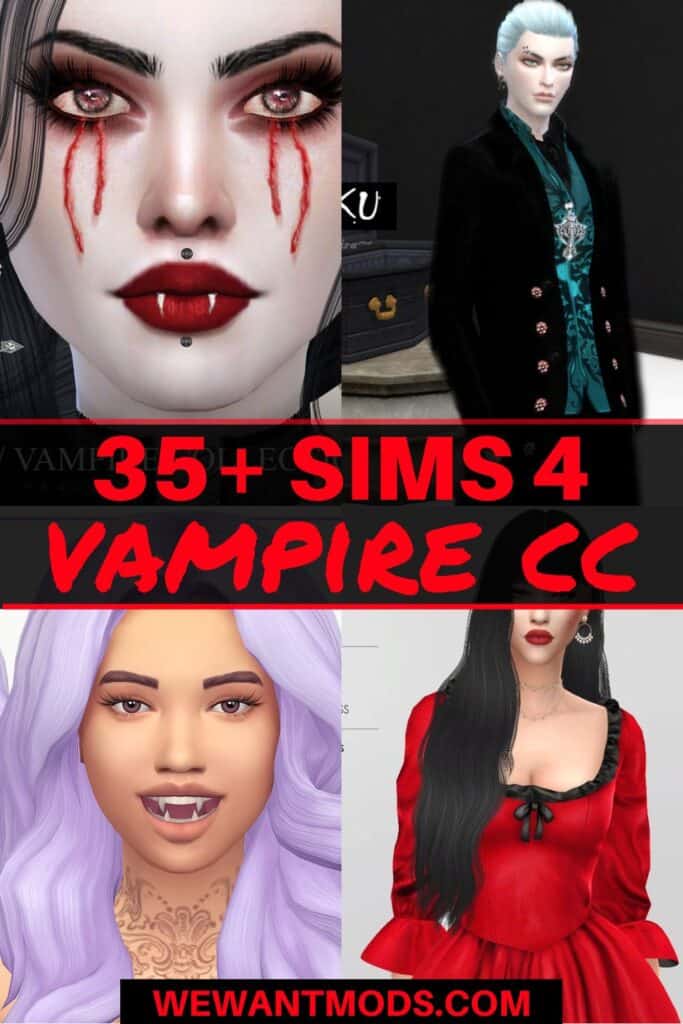 35+ Terrific Sims 4 Vampire CC (2023 List)