33+ Wicked Sims 4 Witch CC Pieces
From witches to spellcasters, we've put together a great list of sims 4 witch cc to replenish your custom content folder.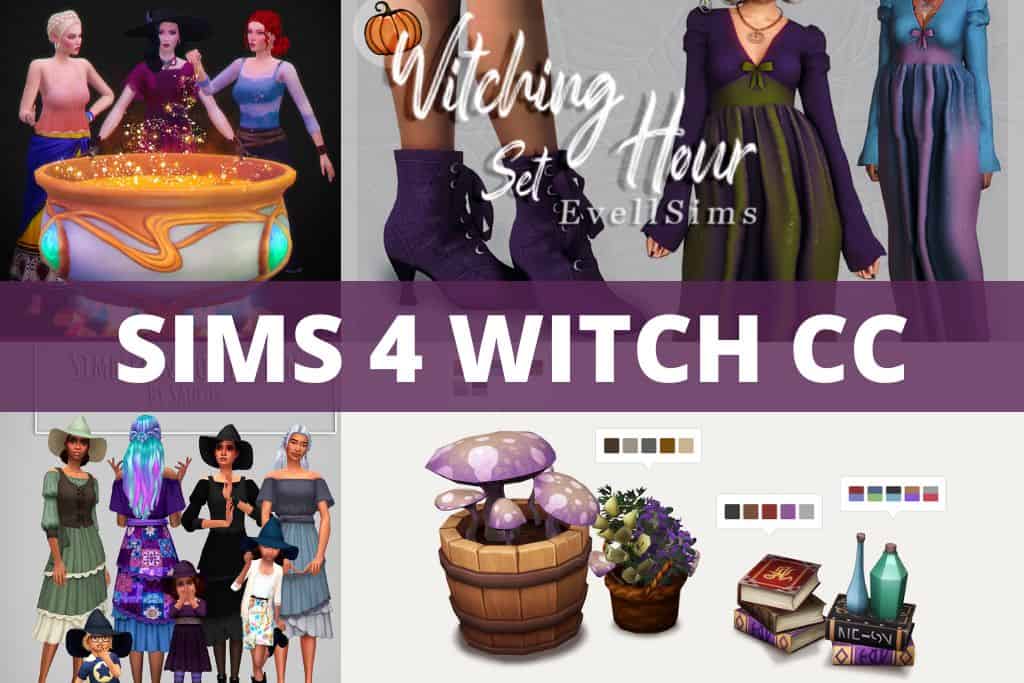 Do you have a love of witches and magic?
When The Sims 4 Realm of Magic hit the scene in 2019, many people were excited about the newest occult addition.
Now whether your sim is into full-blow witchcraft or just a lowly apprentice, they should always look the part.
You'll find a nice mix of sims 4 witch cc to fit the classic witchy looks and more modern-day spellcaster pieces.
And we can't forget some fun witch pose packs too!
Oh, and for more occult lists, check out these cc posts;
Disclaimer: The following mods are neither endorsed nor affiliated with The Sims, Maxis, or Electronic Arts. Any use of mods (custom content or game mods) should be done with caution and with the knowledge that there may be risks.
Best Sims 4 Witch CC
Below you will find a mix of clothing pieces, accessories, furniture, poses, and more for your witchy sims.
1. Sims 4 Witch CC Collection by Saurus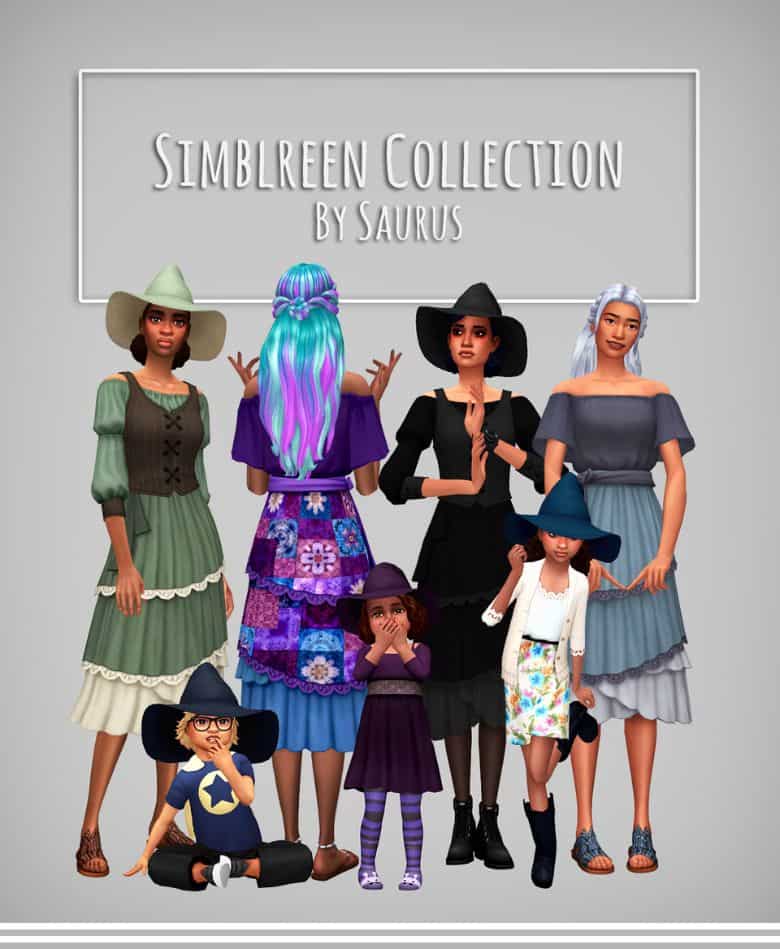 If you want your sims to become witches and warlocks, they must first dress the part.
This witch collection contains everything your sims may need to look like they practice the art of witchcraft.
These sims 4 witch cc contain cowberry hats, dresses, hairstyles, and even clothes for your witchy children.
The best piece of this collection has to be the beautiful moonstone hair with the ombré.
To have hair look this good, it's gotta be magic!

2. Witch Clothes CC for Sims 4 by Kiara Zurk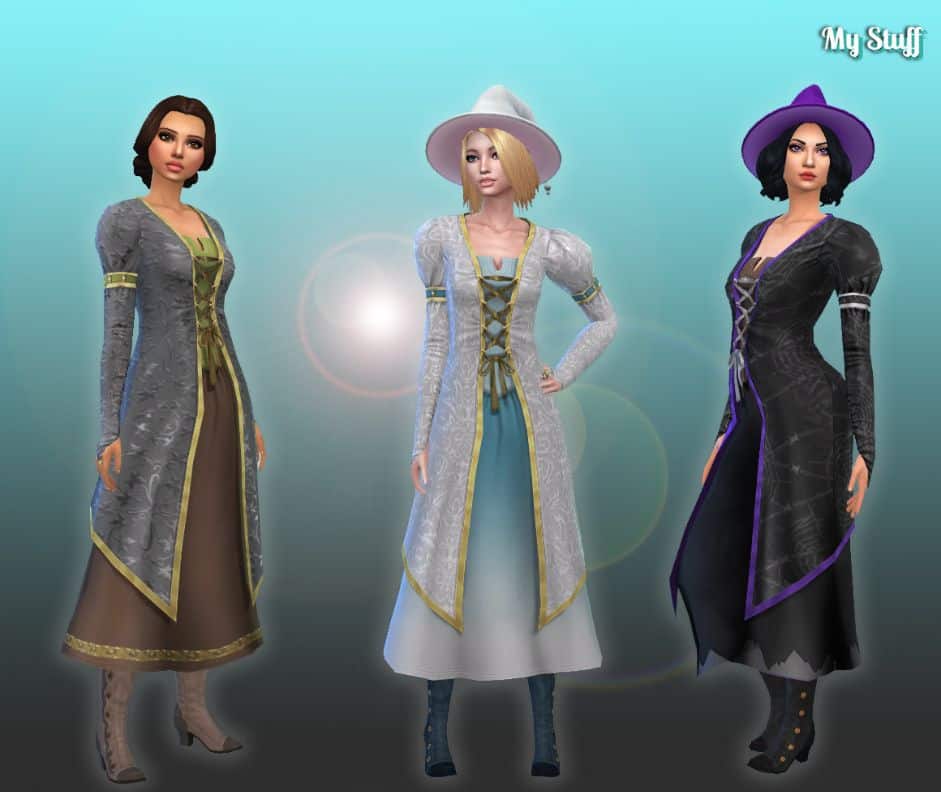 You aren't wrong if you have previously played The Sims 2 and recognize these dresses.
That's because the creator had converted these witch clothes for Sims 4.
This witch dress is available in ten colors and can be found in Outfits under the Everyday, Formal, or Party category.

3. Sims 4 Witchcraft Decoration by myshunosun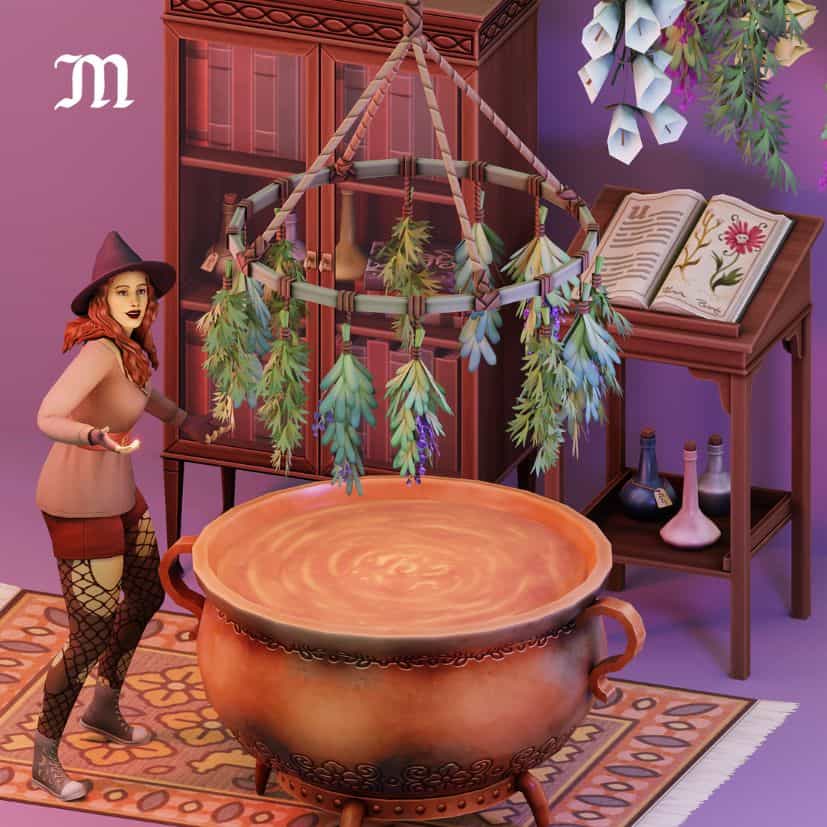 Note: To get the cauldron, you must have The Sims 4: Realm of Magic game pack.
Your sims can only pose as witches or spellcasters with the proper decor, which is where this witchy cc pack comes along.
Whether it's the classic witch's cauldron, dusty spellbooks, or magic potions, it's everything your witch needs.
Each item comes with its own swatches and is added to the buy/build catalog.
Apart from the cauldron, everything else is base game compatible.

4. Sims 4 Witch Outfit CC by Helsoseira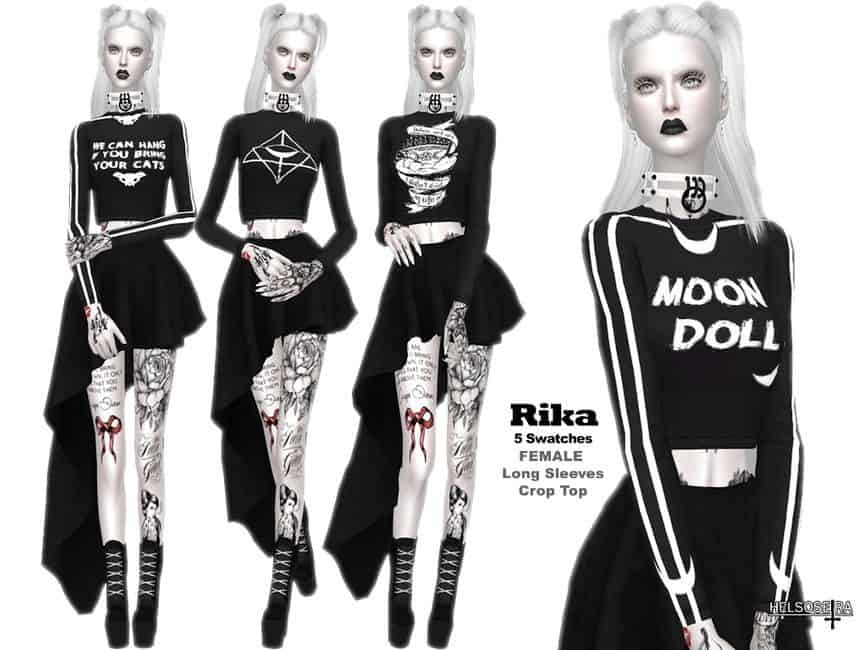 This witch cc pack has some edgy crop tops for any modern-day-looking witches.
These tops come in black and white, and there are five different designs.
You can find this top under the blouse, sweater, or sweatshirt category.
It goes well with any matching black pair of pants or a skirt.
If you're interested in the skirt shown in the picture, the creator has included a link on the download page under the Required tab.

5. Makeup Sims 4 Witch CC by LadySimmer94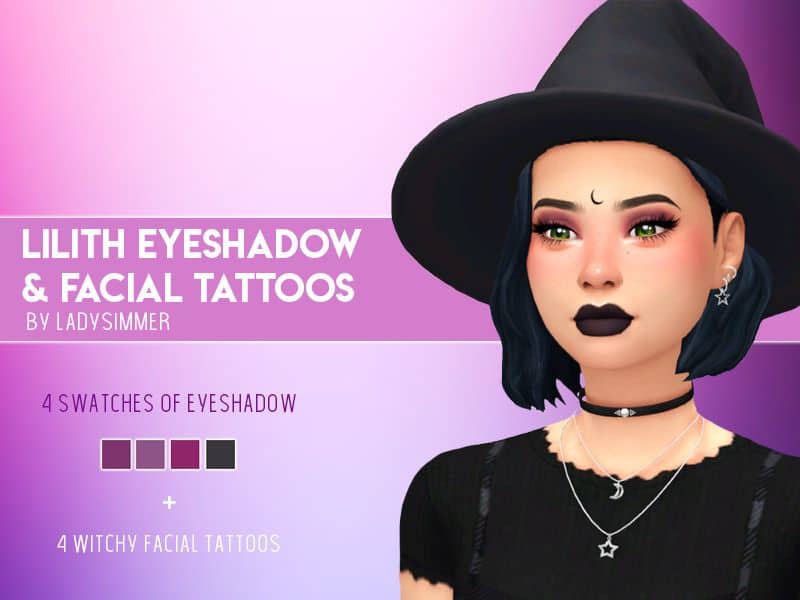 Who says witches have to look old and scary?
Today we are opting for a young and cute version instead.
To help accomplish that, we have these sims 4 witch cc, which is for eyeshadow makeup and witch tattoos.
You get four shades of eyeshadows and four stylish tattoo designs, including an upside-down crescent moon.
The Tattoos can be found under the Body category.
These mods can be downloaded and used separately, but they go so well together.

6. Witching Hour Witch CC Set by EvellSims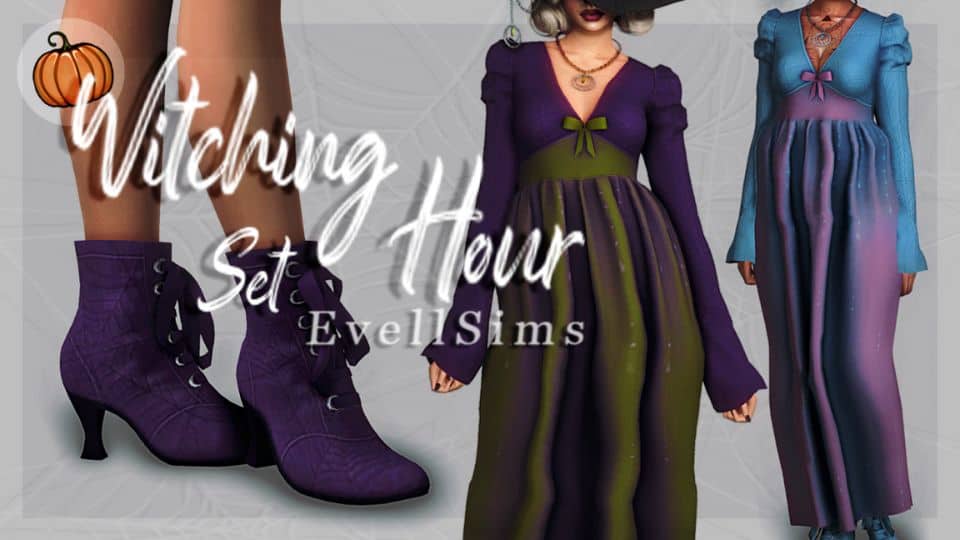 This set of witch custom content is another collection for witchy dresses and other clothing items for your sim 4 witches.
You get to choose from various items, each having a good selection of different swatches.
If you want shoes, jewelry, hats, or dresses, these witch clothes cc are worth a look.

7. Dresses for Sims 4 Witches by ELFDOR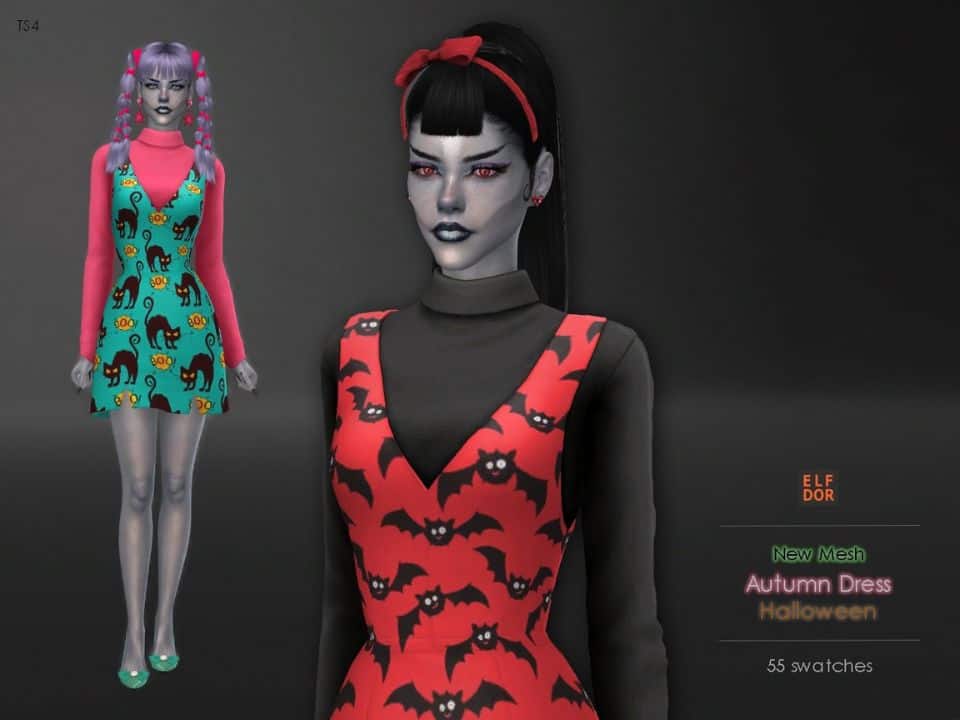 The dresses included in this pack would fit nicely for any modern witch.
It's a cute long sleeve turtleneck and short dress combo with a huge selection of 55 swatches.
You can add some witch accessories and shoes, and your sim witch is ready to hit the broom and head into town.
You can always add this cc as a seasonal Halloween outfit to your mods folder for your non-witch sims.

8. Sims 4 Pride Witch Hat CC by NekoChan-Simmer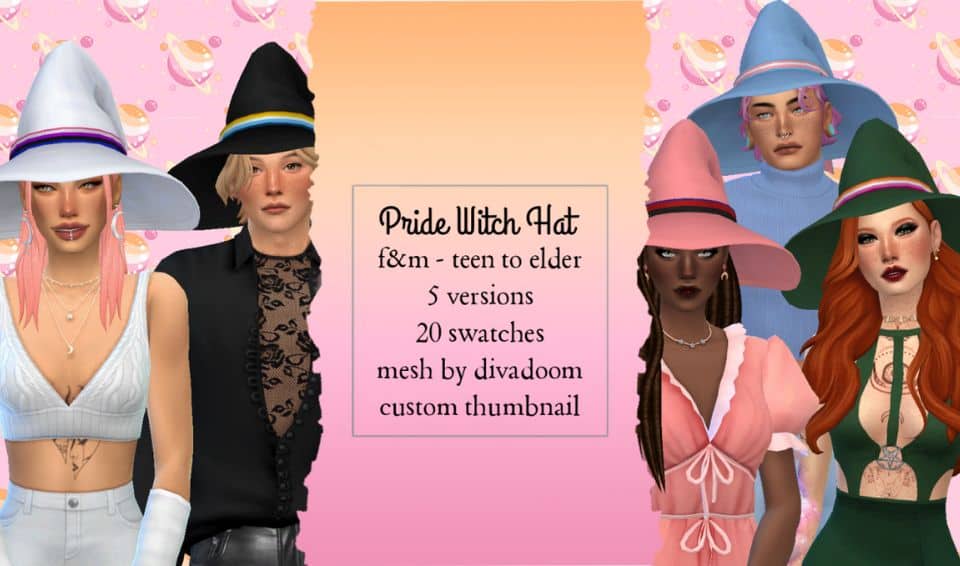 Looking for some color options for your sims spellcaster hats?
This sims 4 witch hat cc comes in the same five colors shown in the picture above.
They each have 20 swatches for the ribbon at the base of the hat.
These hats will go well with any witchy outfit you conjure up.

9. Sims 4 Witch Broom CC and Poses by TalentedTrait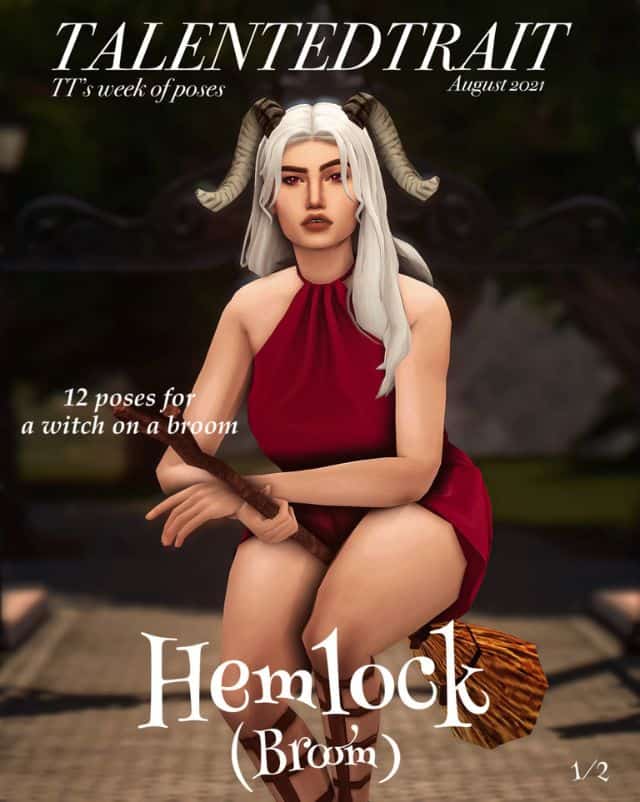 Do you want to take the perfect shots to show off your sim witch?
Make sure to grab this witch pose pack which contains 12 neat poses.
To use these poses, you will need to get the witch broom cc, but the link provided on the download page is broken.
You can find it using this sims 4 broom accessory link.
If you need help with using poses, you can check out our pose guide.

10. Sims 4 Witch Hair CC by Feral Poodles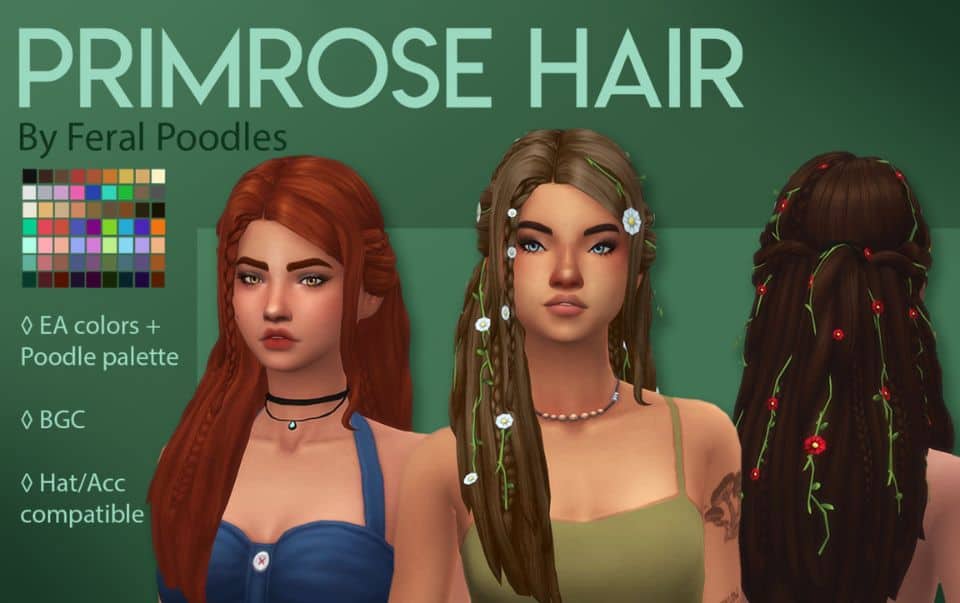 Do you want a cute hairstyle for your sims 4 witches?
With this witch hair cc, you get long, beautiful hair with braids.
You can choose from 63 swatches, and I adore the bonus flower accessory, which has ten swatches.
This flowery hairstyle just seems perfect for an innocent witch practicing white magic.
The flowers can be found under the Hat category.

11. Witch Dress CC for Sims 4 by Trillyke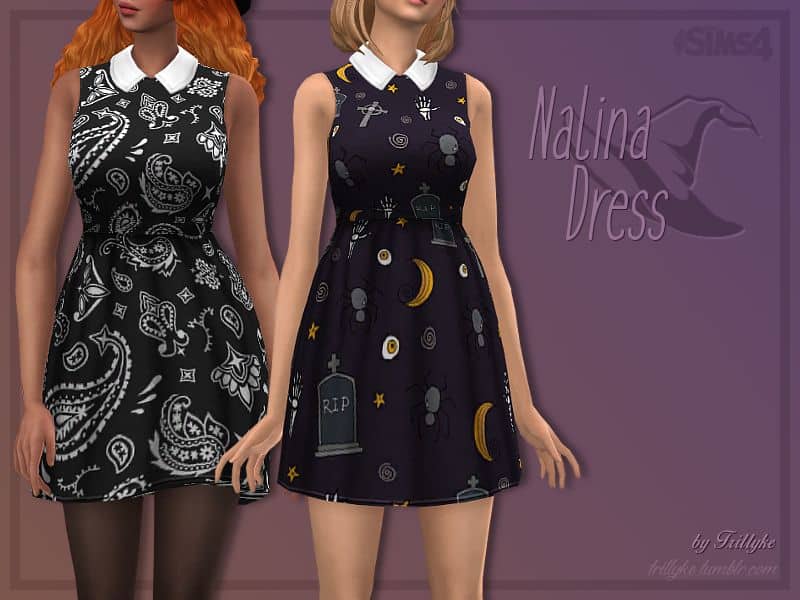 There isn't such a thing as too many dresses, right?
These adorable mini dresses are perfect for your sim witches or female sims.
There is 15 swatches total, which includes five solid colors and ten patterns.
For sure, the witch dress designs give off seasonal Halloween vibes, but for your spellcasters, that's a year-long event.

12. Sims 4 Witch Hat by okruee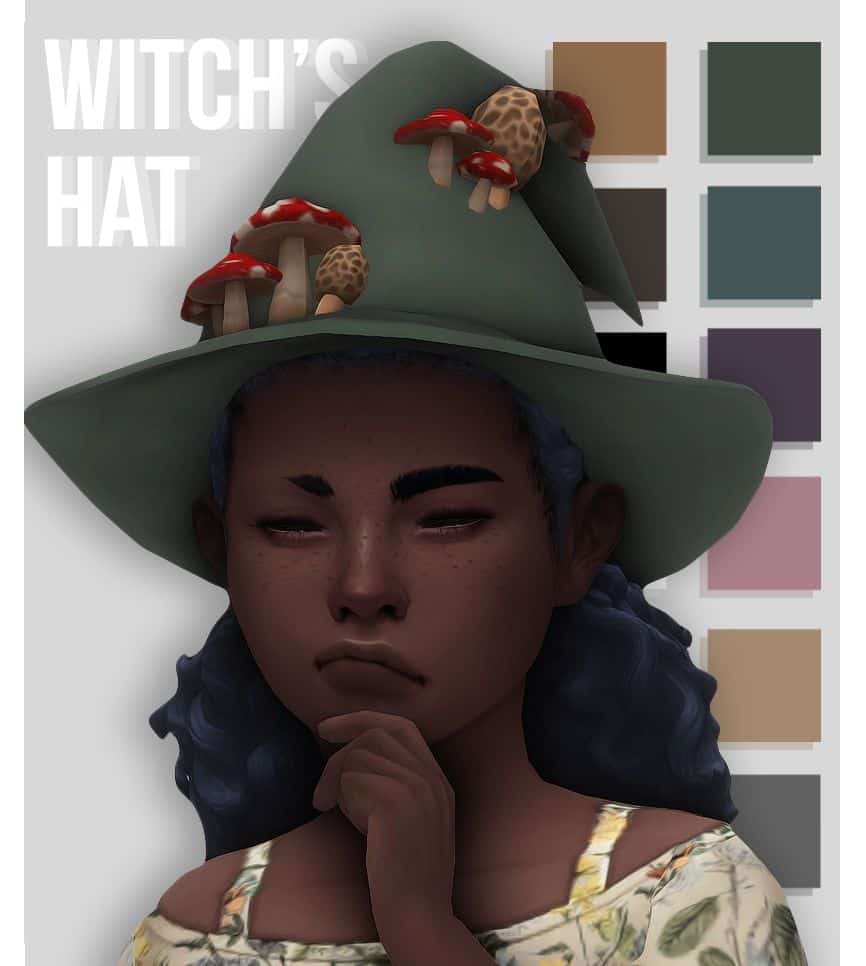 If your sims are more of a close-to-nature kind of witch, get this hat.
This witch hat cc would be a great fit for them because of the mushrooms growing on it.
On top of that, the ten colors included have an earthy tone, which would be ideal for a "green" witch.

13. Sims 4 Witch Decor CC by soloriya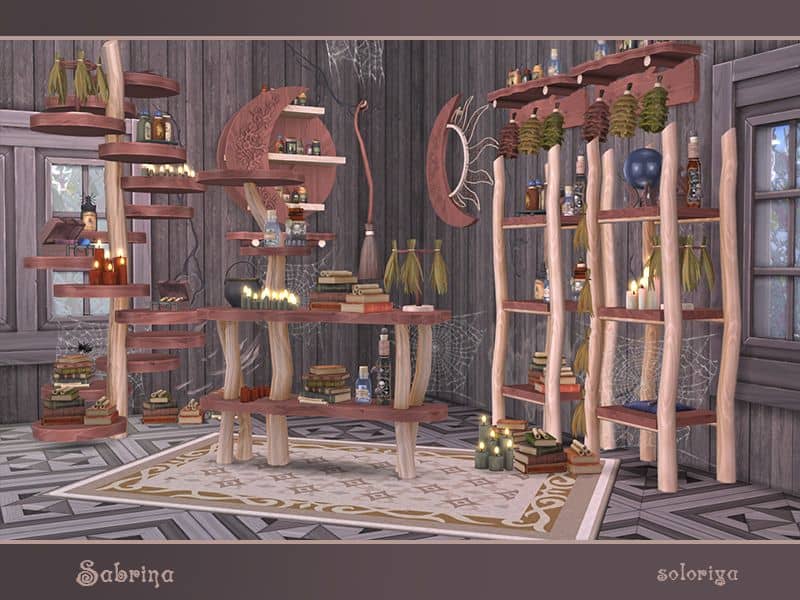 Do you need more stuff to decorate your witch's home?
This sims 4 witch cc pack includes a bunch of objects that would look good in any magic shop.
It includes various makeshift storage units such as shelves, tables, wall decorations, and candles.
With a few more items, your witches can be opened for business.

14. Coven Set Sims 4 Witch CC by Joliebean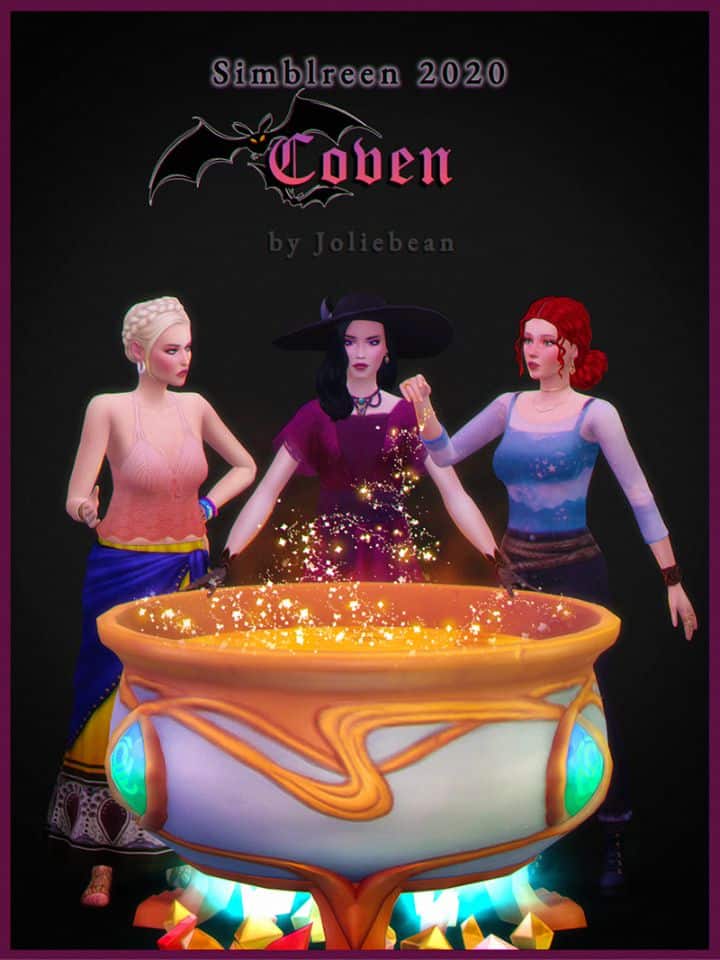 This set contains a mix of classic witch cc and modern options.
You get a couple of tops, a pair of jeans, a skirt, a dress, and a hat.
Each has a decent number of swatches ranging from 5 to 25, depending on the item.
In my opinion, the skirt and the dress give off more witchy vibes, but the top and pants are ideal for modern witches too.

15. Sims 4 Bad Witch Custom Content by akalukery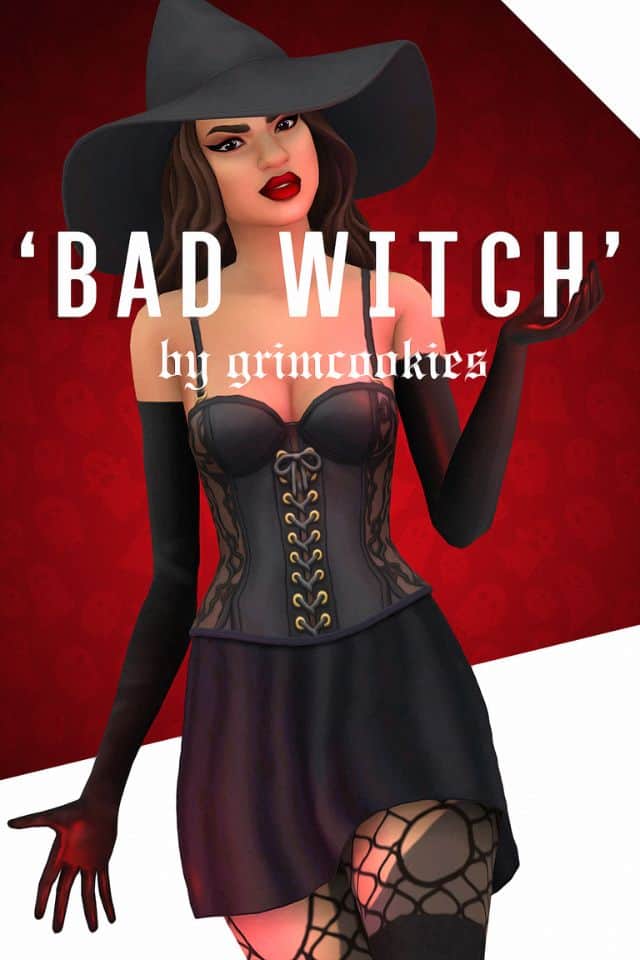 Not all witches are good.
With these sims 4 witch cc, your sim can be the bad witch she's always dreamed of.
This collection has some makeup items, such as eyeshadow and lipstick.
I love the included hat, but not as much as the two dresses.
As for the dresses, you get a short dress and an even shorter version, which both come in the same five swatches.

16. Sims 4 Witch Tattoo by cowplant-pizza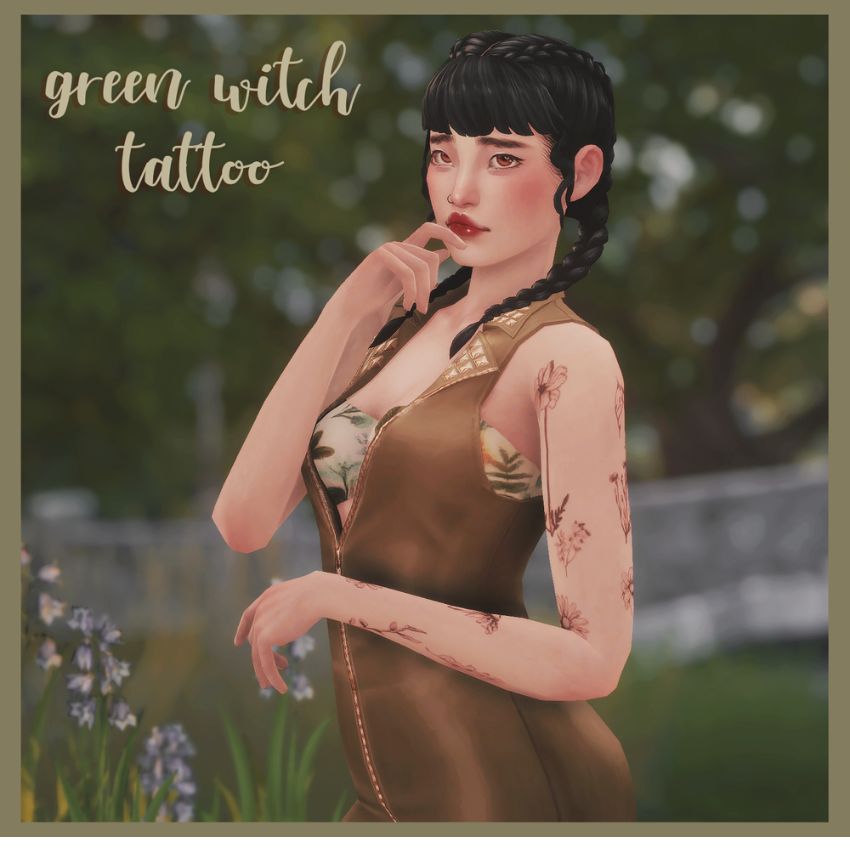 Are you looking for a simple and elegant tattoo for your sim witch?
This witch tattoo cc has only one design, one swatch, and it's for a full sleeve.
The floral design of this ink is the ideal body art for your green witch.

17. Witch Furniture CC by Evitagene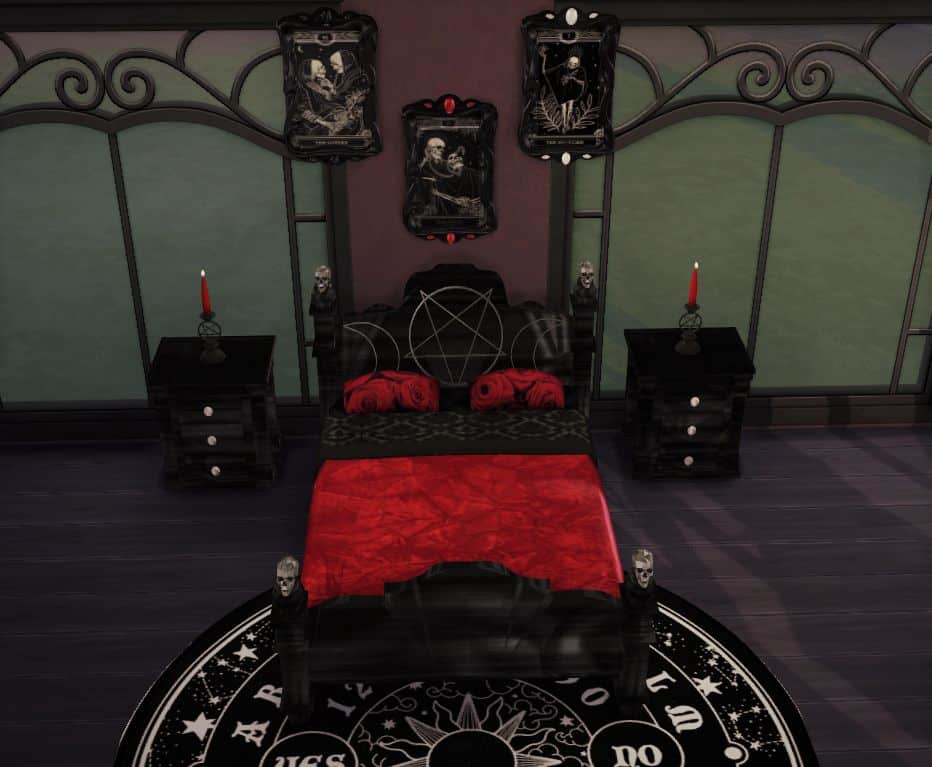 Furnishing a witch's home can be tricky if you can't find the right furniture.
This sims 4 witch furniture cc has a bedroom set that screams witchcraft.
With this download, you get 11 pieces of furniture which include:
One double bed
A nightstand
A dresser with a mirror
Two rugs
Three wall arts
A shelf
Candlestick with candle included
A chandelier
This set would also go well for gothy sims or creatures of the night, like vampires.

18. Sims 4 Witch CC Pack by Nolan-Sims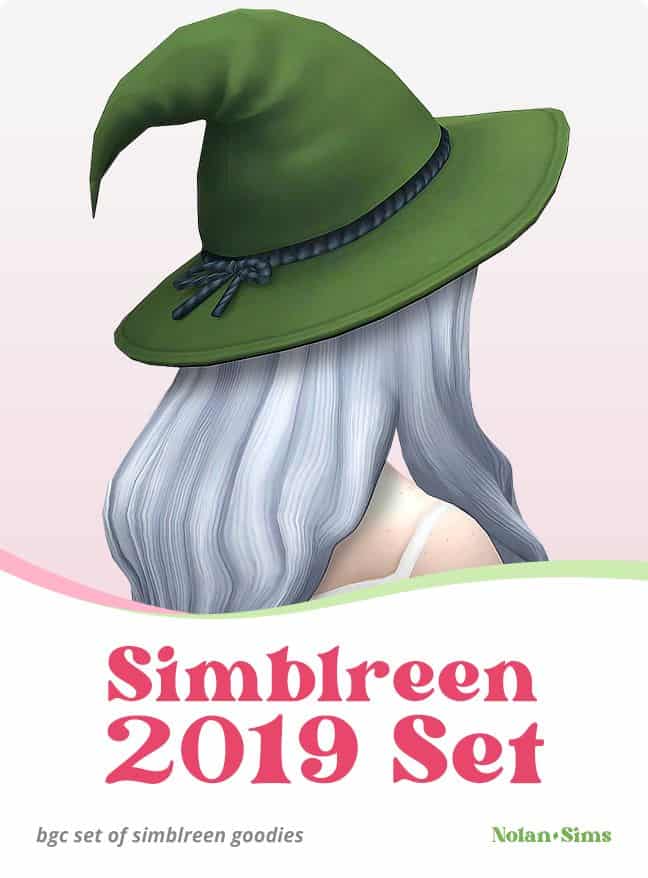 If you want more witchy cc, this collection has a few decorations, clothing, and jewelry.
You get 30 swatches for the dress and 15 for the shoes and hat.
For the jewelry, you have two models of cute little earrings, each with 15 colors for the stone or crystal.
As for the decoration, they are nice additions to your witch's home.

19. Sims 4 Witch Horns by Feral Poodles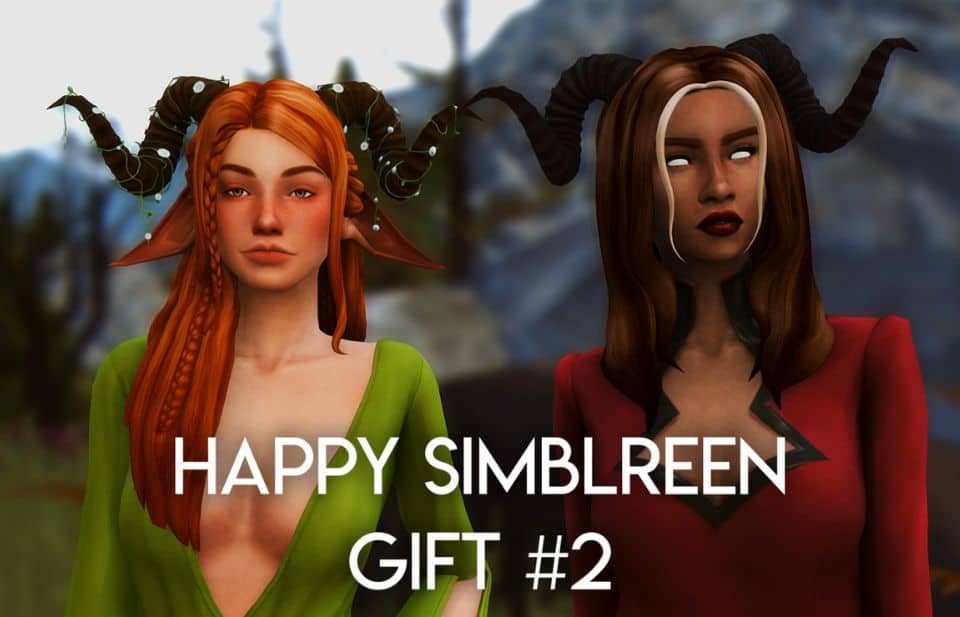 These sims 4 witch horns look wicked and would go well for any green sim witch.
The creator has included a separate cc file to add tangled flowers to the horns.
The horns are in the Hat category, while the added flowers are under Piercings.

20. Witch Crystal CC for Sims 4 by simdertalia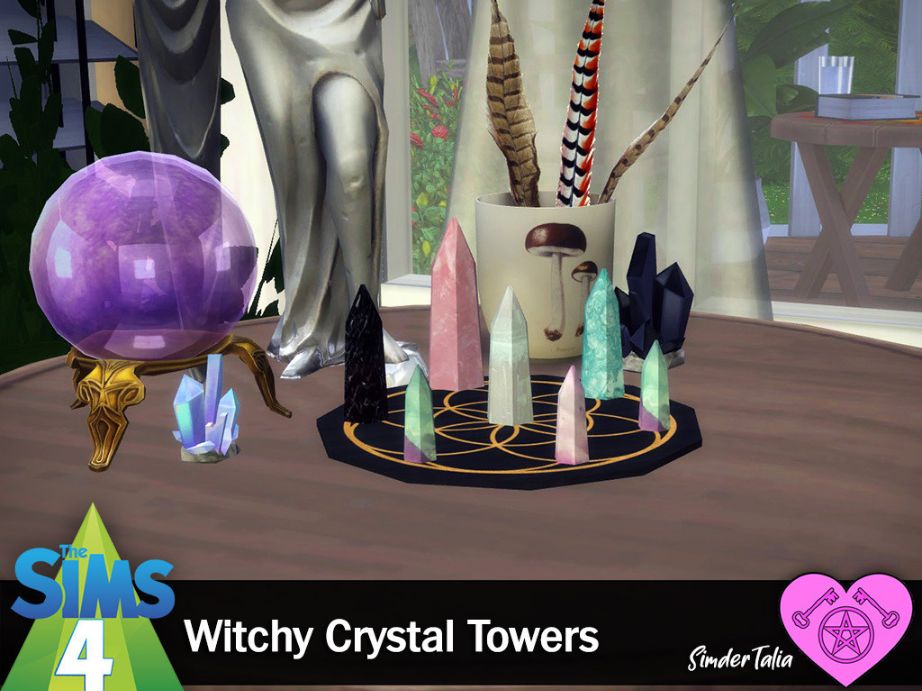 What are witches without an assortment of crystals?
In this sims 4 witch cc, you get 20 swatches of crystal towers that look like mini monoliths.
They're a pretty addition to any witch or other supernatural-looking sims' home.

21. Sims 4 Witch Cape and Dress CC by DINO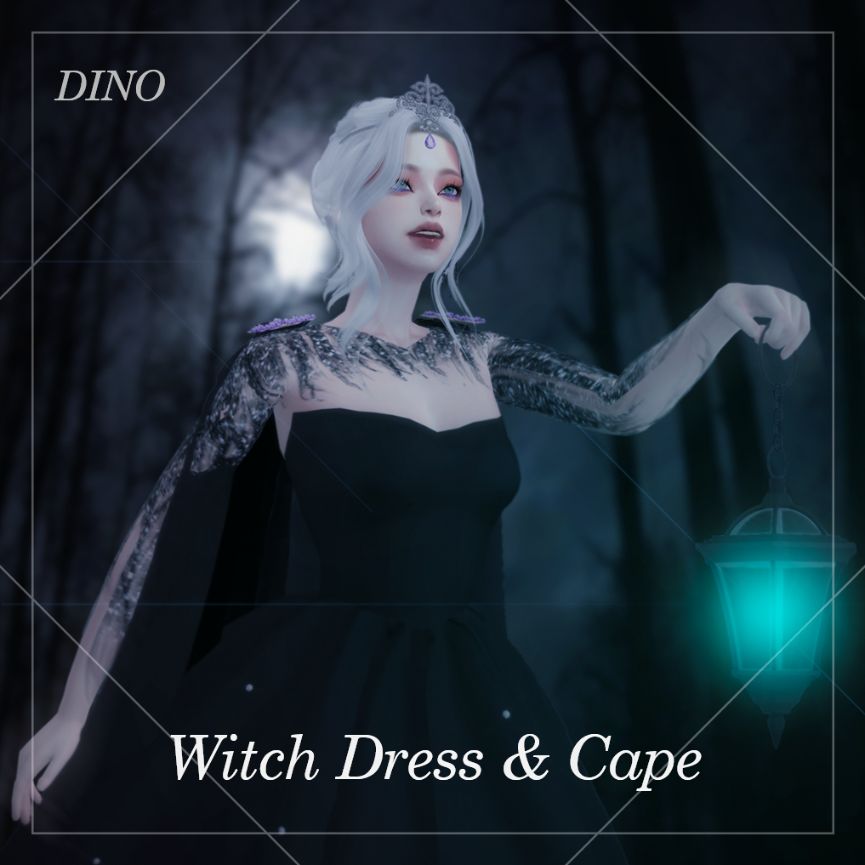 This dress and cape are the perfect cc for a classy and elegant witch.
With this dress cc and cape, your witch is ready to hit the town, perhaps to a witch's ball.
You get a beautiful ball gown dress offered in seven colors, plus a long and gorgeous cape with a choice of five colors.

22. Sims 4 Witch Hats for Toddlers by Kiara Zurk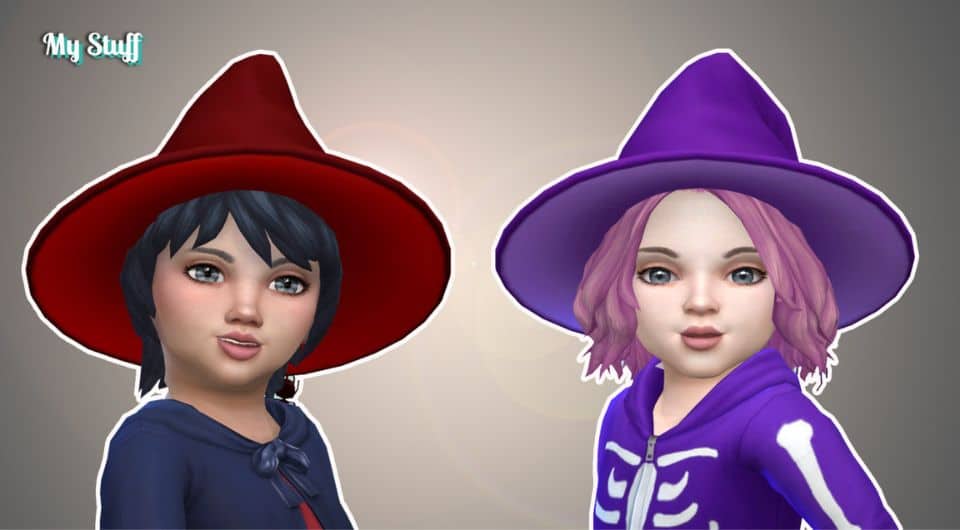 If your witch household has mini witches or warlocks, it's only natural that they should get their own hat.
This cute little witch hat for toddlers comes in seven colors, and it makes them look so adorable.

23. Female Top Sims 4 Witch CC by Helsoseira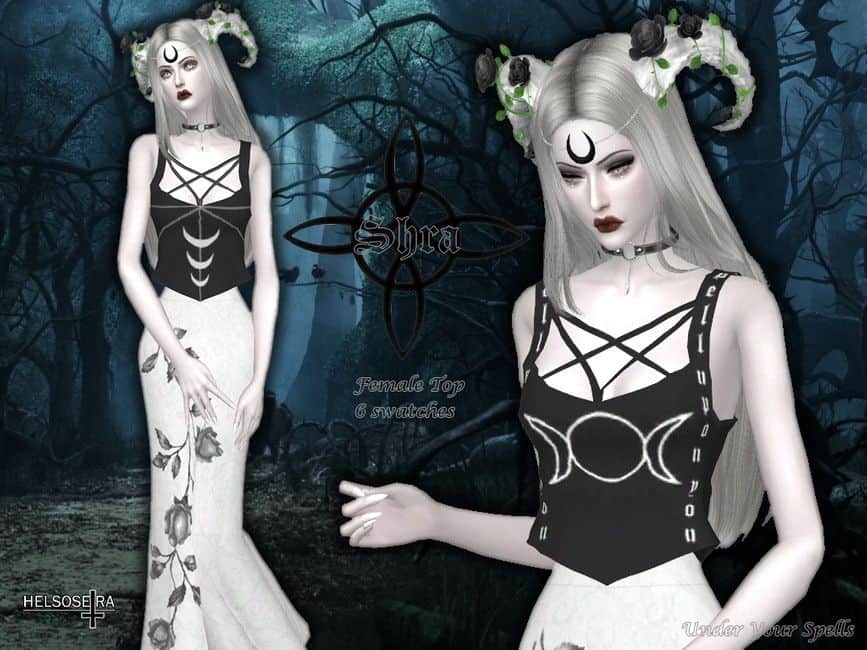 This sims 4 witch cc is for that pretty top displayed in the picture above.
It comes in six swatches and can be found under the Tank Top category.
This top goes well with any bottoms, whether it's pants, a skirt, or a dress.
Complement your outfit with the right accessories, and your sims 4 witch will look out of this world.

24. Sims 4 Witch's Mark Tattoo CC by MS Mary Sims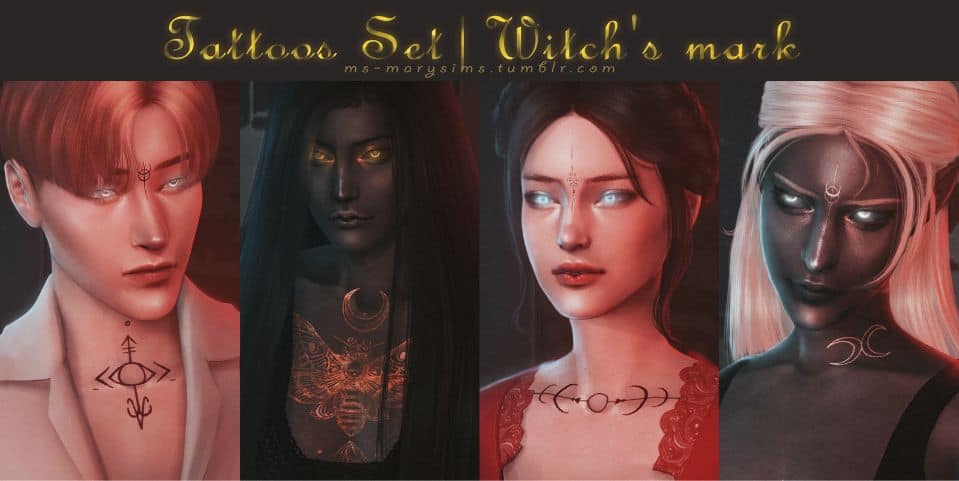 Do you need more ideas for sims 4 witch tattoos?
This variety of witchy tattoos cc is a nice touch to witchcraft-practicing sim.
There are several designs to go on, either the body, forehead, or neck.
Unlike most of the witch custom content on this page, these tattoos can be used on both genders.

25. Sims 4 Witch Necklace CC by Pralinesims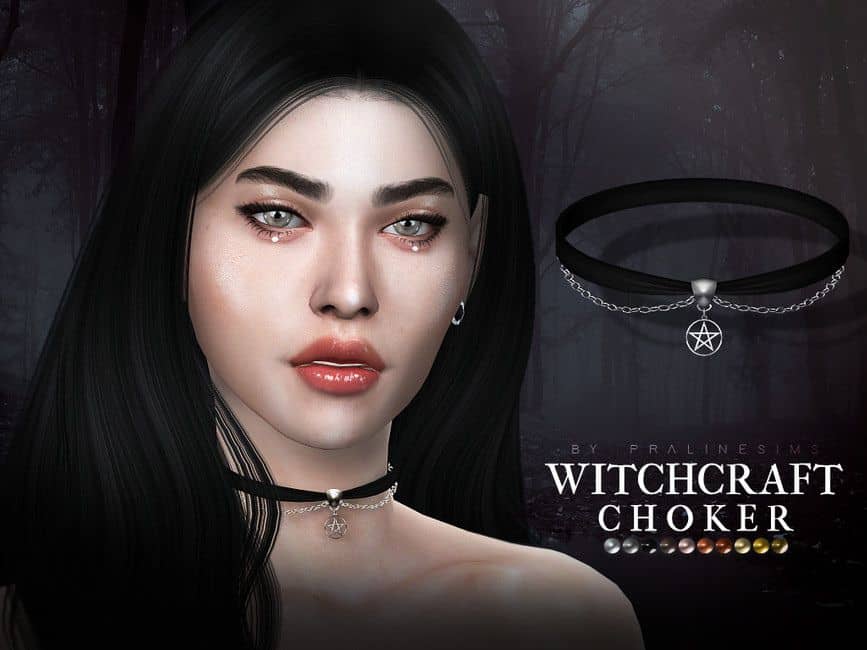 Give your sims 4 witches a pretty and delicate-looking witchcraft choker necklace.
This choker has a little pentagram medallion which would go well with any witch outfit you have in your collection.
Although you can't go wrong with black, it comes in a variety of ten colors.

26. Sims 4 Witch Dresses by _Simalicious_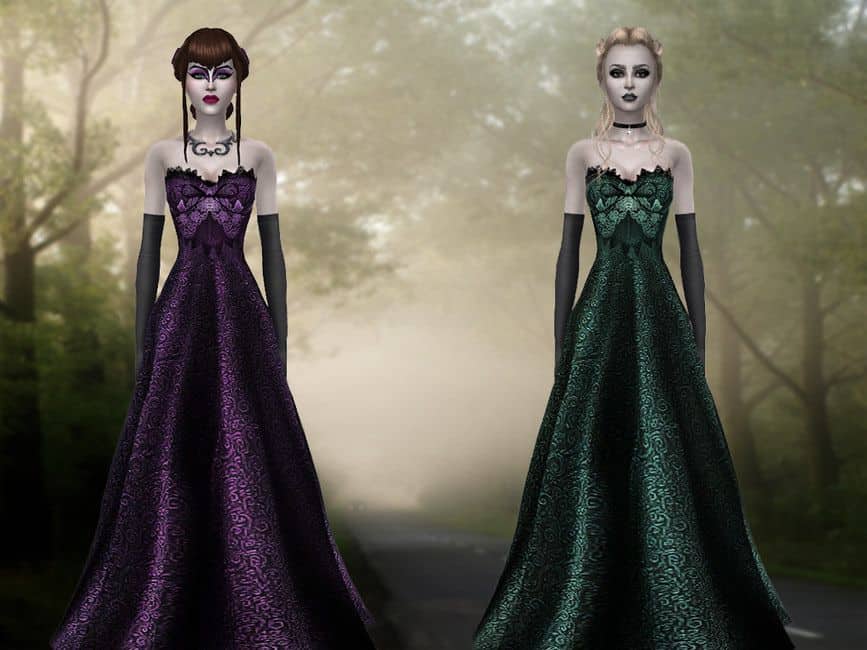 This custom content for your sims 4 witch is for another gorgeous dress to add to your witch's wardrobe.
This paisley-patterned long dress comes in six amazing colors and can be found under Formal wear.
The dress is very well-detailed and will suit your enchantress like a glove.

27. Witch Hat CC for Kids by NekoChan-Simmer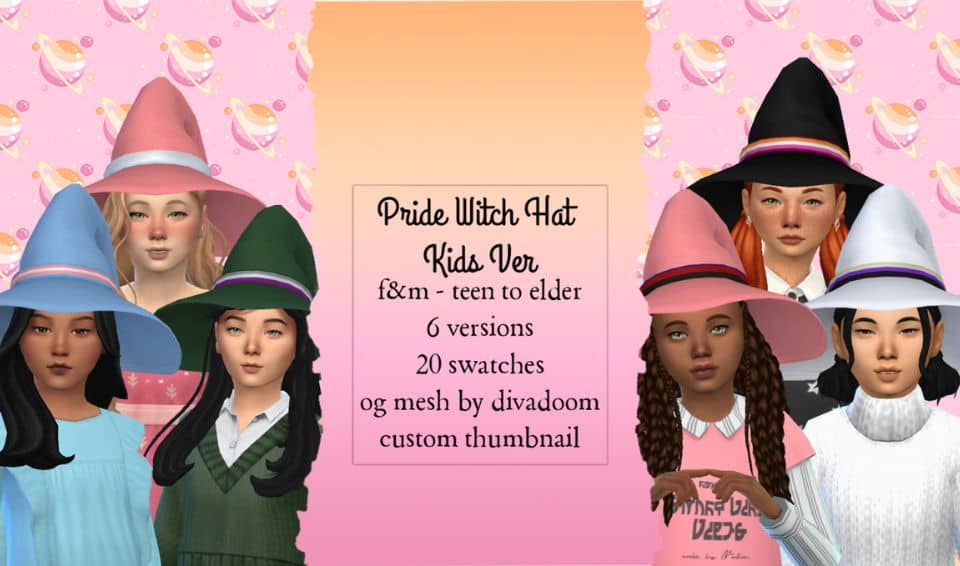 This sims 4 witch hat cc is the same as the one listed at #8, except for kids.
You can download five hat colors with 20 swatches for the attached pride ribbon.
There's a sixth hat available that doesn't have the pride ribbon but comes in a variety of ten different color combinations.

28. Sims 4 Witch CC for Decoration by KUMIKYA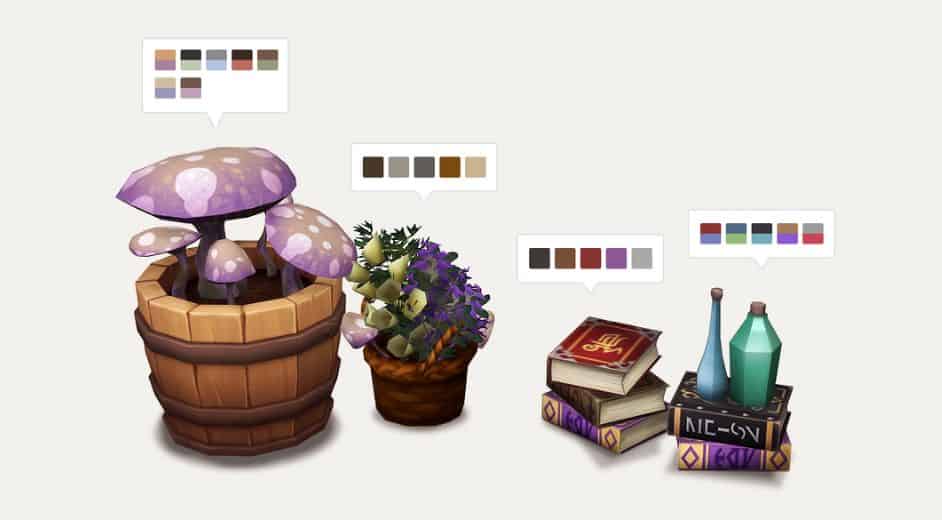 Get this witch clutter cc if you want extra knick-knacks that usually go well inside a witch's magic chamber.
With this sims 4 witch cc pack, you get four decorations for your witch's home:
Stack of spellbooks
Spellbooks with potions staked on top
Bucket serving as a mushroom planter
A basket filled with herbs
Each item has its selection of swatches, and they will make a fine addition to your witch's house decoration.

29. Hemlock Sims 4 Witch Poses by TalentedTrait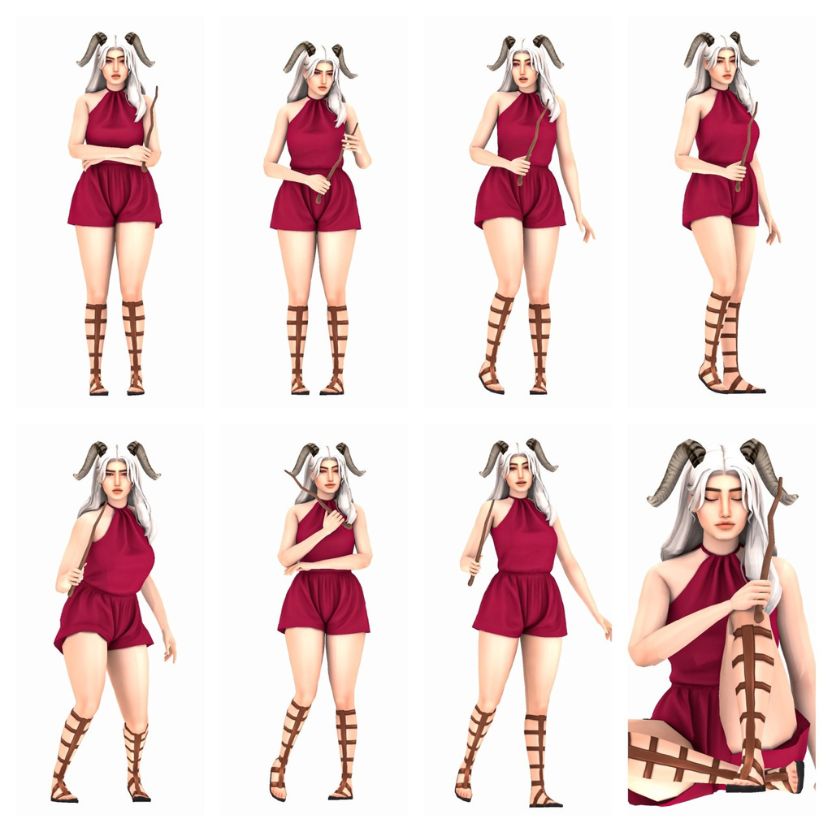 Here we have another sims 4 witch pose pack, except this time, the accessory of choice is a wand.
You'll need to get the witch wand cc to use these poses.
The wand can be found through a link on the download page.

30. Witchy Bodysuit Sims 4 CC by Trillyke
You can give your sim witch this cute bodysuit that can also work as a top.
It comes in 12 colors, and although it's a bodysuit, you can find it under the Tops clothing category.
To use it as a bodysuit, make sure you install the creator's recommended nude bottom mod.
Also, if you're interested, the creator has included a version with no fishnet.
This witch outfit cc goes well on any female sims, witch or not.

31. Witch Hat CC by DanSimsFantasy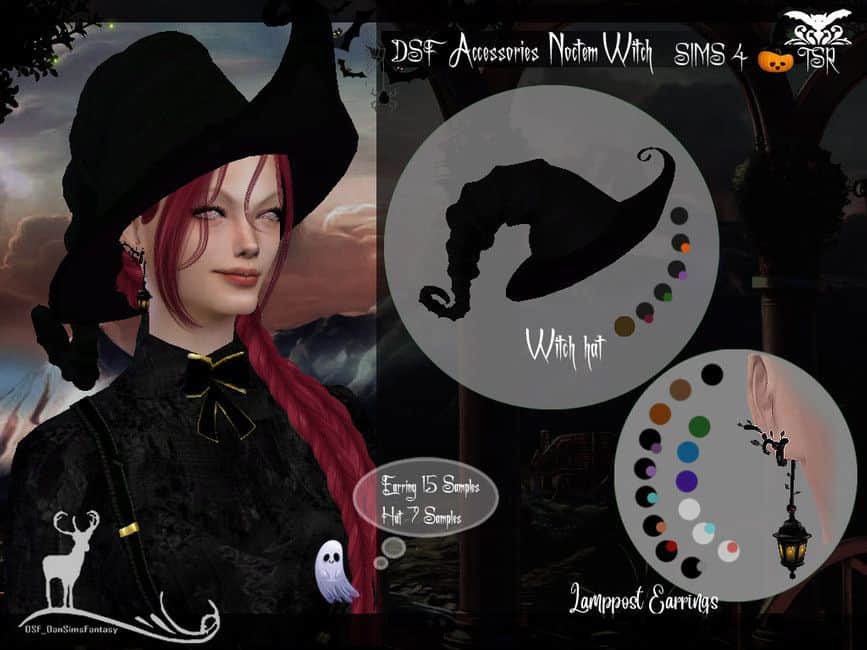 This set of sims 4 witch cc includes a uniquely-styled witch hat and adorable lantern earrings.
I like this sims 4 witch hat because it's different from the typical pointy hat; this one has a nice twist to it.
What can I say about those earrings other than I adore them?
These earrings are original, cute, and appear lit, perhaps magically lit!
There are 15 colors for the earrings and 7 for the hat.

32. Sims 4 Witchy Stove and Grill by Sati Sim
This video is for you if you want a gorgeous and fully functional stove made of stone.
The stove has a medieval look but would fit nicely in a witch's home.
This is different from your usual plug-and-play cc download and will require some work.
Everything can be accomplished without using cc, and it can be a fun challenge to tackle.
Once you have completed your stove, you can pat yourself on the back and enjoy your finished result.
Now, all that would be missing in this picture is a visit from Hansel and Gretel.
That would make for interesting storytelling.
Final Thoughts on Sims 4 Witch CC
From witch hats to poses on a broomstick, there are so many fun sims 4 witch cc pieces to try out.
Try a more modern look or stick to the classic witch's look; the choice is yours.
If you have any questions or suggestions, feel free to leave us a comment below or tag us on Tumblr.
More Sims 4 CC Lists

And don't forget to pin & save this post for later!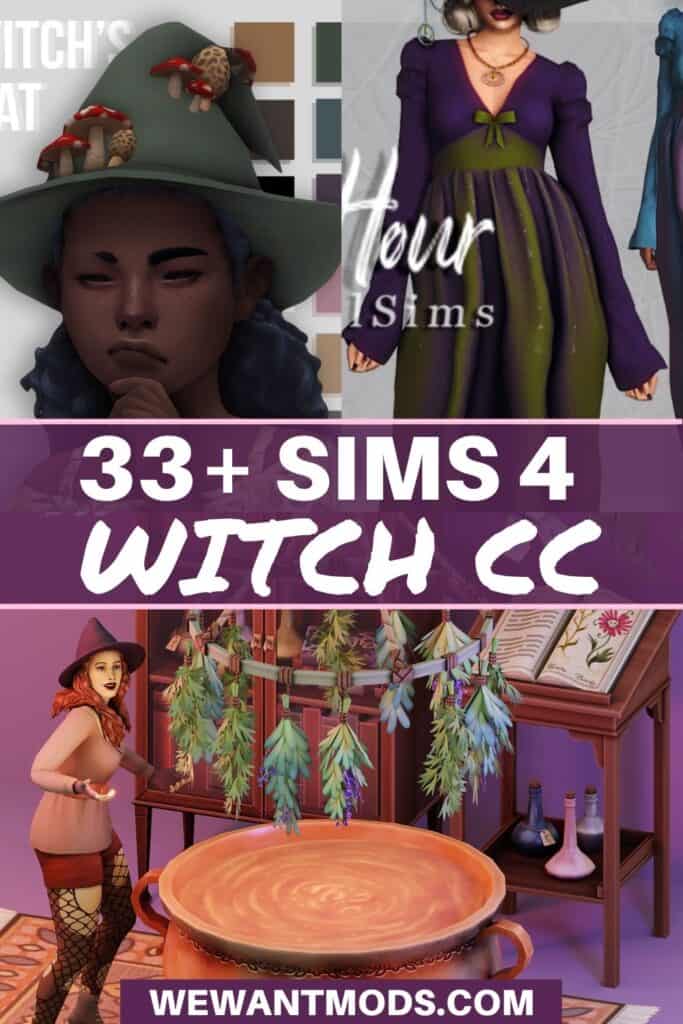 33+ Wicked Sims 4 Witch CC Pieces