33+ Sims 4 60s CC: Enjoy The Captivating Sixties
Take your sims on a journey to the 1960s with this iconic Sims 4 60s CC collection.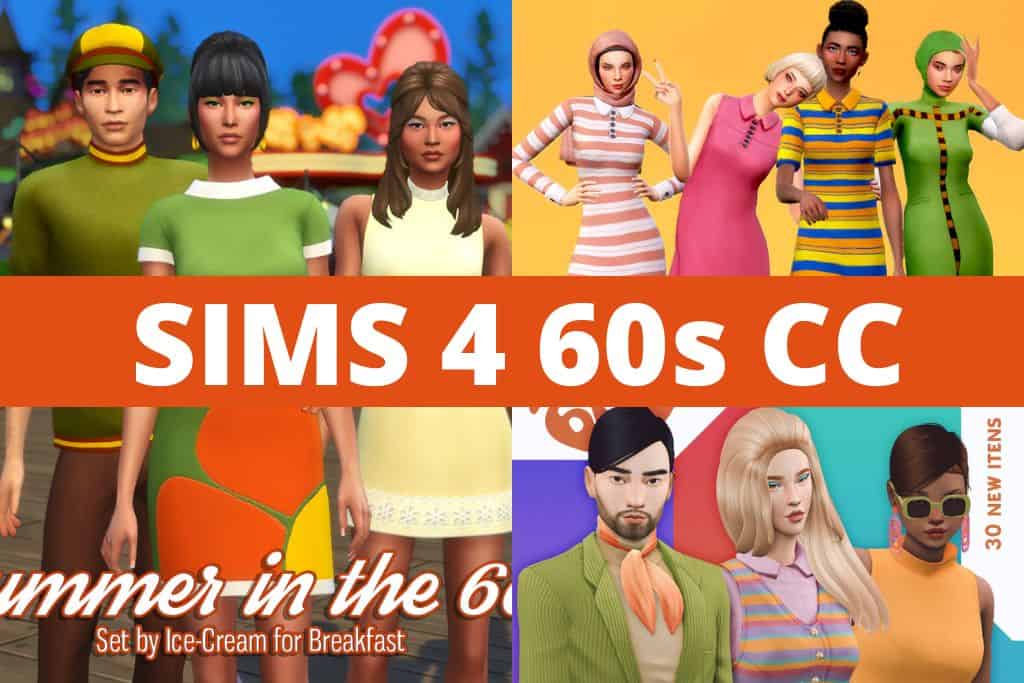 The 1960s saw the tail end of many trends and the start of new ones.
From flower patterns to paisley, and color block designs, the 60s were definitely all about fun and creative looks.
We rounded up some great 60s cc finds, including beautiful clothes and floral heels.
We also have custom content lists for the following decades;
Disclaimer: The following mods are neither endorsed nor affiliated with The Sims, Maxis, or Electronic Arts. Any use of mods (custom content or game mods) should be done with caution and with the knowledge that there may be risks.
Best Sims 4 60s CC
We've included a mix of sims 4 60s cc clothing, hair, shoes, furniture pieces, accessories, and more to create memorable 1960s looks.
1. Sims 4 60s CC Flower Dress by Pinkfizzzzz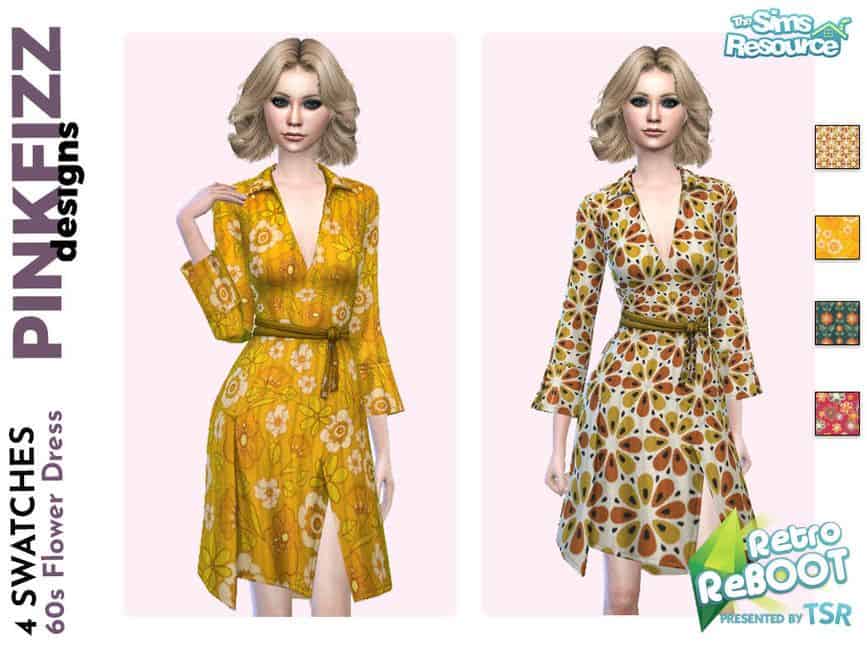 Since flowers were all the rage in the 1960s, it's typical to see many floral designs appear in clothing pieces.
This collared V-neck dress has three-quarter sleeves and hits slightly above the knees.
There are 4 floral swatches to try on your sims.

2. Sims 4 60s Sleeveless Dress by Nords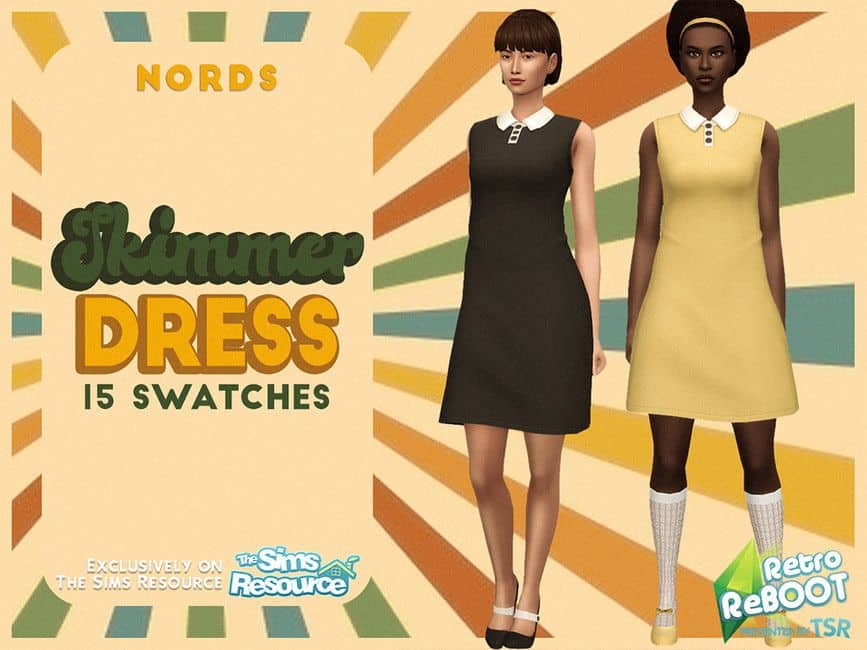 This sleeveless dress is a classic 60s design with a collared neckline, and the dress flares slightly toward the bottom.
With its high-neck button details and smart design, this dress will look adorable and perfect with Mary Jane style shoes.

3. 60's Floral Headbands CC by S-Club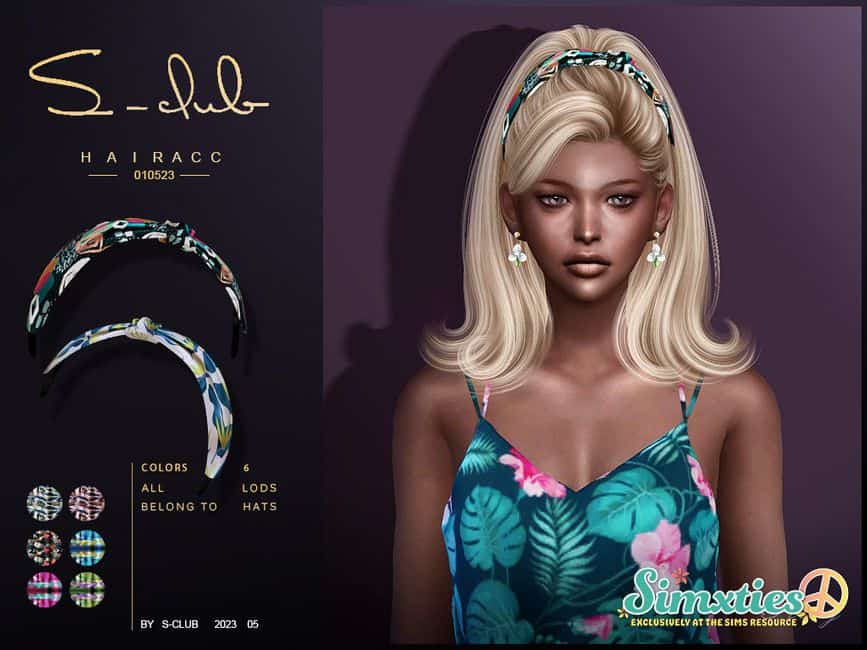 Since headbands were super popular in the 1960s, we had to include some custom-content headband options.
This set comes with 6 colorful pattern swatches, and if you love the hairstyle above, you can get the hair cc here.

4. Sims 4 60s Block Dress by Pinkfizzzzz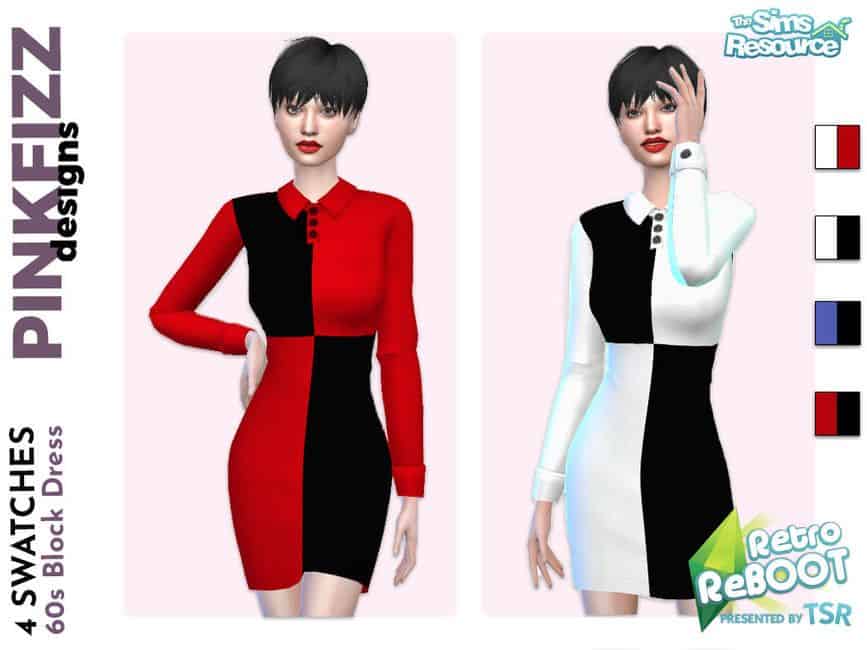 Color block pieces are some of my favorites, and this color block dress is ideal for a busy sim heading to work.
Pair these dual-color dresses with short heels and accessories, and your sim is ready to go.

5. Sims 4 Men's 60s Shirts by Sims House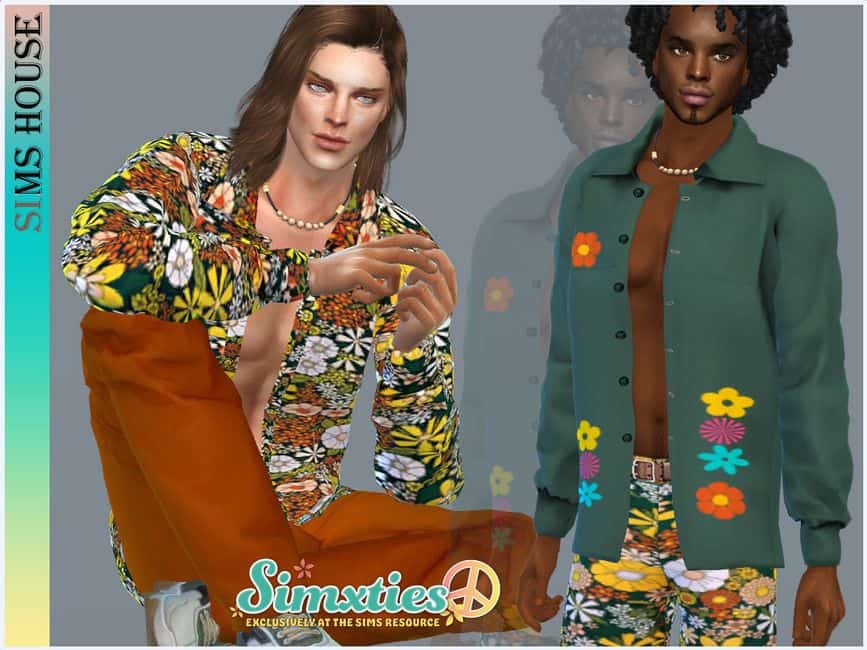 These unbuttoned long sleeve 60s cc men's shirts are perfect for the free-spirited sims in your household.
You can opt for some patterned and floral designs or opt for the solid swatches instead.
Pair with some flared pants to complete that 60s look.

6. Sims 4 Hippie Flare Pants Recolor by Faded-Springs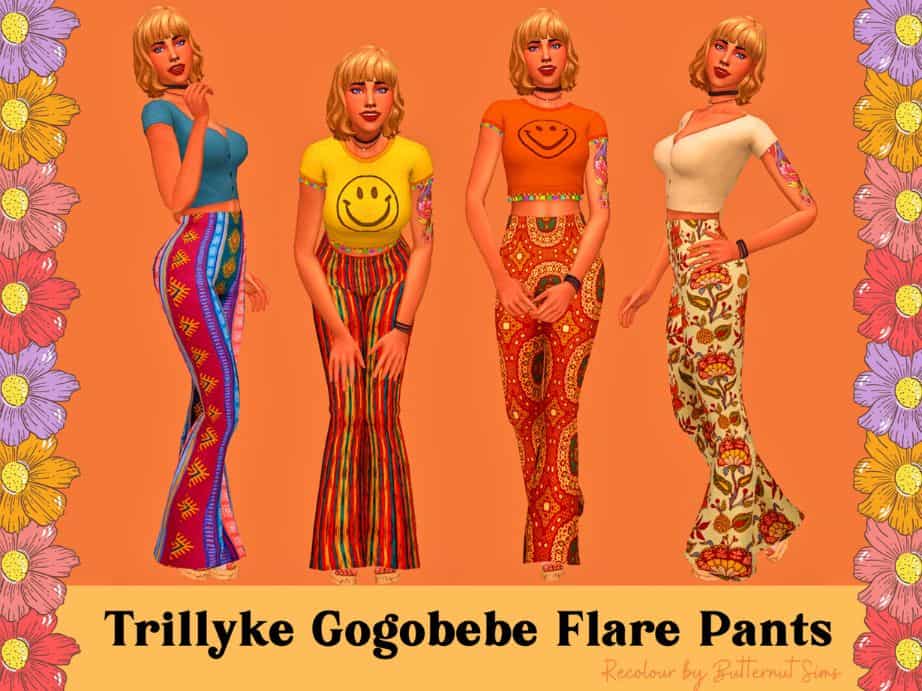 Every 60s girl needs amazing patterned pants, and these Gogobebe flare pants are just the thing.
With their high waist and flared bottoms, these pants are everything 60s and will pair perfectly with a cute crop top.
There are 20 patterns, or you can opt for one of the 22 solid colors from the Hollywood & Vine pallet.

7. Sims 4 60's CC Dress by Unbichobolita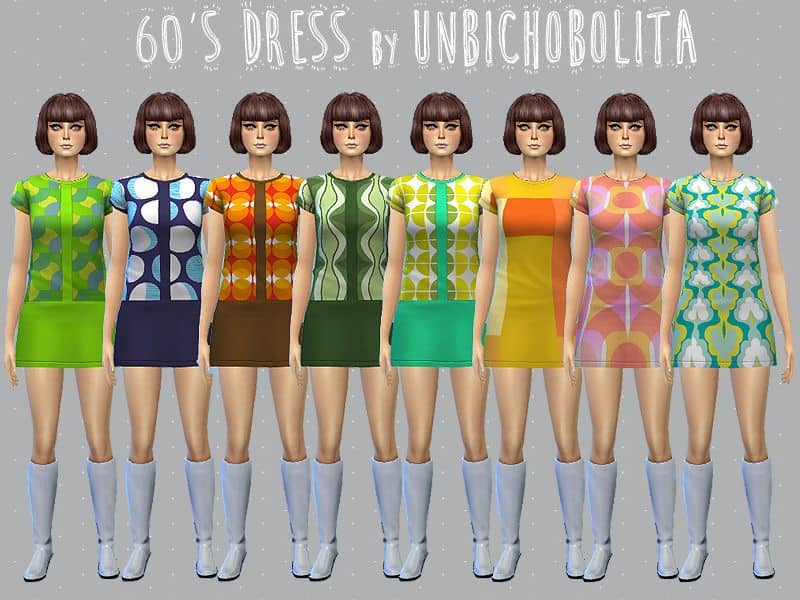 These 60s mini dresses give me Austin Powers vibes, and I love all the funky patterns.
There are 8 color options for the short sleeve dresses, each with a fun 60s pattern.

8. Sims 4 60s Wallpaper CC by Lavilikesims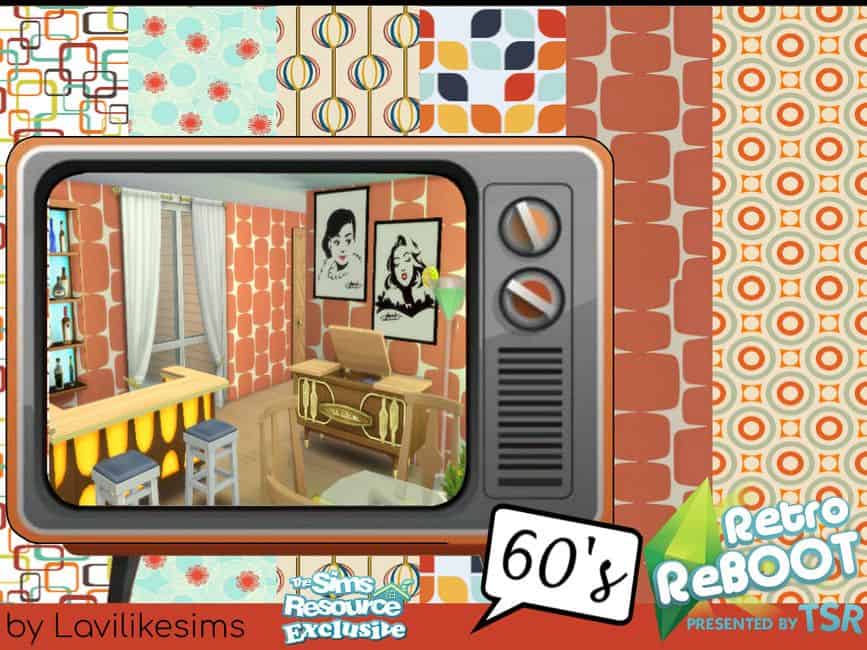 If you enjoy 1960s gameplay, you'll want some 60s wallpaper to set up your sim's home.
This set includes 6 creative wallpapers, each of which comes with 2 swatches.

9. Twiggy 1960s Set by Marsmerizingsims
Twiggy is one of the 1960's most famous fashion icons so naturally she deseres her own custom content pack.
This 60s cc pack comes with 7 pieces;
Sleeveless A-line dress
Long sleeve collared dress
Belted short dress
Stripped polo dress
3/4 sleeve length dress
Turtleneck shirt
1967 Vogue eyeshadow

10. Sims 4 60s Slingback Heels by ShakeProductions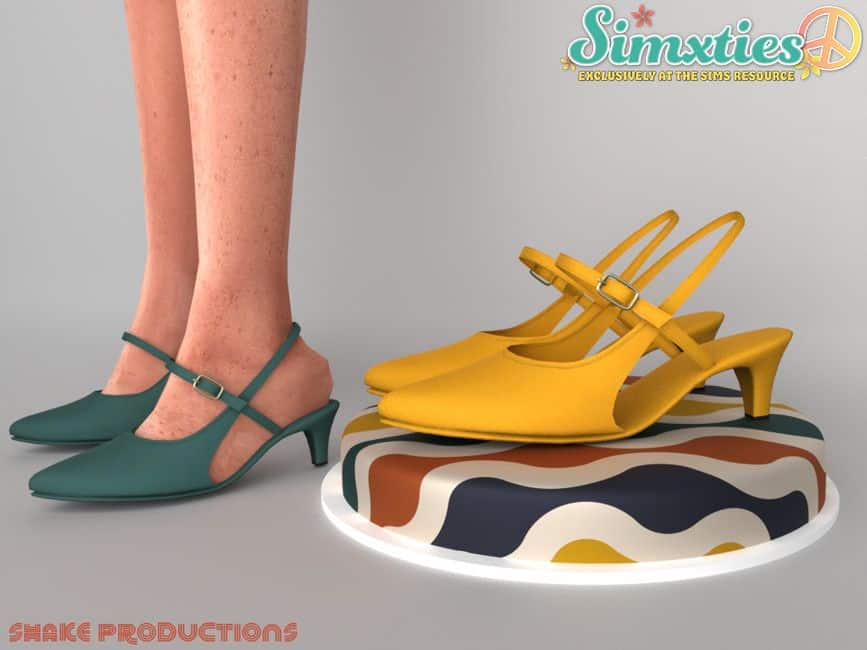 Complete your 60s outfit with this pair of strappy slingback heel shoes.
These shoes come in 25 colors, and with their short heels, they can be worn when your sims are running errands or heading to dinner.

11. Sims 4 Collared 60s Dress by Dissia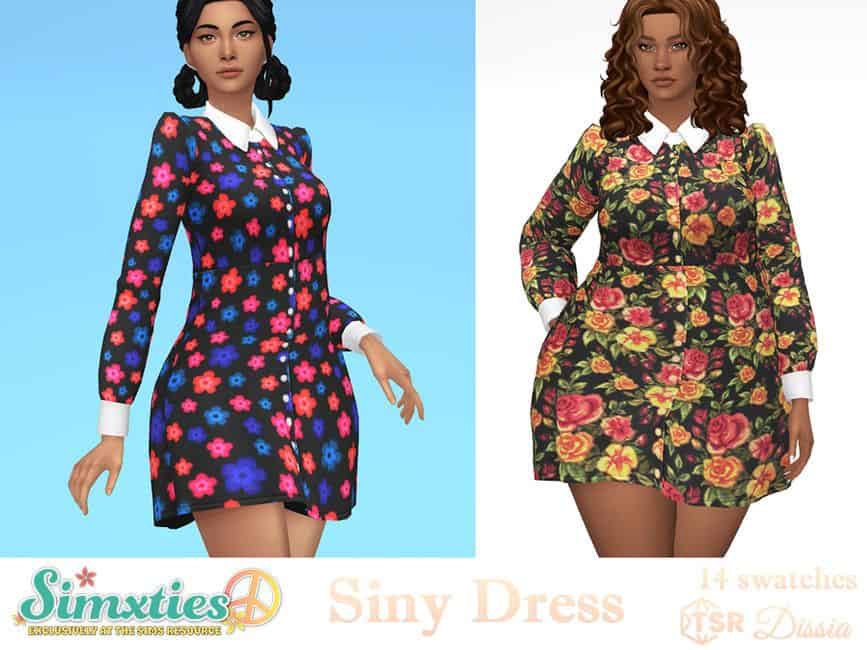 These collars and cuffed sleeve mini dresses mix casual and preppy into one design.
There are 14 fun and colorful swatches to try, each bringing classic 60s touch to your sim's closet.

12. Sims 4 60s CC Packs by Serenity & Enriques4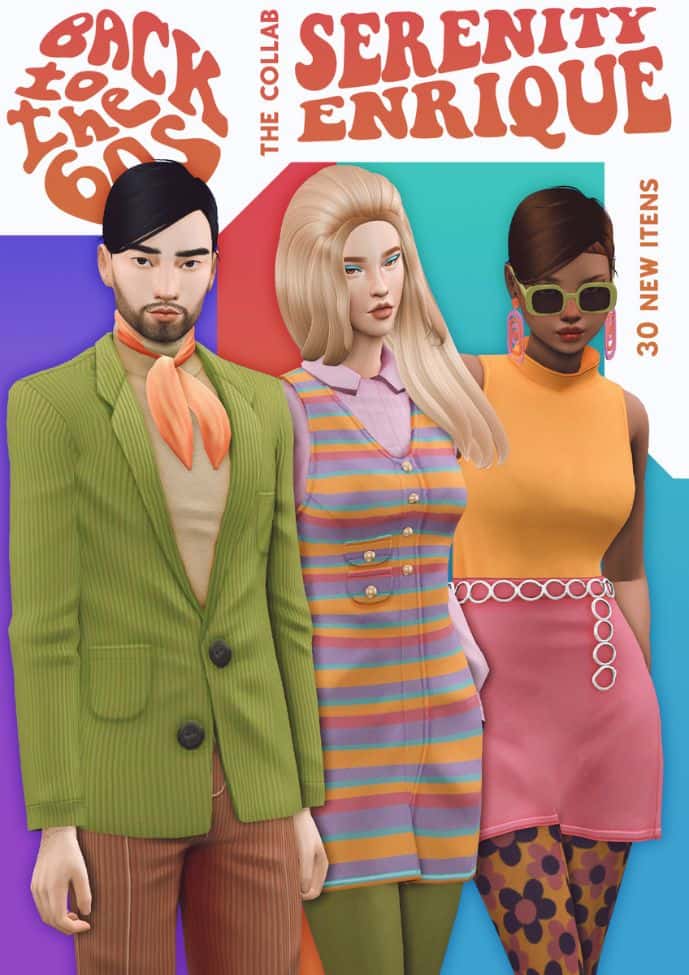 This sims 4 60s cc pack is a great collab between Enriques4 and Serenity.
Both parts of this pack add a 60s flare to each of their designs.
The Serenity part focuses on 60s clothing, including sleeveless tops, flared pants, dresses, shoes, a men's blazer, pants, and more.
For Enriques4, you will find a couple of 60s hair ccs, earrings, glasses, and shoes.

13. Sims 4 1960's Round Sunglasses by DanSimsFantasy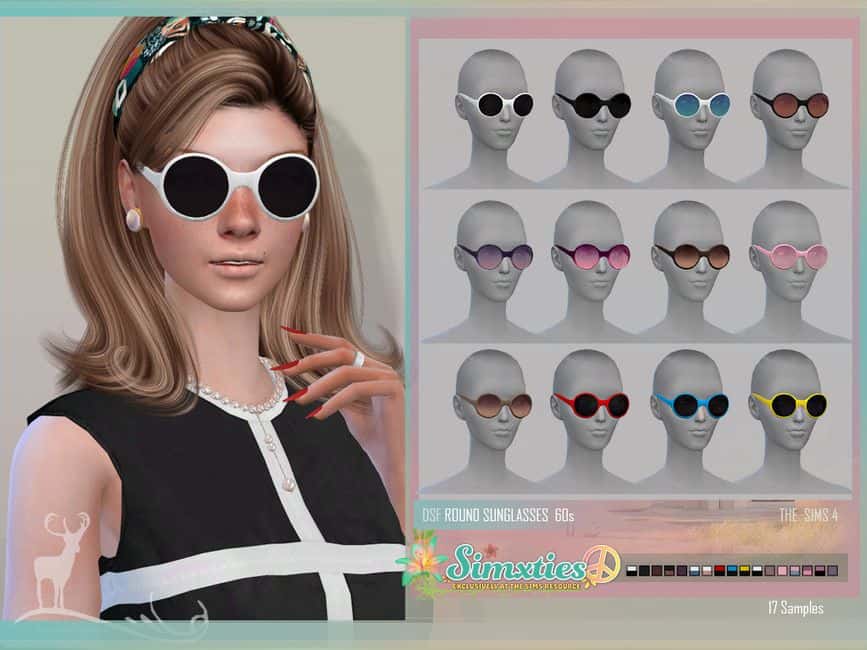 Complete the perfect 1960s look with a pair of rounded sunglasses.
These classic sunglasses will look amazing paired with a sleeveless 60s dress, and they come in 17 swatches for variety.

14. Sims 4 60s CC Striped Set by MysteriousOo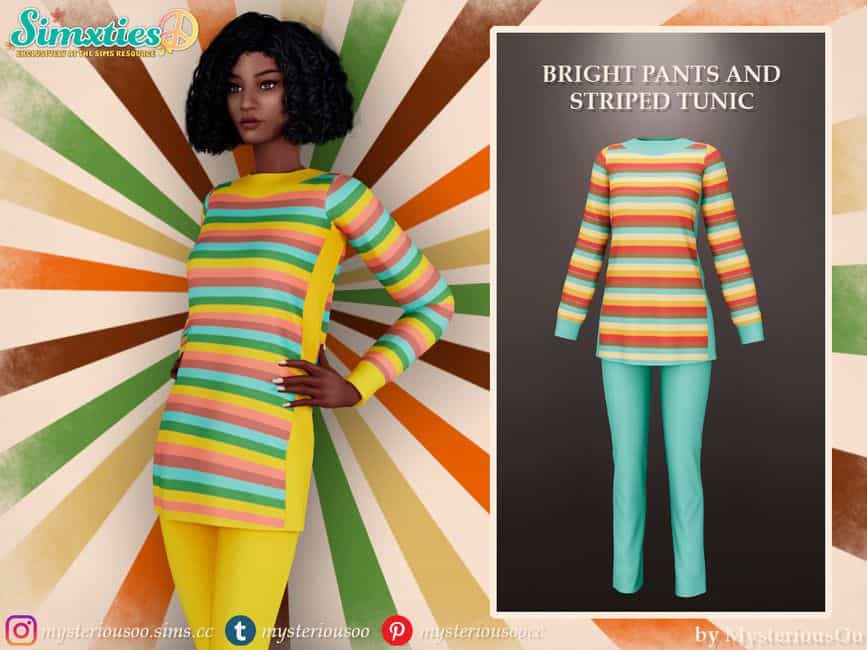 If your sims need casual everyday clothing options, this striped set is just the thing.
This set includes a long-sleeved, striped tunic and bright, solid-colored, straight-cut pants.
This set of 60s clothing comes in 6 color options.

15. Elegant 60s Pearl Necklace by NataliS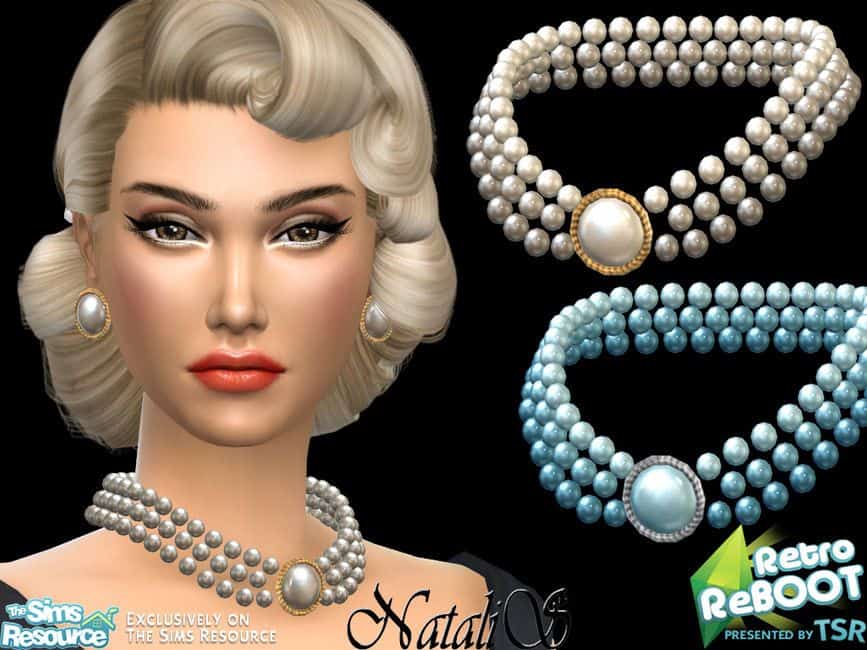 If your sims are heading to a special event, this 3 strand pearl necklace will add the perfect finishing touches to their outfit.
And if 3 strands of pearls weren't enough, the large center pearl brings this beautiful piece together.
I'm also linking the matching pearl bracelet and pearl earrings for you too.

16. Sims 4 60s Summer Set by Ice-CreamForBreakfast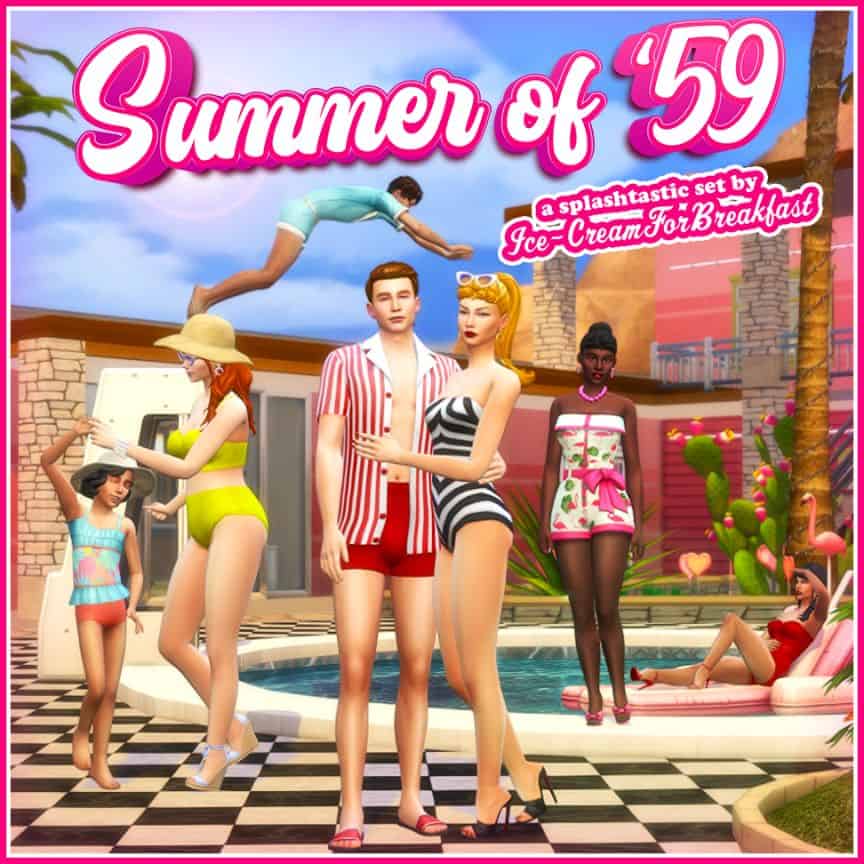 While this set is called the 59′, it's based on swimwear fashions for the 50s and 60s, so it fits in.
This custom content set includes a mix of summertime pieces, including the following;
Swimsuits for the family
Sunglasses
Flamingo earrings
Straw sunhat
Rompers and more

17. 1960s Living Room Set by Dasie2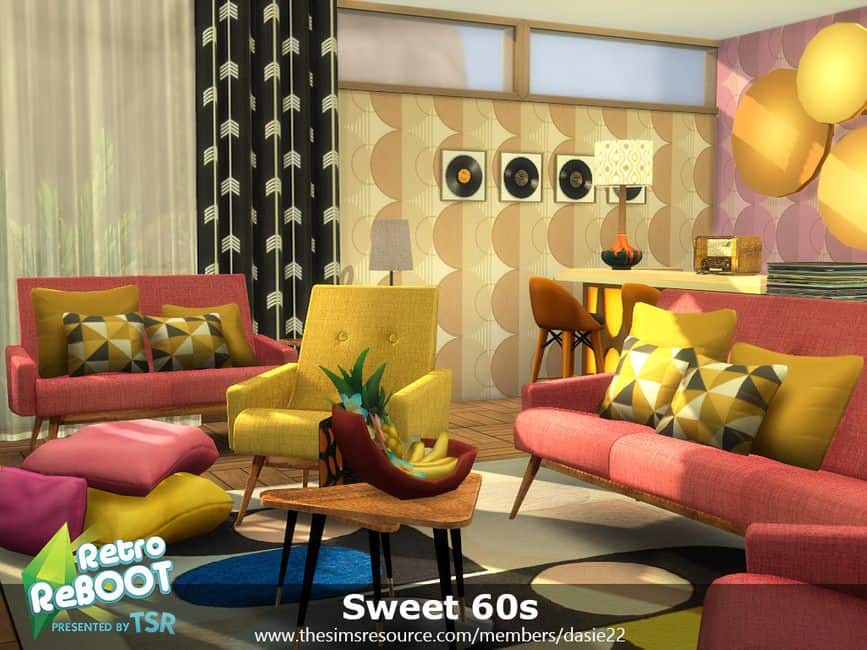 Create the perfect 60s living room with this Sweet 60s set.
With its classic 60s furniture, patterns blend, and colors, your sims can have a comfortable and stylish home.
Check out the Creator Notes and Required tabs on the link below.

18. Sims 4 60s Pigtails by Sehablasimlish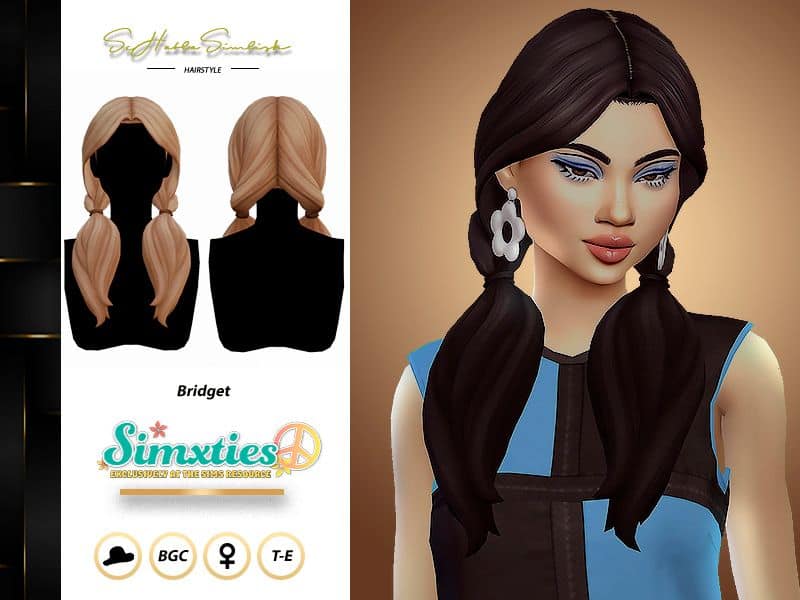 Style your female sims with this sweet 60s maxis match pigtails hairstyle.
This hair cc has a classic center part and loosely braided pigtails tied midway down the length.
Available in 24 EA colors and for teens and up.

19. Sims 4 60s Shorts Jumpsuit by DanSimsFantasy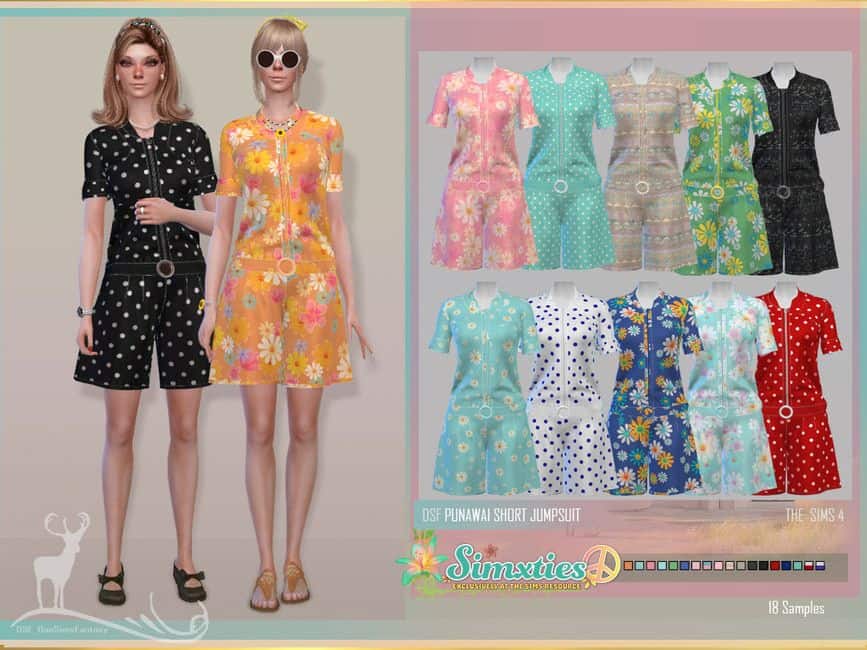 Who doesn't love a comfy jumpsuit?
What's better is a set of short-style jumpsuits.
This colorful belted jumpsuit has 18 swatches, including polka dots and flower options.

20. 60s Long Sleeve Dress by SL_CCSIMS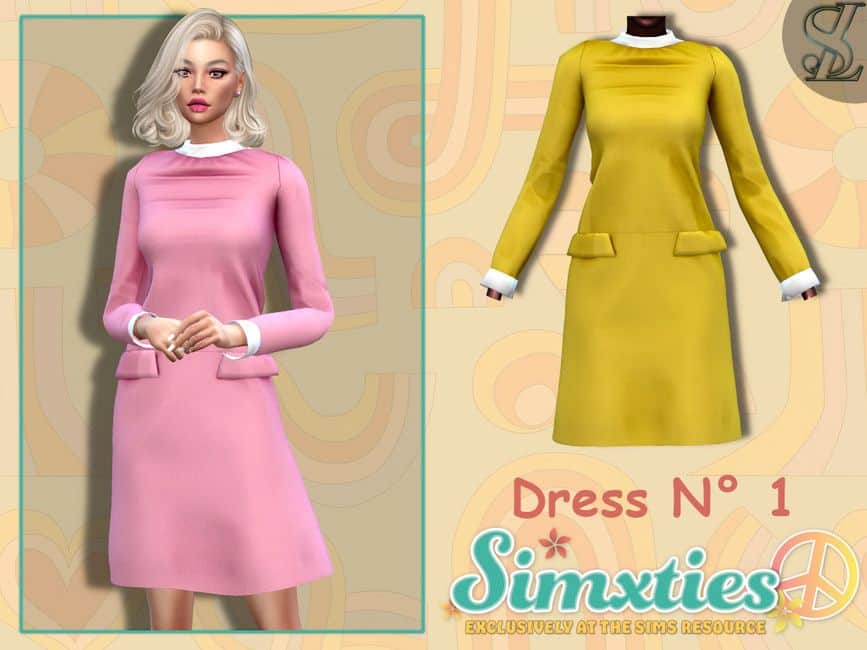 This 60s high-collar neck dress seems inspired by Jackie Kennedy or high society.
Perfect for a formal event, this modest dress comes in 25 solid colors, each having the same white collar and cuffs.

21. Sims 4 60s Opaque Tights by Ekinege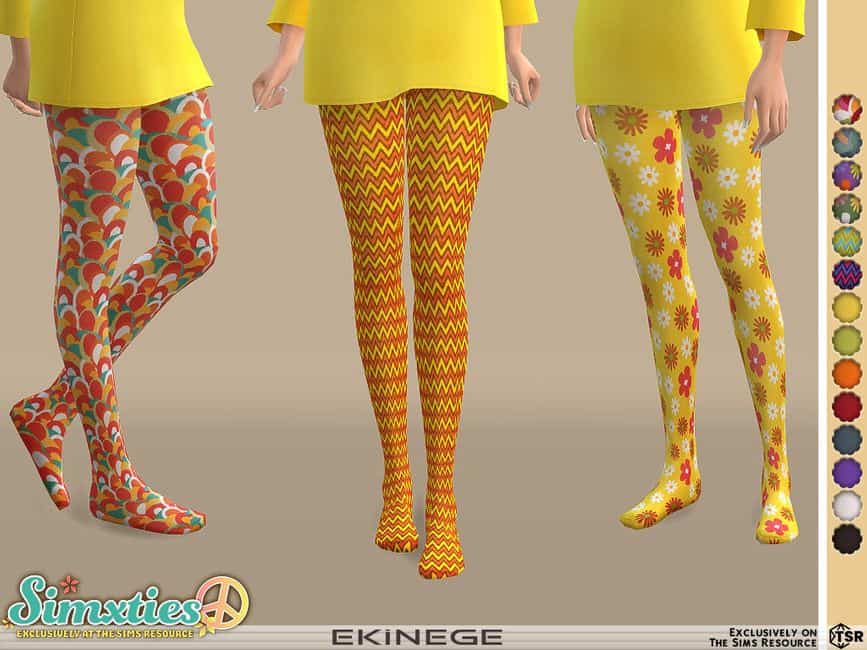 Add a pop of color to any outfit with this set of 60s opaque tights.
This set comes with 17 swatches, including solid options and some fun and funky 1960s patterns.

22. Sims 4 60s Meadow CC Top by Harmonia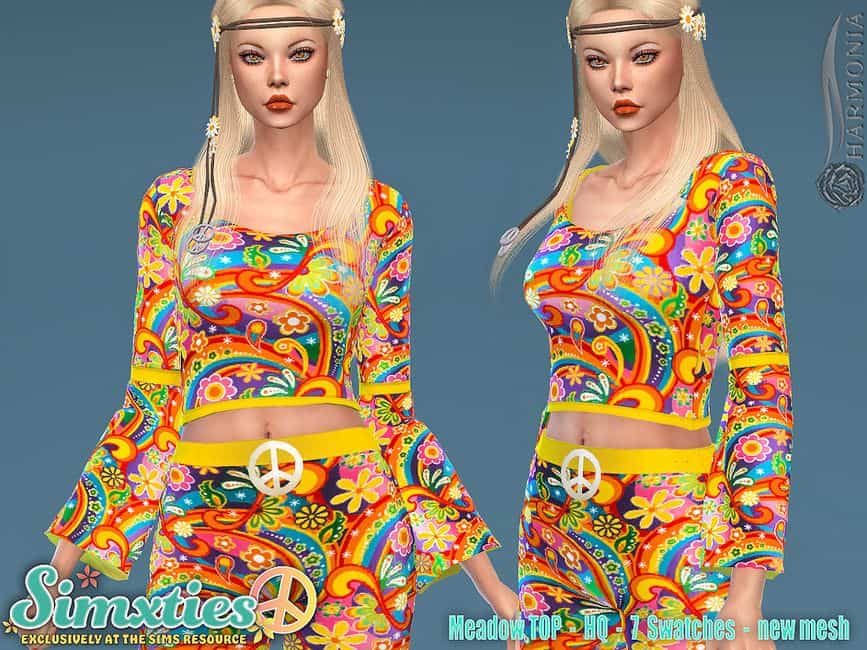 The flower power era began in the late 1960's, and this flared long-sleeve crop top is perfect for your sim's next music festival.
There are 7 colorful swatches and you can get the matching pants here.

23. Sixties Floral Face Paint by Benevita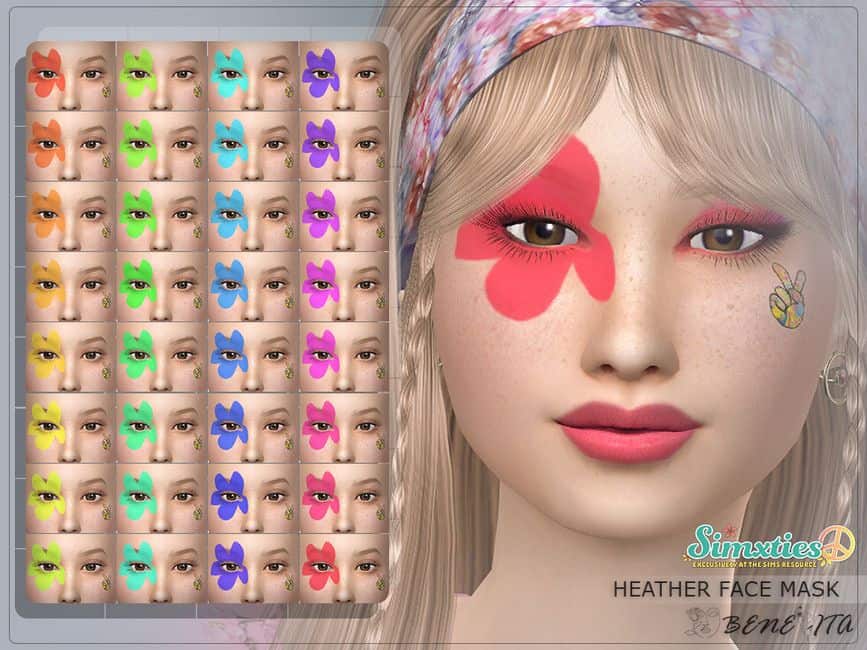 What represents the 1960's era better than flowers?
This simple custom content set includes a flower face mask for any sim heading to a music or art festival.
This 60s cc is for teen sim females and comes in 32 swatches.

24. Mixed Sims 4 60s CC Set by Ice-CreamForBreakfast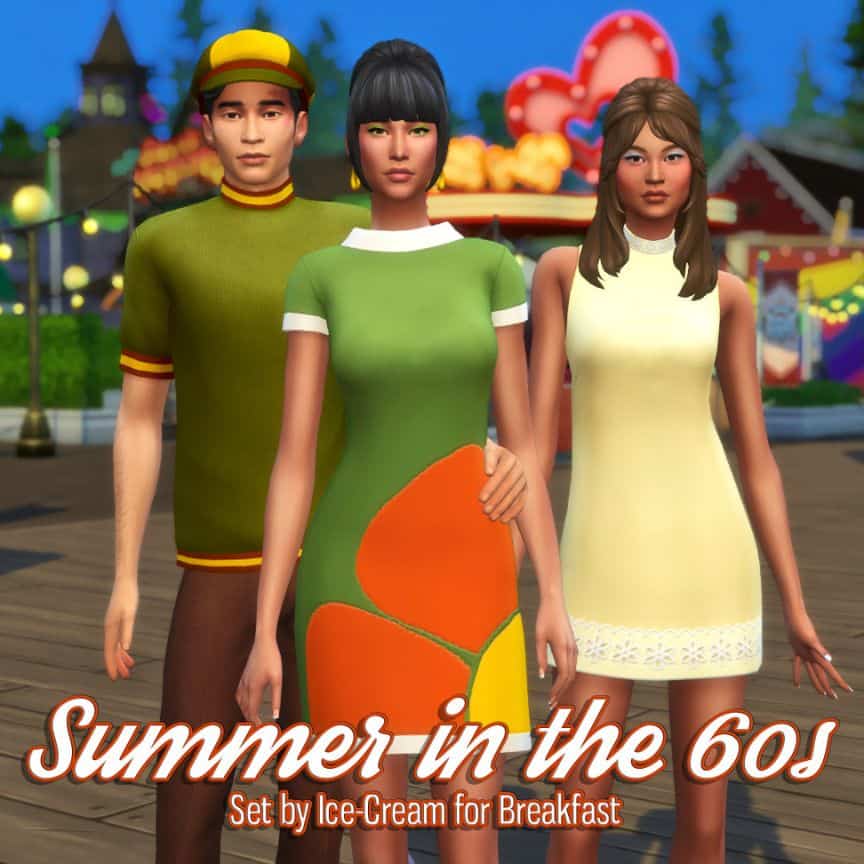 This sims 4 60s cc set is available on early Patreon access and will become free on June 25th.
The pack is another excellent summer custom content set, including sleeveless and short sleeve shift dresses.
You can also grab hair cc, earrings, a hat and a men's short sleeve sweater.

25. Sims 4 60s Jacket & Shirt by Plumbobs n Fries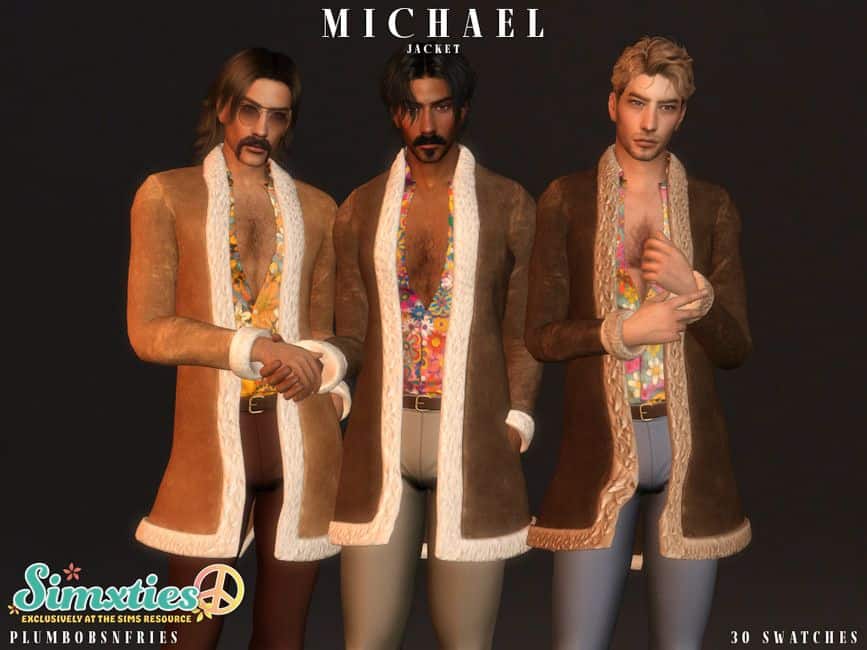 Dress your male sims in style with this deep-cut shirt and fur trim coat.
This 2-in-1 60s custom content piece comes in 30 swatches to create the perfect outfits.
Add your favorite pants and shoes, and your male sims are ready.

26. Sims 4 60s Pattern Dresses by Pipco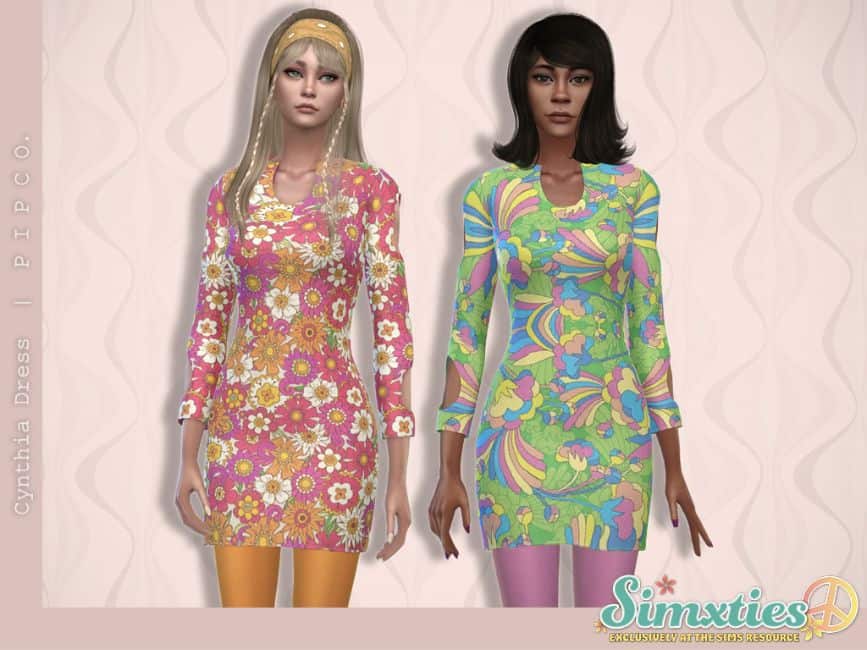 This set includes some three-quarter sleeve mini dresses in fun and creative 60s patterns.
There are 12 swatches to try out, and these casual dresses have some cutout details towards the end of the sleeves.

27. Sims 4 1960s Female Hair CC by Enriques 4
This 60s hair cc is feeling inspired by the classic beehive hairstyle.
With its high volume, long straight hair, and thick headband, I picture this hair paired with a sleeveless dress or everyday 60s casual wear.

28. Sims 4 1960s Style Dresses by BAkalia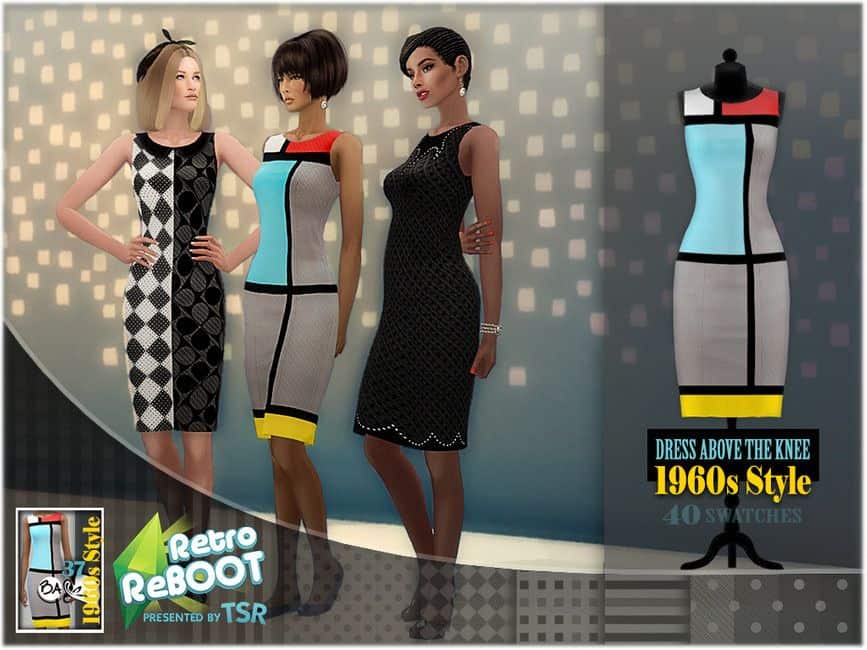 Here we have another dress set of 60s dresses which are ideal for dinner dates or work at the office.
These 1960s dresses come in 40 swatches, including color block dresses and many geometric designs.

29. Sims 4 1960's Flower Shoes by Arltos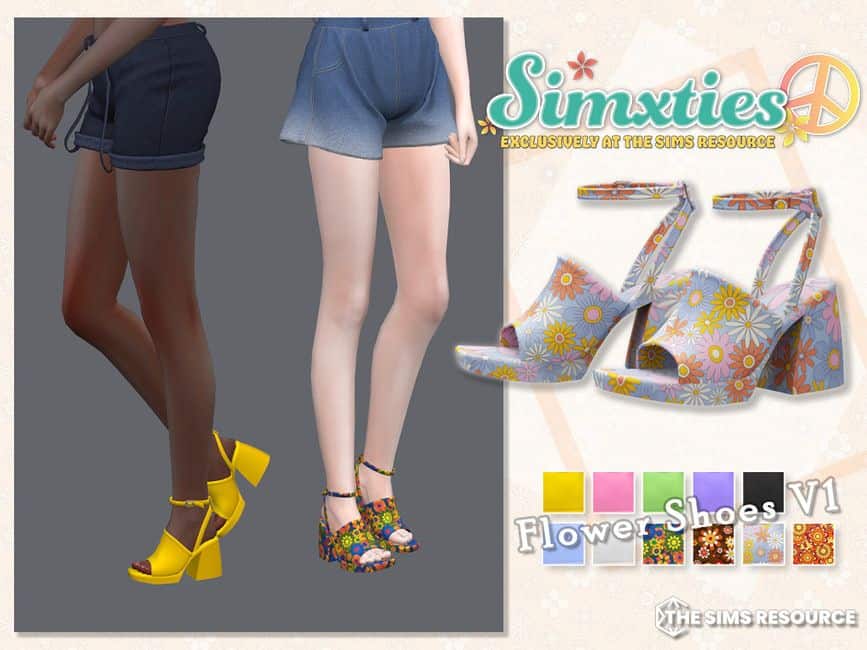 These chunky 60s heels are some of my favorites, and I especially love the light blue floral design seen above.
These shoes can be easily worn with pants, skirts, or dresses of any length for a fun and flirty finish.

30. 60s Flower Power Living Room Set by Syboubou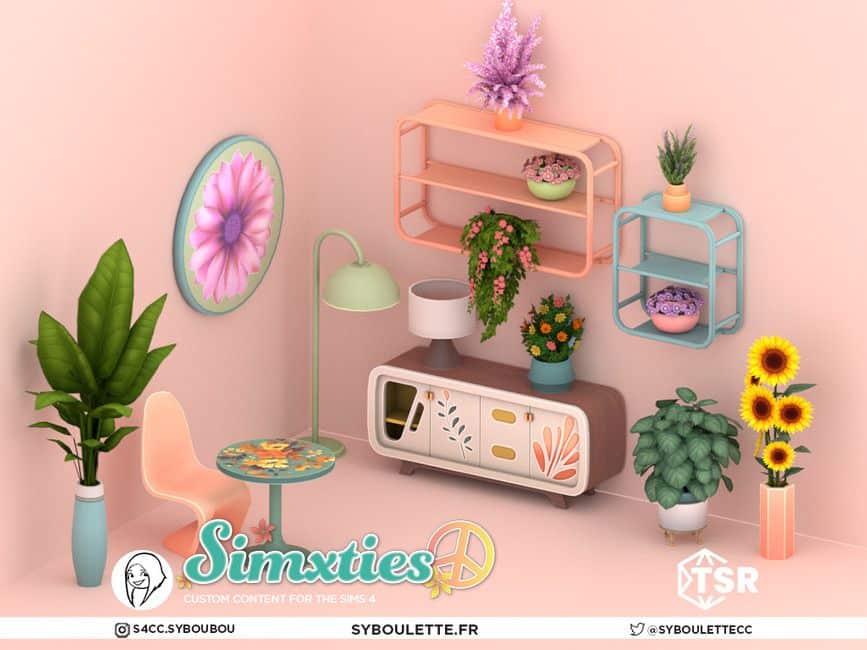 This sims 4 60s furniture set is gorgeous, from the color options to the 60s furniture details.
Design your sims 60s home with the amazing console, round floral table, and curved chairs.
If you want to grab some plants for your sims home, you can find them in part 1 of this simxties set here.

31. Retro 1968 Groovy Mens Tees by SimmieV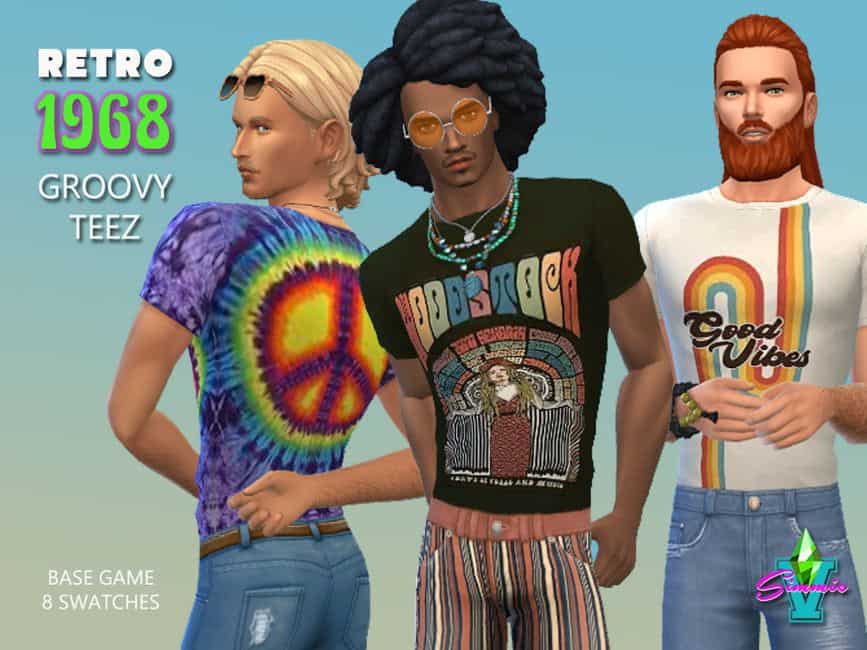 Your male sims can always do with more custom content clothing options, and these 60s tees will add some stylish basics to their closet.
These retro 1968 tees come in 8 options, including the above swatches.

32. Sixties Bow Low Shoes for Sims 4 by DanSimsFantasy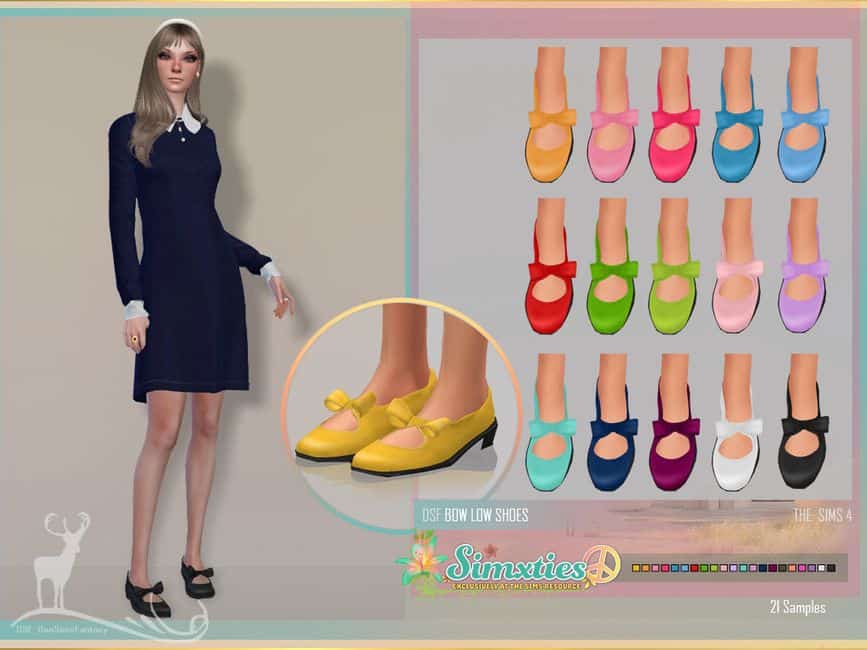 Add some classic bow-tied low shoes to your sims shoe collection.
The good thing about a classic is that they often work with many outfits, and you can pair these shoes with 60s dresses and skirts.
With 21 swatches, finding the perfect color for each outfit is a breeze.

33. Sims 4 Mens Retro Bell Bottoms by SimmieV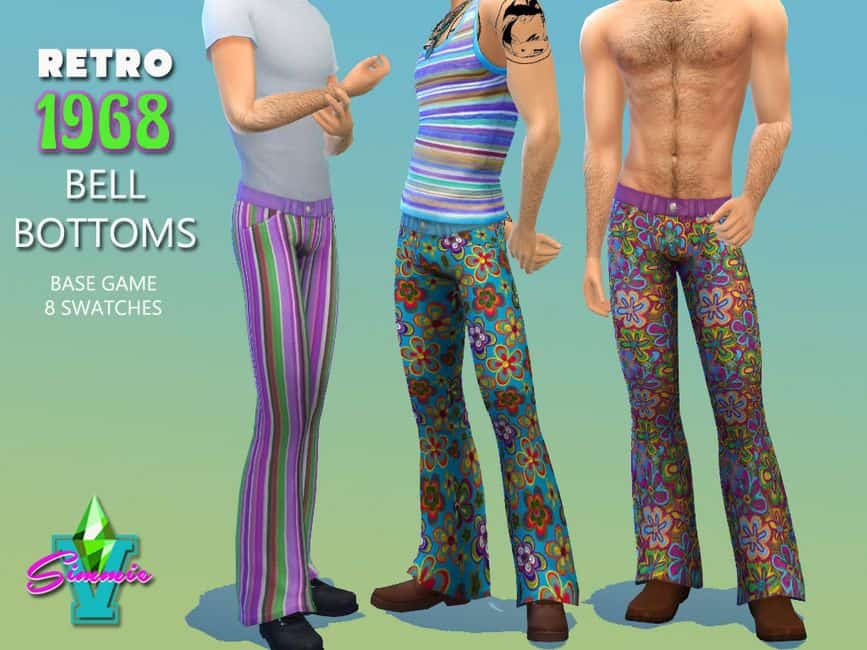 This sims 4 60s cc pack comes with bellbottom pants for your male sims.
This set comes with 8 swatches, including a mix of 60s stripes and fun prints.
You can pair these flared pants with the tees at #31 or the long sleeve 60s shirts at #5.

34. Sims 4 60s Hair CC by Sehablasimlish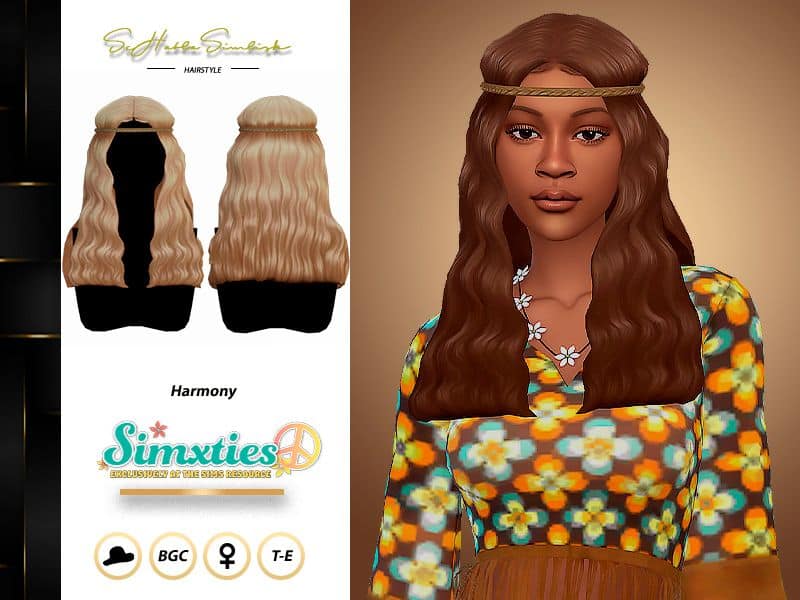 This sims 4 60s cc hair is the perfect hippie hairstyle for your 1960s sims.
With its loose mid-length wavy hair and forehead headband, I picture this hair cc paired with a crop top and bellbottoms.

35. 60s Collar & Cuffed Dresses by Pipco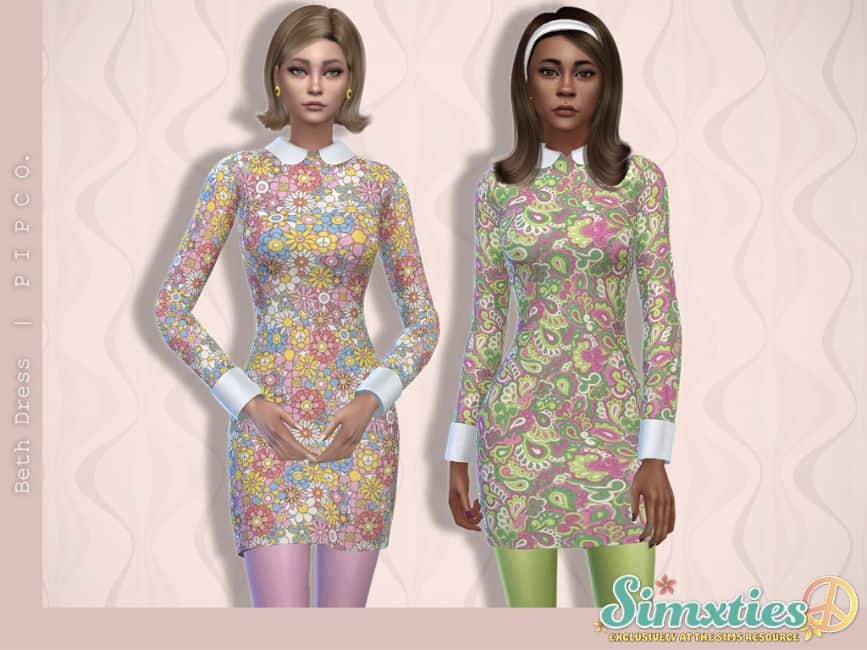 These 1960s dresses are similar to the design listed in #26 but have white collars and cuffed sleeves.
These colorful dresses come in 9 swatches, and I especially love the paisley option seen above.
Sims 4 Article: Final Thoughts
I hope you enjoyed this sims 4 60s cc collection and found some fantastic new pieces to create the perfect 1960s gameplay.
From color block dressed to floral shoes, let your imagination take hold and style your sims in 60s designs.
If you have any questions or suggestions, feel free to leave us a comment below or tag us on Tumblr.
Other Sims 4 Custom Content Lists

And don't forget to share and save this pin for later!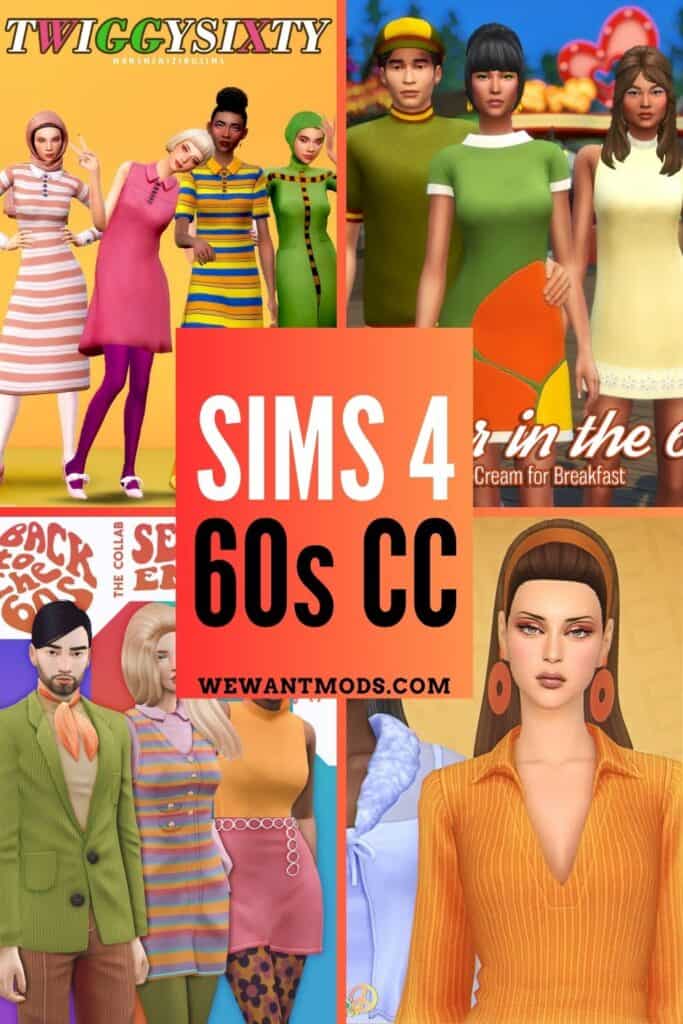 33+ Sims 4 with 60s CC: Enjoy The Captivating Sixties