29+ Sims 4 80s CC: Enjoy The Retro Vibes
Enjoy the best of the 80's with this collection of sims 4 80s cc.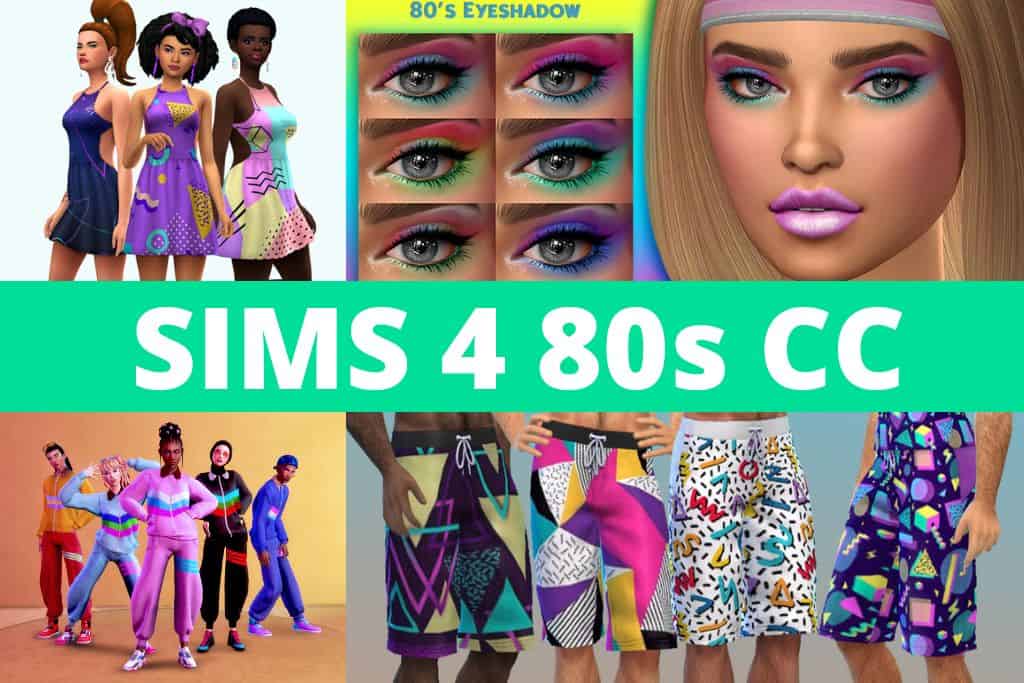 The 1980s brought us many fashion trends, from neon colors, tracksuits, geometric patterns, and leg warmers.
Luckily we get to experience those creative trends through our sims.
Whether you enjoy the sims 4 decades challenge or love the 80s era, there is plenty of 80s cc to go around.
Now let's get shopping so you can start creating the amazing looks you envision.
And if you need more decades custom content, you can find some here;
Disclaimer: The following mods are neither endorsed nor affiliated with The Sims, Maxis, or Electronic Arts. Any use of mods (custom content or game mods) should be done with caution and with the knowledge that there may be risks.
Retro Sims 4 80s CC
Below you will find a mix of 80s clothing, shoes, hair, makeup, and accessories to style your sims from head to toe.
1. Sims 4 80s CC Shirt by Myshuuno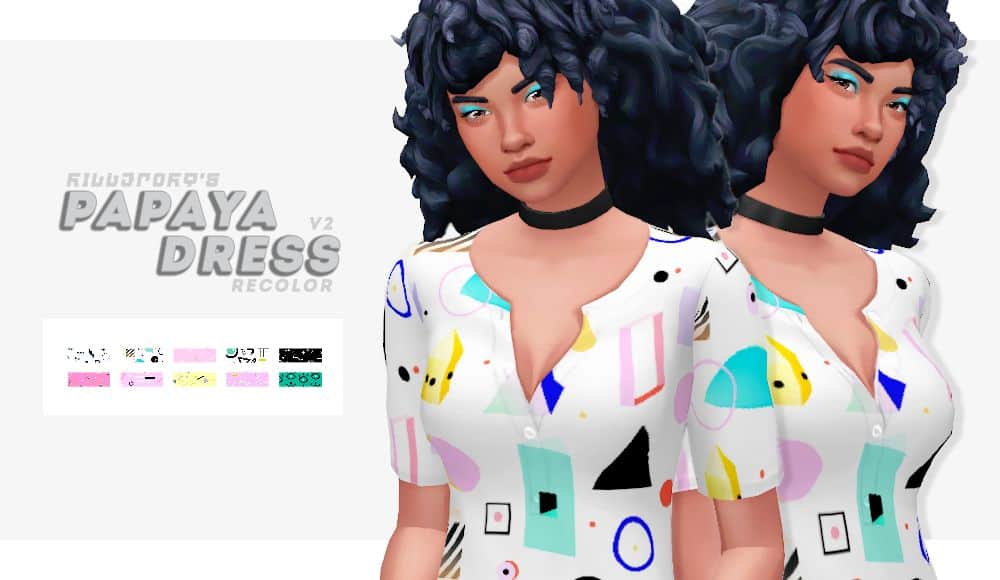 The 80s geometric patterns are some of my favorite designs, and this short sleeve cc top fits right in.
While I'd personally opt for one of the 10 funky patterns, you can also go for one of the 23 solid swatches.

2. Retro Roller Skating Outfit by DanSimsFantasy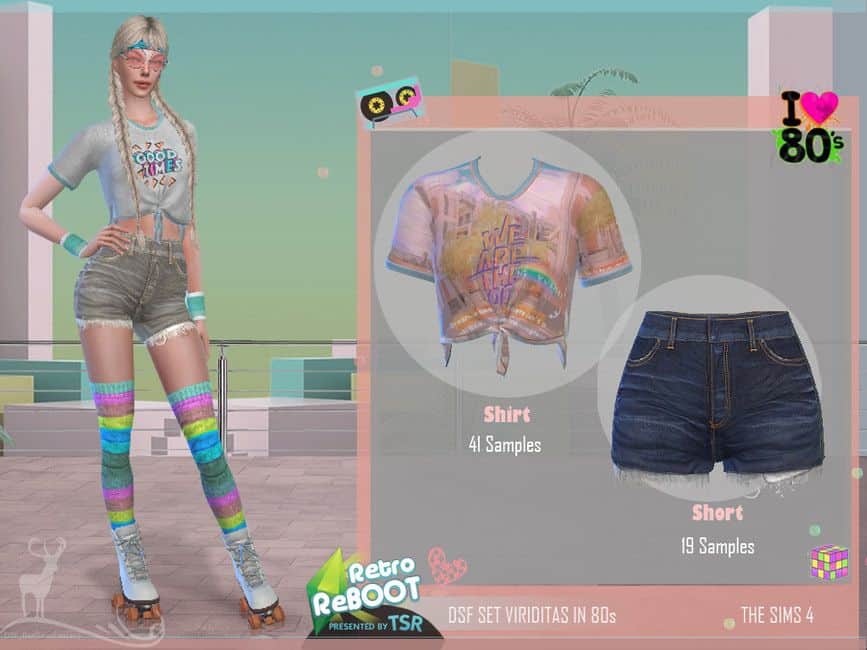 Roller skating was a huge part of the 80s, and this small set comes with a shirt and short combo perfect for the roller rink.
Snag some frayed jeans shorts, and a crop top for your female sims.
There are plenty of swatches for each piece to mix and match.

3. Sims 4 80's Eyeshadow CC by MSQSIMS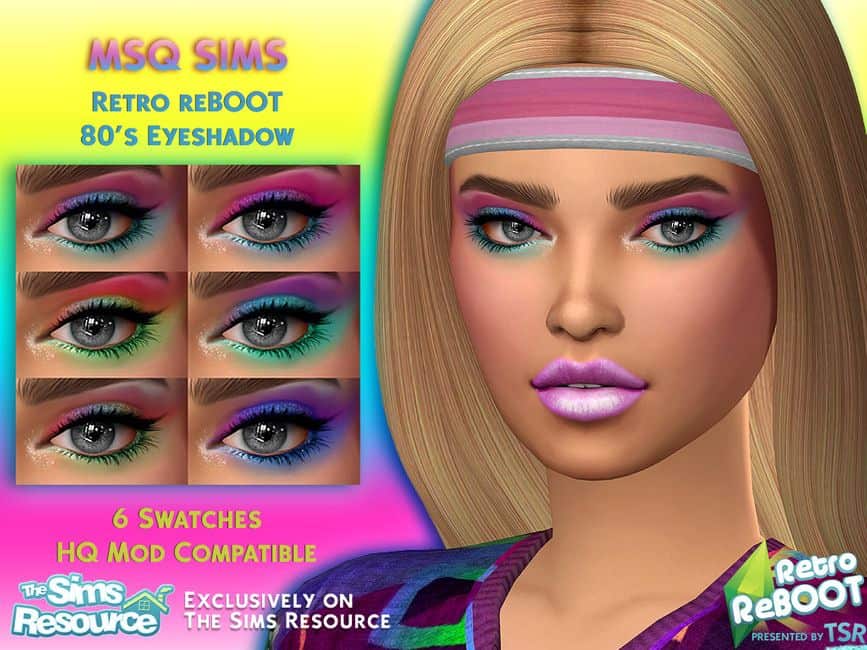 Neon colors were all the rage in the 80's, and this sims 4 80s cc provides some colorful eyeshadow swatches.
There are 6 color options, each blending a mix of colors on the upper eyelids and lower lash line.

4. Sims 4 80's Cat Eye Glasses by Bobur3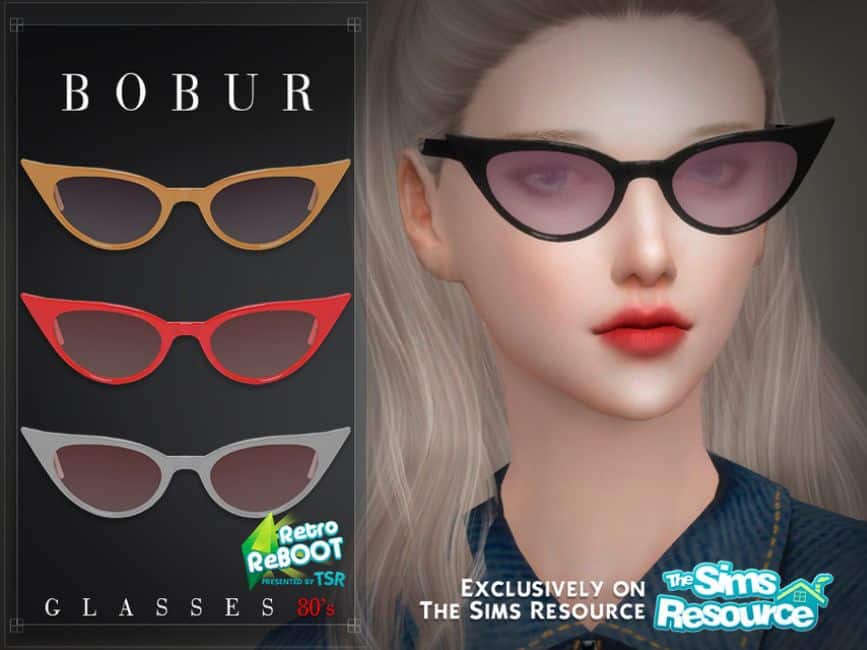 Glasses are not just for improving your sims sight; they can also be purely for esthetics.
These 80s cat eyeglasses add a touch of style with their winged frames.
Your sim will be the best-accessorized employee in the building.

5. Sims 4 80s CC Tracksuit by MarsmerizingSims
Tracksuits were super popular in the 1980's and weren't limited to the gym.
This 80s custom content set includes a tracksuit for your male and female sims.
Pick your sims favorite color tracksuit to pair with a comfy pair of trainers.

6. 80's Pony Semi-Updo CC by Clumsyalien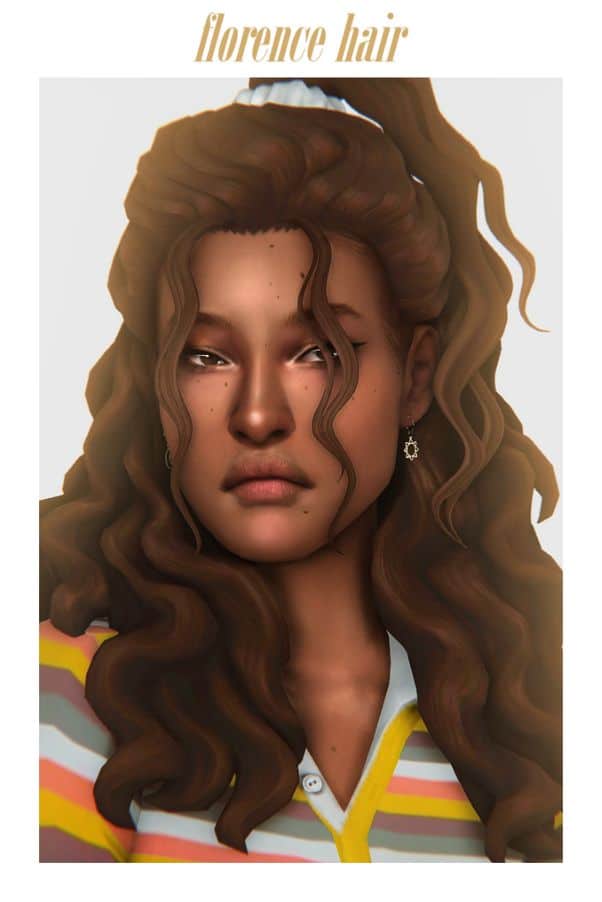 This custom content pack has a couple of cc hairs and everyday clothing pieces.
But I included this set for the high top 80s ponytail seen above.
This classic 80's hairstyle will jazz up even the most casual outfit.

7. Sims 4 Retro Reboot Earrings by Bobur3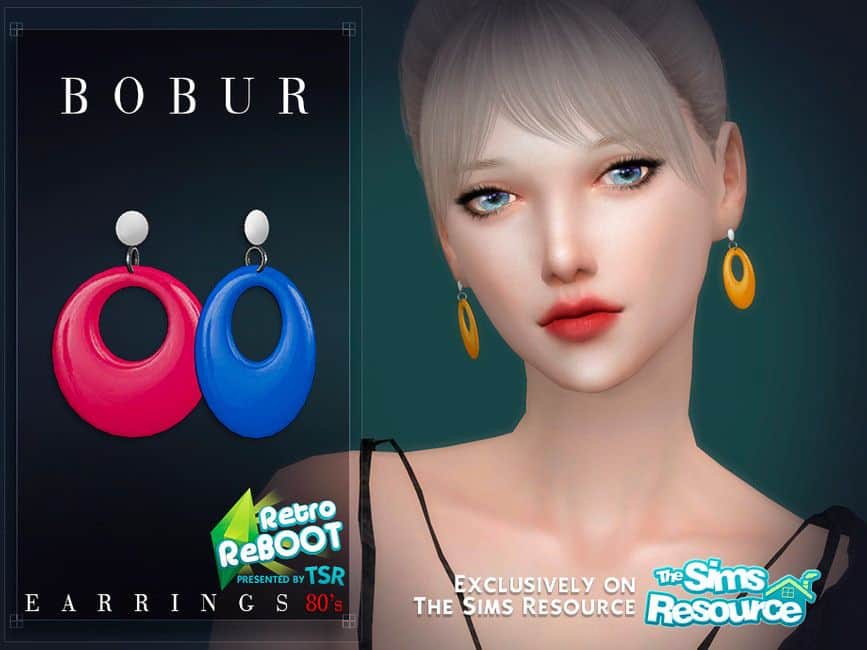 This sims 4 80s cc is for a pair of colorful hoop-style earrings.
There are 6 earring color swatches to match them based on your sims outfits.

8. Sims 4 80s Retro Lipstick by MSQSIMS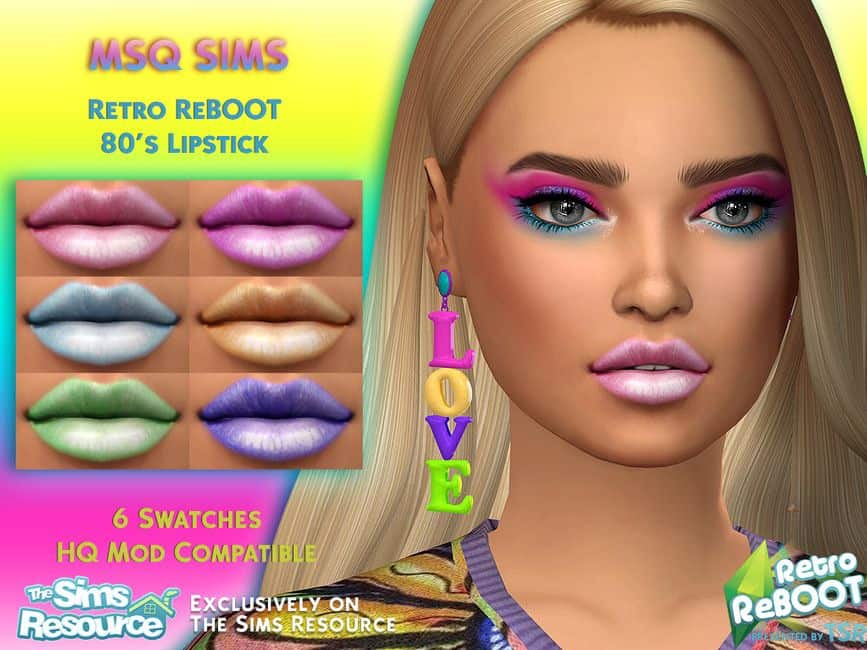 To complement the eyeshadow listed at #3, you can add some 80s frosted lipstick.
From green and purple to pink, each of the 6 lipstick swatches will add a pop of color to your sim's look.

9. Canvas Sneakers for Sims 4 by Jius-Sims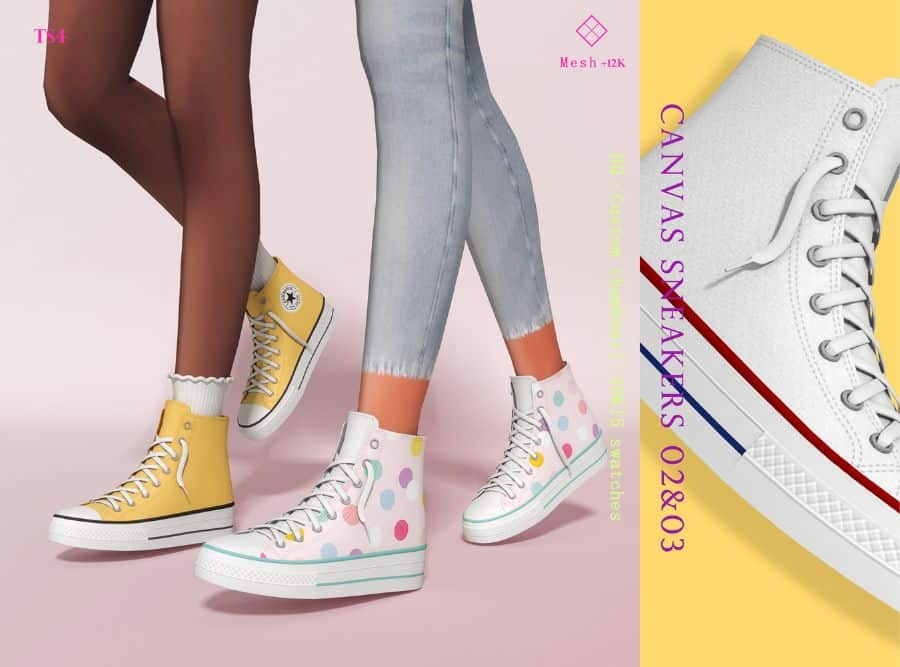 Everyone needs a comfy pair of Converse sneakers, and this set has both solid and pattern swatches.
The solid color download file has 30 colors, and the patterns come in 15 swatches, including colorful dots and waves.

10. Sims 4 80s Dresses by Someone-Elsa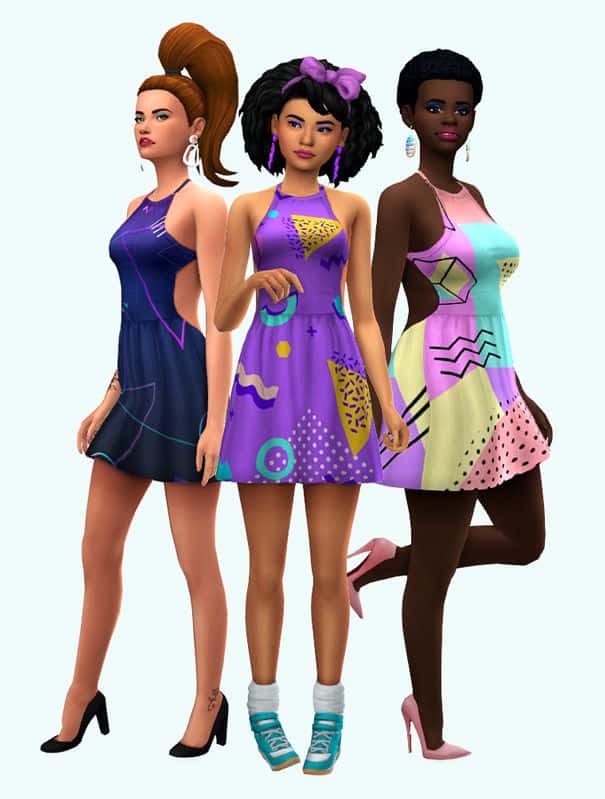 Here we have some more fun geometric patterns but this time for dresses.
These dresses remind me of Eleven's 80s mall dress listed in our Stranger Things cc post.
These vibrant dresses can be worn casually with sneakers or heels for a girls' night out.

11. Men's 80s Long Sleeve Tee by SimmieV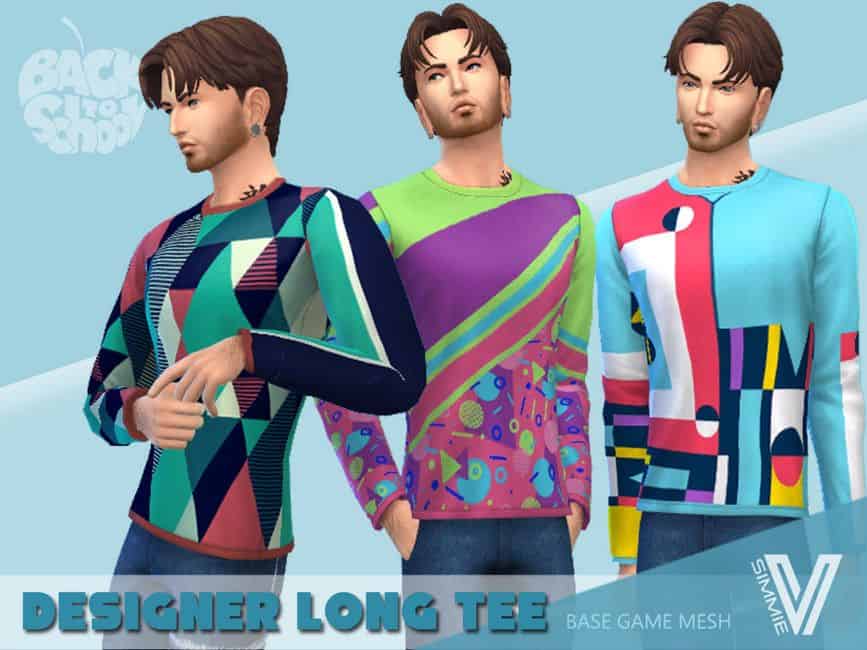 Your male sims also deserve some unique geometric designs, I was so glad to come across these long sleeve tee shirts.
These casual tees serve retro 80's vibes and are a must-have for your male sims closet.

12. Sims 4 Roller Skating Accessories by DanSimsFantasy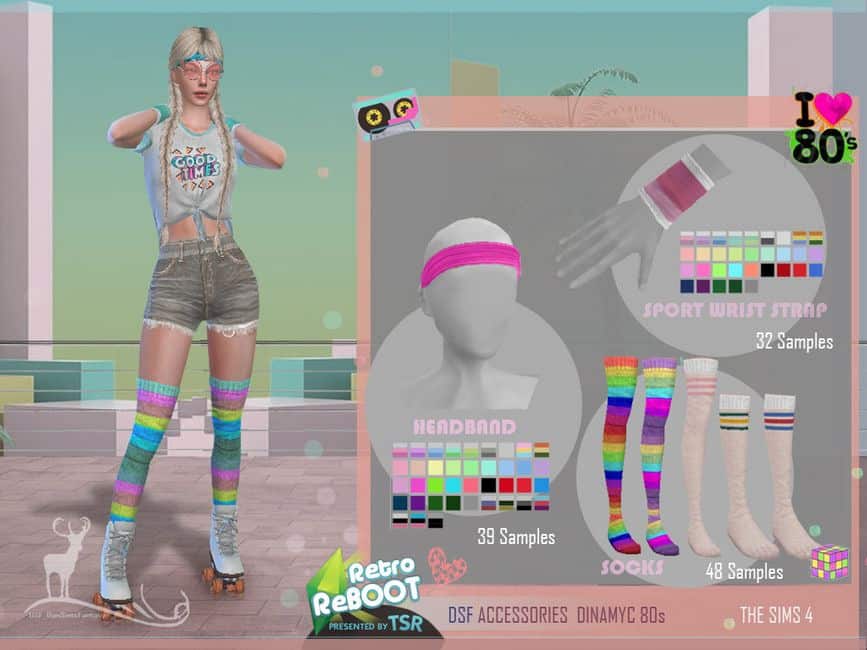 No roller skate set is complete without all the colorful accessories to style the perfect look.
This 80s cc pack comes with multi-color above-knee socks, headbands, and sport wrist straps.
Depending on the custom content, there are between 32 and 48 swatches.

13. Sims 4 80s Sweater Set by Vanian Sims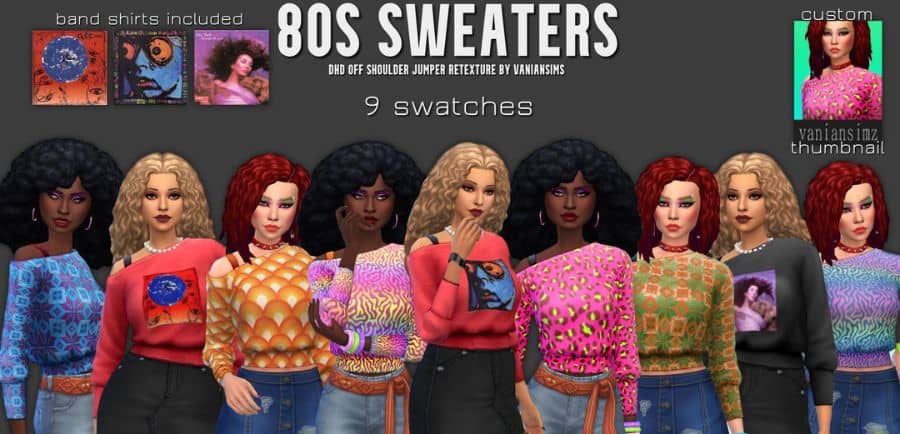 Grab this set of 9 off-the-shoulder 80's sweaters for your female sims
From the pink cheetah print to the purple mosaic swatch, these sweaters can be perfectly paired with your sims favorite pair of jeans.

14. Sims 4 80s Workout Set by Jolibean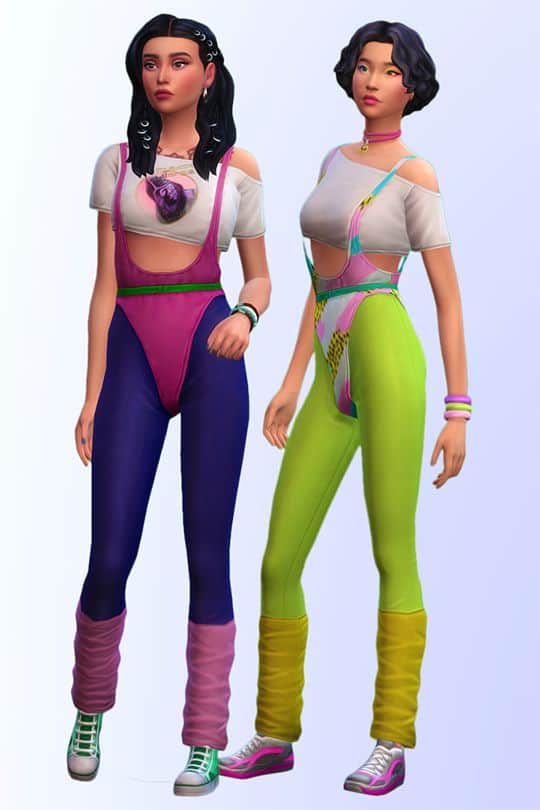 While leotards were already a thing in the 70s, they were still in high demand during the 1980s.
This sims 4 80s cc set has a classic leotard, tights, and classic leg warmers.
There are 18 swatches for your sims to try out at the gym.

15. Sims 4 80s CC Set by Busted Pixels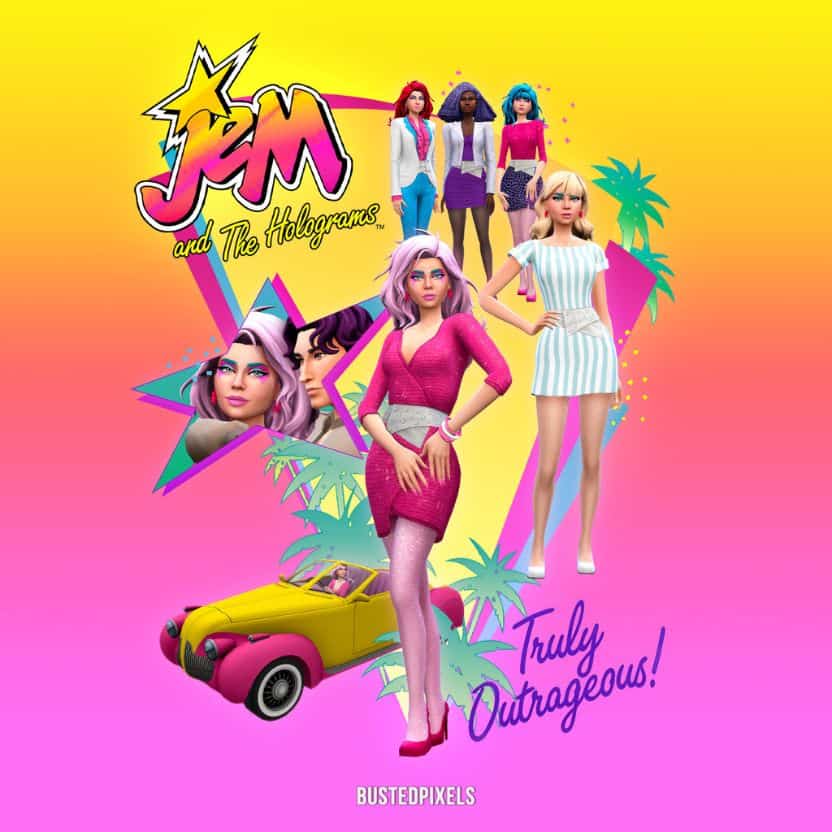 This colorful custom content pack is one of my favorites; it has many amazing pieces.
This pack includes 80s clothing, vibrant hairs, accessories, lipsticks, eyeshadow, nails, and shoes.
The clothing pieces come in a mixed variety of solid colors and diverse patterns.
And there are many muted and vibrant color options for the other cc pieces.

16. Sims 4 80s Vintage Dress by Joliebean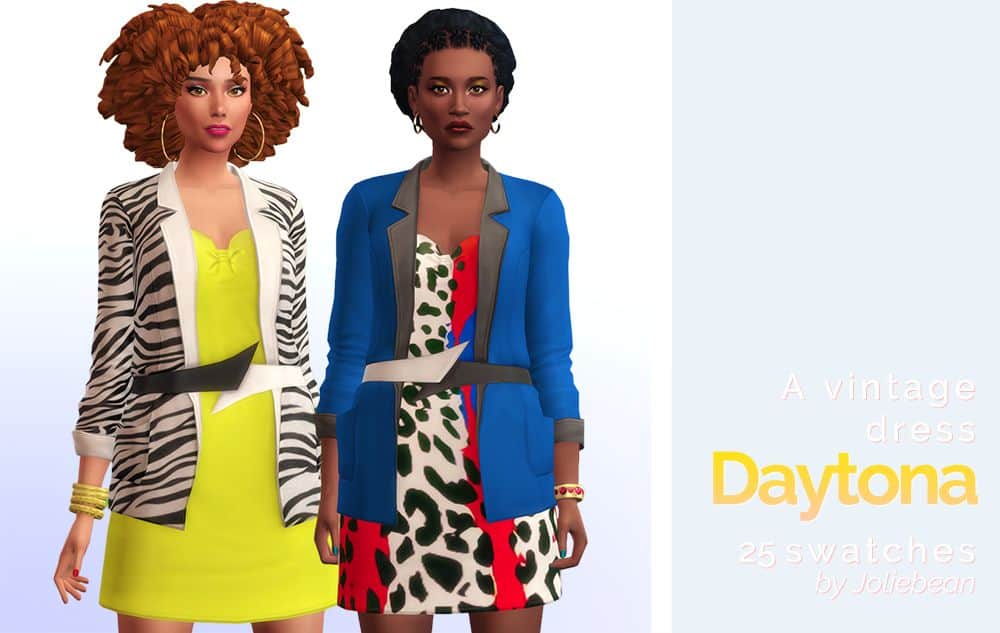 This sims 4 1980s cc pack comes with two vintage dresses for your female sims.
The Daytona and Ultraviolet outfits are perfect for a busy sim heading to the office.
Plus, the Ultraviolet dress has the classis 80s shoulder pads.
Both dresses come in 25 colors.

17. 80s Retro Colorful Nails by Sugar Owl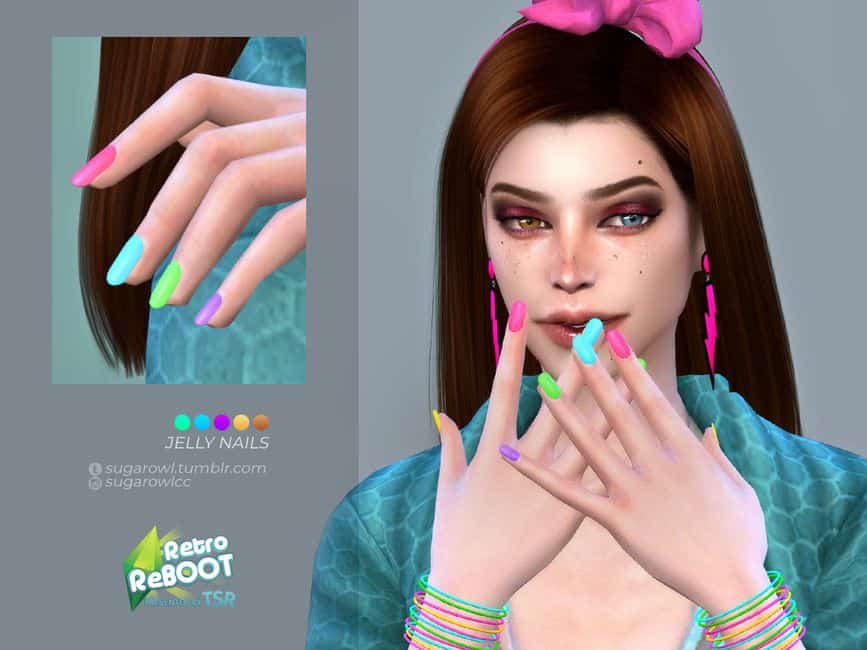 What 80s outfit is complete without some neon jelly nails?
There are 10 swatches for this nail custom content, which is available for your female sims teens and up.

18. 80s Reebok Sneakers by Someone-Elsa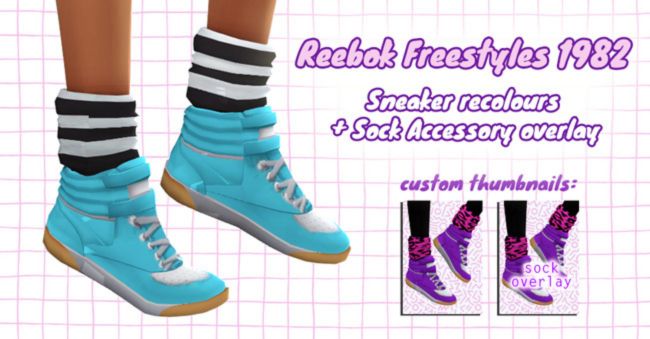 These Reebok Freestyles will add the finishing touches to any casual 80s look.
The sneakers come in 38 swatches, including solid and dual color options.
The sock overlay has an impressive 60 color options and can be found in the Ring category.

19. Sims 4 80s Long Swim Shorts by SimmieV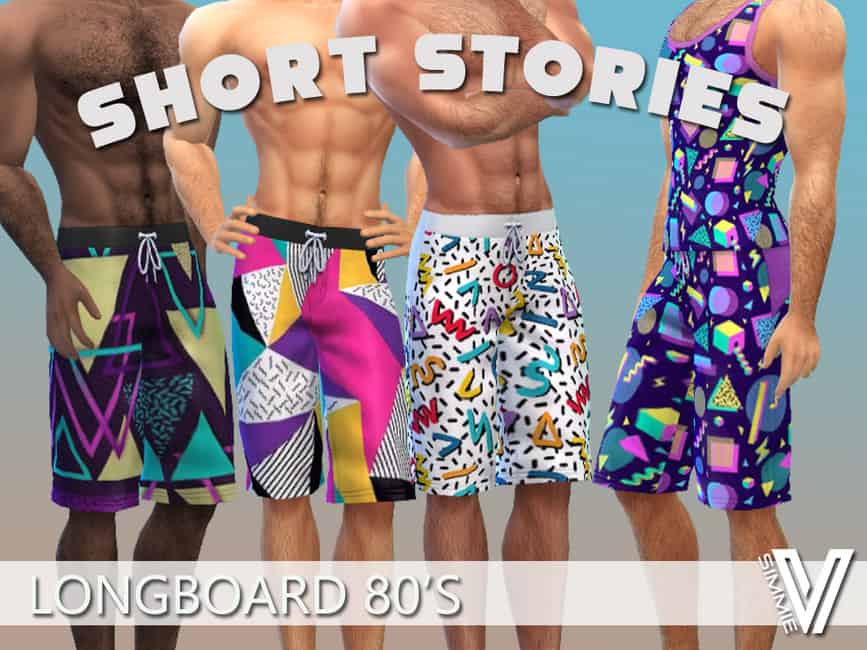 If your sims are heading into the summer season, they will need some retro 80's long board shorts.
There are eight 80's inspired swatches for your male sims.
Want the matching tank tops?
We've got those listed further down for you.

20. Sims 4 Mens 80s CC Pack by Saartje77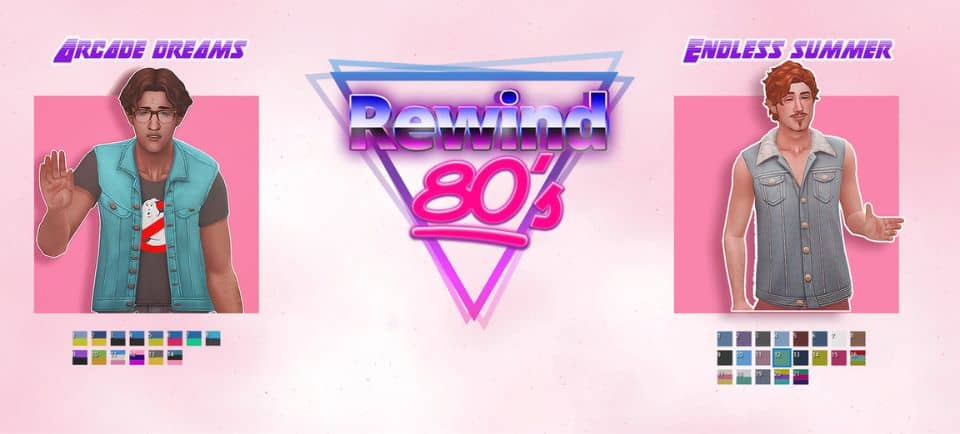 This 80's rewind cc pack will add some extra top options for your male sims.
There are a couple of vest options, a three-quarter length shirt, a blazer, and short sleeve shirt.
There are between 6 to 15 swatches per custom content.

21. Retro Abstract Leather Outfit by Busted Pixels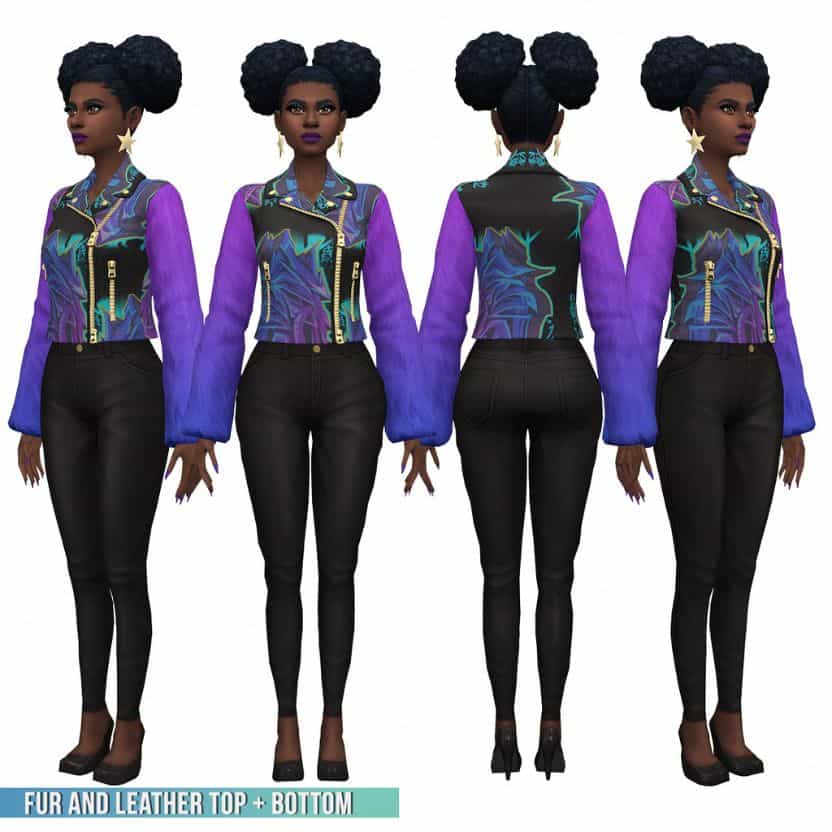 This two-piece set includes a fur and leather vintage jacket and matching pants.
There are 42 color swatches, including solid options, patterns, and two-tone fades.
Pair with your sims favorite heels for a complete look.

22. 80s Roller Skates by DansSimsFantasy
To complete the roller skating set is, of course, the roller skates themselves.
There are 36 four-wheel rollerskates swatches for your female sims to enjoy.

23. 80s Candy Rope Earrings by Feyona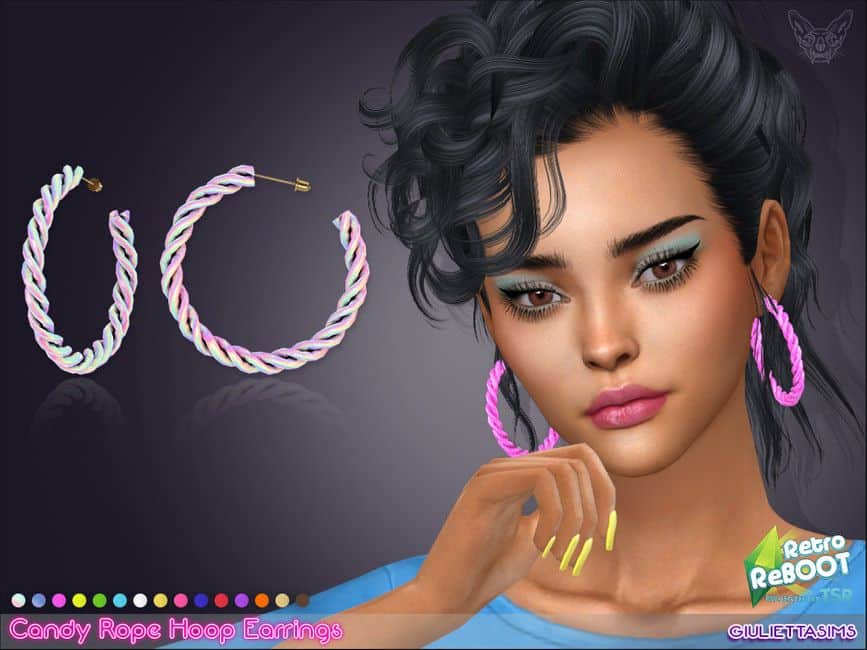 Add sweetness to your sims outfit with these 80s candy rope hoop earrings.
These earrings will look amazing with a casual updo hairstyle.
And with 15 vibrant colors, you can easily match these with your 80s clothing cc.

24. 80's Jelly Bracelets CC by Sugar Owl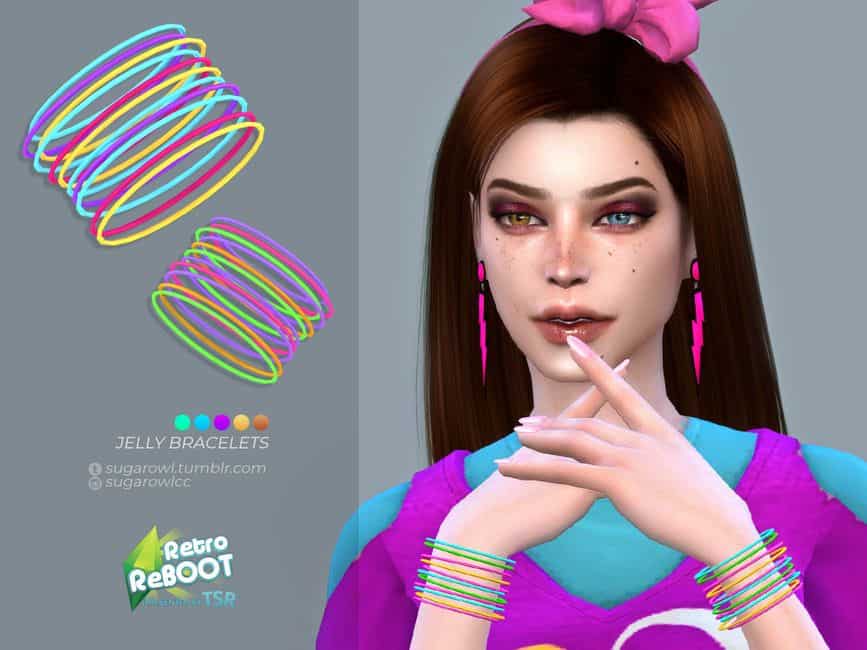 These neon jelly bracelets go perfectly well with the neon nails listed in #17.
You can also jazz up your roller skating outfit with these fun accessories.
These retro 80's bracelets come in 15 swatches.

25. Sims 4 80s Gaga Hair by Singing Pickles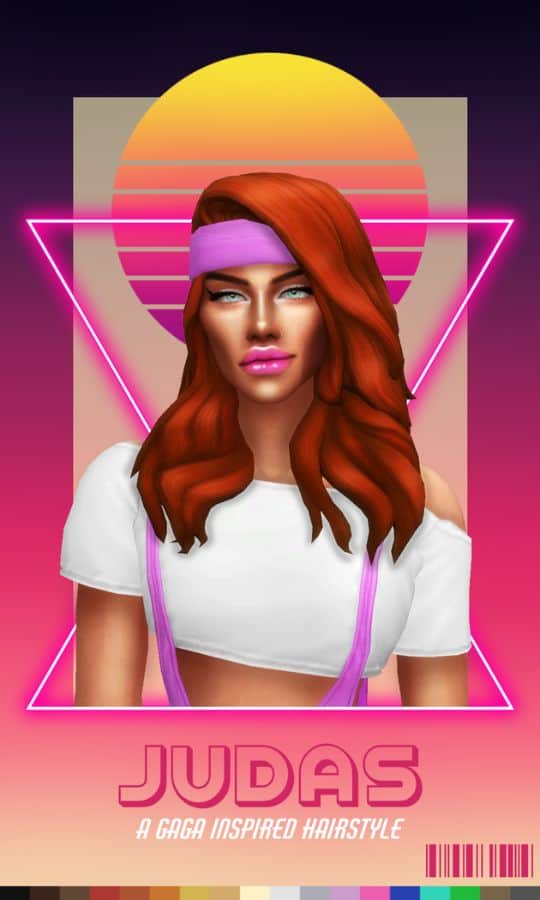 This maxis match hair cc was inspired by the 80's and apparently Lady Gaga.
With the headband accessory piece, this hair cc is ideal for the workout outfit listed at #6.
There are 18 EA colors for the hair and 24 for the headband.

26. 80s Retro Mens Tank Tops by SimmieV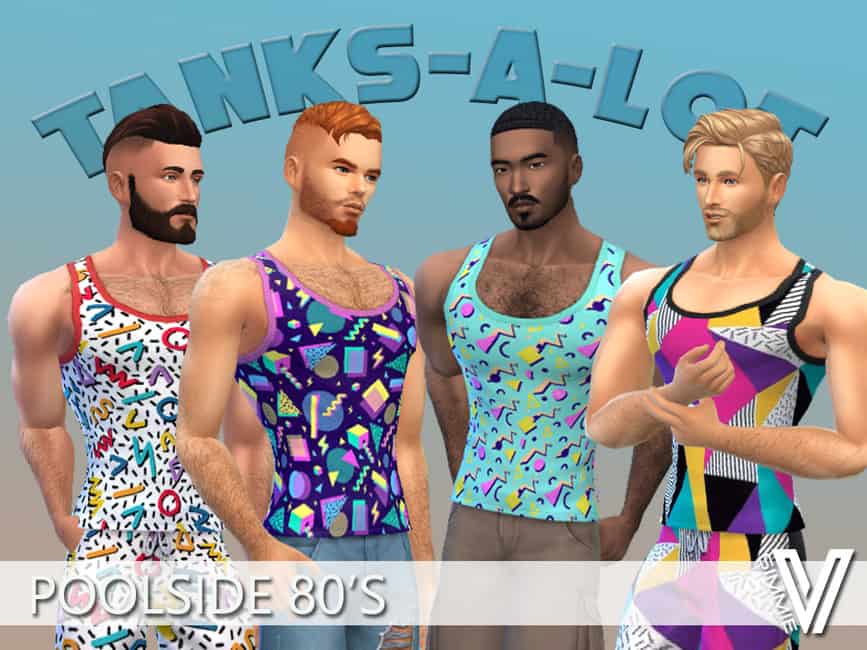 As promised, here are the matching tank top to pair with the board shorts.
You can also style these tanks with solid shorts if pairing the top and bottom is too matchy-matchy.
There are 8 fun swatches to try out.

27. Sims 4 80s Hair CC by Busted Pixels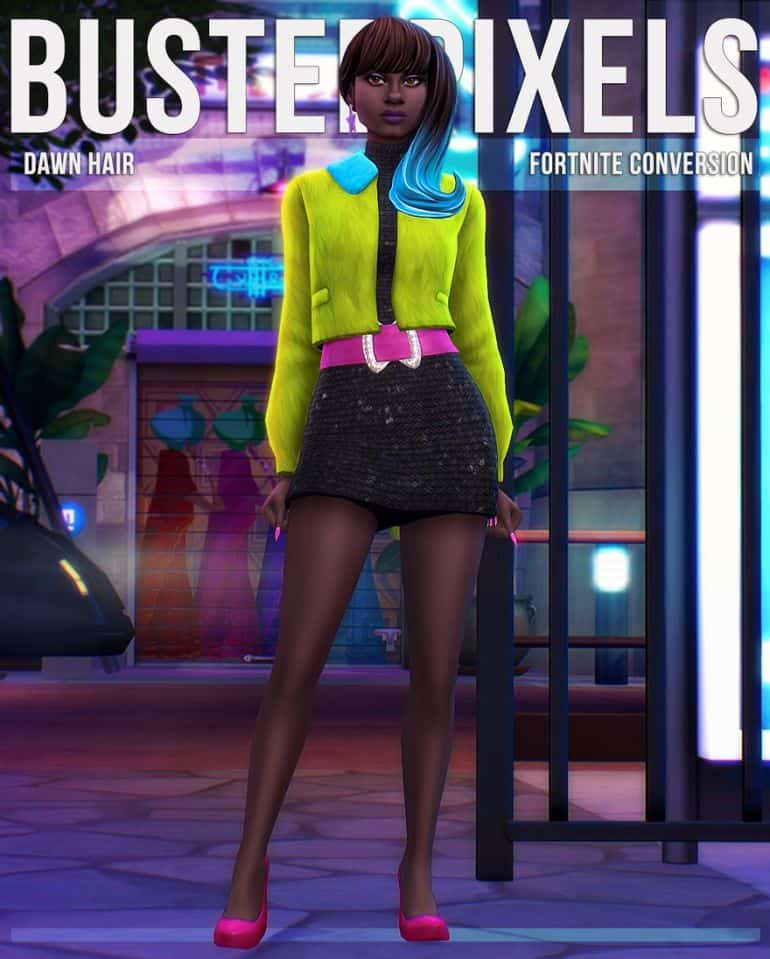 While this side-swept hair cc looks great in any color, I especially love the swatches with duo colors.
Plus, the vibrant hair color options are perfect for an 80s feel.

28. Neon Lighting Bolt Earrings by Sugar Owl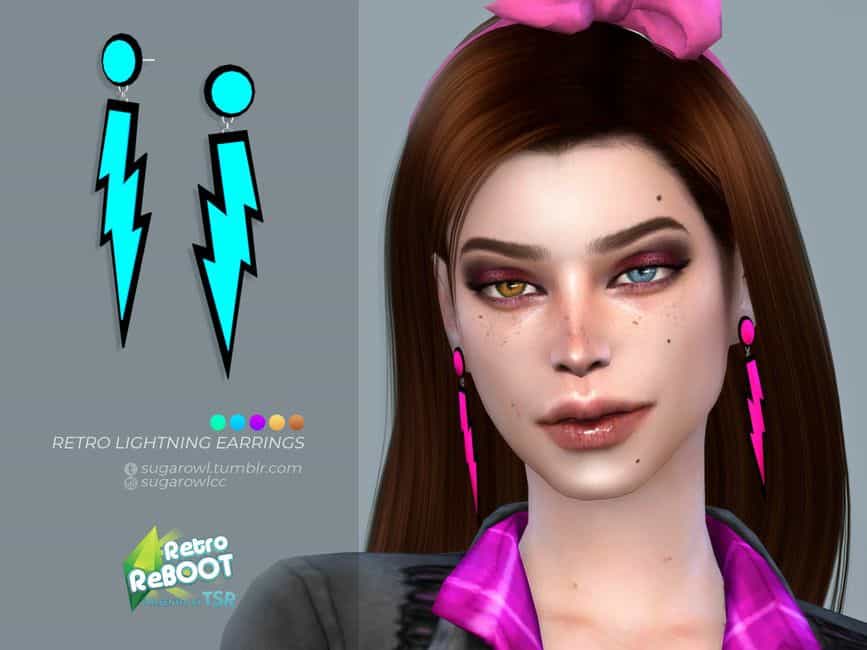 While the lightning bolt design first became popular in the 70s during the punk rock days, these neon colors are screaming 80s.
With 15 color options, you can accessorize your sims with these earrings, the jelly bracelets, and the neon nails previously shown.

29. Neon Eyeshadow CC by Crypticsim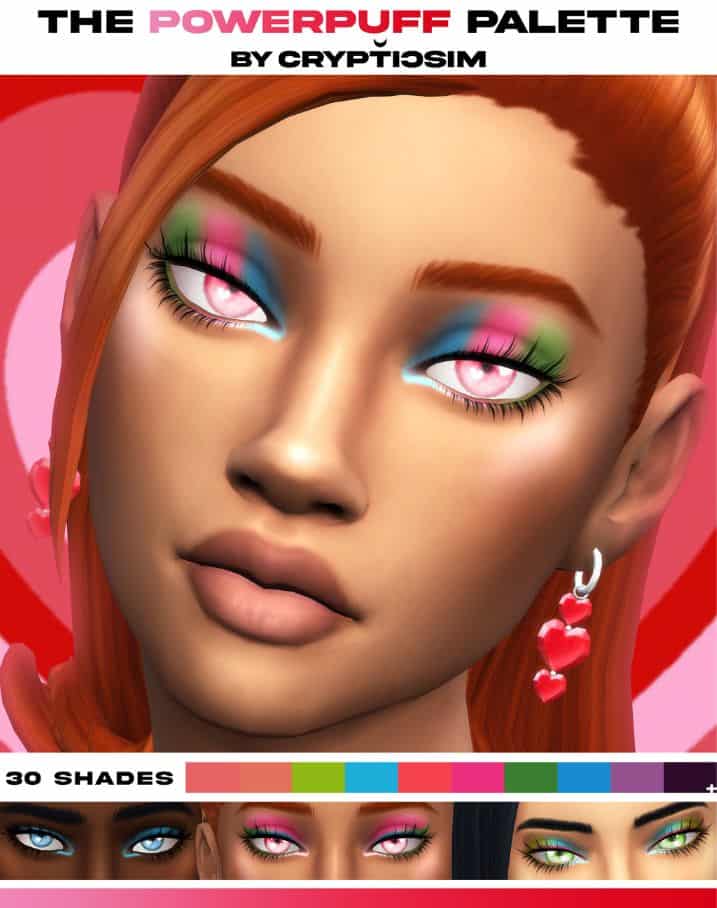 For some extra colorful eyeshadow options, I found this set to be ideal for the 1980's era.
With the 30 shades, these eyeshadow options will add a beautiful pop of color to your sims faces.
The eyeshadow starts at the inner corner of the eyes and covers the full upper lids.

30. Sims 4 80s Retro Blush by MSQSIMS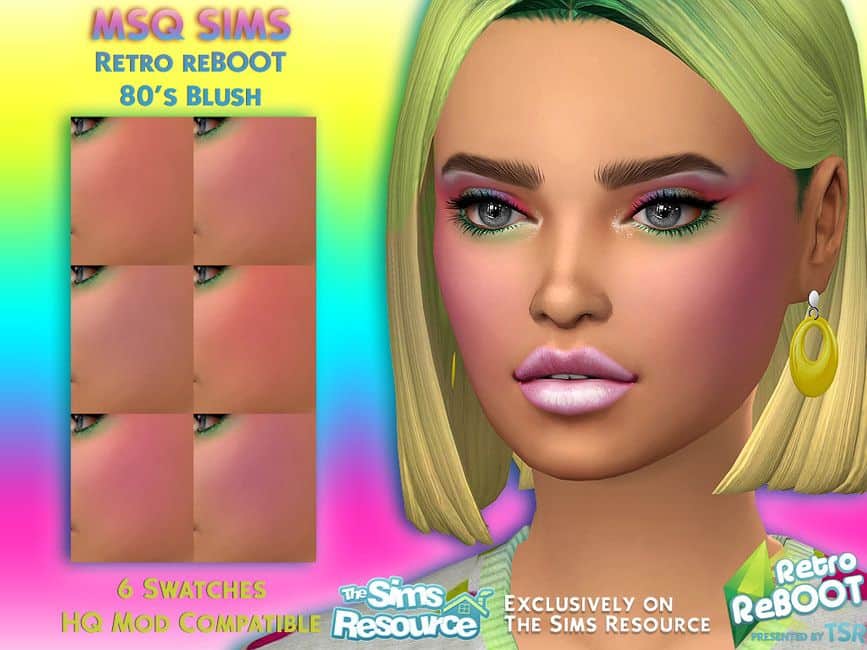 Since we already listed the eyeshadow and frosted lipstick, we had to include the retro-inspired blush.
These six swatches will add varying degrees of blush to the apple of the cheeks and cheekbones.
Sims 4 80s CC: Final Thoughts
With this mixed collection of sims 4 80s cc, you are ready to create a closet full of outfits for your sims.
With neon eyeshadow to geometric style dresses, your sims will sport outfits worthy of the 1980's.
If you have any questions or suggestions, feel free to leave us a comment below or tag us on Tumblr.
Other Sims 4 Custom Content Lists

And don't forget to share and save this pin for later!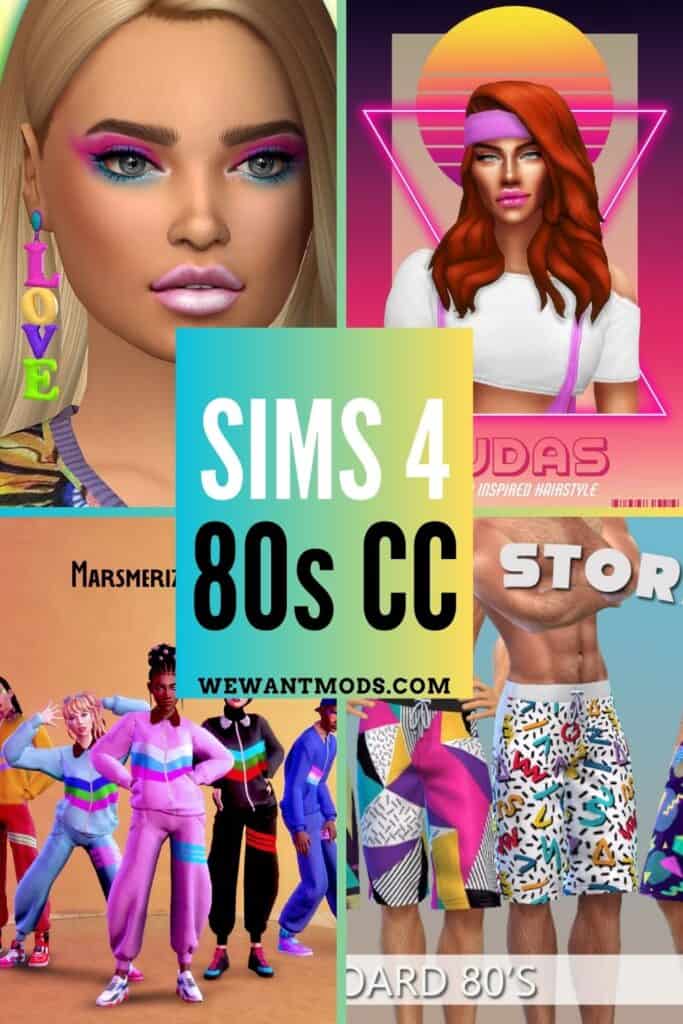 29+ Sims 4 80s CC: Enjoy The Retro Vibes