24+ Sims 4 Y2K CC: Clothing, Shoes, Decor & More
Nothing brings on nostalgia better than all the Y2K clothing options recently making an appearance in stores.
So step back in time with this Sims 4 Y2K CC collection.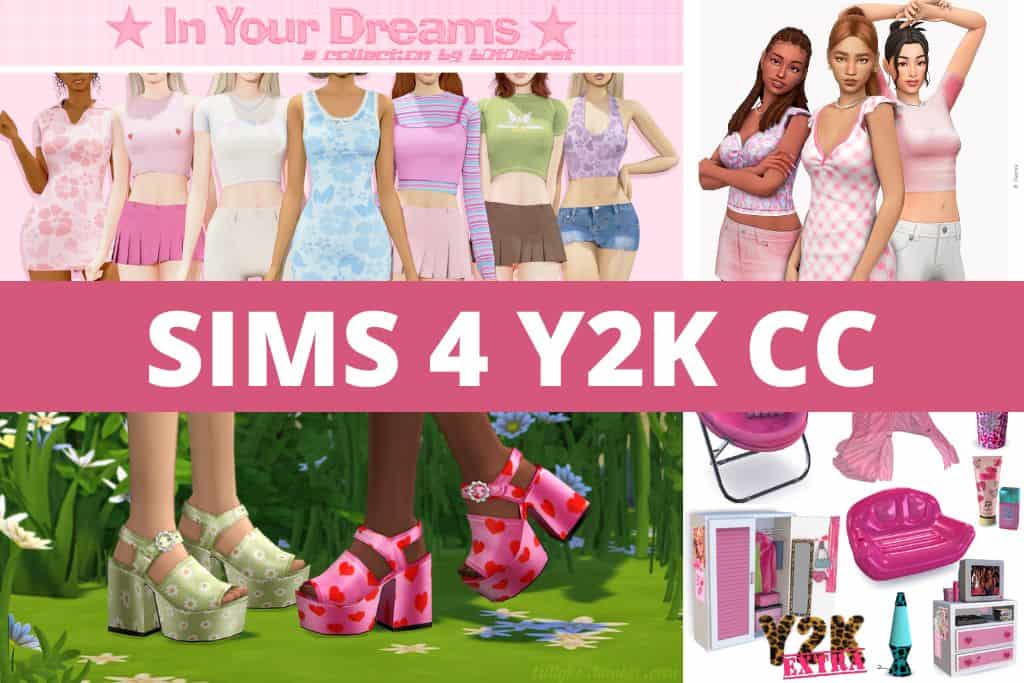 Whether you were born before or after 2000, you've definitely heard the term Y2K at some point.
While Y2K used to mean something different, it's now become a whole clothing trend.
Shoppers love the good old classic pieces and are carrying their new love towards their cc shopping too.
So we found a nice variety of sims 4 y2k cc pieces for your female sims to enjoy.
Sims 4 Y2K CC
Below is a mixed collection of y2k clothing, shoes, hair, accessories, and furniture pieces.
And if you prefer some edgier pieces, we've also included some grungier y2k options.
1. Not Cool Sims 4 Y2K CC by Demondare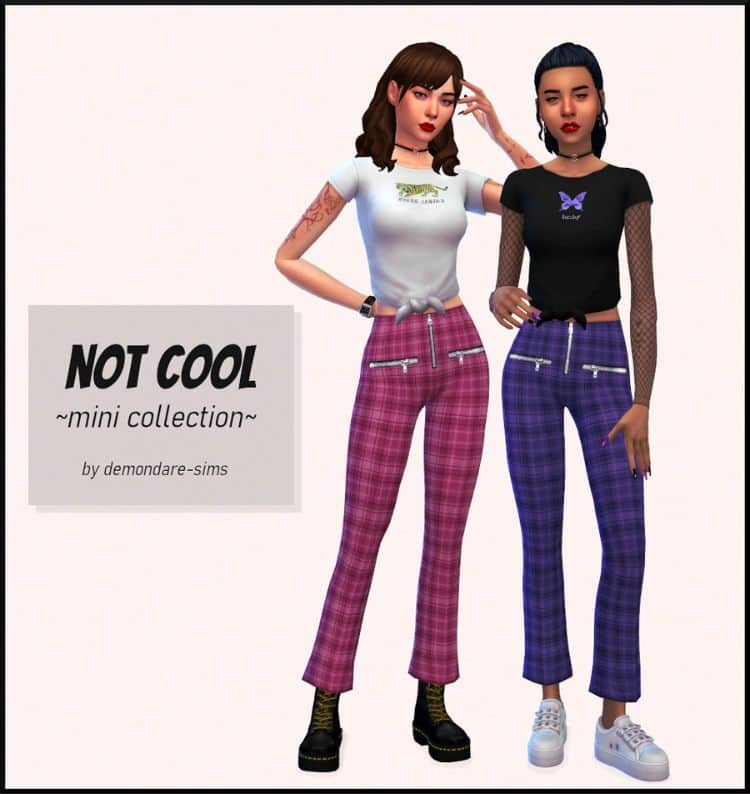 This Y2K clothing set comes with 3 pieces; you get a pair of ankle-length plaid pants, a graphic Tee, and netted accessory top.
You can use these pieces as staples to create casual or edgy looks or pair the pants with preppier tops to change the style.

2. Sims 4 Y2K Butterfly Set by Serenity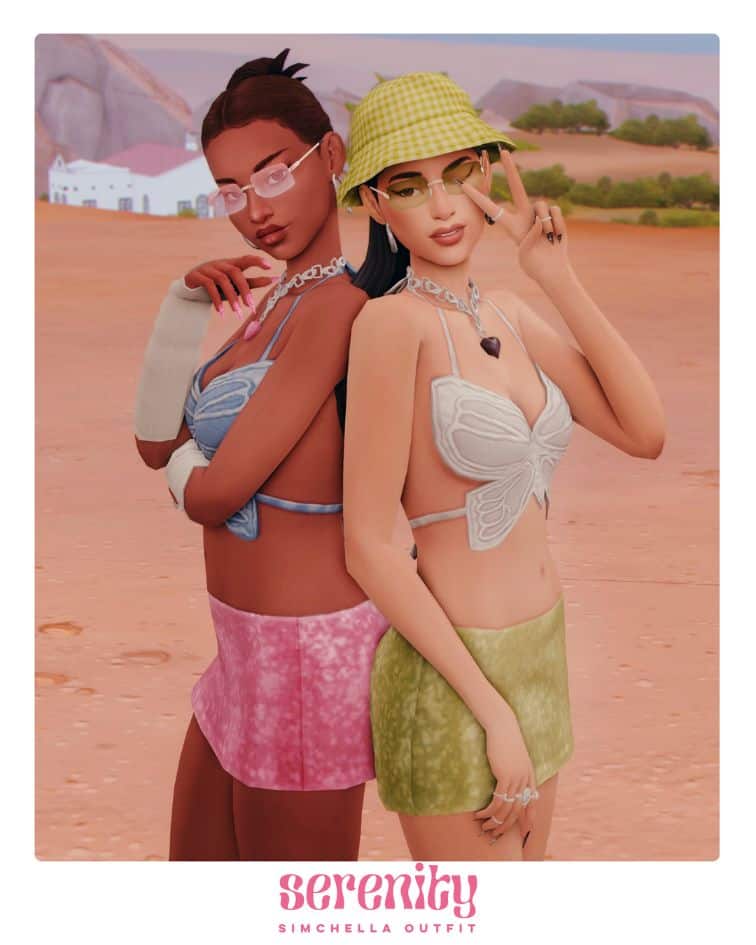 When I first saw this set, I thought it was perfect for a Coachella event, and I was right; this Y2K set was meant to be a simchella outfit.
Besides the adorable butterfly strappy top, this set has a mini skirt, cowboy boots with butterfly details, a heart necklace, and colorful shades.

3. Maverick Platform Hills by Trillyke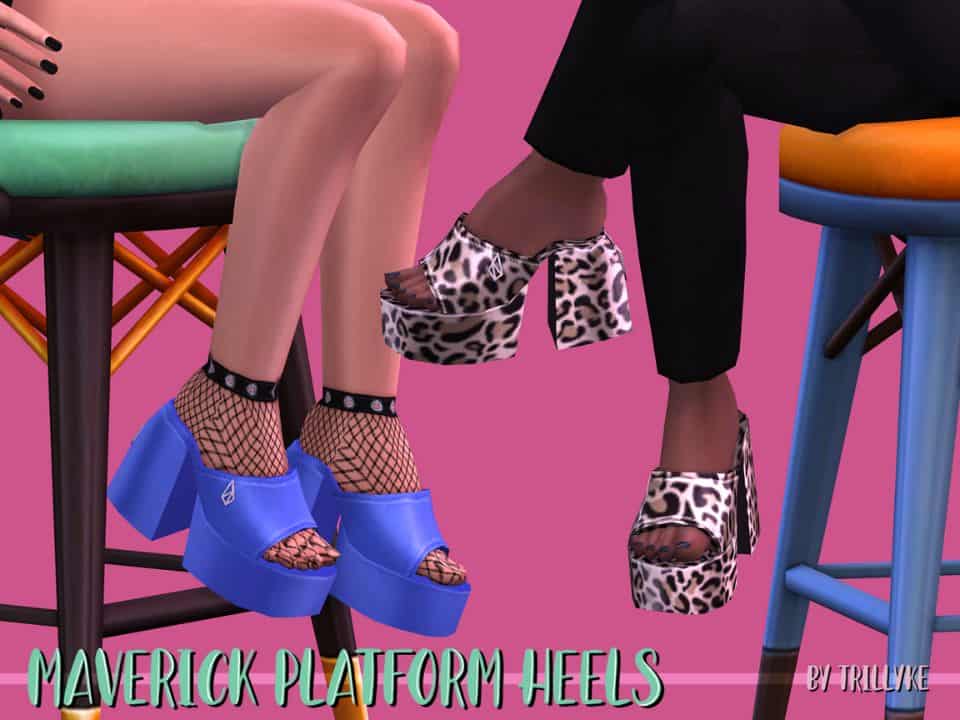 Chunky and platform-style shoes were super popular Y2K designs, perfect for casual and dressy looks.
These slip-on platform-style shoes have a thick band at the front and can easily be paired with jeans or a cute mini-skirt.
There are 20 swatches, including bright summer colors and other fun patterns.

4. Sims 4 Bratz CC Collection by Greenllamas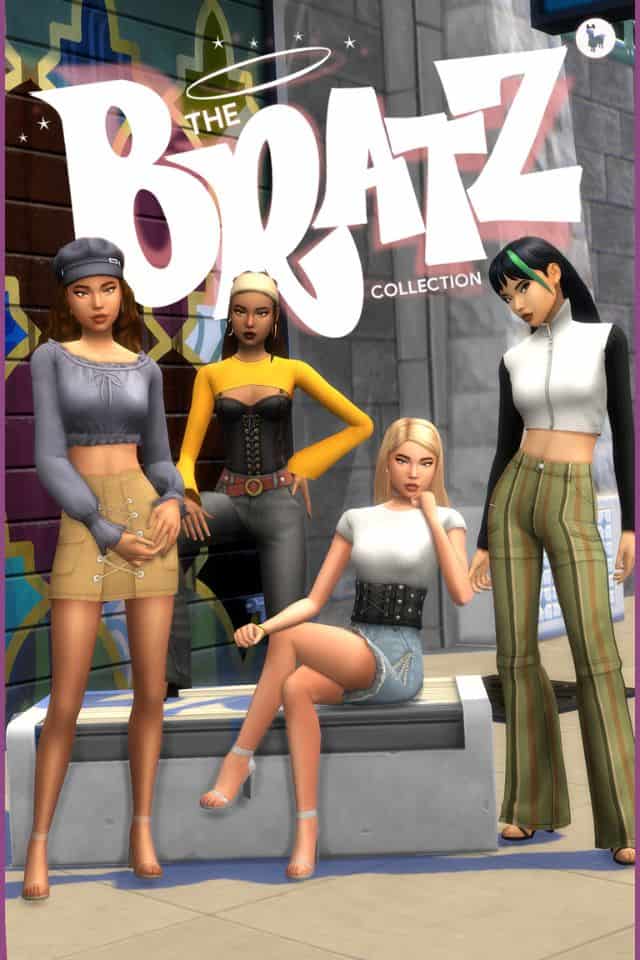 Ok, so this Bratz custom content pack comes with 9 pieces of clothing, two overlays, and 3 hairs.
The striped pants, asymmetrical jean skirt, and drawstring skirt just scream Y2K.
I remember my aunt sporting some of these pieces on the regular.
There are 24 swatches for the hairs and 18 options for the clothing.

5. Sims 4 Y2K Melody Skirt by Pinealexple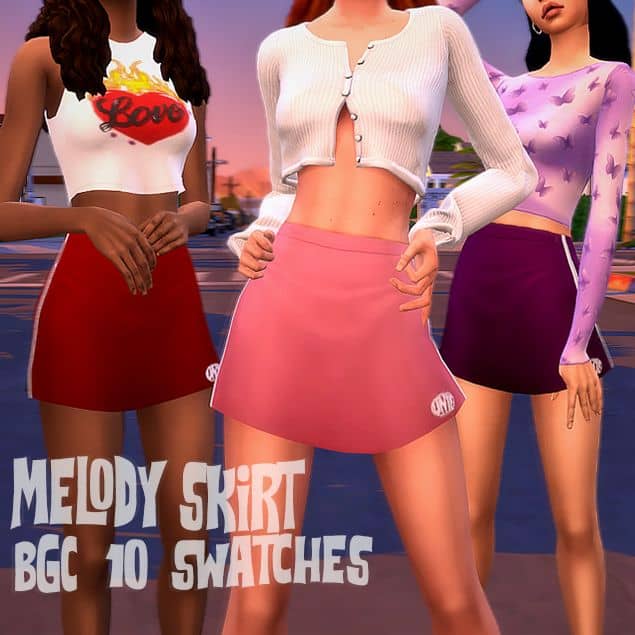 If you spend any time on Thrift Tok, you've likely seen thrifters loving their Y2K finds, and these sporty skirts are always popular.
This Melody skirt has a stripe down the sides and two slits; it's a sporty mini skirt, making it a sporty girl's favorite piece.

6. Sims 4 Y2K CC Mixed Pack by Aretha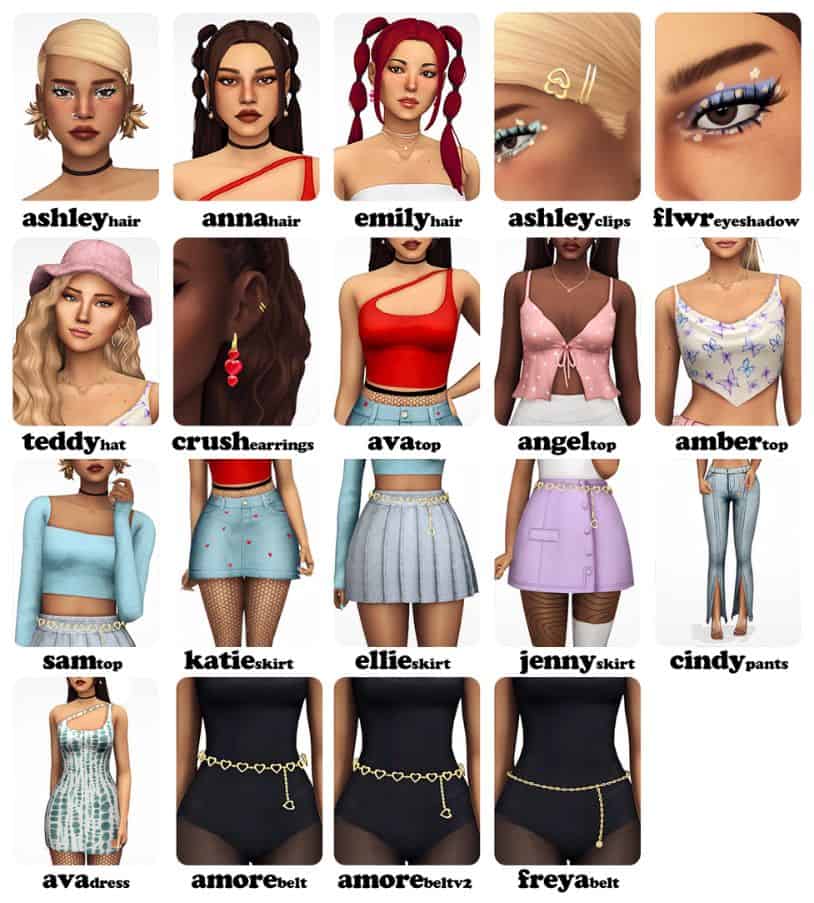 This sims 4 Y2K cc pack comes with 18 pieces that blend feminine and sexy.
The amber and angel tops are the definition of classic Y2K and can be paired nicely with jeans or mini jean skirts.
Snag some fun belts, hair, and clips to complete the look.

7. Y2K Cyber Grunge Set by B0T0XRAT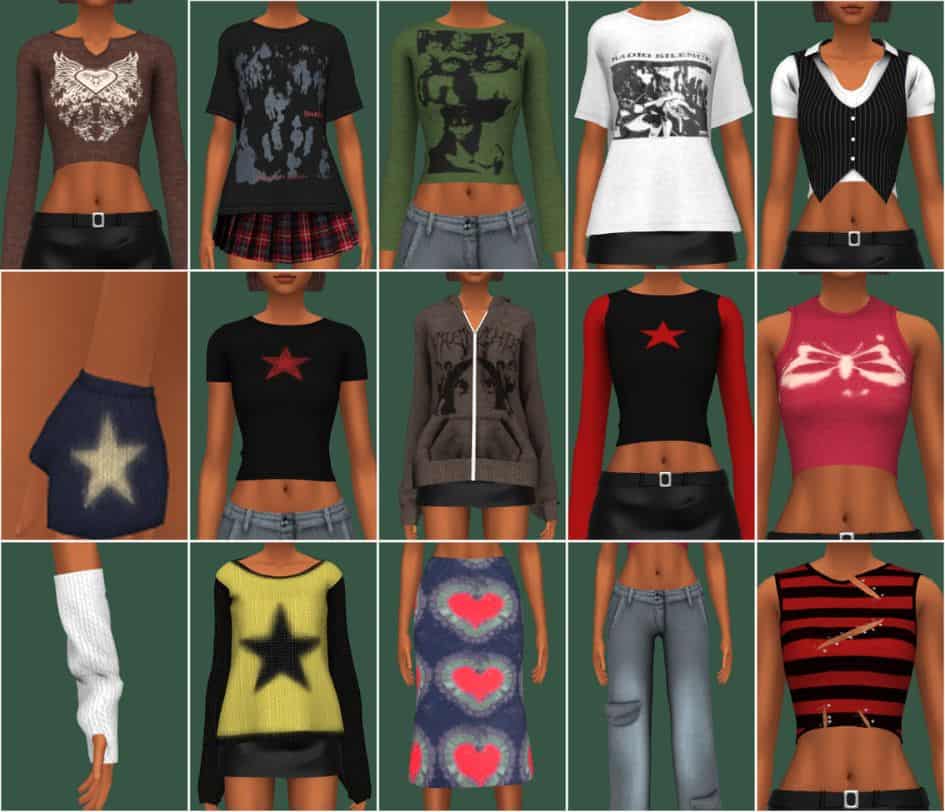 While I love fun and flirty looks, this grunge collection brings some edge to your sims Y2K looks.
The skirt with pink hearts is an epic statement piece, but the variety of crop tops and casual tees are great staples for your sims closet too.

8. Senior Year Y2K Set by Jellymoo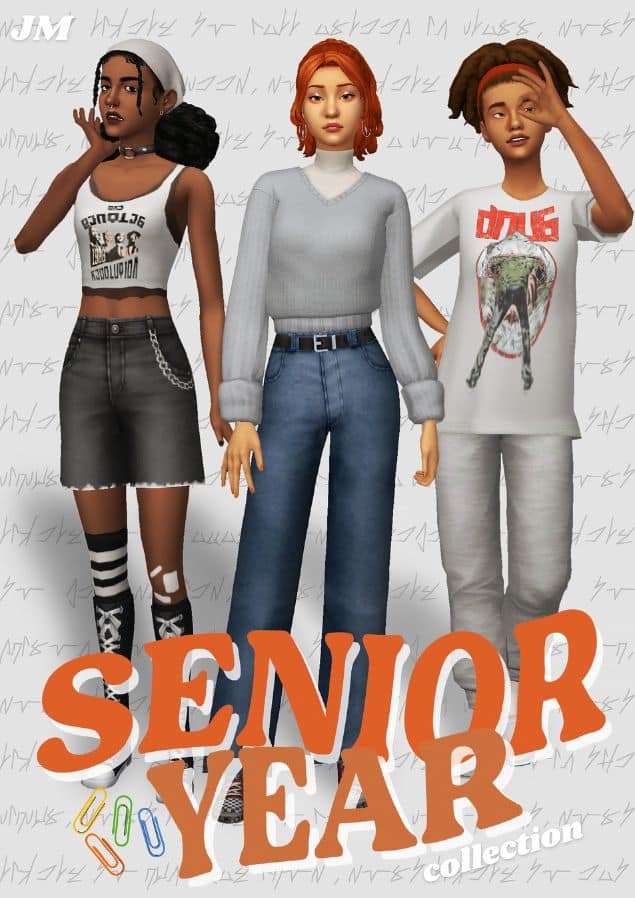 Have your sims head into the 2000 school year with this senior clothing collection.
Add sweatpants, jean pieces, hairs, and other basics into your sims Y2K cc folder with this set.

9. Y2k Lamia Skirt for Sims 4 by Nsves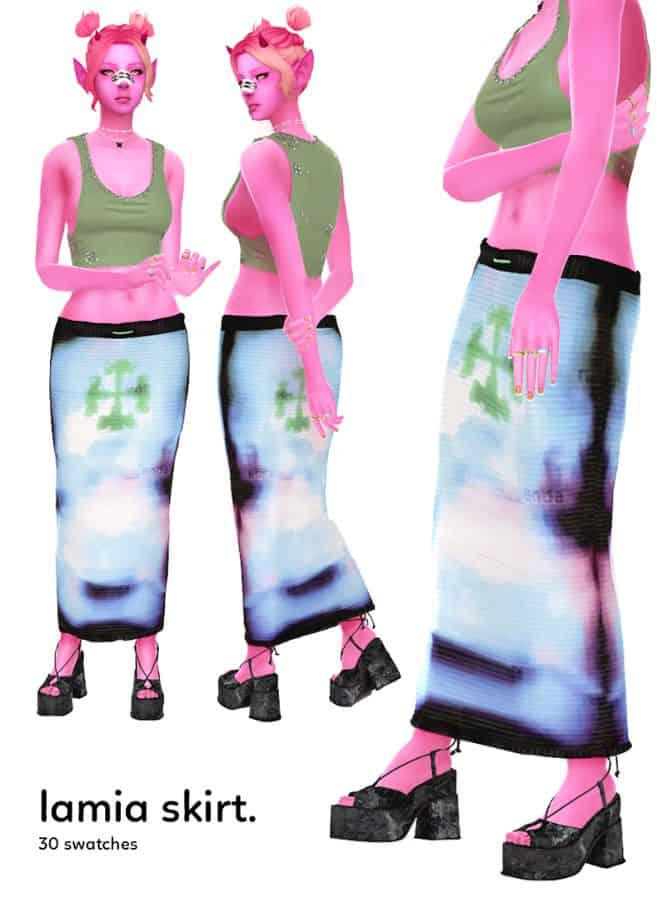 This skirt is giving me total nostalgia; I remember these skirts like it was yesterday.
Something about the skirt's colors resembles a tie-washed effect, and the fabric was very interesting.
This full-length skirt has 30 swatches.

10. Y2K Butterfly Slip Dress by Trillyke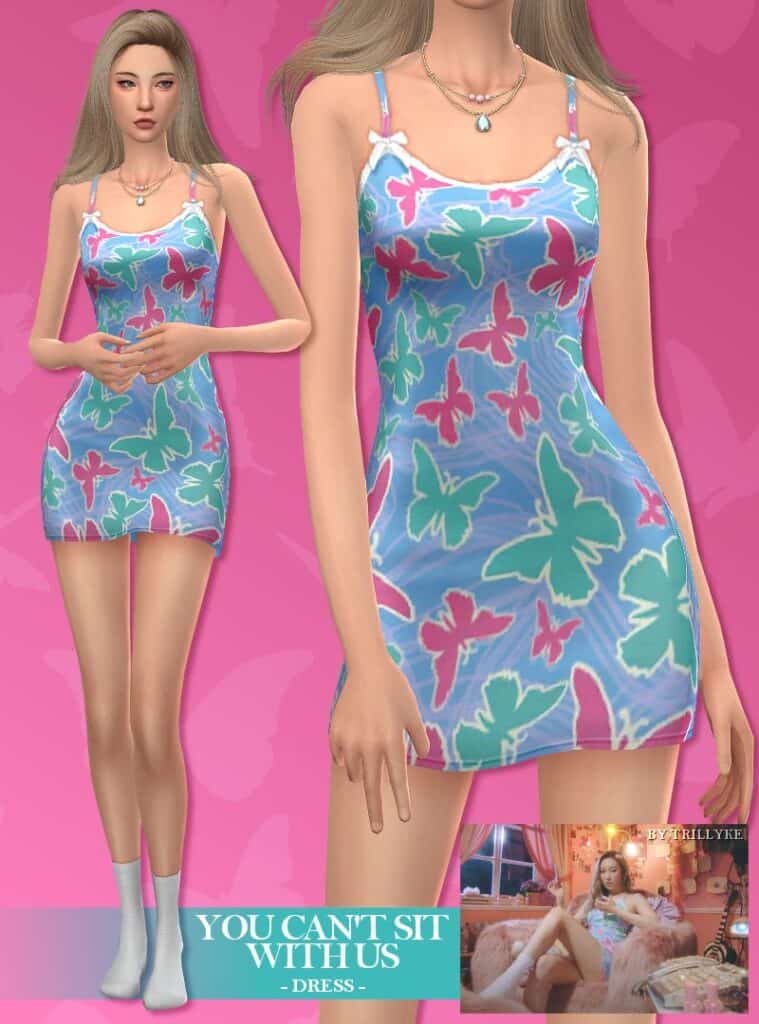 Pair this butterfly sleep dress with the chunky heels below, and your female sims will be ready to pose for a Y2K photoshoot.
This dress only comes in the swatch above, but with such a cute color combo, do you really need any more?

11. Y2K Switch Platform Heels by Trillyke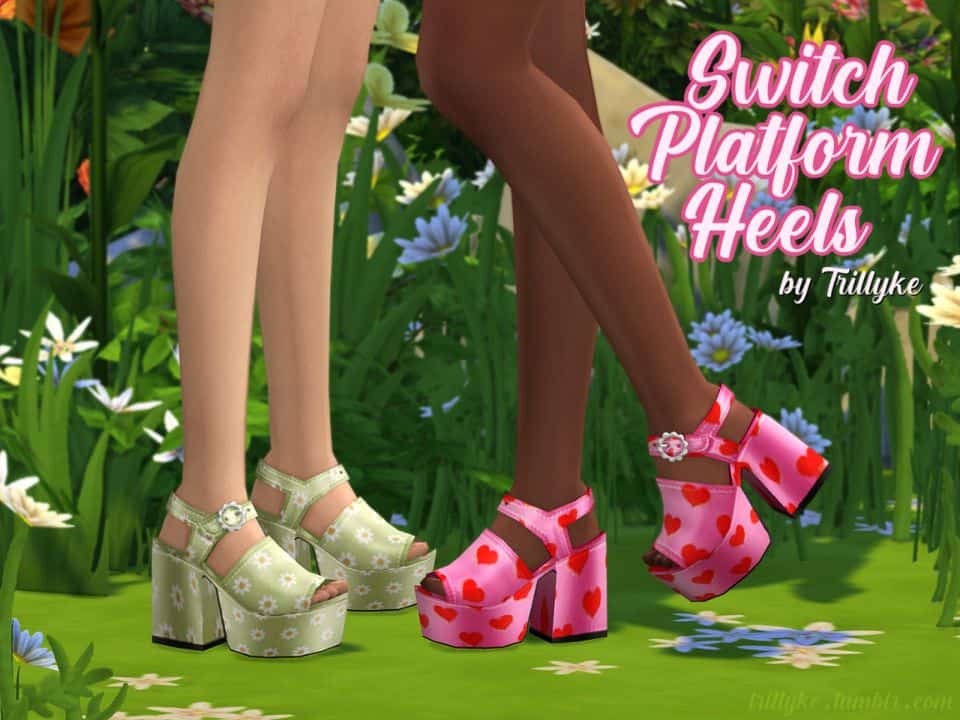 Whether you're into heart designs, flowers, houndstooth, or solid color swatches, these platforms come with them all.
And there are 35 color options and designs to match your sims outfits.
These chunky platforms are similar to the heels at #3, except these shoes are more dressy and have ankle tie straps.

12. Sims 4 Y2K Clothing Pack by Belaloallure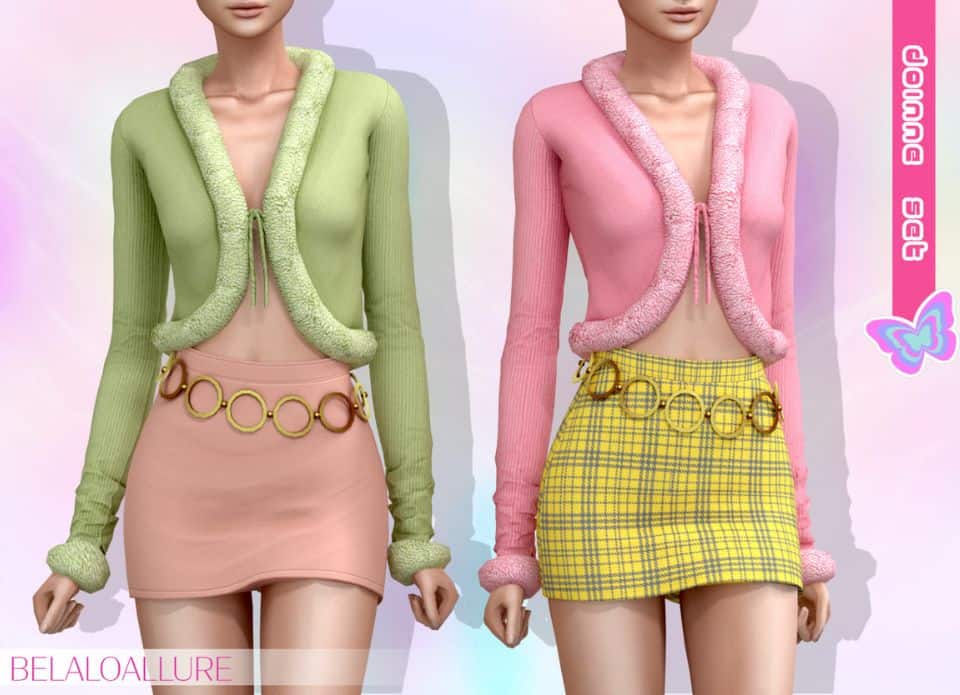 This sims 4 y2k cc collection is one of my favorites; it has various sexy pieces, including the mini skirt and top above.
There is also a figure-hugging halter slip dress and a two-piece stretchy halter and skirt set.
Do your sims need a sky-high bikini-cut bathing suit? This set has got those too!

13. Y2K Custom Content Set by Saruin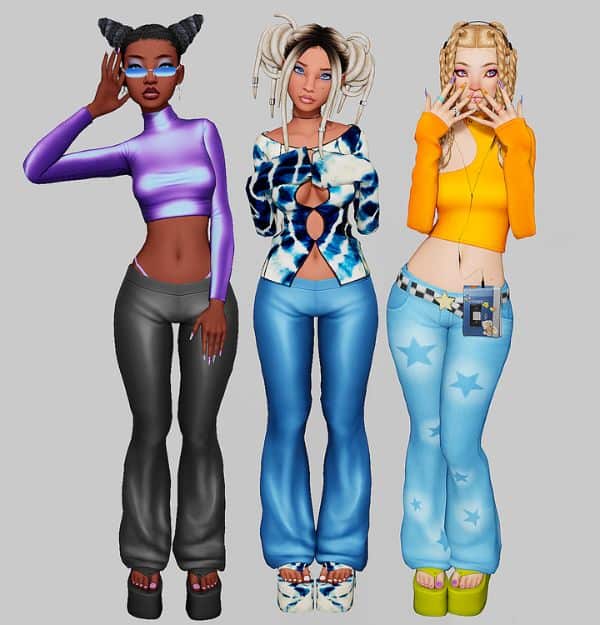 I was so happy when I came across this Y2K set, especially when I noticed the flip-flop style platform sandals.
This pack includes:
Rings
Jeans
Jeans belt overlay
Flare pants
3 different tops
2 styles of nails
Platform sandals

14. In Your Dreams Y2K Set by B0T0XBRAT
This sims 4 y2k cc collection was inspired by warmer weather and features a few pieces with hibiscus print.
There are plenty of pieces to mix and match to create a whole wardrobe of outfits, including:
Hibiscus dress
Halter top
Cargo skirt & pants
Jeans with flowers
Crop tops & more

15. Y2K Bedroom CC Set by Kirikasims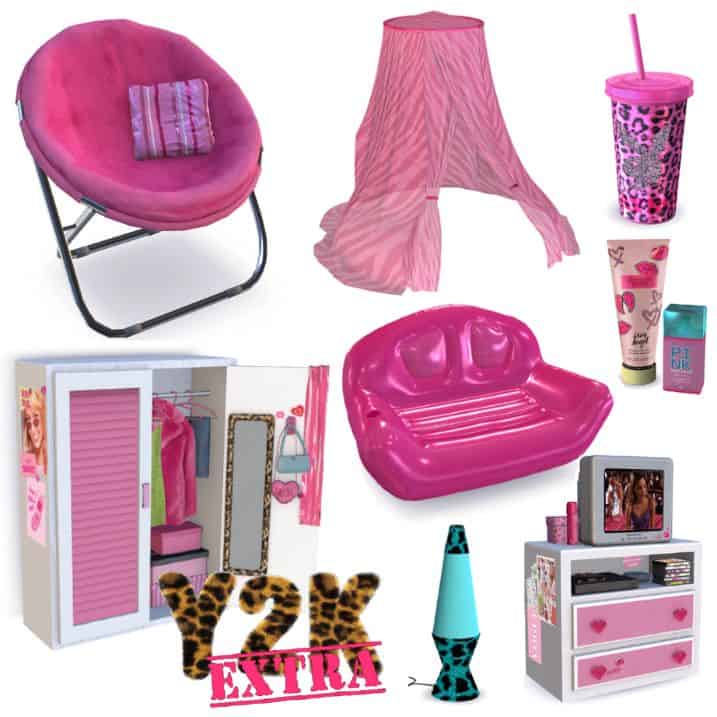 Ahh, nothing says Y2K better than lava lamps, inflatable chairs, and bed nets for your sim's bedroom.
This sims 4 Y2K cc set has furniture and decorative pieces to style your sims room.
It's special touches like these that really take your gameplay to the next level.

16. Sims 4 2000s CC Clothing Set by Serenity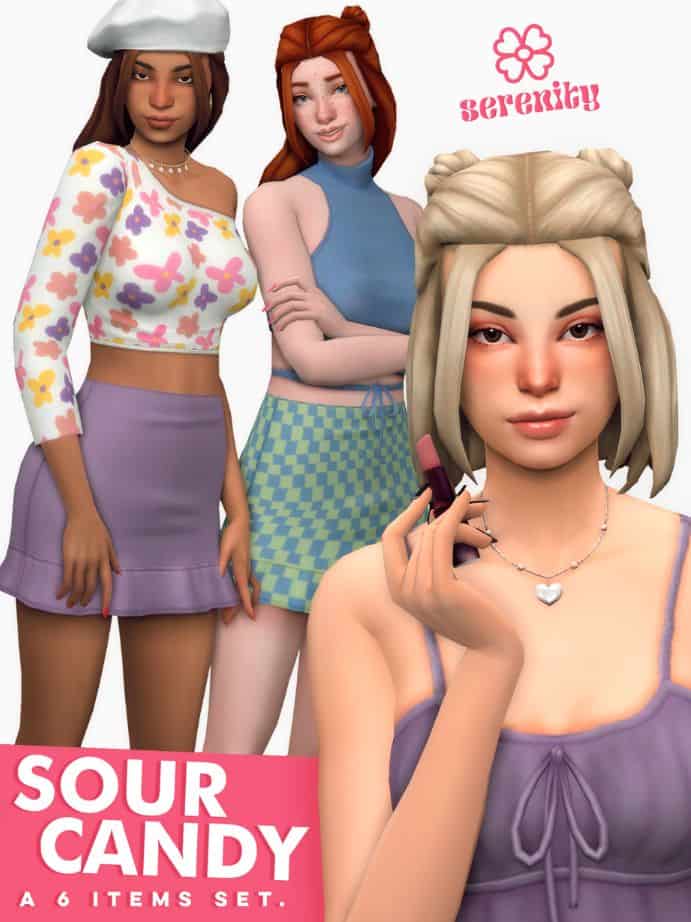 This 6-piece Y2k set features two hairstyles, a spaghetti strap dress, a mini skirt, a halter crop top, and a one-shoulder crop top.
You'll find 4 fun clothing patterns to mix and match, including flowers and cherries.

17. Chunky Y2K Strappy Heels by Madlen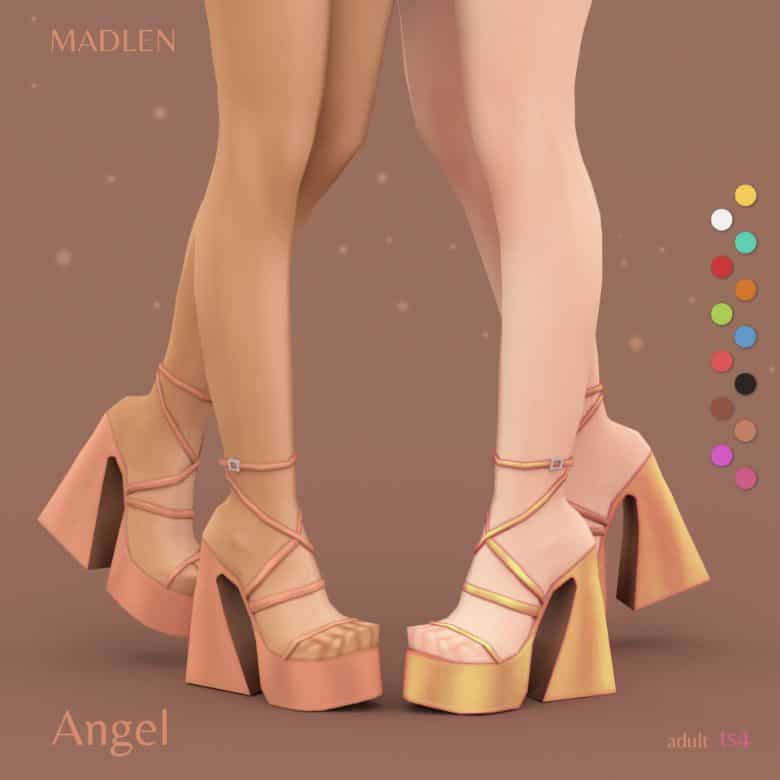 These custom-content shoes elevate the classic chunky heels into something your sims can wear to dinner on a date.
There are 14 swatches, but I especially love these bronze and gold options.

18. Y2K Clothing Set for Sims 4 by Serenity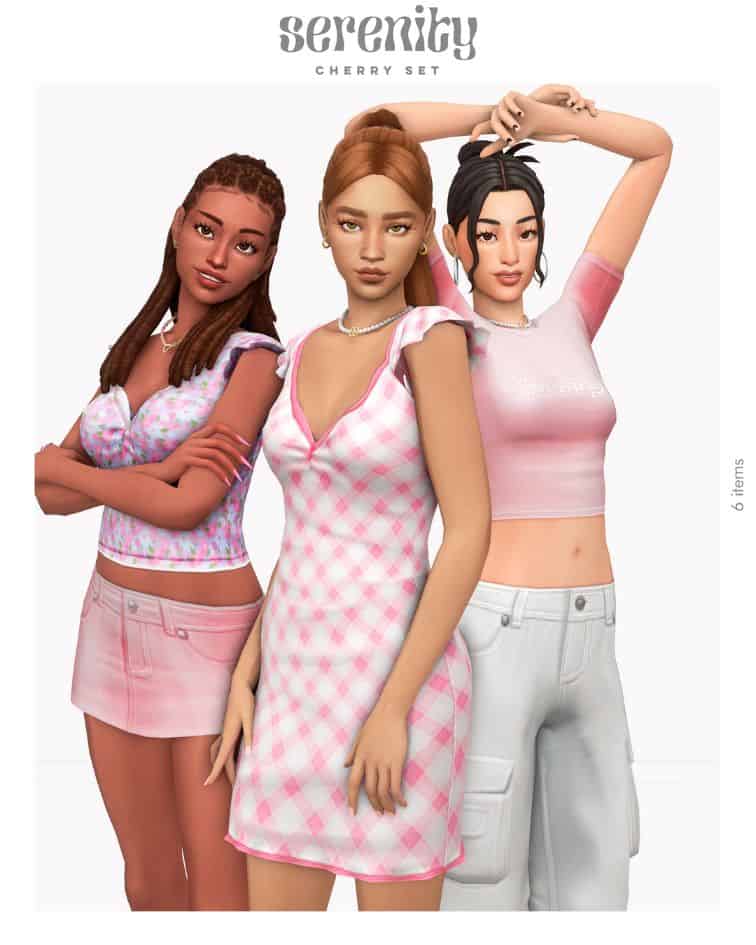 This girly set comes with 6 pieces you can easily fit in with your y2k cc folder.
You will find a casual dress, mini jean skirt, casual shirt, skintight crop top, cargo pants, and a pearl necklace.
My favorite part of this set is the 7 patterns you can choose from, besides the 25 solid color swatches.

19. Y2K Knitted Open Top by B0T0XBRAT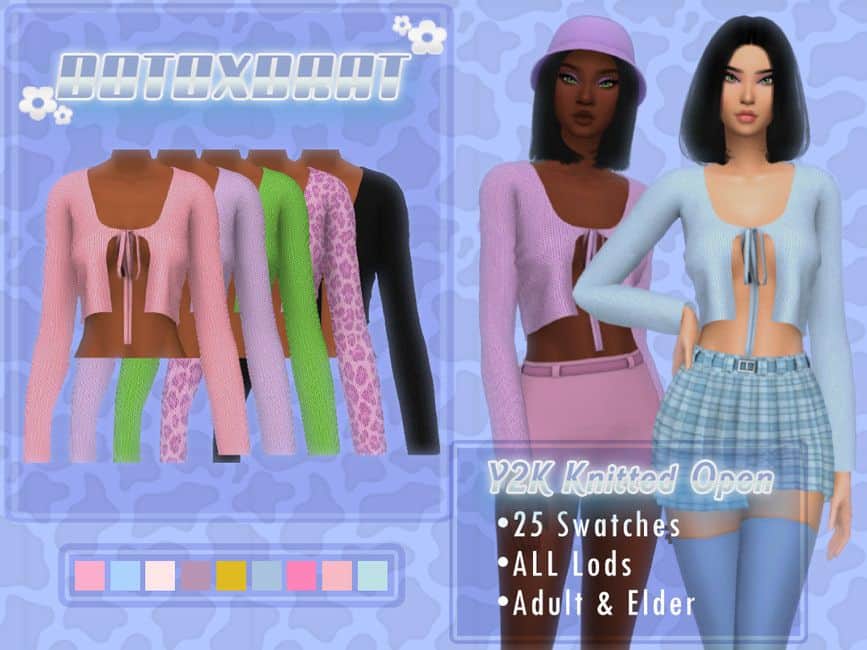 This fun and the flirty knitted top is ringing all those nostalgia bells.
You can pair this classic Y2K top with your favorite accessory tops or have your sims wear it as is.

20. Sims 4 Y2K PS2 Pack by LaSkrillz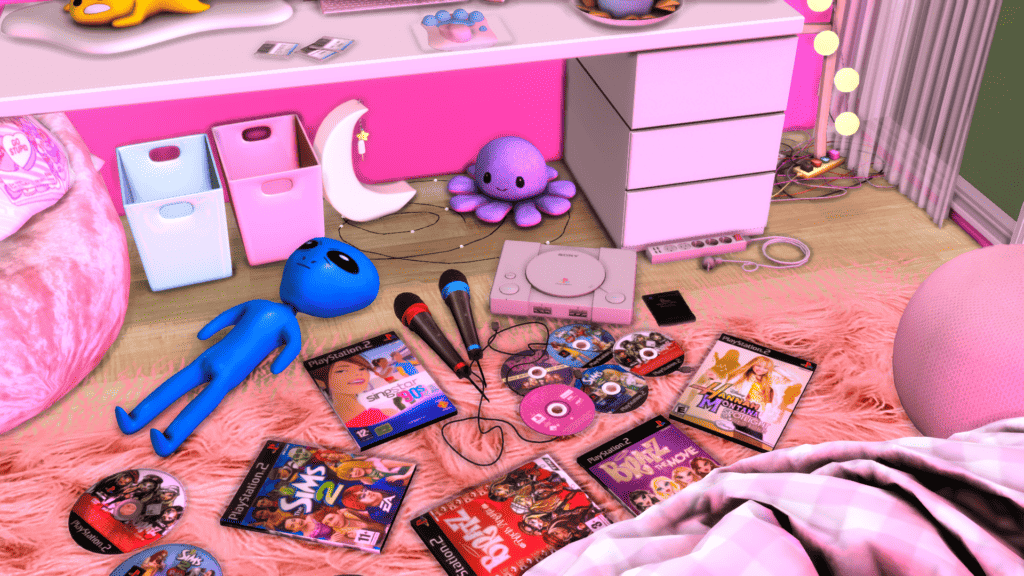 Let your sims get a high score on their newest Y2K PS2 game console.
This pack contains PS2 game cases, game CDs, a memory card, and a couple of mics for SingStar.
The game CDs are available as singles or cluttered.

21. Sunbeam Y2K Clothing Set by Aretha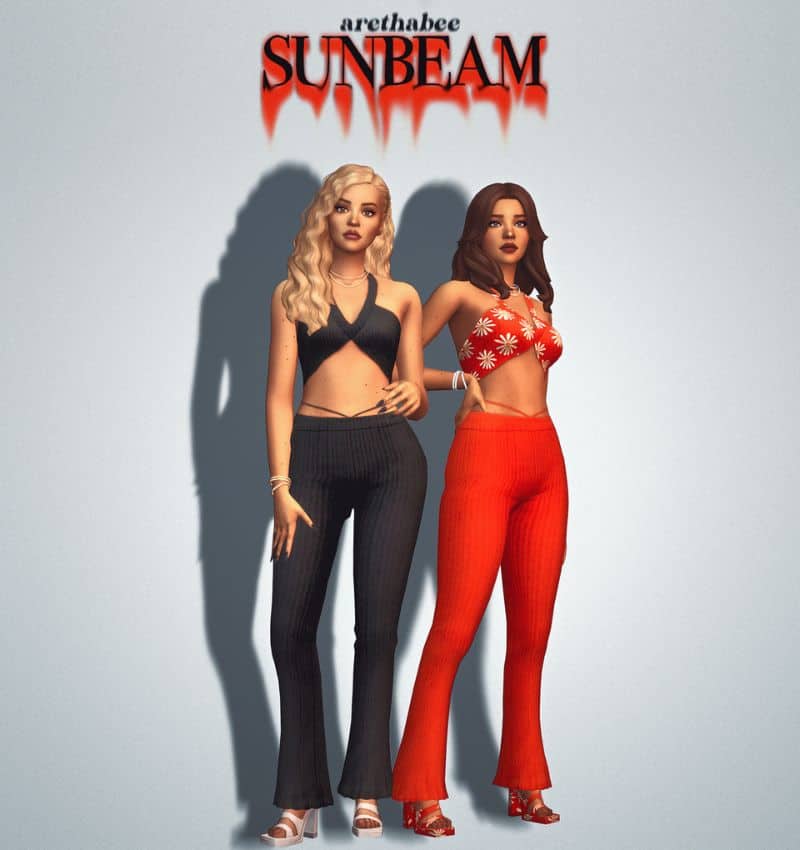 Every Y2k girl needs a halter top and flared pants for their weekend club scene.
Those band details above the pants scream Britney Spears in 2001's I'm a Slave 4 U.
Whether you prefer a solid swatch or a fun pattern, you get them both with the 25 swatches.

22. Heartbreakers 90s Clothing by B0T0XBRAT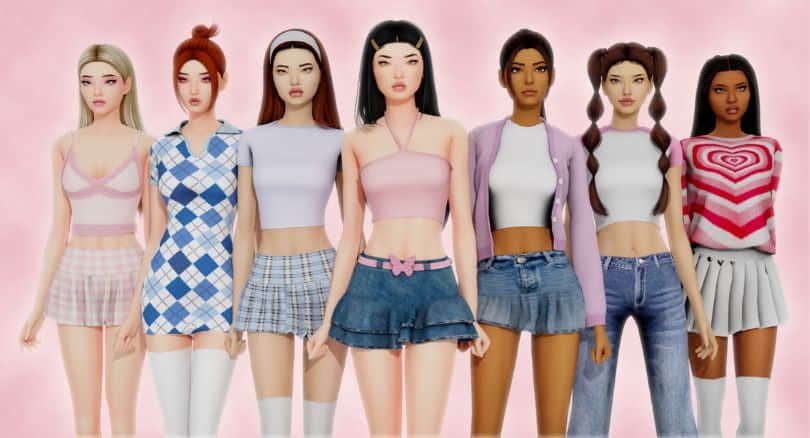 This sims 4 y2k cc pack is another mixed collection including various crop tops, a dress, a cardigan, jeans, and more.
This pack is another great set to add to your favorites to mix and match within your sims clothing collection.

23. Sims 4 Y2K Jelly Shoes by Trillyke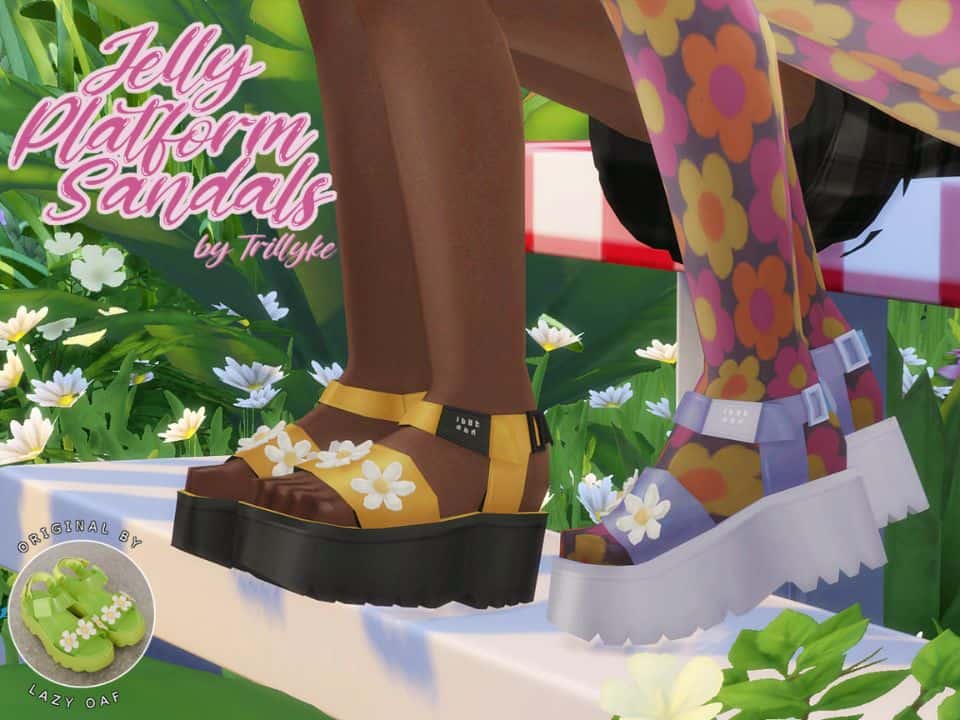 Ahh, the good old jelly platform shoes; who doesn't love these?
While jelly shoes occasionally appear in stores, finding a cc version for my sims was fun.
These adorable shoes come in 20 swatches, including swatches with white or black soles.

24. Yellowstone Top for Sims 4 by Babyetears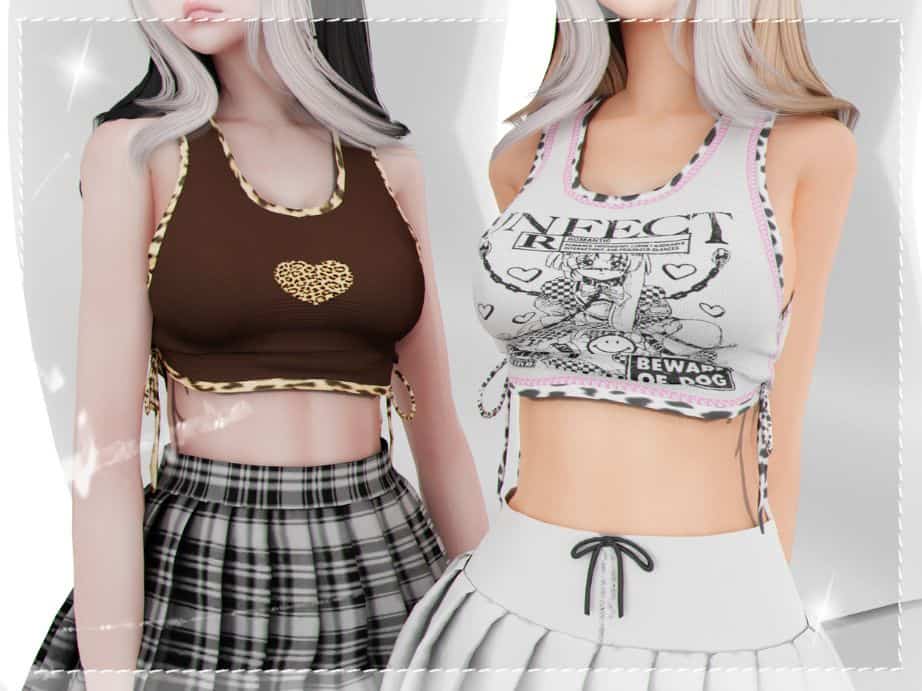 It's funny, but I can tell exactly what fabric these crop tops are just by looking at them.
I've seen many of these Y2K tops over the years, and these crop tops will give my sims the perfect y2k look.
Pick your favorite swatch from the 15 available choices.

25. 2000s Trust Issues Top by B0T0XBRAT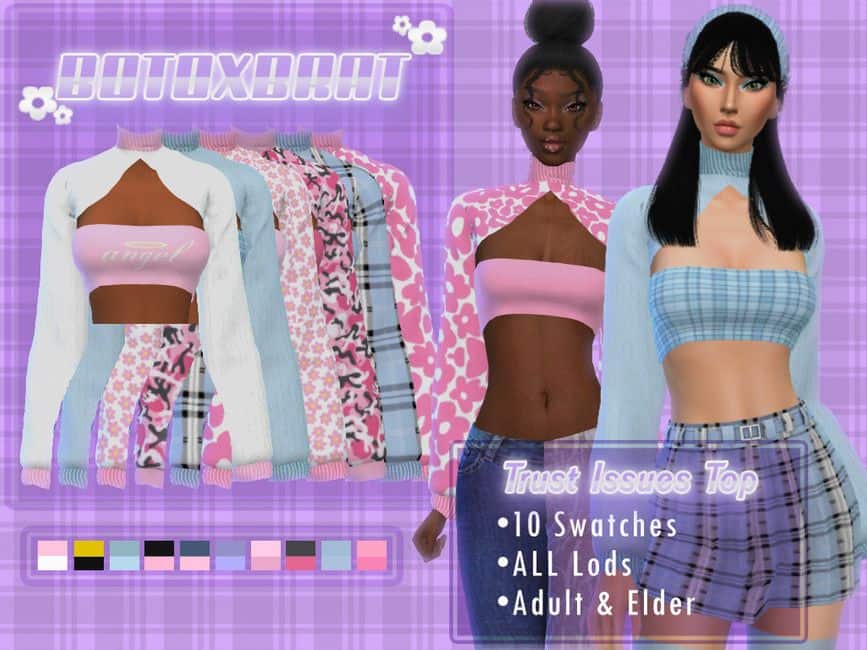 This turtleneck crop top with a large cutout on the chest is ideal for a group of female sims heading to the local bar.
This y2k top goes incredibly well with jeans cc but can easily be worn with skirts too.
There are 10 dual-tone color swatches for this Y2K custom content.
Sims 4 Y2K CC: Final Thoughts
With many amazing sims 4 y2k cc downloads available, it definitely takes me down memory lane.
While this y2k collection has a large variety, you can find more mini skirts and crop tops in our Clueless post link below.
If you have any questions or suggestions, feel free to leave us a comment below or tag us on Tumblr.
And don't forget to share and save this pin for later!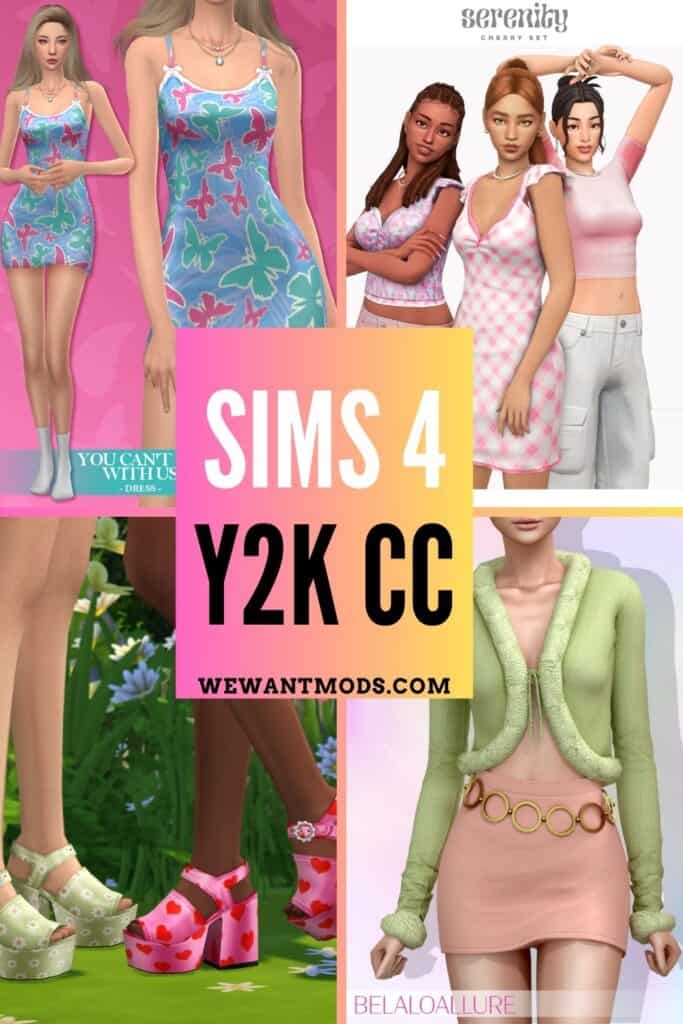 Other Sims 4 Custom Content Lists
24+ Sims 4 Y2K CC: Clothing, Shoes, Decor & More