27+ Sims 4 70s CC: Get Your Sims Grooving
Get the most out of the disco and free-spirited age with these sims 4 70s cc.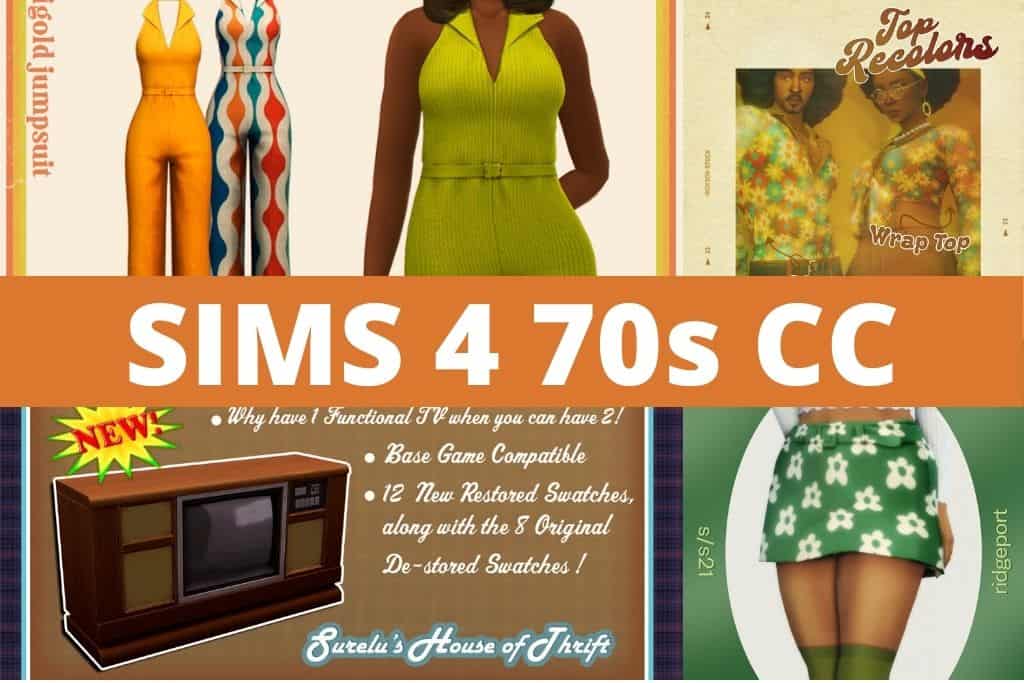 The 1970s were a time of roller disco and bell bottoms pants.
Although we can't go back in time, we can relive that era through our sim household.
If you want to challenge yourself with the decades challenge for sims 4 or just for fun, there are many 70s cc items out there.
Get your groove on and check them out.
Oh, and if you are playing the decades challenge, you can grab some more cc from these lists;
Disclaimer: The following mods are neither endorsed nor affiliated with The Sims, Maxis, or Electronic Arts. Any use of mods (custom content or game mods) should be done with caution and with the knowledge that there may be risks.
Groovy Sims 4 70s CC
We've gathered a bunch of sims 4 70s cc ideas to help you complete your outfits and help to furnish your sims' home.
So enjoy.
1. Sims 4 70s Flared Sleeve Dress by Ilkup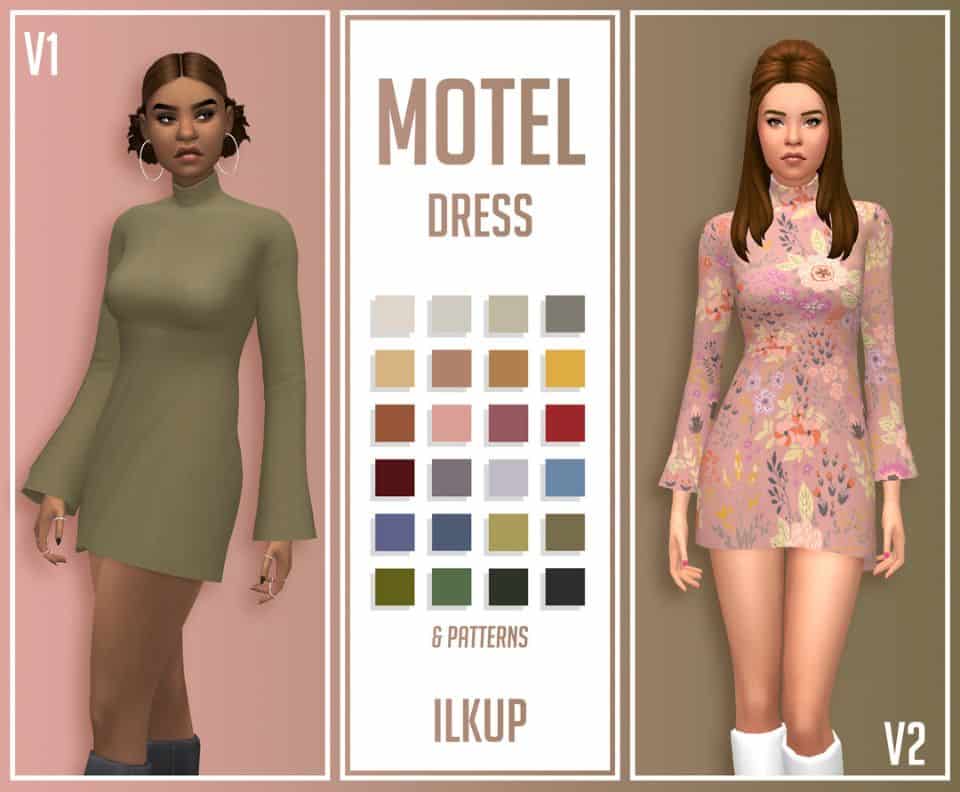 This mini dress with flared sleeves and a high neck was a great find.
There are two options for this 70s custom content.
One dress has full-length sleeves, while the other has slightly cropped sleeves.
This sims 4 1970s dress offers 24 solid colors and 20 floral-patterned swatches.

2. Retro 70s Top for Sims 4 by Dissia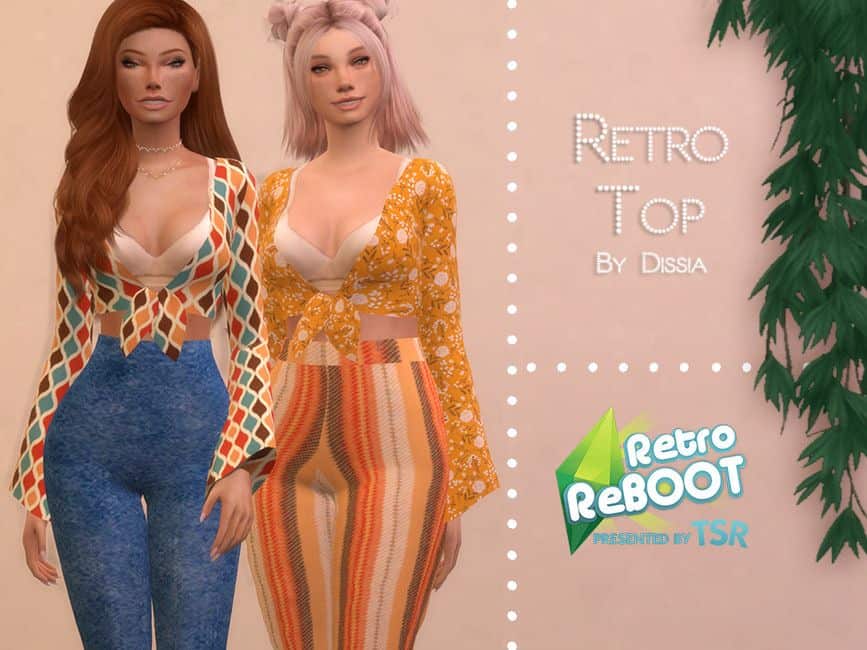 Make sure to grab this top for an everyday 70s outfit.
It's a bell-sleeved tie front wrap top that represents the disco era perfectly.
This sims 4 70s cc offers 10 beautiful swatches to pick from.

3. Sims 4 70s Flared Plants by Dissia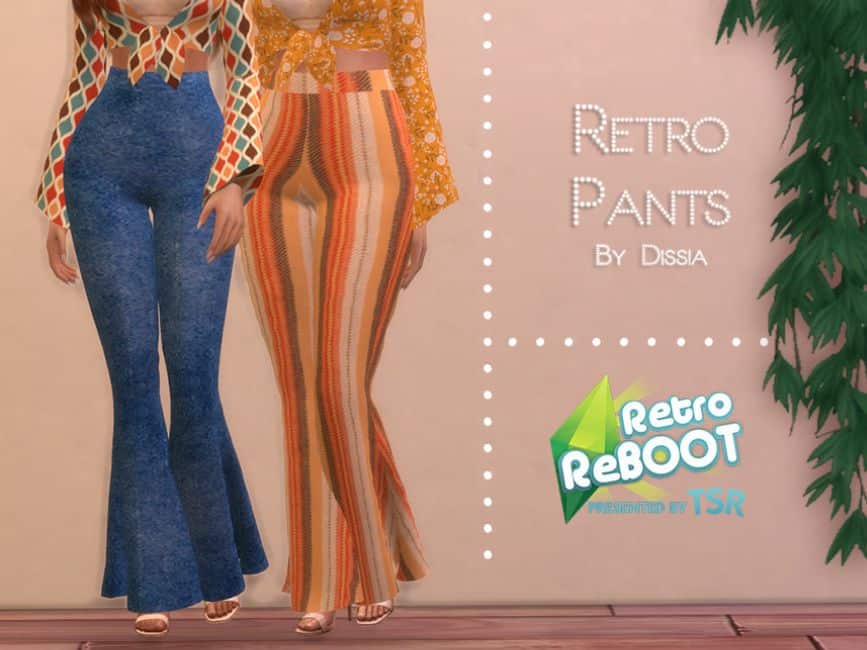 Are you looking for a retro-styled pair of pants?
Pair these groovy-looking bell-bottom pants with the matching top right above.
This look will create the perfect 1970s-style outfit for your sims women.
The pants come in nine color swatches.

4. Sims 4 Platform Shoes by Madlen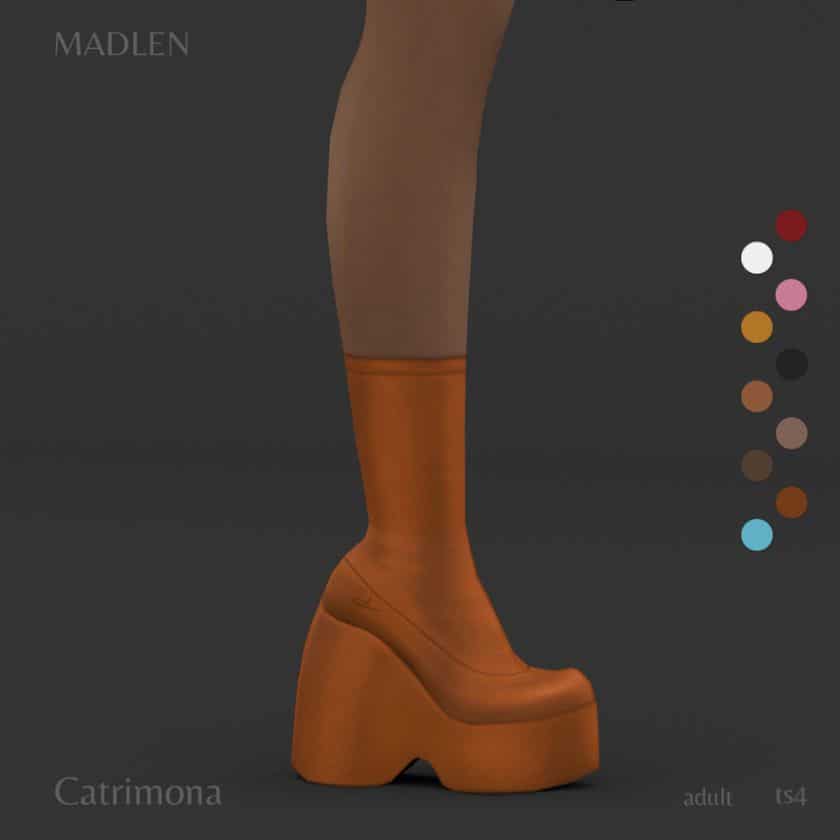 For your 70s-era footwear, you can get these gorgeous platform boots.
Theese maxis match boots were inspired by the luxurious Naked Wolfe designer brand.
These chunky-heeled boots come in 10 swatches, including various browns and other colors.

5. 70s Disco Top for Sims 4 by Goth Offspring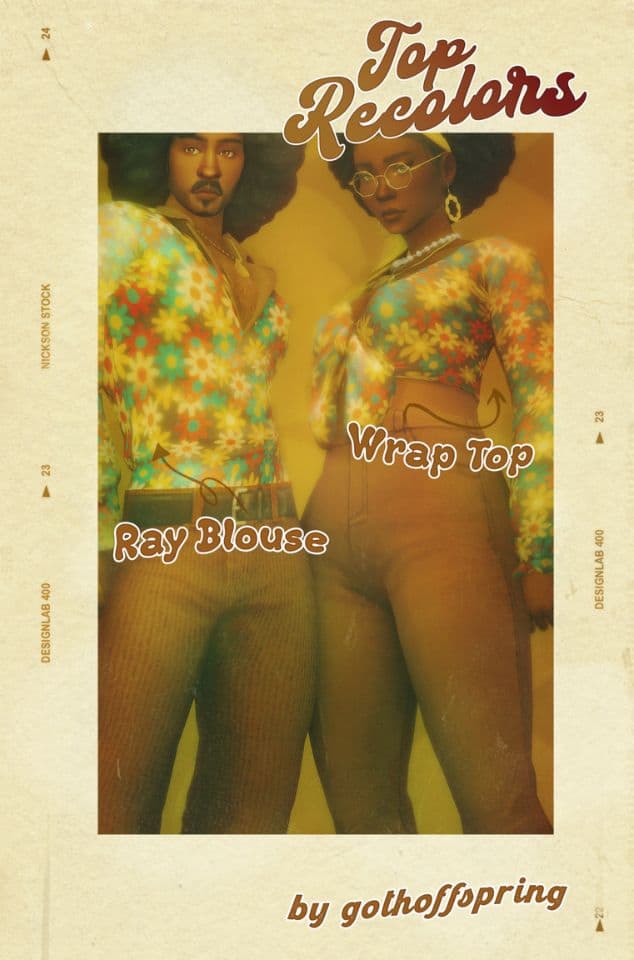 If you have a 70s couple and you want to give them a matching top, this set has got you covered.
For the men, there's the oversized-collar blouse.
For women, you have another front wrap top option.
These sims 4 70s cc each come with 16 swatches.
There are a few identical swatches for both items to create a matching couple's outfit.

6. Sims 4 Female 70s hair Set by Daylife Sims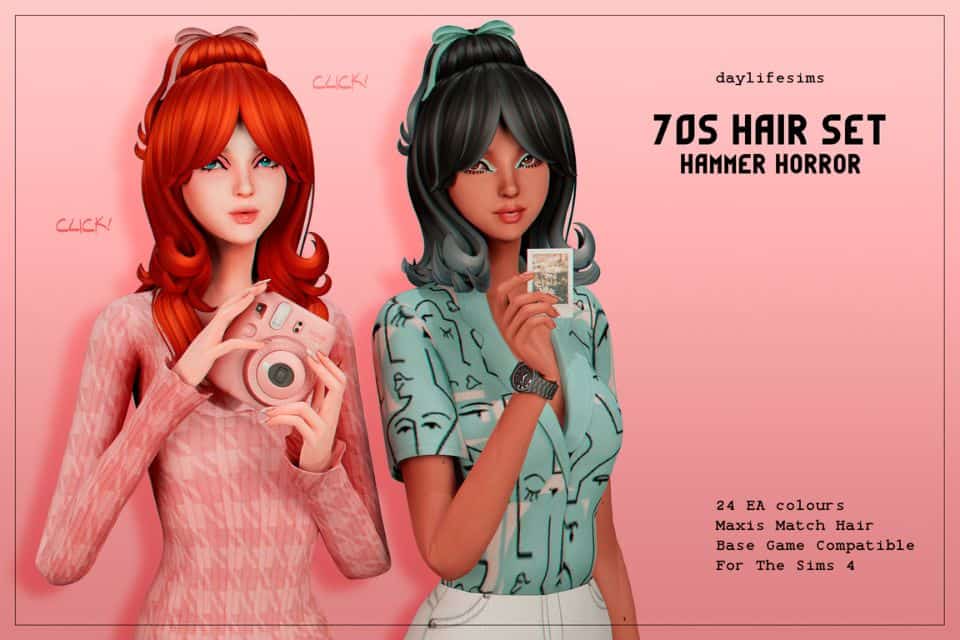 Having a 70s outfit is one thing, but you'll need a hairstyle to go with it.
There's a long and short hair version of this hairstyle, and you also get a separate bow accessory.
You can find the accessory under the Hat category with different color options.
This sims 4 1970s hair cc comes in 24 colors and is available in both HQ and non-HQ versions.

7. Sims 4 70s Party Stuff by Surely-Sims & GildedGhosts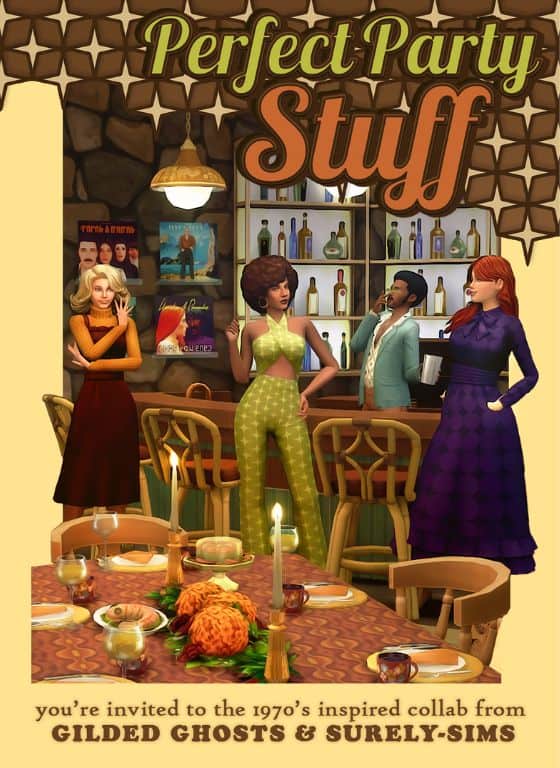 This sims 4 70s cc collection contains furniture items, outfits, and other stuff cc to style your home.
This set includes several items, such as:
Lamps
Food items
Outfits for female sims
Television set
A stereo console
Vinyl discs
And more
Since this set is a collab of two creators, you'll need to download from both pages to get all the custom content.
Note that a couple of items require specific stuff or expansion packs in order to work.
8. Sims 4 70s CC Roller Skates by Dissia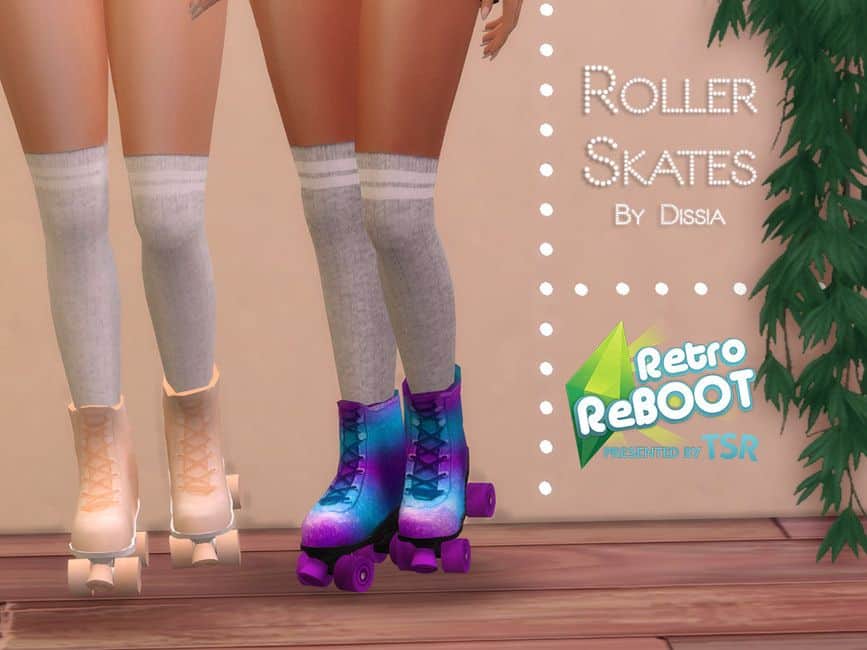 Take your sims disco skating with these cool retro-styled rollerskates.
They come in various colors for the shoe and wheel parts.
Pair them with a long pair of sporty socks to complete that 70s look.

9. 70s Retro Radio Set by ArwenKaboom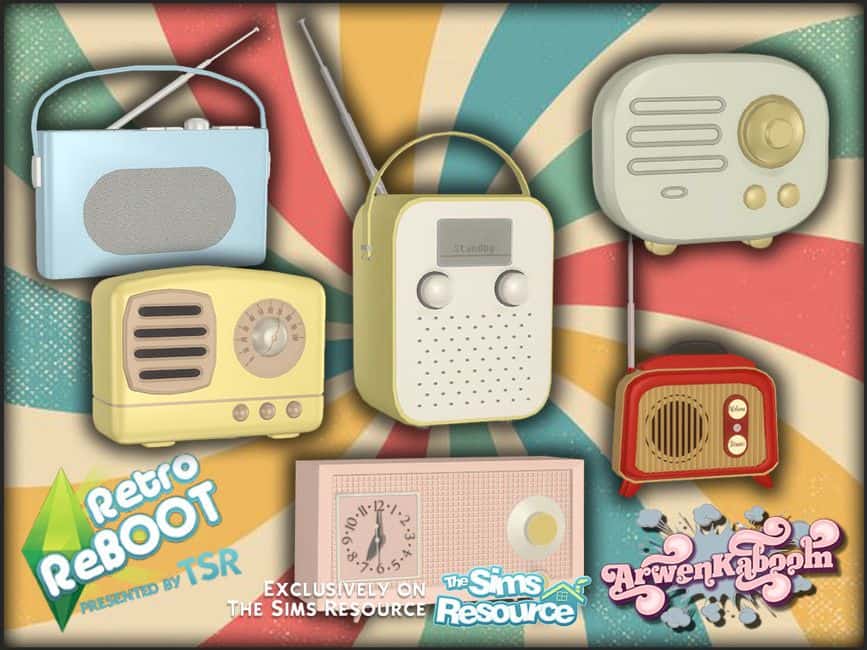 To decorate your 1970s home, you'll need a bunch of items from the era.
This sims 4 70s cc is for decorative clocks, which come in 6 retro-styled designs.
It's a great object to place in any room of your sim's home.

10. The 70s Inspired Female Swimsuits by Pixelette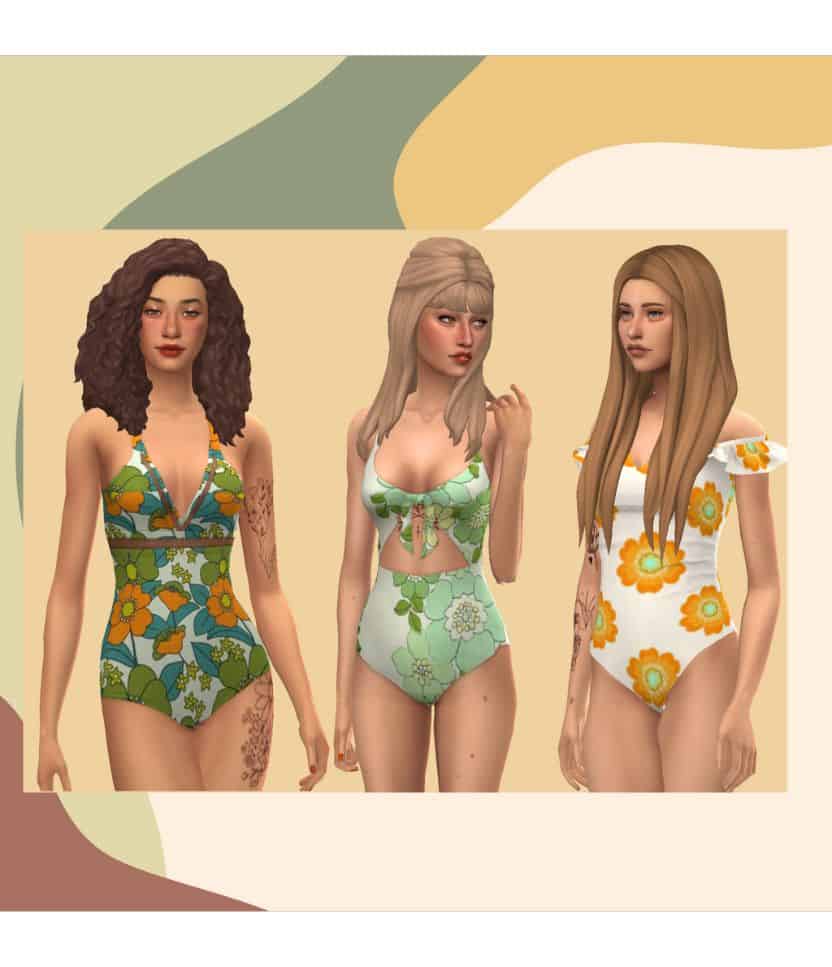 For those hot summer days by the pool, your sims can wear these stylish 70s swimsuits.
This retro-styled cc pack includes four swimwear designs that come with a choice of 18 vintage swatches.

11. Sims 4 70s Bohemian Set by Jolibean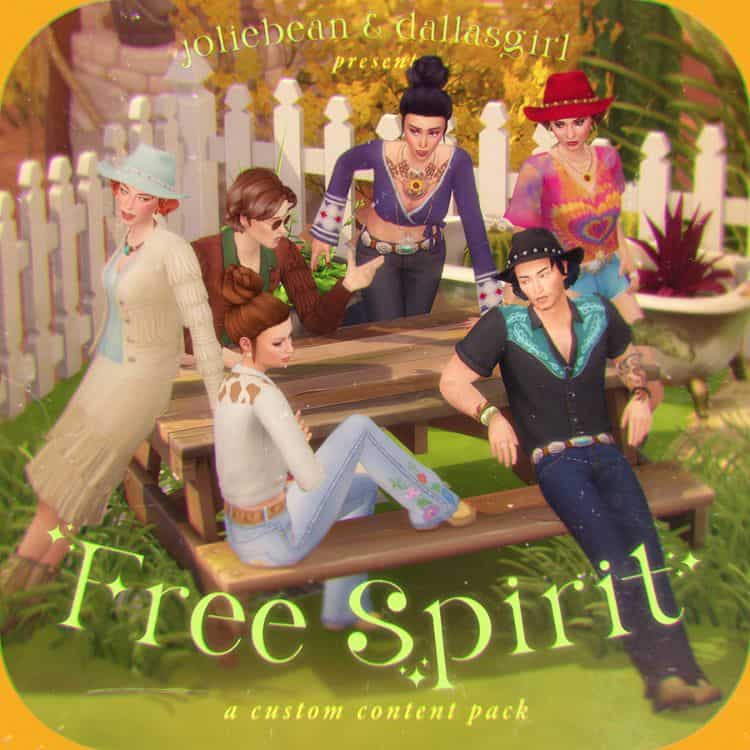 This custom content pack for the 1970s contains 12 pieces of clothing for your free-spirited sims.
These sims 4 70s cc pack includes a bit of everything for male and female sims.
You get a few tops, bottoms, hats, and hair options.
A few of these items work for both frames. Groovy!

12. 1970's Toddler Dungarees by InfinitePlumbobs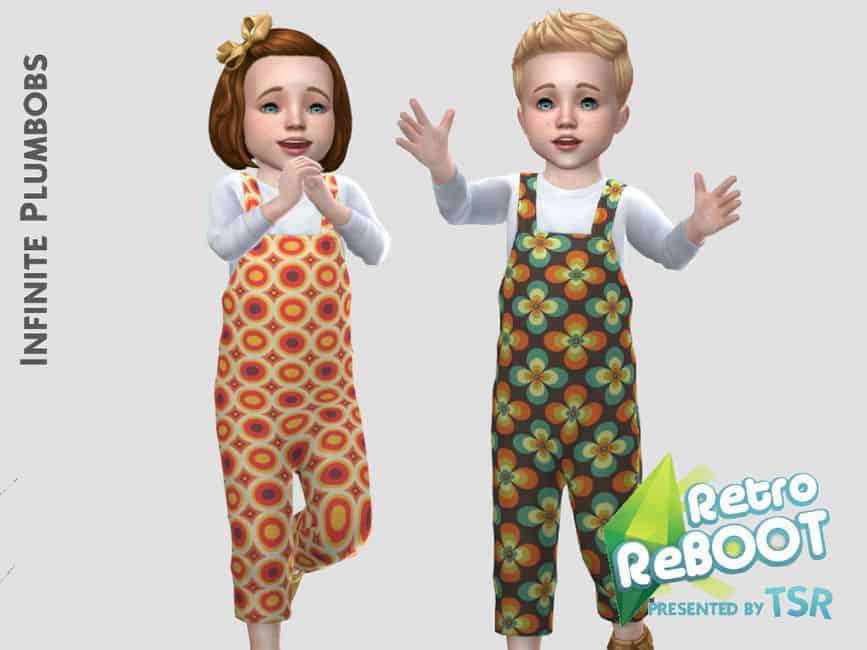 This custom content requires The Sims 4: Toddler stuff pack to be installed in your game.
If you're looking for 70s clothing options for your toddlers, this dungaree piece
is too cute to pass up.
This little outfit comes in three patterned swatches and works on both frames.

13. Female Sims 4 70s CC Top by Belaloallure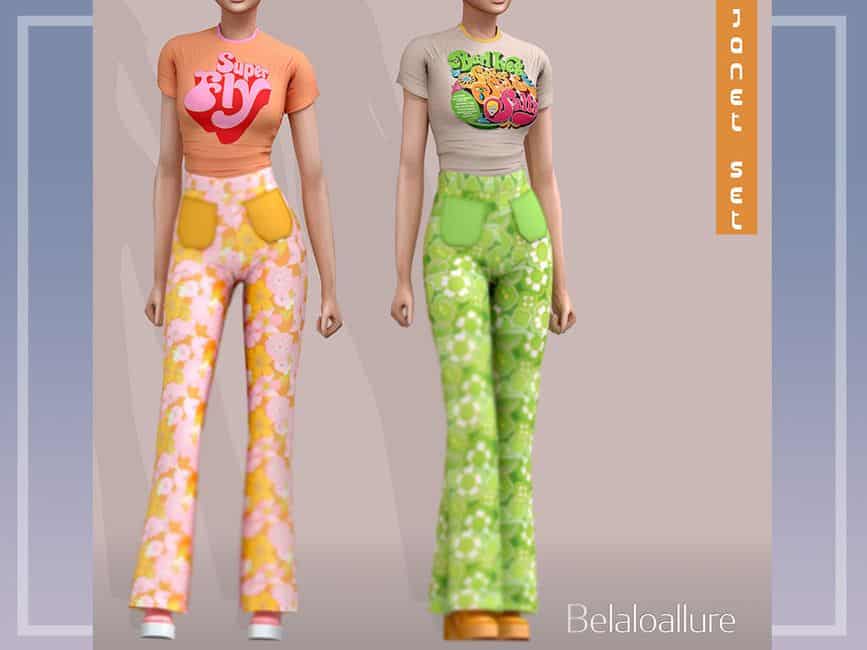 This sims 4 70s cc is for a rad-designed tee shirt for your sim women.
This 70s-looking top has 10 designs to pick from, and it will look amazing for your sims' casual wear.
You can complete the outfit by getting the matching pants here.

14. Retro 70s Kids Long Vest by Pelineldis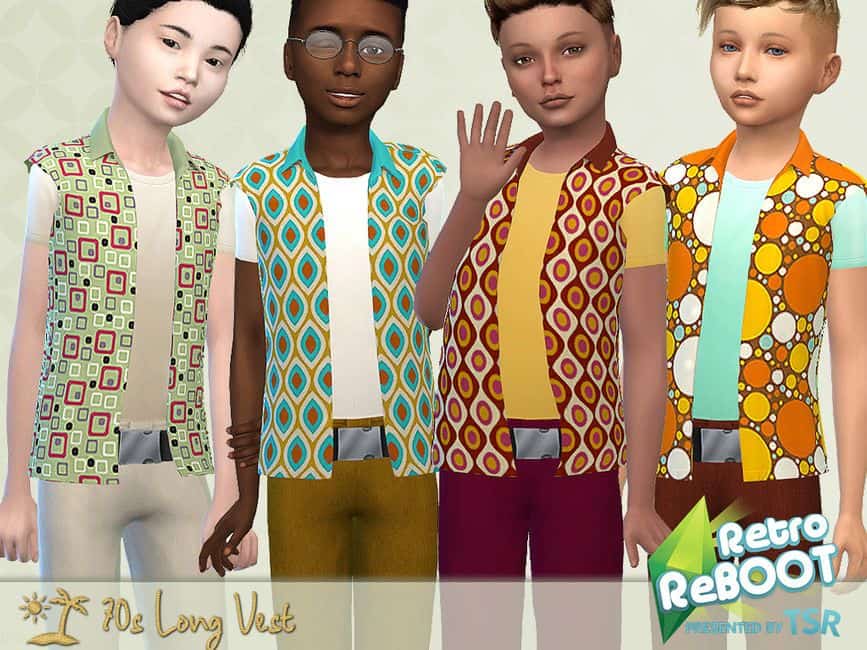 This custom content requires The Sims 4: Island Living expansion pack to be installed in your game.
A cute 70s option for your sim kids is this groovy long vest.
It's a good option for both genders and comes in four patterned swatches.

15. Sims 4 Mens Abstract 70s Top by Busted Pixels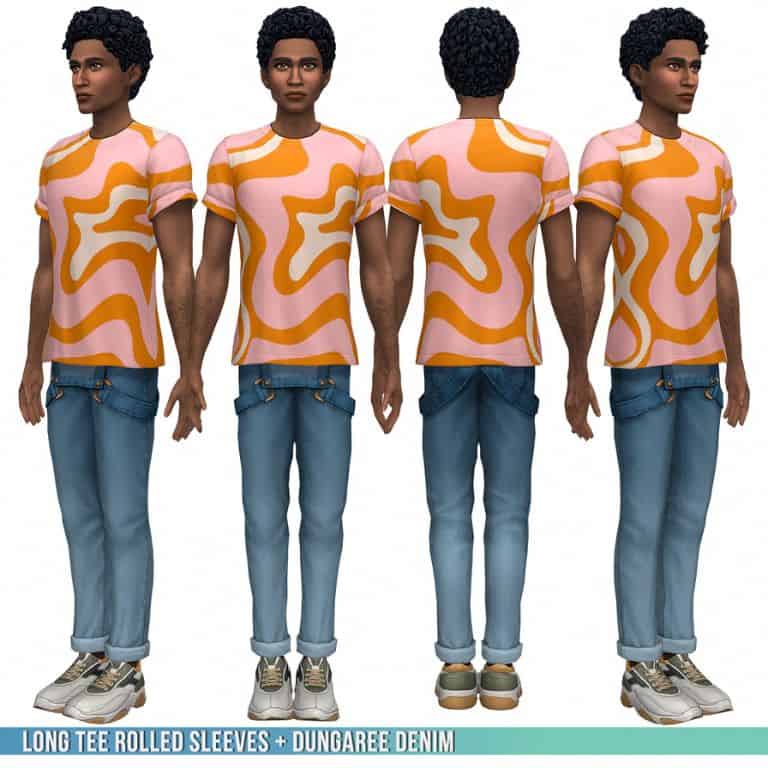 This set of male clothing features two tops and two bottoms.
Your male sims can sport the longer layered tee or the standard length version for the tops.
As for bottoms, you get a pair of cuffed jeans and a denim dungaree.
What makes this set 70s-worthy is the patterned swatches for the tops.

16. 70s Female Fro Hair CC by CandySims4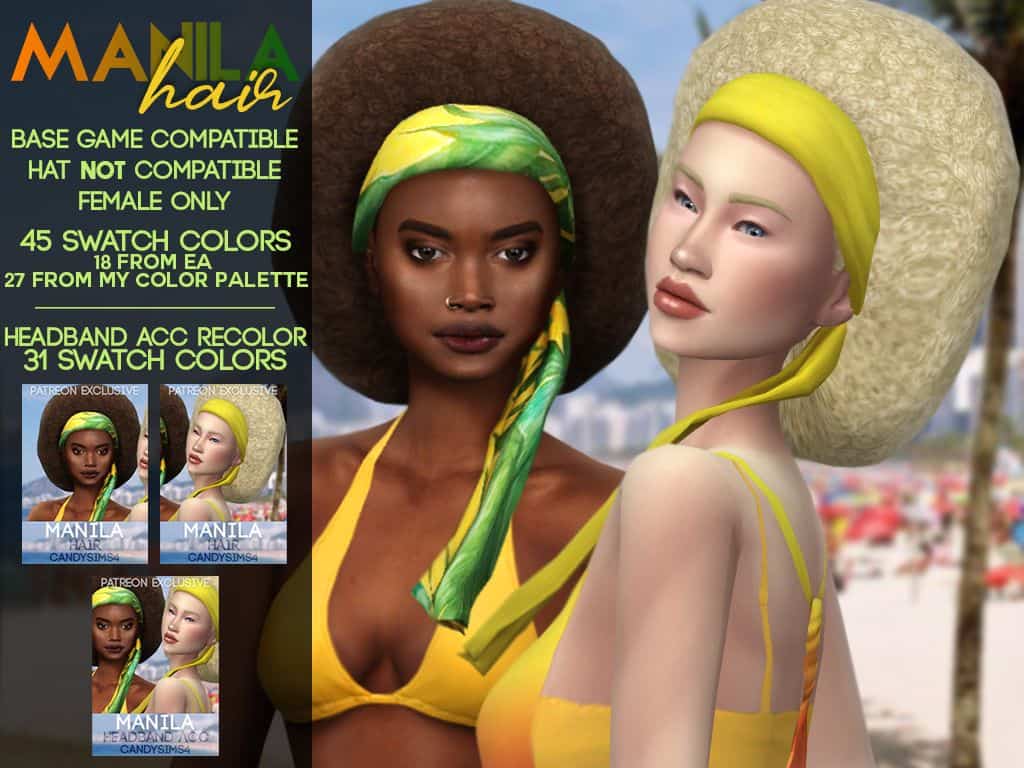 A popular hairstyle during the 70s era is the fro hairdo.
This sims 4 70s cc comes with a headband accessory that has several swatches to choose from.
You'll find this accessory under the Hat category.
As for the hair itself, it comes in 45 swatch colors, which includes EA's 18 default colors and 27 non-default ones.

17. Retro 70s Female Jumpsuit by Pixelette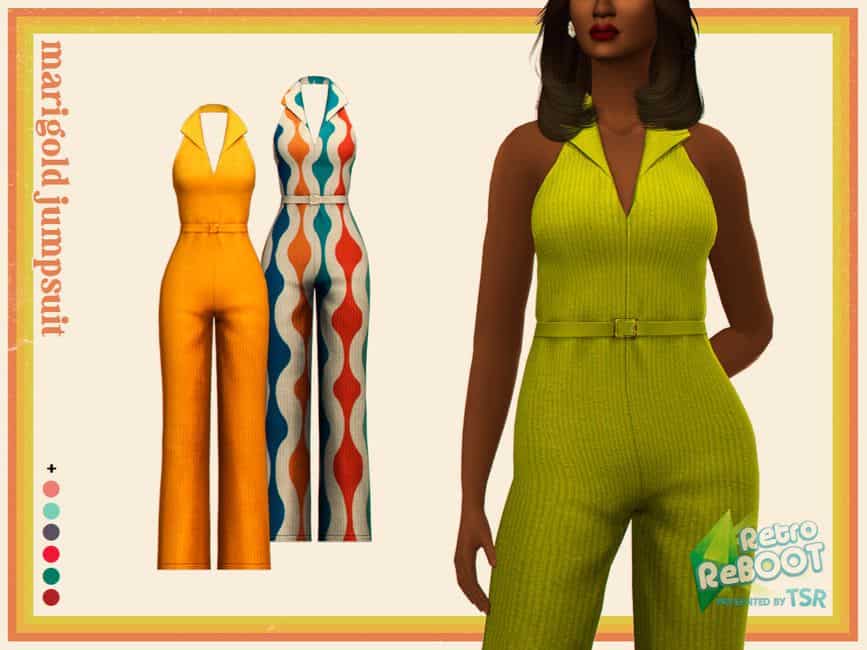 You can't have a 70s wardrobe without including a trendy jumpsuit.
This one-piece suit comes in 28 swatches and features a halter design, which is great for that disco fever.

18. Sims 4 Kids 70s Top by Pelineldis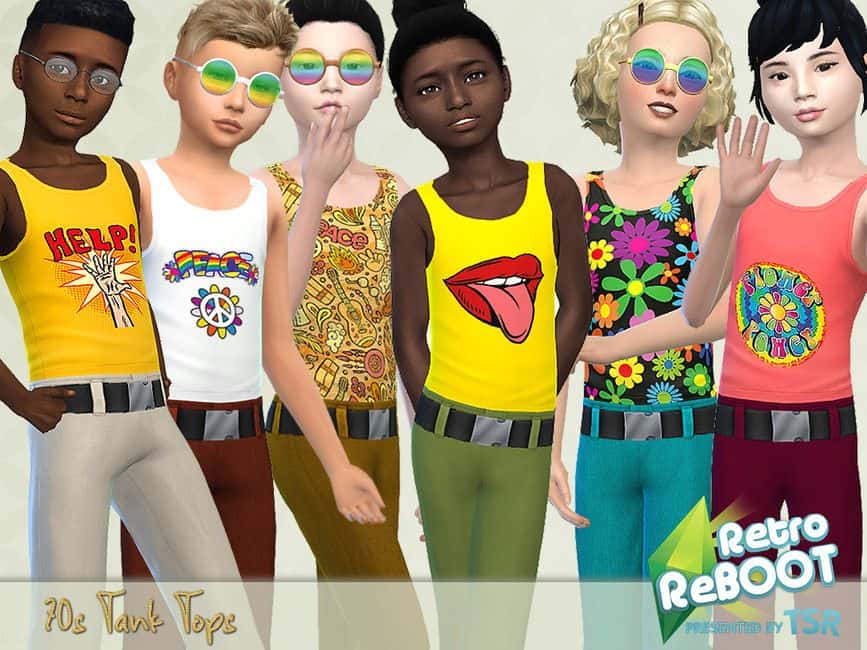 Another cool clothing option for your sims kids is this set of tank tops.
There are six 70s designs to pick from, which work for both your sim boys and girls.

19. Men's Hippy Pants by McLayneSims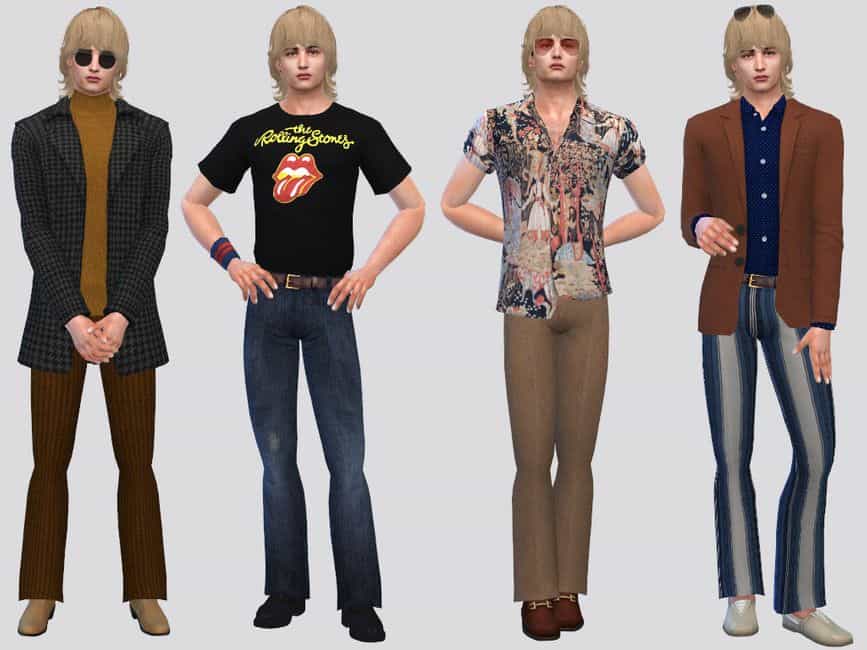 Your 1970s male outfit can't be complete without the popular hippy pants.
This sims 4 70s cc is for flare-leg pants for your male sims.
They come in 10 amazing swatches and would go well with any 70s-inspired top you choose.

20. Sims 4 1970s Flower Skirt by Ridgeport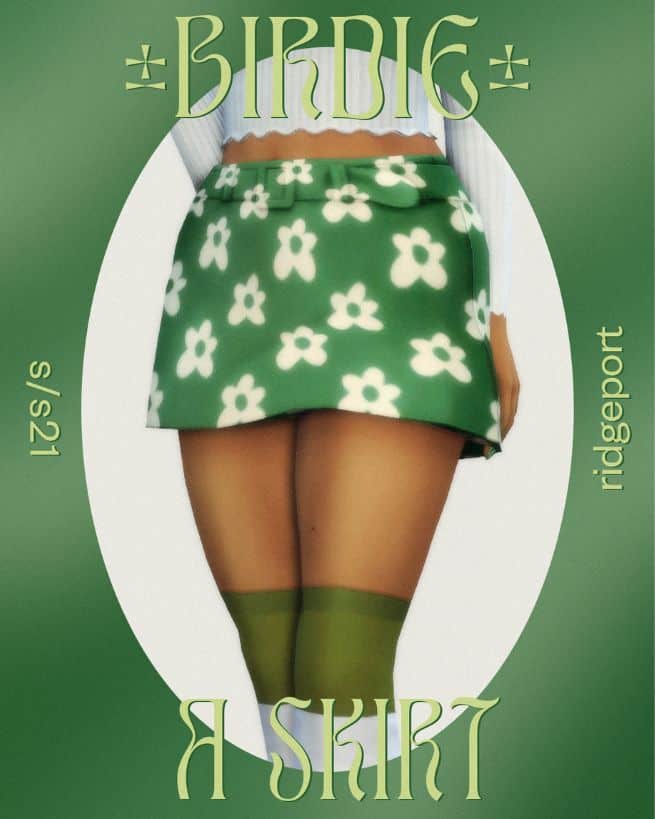 Get this cute skirt cc for more 70s bottoms ideas for your female sims.
It comes in 25 solid colors or 20 lovely patterns.
Pair this skirt with a pair of long socks and a flared-sleeve top, and you got yourself a great-looking 70s outfit.

21. Sims 4 70s Knee-High Boots by Jius-Sims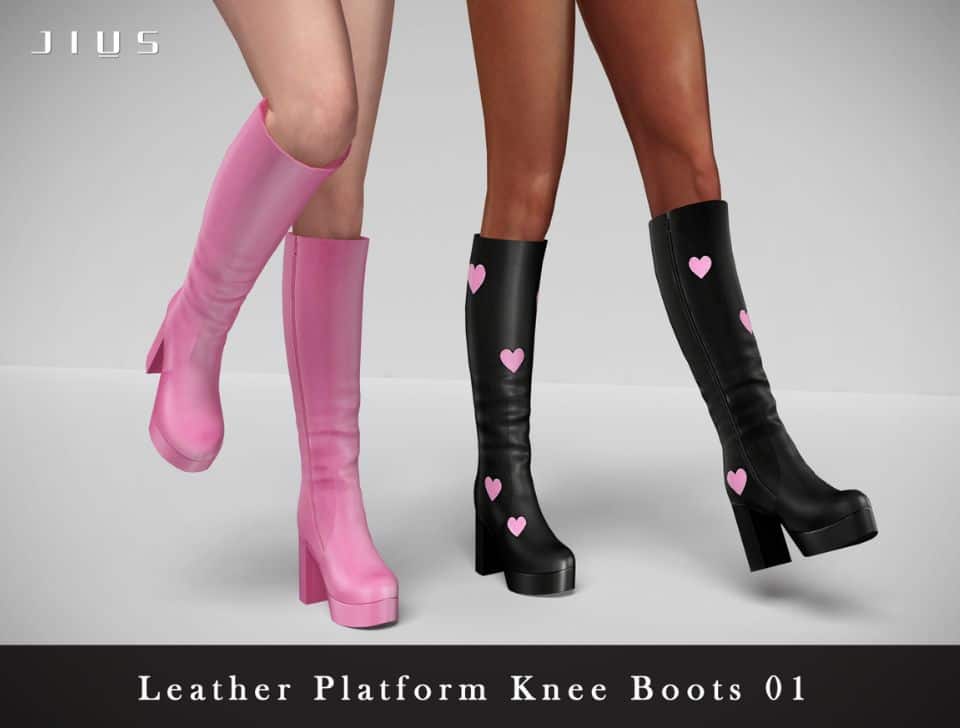 This pair of long-platform boots would be an excellent addition to any 1970s outfit.
These leather boots come in 12 colors, having four of them in black with different colored flowers to them.

22. Sims 4 70s Workout Outfit by Dissia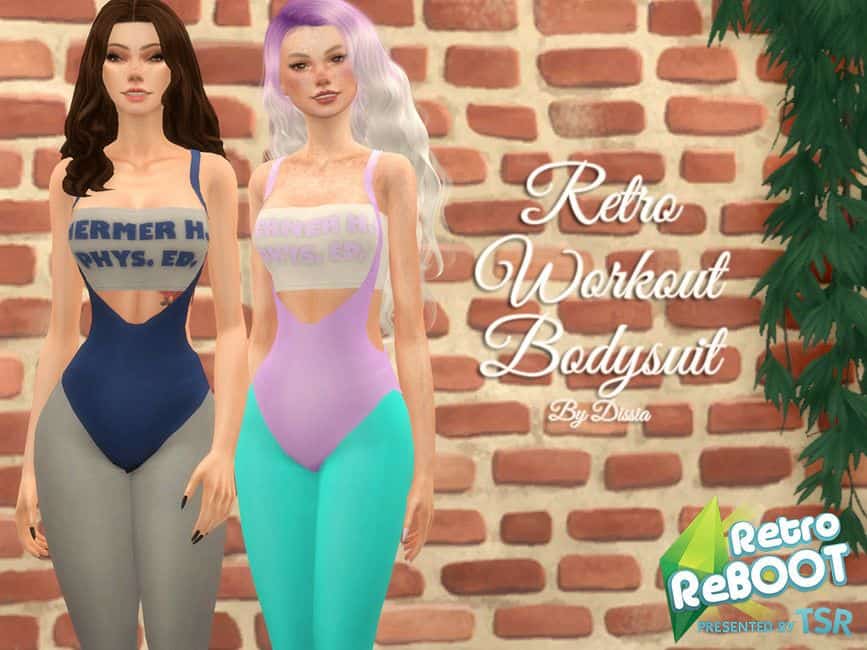 Snag this 70s retro workout bodysuit for an active sim on the go.
This bodysuit comes in 36 swatches, so there is plenty of variety.
You can also get the matching leg warmers which come in two lengths right here.

23. Sims 4 70's TV Console by Surely-Sims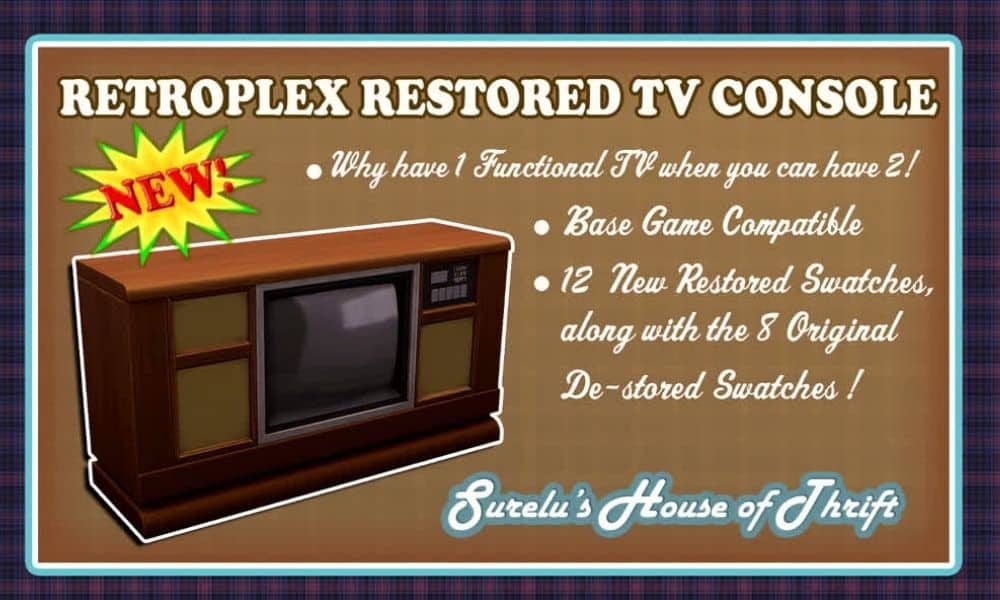 How can a 70s home be without a large TV console in the living room?
This item was inspired by The Sims 4: Basement Treasure Kit.
But, unlike the TV included in that pack, this one was made to be functional.
It comes in 20 swatches, including some vintage wooden tones.

24. Girls Flower Top & Skirt Set by Pelineldis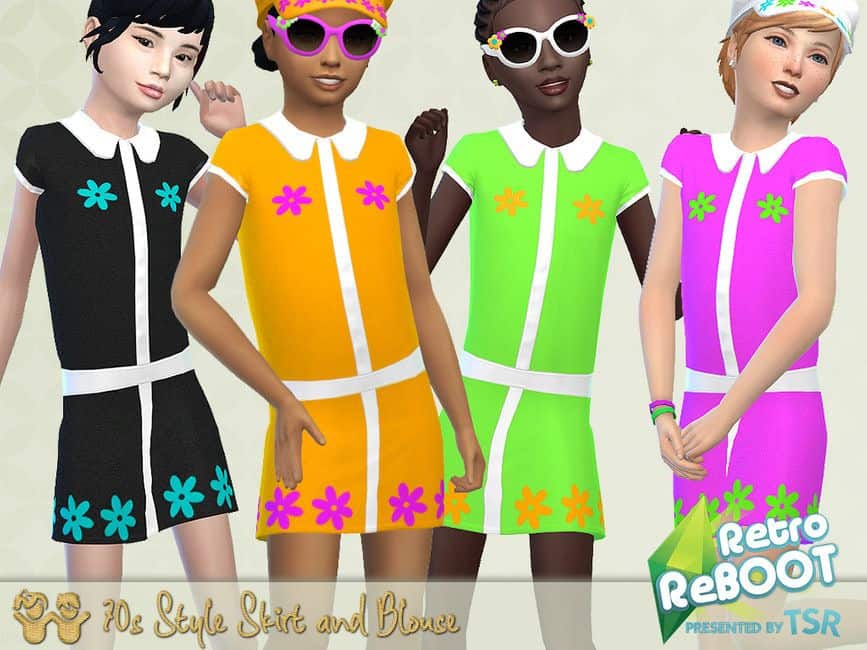 The blouse cc requires The Sims 4: Kids Room Stuff pack to be installed in your game.
This sims 4 70s cc pack includes a complete outfit for your kids with this skirt and matching top.
Each piece has the same four color swatches.
These bright colors with flower designs make the perfect look for these free-spirited sim kids.

25. 70s Summer Flow Pack by Jolibean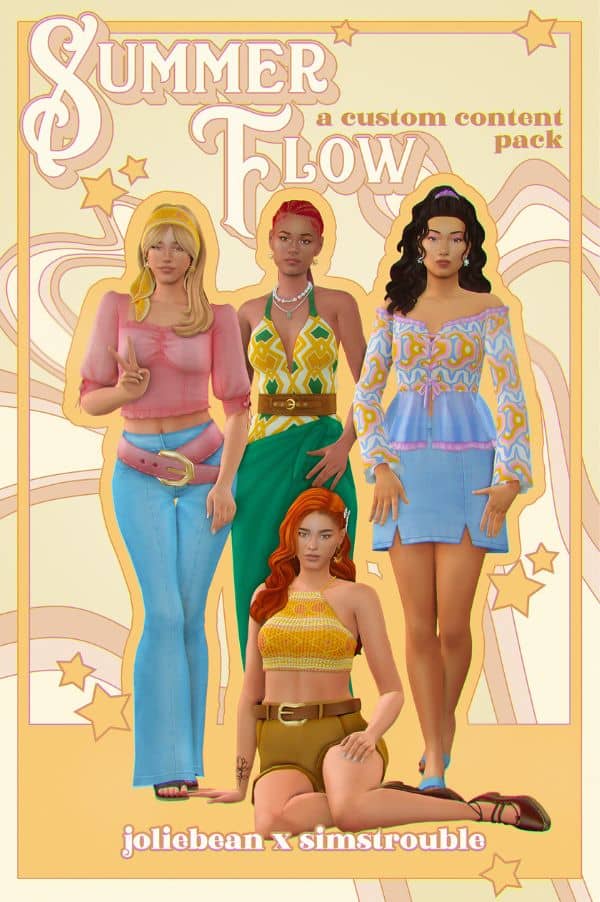 The flower power movement has never looked this good with this 1970s-era cc pack.
The collection has incredible items like patterned fabric clothing, flare pants, headbands, and other accessories.
This sims 4 70s cc pack is an excellent find for anyone looking to complete their outfits with gorgeous era-specific items.
Since this is a collab, check out both creator's pages for the complete set.

26. Sims 4 70s Date Night Set by Kamiiri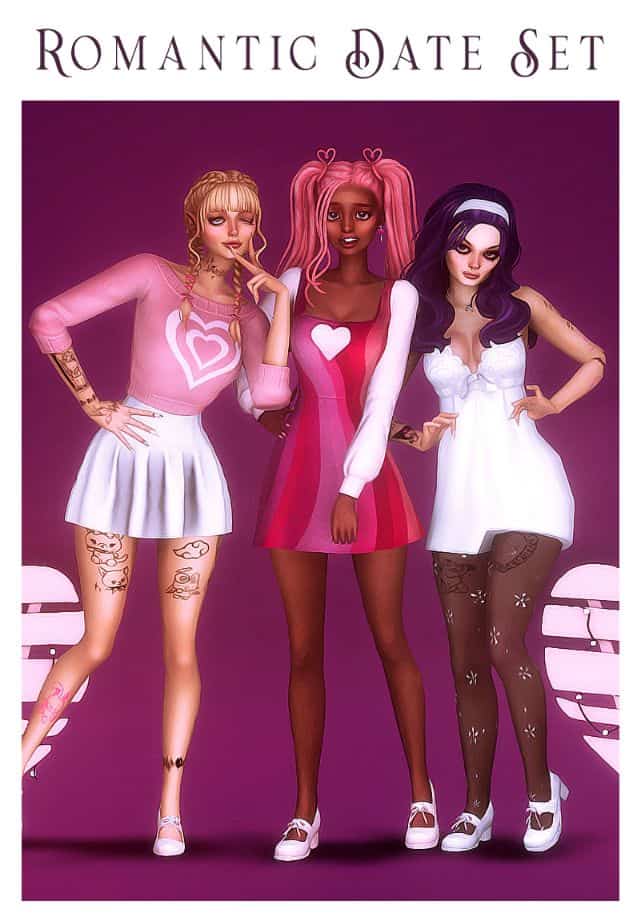 This set of clothing cc fits well in the disco decade with its heart-shaped patterns to promote peace and love.
You get many items like tops, dresses, hair, accessories, etc.
Each cc has many swatches ranging between 12 to 39 colorful options.

27. Sims 4 Mens 70s Suit by Marigolde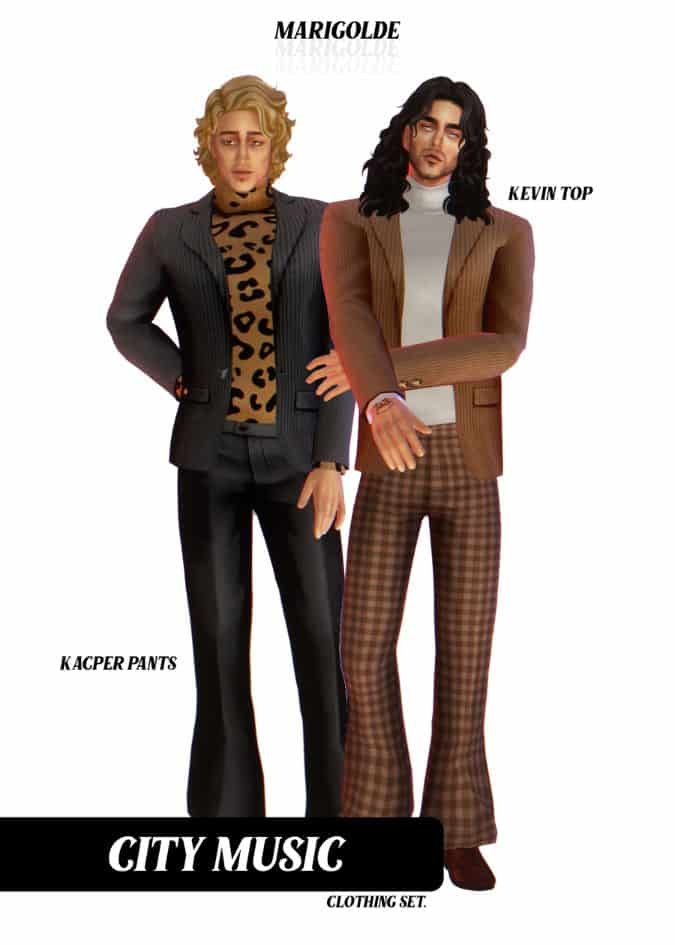 Polyester suits were super popular in the 1970s, and this male set is the perfect addition to your sims 70s wardrobe.
This set has three pieces: the pants, the suit jacket, and the turtleneck overlay.
There are between 16 to 20 swatches depending on the clothing piece.

28. Sims 4 70s CC Pack by Ice-CreamforBreakfast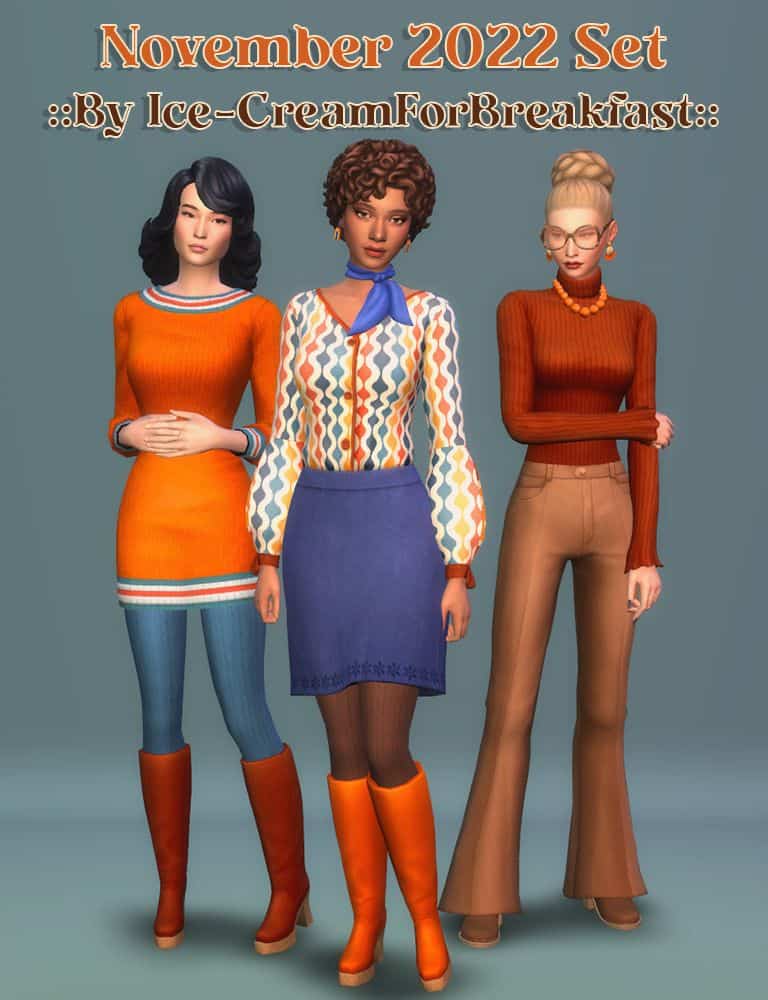 This sims 4 70s cc pack is one of my favorites.
It includes a great mix of 70s-inspired clothing for your female sims, including;
A dress
Tops
Skirt
Flared pants
Boots
Glasses
Accessories

29. 70s Retro Reboot Jumpsuit by Laupipi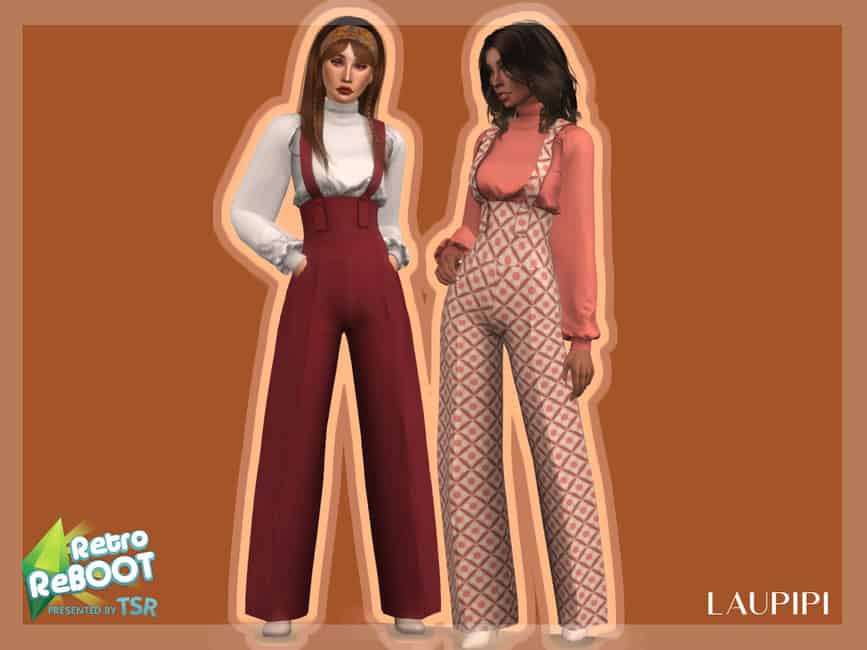 You can always do with more jumpsuits for your sims, and this two-piece style is trendy and workplace appropriate.
This 70s retro jumpsuit has 28 swatches, so your sims will always have enough colorful options.
Sims 4 70s CC: Final Thoughts
We hope you've liked this list of sims 4 70s cc items we've gathered for you.
If you're into the whole 1970s era or simply doing the decades challenge, you'll need a bunch of cc for that time period.
Whether it's to furnish your sims home with a 70s tv console or style them in 70s flared-style tops or pants, you've got it.
This list has set it all, so be sure to grab a few pieces of custom content.
If you have any questions or suggestions, feel free to leave us a comment below or tag us on Tumblr.
Other Sims 4 Custom Content Lists

And don't forget to share and save this pin for later!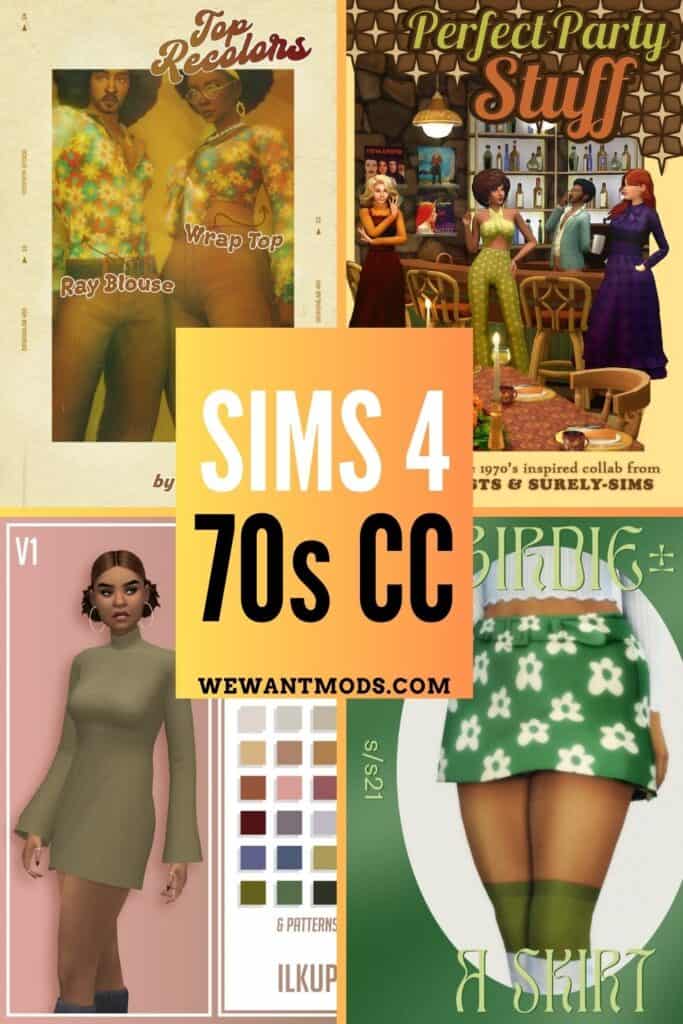 27+ Sims 4 70s CC: Get Your Sims Grooving