23+ Sims 4 50s CC: Travel to the Fabulous 1950s
Relive the mid-century era through this fabulous collection of sims 4 50s cc.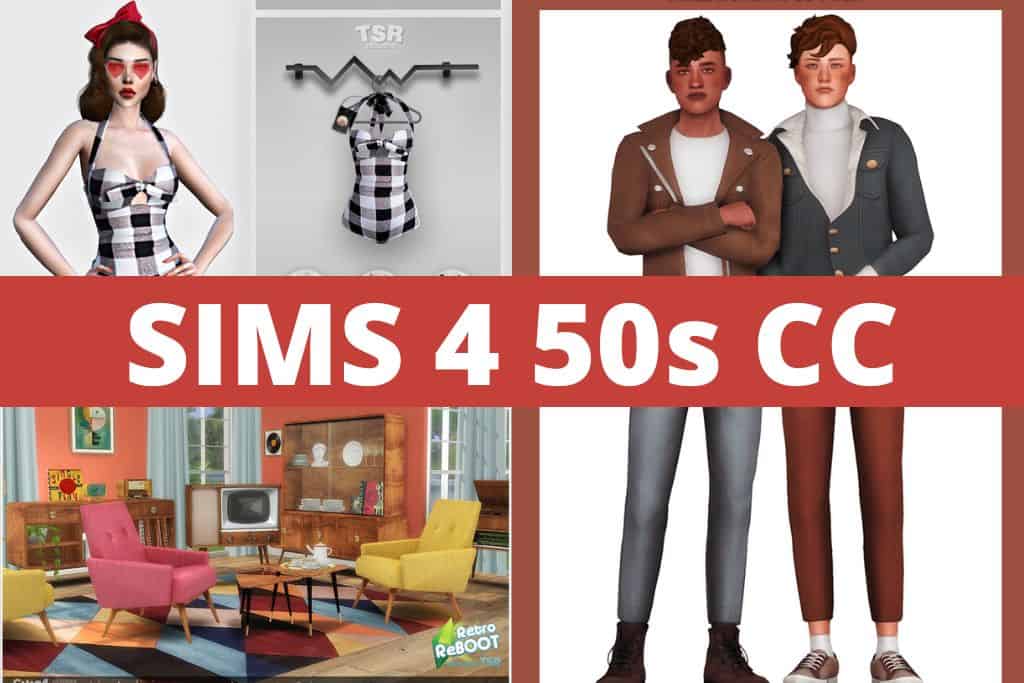 The 1950s was the golden age when working men wore suits and women modeled form-fitting and tea-length dresses.
And we can't forget the younger generations enjoyed leather jackets, slick hairstyles, and rock n' roll music.
We rounded up a great list of sims 4 50s cc that will help you find the perfect pieces to complete your sims' mid-century looks.
For more decade-specific custom content lists, we also have these periods covered in the following posts:
Disclaimer: The following mods are neither endorsed nor affiliated with The Sims, Maxis, or Electronic Arts. Any use of mods (custom content or game mods) should be done with caution and with the knowledge that there may be risks.
Vintage Sims 4 50s CC
Check out this list of items for time period accuracy, such as 50s clothes, hair, furniture, and other 50s finds.
1. Sims 4 50s CC Dress by Satterlly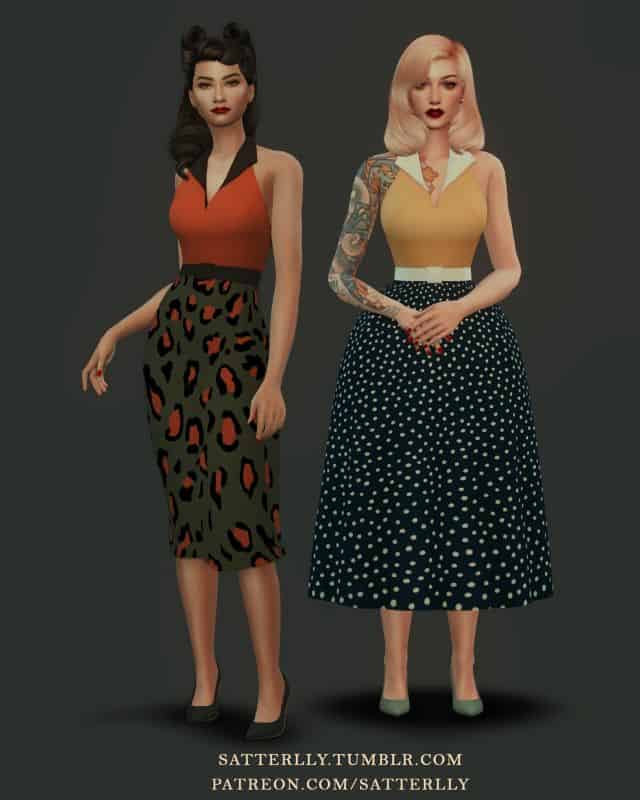 Dress your sims to fit in the 50s with these two dress options.
Both dresses feature a halter top design.
For the bottom portion of the dresses, you have the option of either a bodycon or a drop-waist-type.
As for the color options, there are 45 swatches to match any taste.

2. Sims 4 50s Hairstyle by SimCelebrity00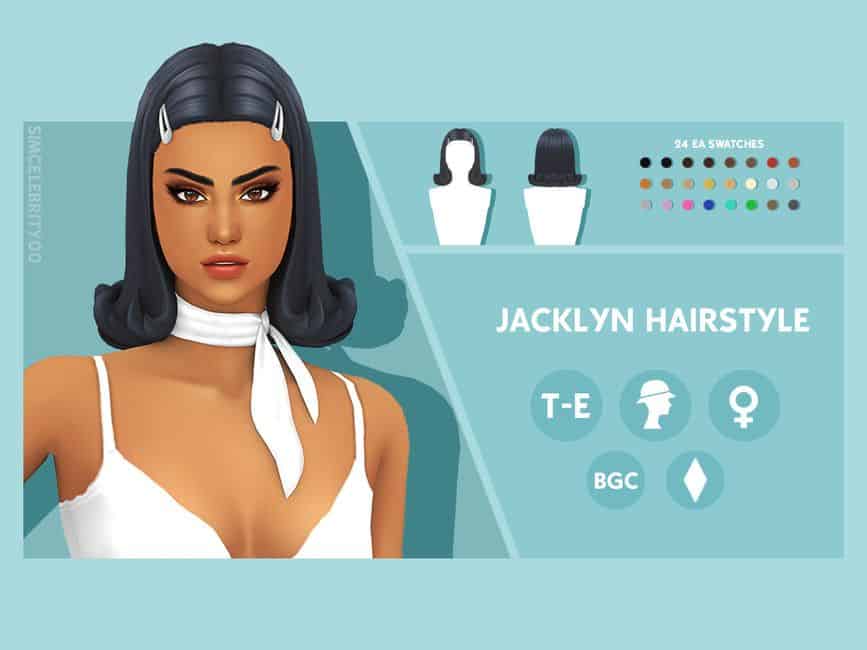 Grab this cute 50s maxis match hairstyle to complete your sims' look.
This sims 4 50s cc is hat friendly and available in 24 default color swatches.
Any female sims aged teen and up can get this hairstyle with two hair clips at the front.

3. 50s Living Room CC Set by Severinka_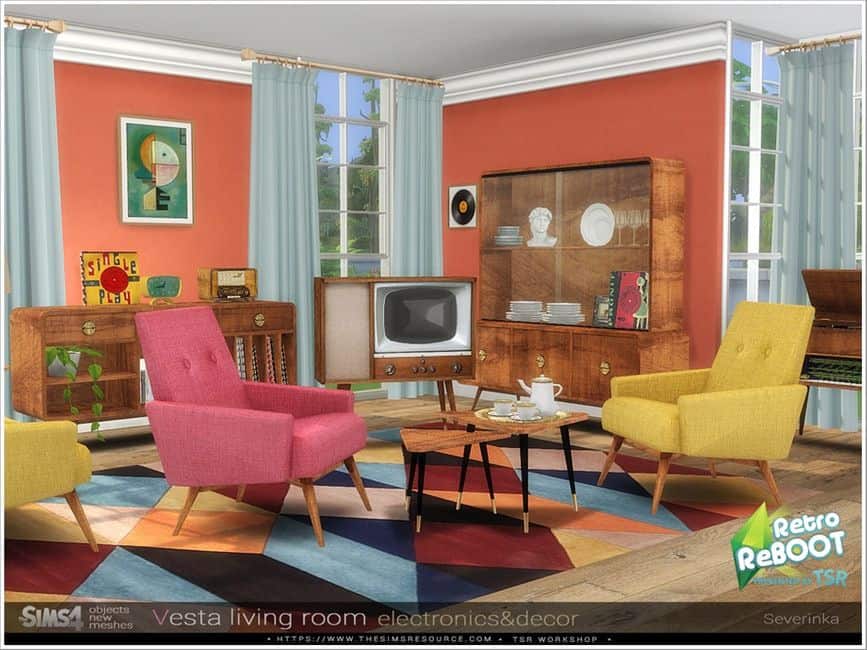 This set of sims 4 50s cc includes nine items to furnish your household's living room.
You'll get a good number of objects, such as:
TV set
Rugs
Radiola
Retro radio
Vinyl posters
Other wall arts
Three vinyl pack clutter items
These items would look great in any 50s-styled living room.

4. Sims 4 50s Shoe CC by Birba32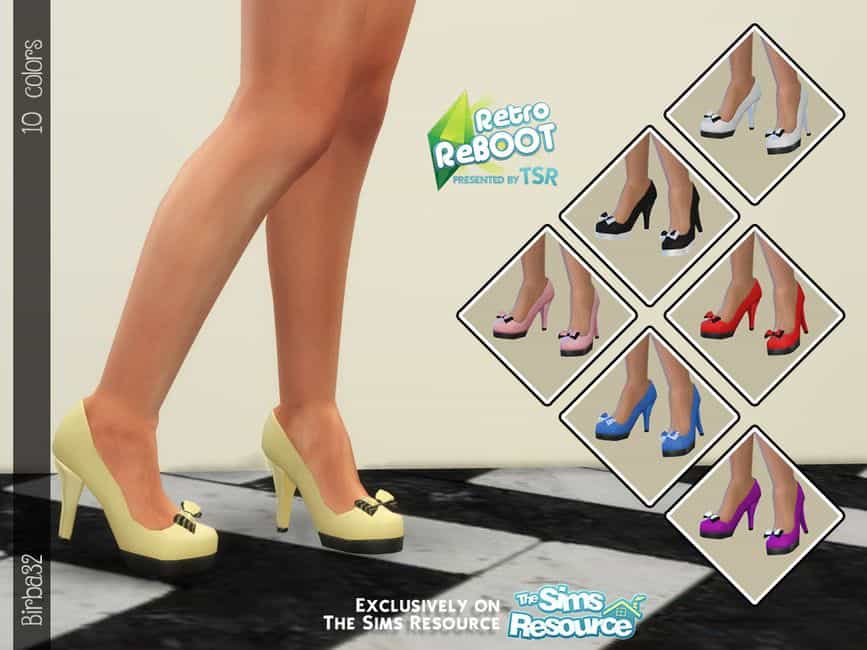 These pumps are a must-have if you're looking for shoe options to complete your 50s outfit.
These shoes are available in 10 colors and are so cute with their bow details on top.
Pair these pumps with a lovely dress or skirt, and your sims are ready to go.

5. Rockabilly Dress CC by MysteriousOo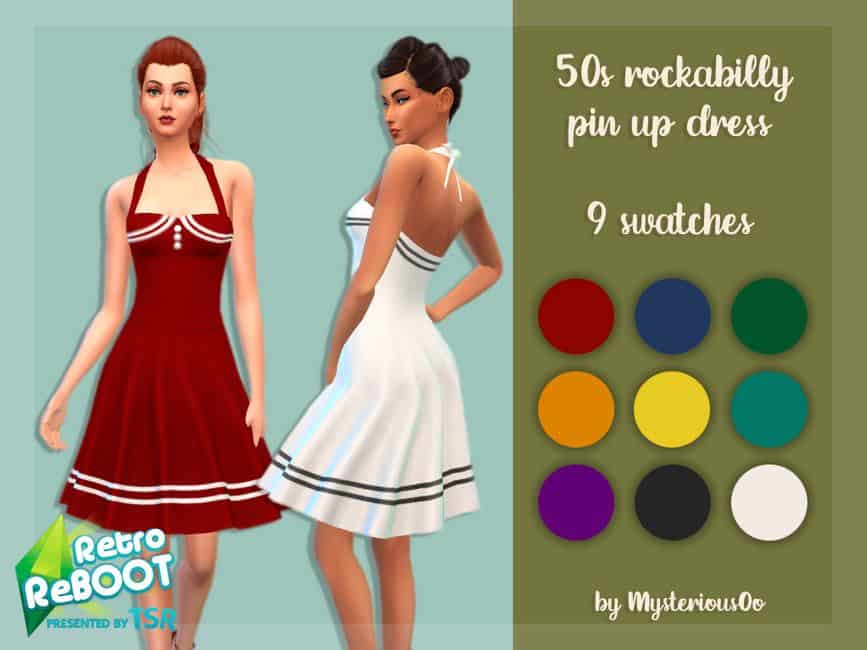 Dress your sims in this short rockabilly pin-up dress for a night into town.
This striped halter dress comes in nine color swatches, perfect for your sims party wear.

6. 50s Lipstick CC for Sims 4 by ChèreIndolente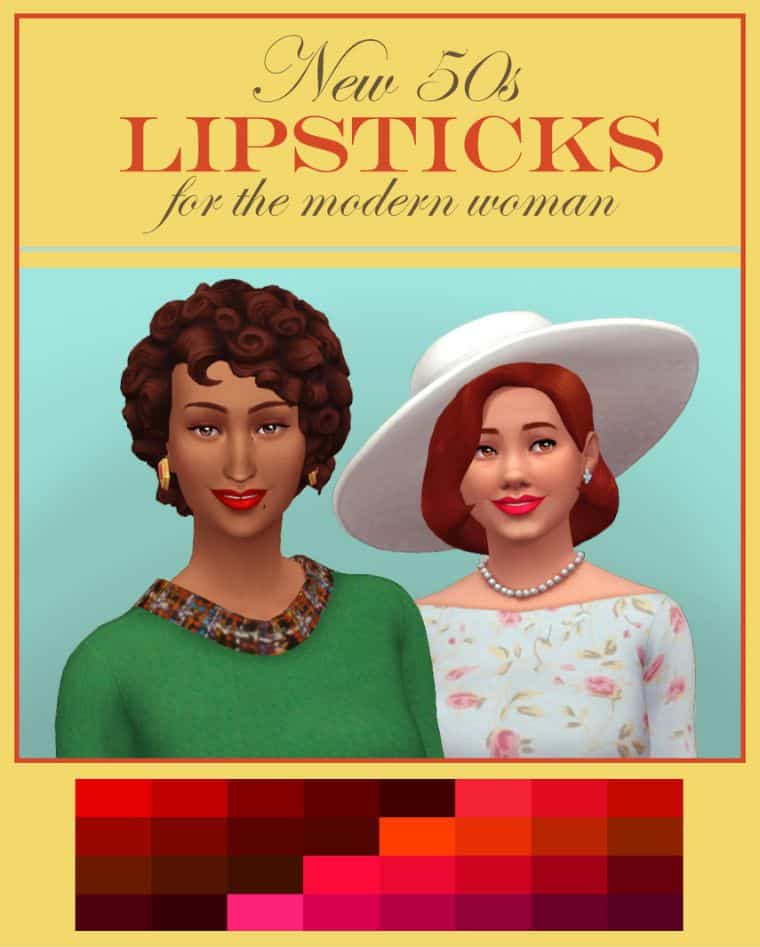 This sims 4 50s cc is for two lipstick styles.
The Grace lipstick type is a classic look that goes a bit over on the bottom lip with a slight emphasis on the cupid's bow.
The Jayne lipstick style has a more rounded lower lip with a more defined cupid's bow.
These two 1950s lipsticks have 32 shades of gorgeous reds to pick from.

7. Off-Shoulder Dress for Sims 4 by TrudieOpp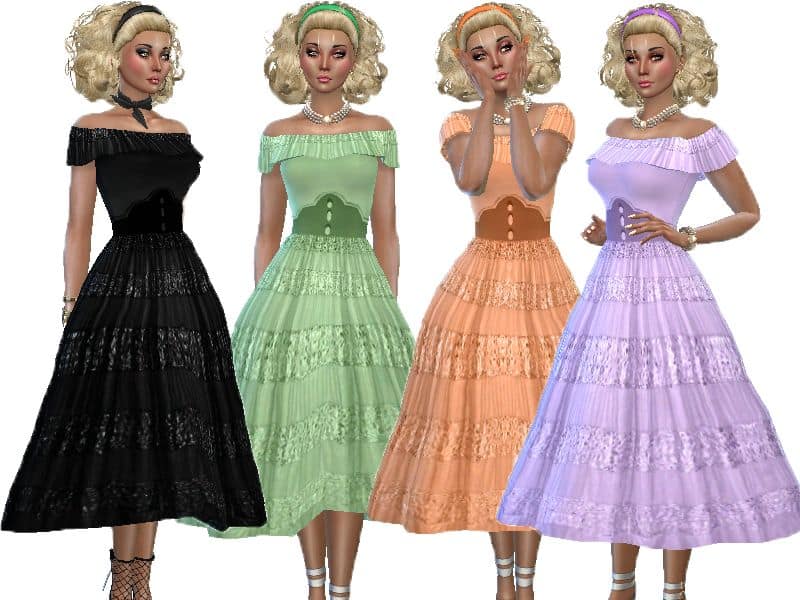 This off-shoulder dress with a full skirt is perfect for some Grease-like dancing.
The dress is beautifully textured and available in eight colors.

8. Sims 4 Polka Dot Dress CC by Satterlly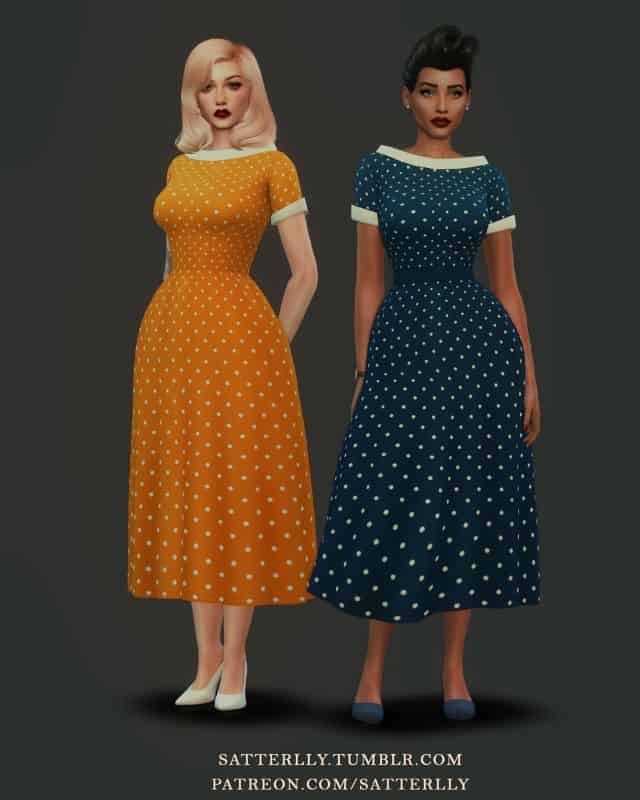 You can't have a complete 1950s wardrobe without a polka dot patterned dress.
This sims 4 50s cc includes two identical dresses except for the added belt on one of them.
This adult-exclusive dress has 45 swatches, all sharing the retro polka dot style.
These dresses are also enabled for aliens and vampires.

9. Upto 1950s Hairstyle CC by Birksches Oldstuff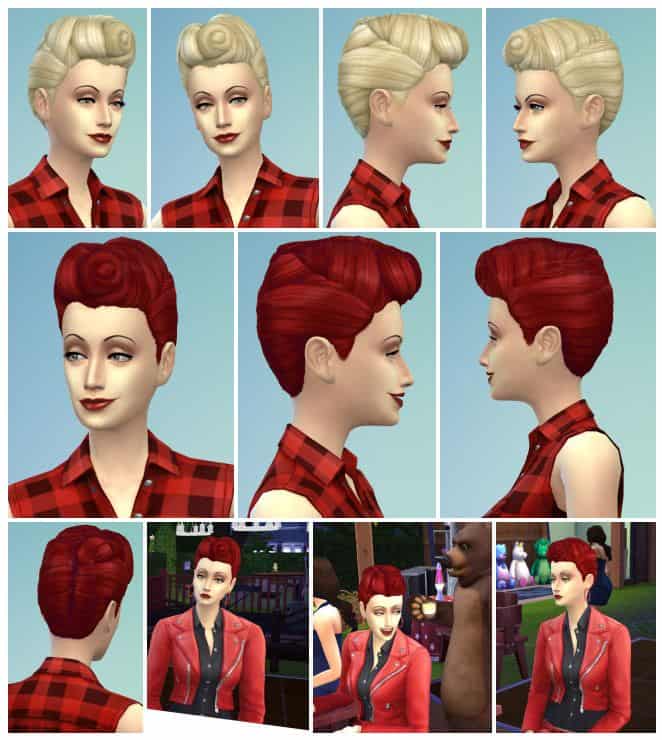 This 1950's updo is giving Elvis vibes all the way.
With its large voluminous curl at the front, this 50s hairstyle is perfect for your female sims ready to hit their local dinner for a milkshake.
The sims 50s cc hairstyle comes in EA's 24 default colors.

10. 1950s Dinner & Cinema Lot by Mini Simmer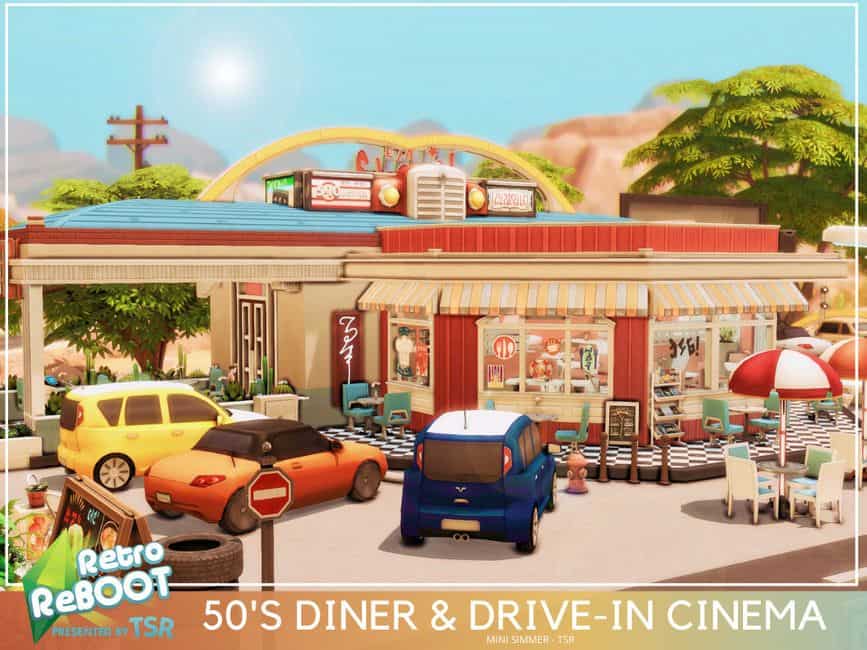 Speaking of diners, are you looking to add some 1950s buildings to your neighborhood?
If that's the case, get this retro-inspired diner and drive-in cinema lot combo.
This lot will fit into any land that's 40 x 30 in size.
Note that this lot uses multiple packs, so some elements might be missing if you don't have the same ones installed.
Be sure to use the bb.moveobjects on cheat before using this sims 4 fifties cc.

11. Sims 4 1950s Dress CC by GildedGhosts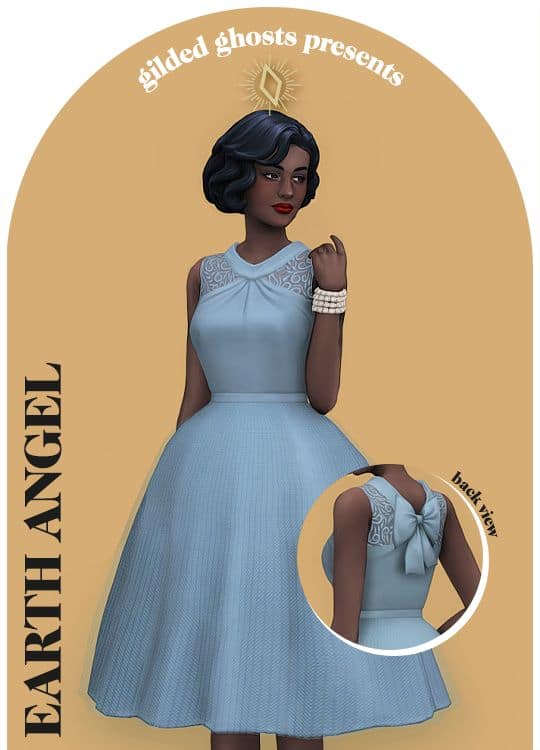 Another great option for a party dress is this lovely late 50s dress cc.
This formal dress has a lot of textured details and a beautiful bow at the back.
There are 16 swatches available for this dress.

12. 1950s Dress CC for Sims 4 by Unbichobolita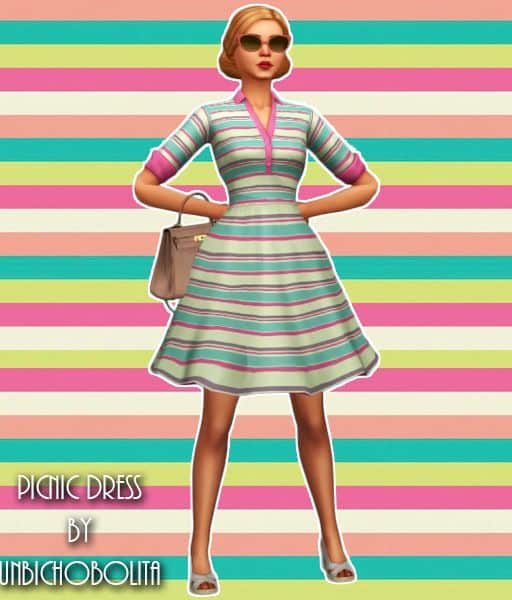 This short picnic dress for your 50s-era sims is a great option for an everyday dress.
This cute dress has 12 colorful pattern swatch options to choose from.
Pair it with some cute shoes, and your sims are ready to go out and mingle in style.

13. Sims 4 Fifties Glasses CC by Suzue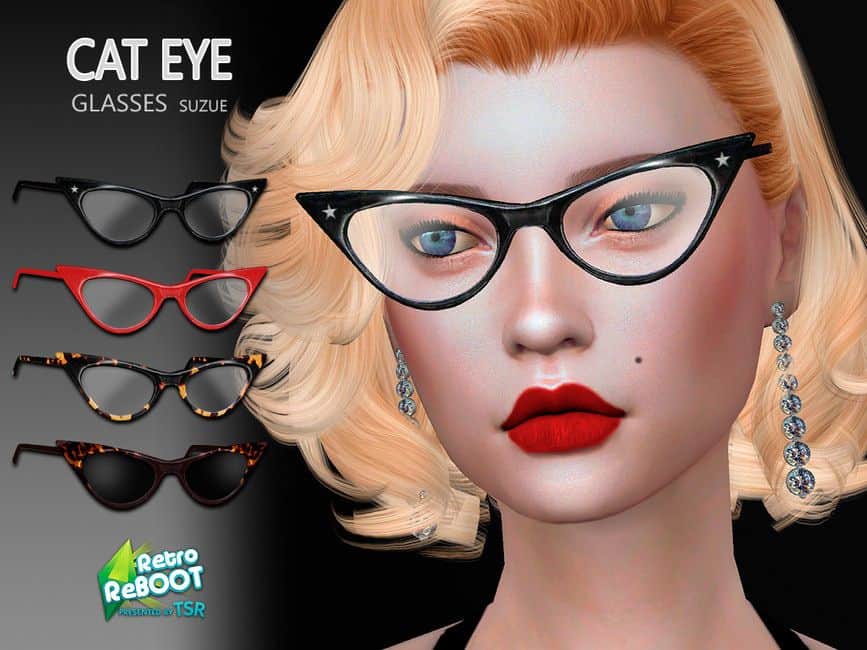 In the fifties, the cat eye design was popular for eyeglasses and sunglasses.
This sims 4 50s cc offers 10 swatches of cat-style eyeglasses for any sims aged teen and up.

14. 50s Long Dress CC For Sims 4 by Satterlly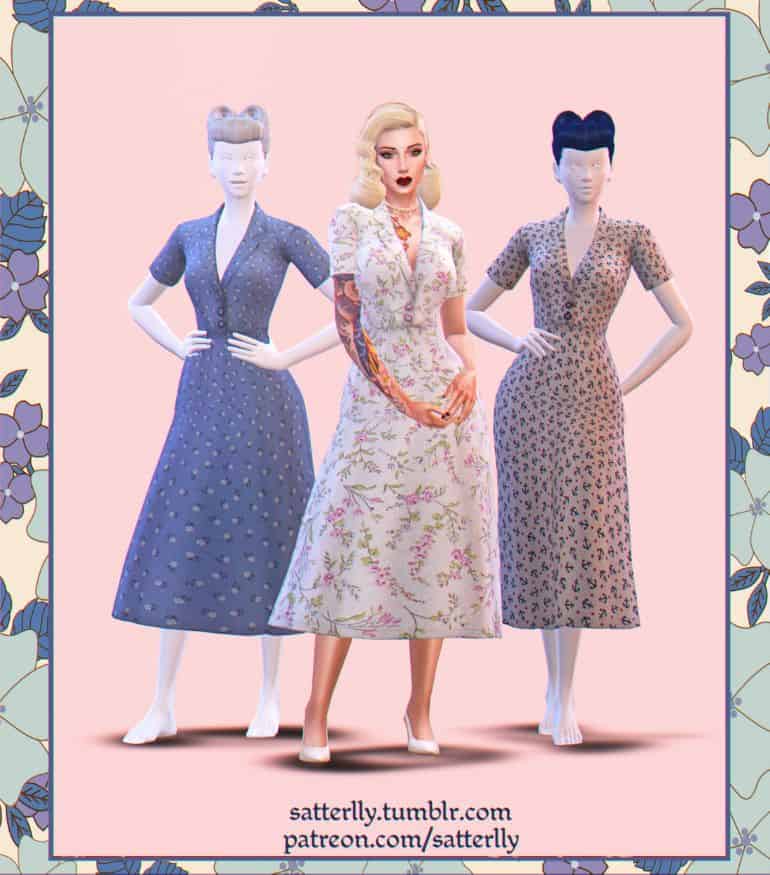 This short-sleeved dress is a great classic 1950's everyday design.
Now, you can get your sims this beautiful dress which comes in 45 swatches.
You can only use this dress cc on adult-aged female sims, and it's also enabled for your vampire and alien sims.

15. Sims 4 Fifties Male Oufit by HappyLifeSims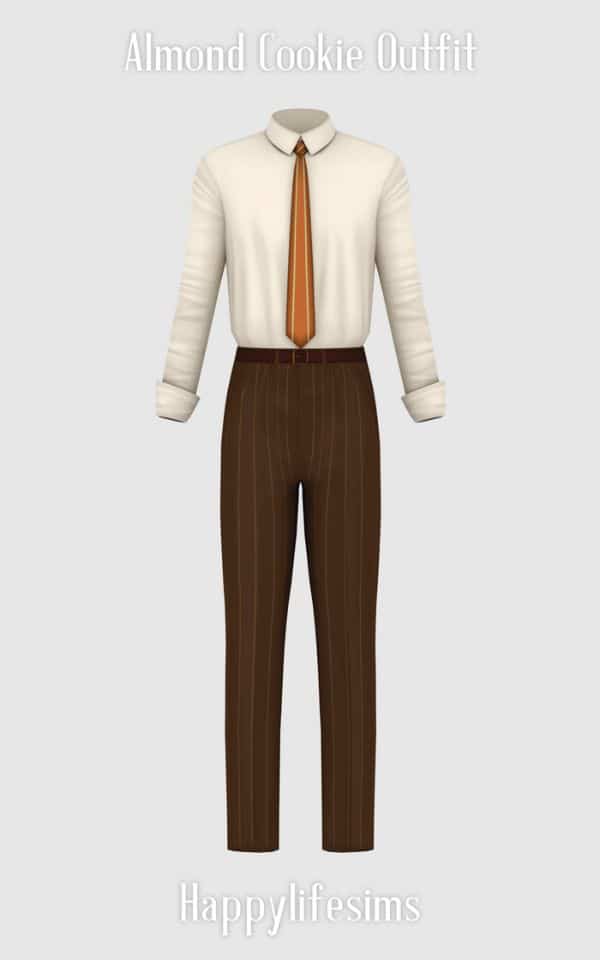 Are you looking for 1950s outfits for your male sims?
This sims 4 50s cc provides classy clothing options for your household's men.
There are two versions of this outfit, which are the same, except for the leather harness on one of them.
You also get a stylish shoulder coat to complete the look.
Each outfit has 10 swatches, while the coat has 15 of them.
You can find the coat in the Necklace category.

16. 1950s Magazine CC Pack by Moon Simmers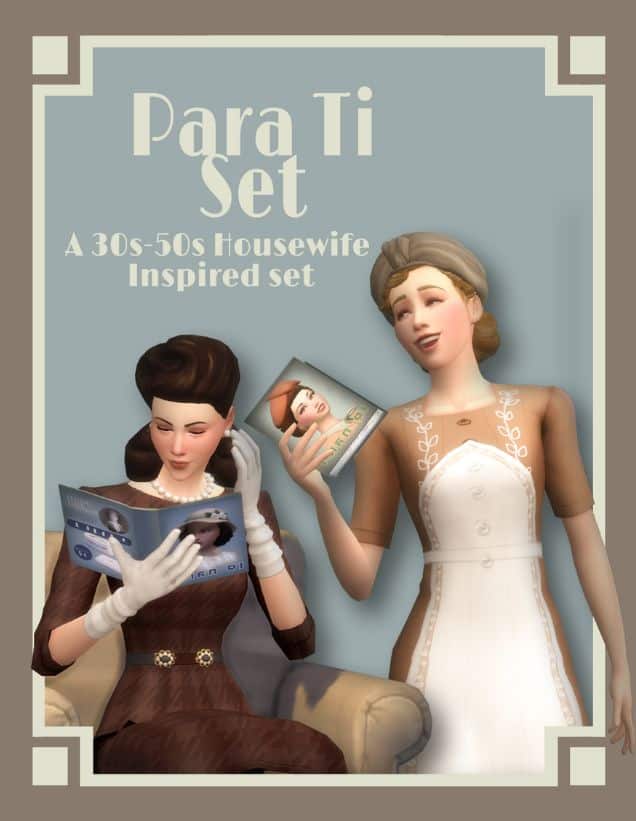 This cc pack includes various magazine-related objects from the 1930s to the 1950s.
This set includes the following items:
Function magazines, which require the Spa Day GP
Functional magazine rack, which needs the Get to Work EP
The pile of books clutter item, which needs the Moschino SP
Publicity posters that are base game-friendly
Each of these items has between 8-27 swatches.

17. Sims 4 Long Sleeve Dress by Teekalu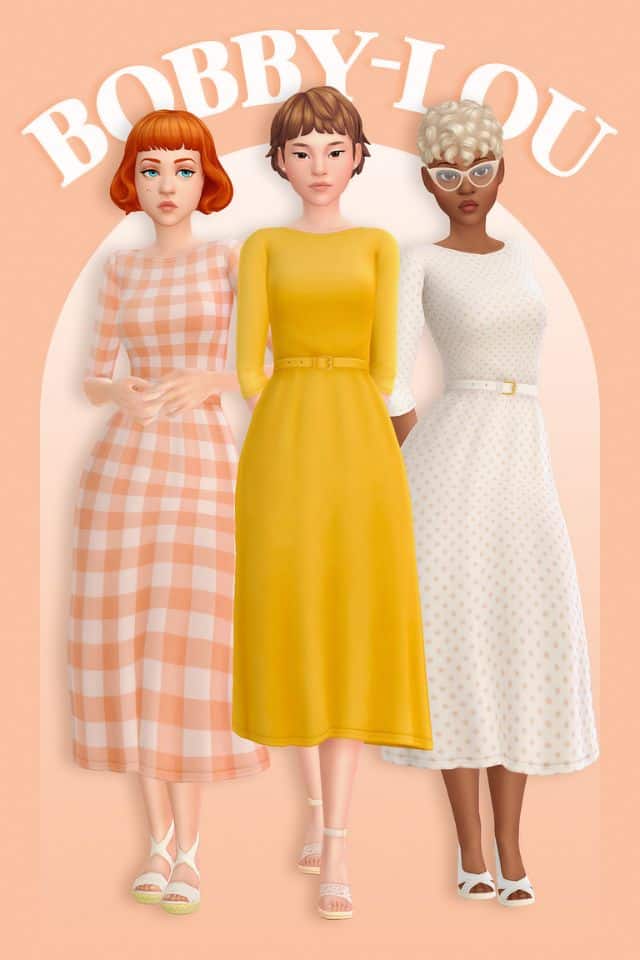 For a conventional-looking dress, get this high-collared, long-sleeved dress.
This long dress outfit comes with a small belt and comes in 100 swatches.
Depending on the swatch selected, you can make this dress look like a top and skirt combo.
Because of its vast selection, this sims 4 50s cc makes a great item to add to your clothing collection.

18. Greaser Hairstyle CC for Men by Daylife Sims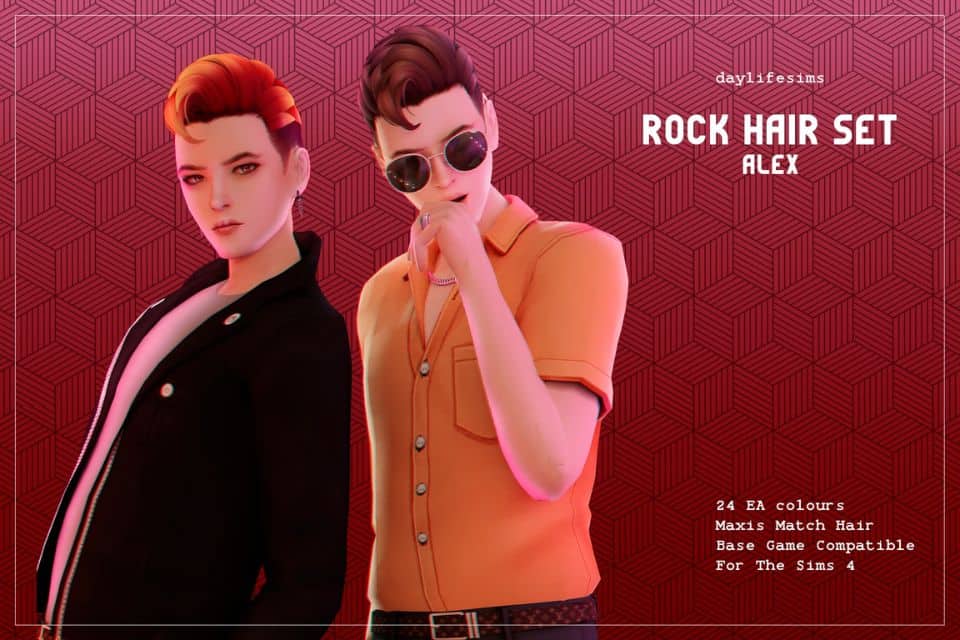 This sims 4 greaser hairstyle for men is the perfect look for your household's young male sims.
This 50s hair cc is hat compatible and comes in 24 default color swatches.
So, if you wanted a rock n' roll greased-up hair look, this fifties hairstyle cc won't disappoint.

19. Fifties Halter Dress for Sims 4 by TrudieOpp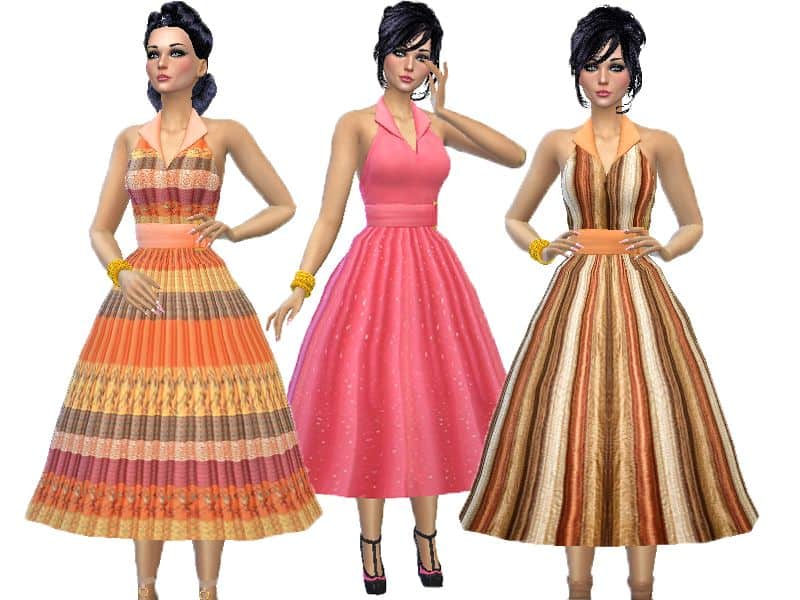 If you want more halterneck dress options, this 1950s dress looks amazing in all six swatches.
Each swatch has a unique design suitable for any occasion your sims might attend.
This 50s dress is a great option for formal or party wear.

20. Fifties Clothing CC for Men by ClumsyAlien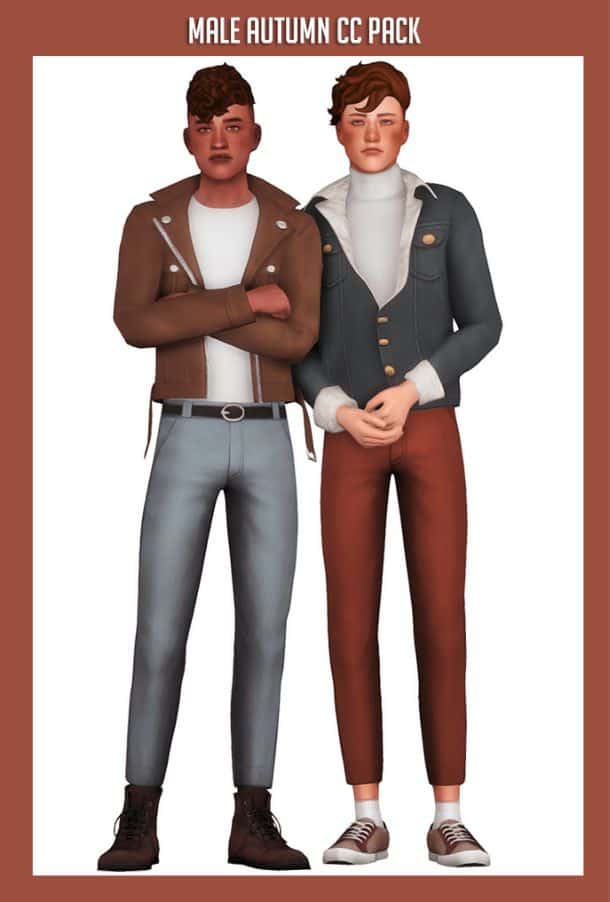 These sims 4 50s cc offers a few items to complete your men's 1950s look.
In this pack, you get:
Two kinds of jackets, both offered in 15 swatches
A pair of pants also offered in 15 colors
A messy, flop, one-sided tapered looking hairstyle
These items make an excellent look for your younger sims.

21. 1950s Shoe CC for Women by Birba32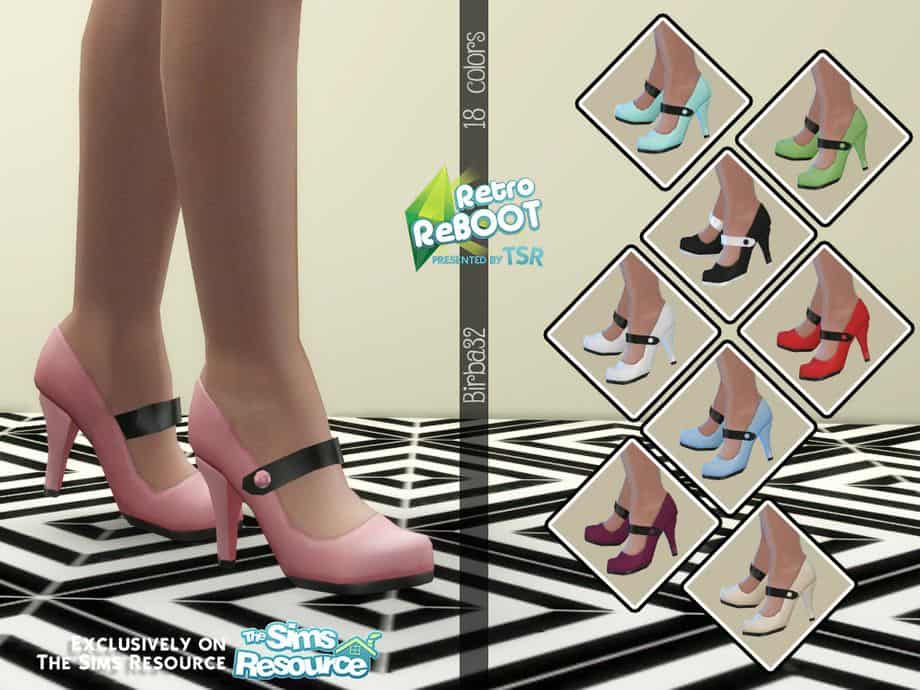 If you want more options for 1950s shoes for women, get this pair of strapped pump heels.
These round-toe heel and black strap shoes look great for typical everyday use or going out.
They come in 18 colors to easily match your sims' 50s outfit.

22. Sims 4 50s Dresses by Satterlly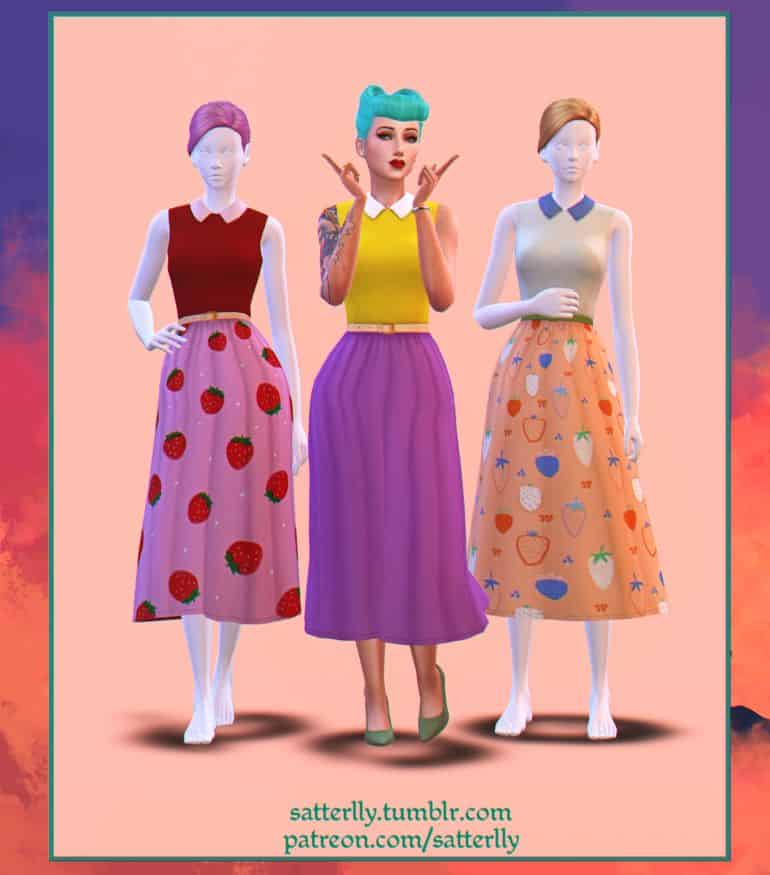 Your sim women can wear this sleeveless collared dress for summer and casual wear.
It has an exquisite selection of 40 colored and patterned swatches to meet your sims' everyday needs.
This 50s dress cc is for female adult sims exclusively.

23. 50s Pose Pack for Sims 4 by Beto_ae0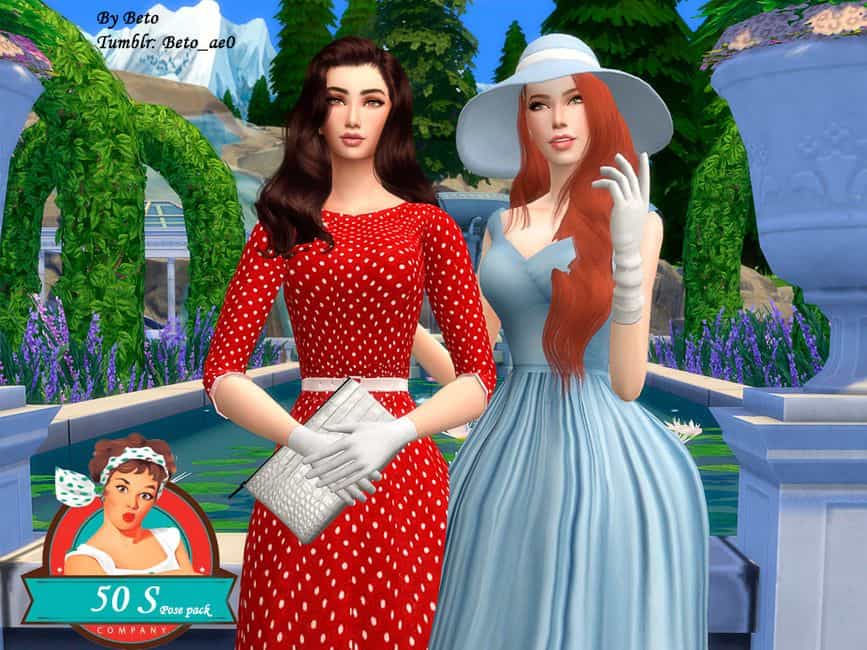 Capture your mid-century looks by using these sims 4 poses.
This set has five poses, including a mix of standing and sitting poses.
They're all solo poses, except for one where your sims can pose with another female sim.

24. Sims 4 Retro Swimsuit by Busra-Tr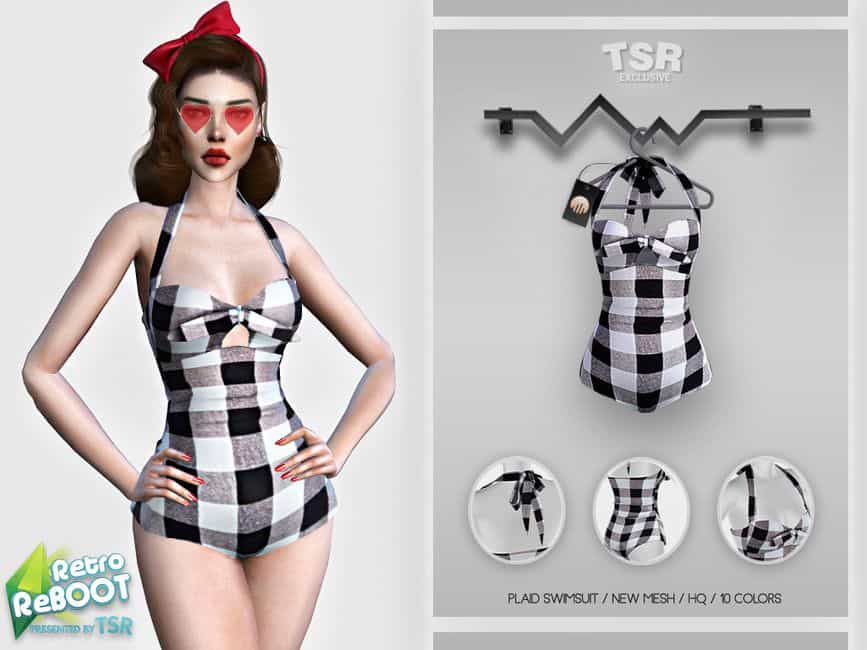 With so many clothing items for the 50s era, we can't forget swimwear.
For those hot summer days by the pool or at the beach, your sims can get this cute vintage one-piece bathing suit.
This plaid halter swimsuit is suitable for female sims aged teens and up and comes in 10 colors.

25. Cool Sims 4 Men Hairstyle by Cement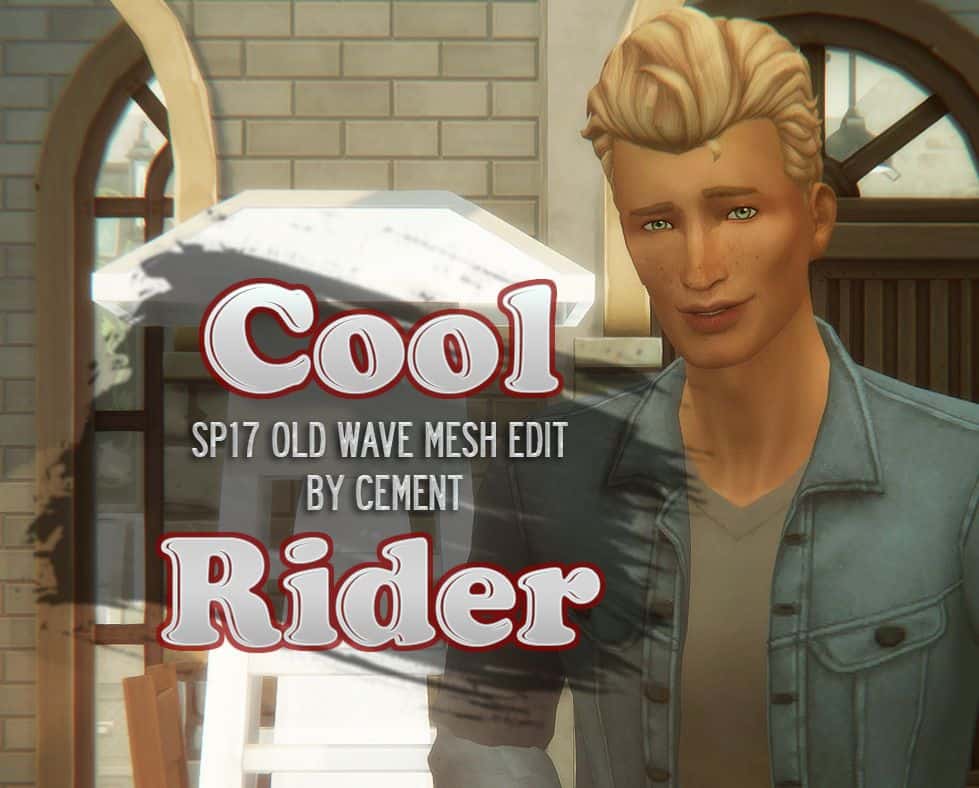 This custom content is for a wavy, slicked-back tousle hair look for your male sims.
This cool-looking hairdo would go well on younger sim males, and it has 38 colors to pick from.
The download page also features a straight slicked-back hairstyle.
They're both hat compatible.
Sims 4 50s CC: Final Thoughts
This list of sims 4 50s cc had everything for your 1950s gameplay.
From objects to help decorate your sims' living room to items that'll complete your sims' look.
We hope you found a few pieces to fill your 50s cc folder.
If you have any questions or suggestions, feel free to leave us a comment below or tag us on Tumblr.
Other Sims 4 Custom Content Lists

And don't forget to share and save this pin for later!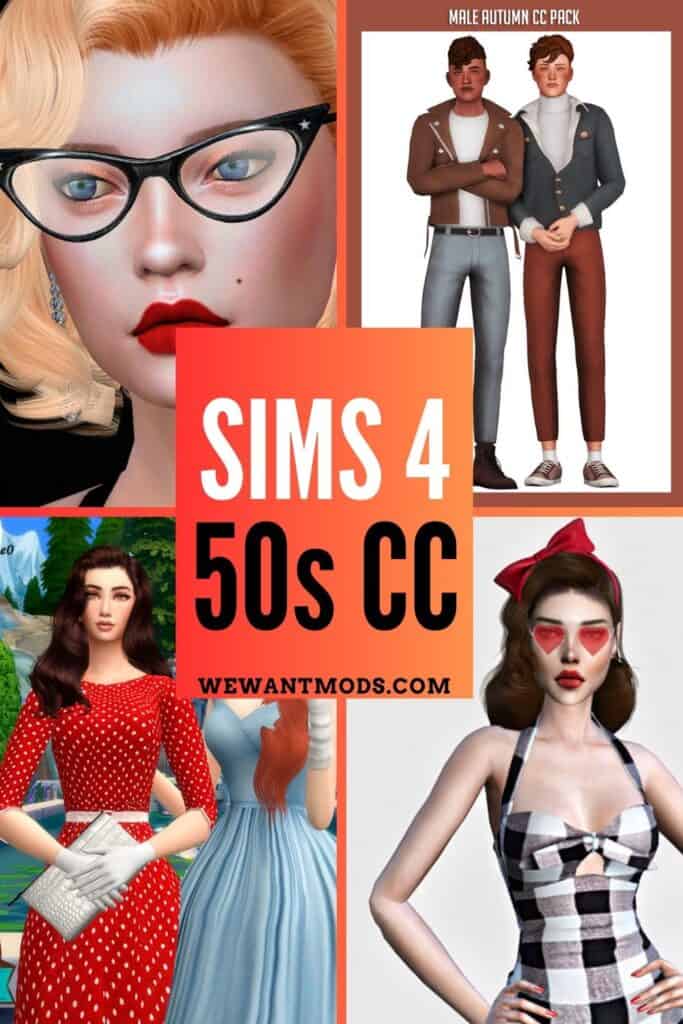 23+ Sims 4 50s CC: Travel to the Fabulous 1950s