30+ Sims 4 Medieval CC: Embark On An Epic Journey
With this Sims 4 Medieval CC collection, your sims can step into the Middle Ages.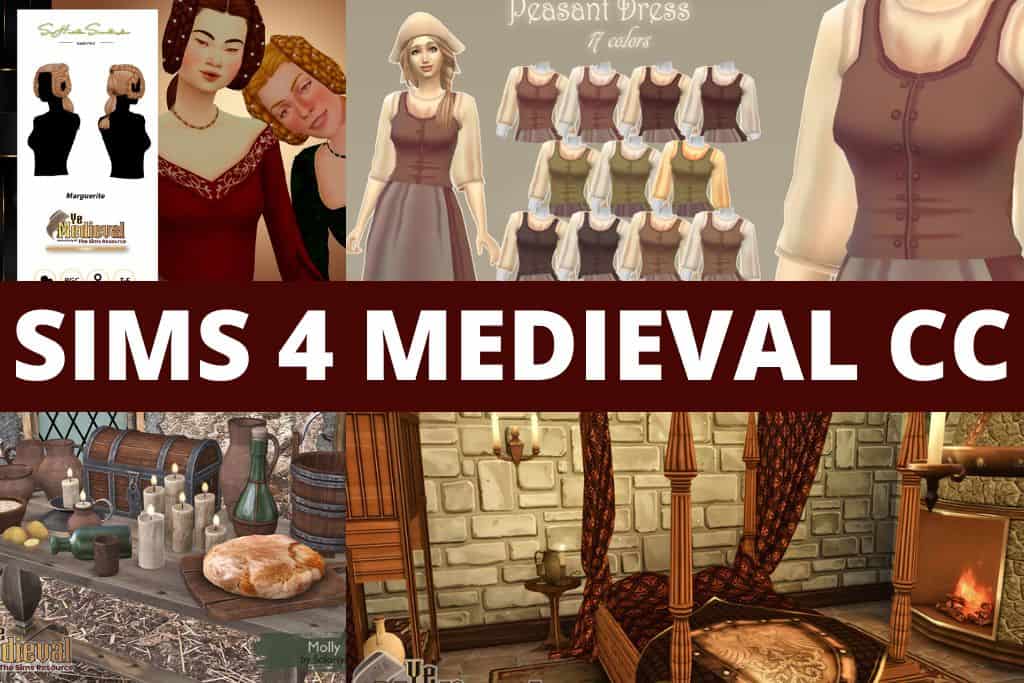 One of the best parts of playing sims 4 is the ability to transform your game into almost any time period or theme.
From the decades challenge to Medieval gameplay, custom content items exist for them all.
So create the perfect world of medieval peasants and nobility with this list of sims 4 Medieval cc.
Disclaimer: The following mods are neither endorsed nor affiliated with The Sims, Maxis, or Electronic Arts. Any use of mods (custom content or game mods) should be done with caution and with the knowledge that there may be risks.
Finest Sims 4 Medieval CC
We've included a mix of clothing, hair cc, shoes, furniture, swords, homelife objects, and more for your medieval sims.
1. Adelaide Hairstyle CC by Shimydim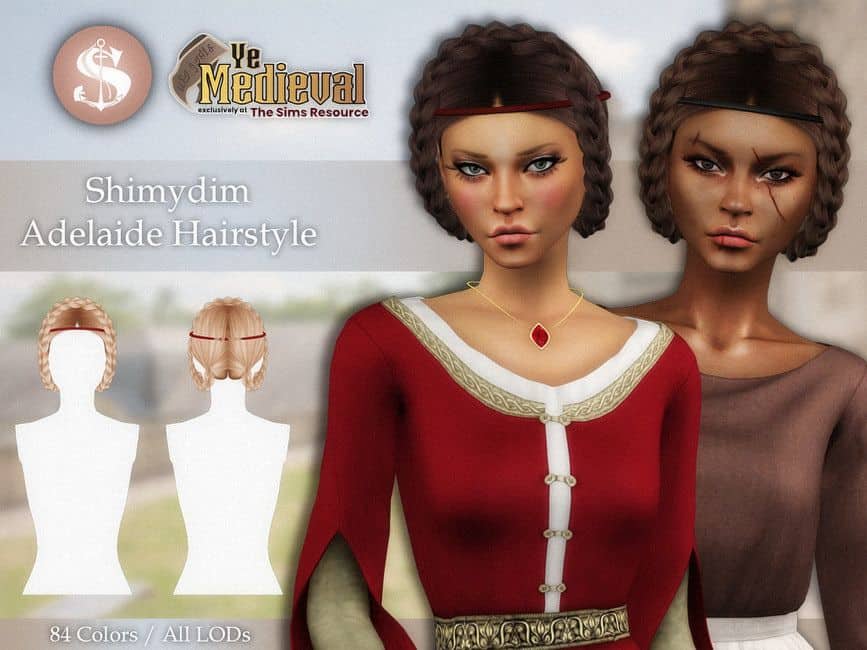 This beautiful braided hairstyle is ideal for the Medieval ages and will have your sim ladies looking the part.
Two thick braids frame the face and are tied at the base of your sims head.
The final touch to this hair cc is the thin headband that loops under both braids.

2. Sims 4 Medieval Peasant Dress by Kennetha_v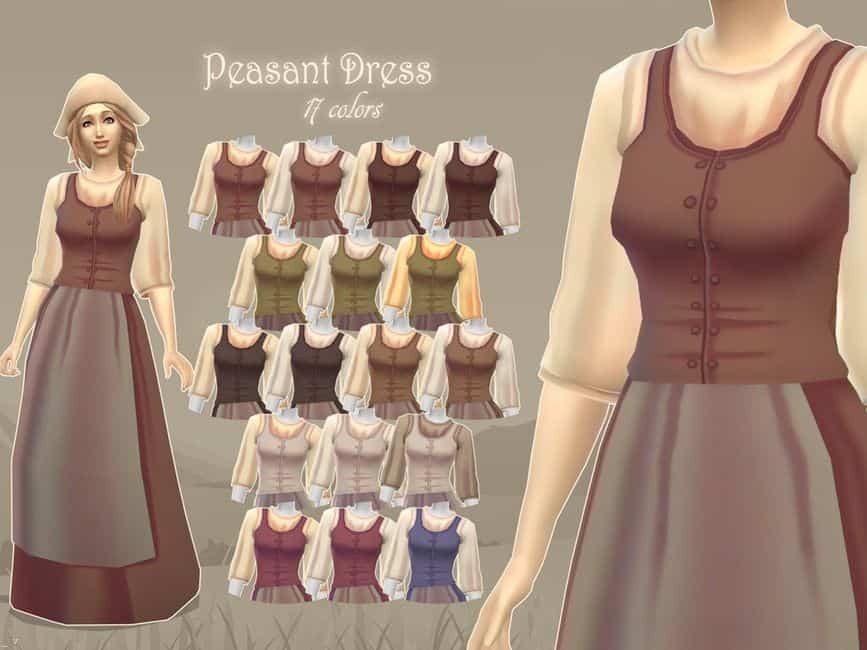 While your Medieval peasants are busy working within the castle walls, they will need to be appropriately attired.
This dress set comes with a simple dress with a buttoned bodice and loose cotton sleeves.
You can also add the headdress to complete your sim's outfit.

3. Medieval Dining Room Accessories by Nemesis_im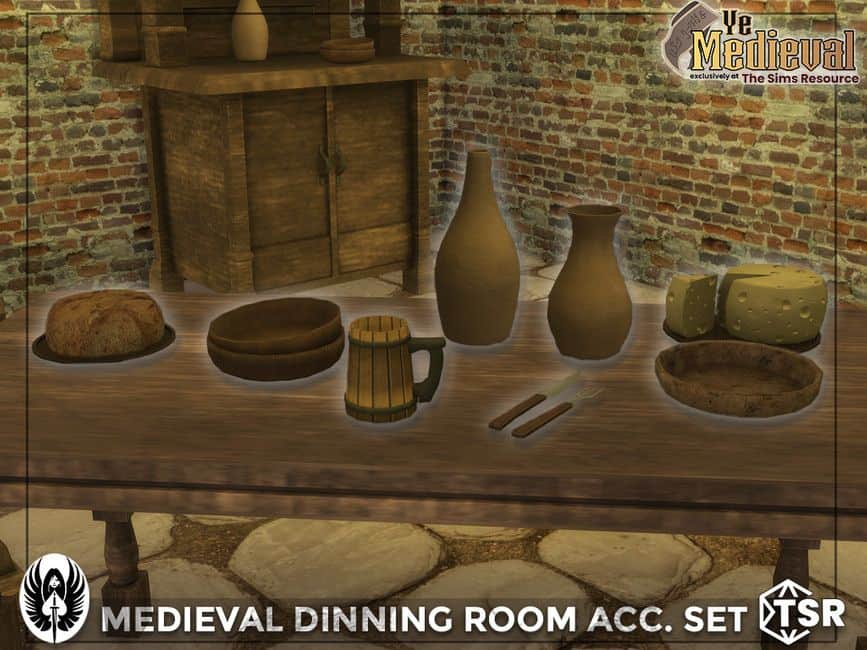 Set up the local tavern for the evening meal with this sims 4 medieval cc accessories set.
This pack includes bread, cheese, a drink carafe, a drink bottle, wooden trenchers, a mug, and simple cutlery.

4. Sims 4 Medieval Male Tunic by Plumbobs n Fries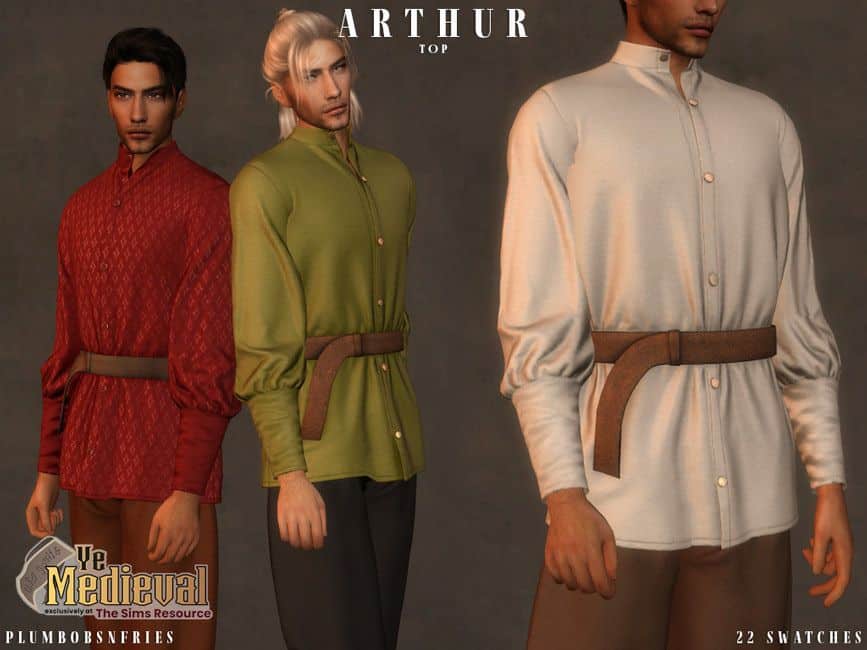 This sims 4 medieval men's tunic will have your sims looking sharp as they head into the evening feast.
The shirt has a half collar and buttons down the front.
The tunic is cinched at the waist with a leather belt for a medieval touch.

5. Medieval Gown for Sims 4 by Sifix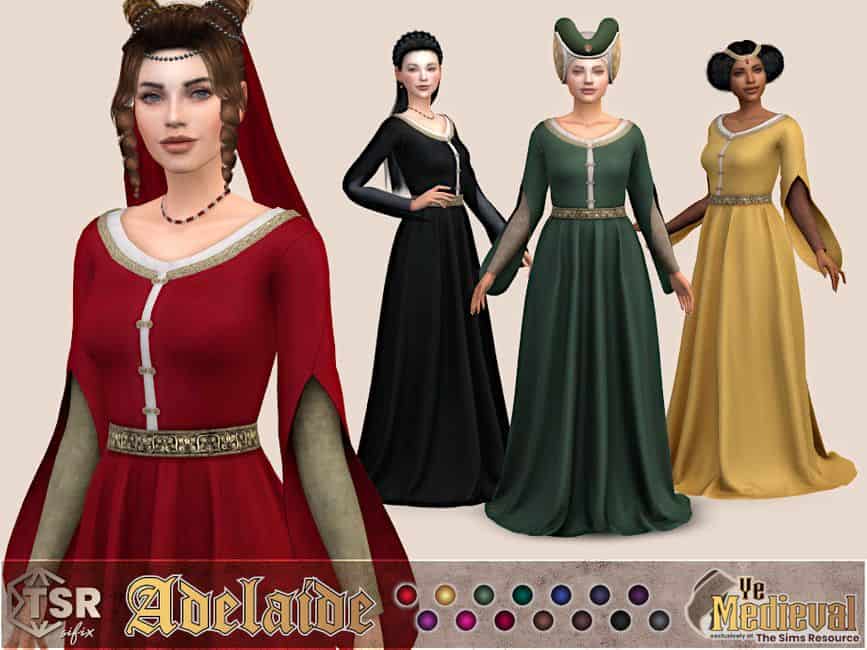 A 1454 painting by Jost Haller inspires this beautiful medieval gown.
Similar to the medieval French bliaut, this lovely tunic covers a linen chemise which you can see at the opening on the sleeves.
This medieval gown is available in 14 colors, the jewel tones being my favorites.

6. Sims 4 Medieval Peasant Beds by Simbishy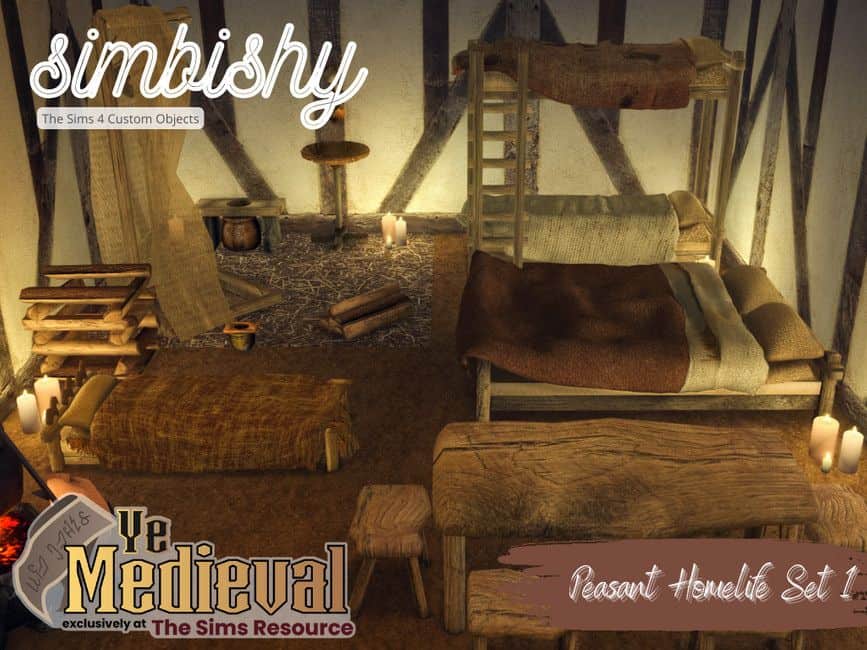 Life as a peasant was tough, and this set of sims 4 medieval cc brings us a little touch of reality.
These peasant homelife pieces include the basic necessities without any extras (except for the premium hay the creator included. 😉
Some of the medieval custom content pieces include;
Beds with itchy linens & hay
Basic wooden table and chair
Adult & toddler chamber pots
Makeshift sink & shower

7. Joan of Arc Custom Content Set by Oydis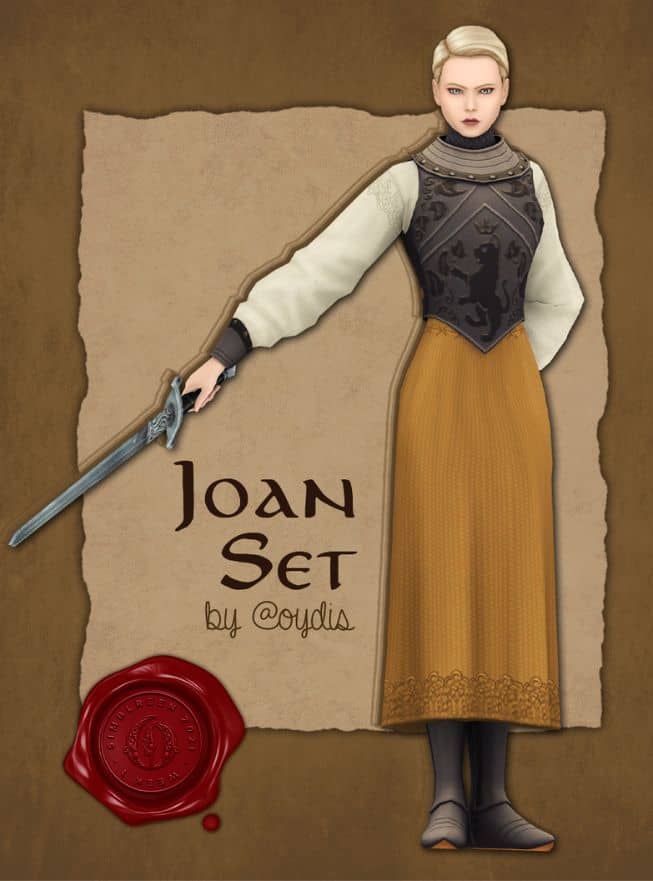 Joan of Arc has to be one of the most famous people from medieval times.
Born a peasant, this warrior fought hard, and this cc pack gives your Joan sim the armor she needs.
This set includes medieval sabaton armor boots, a loose skirt, a simple top, and chest armor.

8. Medieval Plague Doctor Clothes by Kennetha_v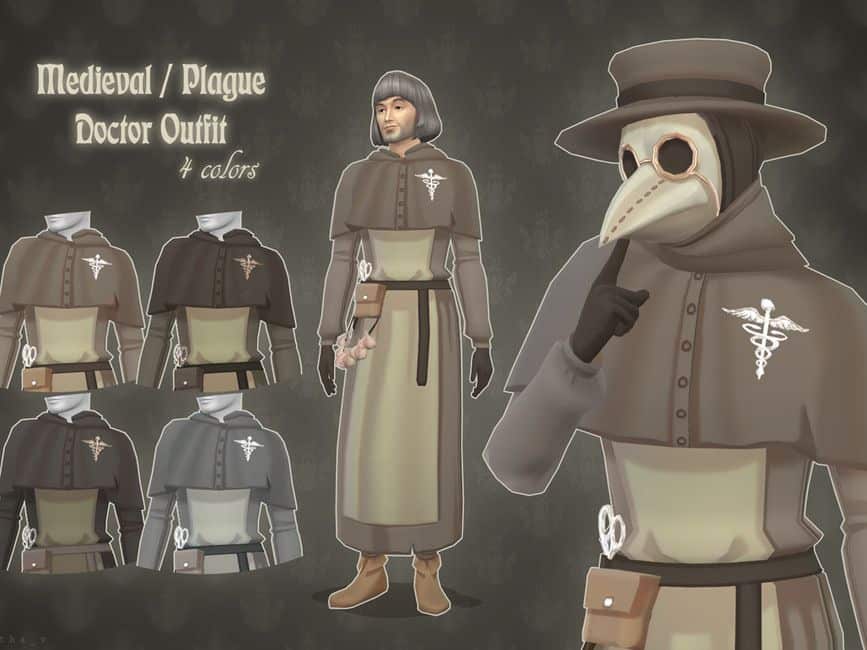 The bubonic plague was a terrible part of Medieval times, wiping out a considerable portion of Europe's population.
This custom content offers a medieval doctor's outfit; your sims can also become a plague doctor by adding the classic beaked hood.

9. Sims 4 Medieval CC Set by Melancholy Maiden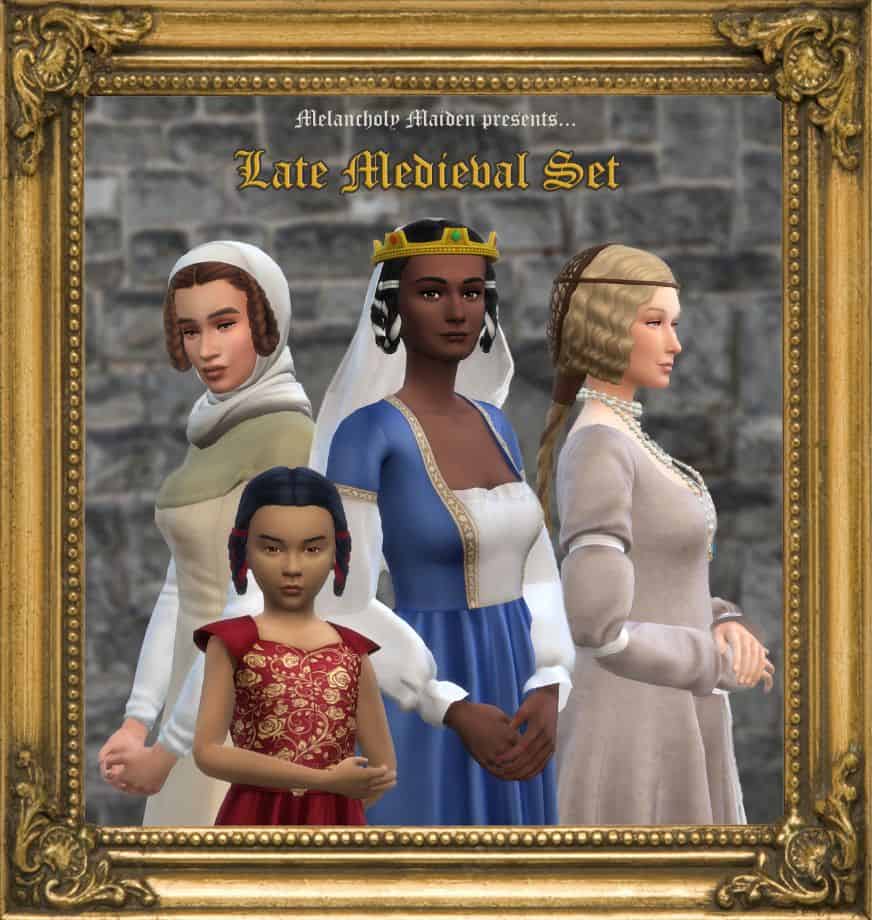 This set of sims 4 medieval cc comes with 3 hairstyles for your female sims.
The Magda look has two face-framing braids and a simple wimple covering the rest of the head.
The Loenarda hair gives your sims a long braid down the back and a yarn snood placed at the back of the head.
The Matilda hairstyle is parted down the middle with a looped braid on each side.
You can accessorize the hairs further with the veil or crown veil accessory.

10. Medieval Plucked Eyebrows by RemusSirion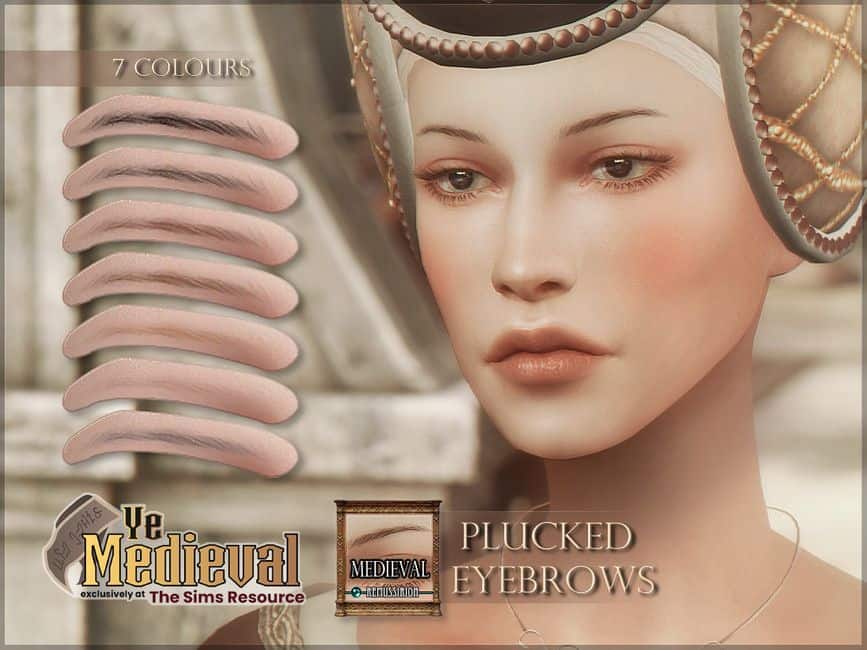 During the Middle Ages, women often plucked their eyebrows relatively thin.
This sims 4 Medieval cc offers thin plucked eyebrows to give your sims the most authentic medieval-era look.
There are 7 available colors, and these eyebrows are enabled for all genders and ages.

11. Fantasy Forest CC by Blue Craving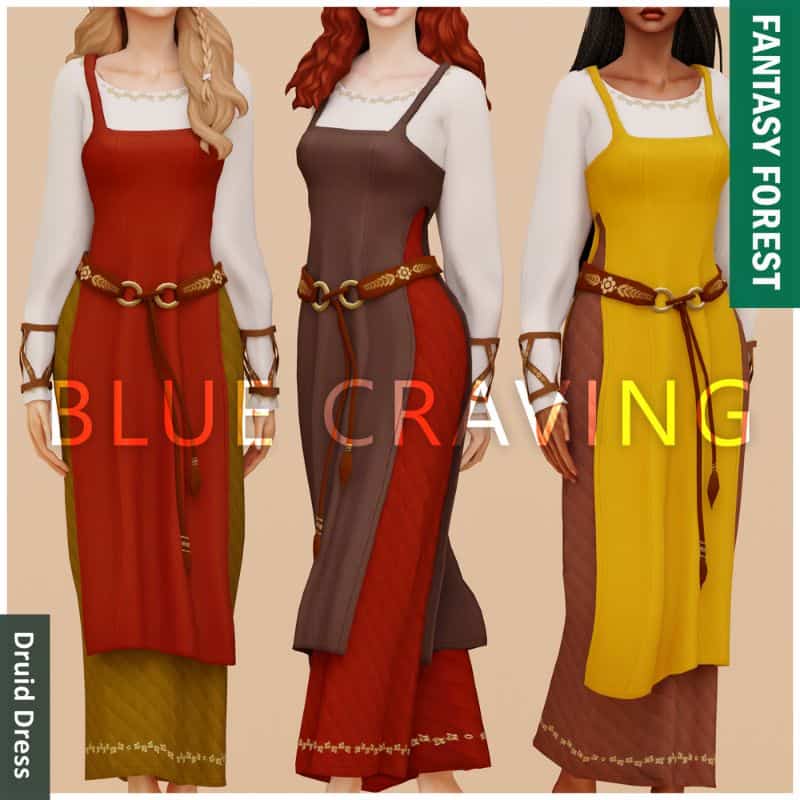 While this belted fantasy dress is not technically for the medieval era, it felt it had a Middle Ages feel with its layered look.
The dress has a white under chemise covered with two extra layers and cinched with a leather and metal belt.

12. Isabelle Hairstyle for Sims 4 by Sehablasimlish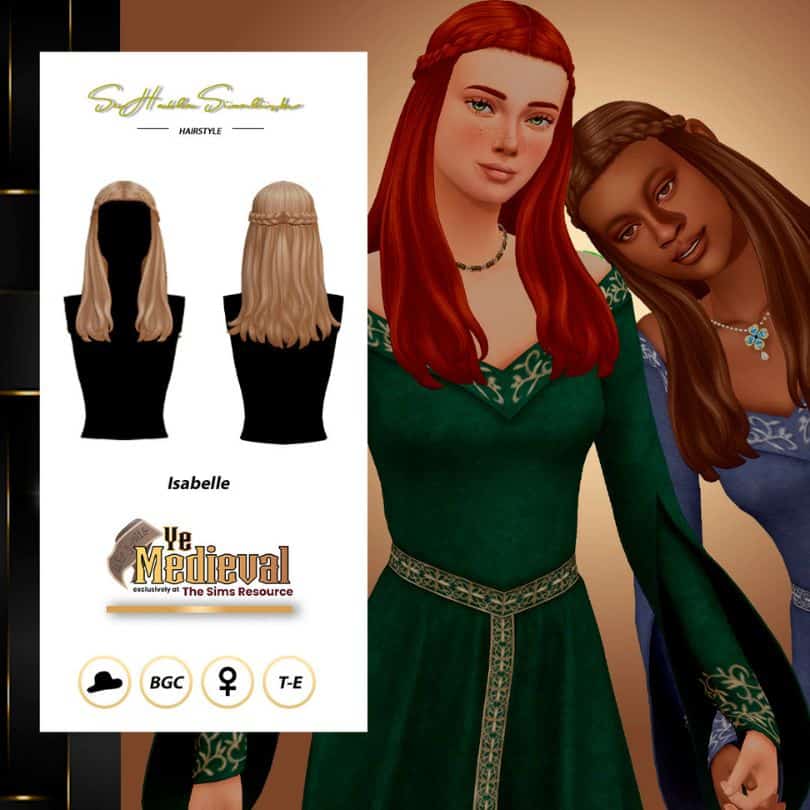 Here we have another medieval-inspired maxis match hair cc for your female sims.
Your sims will get a simple loose hairstyle with braided bangs tied at the back of the head.
This hair custom content is available in 24 EA colors.

13. Peasant Sack Breeches CC by SimmieV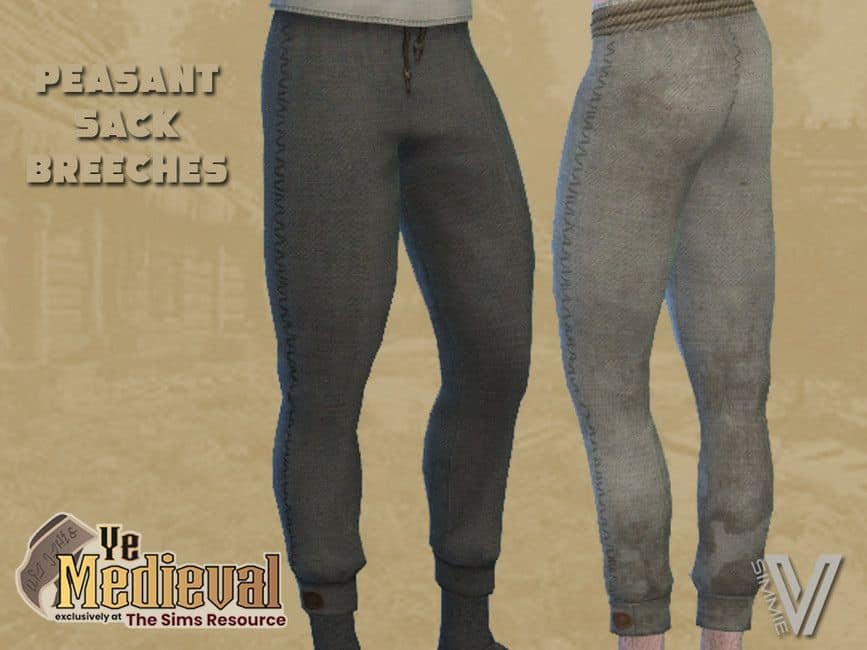 These medieval peasant sackcloth breeches are ideal for the hard-working peasant sims in your household.
With their rough sack fabric and criss cross twitching, these breeches are the basics for the lower classes.
For some extra realness, the 8 swatches offer different levels of cleanliness.

14. Sims 4 Medieval Homelife CC by Simbishy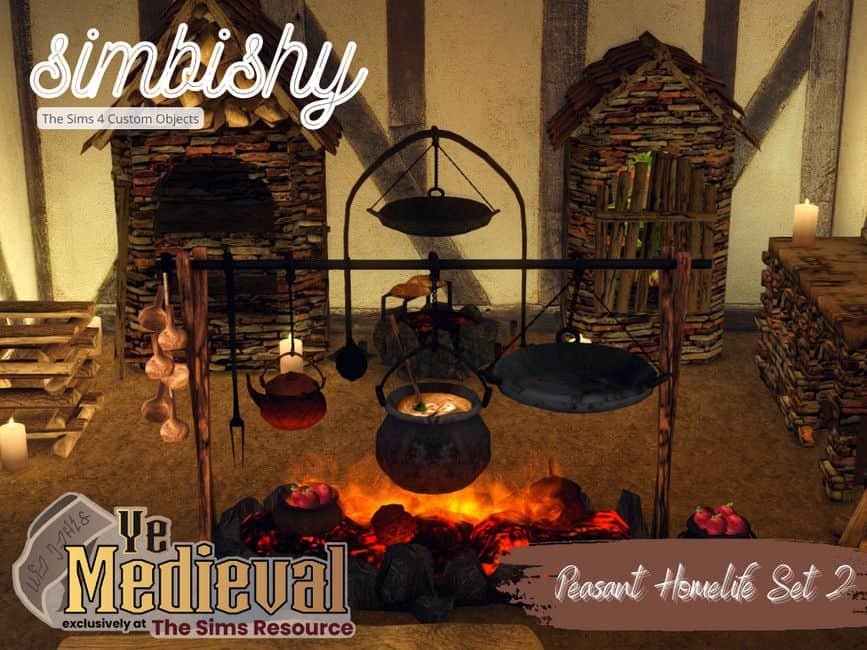 Adding a few more essentials to your sims peasant home, this set focused on your sim's cooking area.
You will find the following pieces;
Kitchen counters
Hearth fireplaces
Hearth cooking grill
Mediaval fridge & oven
Wirewood and logs

15. Men's Medieval Tunics by Historical Sims Life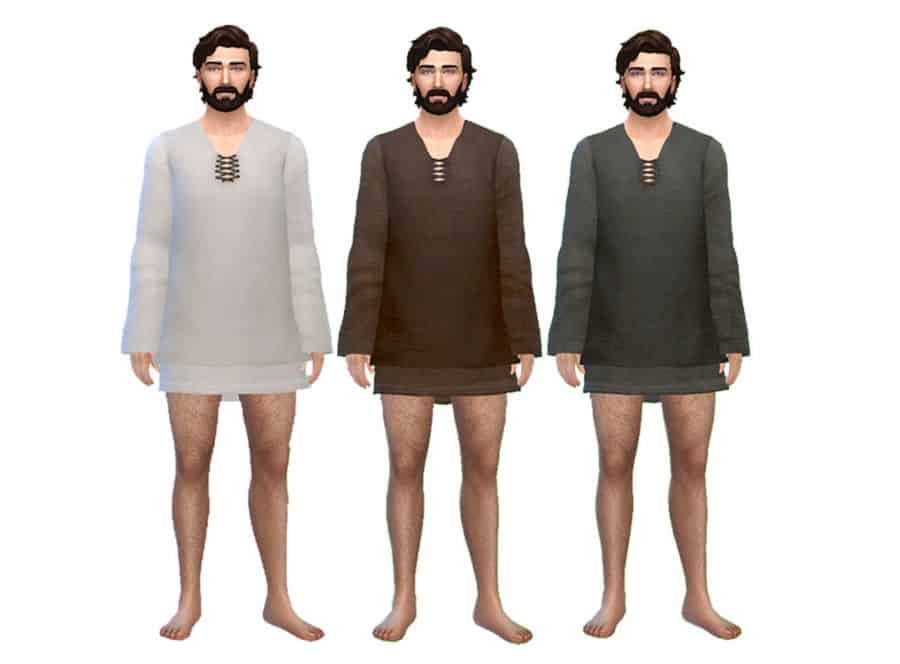 Have your sims undress after a long day into their casual sleep tunic.
This simple sleep tunic is made of rough cotton and has small lacings at the top of the chest.
There are 6 muted color swatches for this medieval cc.

16. Sims 4 Medieval Dirt Blush by RemusSirion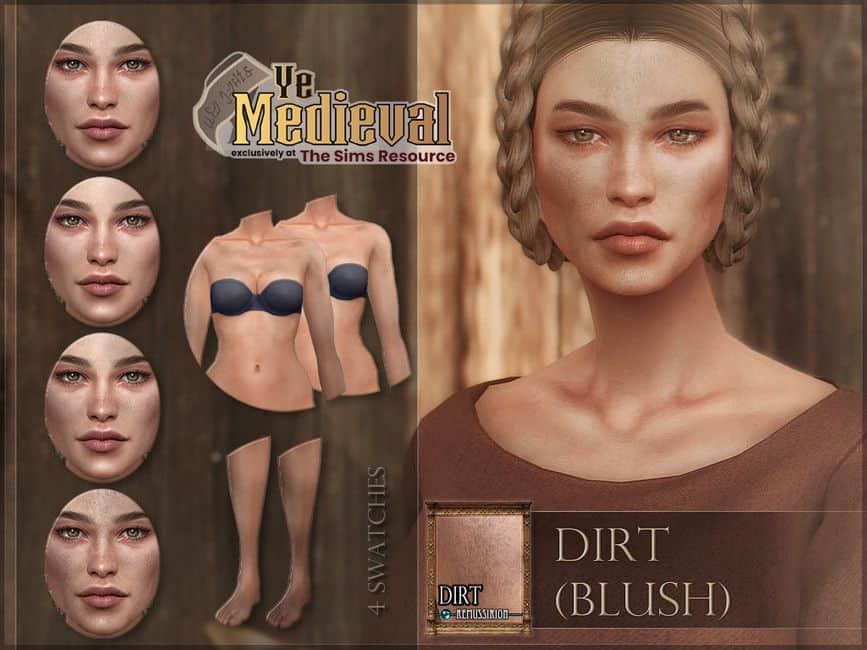 I love how creative cc creators get; to think of creating medieval cc like dirt blush is amazing.
With the 4 available swatches, this custom content allows you to add different degrees of dirt to your sim's faces.

17. Medieval Herbalist Hut by Lhonna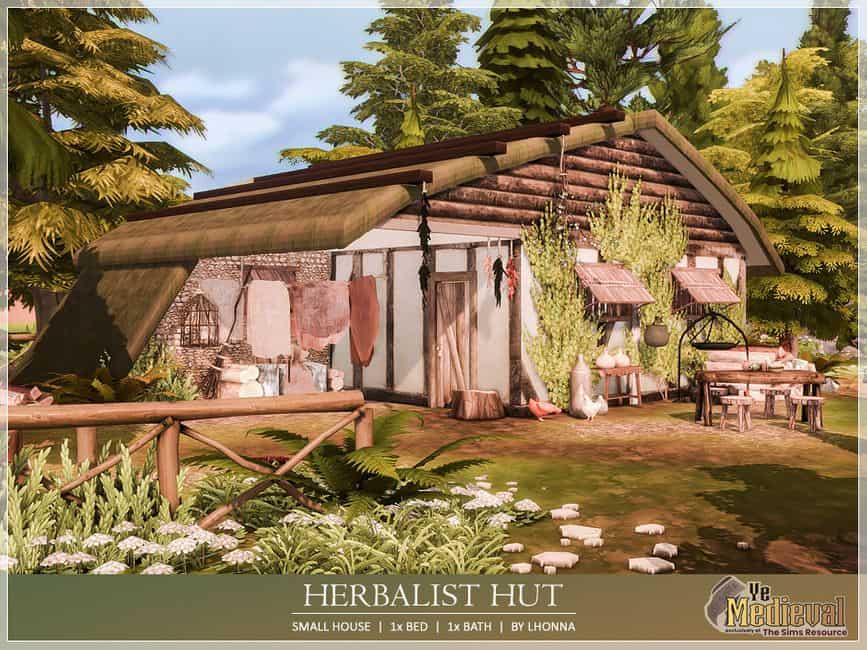 This small medieval-style hut is for the herbalist in the village.
The hut has an open-concept split between the living area, bedroom, kitchen, dining room, and bathroom.
Plus, this medieval hut is surrounded by a darling pond and a large forest.

18. No Sleep Eye Bags CC by RemusSirion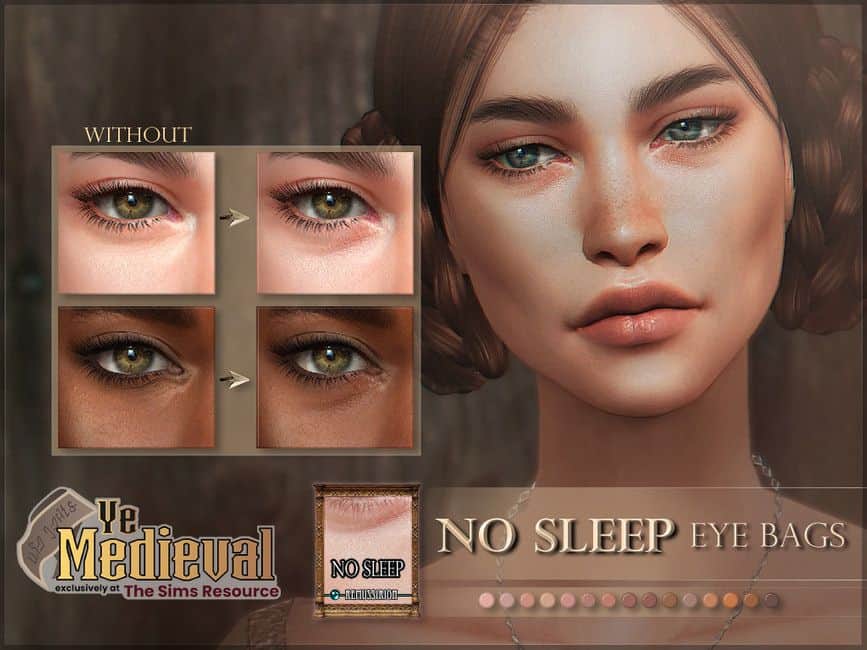 With so much work, lounging in bed was highly unlikely in the Middle Ages.
This sims 4 medieval cc brings no sleep eye bags to your sims.
These eye bags are available for all ages and genders and comes in 15 swatches.

19. Sims 4 Female Medieval Shoes by Dissia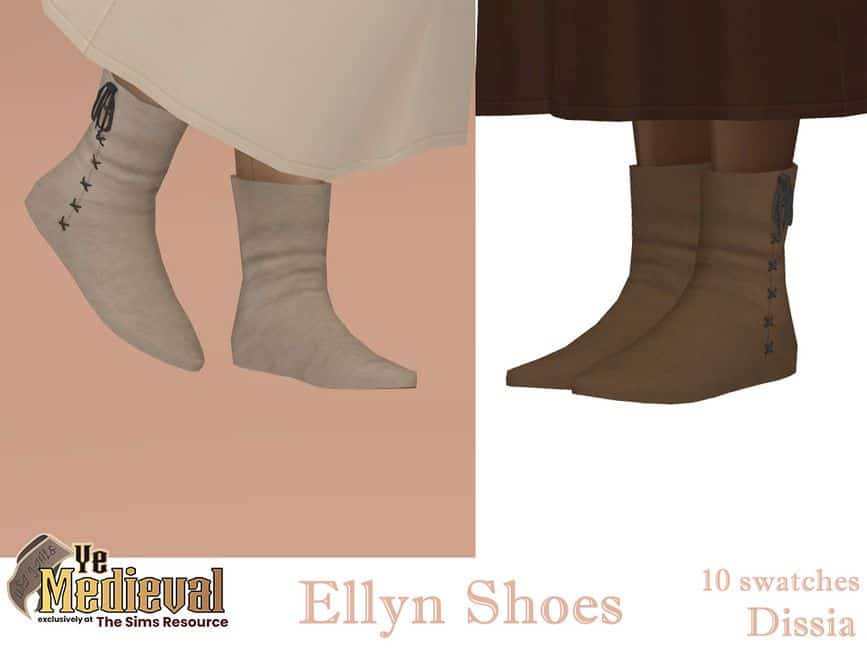 Complete your medieval outfits with these classic calfskin shoes with laces up the sides.
These medieval-style shoes come in 10 swatches to mix and match with your sim's different dresses.

20. Decorative Sims 4 Medieval CC by Soloriya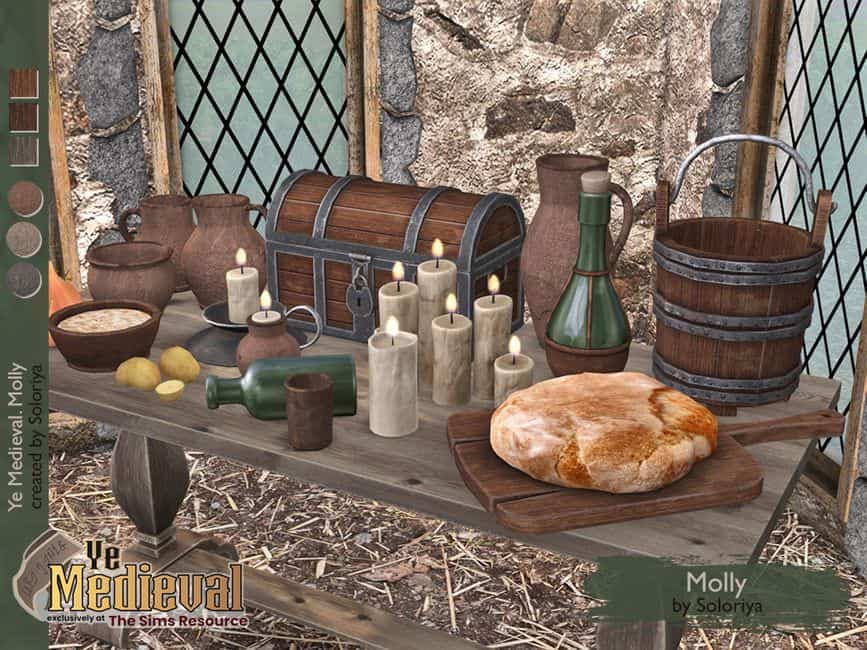 Add food and warmth to your medieval home with this collection of decorative and functional objects.
This set has 10 pieces, including;
Jugs
Bottle
Bread
Porridge
Chest
Bucket
Functional candles

21. Sims 4 Medieval Tapestries by Philo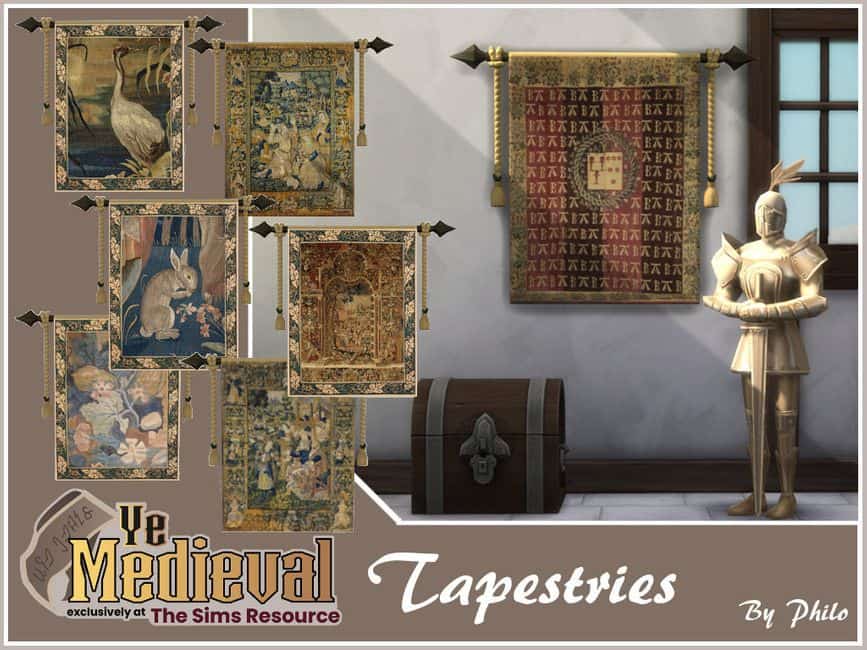 This medieval cc requires the Sims 4 Vampires EP.
Tapestries were extremely common in Medieval times.
These works of art were used to decorate castles and were also a form of insulation for those cold castle walls.
This set of sims 4 medieval cc comes with 7 swatches of tapestries.

22. Sims 4 Matilda Hair & Headscraf by MSQSIMS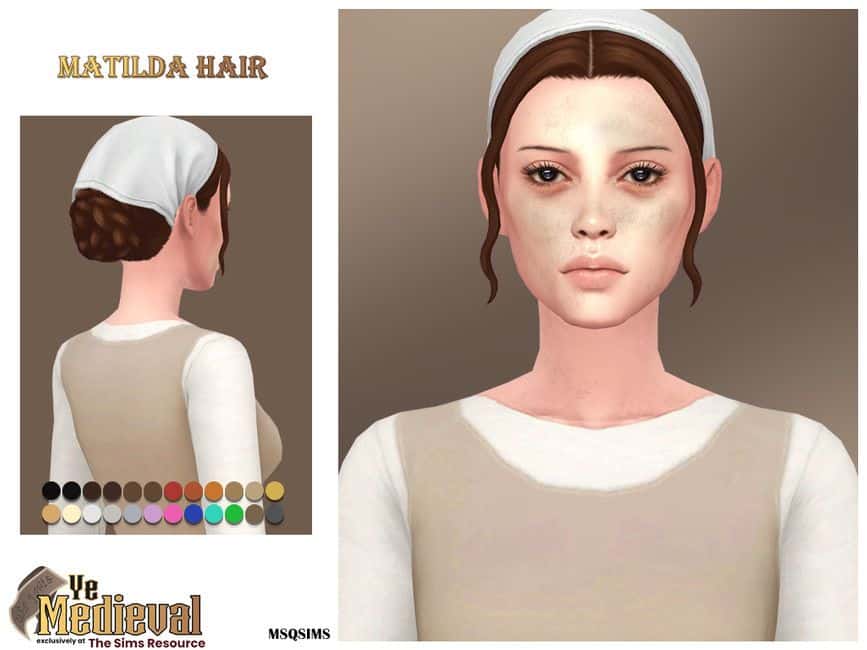 This simple hairstyle seems ideal for a castle worker or peasant.
The hair is braided and styled into a bun with a head scarf.
The headscarf covers the rest of the hair except for the long loose hair bangs.

23. Peasant Kitchen Medieval CC by Simbishy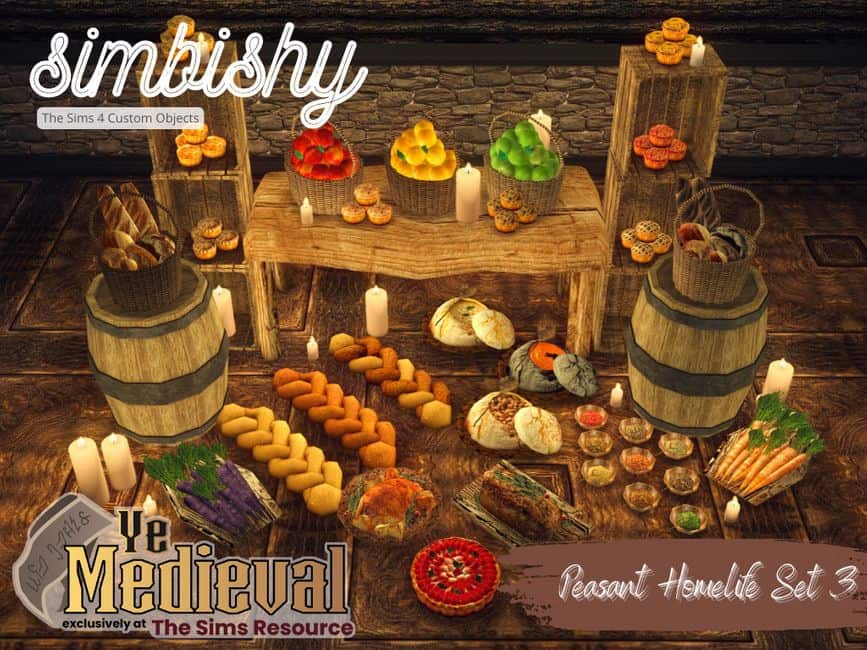 In part 3 of the peasant homelife collection, this set brings your sims a bounty of food.
This set has a variety of fresh and baked goods, including;
Carrots
Baked chicken
Little pies
Strawberry pie
Spices
Breads
Basket of fruits

24. Medieval Marguerite Hair by Sehablasimlish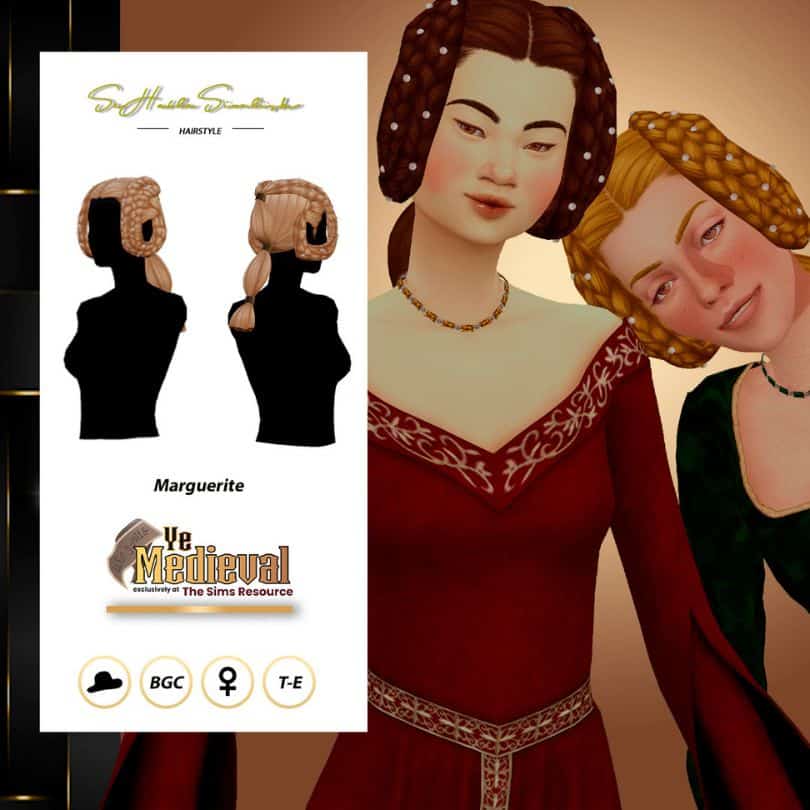 This fancy hairstyle combines braids with a looped ponytail.
The thick braids are coiled around your sims ears, and the remaining hair is tied in a ponytail with 3 gatherings.
This hair cc comes in 24 EA color options.

25. Sims 4 Medieval Bakery by Kiolometro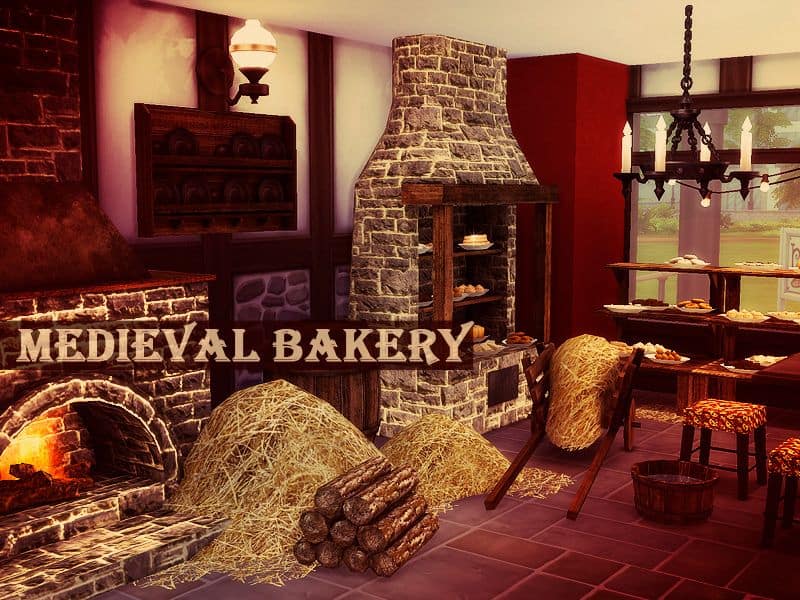 This collection of sims 4 medieval cc has everything you need to set up your sims medieval bakery.
Your bakery will have a large stove, display shelves, signs, hay, wood, and more.

26. Male Crakows Shoes for Sims 4 by Arltos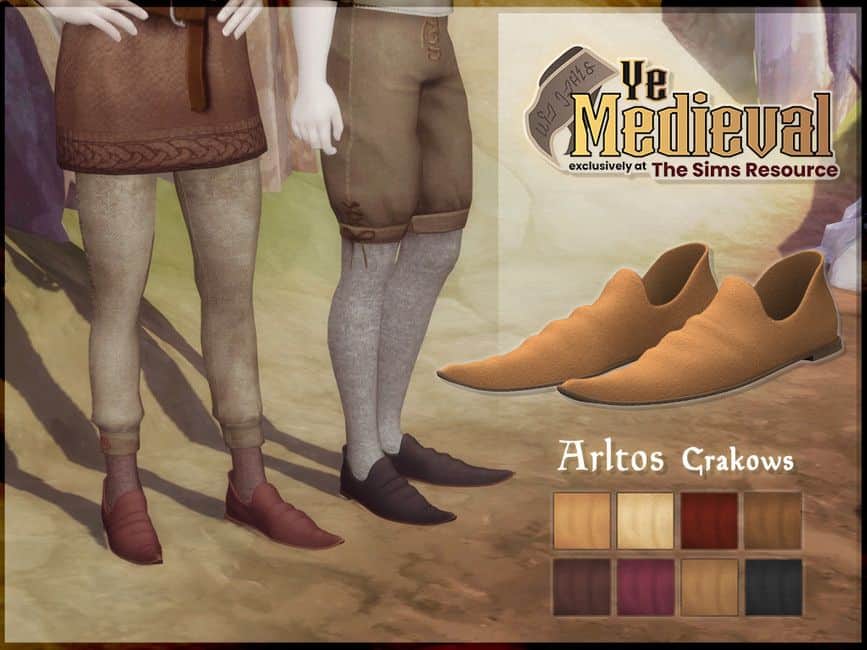 Similar to the female shoes listed at #19, this pair of crakows are for your male sims.
With their pointed tips, these shoes will complete any medieval outfit, and there are 8 swatches to try.

27. Medieval Sword Accessories by Historical Sims Life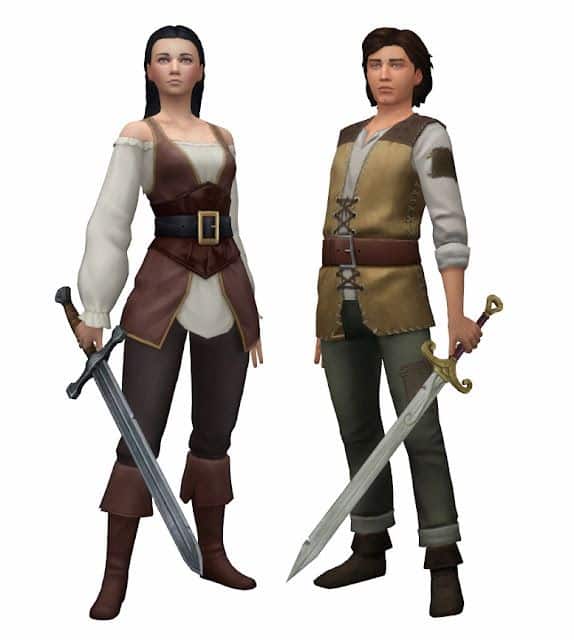 This medieval sword set brings you a variety of swords for the whole family.
This pack includes 9 accessory swords (8 for adult sims and 1 wooden option for kids).
Your medieval sims can opt for a wooden sword, a standard sword, a crude word, or something more elegant.

28. Medieval Stone Floor by Nolcanol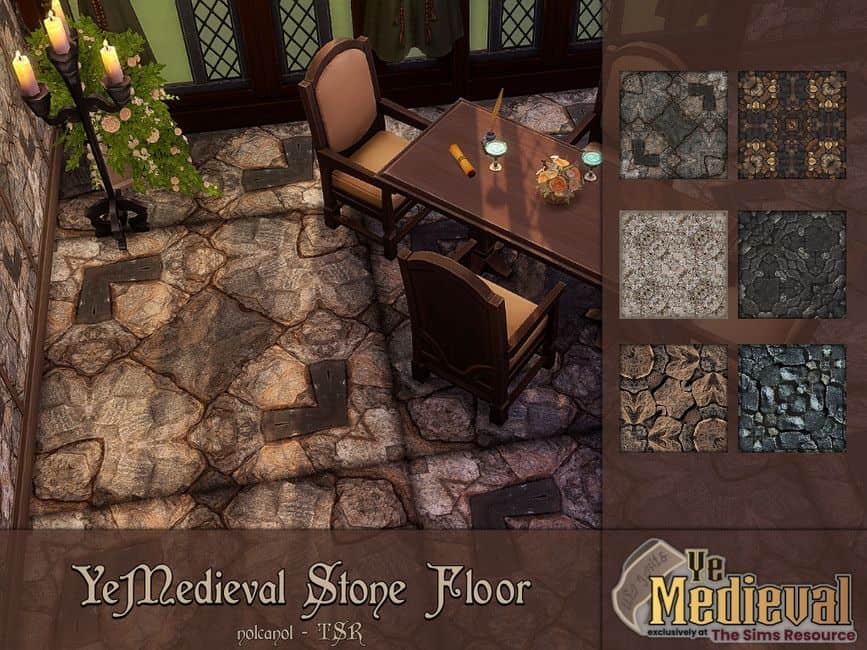 Add striking stone details to your sims medieval home with this set of stone floors.
This set comes with 6 swatches, each with a different stone color and design.

29. Opulent Medieval Bedroom by Simsbylinea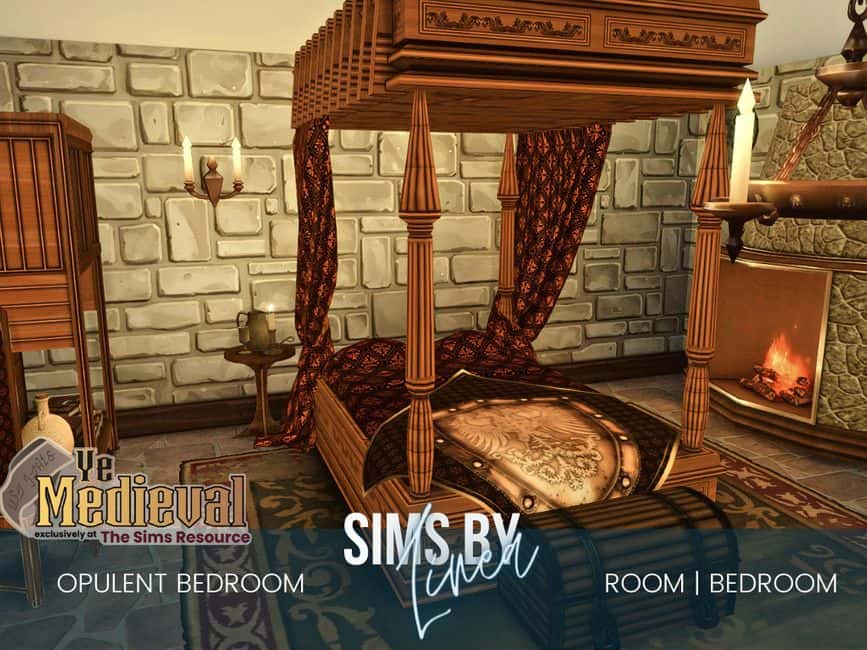 This fancy wooden bedroom set is ideal for your medieval castle interior.
From the stone hearth to the four-poster bed, this medieval bedroom cc set is fit for royalty.

30. Medieval Undergarment Set by Moriel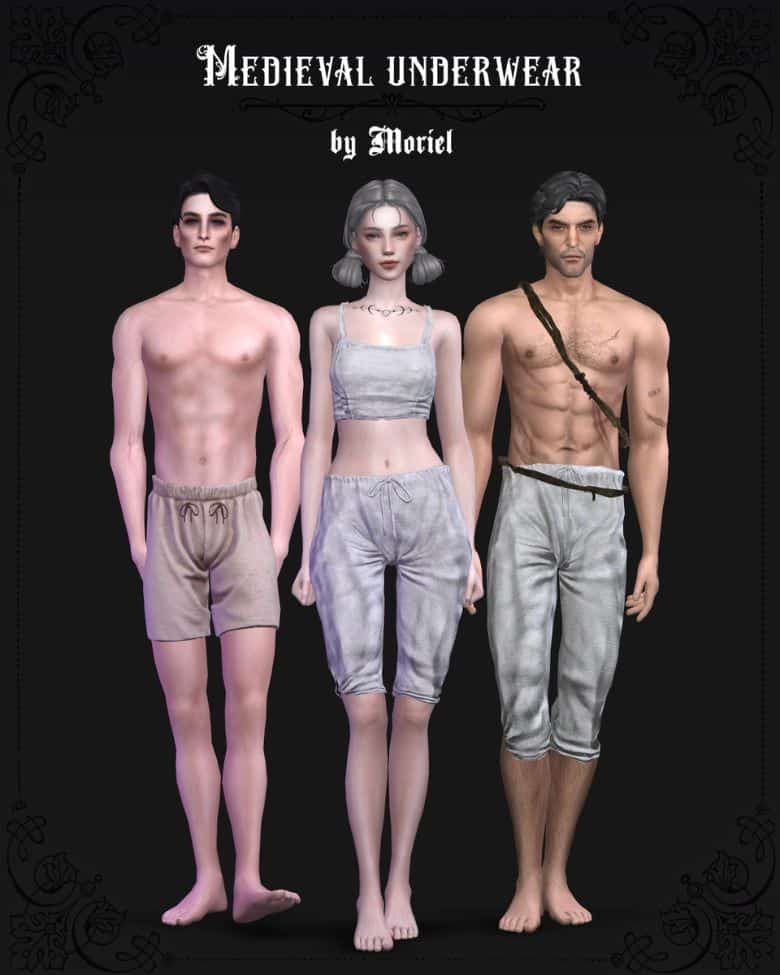 This sims 4 medieval cc set is all about your sims undergarments.
You get 13 pieces in this mixed pack, including a classic cotton nightgown, different length braies (shorts), tops, and sleeping pants.

31. Sims 4 Peasant Life Food CC by Simbishy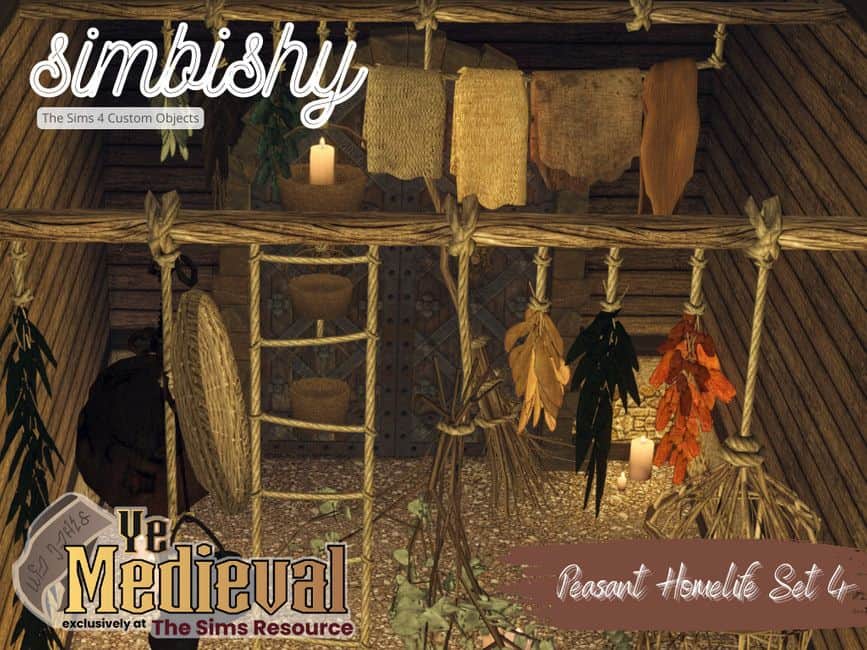 The fourth part of the peasant life set includes all the clutter your peasants need in their hut.
There are 9 clutter pieces, including;
Herbs
Broom
Garments
Hanging ladder
Pots & stuff

32. Sims 4 Medieval Castle Outfit by Nolcanol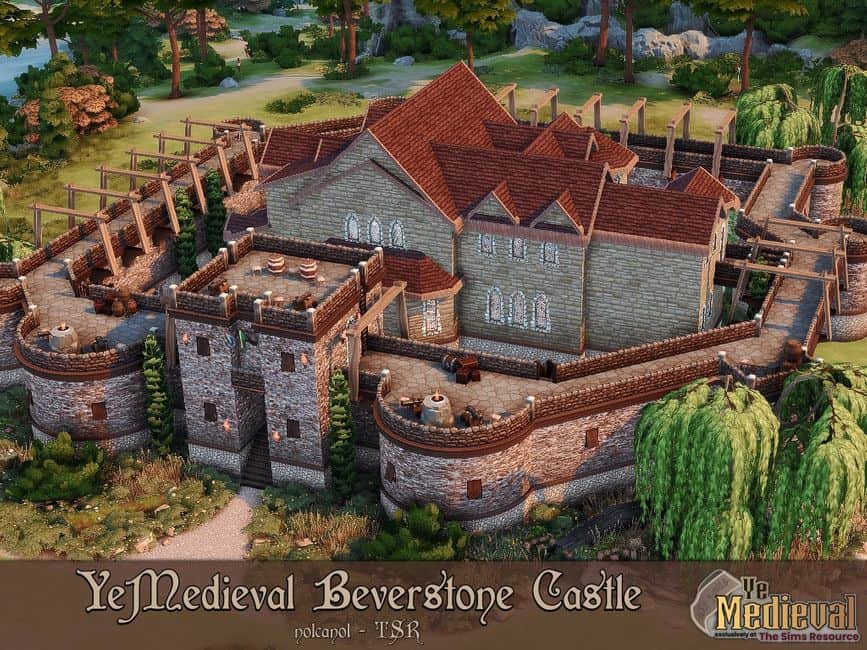 Nothing says Medieval better than a stunning castle in the background.
This two-story castle is beautifully designed, from the inner courtyard to the interior design.
This castle has everything from standard bedrooms to a worker's room and prison cells.
Sims 4 Medieval CC: Final Thoughts
From braided hairstyles to hay-stuffed peasant beds, this list sims 4 medieval cc has everything you need to get started.
While these are some of our favorite medieval cc pieces, if you come across any other fantastic cc, you can leave us a comment below.
Feel free to tag us on our Tumblr with any questions or comments.
Other Sims 4 Custom Content Lists

And don't forget to share and save this pin for later!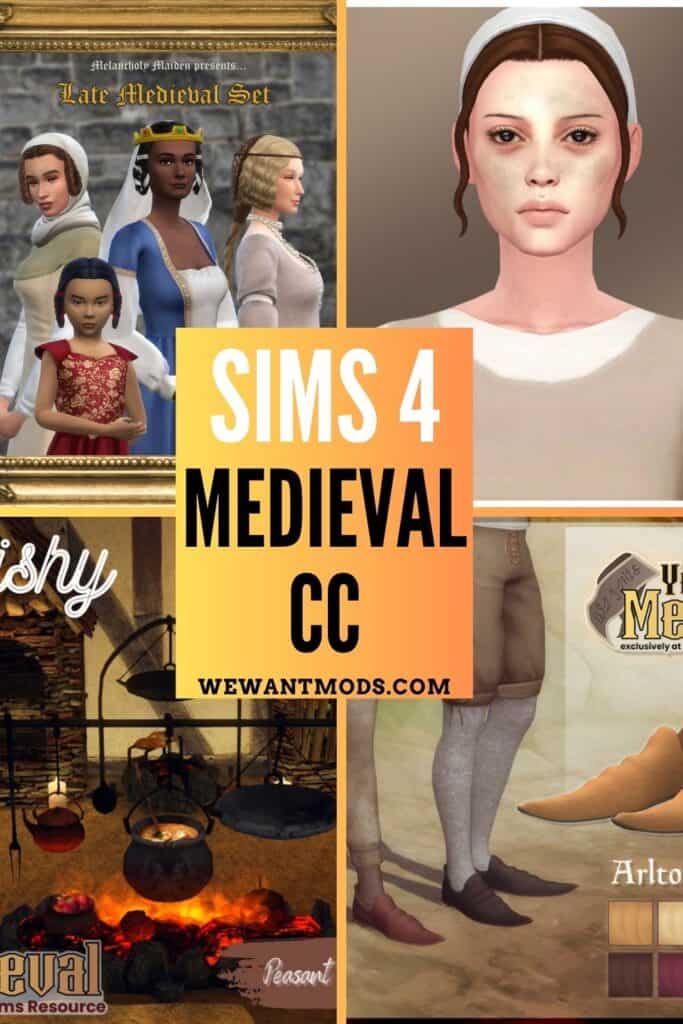 30+ Sims 4 Medieval CC: Embark On An Epic Journey