26+ Sims 4 Beard CC: Soul Patch, Face Stubble & Goatees
Say goodbye to your sims' bare face with some cool sims 4 beard cc.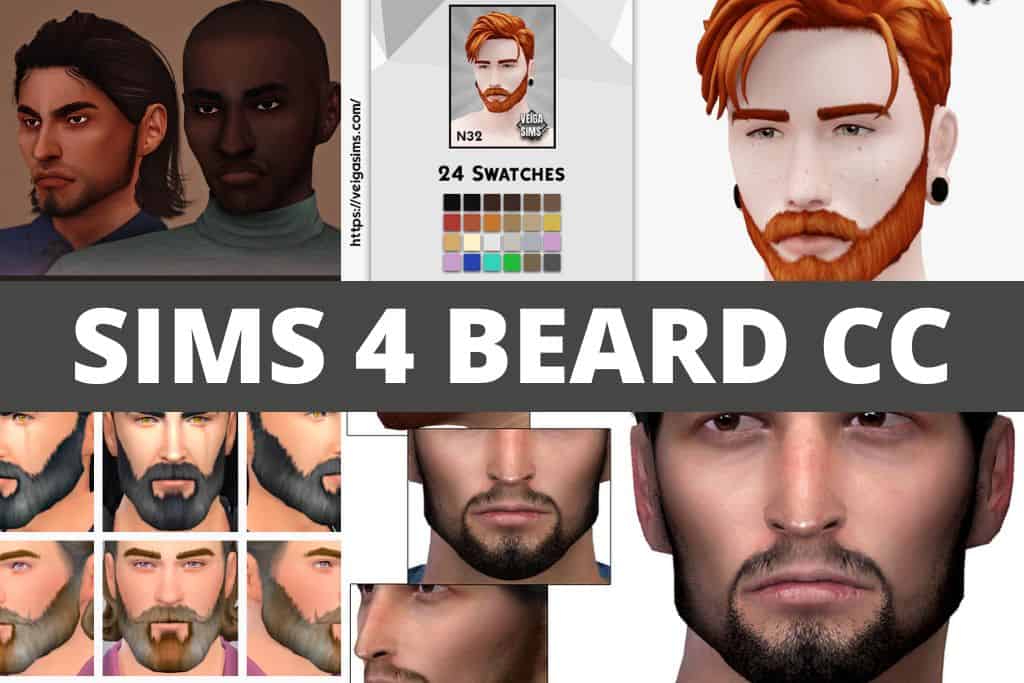 Facial hair and beards are often a fashion statement for men; if done right, they can make men feel confident and very attractive, and your sims are no exception.
Using facial hair cc in the sims 4 can reveal a lot about your sims' personality.
Going for longer beards could give off a look of more maturity while opting for shorter facial hairstyles can make them appear younger or more modern.
So, which beard style best suits your sims?
Sleek Sims 4 Beard CC
This list of our favorites sims 4 beard cc has a fine selection of facial hair styles; there's everything from clean stubble to a full, fuzzy beard.
Some base game-friendly items are maxis match, and some are also compatible with the HQ mod.
1. Omer Beard CC for Sims 4 by MagicHand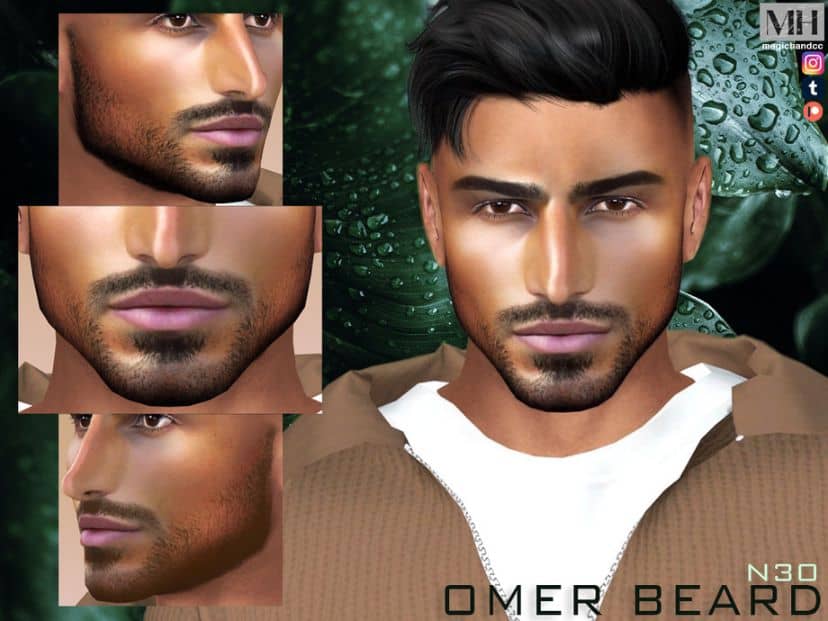 This medium hair stubble would look great on any male sims.
The slight lack of hair between the mustache line and the stubble differentiates it from an extended goatee.
Offered in 13 color swatches, this facial hair is also HQ-compatible.
This sims 4 beard will make your sims' face look clean, groomed, and masculine.

2. Sims 4 Beard Pack by IgorStory
This collection of sims 4 beard cc contains seven styles for your sims.
To give the beards a creative name, the creator came up with a cute bear name for each style.
So, in this set, based on the numbered item above, you'll get:
The Fozzie Bear
The Polar Bear
The Eighties Bear
The Bello Bear
The Boo Bear
The Thunder Lips Bear
The Woof Bear
Each style comes with the same 24 swatches.

3. Soul Patch Custom Content by -Merci-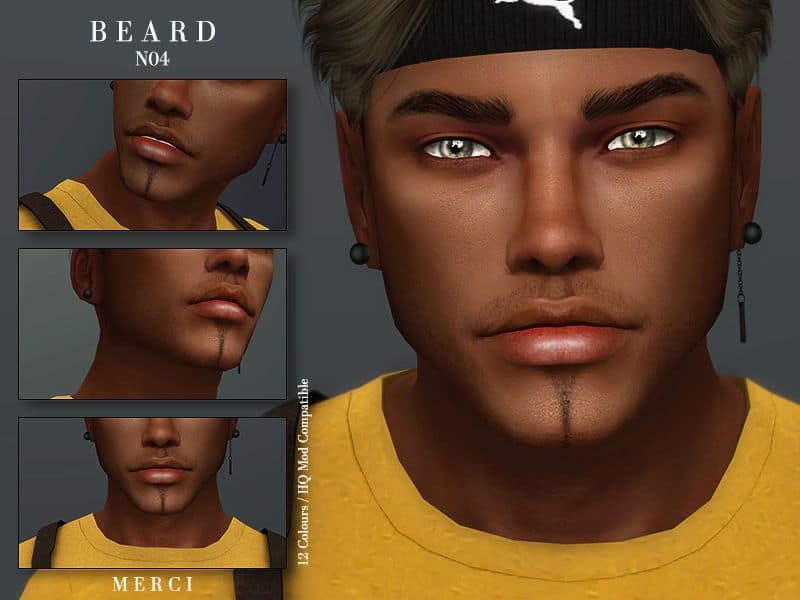 If you're looking for minimalistic, stylish, and sexy-looking facial hair, this cc may suit your sims nicely.
With this beard cc, you get a subtle light mustache line followed by a stubble-length, narrow soul patch line.
This cool facial hair comes in 12 colors.

4. Stubble Facial Hair by Veiga Sims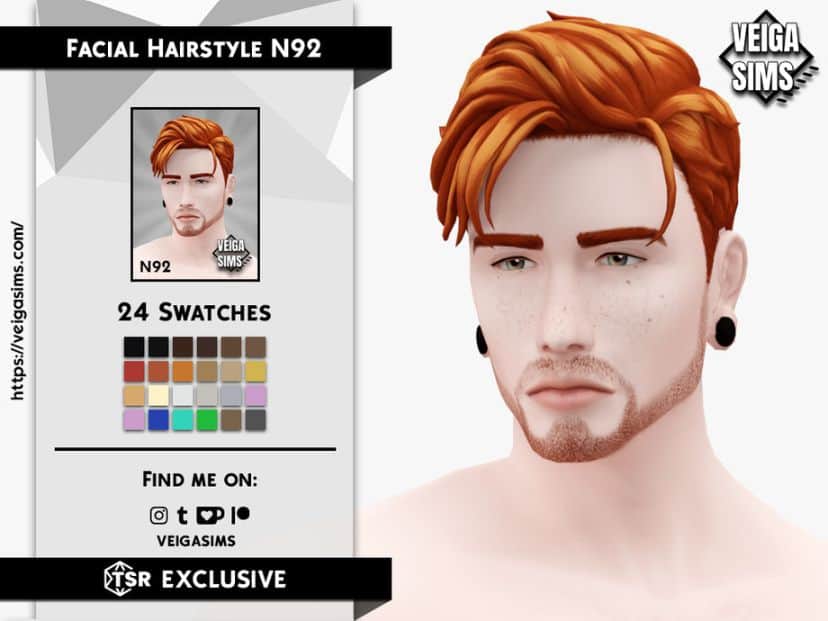 This sims 4 beard style is for a mix of an extended goatee and stubble.
The hairline along the jawline looks slim and well-trimmed, and I can say the same about the goatee.
Overall, the facial hair looks clean and even throughout the face and looks so defined that you can practically see each hair follicle.
The facial hair cc comes in EA's 24 swatches of natural and unnatural colors.

5. Sims 4 Realistic Beard CC by Seleng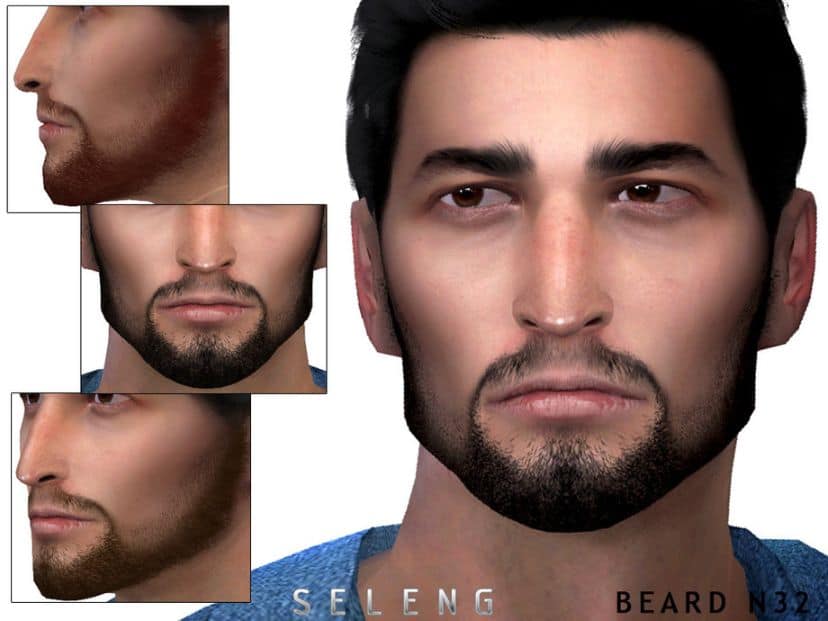 This extended goatee looks great, especially with the HQ mod that makes it extremely realistic.
The hair perfectly contours the jawline while the circle beard wraps around the mouth with a thin upper lip stache.
Also, you get this good-looking facial hair cc with 10 swatches.

6. Orlando Male Facial Hair by Wistful Castle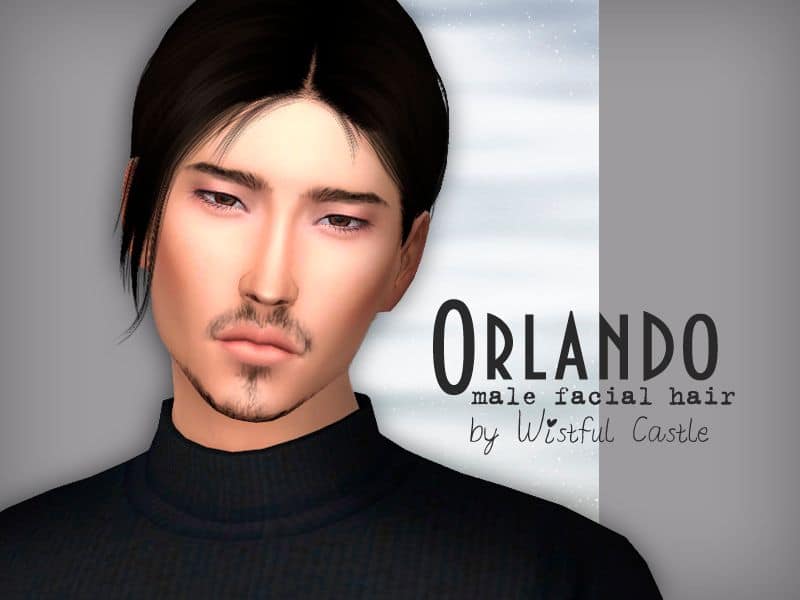 This sims 4 facial hair cc is for a medium-length anchor-style beard.
The jawline-shaped beard paired with a mustache goes well on any male sims frame.
Plus, this facial hair comes in 15 swatches to match your sims' hair color.

7. The Wizard Long Beard CC by IgorStory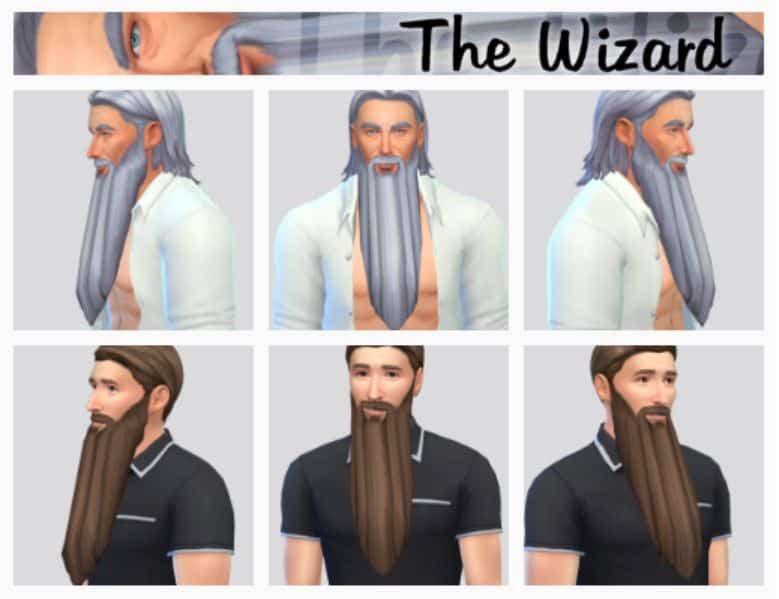 With this sims 4 beard cc, you can give your spellcaster the classic long beard to look like famous wizards from fan-favorite books.
You'll find this custom content under the Facial Hair category, with a choice of 24 swatches.
Be warned that there may be clipping issues with your sims' outfits due to the massive length of the beard.

8. Overnight Stubble CC by Golyhawhaw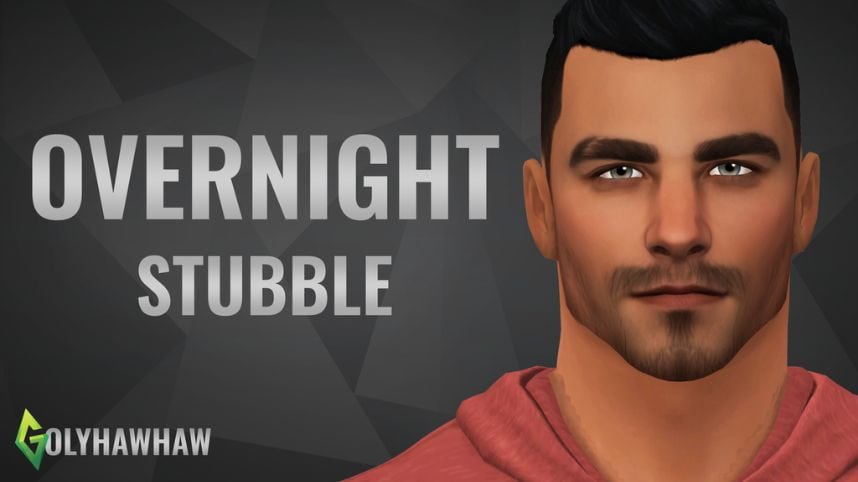 Are you looking for a sexy light stubble for your sims 4 men?
This short-length stubble perfectly mimics the morning's freshly grown hair on your sims' face.
You can use this beard cc with the HQ mod, and it comes in EA's 18 default color swatches.

9. Sims 4 Ducktail Beard by Candysims4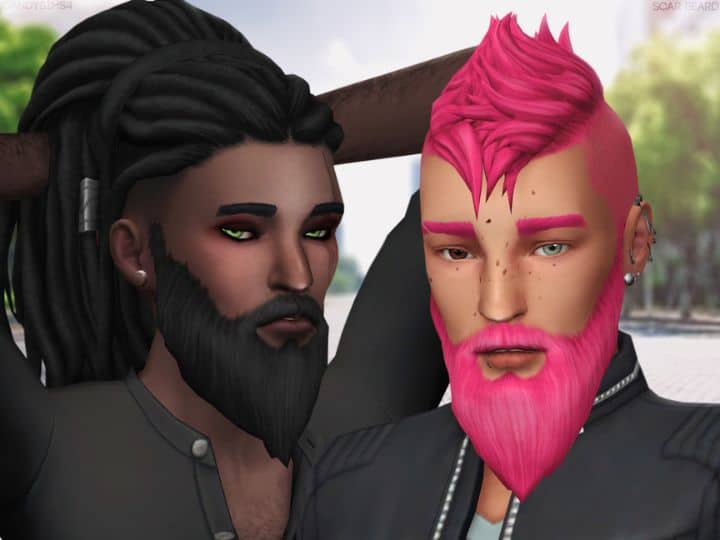 Are you a fan of ducktail style beards?
If so, you're in luck with these colorful sims 4 beard cc.
I say colorful because this facial hair cc comes in 45 natural and unnatural colors.
So, you get EA's 18 color swatches, along with the creator's 27 color palette.

10. Sims 4 Male Facial Hair CC by MagicHand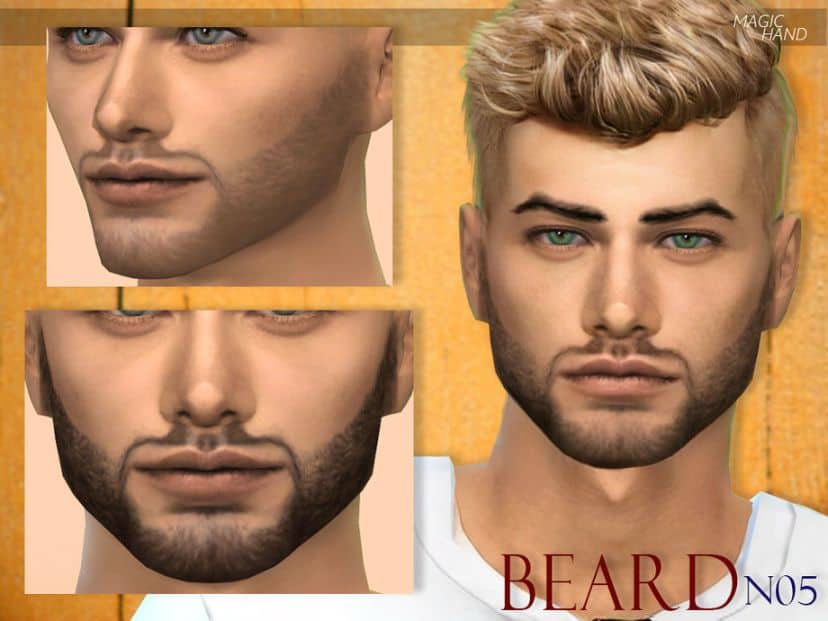 This set of sims 4 beard cc offers a groomed full-length stubble goatee.
Younger sims would look their best with this very neat, fashionable, and realistic-looking facial hairstyle.
There are 13 color swatches offered, and they can be used with the HQ mod.

11. Full Beard CC for Sims 4 by Nords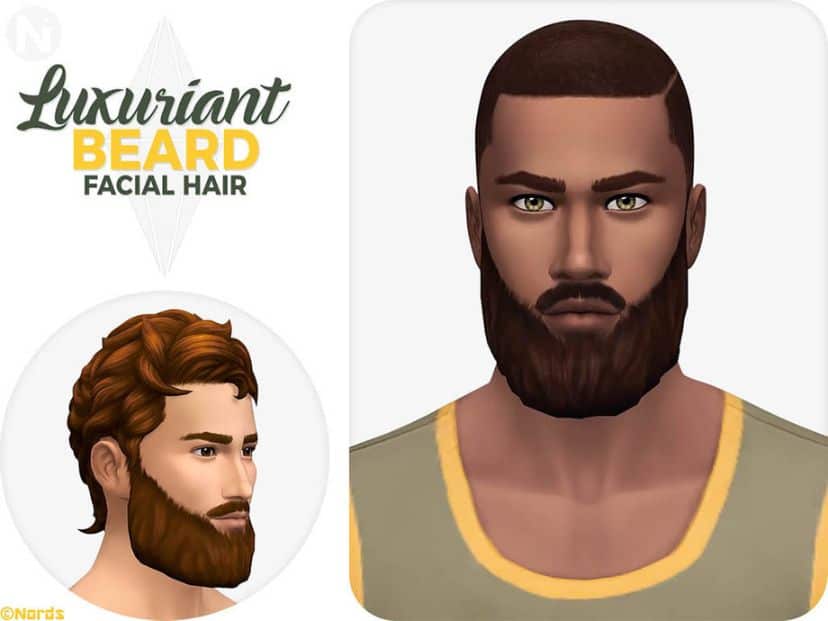 Are you looking for a full beard for your sims?
With this custom content, you can get the bushy beard your manly sim needs.
This beard cc can be used on sims that are aged Young Adult to Elder, and it's offered in 18 colors.
The medium-length beard looks clean and groomed, complementing any full-beard look you're going for.

12. Extended Goatee CC by Veiga Sims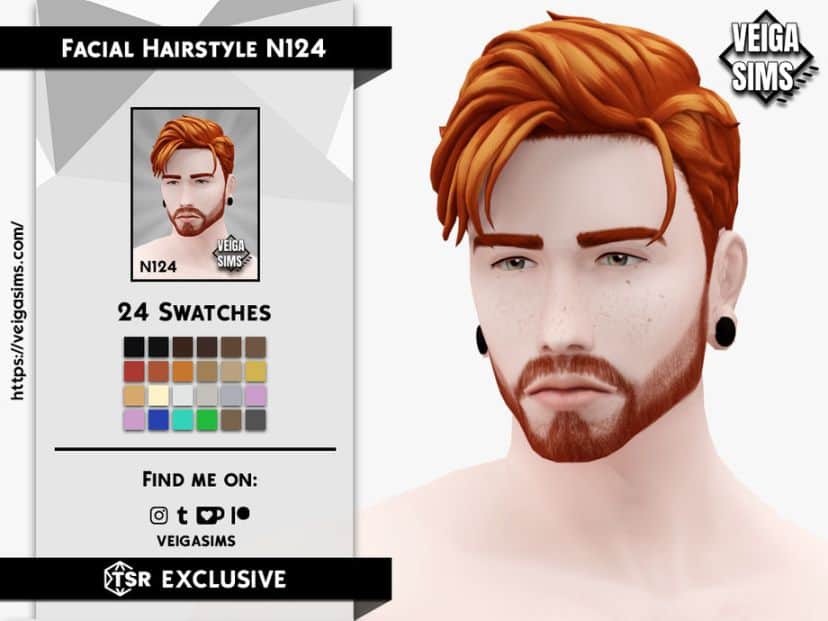 This facial hair cc looks like a step up length-wise to the item listed at #4.
Now, the stubble has evolved into a short, better-defined extended goatee.
You can still see the stubble growing and gaining momentum on your sims' face.
The beard cc looks well-groomed, giving a clean look.
Plus, it comes in the same 24 swatches.

13. Untidy Facial Hair CC by Seleng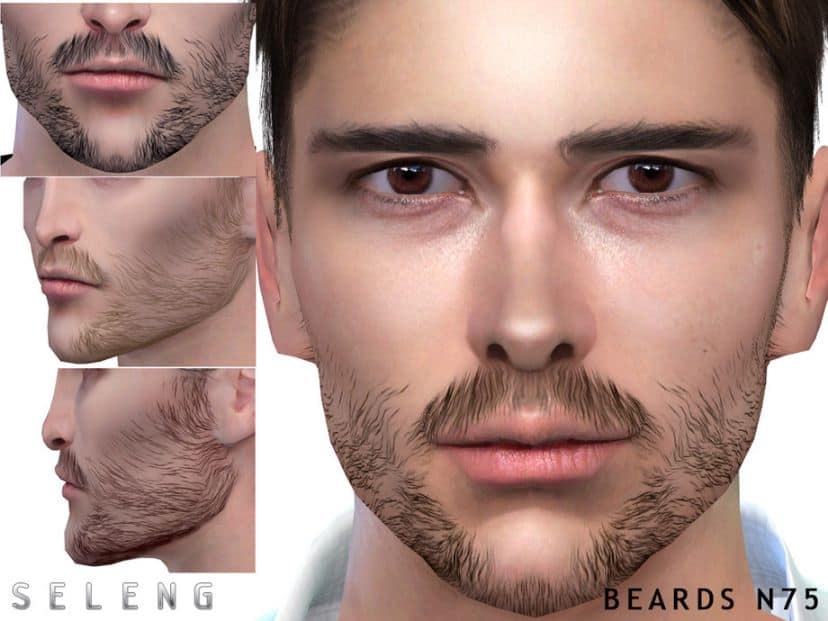 This sims 4 beard cc looks realistic because you see each singular hair on your sims' face.
It's fully compatible with the HQ mod and can be used on any sims, from teens to elders.
It's a long-haired stubble with a noticeable unevenness.
This facial hair cc comes in 10 color swatches.

14. Sims 4 Santa Beard by IgorStory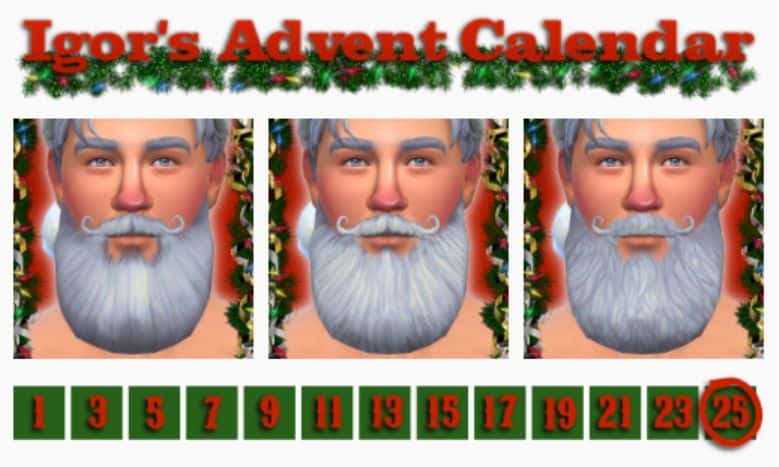 Is it that time of the year, and you're getting your sims ready for the holiday season?
You'll need this beard cc to dress your male sim into Santa Claus.
With this beard custom content, you get a full beard, perfectly round and trimmed, along with an imperial mustache.
It comes in three models, with a different texture on each.
There are 24 color swatches, so you don't need to exclusively use this sims 4 beard cc as a Santa beard.

15. Sims 4 Black Male Beard CC by Xxblacksims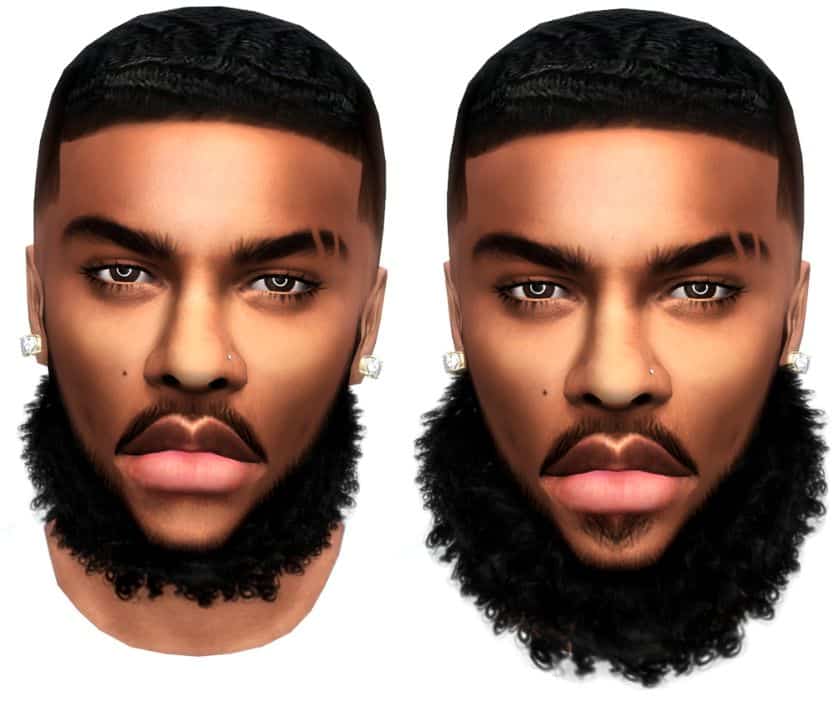 This curly beard cc comes in Black and has two swatches.
The swatches not only differ in the facial hair volume but the fuller swatch also comes with a soul patch under the lower lip.
These textured curly custom content beards are ideal for your black male sims.

16. Lone Wolf Sims 4 Beard by Wistful Castle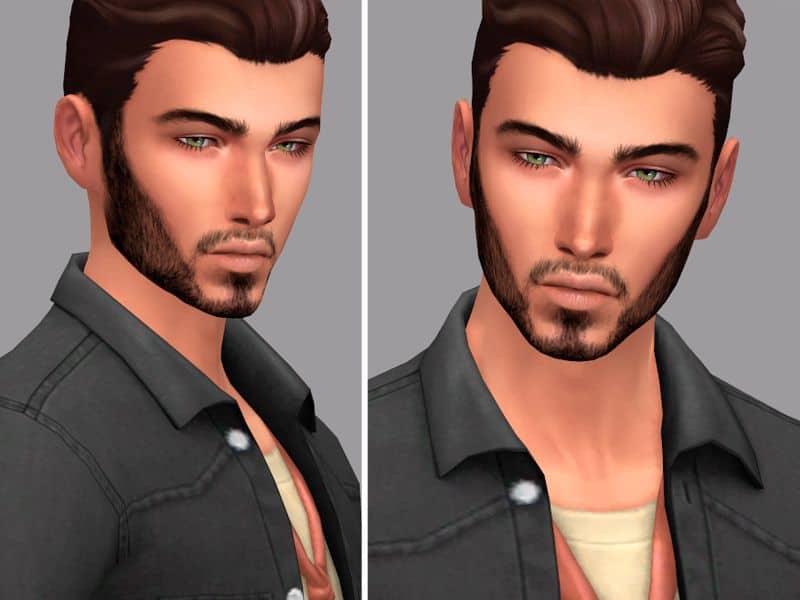 This neatly groomed beard is a mix of different facial hair elements.
This style combines the classic mutton chops style sideburns, a circle beard, and an extended soul patch.
The combined result will make any sim look jaw-droppingly handsome.
This style is offered in 16 swatches.

17. The Ragnar Beard CC by IgorStory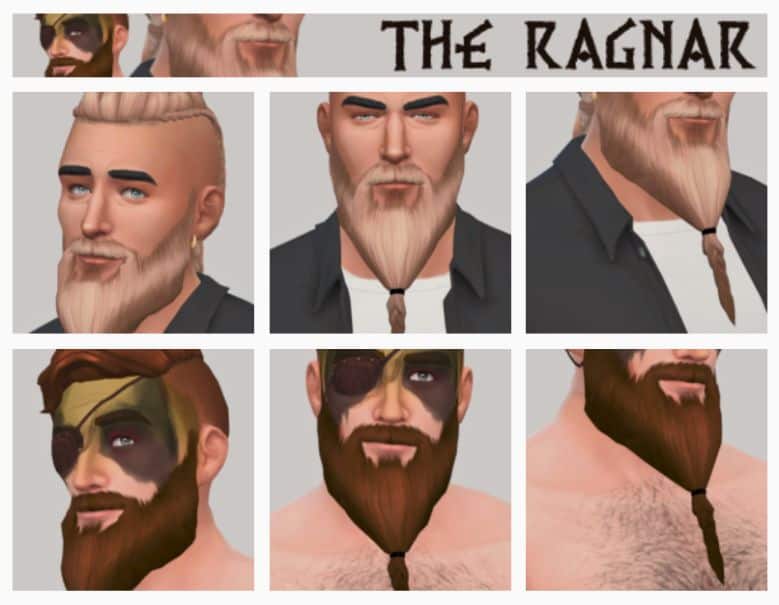 If you want a stylish long beard for your sims, this Viking-styled beard will do the trick; it's a full beard that's braided at the bottom.
You get the rugged beard look with a neatly groomed twist to it. Literally.
The Viking beard cc is offered in 24 swatches.

18. Sims 4 Balbo Beard by Veiga Sims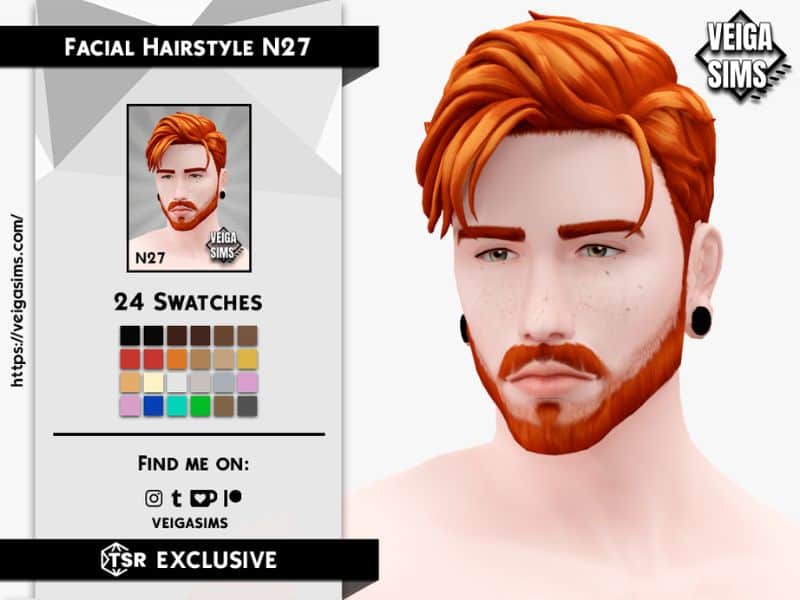 This beard cc seems like another upgrade from the same creator.
This time around, your sims beard has grown in some more, and the mustache is also fuller.
The stubble is still present but less noticeable because the beard is taking over your sims' face.
Like the last two cc, this one is also offered in 24 natural and unnatural color swatches.

19. Scoundrel Facial Hair by Golyhawhaw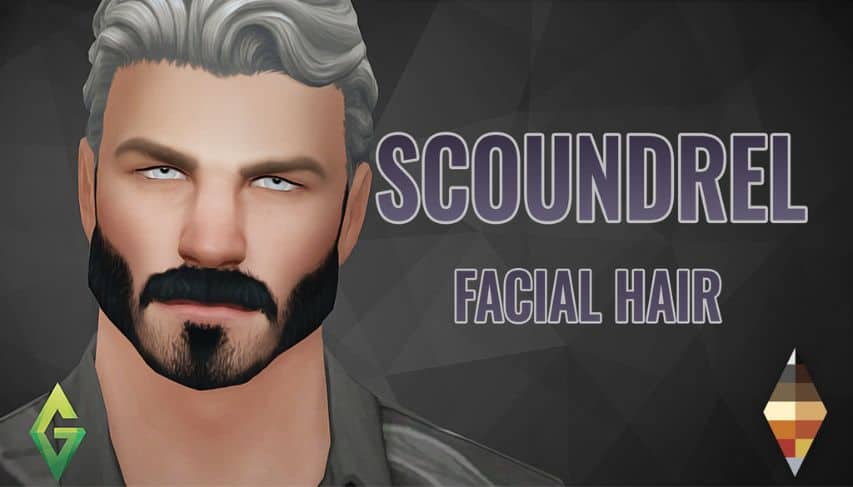 If you want a scruffy beard for your sims men, this sexy beard cc is worth a look.
This manly look offers great-looking elements such as a thick mustache, soul patch beard, and trimmed mutton chop sides.
It's HQ mod-friendly and comes in 13 natural color swatches.

20. Sims 4 Jawline Beard by Pralinesims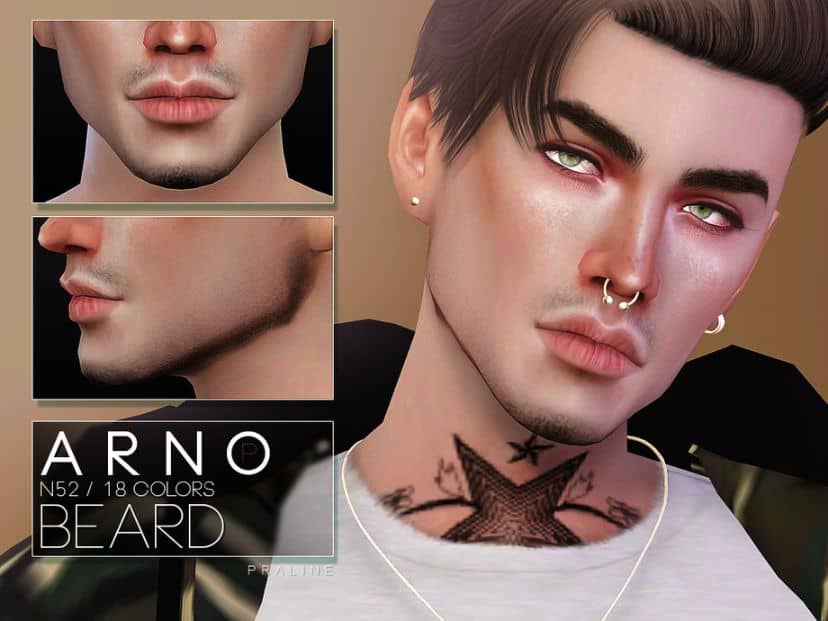 This cc is for a clean-cut jawline beard.
This facial hair is very subtle because it doesn't protrude past the jawline.
It looks neat and sleek and would best suit teens due to the low amount of hair on your sims' face.
The Arno beard is made available in 18 color swatches.

21. The Fluff Sims 4 Beard CC by IgorStory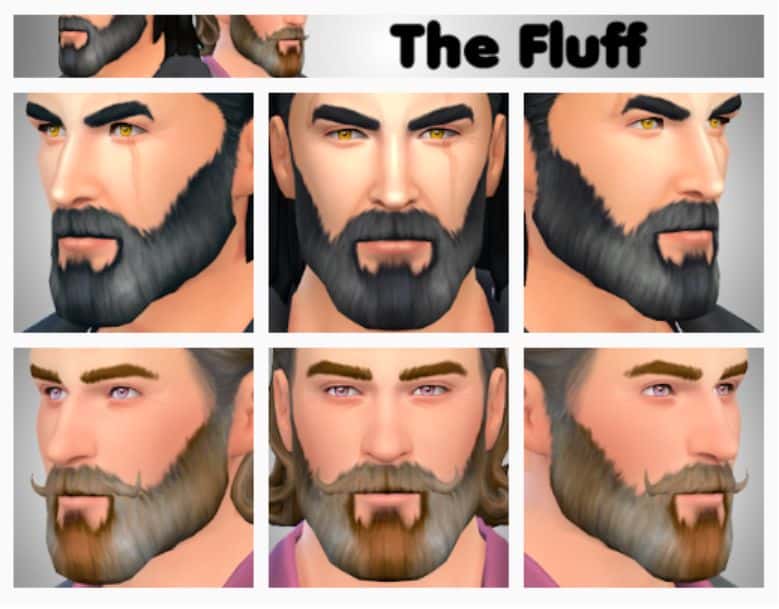 If you want a full-sized beard with a good thickness to it, this sims 4 beard cc has what you're looking for.
There are two versions of this sexy scruff.
The first version is for a full beard only, while the second style has an added handlebar-typed mustache.
Both of them are offered in 24 swatches.

22. Sims 4 Nico Beard CC by Reevaly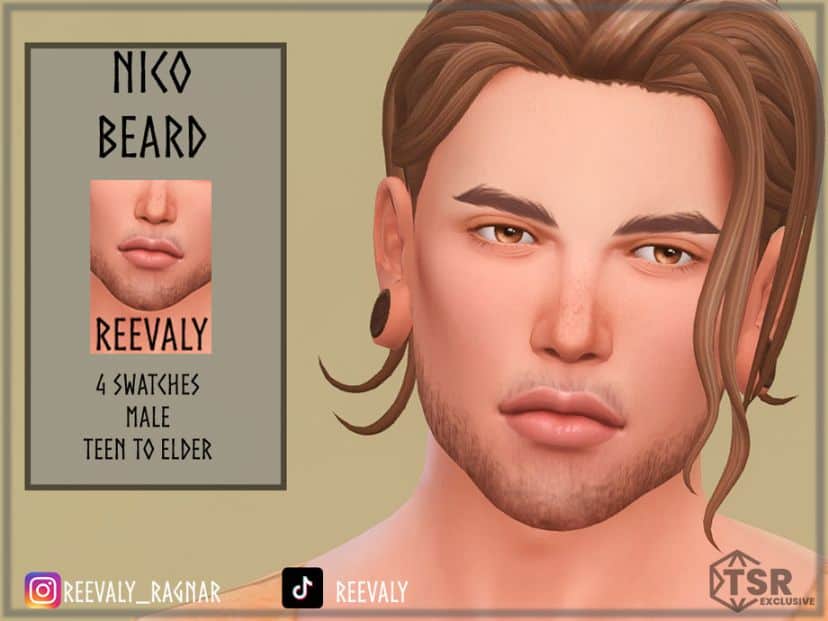 This facial hair cc is for a low, short stubble with a subtle mustache line.
The cc comes in only four natural colors: Black, Brown, Redhead, and Gray.
You don't need more swatches than these four because they cover the basics and blend in easily.

23. Sims 4 Facial Hair CC Pack by ThisIsThem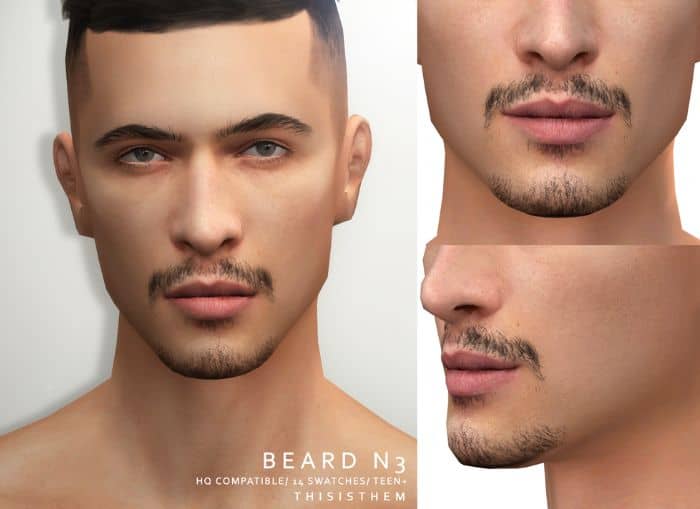 This pack features three facial hair styles.
The first beard style has 15 swatches and is a short, shaggy stubble.
For the second cc, it's for a chin curtain beard that comes in 15 colors as well.
Lastly, the third option is for facial fuzz with a short, patchy goatee and a pencil stache, with a palette of 14 colors.

24. Full Beard Facial Hairstyle by Veiga Sims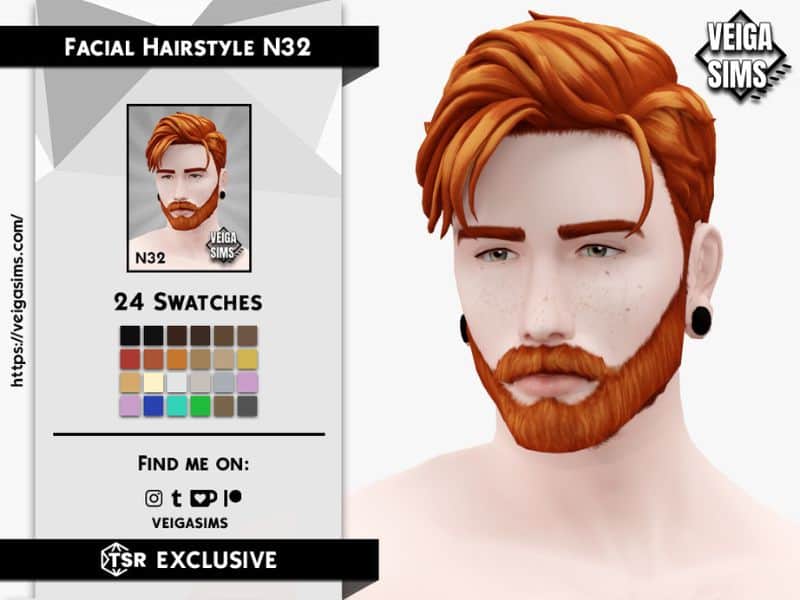 If you're looking for a clean, well-groomed beard, this sims 4 beard cc is for you.
With this facial hair, you get a full beard; unlike the previous styles, there are no signs of stubble.
The long hairs on your sims' faces would look good on any male frame and comes in the creator's usual 24 colorful swatches.

25. Sims 4 Facial Hair by Seleng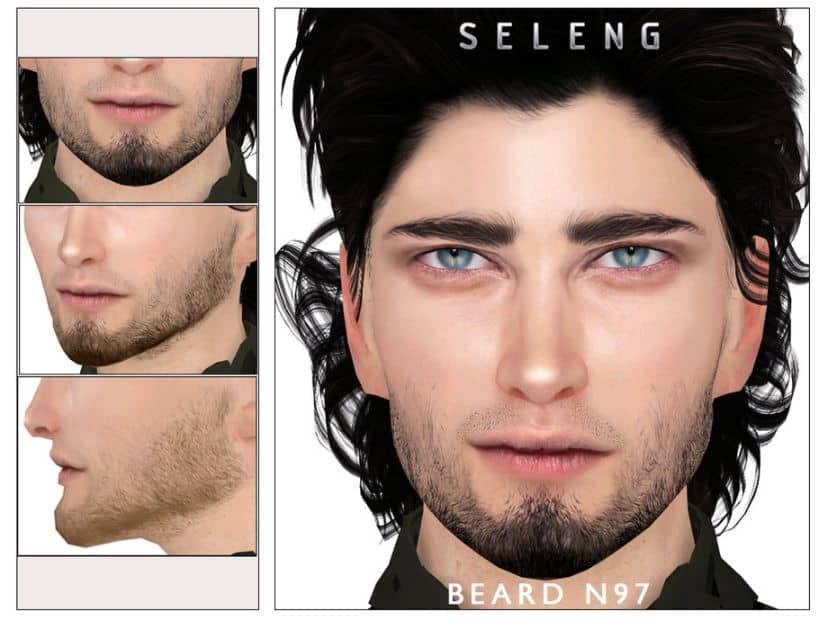 This sims 4 beard cc is for a light, short, stubble beard that blends into a goatee.
The unevenness of the hair shows that the facial hair isn't groomed, which makes it scraggly and scruffy.
It's totally HQ-compatible and comes in 21 color swatches.

26. The Asgardian Beard by IgorStory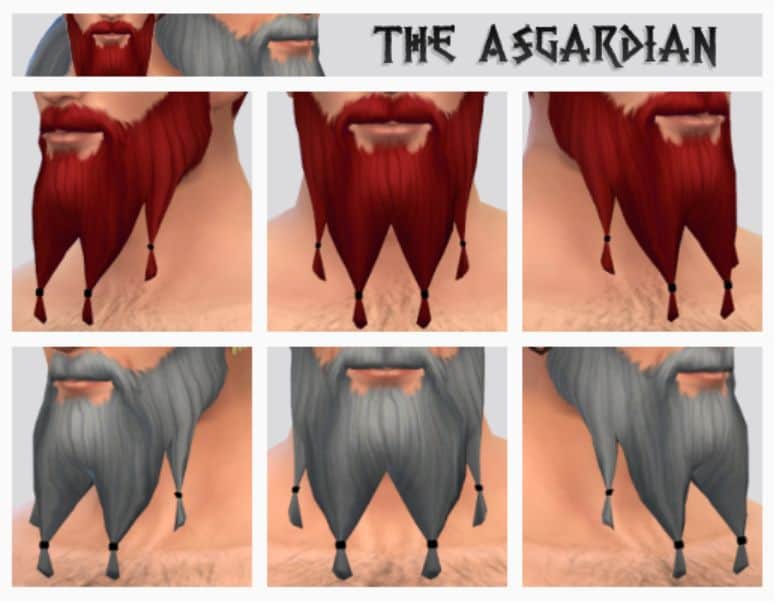 Are you looking for unique sims 4 beard cc?
If that's the case, this one undoubtedly stands out from the rest.
You get a full beard for your sims, styled by dividing it into four, tying each bunch at the tip.
There are 24 swatches to choose from, and you can find this sims 4 beard cc under the Facial Hair category.
So that you know, there may be some clipping issues when your sims bend the head.
This original-looking beard looks great on your sims if they happen to be Vikings. I'm just saying.

27. Collection of Sims 4 Beards by Pralinesims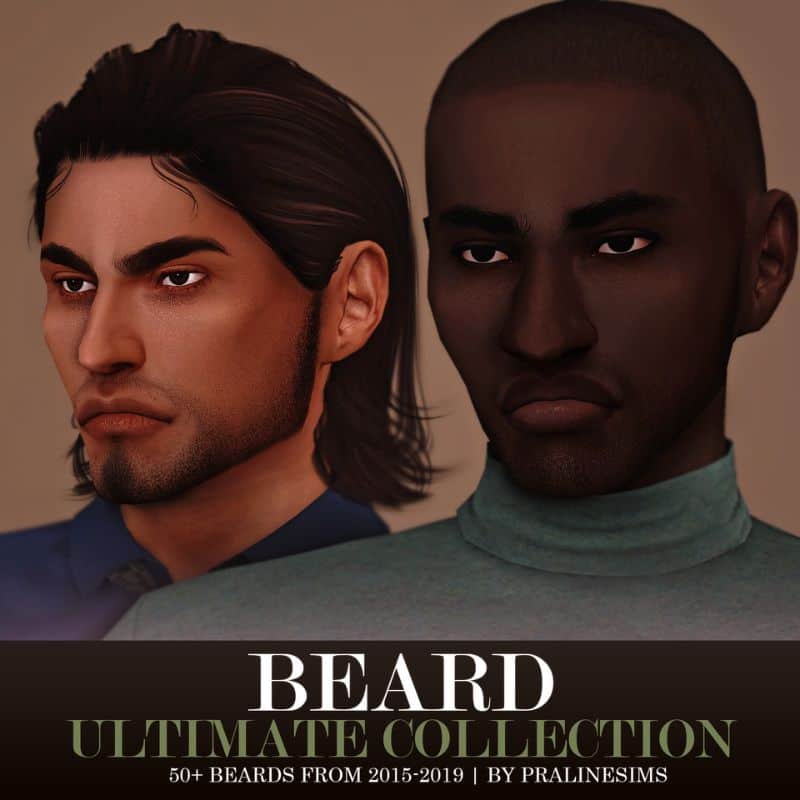 This amazing collection of facial hair cc is the one to get for an all-rounder solution.
There are 53 mustaches and other facial hair options to match any style you're going for.
Each facial hairstyle has its set of color swatches, which varies from one to the next.
With the amount of cc in this pack, it may take a while to experiment and pick faves, but that's the best part.
Sims 4 Facial Hair CC Recap
We hope you've found a few sims 4 beard cc that made the cut into your mods folder.
Whether you're looking for something long or on the shorter side, there's a style for everyone.
If you're unsure about some of these cc, shave them for later; they'll eventually grow on you 😉
If you have any questions or suggestions, feel free to leave us a comment below or tag us on Tumblr.
And don't forget to share and save this pin for later!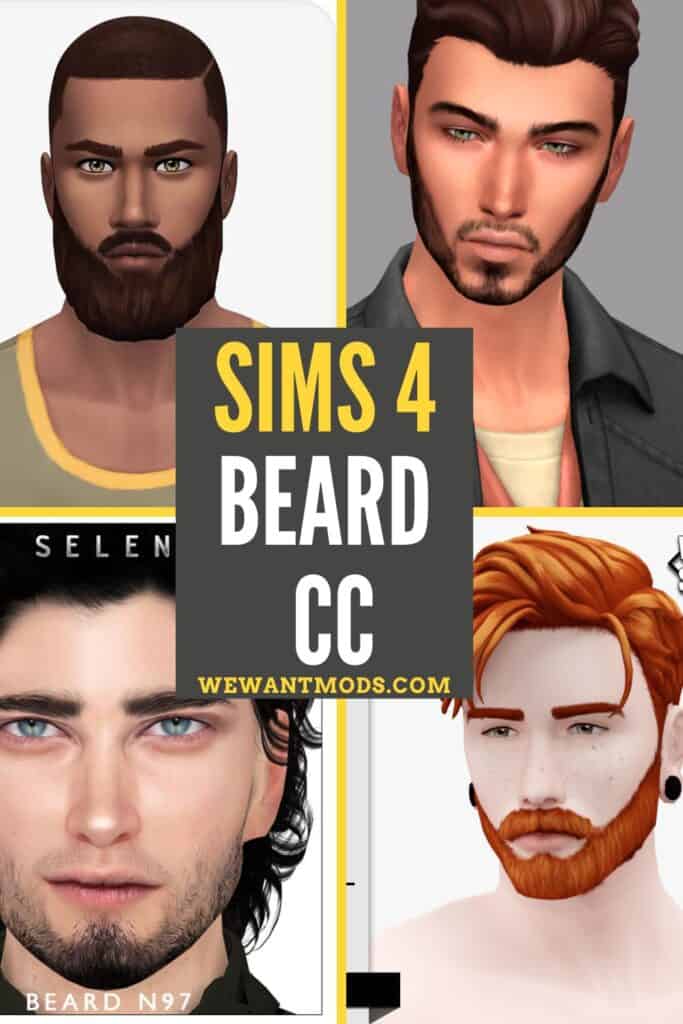 Other Sims 4 Custom Content Lists
26+ Sims 4 Beard CC: Soul Patch, Face Stubble & Goatees