20+ Sims 4 Suit CC: Sharpen Your Sims Style
Take the business world by storm with this Sims 4 Suit CC collection.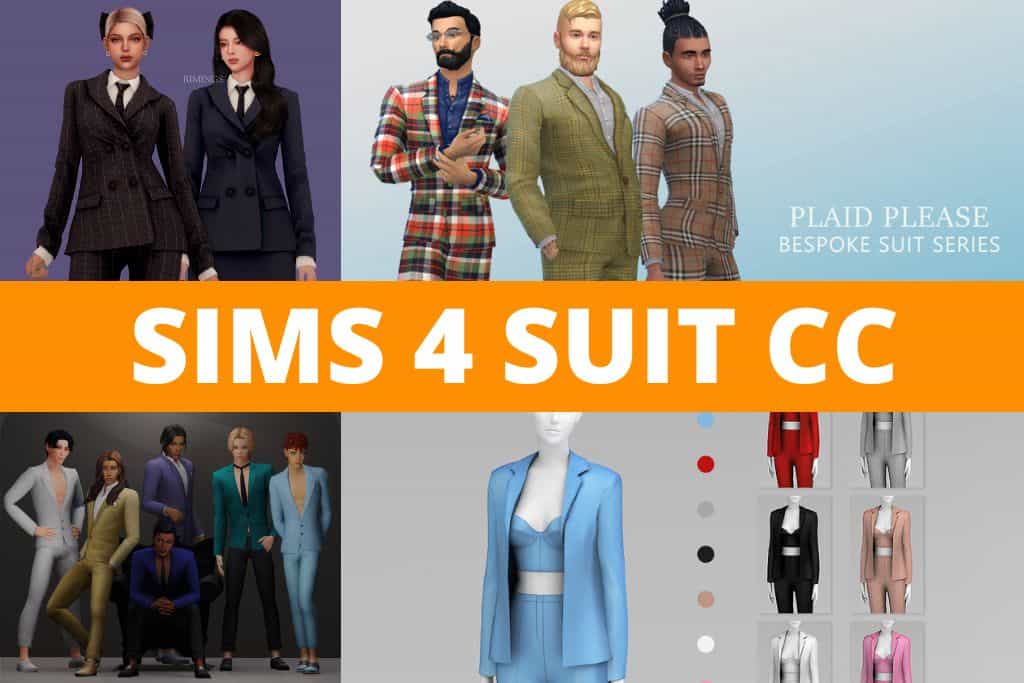 No sims closet is complete without at least one suit set to round out their clothing options.
Suits come in many styles, from more casual sets with shorts to a tweed blazer to pair with pants, club wear suits, work suits, and more formal attire.
Your sim might be a busy professor or hitting the club for drinks with the boys; they'll want to look their best for either occasion.
Since we love options, we found some great sims 4 suits cc finds perfect for the different events in your sims lives.
Disclaimer: The following mods are neither endorsed nor affiliated with The Sims, Maxis, or Electronic Arts. Any use of mods (custom content or game mods) should be done with caution and with the knowledge that there may be risks.
Trendy Sims 4 Suit CC
Below, we've included a mix of different styles of custom content suits for your male and female sims.
We also added a couple of options for the younger sims in your household.
1. Sims 4 Suit CC With Shorts by Trillyke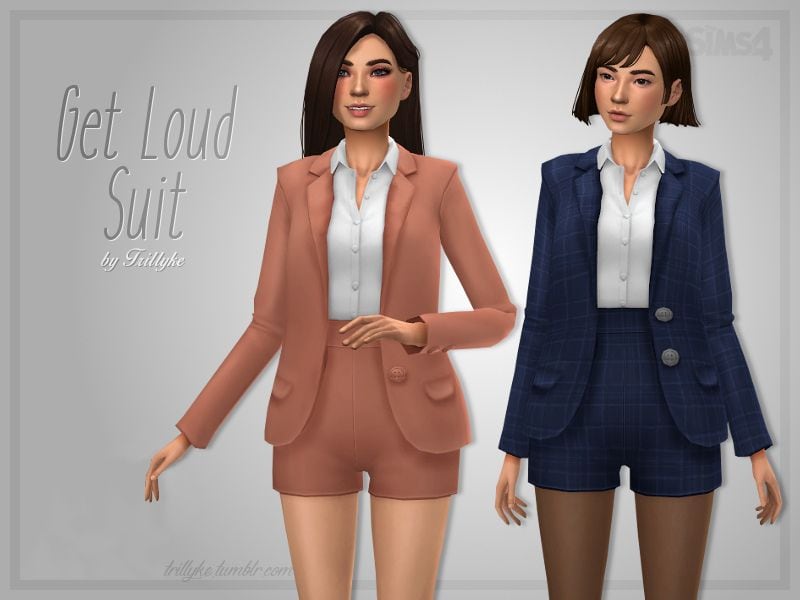 This sims 4 suit cc combines the perfect blazer, button-up shirt, and shorts.
This type of suit is ideal for the warmer seasons, where your sims can stay professional for work while still dressing for the season.
The suit has 15 swatches, including 10 solid colors and 5 plaid options.

2. Sims 4 Men's Suit by Sims House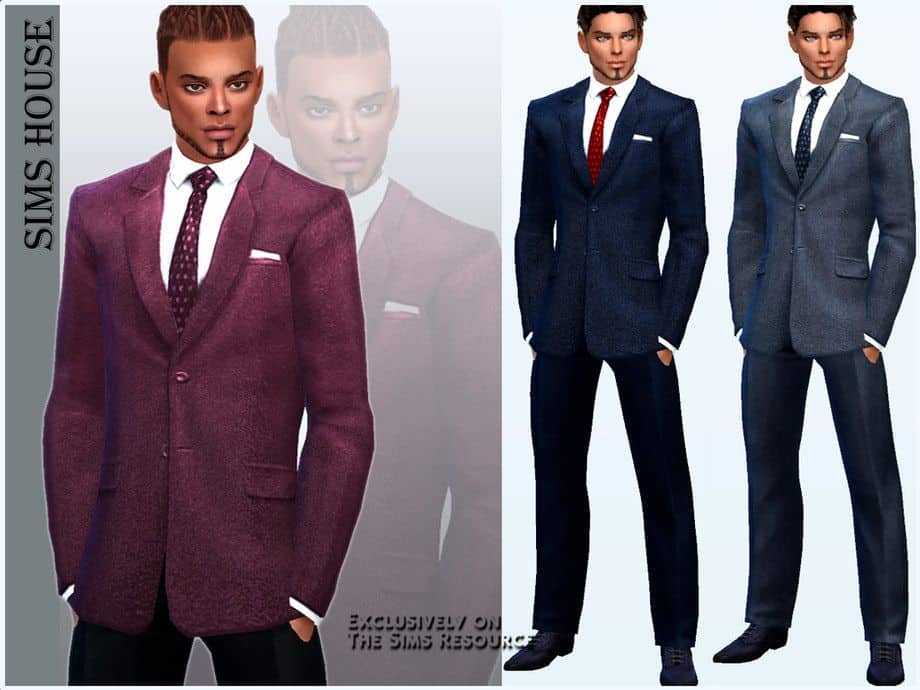 This four-piece sims 4 male suit set comes with pants, a suit jacket, a shirt, and a tie.
There are 12 swatches for this business suit, all of which come with white shirts, and half the swatches have different pants colors from the jacket.

3. Sims 4 Casual Male Suit by Remaron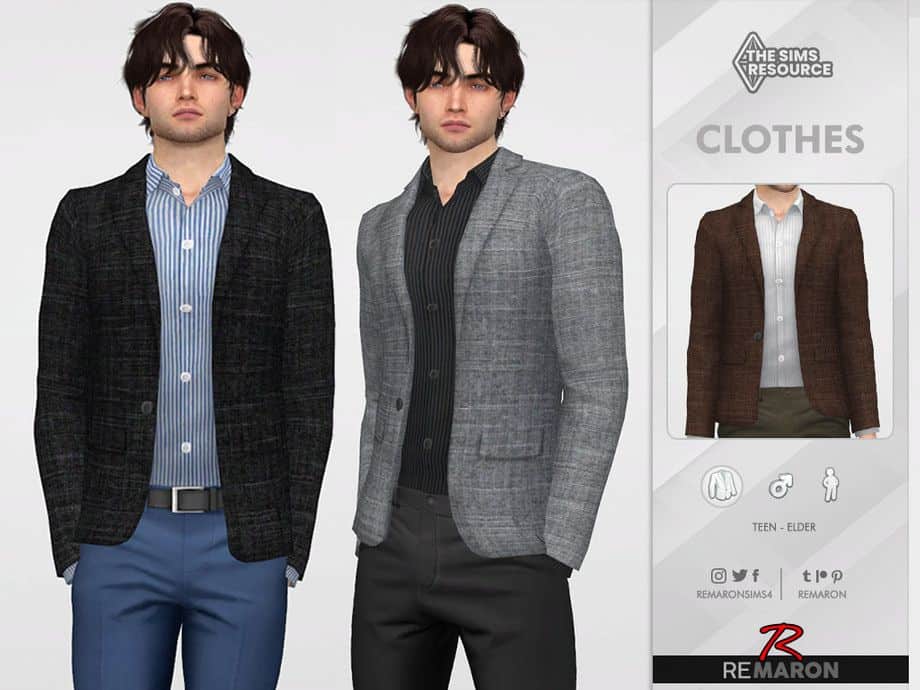 This blazer and shirt set is perfect for a sim working as a busy yet stylish professor.
The blazer has an excellent tweed look, and the skirts have medium-sized stripes.
There are 10 blazer/shirt combos; the blazer comes with a few different grey swatches and one brown option.
The shirt colors range from burgundy, green, white, light blue, purple and more.

4. Base Game Suit Recolors by Newbeesims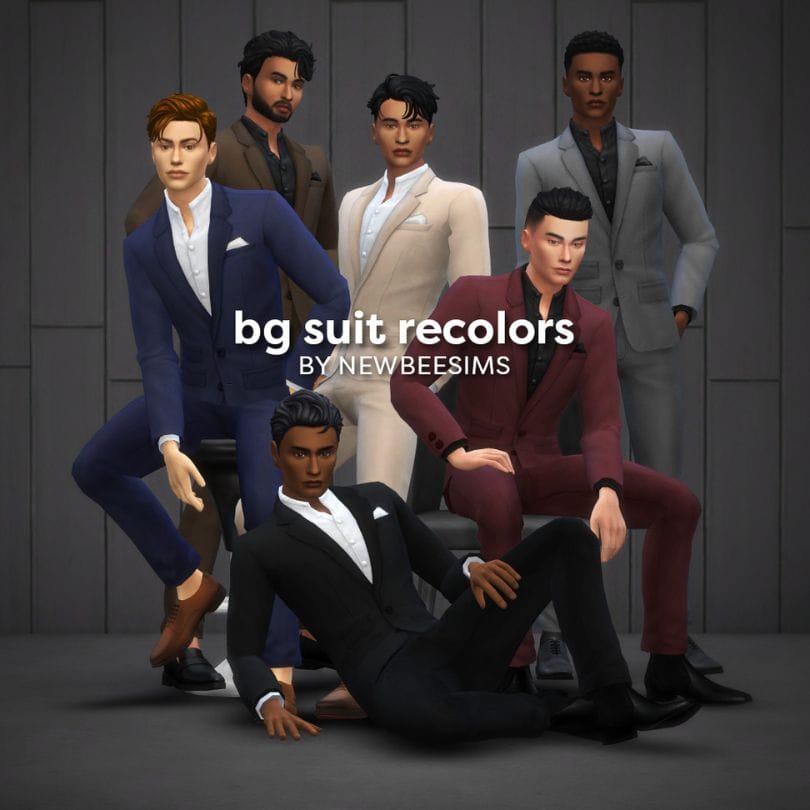 If you are a fan of the base game suit but wish there were more colors, these Maxis Match base game recolors offer 12 new swatches.
Whether you prefer the deep urgency, sapphire blue, or grey recolor, you can get any of the 6 new suit colors with a white and black shirt option.

5. Corduroy Suit Custom Content by Faded-springs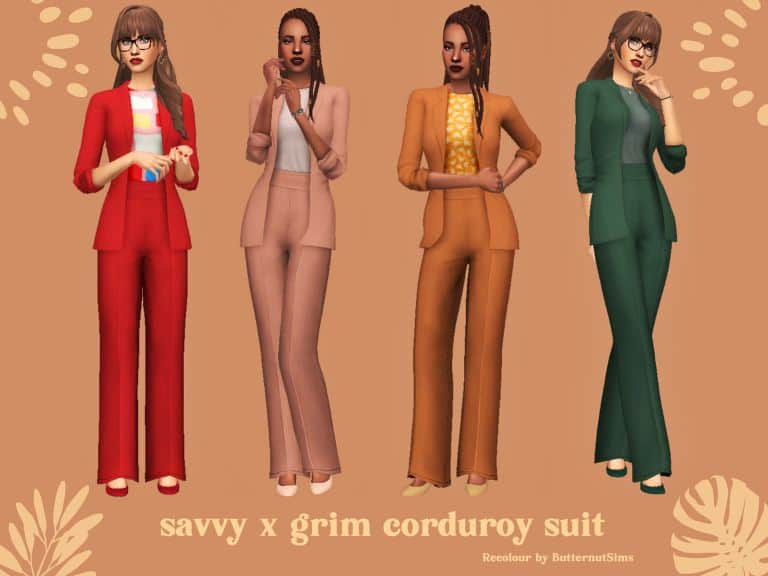 This business-ready suit set comes with 3-pieces: straight-legged pants, an open suit jacket, and a fitted top underneath.
The suit cc set comes in 48 swatches, which includes 28 solid swatches with different color tops within the same color family.
The remaining 20 swatches come with patterned tops, including abstract options, leaves, flowers, triangles, and more.

6. Sims 4 Female Business Suit by Madlen
What looks more sophisticated and professional than a mid-length pencil skirt and fitted suit jacket?
This Calanthe outfit is one of my new favorites and paired with some fantastic pointed heels, this custom content suit will be complete.
The suit comes in 6 two-tone color options.

7. Men's Plaid Suit Set by SimmieV
If your sims are into plaid fabrics, they'll love this collection of sims 4 plaid suit swatches.
The set includes 8 unique plaid patterns; my favorites are the Burberry style brown checkered option, and the light blue, brown and grey plaid swatch.

8. Sims 4 Suit Dress by Sims2fanbg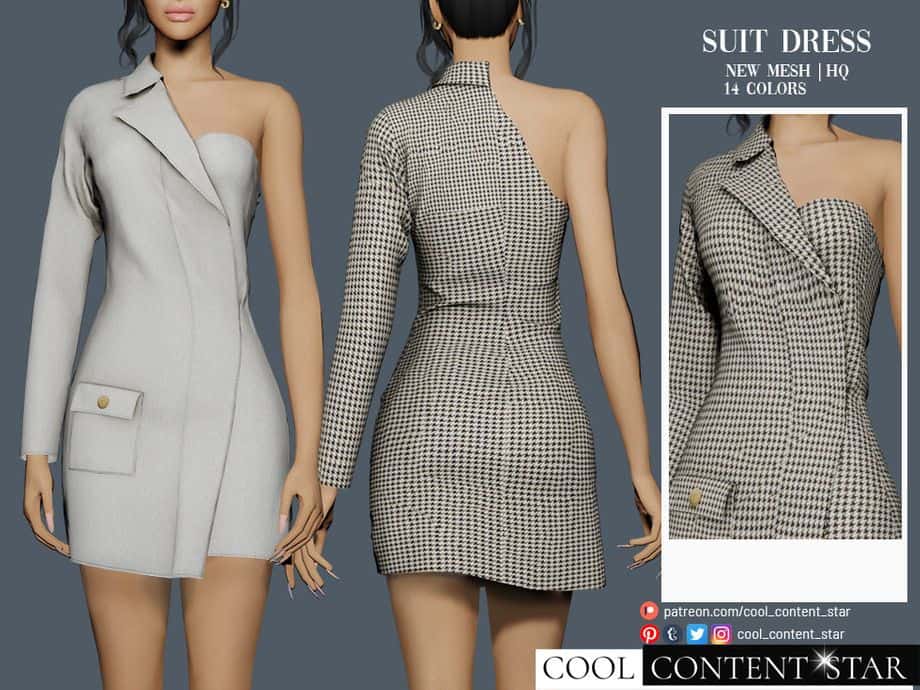 I really loved this custom content suit when I came across it; I mean, who wouldn't love a suit dress made from an actual suit jacket?
This unique and avant-garde suit dress is made for the fashionista sims in your household.
The suit has 14 swatches, including 6 solid color options, 6 houndstooth patterns, and two checkered-style swatches.

9. Blazer Outfit for Sims 4 by Madlen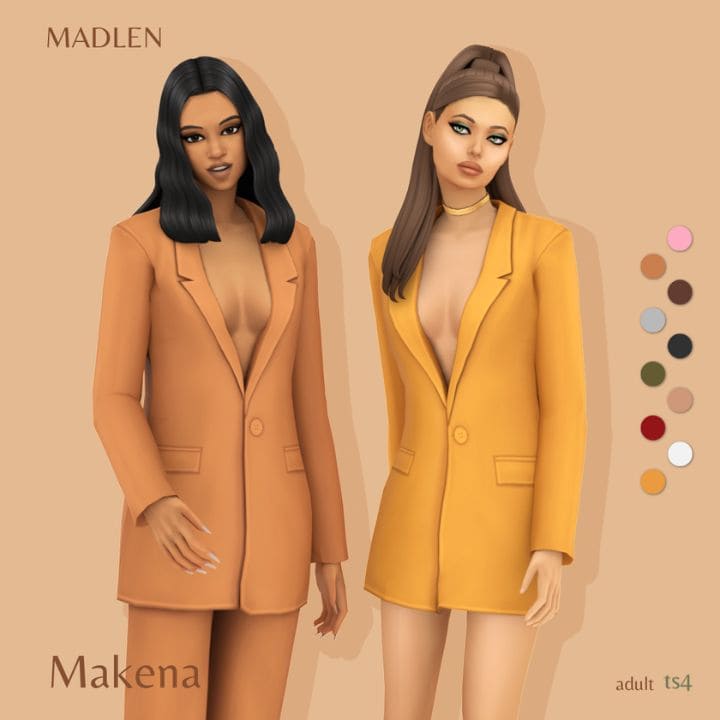 Are your sims feeling adventurous with fashion?
This Makena suit set comes in two versions; your sims can sport a suit jacket with a plunging necklace and loose-fit pants.
Or your female sims can be extra daring and wear the suit jacket on its own as a dress.
Pair this blazer with fabulous shoes, and you have the perfect outfit.

10. Tie & Two-Piece Suit CC Pack by Rimings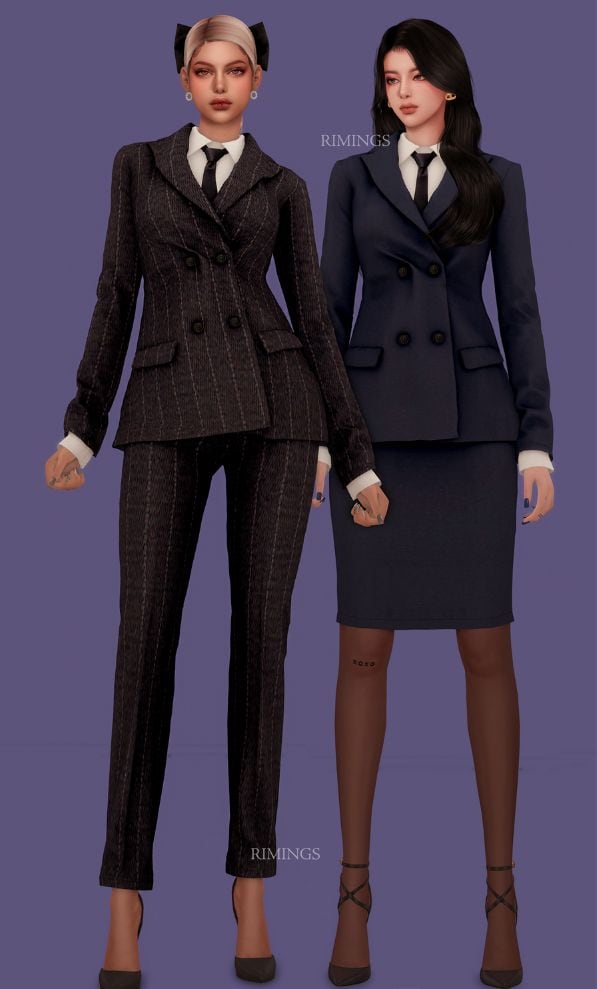 Everyone loves options, and this sims 4 suit cc pack comes with both a suit jacket and pants set and a blazer and skirt option.
Both suit options include a white shirt underneath and a black skinny tie.
These suits are both formal and modern at the same time; the suit jacks are double-breasted style, and the pencil skirt and pants are nicely fitted.
There are 15 swatches for each suit set, including solids, stripes, and patterns.

11. Sims 4 Boys Suit CC by McLayneSims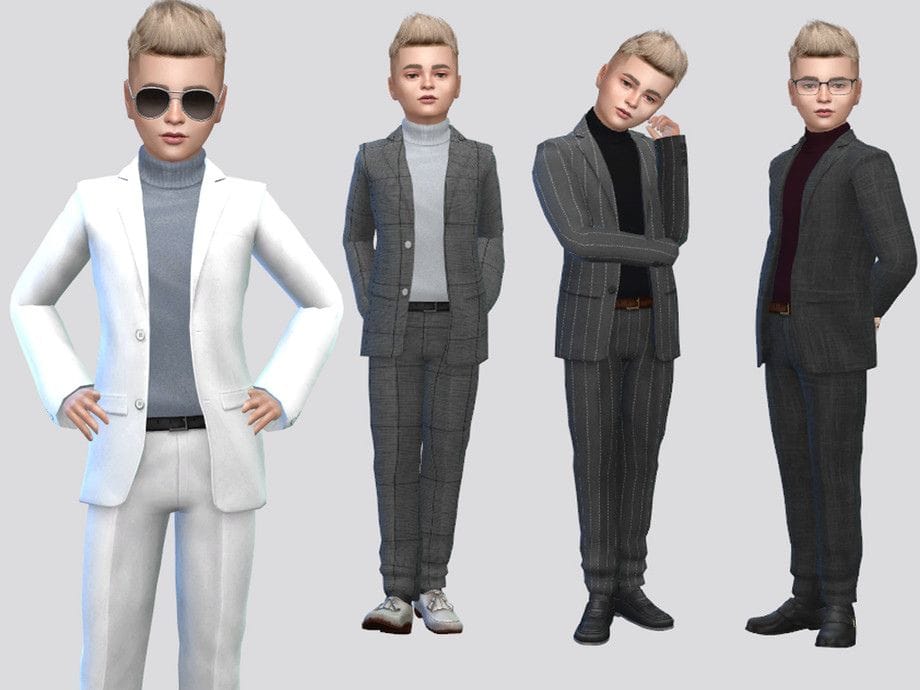 The male children in your household are not to be forgotten; you can now dress up your sims kids with this sleek, turtleneck suit set.
The suit comes in 8 swatches, from stripes to checkers, each giving off adult vibes, letting your child sims play grown up for the day.

12. Male Suits Pack for Sims 4 by Amythesailor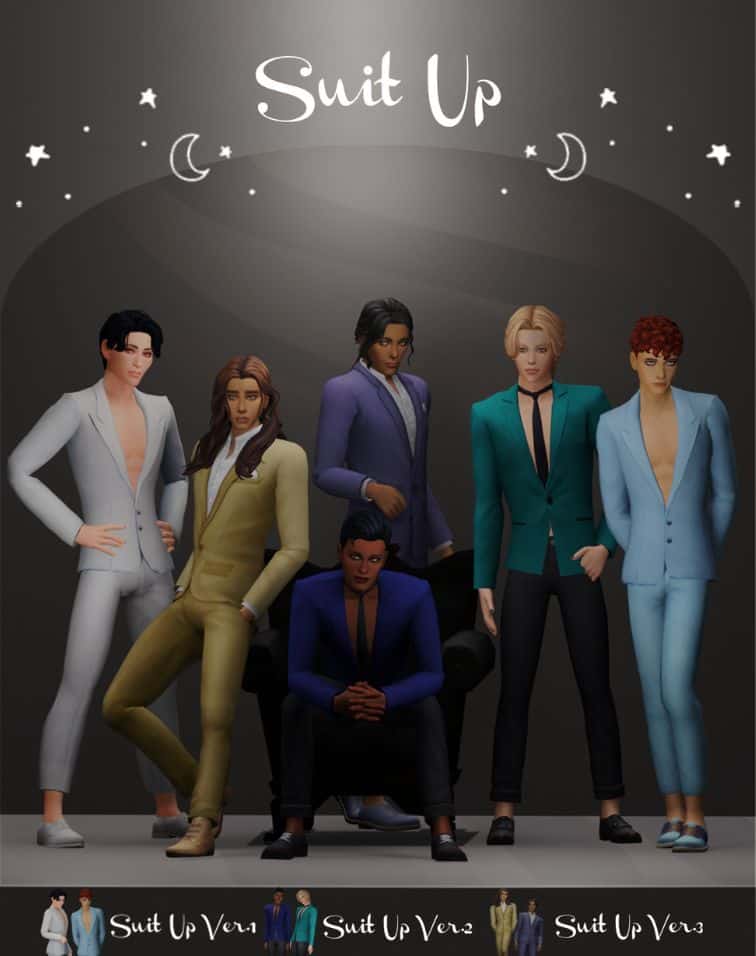 This small collection of sims 4 suit cc comes with 3 different suit styles for your male sims.
The first suit includes a one-button jacket, skinny tie and pants. The second model is a two-button suit jacket, and cropped pants.
Finally, you get a three-piece suit set with three pocket details.
Each suit model comes with either 20 or swatches.

13. Fancy Men's Suit Set by McLayneSims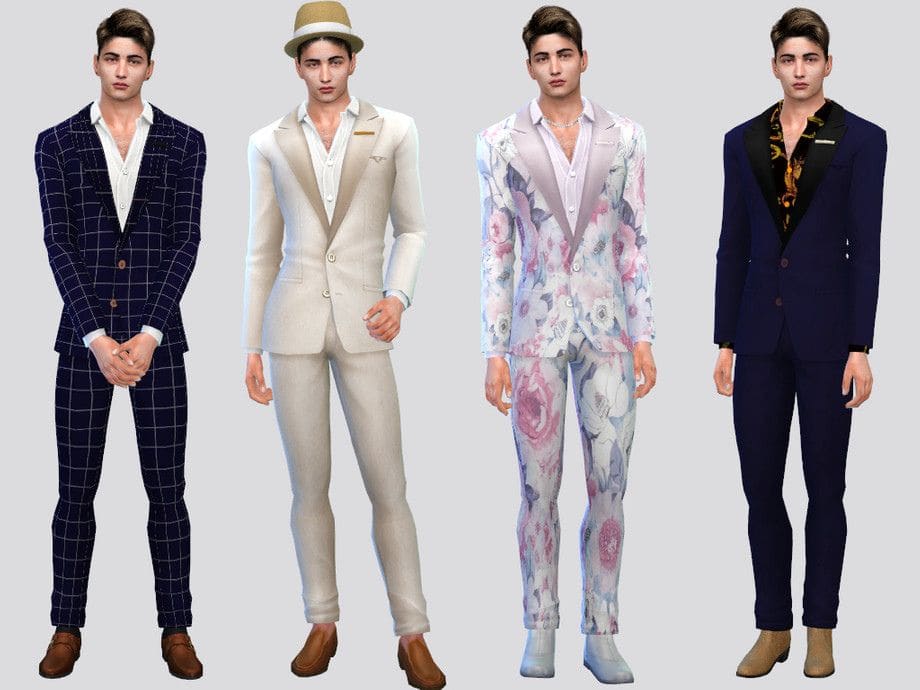 This male suit collection is ideal for the special events in your sims lives.
The suit swatches with the satin finish on the jacket lapels are perfect for sim weddings.
Twelve swatches with classic and unique color options make many of these suits great statement pieces.

14. Tweed & Corduroy Suits by SimmieV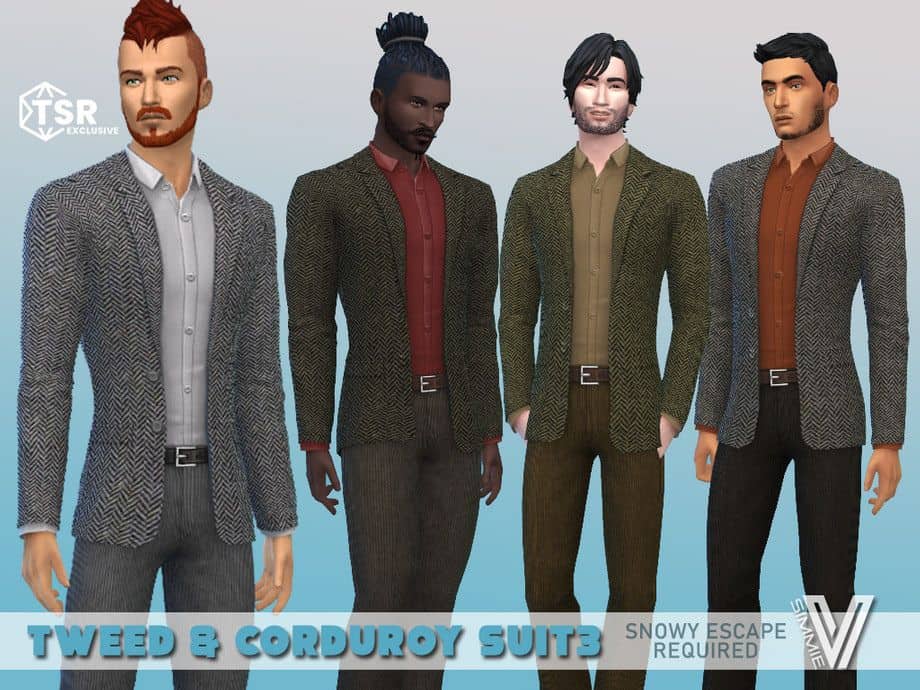 This custom content requires the Snowy Escape EP.
Snap up this casual men's blazer and slack for your sims with this Snowy Escape custom content.
The suit mixes tweed and corduroy fabrics, making these great suit options for your sims everyday needs.
The shirts also come in a mix of seasonal colors.

15. Heart Neck Suit Dress CC by Rimings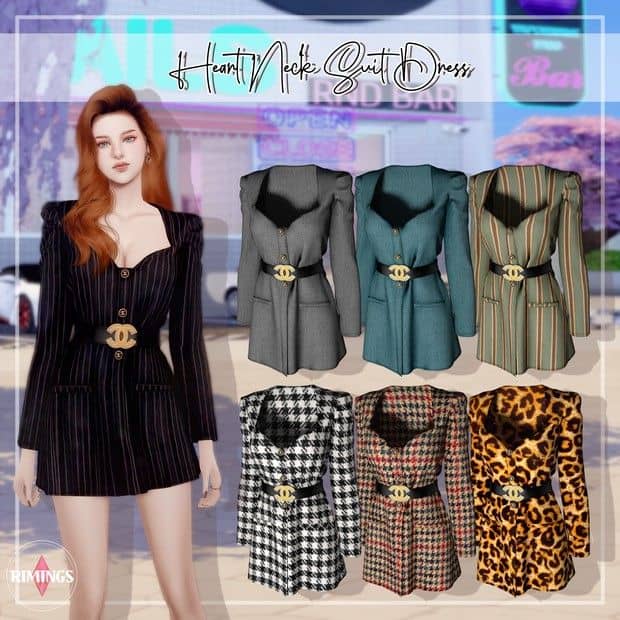 With its shorter length and pop of cleavage, this suit dress serves up sexy sophistication.
The dress is cinched at the waist with a Chanel-inspired belt, and there are 20 swatches, including solids, houndstooth, animal print, and more.

16. Sims 4 Female Blazer by Plumbobs n Fries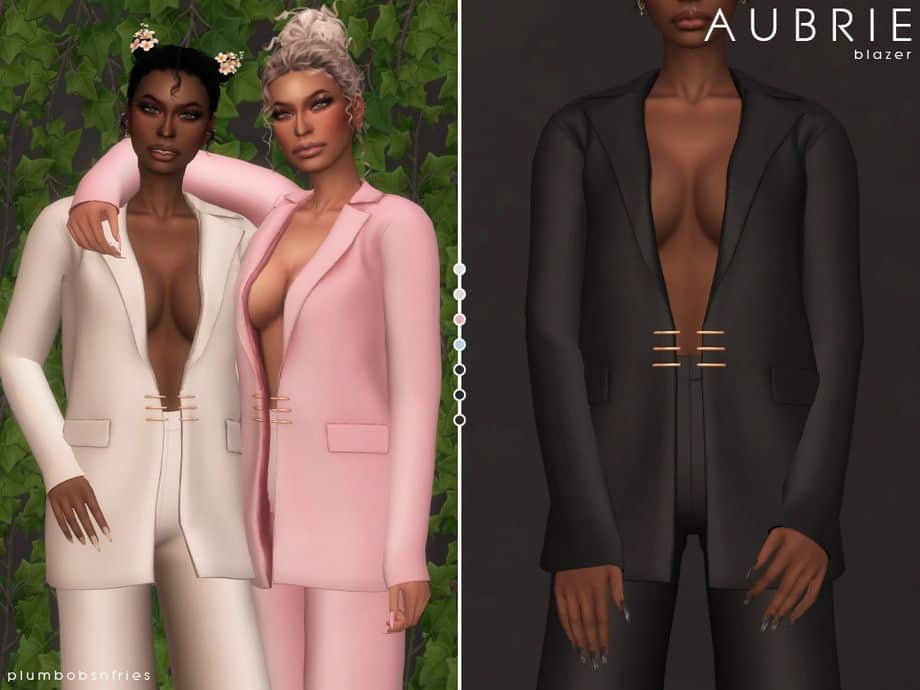 Oversized blazers are in season this year, and this design comes with metal clasps mid-waist holding the jacket together.
This modern blazer comes in 8 swatches, including light pink, two tones of white, baby blue, sapphire blue, black, and dark brown.
The jacket doesn't come with any shirt, but you can grab the matching wide-leg high-waisted suit pants.

17. Toddler Sims 4 Suit CC by Remaron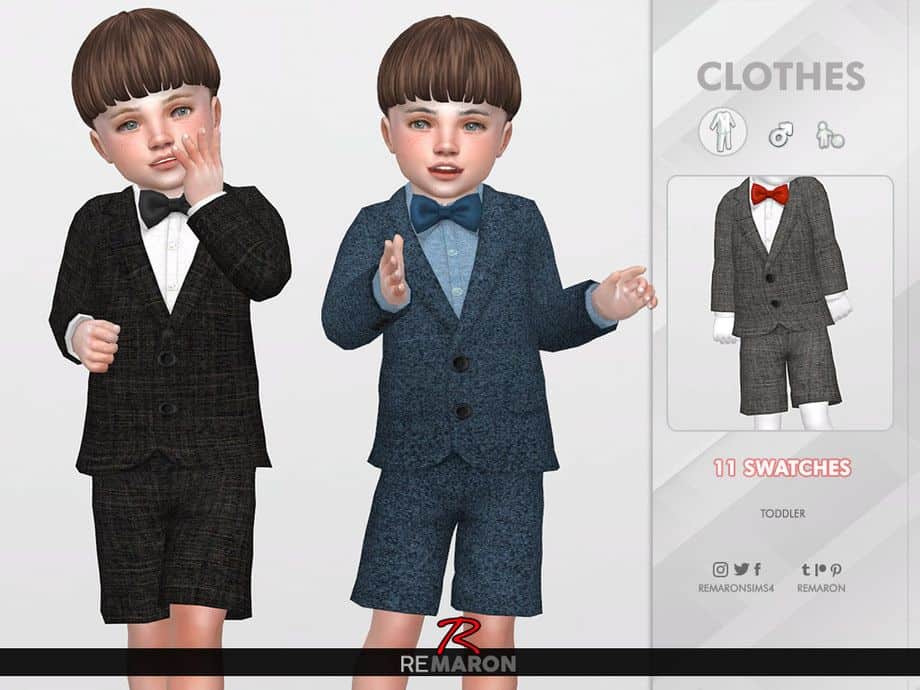 Dress up your little male sims in this sweet 4-piece suit set, which includes a two-button blazer, above-the-knee shorts, a button-up shirt, and a bow tie.
The suit set comes in 11 swatches, including black, grey, and burgundy, letting you dress your toddler sims for any occasion.

18. Designer Sims 4 Suit Set by Rimings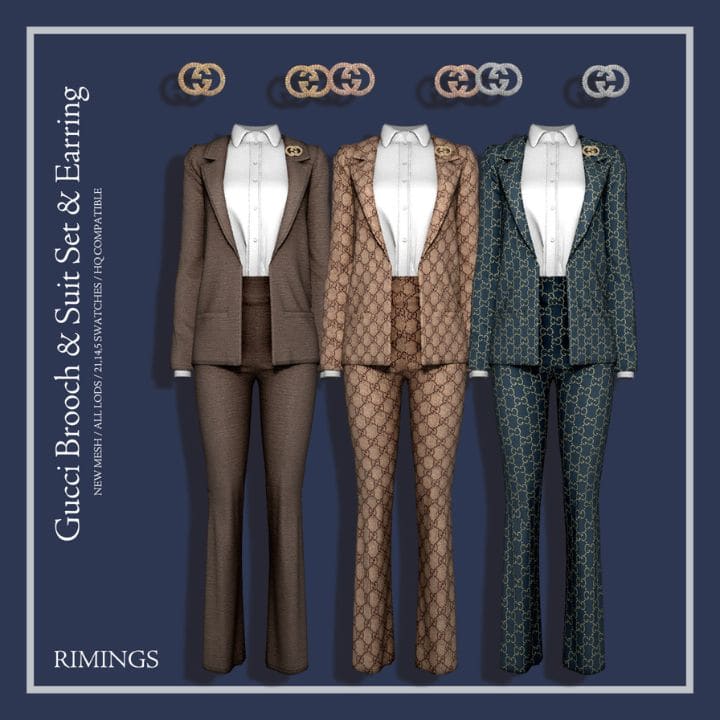 If your sims are into designer goods, they'll love these Gucci-inspired suit sets.
The set includes an open-style fitted blazer, slightly wide-legged pants, a Gucci brooch, and earrings.
There are 21 solid swatches and 14 pattern suit options with plenty of Gucci-inspired options.

19. Sims 4 Three-Piece Suit by Madlen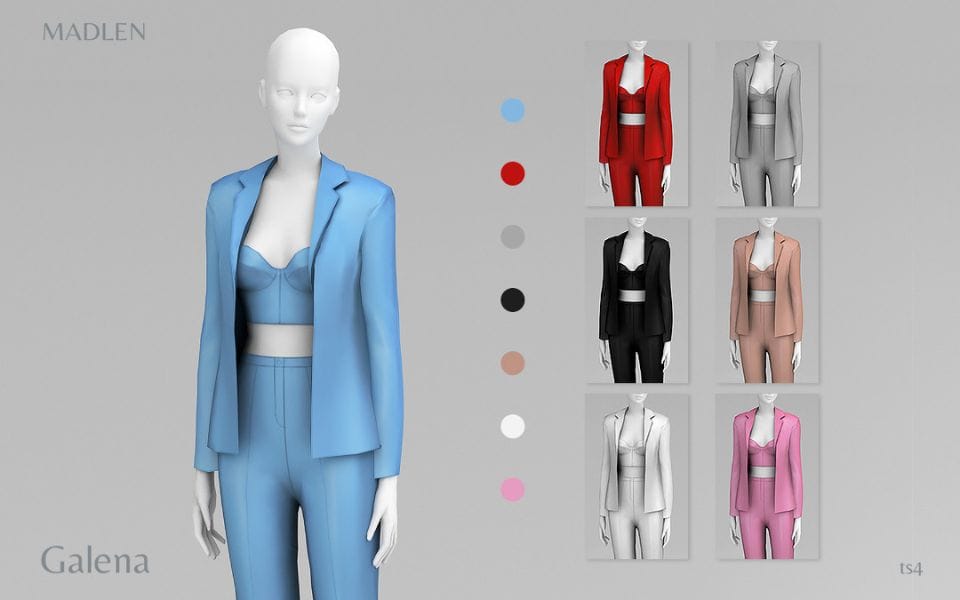 What screams Business Cocktail Hour more than a three-piece suit set with its open blazer, stylish corset, and high-waisted pants?
This sims 4 suit cc comes in 6 solid color swatches, and while I typically navigate towards black suits, this model looks great in every color.

20. Parisian Suit Set for Sims 4 by Birba32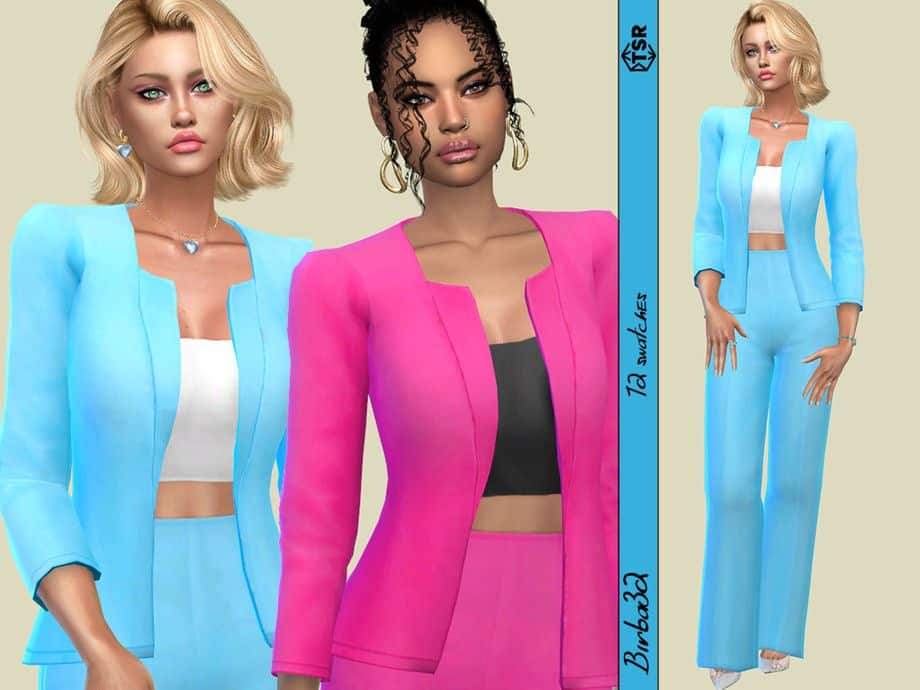 This bright-colored sims 4 suit cc set comes with a suit jacket and crop top together, but the suit pants are separate, which you can find here.
The suit jacket comes in 12 swatches: green, red, orange, blue, pink, purple, dark purple, white and more.
Most of the swatches come with either a black or white crop top underneath, but there is one crop top in dark beige.

21. Child & Toddler Suit CC by Madlen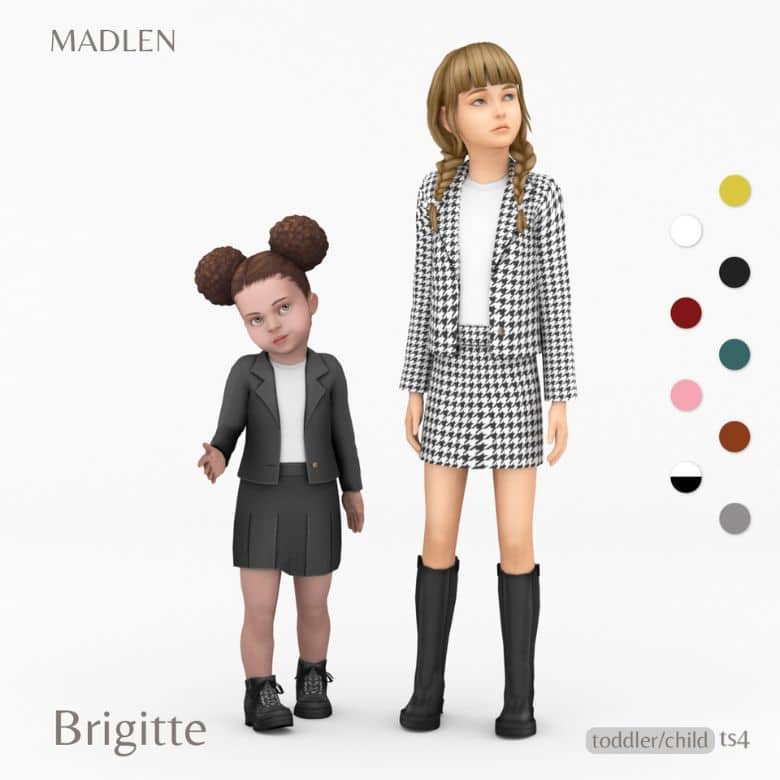 Let your sims toddlers and children play grow-ups with this set of suits.
The outfit includes an open blazer, a white rounded-neck tee, and a pleated skirt.
Your little ones will look super smart with this adorable outfit, and it comes with 9 swatches. And, of course, I love the Houndstooth suit swatch.
Sims 4 Suit CC: Final Thoughts
With this round up of sims 4 suit cc, your sims are now ready to hit their new job, dinner party or wedding in style.
Keep things simple with a suit jacket and shorts or go full-glam with satin lapels; there is a custom content suit for every occasion.
If you have any questions or suggestions, feel free to leave us a comment below or tag us on Tumblr.
And don't forget to share and save this pin for later!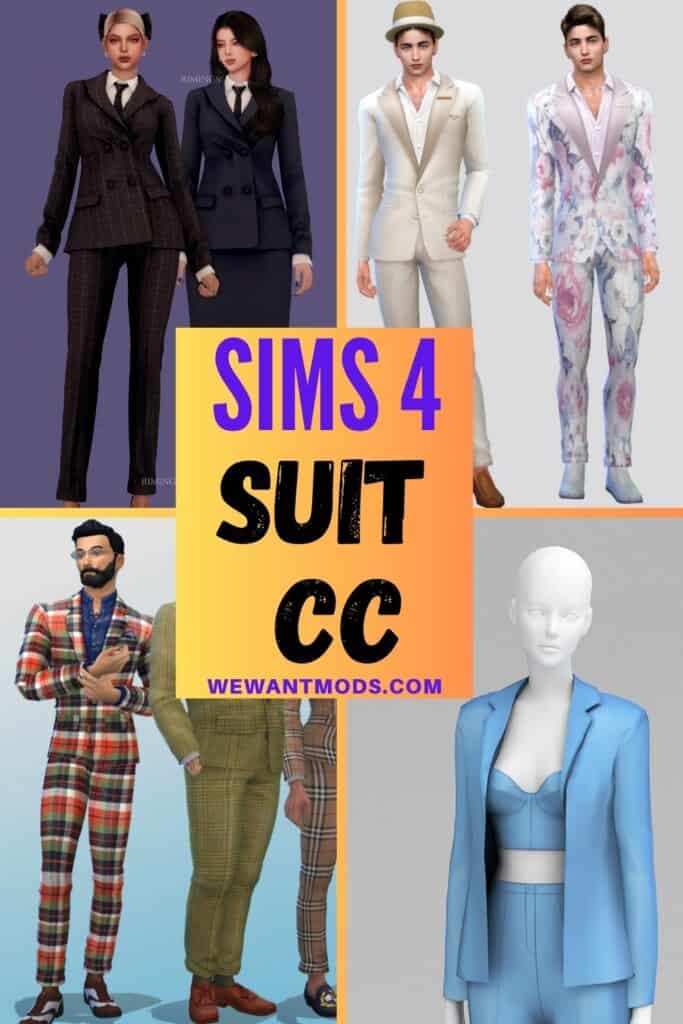 Other Sims 4 Custom Content Lists
20+ Sims 4 Suit CC: Sharpen Your Sims Style