12+ Best Sims 4 CC Websites! [2023]
Does anyone else love searching for the latest cc content?
We have rounded up some popular sims 4 cc websites for you to enjoy.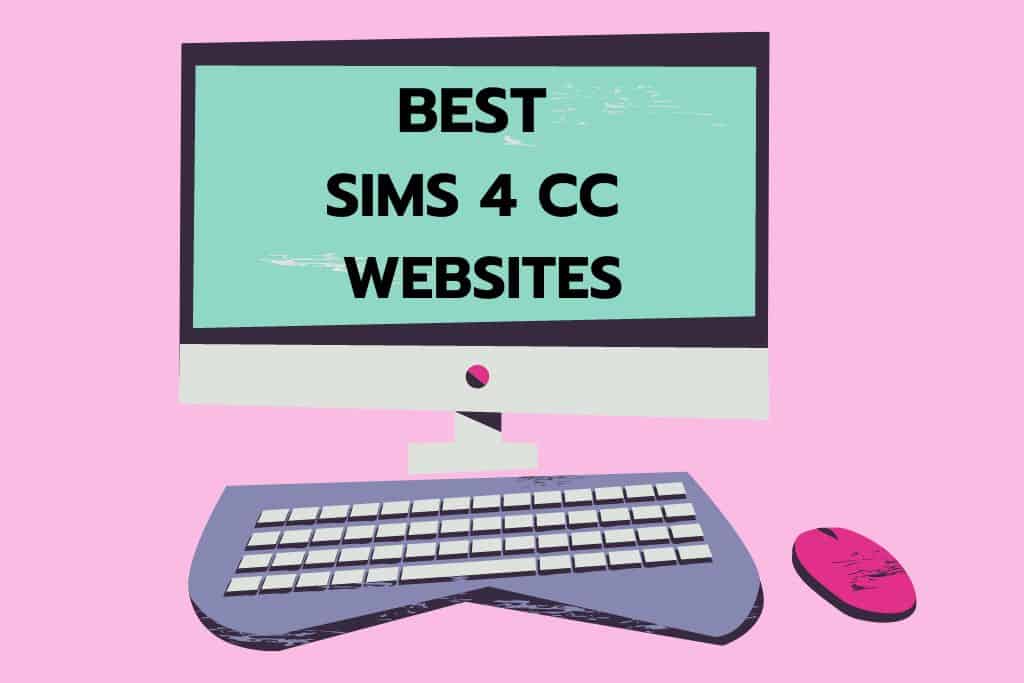 While we can find custom content in obscure places, it's always nice to fall back on our favorite and most reliable sims 4 cc websites.
And since searching for FREE sims 4 cc is one of my favorite pastimes, I figured I'd save you the time and put together a handy little list of sims 4 custom content websites.
Disclaimer: The following mods are neither endorsed nor affiliated with The Sims, Maxis, or Electronic Arts. Any use of mods (custom content or game mods) should be done with caution and with the knowledge that there may be risks.
The Best Sims 4 CC Websites
With many sims 4 cc websites available, we've rounded up the most popular and safe options.
1. Sims4Updates
If you are searching for an easy-to-navigate sims 4 custom content library, then you've found it!
The Sims 4 Updates is an excellent resource for finding the latest and greatest custom content.
You can opt to use the menu on the left, which lists popular cc categories (i.e., Accessories, Clothing, Eyes).
Or you can type in your query using the search bar.
Scrolling through the countless pages using the menu bar can be fun if you want cc inspiration.
However, if you want to view something specific (i.e., Enriques4 hairstyles), then the search bar is way more convenient.

2. The Sims Resource (TRS)
This sims 4 cc website is the land of alpha custom content.
You can find thousands of pieces of lifelike cc.
I do find the site itself to be a little glitchy. It's also not the most user-friendly for easily finding cc creators.
But we still use TSR almost daily; we simply try to do specific searches rather than just browsing for custom content.
And since TSR it's home to so many amazing creators, such as Helsoseira, it's worth the effort.
Expect to wait 15 seconds before you can download a file.
The waiting is fine for a few downloads but can get a little irritating when you want to fill your cc folder.
You can upgrade to their VIP membership if you want to do away with the ads and wait times.

3. Tumblr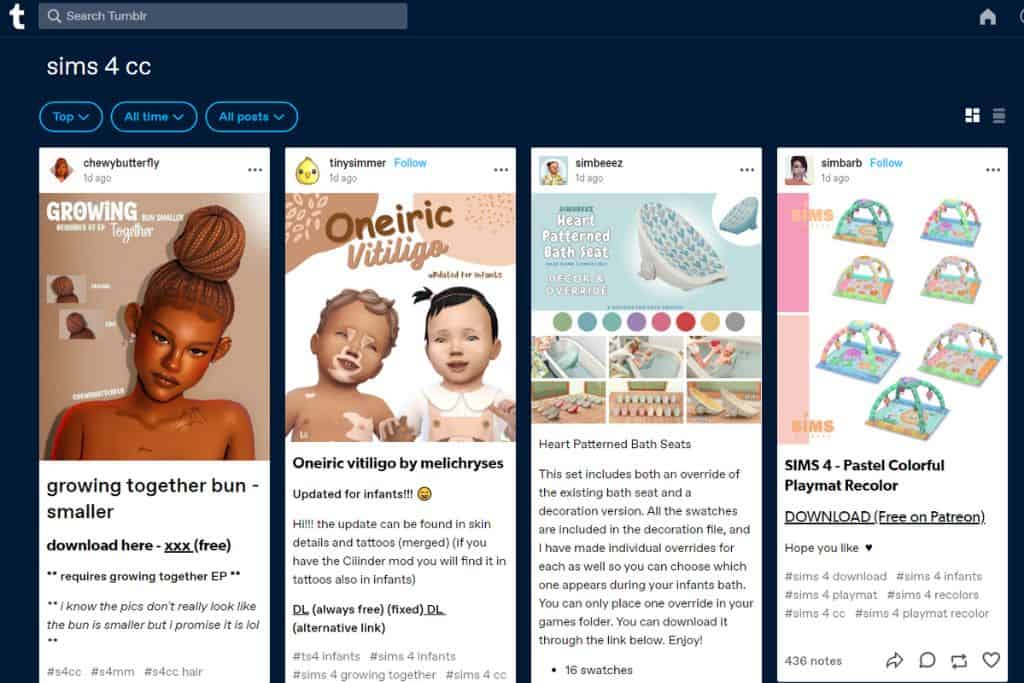 Tumblr remains a hot spot for Gen Z, especially for those in the sims community.
It's also a great place to find cc content, new talent, and even smaller creators looking to share their unique work.
Since you could quickly lose yourself endlessly scrolling posts, I suggest utilizing the search bar.
You can go broad with keywords like sims 4 custom content, sims 4 cc, s4cc, or narrow things down using specific searches such as sims 4 men's shoes cc.
Also, don't forget to follow your favorite creators; that way, you won't miss their latest cc drops.
You can also discover other amazing creators when your favorites reblog content from their favs.
And don't forget to follow us wewantmods; you'll find out latest curated lists, and reblogs of our favorite sims 4 cc finds.

4. Pinterest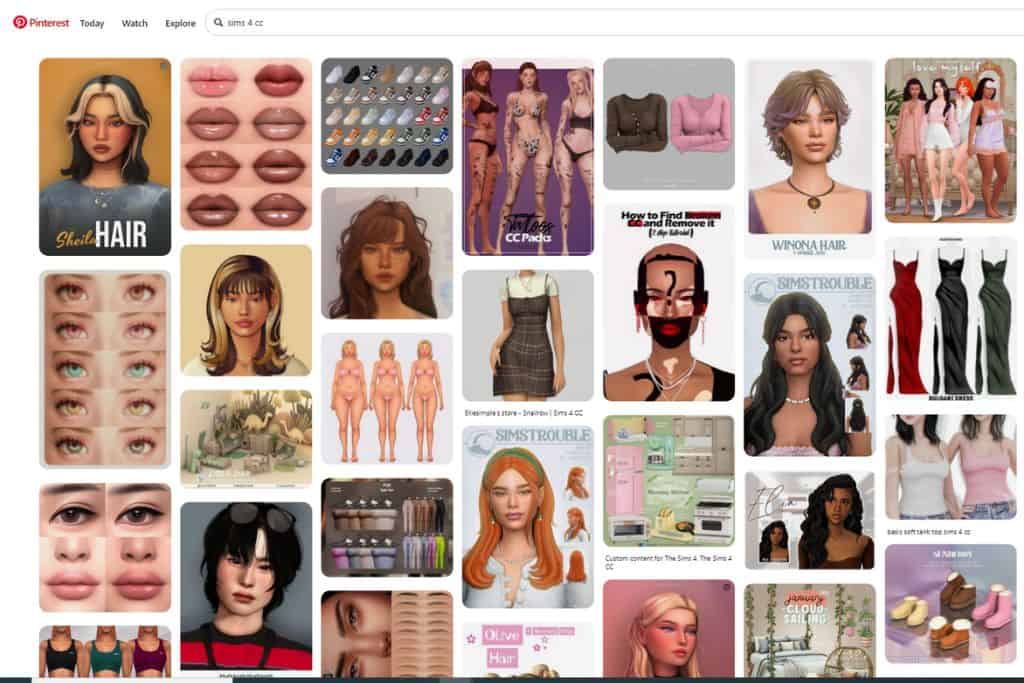 If your hobbies include cooking, DIY, or seasonal goods, you're likely already a massive fan of Pinterest.
Pinterest is the largest image-based search engine, and yes, it's a search engine!
Except for a few niches, you can find images and inspiration for almost anything, and sims 4 is no exception.
You can find a ton of sims 4 cc on the platform; just use the search bar to start narrowing down your finds.
Just searching for sims 4 cc ideas? Just type;
Type Sims 4 in the search bar
Press enter
Select a keyword from the colored bubbles below the search bar
Pro tip: follow your favorite Pinterest Sims 4 boards to track the latest sets of curated custom content pieces.

5. Patreon
You will find that many sims 4 cc creators have a Patreon page.
Creating sims 4 custom content takes time, not to mention skill.
Using a Patreon allows creators to earn money to cover their time and costs.
Some creators offer their creations for free, and donations remain appreciated.
However, most cc creators typically offer early access for their new cc for 1-3 weeks before its public release in exchange for the selected tier price.
Creators can offer up to 3 tiers on Patreon; perks could include things like Discord server access.

6. Maxis Match CC World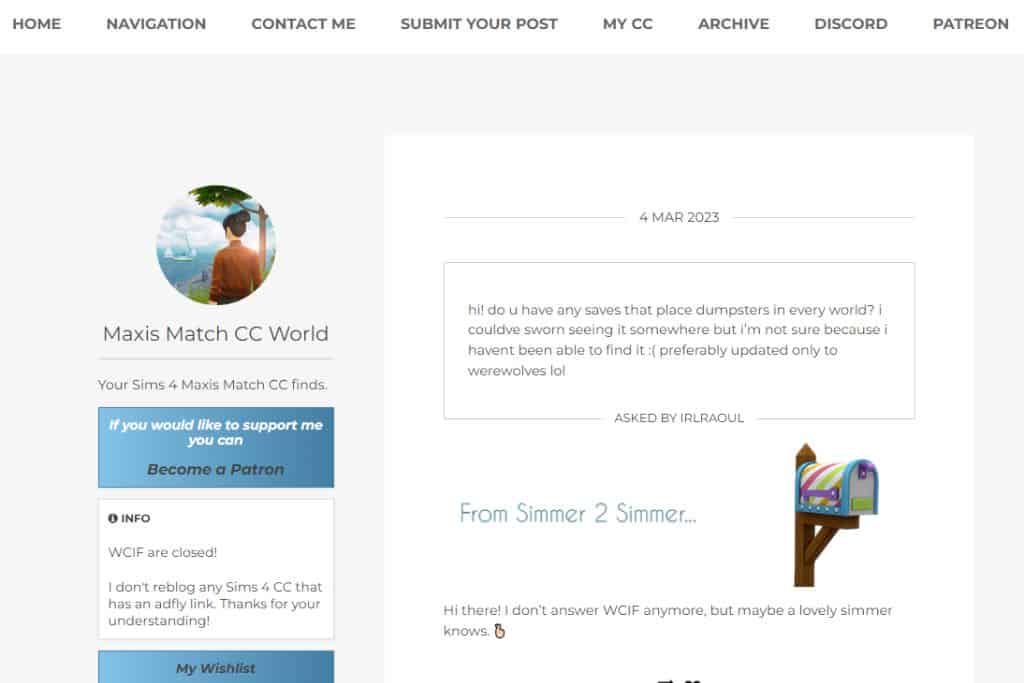 A popular Tumblr page is Maxis Match CC World.
This content creator makes cc furniture pieces.
You can also opt to scroll through their reblogged sims 4 cc finds on the home page.
Needs something specific? Head to the menu navigation tab to search by cc category.
Maxis Match CC World has everything from CAS, builds, mods, pets, and more.


Similar Post: Don't forget to check our sims 4 cc creators list here.

7. Sims 4 Downloads
This Sims4 cc website is remarkably similar to the Sims4Updates site.
I wouldn't even be surprised if the same team ran them.
They have the same concept; you can use their menu options or the search bar above the menu to filter sims 4 custom content.
The cc links on both sites lead to the creator's posts for the file download.
If you don't enjoy scrolling through websites with a dark background, you will prefer the white background on Sims 4 Downloads.

8. YouTube
So not exactly a website but YouTube is home to many great channels.
You'll see a ton of sims Youtubers focused on different aspects of the game.
You can check out popular channels like Plumbie or Elliandra.
Both YouTubers make videos on their recent cc shopping finds.
Both YouTubers have their own Tumblr blogs where they post their sims 4 cc finds.

9. RAVASHEEN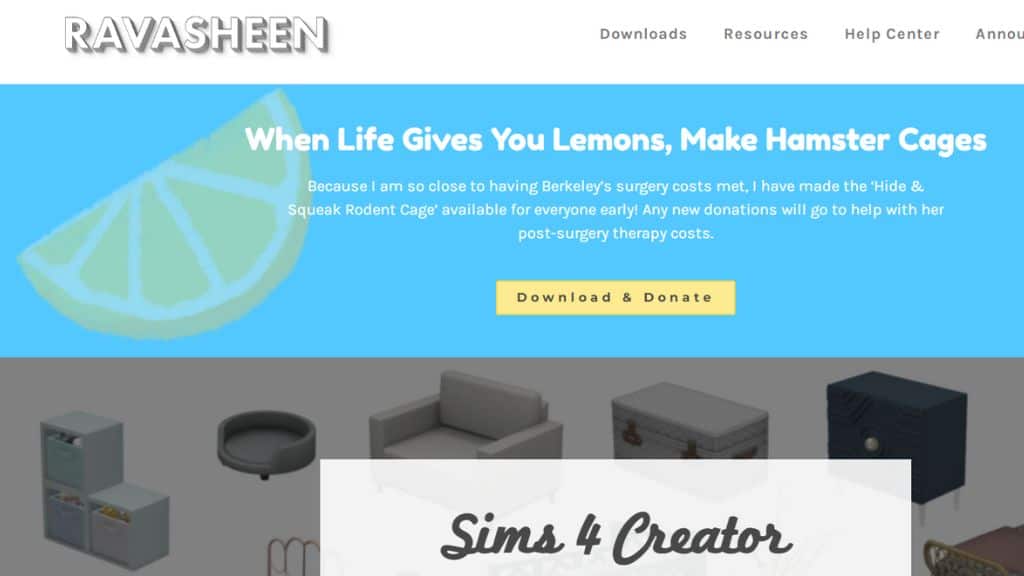 Ravasheen's cc site is a world of its own. It's home to countless pieces of functional custom content and mods.
You are sure to find some fantastic finds while shopping for cc.
This custom content website has everything from appliances, food, plumbing, retail, storage, and more.
One of my favorite Ravasheen creations is the Easy Peasy Lumen Squeezy hidden lights mod. Add hidden spotlights to your gameplay!

10. Mod The Sims
While this is primarily a sims 4 mods website, you can still find a decent collection of sims 4 custom content.
Emma likes shopping around for mods and cc simultaneously, so this site is the perfect platform for her.
In the menu bar;
Click Sims 4, select Downloads Home
Find clothing options, makeup, shoes, tattoos & more under Body Shop

11. The Sims Catalog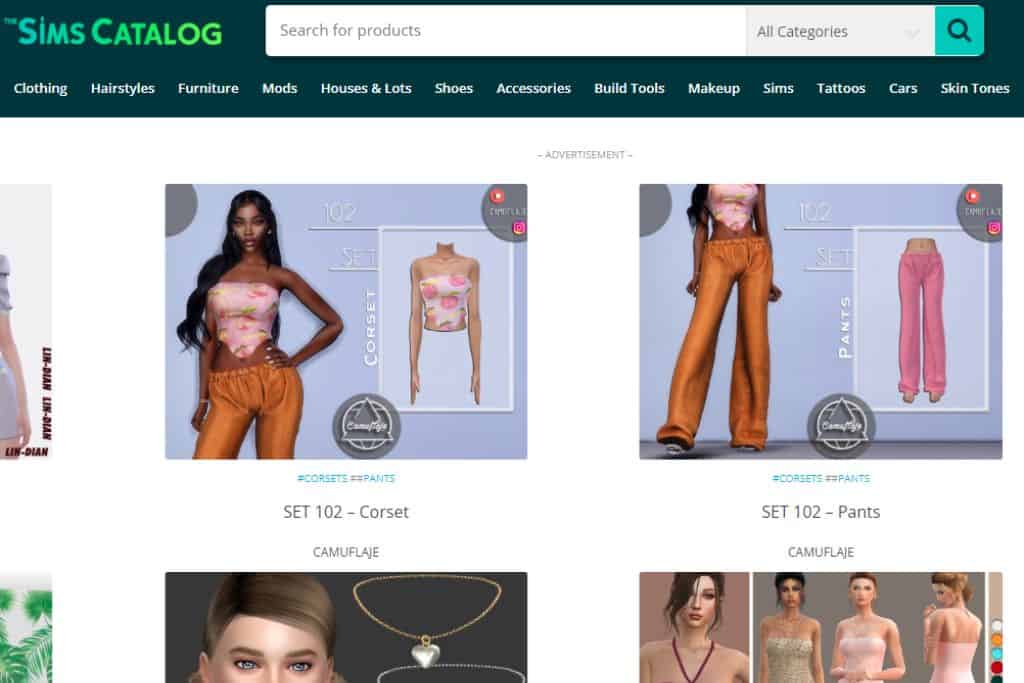 Another popular site for finding sims 4 custom content is The Sims Catalog.
Again it's very similar to Sims4Updates and Sims 4 Downloads.
You can search for the next best pieces of custom content or download helpful mods.

12. Around The Sims 4
This old-school site first hit the scene in 2012. Besides expanding, it hasn't changed much in appearance since then.
If you still enjoy dabbling in previous versions of the sims, you can find custom content going back to Sims 1, 2, and 3.
It's a unique website that offers some exciting sims 4 cc clutter pieces, and a bunch of functional custom content.
Plus, being the foodie that I am, I love their food cc too.
Their newest set of Industrial Cookies looks delicious.

13. CurseForge
For those unfamiliar with this website, CuseForge is an online mod-sharing platform supporting various games.
This game center is where millions of players can find mods, custom content, and other add-ons to enhance their game.
In November 2022, EA joined forces with Overwolf, the company behind CurseForge.
They've established the Official Mod Hub for The Sims 4 game.
It's a platform where creators can share their work and where players can find and enjoy them safely and legally.
Overwolf also provides a CurseForge application for gamers to manage their downloadable content easily.
It's available for Windows, Mac, and Linux users.
Other Custom Content Articles


12+ Best Sims 4 CC Websites! [2023]