30+ Best Sims 4 Grunge CC Pieces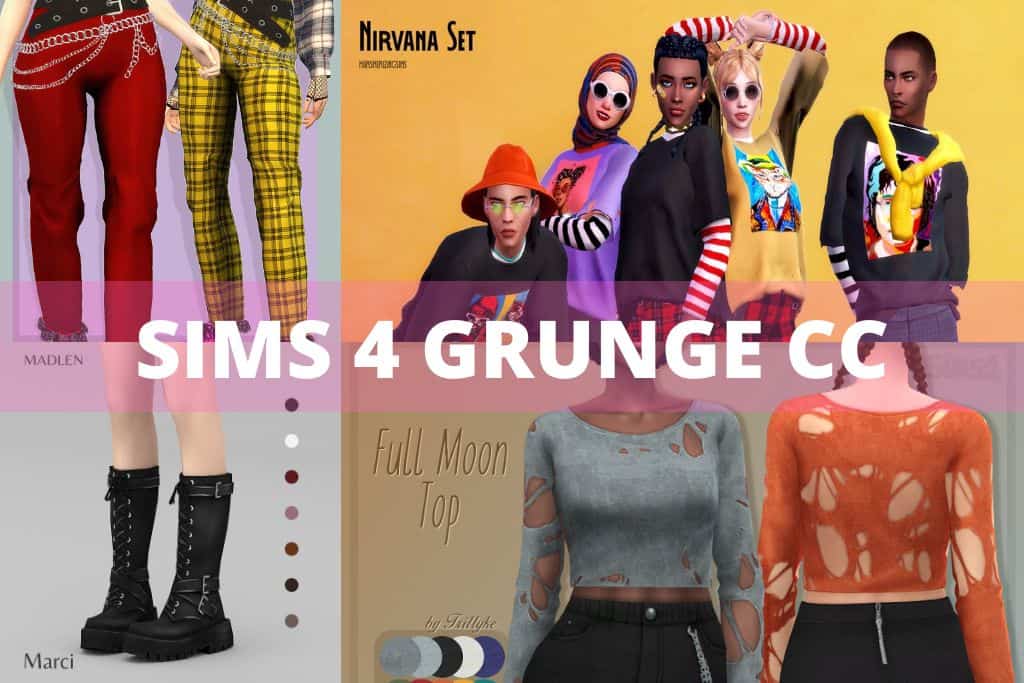 Are you into the classic grunge vibes of Nirvana and Pearl Jam?
Maybe you just want some edgy looks to complete your sims 4 grunge cc collection or werewolves clothing options?
With such fantastic custom content creators for the sims 4, it's no surprise there is a little something for everyone.
I've compiled a great collection of grunge custom content to fill your cc folder.
I'll admit this task was fun, given how much I love plaid and its presence in alternative grunge clothing.
There has been a lot of crossover in recent years, so don't be surprised to see some punk and goth presence in the collection below.
Disclaimer: The following mods are neither endorsed nor affiliated with The Sims, Maxis, or Electronic Arts. Any use of mods (custom content or game mods) should be done with caution and with the knowledge that there may be risks.
Sims 4 Grunge CC
While there are not as many grunge cc creators as I'd like, I still managed to put together the best sims 4 grunge cc for you to enjoy.
1. Grunge CC Plaid Dress by EvellSims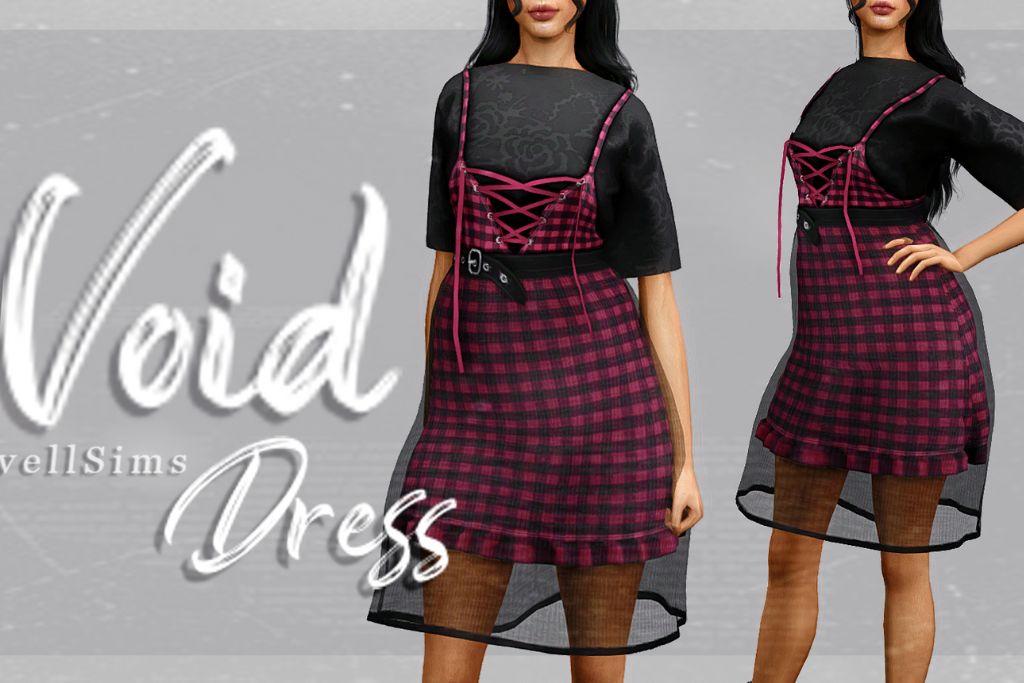 I can't but love this plaid overlay dress; it's the perfect piece to start off your grunge cc collection.
The dress is available in 25 swatches, with multiple swatches with a black base.
The white swatches are also a favorite of mine; you can definitely get creative with accessories on those.
Pair the dress with some stockings, combat boots, and dark lipstick; your grunge look is complete.

2. Stockings CC Set by Trillyke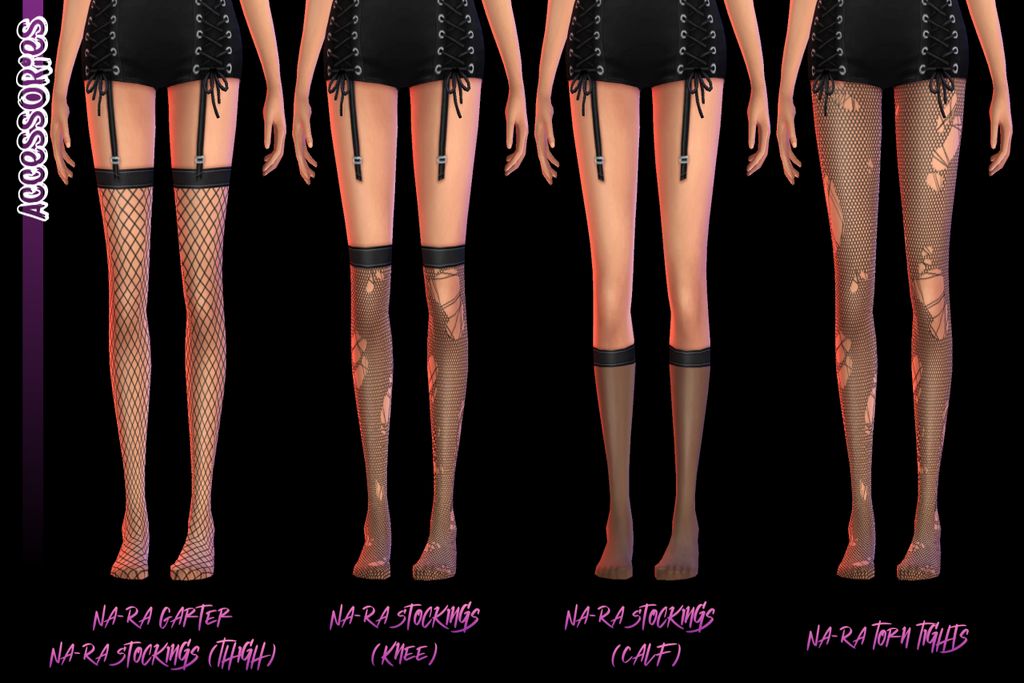 Speaking of stockings, you can snag this pack of fishnet and ripped stockings by Trillyke.
You not only get the four styles of stockings, but the laces and spikes collection also includes some other fun pieces, including garters and tattoos.
You can also mix and match some of the shoe and skirt options with the other sims 4 grunge cc from this post.

3. No Mercy Grunge CC Boots by Trillyke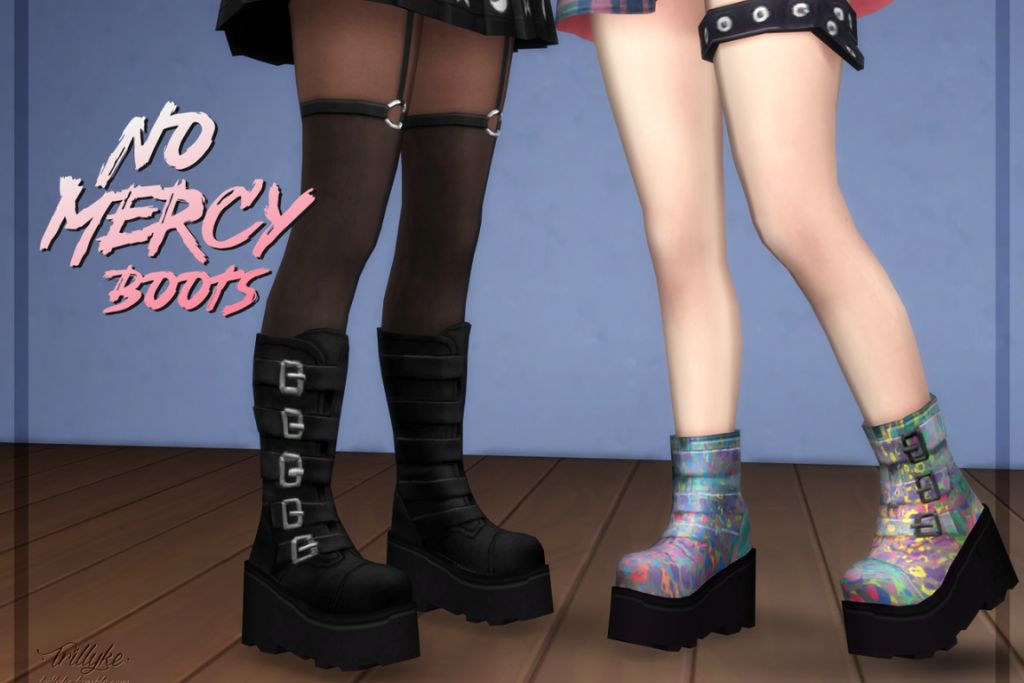 This set of buckle platform boots is giving me vintage Scary Spice vibes.
Whether you wear grunge clothing in your day-to-day life or reserve it for your sims gameplay, I think most of us have owned a pair of these boots at some point in our lives.
In fact, I know I have at least two pairs hiding in the back of my closet.
Couple these with your favorite sims 4 grunge cc skirt.

4. Sims 4 Grunge CC Nirvana Set by MarsmerizingSims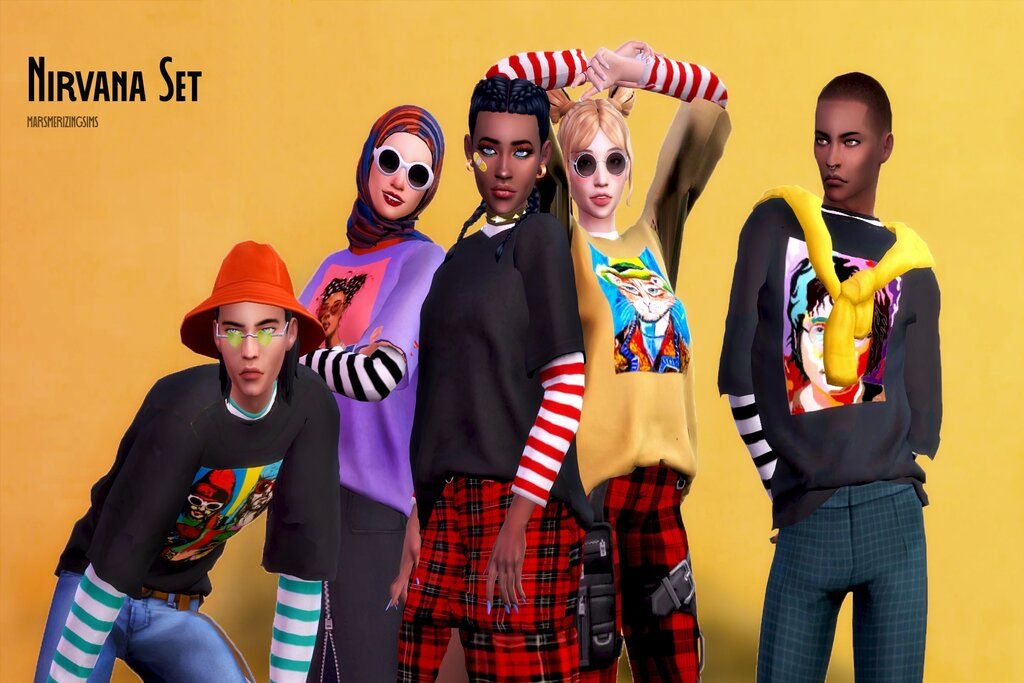 We can't really put together a list of sims 4 grunge custom content without including this Nirvana set.
This double-layer tee is great for a more laidback look that can easily be paired with pants and layered over a long plaid skirt.
There is a nice variety of swatches, some with and without graphics on the front.

5. Sims 4 Grunge Top CC by EvellSims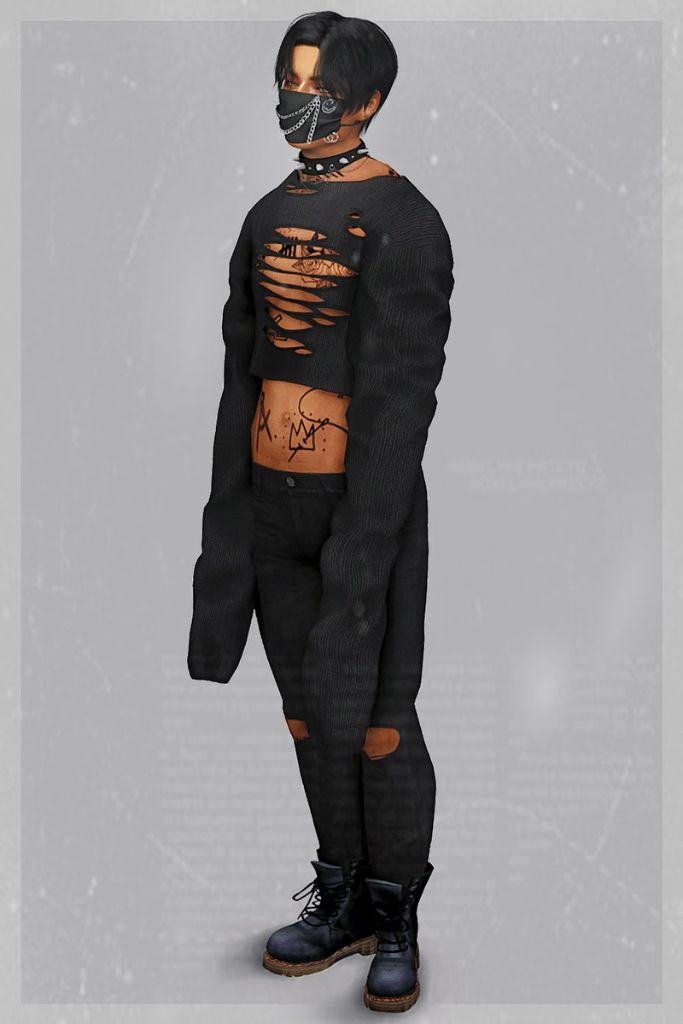 Whether you're into Werewolf play or just love a shredded sweater top, this piece is an excellent addition to your cc collection.
This cropped sweater is available for male and female sims in 20 swatches, so you can easily switch things up.

6. Hypermania Grunge CC Pants by EvellSims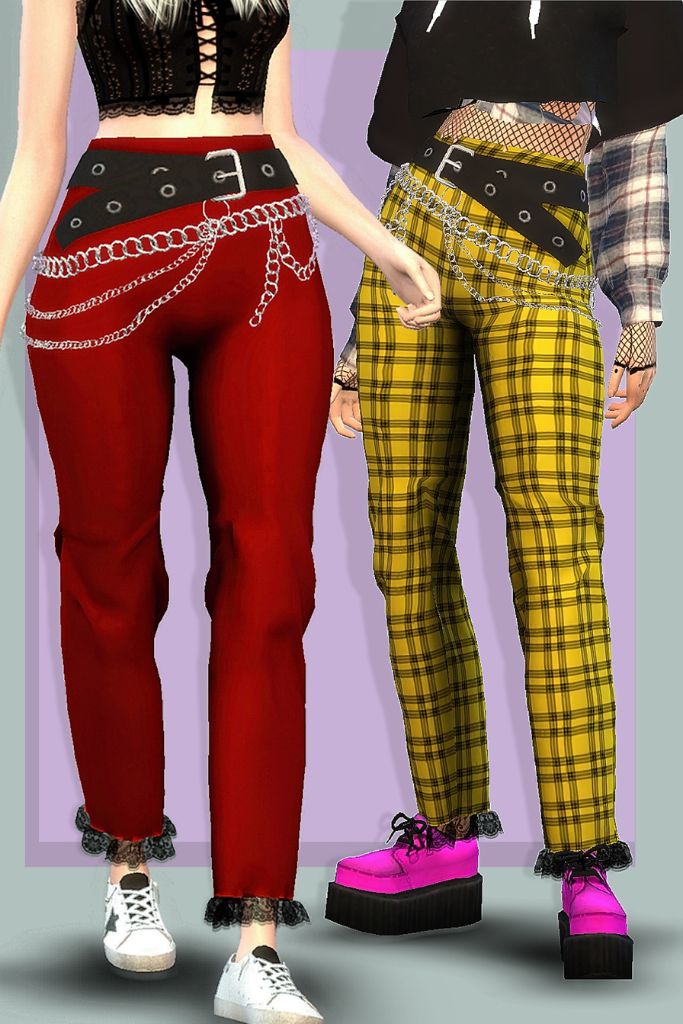 These chained plaid pants are one of my favorites.
Available in 30 different swatches, you have plenty of options to mix and match with your other grunge cc pieces.
While there are a few solid options, the majority are a variety of dual-toned pants.
Let's not skip over the small lace trim along the ankle; this adds a unique touch to these pants.

7. Sims 4 CC Goth Shoes by EvellSims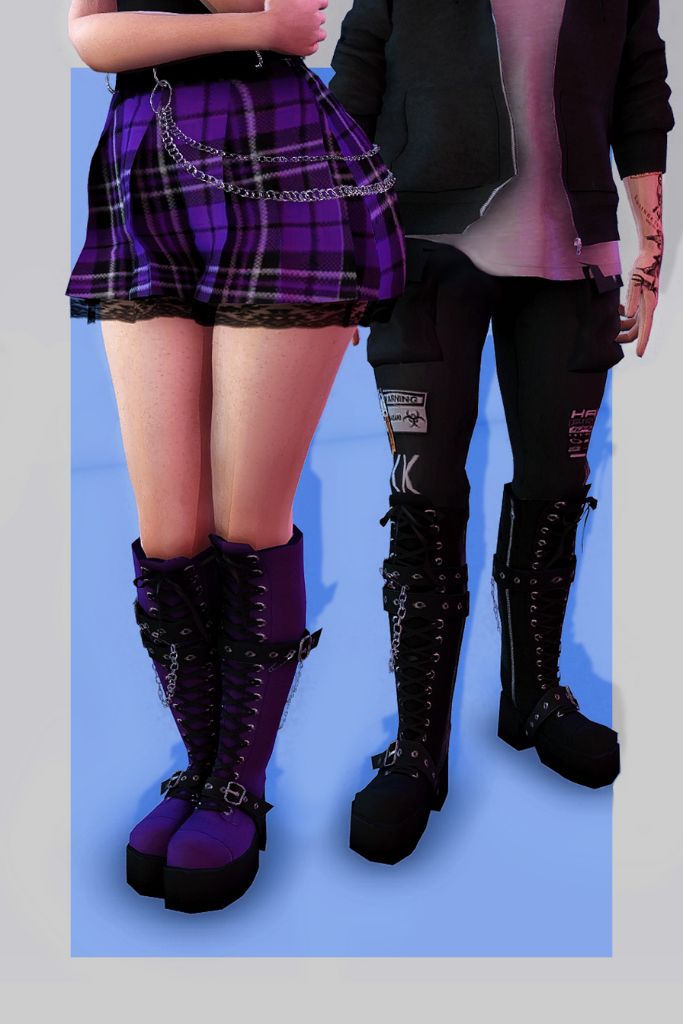 Are you searching for the perfect pair of punk-inspired knee-length boots?
While the creator describes these boots as goth, they can easily be styled for goth, punk, or grunge outfits.
Their thick soles, buckle-lace combo, and metal chains give these boots an extra edge.

8. Halloween CC Collection by greenlamas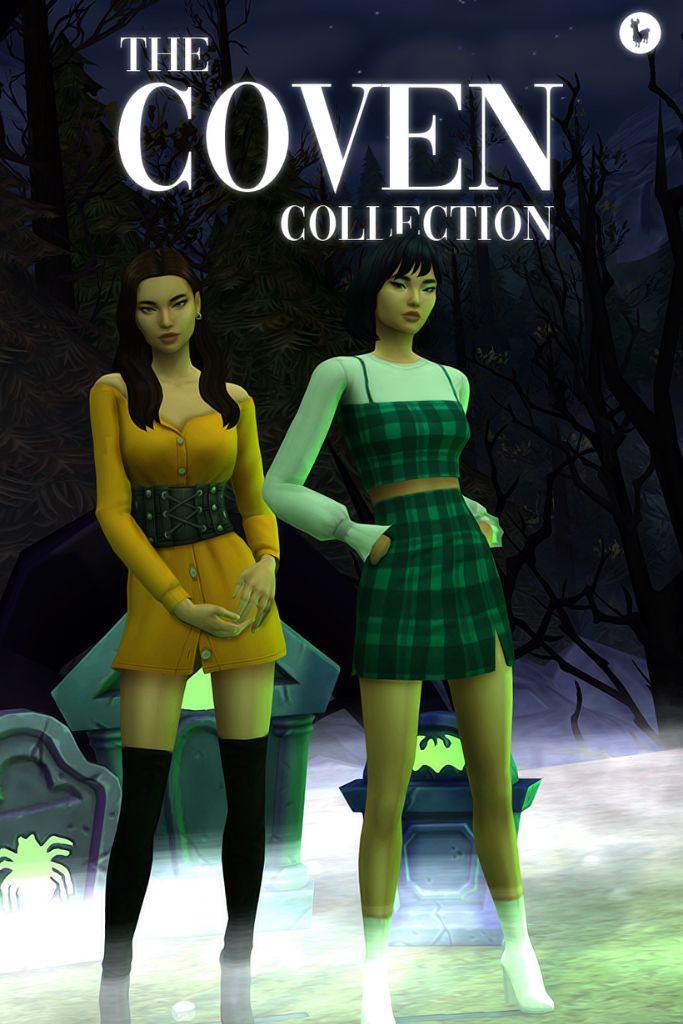 This Halloween collection by greenlamas comes with six different pieces.
While the two-piece crop top and plaid mini skirt could easily find their way into my sims 4 clueless cc list, it also works perfectly for your grunge cc folder.
I can't wait to style the shirt dress with its built-in leather corset belt with some black platform boots.
The custom content pieces all come in 18 different swatches.

9. Grunge CC Garter Tights by Trillyke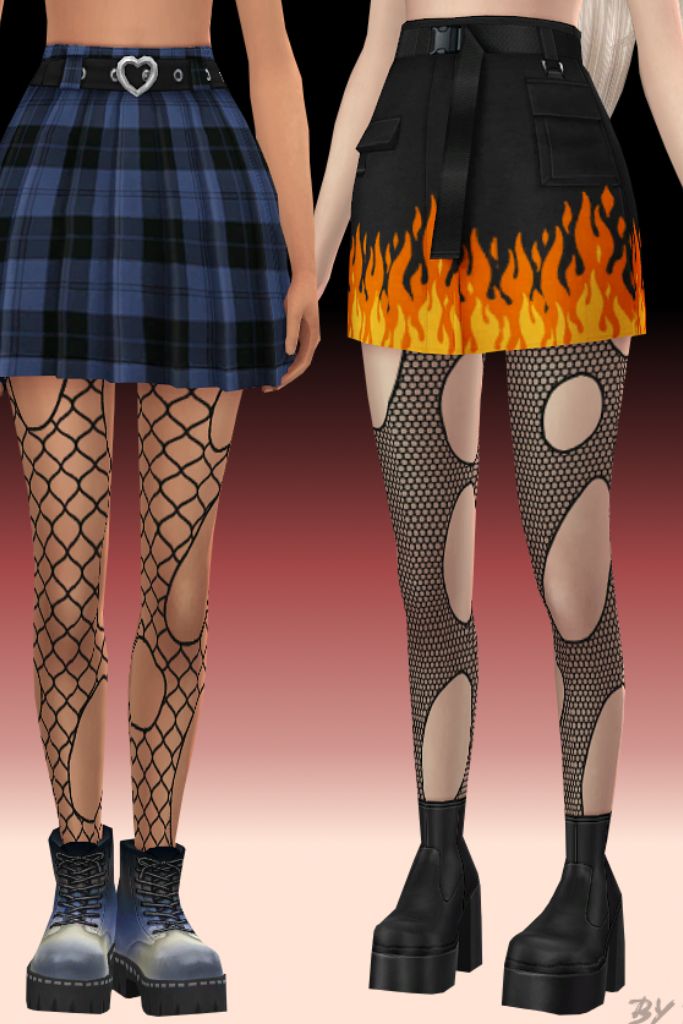 Just another set of tights to mix and match with your outfits.
The small collection comes with a unique ripped cobweb version.
If you like mixing crosses into your outfits, a nice pair is included in the set.

10. Teenage CC Set by boonstow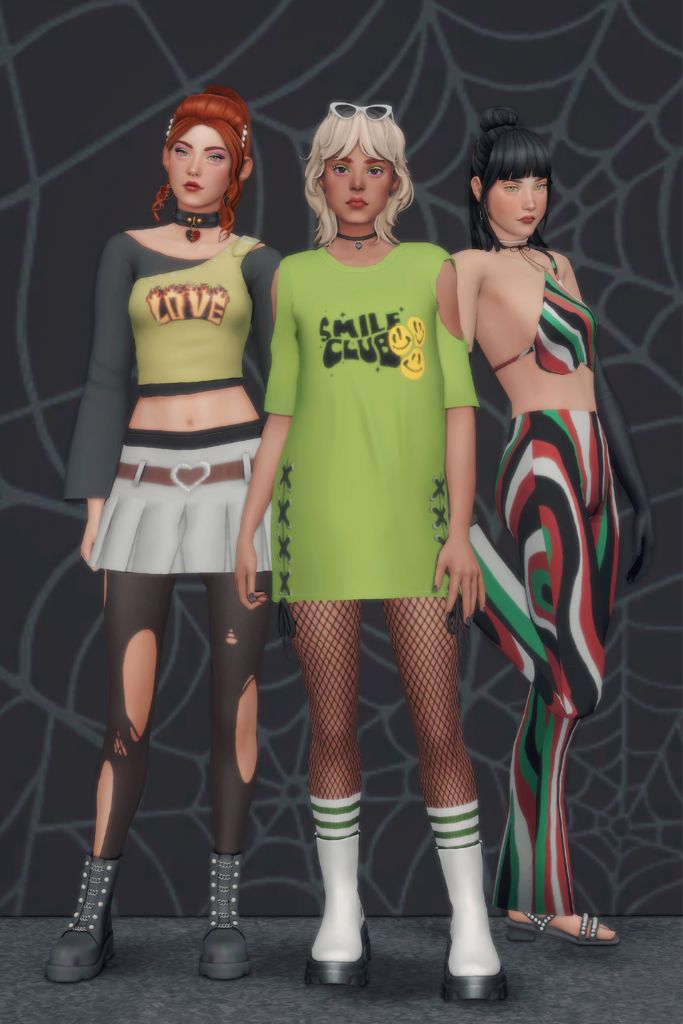 This small pack is a fun set of custom content.
While the top-pants combo may not fall under grungy, the crop top, skirt, and t-shirt dress are making their way into my cc folder.
Mix and match these pieces with your favorite boots and accessories for the perfect custom grunge outfit.

11. Plaid Mudhoney Skirt by MarmerizingSims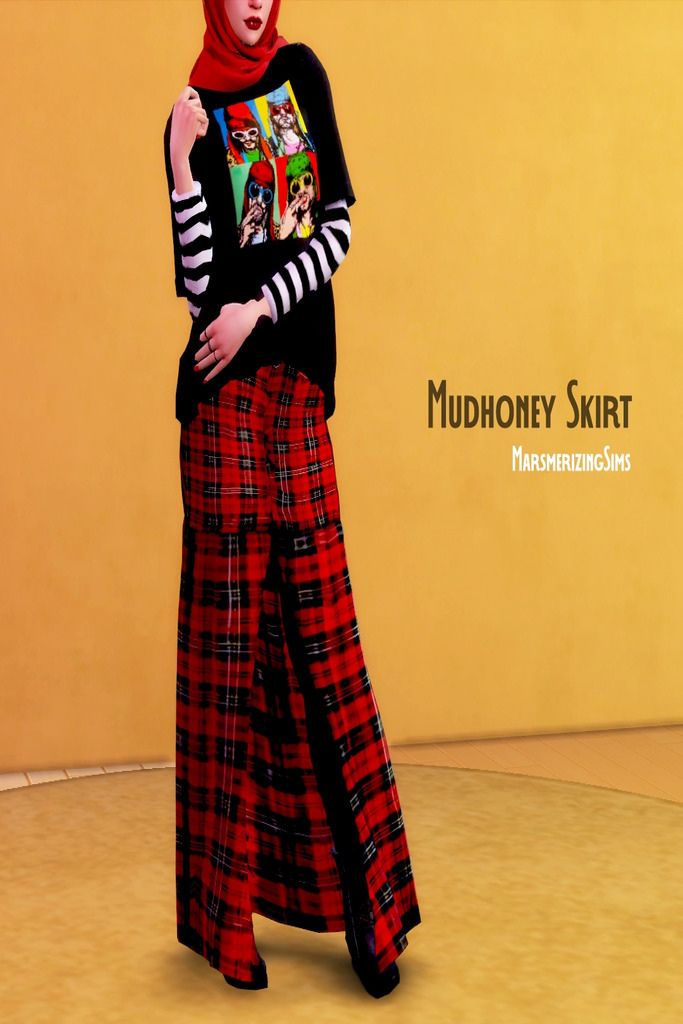 This amazing full-length plaid grunge skirt is the second half of the MarmerizingSims Nirvana set.
This skirt is actually my favorite piece of sims 4 grunge cc.
The great thing is you can easily pair this skirt casually or dress it up a bit more.
And its long slit makes this the perfect skirt for the remedy boots from earlier.
This grunge plaid skirt is available in 11 swatches and pairs surprisingly well with the cropped top from the greenlamas coven collection.

12. Grunge Supernova Shoes by EvellSims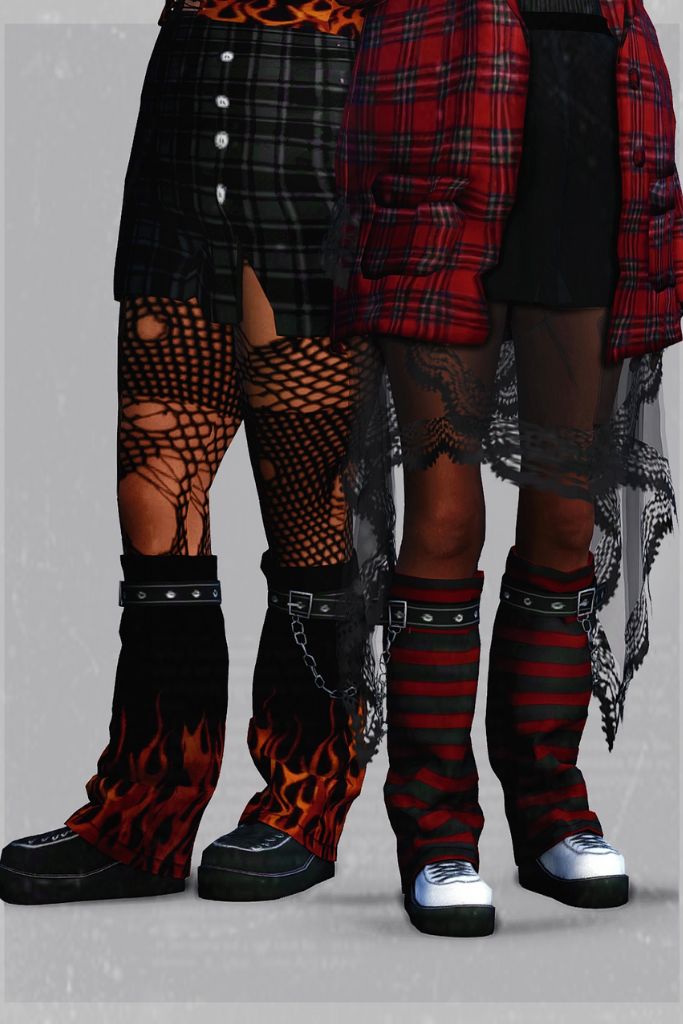 Who doesn't love a pair of grunge cc shoes with built-in legwarmers and chains?
These supernova shoes come in 25 amazing swatches that both your male and female sims can enjoy.

13. Grunge Torn Men's Sweater by MarsmerizingSims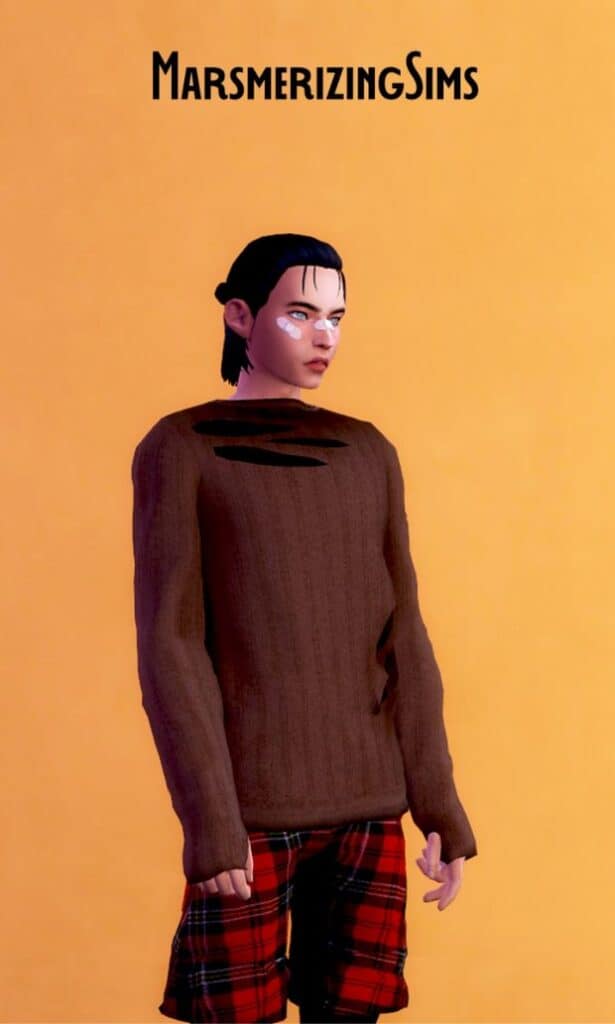 This classic men's torn sweatshirt is an excellent addition to your men's wear.
Style it with shorts or a baggy pair of pants; you have a great base to work with.

14. Sims 4 Grunge CC Wolf Cut by Helsoseira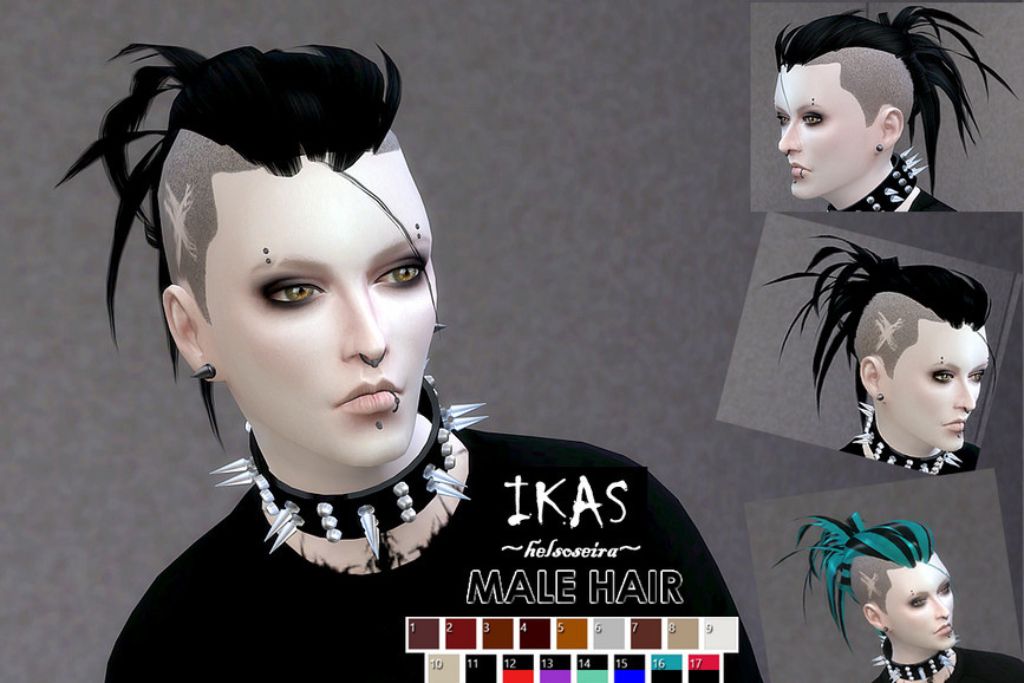 This edgy sidecut ponytail hairstyle for your male sims looks like a werewolf took its claws to the sides.
Let's face it; not everyone is into mullets, so this punk grunge hair cc is a nice option for those looking to change things up.


Related Post: 29+ Best Sims 4 Teen CC

15. Drip Plaid Shorts CC by MarsmerizingSims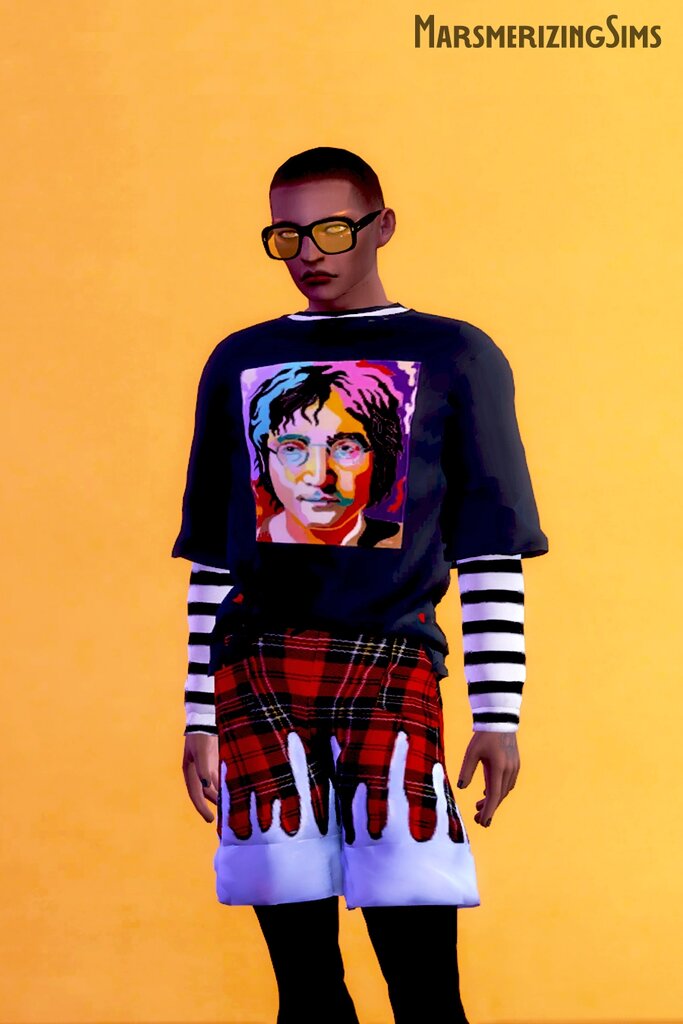 Enjoy these men's plaid-drip combo shorts in 7 different swatches.
I'm always intrigued by custom content pieces like these and wonder where the creator got their inspiration.
These shorts are definitely unique, and I can totally see them paired with some chunky-soled boots.

16. Sims 4 Grunge CC Pack by Bellassims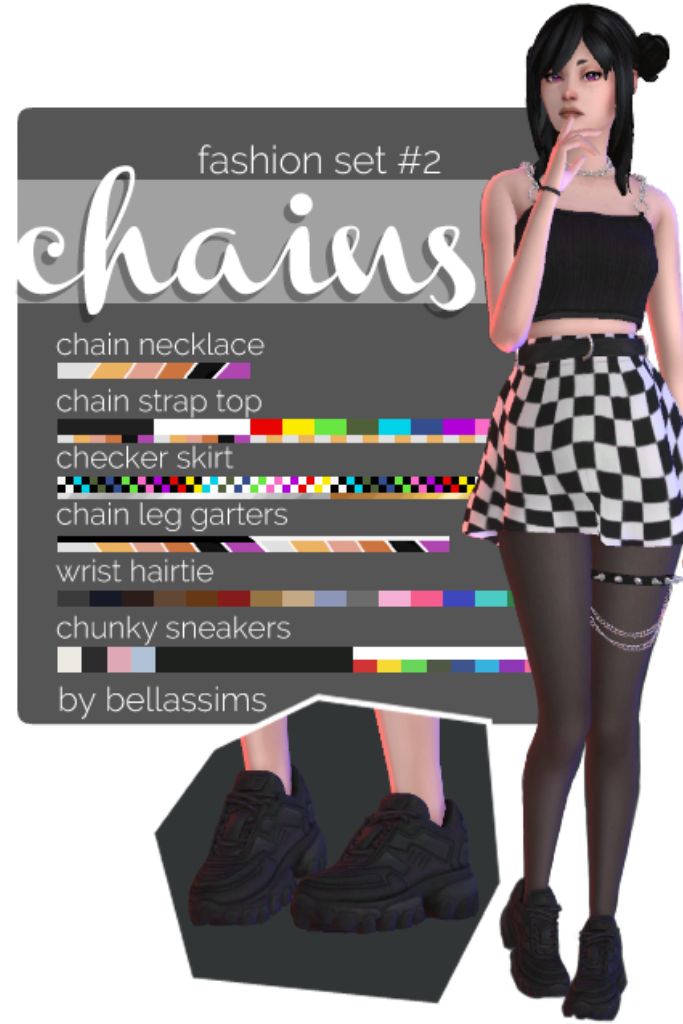 This is a nice set of grunge cc because you get a little bit of everything.
The chain top comes in 28 swatches, and you get even more options with the skirt at 34 swatches.
I love that you get a chunky sneaker (20 swatches) because not every outfit goes with boots.
Accessorize your sim with the chain necklace or leg garter.

17. Crop Grunge CC Top by EvellSims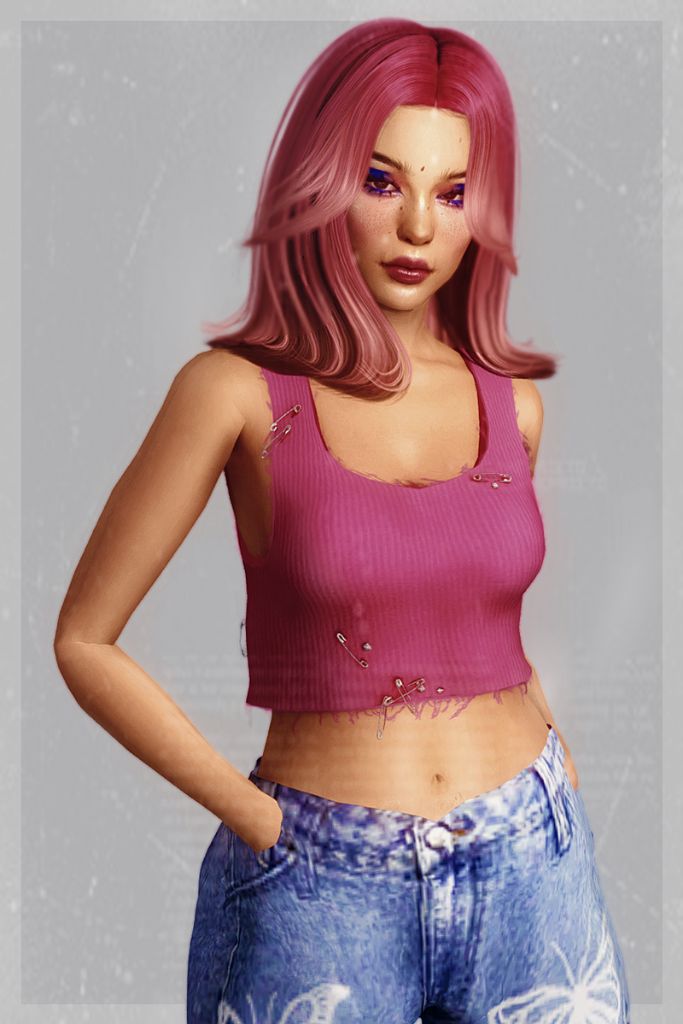 Another favorite of mine. I love the shredded edges and bobby pin details on this sims 4 grunge cc piece.

Sure it's a basic grunge crop top, but that makes it a staple piece in my sims wardrobe.

18. Plaid Silent Cry CC Pants by Trillyke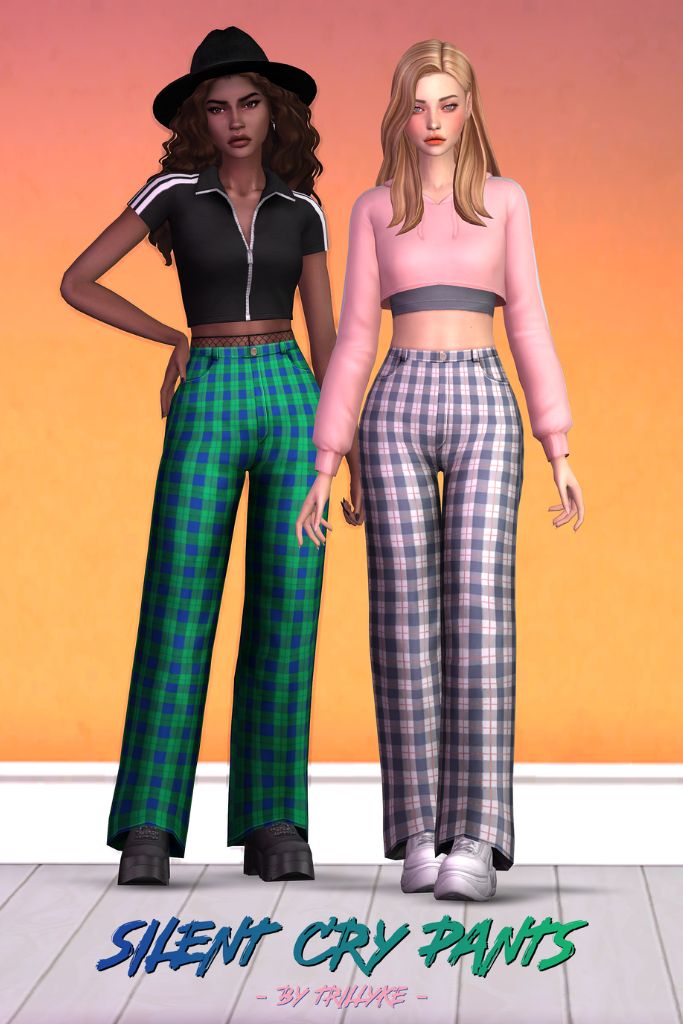 These classic plaid pants could easily be used in a sims back-to-school look.
However, paired with the perfect grunge top, boots, and some fun accessories, you'll find these work great in our grunge capsule wardrobe.
Available in 50 swatches 😮 you have various solid, plaid, and unique patterns to choose from.


Related Post: 33+ Sims 4 CC Clothes Packs

19. Courtney Love CC Jeans by MarsmerizingSims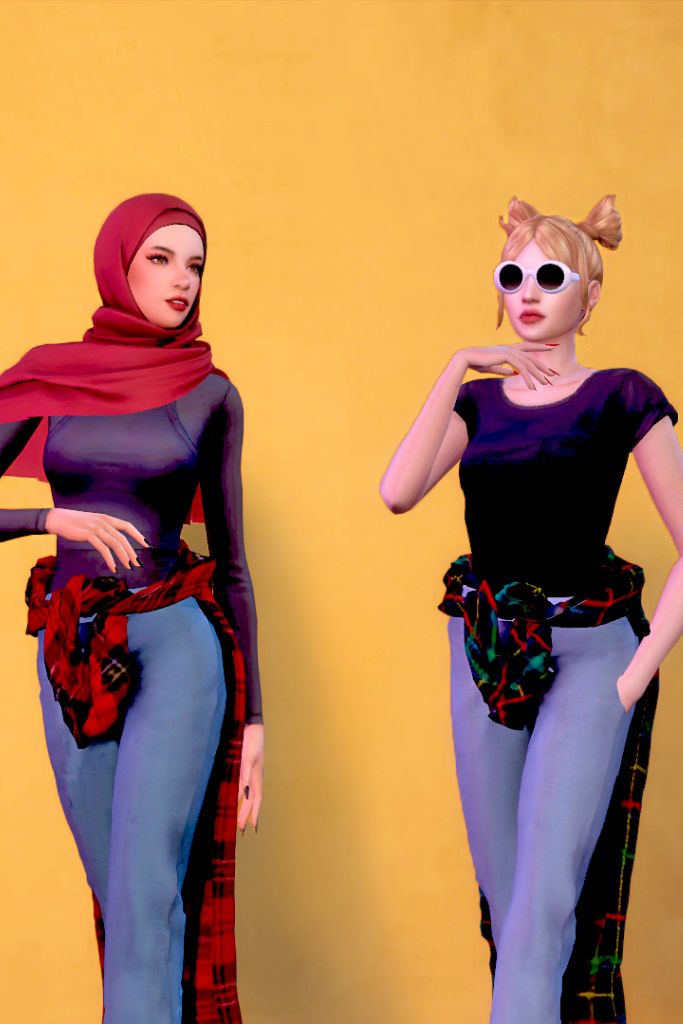 Courtney Love is synonymous with grunge, so we had to include these Courtney-inspired jeans.
These basic jeans get a boost of grunge with the attached long plaid shirt tied around the waist.

20. Plaid Grunge Lace Skirt by Kamiiri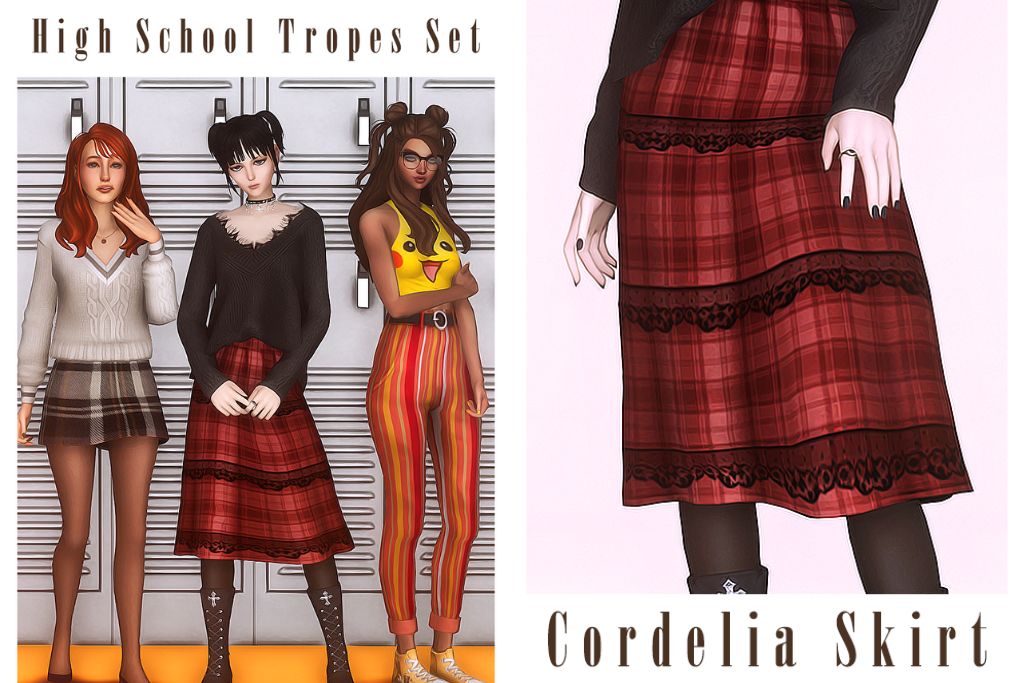 This plaid and lace knee-length skirt is great but can look a little matronly if not styled correctly.
However, if you pair the skirt as Kamiiri did with a grungy sweater, tall boots, and a classic hairstyle, you've got the perfect outfit.

21. Classic Grunge Hair CC by Kamiiri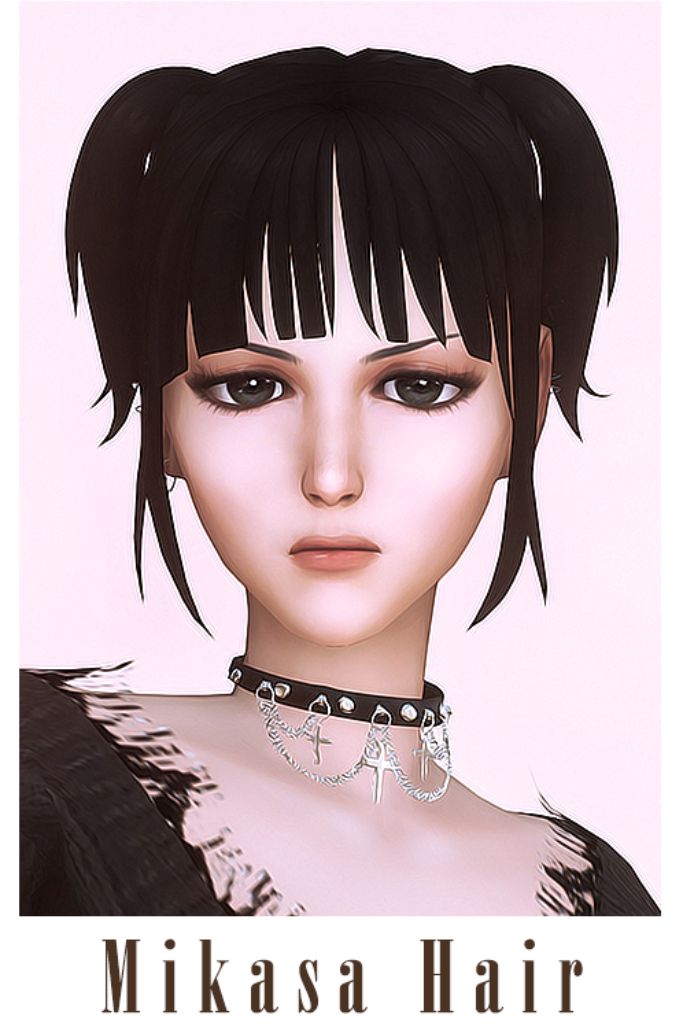 This Mikasa hairstyle gives off a total grunge vibe, so I decided to give it a close-up look.
Anyone who's into grunge can appreciate a double ponytail hairstyle.

22. Sims 4 Grunge CC Hair by Kamiiri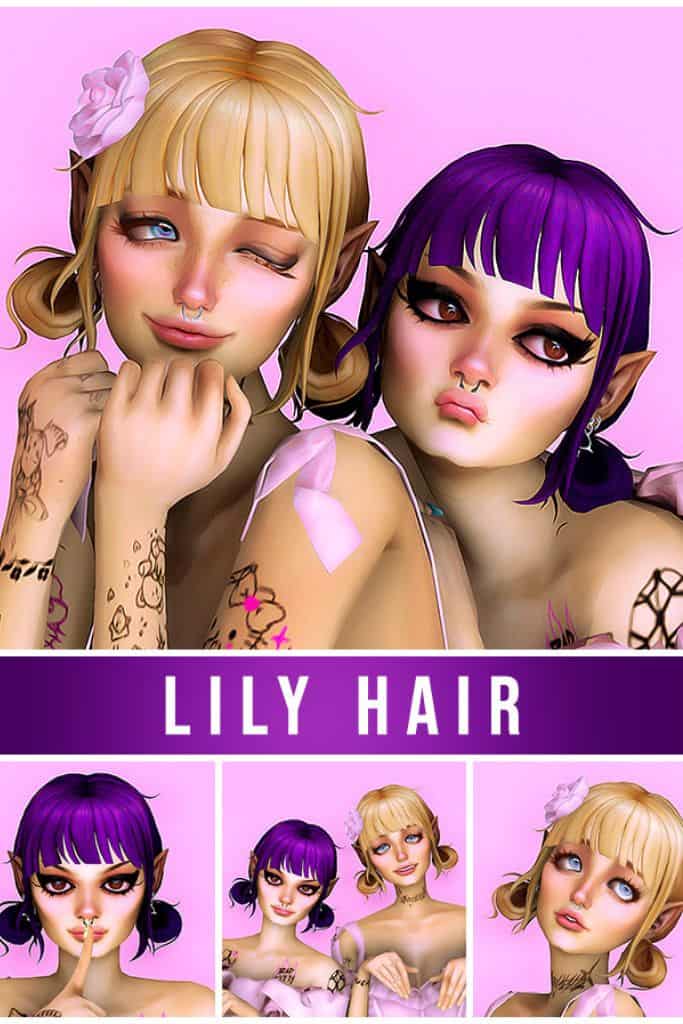 I found another favorite grunge hairstyle, but this time with tiny buns at the bottoms.

Grunge hairstyles have always been a favorite of mine because the use of ponytails and double-buns reminds me a lot of Sailor Moon.

23. Sims 4 Grunge Outfit by bloodmooncc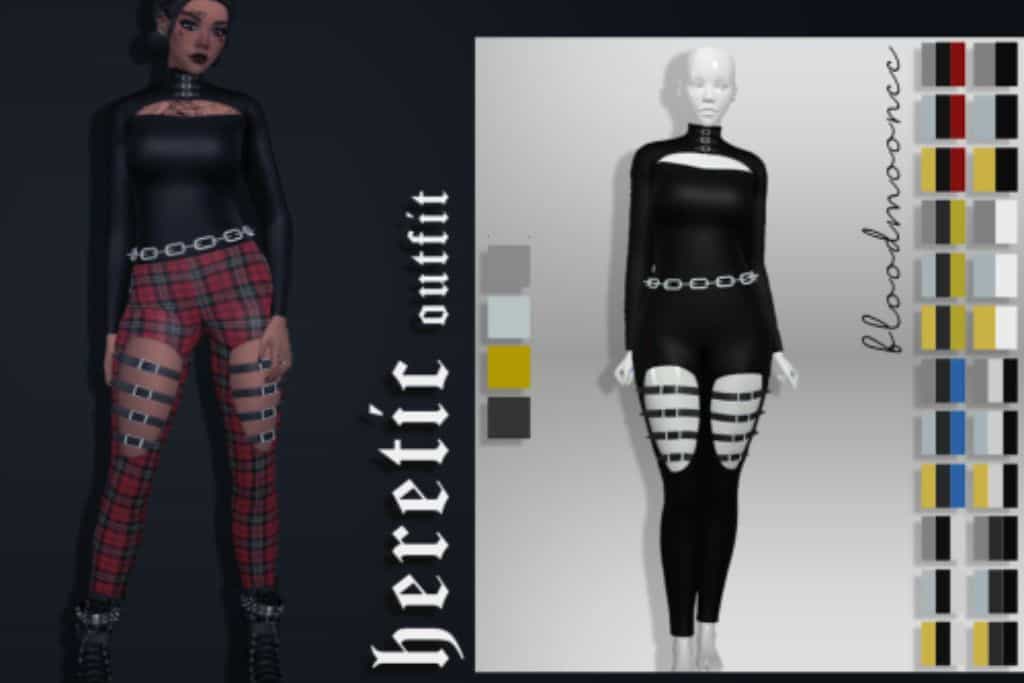 This grunge outfit by bloodmooncc is extremely edgy, and I'm here for it.
I love the leather chocker top piece and a cutout-strap combo of the pants.
We get a little dominatrix slash grunge vibes with this outfit.

24. Sims 4 Grunge CC Ripped Sweater by Trillyke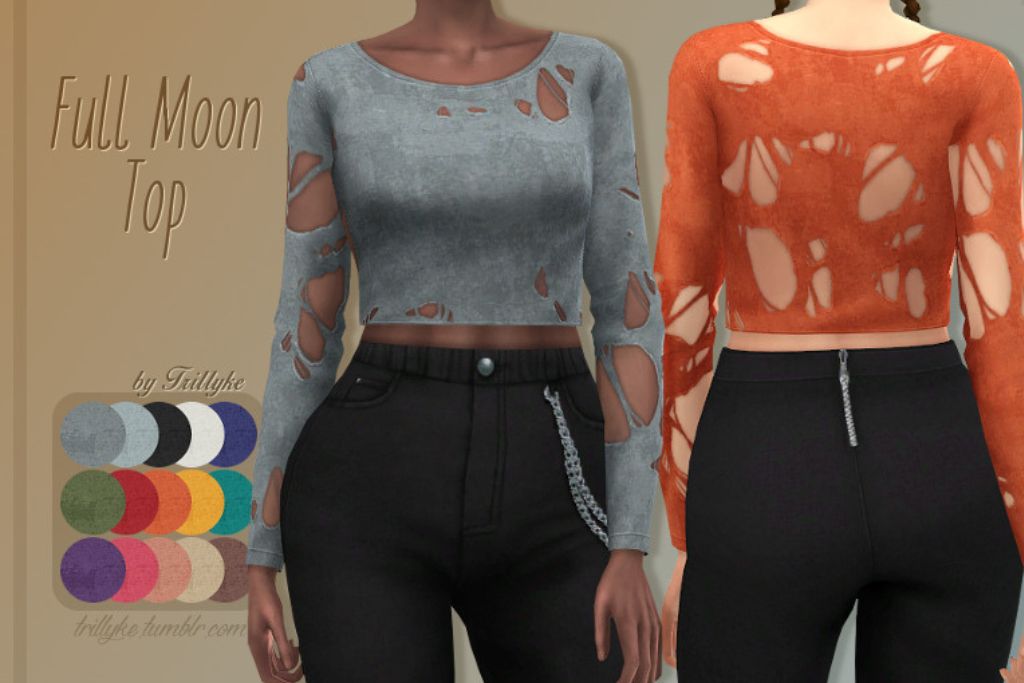 This is another favorite wolf-inspired, shredded long-sleeve crop top.
This sweater top has holes throughout and can still be styled less or more grungy, depending on what you pair it with.
You get 15 swatches to mix and match in your outfits.

25. Ripped Custom Content Jeans by Wild-Pixel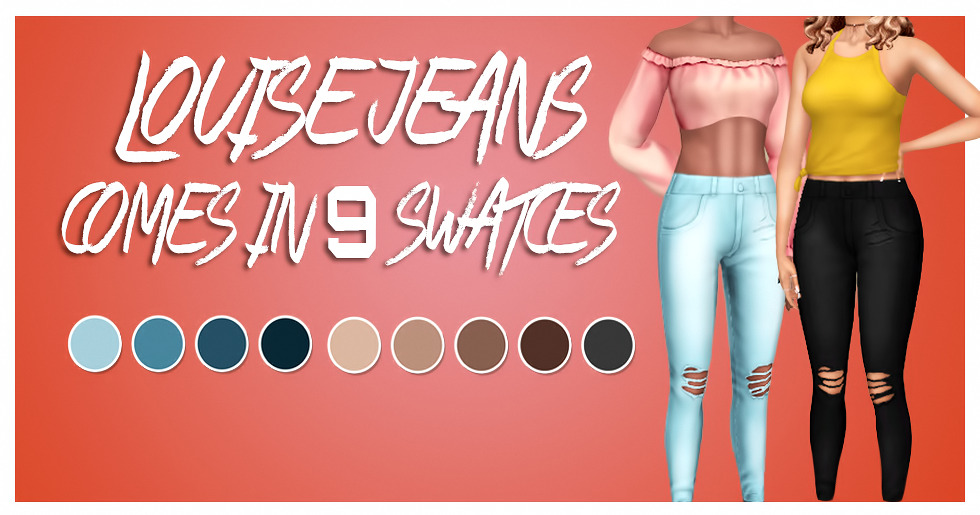 So you might be wondering why I include these jeans in this collection of sims 4 grunge cc.
I like these jeans because they are only ripped along the knees.
Not every article needs to be full-on grunge; some clothes are best kept simple on outfits where you want your accessories or statement pieces to shine.

26. Sims 4 CC Boots by Madlen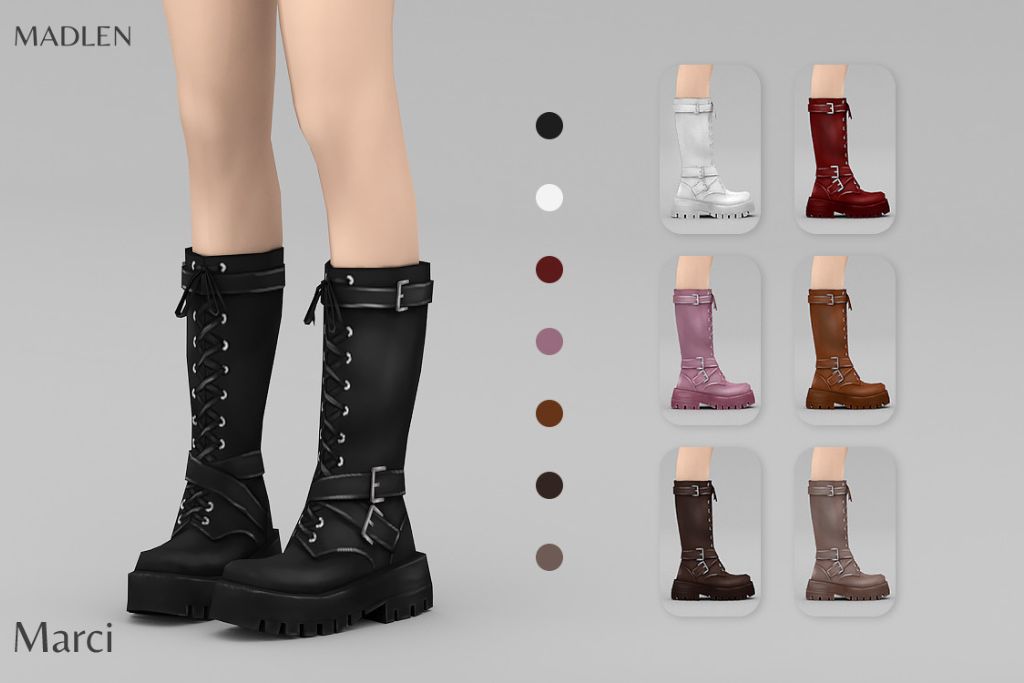 Another great pair of grunge cc boots for your collection.
I particularly like these Madlen boots because they are a similar but more subtle version of the remedy boots above.
I like having a variety of styles and grunginess in my selections; that way, I can tone up or down each sim.

27. Killstar Grunge CC Dress by Helsoseira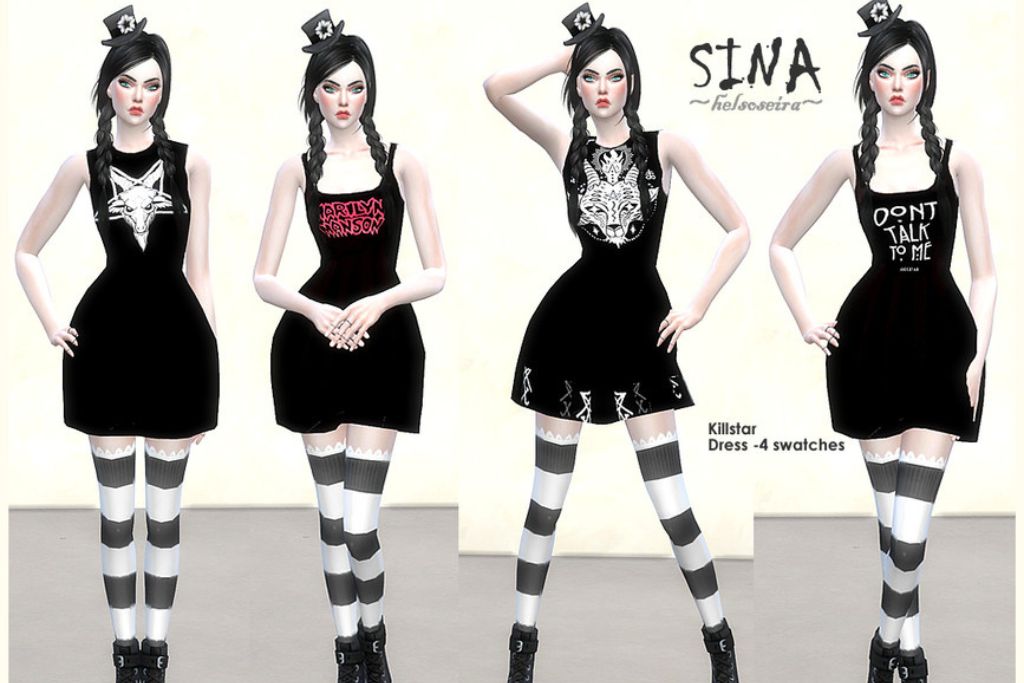 This gothic and punk-inspired dress is a keeper. It's available in 4 swatches.
I like styling it with the black Madlen boots and fishnet stockings.
Don't forget to grab the necessary mesh from the creator notes section on TSR.

28. Sims 4 Smokey Eye CC by Kamiiri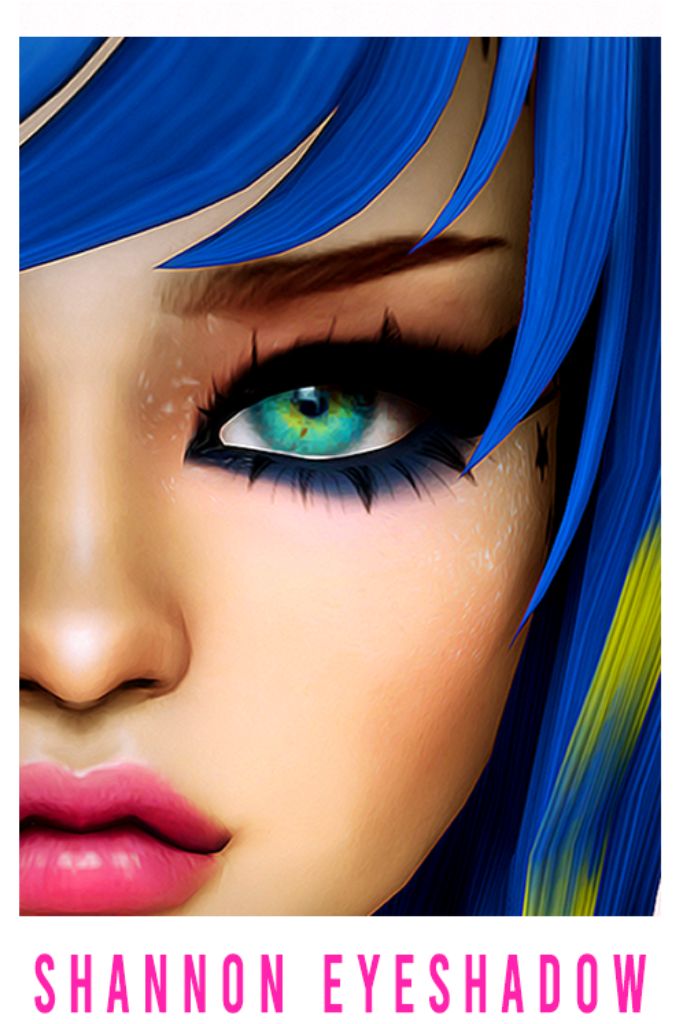 Just a great smokey eyeshadow to give the finishing touches to your grunge sims.
Plus, you can never go wrong with a winged smokey eyeshadow look; this piece of custom content can be used on more than just grunge looks.

29. Goth/Punk Tees by Helsoseira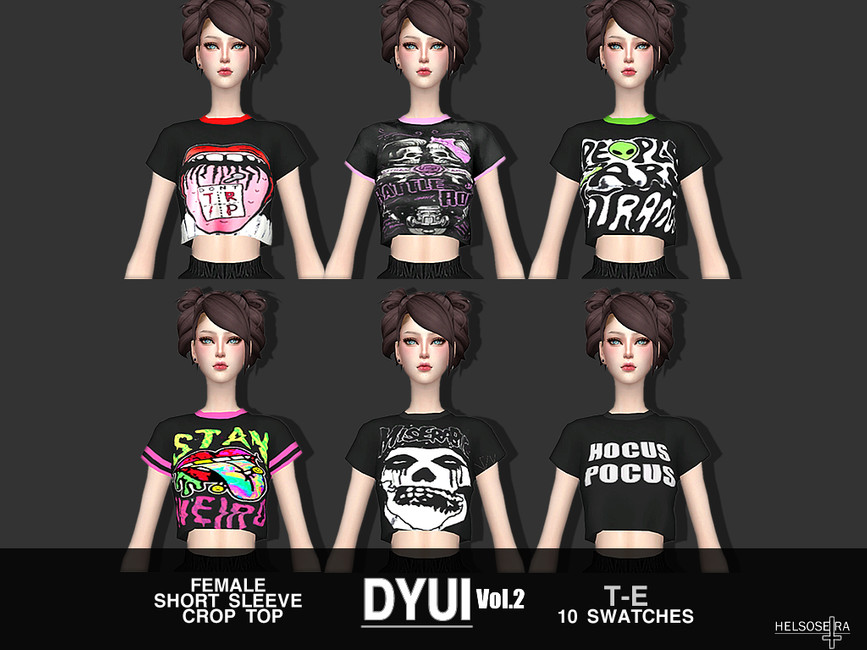 These band-like cropped tees are an excellent staple for your sims 4 grunge cc folder.
You have 10 different swatches to choose from.
Pair these grunge tees with the hypermania pants from EvellSims and the chunky sneakers from Bellassims.

30. Spiked CC Blazer by EvellSims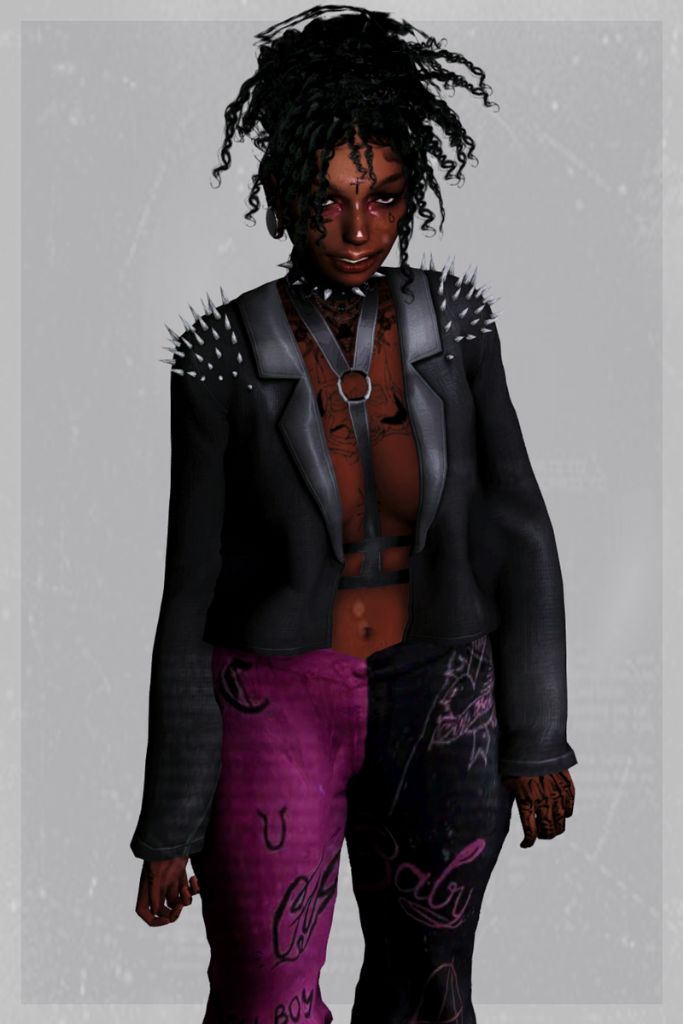 Ready for the fall season?
This spiked shoulder grunge blazer is the ideal piece to layer on if you dare to take an evening stroll through Moonwood Mill.
Even better, with 25 watches, you can find the perfect color for every outfit that needs a touch of spikiness.

31. Grunge CC Background by Katverse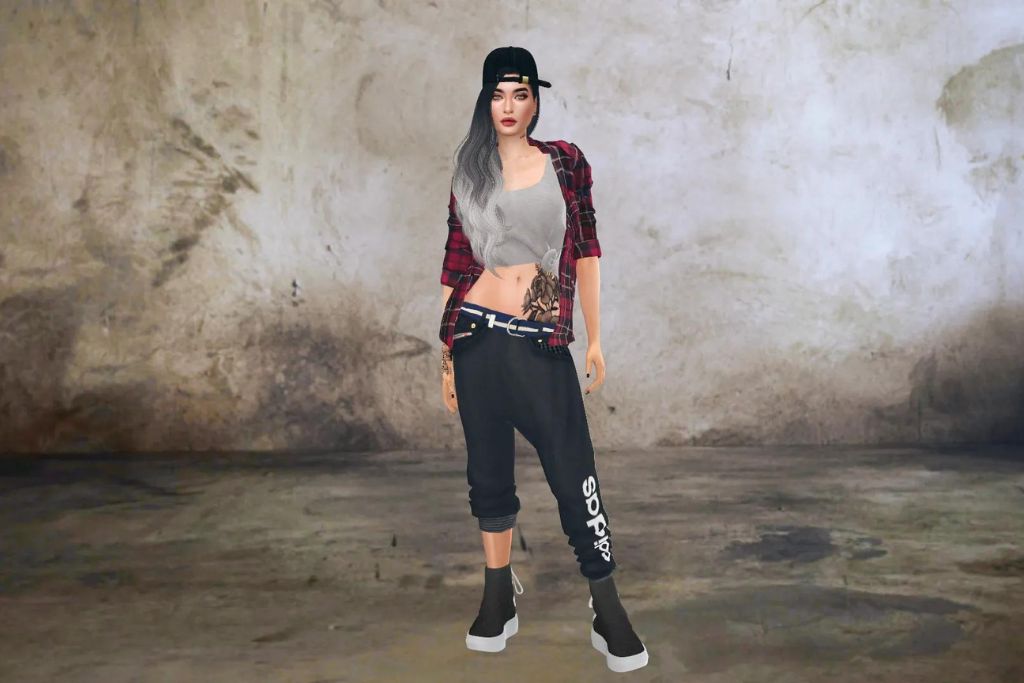 Katverse has a collection of CAS grunge-inspired backgrounds to provide the perfect backdrop for your sims 4 grunge cc screenshots or poses.
This grey background is my favorite of the four, but you can check out the concrete background, and there is even a pink grunge version too.
The Best Sims 4 Grunge CC
Grunge clothing has been around since the late 80s and early 90s, but it's an ever-evolving style.
I love playing around with different levels of sims 4 grunge cc and testing out which combinations make the most unique looks.
If you come across any other interesting pieces for me to check out, feel free to send us a link in the comments below or tag us on Tumblr.
Other Custom Content Articles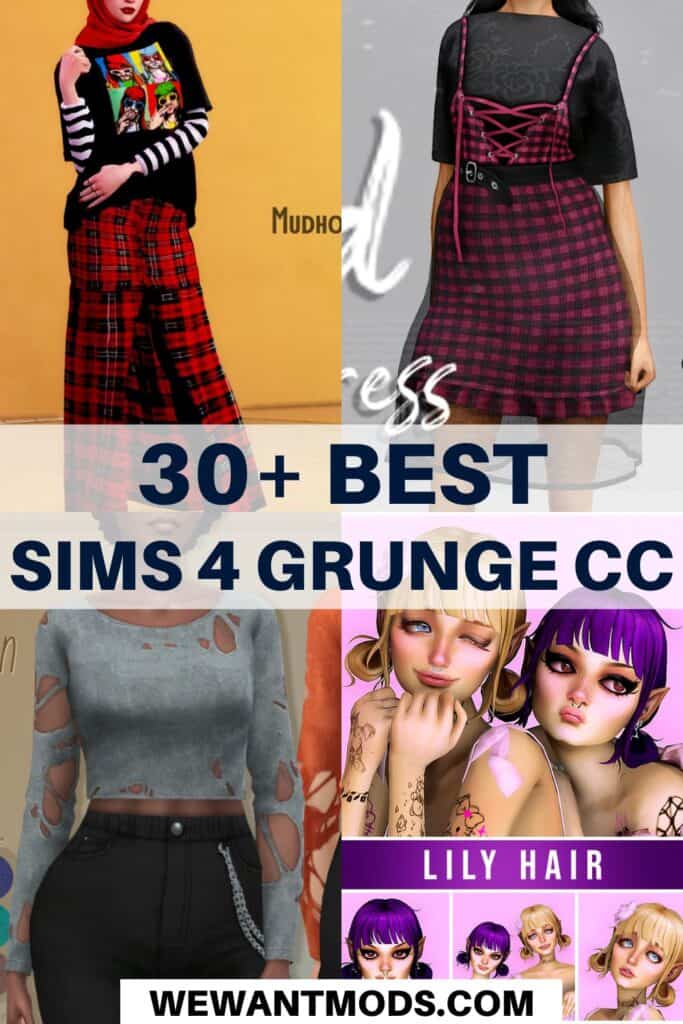 30+ Best Sims 4 Grunge CC Pieces