21+ Gorgeous Sims 4 Eyelashes CC
From eyebrows to eyes, custom eyelashes impact how stunning your final sims turn out.
Find the best must-have sims 4 eyelashes to use for months to come.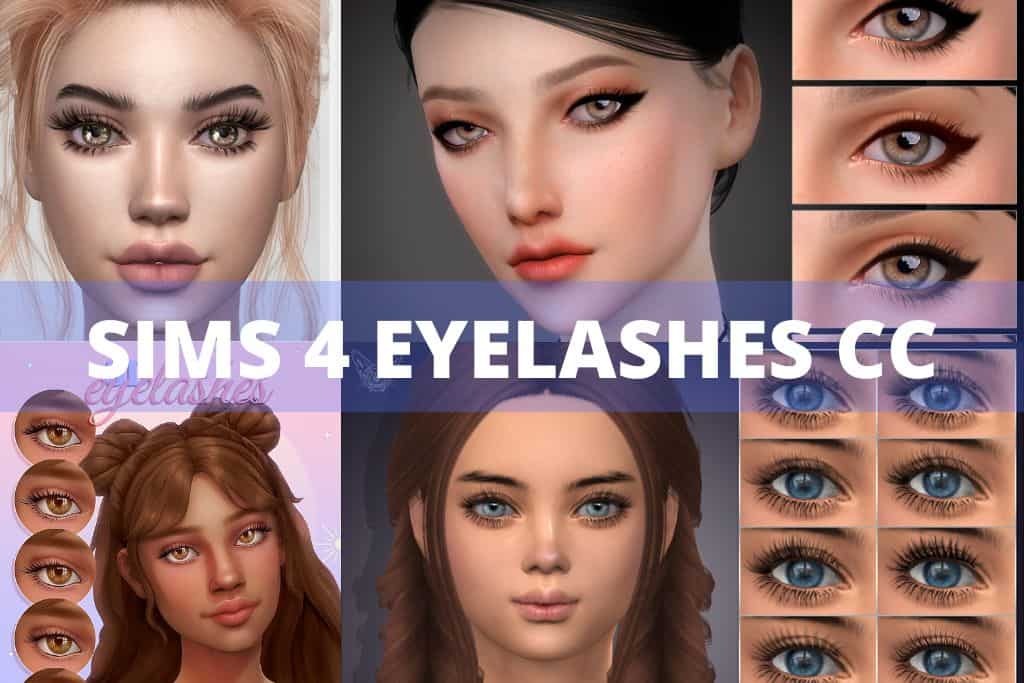 So let's face it, EA eyelashes are not the most popular choice on the market.
You either bare with them or upgrade, but I have yet to meet anyone who says it's their favorite go-to style.
But with this collection of cc eyelashes, you've got all the upgrades your cc folder is going to need!
Find your favorites and glam up for a beautiful wedding, cocktails at the club, or a casual stroll through Willow Creek.
Oh, and don't forget to check out our lists of Sims 4 Eyebrows linked at the bottom of this post.
Disclaimer: The following mods are neither endorsed nor affiliated with The Sims, Maxis, or Electronic Arts. Any use of mods (custom content or game mods) should be done with caution and with the knowledge that there may be risks.
How to use Sims 4 Eyelashes Custom Content?
Before you start styling our sims, you will need to install an eyelash remover mod.
Using an eyelash remover mod will essentially remove the EA standard lashes, which look like thick eyeliner.
You can opt for either of the following two eyelashes remover mods;
Be sure to read any special instructions on the mod page.
Sims 4 Eyelashes CC
From natural lashes to men's sets, we've put together a collection of the best sims 4 eyelashes cc for you to enjoy.
1. Sims 4 2D Eyelashes by Bobur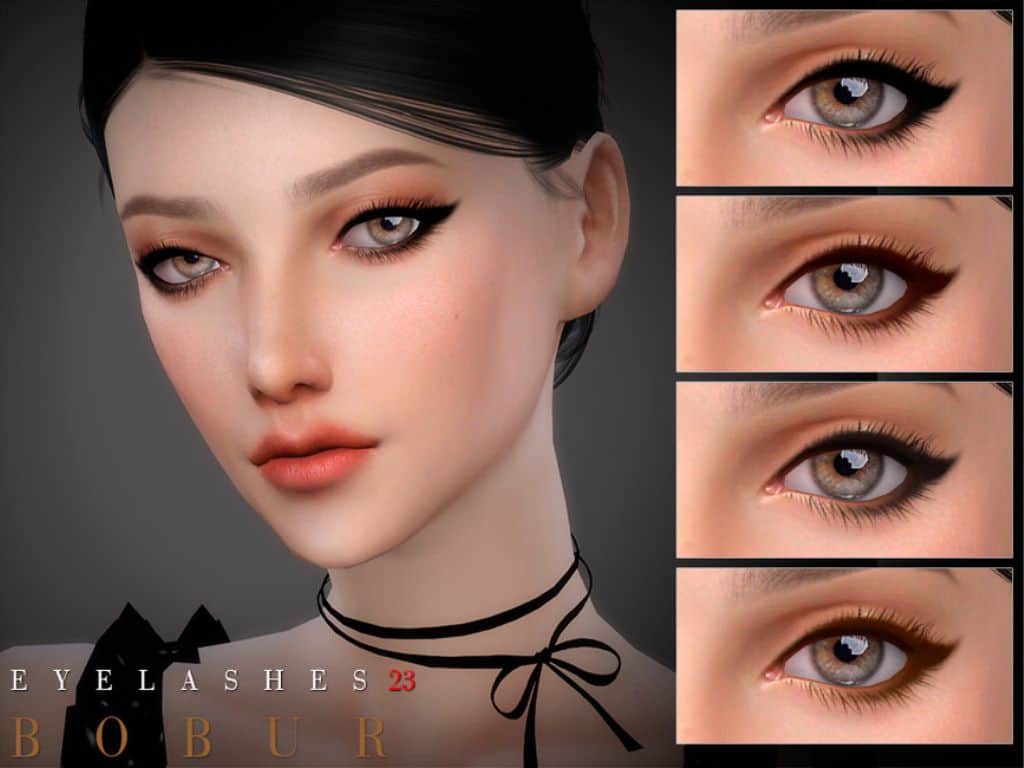 These 2D cat eyeliner lashes are the perfect piece of custom content for an easy makeup look.
You get a complete set of buttom and top eyelashes; the bottom lash line is nice and long too.
This set comes in 8 different colors and can be found in the makeup and eyeliner categories.

2. Sims 4 3D Eyelashes by Suzue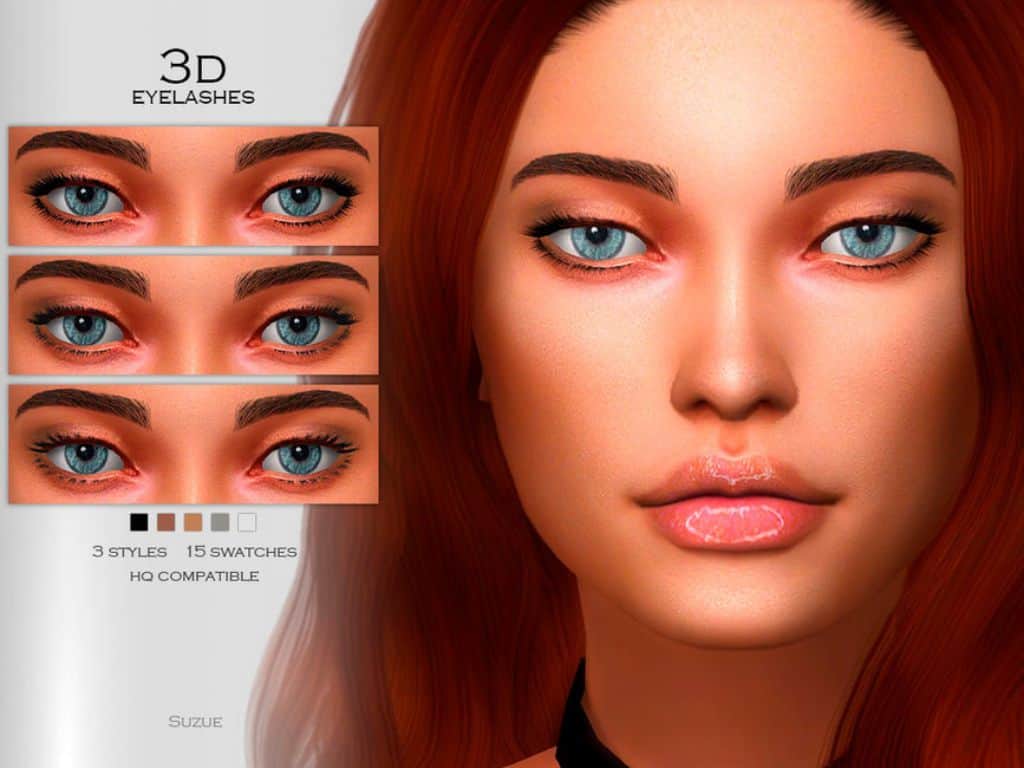 These natural 3D eyelashes are a great staple for an everyday set of lashes.
The length and lash density are extremely realistic, and you get 15 swatches to try out.
Given the limited options for men's eyelashes, finding a set that works for both males and females (teen to elder) was nice.
You can find these eyelashes in the glasses category.

3. Sims 4 Kijiko Eyelashes Version 2 by kijiko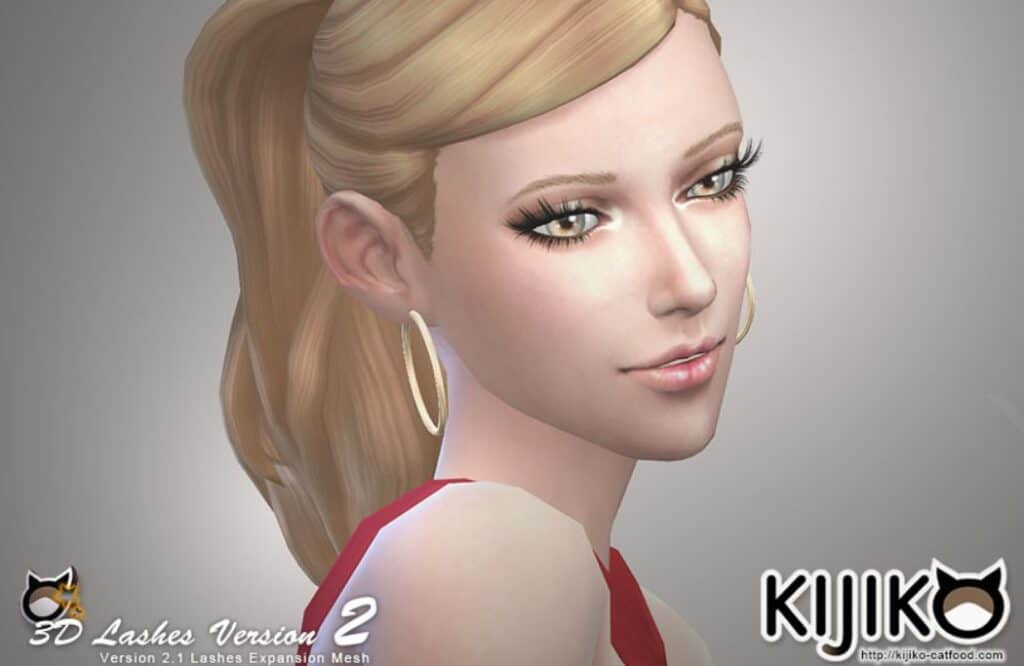 These eyelashes are one of the most popular pieces of custom content.
You'll find these Kijiko 3D Lashes Version 2 on almost everyone's list of favorite lashes.
Available for all genders and from teens to elders.
Grab your Kijiko lashes from the glasses category.
You get 25 regular-length styles and can opt for the 20 long-style eyelashes too.

4. Sims 4 3D Wet Lash Look Eyelashes by Miiko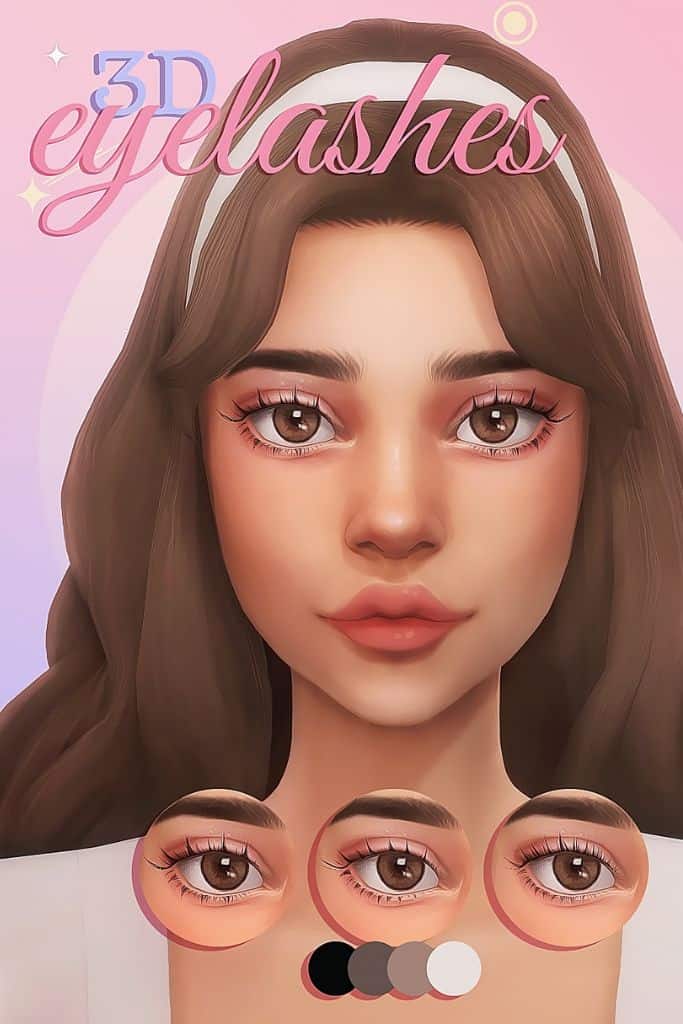 These 3D eyelashes by Miiko are the perfect "natural, wet lash" eyelashes.
Although Miiko describes them as doll-style, I find these lashes incredibly realistic, as many of us have clumped, varying-length eyelashes.
You get 3 styles and 4 colors to try on your sims.

5. Sims 4 Painted Eyelashes by Coffeemoon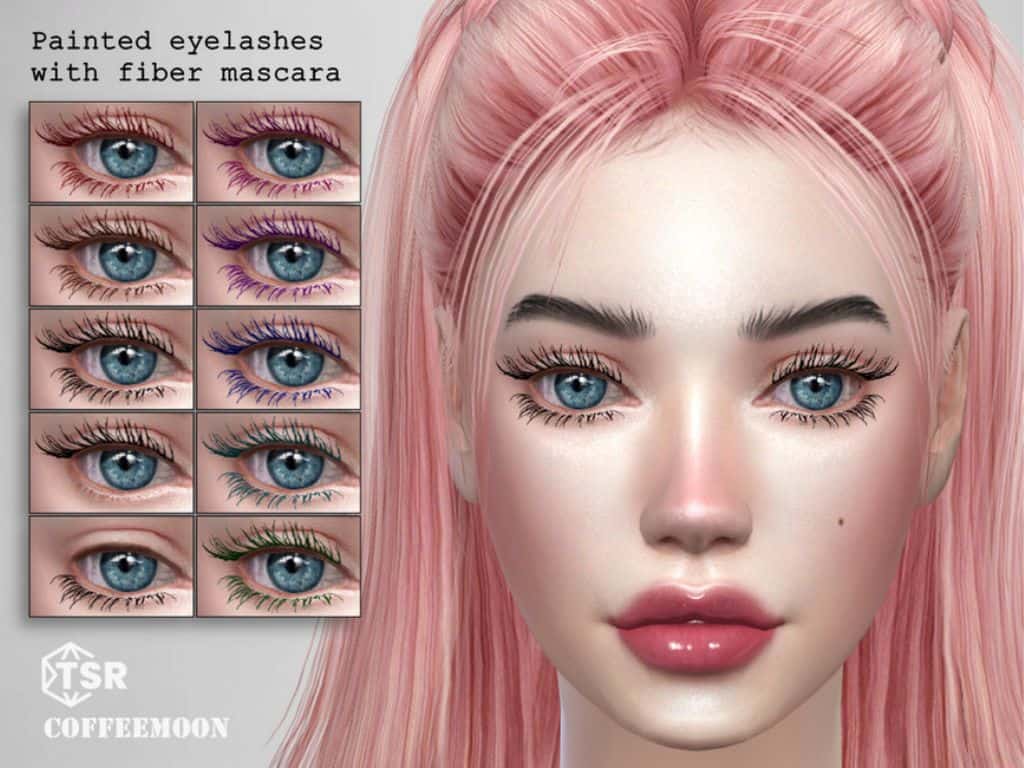 As its name says, these are a great pair of 3D-painted eyelashes.
You get 3 different styles and 8 fun mascara colors, including blue, green, and purple.
I like using painted eyelashes on my grunge custom looks which tend to be edgier.

6. Sims 4 Thick Male Eyelashes by Coffeemoon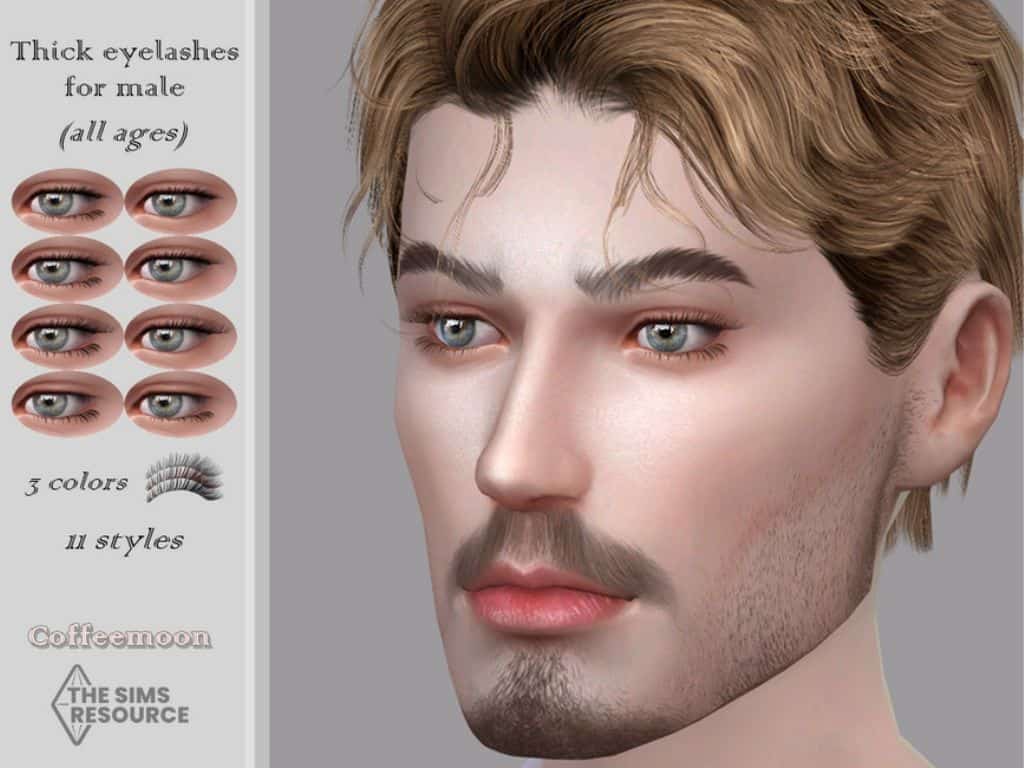 I was so happy to find these men's 3D eyelashes; they look very natural and have a slight curl.
You can choose between black, brown, gray, and 11 styles for your teen to elder sims.
You also get 5 styles for children and 8 styles for toddlers.

7. Sapphire 3D Eyelashes by Screaming Mustard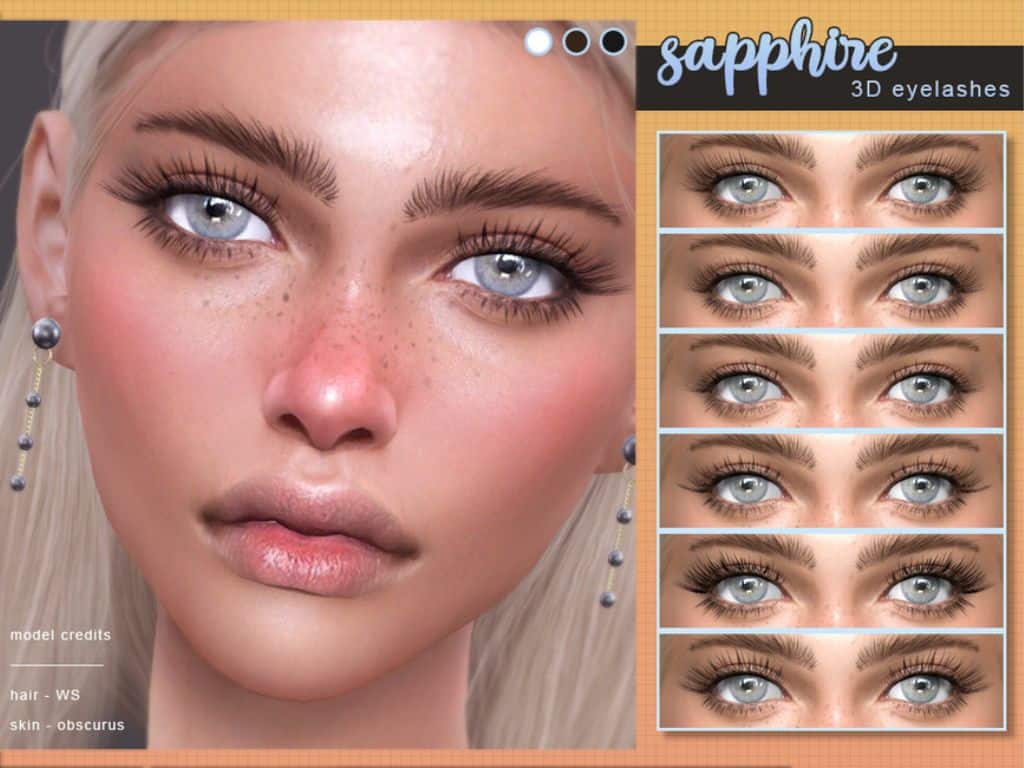 This is a subtle and stunning full lash set by Screaming Mustard.
These lashes are the perfect piece of cc for a "no-makeup" makeup look.
You get beautiful long lashes in 3 shades and get to pick the fullness level of your lashes with 6 different options.

8. Sims 4 Natural Eyelashes 25 by Bobur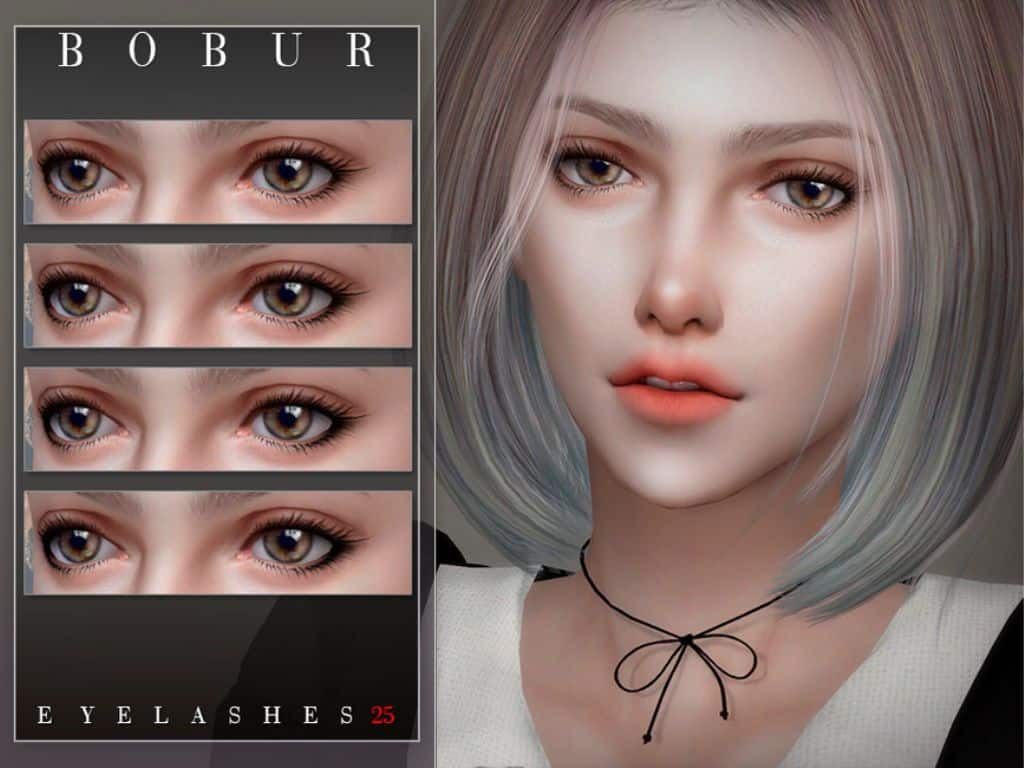 These are a natural pair of 2D eyelashes by Bobur.
These lashes are available in 4 different colors.
I particularly like the look of eyeliner on half the exterior lower lash line. It's a nice little touch to these daytime lashes.

9. Sims 4 Maxis Match Eyelashes by pickypikachu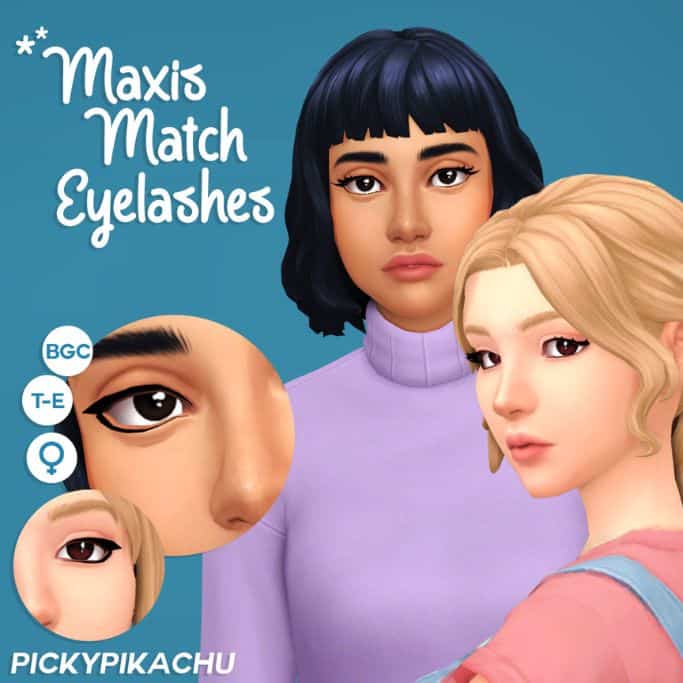 These maxis match eyelashes are a great option if you want to ensure that your lashes fit in seamlessly with your sim creations.
You get 2 styles of maxis match eyelashes in this set, the Jade and Norma.
Both lashes come in 8 different swatches.
With the Norma, you essentially get an upper lash line that is quite similar to EA's standard lash, but you also have a lower lash line to change things up a bit.
The Jade version changes things up with 4 long lashes for the upper lash line and an eyeliner-style lower lash line.
Pickypikachu has labeled them as "low-poly " and "laptop-mode friendly" which is a nice option to have on file.

RELATED POST: 27+ Best Sims 4 Eyes CC

10. Sims 4 Twiggy 3D Eyelashes for Kids by Giulietta-Sims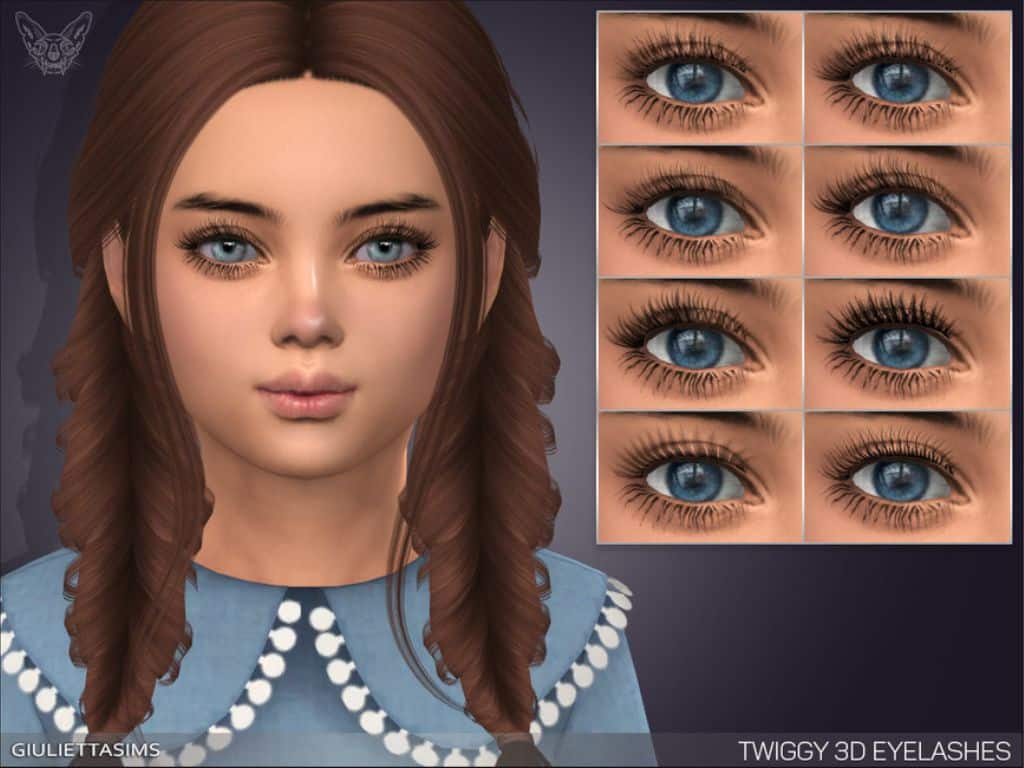 These 3D lashes by Feyona – Giulietta Sims are beautiful.
You get a full top and bottom lash line with long lashes.
This lash set gives the impression of having a nice coat of black mascara.
As the name implies, these eyelashes are inspired by the 60s model Twiggy and her famous set.
These 3D kids' lashes come in 8 styles, but you can also grab the adult pair here.
You will find these lashes in the glasses category.
It's best to use this pack with the highest graphic settings, so, unfortunately, laptop settings are a no-go for this pair.

11. 3D Eyelashes for Sims 4 by obscurus-sims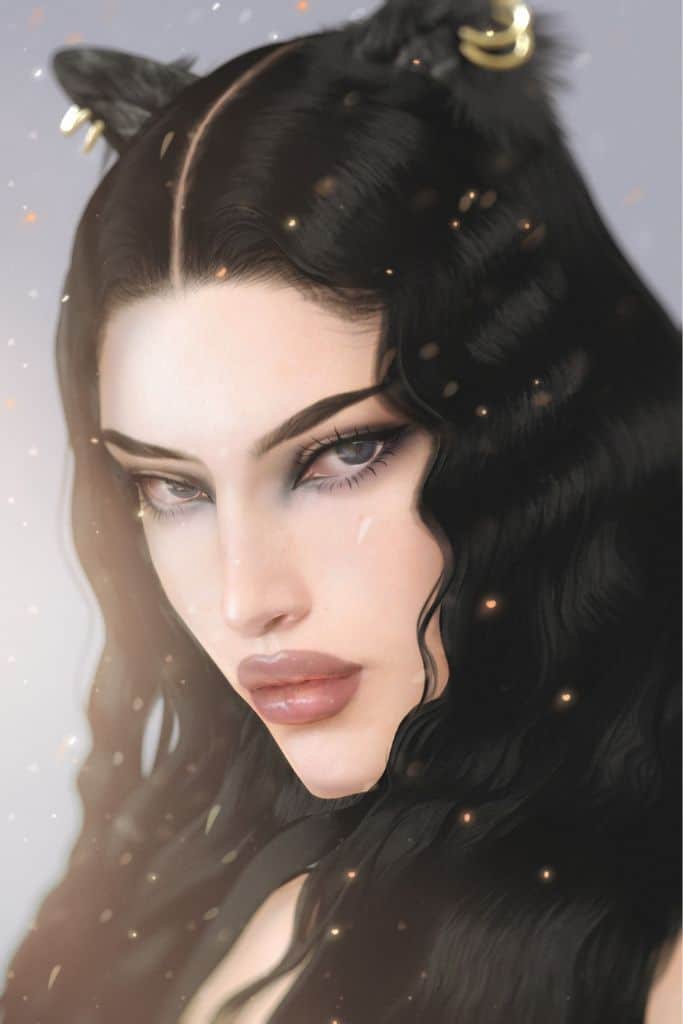 This is an extensive eyelash pack by Obscurus-sims.
You can choose any of the 3 eyelash models that you prefer.
There is a total of 105 swatches; you have 5 different styles and 7 colors to play around with.
For each style, you have 3 variations.
You can opt for top or bottom-only lashes or a complete set of top and bottom eyelashes.

12. Sims 4 2D Eyelashes 24 by Bobur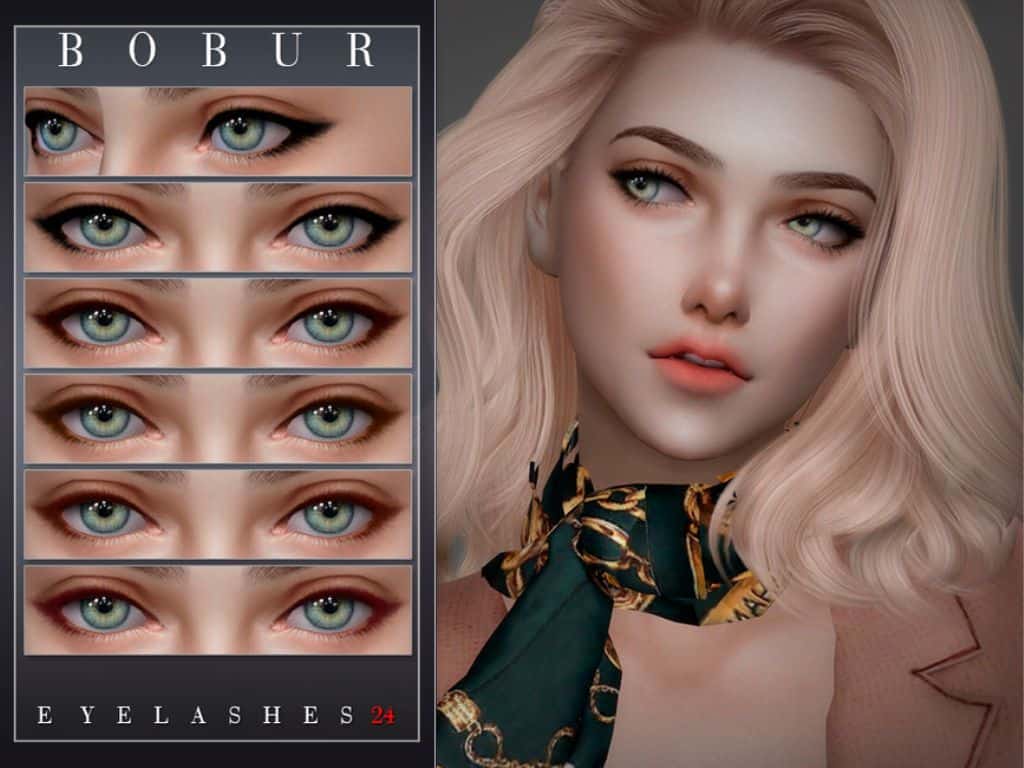 These 2D eyelashes by Bobur remind me of the Bobur 25 eyelashes we saw a little earlier.
In this 24-eyelash model, you get a similar look, except we have an eyeliner look on the upper lash line with a slight cat eye effect.
This set comes in 8 different colors.

13. Sims 4 Eyeliner N6 (Eyelashes) by Seleng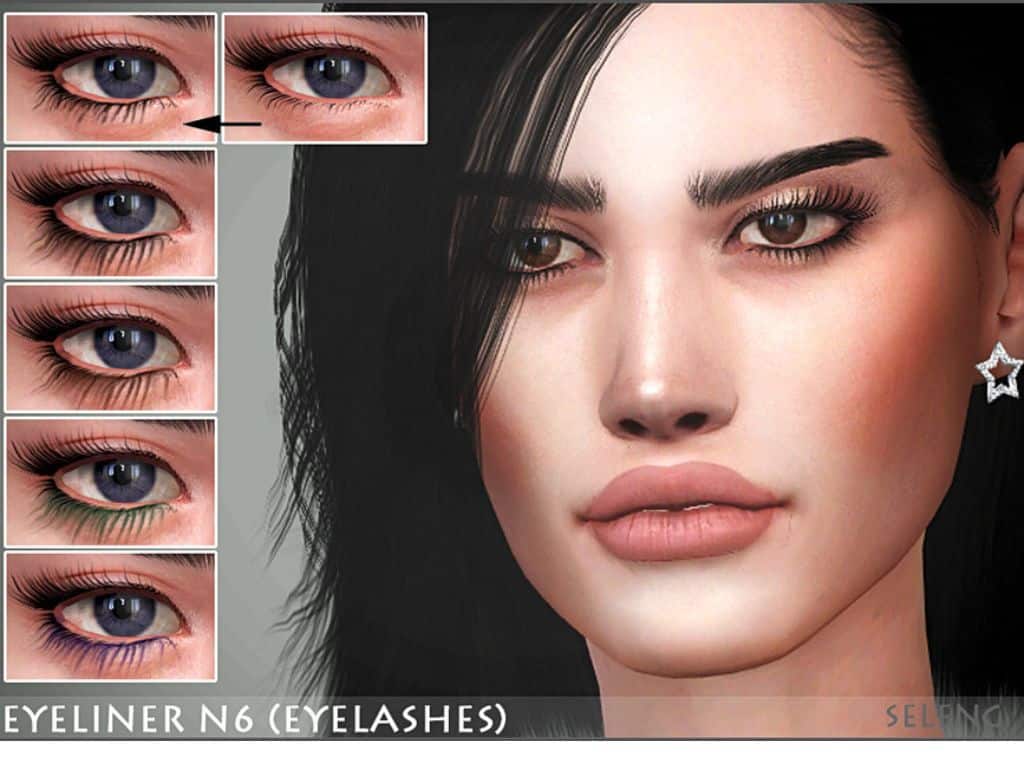 Here we have a unique pair of fun female eyeliner-style lashes by Seleng.
You get 4 eyelash types to choose from and 5 different colors to brighten up your lower lash line.
Add a little pop of color to your makeup routine with these colorful eyelashes!

14. Sims 4 Kids Eyelashes 07 by BAkalia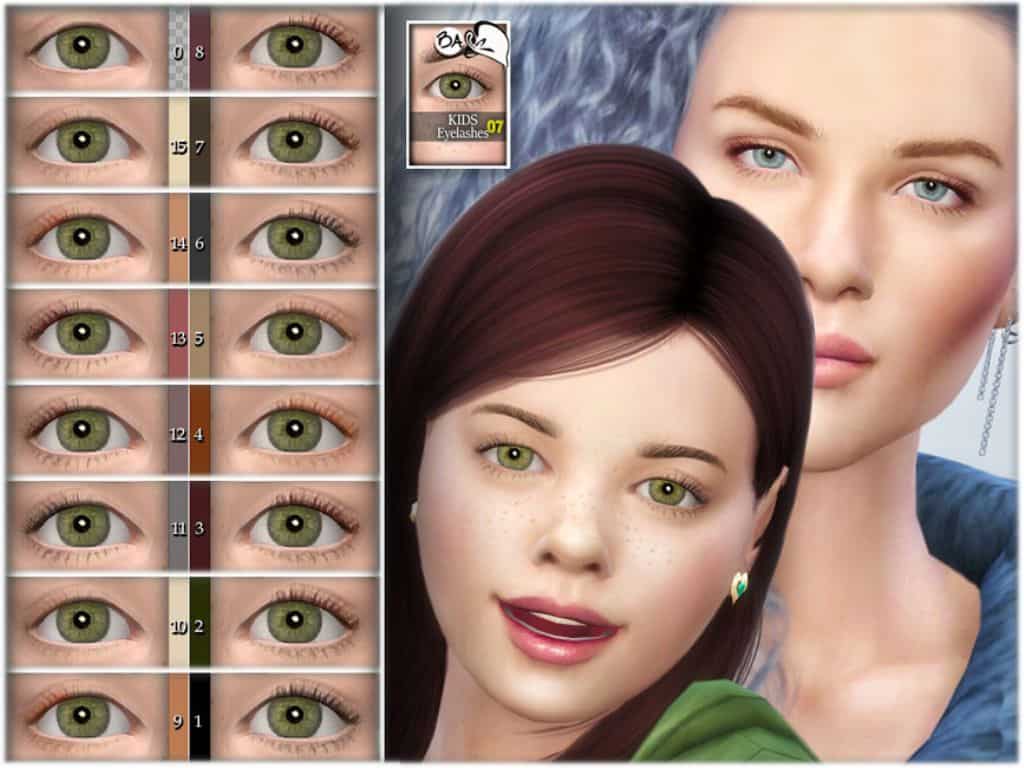 These are a nice set of natural-looking eyelashes for your younger sims.
While these lashes were made for kids, the creator says they also fit other aged groups.
These lashes are a great option if you want a simple style for a fresh-faced look.
You get 15 swatches in this cc file: 5 color choices and 3 different eyelash densities.
You can find this set in the eyeliner category, which works for all genders.

15. Sims 4 Maxis Match Mascara Lashes by Isaiahillustrates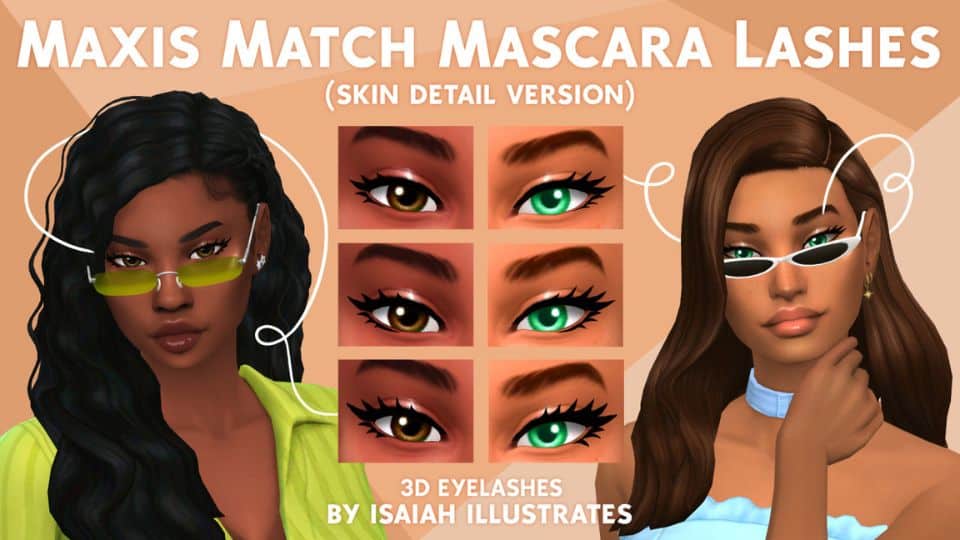 A great pair of maxis match 3D eyelashes.
It's nice to have a small collection of maxis match lashes becoming available.
Available in black or brown options, you can use these lashes from teens to elders.
This set is in the skin details category so that you can combine them with your favorite pair of sunglasses.
If you prefer using the glasses category, you can find it here.
Don't forget to grab the necessary mesh too.

16. Sims 4 Extra Long Lash Extensions 3D by Coffeemoon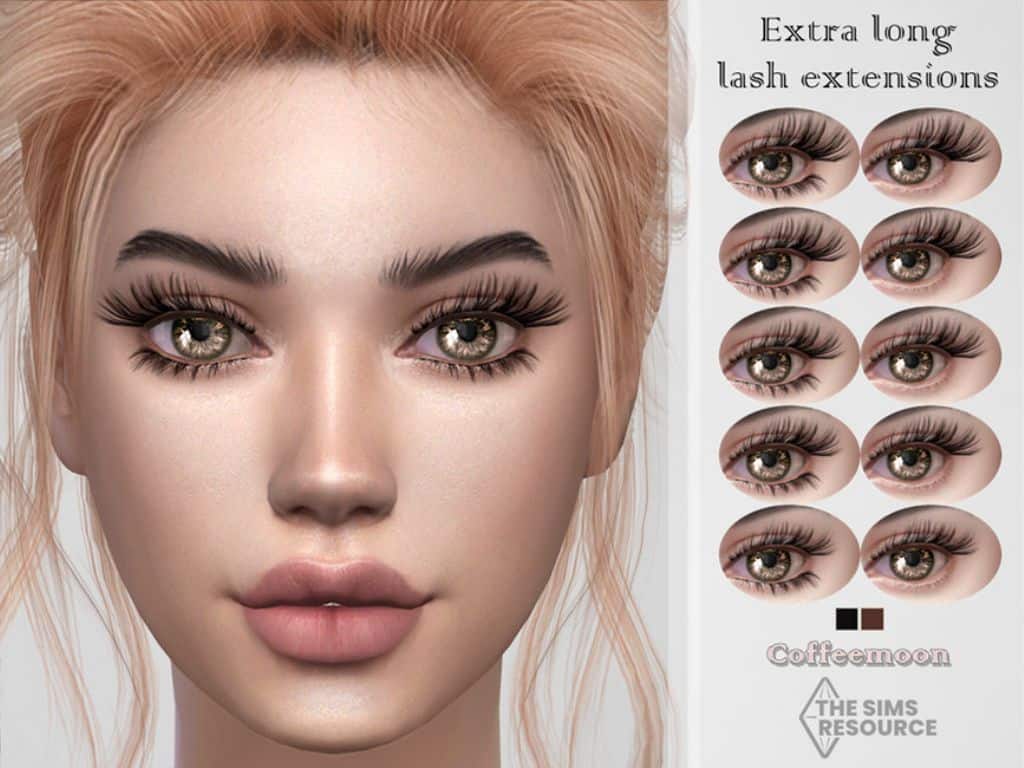 This set of 3D extra-long eyelashes by Coffeemoon is gorgeous.
People literally pay real-life professionals for eyelash extensions this beautiful.
You'll find these eyelash extensions in the glasses category.
Available in black and brown. You get 10 styles for adults, 8 for kids, and 4 for toddlers.

17. Sims 4 Half Lashes by Kijiko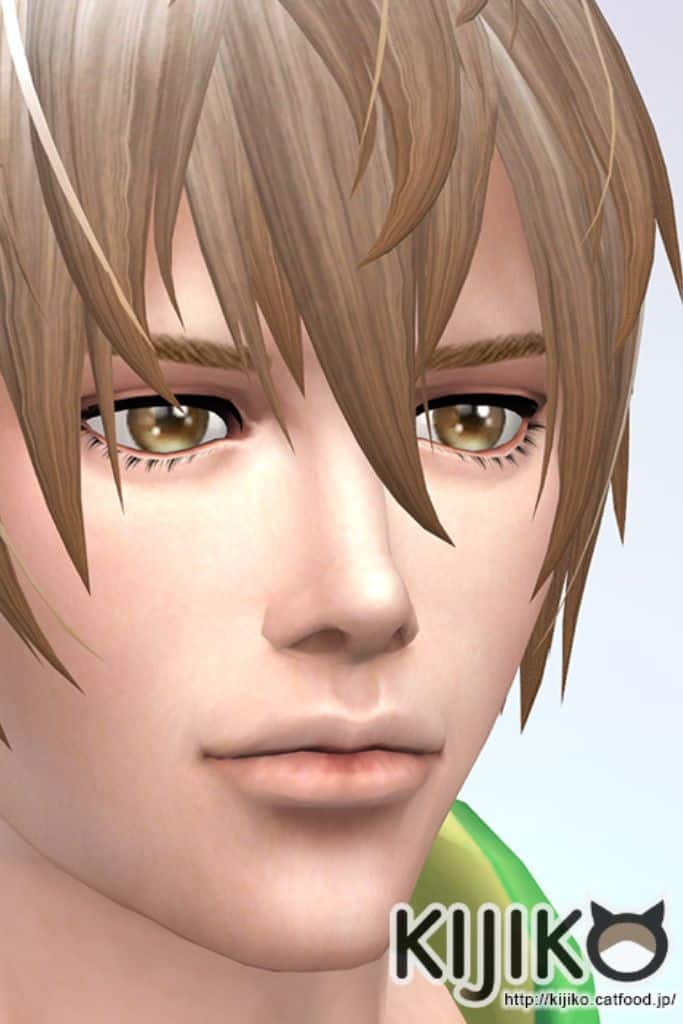 These lower lashes by Kijiko are a simple add-on to your regular EA lashes.
Nothing fancy here, just a simple set of maxis match lower lashes to add a little fullness to the lower lash line.


18. Sims 4 Hollywood Lashes by LeahLillith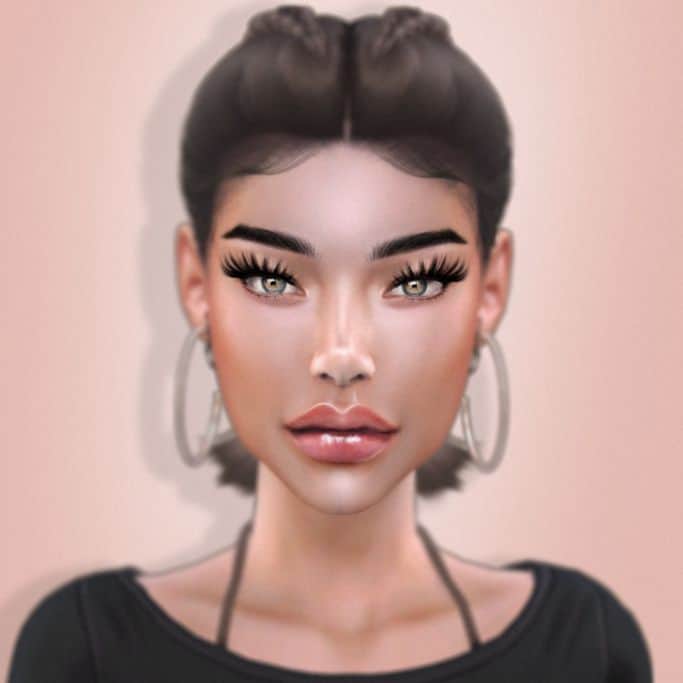 These dramatic Hollywood lashes by LeahLillith are a must for your custom content folder.
These long eyelashes are available in 21 diverse swatches.
With such variety in this set, you can select the lash placement and density you prefer for each of your female sims.

19. Sims 4 Male Eyelashes 02 by BAkalia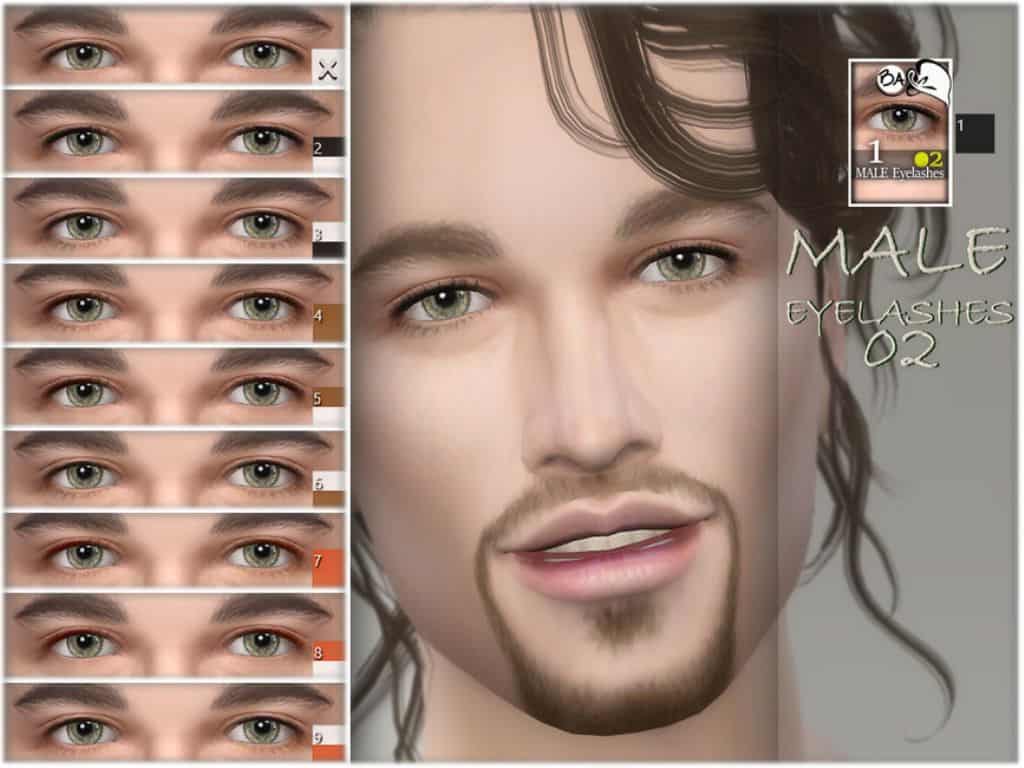 Although we've included a couple of other sets of men's eyelashes, we can't forget this pack by BAkalia.
You get a variety of 9 different swatches; in 3 different styles and colors for your male sims.
You'll find these lashes in the eyeliner category.

20. Ruby 3D Lashes for Sims 4 by Screaming Mustard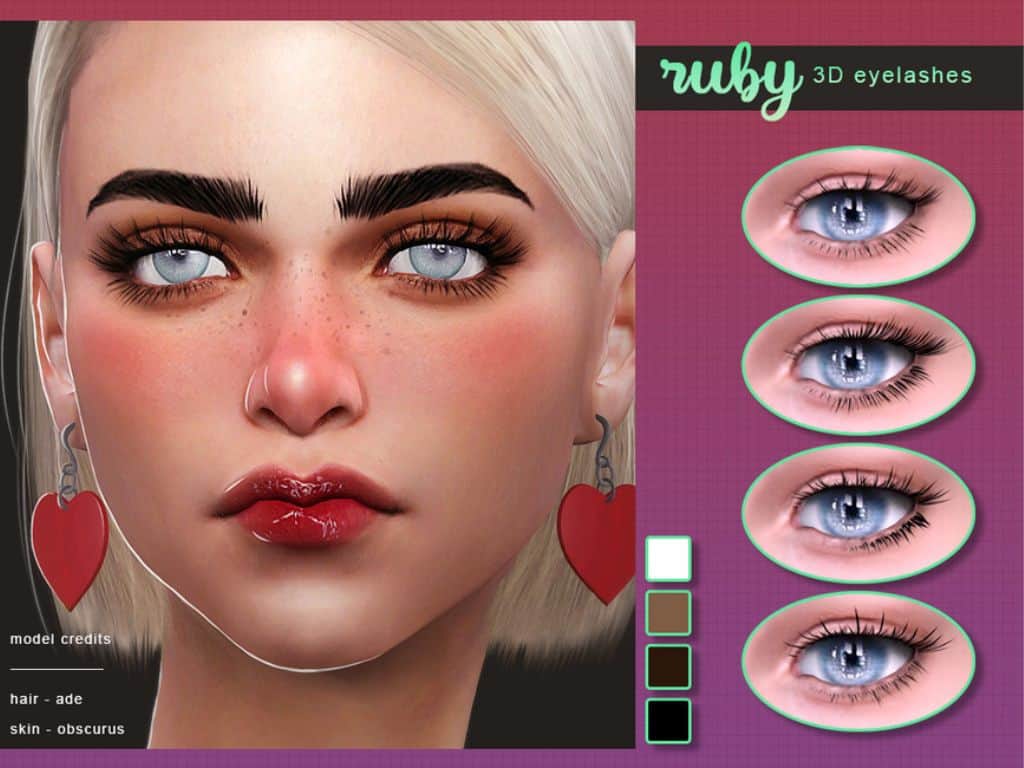 I love these natural 3D lashes by Screaming Mustard.
You get four different colors and eyelash densities to choose from.
These eyelashes can easily pass for a natural pair of lashes touched up with your favorite volumizing mascara.

21. Sims 4 Fantasy Eyelashes by Giulietta-Sims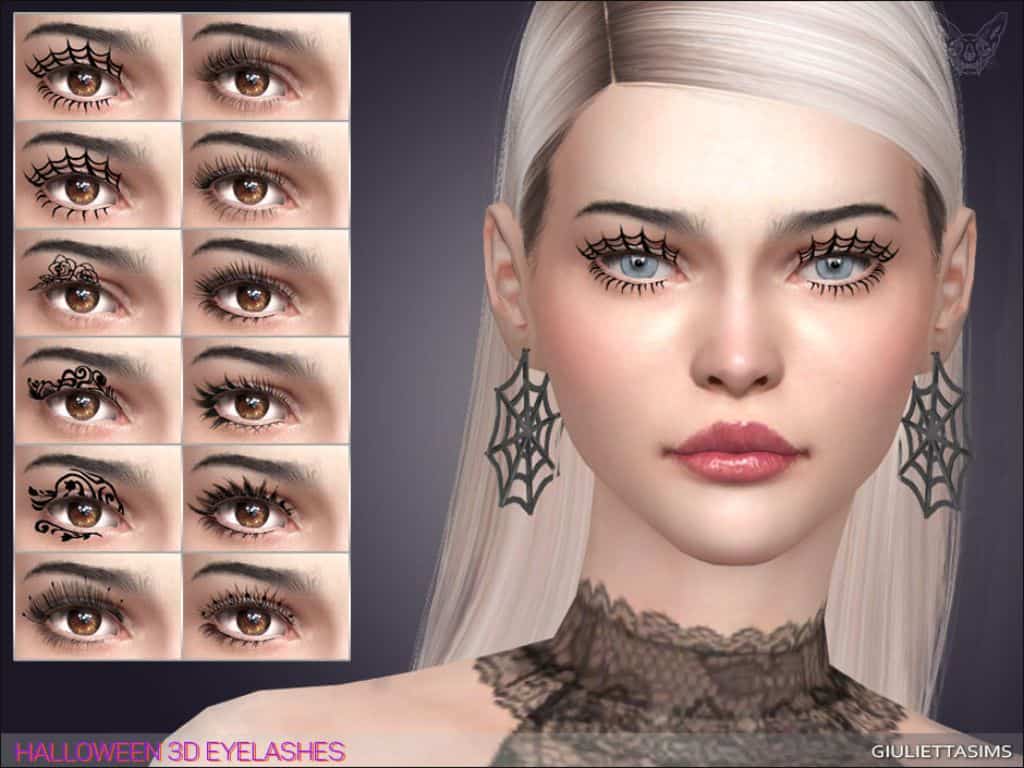 This is a great collection of custom eyelashes.
You get 5 regular sets of lashes with varying degrees of fullness for your everyday looks.
You also get 7 "fantasy swatches" to enjoy in your mermaid, vampire, and Halloween sim creations.
I particularly love the long lash swatch with the black embellishments at the tips.
You'll find these cc eyelashes in the glasses category.

22. Sims 4 3D Eyelashes – Part 5 by Miiko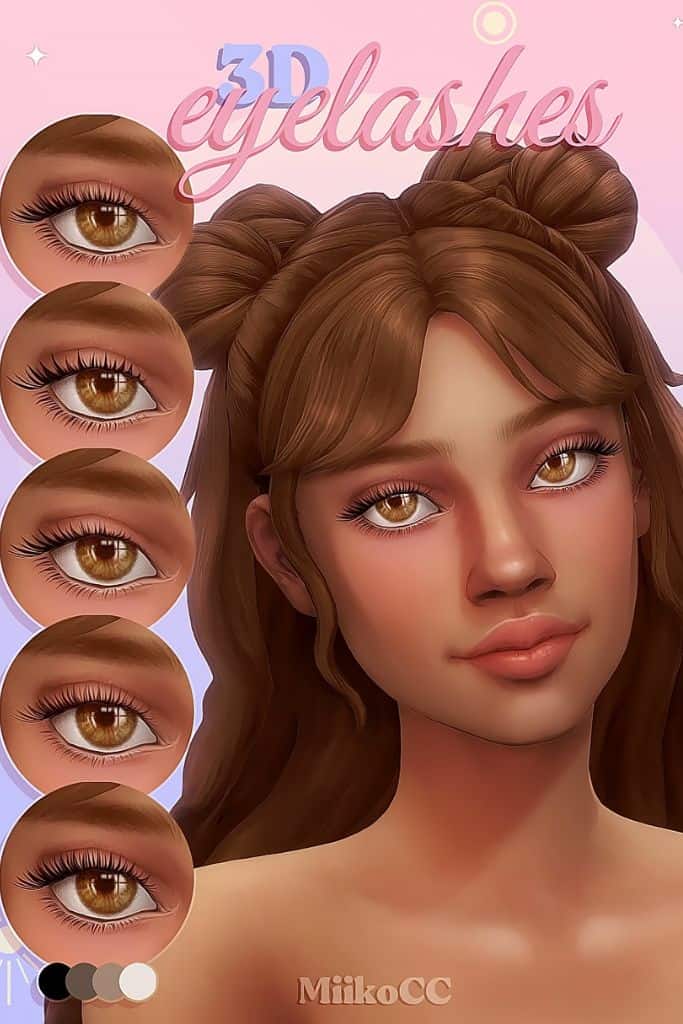 These thick and long eyelashes from Miiko frame the eyes so beautifully.
I love the fullness of the top and bottom lash lines and how fine the lashes appear.
You get 5 styles and 4 colors in this set of sims 4 eyelashes.

More custom content articles

Don't forget to pin this post for later!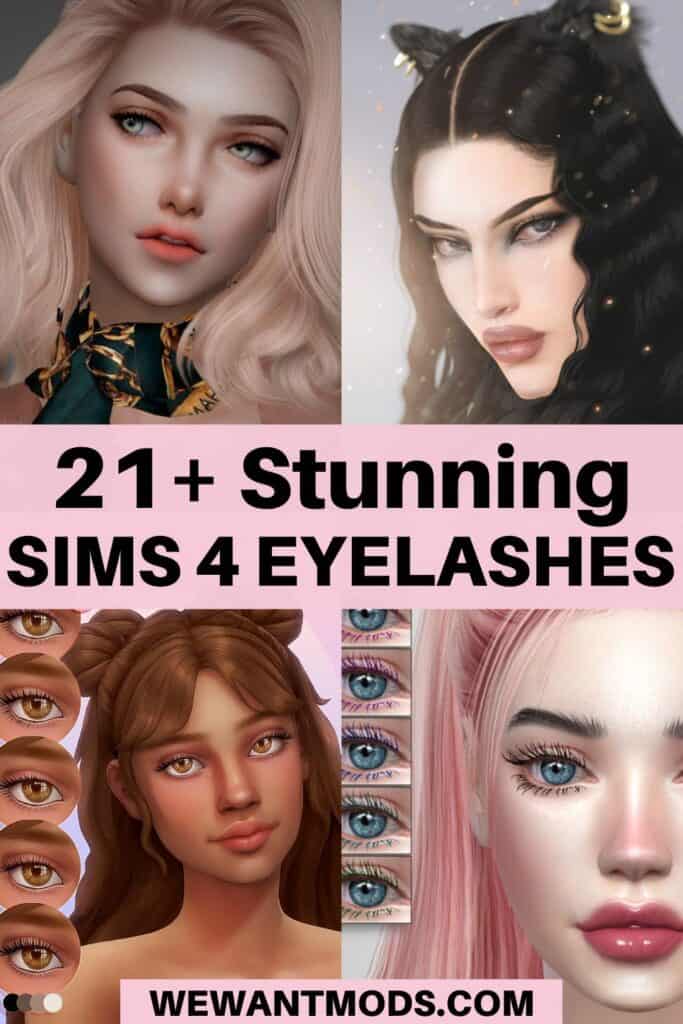 21+ Gorgeous Sims 4 Eyelashes CC