17+ Sims 4 Clueless CC To Add To Your Folder
Searching for the perfect Sims 4 Clueless CC for your gameplay?
From Cher to Dionne, we found the perfect list of Clueless-inspired pieces of custom content.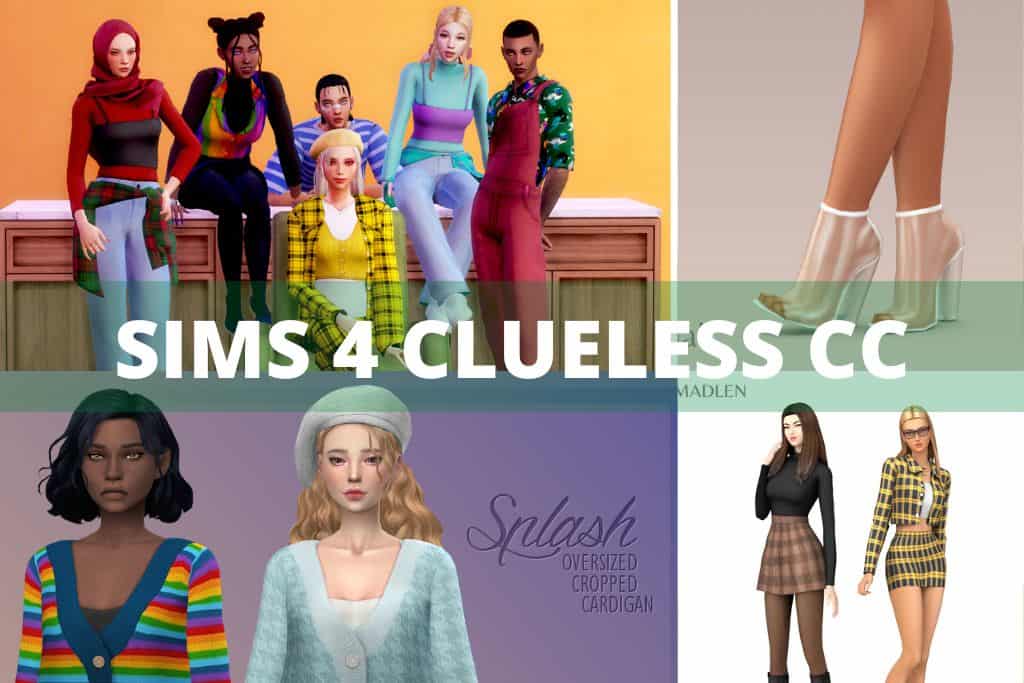 Clueless is one of those timeless movies. It does not matter whether you watched it when it first came out in 1995 😮 or years later.
There's just something iconic about it, and it's so nice to see it enjoyed through sims 4.
Clueless's fashion was a breath of fresh air since the movie came out during the middle of the 90s grunge era.
So it's not surprising that the clothing has a heavy presence of plaid fabrics.
You can easily mix and match some of our Grunge CC Collection pieces.
Plus many of the Sims 4 Y2K CC fit perfectly in with the Clueless esthetic.
Disclaimer: The following mods are neither endorsed nor affiliated with The Sims, Maxis, or Electronic Arts. Any use of mods (custom content or game mods) should be done with caution and with the knowledge that there may be risks.
Best Sims 4 Clueless CC
We tried to include a little bit of everything from suit combos to pant sets.
Hopefully, you find some trendy clueless cc pieces for your folder.
1. Two Piece Tracy CC Pack by Madlen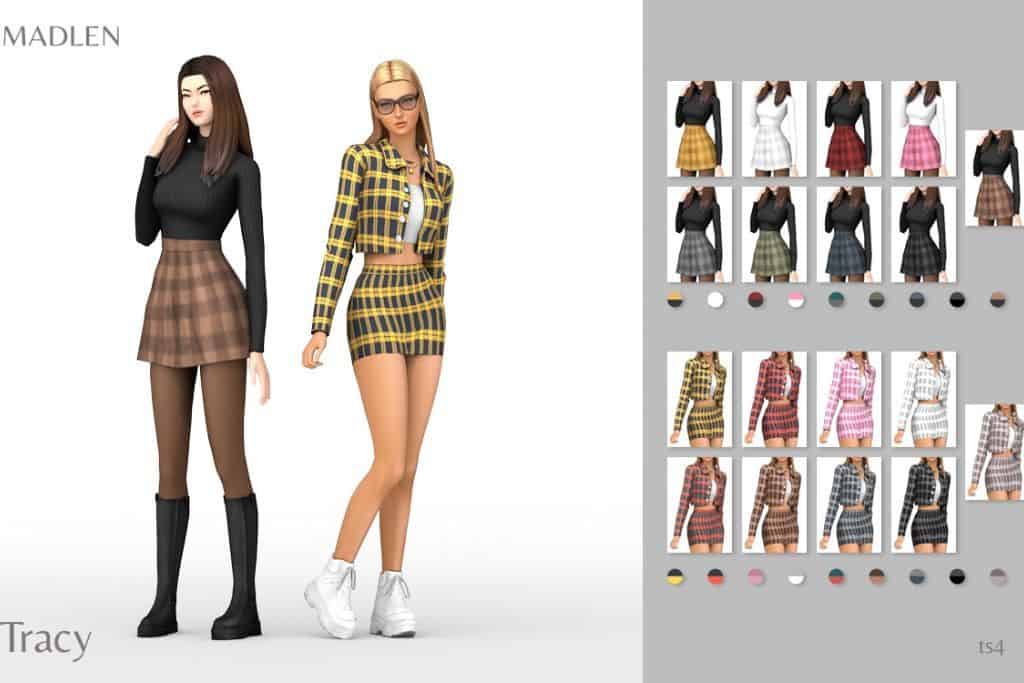 I really like this Madlen Tracy pack. You get two different outfits to choose from.
The solid turtle neck top and pleated skirt option comes in various colors of plaid skirts and is the perfect cc outfit for a Tai-inspired sim.
Just add a pair of dark stockings to complete her classic look.
The yellow mini plaid skirt and jacket version with the white crop top is perfect for a Cher or Dionne sim.
You have nine swatches to choose from for each outfit style.

2. Clueless CC Marcella Shoes by Madlen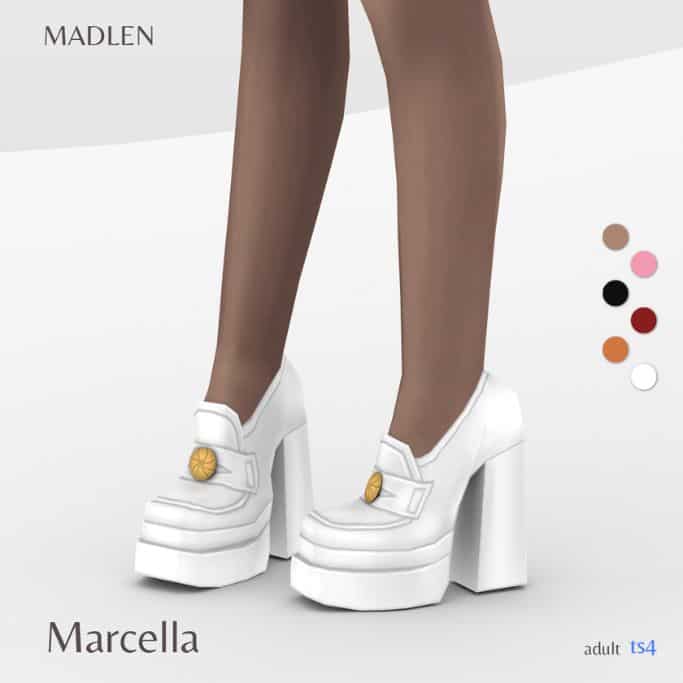 Madlen has many amazing shoes that are perfect for your clueless cc outfits.
These thick-soled slip-on heels are one of my favorites. Pair these with your more stylish mini skirt.
You get 6 swatches to walk around in.

3. Cher Straight Hairstyle CC by EnriqueS4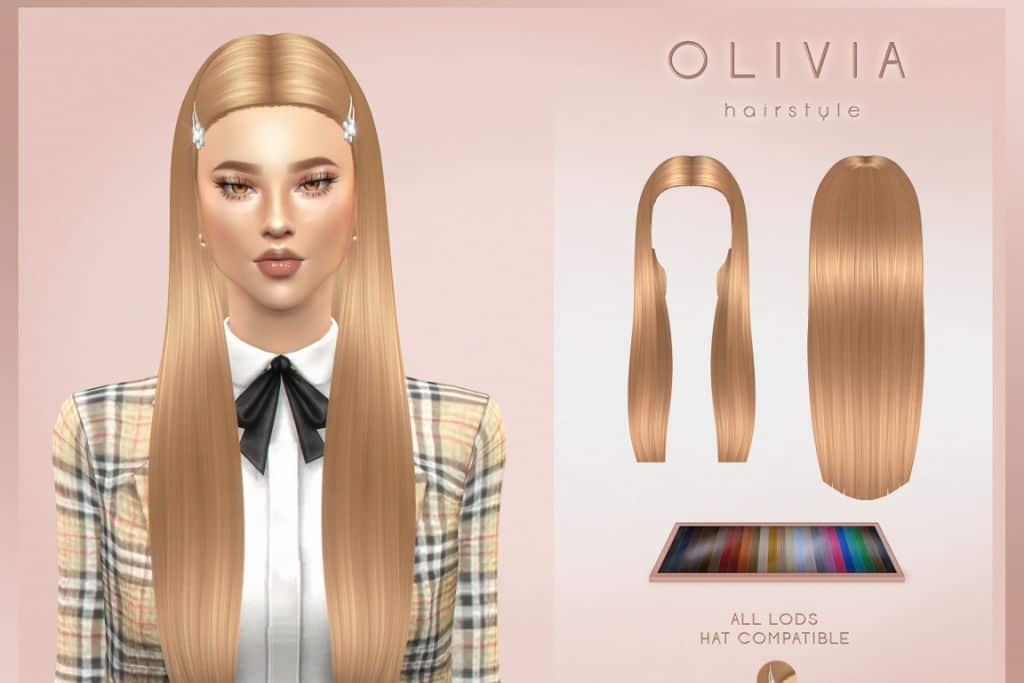 This long hairstyle is gorgeous; I love how slick the hair is.
Plus, given the outfit choice and barrettes, I can't help but think Cher was the inspiration behind this piece of custom content.
You get 24 swatches for the hair and 21 for the hair clips, which will be in the hat category.
This cc is also hat compatible.

4. Schoolgirl Uniform CC Dress by Waekey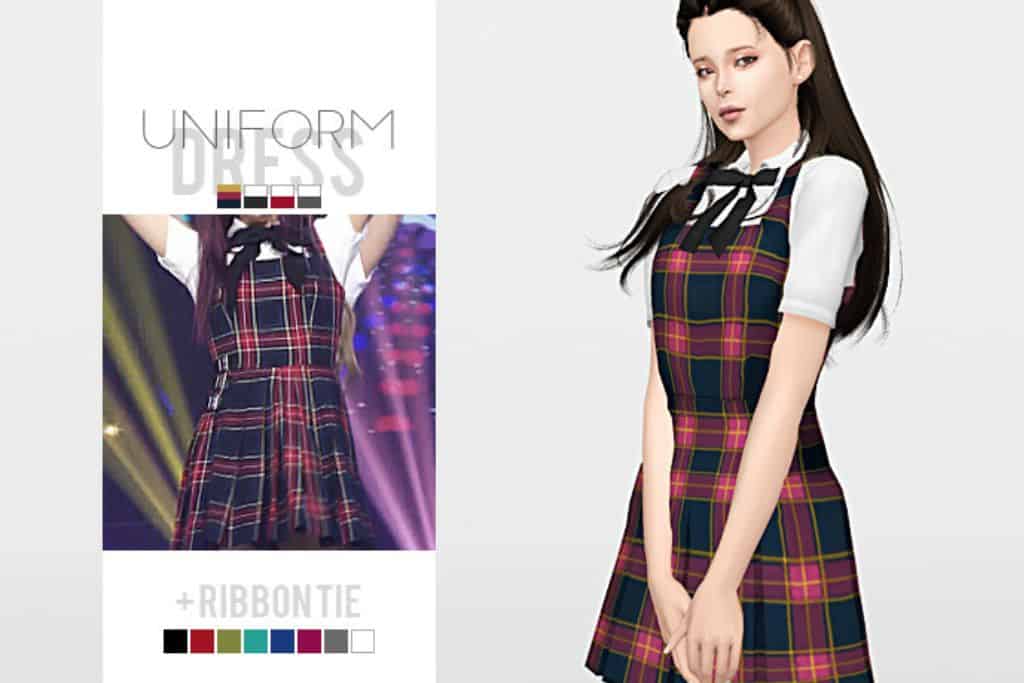 I wanted to include a schoolgirl outfit because stockings and the right accessories give a great Clueless preppy daytime look.
You get 8 different swatches to style.

5. Preppy Solange Booties CC by Madlen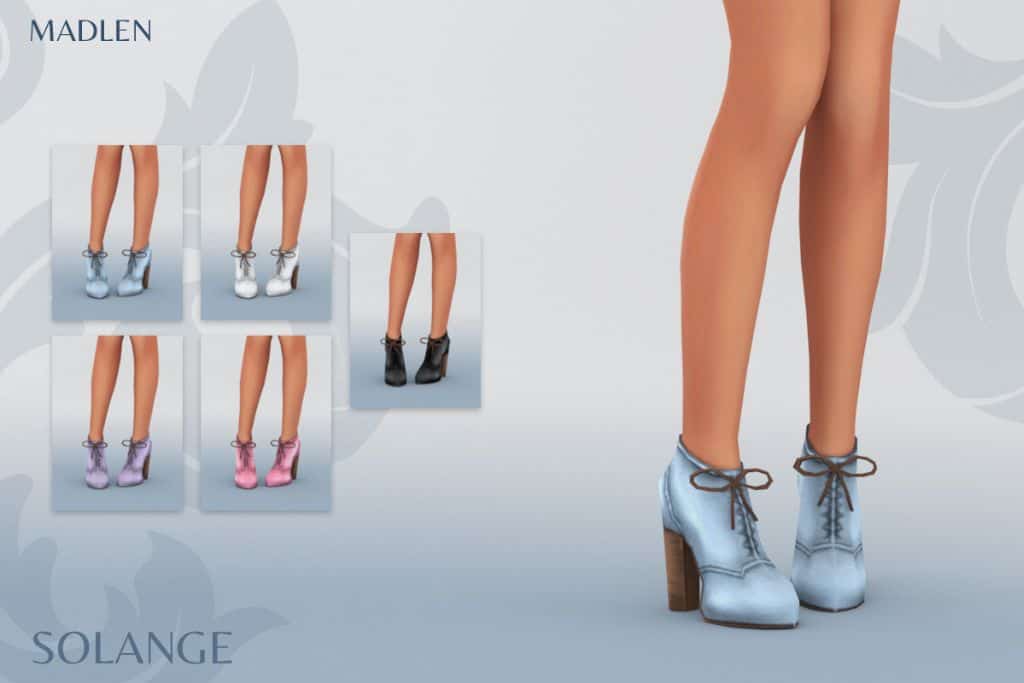 What goes better with a schoolgirl outfit than some adorable laced-heeled booties?
Available in 5 swatches to complete any outfit.

6. Cher Classic Yellow Suit CC by Dear Solar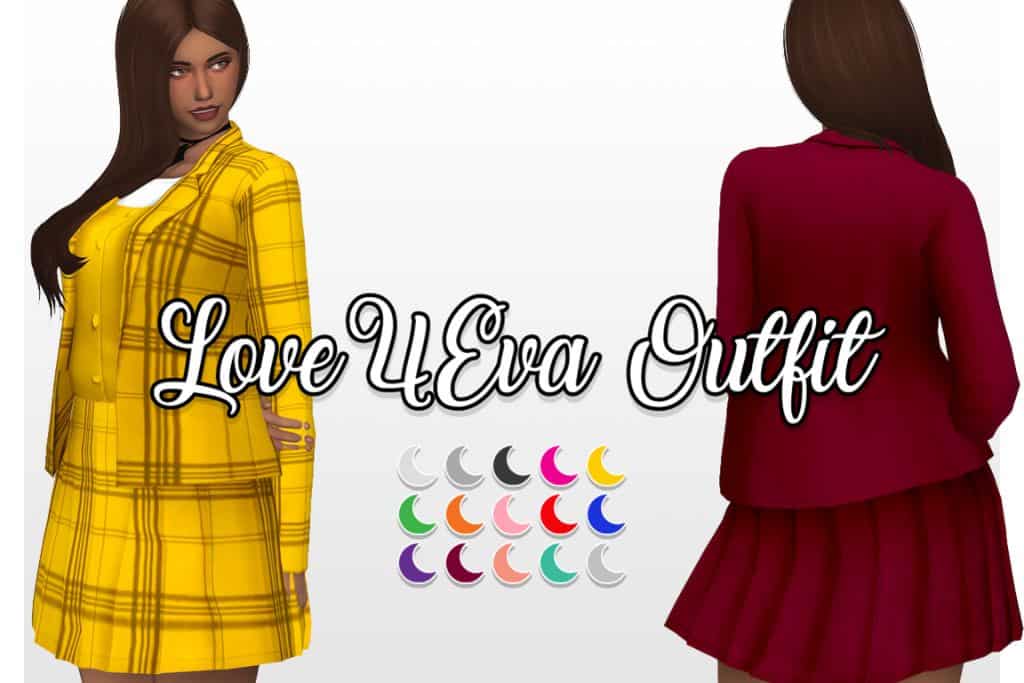 This Cher-inspired yellow suit is one we all know well.
The blazer and skirt combo is probably the most recognizable outfit from the movie.
While this cc does come in 15 swatches, I think most of us will be sticking to the classic.

7. Cropped Sweater CC by Trillyke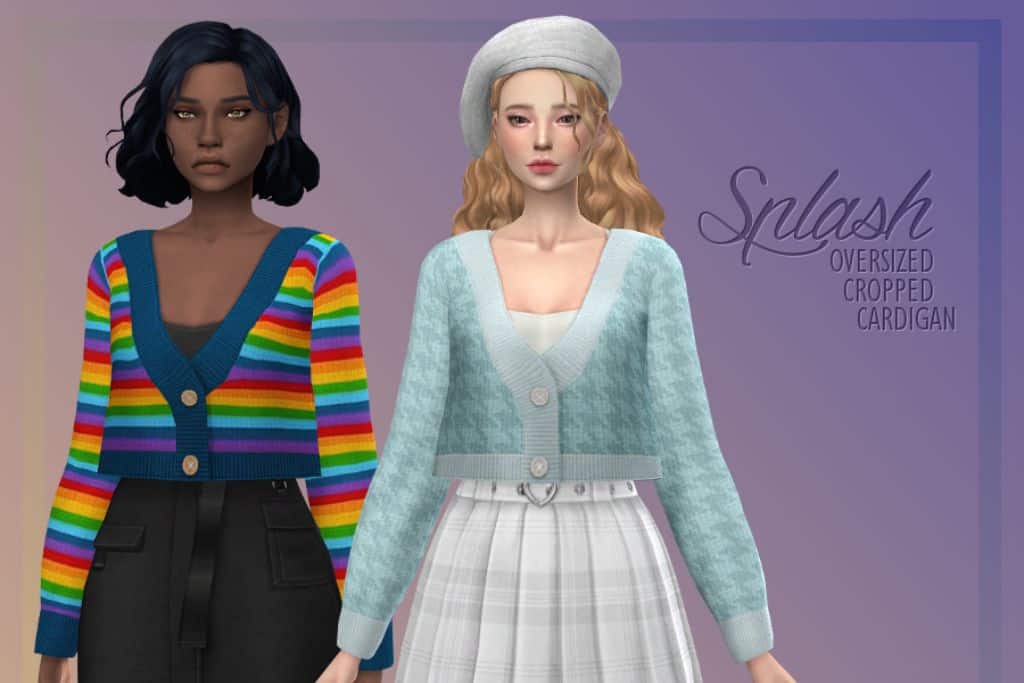 I thought this cropped cardigan by Trillyke was a cute little sweater piece for my folder.
This oversized cc sweater is available in 30 creative swatches, including plaids, houndstooth, hearts, flowers, and more.
There is a little something available for each Clueless character's unique style.

8. Clueless Beret CC by Saurus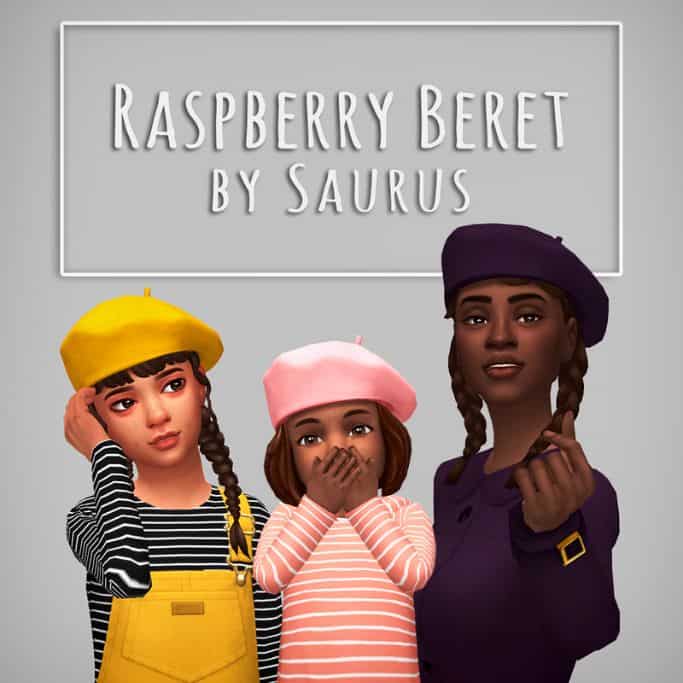 We can't have a sims 4 Clueless cc collection without including a classic beret.
Nothing completes a Clueless schoolgirl outfit like a beret.
Enjoy styling your outfits with 30 different swatches.

9. Sims 4 Clueless CC Pack by simstefani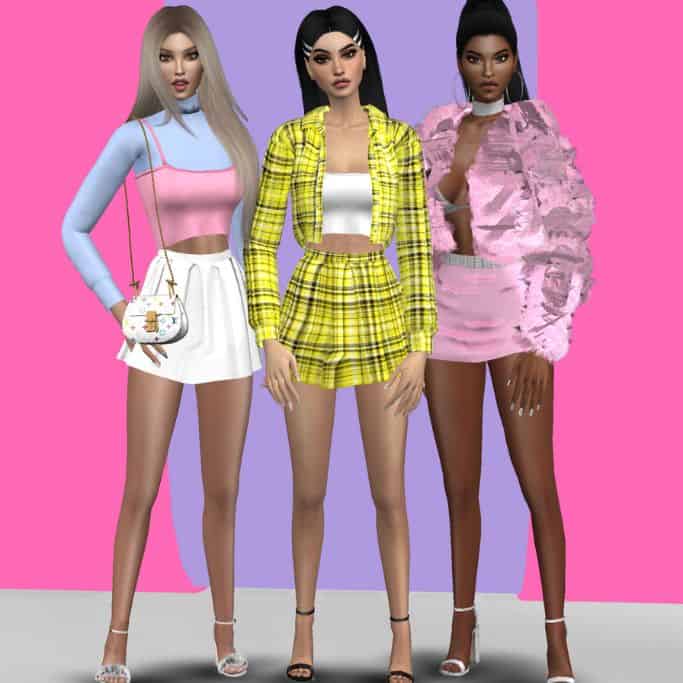 This Clueless cc collection by simstefani is the ultimate pack.
You not only get the classic Cher yellow outfit and in various swatches, but the collections come with so much more.
Get a variety of stockings, a fur coat, a cropped turtleneck, a tank top (top & ACC version), and a couple of other pieces.

10. Clear Ankle Boots CC by Madlen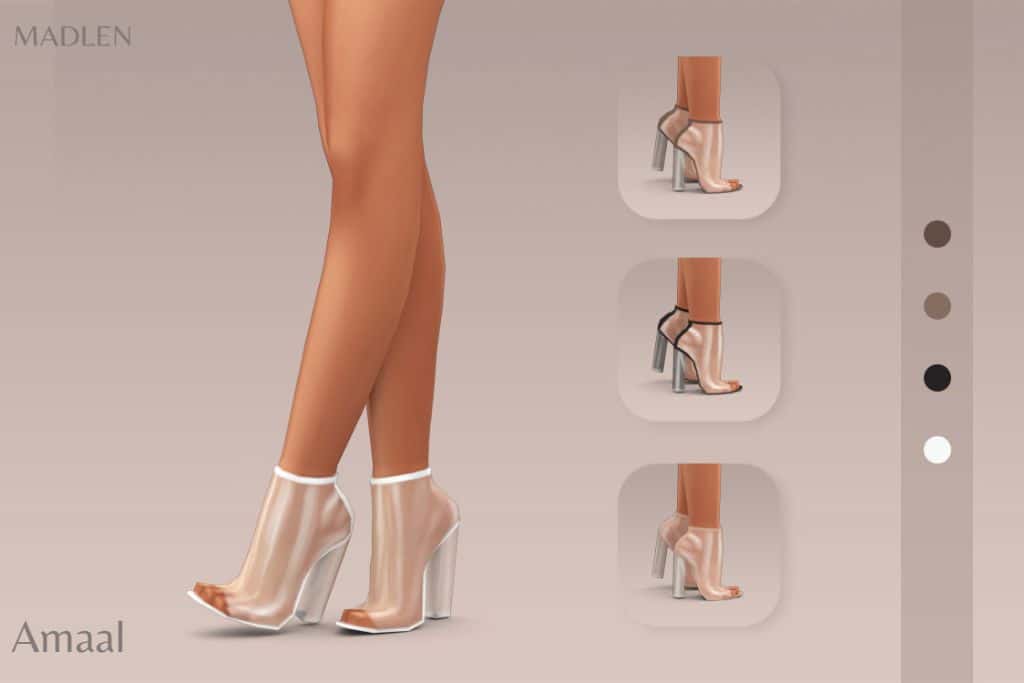 These stylish transparent ankle boots by Madlen are everything.
These trendy heels are the perfect compliment to almost any Clueless-inspired look.
While the shoes remain transparent, you still get 4 swatches that change up the trimming on the boots.

11. Dionne Hairstyle CC by EnriqueS4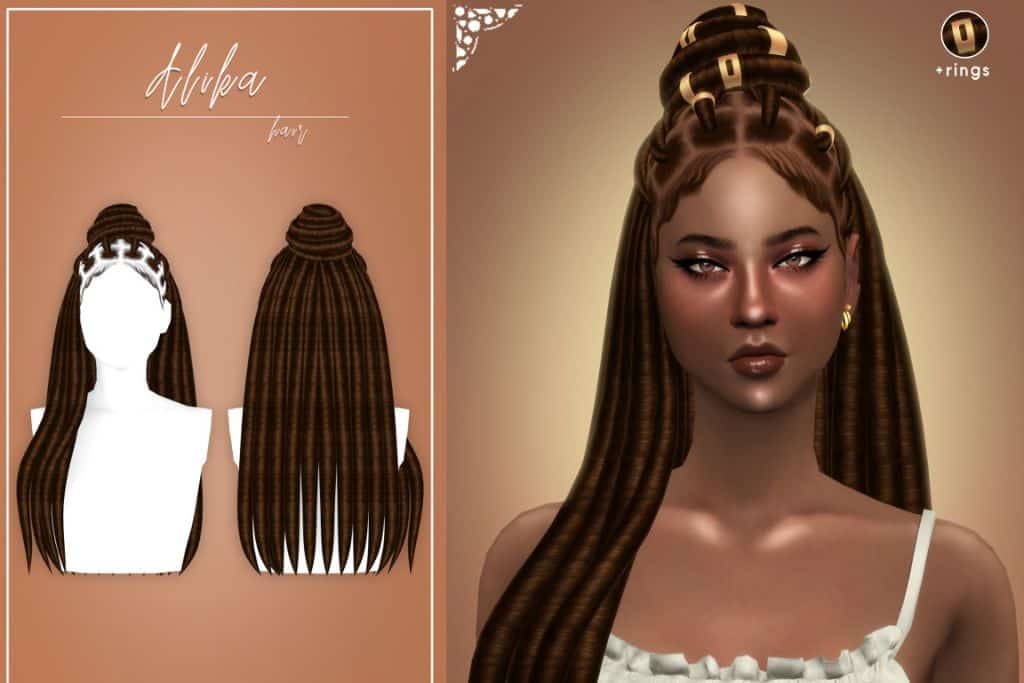 Dionne always had the most amazing hairstyles in Clueless.
I felt this Alika hairstyle completely matched her personality and reminded me of one of her half-updo looks.
Plus, Dionne was fond of adding accessories to her hair, so these rings (in the Hat Category) are perfect.

12. Sentate X Trillyke Collection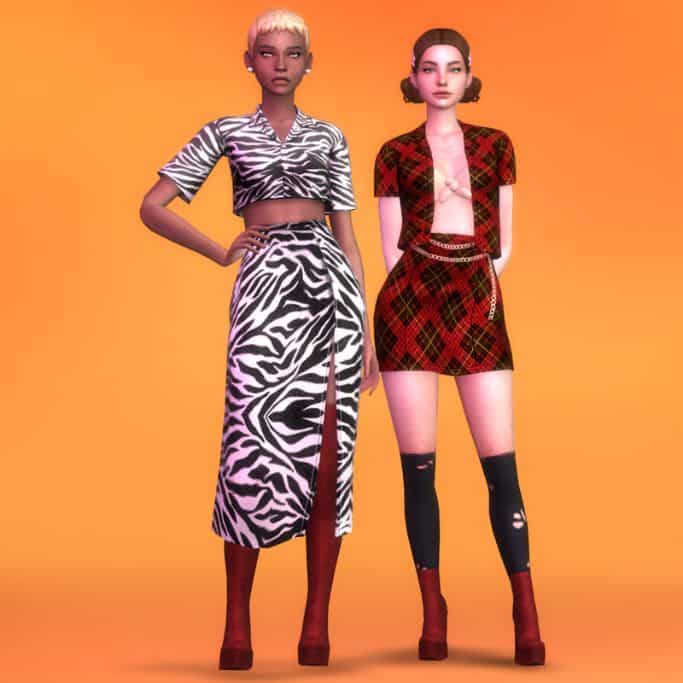 This collection of custom content by Sentate and Trillyke is made for Clueless Amber fans.
I feel so many pieces (including the burgundy outfit above) are perfect for my Amber sims.
These pieces are as fun and unique as Amber's style, from the plaid dress to the camo set.

13. Clueless 90s Iconic Fashion Pack by Marsmerizingsims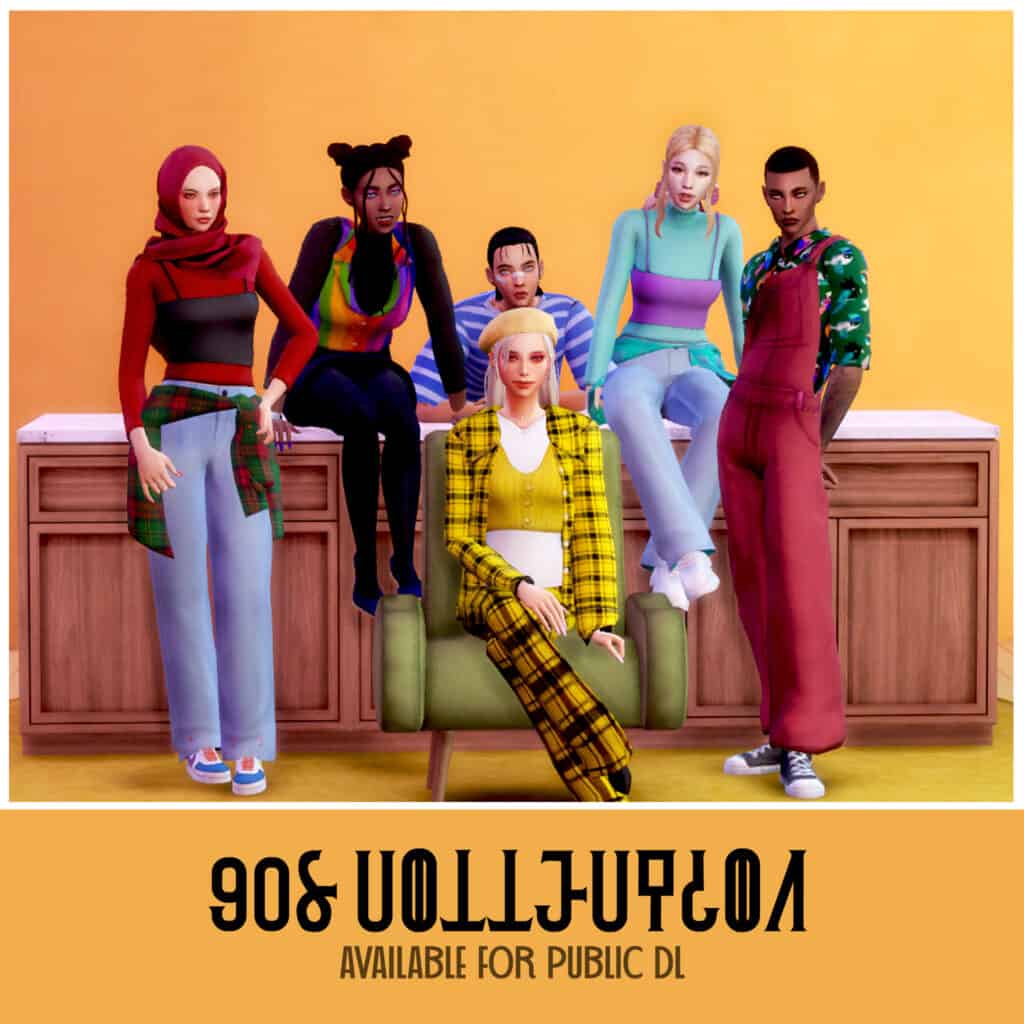 Marsmerizingsims gives us a great 90's collection to enjoy.
Obviously, I love the yellow plaid Cher top and matching Allie pants.
But the Fran top in its deep red plaid is also stunning.
And if you are in the mood to channel Tai's "first day at school grunge look," the Britanny Jeans are my go-to cc pants for that outfit.

14. Cropped Accessory Top CC by Trillyke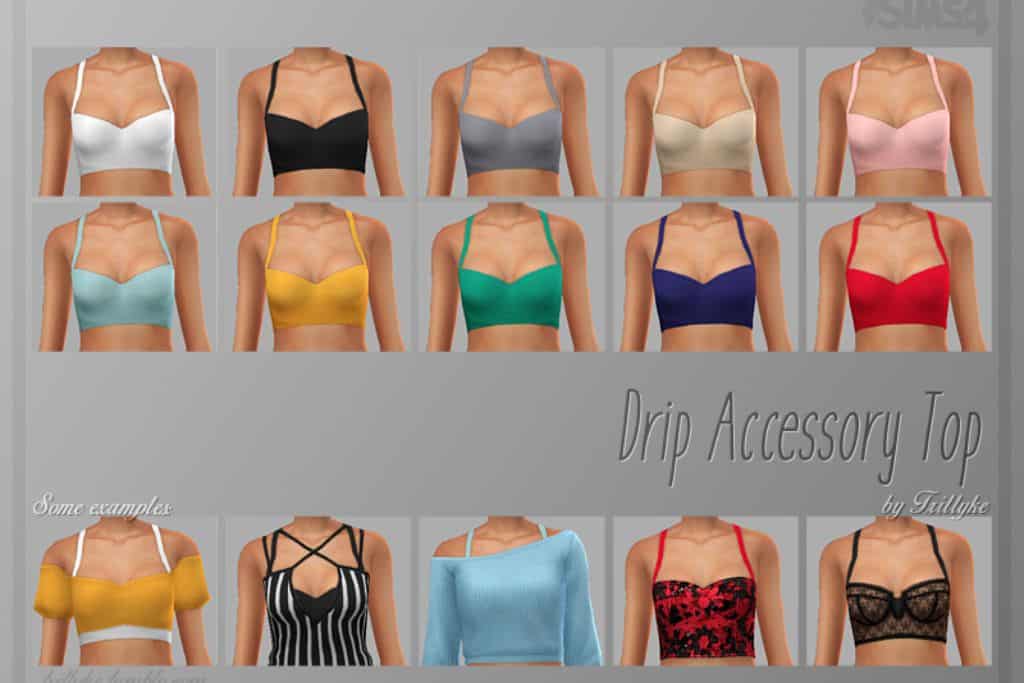 This cropped top is super convenient since it's an accessory; pair it under your favorite dresses or shirts.
You'll find this cute crop top in the gloves category, and it comes in 10 swatches.

15. Glitter CC Pack by greenllamas & ImVikai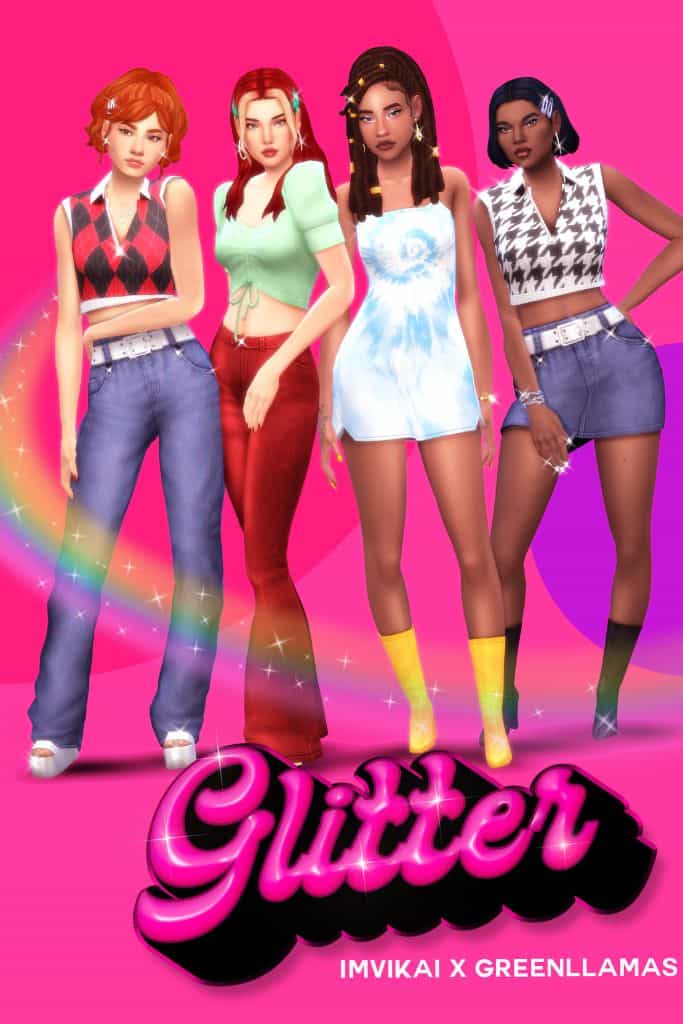 I know this may seem like an odd addition to this sims 4 clueless cc collection but hear me out.

The glitter pack has 23 pieces of custom content. ImVikai & greenlamas put together a PDF to showcase it all.

The silky Daphne dress is an excellent option for your clueless cc folder, which reminds me of Cher's classic Clueless Calvin Klein dress.

There is also a ribbed white version and a plaid version of the Daphne dress.
You can also snag the Maxine tops to pair with your pleated skirts, and don't forget the barrettes for your hair.

All these pieces of custom content come with 18 to 29 different swatches to mix and match.

16. Elodie Dress CC by storysims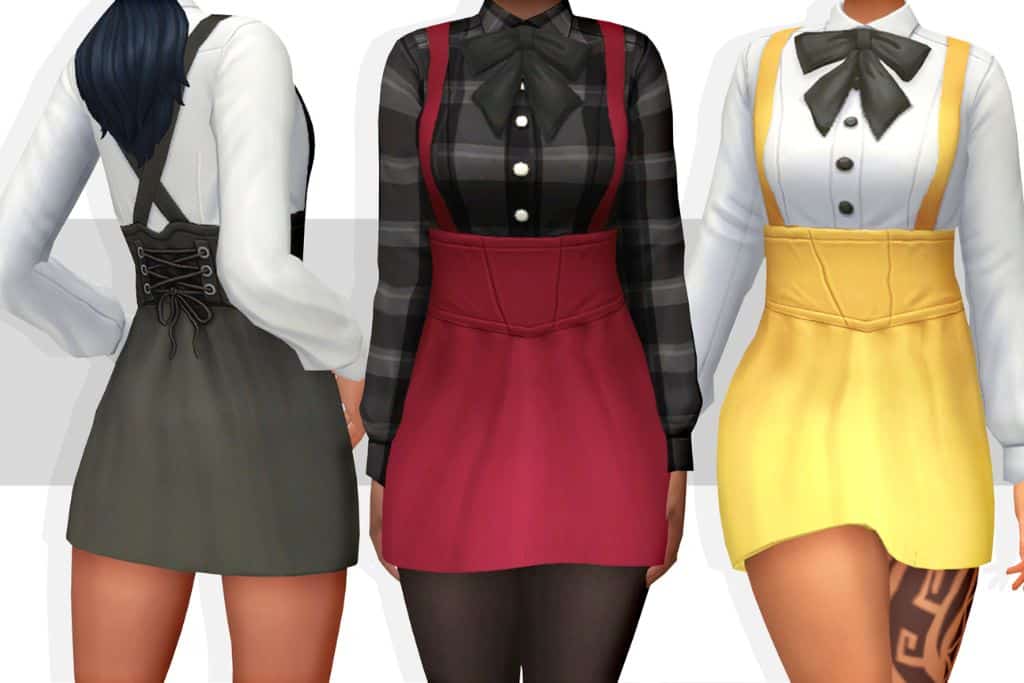 This suit-style dress is adorable and gives me Serena (Sailor Moon) school uniform vibes.
But styled right, I can definitely see this dress on Dionne or Cher sim as there is a couple of outfits with a similar vibe in the movie.

17. Sims 4 Clueless CC Cropped Suit by Trillyke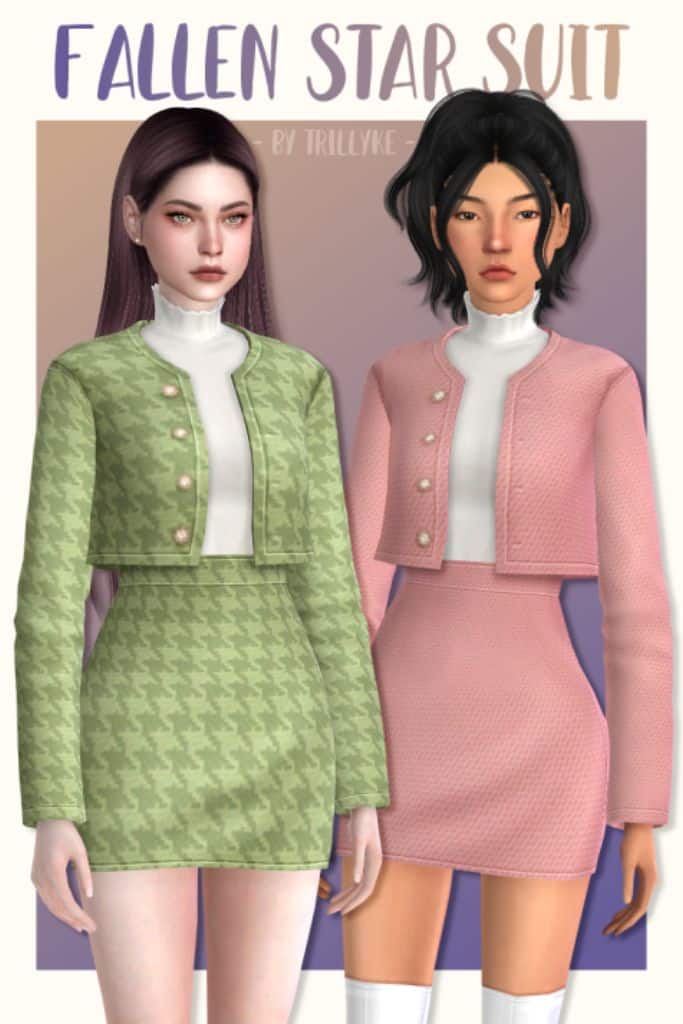 Another fun piece of sims 4 clueless cc, we have a two-piece suit with a built-in turtle neck.
Trillyke gives us 35 swatches, including solids, plaids, stripes, houndstooth, and even a strawberry swatch.

18. Kids Matching Blazer and Skirt CC by Madlen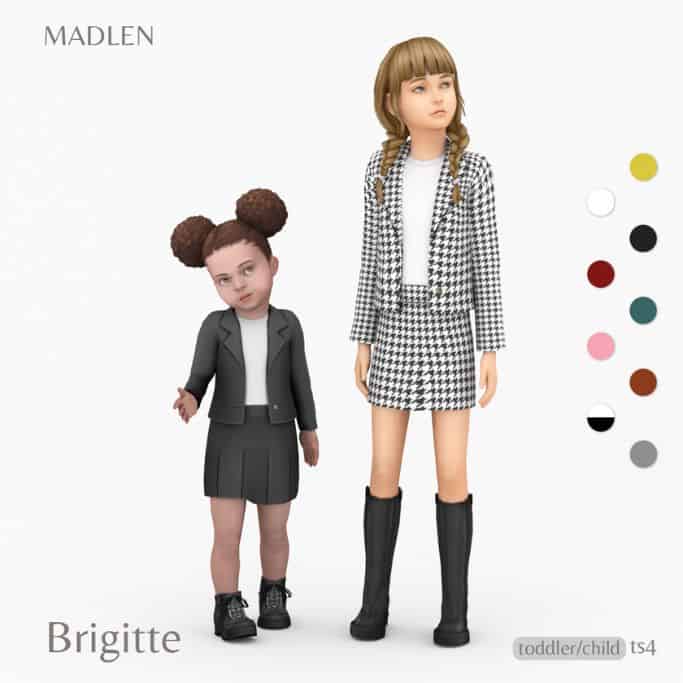 In case your Clueless sims have reached adulthood and had some kids of their own, I decided to add in this adorable kid's suit set.
The outfit is available in 9 swatches, but I love the houndstooth swatch.
Other Sims 4 CC Articles

And don't forget to share pin this collection for later!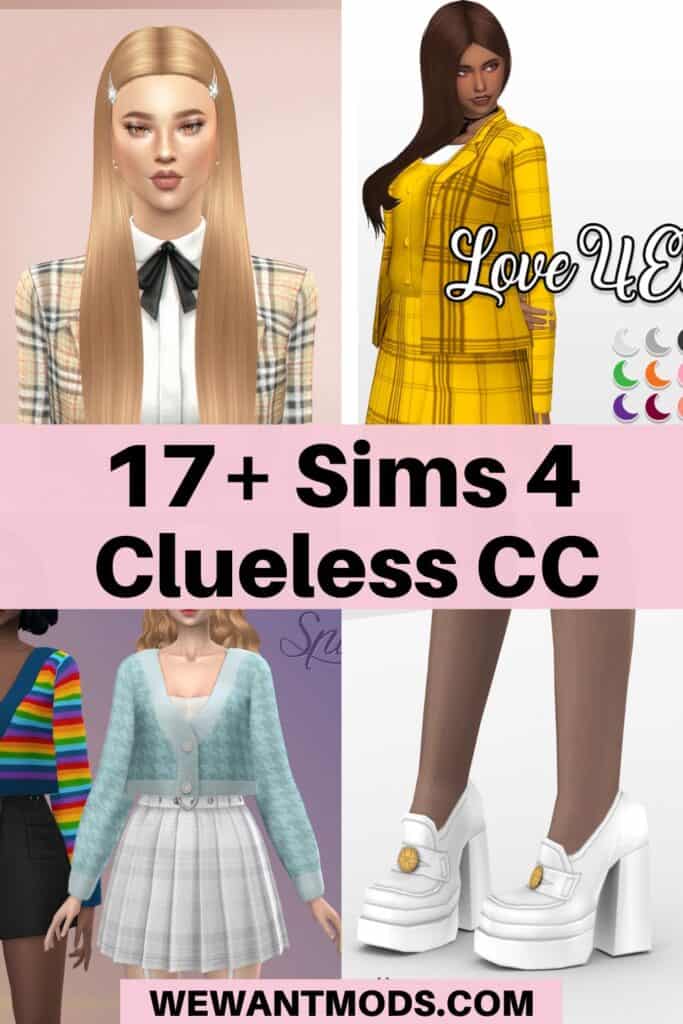 17+ Sims 4 Clueless CC To Add To Your Folder