23+ Sims 4 Dresses For Every Style
Put together a new wardrobe with this collection of sims 4 dresses.
Pick your new favorite custom content dresses for each girly sim in your household!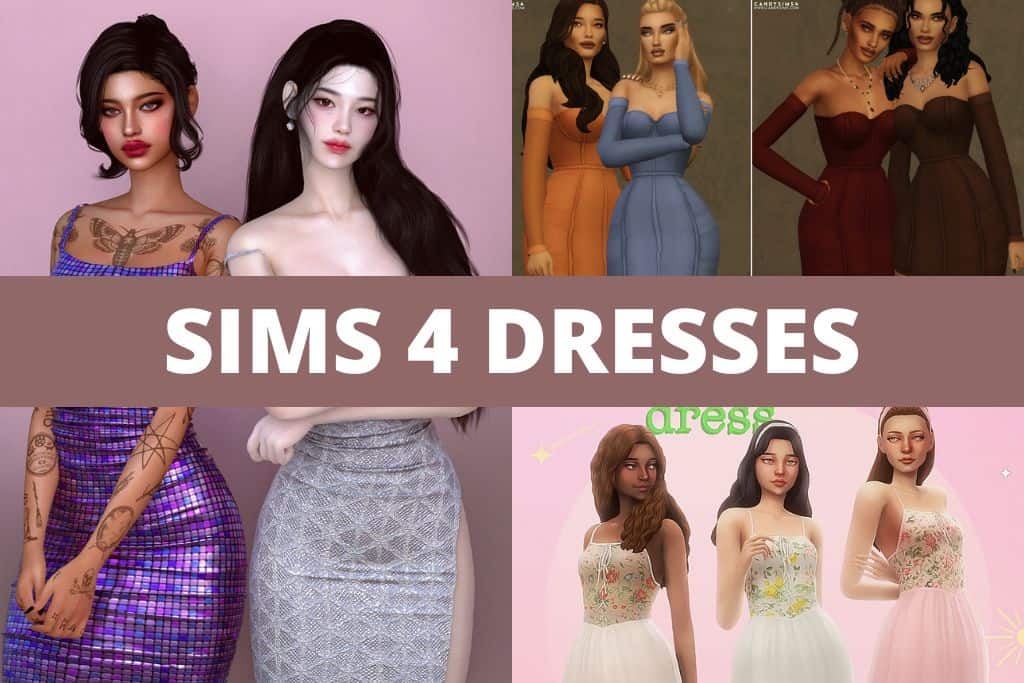 I love a good dress, and I can't help but wish I had access to some of the beautiful sims 4 dresses to use in the real world.
From summer dresses with delicate embroidery to skintight club wear, dressing your sims in style has never been easier.
Since rounding up custom content is one of my favorite things to do, I've put together a collection of dresses for you to enjoy.
And you can find more dresses in our Sims 4 CC Packs roundup and other post linked at the bottom of this post.
Happy dress shopping!
Disclaimer: The following mods are neither endorsed nor affiliated with The Sims, Maxis, or Electronic Arts. Any use of mods (custom content or game mods) should be done with caution and with the knowledge that there may be risks.
Best Sims 4 Dresses
Below you will find a mix of dresses, including everyday casual options and more formal ones.
1. Summary Sims 4 Dresses by Pluto Sims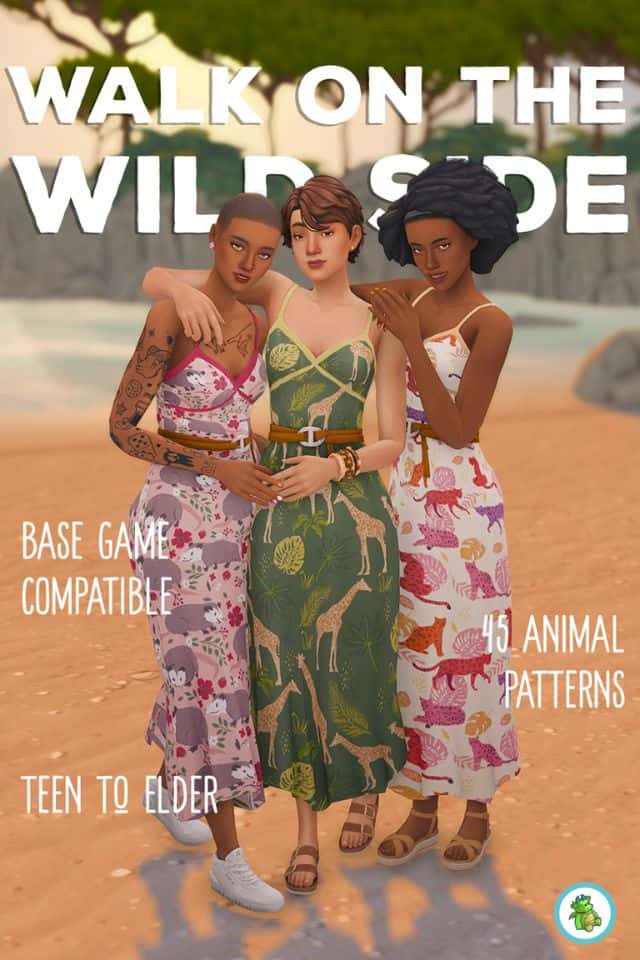 These summer dresses are perfect for your sims vacation time.
And with 45 different animal swatches, this set of dresses is ideal for the animal lovers out there.
You'll find various patterns, including corgis, possums, lions, Shiba Inu's, zebras, and more.

2. Mini Sims 4 Shift Dress by Miiko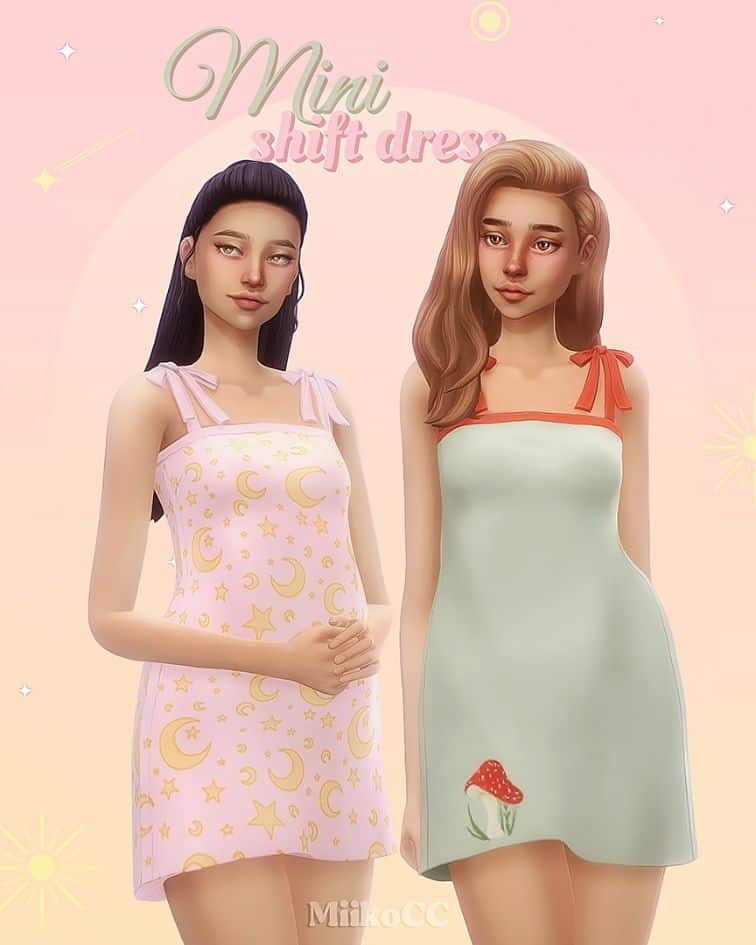 This mini flowy shift dress is ideal for a light summer outfit for your teen or young adults.
There are 22 swatches, including solid colors and some cute patterns.
The patterns include stars, moons, clouds, animal print, plaid, and a couple more.

3. Elsa Sims 4 Dress by Candy Sims 4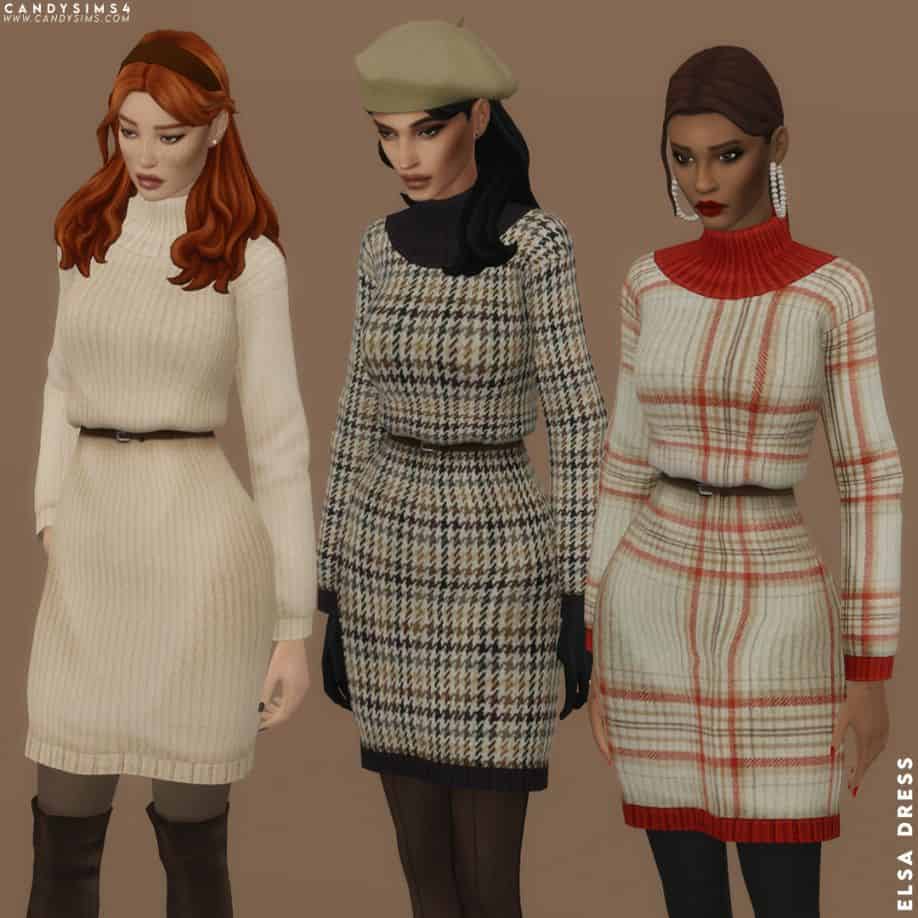 Are your sims heading into the fall or winter season?
This woolen sweater comes with a belt and is ideal for cooler weather.
There are 80 swatches to choose from, including 55 solid colors and 25 patterned choices.

4. Lily Dress for Sims 4 by Demondare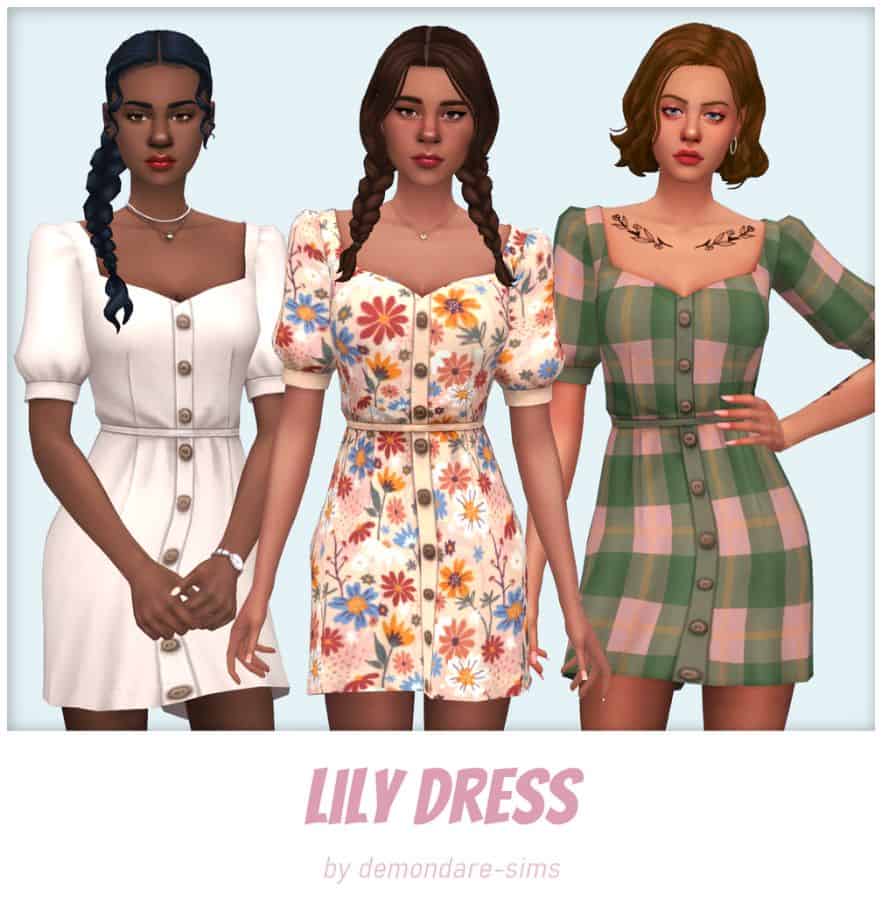 Your female sims will look super cute in this spring and summer dress.
The almost mid-length sleeves have a slight puff to them and large buttons all the way down the front.
There are 30 swatches for this lily dress, including some fun summer patterns.

5. Belted Sims 4 Dress by viiavi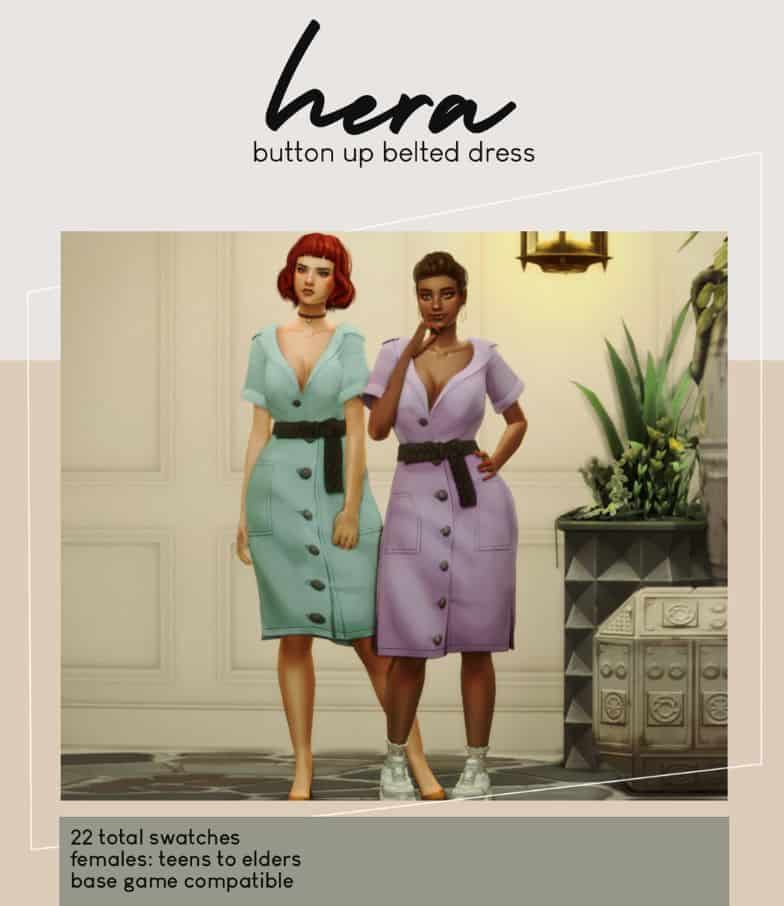 This belted button-up dress can be worn up and down depending on your sims plans for the day.
This dress is slightly loose around the shoulders and shows quite a bit of cleavage.
Pair it with heels, and your sim is ready for a date, or step into some sneakers for a more casual look.

6. Sims 4 Dress Pack by clumsyalien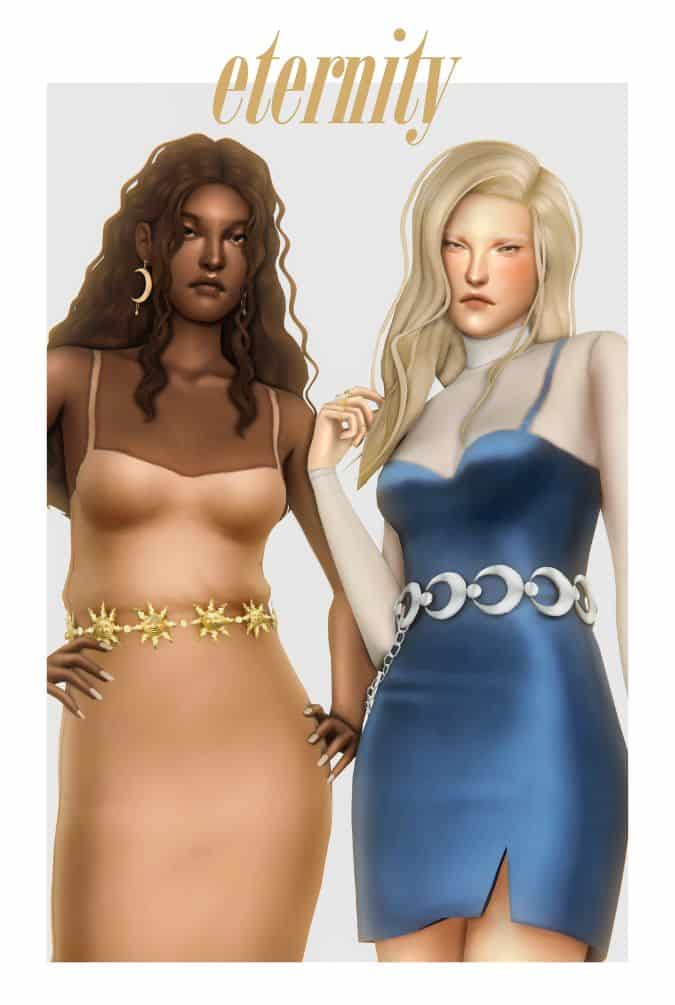 This pack of custom content includes 6 different pieces of custom content.
You will find two dresses; a short and long satin dress version.
You will also get two hairstyles, a pair of earrings, and a ring.

7. Sims 4 Trapped Dress by Evellsims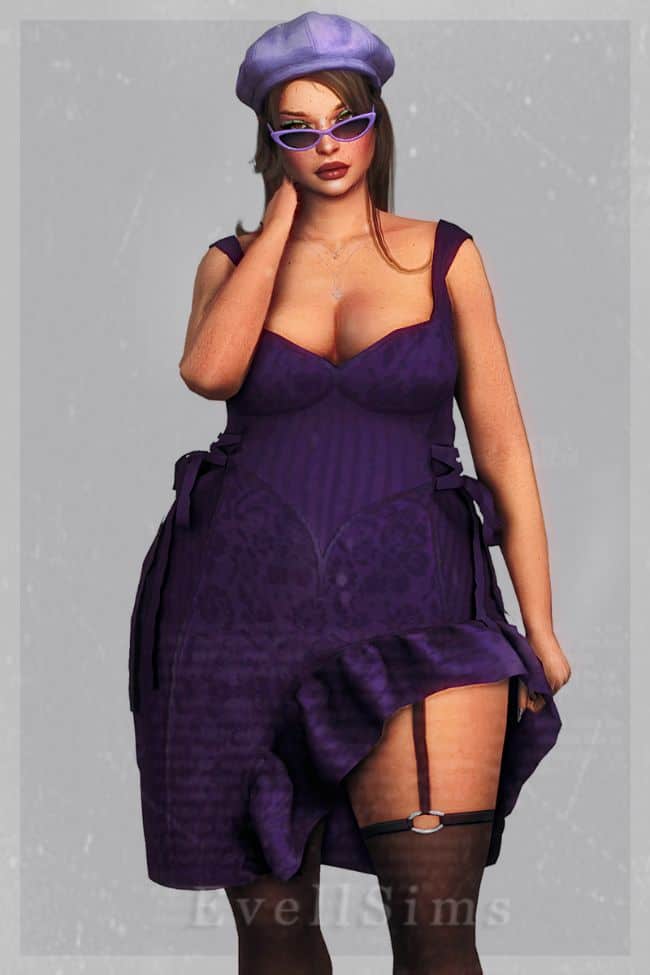 This unique dress gives me Moulin Rouge vibes with its side lacings, visible bust, and thigh-high curved design.
This dress will look great paired with tights and garters.
Finish off the look with your sim's favorite pair of combat boots.
There are 20 swatches available for teens to elders.

8. Cutting Sims 4 Dresses by euno sims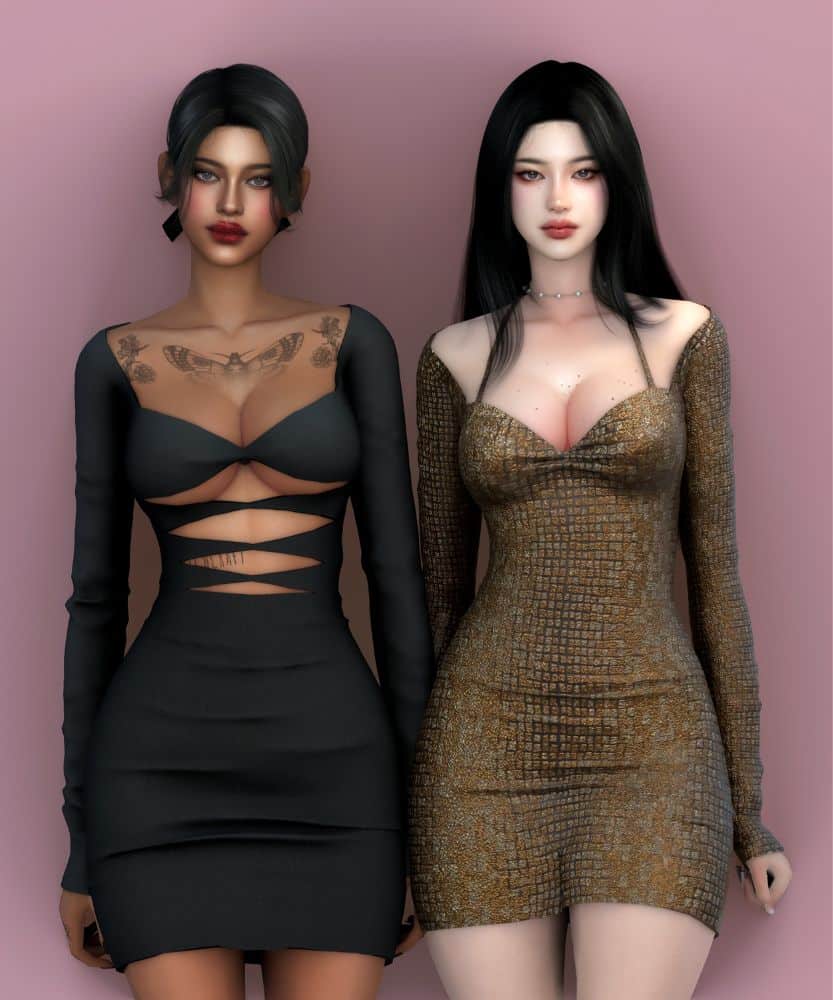 This sexy skin-tight cutout dress will have your sims ready to hit the club for a girl's night out.
While there are two different dresses in the picture above, the file linked below is for the dress on the left.
If you want the halter dress on the right, you can find it here.

9. Feminine Sims 4 Dresses by Miiko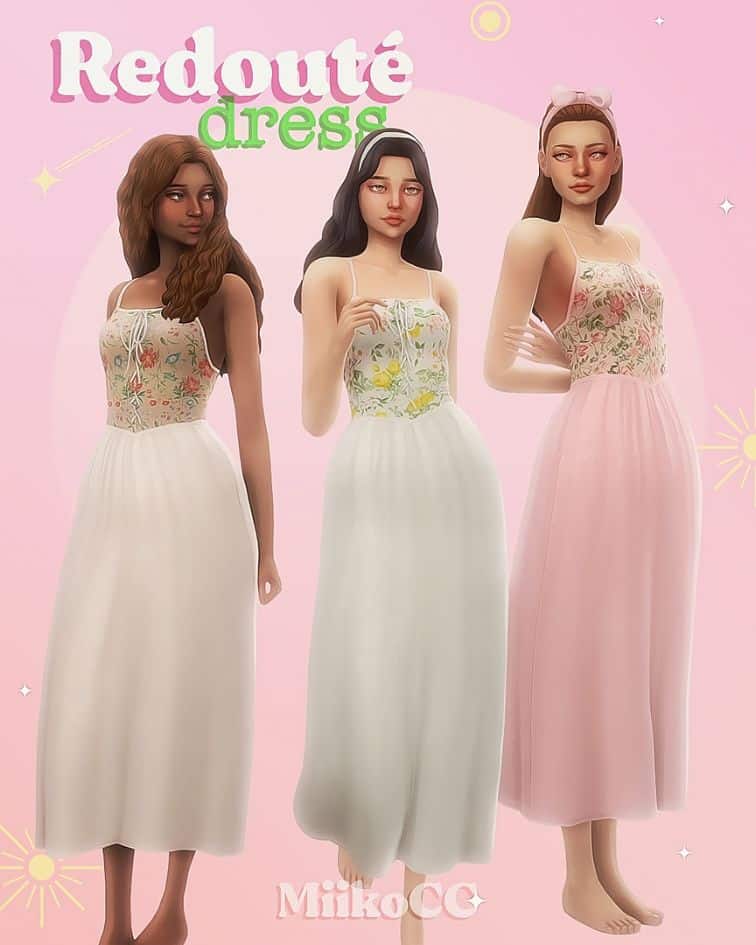 These beautiful dresses are the definition of feminine beauty.
With their floral embroidered tops and flowy skirt portion, your sims are ready to take on a summer picnic date.
There are 19 swatches, mixing up the embroidered tops and skirt colors.

10. Sybil Dress Set for Sims 4 by Oydis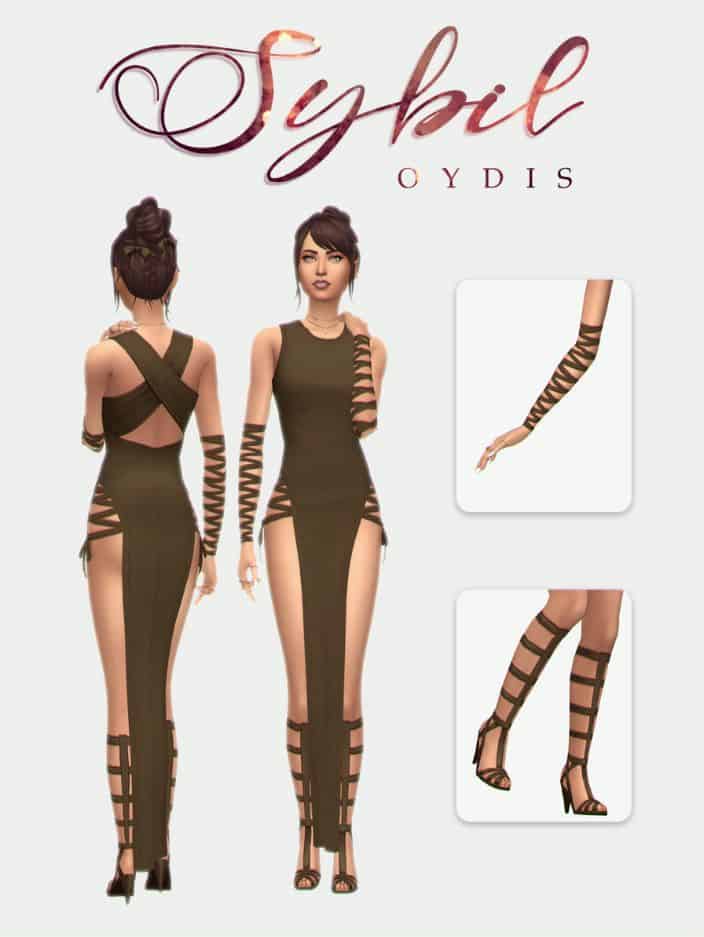 This edgy dress will make the ideal bachelorette dress with its booty-high side openings.
The set includes the dress, cutout heels, and gloves and comes in 27 colors.

11. Sims 4 Dresses Set by Kamiiri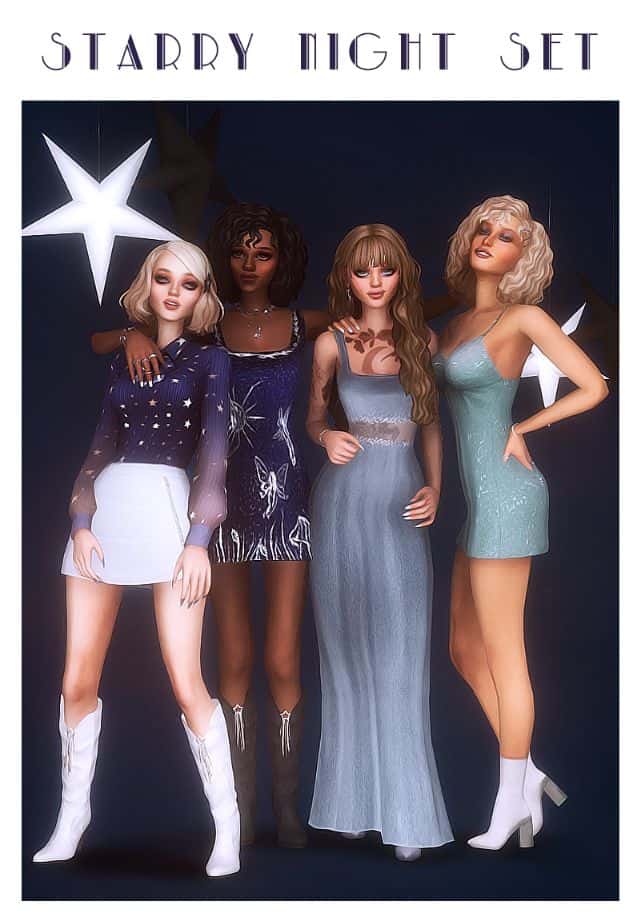 This sims 4 dresses set comes with 3 different styles.
There is one floor-length dress perfect for a prom or special event.
The other two styles are mini dresses; one even has fairies on it.
You will also find a long sleeve top, pair of boots, hairstyles, and even an eyeshadow.

12. Sims 4 Summer Dresses by euno sims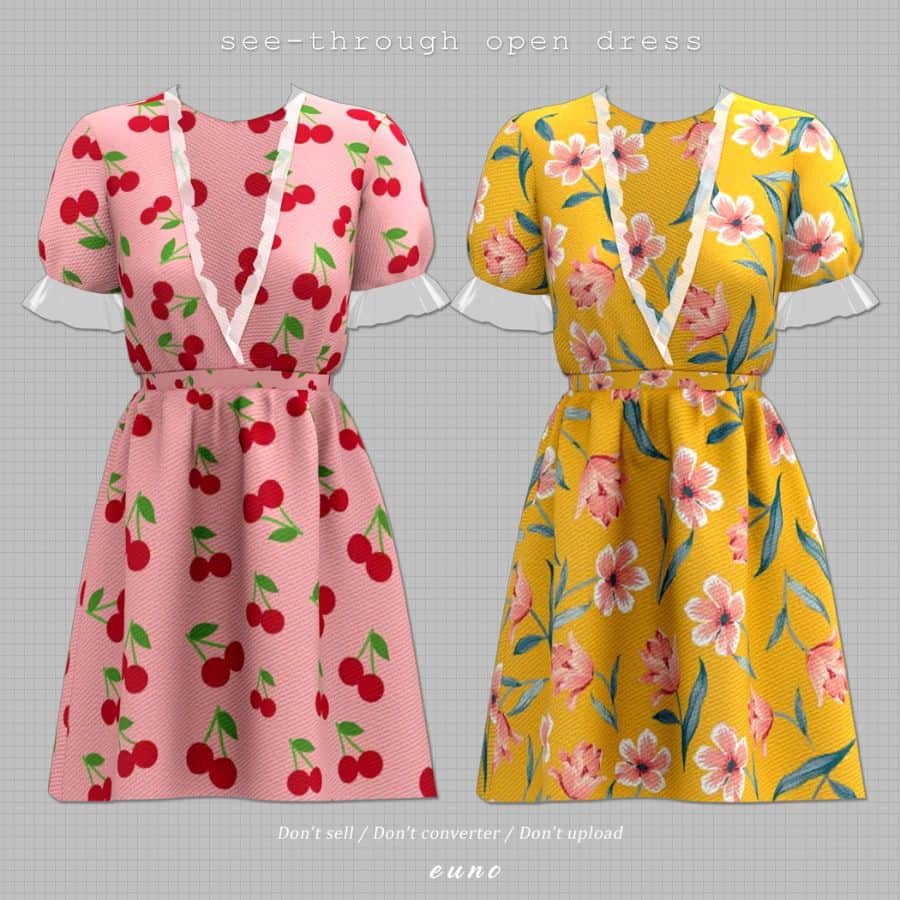 These deep v-neck mini dresses will be the star of the summer season with their adorable colors and patterns.
Besides the cute cherries and floral designs above, there are 12 swatches, including my favorite; the strawberry pattern.

13. Sims 4 Violet Dress by Candysims4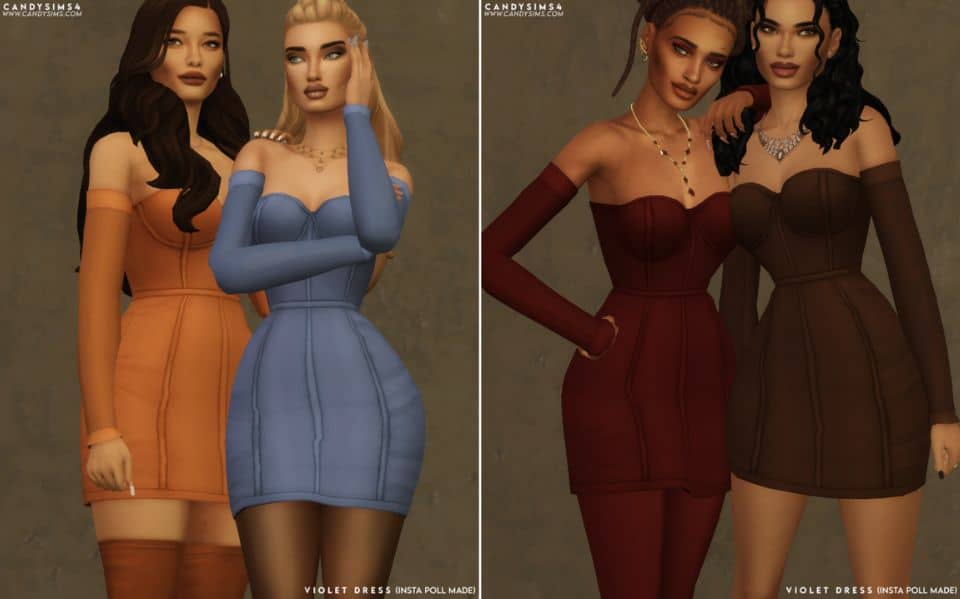 Need a sexy date night dress for your sims or something to wear to the bar with friends?
This mini corset dress with a slip has a structured look to it.
It's a stylish modern dress that comes in 55 swatches.

14. Casual Sims 4 Dresses by clumsyalien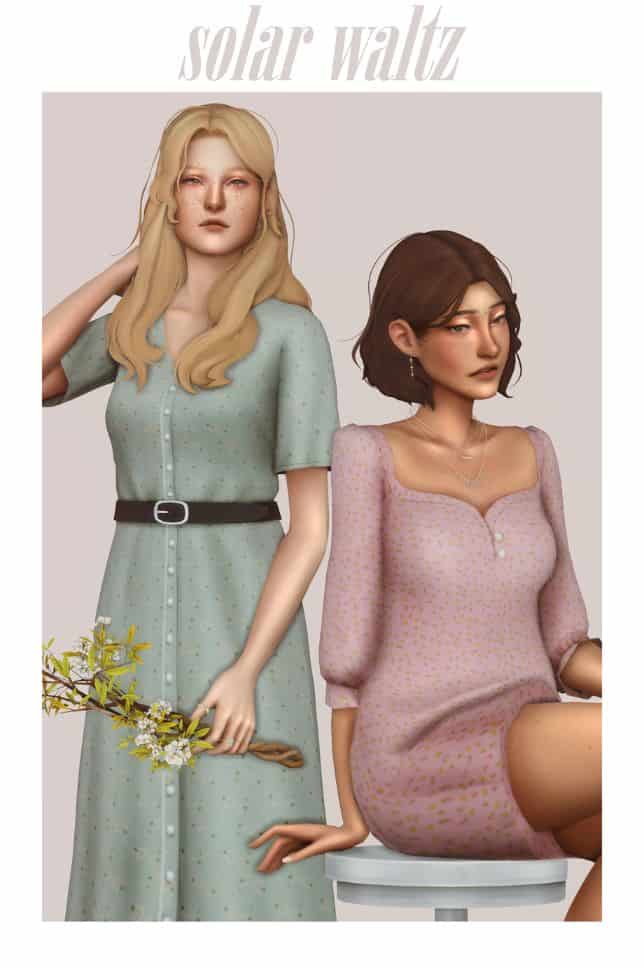 These casual summer dresses would fight right in with your sims cottagecore wardrobe.
You get a short version with three-quarter-length sleeves.
The longer dress version has a belt, shorter sleeves, and hits around the calves.
Both dresses come in 20 swatches, and you can grab any of the two hairstyles.

15. Cloud Dresses for Sims 4 by Miiko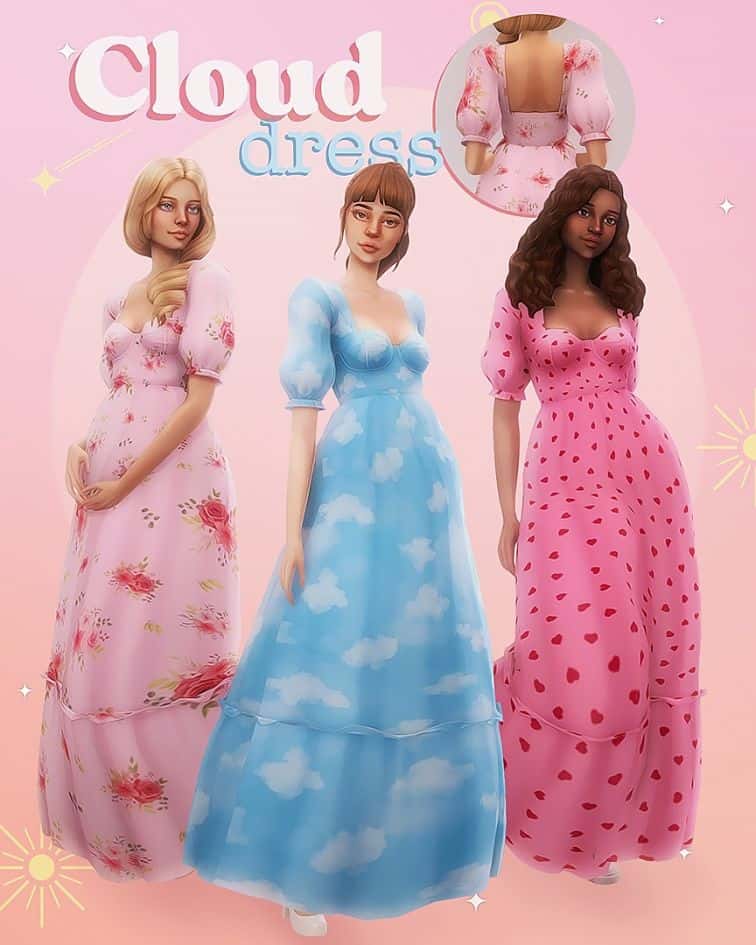 These beautiful maxis match sims 4 dresses have a structured yet flowy look.
The bust is cupped like a corset minus any strings; the dress then falls into a loose fit.
There are 15 swatches to choose from, and while the pastel colors are lovely, I especially love the florals and clouds options.

16. Sims 4 Evening Dress CC by Oydis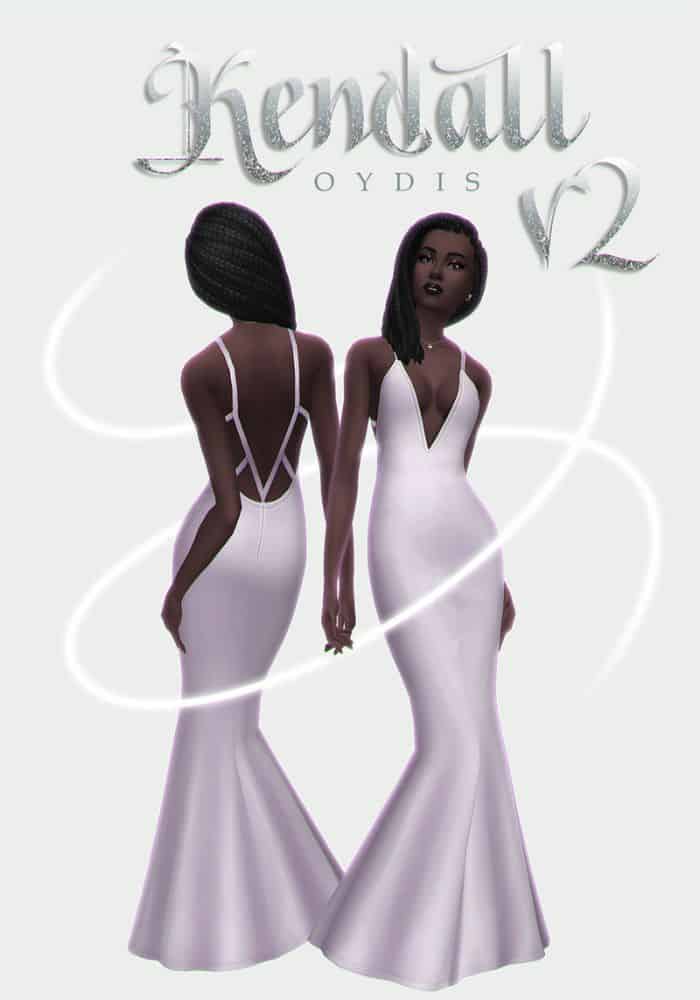 Does your favorite sims couple have a gala to attend?
This gorgeous figure-hugging dress with a mermaid tail is suitable for a soirée.
It can also be worn to a wedding, provided your sim opts for a color other than white.

17. Valentine's Sims 4 Dress by Candy Sims 4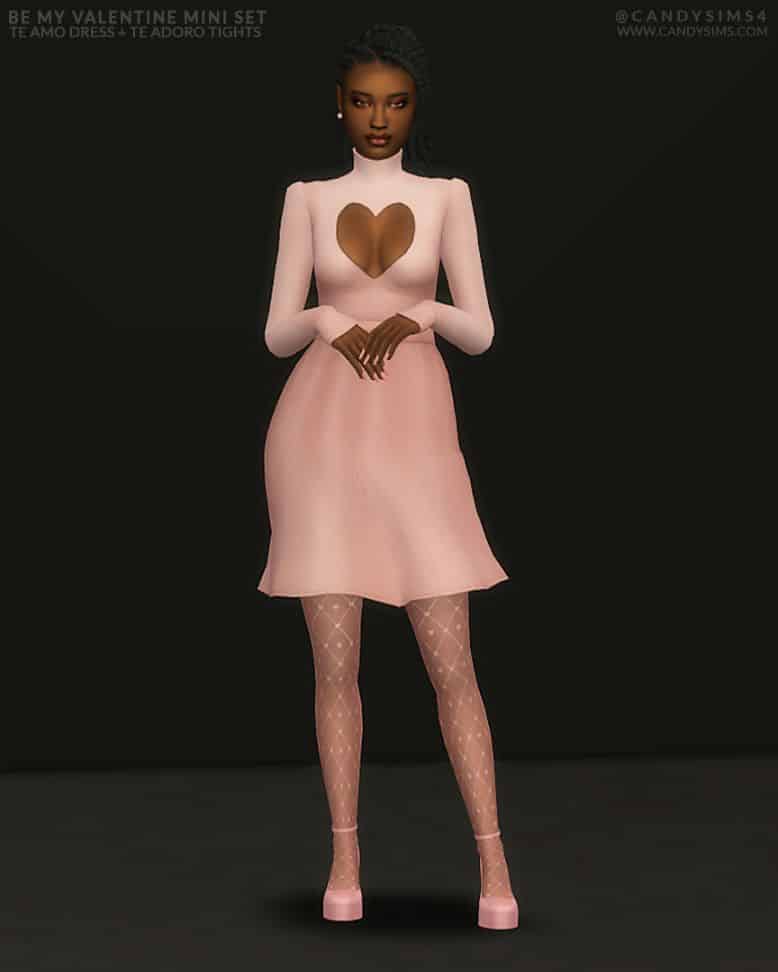 There are sims 4 dresses for every occasion, and Valentine's day is no exception.
While this cute yet sexy dress can be worn for other occasions, it's perfect for the most romantic holiday.
And while this dress has an impressive 80 swatches, the light pink and red plaid-style swatch is my favorite.
You can also find tights on the download page, which come in 50 colors.

18. Sims 4 Dress Set by Kamiiri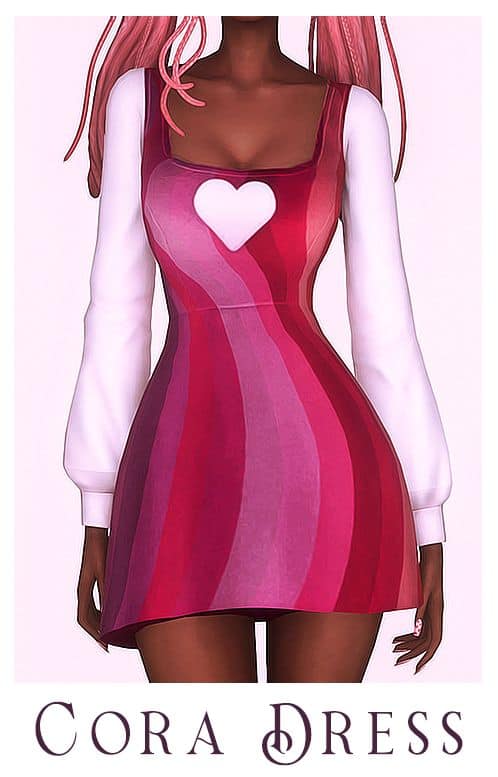 With its colorful design, this girly dress will fit nicely on your teen sims.
The set not only includes the pink and white dress, but you will also find 3 hairstyles, a top, tights, heels, and earrings.

19. Skin Tight Sims 4 Dresses CC by euno sims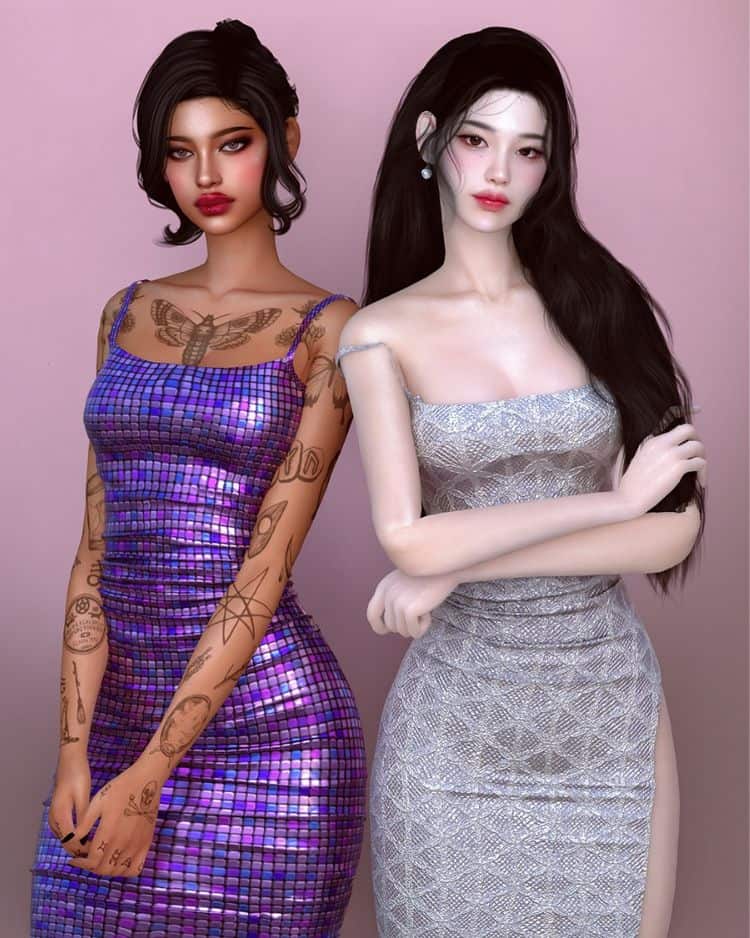 Sexy is the game's name with this body-hugging sims 4 dress.
These dresses will hug your sims in all the right places.
There are two models for this dress; one is a little longer.
You will find various swatches for both models, including some lovely metallic colors.

20. Chinese Sims 4 Dress by Oydis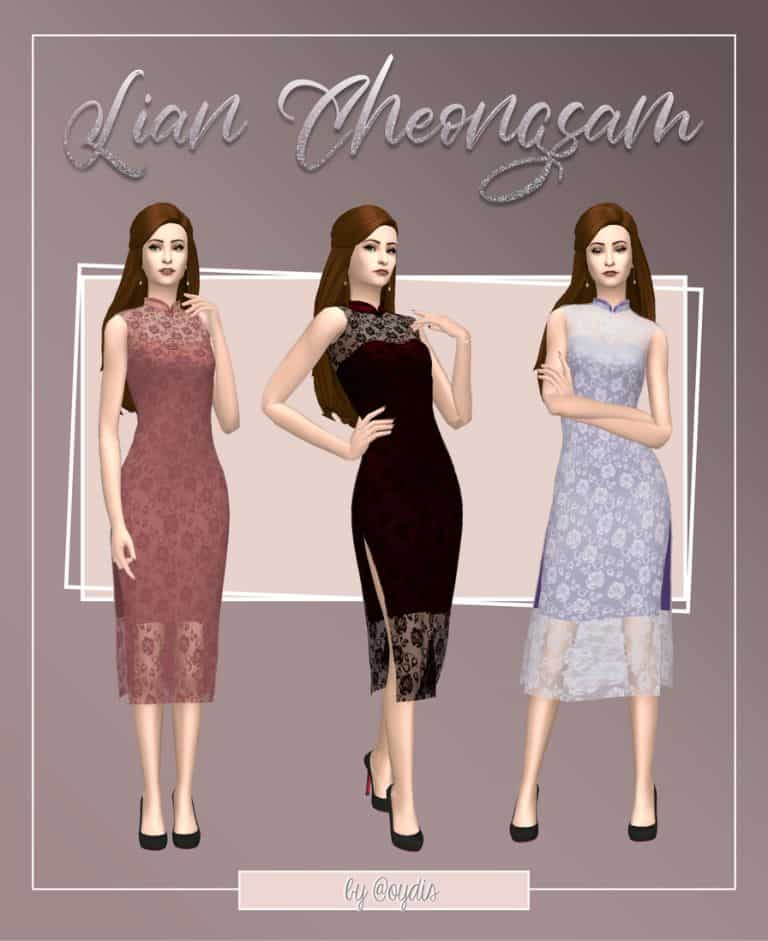 These beautiful sims 4 dresses are inspired by Chinese dresses known as Cheongsam.
The delicate lace overlay adds a lovely touch to this classic, more conservative design.
Pick your favorite swatch from the 22 available color options.

21. Sims 4 Snow White Dress by Miiko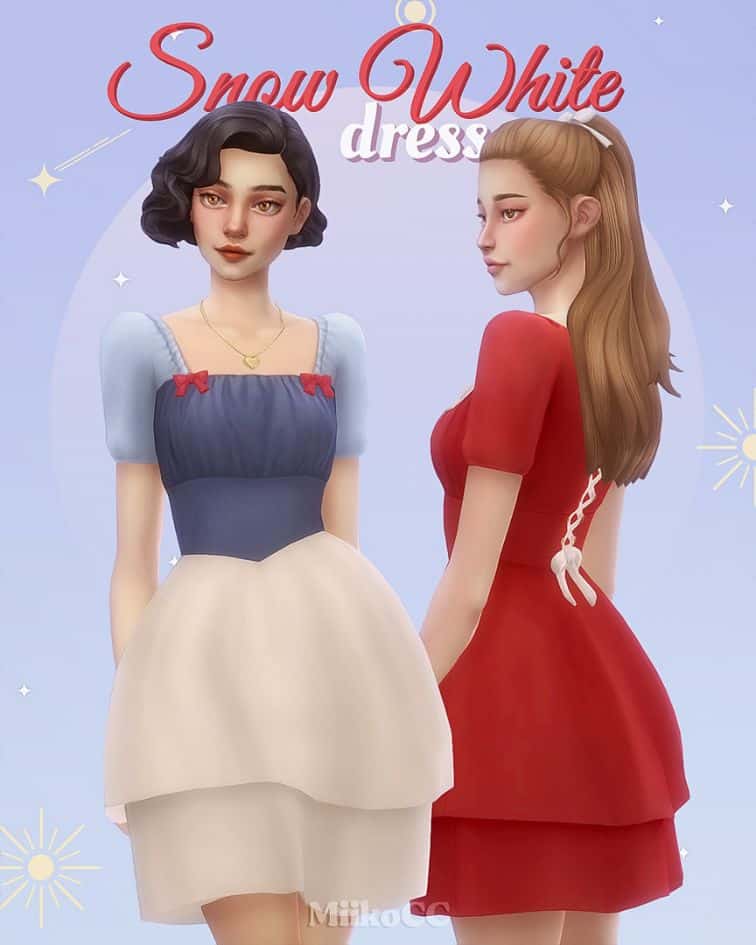 Well, if you couldn't tell, this darling dress is inspired by Snow White's classic dress.
It has cute bows on the front and lacing at the back and comes in 13 swatches

22. Denim Sims 4 Dresses by MadameRiaSims4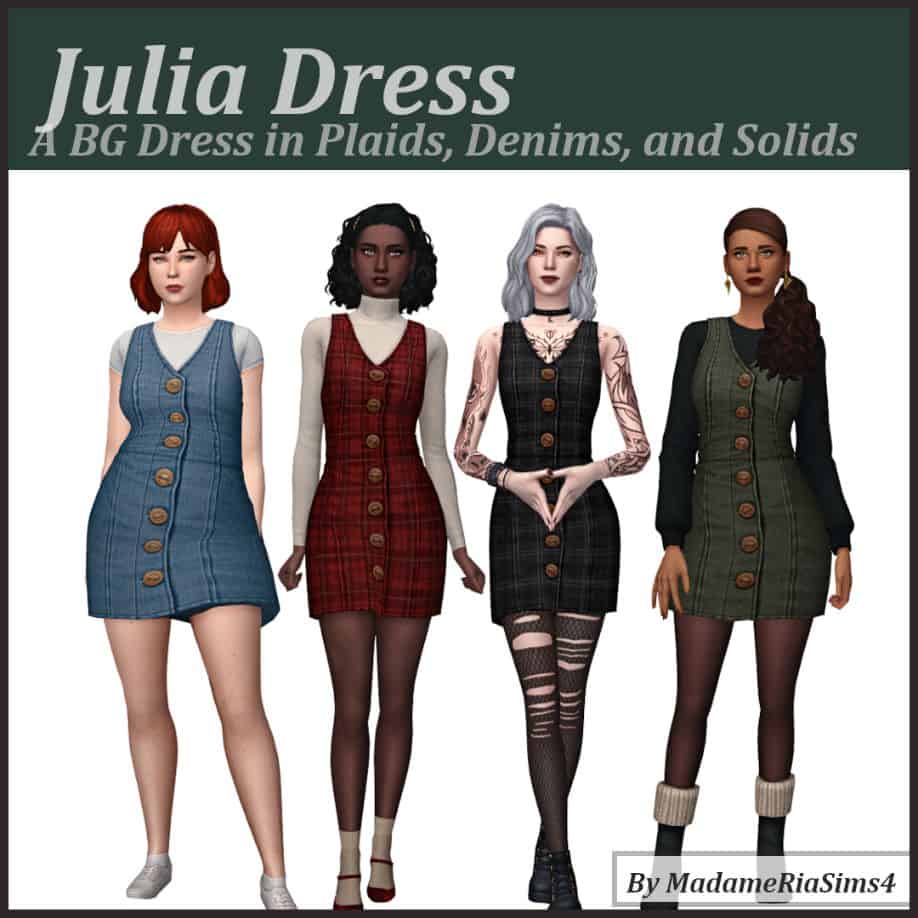 This casual denim dress was designed to be worn with your favorite accessory shirts, although you can get by without them.
There are 16 plaid swatches and 24 solid denim color options.
You will also find the accessory tops used by the creator linked on the download page.

23. Sims 4 Mini Dress by Candy Sims 4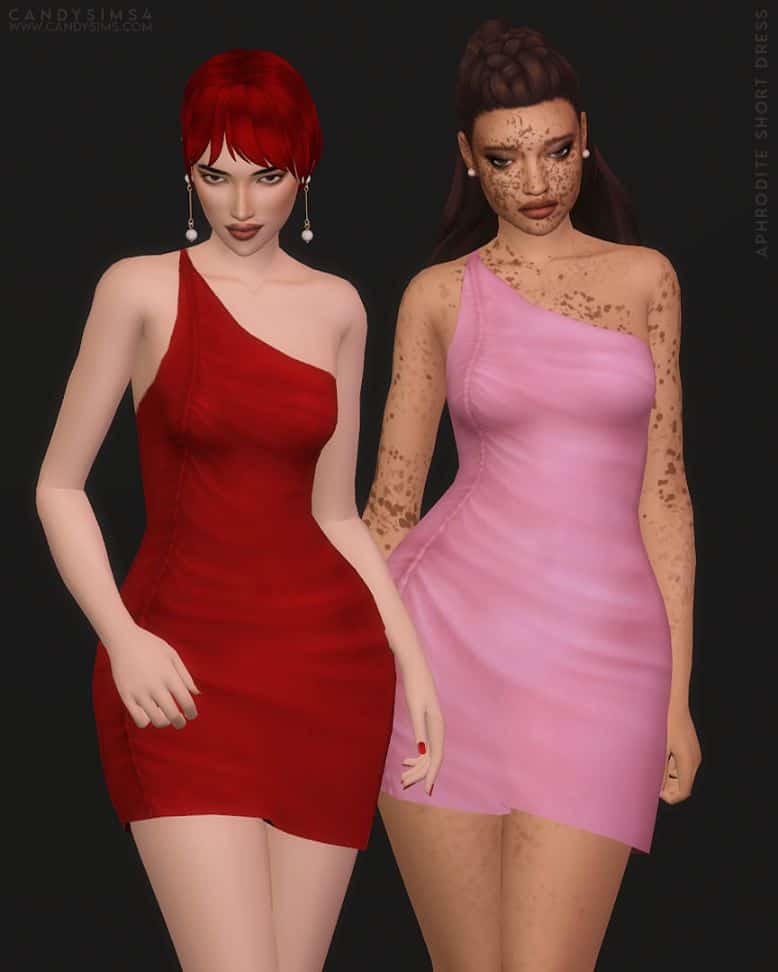 Here we have another mini dress but this time with a one-shoulder design.
The stitching down the side also provides a light rushing effect.
This dress will make a perfect going-out dress and comes in 55 colors.

24. Sims 4 Silk Dress by euno sims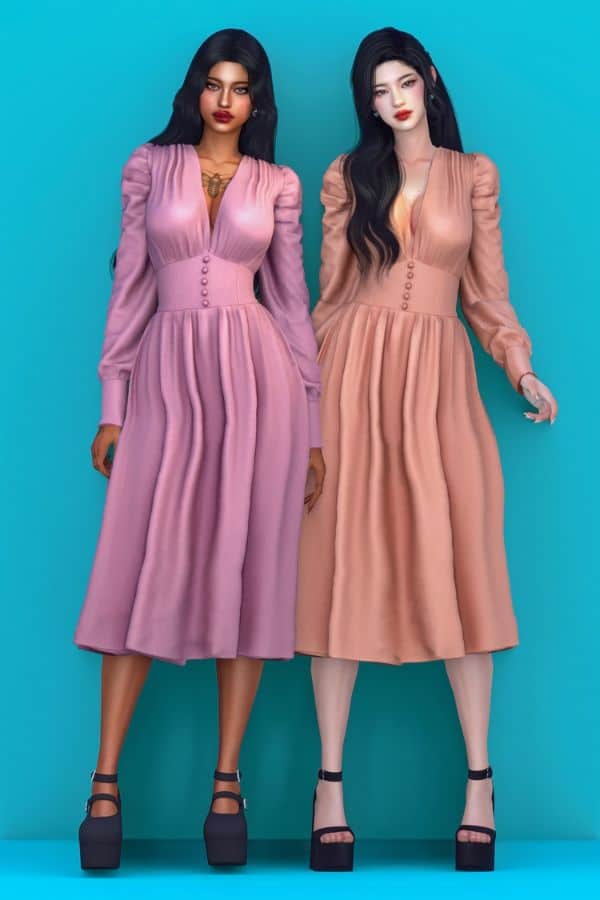 This beautiful mid-length silk dress is both semi-conservative and sexy with its cleavage.
The belted middle of the dress with its tiny buttons adds nice detailing.
This lovely dress is available in 28 colorful swatches.

25. Black Dresses for Sims 4 by Oydis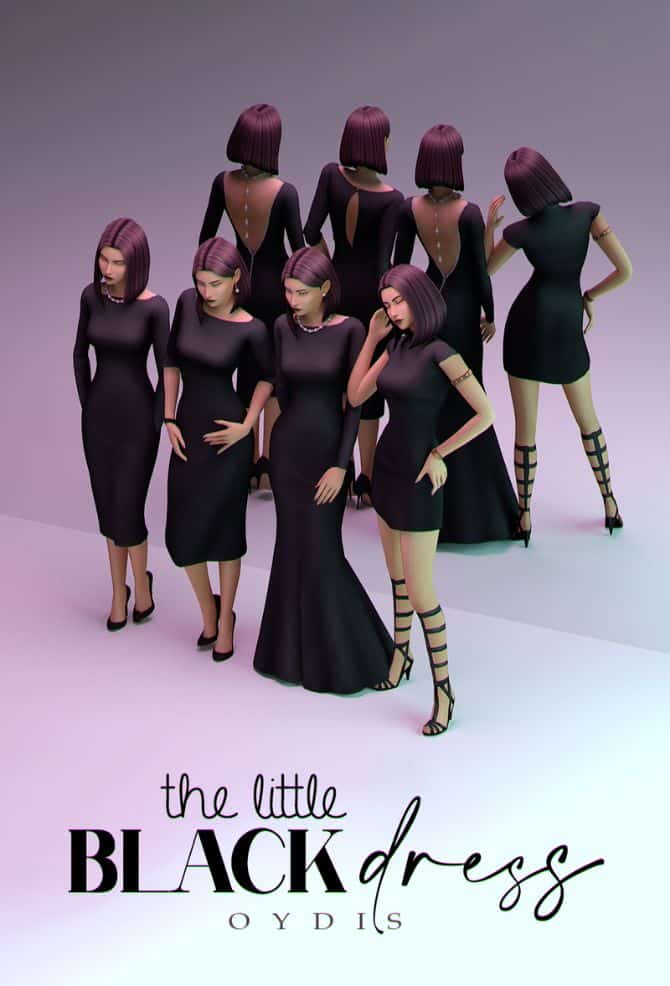 This set of black dresses takes the little black dress to a new level.
There are 4 dresses, including a full-length version, two midi-length dresses, and one mini.
I love the plunging backline on two of the designs.
You can also accessorize your sims backs with the pearl necklaces included in the set.
You also get two sets of pearl earrings.
And while these sims 4 dresses look amazing in black, there are 27 colors available and different metal colors for the jewelry.
Sims 4 Article: Final Thoughts
With so many stunning sims 4 dresses, I'm sure you found a few new pieces to try out on your sims next date night or girls' night out!
If you have any other dress recommendations, send us a quick message below or tag us on our Tumblr.
Other Sims 4 Custom Content Lists

And don't forget to share & save this pin for later!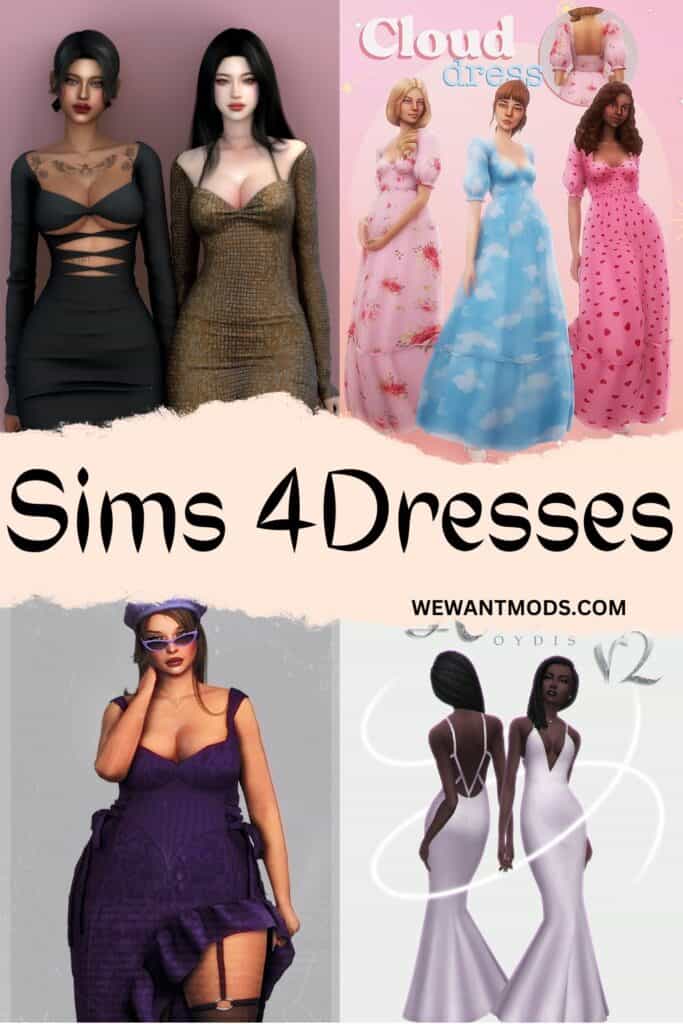 23+ Sims 4 Dresses For Every Style