13+ Sims 4 Leather Jackets: Upgrade Your Sims' Style
Add some edge to your sim's closet with this collection of sims 4 leather jackets.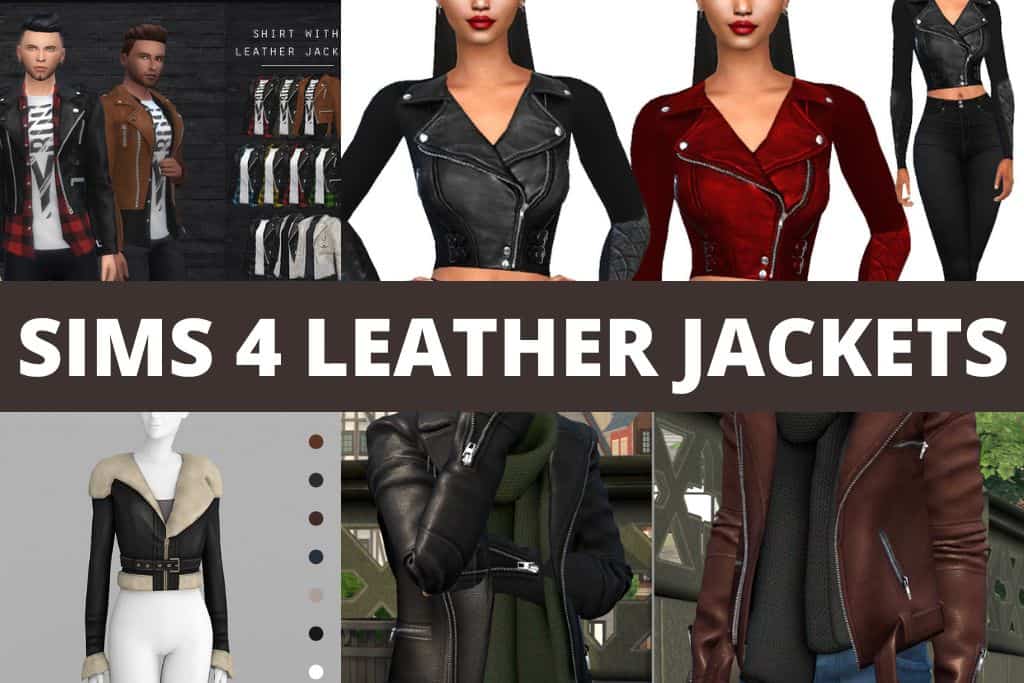 When it comes to leather jackets, we could definitely do with some extra custom content options.
But there are still some great leather jackets to be found, so I rounded up a quick list for your male and female sims.
I also threw in a cute design for your sim kids and toddlers too.
So, let's take a look at some of the most stylish leather options available.
Disclaimer: The following mods are neither endorsed nor affiliated with The Sims, Maxis, or Electronic Arts. Any use of mods (custom content or game mods) should be done with caution and with the knowledge that there may be risks.
Best Sims 4 Leather Jackets
Below is a mixed collection of female and male leather jackets, including oversized, spiked, and studded options.
1. Cropped Sims 4 Leather Jackets by Saliwa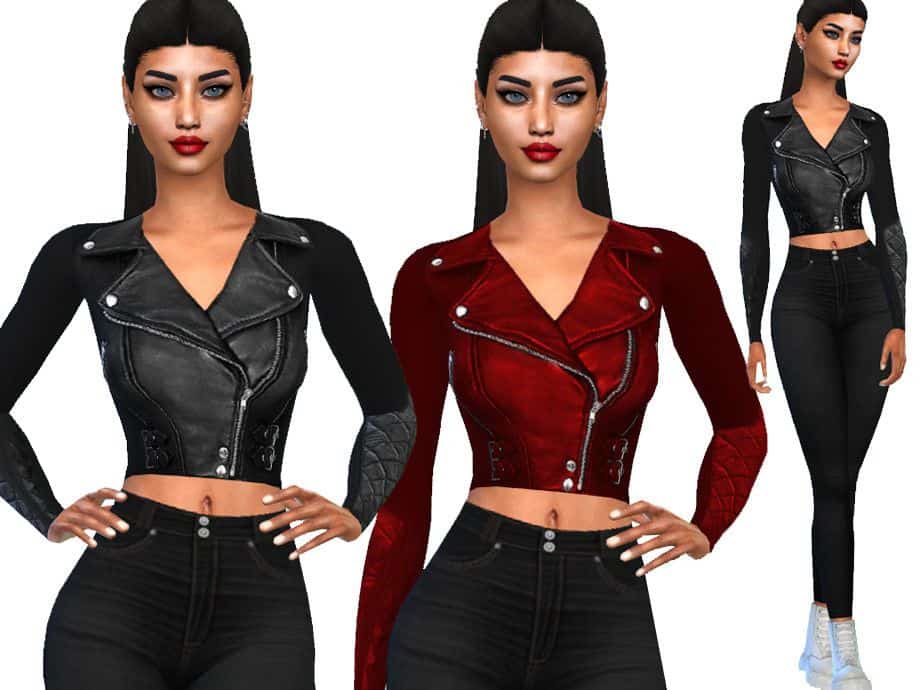 This fitted biker-style jacket is cropped at just the right length, making it the perfect choice for skinny jeans or a modern leather skirt.
Great for a drink at the local bar or club, this jacket comes in both black and dark red.

2. Sims 4 Leather Jacket With Shirt by OranosTR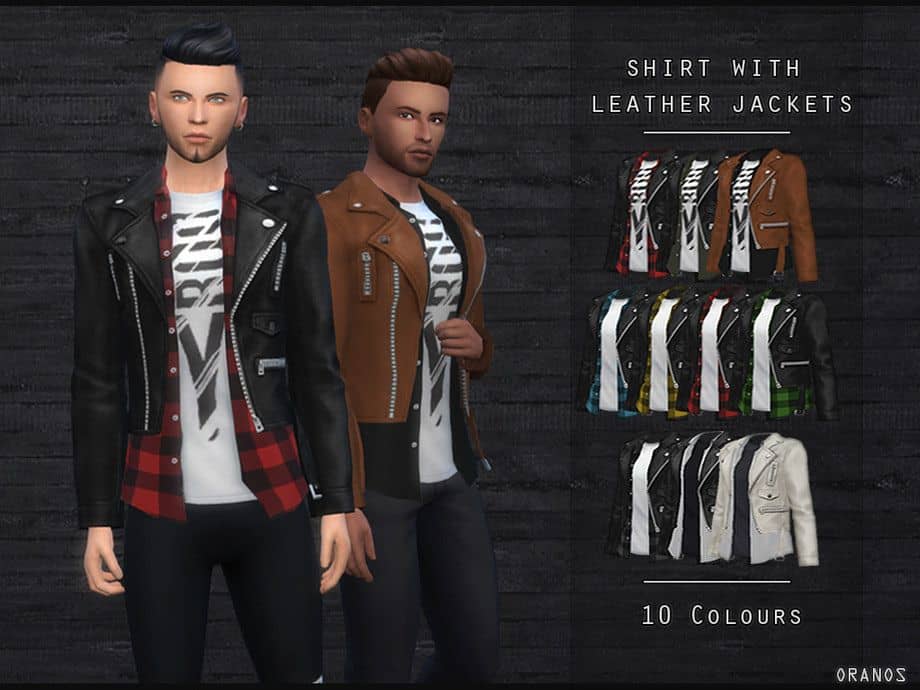 I'm always a fan of pieces with built-in tops, and these leather jackets have a shirt and t-shirt included.
These leather jackets are on the shorter side, letting the shirt stick out from the bottom.
The shirts come in solid swatches and plaid swatches with a t-shirt underneath; there are 10 options in total.

3. Studded Leather Jacket for Sims 4 by Darte77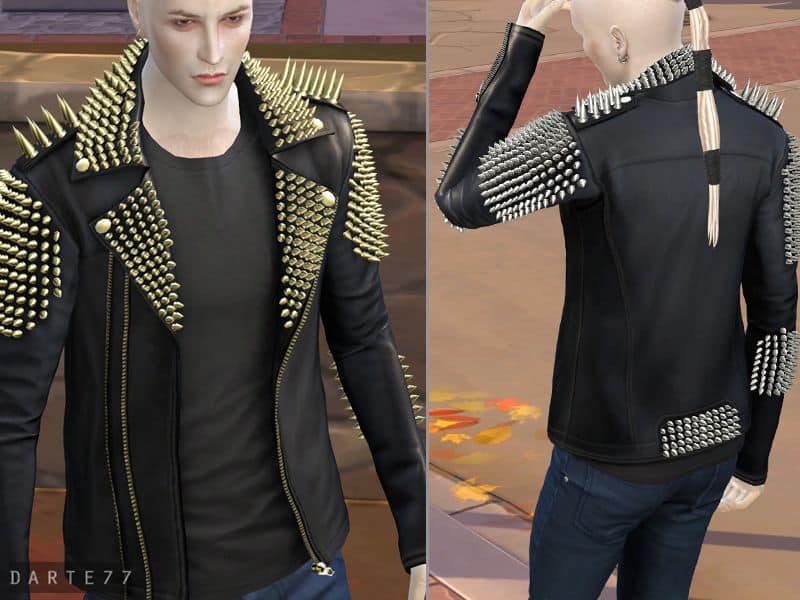 These sims 4 leather jackets are perfect for your sims looking for some extra edge.
The jackets come with a ton of metal studs and spikes along the base, shoulders, and sleeves.
There are 12 swatches, each changing the color of the metal details and t-shirt.

4. Sims 4 Leather Jacket With Fur by Madlen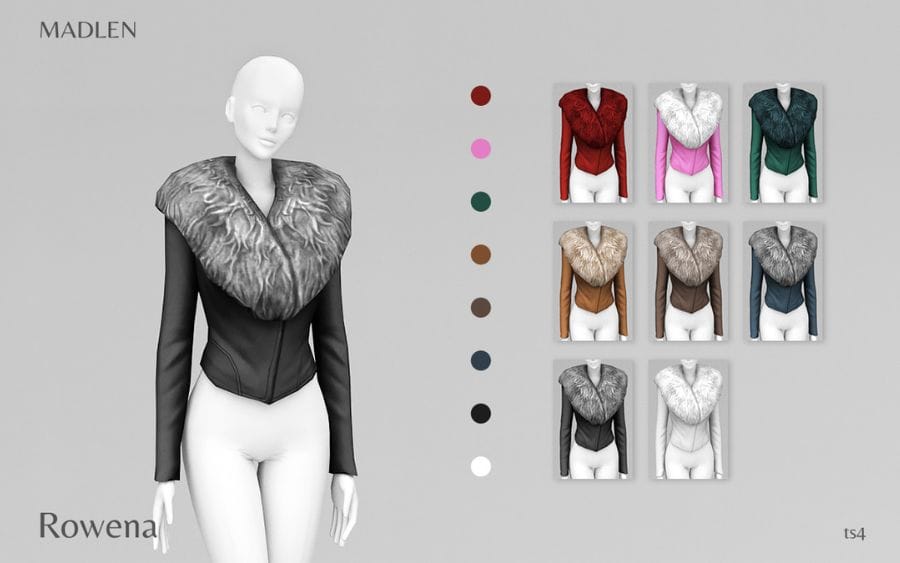 These beautiful female leather jackets come with a large fur leather collar and are perfect for the colder seasons.
There are 8 swatches, including some classic colors and other more vibrant options like pink, dark green, and deep red.

5. Casual Leather Jackets CC by DarkNighTt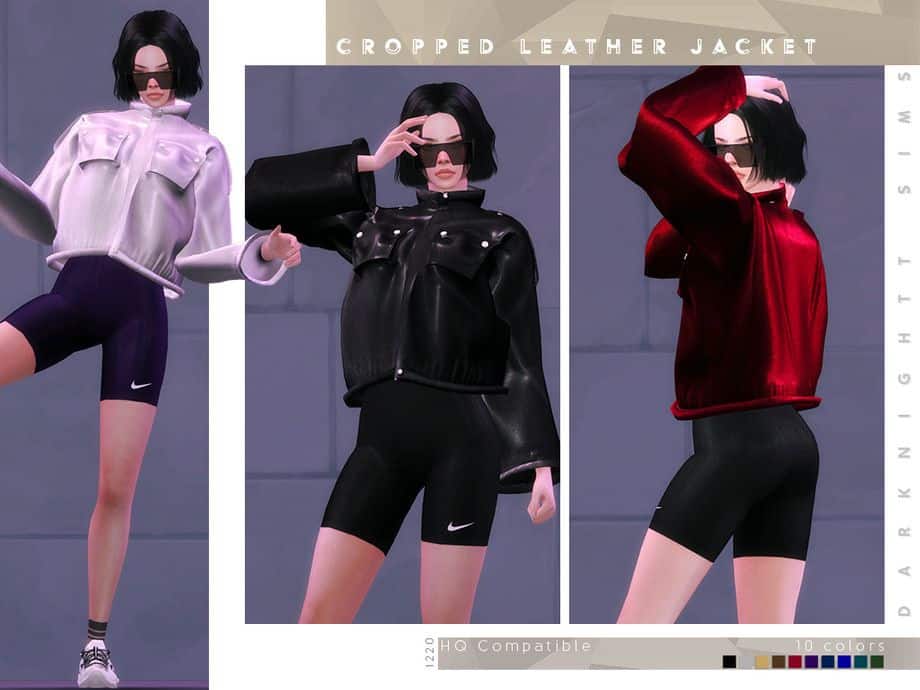 Leather jackets can be worn in many ways, and I love the idea of pairing them with sportswear.
These cropped leather jackets have a looser fit and will look great when worn casually or even dressed up a little.
These jackets are for teen sims to elders and come in 10 colors.

6. Sims 4 Biker Leather Jacket by Veiga Sims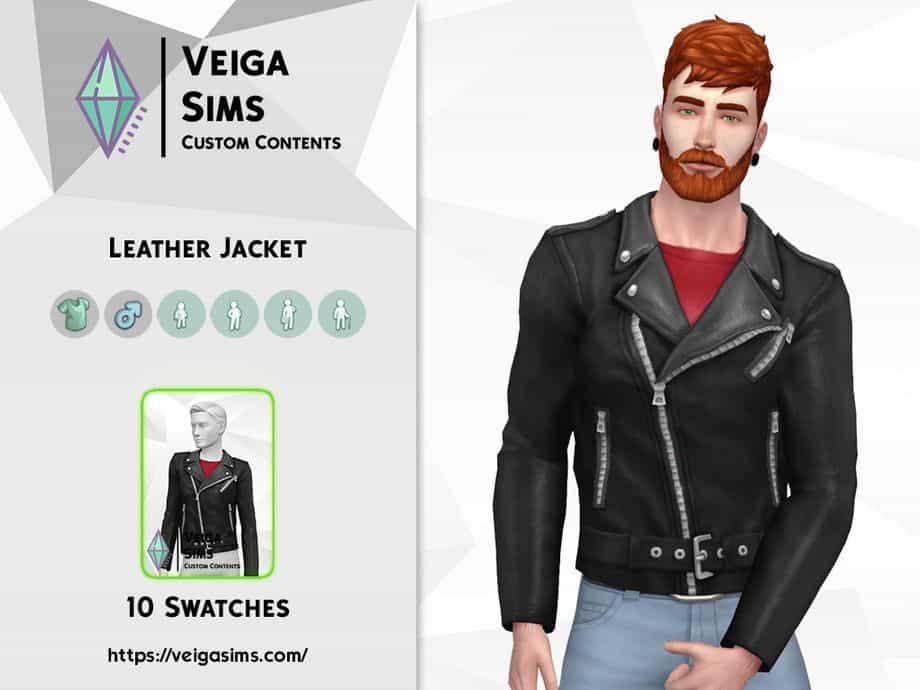 Here, we have another classic biker-style leather jacket for your male sims.
The jackets come in both black and brown leather, each with 5 different t-shirt color swatches beneath (black, white, gray, red, and green).

7. Accessory Biker Jacket CC by Darte77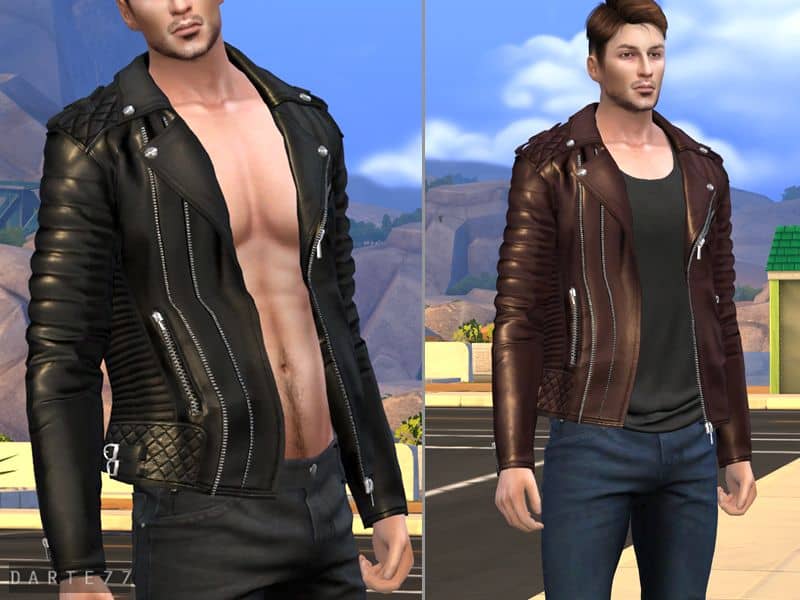 This sims 4 leather jacket is a great accessory piece, allowing you to layer it over your favorite men's short-sleeved shirt or tank top.
This leather jacket is available for your male sims aged teen to elder and comes in black, burgundy, and an earth tone swatch.

8. Male Dynamite Leather Jacket by Nucrests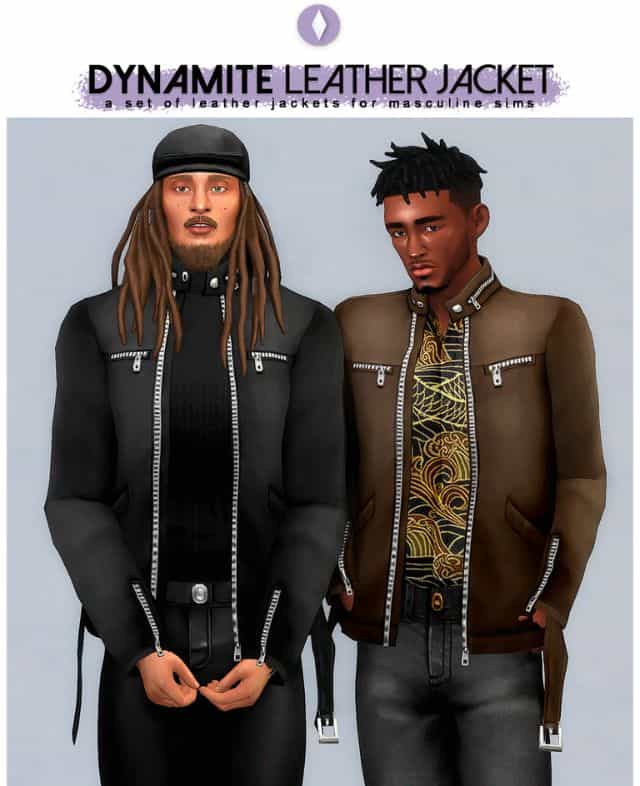 This set of sims 4 leather jackets comes in two styles: one with a button-up shirt underneath and a second with a turtleneck.
The jackets, shirts, and turtlenecks are available in multiple swatches.
Both styles of leather jackets have silver zippers and buckle details.

9. Child & Toddler Leather Jackets by Madlen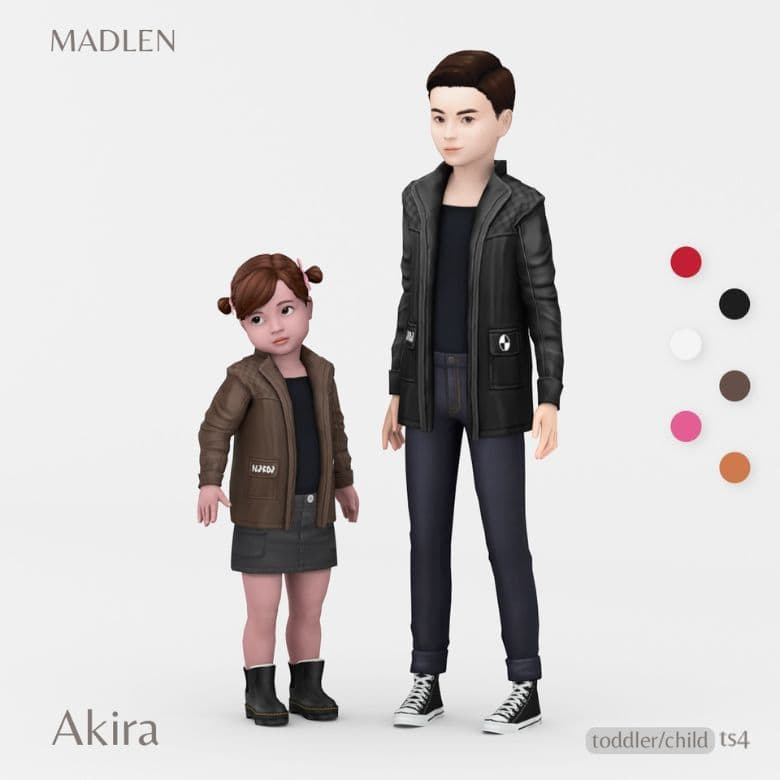 What's cuter than a matching family outing?
These sims 4 leather jackets are for your sim kids and toddlers.
The jackets come in 6 color swatches and have some great woven details on the shoulder area.

10. Sims 4 Male Leather Jackets by Amythesailor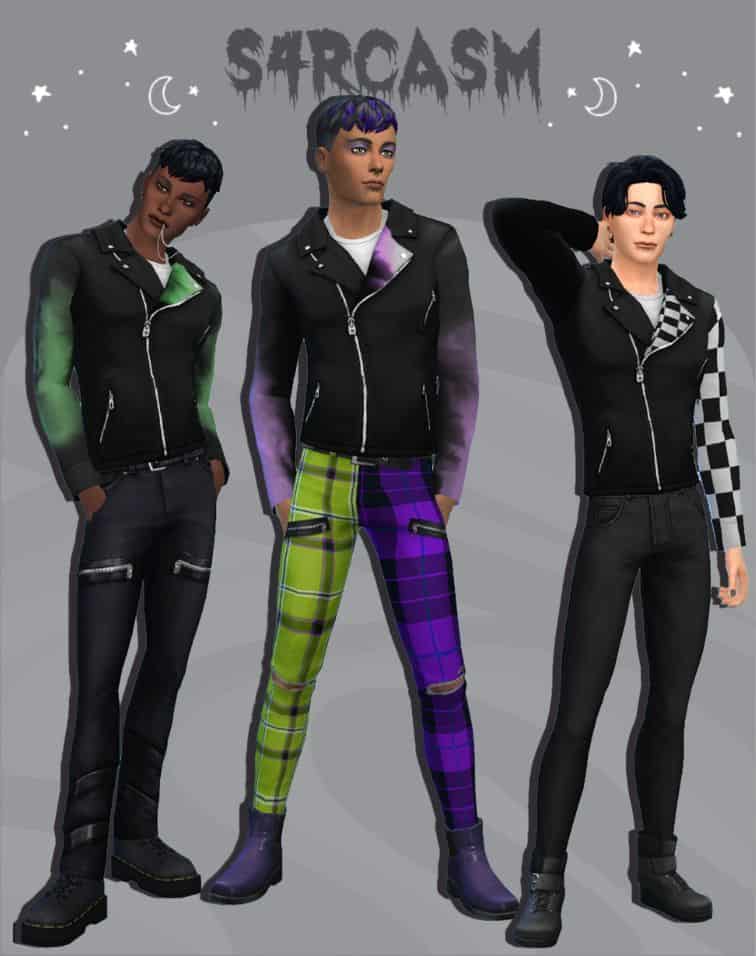 These male leather jackets come with a white t-shirt underneath, and while you can grab some plain swatches, there are also some edgier options.
The jackets come in 6 solid colors (brown, black, pink, cream, navy, and gray) and some checkered and tie-dye style swatches.
Plus, we can't forget the swatch with skeleton bones.

11. Leather Outfit for Sims 4 by Madlen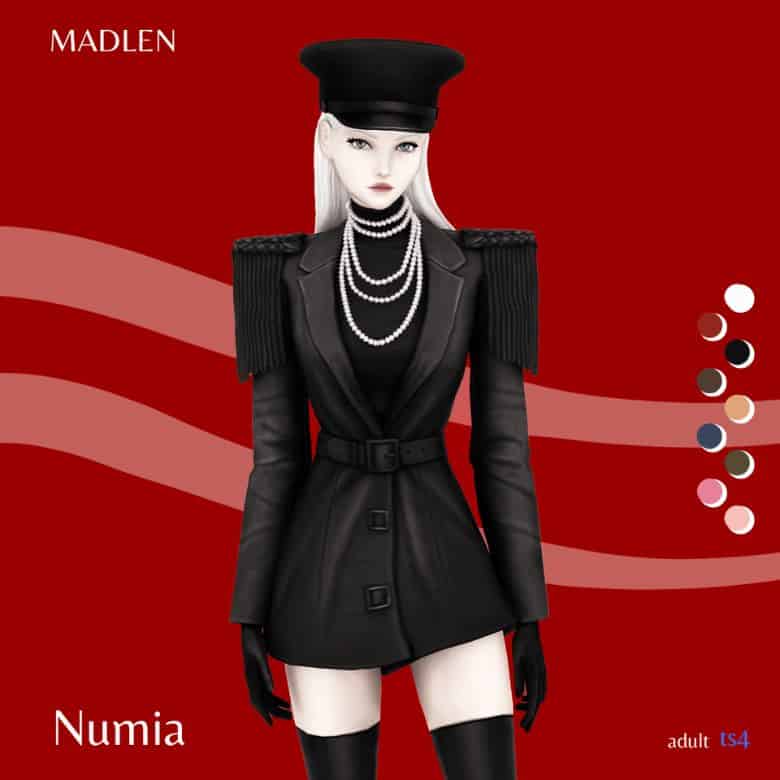 So this Numia leather outfit reminds me of Madonna for some reason, and it's the perfect custom content for a fantastic night out with the girls.
The leather jacket makes up the base of the outfit, and the tussled shoulder pads take this epic ensemble to the next level.
The look is complete with a leather cap and pearl necklace.

12. Sims 4 Cozy Leather Jackets by Darte77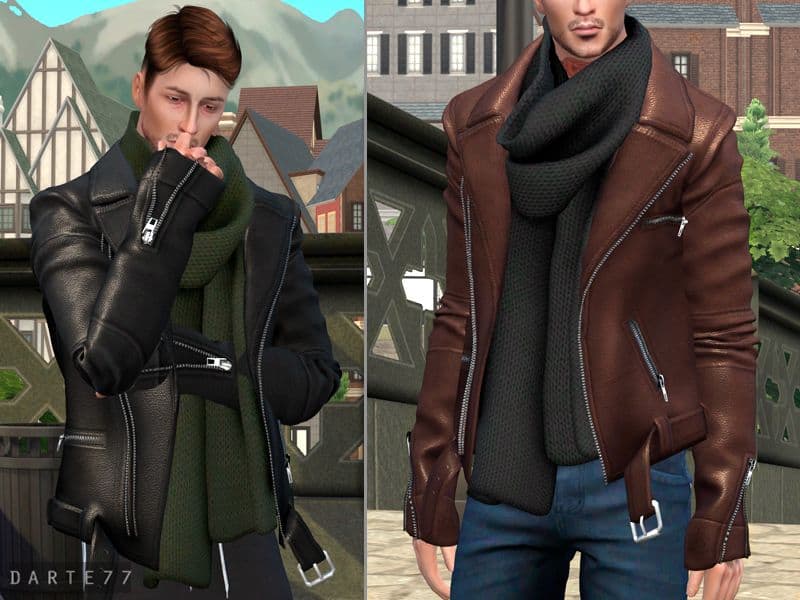 What's cozier than a nice jacket with an oversized scarf to wrap your sims in?
The leather jacket design has a zipper, open buckle details, and a large styled scarf.
This jacket cc works for your male and female sims and comes in 14 swatches.

13. Oversized Sims 4 Leather jacket by Serenity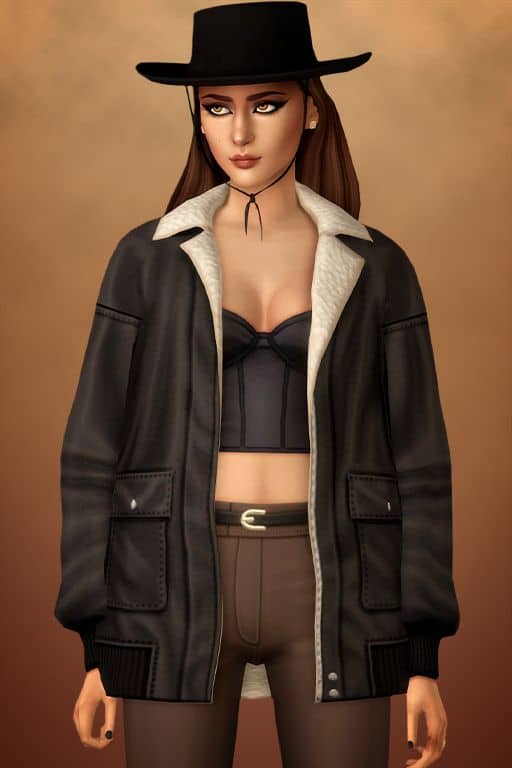 While this Hazelnut set comes with a mixed collection of custom content pieces, I'll focus on the oversized leather jacket today.
This jacket is perfect for everyday wear, especially if your sims are busy working on their horse ranch.
The leather jacket has an inner wool lining around the collar and jacket interior.

14. Sims 4 Hooded Leather Jacket by Sims House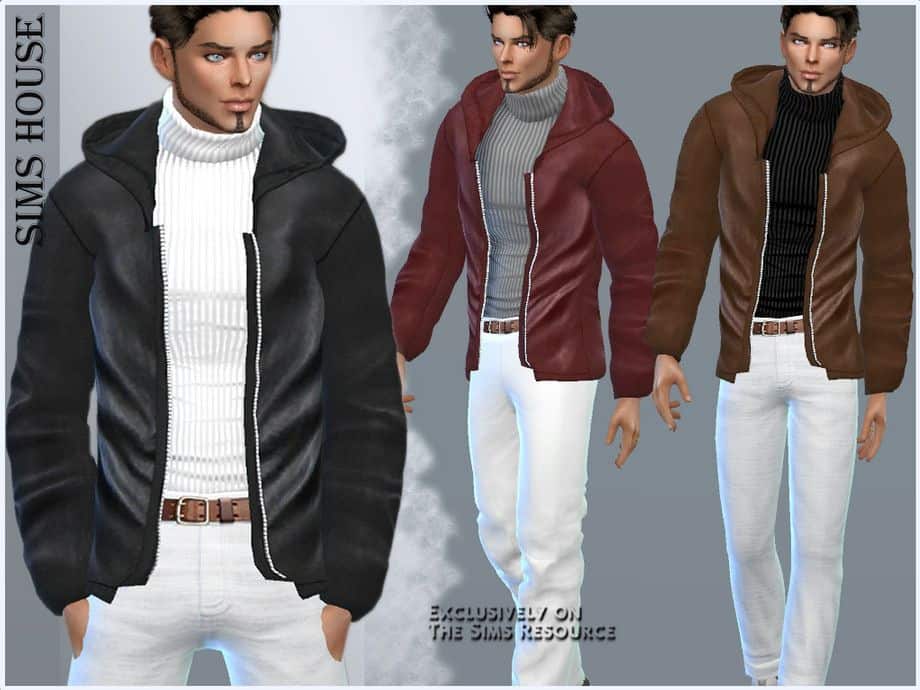 No leather jacket collection would only be complete with a hooded version.
This unzippered sims 4 leather jacket comes with a hood and a ribbed turtleneck top underneath.
The jacket-turtleneck combo comes in 7 swatches, switching up the coat and top colors.

15. Belted Cropped Leather Jacket by Madlen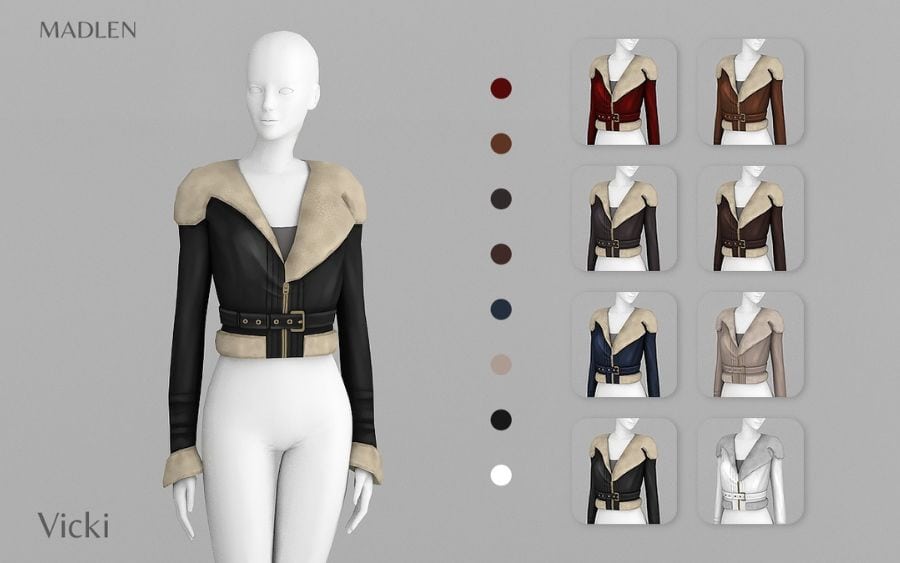 Rounding off this list of sims 4 leather jackets is this stylish belted short female jacket with wool trim along the cuffs, collar, and waist area.
The jacket comes in 8 solid color options, making mixing and matching with different outfits easy.
Sims 4 Leather Jackets: Final Thoughts
With this selection of sims 4 leather jackets, you hopefully found some great designs to fit the different styles for the sims in your household.
You can opt for cropped leather jackets, classic biker styles, or some modern options instead.
If you have any questions or suggestions, feel free to leave us a comment below or tag us on Tumblr.
And don't forget to share and save this pin for later!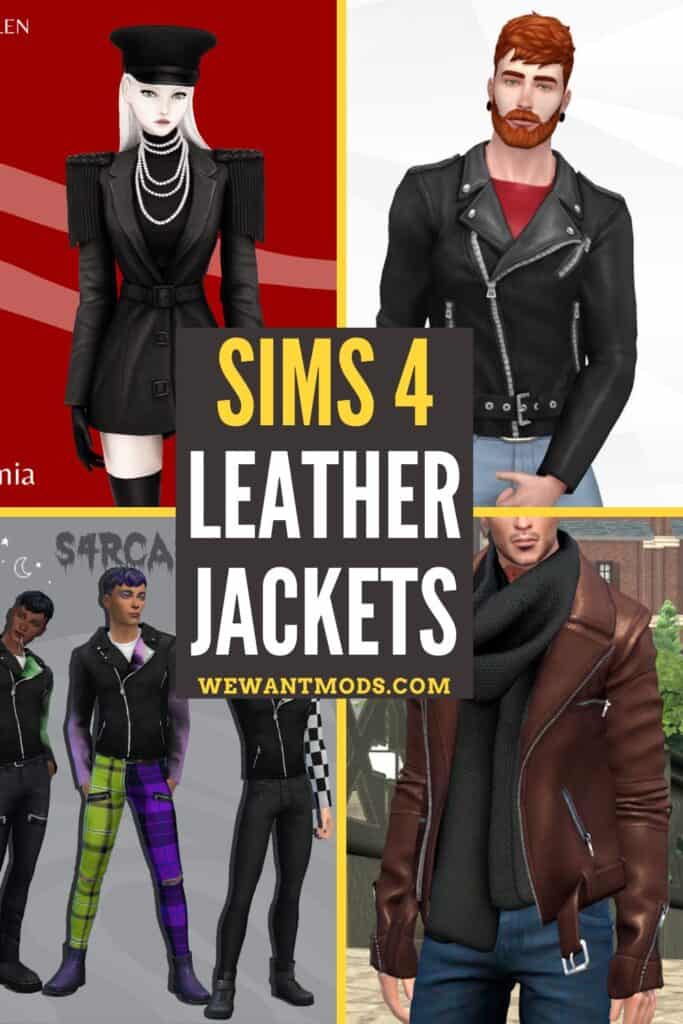 Other Sims 4 Custom Content Lists
13+ Sims 4 Leather Jackets: Upgrade Your Sims' Style