25+ Sims 4 Event Mods: Camping, Debates, Parties & More
Want to crank up your gameplay?
With this list of sims 4 event mods, you can change up your sims routine in no time.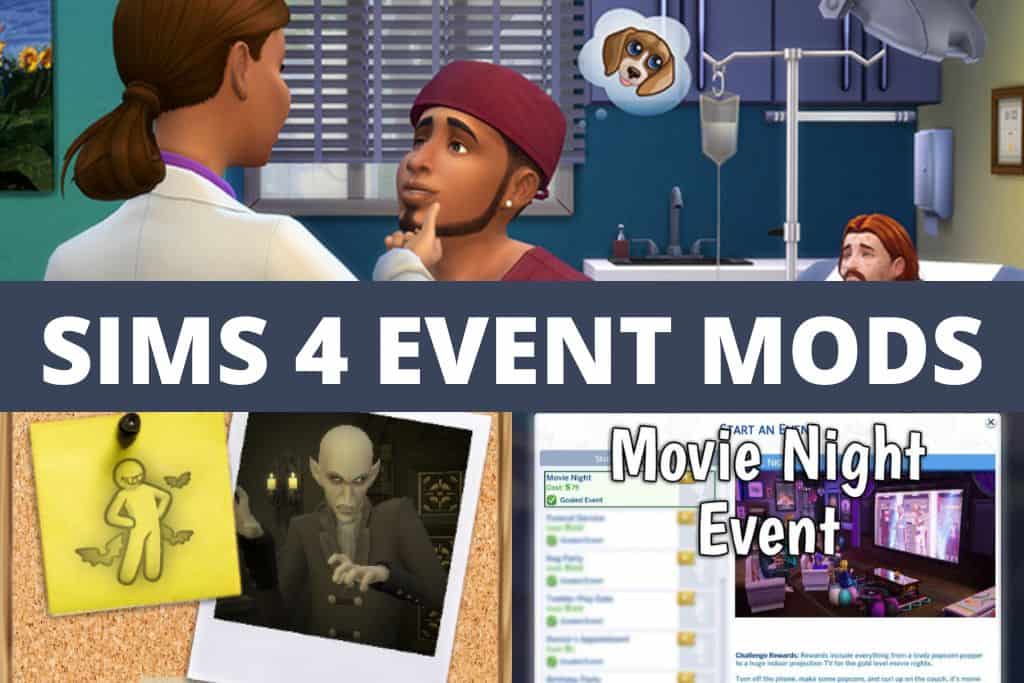 Need some new exciting events to fill up your sims social calendar?
Whether you have been playing the sims 4 for a while or enjoy variety, adding more options to your gameplay is always a plus.
And as always, some fantastic creators put together a variety of sims 4 event mods for us to enjoy.
So have fun browsing for some new social events.
Custom Sims 4 Event Mods
In the following list, you'll find a variety of activities for your sim to do or different places for them to visit.
1. Sims 4 Event Mods by Simularity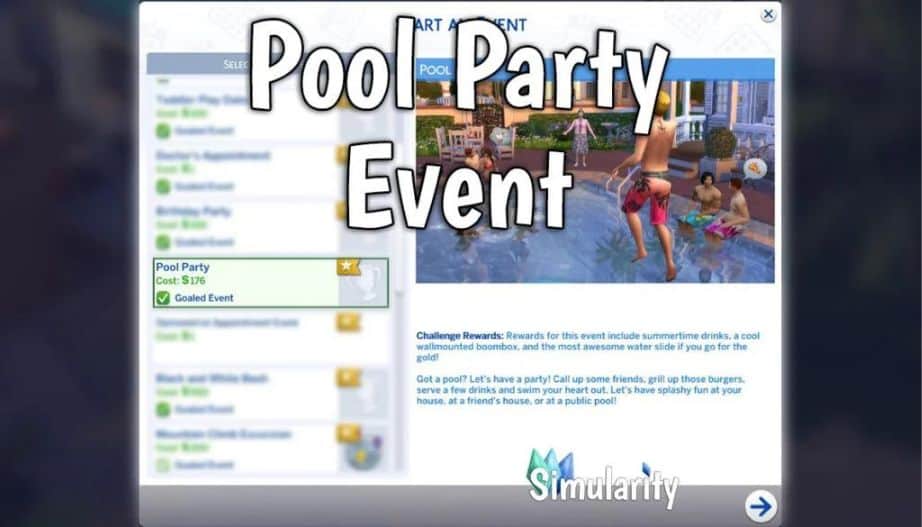 Packs Required: Backyard stuff pack & Seasons expansion pack
In the hot summertime, your sim can enjoy a fun pool party event.
This event mod turns your sim into the party's host.
Your sim will have a set of goals to achieve, and by completing them, they will earn a Backyard Stuff item (drink tray, stereo, water slide) as a reward.

2. Sims 4 Event Mod at Hospital by KawaiiStacie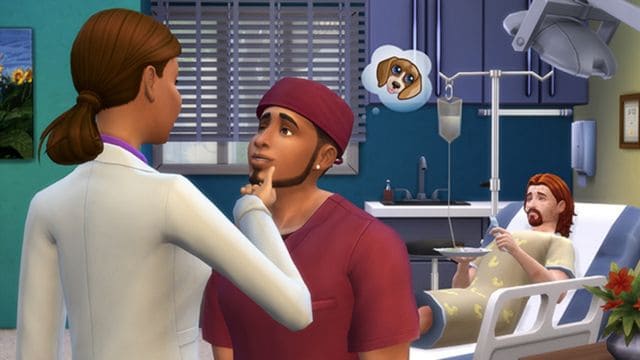 Pack Required: Get to Work expansion pack
Not all sims 4 event mods are fun and games.
Sims can get sick, but you don't have to wait until then to get your sims checked out.
You can plan a visit to the doctor and bring a visitor along; there's even a small play area for the kids.
Your sim will eventually be checked out by the doctor and prescribed meds.
The event ends when you've picked up your prescription from the pharmacist.

3. Sims 4 Camping Event by KiaraSims4Mods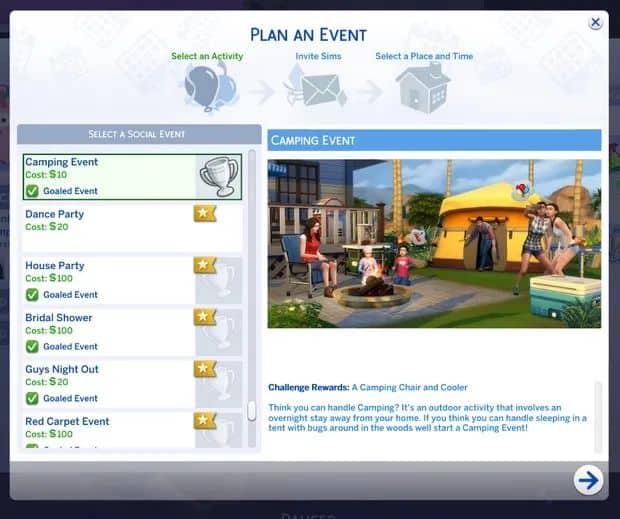 Pack Required: Outdoor Retreat game pack
If your sims family loves being outdoors, they'll likely enjoy camping through this sim 4 event mod.
Have your sims spend the day camping while going through fun camping goals like roasting marshmallows and hiking.
Complete the event to win a camping chair and cooler.

4. School Trip Events for Sims 4 by IlkaVelle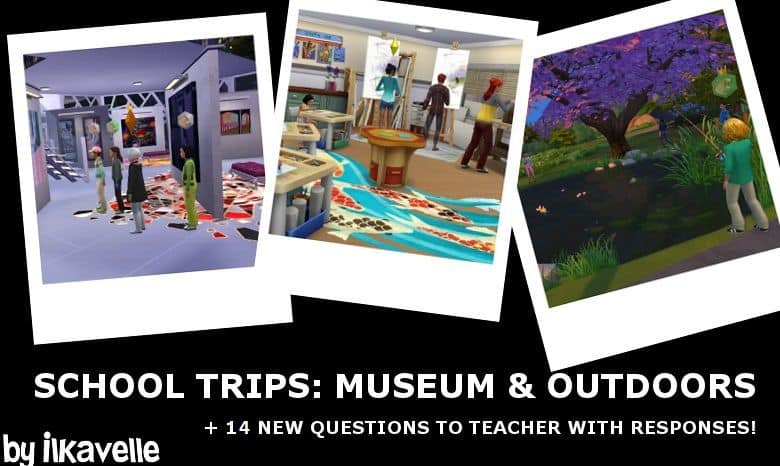 Who doesn't like going on school field trips?
With these sims 4 event mods, you can send your household's kids on fun school trips.
During the event, your little sim will acquire new skills by interacting with the teacher and other kids.
Your sim will also gain a bonus moodlet based on their performance.

5. Sims 4 Bachelorette Party by KiaraSims4Mods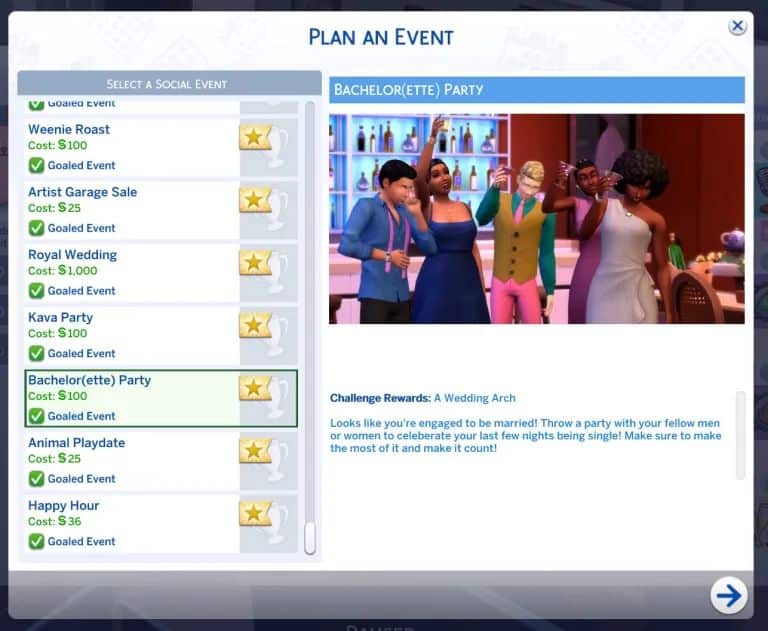 You can celebrate your sim's last day unmarried by throwing them a bachelor or bachelorette party.
During the event, accomplish several simple tasks like telling jokes and taking selfies.
The goal is to ultimately win an item for your wedding day; a lovely wedding arch.

6. Vampires Everywhere Sims 4 Event by Kuttoe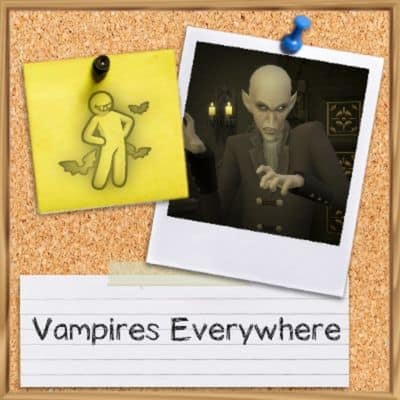 Pack Required: Vampires game pack
With the help of this fun event mod, vampire sims are no longer limited to the world of Forgotten Hollow.
Any world created before the vampire game pack can get invaded by vampires.
Also, vampire-related events can occur in other worlds as well.
This sims 4 events mod takes the vampire's game pack to the next level.

7. Sims 4 Singing Gig Event by KiaraSims4Mods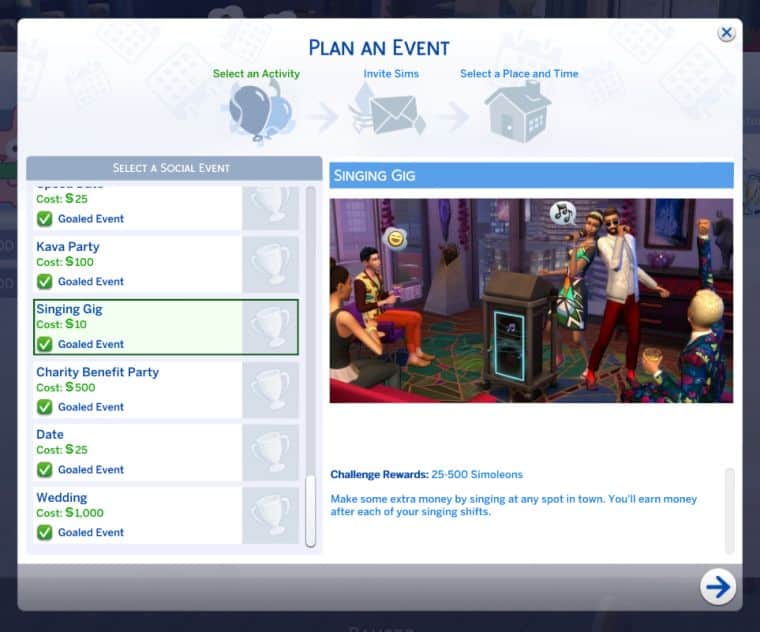 Pack Required: City Living expansion pack
Your sims can earn some extra simoleons by picking up a mic and singing as a side gig.
This sims 4 event mod is easy as it contains a few goals for an easy payout ranging up to 500 simoleons.

8. Sims 4 Hangout Event by IlkaVelle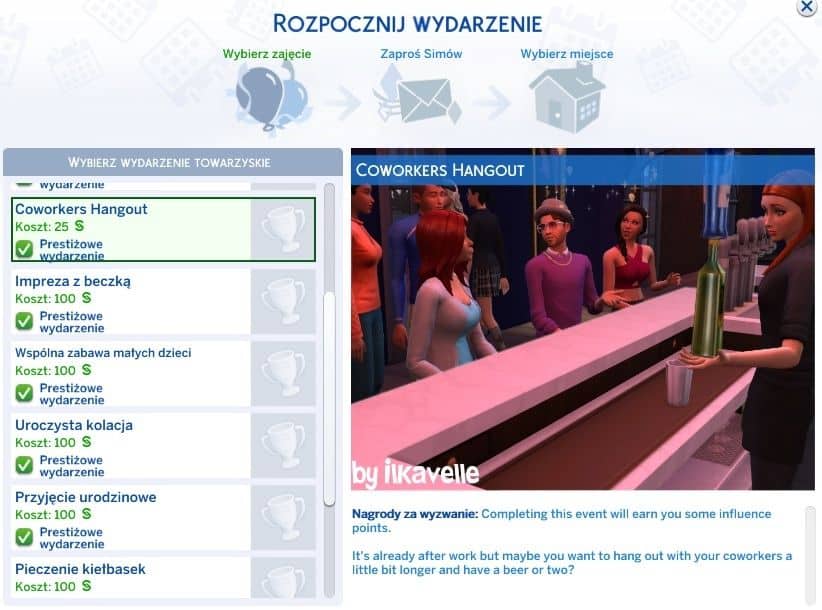 After a hard day's work, let your sim meet up with fellow workers and socialize for a while.
All there is to do is invite coworkers to any location of your choosing, such as the classic bar location.
Your sim will earn some influence points by talking with colleagues and accomplishing small tasks during the event.

9. Sims 4 Reunion Event Mod by KiaraSims4Mods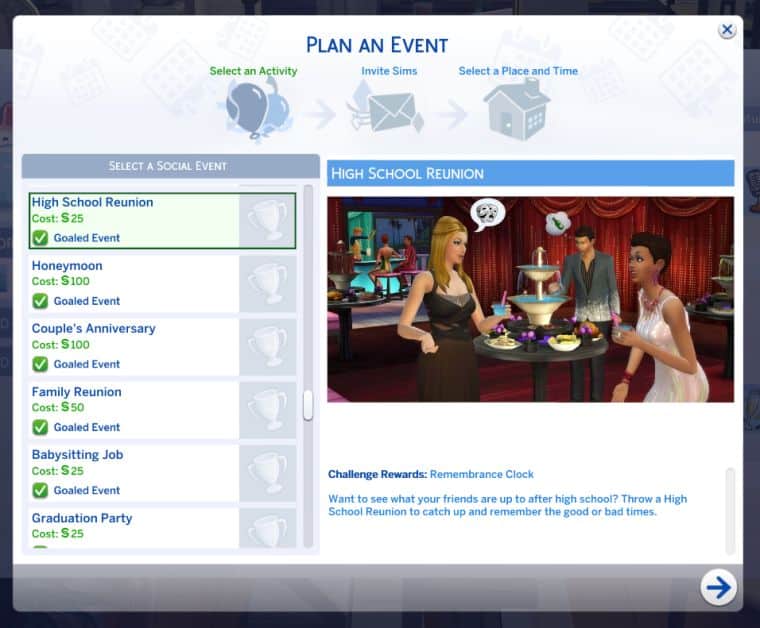 Packs Required: Seasons expansion pack
Have your sim get reacquainted with former schoolmates by planning a high school reunion event.
Take part in several goals to win a nice Remembrance clock as a prize.
But the real prize in this event is your sim having fun meeting up with old friends.
You must assign the High School Reunion Trait to complete all the goals in this sims 4 event.

10. Movie Night Event for Sims 4 by Simularity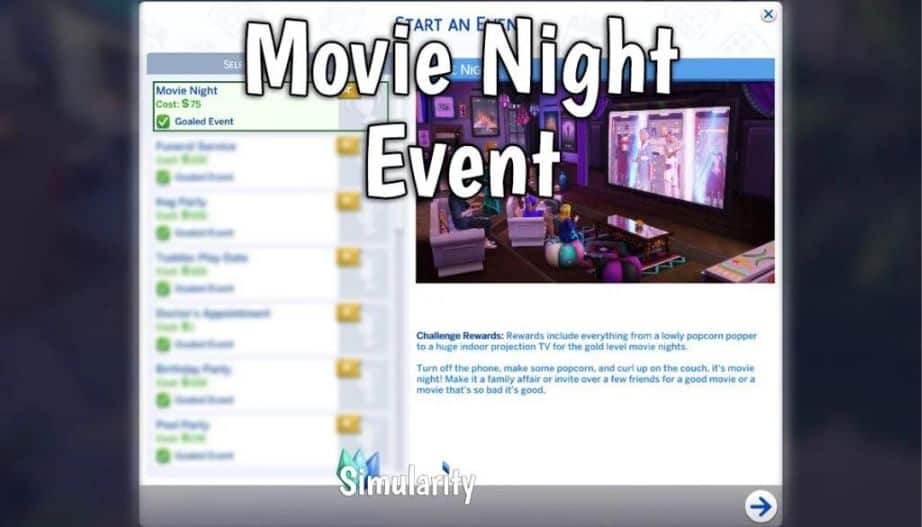 Pack Required: Movie Hangout stuff pack
With all these fun sims 4 event mods available, hosting a movie night is just as entertaining as the next.
Sometimes an evening at home with friends and family watching a movie is all the fun you need.
Earn points by completing specific tasks and win a neat item at the end of the evening.

11. Sims 4 Baby Shower Event by KiaraSims4Mods
If your sim or someone in her entourage is expecting, you can throw them a baby shower event.
Win a cute bassinet and some simoleons by completing a set of event goals.
You'll need the Chat about Baby Names social interaction mod to complete some otherwise impossible tasks.

12. Sims 4 Event Mods Mega Pack by KawaiiStacie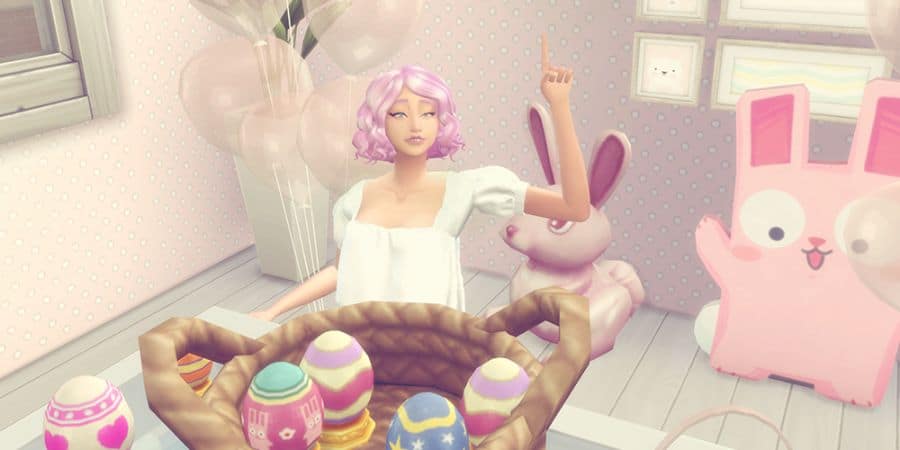 This collection is the motherlode of all sims 4 event mods.
You get just over 40 new social events, enough to keep your sim occupied for a while.
Among the 40+ events, your sims can go on a;
Romantic date
Do karaoke,
Go to a family reunion
Hit the gym
Throw a sleepover
Go camping
Field trip
Pizza party and more
Reaching the goal in these memorable events provides prizes, moodlets, and more.
You may need specific packs to complete some event challenges.

13. Double Date Sims 4 Event Mod by KiaraSims4Mods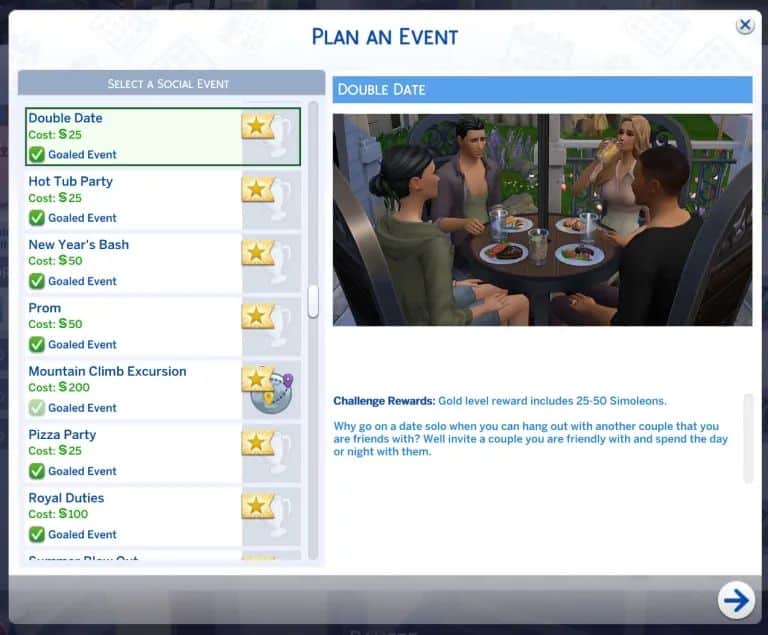 Packs Required: Movie Hangout stuff and Perfect Patio stuff packs, plus the Seasons expansion pack.
Get your sim to go on a double date with another couple with this sims 4 event mod.
Going on a double date takes the pressure off your sim and doubles the good time.
Completing this event will earn you some simoleons, but the real prize here is love.

14. Sims 4 Event for Witches by IlkaVelle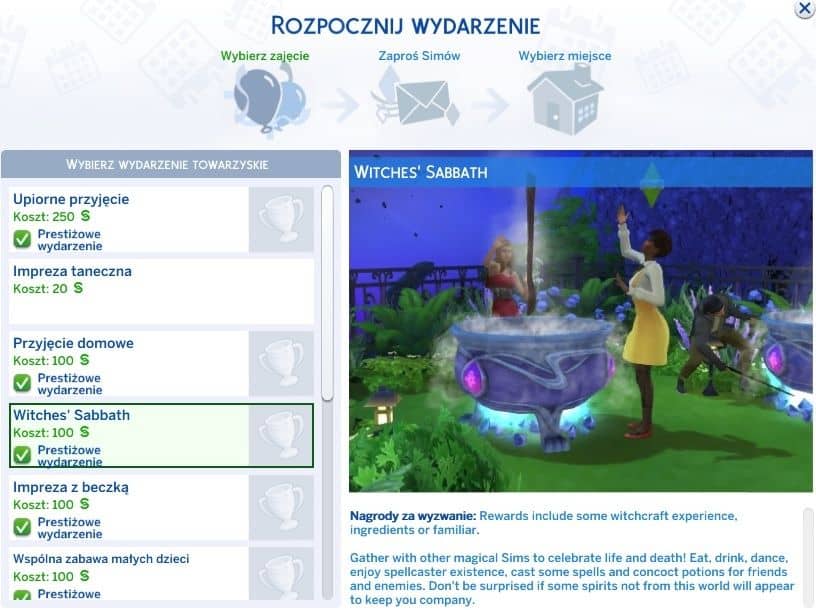 Pack Required: Realm of Magic game pack
Looking for sims 4 event mods for your occult sims?
Your sim witches can now party and enjoy themselves while doing what they do best, spellcasting and witchcraft.
Completing this event can earn your sims some witchcraft experience, ingredients, or something similar.

15. Sims 4 New Years Party Event by KiaraSims4Mods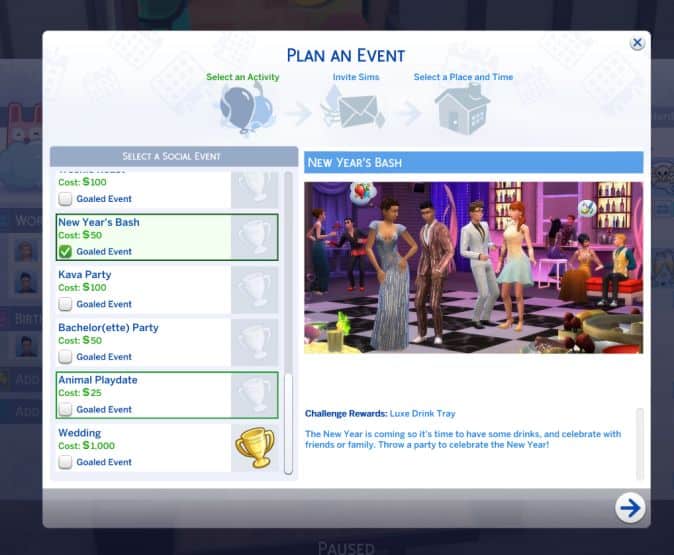 Packs Required: Spa Day game pack & the Seasons expansion pack.
End the year the best way possible; by throwing a New Year's Eve party.
Have your sim grab a few drinks, dance, and party all night until the clock strikes twelve and then some.

16. At the Movies Sims 4 Event Mod by Simularity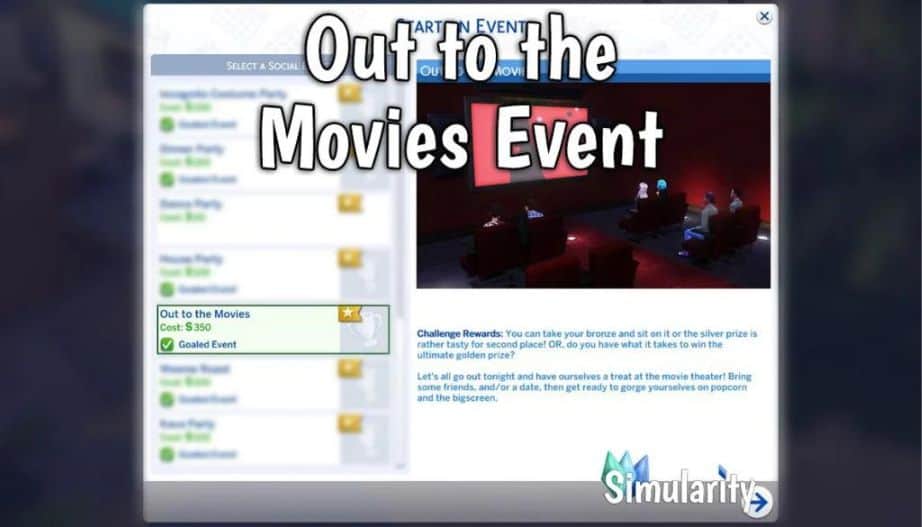 Pack Required: Movie Hangout stuff pack
This event is similar to the one listed at #10, but with this event mod, your sim goes out for a movie instead.
Depending on the goal reached, your sim can earn some fun rewards.
Two of the three reward items are the same as the ones in the Movie Night event.

17. Guys Night Out Sims 4 Event by KiaraSims4Mods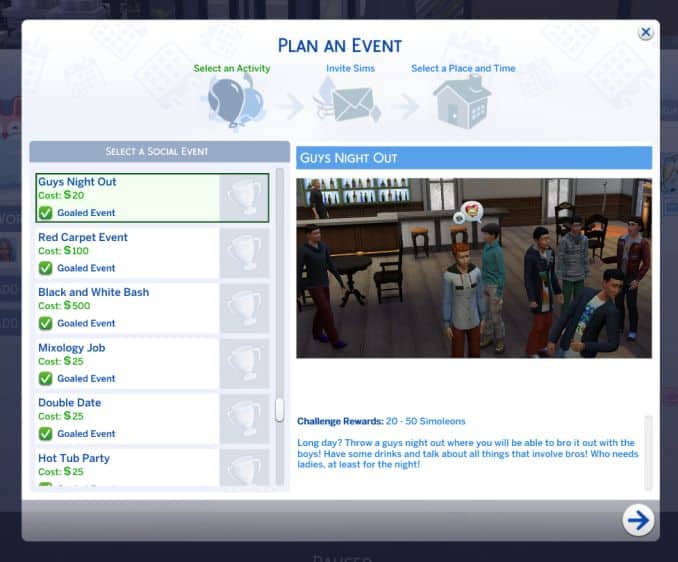 Pack Required: Movie Hangout stuff pack
Have your male sim enjoy an evening with his peers by grabbing drinks, playing darts, chatting, and more.
Achieve the main goal by talking with a buddy for a while.
The payout of this event could be better, but that's not important.
It's all about a super fun time with the boys.

18. Sims 4 School Dance Event Mod by IlkaVelle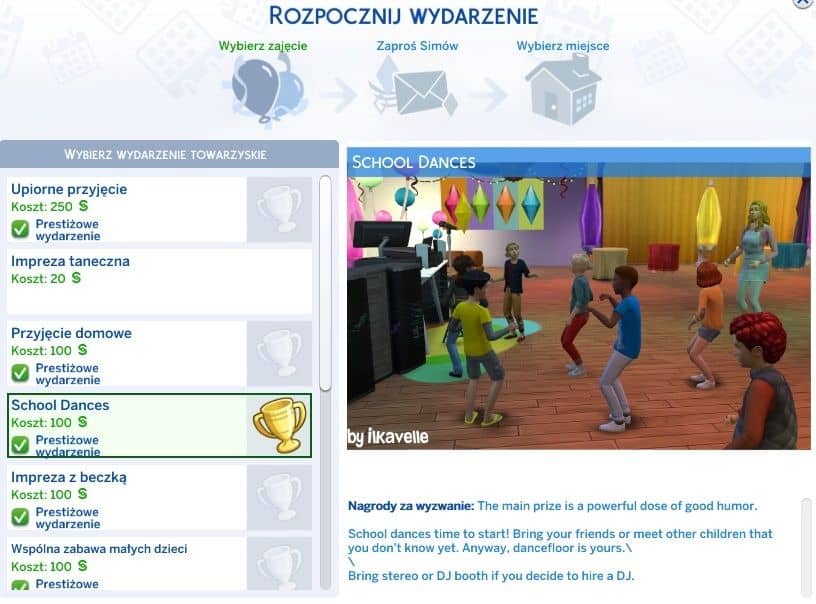 If you want more sims 4 event mods for your sim kids, there's this school dance event.
You'll invite children to the dance and assign an adult or teen to chaperone the event.
Get a DJ to bring the party to life, but only if you own the Get Together expansion pack.

19. Sims 4 Wedding Event Mod by Caradriel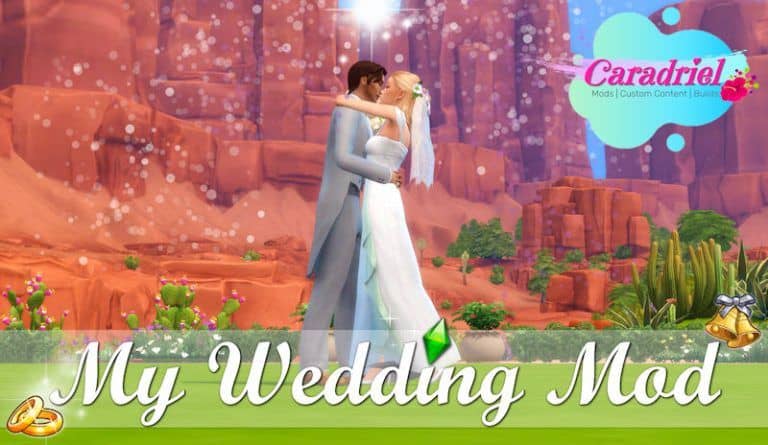 If your sim couple is engaged and to be married, the custom event mods included in My Wedding mod are a must.
This mod is one of my favorites because it offers an improved experience for your sims wedding day plans.
From signing a prenup, buying invitations, and planning their honeymoon, your sims can decide every detail.
This sims 4 event mod is loads of fun and brings wedding planning to the game in a more true-to-life way.

20. Resorts & Hotels Sims 4 Event Mods by KawaiiStacie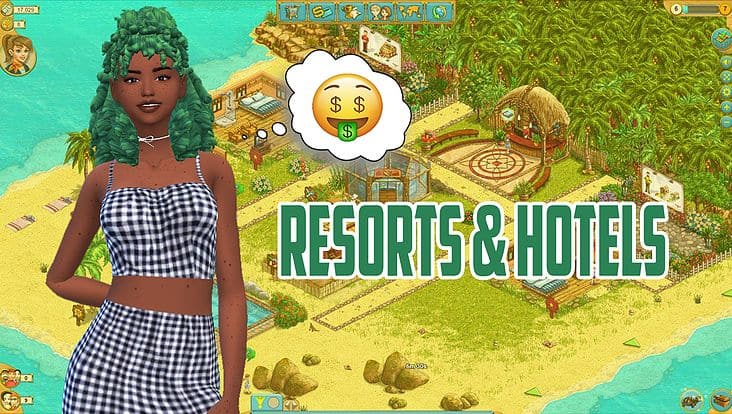 This event mod is ambitious as it requires building and running a resort.
Your sim must get the required furniture and room amenities to meet the resort lot requirements.
The payout of the event challenge is skills, experience, and simoleons.
Although it's not required, having the Vintage Glamour stuff pack allows certain interactions with staff members.

21. Beach Party Event Mod by Simularity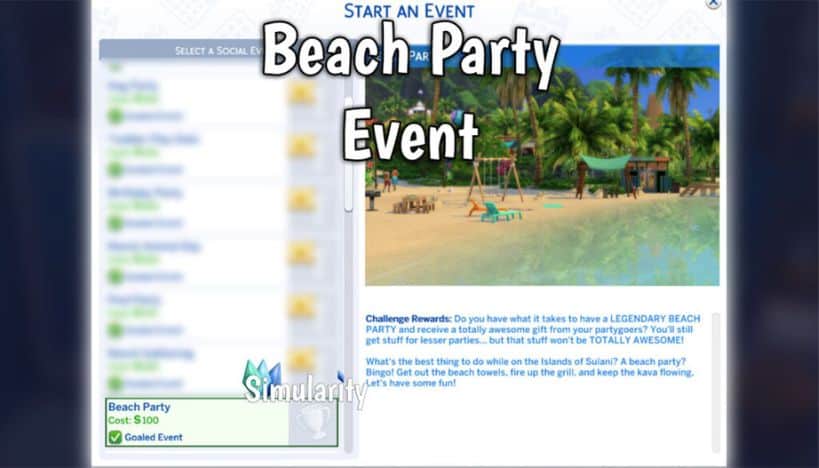 Pack Required: Island Living expansion pack
This event mod will let you organize a fun party at the beach or your sims' house, as long as it's in Sulani.
Your sims will have goals to achieve to win cool prizes like a Jetski in the case of reaching the Gold level.
Here are some of the tasks your sims will have to take on:
Play in the Sand
Dance the Night Away
Grill Up Some Grub
Comb the Beach
And more

22. Sulani Events Calendar and Flyers by Avacadoloki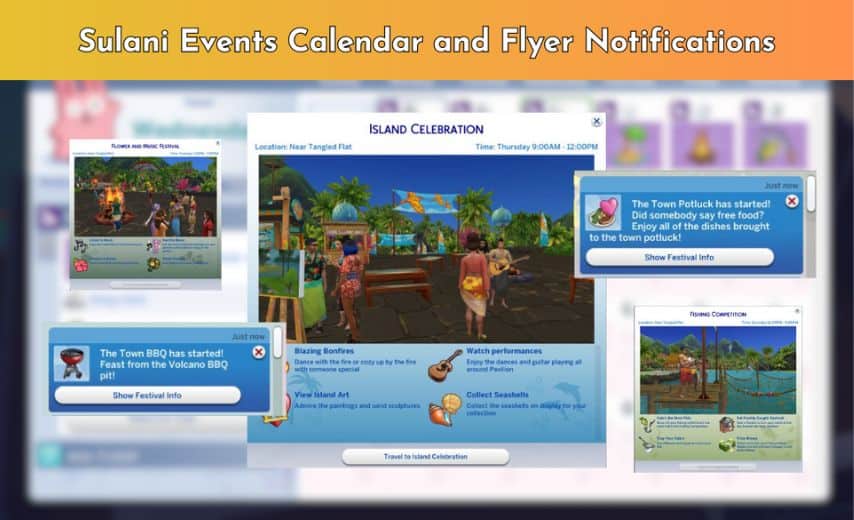 Pack Required: Island Living expansion pack
Fun festivals always happen when living on Sulani Island, but you won't get notified when they do.
This mod fixes the issue by prompting notifications with a brief description of what's happening around town.
The event mod will also add the Sulani festivities to your sim calendar.
By clicking on events on your calendar, you'll get a flyer listing the fun activities your sims can do during that festival.

23. Vampire Initiation Ritual Event by IlkaVelle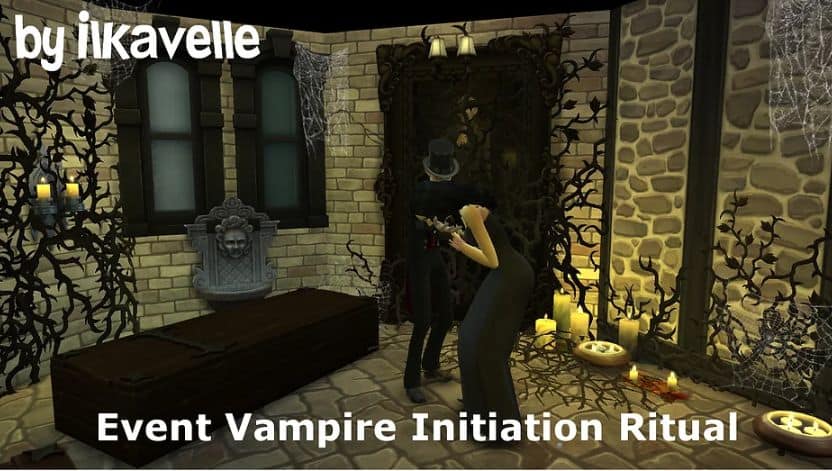 This mod requires the Vampires game pack
This fang-tastic event is about turning a regular sim into a vampire through a ritual.
To complete the ritual, you'll need these types of sims:
The soon-to-be vampire novice
The senior vampire who will turn the sim
A vampire and normal guest to attend the event
During the event, your sims will be tasked with things to do, ultimately leading them to become vampires.
After completing this sims 4 event, they will be awarded a vampire starter pack including many useful items, like a coffin.

24. Gardening Social Event by Caradriel
Pack Required: Seasons and Eco Lifestyle expansion packs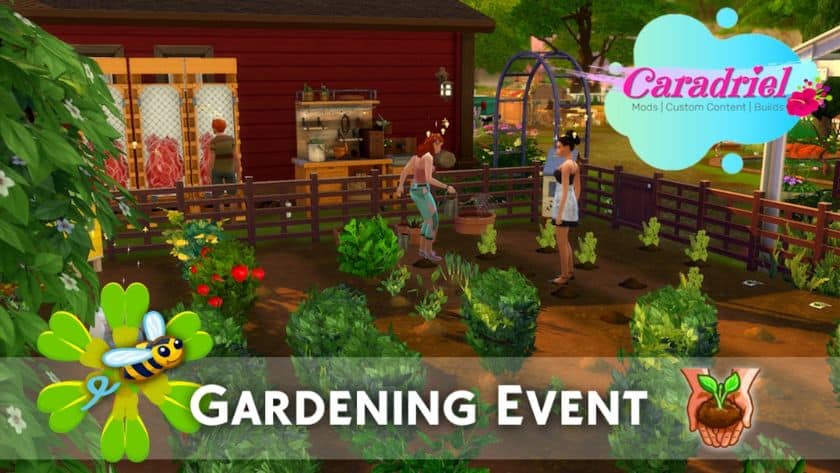 Do your sims have a green thumb? With the help of this mod, your sims can participate in a gardening event.
During the event, you can maintain your current garden or start fresh one. Plus, you get to invite other sims to help split the workload.
You may need to level up your gardening skills if some interactions aren't available.
When you've finished the vent, your sims will get improved skills, new buffs, a money plant, and some rare seeds.

25. Debate Event Mod for Sims 4 by IlkaVelle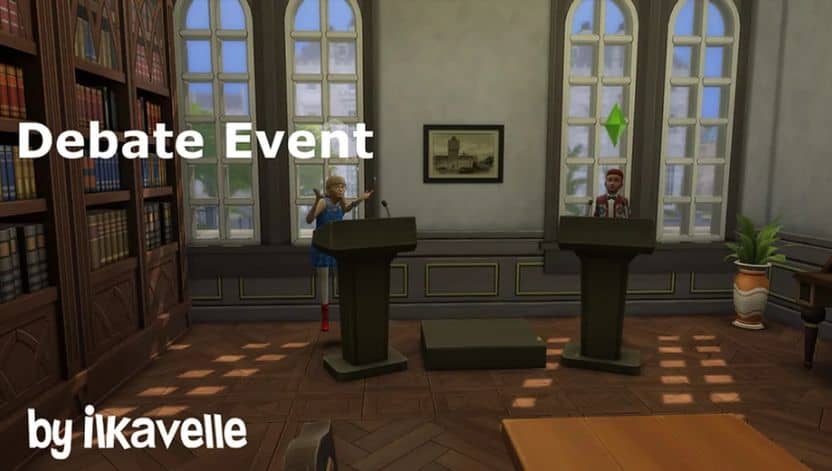 Pack Required: Discover University expansion pack
Do you want your sims to get involved in a debate contest?
This event mod will allow sims that are aged Children+ to participate in a speech contest and debate with others.
The mod provides 14 debate topics, and in order to win, your sims must first prepare for them.
Your sims can research and develop their debate skills using Simpedia on a computer.
You can still participate if you don't own the Discover University EP, but it must be done through Speech interactions and using the Microphone item.

26. Funeral Service Event by Flauschtrud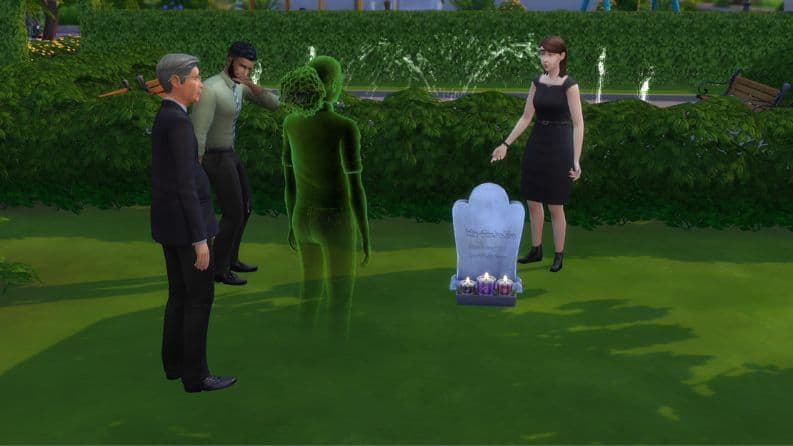 Your sims can mourn their losses with this sims 4 event mod.
For this funeral event, you can invite the ghosts of the deceased and guests who will share their grief with your sims hosting the event.
To complete the event successfully, you'll need the urn or tombstone of the departed to be able to give a eulogy.
You can host the service in venues such as:
Generic Lots
Museums
National Parks
Parks
Residential Lots
Wedding Venues
Sims 4 Event Mods: Final Thoughts
We, as simmers, are always on the lookout for new mods and custom content to add to our game.
Adding these sims 4 event mods brings a new level to your gameplay.
You can make your sim host a party, go on dates, or do sleepovers.
Plus, having objectives to reach and gaining prizes for some events gives an extra purpose to the activities.
Going through this list, we hope you have found some interesting new sims 4 events for your household.
If you have any questions or suggestions, feel free to leave us a comment below or tag us on Tumblr.
And don't forget to share and save this post for later!
More Related Posts
25+ Sims 4 Event Mods: Camping, Debates, Parties & More