45+ Sims 4 Clutter CC: Accessorize Your Surroundings
Clutter up your sims home with a mix of these amazing Sims 4 Clutter CC downloads.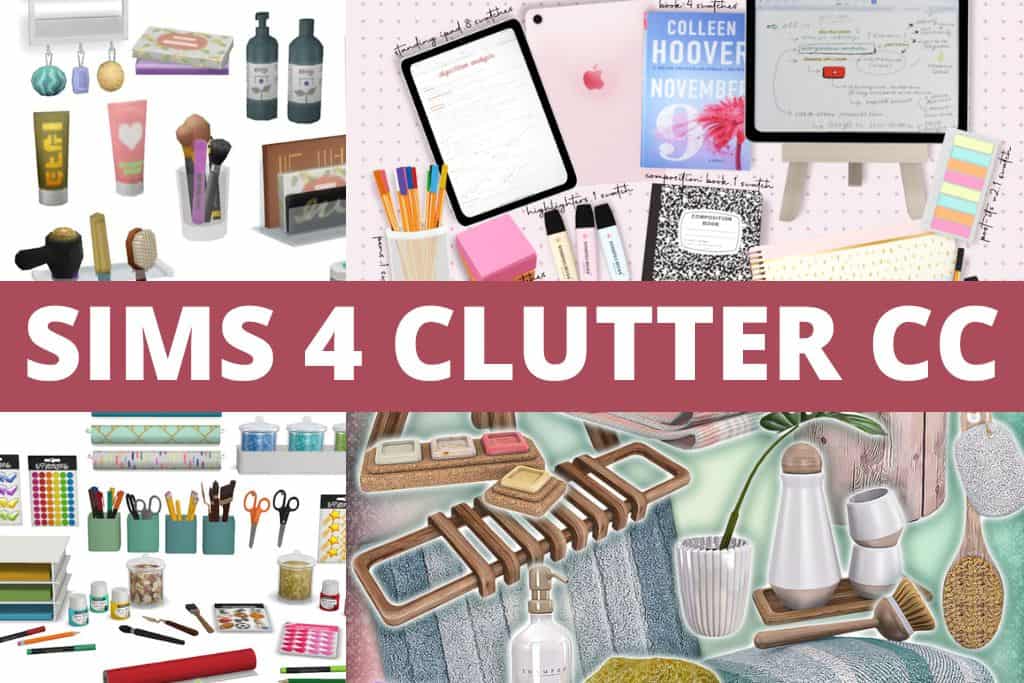 Unless you're a minimalist, we all have clutter lying around the house, and our sims are no different.
While decor pieces can really be the perfect addition to a home, clutter can sometimes take over the space.
Maybe your sims are busy caring for their infants, and the home got out of control?
This collection of sims 4 clutter cc includes everyday pieces to set up your sims home as neat or chaotic as it needs to be.
Disclaimer: The following mods are neither endorsed nor affiliated with The Sims, Maxis, or Electronic Arts. Any use of mods (custom content or game mods) should be done with caution and with the knowledge that there may be risks.
Best Sims 4 Clutter CC Article
Below you will find a mix of sims 4 clutter cc for your sims household, from everyday kitchen to bathroom essentials.
1. Sims 4 Clutter CC by Around the Sims 4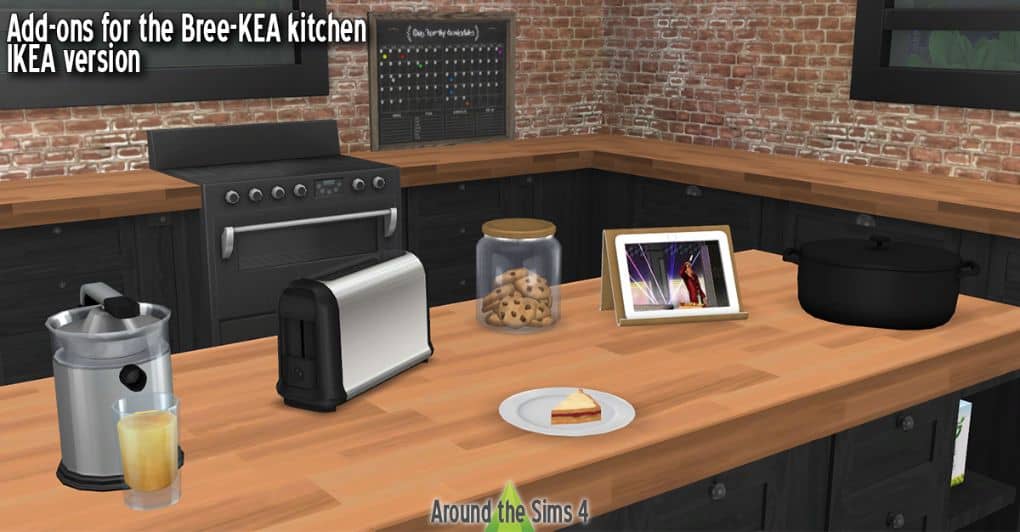 This kitchen clutter set includes everyday appliances and some family organizational pieces.
Organize your household's daily plans on the family board while your sim children watch some cartoons on their tablet.
You will also find these kitchen favorites;
Juicer
Toaster
Cookie jar
Dutch oven

2. Sims 4 College Clutter CC by Mel Bennett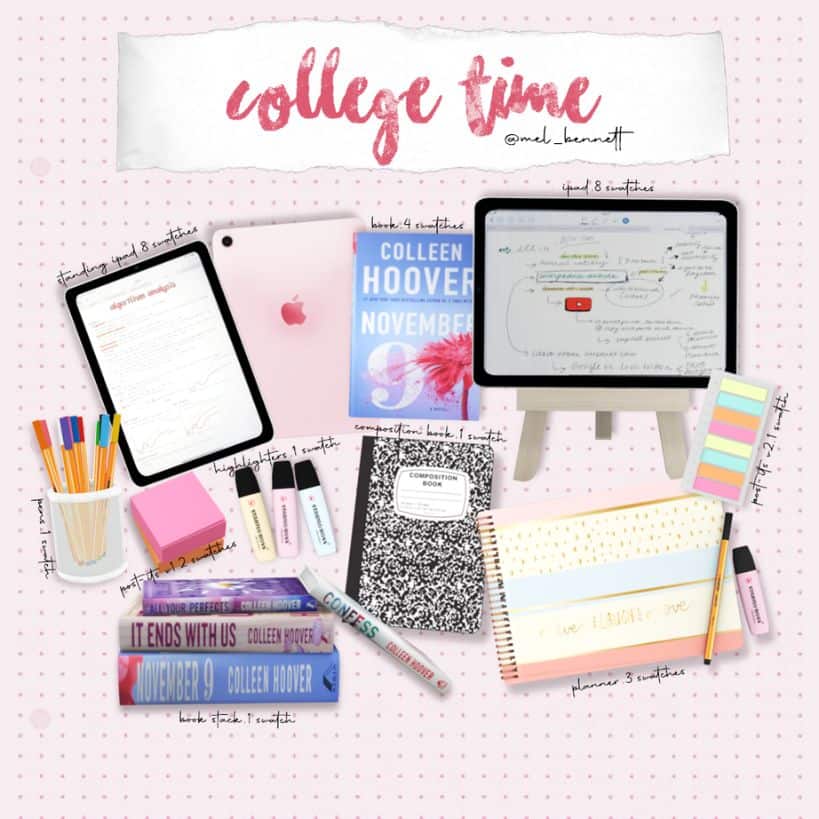 So your sims are heading to college and will need some dorm room essentials.
What screams college more than a stack of books?
Plus, you can clutter up their room with even more pieces;
Pens
Post-its
A planner
Highlighters
A composition notebook
An iPad and a standing version

3. Kitchen Clutter for Sims 4 by Ravasheen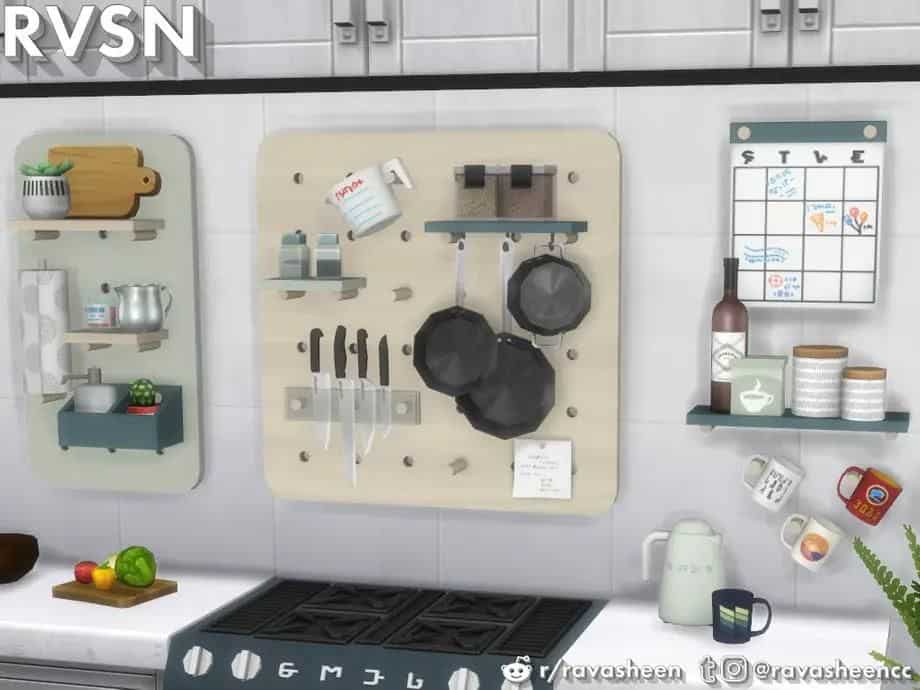 This set of kitchen clutter cc is intended to go with Ravasheen's Peg To Differ Pegboard Series.
There are dishcloths, paper towels, measuring cups, mugs, utensils, pots, pans, and more.
Place some shelves on the peg board and organize your sims clutter to optimize the space.

4. Sims 4 Wooden Clutter Set by Aira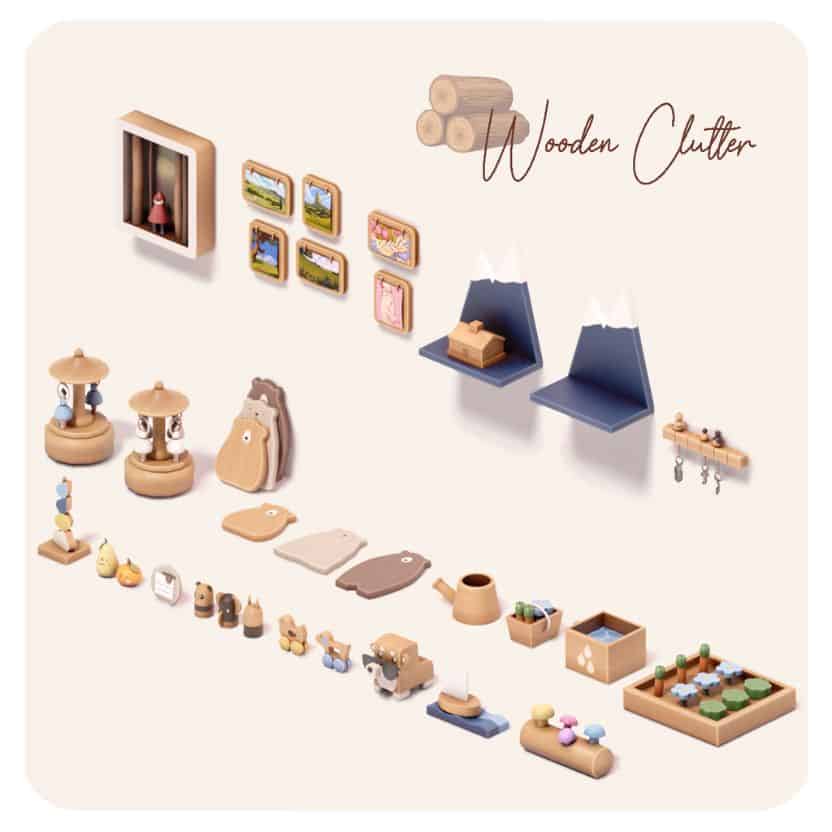 This adorable sims 4 clutter cc is all about small wooden decor objects.
There are 25 wooden pieces in this set, including some of the following;
Wooden animals
Wooden framed art
Wall mounted decor
Bammerina music box
Bear-shaped cutting boards

5. Mixed Clutter Set for Sims 4 by Simbishy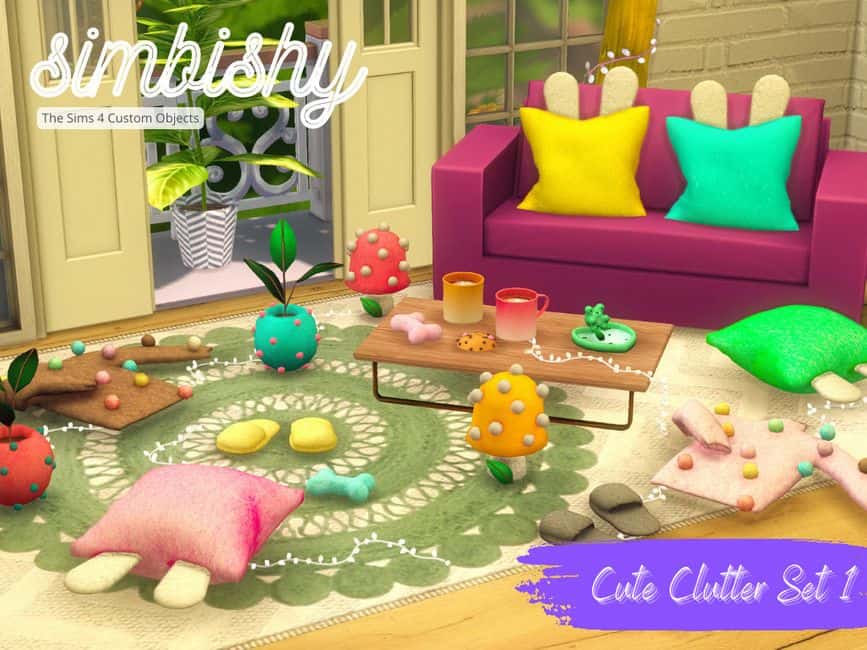 This sims 4 clutter cc set mixes everyday pieces you could easily find lying around the living room.
From mugs of hot chocolate, pillows, plants, socks, and woolen sweaters to slippers, create a cozy eclectic family room.

6. Sims 4 Objects Set by ArwenKaboom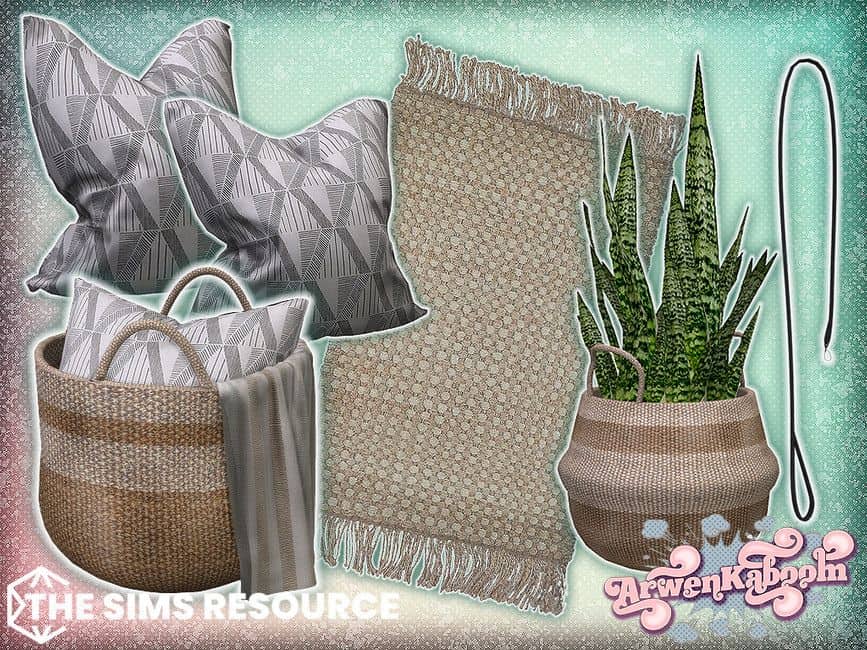 This set of hallway objects will help you create the perfect cozy little nook for your sims home.
You will find organizational baskets, a blanket, a plant, a rug, and a dog leash to set up your sims mud room.
You can find some extra pieces (summer purse, hat, scarf) in the first part of this hallways set.

7. Feline Clutter CC Set by Leaf-Motif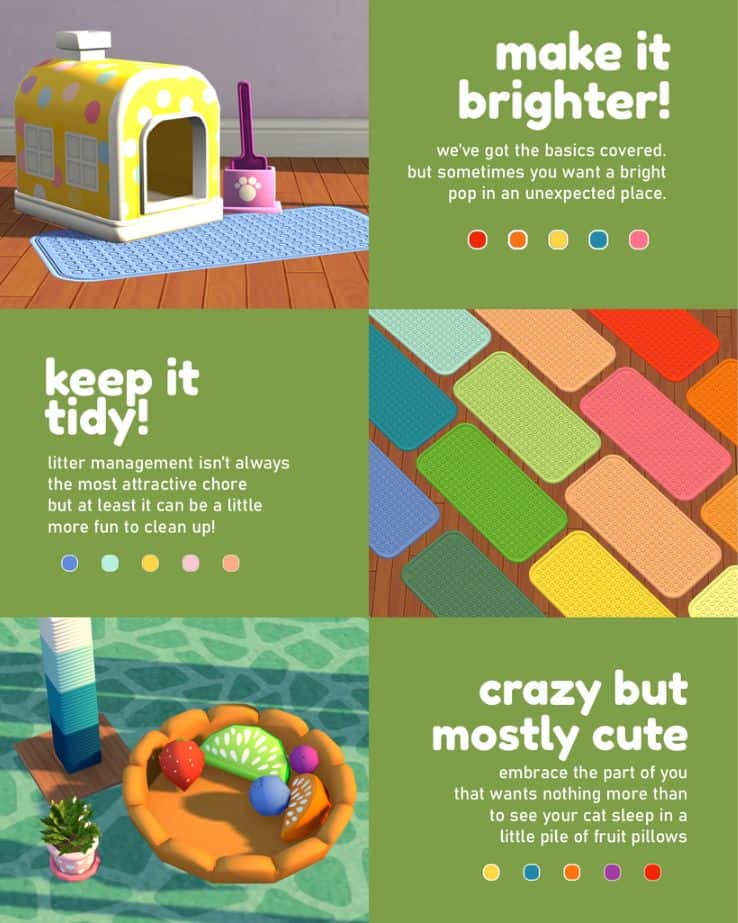 What's cuter than pet clutter?
This kitty cat clutter set includes a mix of pieces you're pet needs to make the space their own.
You'll get the most adorable cat bed, which comes in some fun and funky swatches.
There is also a litter box, litter scoop, plastic mat, scratching post, a delicious tart tart-shaped bed, and cat grass.

8. Knitting Clutter CC by Around the Sims 4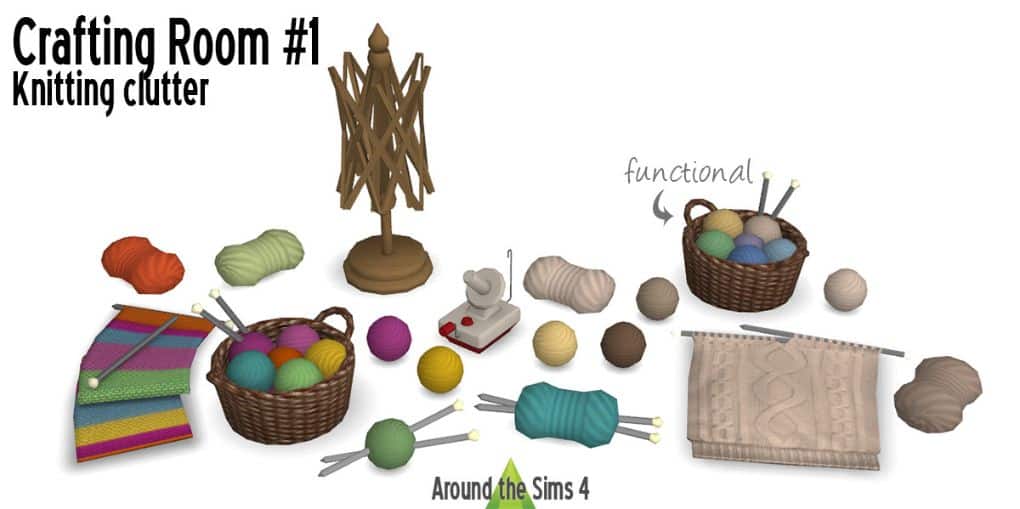 If your sims enjoy knitting, they should have a bunch of knitting odds and ends lying around the house.
This clutter set includes a basket of yarn, a ball of yarn and needles, a yarn swift, a yarn winder, and in-progress clothing pieces.

9. Decor Clutter Custom Content by Simkoos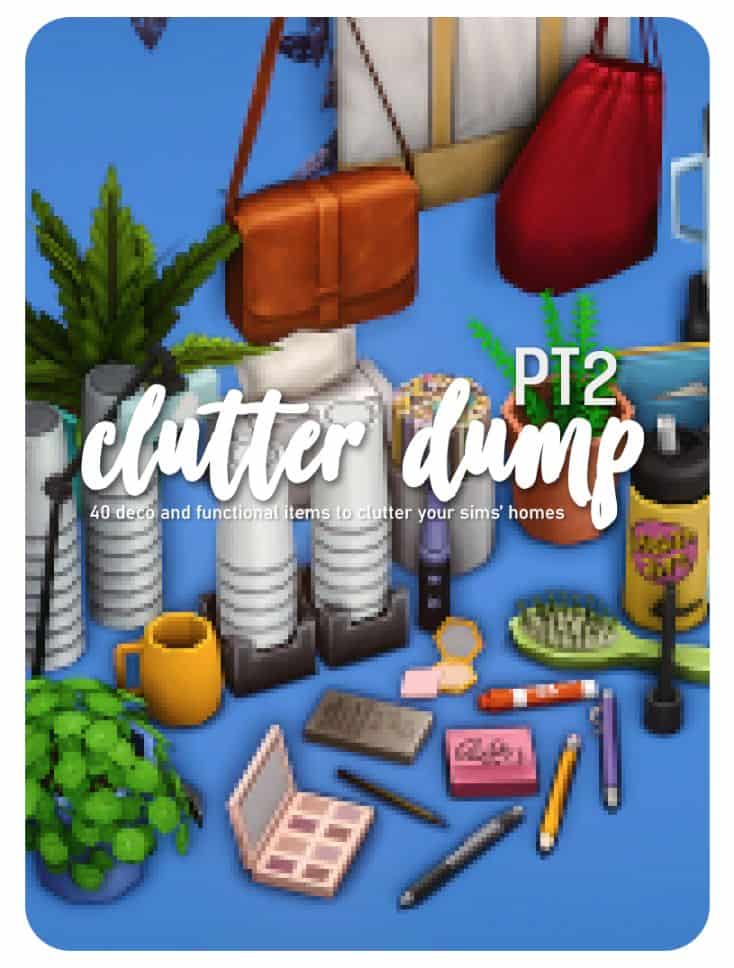 This sims 4 clutter cc set includes 40 pieces to add to your collection of clutter decor.
Some of the objects include a cellphone and tripod, plants, makeup, purses, a blender, and disposable coffee cups.

10. Produce Clutter for Sims 4 by Ravasheen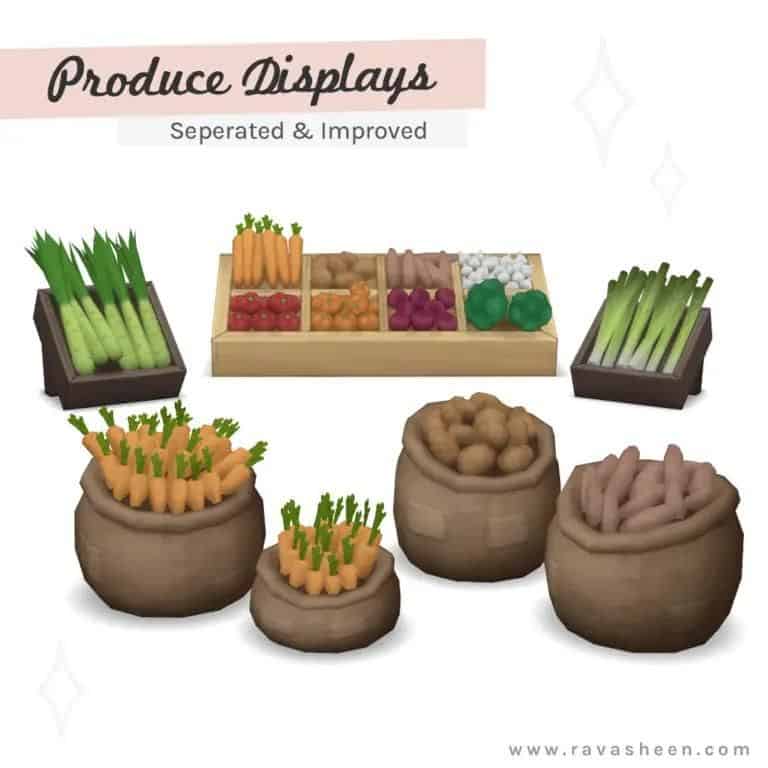 Put together a great vegetable farmers market stand with this collection of produce clutter.
From potatoes, leeks, and carrots, your sims are ready to take over their local farmers market.

11. Sims 4 Decorative Toys by Soloriya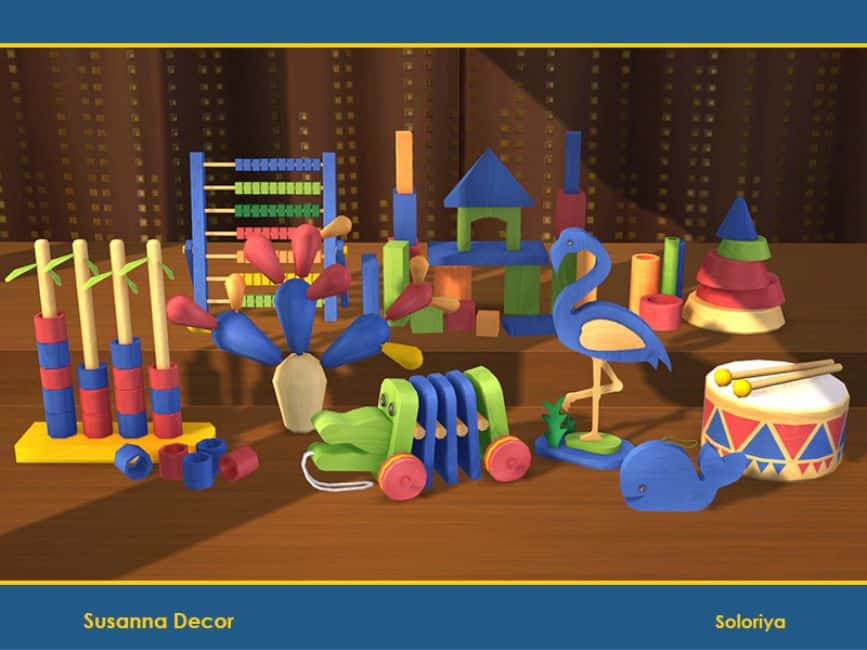 This 10-piece clutter set includes various decorative toys for your sims kids' bedrooms.
Some of the pieces include;
Drum
Whale
Mouse
Crocodile
Flamingo
Each of the clutter pieces comes in 3-5 color options.

12. Yummy Clutter Collection by Mel Bennett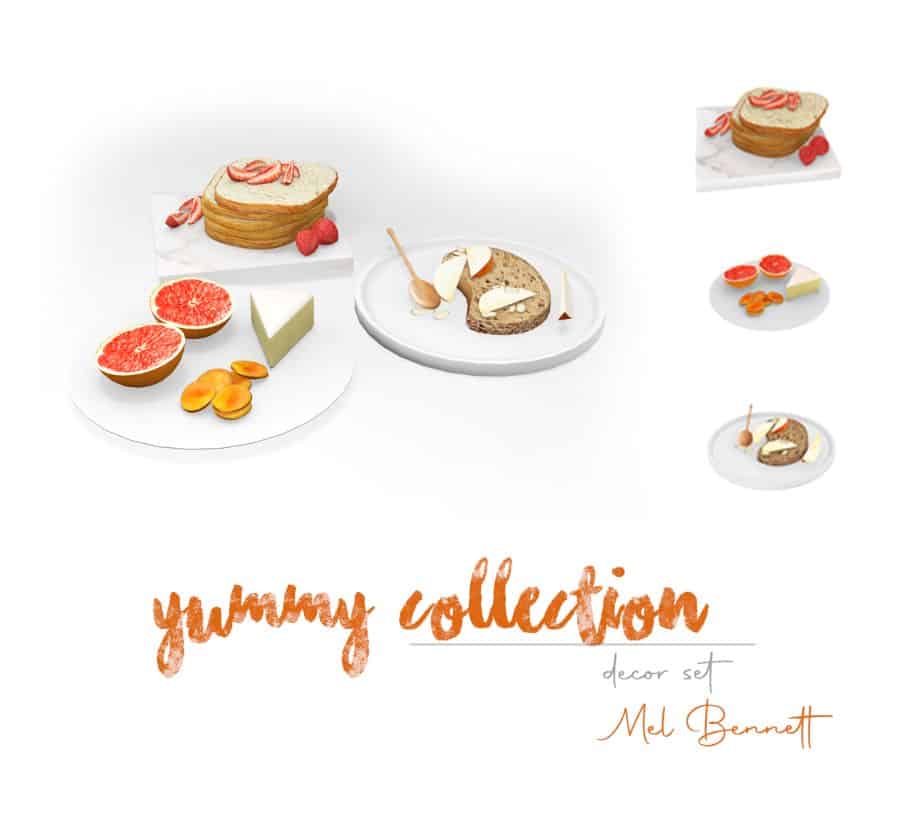 Clutter up the kitchen counter with some delicious plates of food.
Who wouldn't love a bread plate with apple slices and chestnuts or bread and strawberries?
Not up to serving bread; some cheese, apricots, and oranges are more to your sim's liking.

13. Sims 4 Music Clutter CC by Myshunosun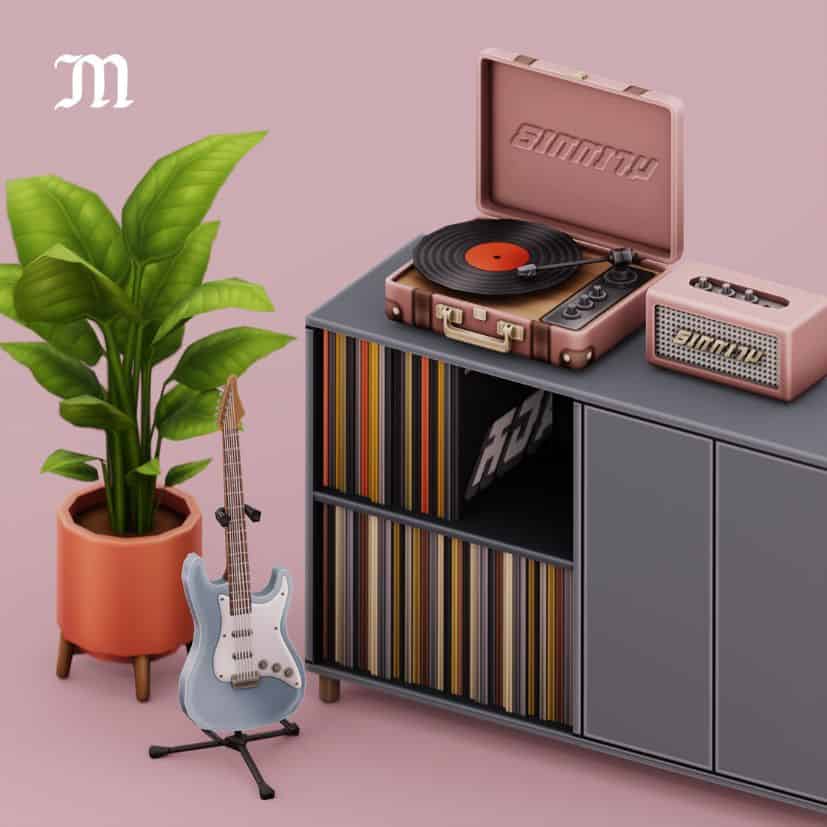 This sims 4 clutter cc set is all about the perfect little music nook for your sims.
This pack includes some functional and clutter pieces, including the following objects;
A plant
A guitar
Record player
Speaker
Stack of LP records
Record storage unit
There are between 5 to 10 swatches depending on the object.

14. Stationary Clutter CC for Sims 4 by Simbishy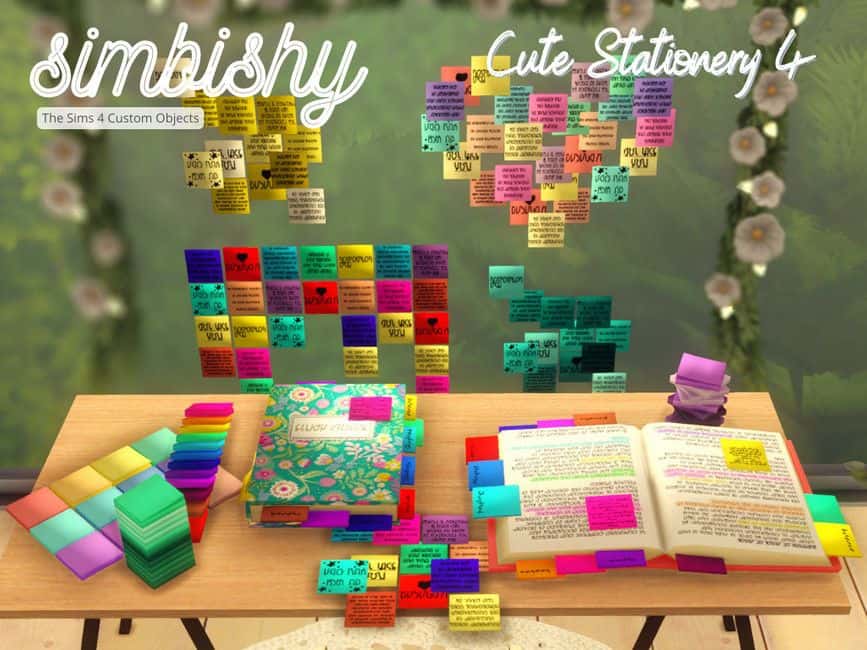 One of my favorite parts of school was the Post-it notes I used to organize my projects and homework.
And this clutter set is dedicated solely to Post-it notes, perfect for the organized sims in your household.
There are flat and high stacks of Post-its, others covering the wall, the desk, and some on closed and open books.

15. Grocery Bag Clutter by Around the Sims 4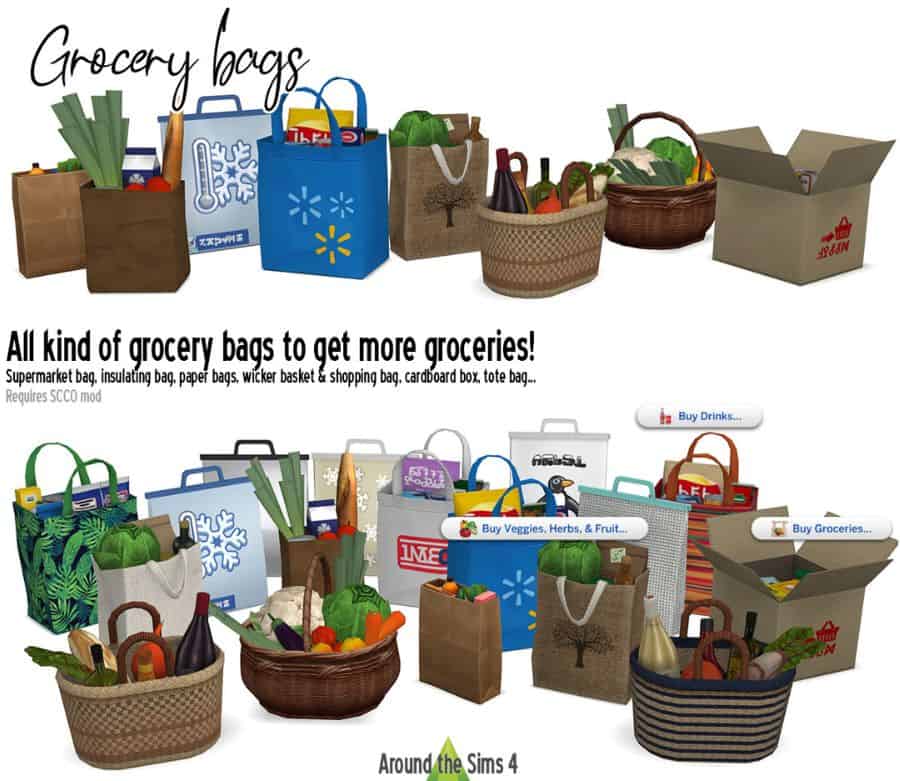 Are your sims obsessed with shopping for groceries and placing delivery orders?
Place delivery boxes around your sims home and grocery paper bags in the kitchen.
There's also a vegetable basket, various bags, and totes.

16. Sims 4 Daisy Floral Clutter Set by Aira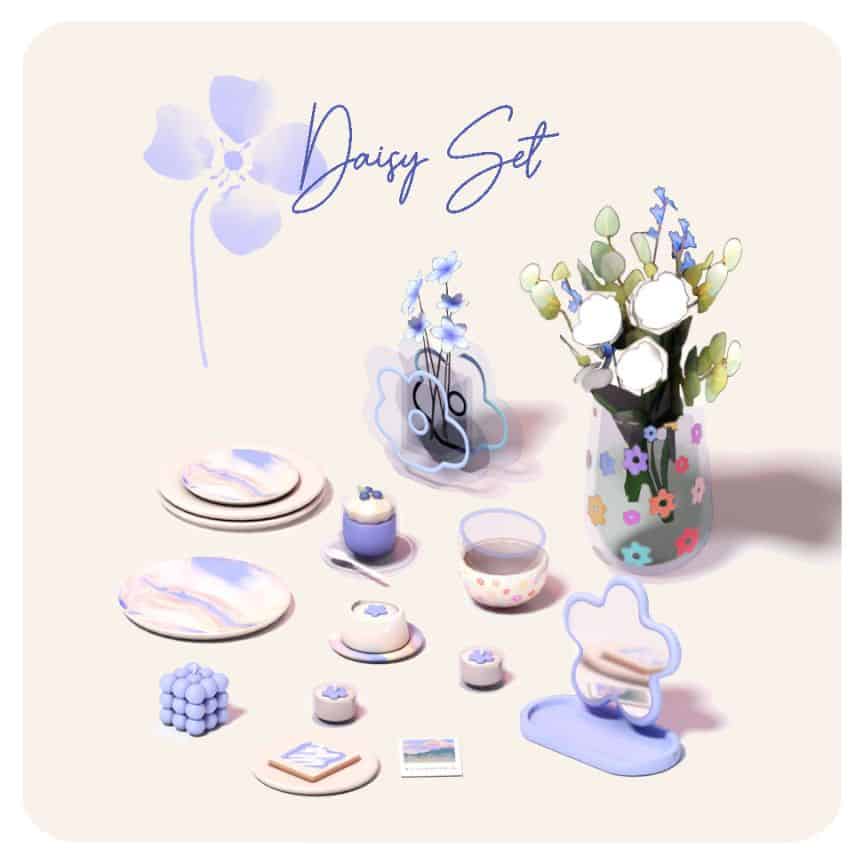 This adorable daisy set has beautiful pieces, including stunning color-blended plates.
Style your sims home with a colorful mug, cups, mirror, vase, plates, bowl, and candles.

17. Sims 4 Mixed Pieces Set by Lustrousims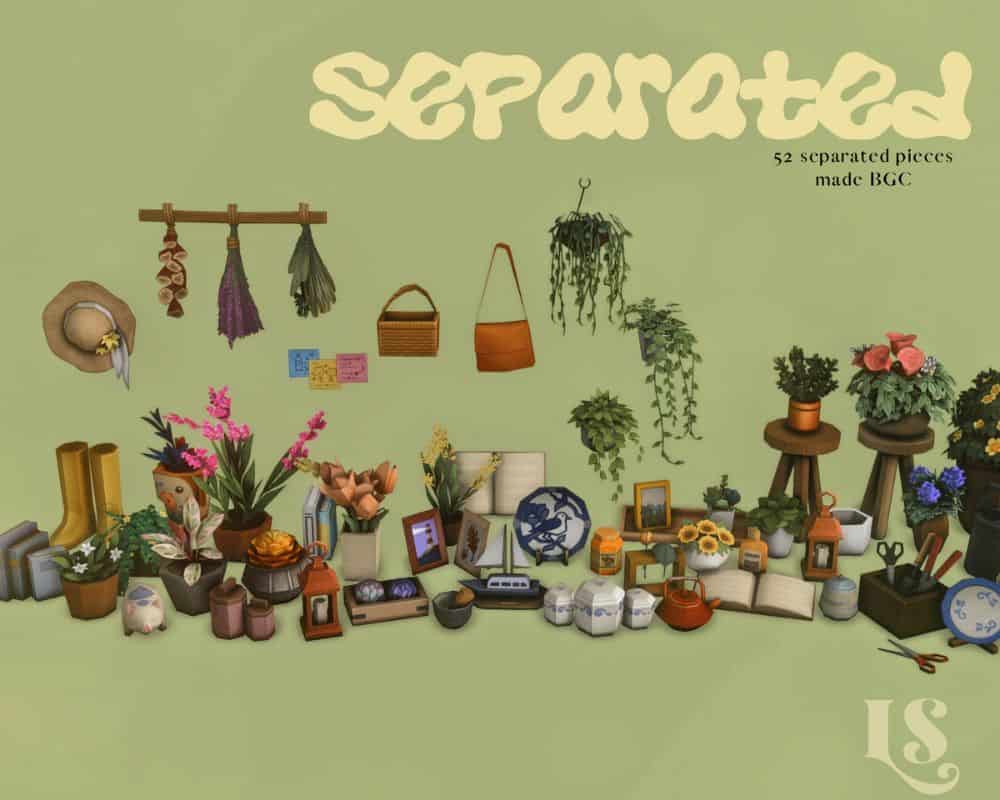 This pack of 52 custom content pieces contains a little bit of everything.
All these amazing objects have been separated from their previous packs and can be selected individually.
This set includes plants, a surface, and wall items.
For the clutter pieces, there are 23 objects for different rooms, including your sims bathroom, kitchen, office, and living room.

18. Bathroom Sims 4 Clutter CC by ArwenKaboom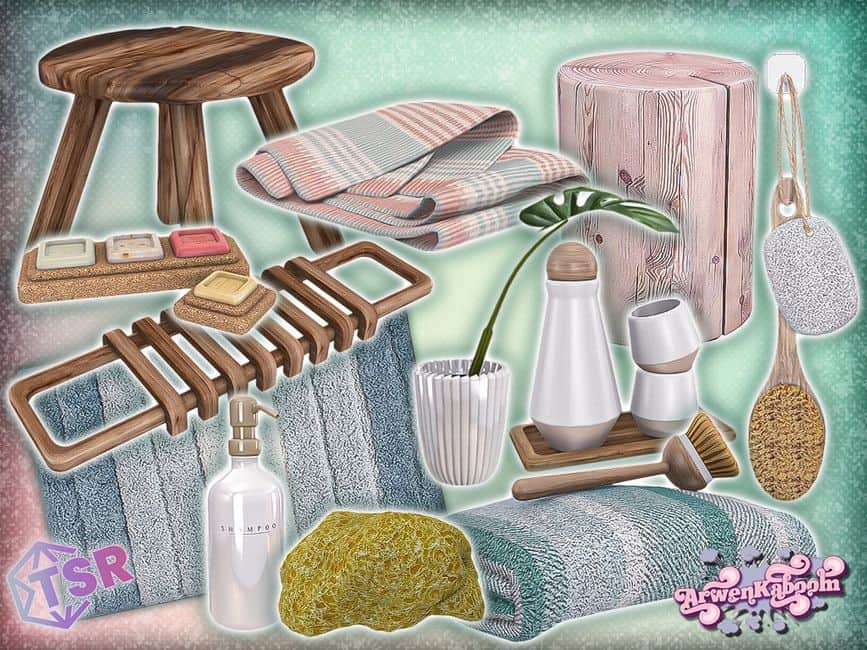 Add cozy touches to your sims bathroom with this set of bathroom objects.
You'll find a striped bath mat, towels, soaps, a dispenser, a hanging brush, a cute wooden stool, and more.

19. Sims 4 Shoe Clutter Set by Ravasheen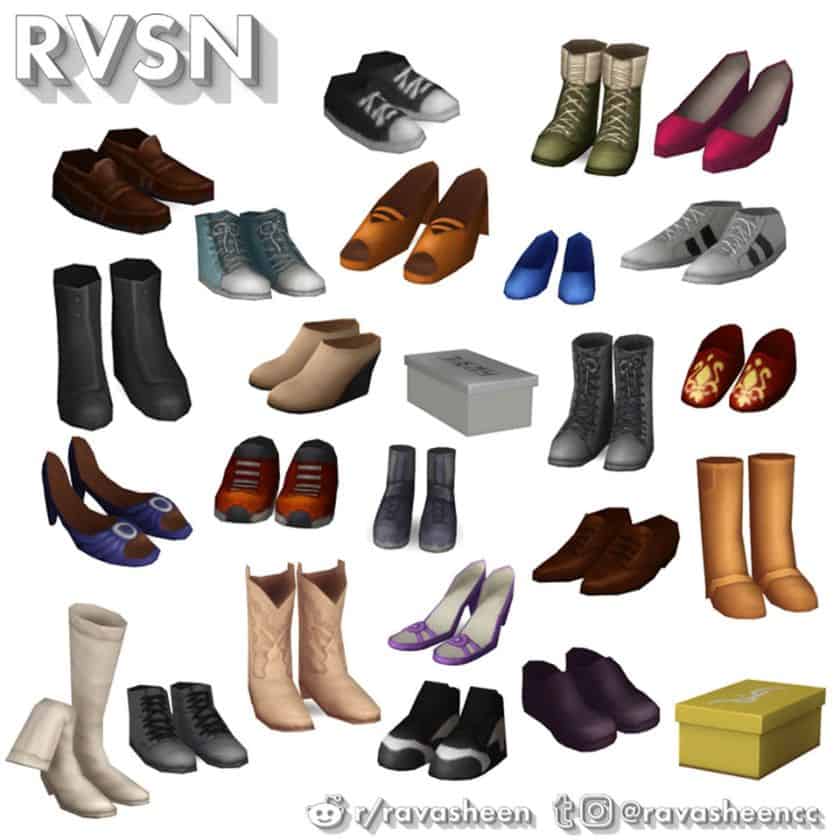 What's better than an excessive amount of shoes cluttering up your closet?
This maxis match shoe cc set includes 23 pairs of shoes and two shoe boxes.
The shoes are a mix of casual styles and dressy heels, so the 23 pairs are totally justified 😉 .

20. Sims 4 Stuff Packs by Charly Pancakes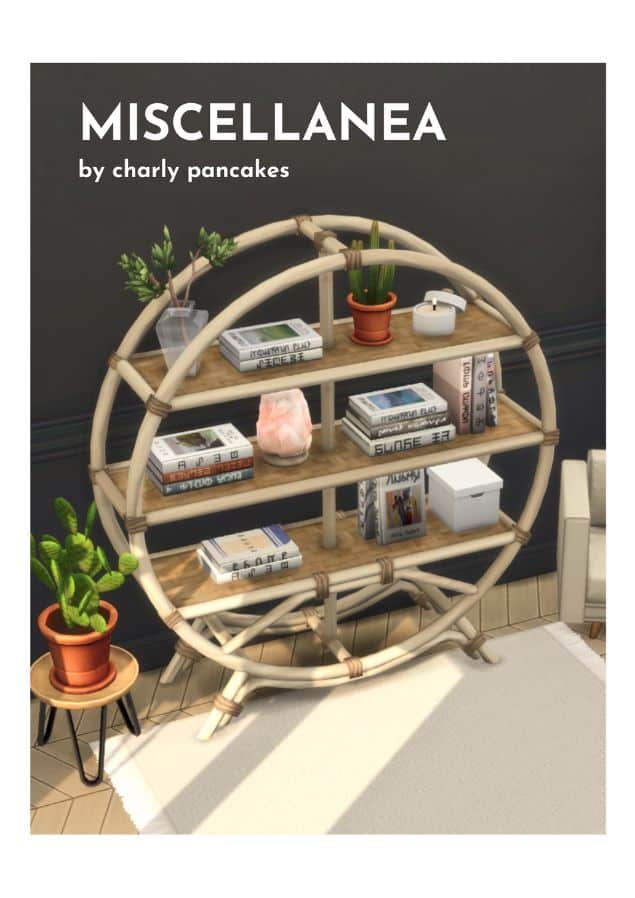 This beautiful bookcase has such a unique and creative design, and it is ideal for placing clutter pieces to your heart's content.
In fact, there are 116 slots available on the bookshelf.
You will also find books, a candle, and a natural salt rock lamp.

21. Sims 4 Deco & Clutter Set by Okruee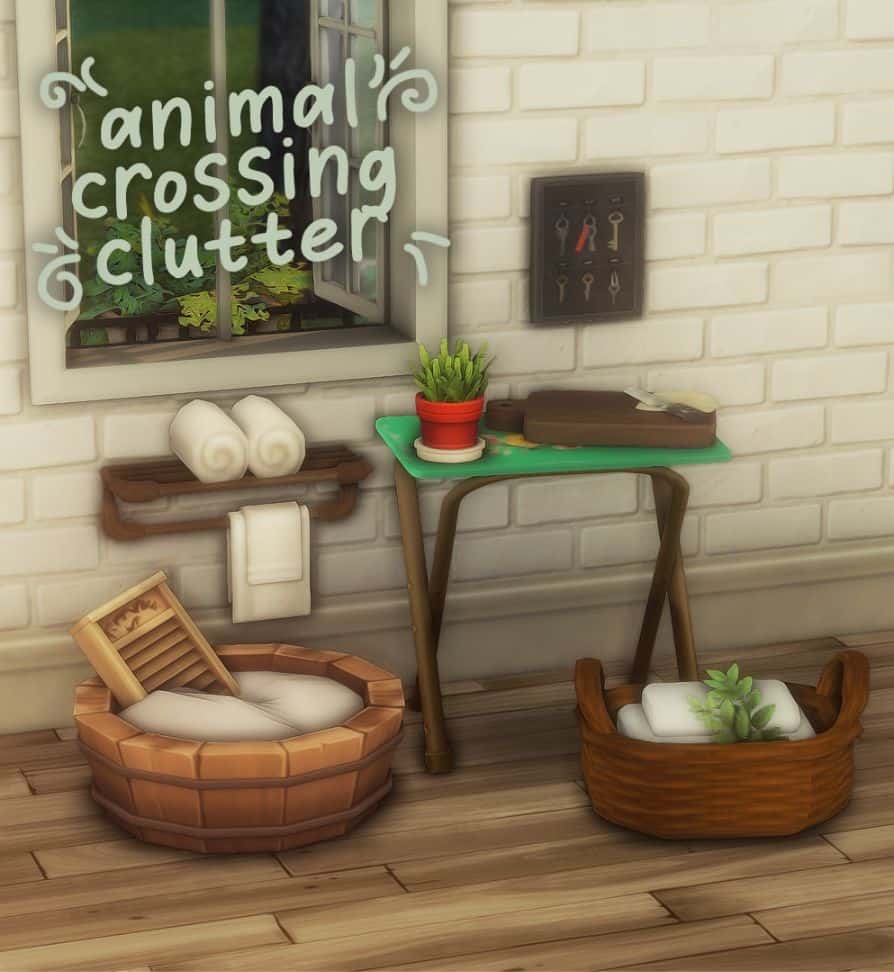 With the look of the clutter pieces in this set, they are ideal for my sims cottage living lifestyle.
You'll find 6 decorative and clutter pieces, including a wooden laundry tub, a washing board, and a wicker laundry basket.
There is also a cute little side table, wooden key holder, wooden chopping board, and bathroom towel holder.

22. Clutter Games Set for Sims 4 by Mel Bennett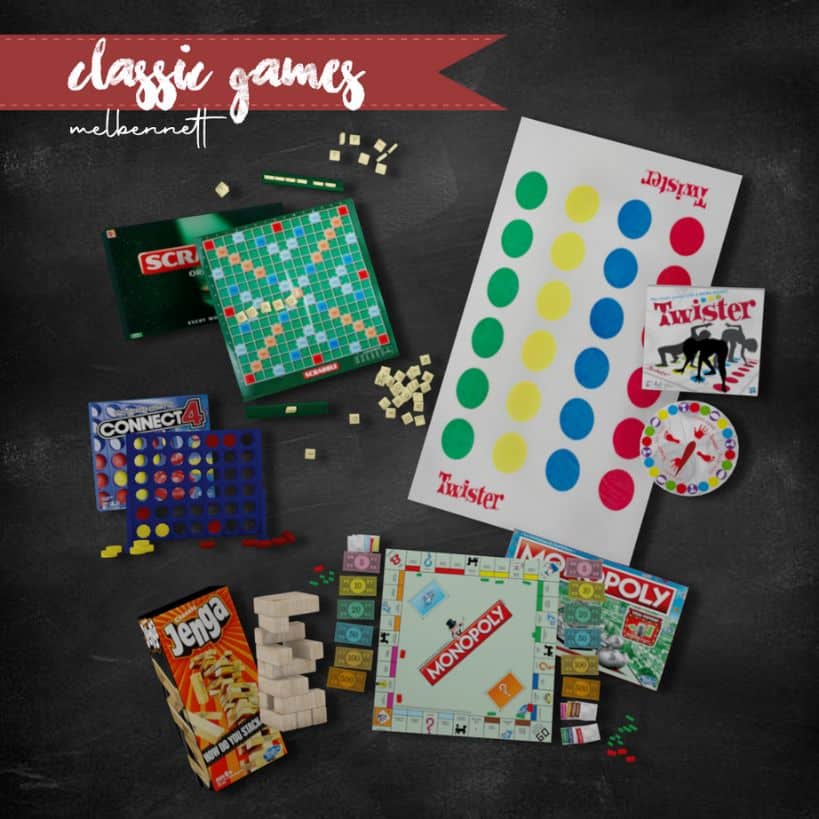 What home is complete without a pile of board games scattered around?
This clutter set includes a mix of games, including;
Jenga
Connect4
Twister
Scrabble
Monopoly

23. Build Your Clutter by Around the Sims 4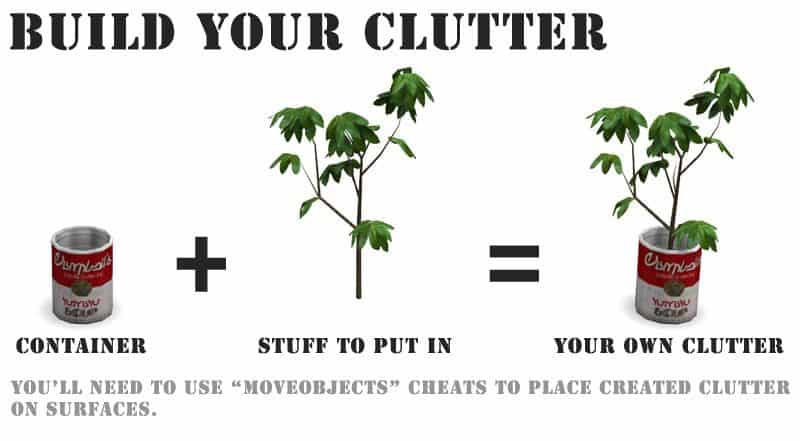 This nifty little clutter cc set lets you create your own custom clutter.
Just pick a container, select your clutter, and voilà you're done; your clutter piece is ready to place.
The container options include cylinder tins, cubes, a pot, or kids' animal-shaped pots.
Then pick a plant, pencils, or mixed office stationary to fill your container.

24. Essentials Clutter Set by Mechtasims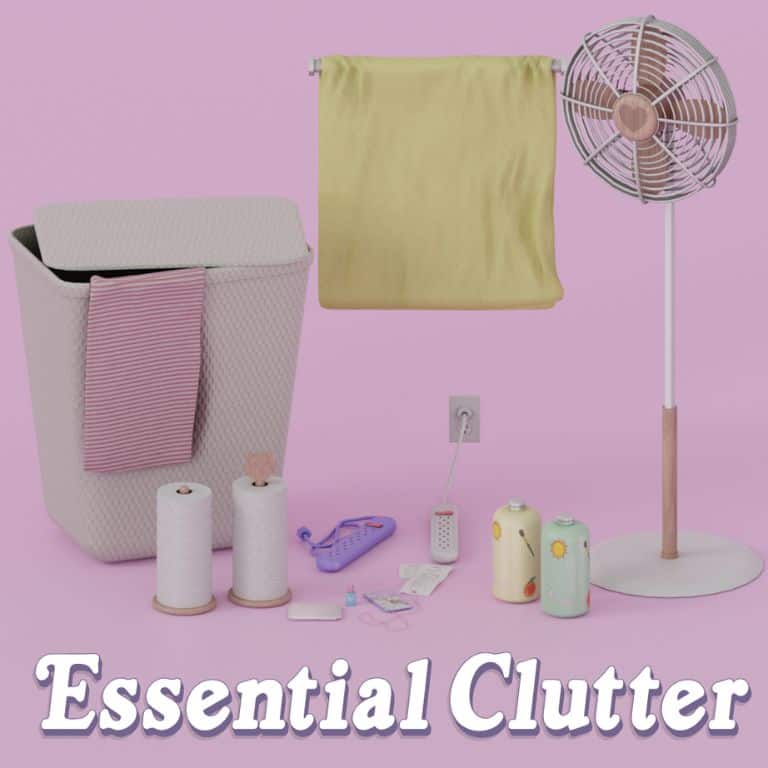 Household essentials include so many different things, and this clutter cc set has a fun mix of everyday essentials, including;
A pad
Paper towels
Wall surge plug
Towel rack
Nail polish
Shampoo & Conditioner
Receipts and more

25. Sims 4 Desk Clutter Set by Aira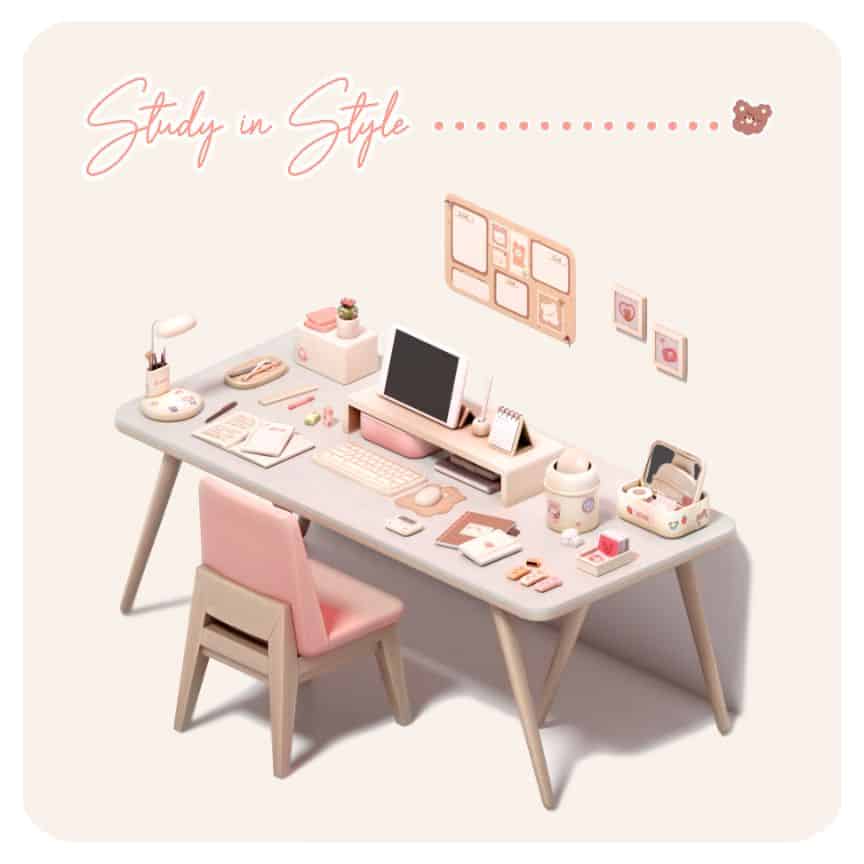 This custom content set has everything you need to create an esthetic study desk for optimal studying.
There are 20 pieces, including a functional computer, light, and mirror.
You will also find a mix of other office pieces, including;
Table light
Mini calendar
Pencils and eraser
A used trash can
Planner poster
Stacked books

26. Homely Hodgepodge Set by Leaf-Motif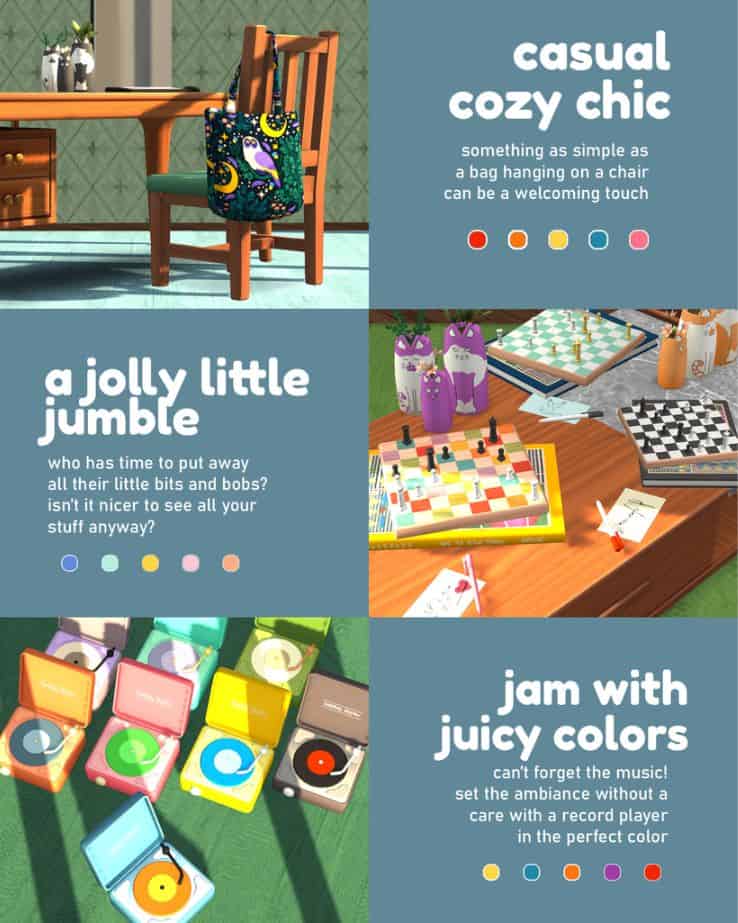 According to the creator, this sims 4 clutter cc set is intended for all the messy sims out there.
There are 10 pieces in this set, including a tote bag, a chessboard, a record player, a sweet love note, and even some cat vases.

27. Sims 4 Home Clutter Decor by ArwenKaboom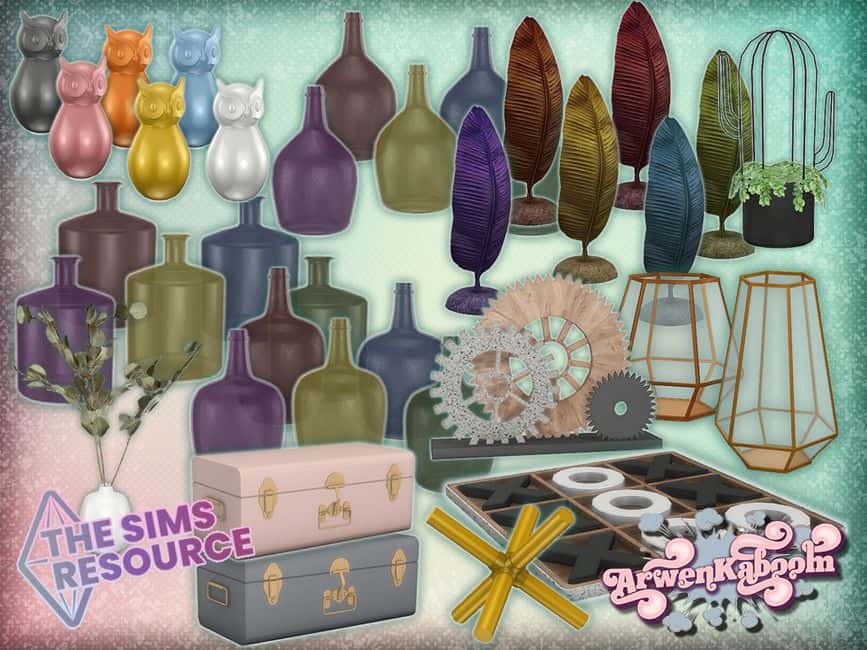 This deco set features so many beautiful pieces to style your sims home.
One of my favorite pieces includes the chest with gold hardware and the circular sculpture.
There are also a variety of vases, plants, and figurines.

28. Sims 4 Abstract Vessels by Simbishy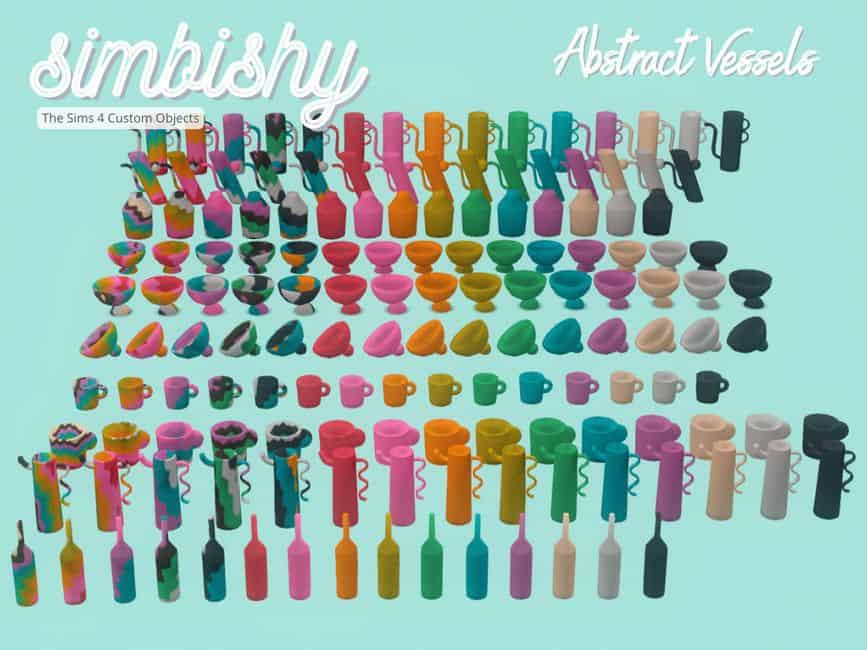 Add beautiful abstract pieces to your sims home with this collection of clutter objects.
There are solid color swatches and fun abstract patterns.
The pieces include different types of bowls, cups, pitchers, a canister, and a wine bottle.

29. Crafting Supplies Set by Ravasheen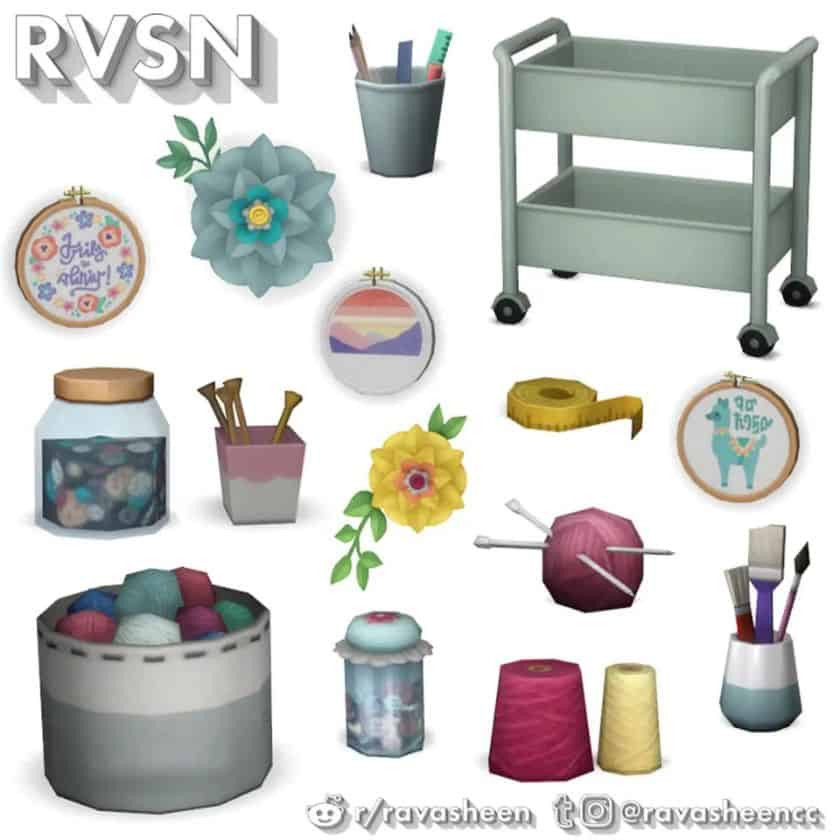 Let the crafting begin with this set of sims 4 clutter cc.
Whether your sims are into knitting, painting, sewing, or needlepoint, this set is a mixed collection of crafting clutter pieces.

30. Birthday Sims 4 Clutter CC by Mel Bennett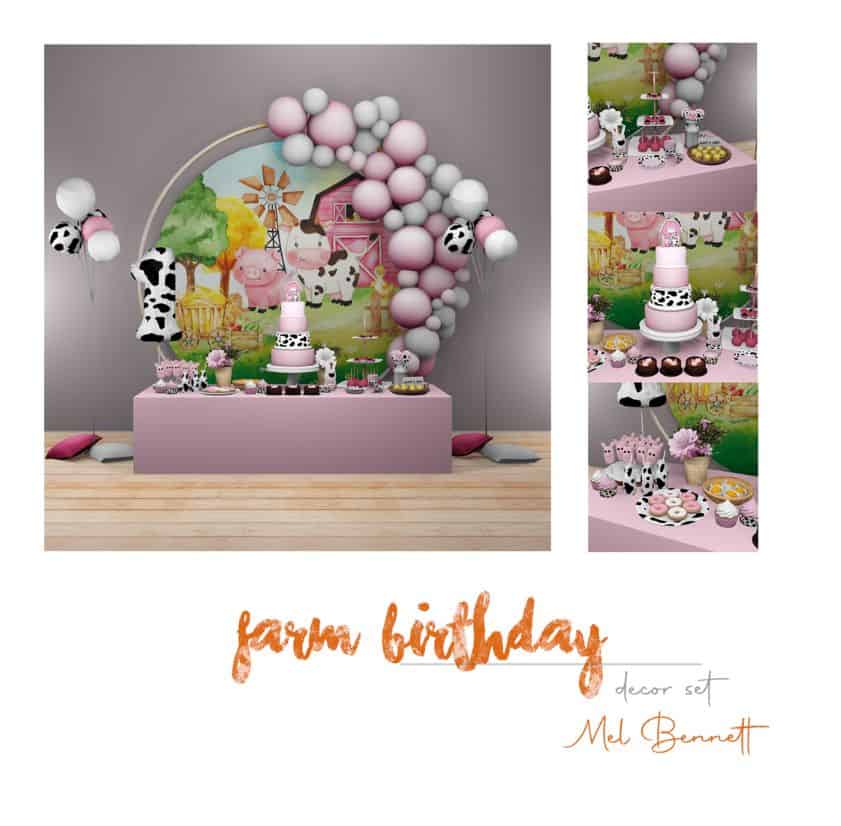 What good is a birthday party without all the decorative clutter that creates all the magic?
Plus, nothing is cuter than a farm animal-themed birthday party.
Grab everything you need, from the birthday cake, amazing balloons, wall decor, plates, snacks, and many more pieces.

31. Decorative Office Clutter by Soloriya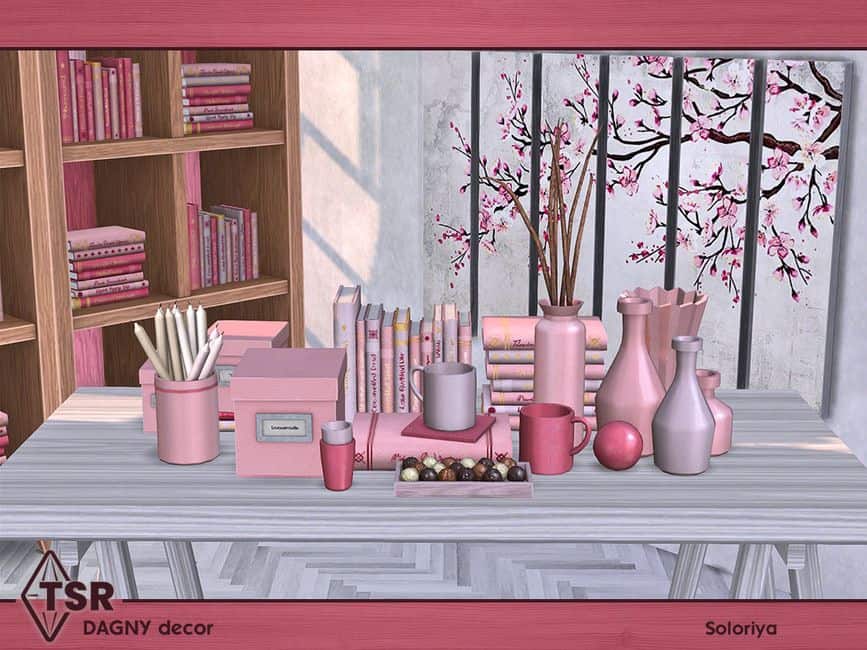 This decorative set will add nice touches to your sim's library and office space.
This set comes in pink and has 9 pieces;
Vases
Books
Branches
Candles
Office boxes
Mugs and more books

32. Sims 4 Artist Clutter CC by Aira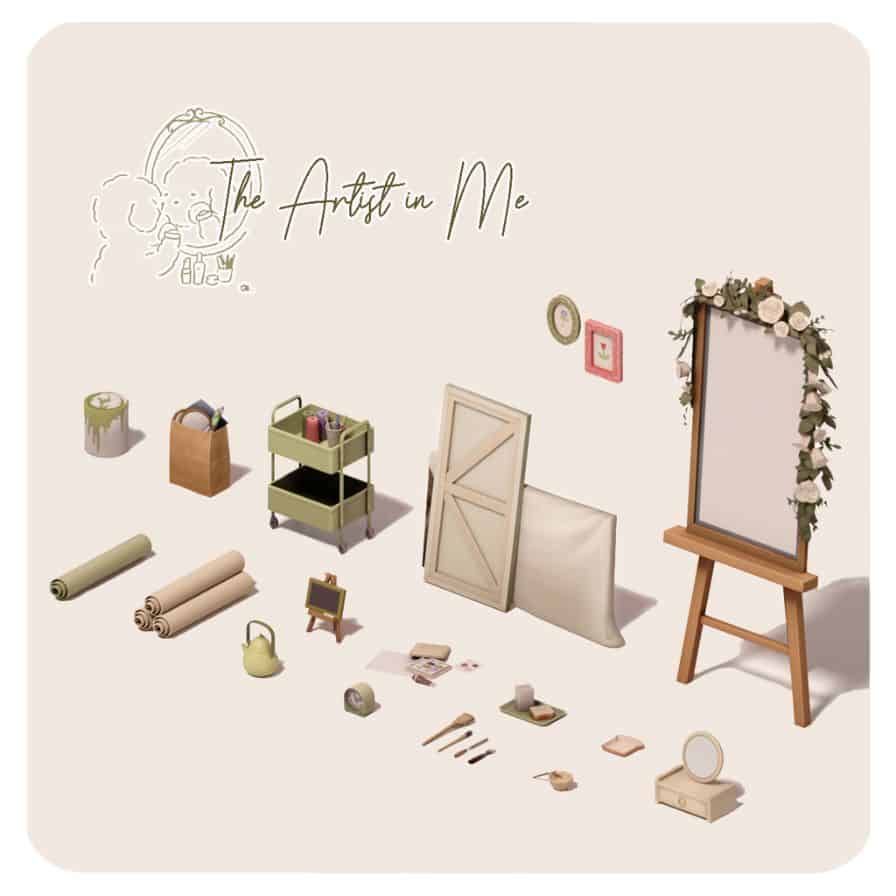 Have any painters in your sim household?
This artist clutter set has everything your creative sims need to get inspiration.
Set up their art room with a deco canvas, easel, tools, palette, paper roll, frames, paint bucket, and cart.
There are 17 artsy clutter pieces in total.

33. Kids Bedroom Clutter by Syboulette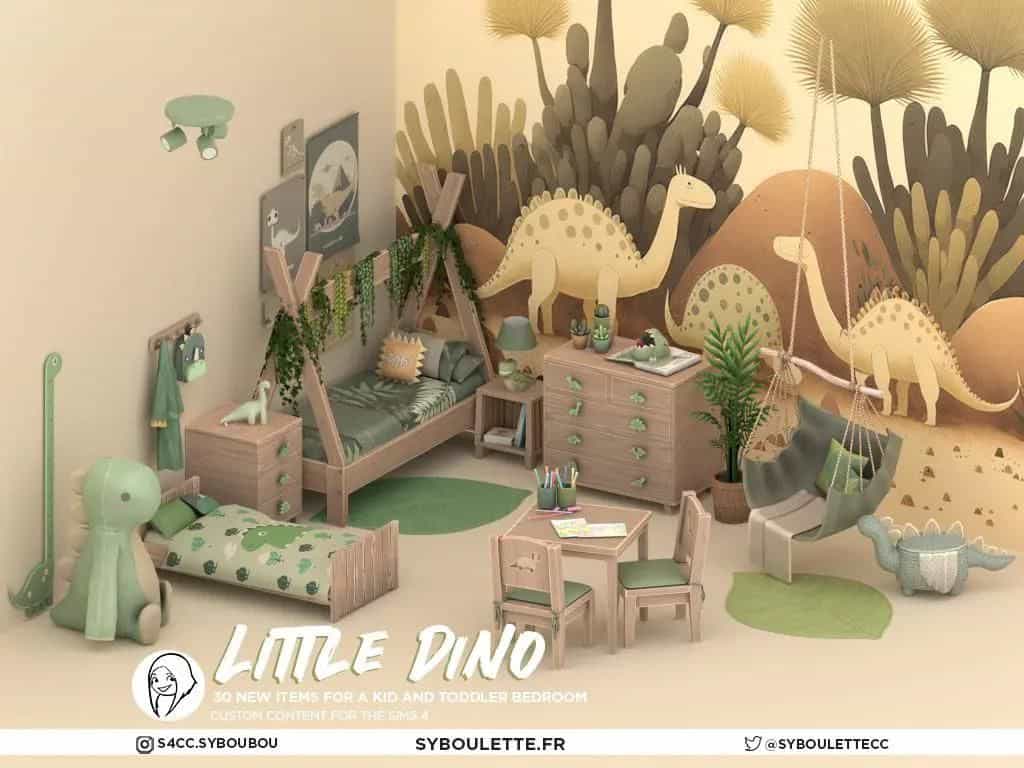 This kid's custom content set comes with all the cc to create a dino-inspired bedroom for your sims.
There are 10 room decor pieces; leaf rug, bed pillows, pop-up book, pencils, height chart, drawings & more.

34. Rustic Kitchen Clutter by ArwenKaboom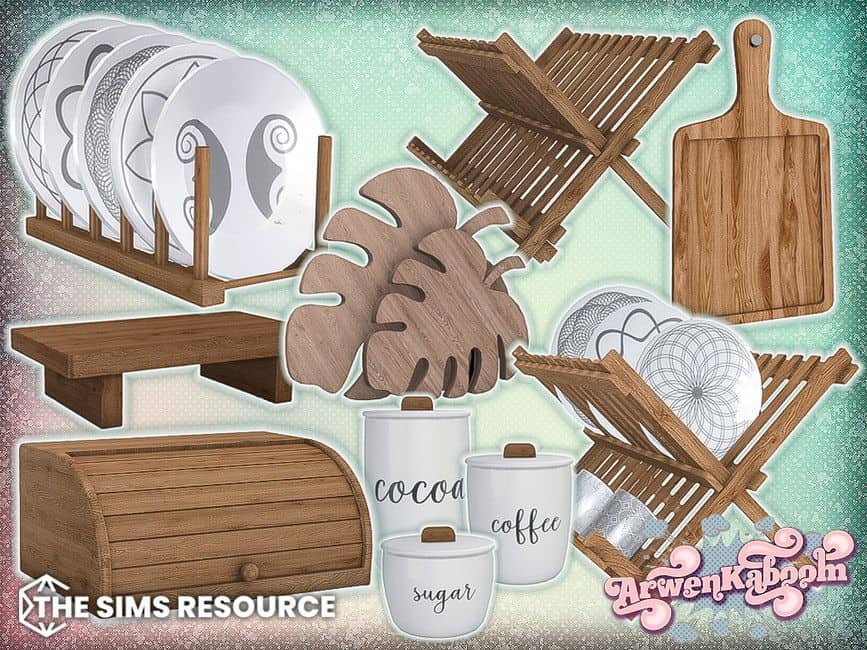 This kitchen clutter set is ideal for a rustic, cottagecore homelike feel.
The clutter pieces in this set center around wooden and ceramic kitchen pieces, including a bread box and disk rack.
Add some coffee, sugar, and cocoa canisters to the countertop too.

35. Kitchen Clutter Basics for Sims 4 by MadameRia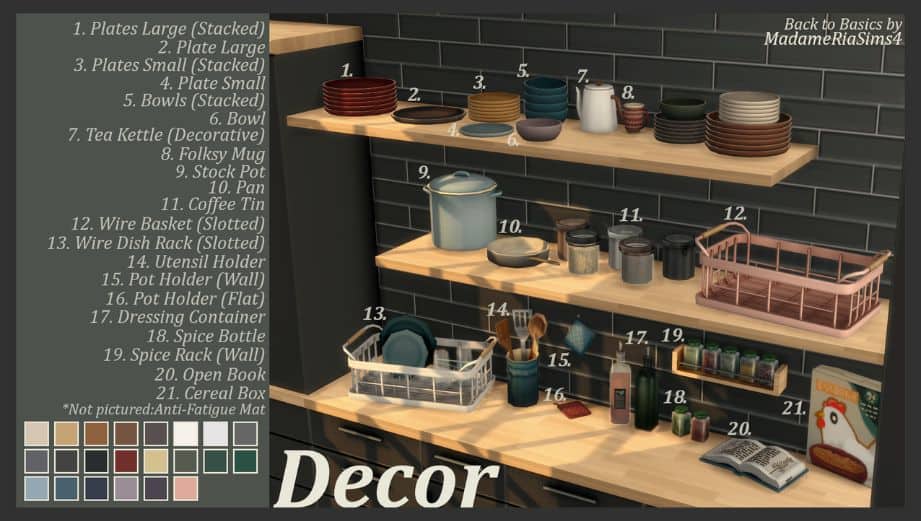 It's all about the basics and this set delivers on multiple levels.
The custom content is split into 5 parts, so you can stick to the decor download file if that's all you need.
The 21-piece clutter part includes;
A spice rack
Cereal box
Pot holder
Tea kettle
Stacked plates
Stakes bowls
Wire basket

36. Bathroom & Makeup Clutter CC by Ravasheen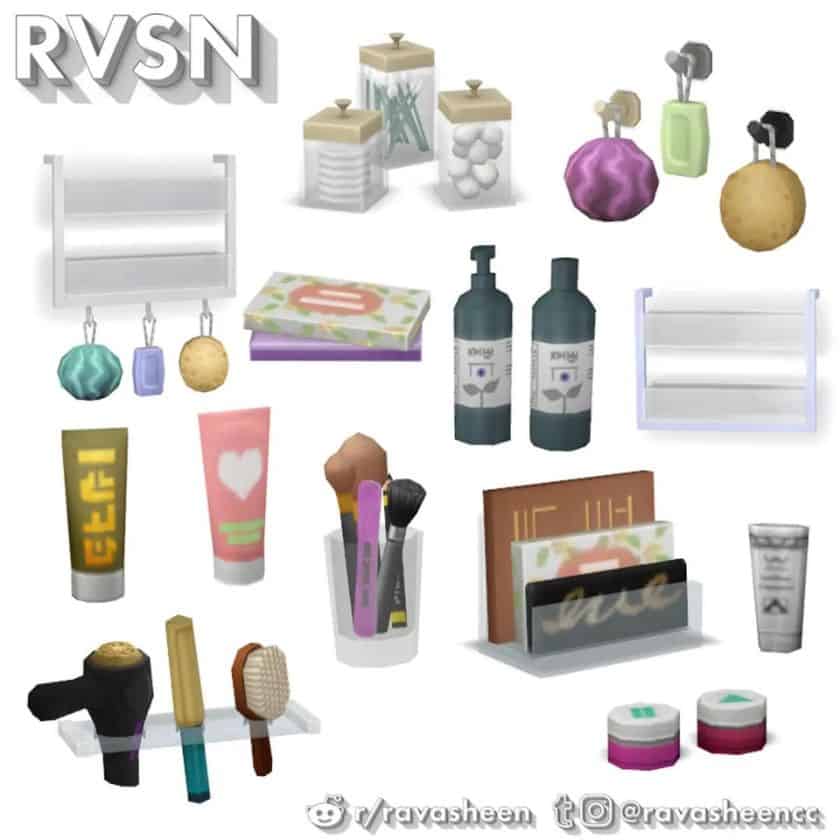 This sims 4 clutter cc set includes 20 pieces for all your bathroom and makeup essentials.
If your sims are as messy as me, they likely have some makeup brushes, creams, and products lying around.

37. Breakfast Clutter Set by Around the Sims 4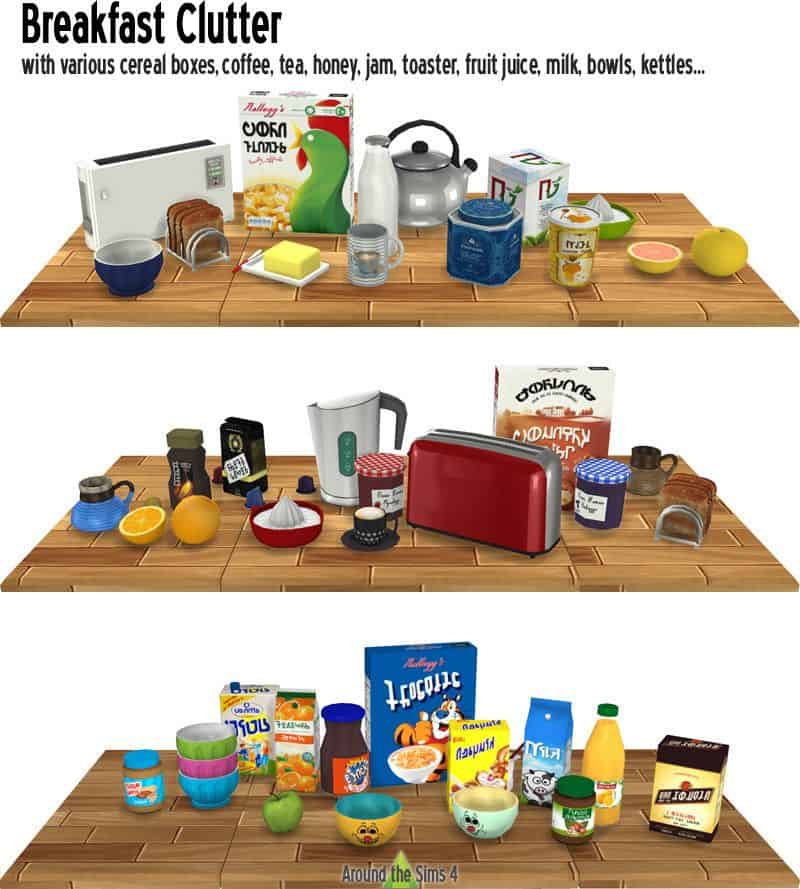 Nothing spells a busy morning in your sims home better than a kitchen filled with breakfast clutter.
Snap up some cereal boxes, peanut butter, cartons of juices, coffee toast, jams, peanut butter, fruits, and more.

38. Sims 4 Stationary Clutter CC by Simbishy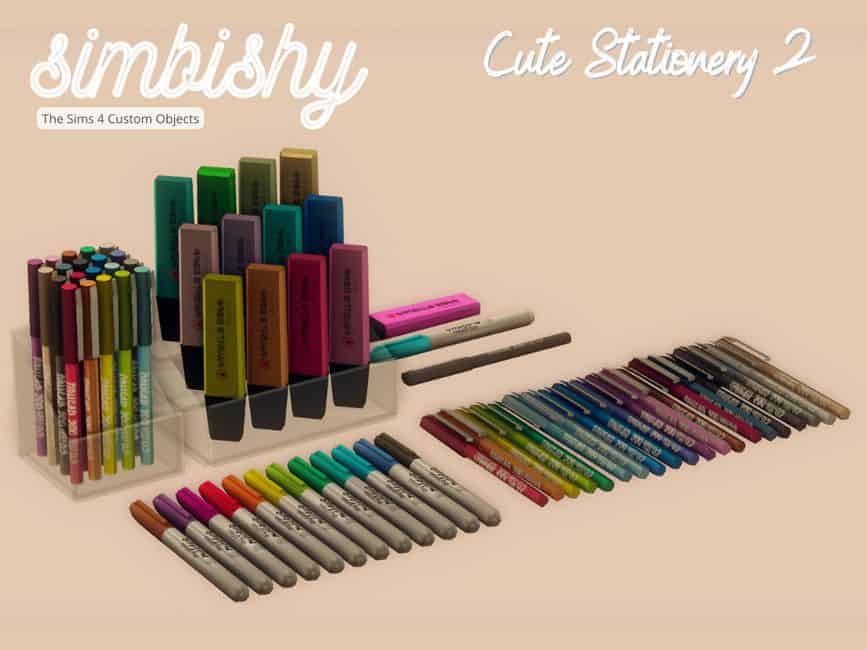 Ok, so I'm obsessed with stationary, especially pens and permanent markers, so I was so happy to find this clutter set.
This set has a mix of felt pens, highlighters, and markers for your sims office or study nook.

39. Crafting Clutter CC by Around the Sims 4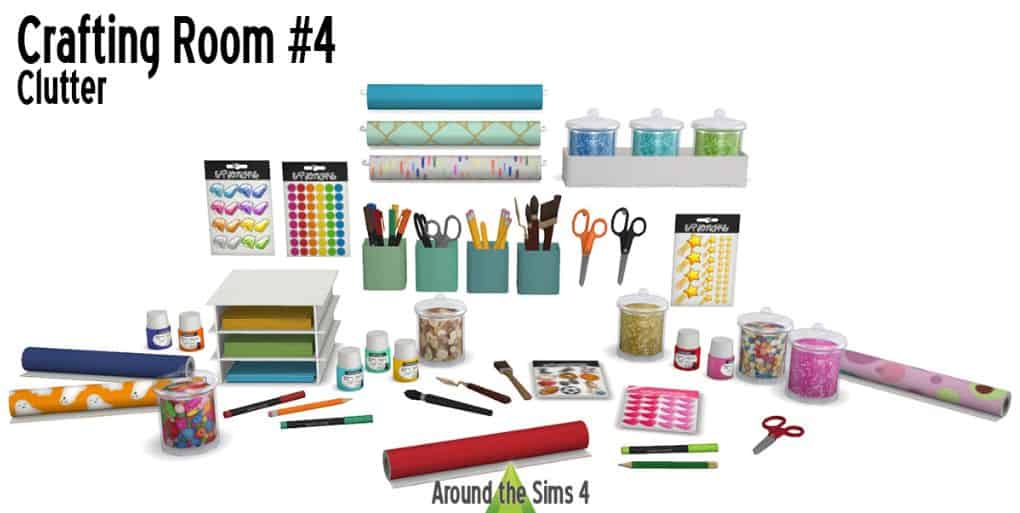 For all the sim crafters out there, this sims 4 clutter cc set has got all your crafting room essentials.
This clutter set includes 18 pieces, including;
Brushes
Scissors
Paper stack
A paint bottle
Painting knife
Wallpaper roll
Stickers and more

40. Kitchenware Sims 4 Clutter CC by Severinka_
This set brings together a gorgeous Scandavian-style kitchen and dining room with beautiful decor pieces.
There are 16 pieces which include;
Teapot
Utensils
Canisters
Eucalyptus plant
Modern plates & mugs
Marble & wooden cutting boards
Salt and pepper grinders

41. Sims 4 Clutter Dump Set by Simkoos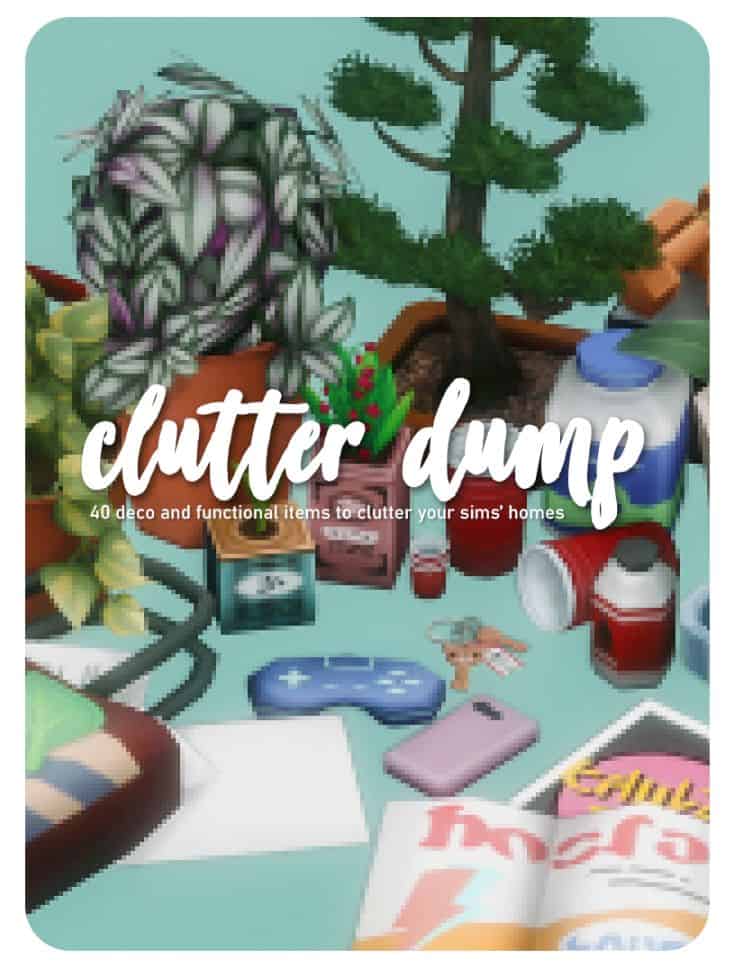 This sims 4 clutter cc set includes 40 decorative and functional clutter items.
Your sims are busy people, so it's no surprise they leave their keys and cellphone lying around among their workout gear.
There's a great mix of everyday clutter pieces to be found in this pack.

42. Sims 4 Pinkie Clutter Set by Aira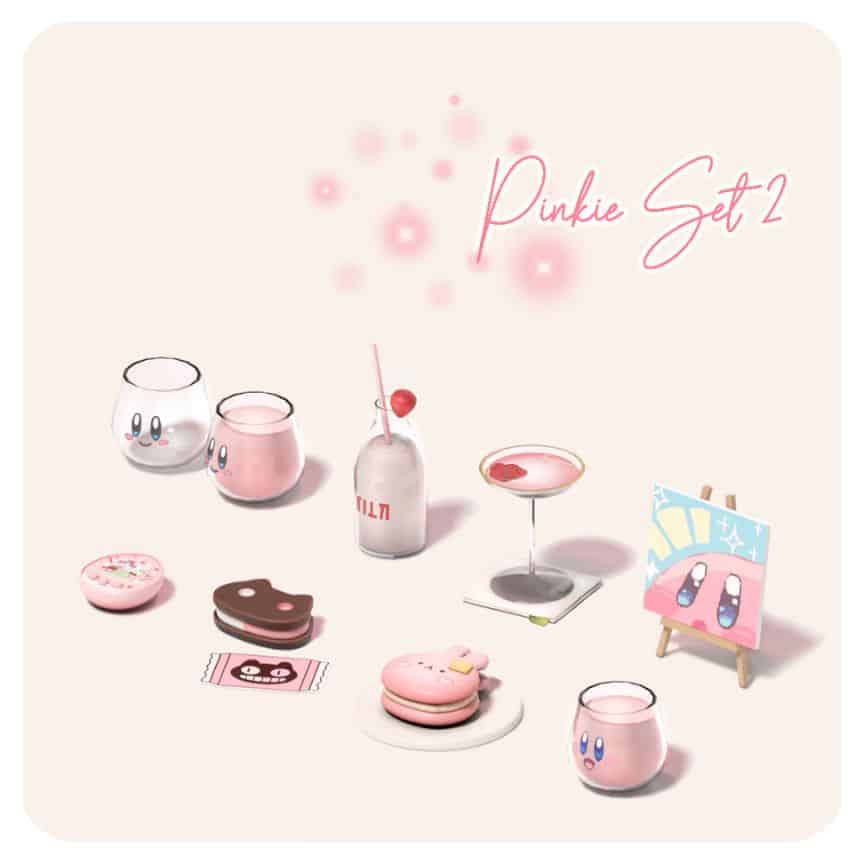 This adorable Pinkie set is full of super cute clutter pieces.
There are 9 objects, including an adorable Kirby glass, a cat cookie, an old-school Tamagotchi, and a cute bunny pancake, to name a few.

43. Antique Stacks Clutter by Magnolian Farewell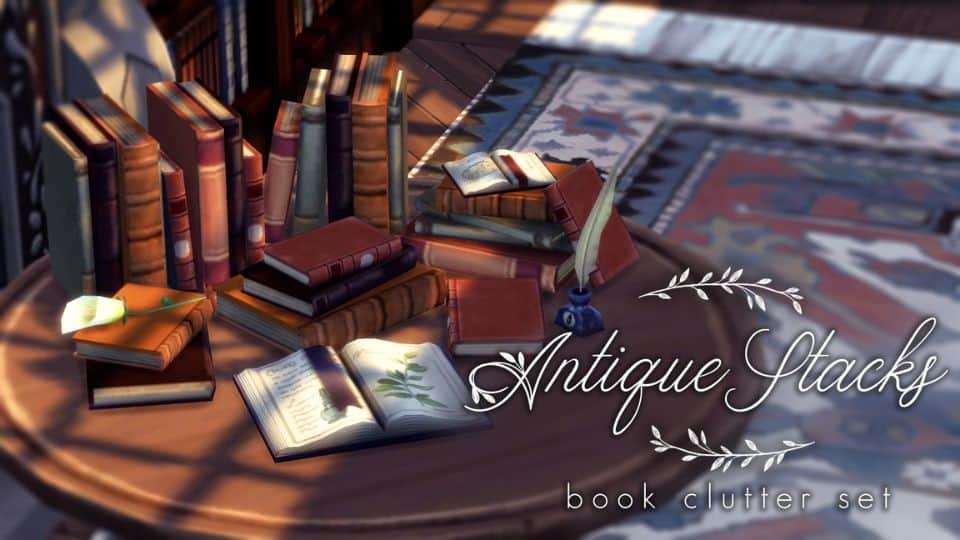 This clutter set is for the books lovers out there.
This two-piece set includes an open lexicon which comes in 20 swatches.
There are also stacks of antique books, which come in 6 swatches.

44. Bathroom Clutter Set by ArwenKaboom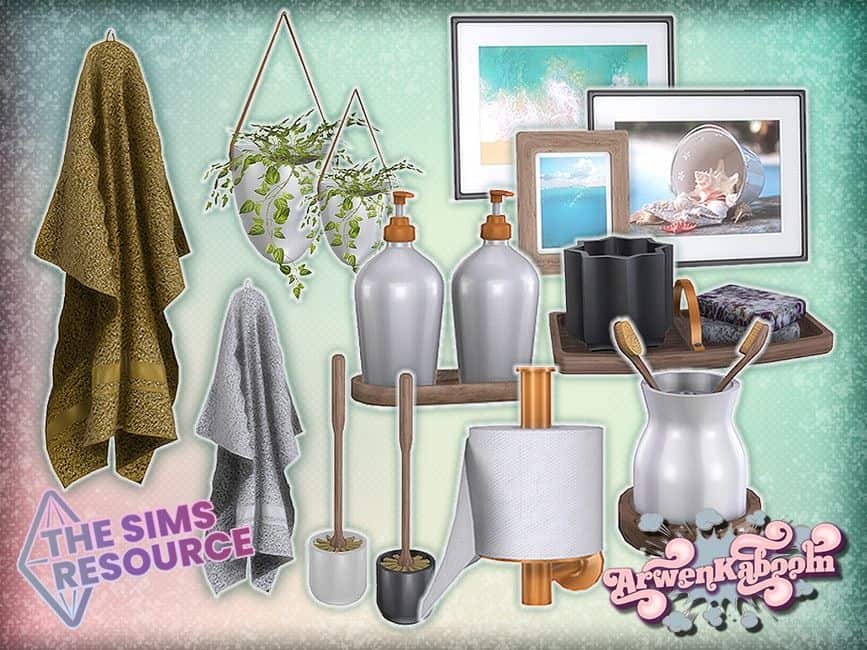 For more bathroom clutter options, this set includes 11 objects to style your sims home.
This clutter pack has the following pieces;
Soaps
Plants
Candle
Hanging towels
Picture frames
Toothbrushes
Toilet brush
Toilet brush holder

45. Sims 4 Laundry Day Clutter by BrazenLotus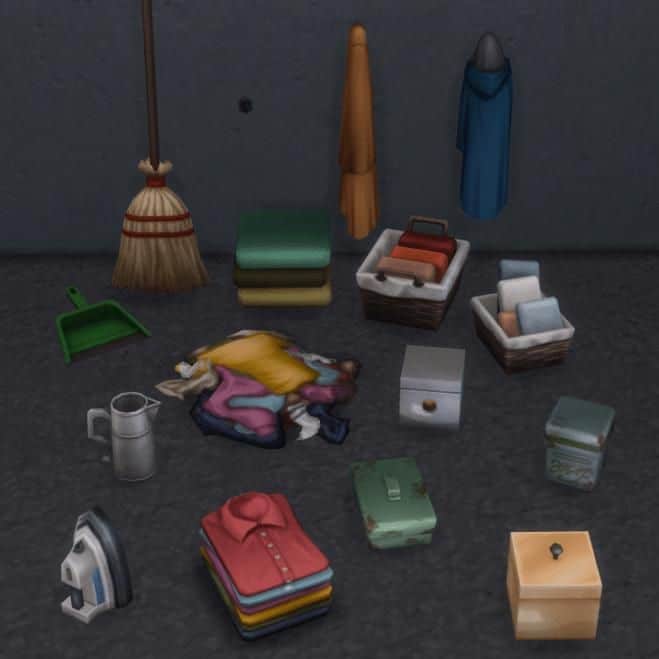 What's more realistic than a pile of laundry lying around the house?
This laundry clutter set includes clothes, an iron, folded laundry, a dustpan and broom, and more home organization pieces.

46. Sims 4 90s Clutter CC by SimmerBerlin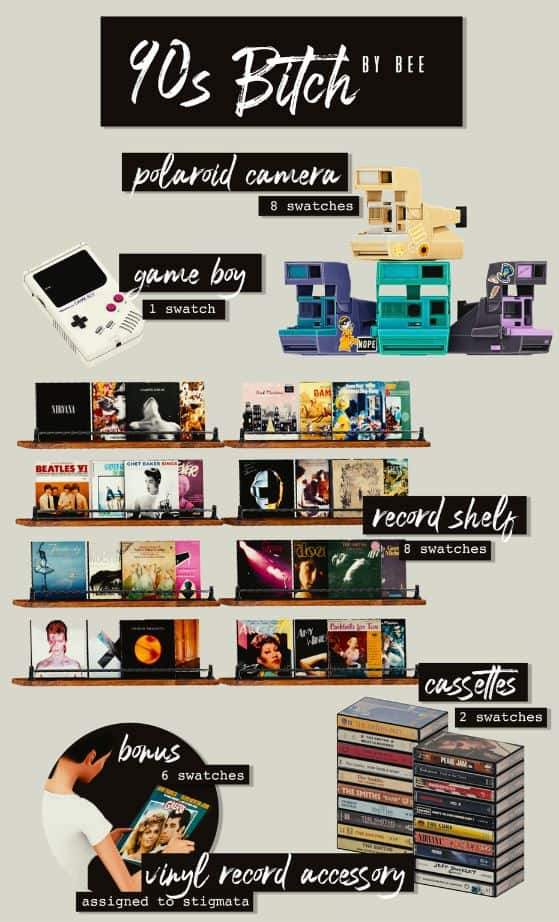 This 90s sims 4 clutter cc is a blast from the past and includes all entertainment objects to place around your sim's home.
From Polaroid cameras, a game boy, cassettes, vinyl records, and a decorative record shelf, this pack is all about a good time.
Sims 4 Clutter CC: Final Thoughts
From rustic kitchen clutter to piles of unfolded laundry, this collection of sims 4 clutter cc has a bit of everything.
Decorate your sims home to your heart's content with stacks and stacks of clutter or selective pieces here and there.
If you have any questions or suggestions, feel free to leave us a comment below or tag us on Tumblr.
And don't forget to share and save this pin for later!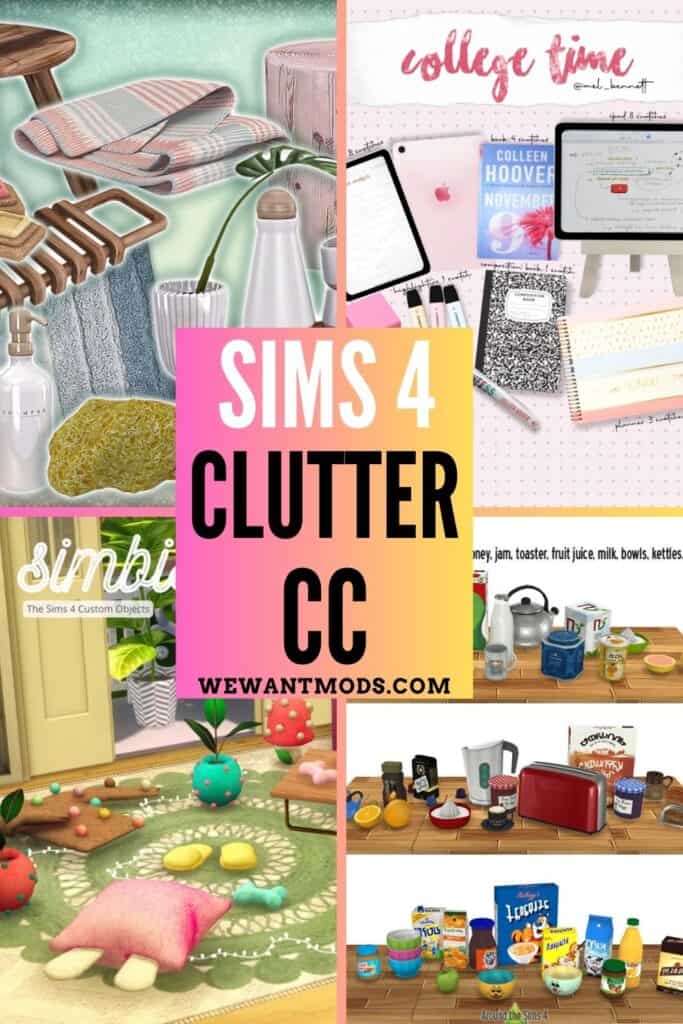 Other Sims 4 Custom Content Lists
45+ Sims 4 Clutter CC: Accessorize Your Surroundings