17+ Sims 4 Lighting Mods: See The Difference
Shine some light on your Sims 4 game with these sims 4 lighting mods.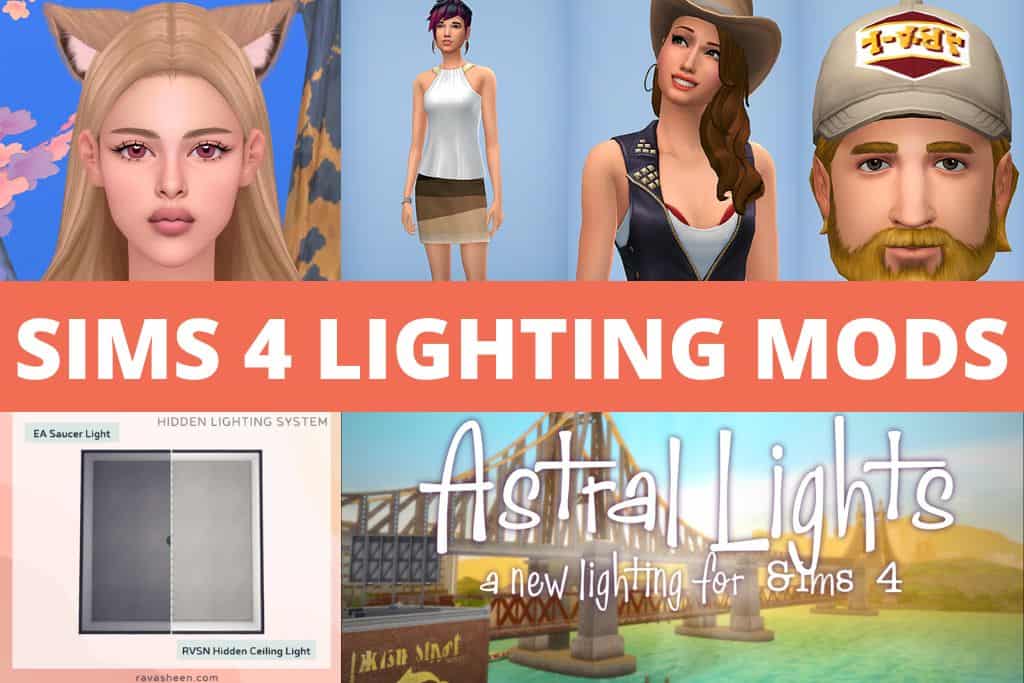 Has anyone ever played the sims 4 and not wished for better lighting? I doubt it.
Why does it look so dark inside your sims house, despite plenty of windows or other light sources?
Luckily, thanks to the fantastic modders in the community, you can snap up some sims 4 lighting mods to get better visuals.
These mods are a great way to brighten your sims homes and exterior surroundings.
Disclaimer: The following mods are neither endorsed nor affiliated with The Sims, Maxis, or Electronic Arts. Any use of mods (custom content or game mods) should be done with caution and with the knowledge that there may be risks.
Brightest Sims 4 Lighting Mods
This list of sims 4 lighting mods will help fix the game's brightness levels and colors to get the most out of your gameplay.
Some mods change the lighting for indoor and outdoor environments, while others also allow you to tweak it in CAS mode.
Now, let's light it up.
1. Sims 4 Lighting Mods by SimplyAnjuta

If you want in-game lighting that makes your sims appear less dim, these light mods are worth a look.
There are two versions for these sims 4 lighting mods, Bloom and Inner Glow.
The Bloom will bring in more brightness, especially indoors.
As for the Inner Glow, it works the same way as the previous one, but it will make your sims appear smoother and brighter due to the use of less shadow.
They look great, but you can only use one variation at a time.
And keep in mind that your sims will still be impacted by environmental lighting, so the effects of this mod will also vary.
2. CAS Lighting Mod for Sims 4 by Northern Siberia Winds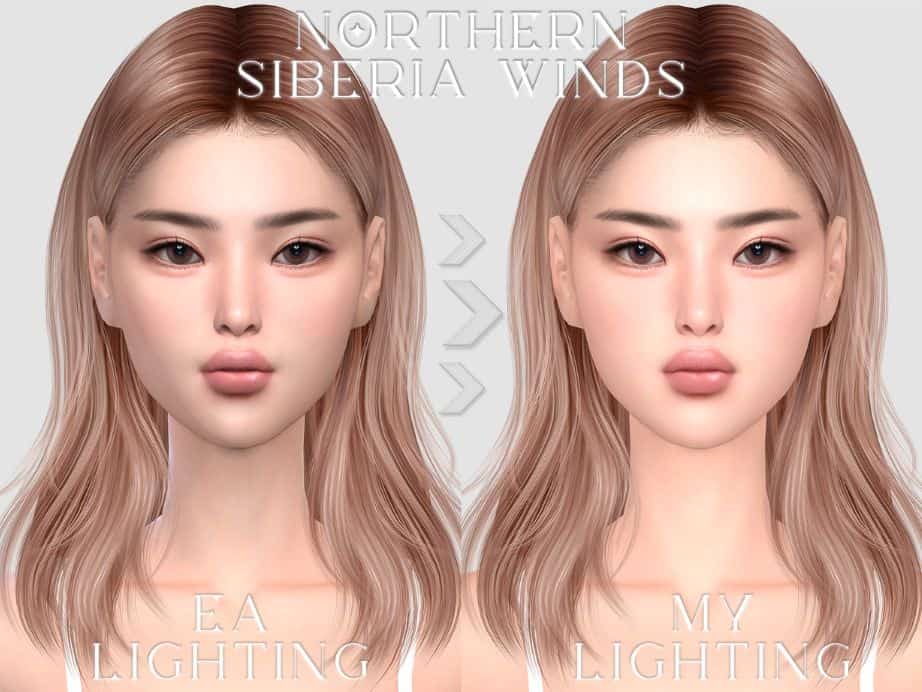 This lighting replacement mod tweaks the CAS screen's lighting so you can get a better look at your sims.
The light mod enhances the overall brightness of your sims, reducing the appearance of shadows.
It also gives your sims a subtle glow effect and a lighter color tone.
This sims 4 lighting mod is pet-friendly, meaning your furry friends can also look as good as their sim parents.

3. Easy Peasy Lumen Squeezy Hidden Lights by Ravasheen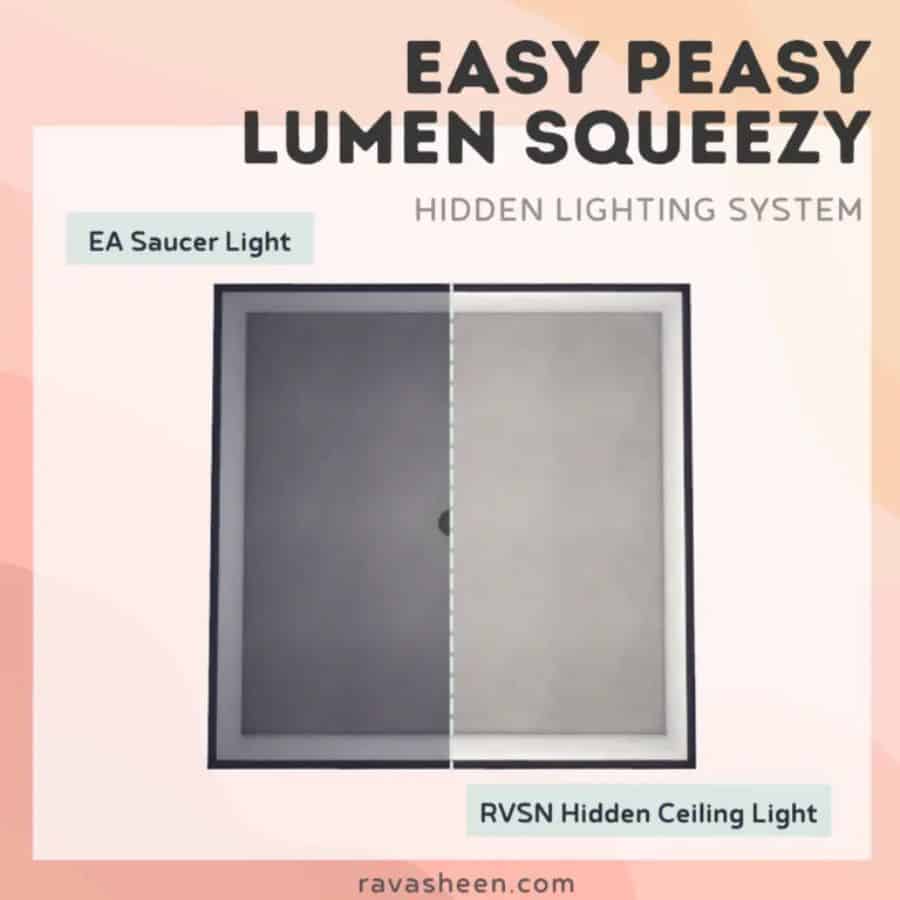 Usually, in the game, you need multiple lamps or lights to light up a room properly.
Luckily for us, these sims 4 lighting mods will help brighten up your rooms with their three styles:
Under-shelf or wall lights
Spotlights
Ceiling lights
In the build/buy catalog, each style is represented with cone-shaped arrow pictures that show the light source's direction.
With the light switch object, you can opt to hide the light source while keeping the lighting in effect.
You can also choose a different color to set the mood of a room and adjust the intensity with the dimmer.
At max brightness, these lights shine brighter than other lighting options.

4. Golden Light Mod for Sims 4 by SimplyAnjuta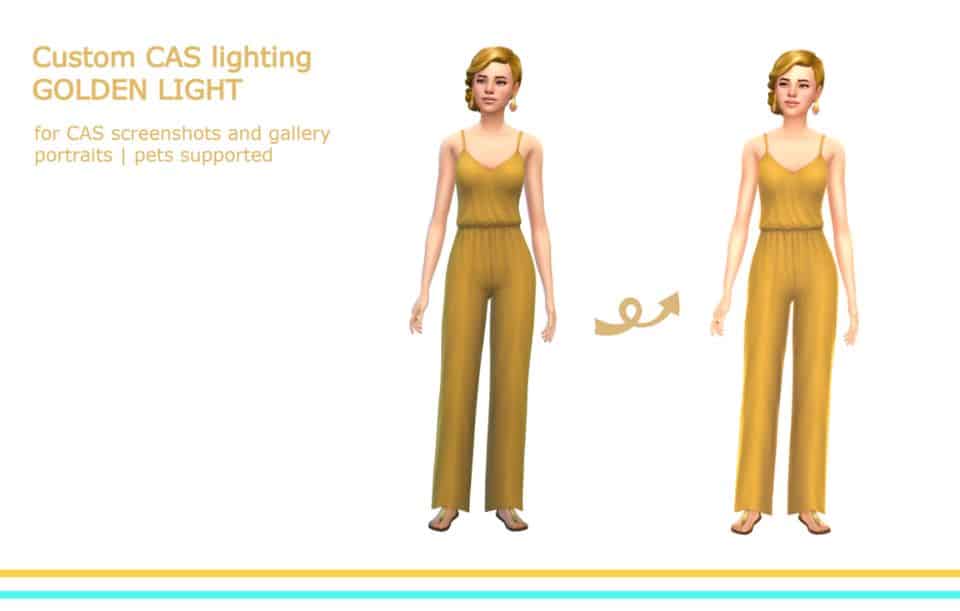 While in CAS or Gallery mode, if you want to make brighter pictures of your sims, this mod delivers.
The brightness level is increased, giving your sims a warmer color tone and a certain glow to them as well.
Best of all, your sims can use this lighting preset while posing with their pets in Gallery mode, creating beautiful screenshots.

5. Sunblind Sims 4 Lighting Mod by SofterHaze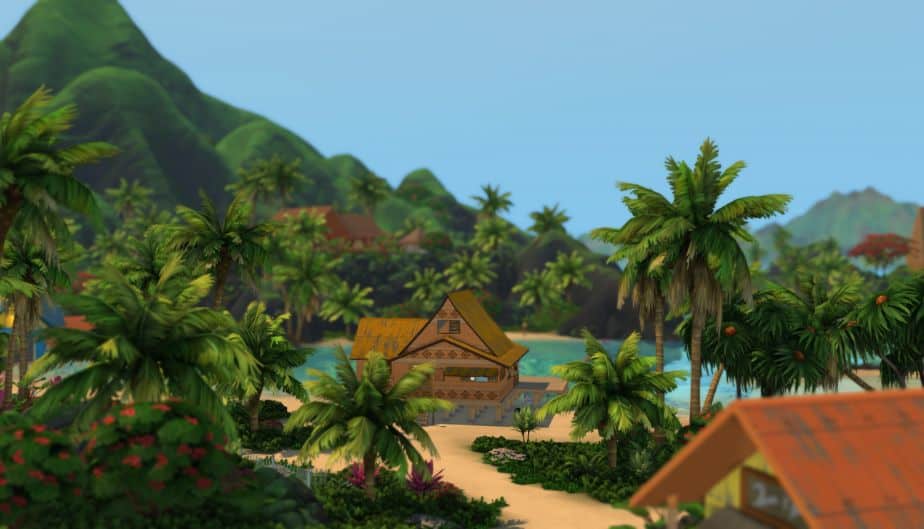 The sims 4 lighting mods included in this collection have different light settings specifically made for each of the game's worlds.
These outdoor lighting presets make sure each world looks its best.
Both sunsets and sunrises feature vivid colors with terrific shadows.
You'll notice that daylight has a less bluish tone than the game's default colors, resulting in more realistic daytime lighting.
During the late night, lighting is limited, making it much darker than before, which is as it should be.

6. Into the Light for Sims 4 by Lotharihoe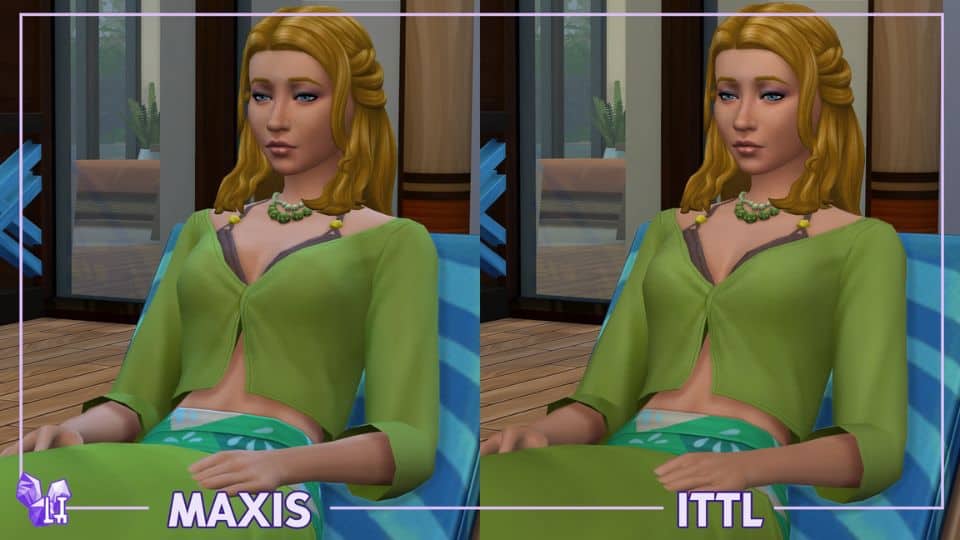 This lighting mod is exclusively made for sims as opposed to its equivalent, the Out of the Dark mod, which is for interior spaces.
Sims usually emit a bluish glow while in the dark to make them more visible.
The ITTL mod removes that blue light effect so that sims appear darker in low-light settings for more realistic visuals.
The color saturation is noticeably better in brighter areas, such as during daytime, making the game look more natural.
I recommend grabbing and installing the OOTD lighting mod, listed at #8, for optimal results.

7. Sims 4 Immersive Lighting Mod by Luumia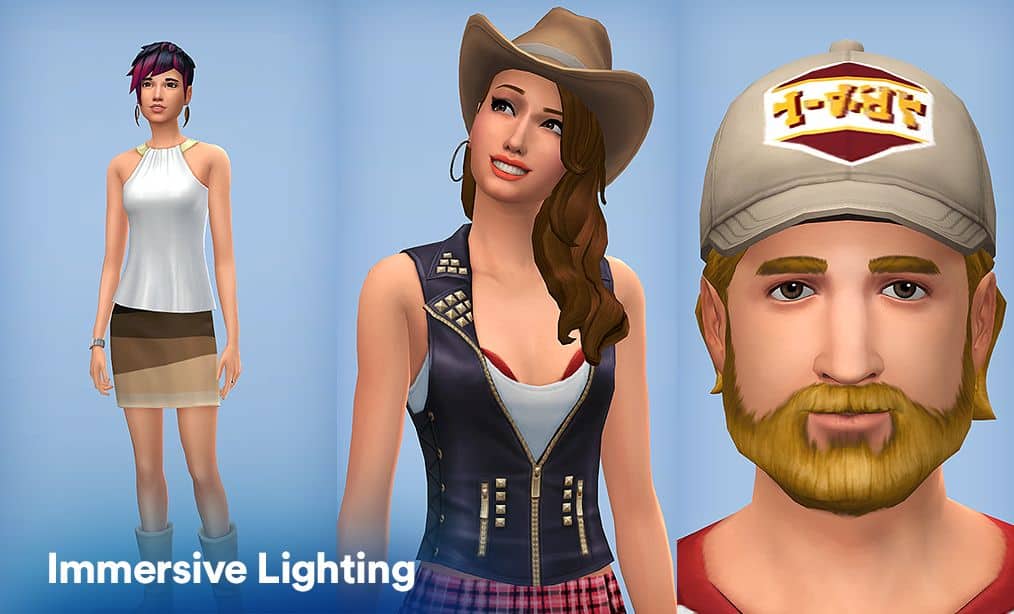 Here's another good option for lighting on the CAS screen to better showcase your sims and their pets.
This mod contains different light settings to make your sims look better than they used to by giving them more depth.
These sims 4 lighting mods come in two versions, one with some added backlighting and another without.
The backlighted version does overexpose in certain ways, but I find it's the best-looking one of the two.
If you wish to use the light replacement mod on your pets, there are specific files to download, so keep an eye out.

8. Out of the Dark for Sims 4 by Lotharihoe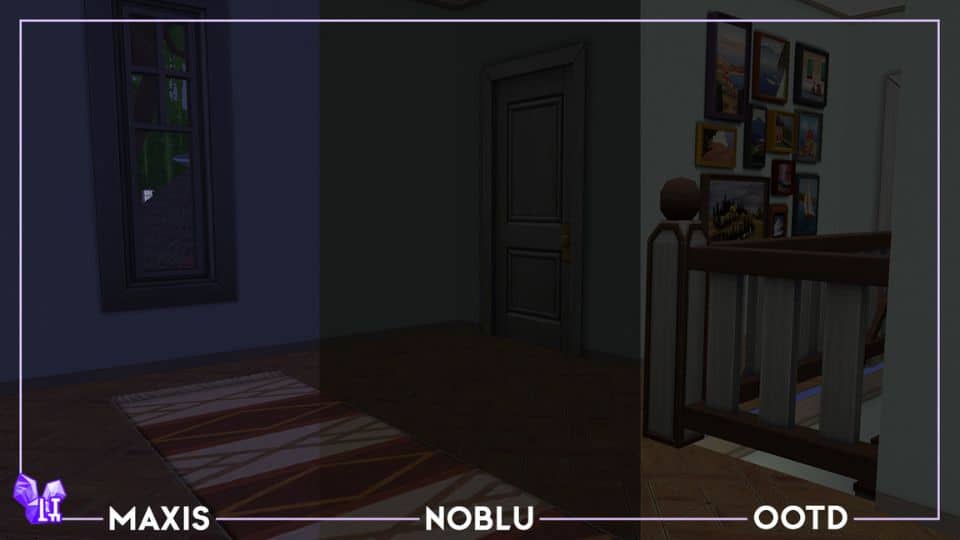 This mod is the indoor space equivalent of the Into the Light mod from earlier.
It removes the blue tint from indoor spaces making the colors appear a soft shade of grey in lower light settings versus the standard blue.
The result makes the colors look warmer and softer for better and more realistic lighting visuals.
For even better results, this lighting mod for sims 4 is best paired with the IITL mod, listed at #6.

9. Sims 4 Astral Lights Mod by BrntWaffles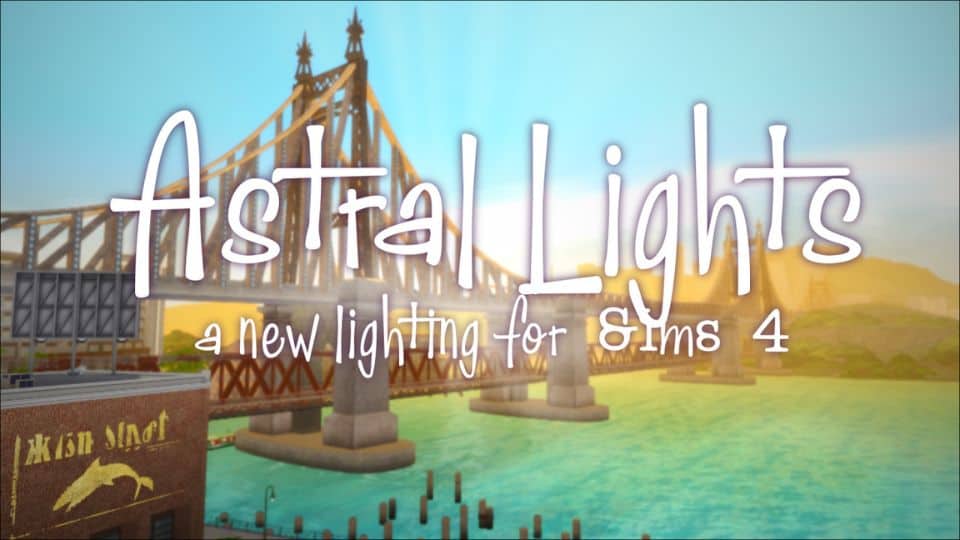 If you're looking for more outdoor lighting solutions, this mod affects the lights in the sky.
You can add more stars to the night sky and gorgeous auroras for a bright night under the stars.
The mod also affects sunrises and sunsets by lowering the level of blues and adding warmer colors to the tides to simulate the sun's reflection.
These sims 4 lighting mods are both mesmerizing and heartwarming at the same time.

10. Sims 4 Party Lights Mod by JellyPaws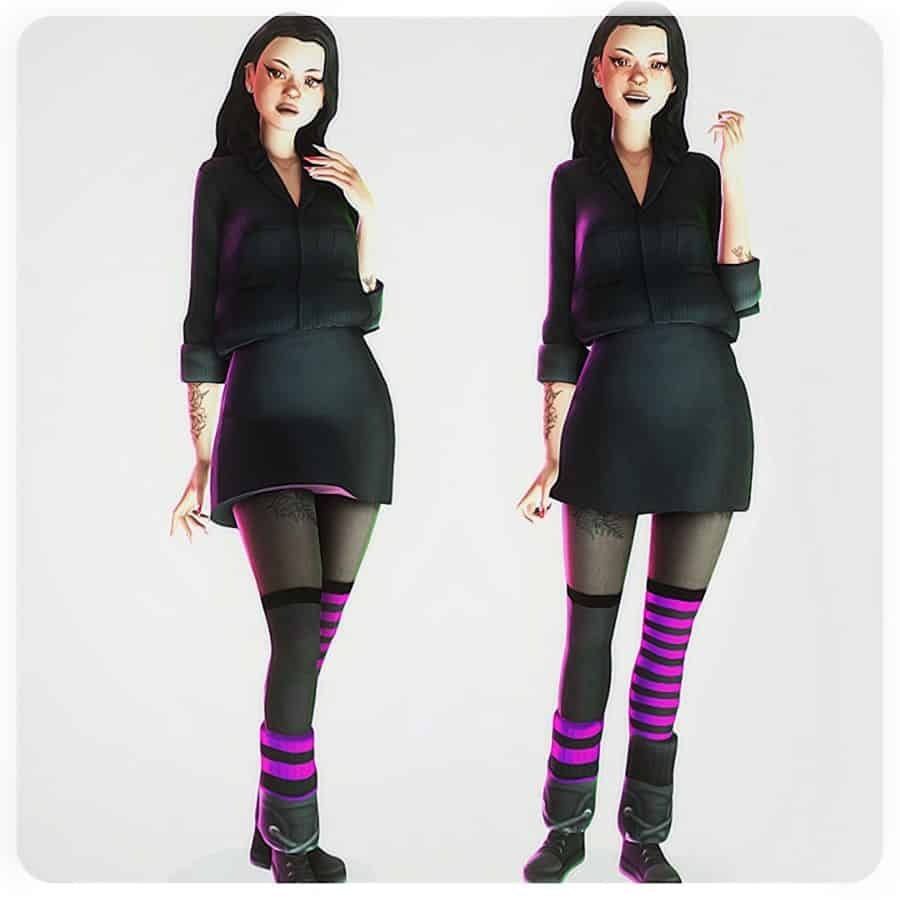 This CAS lighting will look amazing with background mods of a busy downtown area, a nightclub, or anywhere with neon lighting.
It will look as if lights are reflecting off your sims with beautiful colors going from pink, purple, blue, and green.
Your sims will appear to be overexposed, which is the effect you get from flash photography.
Combining this sims 4 lighting mod with a party background and a CAS pose would make beautiful candid-like pictures of your sims partying.

11. NoGlo V2 Lighting Mod by Luumia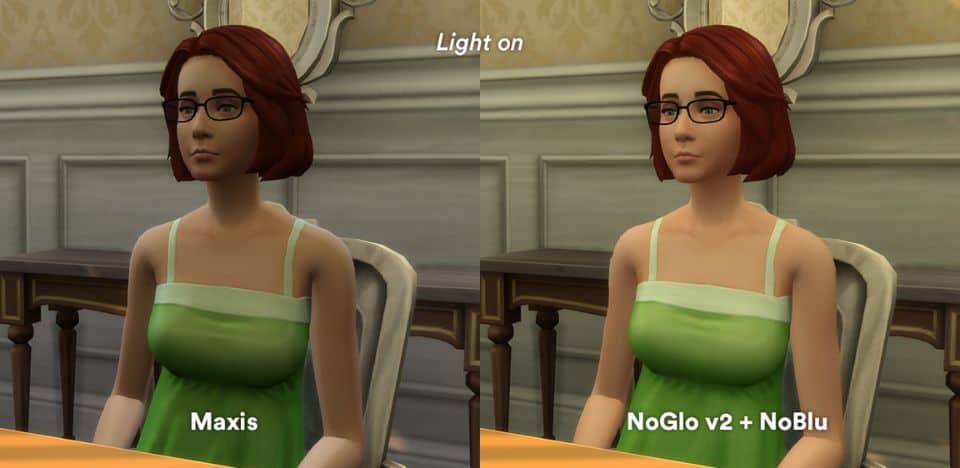 This light mod is the improved version of the creator's popular NoGlo mod.
The mod was initially made to remove the glow effect from your sims, also called the halo effect.
It also toned down on the bluish tint for better-looking colors and lighting.
Although everything looked fine, there was only one problem; when indoors, sims looked dim, even when the lights were on.
The updated version still does all the positives listed above, but it now fixes the issue by making your sims look brighter indoors.
If you want to give it a try and for better results, you should also install the NoBlu mod, which has the #15 spot on our list.

12. Sims 4 Cubemap Remover by Lotharihoe
Cubemap is a light reflection process for object surfaces in the game.
It provides light reflection to objects based on their orientation without considering any actual light sources.
This sims 4 lighting mod fixes the issue by removing any light reflection that shouldn't be there.
The above picture is the perfect example of reflection that shouldn't be in a dark lightless bathroom.

13. Sims 4 Lighting Mods in CAS by SimplyAnjuta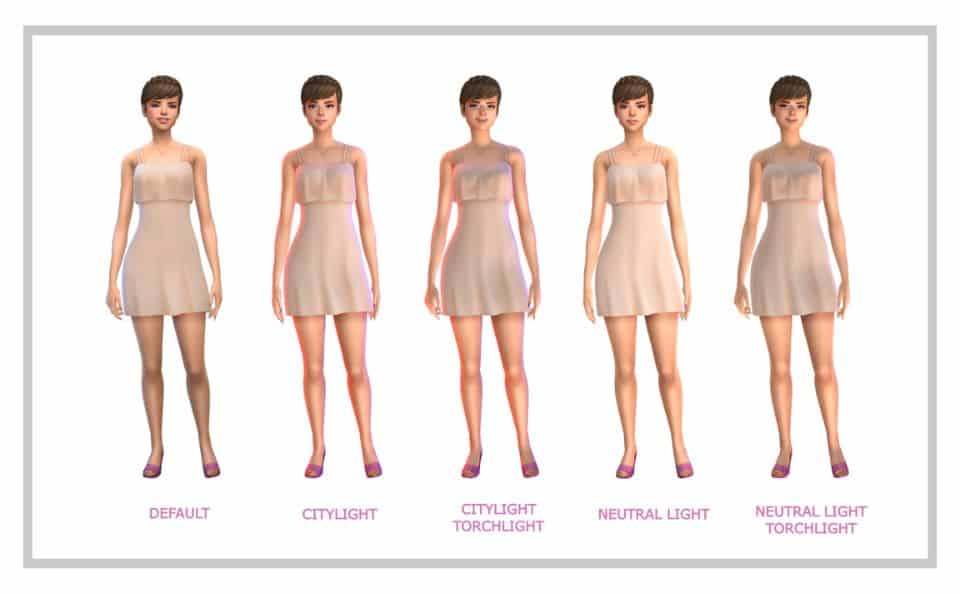 This pack has two different types of lighting: City Light and Neutral Light.
They both have a Torchlight version which provides four to pick from.
The City Light variation gives off a red and blue light reflection off of your sims to simulate city lights at night.
As for the Neutral Light option, it provides angled neutral lighting.
The Torchlight version of both lighting mods adds shadows to your sims, as if your sims were close to a fire source, like a torch.
You pick and install only one of these light mods at a time.
Pair any of these Citylight sims 4 lighting mods with a CAS background of a city at night, and it'll look incredible.

14. Sims 4 Milk Thistle Light Mod by SofterHaze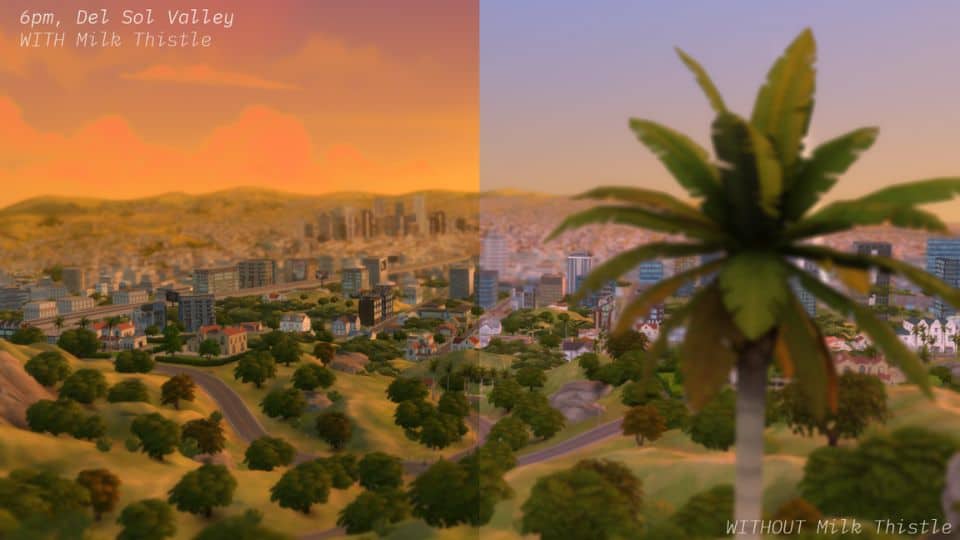 This lighting overhaul recreates the light settings for each of the game's worlds.
Each world is individually tweaked for the right balance in lights.
In this lighting mod pack, you get settings based on the time of day:
Sunrise will use warmer colors with the morning dew mixed in with the sunlight
Daylight tones down the shadows and provides a lighter blue sky
Sunset delivers a brighter setting packed with better shadow effects and vibrant colors
Moonlight is better highlighted with darker environments and shadows

15. Sims 4 NoBlu V2 Lighting Mod by Luumia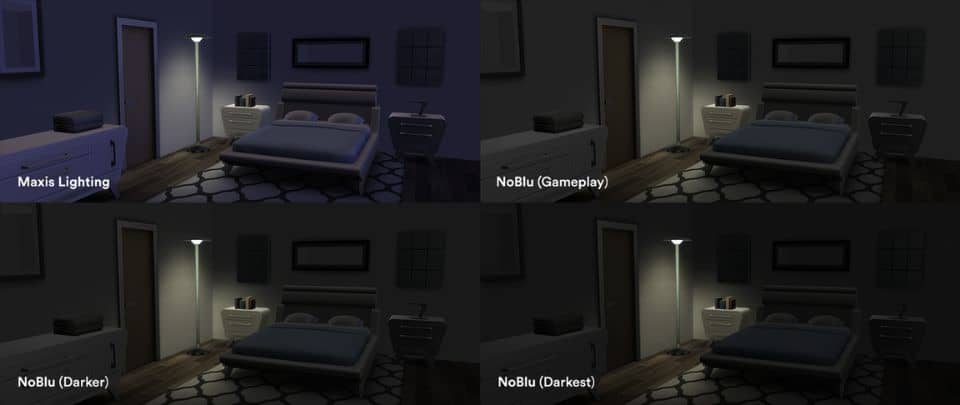 In low-light environments, you'll notice that the game tends to have bluish-color tones.
This mod removes those blue tones to help recreate more natural lighting in a dark setting.
The lighting mod pack also contains two other versions with different brightness levels for darker and darkest conditions.
You can use only one file at a time but can't go wrong with any of the three.

16. Better Sims 4 Lighting Mod by Northern Siberia Winds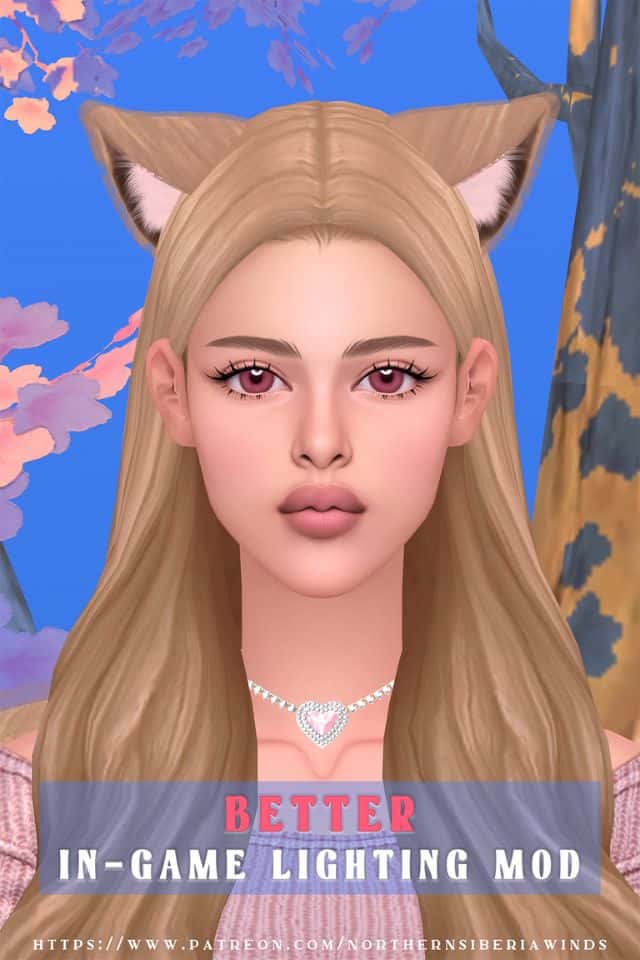 This collection of sims 4 lighting mods is a light replacement for indoor and outdoor lighting.
When you open the file, you'll see it's subdivided into two folders: Dark Rooms and Light Rooms.
The mods in the Dark Rooms folder make the overall lighting darker; the opposite applies to Light Rooms.
Each folder has three categories: Bright, Average, or Dark.
All three have the same subcategories: Pale, Base, and Saturated lighting.
There are a total of 20 variants to pick from, but you can only install one at a time.
To help you choose, you first need to know if you want brighter or darker lighting.
The next step is to start in the middle and work your way up or down based on your preferences.
So, pick any subcategory you want from the Average category, then go from there.
Trying out a few may take some time, but the result is truly rewarding.

17. Sims 4 Realistic CAS Room Light Mod by Squea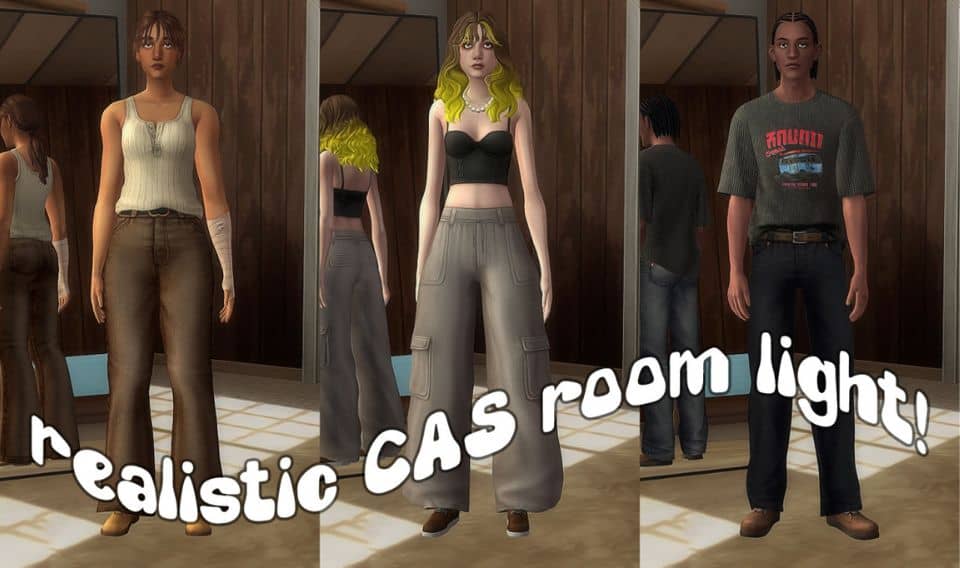 Do you notice that the lighting sometimes seems over the top and unnatural in CAS mode?
The lighting doesn't look good when using background mods to make your sims appear indoors.
This room lighting mod plays with the shadow effects, making it seem like the light source comes from the side, like a window.
More natural lighting and a perfect balance of colors and brightness make your sims appear more realistic.

18. Sims 4 CAS Lighting Mods by SimplyAnjuta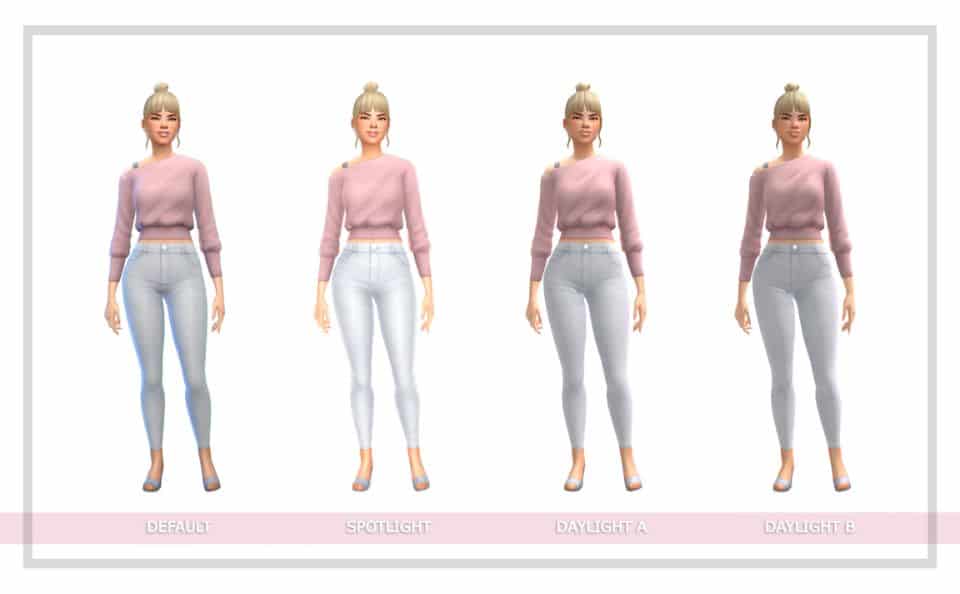 If you're looking for CAS lighting solutions, these sims 4 lighting mods are for you.
This set offers three variants for your CAS screen, which are:
Spotlight
Daylight option A
Daylight option B
The Spotlight light option is similar to the Golden Light mod, listed at #4, but in a smoother and more subtle glowing way.
The two Daylight options simulate the lighting coming from the sun, which also resembles the Torchlight mod from #13.
Again, you can only use one at a time.
Sims 4 Lighting Mods: Final Thoughts
Hopefully, you've found a few sims 4 lighting mods to help enhance your gaming experience.
If you want brighter and more realistic lighting, these mods have you covered.
You can also brighten your CAS and Gallery screen to create the perfect snapshots.
Since almost everything looks dim in the game's unmodded state, I believe these mods are a must-have for any simmers.
If you have any questions or suggestions, feel free to leave us a comment below or tag us on Tumblr.
And don't forget to share and save this pin for later!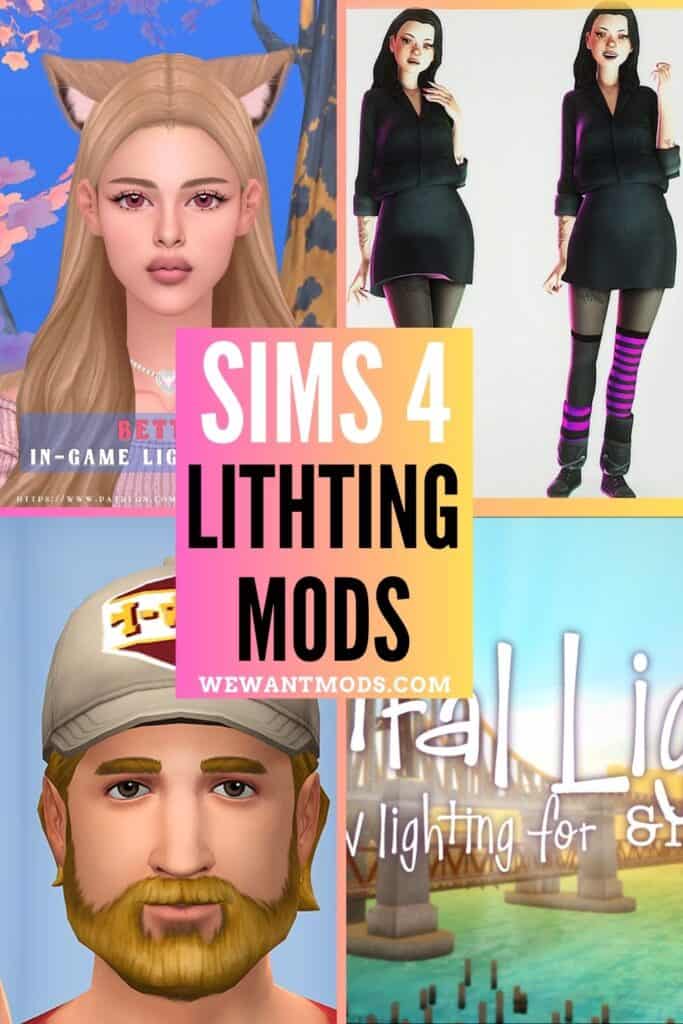 Other Sims 4 Mods Lists

17+ Sims 4 Lighting Mods: See The Difference