21+ Sims 4 Realistic Mods: For A World Closer To Ours
These sims 4 realistic mods are a must-have for anyone wanting to bring the real deal to the game.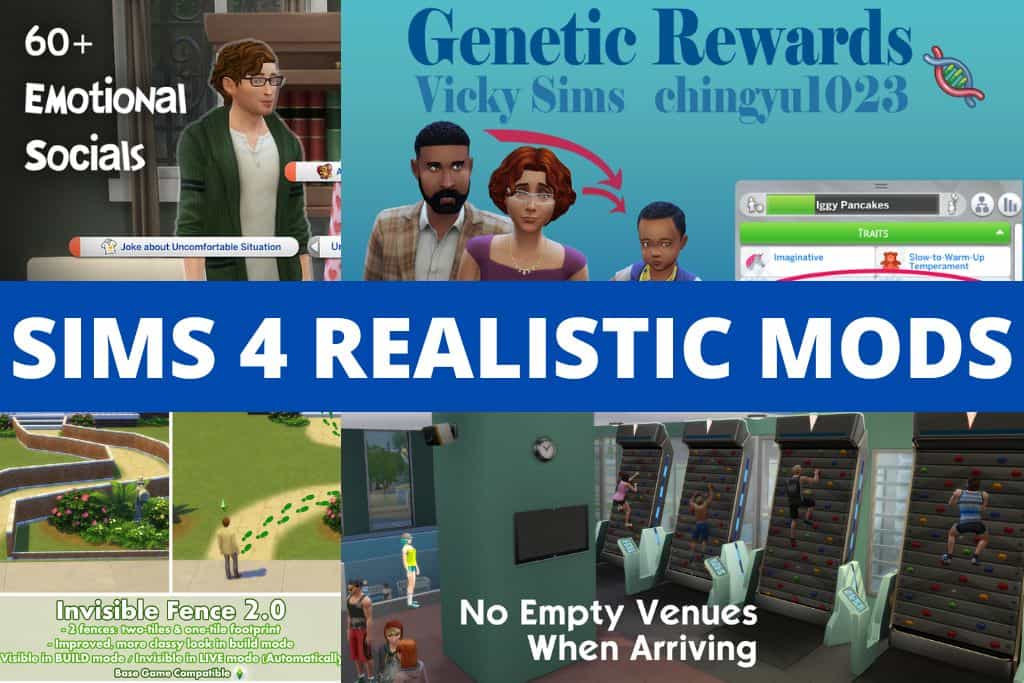 The Sims 4 game is quite the complete experience offering several packs providing new features each time.
But some aspects or mechanics of the game can seem exaggerated or unnatural.
Creators have made mods that tweak some parts of the game to make it more realistic so that your gameplay is more genuine.
Let's take a look at some of our favorite finds!
Disclaimer: The following mods are neither endorsed nor affiliated with The Sims, Maxis, or Electronic Arts. Any use of mods (custom content or game mods) should be done with caution and with the knowledge that there may be risks.
Sims 4 Realistic Mods
Our list of sims 4 realistic mods includes a variety of tweaks that will make your gameplay closer to reality.
You can also check our list of must-have mods when you're done here.
Now, let's get a good dose of reality for your sims 4 game.
1. Sims 4 Realistic Mods by Zero's Sims 4 Mods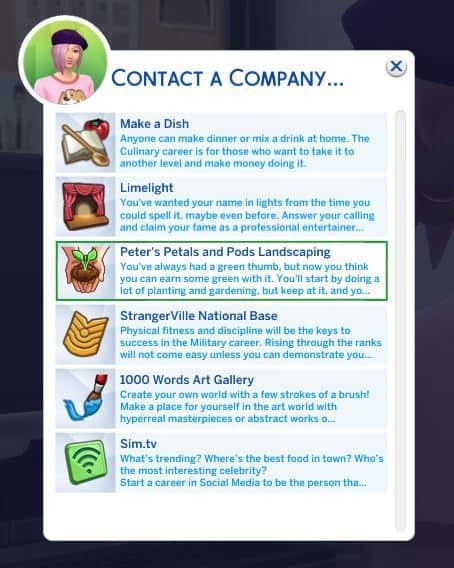 This sims 4 realism mod adds depth to the game's job hunting.
As the game stands, your sims can pick the career or job they want and pursue it.
This mod locks up all the job options (except for the Freelancer career) and adds the Job Finding skill to the game.
As your sims level up, they can contact prospective jobs by phone or PC.
If your sim is applying for a regular versus a part-time job, they will need an interview.
The odds are your sims will get rejected, but that's all part of the game, just like in real life.
Interview success is based on a lot of factors, including:
Gender
Age
Pregnancy
And more…
There are a lot of interesting details for this realistic mod, so take a few minutes to read the description on the download page.

2. Map Replacements Overhaul by 20th Century Plumbob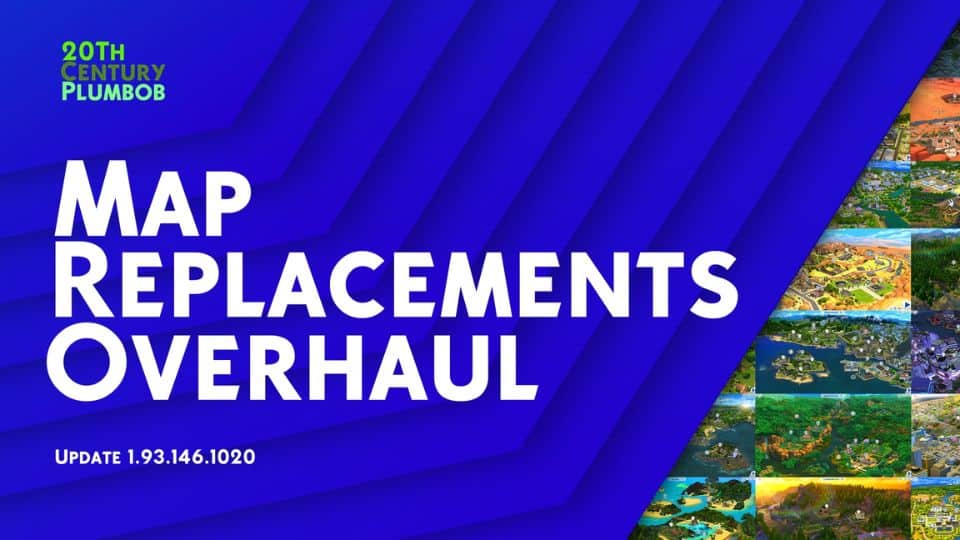 Have you ever noticed the game's world maps look different from the world it represents?
The maps seem bare, empty and look very unnatural.
These sims 4 realistic mods replace the original maps with one that reflects how each world really looks in-game.
The creator has made map replacements for most of the game's different worlds.
The maps contain more details and decorations, such as trees, grass, etc.
They're way better than the originals and much more realistic.

3. Sims 4 National Bank Mod by SimRealist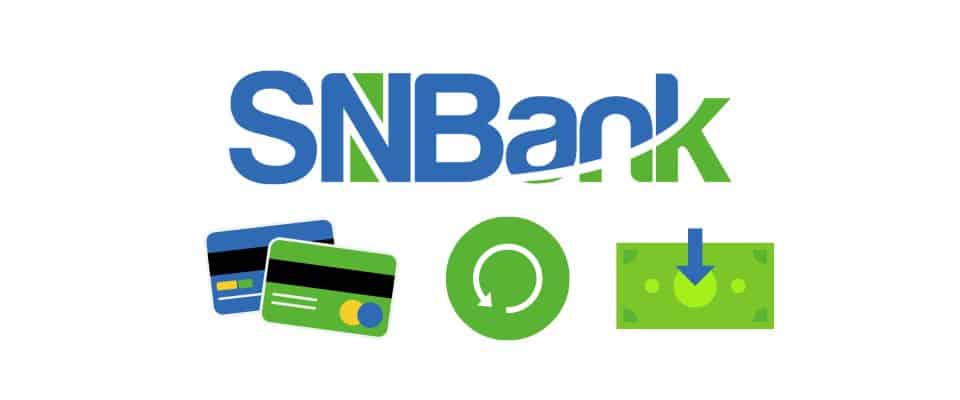 In the game, just like in real life, sims need money to eat and live.
Managing money can be tedious to some, which is why banks exist.
This sims 4 realistic mod adds banking to the game, including useful banking features.
Some of these features include:
Opening bank accounts
Upgrade accounts for better interest rate
Sharing accounts
Transfer money between sims
Estate management
Debit cards
And more …
This banking system acts the same way we manage our money in daily life, making it a great addition of realism to the game.

4. Sims 4 Realistic Sunburn Mod by Kuttoe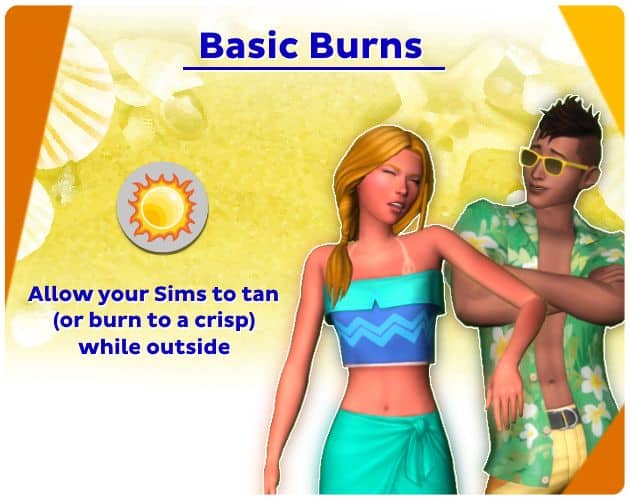 This sims 4 realistic mod requires The Sims 4: Island Living expansion pack.
With the help of this mod, the sun's UV rays are as dangerous in-game as they are in real life.
If your sims stay in the sun too long, they tan or burn.
With the Island Living EP and without the mod, sims can only get tanned or sunburned when sunbathing only.
When using this realistic mod, your sims can tan or burn simply by staying out too long.
There are some exceptions:
Mermaids and sims that have the Island trait tan or burn slower
Sims burn faster in scorching weather or desert worlds
Occult sims with odd skin colors like green or red won't get tanned or get burned
The same applies to robots as well
Slow down a tan or sunburn with the new functional sunscreen

5. Realistic University Application by A.Deep.Indigo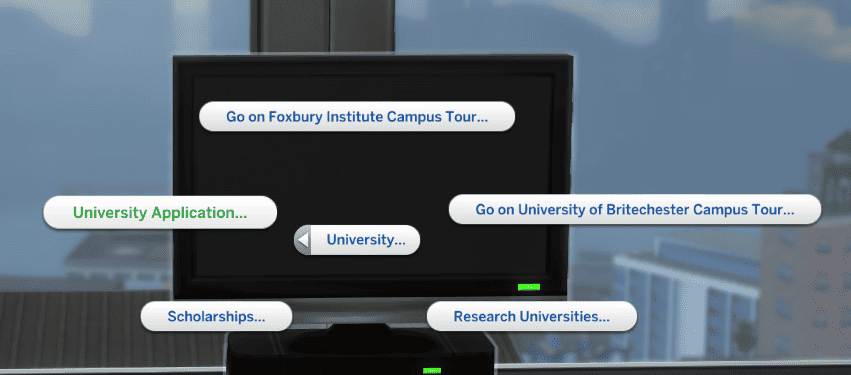 This sims 4 realistic mod requires The Sims 4: Discover University expansion pack.
When your young sims want to enroll in university, the process is short and too easy.
For a more lifelike experience, this mod adds a few extra steps to the application process.
At first, before deciding which university to pick, your sims can choose to visit one or two schools.
After starting the university application process, your sims will need to meet specific requirements:
Acquire two letters of recommendation from a counselor and teacher
Get the transcripts from their high school
Write an application essay
Schedule an admission interview
Review their application before sending it
Wait for a response back from the faculty
Sure, it adds more things to do to get accepted, but it adds more realism to The Sims 4 game.

6. Invisible Fence 2.0 Mod by Bakie
This sims 4 realistic mod helps your sims follow predetermined paths.
When there's a walking path on a property, real people usually take it instead of stepping on the flower bed.
Without the mod, your sims would take the shortest route regardless of where it is to get to the house above.
The fix relies on placing the mod's small brick wall items along the path while in Build mode.
The brick wall will be invisible when switching to Live mode, and your sims won't walk through it.
You can watch the video above for more useful ways to use this mod.

7. Real Genetics Mod for Sims 4 by Vicky Sims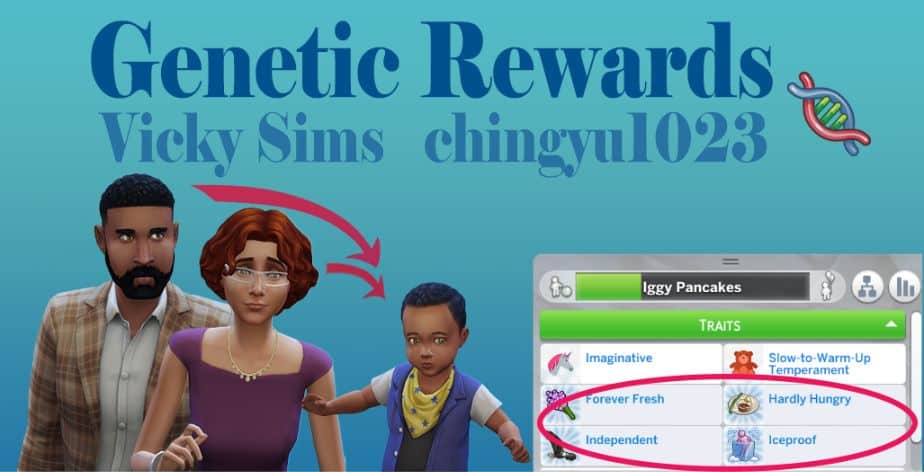 Have you ever had a sim family that expanded, and its newest member doesn't take after either parent?
With some Genetic-related sims 4 realistic mods, your sim couple can pass on store satisfaction rewards following types of traits:
Genetic By Personality
Genetic Rewards
Inherited Rewards
Surprising Rewards
The Genetic By Personality grants a 33.3% chance of passing on one of the parents' personality traits.
The Genetic Rewards grants a Reward Store equivalent to a parent's personality trait.
For example, if one of the parents has the Adventurous trait, the sim child will get the Brave reward trait.
As for the Inherited Rewards trait, the parents will pass on one of their reward traits.
Lastly, for the Surprising Rewards trait, there's a low 4% chance the young sim will get a reward trait, regardless of their parents' ones.
If you want to push the limits of genetics even further, the creator offers other mods you can add to your game on the download page.

8. Sims 4 Realistic Mod for Venues by Weerbesu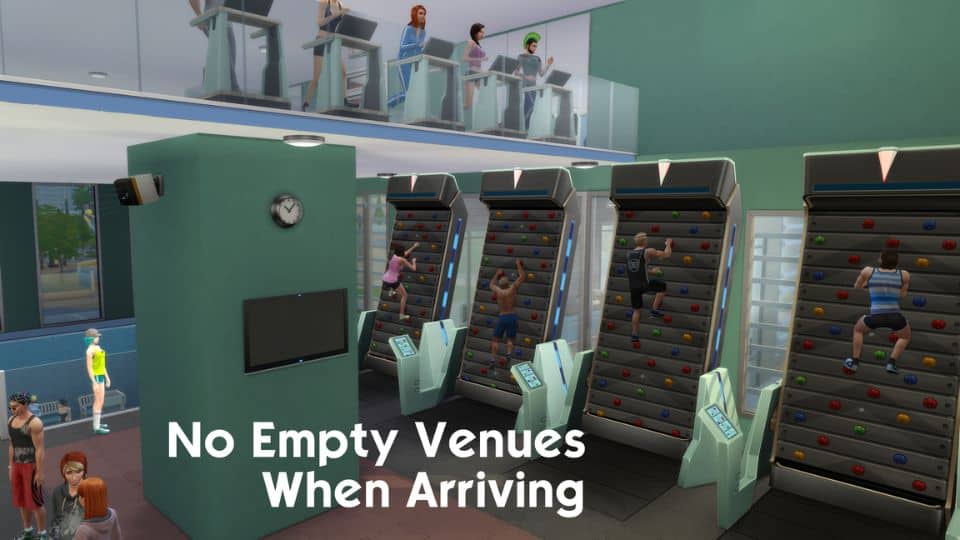 When your sims visit public places, you'll notice they're almost empty, with only a few sims there.
Only after you've arrived that more sims make their way there.
If your sims arrive late in the evening in a nightclub, it seems unlikely that the place is almost empty.
With the help of sims 4 realistic mods like this one, venues will already have more sims when you get there.
For additional realism, this mod follows the base game's logic meaning a nightclub won't have a ton of sims at 8 am.

9. The Roommates Mod for Sims 4 by LittleMsSam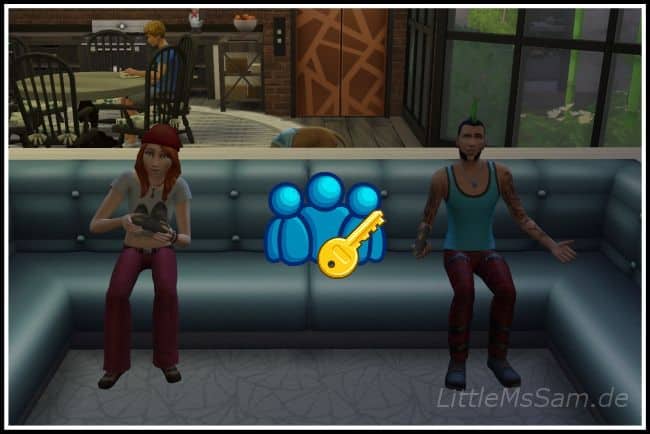 If you want to add a roommate experience to your gameplay, this mod will help you add one to your household.
With a computer or phone, your sims can contact a Roommate service to welcome a new sim to their home.
The number of roommates you can add goes up to 20, and if you want, you can also add families and not simply individual sims.
Much like in real life, roommates will pay rent and have their own stuff to do, like going to school or work.
But, at the end of each day, they won't come back until your sims call them to return home.
A way around this is to assign the Roommate Lot trait to your home; that way, your sim's roommates will return by themselves.
Many more features are included with these sims 4 realistic mods, like added interactions and a dedicated pie menu.

10. Sims 4 Realistic Whims Mod by TURBODRIVER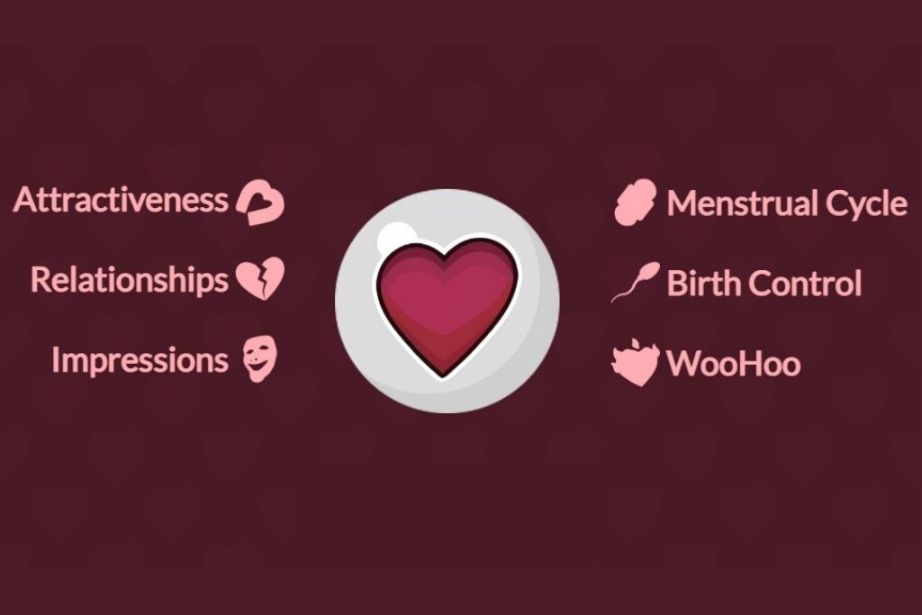 Having the Wonderful Whims mod installed adds several real-life aspects to the game:
Attractiveness, to define your sims' taste towards other sims
Relationships, to set some rules like allowing open relationships
Impressions, to determine how your sims will act with others
Menstrual Cycles, to add the joys of that time of the month to your female sims
Birth Control, to bring protection to your sims' woohoo-ing to prevent unexpected pregnancy
Woohoo, to add the risk of pregnancy when doing the deed
And many more

11. Sims 4 Elementary School Mod by Zerbu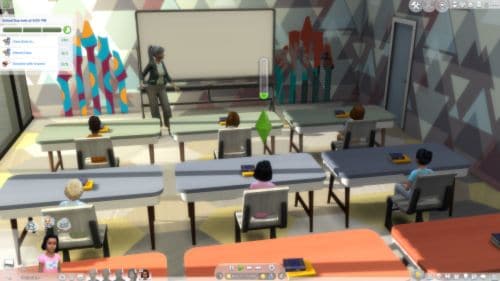 This sims 4 realistic mod requires The Sims 4: High School Years expansion pack.
This mod uses some aspects of the EP to allow younger sims to attend Elementary School.
Getting the mod to work requires building a School in your area.
Then, you'll also need to assign the School Lot type on the land it's built on.
You must install the Venue Changes mod linked on the download page to set that lot type.
Only then can the sim children attend school.
While in school, kids have a different class each day of the week, which some they'll find fun and other's boring.

12. More Realistic Romance Mod by KatieMods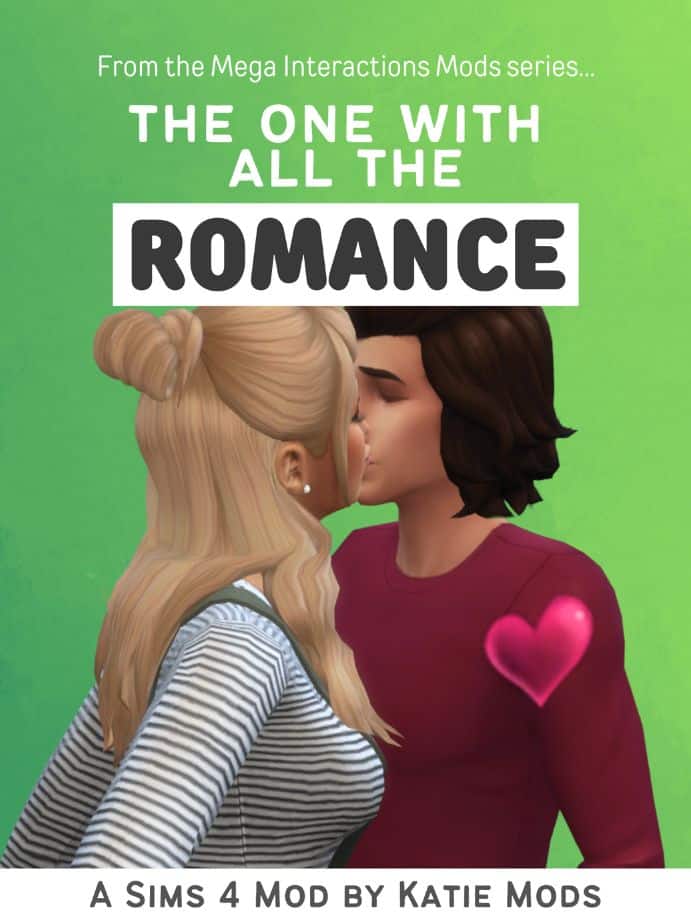 When in pursuit of romance, some of the game's romance interactions are repetitive and very limited.
These sims 4 realistic mods add a lot of options for interacting with that special someone.
The Romantic pie menu covers every relationship stage, from pick-up lines to getting to know your sims, discussing the relationship, and setting milestones.
But, just like in real life, it also covers the arguing and possible break up.
Some of these interactions may not be available, depending on the relationship level and status between the two sims.
For this mod to work, you'll need to download additional sims 4 realistic mods provided on the creator's page.

13. Real Meaningful Stories Mod by Roburky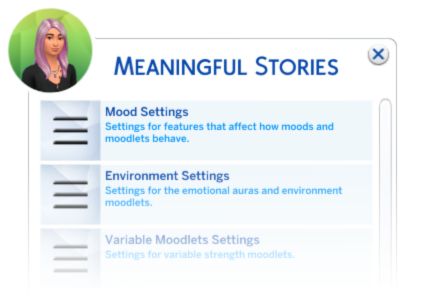 This mod will add more realism to your sims' daily lives with everyday situations people can relate to, and your sims will behave in similar ways.
It's a redesign of the game's moodlet and emotion system.
Sims will behave more naturally when faced with certain situations.
So, when sims go through a breakup, they will be depressed, and it will take time to bounce back to normal.
Without using the mod, sims would be sad for a moment and then forget and move on to a different aspect of their lives.
Getting out of tricky situations will require more effort and sometimes support from other sims.
Overall, this realistic mod is a great way to make your sims look and feel more like real people.

14. Relationship and Pregnancy Overhaul by Lumpinou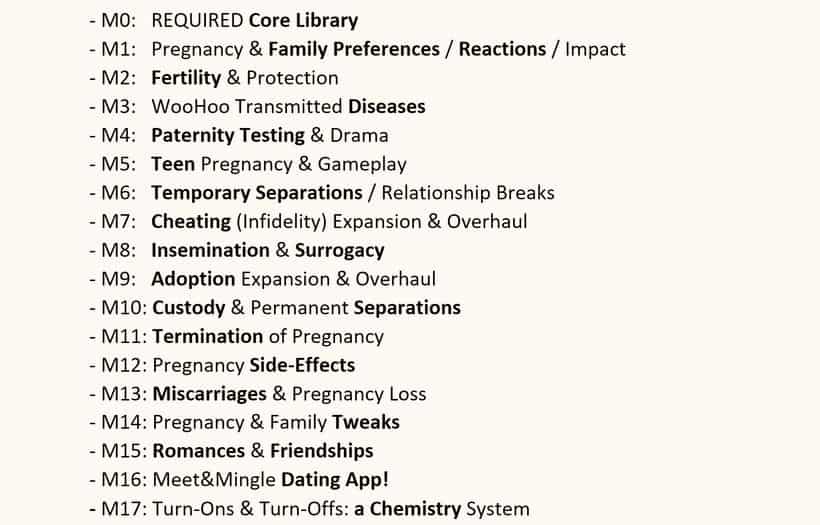 This collection of sims 4 realistic mods offers a variety of tweaks to make your sims' lives more relatable to humans.
Install one or many of the 17 mods included in this pack, but in any case, you must install the Core Library for them to work.
These mods will change many aspects of the game related to pregnancy and romance.
For pregnancy-related mods, you can tweak your sims fertility rate, give your pregnant sims some cravings or mood swings, and many more.
There are many options for relationship mods, like giving your sims a break from each other or providing a fun dating app for your single sims.

15. Towel After Shower Mod by Zero's Sims 4 Mods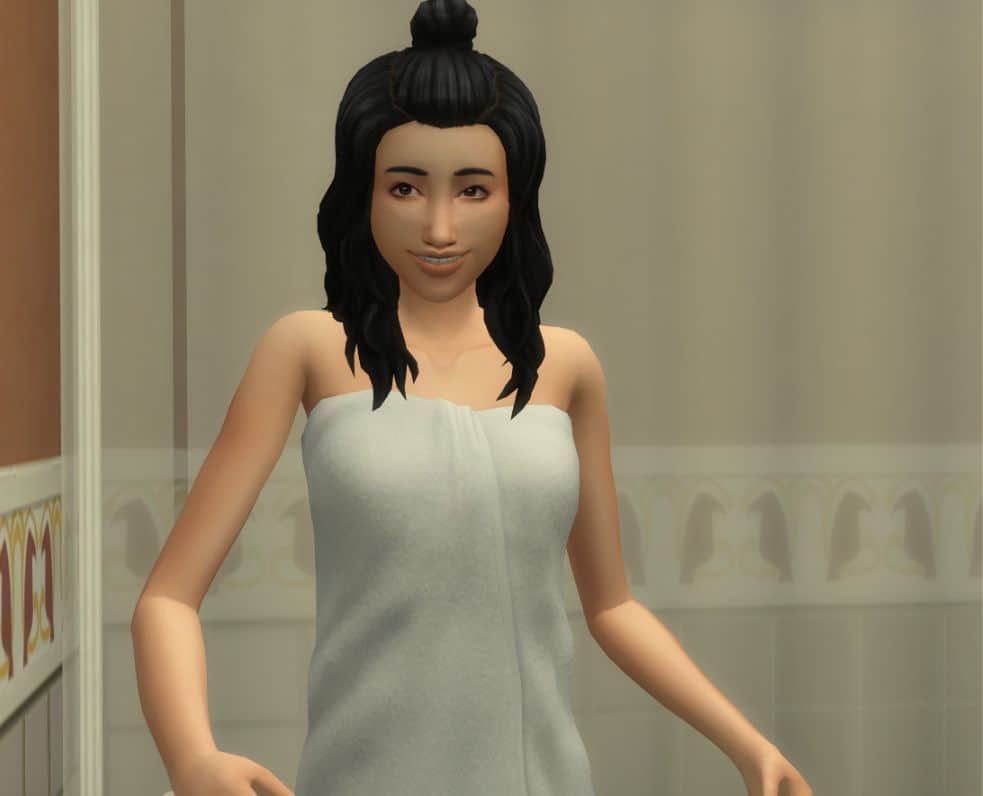 If one aspect of the game requires more realism, it has to be when a sim takes a shower or bath.
In the game, when your sims finish taking their shower, they swiftly dress up the second they walk out of it.
This mod makes your sims wear a towel, which is more realistic than suddenly being fully clothed.
Your sims will only change into their clothes in front of a mirror or a dresser, which is usually what real people would do.
Depending on the time of day, if your sims take their shower a night, they'll change into their sleepwear instead of their daytime clothes.

16. Real Wedding Planning Experience by Caradriel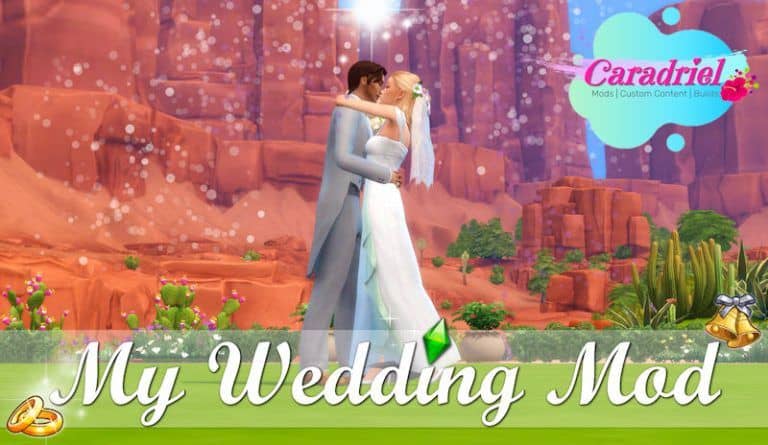 This realistic gameplay mod revamps the game's mechanics when it comes time for two sims to tie the knot.
Now, after getting engaged, there are a whole lot of things to do before the big day.
In the My Wedding pie menu, you'll see three tasks that will need your attention:
Legal Documents
Wedding Socials
Wedding Planner
In Legal Documents, your sims can look up marriage contracts or prenups.
The Wedding Socials are all about talking about the wedding with other sims, like asking for advice or informing them of the wedding date.
For obvious reasons, the best part is the actual planning of the wedding.
Your sims will book a venue, a music band, catering, send invites, etc.
The beauty of these sims 4 realistic mods is that it doesn't stop on the wedding day.
It also lets your sims get their marriage certificates and plan their honeymoon trip.
With this mod, you get the whole experience which is loads of fun through to the very end.

17. Sims 4 Realistic Mod for Real Estate by SimRealist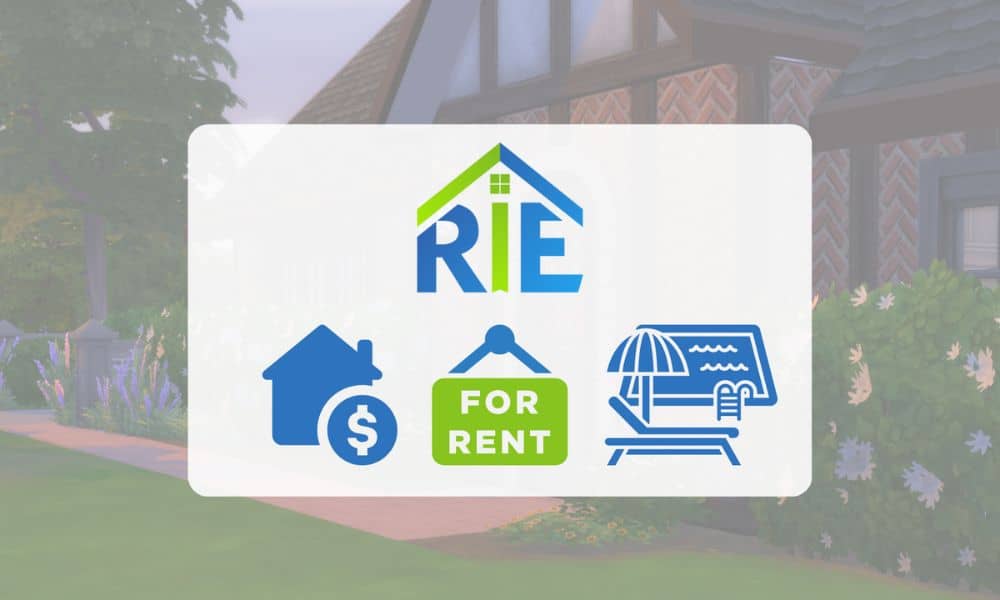 Buying a house in the game is quick and easy and can be done through the world map.
With the help of sims 4 realistic mods, buying and selling real estate becomes a bigger deal with its own gameplay mechanic.
The mod will also allow your sims to buy and sell multiple properties, not just for their home but also for investment purposes.
You'll get a new app on your sims' phone where you can :
Hire a real estate agent
Manage your sims' properties
Appraise a home lot
Check out the value of appraised homes
Once you've hired an agent, you can check out houses and request an appraisal.
After finding a house your sims like, you'll go through the closing process to purchase the property.
Purchasing a property will allow you to either move into it or set it up as a rental.
The whole process of getting a house got a lot more realistic, complete, and way more fun than it was.
For the mod to work, you'll need to install the SNBank Bills mod, which is linked on the download page.

18. Spend Weekend Mod by LittleMsSam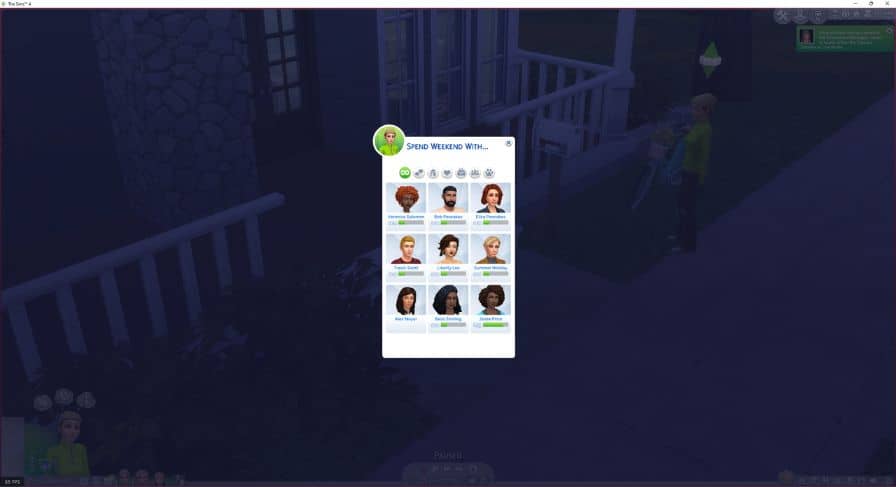 Does your sim household need a break from children and want to send them away for the weekend to enjoy some R&R?
With this sims 4 realistic mod, you can send any of your sims away for a certain amount of time—even pets.
This mod would allow sim kids or teens to spend time at their grandparents' place or a friend's house.
You'll use the Spend Weekend With option on your sims phone to send the kids away and bring them back.
While away, your sims' needs will be cared for, and they may even learn a skill or two.

19. Sims 4 Realistic Friendship Mod by KatieMods

This mod adds 47 interactions to your sims when chatting with someone.
From the Chat pie menu, four groups divide these interactions:
Emotional Support
Compliments
Chat
Vent
Your sims can only get Emotional Support from others when they're afflicted with a negative moodlet from the base game.
If your sims need to let the steam out, they can choose to Vent with other sims about different topics.
Unlike the Emotional Support interaction, there are no requirements for venting.
Your sims can Chat with others about one of the 21 newly added topics made available to your sims.
The Compliments interaction will grant a moodlet for the sims receiving the compliment.
Using these types of interactions will grant buff and moodlets to sims.
For this mod to work, you'll need to download additional sims 4 realistic mods provided on the creator's page.

20. Sims 4 Emotional Socials Mod by Helaene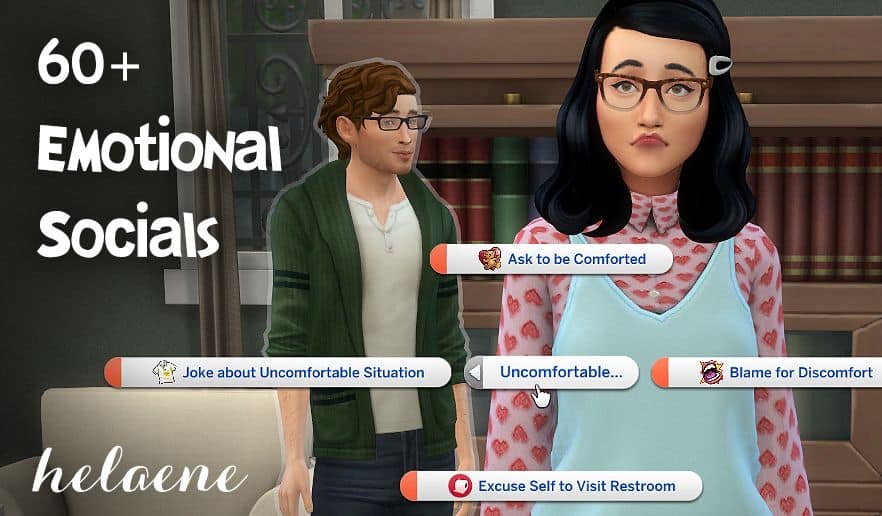 These sims 4 realistic mods add over 60 social interactions to your sims' pie menu.
15 categories divide these interactions, which are:
Angry
Bored
Confident
Dazed
Embarrassed
Energetic
Flirty
Focused
Happy
Inspired
Playful
Sad
Scared
Stressed
Uncomfortable
Each interaction may grant certain buffs or increase skill levels.
Some interactions may require a specific skill level, like Discuss New Recipe Idea would need a Cooking skill of 4.
These flavors can also impact relationship levels positively or negatively.
For example, Discuss Potential New Hobbies will increase your sims' Friendship bar, but Blame for Problems will do the opposite.
These mods are well-balanced and reflect how people would really feel in everyday life, which adds realism to our gameplay.

21. Sims 4 Realistic Height Mod by Luumia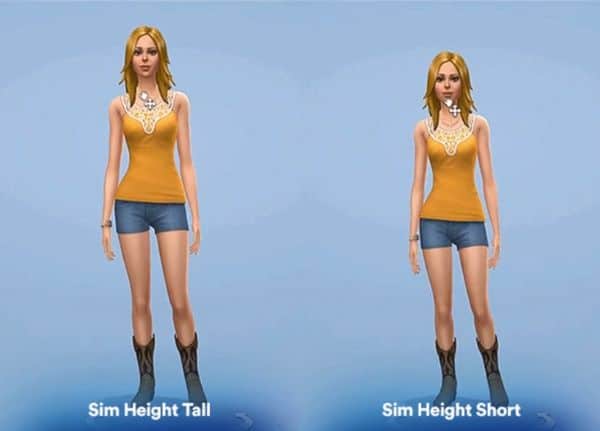 Depending on their life stage, you may have noticed that sims are usually the same height.
Things could be more realistic, and this mod addresses the height issue.
This sims 4 realistic mod will provide a slider to change your sims' height.
To change the height, click and hold your mouse cursor in the neck area while in CAS and front view.
While still holding it, you can drag the cursor up or down depending on the desired height.
There are also predefined height settings so that you can choose your sims' height between:
Short
Medium Short
Medium Tall
Tall

22. Mortem for the Sims 4 by SimRealist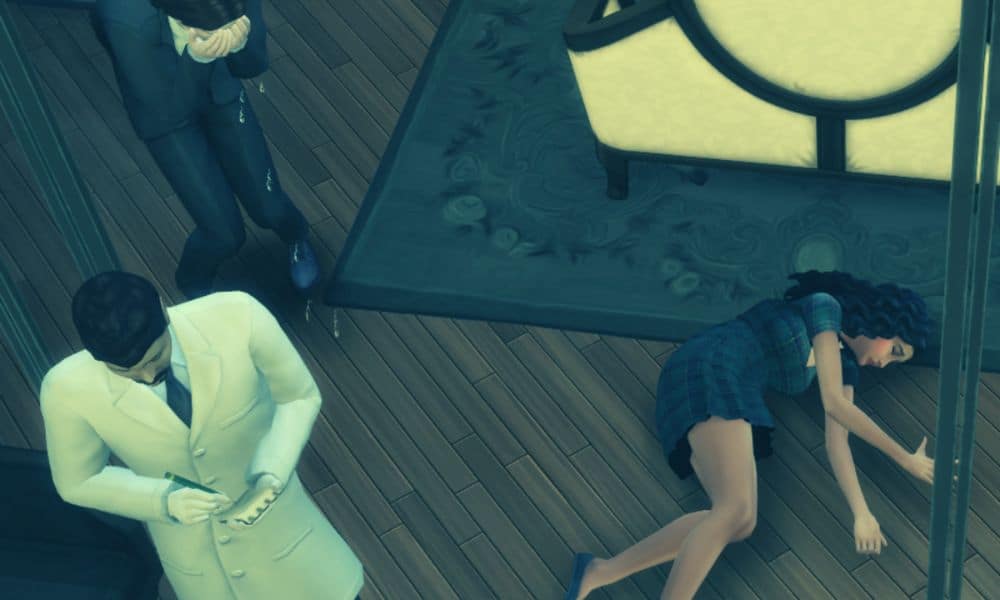 In the game, when sims die, they get a visit from the Grim Reaper, and then an urn or gravestone replaces their bodies.
The whole thing is quirky, quick, and unnatural.
This sims 4 realistic mod adds several tasks to pay our respects to the deceased properly and decently.
Following a death, here's what needs to get done:
A sim needs to call in and report the death
The body will need to be examined by a medical professional
If they wish to, sims will need to plan for funeral arrangements
Other sims will stop by and give their condolences
If selected, the deceased will have a memorial service
The late sim will then be either cremated or buried
Honestly, this process is much more realistic.
No more second wind; death becomes final, and your sim can be properly laid to rest.
Sims 4 Realistic Mods: Final Thoughts
Hopefully, by going through this list, you have found a few sims 4 realistic mods to add to your mods folder.
These mods are a great way to make the game closer to reality than it was before.
Some make the most sense, like playing with genetics to make a sim couple's baby have similar traits.
Other mods, like wedding or funeral planning, require more tasks to accomplish, which reflects the actual work behind those events.
If you have any questions or suggestions, feel free to leave us a comment below or tag us on Tumblr.

And don't forget to share and save this pin for later!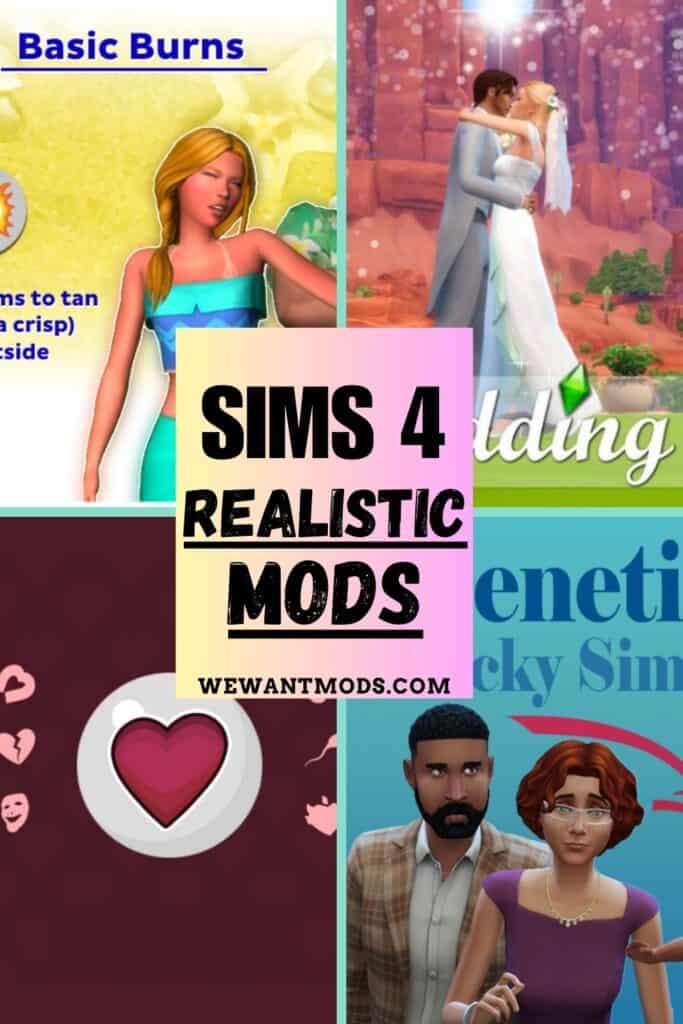 More Sims 4 Mods Posts
21+ Sims 4 Realistic Mods: For A World Closer To Ours