17+ Sims 4 Office CC Packs: Enhance Your Sims Workspace
Set your sims up for success with the perfect workspace.
This collection of sims 4 office cc packs has everything you need to start designing!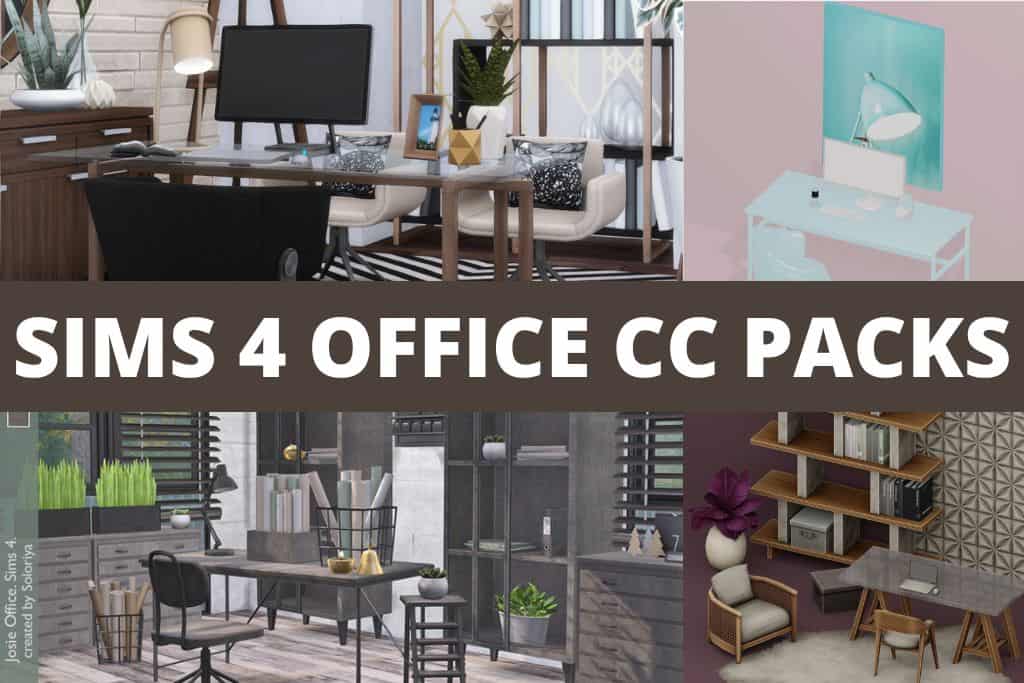 Are your sims working from home or heading to the office?
Whether you want to set up a professional office or a comfy home workspace, these sims 4 office cc packs have got you covered.
From sleek, modern desks to stylish and comfortable chairs, these furniture sets will help you create a functional and esthetic workspace.
And if you need to style the other rooms of your sim's home, we have our list of sims 4 furniture cc here.
For the bathroom, kitchen, and living room cc, you can find them linked at the bottom of this article.
Disclaimer: The following mods are neither endorsed nor affiliated with The Sims, Maxis, or Electronic Arts. Any use of mods (custom content or game mods) should be done with caution and with the knowledge that there may be risks.
Best Sims 4 Office CC Packs
We've included a mix of office furniture styles below, including items for teens to professional office spaces.
1. Sims 4 Office CC Pack by Soloriya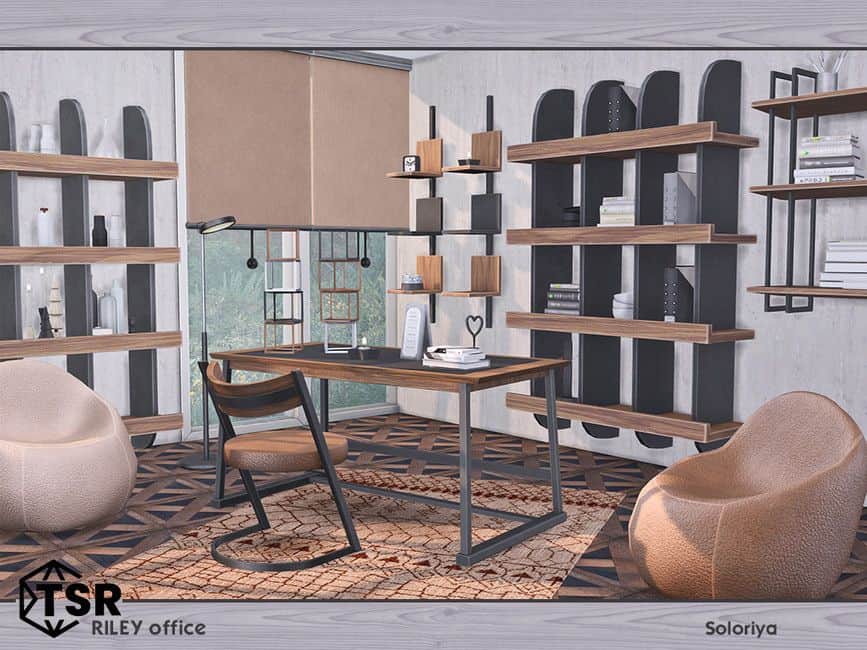 This office cc set has everything you need to create a well-organized space.
There are 9 objects in this pack, including a desk, chair, blinds, and a puff.
You can also pick from 3 different functional shelves to organize all your sims office clutter.

2. Vara Sims 4 Office Set by Peacemaker-IC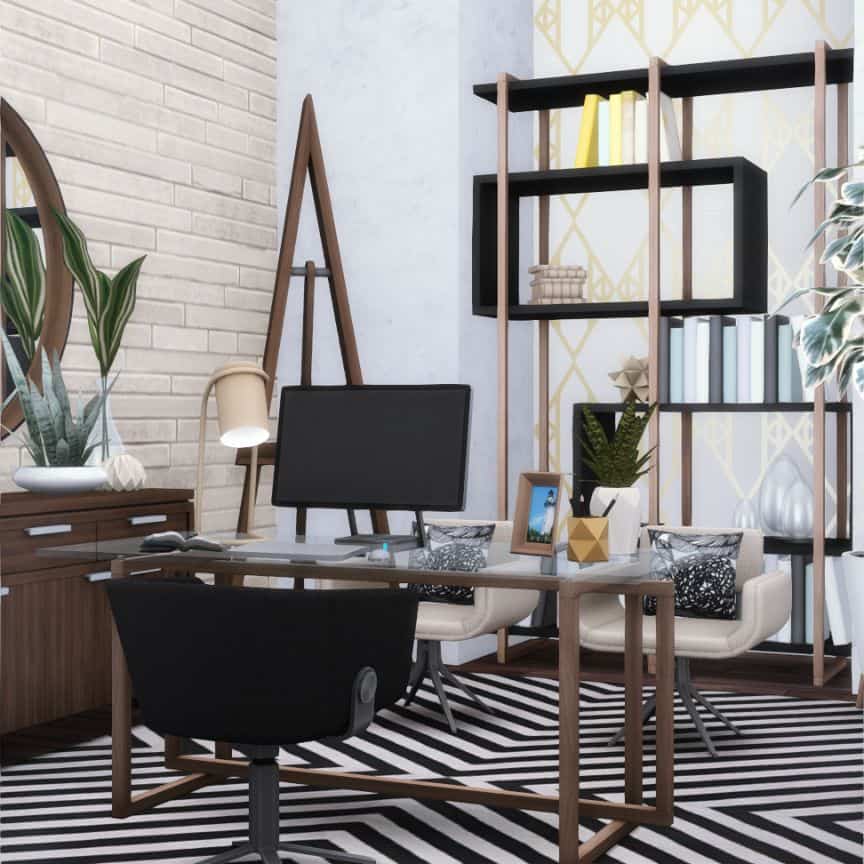 Create the perfect modern office space with this 10-piece set.
Do you need a new PC or laptop; now you can use this base game version.
I love the short office chair, especially in the light pink swatch.
As for the bookcase, you can click on it to get books.
And if your sims are into creative work, you'll probably want to grab the easel.

3. Sims 4 Teen Office CC Pack by Syboulette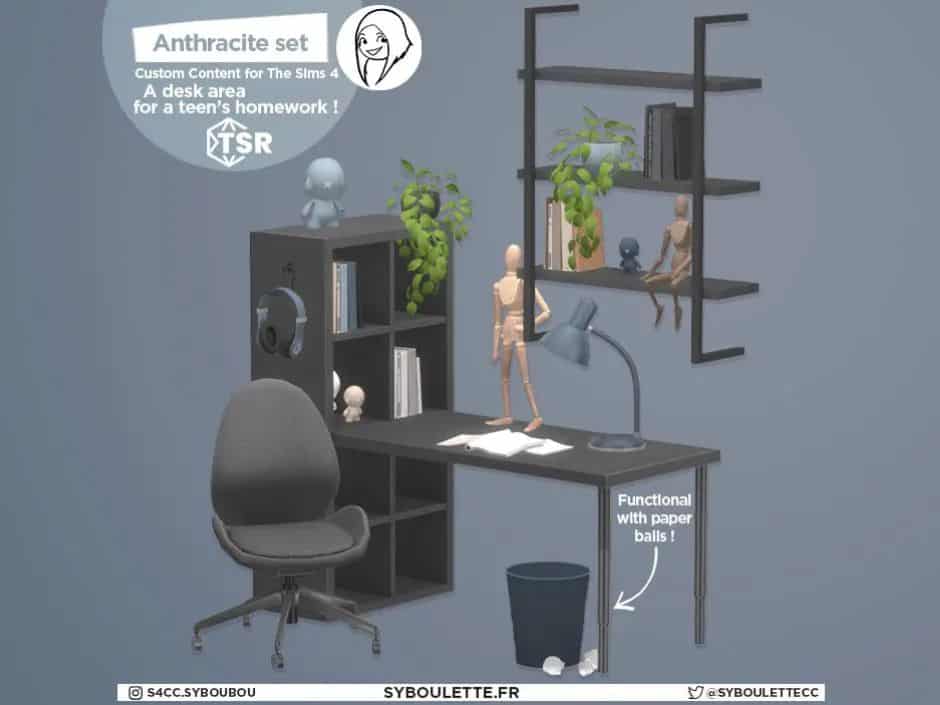 This office furniture set is an excellent option for the teens in your household.
It's a simple desk set that reminds me of IKEA furniture, and who doesn't love a functional office trashbin?
This has two parts, the furniture is linked below, and the clutter portion can be found here.

4. Modern Sims 4 Office CC Pack by myshunosun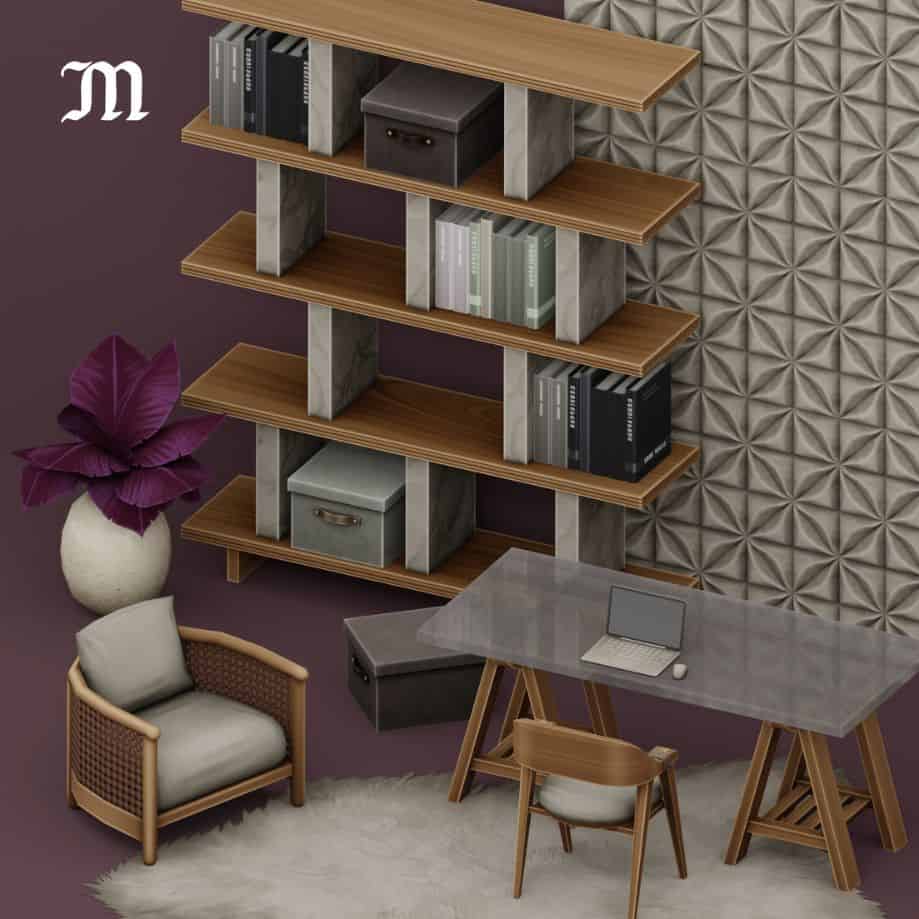 Style your sims workplace with this 10-piece contemporary sims 4 office cc pack.
You will find a functional laptop, office chair, lounge chair, shelving, books, and even 3D wall tiles.
There are between 5 and 30 swatches, depending on the piece.
And if you also want the carpet for your sims office, it's linked on the download page.

5. Sims 4 Small Office Spaces by SIXAM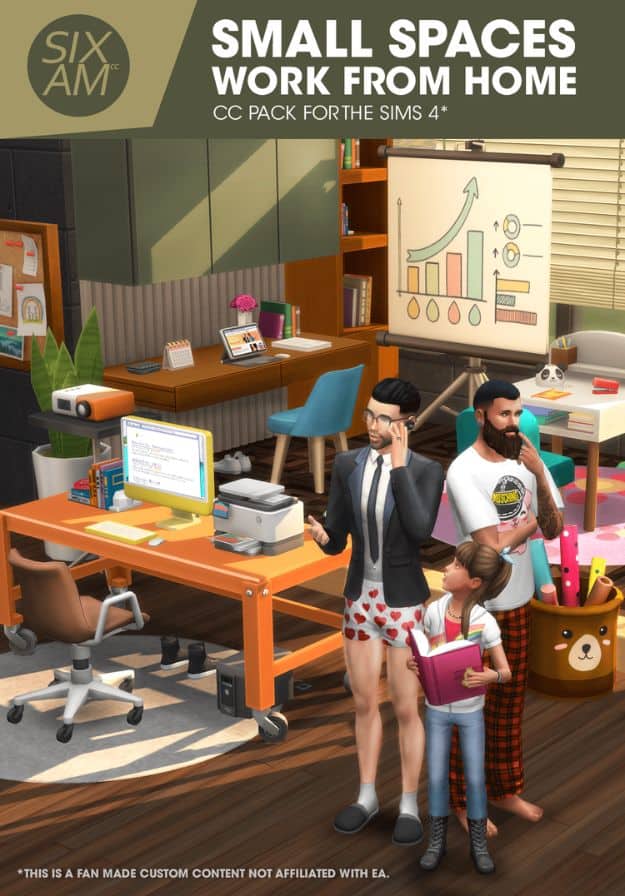 This office cc pack combines all the pieces to create a work and living space.
You get a professional-looking desk chair and one for the kids, and 3 dining chair options.
This pack has 3 large options for desks and 2 small desks in case space is limited.
You will also find other furniture, a projector table, a bookshelf, many decorative pieces, and electronics.
The printer has to be one of my favorite pieces; I love adding all those details.

6. Gamer Sims 4 Office CC Pack by SSIAT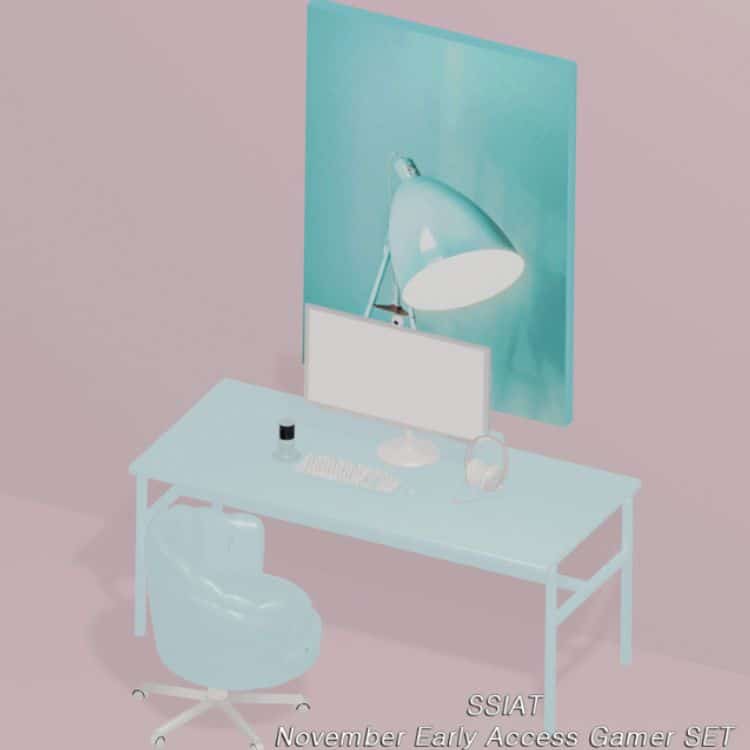 While technically created for your gamers, teens can definitely use this set as their study room furniture.
Plus, it's also great for sims that prefer a minimalistic space.
There are 6 items: a desk, chair, desktop computer, mic, headset, and wall painting.
I love all the color swatches and the different paintings in this pack.

7. Myra Sims 4 Office CC Pack by Peacemaker-IC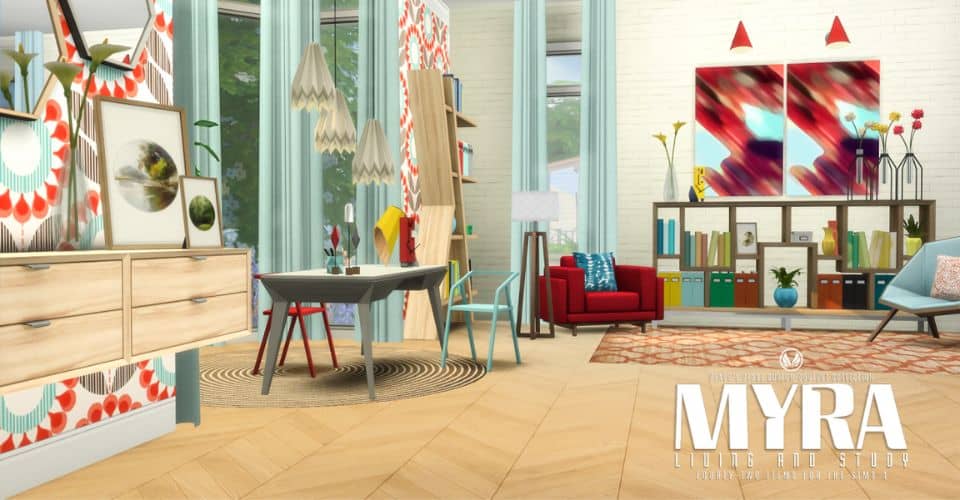 This office furniture set is ideal for your sims working from home.
You get everything you need to create the perfect office space and living room.
Many pieces are included in this pack, but let's focus on the office items.
The office items come in 15 to 30 swatches and include;
Angular desk
Desk Chair
Skewed bookcase
Rectangular bookcase
Books
Pencil holder
Document holder
Clock
Bookends

8. Cecile Sims 4 Office Set by Syboulette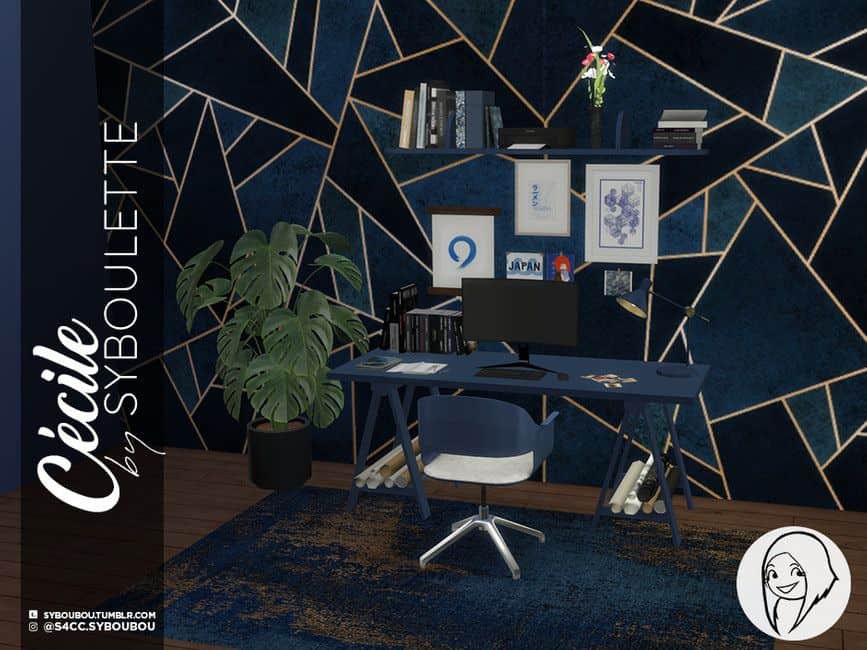 While you can totally design your sims office space with the lighter color swatches, I love this dark blue option.
This office furniture set includes a rectangular desk, a short rounded chair, a computer, a lamp, and clutter.
You can also grab the geometric gold wallpaper and abstract carpet.

9. Mid-Century Office CC Set for Sims 4 by myshunosun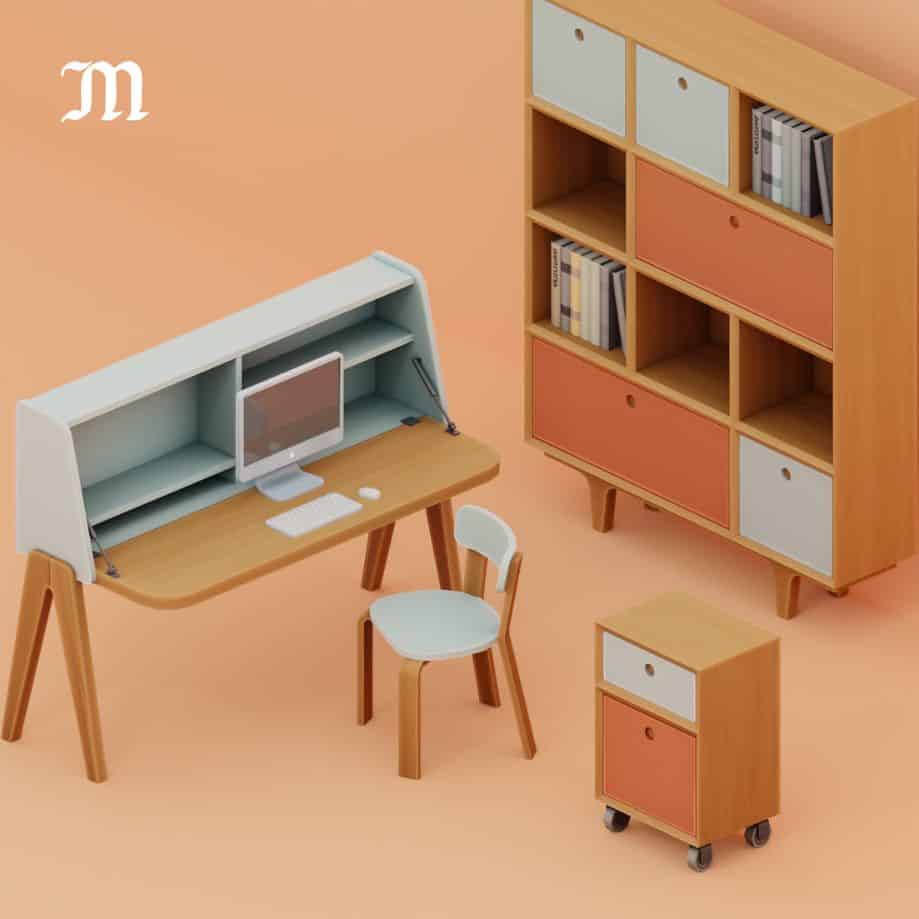 This sims 4 office cc pack is all about mid century modern furniture pieces.
The desk reminds me so much of those old-school desks for kids, but this one is larger for adults.
There are 6 items in this set;
Desk
Chair
Side table
Large bookshelf
And functional PC
While the yellow-tone wood fits the era, there are still between 5 to 14 swatches depending on the piece.

10. Architect Sims 4 Office CC Packs by Syboulette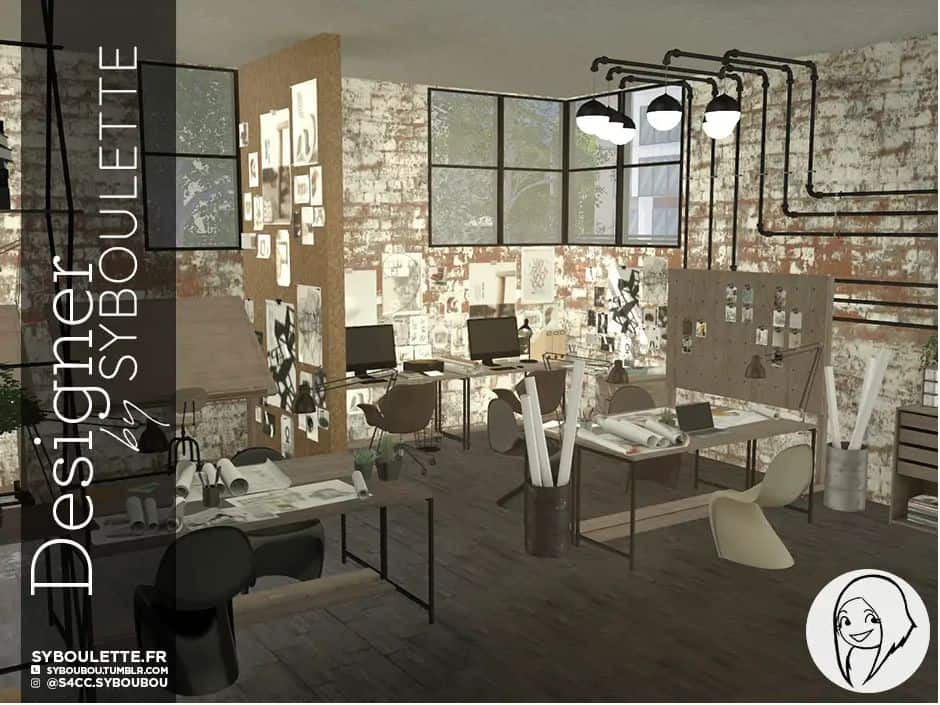 Inspired by architects and designers, this loft-style office space screams city living.
This pack has 31 custom content pieces, including functional vending machines.
Your busy sims can organize their projects with the floor-to-ceiling shelves and get to work at their drafting table.
There are so many detailed pieces, including your sims work sketches.

11. Sims 4 Office Nook by ArwenKaboom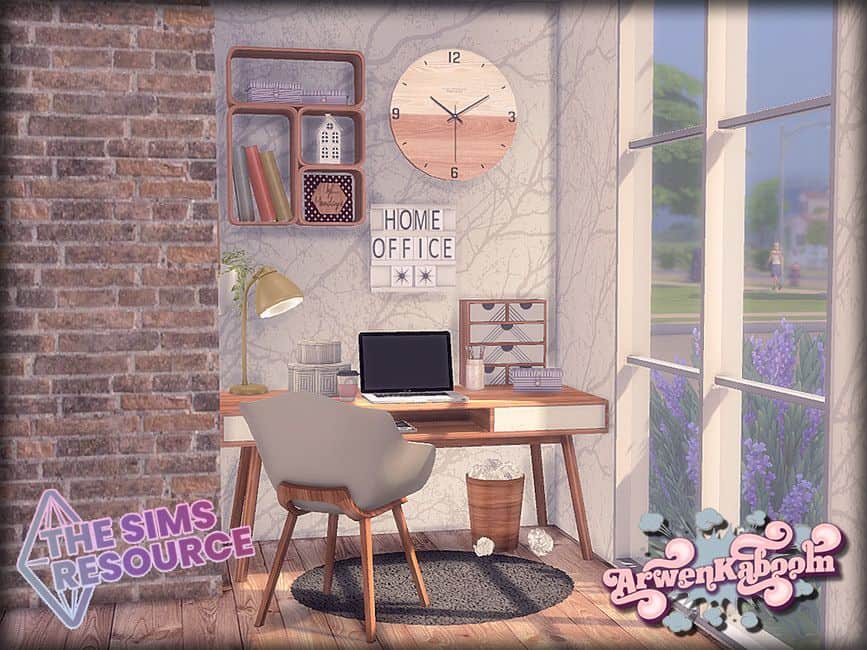 This office snook furniture is ideal for a young sim's home office or someone working with a small space.
Everything fits beautifully together, creating an esthetic office space.
There are 8 pieces included in this set.
And I've also included the clutter collection down at #18 in this list.

12. Sims 4 Office Accessories by SSIAT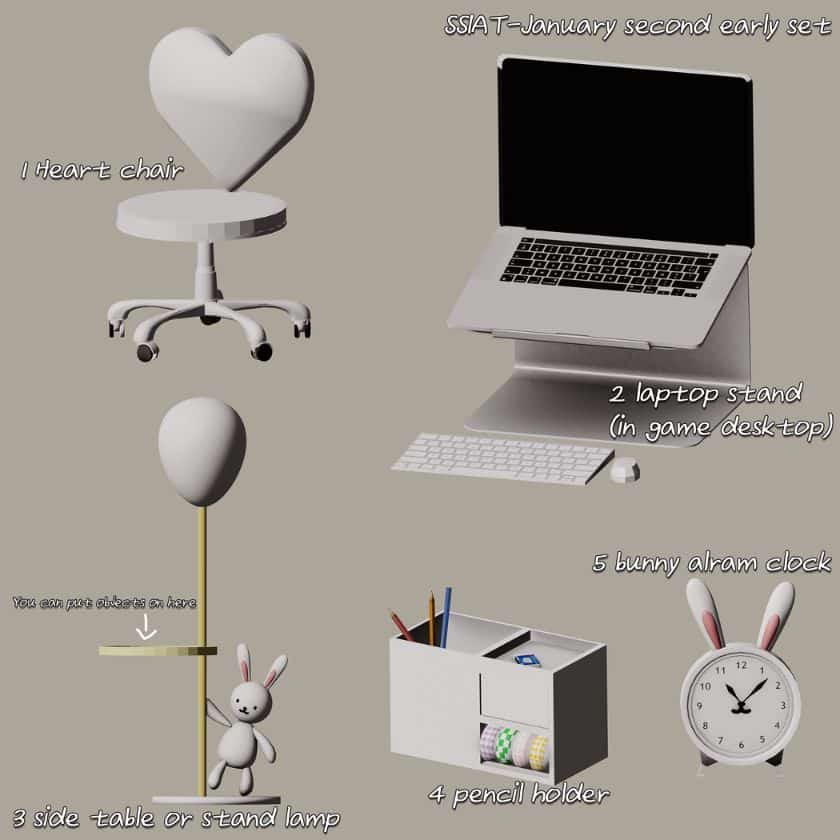 This office set is all about the accessories that brighten up a workspace.
Plus, you will also get the cute heart-shaped office stool.
My sims are always young enough to appreciate a good bunny ear clock, and there are a few different swatches to enjoy.

13. Office CC Pack for Sims 4 by Felixandre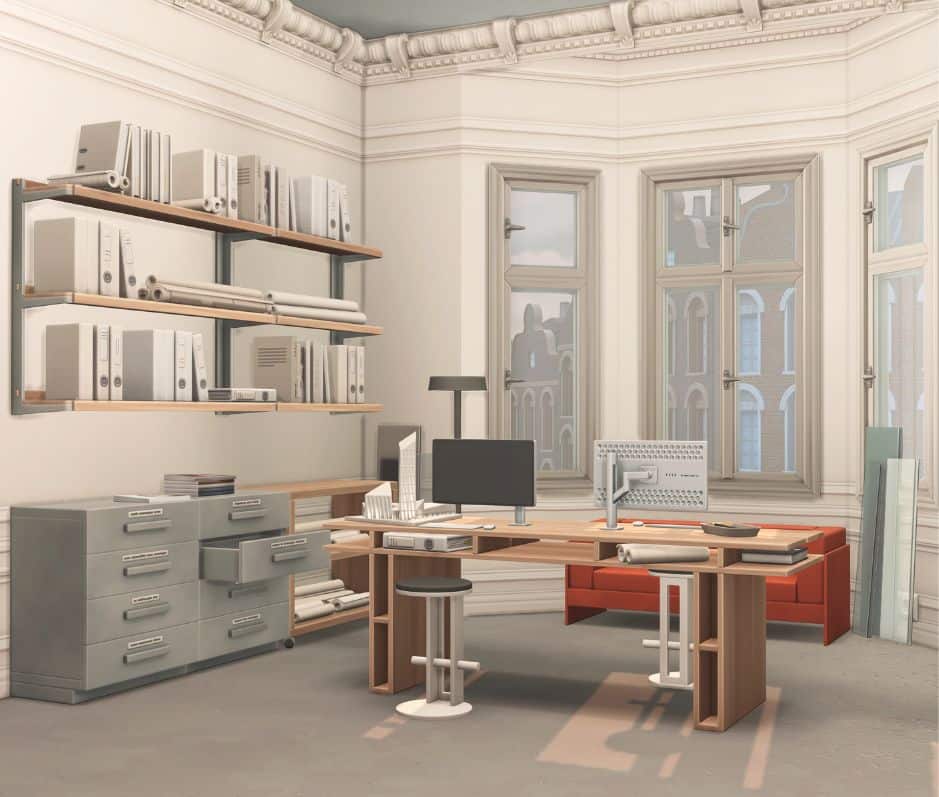 Here is another cc pack that gets its inspiration from architecture offices.
I always enjoy variety; this set has several seating and desk options.
To complete the space, you will also find shelves, drawers, cabinets, and clutter pieces.

14. Colorful Sims 4 Office CC Pack by Mechtasims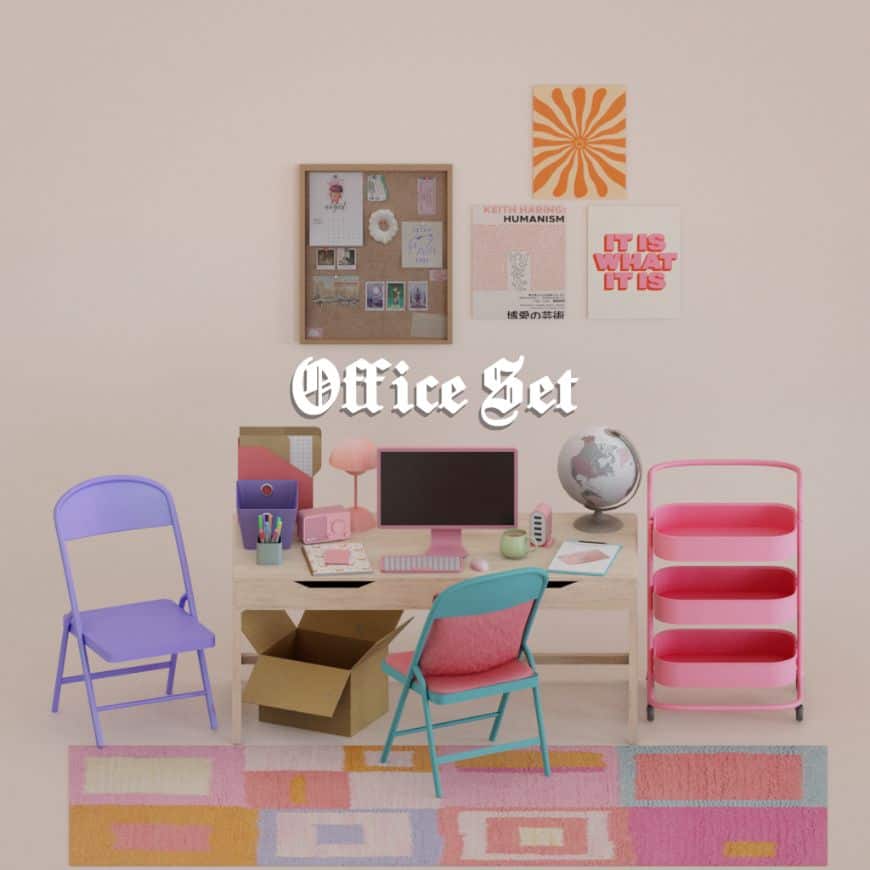 Whether your sim is working hard at college or just starting to work, this colorful office cc collection is a great option.
There are 22 custom content pieces, including a mix of furniture cc and office accessories.

15. Sims 4 Office Decor by Soloriya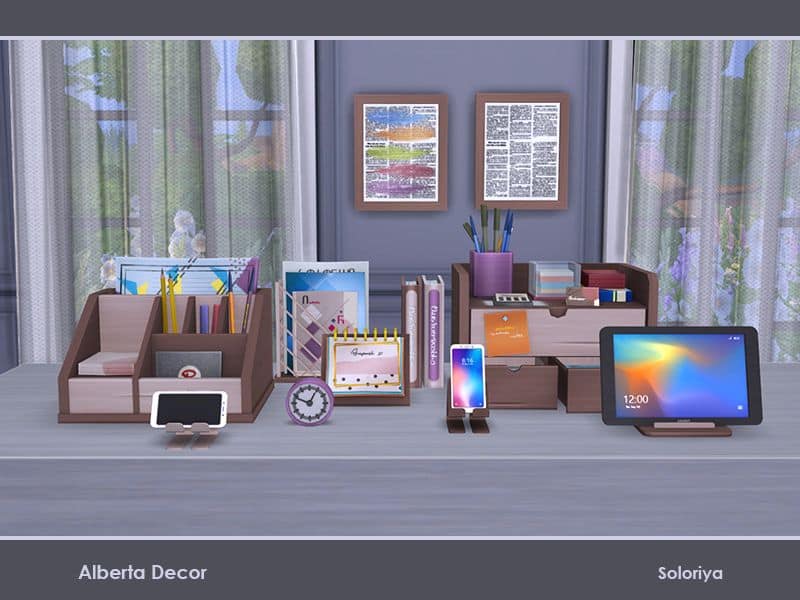 Once you've got your sims office set, you'll need the perfect office decor and organizational pieces.
This set comes with 10 decor items, and you can pick between 3 different color palettes;
File
Desk organizers
Magazine rack
Tablet holder
Cellphone holders
Painting
Clock

16. Minimalistic Sims 4 Office CC Set by myshunosun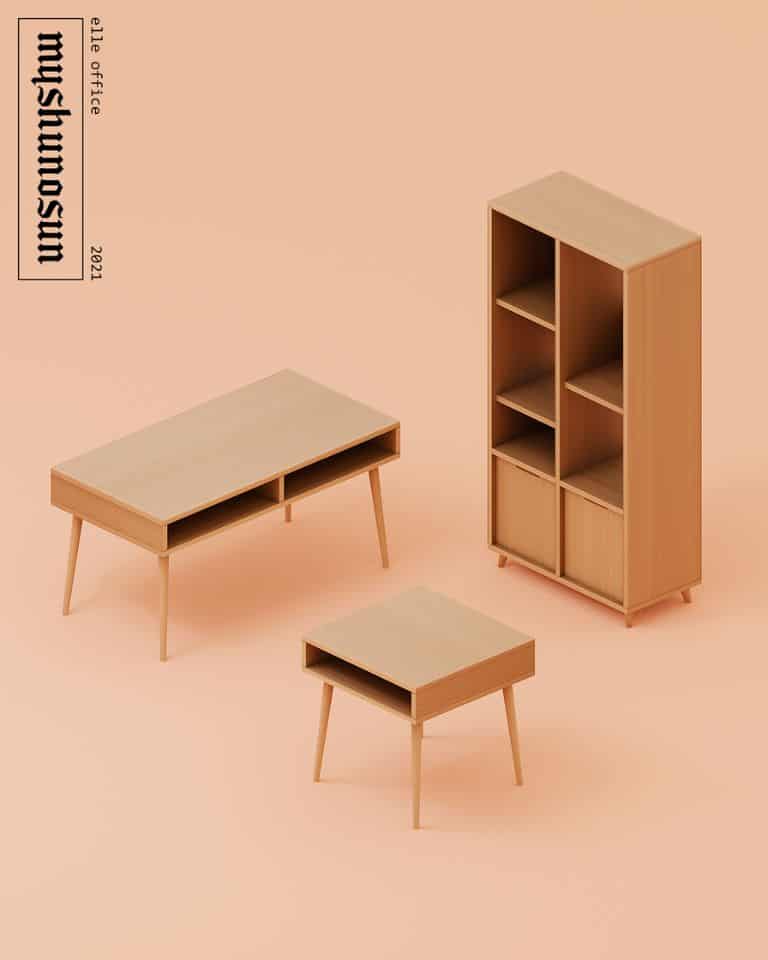 As the title indicates, this minimalistic office cc set comes with 3 basic furniture pieces;
A small-sized desk
Regular desk
Bookshelf
There are 10 maxis match wooden textures for each piece.

17. Sims 4 Business Office CC Set by Soloriya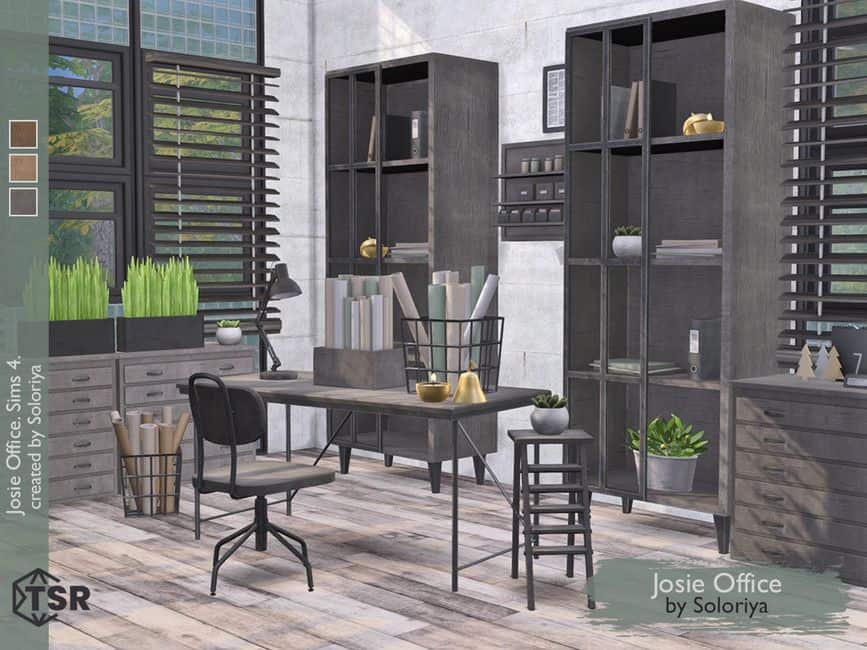 This 9-piece office cc pack focuses on wooden furniture.
All these office furniture pieces, from the large bookcases, functional shelves, and hallway tables, work to create a cohesive business office.

18. Sims 4 Office Deco Pack by ArwenKaboom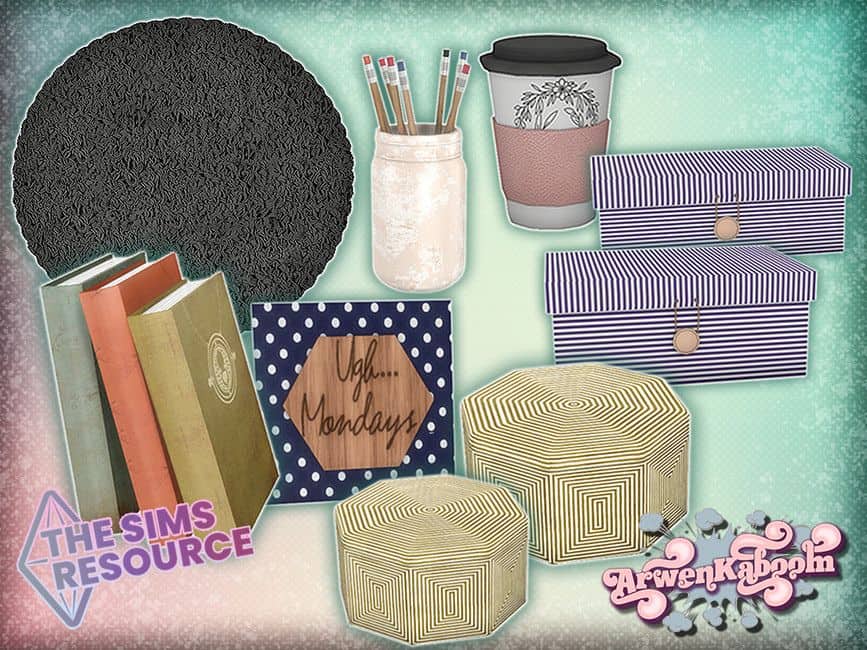 Need some more office decorations?
This deco cc pack was meant to go with the office nook at #11, but you can certainly use it elsewhere.
There are 9 objects in this set, including a circular rug, books, and a paper coffee cup for your caffeine-loving sim.
Sims 4 Office CC Packs: Final Thoughts
With so many options for customizing your sim's office, creating the perfect space has never been easier.
Using these sims 4 office cc packs, you can put together an office that fits your sim's unique personality and style.
If you have any questions or suggestions, feel free to leave us a comment below or tag us on Tumblr.
Other Sims 4 Custom Content Lists

And don't forget to share and pin this collection for later!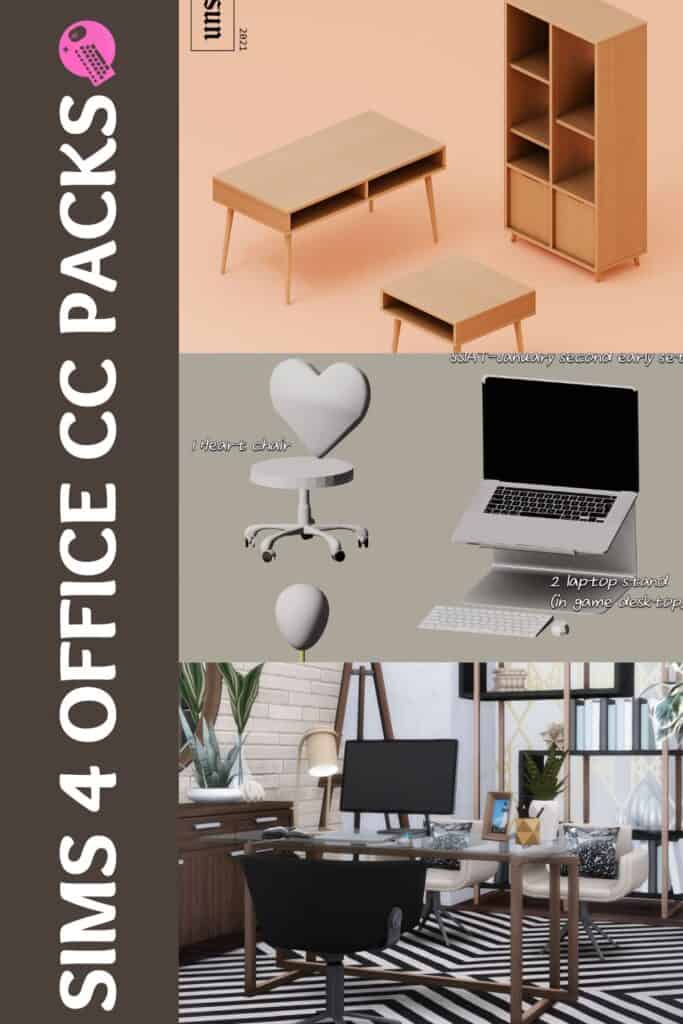 17+ Sims 4 Office CC Packs: Enhance Your Sims Workspace