33+ Sims 4 Sliders: Cheek, Hand, Feet, Sliders & More
Ready to customize your sims? With these sims 4 sliders, you can adjust everything from your sims pout to their hip dips.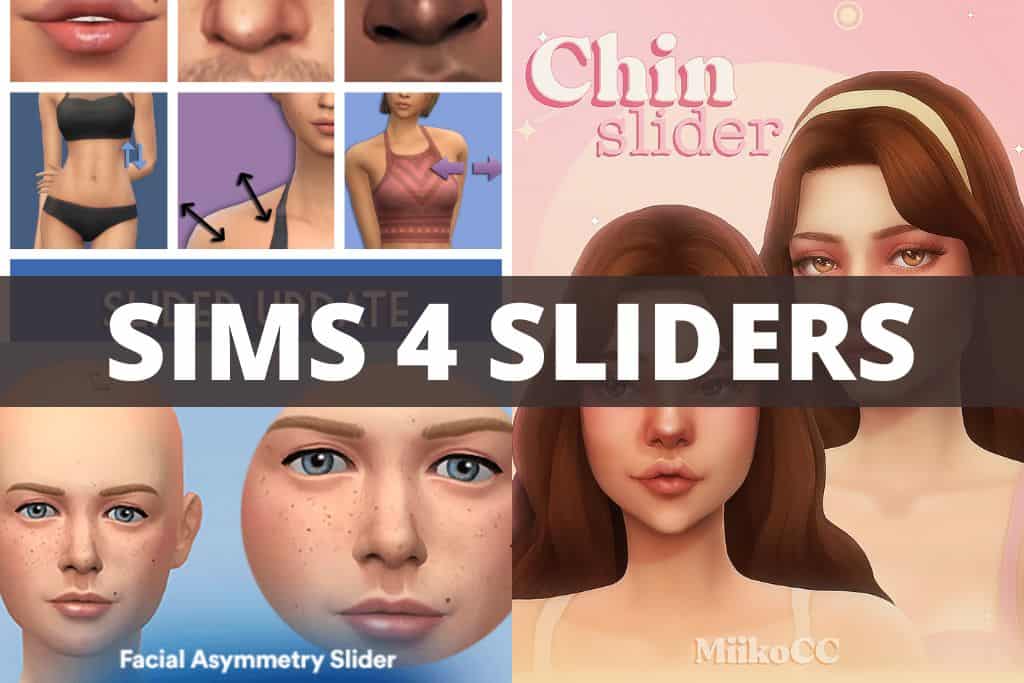 When creating a sim, it's always great to have more options for clothing, tattoos, or even physical traits.
Adding sims 4 sliders to the game's CAS enables you to fully control the end result of your sim's appearance.
With this list of must-have slider mods, you can tackle different parts of your sim's body by adjusting their shapes and sizes.
And if you're interested in height sliders specifically, you can check out our dedicated post on Sims 4 Height Slider Mods.
Sims 4 Sliders
In our collection below, you will find a mix of sims 4 sliders, from eyebrow sliders to adjusting your sims calves.
Leave no angle untouched; you can personalize your sims as little or much as you need.
1. Mixed Sliders for Sims 4 by Ice-creamforbreakfast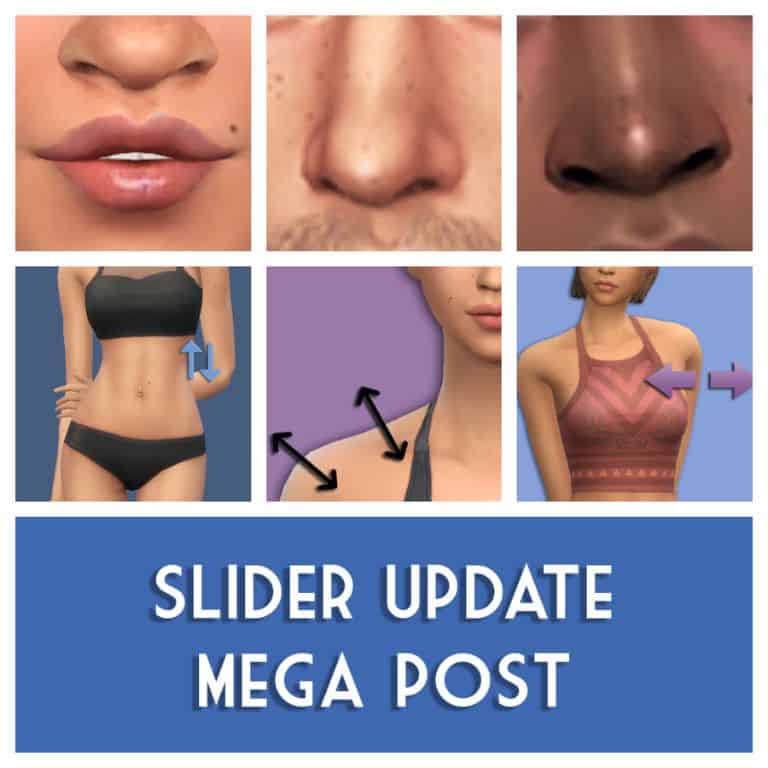 With the slider mods included in this pack, you can modify your sim's body in many ways.
This collection includes:
Nose width slider
Nose tilt slider
Shoulder height slider
Hip height slider
As well as sims 4 sliders for:
Lip up
Feet width
Chest width
Ear tilt
Each of these mods has its own download file, so you can pick the sliders you need.

2. Sims 4 Eyebrow Sliders by Miiko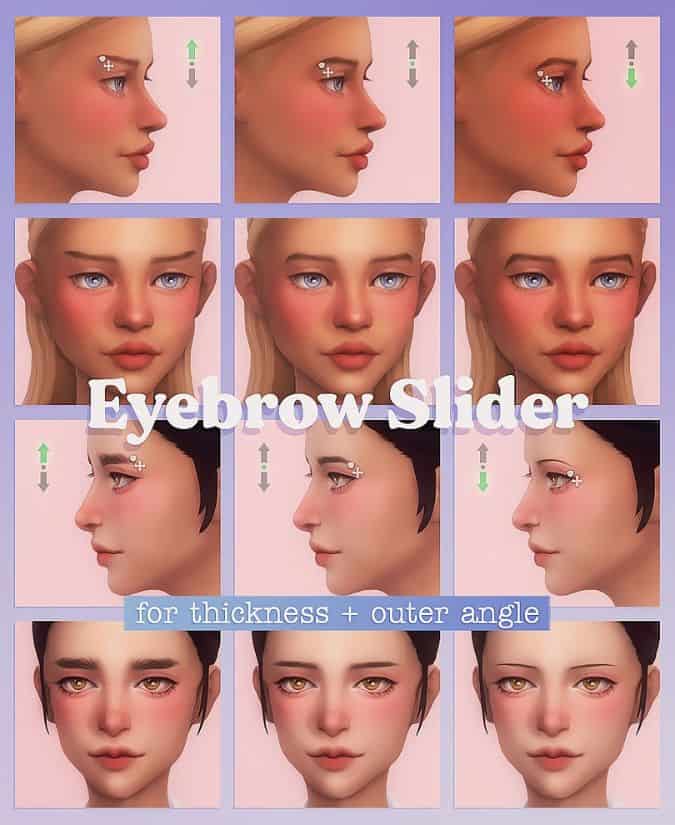 Do you want to change up the brows on your Sims?
These eyebrows sliders help change their thickness and the curve of the eyebrow's outer angle.
When you look at eyebrow custom content, they usually have predefined looks with no in-between.
With this eyebrow thickness slider, your sim can now have brows that are more customized to your liking.
They can be used on any sims in your household.

3. Sims 4 Slider Mods by Pirumxsim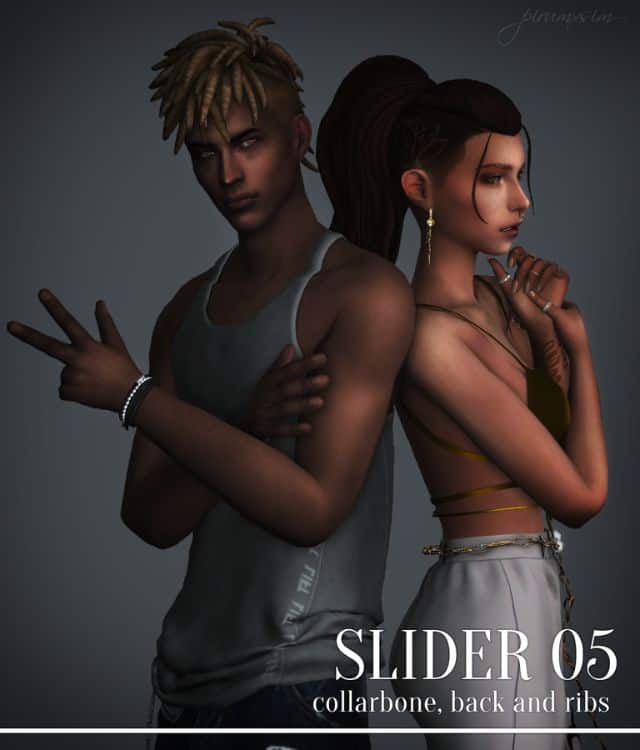 Every detail counts when you want to create the perfect sim.
With these sims 4 sliders, you can change the appearance of your sims' collarbone, back, and ribs.
You can say goodbye to rounded and smooth features and add some definition to your sims.
If you have a sim that is either thin or fit, this pack is ideal as it provides added detail for a more realistic finish.
These slider mods work on any sim of ages teen and up.

4. Unlocked Sliders for Kids by Obscurus-sims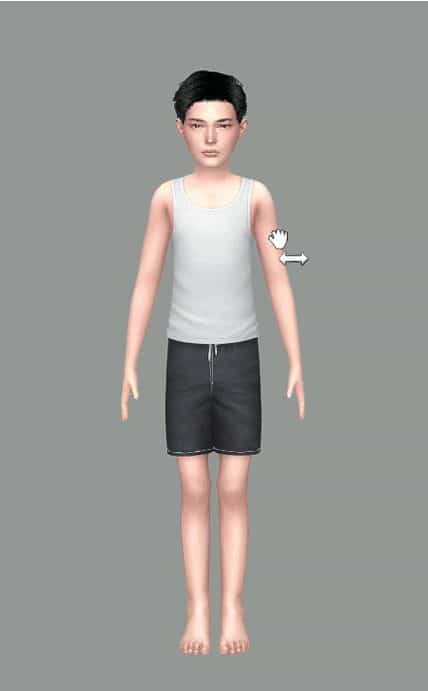 Your sim kids can also benefit from sliders with this all-in-one solution.
With these kid body sliders, you can change a number of things on them, like their shoulders, legs, and arms.
They work for kids exclusively, regardless of gender.
Since most sliders found are for sims aged teen+, this mod is a must-have for anyone looking for sliders for kids.

5. Chin Dimple Slider by Sunflower Petals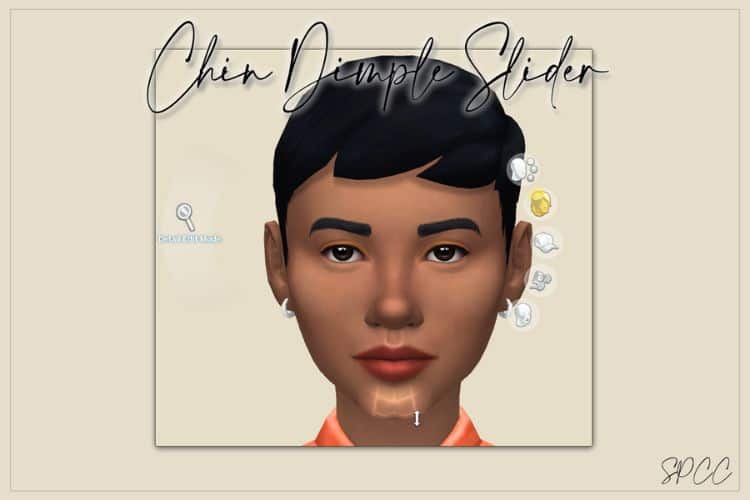 Are you looking to add a cute chin dimple to your sim?
This slider mod will allow you to change your sim's jawbone by controlling the indention level.
So, you can give a subtle dimple to your female sims or a more prominent one for your male sims.
The fun part of this chin slider is that it can be used on sims aged as low as toddlers.
Imagine giving your whole household an adorable little butt chin, including your toddlers.
With that, you can definitely say that dimples run in the family.

6. Lip Fullness Slider Set by Vibrantpixels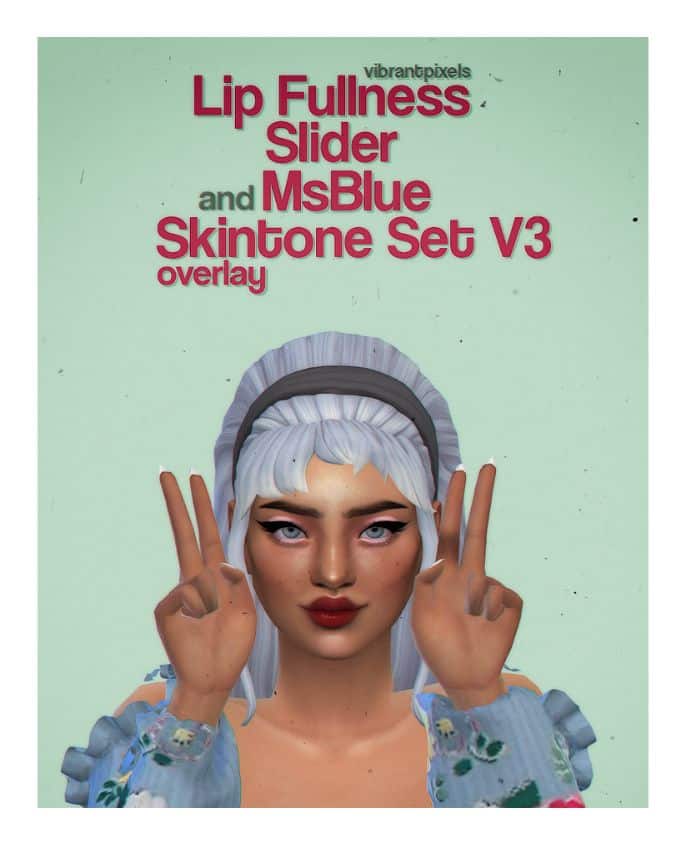 If your sims' lips look somewhat flat, you need this lip fullness slider mod.
You'll be able to give your sims voluptuous and kissable lips while saving your sim a trip to the plastic surgeon.
To access this lip slider, you must go into Detail Edit mode near the earlobe.
By going left or right, you'll be able to tweak your sim's lip volume.
This sims 4 slider works on teen+ sims for both genders.
Also, if you like skin overlay mods, the creator has included one to download on the slider's page.

7. Sims 4 Foot Sliders by MAGIC BOT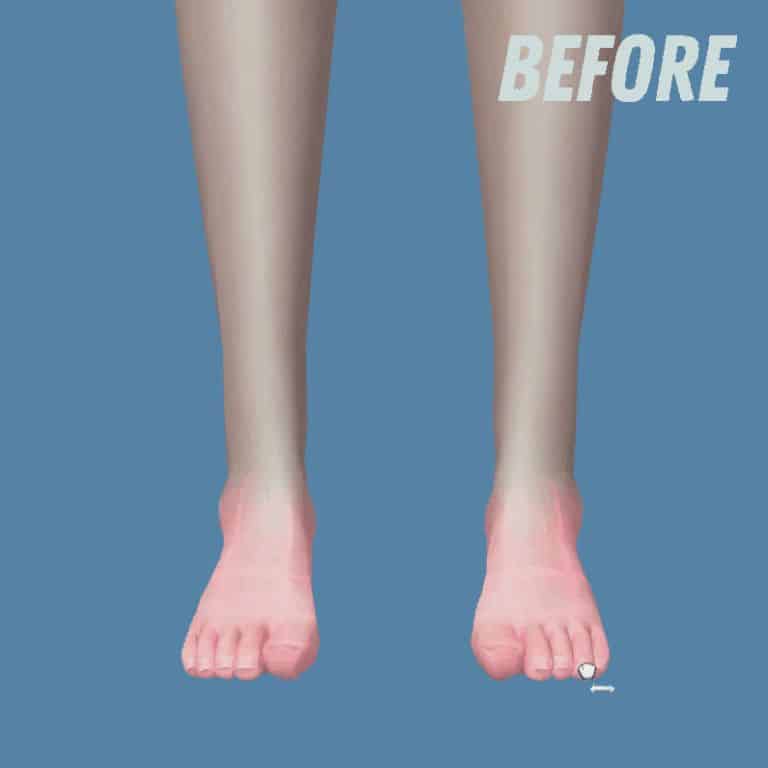 Have you wanted to give your sim cute little feet or extra wide ones?
This slider will allow your sims feet to grow or shrink a few shoe sizes.
You can modify the feet's width and length and "levitate" your sim to compensate for shoe cc.
Changing your sim's vertical alignment is helpful if your sim wears elevated shoes like platform or high heels.

8. Sims 4 Hand Size Slider by Luumia
If you want to modify your sim's hands, now you can use this mod which includes two sliders.
The first one adjusts the size of the hands, while the other changes the fingers' thickness.
With this slider mod, you can adjust your sim hands to be more proportionate to their body shape, creating a more realistic look.

9. Realistic Legs & Knees Slider by Pirumxsim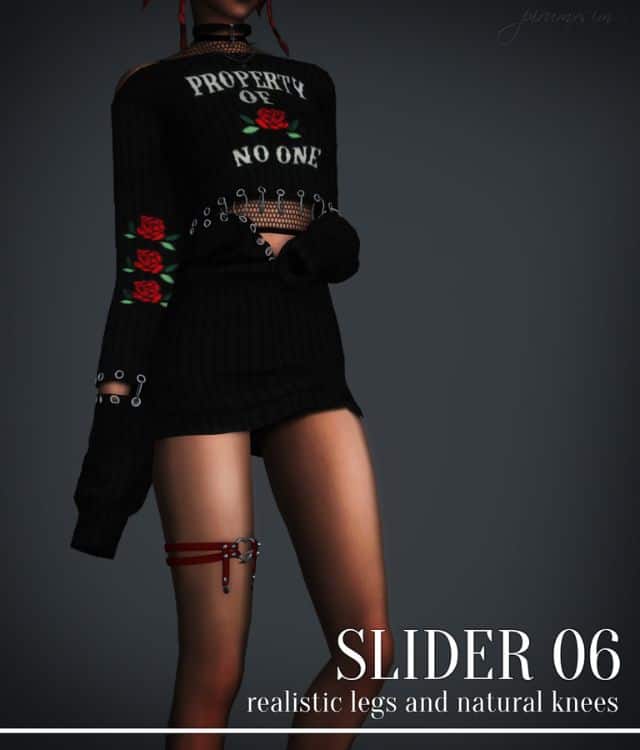 With this leg slider, you can adjust the look and alignment of your sim's legs.
The first thing to know when using this slider, you'll find the hot zone in the feet region.
If you use the slider while on the front view of your sim, the knees will bend inward, giving the legs knock-knees look.
While on the side view, with the same up-down motion, the slider will change how big or small the knees appear.
As for the back view, going up-down with the sims 4 slider will make the knees bend outward for a more bowleg effect.

10. Shoulder Height Slider Mod by Dumbaby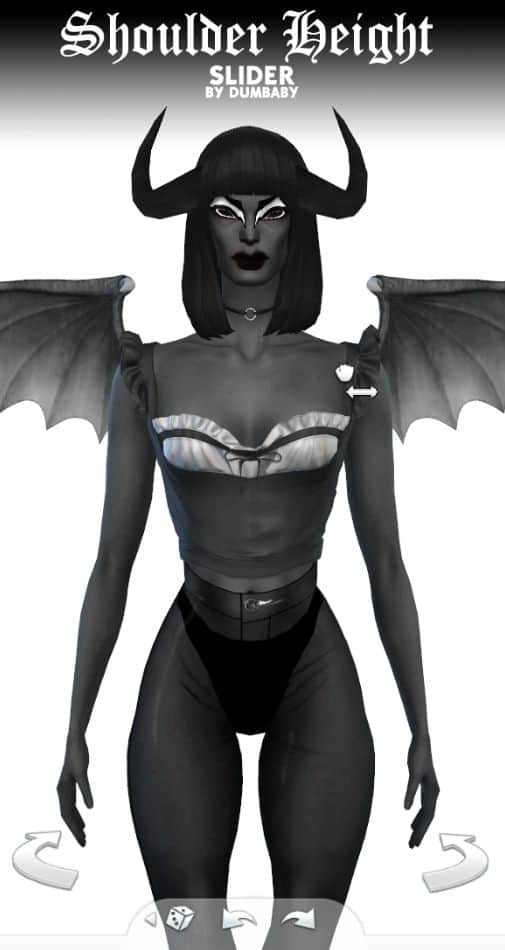 You should grab this mod if you want a simple slider to change the look of your sim's shoulders.
With this shoulder slider, you can determine how broad your sim's shoulders should be.
So you can find the sweet spot between standard shoulders to high broad ones.
Look out for necklaces, as they usually work with this mod, but there have been some exceptions, according to the creator.
This mod works on both genders, but they each have their own file.

11. Nose Width Slider for Sims 4 by Teanmoon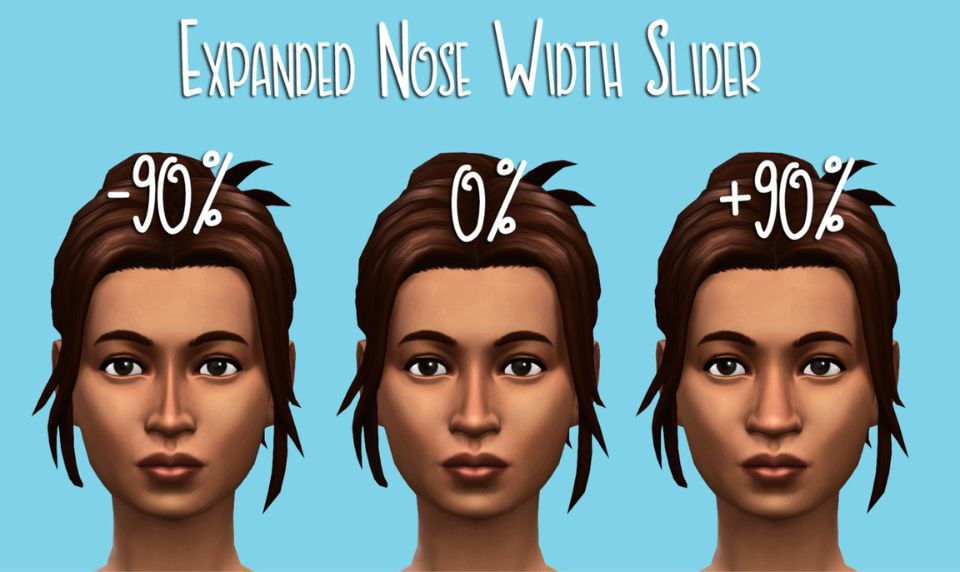 If you want to change how wide or narrow your sim's nose is, this sims 4 slider will help you with that.
You must go to the close-up Detail Edit mode to be able to change the nose width.
With your cursor around the nose bridge, you can slide the cursor vertically to set the nose thickness.
You can really play with the levels of thinness and thickness of the nose bridge.
This slider works for male and female sims aged teens+.

12. Breast Slider Mod by CmarNYC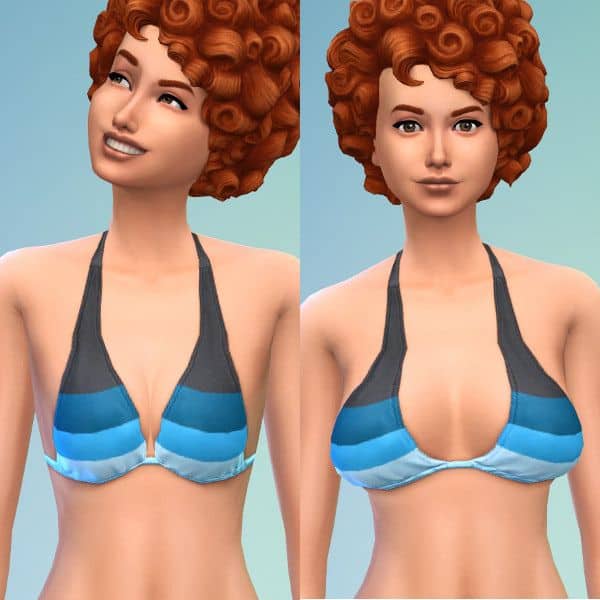 With the help of this mod, you give the twins a little breathing room.
Using this slider, you can set the degree of separation of your female sim's breasts.
This mod only works on female frames instead of relying solely on gender.
This means this slider can be used on a male in a female frame but not a female in a male one.

13. Upper & Lower Lip Sliders by Redhead Sims CC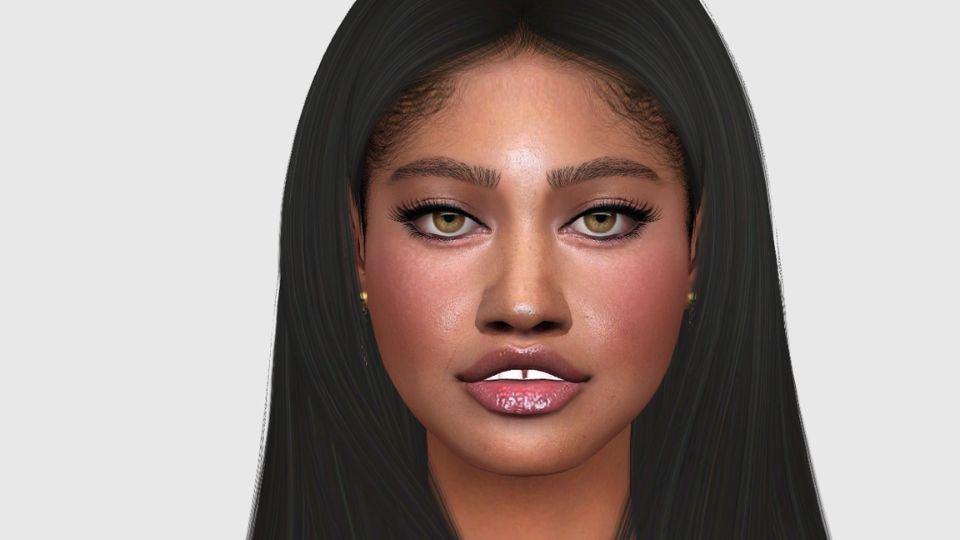 With the help of this slider mod, you can control the upper and lower lip of your sim.
Whether you need that shorter upper lip look or want to customize your sim's mouth overall, you can get it done with this lip mod.
Two versions are available on the download page, one for adults and another for kids.

14. Slider for Eyes Alignment by obscurus-sims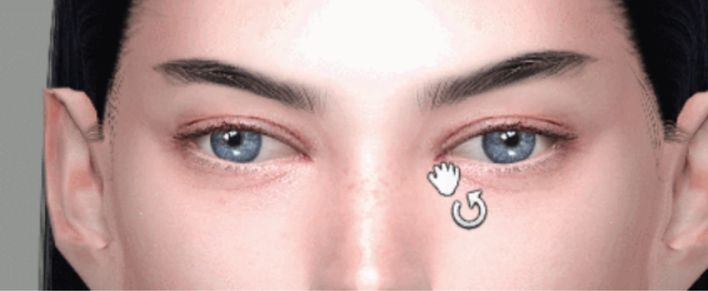 You can play around with your sim's eye alignment with this esotropia and exotropia slider.
By shifting your cursor left and right around the eye area, you can determine how much the eyes deviate inward or outward.
So if you're looking to give your sim a cross-eyed look, even a slight one, this tool is the way to go.
This sims 4 slider can be used on any sim in your household.

15. Hand Shape & Finger Lenght Slider by Pirumxsim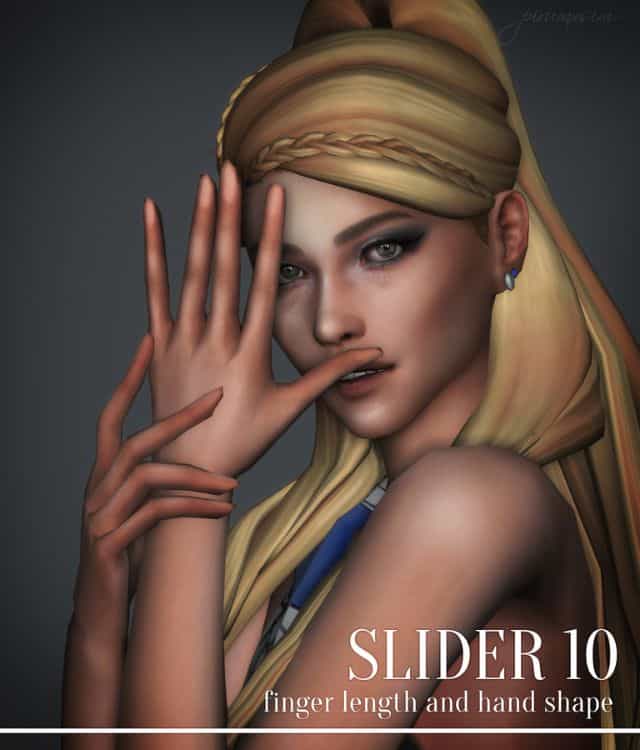 These sims 4 sliders affect your sim's finger length and hand shape.
You'll need your sim to be on a side view to use these sliders.
By using the hot zone around the hip level, going up and down on either side of the hand will have different effects.
Playing with the hand's left side will change your sim's hand shape.
While on the right side, it will change your sims finger length.

16. Sims 4 Body Sliders by Vibrantpixels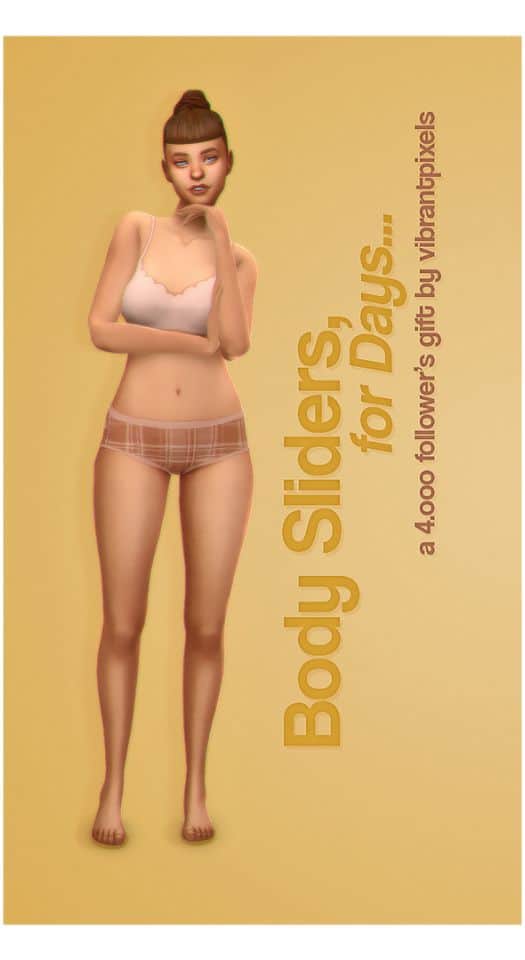 This mod is a great find, as it changes many body parts on your sim.
There are four files to grab and install, with each one providing a slider to change certain aspects of your sim's body:
Hip Dip
Thighs
Calves
Belly and breasts
Ankles (found in hip dip file)
To grab these sims 4 sliders and learn how to use them, you'll find everything inside the Google Doc linked on the creator's page.

17. Sims 4 Pointed Ears Mod by CmarNYC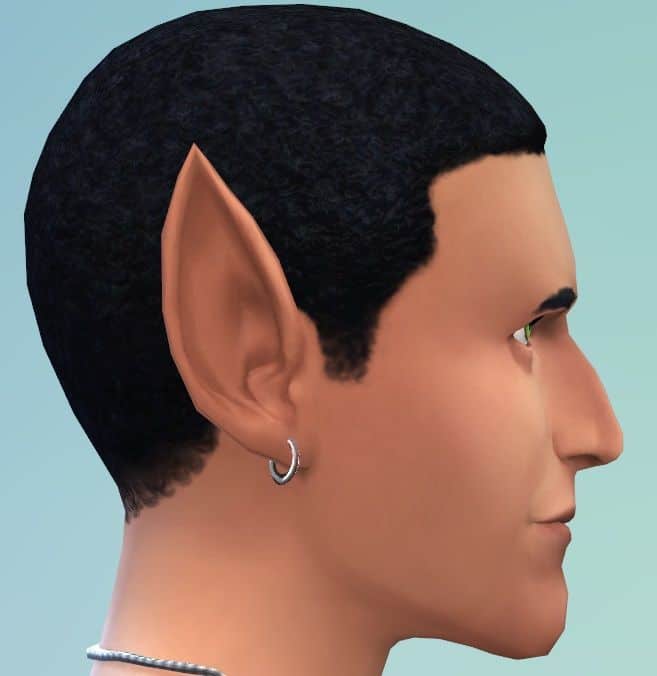 This mod is great for people who want a sim to look like mythical creatures such as elves or vampires.
Your sim can even live long and prosper will cool-looking pointed ears.
You can set the angle and length of your sim's ears with the move of a mouse.
I used this mod combined with some sims 4 vampire custom content, and the results were terrific.

18. Belly Slider for Sims 4 by Hi-land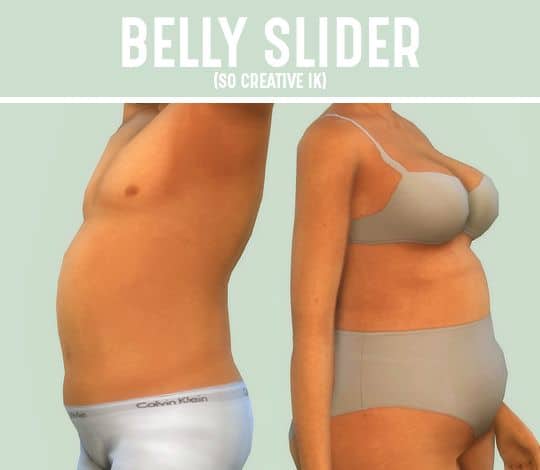 Make your sims appear like they've put up a few pounds with this belly slider.
This gives a more realistic-looking tummy than EA's more rounded shape.
Any teenage sim and older can expand horizontally with this slider.

19. Sims 4 Earlobe Slider Mod by bloodmoon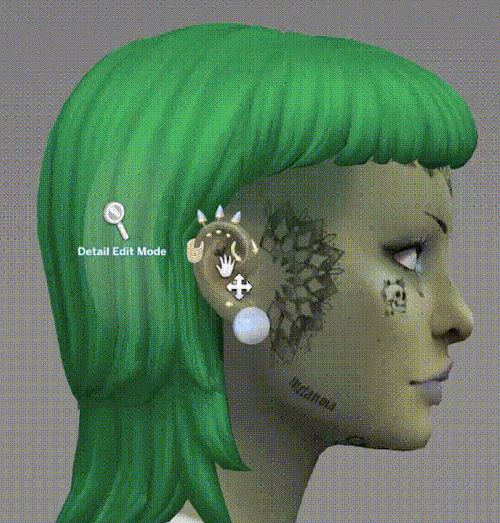 If you're a fan of piercings and using them on your sims, you will need this earlobe slider.
In other words, if you're using plug earrings, they will look weird and misaligned with normal-sized lobes.
With the help of this sims 4 slider, you can change the earlobe size to fit the piercing cc perfectly.

20. Disdain Facial Lip Sliders by Dumbaby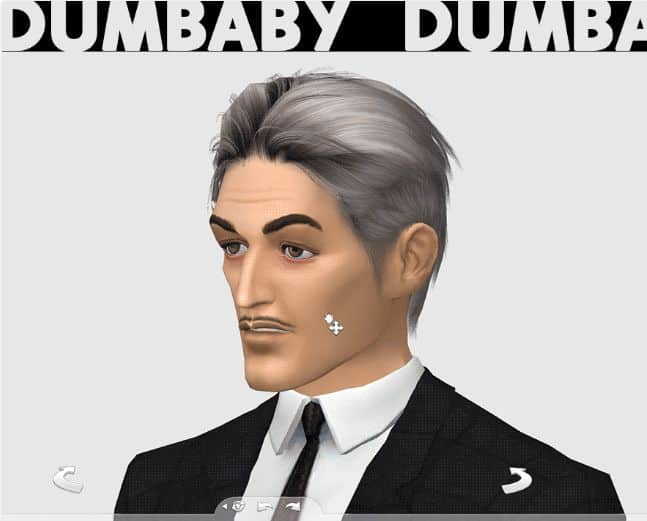 Are you creating a sim that hates being around other people, thinks they're better than everyone, or is simply miserable?
If you answered 'Yes', you should use this slider on your sim.
With this mod tool, you can give your sim a disdainful look by playing around with the upper lip on either side of the face.
There are two sims 4 sliders to grab, one for each gender.

21. Breast Shape Slider by Pirumxsim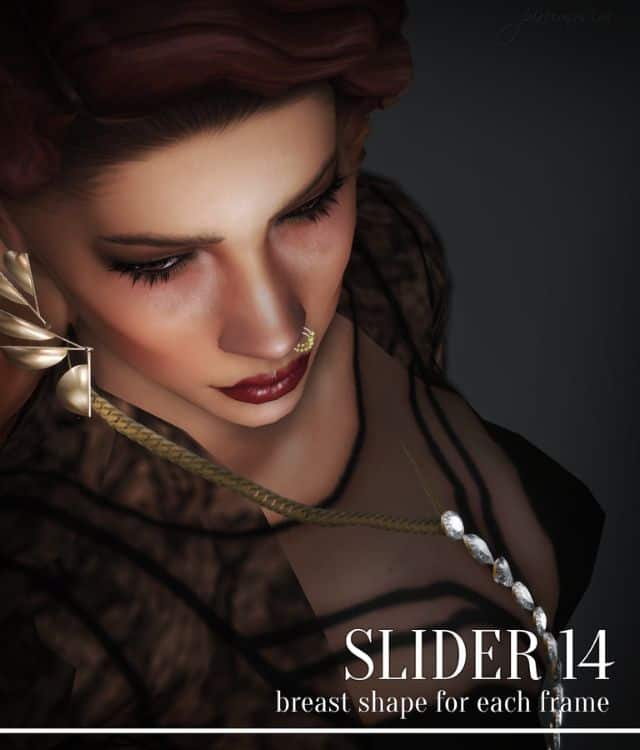 This slider reshapes your sims' breasts into a more natural and less rounded shape.
Since breasts come in different shapes or sizes, this breast slider helps achieve different looks in sims 4.
If you're using the sims 4 sliders for the collarbone, back, and ribs listed at #3, you can use this mod, as it is compatible.
You can use this slider on teen+ sims of any gender.
Just grab the file for the gender you want to use it on, if not both.

22. Chin Slider for Sims 4 by Miiko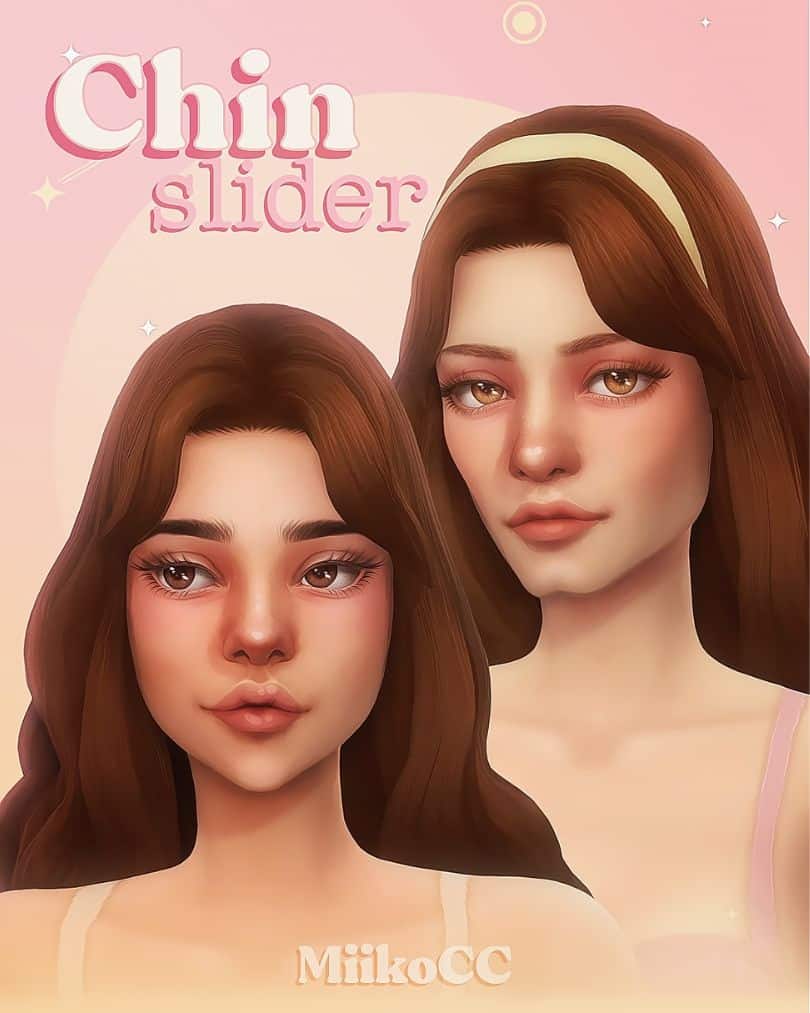 This slider mod allows you to change the appearance of your sim's chin.
You can use the slider horizontally to give your sim either a flatter or a more heart-shaped chin.
In Detail Edit mode, using the slider vertically will allow you to provide the chin with a dimple.
The best part is that this mod works on everybody.

23. Shoulder Shape Slider for Sims 4 by Hi-land
Change the look of your sim's shoulders by using this slider.
By going up or down, this mod won't physically change the shoulder's height, but more the trapezius muscles on top of them.
So you can give these muscles a flatter or a more triangular shape, depending on what you want.

24. Forehead & Cheeks Face Sliders by Obscurus-sims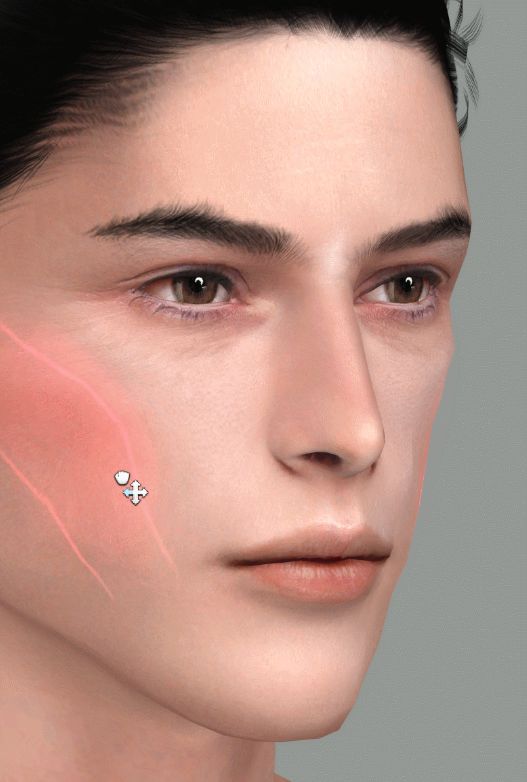 This slider pack contains two body mods for your sim's face.
The first slider is for the forehead, while the second is for the cheeks.
In order to use them, you'll need to go into Detail Edit mode and use the sliders on the right side of your sim's face.

25. Enhanced Butt Slider by CmarNYC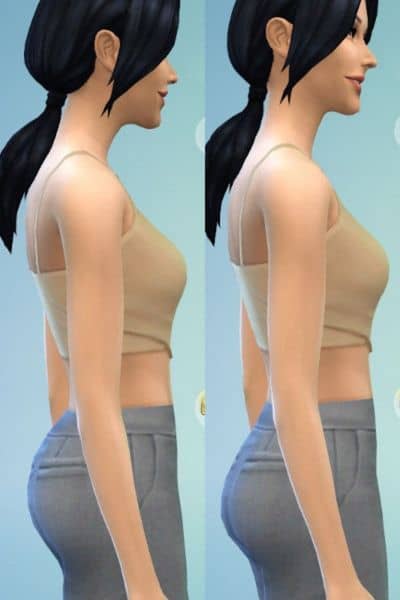 If your sim's tushy could benefit from a nice lift or reshaping, you should grab this butt slider.
With this CAS tool, you can change the height of your sim's backside while on the side view.
You'll need to view your sim from the rear to change the butt's shape.
Using the slider in the up-down movement will change the top part of the butt's shape.
Sliding left-right will modify the bottom part of your sim's bottom.
You can use this mod on any sims that are teen+ of age.

26. Upper Body Sims 4 Slider by Pirumxsim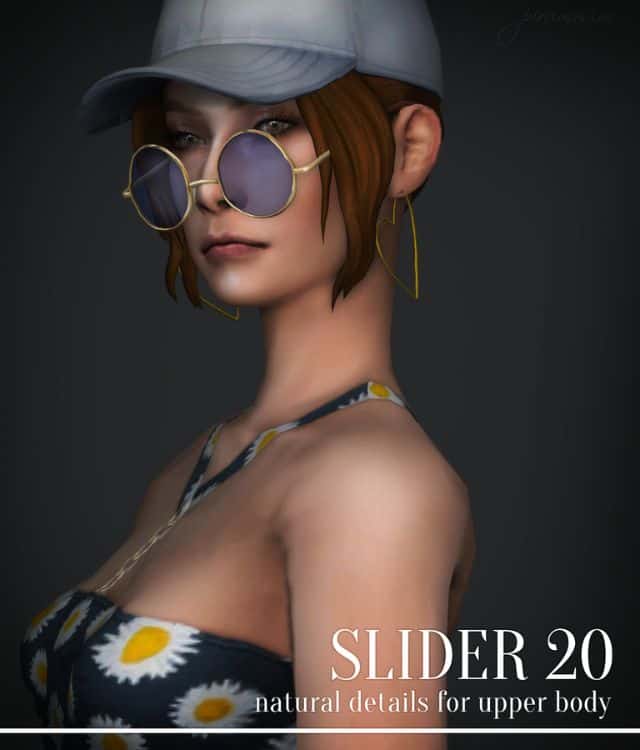 Use this mod to give your sim a more natural and realistic upper body.
These sliders generate extra skin around the armpit area.
However, in the front view, you can adjust the amount of excess skin you get around the armpits.
While in the back view, you can change the backside portion of the armpits and the upper arm.
These sims 4 sliders work exclusively on female sims that are aged teen+.

27. Sims 4 Sliders for Toddlers by Redhead Sims CC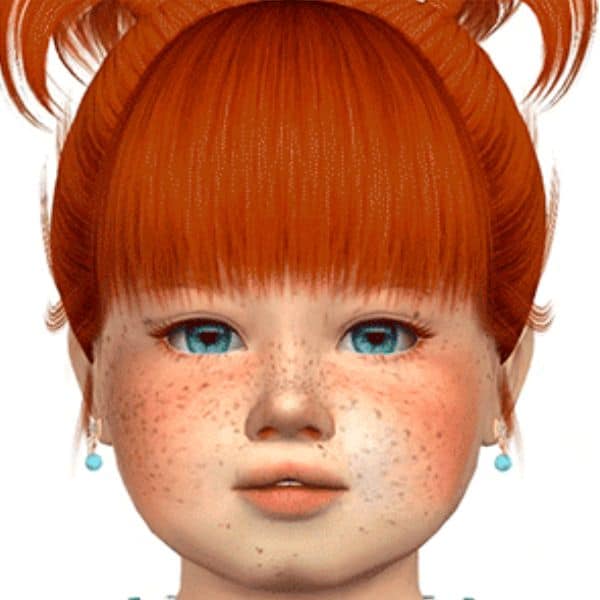 If you want an all-in-one slider solution for toddlers, look no further.
The sims 4 sliders included in this mod will allow you to modify several aspects of your sim toddlers.
This is the same type of slider mod as the one listed in #4, but this time, exclusively for toddlers.
It's a great mod because there are so few options for toddlers in terms of sliders.

28. Mouth Scale Slider by NoNvme Studios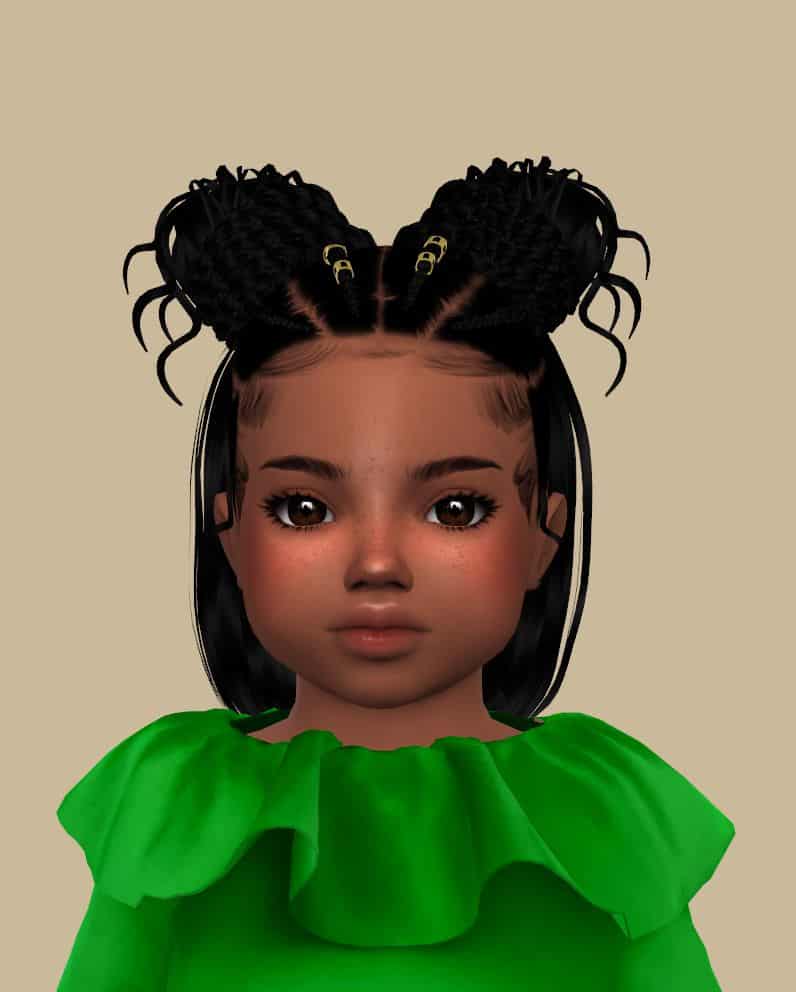 Feel like tweaking your sim's mouth?
This mouth slider is an upgraded version of the Mouth Scale Slider by Teanmoon.
With the original mod, you could only use it on sims aged teens to elders.
The upgraded version allows the slider to be used on any sims in your household.
As for the slider itself, it's super convenient as it allows you to change the size of your sim's mouth.

29. Facial Asymmetry Slider by Luumia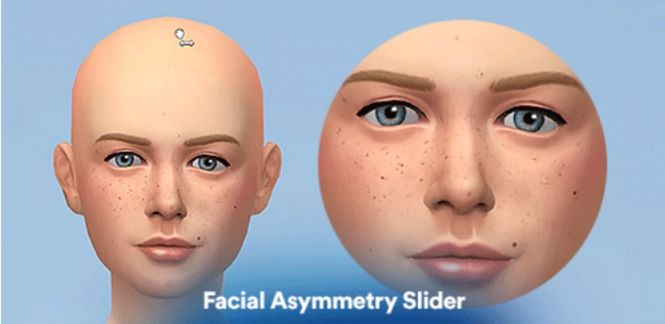 Sims always look too perfect.
Why not change it up a little and give your sim an asymmetrical face?
With this facial asymmetry slider, you can modify the top half of your sim's face, from the nose up to the eyebrows.
If you have difficulty using this sims 4 slider, remove your sim's hair to access the hot zone.

30. Sims 4 Male Chest Slider by Hi-land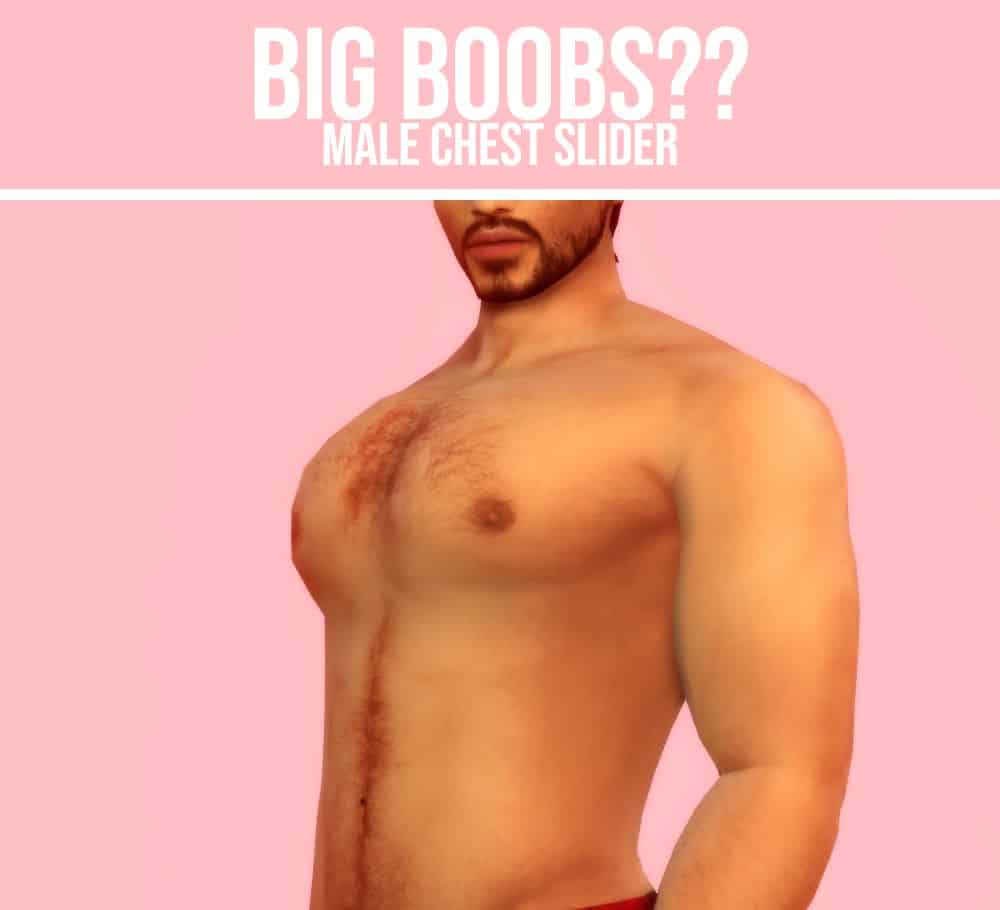 You can have fun with this slider and give your male sims some man boobs.
This mod will replace the game's default chest slider and raise the bar to new heights.
You can adjust your male sim's breasts more naturally or scale them up as needed.

31. Sims 4 Sliders for Posture by Pirumxsim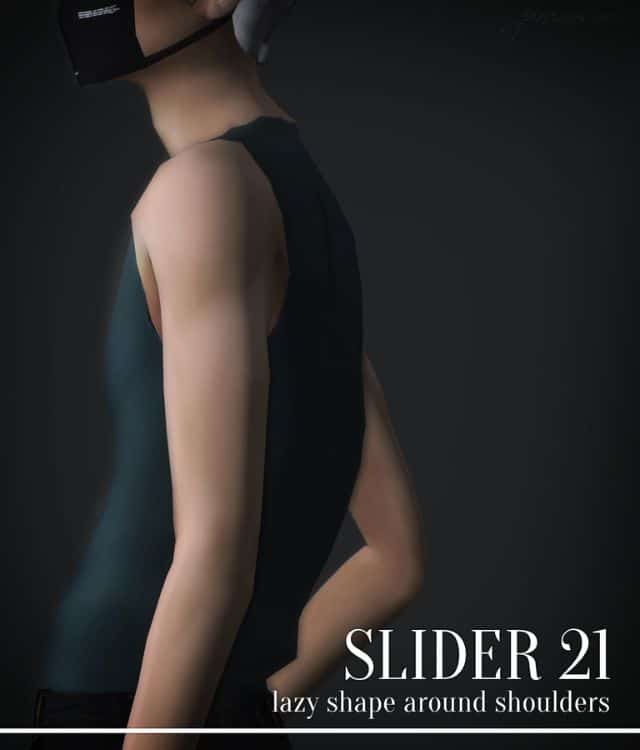 You can modify your sim's posture by using these sims 4 sliders.
Give your sim poor posture by changing the neck and shoulders appearance.
While on the side view of the chest area, move up-down to modify the neck and left-right for the shoulders.
Depending on how big of a change you made, your sim could end up with slouching shoulders for a lazy look.
The results actually look good, and it's perfect for the household's male teens or your eldest sims.

32. Eyes & Eyebrow Sliders by Obscurus-sims
This pack offers a few options if you want to play around with your sims' eyes.
You can adjust how wide the eyes open, which is great for a beautiful squinting eye look.
It also allows you to change the length of your sim's eyebrows if you have yet to find the perfect eyebrows cc for the same result.
Another possible option for using these eye sliders is to alter the depth of the eye's inner corner.

33. Sims 4 Leg Sliders by Bloodmoon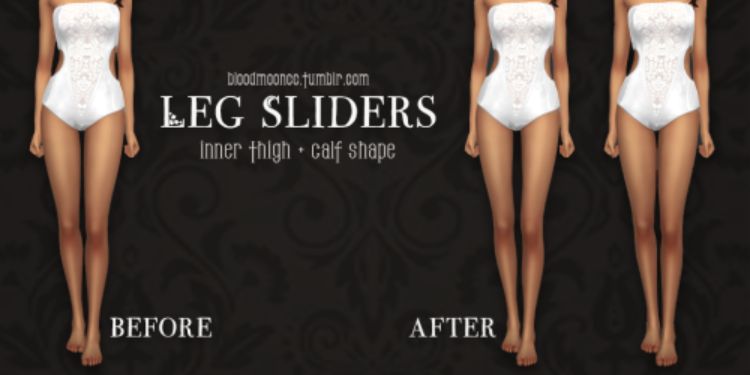 I love these leg sliders because they allow you to change the thighs and calves' inner portions.
If you want your sim's legs to be closer to each other or create a thigh gap, you can, with the help of these sims 4 sliders.
They work with both genders, not just female sims, but they must be teens or older.
You can download the two slider mods individually or use an all-in-one solution with the merged file.

34. Arm Thickness Slider & Hips by Vibrantpixels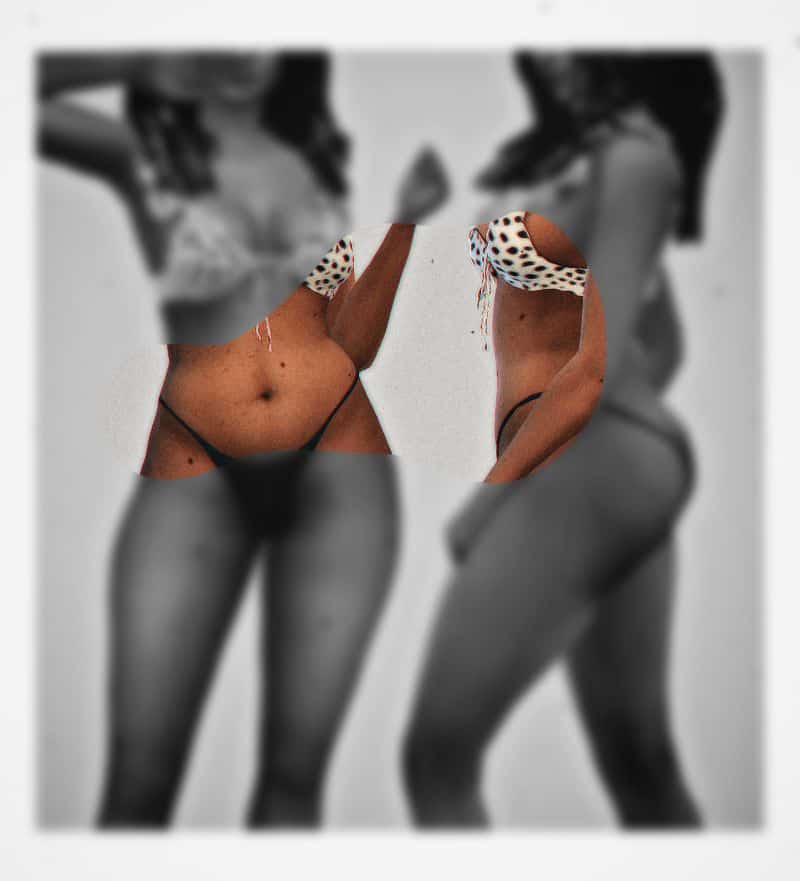 This mod is a great option to change the look of your sim's hips and arm thickness.
While on the front or side view of your sim, you can slide up-down on the arms to increase their size.
In the frontal view, this mod will change the arms' width.
For the side profile view, it'll change their depth.
So, if you want bigger arms, you'll need to change them in both viewpoints.
If you use the slider from the back view, this one will change your sim's hip height.
When getting this mod, you'll have the option of two files.
The first slider file affects the entire arm, whereas the second only affects the upper arms.
Sims 4 Sliders: Final Thoughts
Those sims 4 sliders offer endless possibilities when creating your sims.
By having these mods, you are no longer restricted to predefined options, making the creation process more enjoyable.
As you can see with this list, there's basically no limit to what you can change on your sim with the help of these valuable tools.
Here's hoping that you found many of these slider tools useful enough to add them to your CAS toolbox.
All you need to do now is enjoy and have fun using these sims 4 sliders.
If you have any questions or suggestions, feel free to leave us a comment below or tag us on Tumblr.
And don't forget to share and pin this collection for later!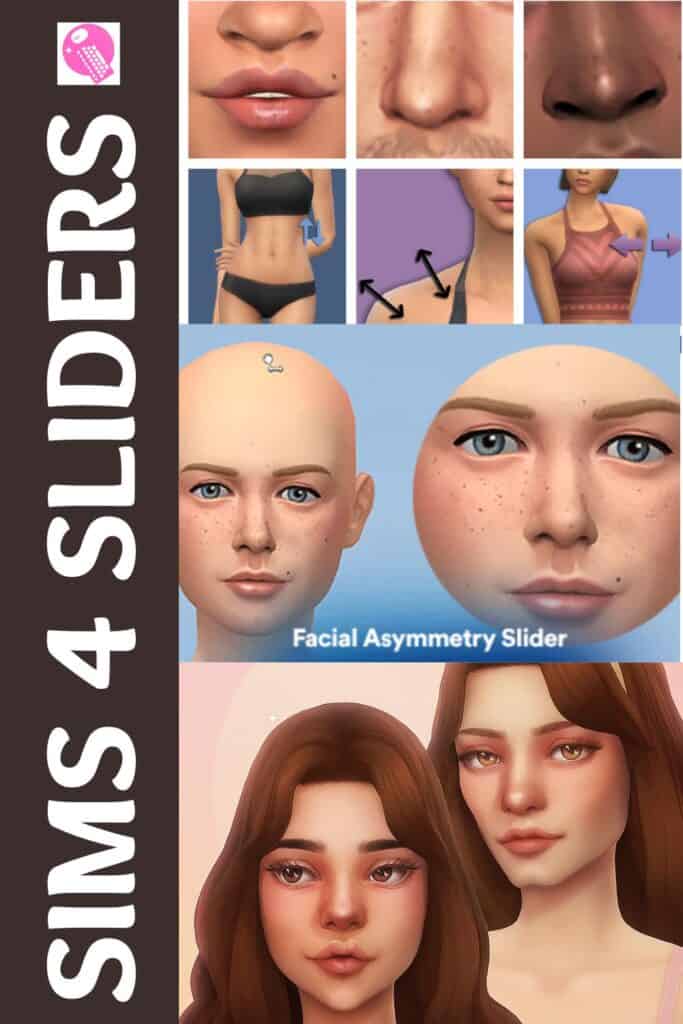 Sims 4 Related Posts
33+ Sims 4 Sliders: Cheek, Hand, Feet, Sliders & More