20+ Sims 4 Family Houses: Cozy Living Options
Shopping for new real estate?
Choose the ideal Sims 4 family house and settle your newest family there.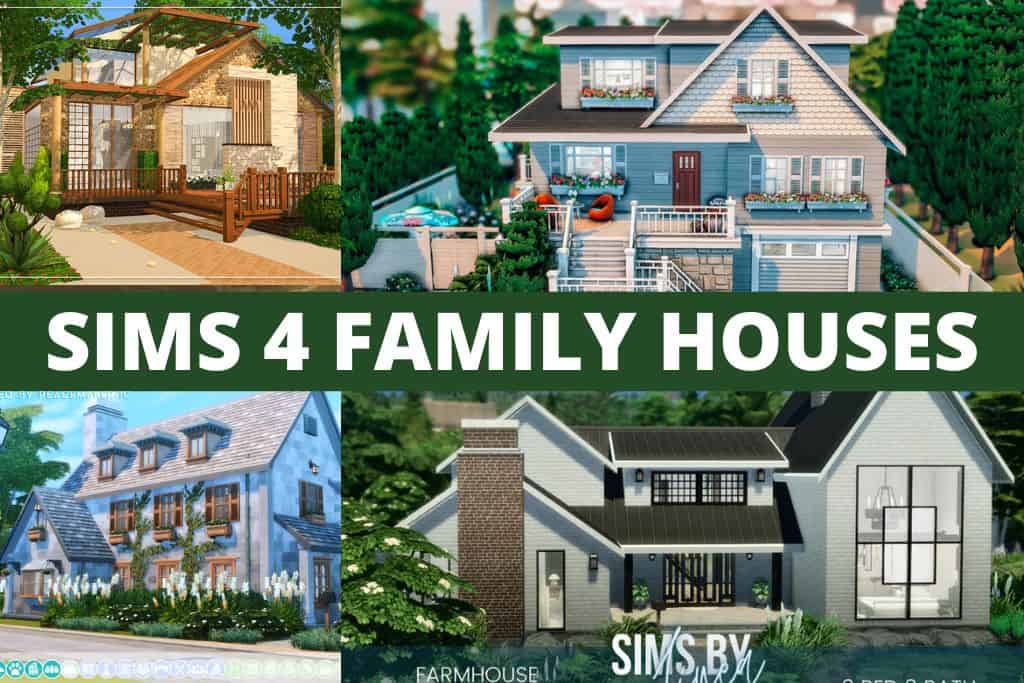 Finding the perfect sims 4 family house has never been easier with the amazing renovations and builds available in the sims community.
We've assembled a mixed collection of houses, from two-bedroom homes to larger five-bedroom size properties.
And if you need something smaller or even a mansion perhaps, you can check out some of our other posts;
Disclaimer: The following mods are neither endorsed nor affiliated with The Sims, Maxis, or Electronic Arts. Any use of mods (custom content or game mods) should be done with caution and with the knowledge that there may be risks.
Best Sims 4 Article
Discover modern, upscale, and country estates in the collection of homes below.
1. Contemporary Sims 4 Family House by SIMSBYLINEA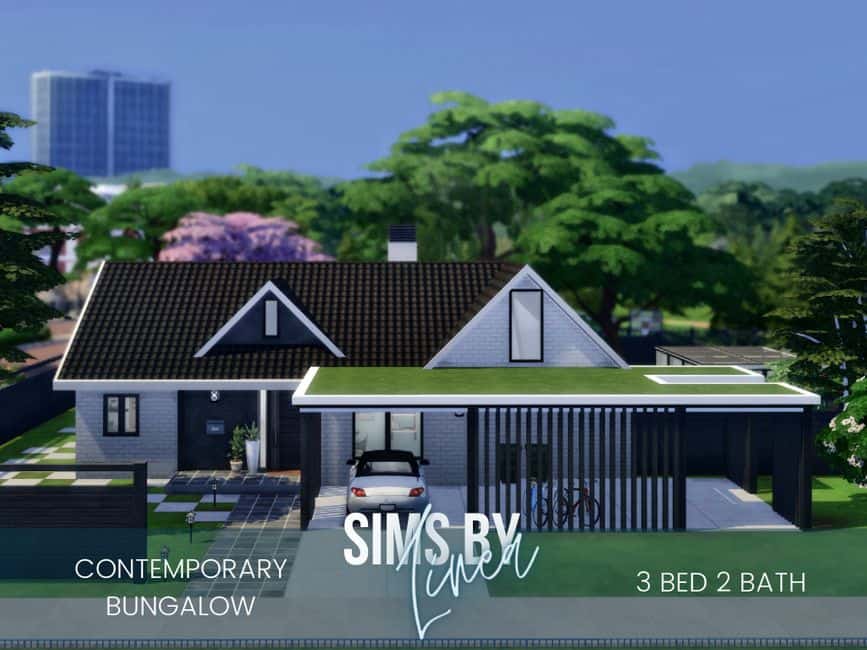 This practical family bungalow has 3 bedrooms and 2 bathrooms which can nicely accommodate a sims family of three or four.
The interior has both modern pieces with elements of the 50s.
And while open concepts are all the rage, I like the lightly sunken living room.

2. Sims 4 Family Cottage by Peacemaker-IC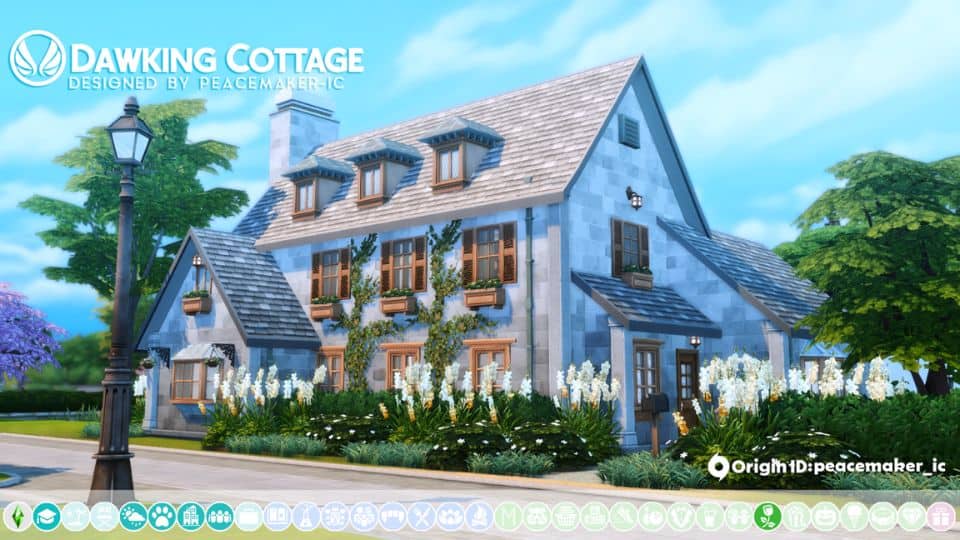 This cottage is beyond adorable, so although it's currently set as a dorm, I had to include it.
With 3 bedrooms and 3 bathrooms, it's the perfect family home.
Change the lot type to convert it to a residential home, and your sims family is ready to move in.

3. Family Villa for Sims 4 by Lhonna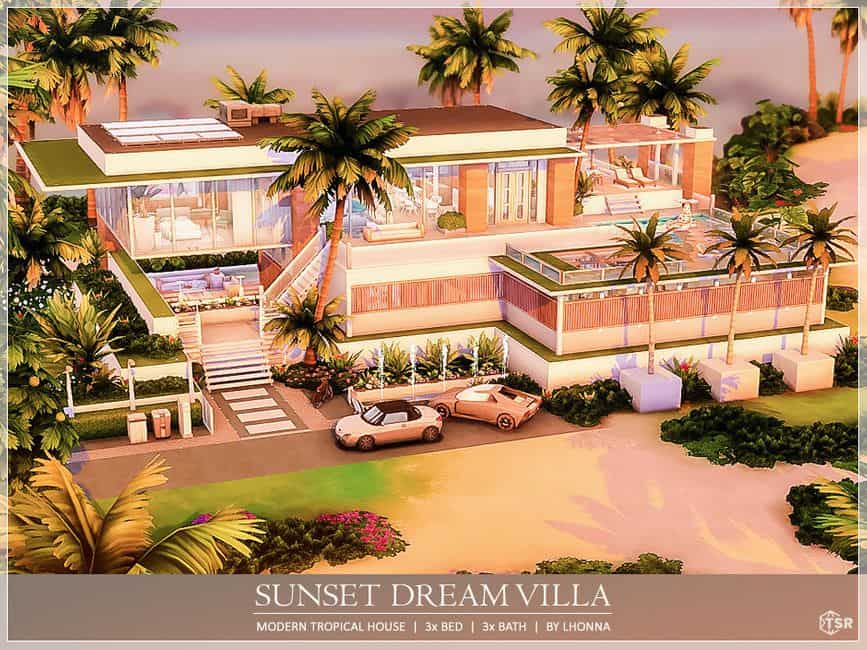 This modern tropical home has everything your sims household needs to live comfortably and entertain.
The interior is decorated with light and modern furniture and décor.
The house has 3 bedrooms, 2 bathrooms, a gym, a spa area, a gorgeous pool, and a sun deck.

4. Small Sims 4 Family Home by Pralinesims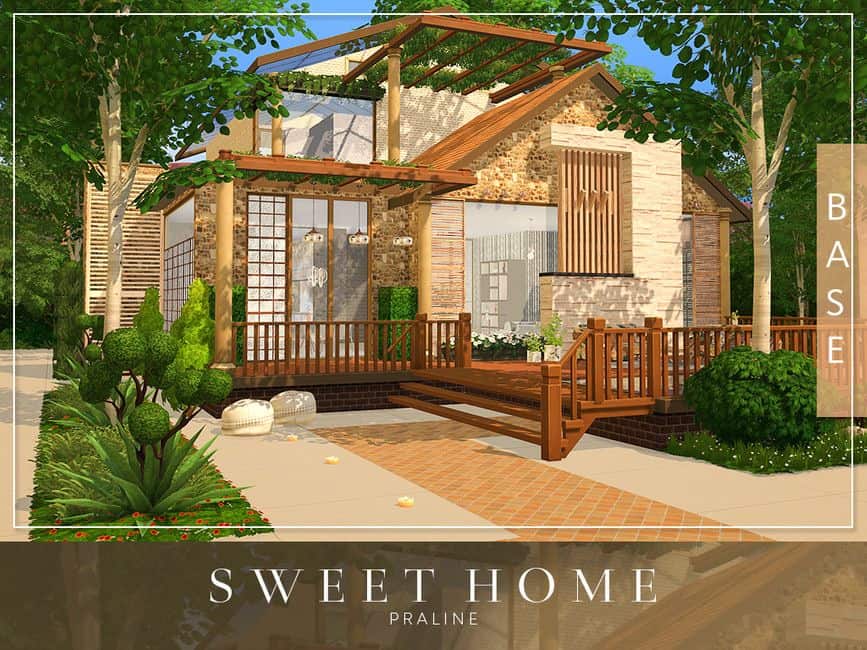 This smaller home has 2 bedrooms and 2 bathrooms, making it ideal for a family of three.
The home's exterior has a more rustic feel with brick and wood details.
The interior keeps some of the natural elements but focuses on modern furniture.

5. Family Cottage for Sims 4 by Harrie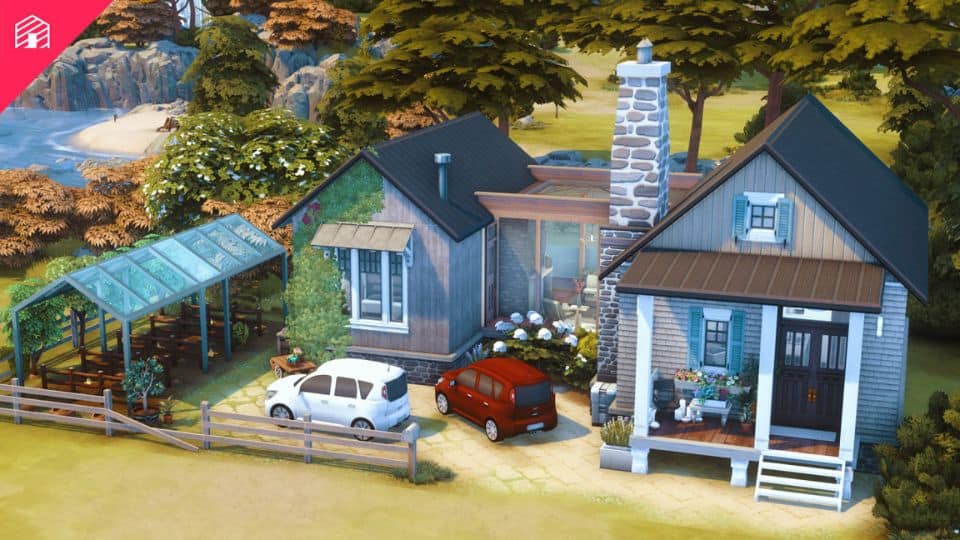 This 2 bedroom and 2.5 bathroom cottage is all about country living.
The home focuses on wood, brick, and stone pieces on the exterior and interior.
With its roofed garden, your sims are ready to start their homestead.

6. Sims 4 Family Farmhouse by SIMSBYLINEA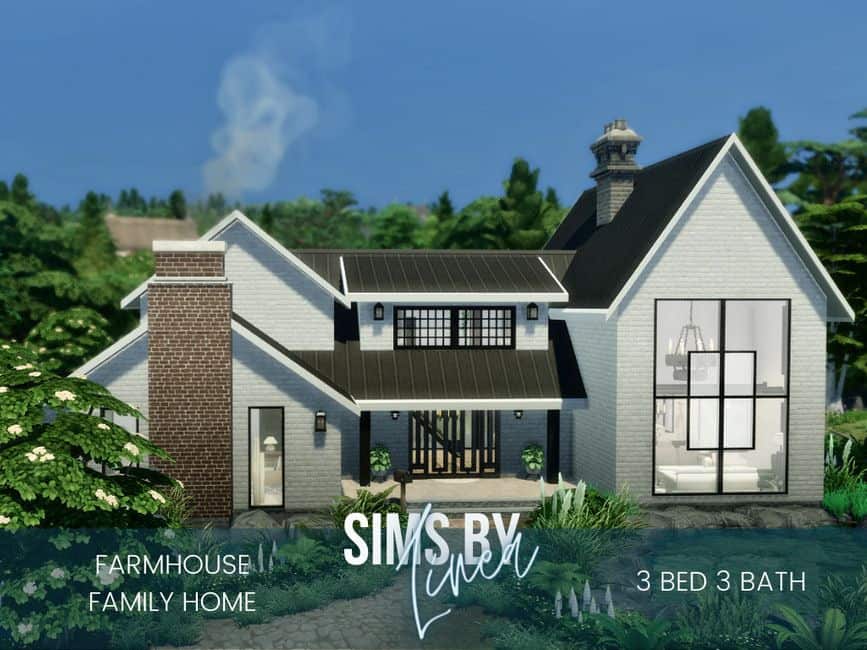 This sims 4 family house is beautifully modern, keeping some small rustic touches like the cozy stone fireplace.
Ideal for a family of 4, this home has 3 bedrooms and 3 bathrooms.
There are a couple of comfortable living areas, and this modern farmhouse has lush greenery all around.

7. Sims 4 Family Manor House by honeybella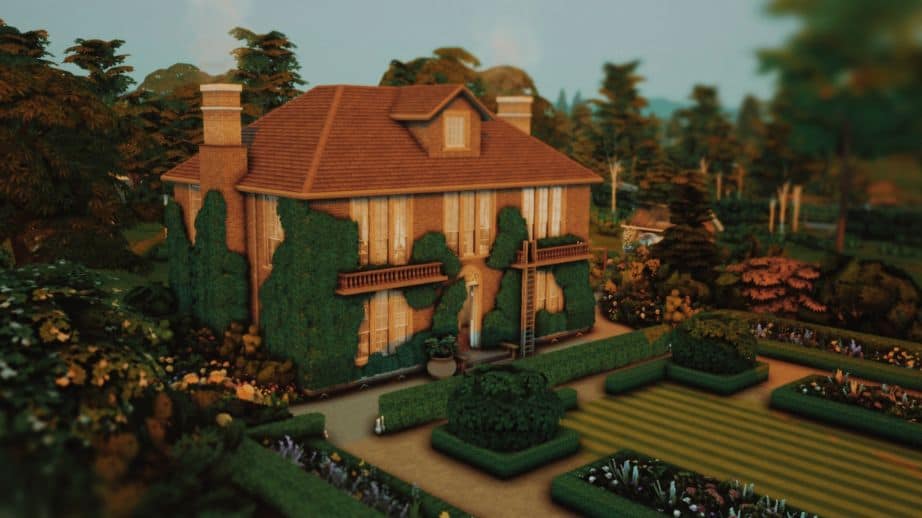 Step into another time with this Regency-era-inspired- home.
This estate is for a sims family who thrives on prestige and luxury.
With its amazing grounds and luxurious furnishings, your sims will be the talk of the county.

8. Colonial Sims 4 Family House by Peacemaker-IC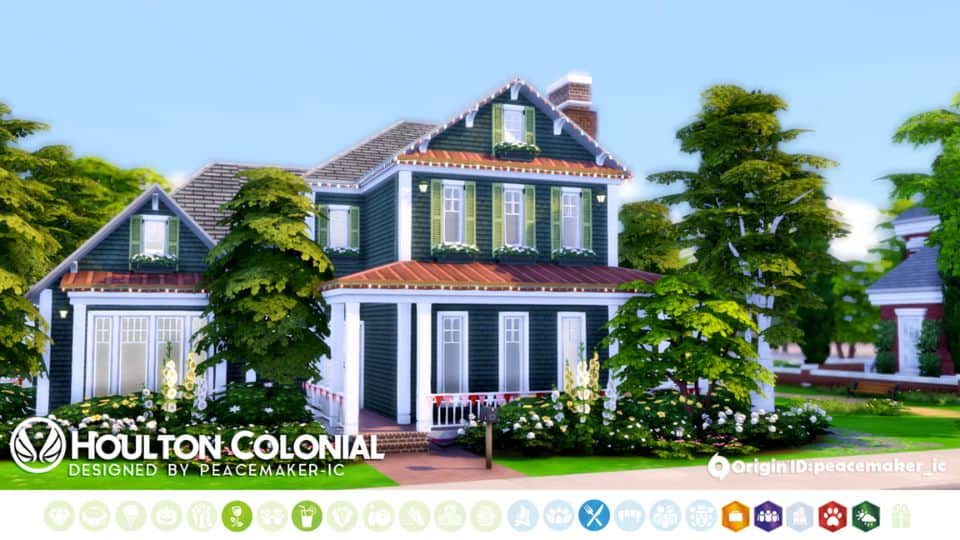 This colonial sims 4 family house is the ideal suburban home and even comes with an adorable white picket fence.
There are 4 bedrooms and 3.5 bathrooms to house your sims family.
One of the bedrooms is on the main floor and can be used as a guest chamber.
This lovely home also comes unfurnished, giving you a chance to decorate.

9. Indian Style Family House by Pralinesims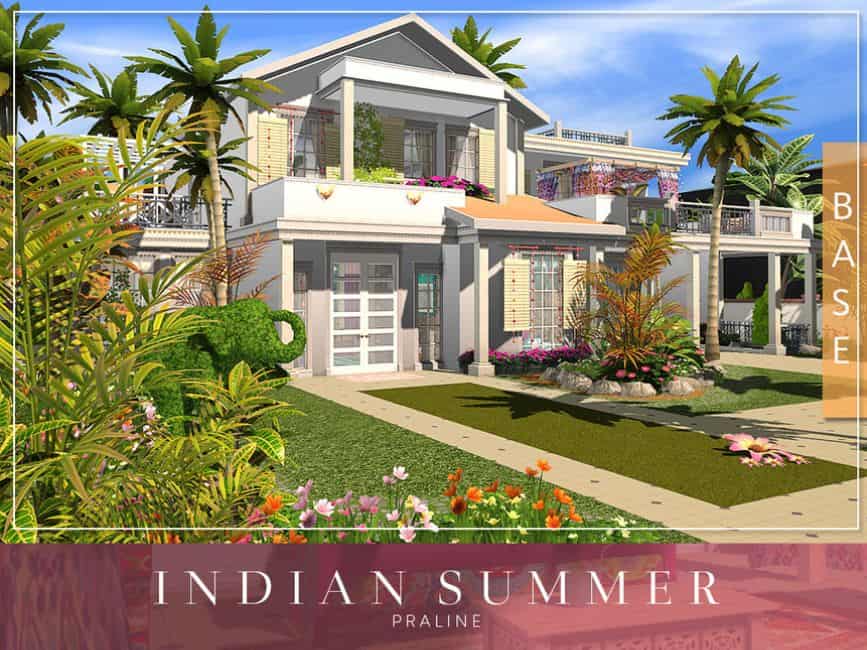 Love a vibrant home?
This sims 4 family house is inspired by India and all its vibrant colors and patterns.
There are 3 bedrooms and 2 bathrooms in this modern house.
Each room is beautifully decorated with interesting patterns, colors, and décor.
The turquoise and fuchsia living room is my favorite space in this home.

10. 3-Story Sims 4 Family House by Summerr Plays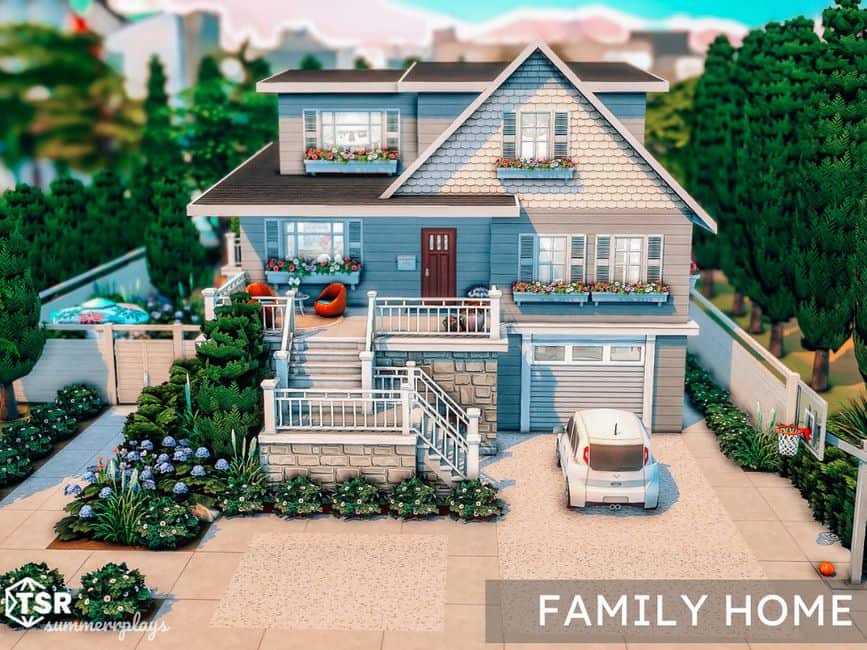 This sims 4 family house is one of my favorites.
You will find 3 stories in this family home, with 2 bedrooms on the main floor.
The loft also has a bedroom and living room area.
My favorite part of this home is the in-law basement suite fully equipped for all their needs.
This family home also has a nice deck with a small above-ground pool.

11. Sims 4 Farmhouse Estate by SIMSBYLINEA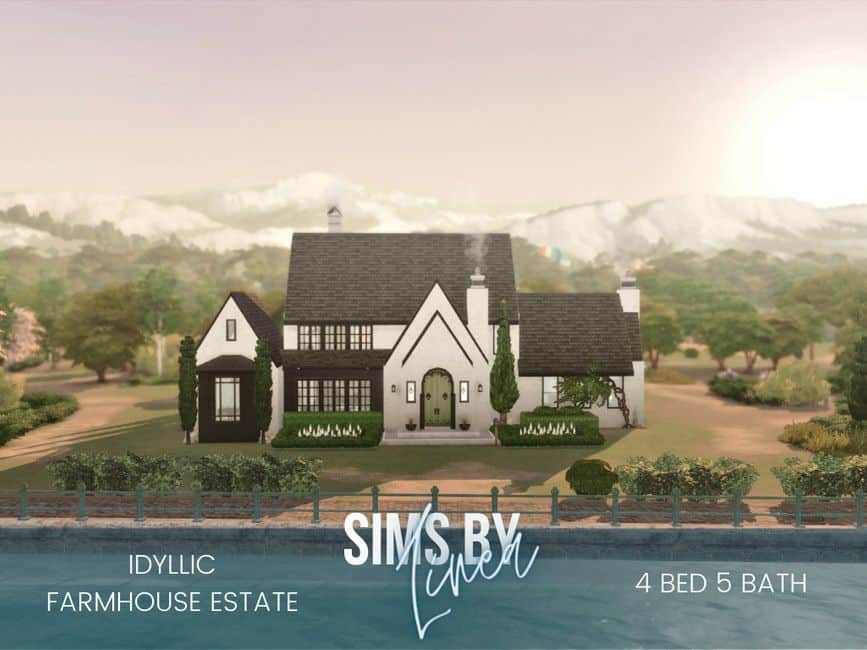 This contemporary farmhouse offers comfort and luxury in a country setting.
Not only does this home comes with 5 bedrooms and 4 bathrooms, but there is also a pool house.
The pool house has a comfortable living area and gym.

12. Unfurnished Sims 4 Family House by xogerardine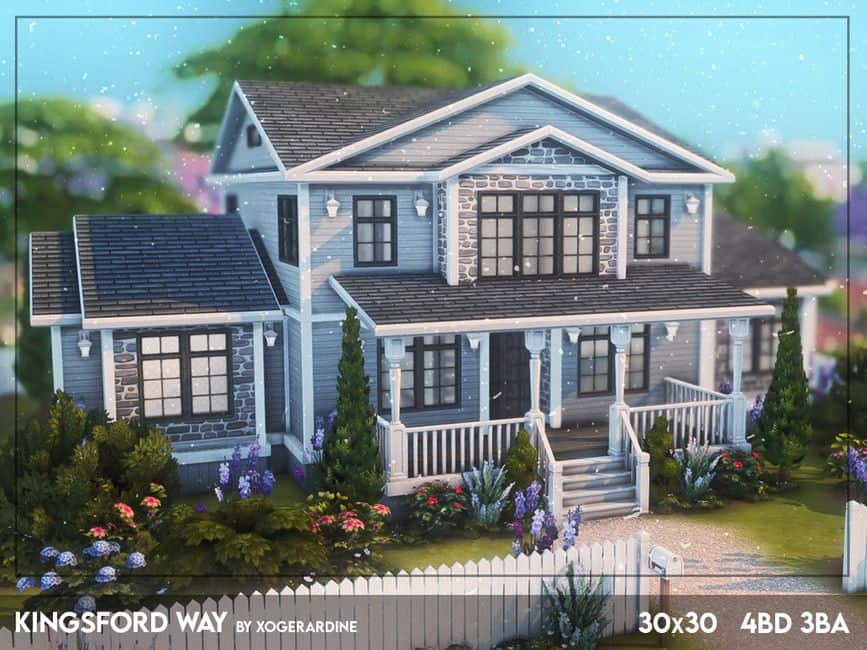 With 4 bedrooms and 3 bathrooms, this unfurnished sims 4 family house is ideal for a family of five or six.
The main floor layout is not an open concept except for the kitchen and dining area.
The large living room and office are separate, offering much-needed privacy when dealing with larger households.

13. Sims 4 Family Houses by Peacemaker-IC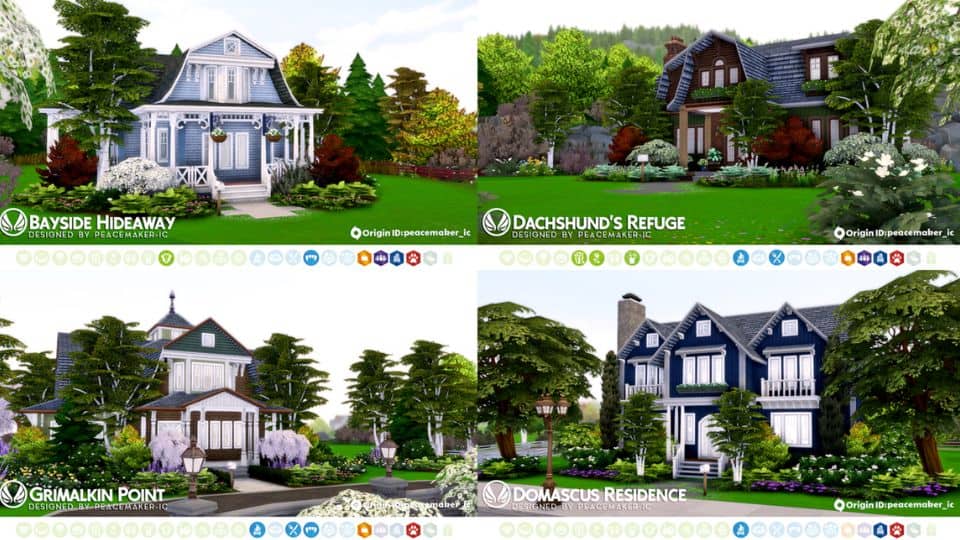 Do you love variety when shopping for houses?
This residential community lot dump has 11 housing options for your sim families.
Houses range from 2 to 6 bedrooms, so there is definitely something for everyone.
And remember to check out the adorable puppy playpark.

14. Sims 4 Family Home Base by Lhonna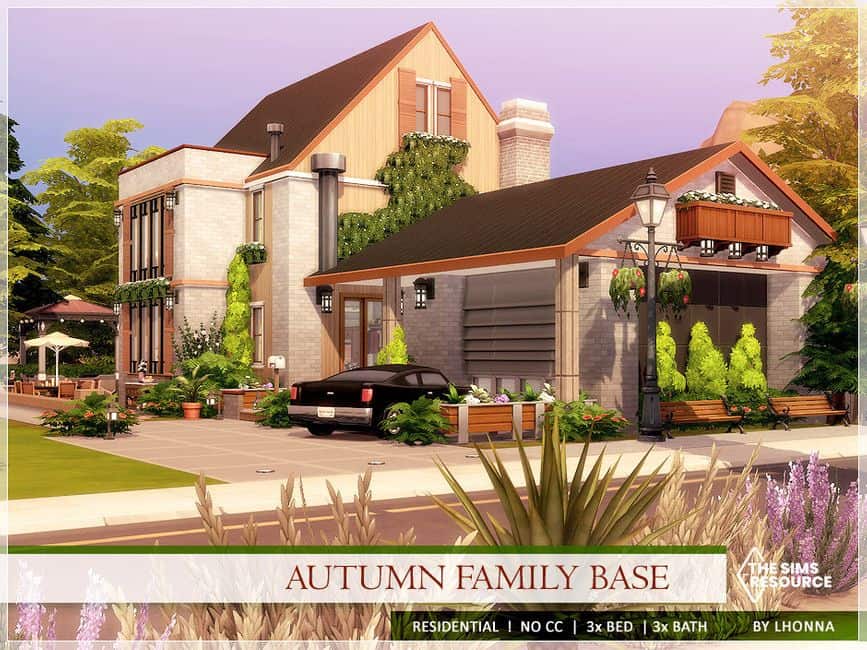 A cozy suburban home awaits your sims family.
While this home is large and modern, I still see mid-century touches on some of its exterior design.
There are 3 bedrooms and 3 bathrooms, with bunkbeds; this home can comfortably accommodate a family of 6.

15. Family House for the Sims 4 by qubedesign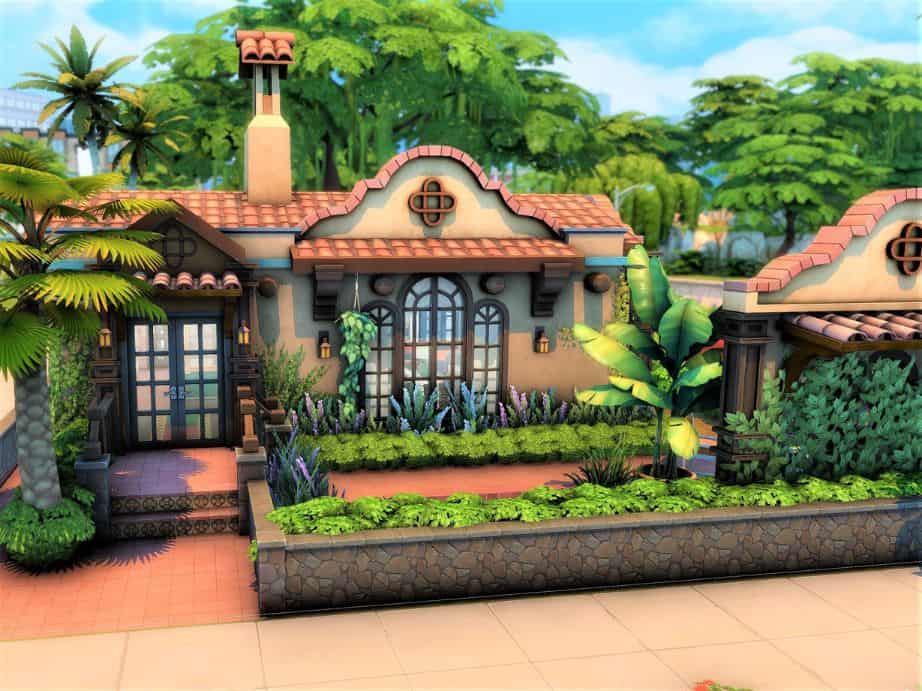 I love a Spanish-styled house, and this two-bedroom bungalow is just the thing.
With its barrel-tiled roof, this family home is ideal for warmer climates.
The floor plan is closed up, with each room having its own space.
Plus, the exterior offers areas to both relax and eat lunch.

16. Sims 4 British Family House by Harrie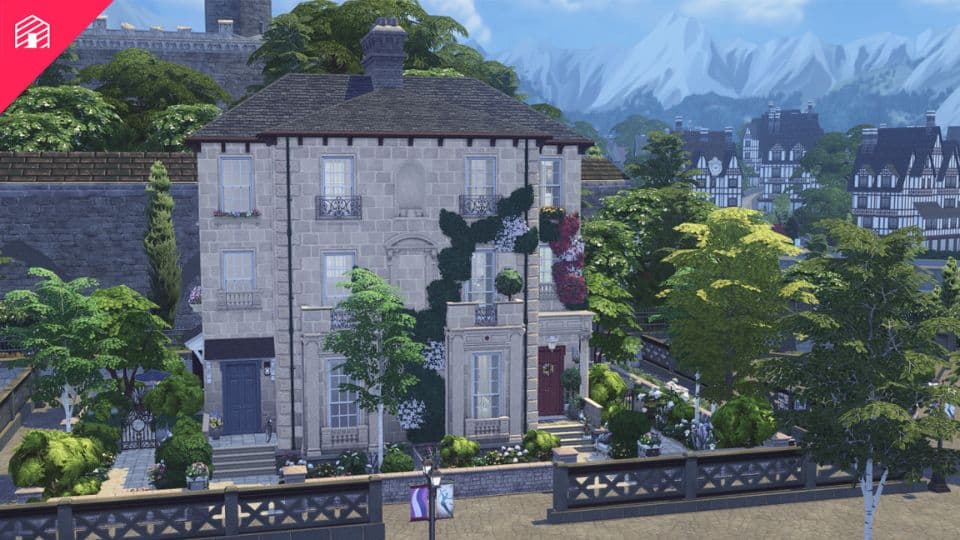 Are you looking for the ideal townhouse?
Move your sims into this stunning British-style stone house.
This 3 story-house may look a little dark outside, but the interiors are cozy and perfect for a family.
The bedrooms are spread across the two top floors, while the ground floor focuses on a large living room, kitchen, and dining area.

17. Modern Sims 4 Family House by Summerr Plays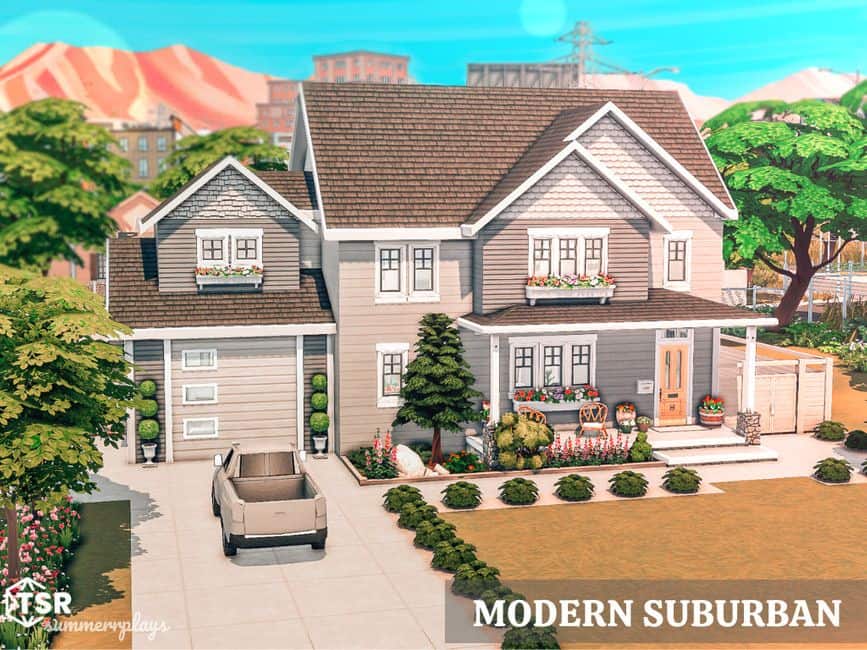 This sims 4 family house has the perfect layout.
Your sims get 3 bedrooms and 3 bathrooms, plus a playroom and gaming room.
The kitchen's light wooden tones and white countertops and cabinets are incredibly welcoming.
If you sims enjoy tanning, the backyard has an excellent desk to relax on with a lovely pool too.

18. Sims 4 Suburban Home by xogerardine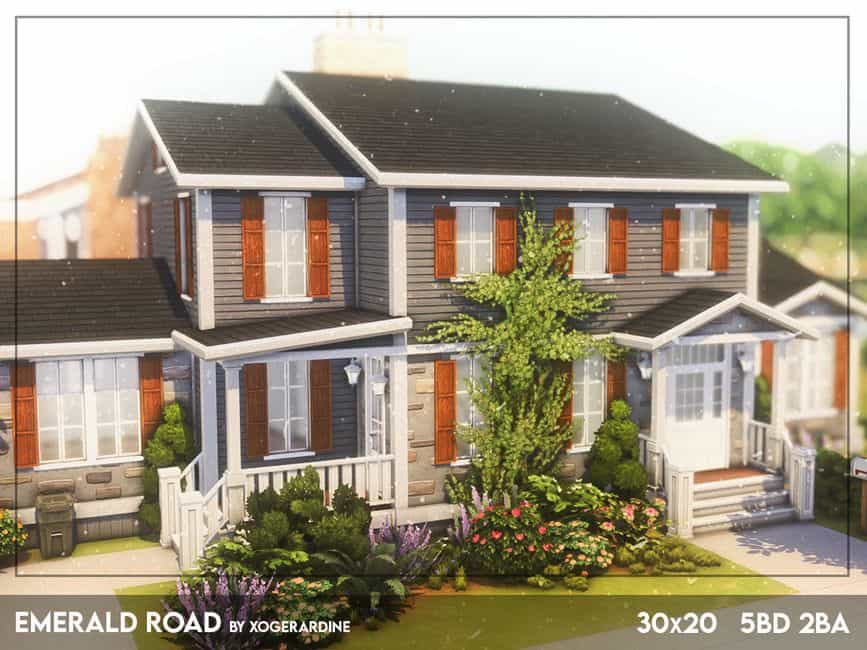 This unfurnished home is all about those classic suburban window shutters and white exterior trim.
With 5 bedrooms and 2 baths, there is more than enough room for a large sims family.
If the parents need some peace at night, this house layout conveniently has the primary bedroom on the main floor.

19. Modern Sims 4 Family Home by Lhonna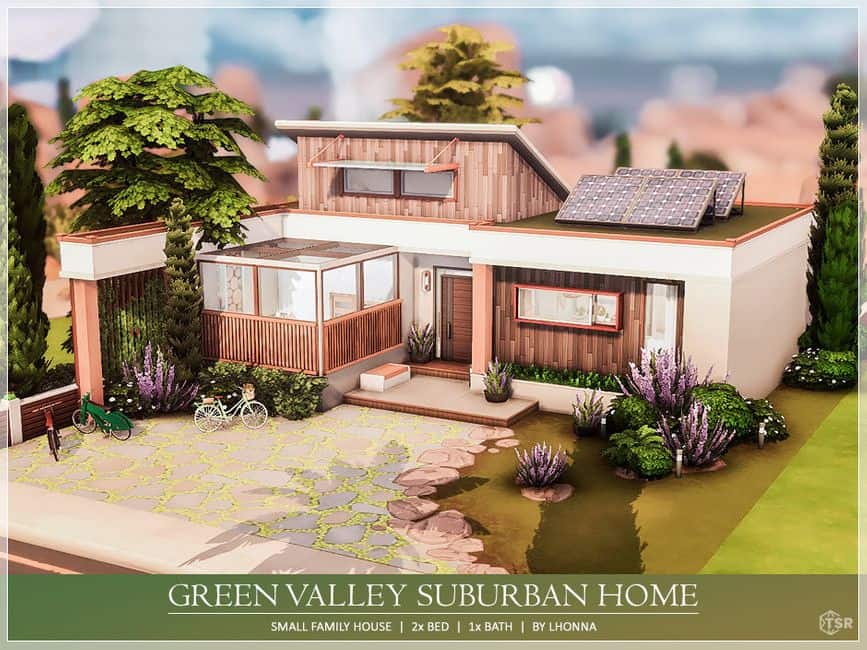 While this home may be modern, it defiantly leans towards mid-century modern with its exterior design and some interior pieces.
This smaller home can accommodate a family of three or four sims.
The house's exterior has a large patio and a welcoming swimming pool.

20. Sims 4 Family Bungalow by SIMSBYLINEA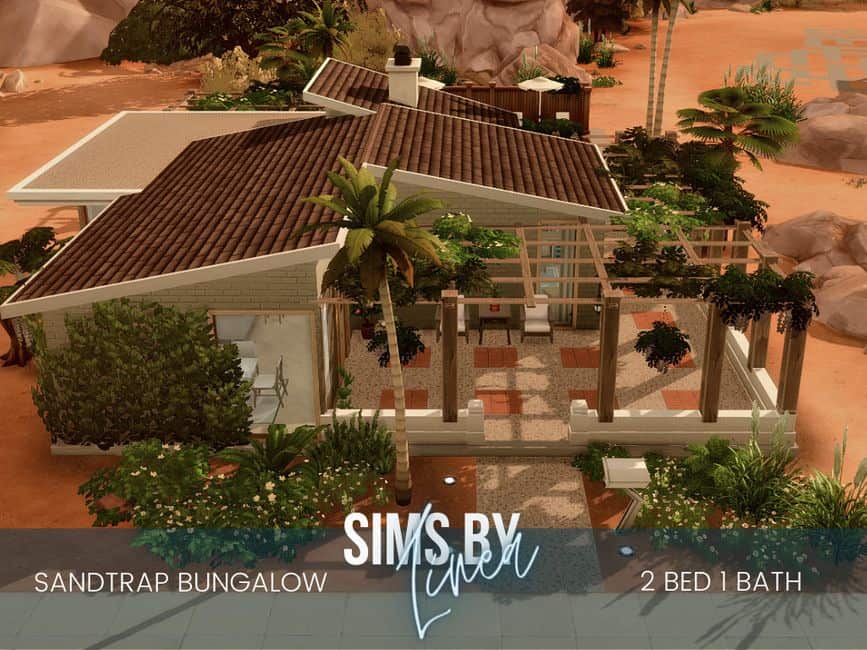 This smaller bungalow is the ideal starter home for your sims family.
It has two bedrooms and one bathroom, plus 2 outdoor patios and a large rectangular inground pool.

21. Sims 4 by Peacemaker-IC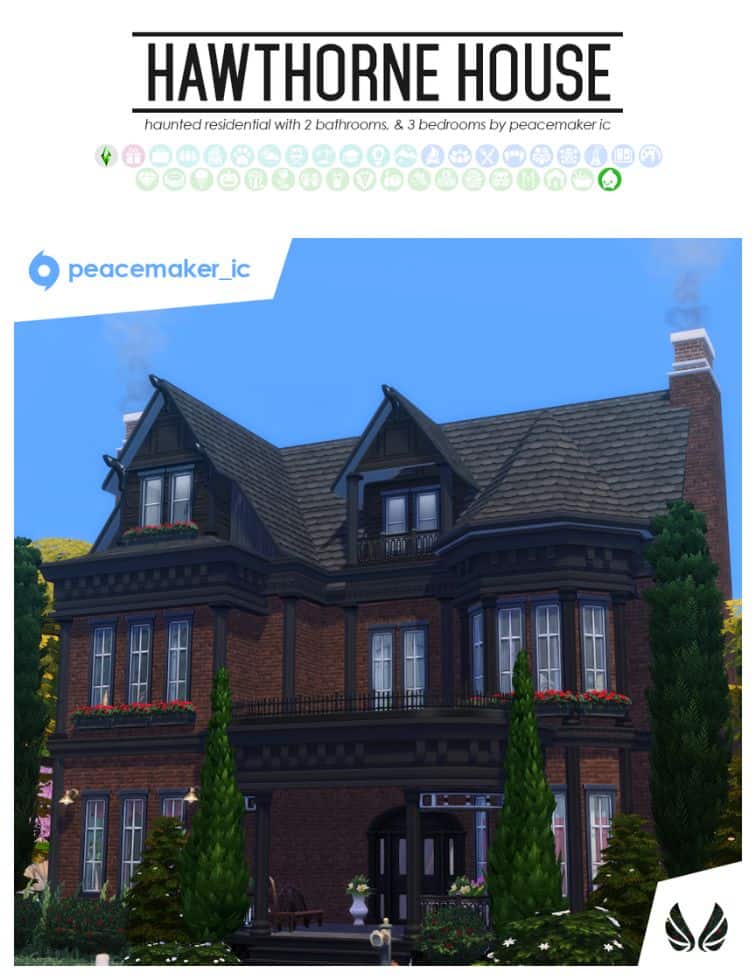 I couldn't help but include this paranormal-inspired home.
This residential home comes furnished and has three bedrooms and two bathrooms.
While the house's exterior is quite dark, the interior is lighter and has plenty of colors (primarily green tones).
You can also grab the Temperence Manor on the same download page.
Sims 4 Article: Final Thoughts
Whether your sims family has two or six members, there is a family house for each household.
From modern summer homes to more country farmhouses, find the perfect design for every family.
If you have any questions or suggestions, feel free to leave us a comment below or tag us on Tumblr.
Other Sims 4 Housing Lists

And don't forget to share and pin this collection for later!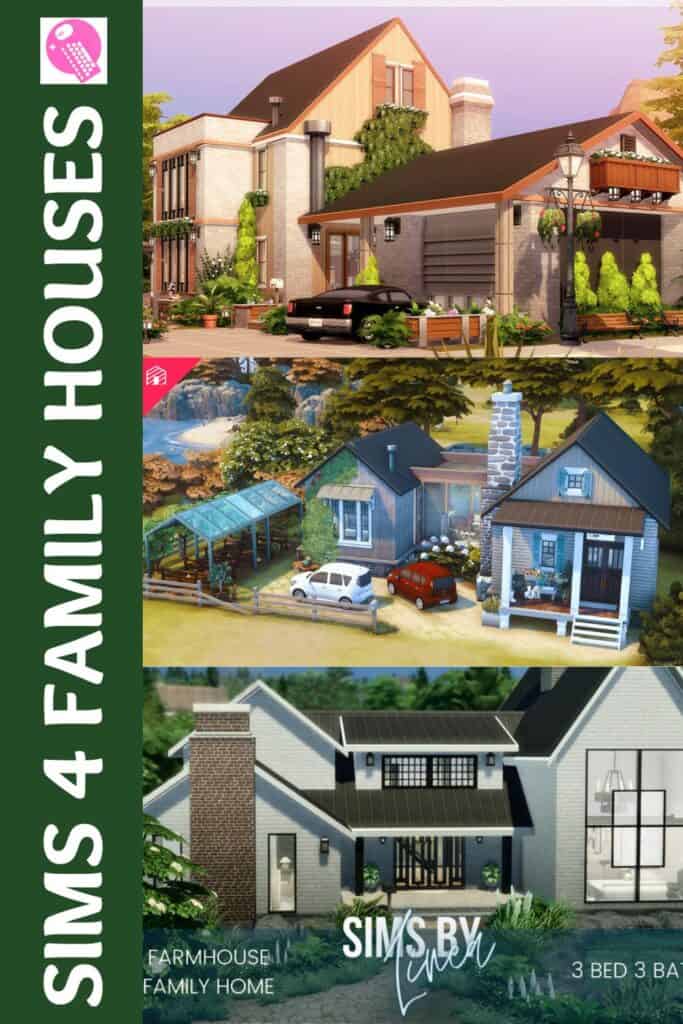 20+ Sims 4 Family Houses: Cozy Living Options