19 Sims 4 Halloween Poses: Strike A Scary Pose
Have your sims wear a fun disguise and smile for the camera with these Sims 4 Halloween poses.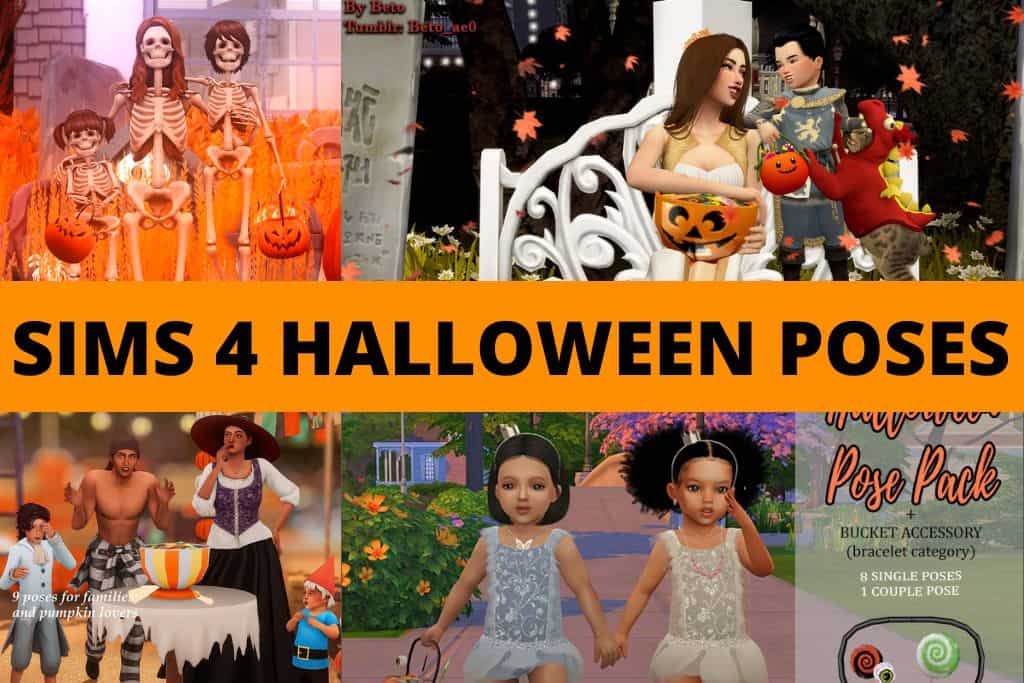 Halloween is that special time of year when people can dress up as anybody they want.
And what better to remember each year's fun and creative costume ideas than with some amazing screenshots to keepsake?
Plus, with such a fantastic community, we are lucky enough to have so many sims 4 Halloween poses to choose from and enjoy.
You'll also want to check out our Sims 4 Halloween CC round-up to help style your sims for their upcoming spooky poses.
Disclaimer: The following mods are neither endorsed nor affiliated with The Sims, Maxis, or Electronic Arts. Any use of mods (custom content or game mods) should be done with caution and with the knowledge that there may be risks.
Spookiest Sims 4 Halloween Poses
From Trick-Or-Treat to Halloween parties, there's always a good time to strike a pose.
You must install two mods to your game to use the Sims 4 Halloween poses:
You can also refer to our How to 'Sims 4 Poses' Article if you need help getting started.
1. Sims 4 Halloween Poses by Natalia-Auditore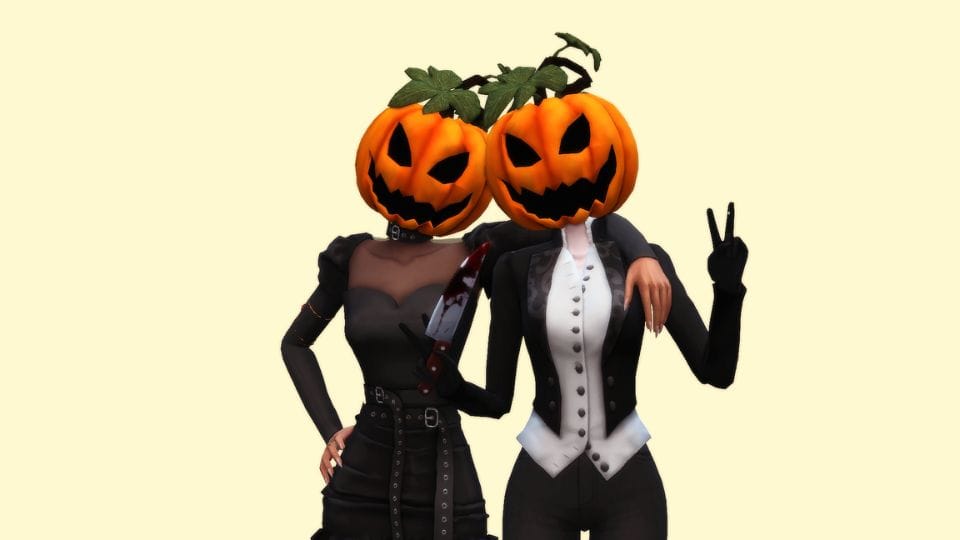 This pumpkin Halloween pose pack has 11 poses to capture some fun moments with spooky pumpkin heads.
You can download the knife accessory and pumpkin head on the download page and find the headless outfit linked there, too.

2. Trick or Treat Pose Pack by Simsulani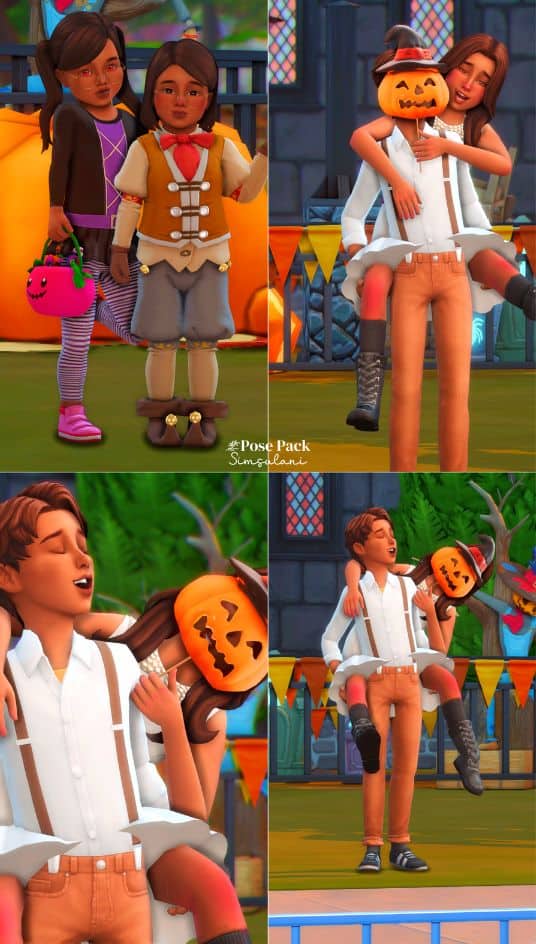 Capture the best of Allhallows Eve with this Halloween pose pack.
The pack includes 12 poses for the family, including your adult sims, child, and toddler.
You will also find the pumpkin baskets and pumpkin mask linked on the download page.

3. Scooby Doo Halloween Pose by Anna & Bibi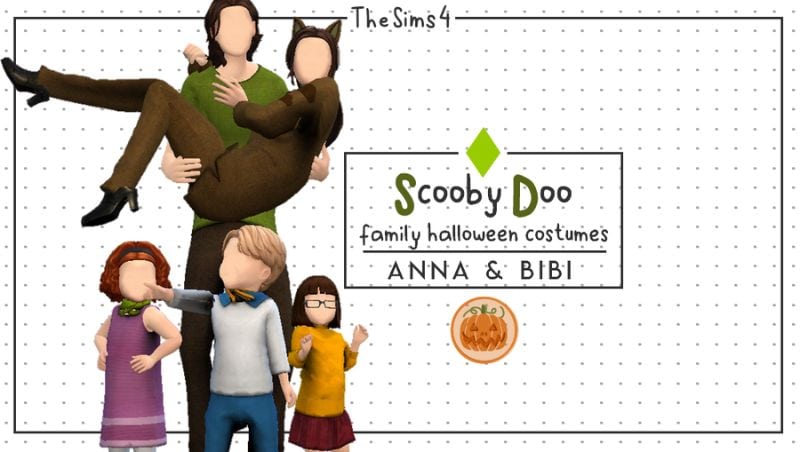 If you want a themed Halloween family photo, this Scooby-Doo pose pack is worth a look.
The pose includes two adults for Shaggy and Scooby-Doo and a mix of toddlers or children for the remaining three.
This pack contains all the characters' costumes and accessories.

4. Random Halloween Poses by HelgaTisha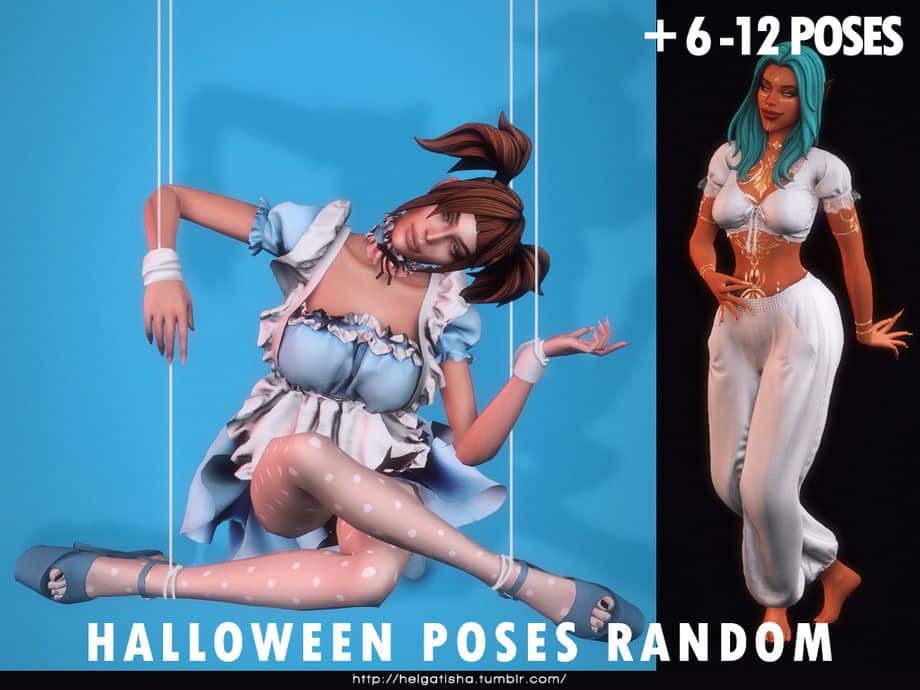 If you're looking for poses to use on the CAS screen, these sims 4 Halloween poses are a solid choice.
You get 12 random poses to be seen when choosing the Goofball trait.
Your sims will pose in ways that appear tied up with strings like a puppet.
When combined with the right Halloween costume, it can be downright creepy.

5. Halloween Poses for Children by Vertisims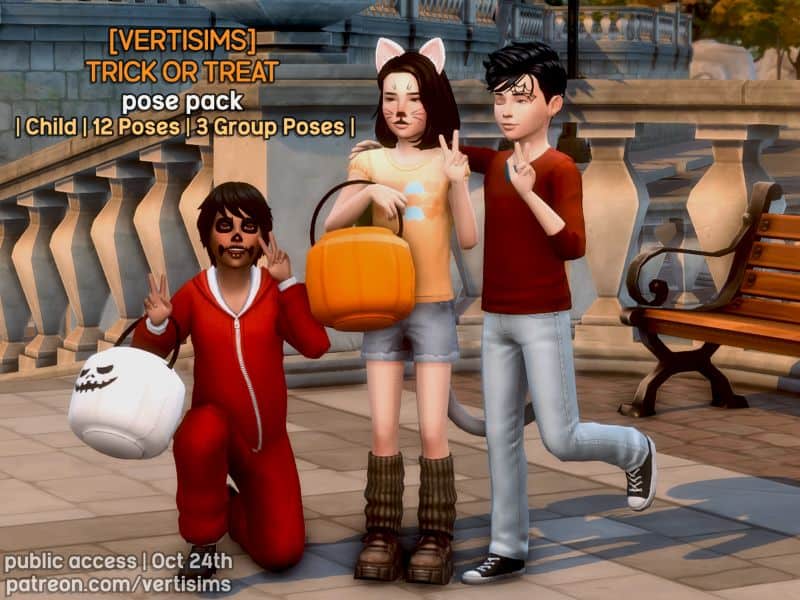 These sims 4 Halloween poses are made exclusively for kids.
There are five individual poses, two group poses of two, and one last pose for a group of three.
Each pose is unisex, so you can mix it up as much as you want as long they're children.

6. Sims 4 Halloween Party Poses by MOONRISE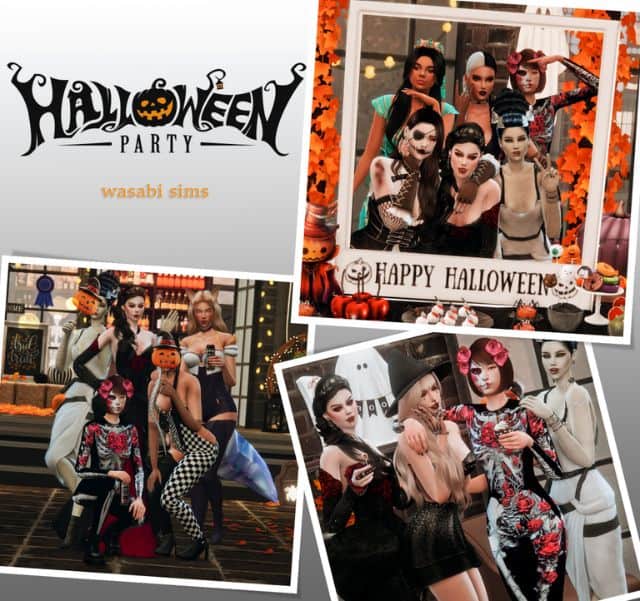 You can't have Halloween without a party, and there's no better way to capture these moments than with these sims 4 Halloween poses.
This pack contains three group poses with four, five, and six sims for 15 different poses.
And, to complete these Halloween poses, make sure to grab the included cc.

7. Vampire Pose Pack for Sims 4 by Katverse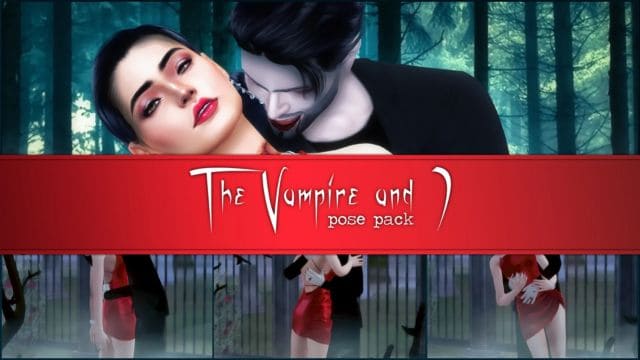 Take pictures of your sims' close encounter with a vampire with this set of three Halloween poses.
This short storytelling will show a creature of the night embracing your sims.
The other two poses show the vampire feasting on its prey from the front and the back.

8. Sims 4 Halloween Season Poses by Simsulani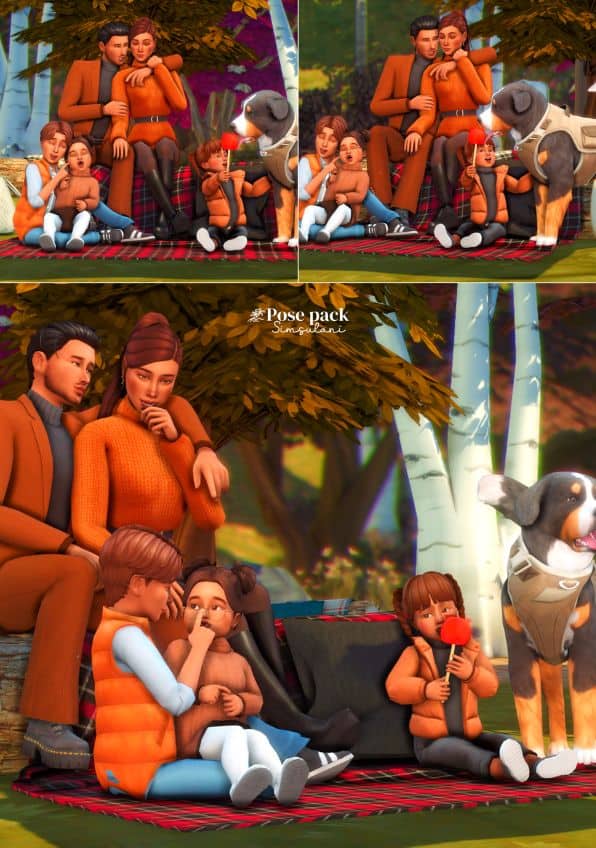 These sims 4 Halloween poses show a family pumpkin picking and enjoying a nice picnic during the chilly fall season.
There are nine poses for your family to take cute pictures in.
In some shots, you can even include your pets.
Make sure to grab the necessary cc included in the pose pack.

9. Roselipa Halloween Poses by ROSELIPA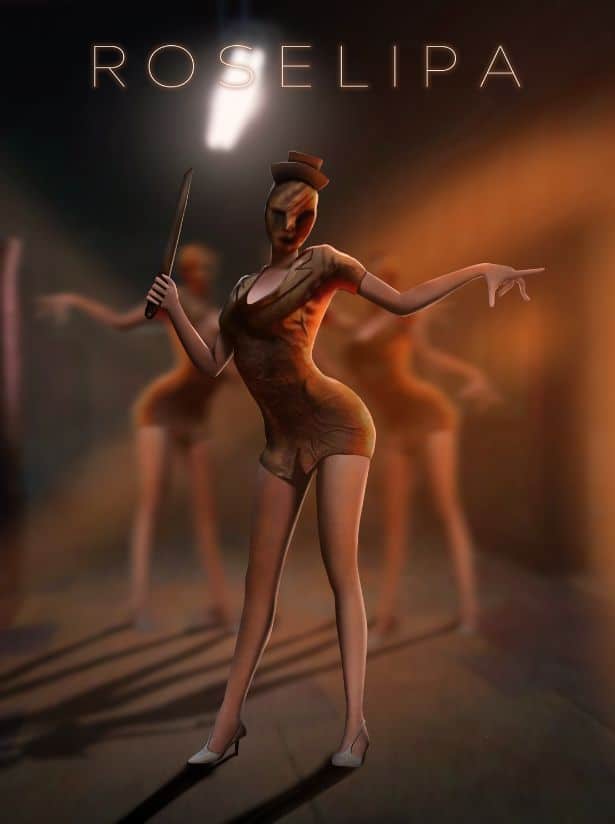 This Halloween pose pack included 10 ways for female sims to pose as witches, spellcasters, or scary creatures.
And, if you're familiar with The Silent Hill video game franchise and have the proper cc, you can take scary pictures of your sims as the nurse.
The creator has included the broom, fireball, and knife cc.

10. Sims 4 Pose Candy Night by EDEN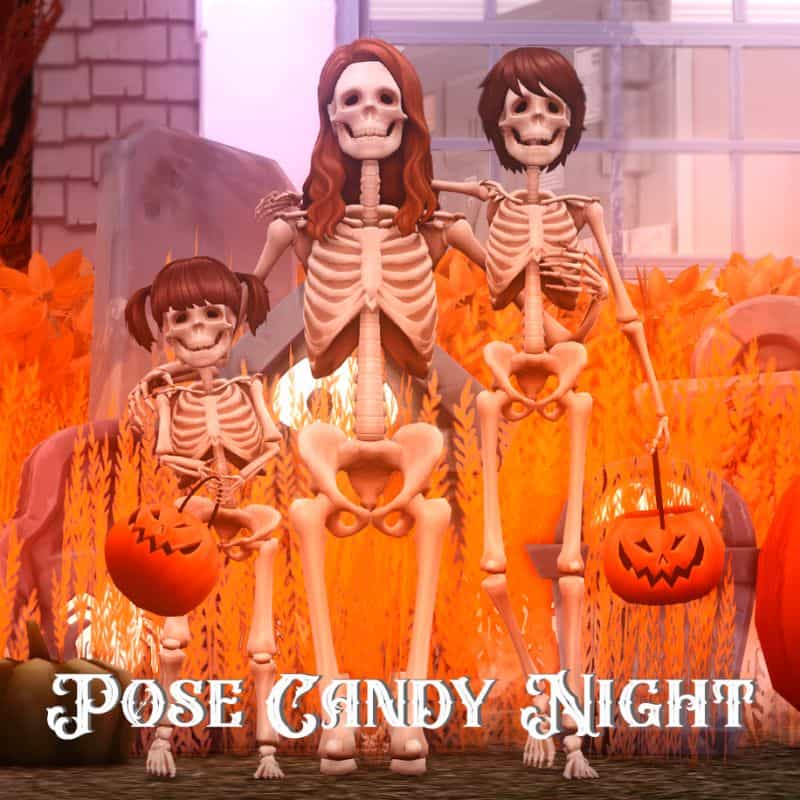 This set has an excellent selection of candid shots and poses for your sim family.
There are six Halloween group poses where, in some cases, you'll need a toddler, a child, or an adult to complete the pose.
To help you set the poses correctly for each one, the creator has used a lettering system:
T is for Toddlers
C is for Child
M is for Male Adult
F is for Female Adult
Most of these pictures require the included Bag of Pumpkin Candies cc.
You must pick the right size between the Adult, Child, or Toddler bag.

11. Halloween Pose Pack by GIULIETTASIMS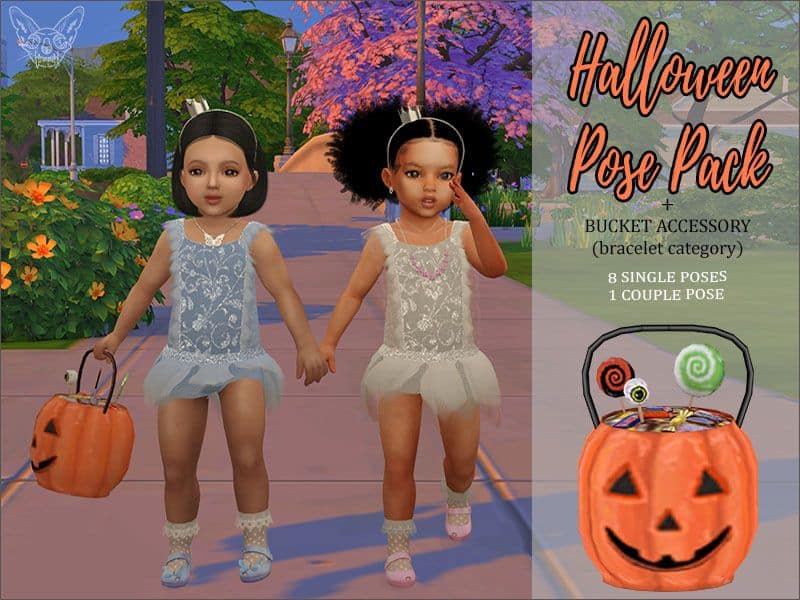 Do you want to take cute pictures of your toddler sims' first Halloween?
These sims 4 Halloween poses include eight adorable ways to take pictures of your toddler with their jack-o-lantern bucket.
This pose pack also includes a candid shot of two toddlers going trick-or-treating while holding hands.

12. Sims 4 Adorable Halloween by Beto_ae0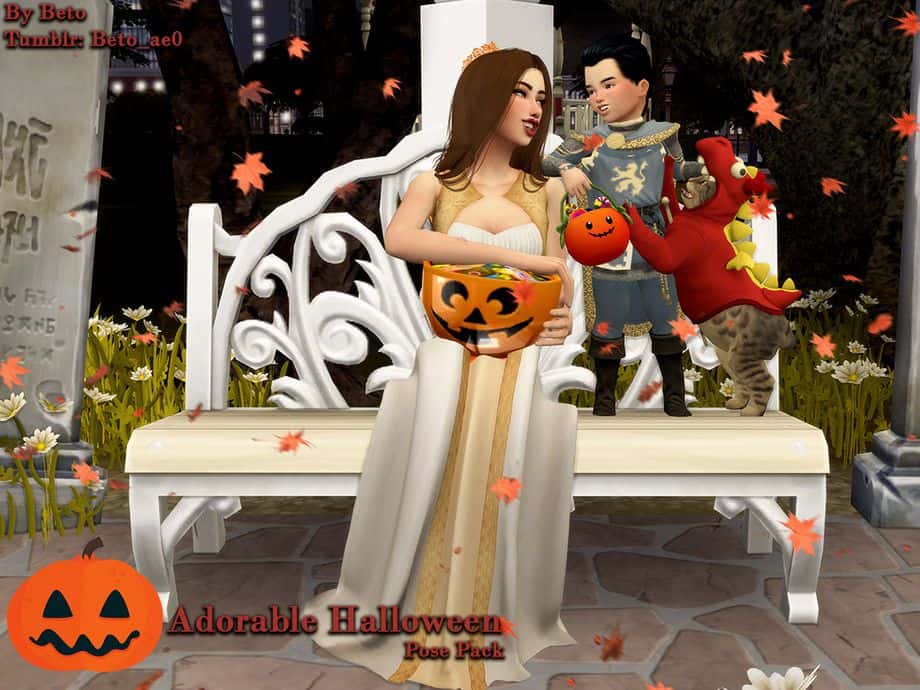 If you want pictures of your sims' children trick-or-treating with their parents, this set will capture those precious moments.
There are six poses of your child sim in their parent's arms, walking side-by-side, or posing on a bench.
You can get the pumpkin bucket on the Halloween Pose Pack's page.
Also, you will need a long chair, couch, or bench for two poses.

13. Witch and Her Best Friend Pose Pack by SONECHKO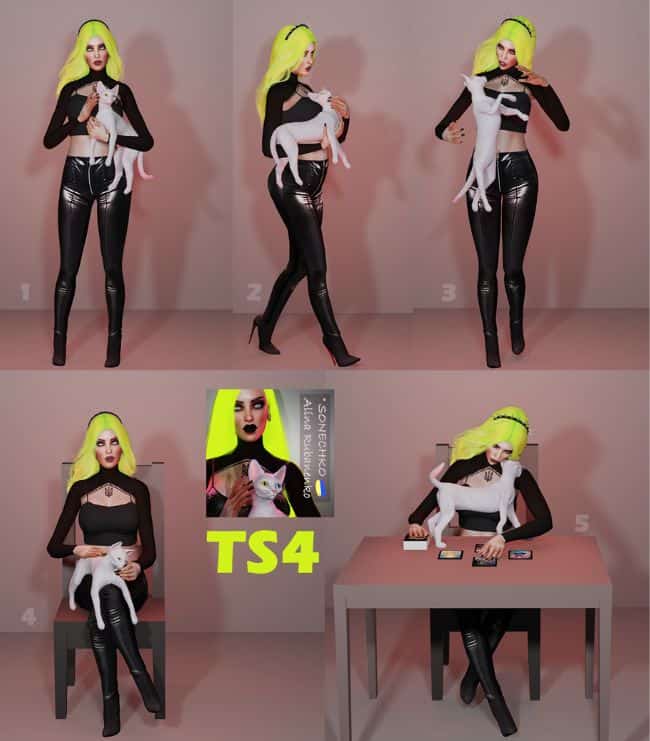 Does your sim household have a cat?
You can dress up your sims as witches and take wicked pictures of them and their cats.
These sims 4 Halloween poses have five ways for your sims to take pictures while standing or sitting with their furry friend.
Your sims will be seen holding or levitating their pet while standing.
There's another pose where your sim sits at a table reading tarot cards while their cat casually walks through them. Silly kitty.

14. Sims 4 Trick Or Treat Poses by Natalia-Auditore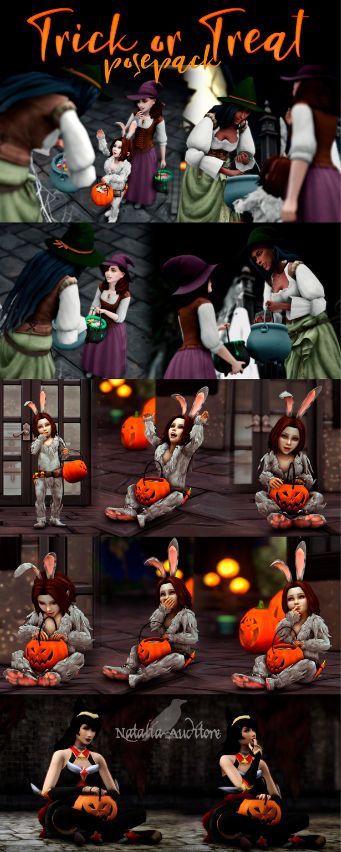 This set of sims 4 Halloween poses shows your trick-or-treater sims sitting and enjoying their candy in eight ways.
Of the eight poses, two are for adults.
You also get two more group poses of kids in the action of trick-or-treating.
The Halloween pose set comes with a cauldron cc for candy collecting, and it's available in three sizes: For toddlers, children, and adults.
For the cauldron item, grab it from the Ring Accessory category.

15. Vampire Pose Set Mod by HelgaTisha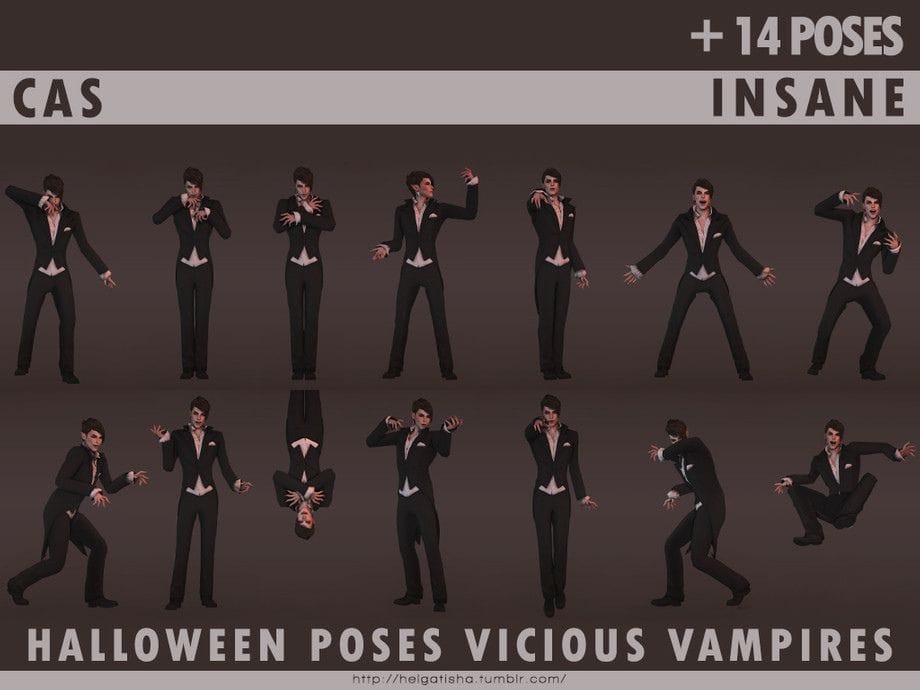 Are your sims dressed up as vampires for Halloween?
This collection of sims 4 Halloween poses has 14 fun ways of striking cool vampire poses.
You can choose the All-in-One option to make your sims cycle through all 14 poses every few seconds.
Alternatively, each pose is paired up in a set of two.
So, you can pick your favorite set, and your sims will rotate between the two poses.
Due to EA renaming the Insane trait into Erratic, you can no longer use these sims 4 Halloween poses in the CAS screen.

16. Simblrween Pose Set by Couquett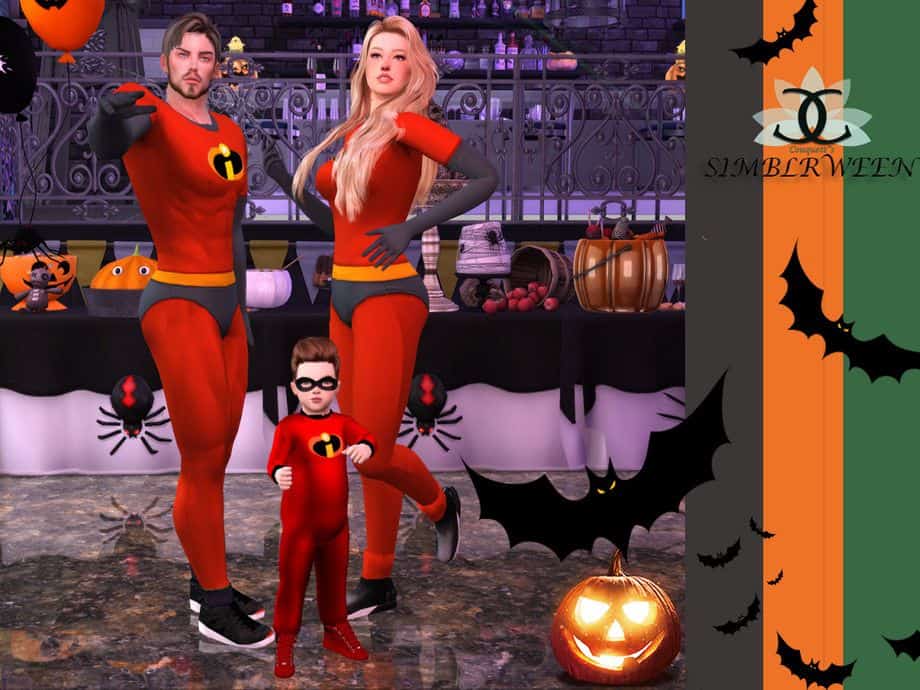 Do you have an incredible family or a family dressed up as the Incredibles?
You can use these Halloween poses to take heroic group photos of your sim family or a group of friends.
There are four poses in this set.
Each pose requires specific sims to complete it:
Pose A requires a Male, Female, and a Toddler
Pose B requires three Female sims and a Child
Pose C & D needs two Males and a Female sim

17. Sims 4 Halloween Poses for Couples by Simsulani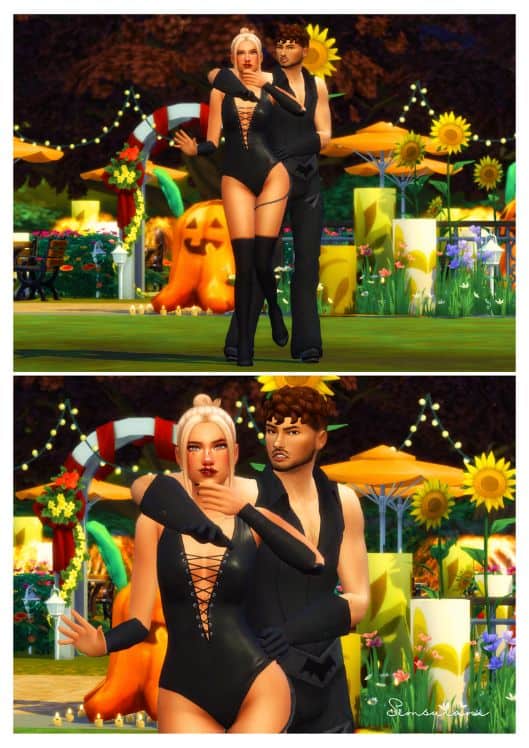 If you were hoping for Halloween couples' poses, look no further.
This set has six poses of your adorable couple in each other's arms.
Show off your sims' sexy or scary costume with these extraordinary shots.

18. Wednesday Dance Poses by Storia Studios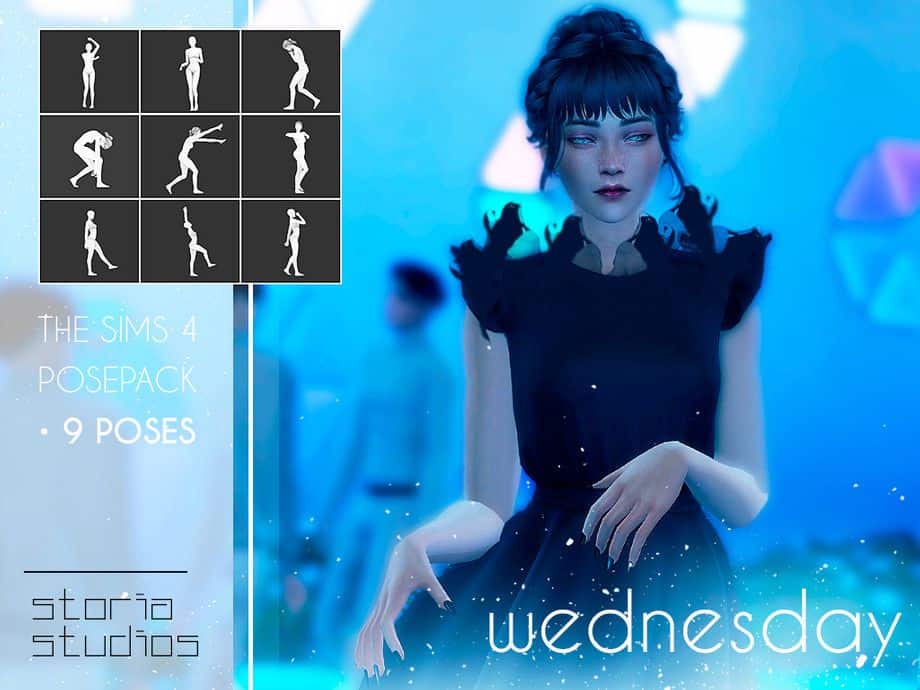 Are you a fan of the popular show Wednesday?
Now, with these sims 4 Halloween poses, you can take pictures of your sims performing Wednesday's famous dance moves.
You get nine poses showing the key parts of the weird dance.
Have fun with this Halloween pose set. I know I did.

19. Sims 4 Spooky Night Poses by Talentedtrait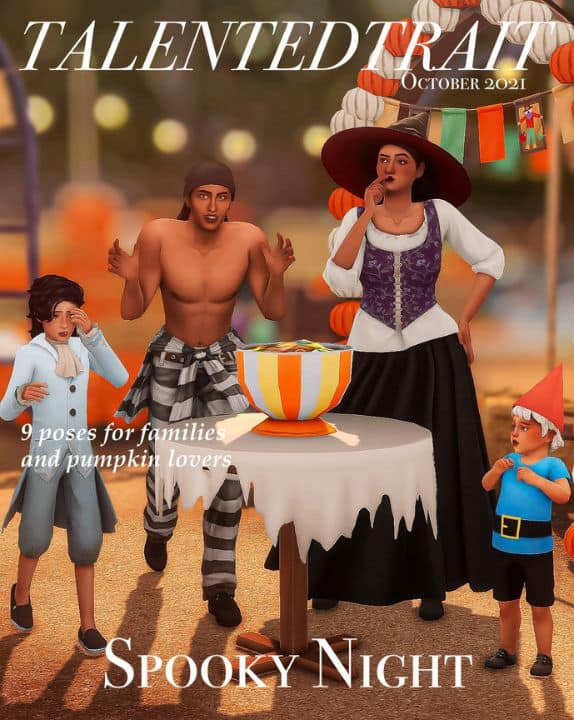 For more random Halloween poses, this set has a variety to offer.
There are nine poses made for different aged sims.
Your sims will be shown trick-or-treating, posing with pumpkins, and other candid shots.
Note that some poses need certain cc items included with this Halloween pose set.
Sims 4 Halloween Poses: Final Thoughts
Now that you've found your next sims 4 Halloween poses, you can show off your sims' costumes in new and fantastic ways.
Whether you want cute pictures of your little trick-or-treaters or make lovely family photos, there's a perfect pose for you.
Also, you can use these poses to capture precious moments, such as your toddler sim's first Halloween.
If you have any questions or suggestions, feel free to leave us a comment below or tag us on Tumblr.
And don't forget to share and save this pin for later!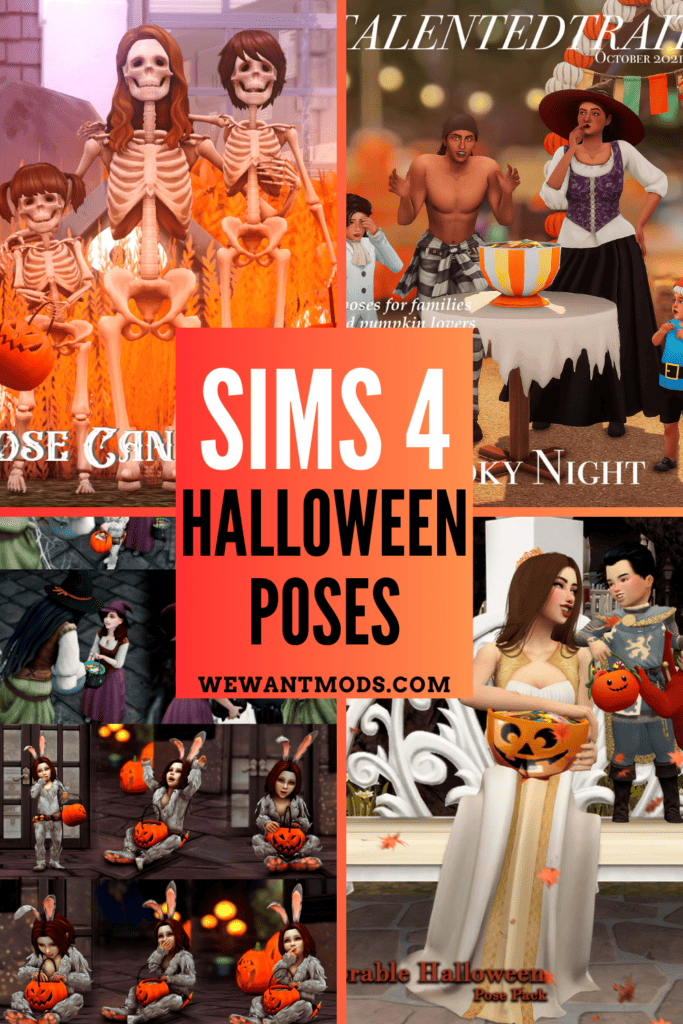 More Sims 4 Poses
19 Sims 4 Halloween Poses: Strike A Scary Pose