19+ Epic Sims 4 Stranger Things CC Creations
Ready to step into the Upside Down?
With this collection of Sims 4 Stranger Things CC, you'll be ready to recreate the perfect supernatural experience.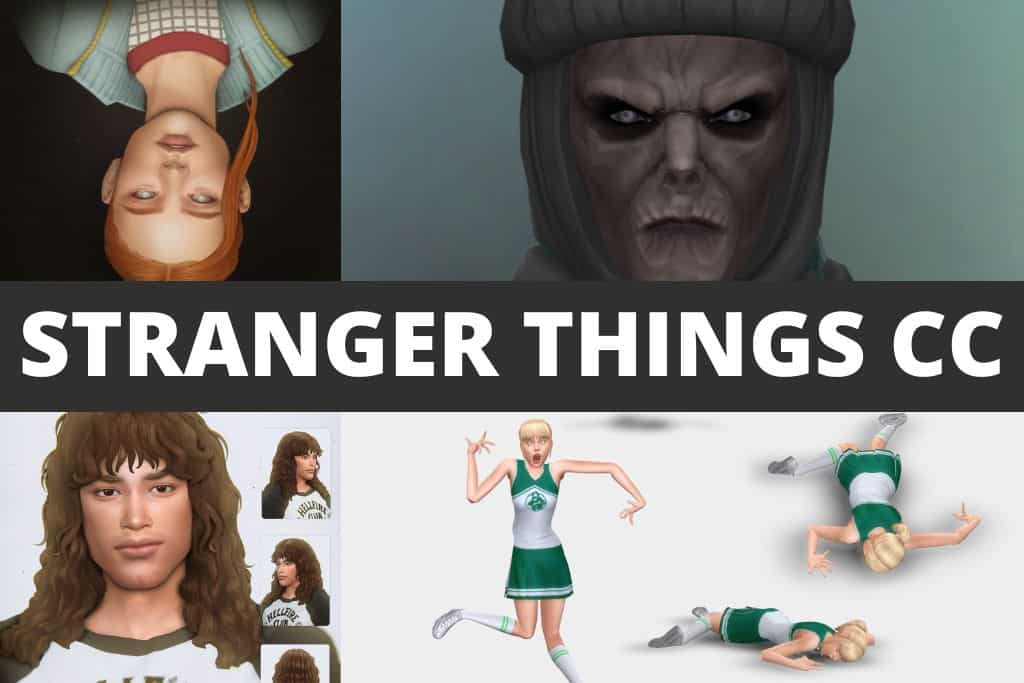 When Stranger Things popped into the scene in 2016, it was a blast from the past while simultaneously offering something new.
Not surprisingly, this 80s-inspired show has founds its way to the sims 4.
With the show's popularity, many talented creators have put together some amazing Sims 4 Stranger Things CC for you to enjoy.
Let's take a look!
Disclaimer: The following mods are neither endorsed nor affiliated with The Sims, Maxis, or Electronic Arts. Any use of mods (custom content or game mods) should be done with caution and with the knowledge that there may be risks.
Best Sims 4 Stranger Things CC
We've put together a diverse set of Stranger Things clothing cc, hair, wounds, furniture, creatures, and more.
1. Wheeler Hair Sims 4 Stranger Things CC by Shimydin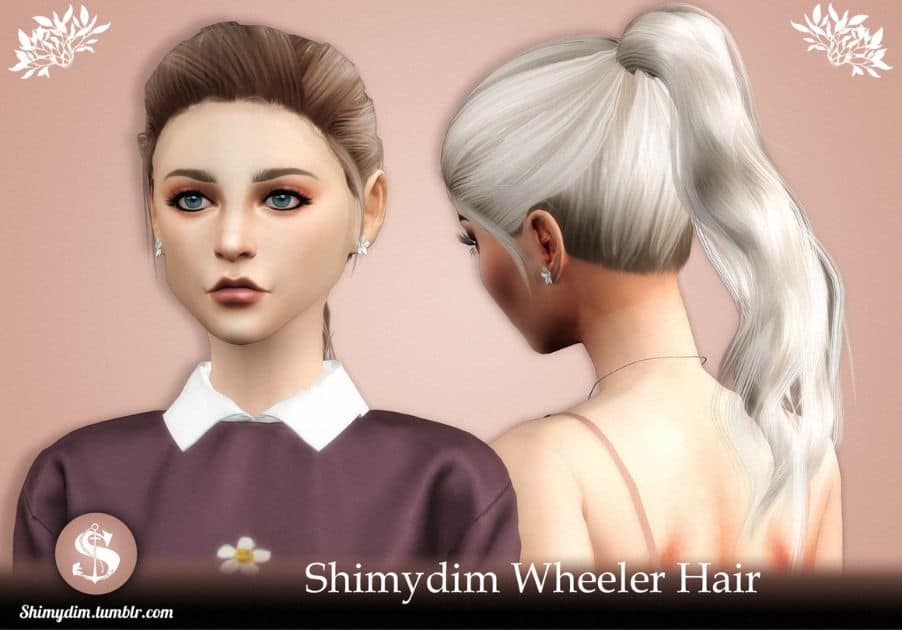 Season 1 Nancy Wheeler inspires this long ponytail hairstyle.
It's a simple yet classic ponytail that comes in 84 swatches, 35 of which come in fun and funky colors.
And if you prefer Nancy with her shorter hair, don't worry; we have that covered below too!

2. Sims 4 Eleven's Mall Outfit CC by Juju Gamer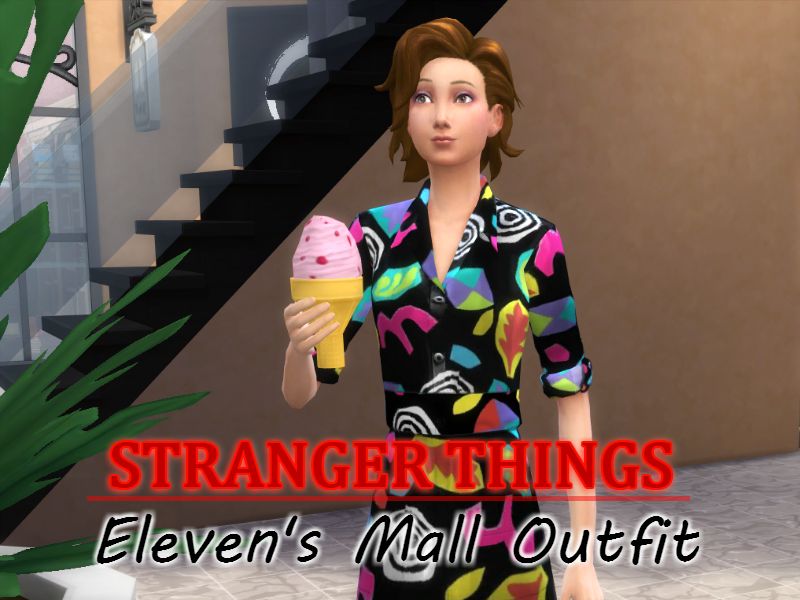 With the return of so many styles like low-rise jeans, I'm anxiously awaiting the day when 80's clothing makes a small comeback.
This colorful neon outfit remains my favorite clothing piece from the series, and this cc turned out great.
You will need the Cat & Dogs Expansion Pack to use this Eleven romper.

3. Scoops Ahoh Sims 4 Stranger Things CC by feralrac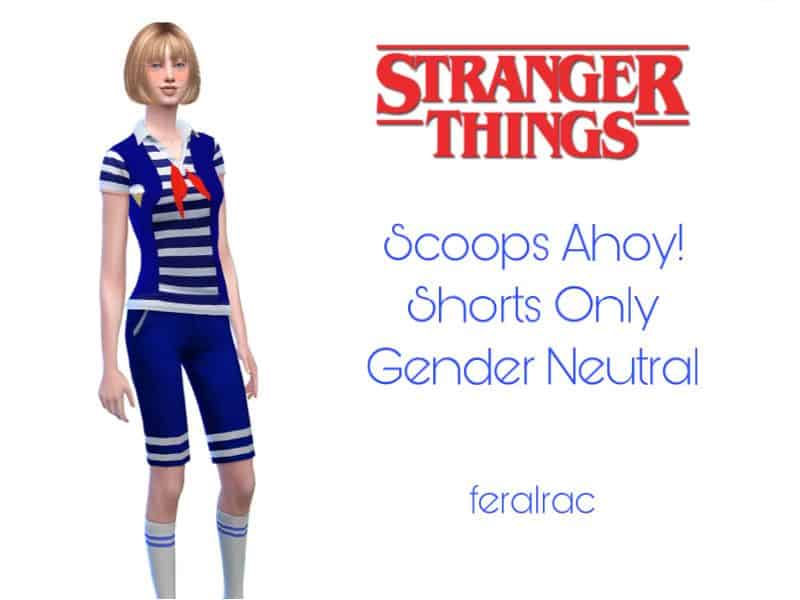 Okay, Robin's Scoops Ahoy work outfit is super cute with its nautical theme colors and design.
You can grab the shirt on the cc page below, and if you want the shorts, you can get those here.

4. Sims 4 Chrissy Collection by Crypticsim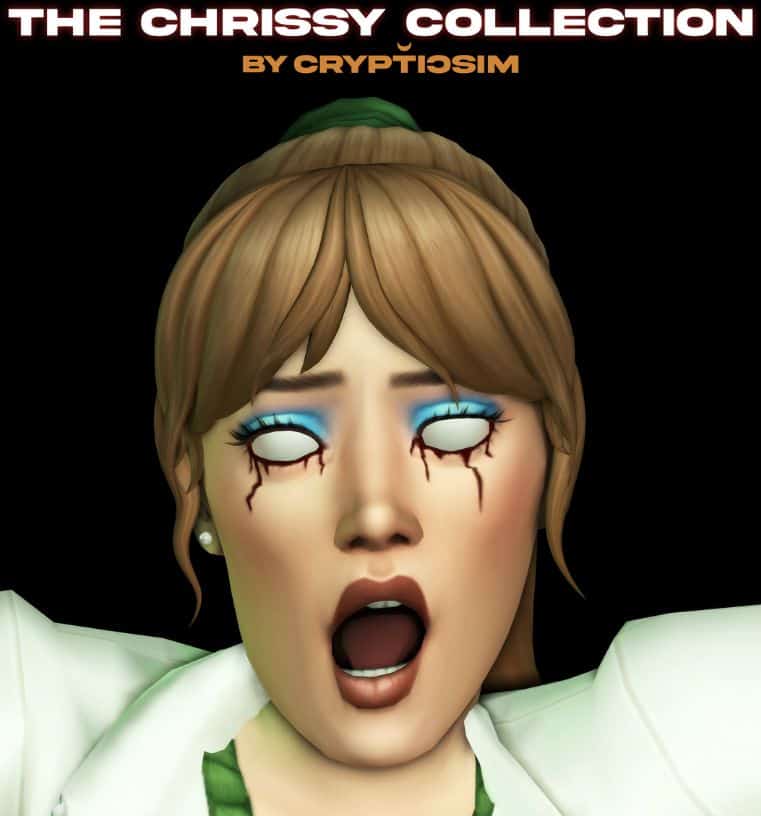 With this small cc collection, your sims can go from school girl ready to death by Vecna in no time.
You can pick between eyeshadow, lipstick, and dripping blood eyeliner.
Although the eyeshadow and lipstick come in 10 swatches, I opt for the classic blue Chrissy eyeshadow.
And don't forget to try out the bleeding eyes on your male sims, too; it's available from teens and up and comes in 2 swatches.

5. Sims 4 Hellfire Club Tee by Zephyr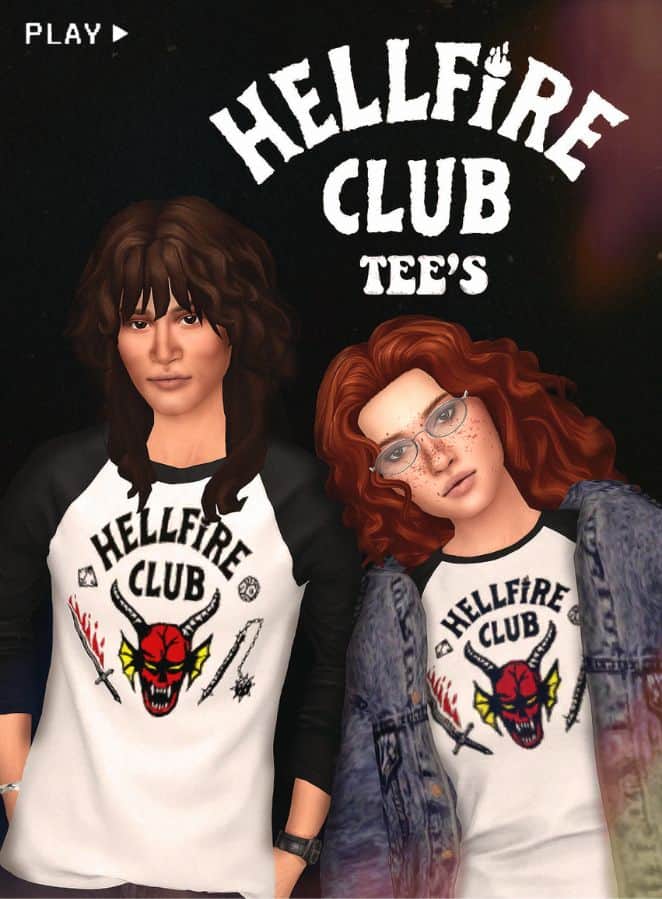 With season 4 Stranger Things introduced the Hellfire Club, which brought us the unforgettable Eddie Monson.
These epic tees are available for your male and female sims and come in English or Simlish wording.

6. Upside Down Sims 4 Stranger Things CC by Dogsill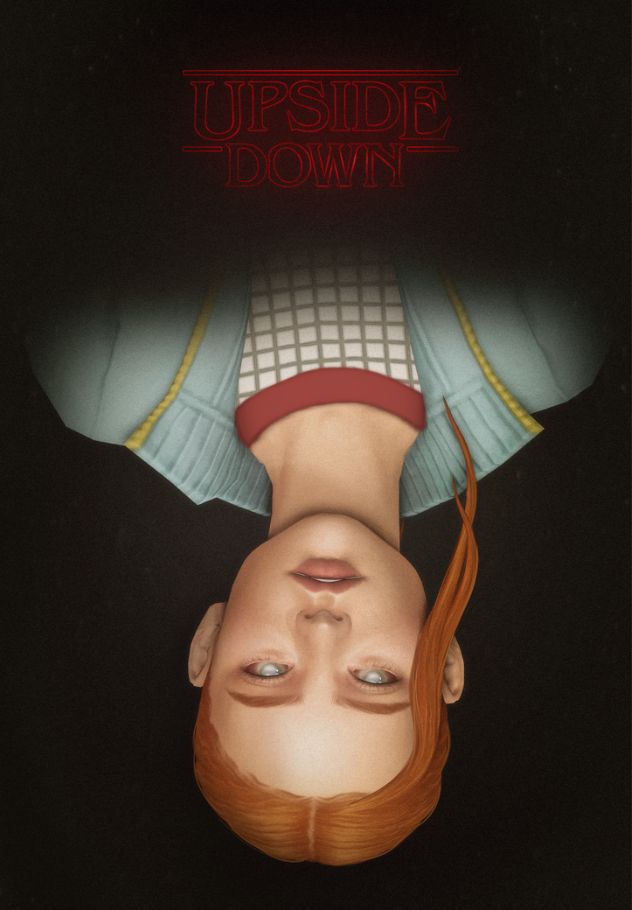 This upside pack is one of my favorites; you get a great variety of Stranger Things inspired custom content.
You get 11 hairs (including Max, Chrissy, Nancy, El, and Joyce) and two accessories.
You also get Max's sweater and top from her famous levitating scene and Chrissy's cheerleader uniform with a couple of extra pieces.
7. Sims 4 Eddie Munson CC Pack by C0ld Glitt3r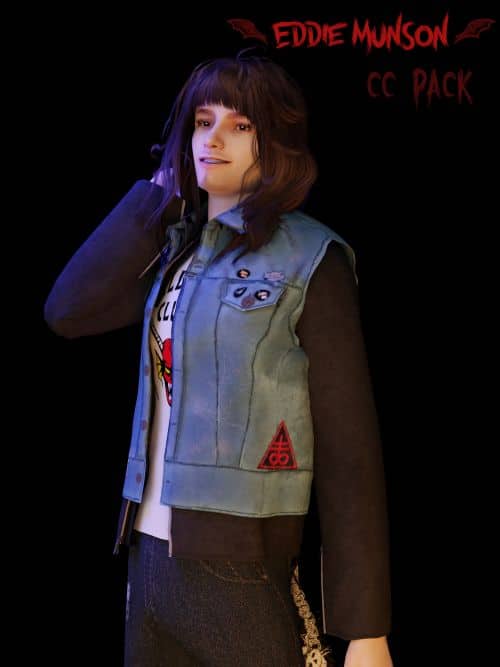 If you are a fan of Eddie and Steve, then this cc pack is for you!
This pack includes various clothing pieces, including Eddie's jean jacket and jeans.
You can also grab the sleeveless jean jacket Steve wears during the battle or let him walk around with his bandaged wounds on display.
You'll find the bandages in the gloves section.

8. Sims 4 Stranger Things Wall Decor by Lady Kendal Sims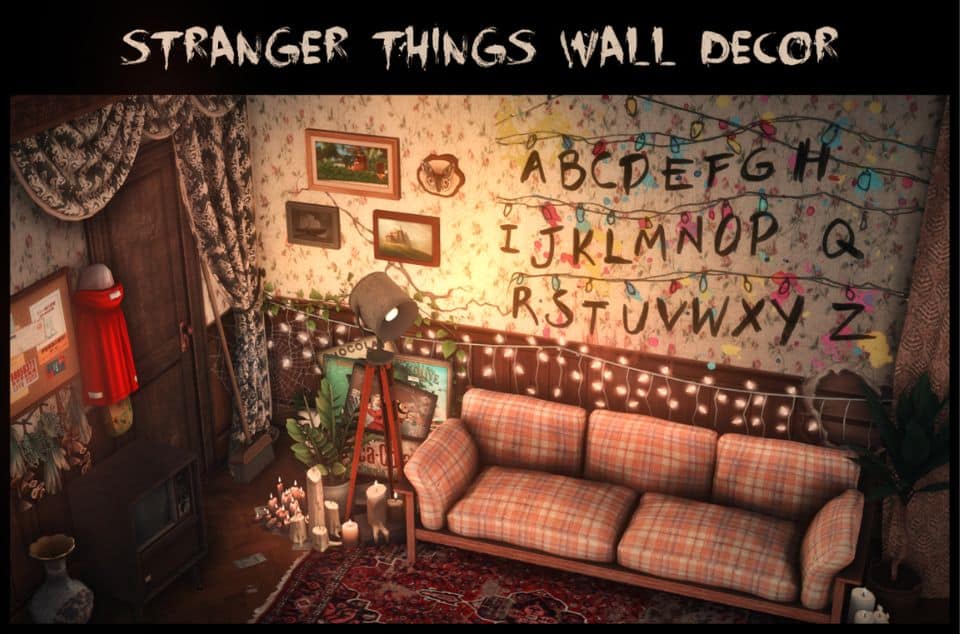 Some of the most memorable scenes in Stranger Things season 1 was watching Joyce do everything possible to communicate with Will.
With this stranger things wall decor you can recreate Joyce's living room.
There are a couple of wall decor options with different swatches and a bonus wallpaper.

9. Sims 4 Demogorgon CC by Rumorukaraizon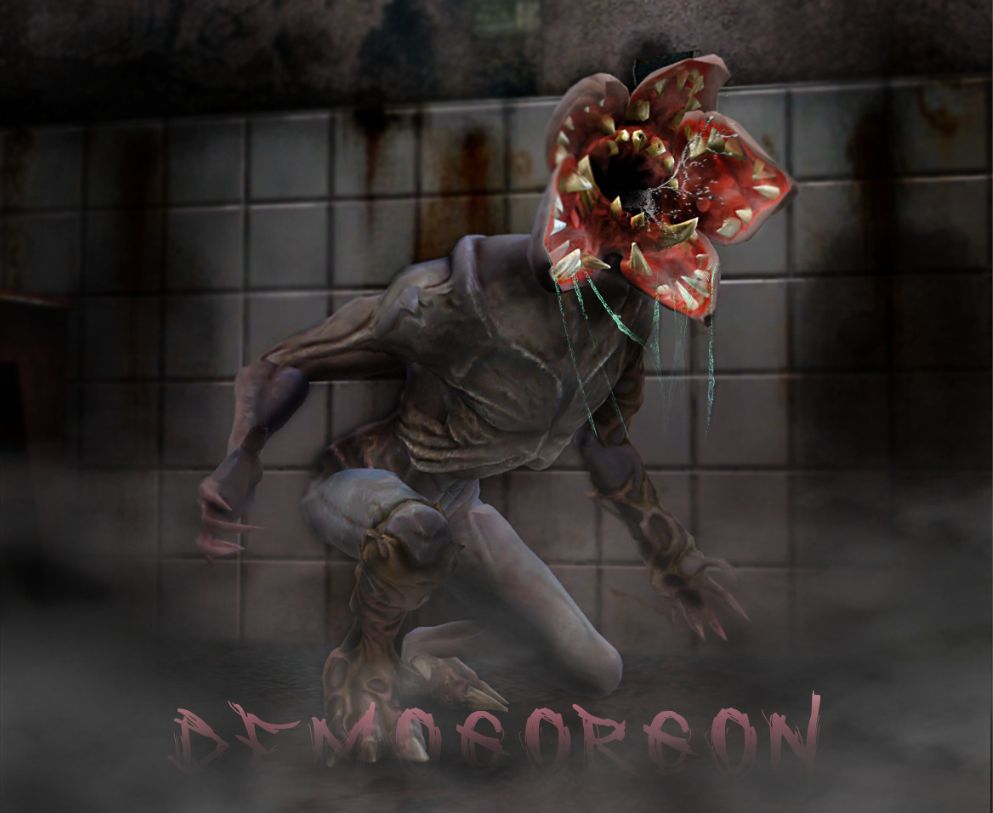 Okay, so this Demogorgon cc is fantastic with its details.
Plus, you can change things up a little and pick a different swatch; I'm vibing the green option.
You can also take some fun and creative screenshots with this cc.
The creator gave some great ideas like taking a selfie pic or having breakfast with a Demogorgon.

10. Billy Sims 4 Stranger Things CC by BigBoiOli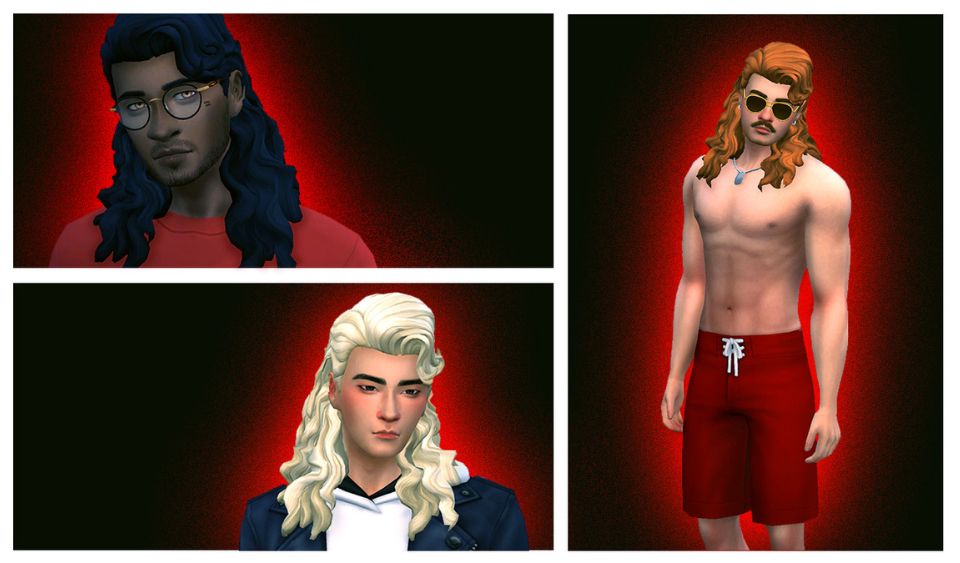 I think most people either love or hate Billy Hargrove's character; he had a particular personality, that's for sure.
And with him came the classic 80's mullet with curls and all.
This custom content hair comes in 16 swatches and is available for male sims, ages teens and up.

Similar Post: 23+ Sims 4 Halloween CC: A Spooky Event

11. Sims 4 Stranger Things Upside Down by dasie2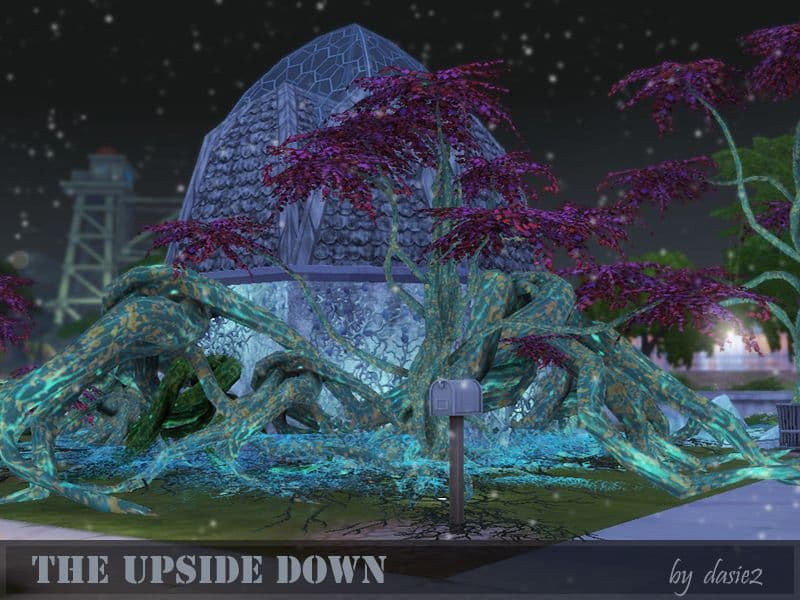 Step into the world of The Upside Down with this inspired lot of rooms.
Your sims can enjoy 2 bedrooms, a kitchen, a bathroom, a dining room living room, and more.
This cc captures the theme and atmosphere of The Upside Down.
There are some required packs and cheats for this cc, so you'll want to read the details on the Creators Notes tab.

12. Eddie Hair Sims 4 Stranger Things CC by Simstrouble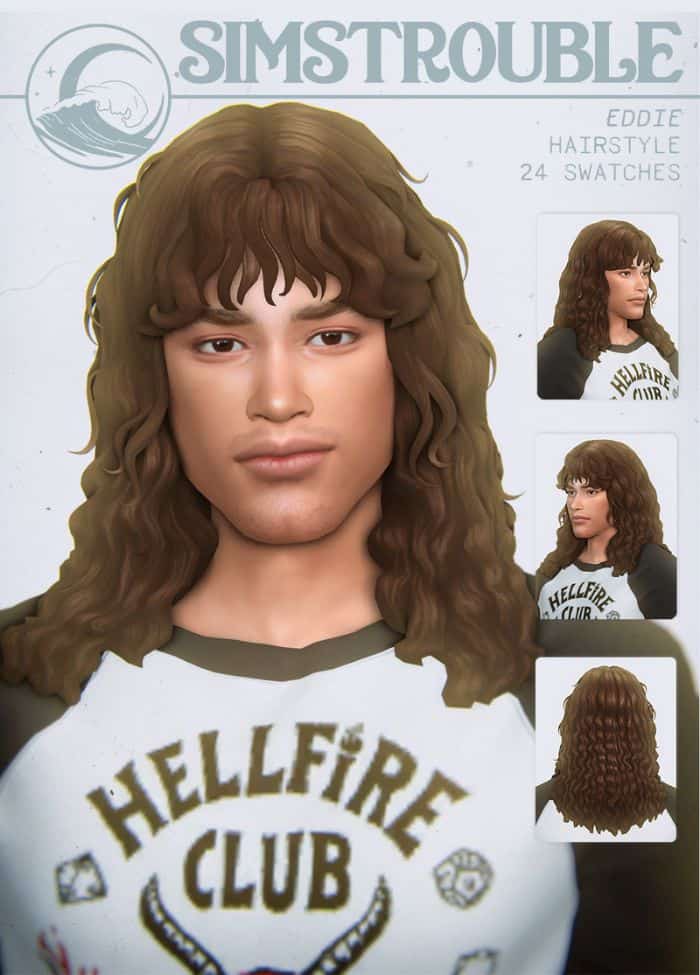 This Eddie hair has to be one of the most popular Stranger Things custom content pieces to come out in the sims community.
Yep, this curly permed hairstyle is 80's perfection and gives your sims an effortless hip look.
This hair is available for your male and female sims and comes in 24 watches.

13. Sims 4 Stranger Things CC Collection by Barbara Sims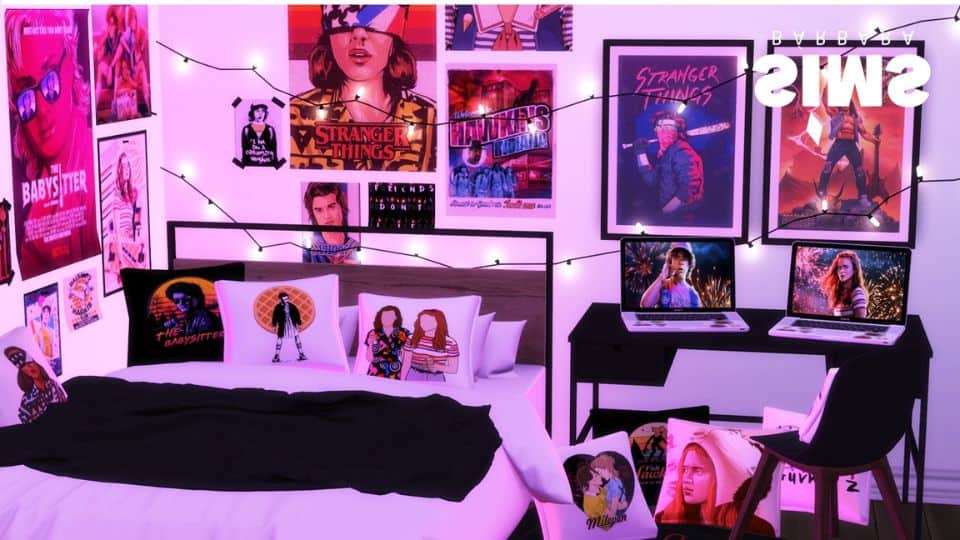 This fun sims 4 stranger things collection includes everything your teen sims need for the perfect bedroom.
You'll find a great variety of items, including;
Rugs
Stranger Things prints
Stranger Things posters
Decorative pillows
Apple Macbooks

14. Sims 4 Stranger Things Eddie Tattoos by Mal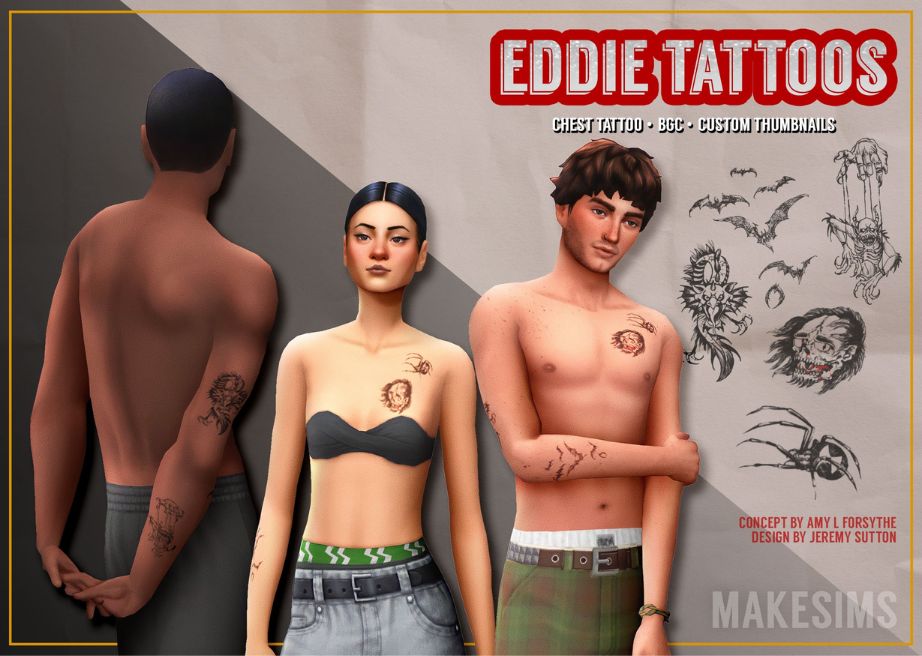 If you are trying to create your perfect Eddie sim, you'll want to include his exciting tattoos.
Eddie's tattoos are definitely more on the dark side, from bats to demons.
Your sims will get 5 tattoos on the chest and one on their right arm.
These tattoos are available for both frames.

15. Sims 4 Stranger Things Set by hu-sims4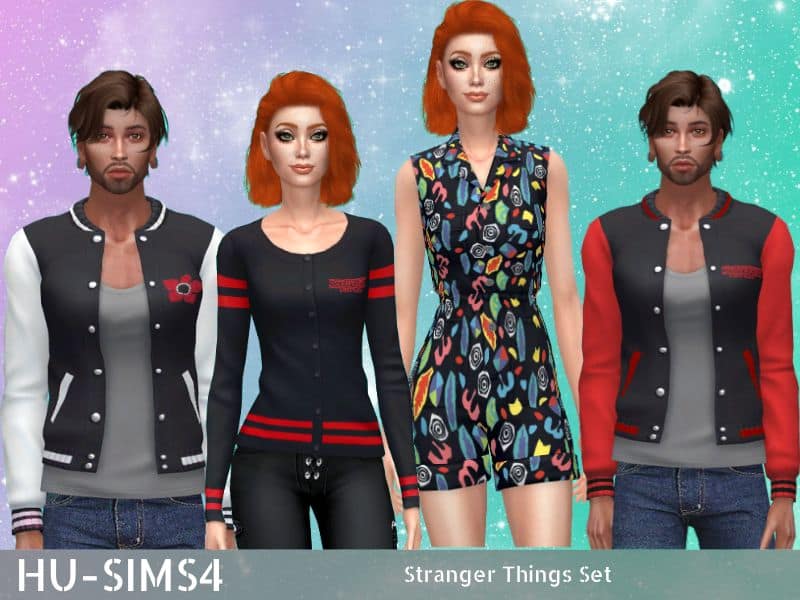 This 3-piece sims 4 stranger things cc set comes with a varsity jacket, the El mall romper, and a Demogorgon cardigan.
The romper does require the Sims 4 Eco Lifestyle expansion pack, but the 2 other pieces are base game compatible.
The varsity jacket comes in 2 swatches, and the cardigan in just 1.
I love love love the cardigan with its striking Demogorgon face on the back.

16. Toddler Sims 4 Stranger Things CC by mikrosimsmos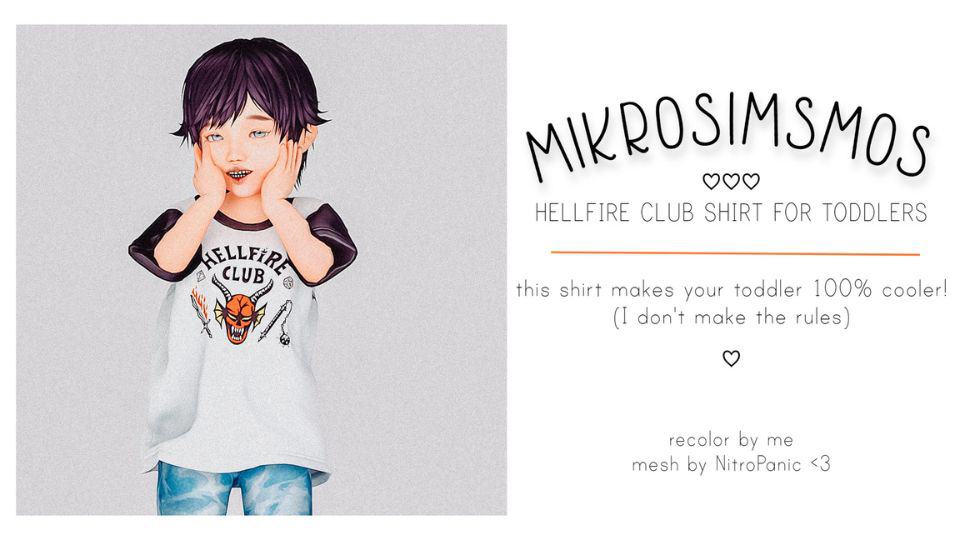 While the show may not be toddler appropriate, your sims toddlers can share the experience with this adorable Hellfire Club t-shirt.
I mean, what's cuter than a family wearing matching outfits?

17. Sims 4 Stranger Things Wounds CC by Gortimermoth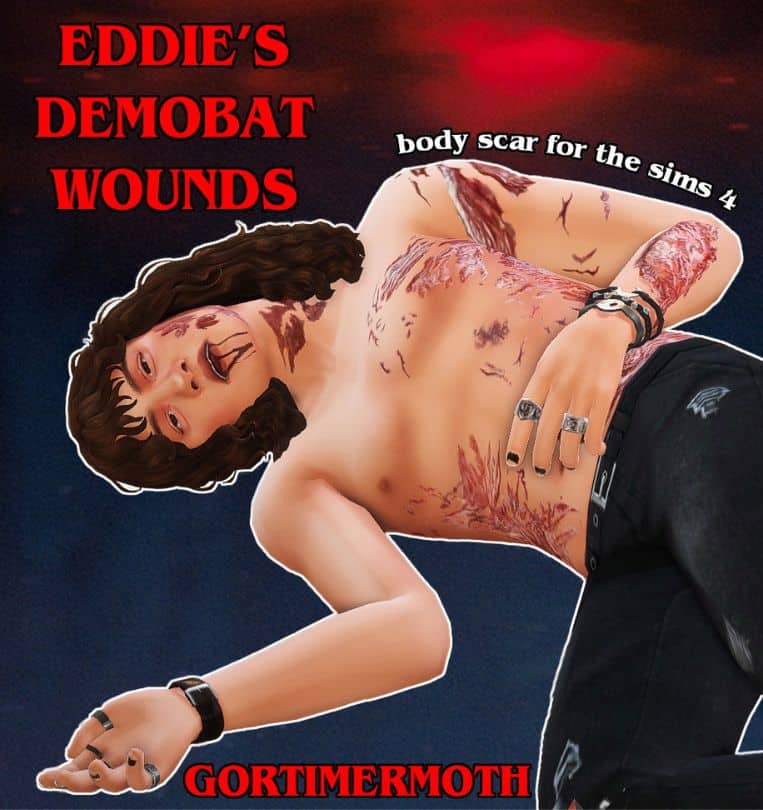 Complete the Eddie Munson experience with his Demobat body wounds.
You can opt for the wounds to appear red or transparent for a more subdued look.

18. Sims 4 Vecna Death Pose by Loulicorn

We can't have a Sims 4 Stranger Things CC post without including the death by Vecna in-game pose pack.
The picture above is self-explanatory; your sims can levitate or be as twisted as you want for the perfect pose.

19. Sims 4 Stranger Things CC Sims by Loulicorn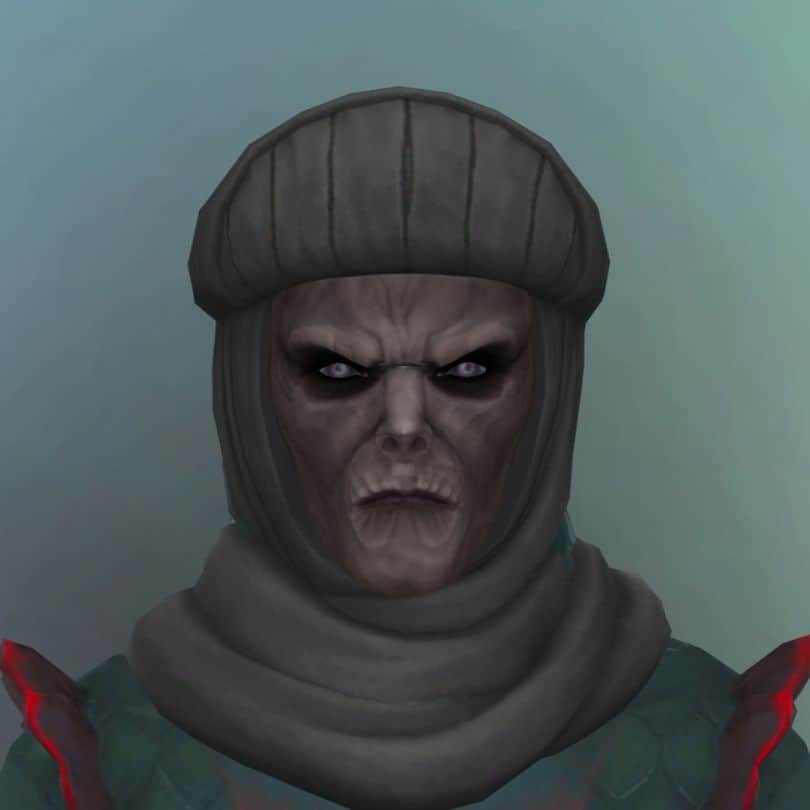 Okay, this cc link leads to the same one above, but I wanted to show you the second half of what you get.
You can snag all your favorite Stranger Things character sims from Eleven to Hopper and the amazing Vecna above.

20. Sims 4 Rainbow Room CC Pack by zwhsims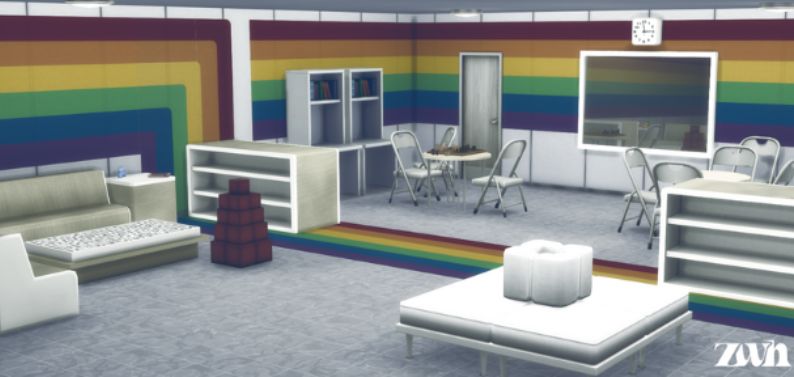 To finish this post, let's look at one of the most prominent rooms in season 4; The Rainbow Room.
This stuff pack includes various build items, including the rainbow wallpaper, maze game, couch, clock, blood platter, and more.
You can also grab some CAS items, including child blood makeup, a hospital gown, adult nosebleed makeup, and blood tears.
Sims 4 Stranger Things CC: Final Thoughts
With all these exciting sims 4 stranger things cc, you'll be able to create the perfect supernatural world for your sims.
With the final season ahead, it will be interesting to see what new and creative custom content pieces will come to the sims 4.
We will update this post at that time to include even more fantastic cc.
Additional Sims 4 CC Lists

And don't forget to share and pin this collection for later!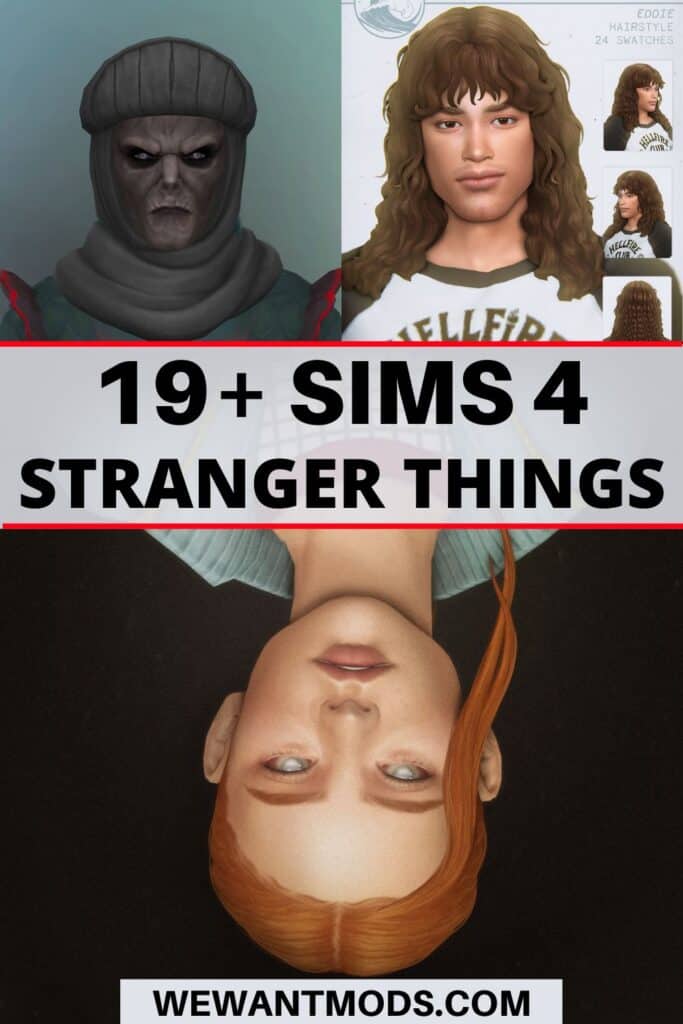 19+ Epic Sims 4 Stranger Things CC Creations