33+ Sims 4 Winter CC: Keep Your Sims Warm and Stylish
Get your sims ready to take on the cold weather with this collection of Sims 4 Winter CC.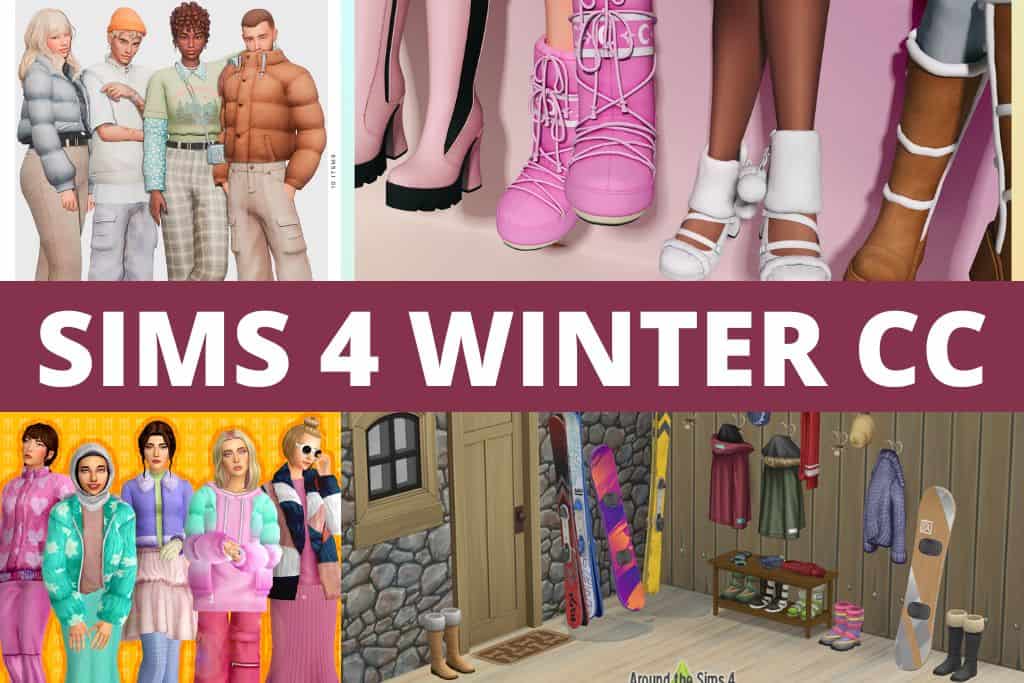 Ahh, good old winter; people tend to either love or hate the snowy season.
Where I live, snow comes in abundance, so being prepped for the winter is not a choice, and I like to have my sims ready for the change in seasons, too.
Since I was looking for new winter gear, I rounded up a whole collection for us to enjoy.
Your sims can brave the cold in their new stylish clothing pieces; there's no reason they can't be toasty-warm and fashionable.
Whether your sims new need outwear, clothing, or boots, we found some great pieces.
And we also have some great holiday ideas with our Sims 4 Christmas CC post.
Disclaimer: The following mods are neither endorsed nor affiliated with The Sims, Maxis, or Electronic Arts. Any use of mods (custom content or game mods) should be done with caution and with the knowledge that there may be risks.
Cozy Sims 4 Winter CC
Below, we've included a mix of winter clothes, jackets, boots, and accessories for your male and female sims.
We've also included a few kids' pieces and some decor options for the exterior of your sims' home.
1. Sims 4 Winter Sweater Set by Mal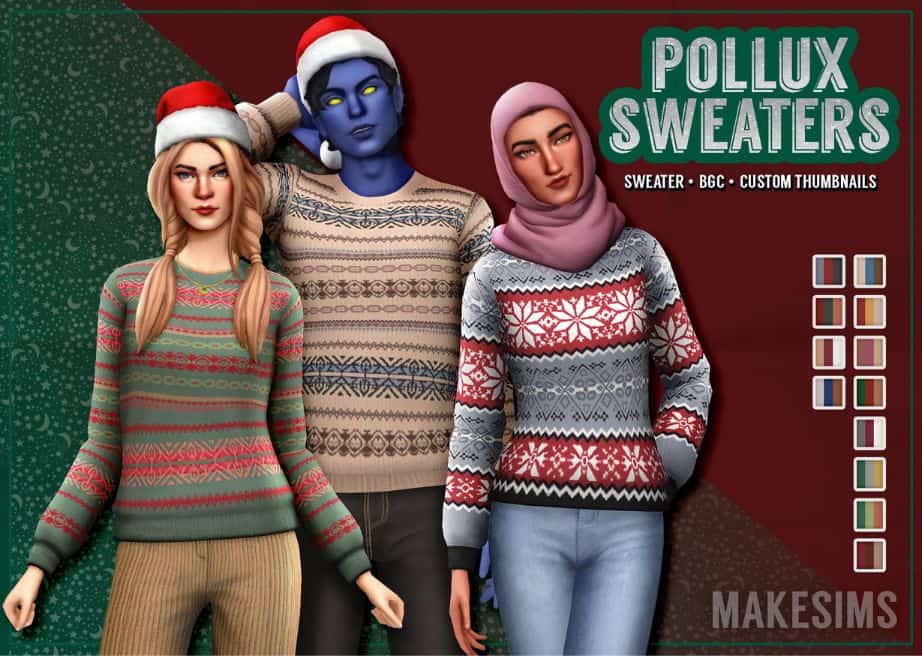 When it comes to the cold winter seaters, sweaters are the first clothing pieces to come out of my storage containers.
And cute seasonal patterns always make everything feel more fun. Plus, you can't go wrong with the occasional matching pair of sweaters for your sims couples.
These Pollux sweaters come in 12 multi-color swatches.
If your sims need something more dressy, they can opt for the skin-tight long-sleeve dress or men's suit jacket and pants also included in the pack.

2. Sims 4 Boots With Legwarmers by Madlen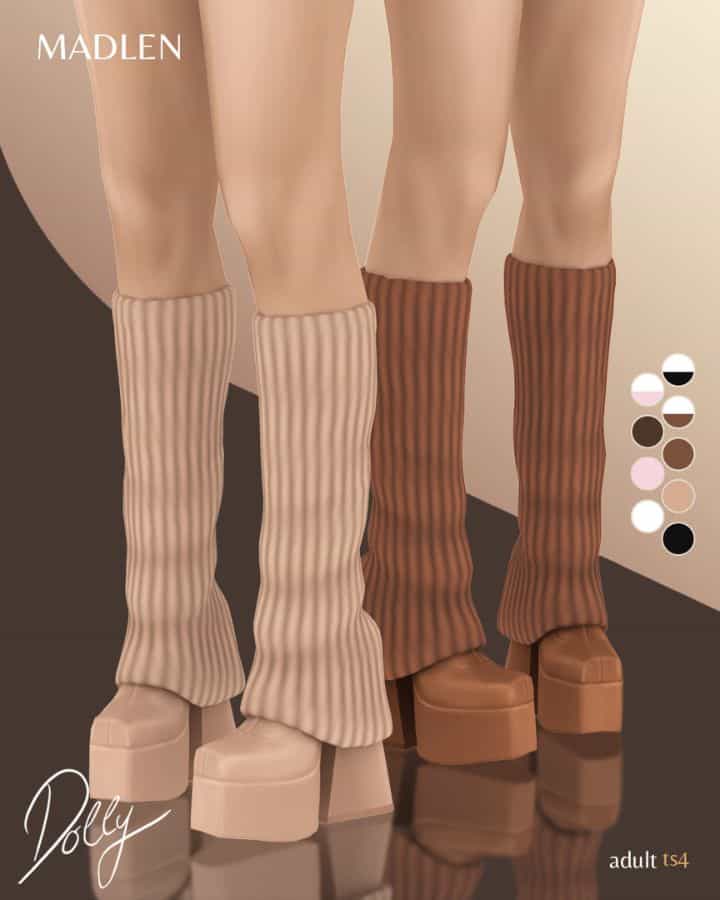 If you were a fan of 80s legwarmers, then you will love these chunky heeled winter boots with legwarmers.
These boots are perfect for the winter season but can also be used for the fall when the weather starts to turn.
You can pick your favorite color from the 9 available swatches, which include a couple of swatches with different color boots and legwarmers.

3. Sims 4 Knitted Earmuffs by Nords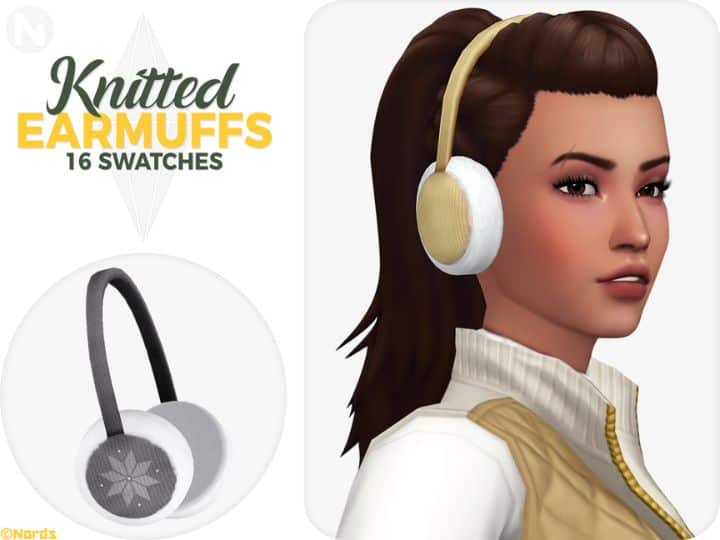 Earmuffs are some of my favorite winter accessories and keep my ears toasty during those annoying snow storms.
These adorable knitted earmuffs will keep your sims just as warm, and they come in 16 swatches, which include some simpler options and some fun patterns on the muffs.

4. Sogue Winter Edition by ImVikai X Greenllamas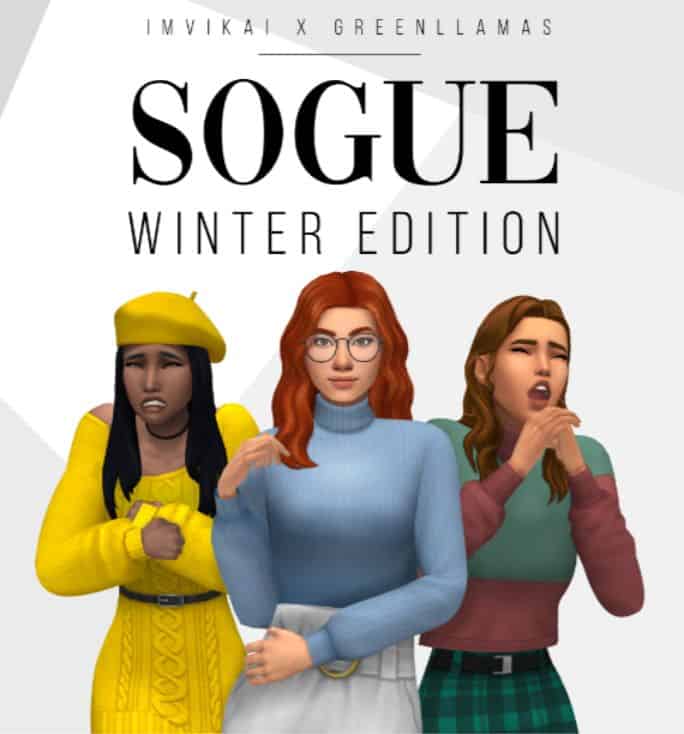 This fun collaboration between ImVikai and Greenllamas brings us a great pack of clothes for your female sims.
The set includes a long knit dress, belted pants, casual jeans, sweaters, and even a couple of medium-length hairstyles.
There are two parts to this collection, which are both linked below.
5. Kids Winter Break CC Set by Simkoos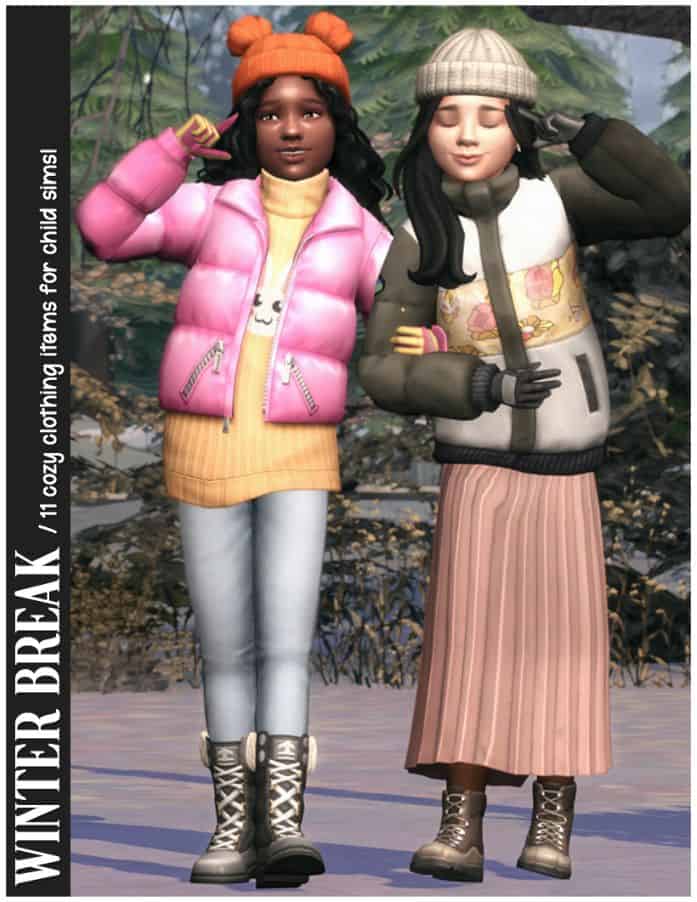 When it comes to snowy weather, all kids need warm clothes and jackets to keep the cold away.
With this pack of sims 4 winter cc, you can quickly fill up your sims closets with everything they need.
This set of conversions includes the following pieces;
A casual outdoor jacket
A shiny, puffy jacket
Oversized hoodies
Tucked sweaters
Layered hoodie jacket
A tucked sweater
Sweatpants
Pleated skirt
Half-tucked turtleneck and shirt
Overall jeans, frayed jeans, rolled jeans
Depending on the piece, there are 9 to 21 swatches, and some items come with additional color palettes.

6. Love On Ice Pose Pack by StarrySimsie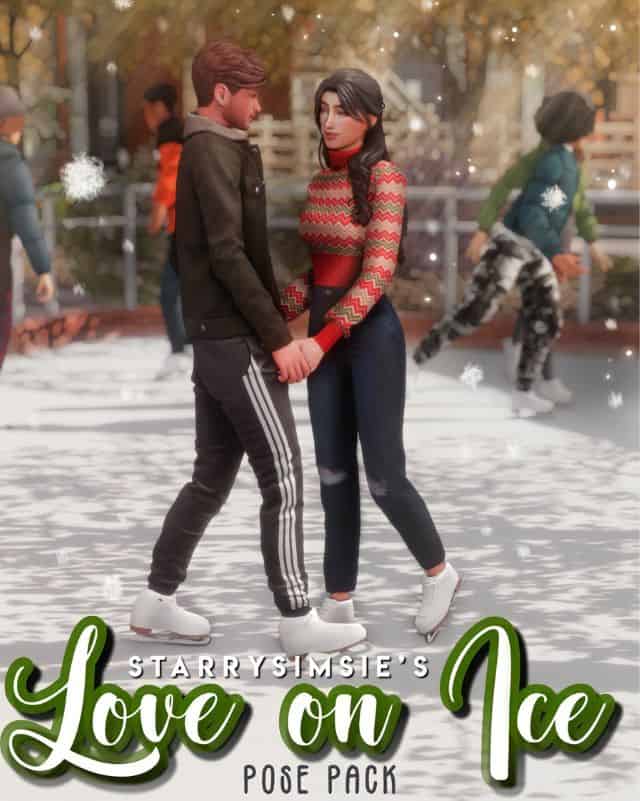 What better way to remember the next winter season than with some great screenshots of your sims enjoying ice skating?
The pack includes 6 poses of your sims attempting a skate around the rink, sharing a sweet hug, and even a tender embrace.

7. Winter Collection Part. 1 by Blue Craving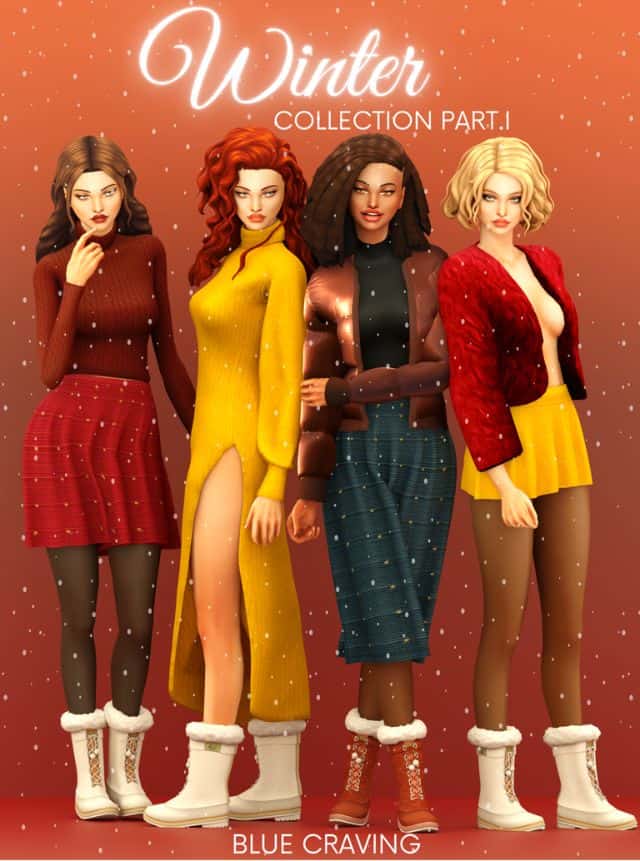 This collection of female sims 4 winter cc is for all the fashionable sims in your households.
The pack includes some fun and stylish clothing pieces for the winter season, including a long sleeve turtleneck dress with a sexy high slit down the side.
There's also a turtleneck sweater in both solids and wool patterns, a shiny puffer jacket with a sweater underneath, and a trio of skirts in different lengths.
Your sims can wear the gorgeous jazzy fur jacket with or without the turtleneck, and it also comes in a second version with alpha layers.

8. Snow Lover CC Set by YoonieSim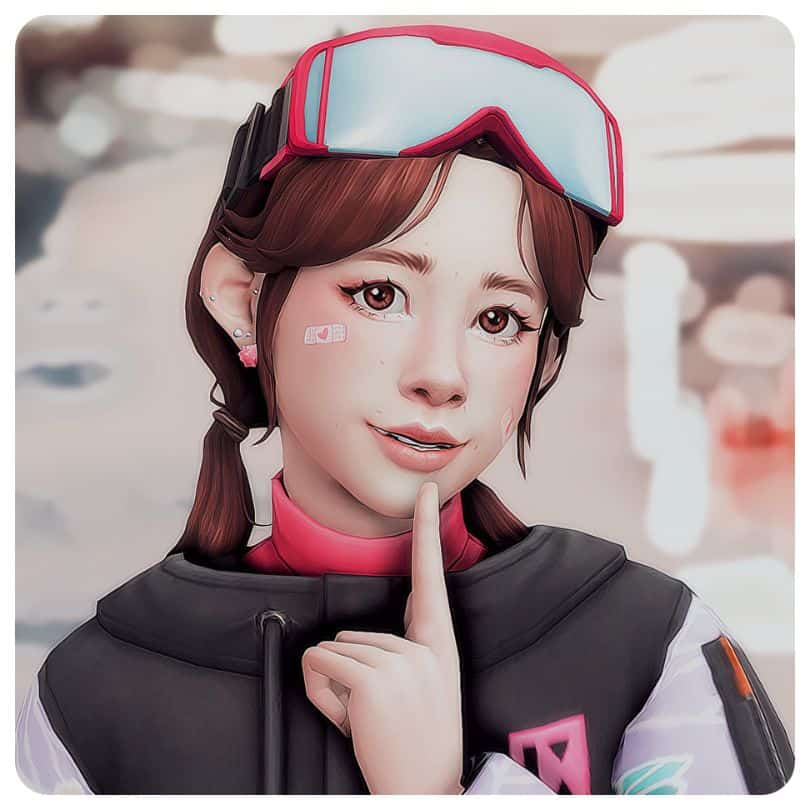 This snowboard custom content set will have your sims dressed for a casual day on the mountain slopes.
The pack includes a T-shirt and sweater, an adorable panda backpack, gloves with a heart design, snowboarding goggles, and a stylish snowboard.
The functional and buyable snowboard requires Snowy Escape EP, but you can also grab another snowboard for your winter poses.

9. Winter Berry Skin by Northern Siberia Winds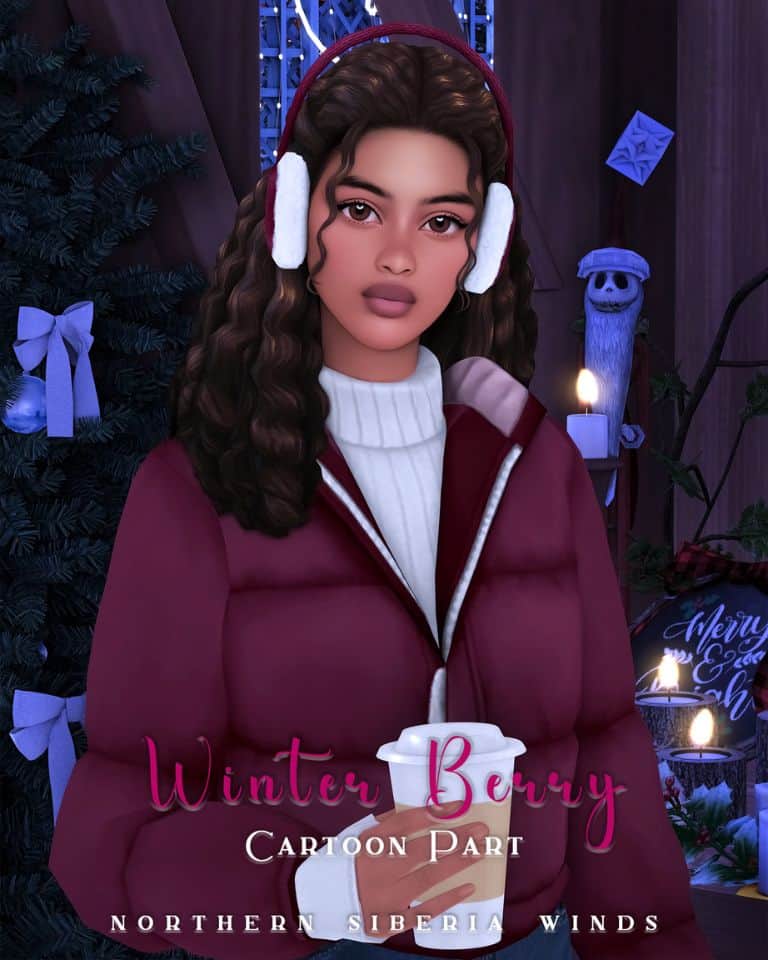 When it comes to our sims, every little detail counts, and that's why you need this set of winter berry skin details.
The pack includes two full-body cartoon edition blueberry skins, which are closer to maxis match style.
There are a couple of face masks and 8 blueberry skin tones to try out.
The full-body skins and face masks are also available in HQ if needed.

10. Winter CC Boots Collection by Jius-sims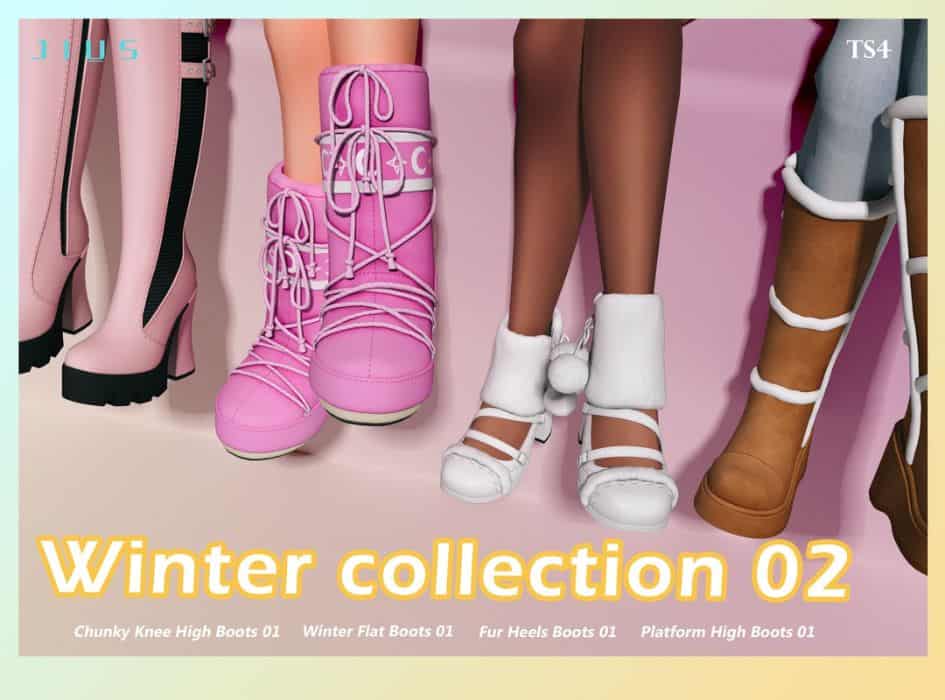 When dressing for winter, no one boot fits every outfit, but this set of boots comes with 4 models for your sims different needs.
The pack includes:
Medium-length fur heel boots
Moon-inspired boots
Chunky heeled boots with traps
Some ankle-height fur-heeled boots
The boots are available in 22 to 30 swatches.

11. KOOL Sims 4 Winter CC Set by Marsmerizingsims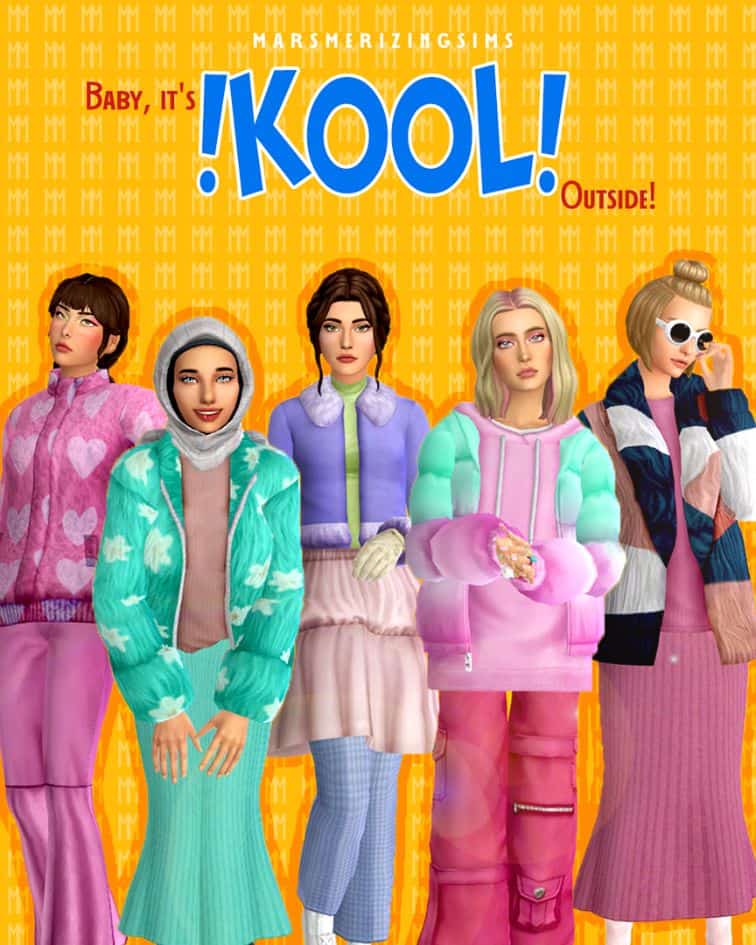 This vibrant collection of clothing pieces gives me 1970s cc vibes with their silhouettes and patterns, and they are an excellent choice for colder days.
The set includes 6 pieces, including;
A heart pattern jacket
Hip-length fluffy fur jacket
Puffer jacket and oversized hoodie
A waist-length jacket with fur trim and top

12. Snowy Day CC Set by Around the Sims 4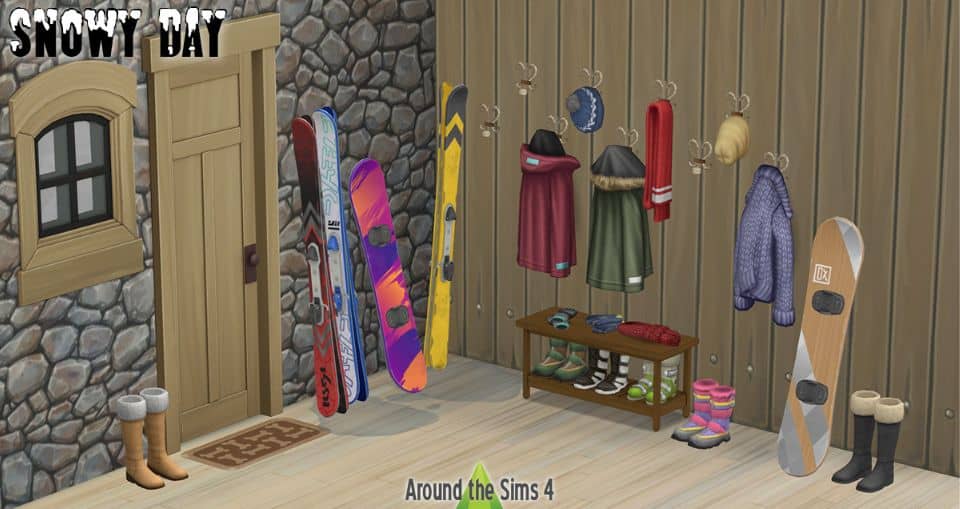 A couple of popular winter sports in my area are skiing and snowboarding, and this winter cc set has got the gear your sims need for both activities.
Your sims can dress up for the slopes in new coats, scarves, beanies, gloves, and everyday boots.
The set also includes the much-needed ski boots, skis, snowboard boots, a snowboard, and some rope, just in case.

13. Long Shearling Coat CC by Charonlee SIMS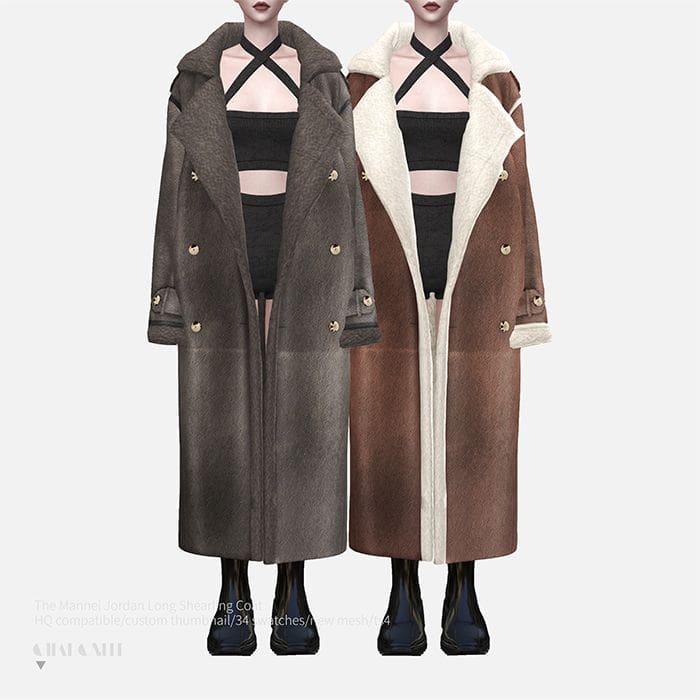 While I may be too short to wear long oversized coats, I still get to live vicariously through my sims.
These long, shearling coats are perfectly warm and stylish for the cold winter season and come in 34 swatches.
Pair the coat with some modern boots to complete the look.

14. Sims 4 SnuffPuff Winter Boots by Madlen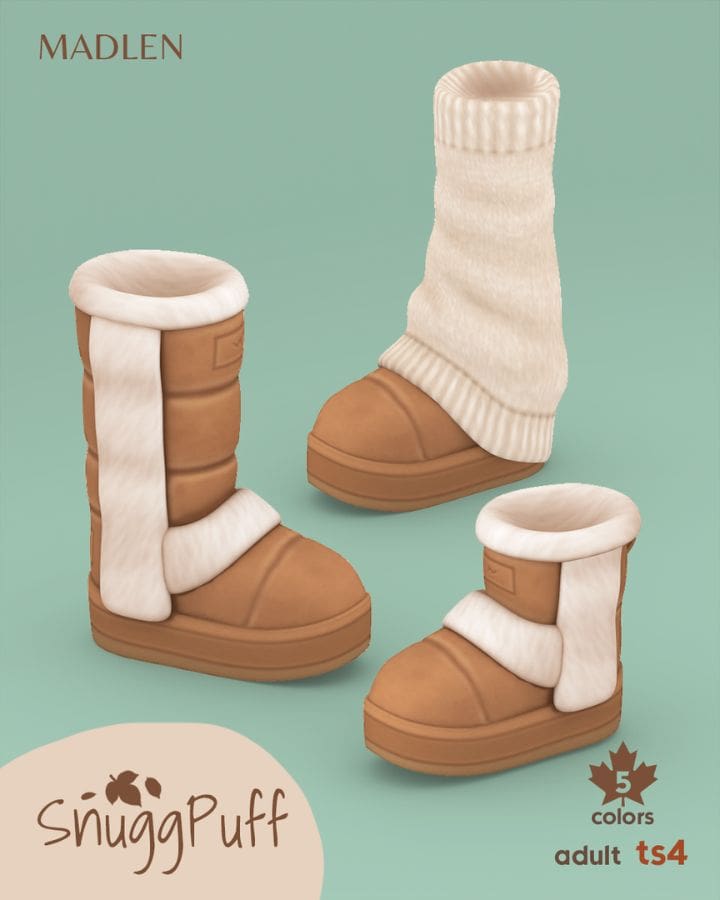 Madlen has created another set of UGG-inspired boots for our sims, and I couldn't be happier.
The set includes 3 suede-like boots: one ankle length with fur trim, a taller version of the same model, and the third design comes with legwarmers.
There are 5 swatches for each of the three boot models.

15. Soft Scarf Season Collection by Quiky Introvert CC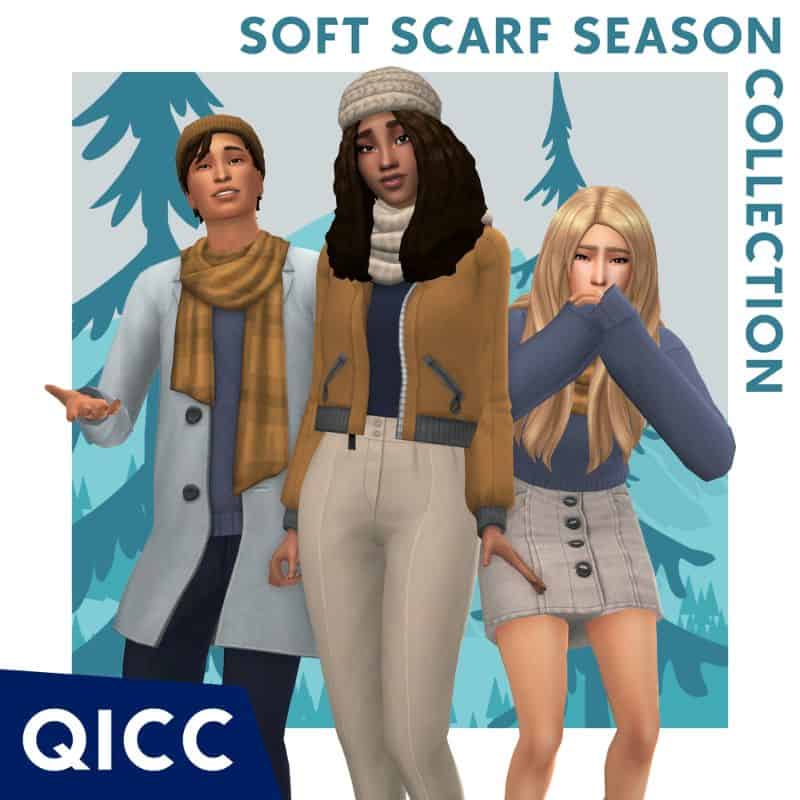 If you need a sims 4 winter cc set that has pieces for both masculine and feminine frames, this pack has got you covered.
For masculine frames, there are two short hairstyles, boots and bottoms pieces. You will also find 8 tops (coats, sweaters) and a beanie.
For the feminine frames, there are curly and wavy hairstyles, a woolen beanie, boots, two outfits, 6 tops, and 3 bottoms (pants, skirt).

16. Male Thick Faux Fur Jackets by McLayneSims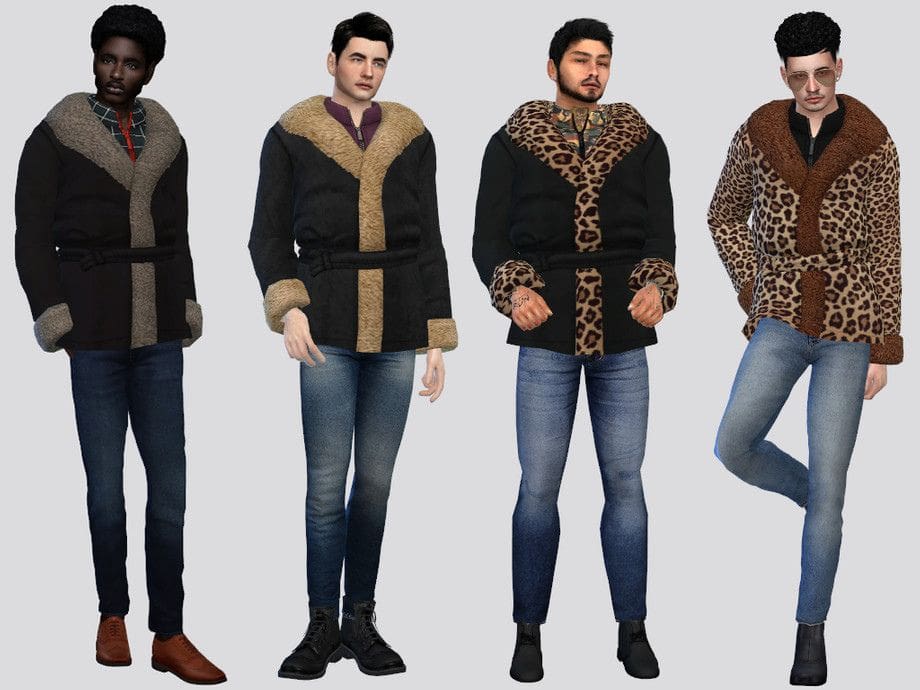 Get your male sims all snuggled up for the cold in these warm faux fur winter coats.
The jackets have faux fur along the wrists, neck, and down the center of the coats and are cinched at the waist with a belt.
There are 6 mixed swatches for these coats.

17. Sims 4 Female Winter Coat by DanSimsFantasy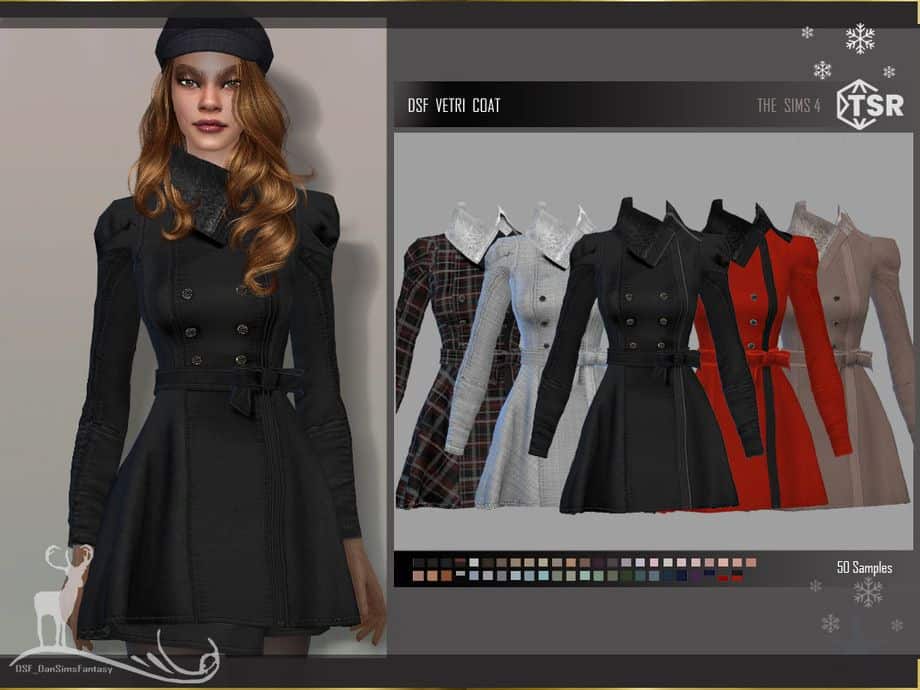 This stylish coat is perfect for modern female sims who enjoy a more tailored everyday coat.
The coat comes in a soft synthetic material, has an asymmetrical collar, and has a belt at the waist.
There are 50 swatches so that you can find the perfect option for every sim.

18. Long Argyle Dress CC by Turksimmer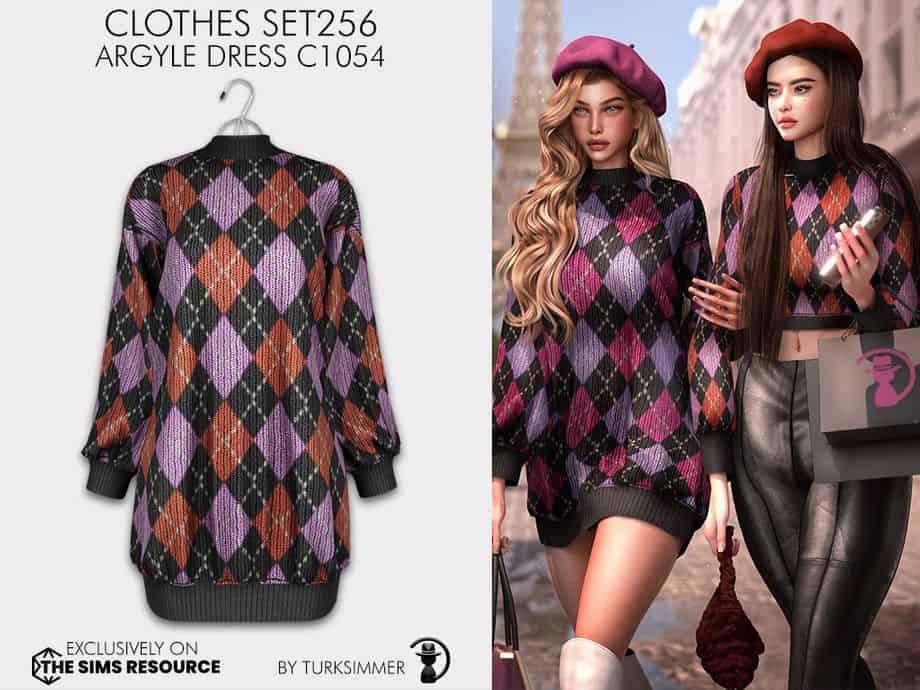 Argyle is one of my favorite patterns for the winter season; it adds a touch of class to each piece.
This long argyle dress will look amazing with knee-length or thigh-high boots and a beret.
The dress is available in 7 colorful swatches.

19. Xoria Male Winter jacket by Madlen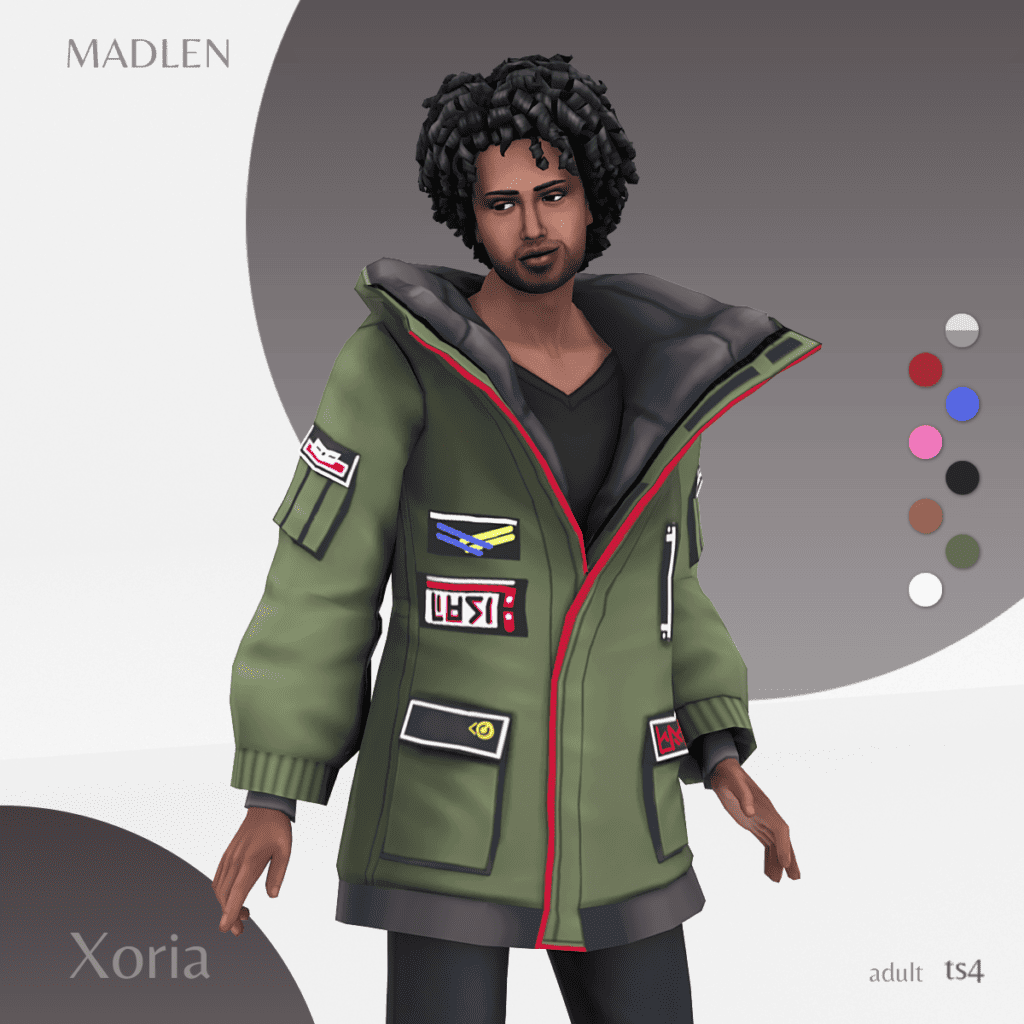 If you were a fan of the female version of the Xoria jacket, you can now style your male sims in their own version.
This cargo-style jacket comes with a large collar, which is left open and looks warm enough for taking on the coldest blizzard.
The jacket is available in 8 swatches.

20. Sims 4 Winterfest CC by Blue Craving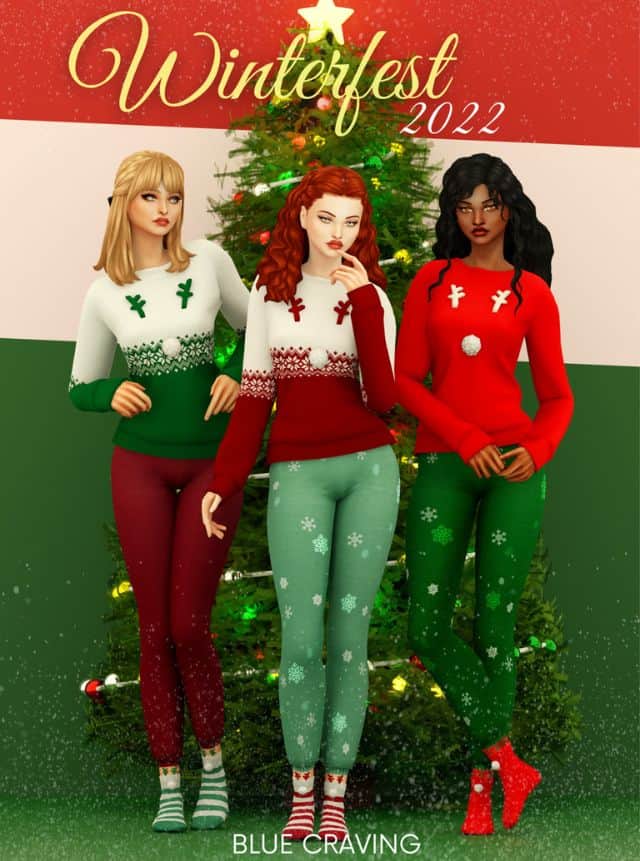 This cozy sims 4 Winterfest cc pack comes with everything your sims need to lounge around the fireplace and enjoy the evening.
The pack includes winter-themed long-sleeved sweaters, matching pants, and socks to keep your sims toes nice and warm.
Each of the three pieces comes in 16 swatches.

21. Casual Oliver Lace-Free Boots by FlyStone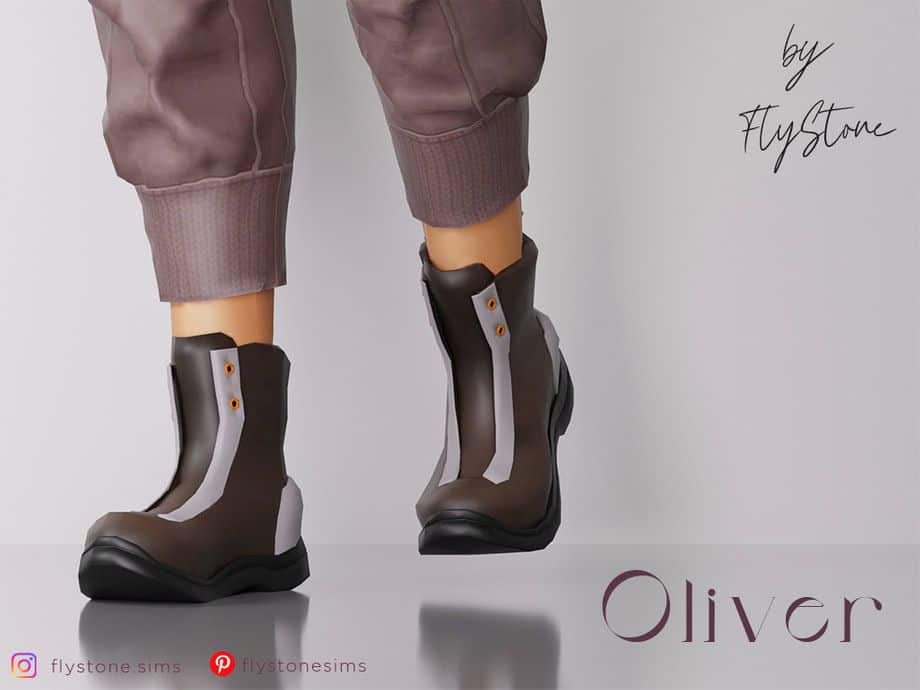 These casual men's boots are great for your busy sims on the go or for just a quick walk around the block.
These laceless boots come in 10 dual-tone swatches and will pair great with some casual jeans.

22. Sims 4 Ski Suit Recolor by Simsulani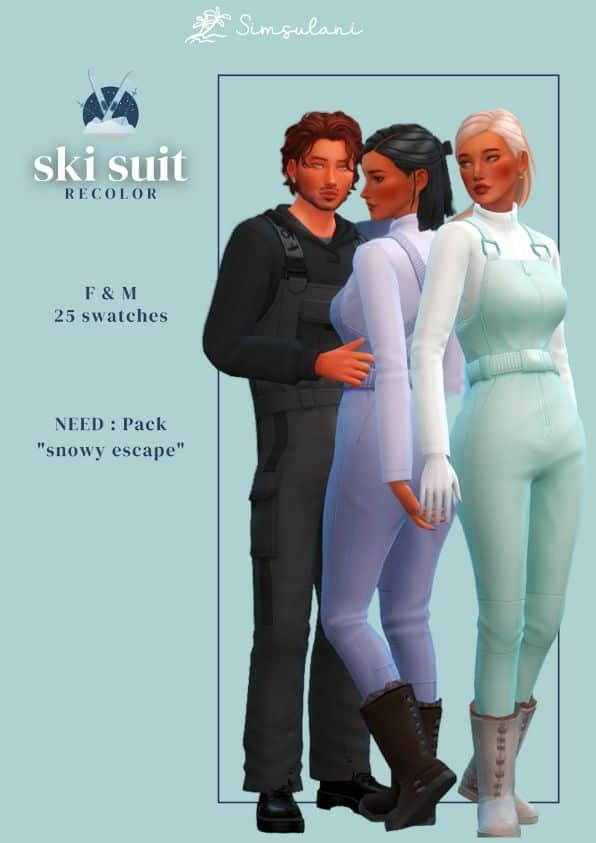 This custom content requires the Sims 4 Snowy Escape EP.
If you want some extra color options for the ski suits from the snowy escape pack, you will love this recolor set.
The ski suits are available in 25 colors for your male and female sims.

23. Long Hideaway Knit Dress by Trillyke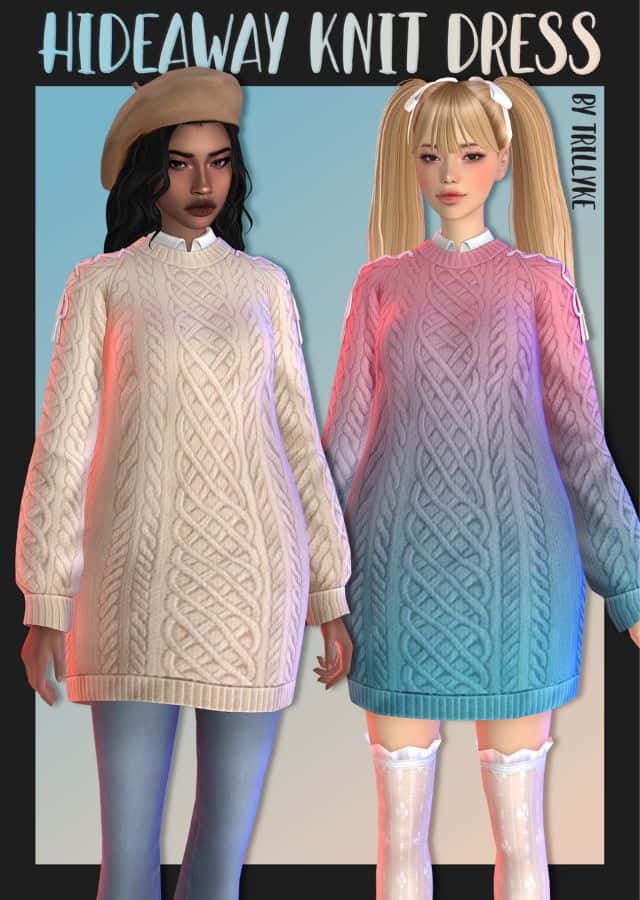 Here we have another sweater dress, but this Sims 4 winter cc focuses on a warm knitted option.
The dress has sweet lace-up details on the shoulders, and the dress is extra chunky, making this a great cozy option.
You can wear this sweater dress with pants or have your sims wear it as is with some tights and boots.
There are 20 swatches, including some ombré color options.

24. Sims 4 Mélina Boots Set by Madlen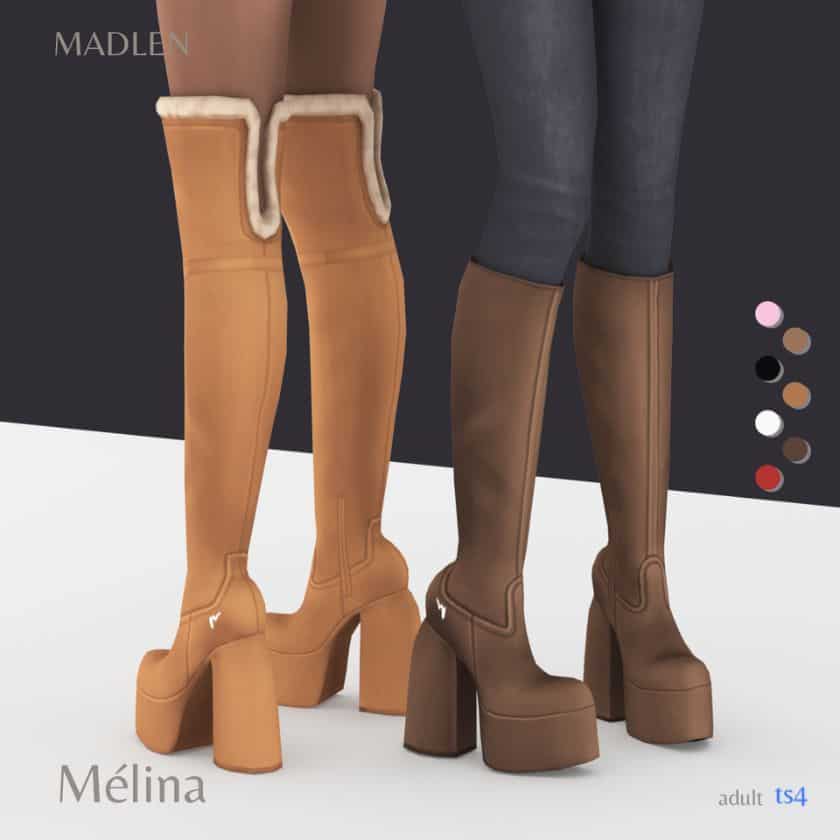 There are never enough boots to fill my closet, and I like to pretend my sims are the same.
This sims 4 winter boots set comes with two chunky heel boots, with one model falling just below the knees and the other landing above it.
These suede boots are available in 7 swatches.

25. Kids Faux Fur Jackets by McLayneSims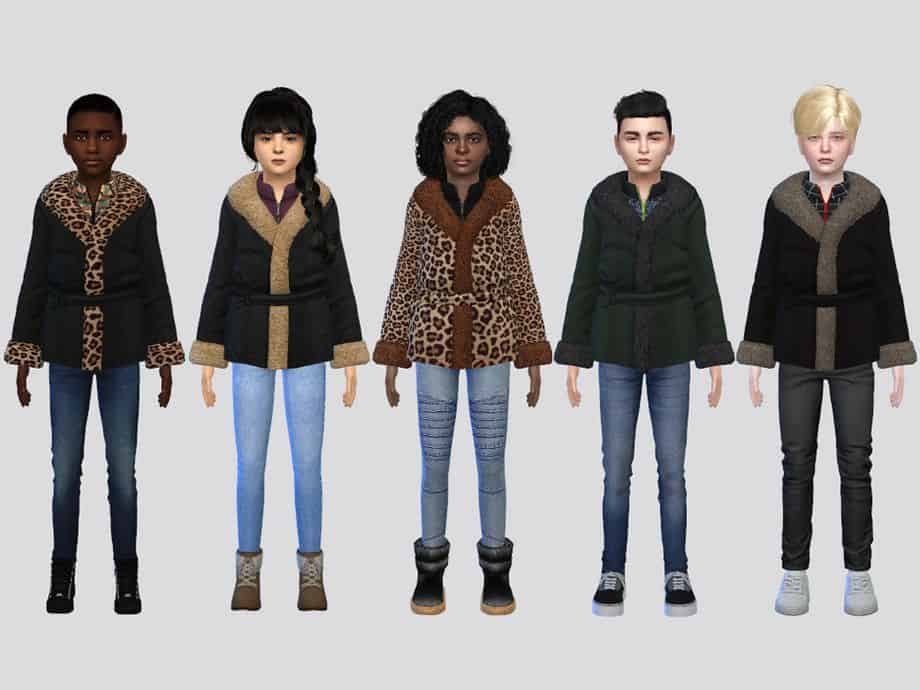 If you were a fan of the faux fur coats at #16 above, you can now dress your sim children in the same design.
The set has the same 6 swatches, so your kids can play matchy-matchy with their parents.

26. Sims 4 Half Ski Mask Winter CC by OranosTR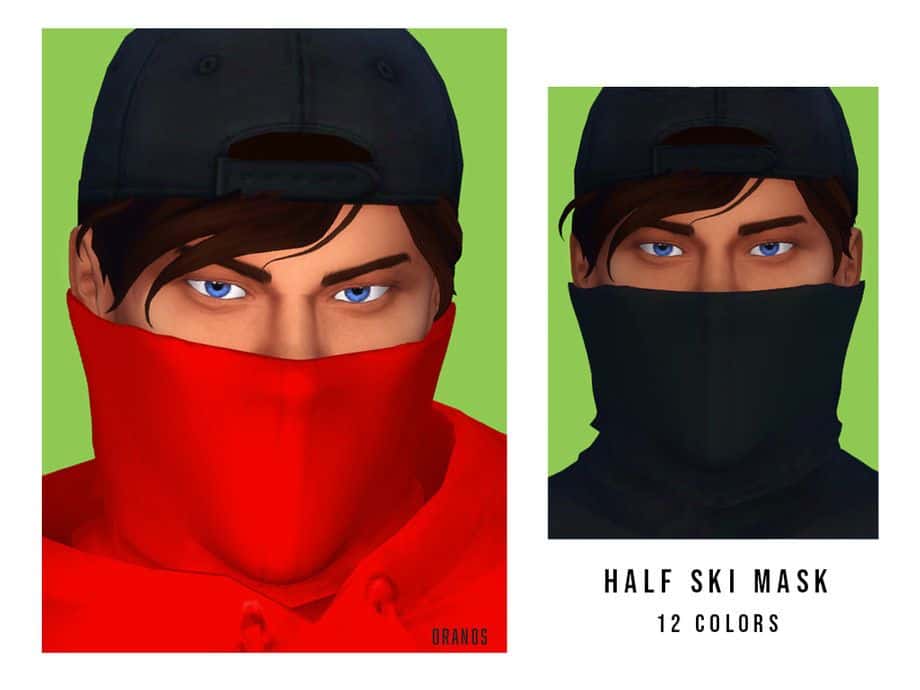 If your sims are heading out on a cold, snowy day, they'll want some accessories to keep them warm, and this half-ski mask is an excellent option for outdoor activities.
The ski mask will cover your male sims faces from mid-nose downward and is available in 12 solid colors.

27. Sims 4 Sweater & Scarf Set by Camuflaje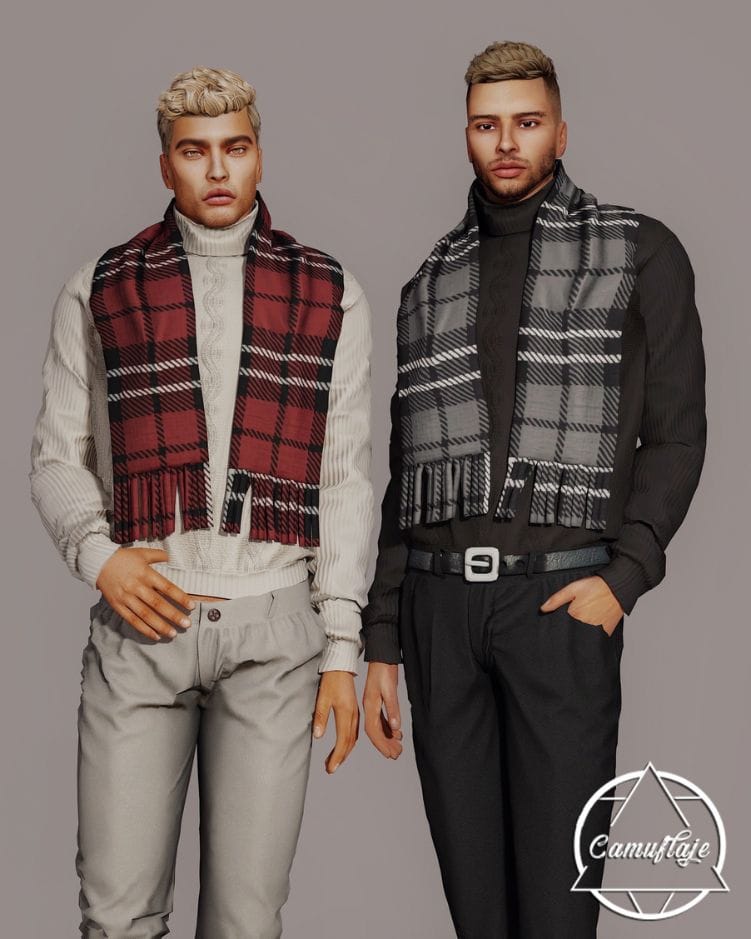 Grab a cozy turtleneck sweater and scarf set for your male sims with this winter cc.
The sweater has a subtle pattern, and the scarf comes in a contrasting plaid design; this custom content is available in 9 swatches.

28. Sims 4 Lotta Coat CC by AdrienPastel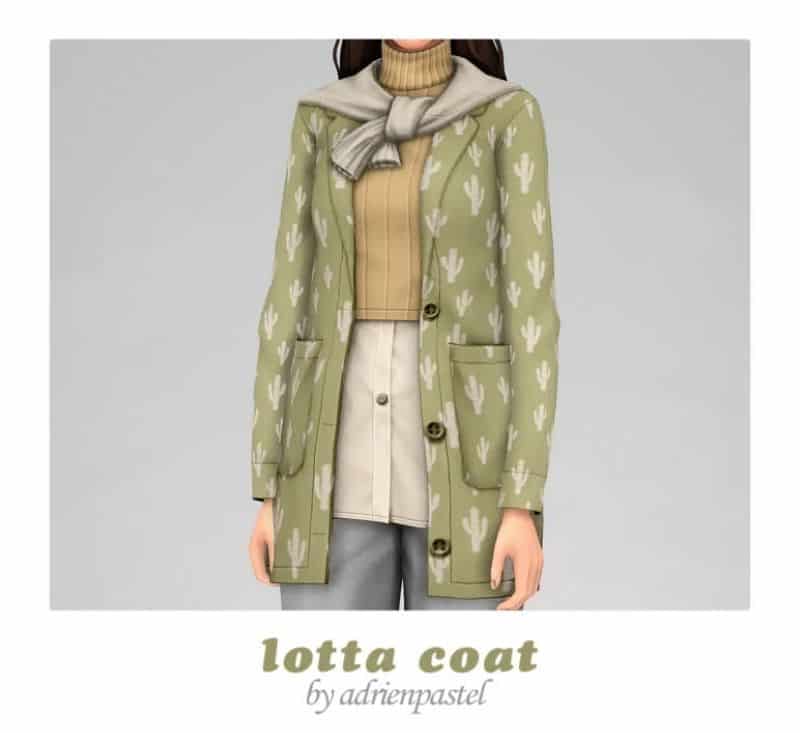 This lotta coat is ideal for a semi-brisk winter day; the coat comes open and has a shirt, cropped turtleneck sweater, and a cardigan tied around the shoulders.
There are 19 swatches, which include some solid mixed colors and 4 patterned coats (yellow daisies, cactuses, mushrooms, and plaid).

29. Sims 4 Winter Nuage Set by Serenity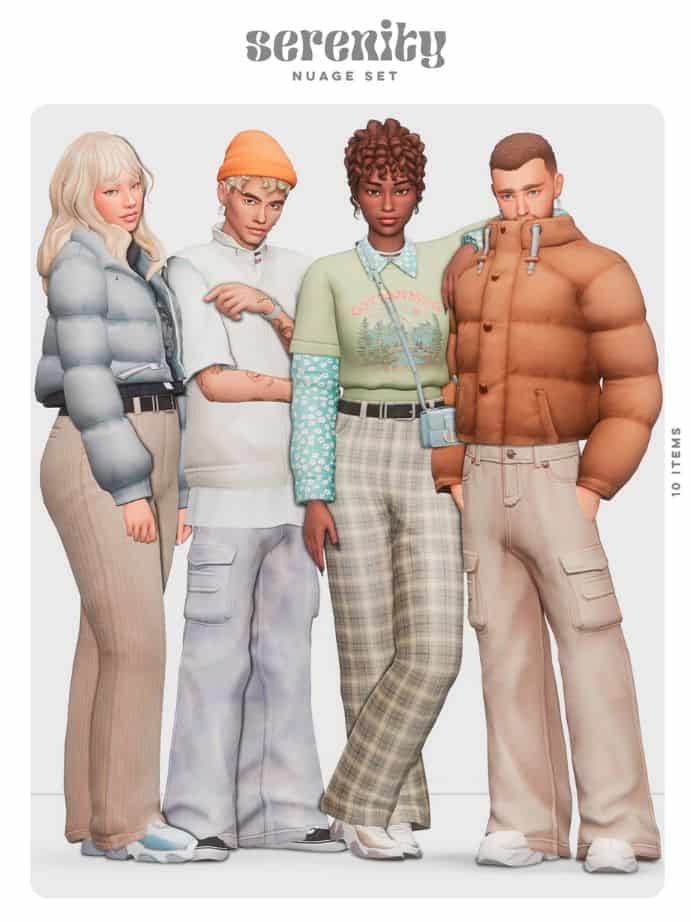 In this sims 4 winter cc pack, you will find 13 pieces for your male and female sims.
The pack includes a cropped puffer jacket, a tucked top, pants, 2 hairstyles, and jewelry for your female's sims.
Your male can try out their new puffer jacket, vest, and oversized cargo pants.

30. Sims 4 Cozy Winter CC Pack by HuiEn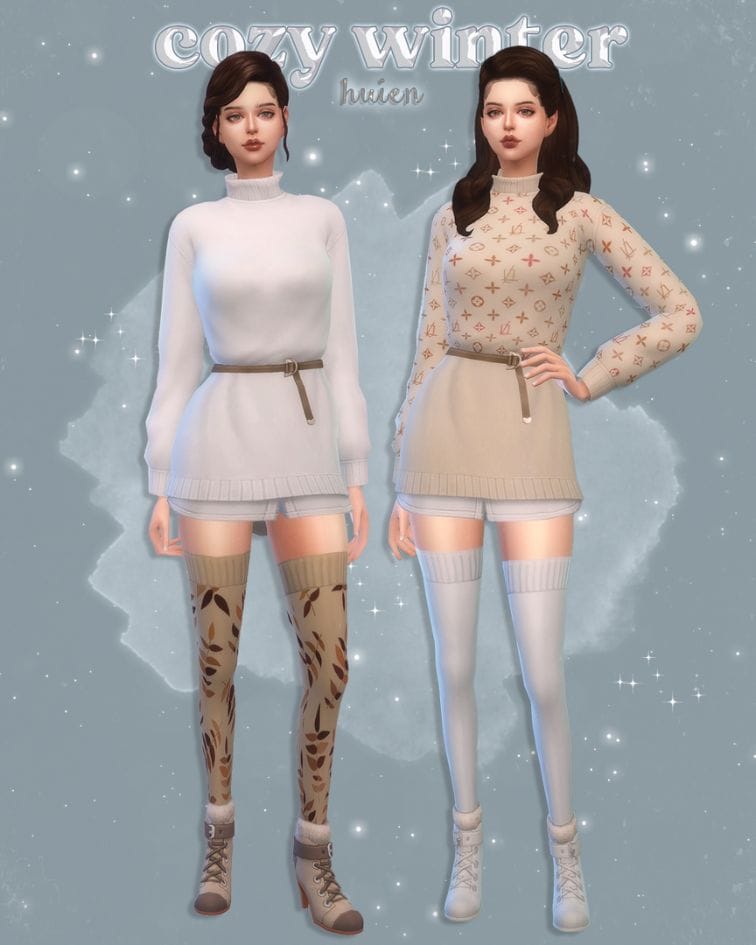 This cozy sims 4 winter cc pack is one of my new favorites, and I'm so happy to have come across it.
The set includes a long-sleeve turtleneck sweater, which you can customize with a thin belt at the waist.
You will also find some thigh-high socks and laced ankle boots,
There are some great swatches available for the sweater and tights, which will all go great with the boot colors.

31. It's Getting Cold Poses by StarrySimsie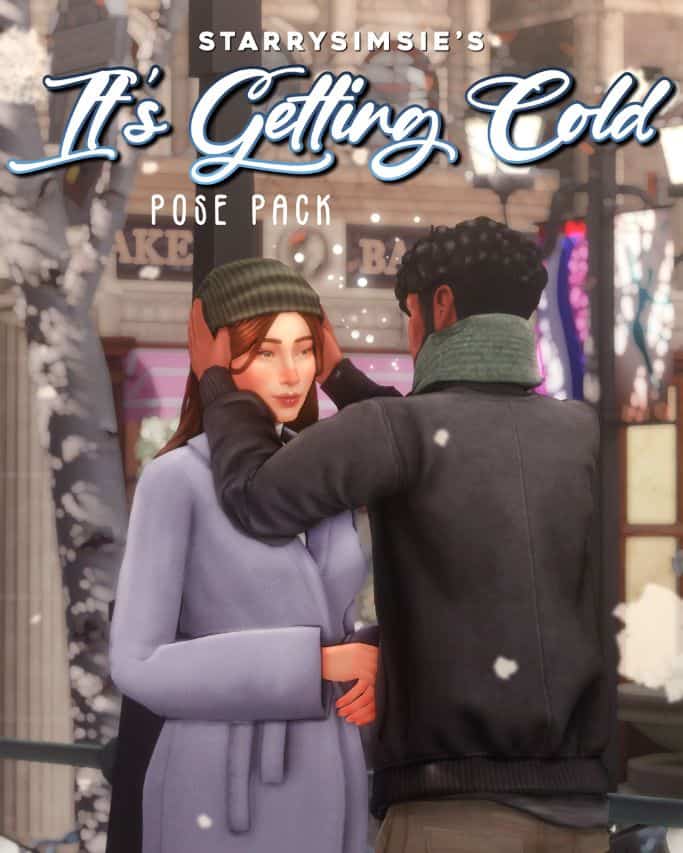 When it comes to chilly weather, what better way to stay warm than to snuggle up with your loved one?
This it's getting cold pose pack will capture some sweet moments between your sim couple as they dress up for the cold day ahead.
You will need a scar and beanie for the different poses; each of these two items is linked on the download page.

32. Oversized Winter Bear Coat by Nucrets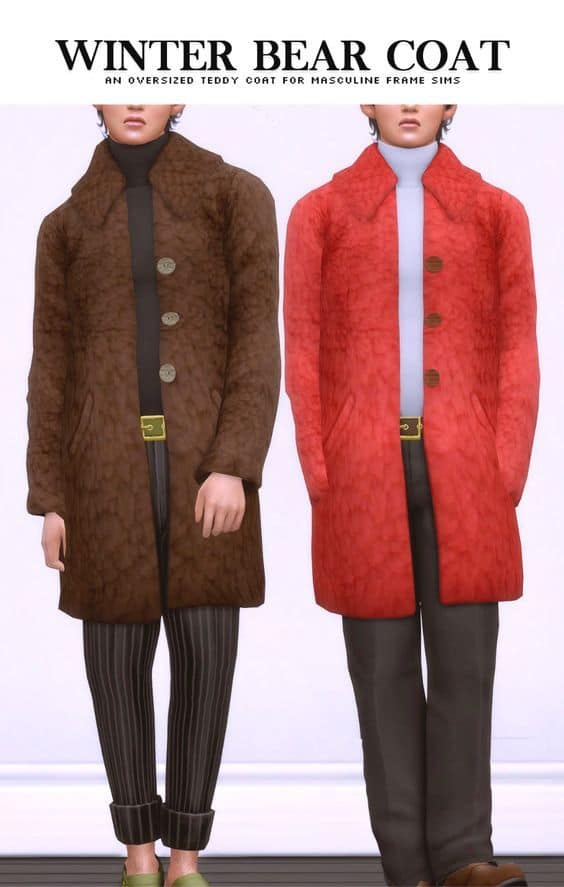 This oversized, cozy teddy coat will have your sims perfectly warm for any cold day this winter season.
Plus, it is a great dressy option for sims working in an office or heading out on a hot date.
The coat comes in 26 swatches with different color-neutral tops underneath.

33. Sims 4 Starla Moon Boots by Madlen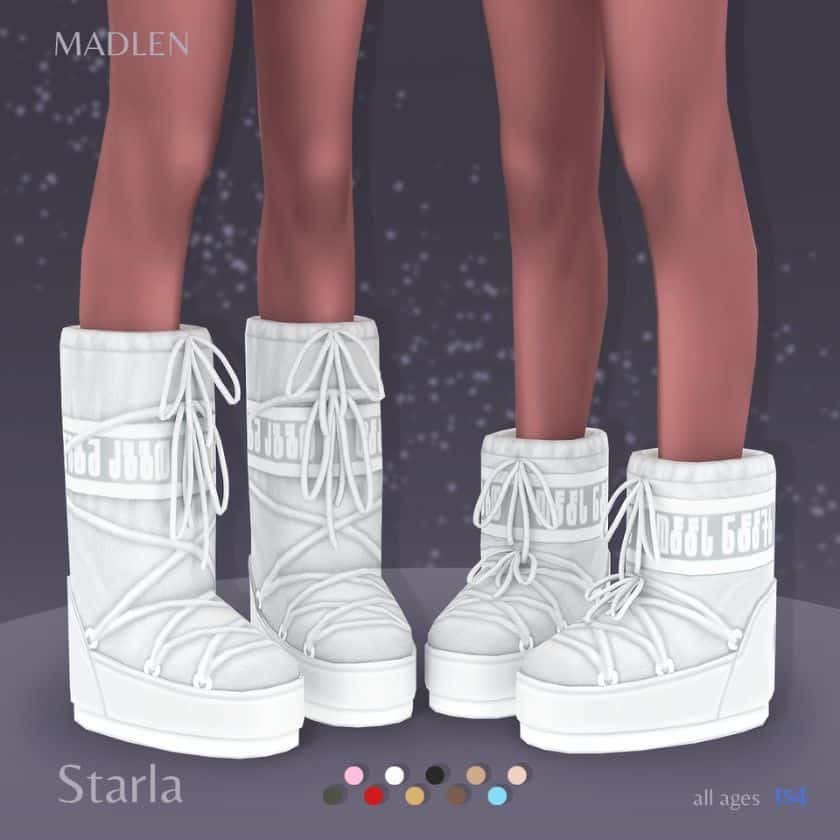 Whether or not you're a fan of the famous Moon Boots in the real world, your sims can still enjoy these chunky boots come the winter season.
The set comes with two versions of the boots, which gives you the options for a shorter and medium-height boot.
Each boot length is available for adults, children, and toddlers.

34. Winter Holiday Season Decor by Syboubou X Ravasheen
This decor set requires the Sims 4 Seasons Expansion Pack.
If you love the winter holiday season, then you'll want to add some lovely decor trim to your sims homes.
These trims are not overriding, and the pack comes with a functional light garland, 2 streamers, 5 garlands, and one icicle.
The garlands are a mix of different pine and holly decorations.
Sims 4 Winter CC: Final Thoughts
With the snow always around the corner, we hope you filled up your cc folder with some new sims 4 winter cc pieces to keep your sims warm and dry.
Whether it's a new puffy jacket, sweater, suede boots, or earmuffs, your sims must be dressed for the brisk cold weather.
Have fun mixing and matching your new custom content pieces to put together some great winter outfits.
If you have any questions or suggestions, feel free to leave us a comment below or tag us on Tumblr.
And don't forget to share and save this pin for later!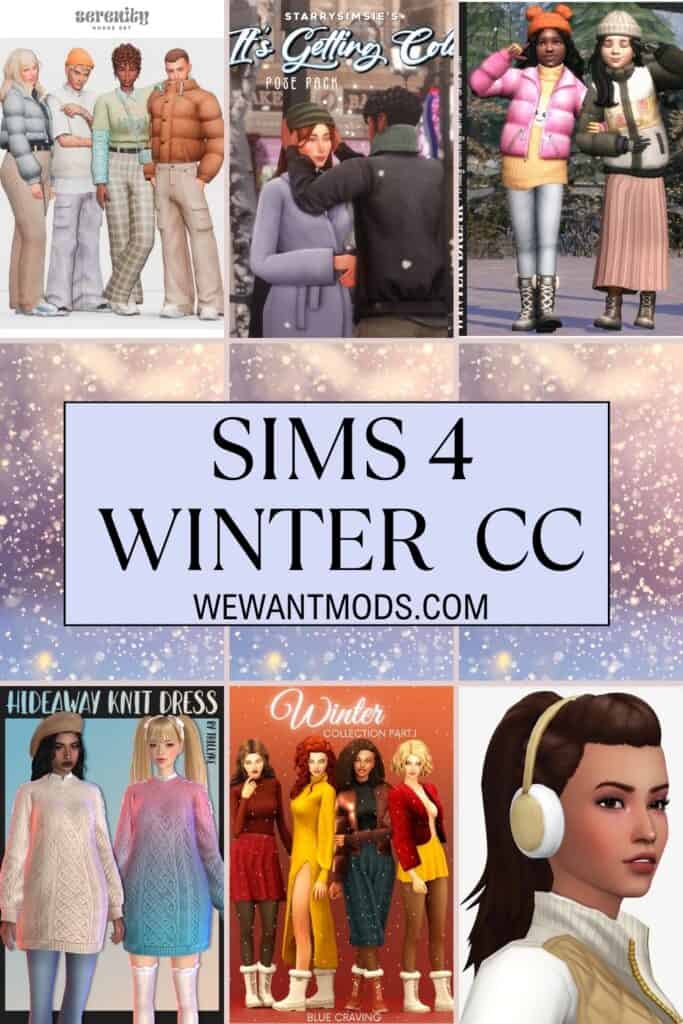 Other Sims 4 Custom Content Lists
33+ Sims 4 Winter CC: Keep Your Sims Warm and Stylish